Best Floating Cooler for River, Lake, Ocean, and More
We all know how helpful coolers can be in those summer months when we are out on the water, but what about those times we are on the water and don't have easy access to a cooler? This is where floating coolers come in. They allow us to access our chilled food and drinks without having to get out of the water and back onto the boat, shore, picnic area, or wherever else our traditional cooler is stored. Before we get into more details, here is a convenient table of the best floating coolers.
Best Floating Coolers
Price by Volume (Amazon)
Storage Capacity (in cans)
# of Cup Holders
Intex Mega Chill II
$$
30
6
Kelsyus
$$$
18
6
AIRHEAD AHAO-1 Aqua Oasis
$$
24
6
Byers 1700 Big Bobber
$
16
Sevylor
Varies
Varies
4
What is a Floating Cooler?
A floating cooler is quite simple. It is a cooler that floats! While this may be obvious, some special features and specifications make floating coolers unique and allow them to be able to thrive in an environment most coolers would fail. Many floating coolers share a common design internally with their non-floating siblings.
They utilize traditional insulation methods, can have a hinged lid for easy access, and even come with your typical drain plug. However, where they stand out is having an additional component that allows them to float on water.
What Makes a Floating Cooler Float?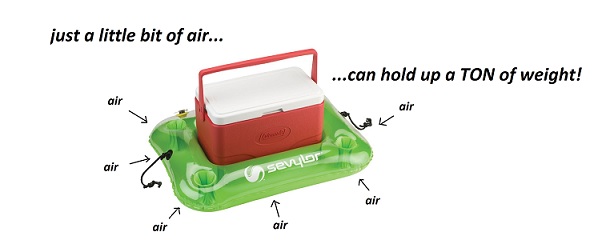 For a floating cooler to float, it has to have some sort of mechanism that will keep it pushed up above the water's surface, even when it is filled with ice, food, and drinks. This can be accomplished in a variety of methods but the most traditional is through the use of air. Air has a surprising amount of force behind it and will easily hold up impressive amounts of weight. The air pressure is 14.7 psi.
What this means is that a single square inch of air can push up 14.7 pounds of weight! This is why an unopened can of soda will float despite feeling quite heavy. The little bit of air at the top of the can is enough to keep the entire thing afloat!
Types of Floating Coolers
While we have established that most floating coolers will take advantage of air to keep things afloat, the way that they accomplish this is quite vast. Some will have a single, inflatable base that you then place the cooler directly on top of while others have an inflated ring built into the side of the cooler and some are even designed to have the top part of the storage area remain open to allow the entire product to float semi-submerged in the water.
Beyond the way that they float there is also a wide variety of applications that they can be used for. There are light-duty coolers that are meant for calm pools with a little wake and that don't need to have super long-term cooling performance. Then other examples are more robust and capable of performing in rougher water conditions and that will also have longer ice life.
There are even some floating coolers that are only intended to hold individual cups or bottles for extreme short-term usage or games like beer pong. The first thing is to figure out what type of floating cooler you need. You need to consider things such as desired ice retention, storage size, mobility, etc.
What Type of Floating Cooler is Best for Me?
Since there is such a wide variety of floating ice chests, we encourage you to make a mental checklist of what requirements you need. To assist, we have laid out a few common considerations in a checklist below:
What type of water conditions will I be on?
How long do I plan on being in the water?
How much storage space do I need?
How easily accessible do the stored contents need to be?
How mobile do the entire apparatus need to be?
How much am I willing to spend?
Once you go over these and other questions, you will be more prepared to shop for your next floating cooler with confidence.
Pros of a Floating Cooler
There are several unique benefits of going with a floating cooler. These reasons alone might be enough to warrant you purchasing one as their purpose is unique.
It Floats!
First, the most obvious one is that they float! Very few regular coolers are capable of floating so if you are specifically in the market for an ice chest with this capability then a floating cooler is the best choice hands-down. Many people are surprised at how often they will wish that they had a floating cooler.
Have you ever been lounging in the middle of a pool and wished you could grab a drink without getting out of the water? What about floating down the river and you are tired of your cooler having to occupy an entire inner tube? These and many other reasons are why people decide that they need a floating cooler.
Lightweight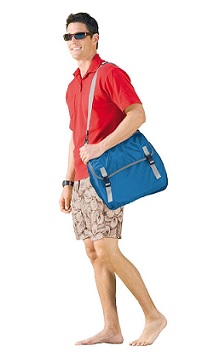 To float easily and effectively, weight savings is relatively important. Remember, the cooler has to be able to handle a full load of ice, food, drinks, and other items so trying to make the cooler itself as light as possible becomes a much bigger priority. This can make transporting floating coolers much easier than a conventional hard-sided and even soft-sided ice chest.
Portable
Nearly all floating coolers can be deflated when not in use, which means that they are extremely portable and easy to tuck away somewhere. You would be amazed at how a huge 50+ quart capacity floating cooler can be deflated and folded to take up about as much room as a softball! This isn't possible with a hard plastic cooler and even many soft-sided coolers still have a significant amount of rigidity to them.
Affordable
Many floating coolers are quite affordable. Since most are made of nothing more than rubber and a few gaskets, they don't have the significant premium charges that higher-end coolers made of plastic and metal demand. That isn't to say that there aren't some higher-end floating ice chests on the market but for the most part they will hit right at home with the budget-minded.
Cons of a Floating Cooler
These products don't come without their cons, either. Understanding the shortcomings and limits of a floating cooler is equally important so that you know the item that you are purchasing will best fit your needs.
Relatively Weak
Since floating coolers are typically made of relatively thin rubber, they are very prone to tears and cuts. And when they tear and cut they are essentially ruined. You must be much more careful with one of these products and try to avoid sharp corners, stepping on them, or rubbing them up against abrasive surfaces. This includes not only when they are being used on the water but also during transportation and even storage. This is compared to the much tougher hard-sided coolers that you are used to seeing.
Limited Ice Life
One of the tradeoffs of going with a lightweight solution is that you give up some of the cooling performance you might be used to seeing. This is due to a combination of using less-insulated materials, having thinner walls, and not implementing a high-quality gasket between the lid and the body. All of these things add up to result in most floating coolers only having an ice life of a few hours. There are some exceptions but these examples will be much bulkier and heavy.
Mostly Small Capacity
We have also noticed a trend where a majority of floating coolers are on the smaller side. That isn't to say that one won't be large enough for a small group of people for a day, but don't expect one of these to have the storage capacity for a huge group for several days. This might not be necessary, however, since the cooling life most likely isn't long enough to warrant such a huge load anyways.
You Have to Blow It Up!
Floating coolers aren't like normal coolers in that they are ready to go out of the box. Floating coolers take a bit more preparation. You will have to blow up the cooler before it can be used. Some people prefer to blow it up once and leave it aired up while others will deflate it for easier storage and transportation.
While you can always blow it up the good old-fashioned way with your lungs, we prefer to blow them up with a pump. One of our favorite pumps is this one. It is cheap and does the job just fine!
What are the Best Floating Coolers?
Now that you have a better idea of what a floating cooler is, the different types of floating coolers, and the pros and cons it is the time we list the best floating coolers on the market. These examples have a wide range of applications but we feel that all of them fill a particular need or want and have something positive to offer to the user.
Intex Mega Chill II Floating Cooler
This is one of the most popular floating coolers on the market and for good reason. It is made of tough 16 gauge vinyl construction which means that it will hold up to a decent amount of abuse. It also comes with 3 air chambers which help to both stabilize it and also means that if one of the chambers happens to break it doesn't mean losing all of your stuff at the bottom of the pool or lake.
6 embedded cup holders and 4 carrying handles are included on the sides for convenience. For the occasion when there is a tear, it also comes with a helpful repair patch. It is capable of holding up to around a 50-quart cooler inside or you can opt to simply fill it with ice and put your items directly in it.
Kelsyus Floating Cooler
This is a very portable example that packs up and fits into a handy carrying case. It is made of fabric-covered insulation which is much tougher than most of the rubber examples you'll come across. For the size, it has an impressive 6 cup holders built into the sides along with side clips that make it easy to tether to a boat or dock. The capacity is a bit smaller, with it being capable of holding around 18 cans of drinks without ice and 12 with, which makes it a good personal-sized example.
AIRHEAD AHAO-1 Aqua Oasis Insulated Nylon Cooler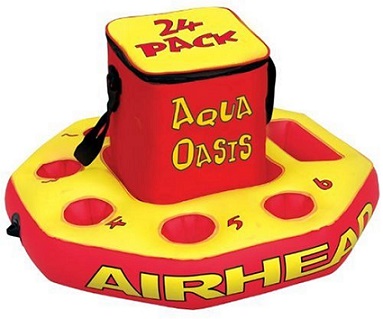 The coolest feature of this ice chest is the ability to detach the floating base from the cooler area which allows you to restock it without removing the entire product from the water. It is made of insulated leak-proof nylon which gives it an impressive ice life considering it is a floating cooler.
It has 6 built-in drink holders that are individually numbered to help reduce confusion about whose drinks belong to who. It also comes with a molded plastic rope handle for easy tethering. You can expect a drink capacity of up to 24 cans which makes it a good choice for a medium-sized group outing.
Byers 1700 Big Bobber Floating Cooler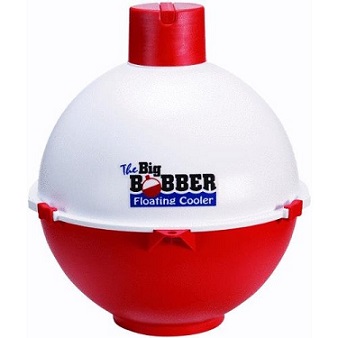 This is a cleverly designed product that is intended for the avid fisherman. It comes in the shape of a fishing bobber and you put the drinks inside and close it in the middle. Since this isn't an inflatable product in the sense of the other examples, around half of the entire cooler will sink below the water, resembling an actual bobber!
The problem is that this can expose the inside to outside water and melt your ice much more quickly than you would like. It would be nice to have some sort of insulated barrier in place but until a newer version comes out this is what we are stuck with. Because of this, only plan to use this floating ice chest on shorter outings.
Sevylor Inflated Cooler Float
This is a good product for those who want to use their traditional cooler but also want to enjoy the benefits of being able to float. Rather than having a cooler built into the float itself, you instead are supposed to place your existing cooler directly on top. Because of this, you will enjoy much longer ice life (essentially whatever your cooler is capable of) plus give it the necessary sea legs to be out on the water! It also comes with 4 handy side cup holders and an elastic snap-n' stay cord to keep your cooler in place when the water gets rough.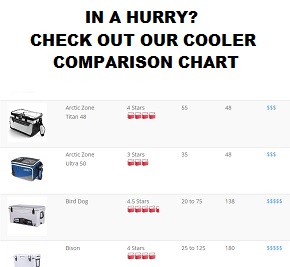 TheCoolerZone tests and reviews various coolers to find the best products for you. When readers buy our reviewed picks, we earn affiliate commissions that help to support the site.
Designing your raft frame
Details to consider when you are designing your custom made aluminum raft or cataraft frame.
Designing your raft frame.
What style & size raft do you want?
Would you rather have a raft or a cataraft? What length boat would be best? Every boat has its pros & cons. Are you doing multi-day trips or just day runs? What river stretches do you want to use the raft on? How much gear or how many people and dogs are you going to want to fit on your raft? How are you going to transport and store your set up? Your answers to these questions should help you decide on your priorities and steer you in the right direction to the style and size boat that would be right for you. For more on this topic, check out our choosing a boat guide.
What's your budget?
Oars, and dry boxes, and coolers! Oh My! A good rule of thumb is to plan on spending 1 to 1.5 times what you spent on your raft, if you bought a new one, on the gear you'll need to outfit it for multi day trips. It all adds up: frame, oars, cooler, boxes, straps, etc. And this doesn't include a trailer! That said, you can be thrifty about assembling your set up by buying a used raft and/or getting the other gear a little at a time. There are a variety of ways to build up your ultimate raft while keeping within a budget.
Measure your raft
After you've decided on a raft and a budget, the frame designing can begin. You'll need to make some measurements. The overall width of the raft, the inner dimension (tube to tube), the diameter of the tubes, and the measurement from the start of the rocker to the start of the rocker (aka the flat part of the boat tube) all come into play when designing a frame.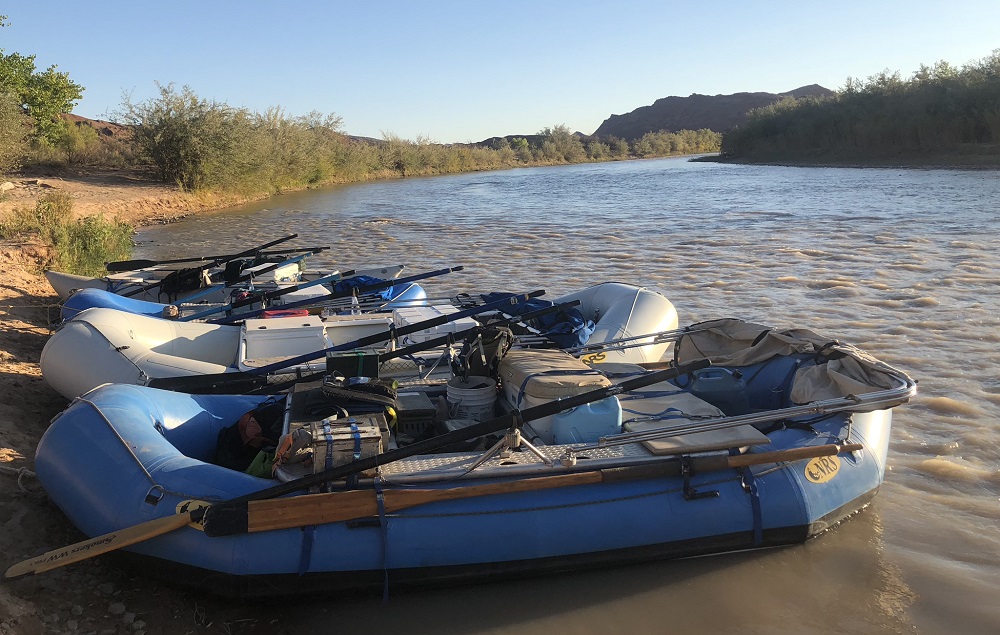 Single or double rail, deck or no deck, adjustable or fixed bars?
The combination of your budget and intended use is going to help you make these decisions. Single rail frames, such as NRS frames, one outer rail along the length of the raft, are often made to be broken down. These are versatile, affordable, and easy to transport. Double rail frames have an inner and outer rail and can be made with or without decking between the rails. This style of frame tends to be stronger and heavier than a single rail frame. It's worth noting, a single rail frame may require different oar lengths than a double rail frame. Now's also the time to think about if your want adjustable or fixed bars. People often think they need more adjustability than they actually end up using. More adjustability ultimately makes the frame weaker. We recommend having at least one fixed bar to "brace" the inner rails of your frame.
Boxes and coolers
Again, how you're planning to use your raft and your traveling preferences are going to dictate these next details of the design of your frame. Are you usually on the water with other boats or do you travel solo? Will you be doing trips on permitted stretches of river that require you to have certain gear? How do you plan to pack and rig the things you will be bringing? How much cooler storage will you need? What kind space for kitchen supplies will you need, and do you plan to store those supplies in dry bags, rocket boxes, a bigger size dry box? What are you planning on sitting on? You'll need to know the dimensions of any boxy gear that's a fixed size that you're going to have in your set up.
Coolers
Ideally the width of your cooler is close to the inner width of your raft, isn't more than 4-5" above your frame's cross bars and can hold ice for the length of time you'll need. An easy way to calculate a good cooler height is to shoot for getting a cooler with a height that's less than 85% the width of your tubes, i.e. 18" tubes = 15" tall cooler, 24" tubes = 20" tall cooler. This formula tends to work for self-bailing rafts and catarafts, with bucket boats you may have a little more room. If your cooler is in a bay adjacent to the footwell bay, and/or you're using it as a seat, keeping the height to a minimum can help with your rowing geometry, which makes a difference in how the boat performs, as well as prevent you hitting it with your knuckles. You'll also want to make sure you're not going to have any clearance issues with your cooler's latches and the frame's crossbars or any other items that might get rigged close to the front of the cooler.
Dry Boxes
As for dry boxes, you could spend a little more and get custom sized boxes or you can go with stock sized dry boxes. A stout dry box can serve as a kitchen box, dry food storage, and a great seat for passengers or to row from. When planning for what size dry boxes you might need, think about the inner dimension of the box and what you will store in it, as this will dictate the box's dimensions. If you don't already have dry boxes, think about if you'd rather have 2 smaller more easily transportable boxes or one big, frame width sized, coffin like dry box. And just like with coolers, it's best to rig your boxes no more than 4-5″ above the deck of your frame. A standard height for a dry box is 15"-16.5″, with the tabs set at 11-12" up.
The 7 Best Coolers for Whitewater Rafting
Do you have a big whitewater rafting trip planned this summer? If so, you're going to need a good cooler to keep your food cold. There are a lot of coolers on the market these days, but which one is the best cooler for a whitewater rafting trip? In this article, we will discuss the 7 best coolers for whitewater rafting trips. We'll also give you some tips on how to choose the right one for you. As always, you can contact us if you want more information on this topic.
When I'm looking for a high-performance cooler to add to my whitewater rafting inventory, I look for a few features:
It has to be durable enough to hold up on multiple whitewater rafting trips.
Ice Retention: Known for keeping things cool for multi-day trips
It has to be able to fit in a raft frame easily
Foam insulation is a must for me!
Did I mention it has to keep ice frozen??
Your list might look different. Perhaps you are planning to only do day trips and you need a cooler to keep your beer cold. Or maybe you prefer a soft cooler for a shorter trip. If, so your search will probably be much different and a cooler bag would probably suffice.
I also chose not to review any wheeled coolers, or soft-sided coolers since they are not ideal for rugged whitewater rafting.
That being said, let's dig into my 7 best coolers for whitewater rafting trips!
Yeti Coolers have been used by whitewater rafting guides for years. Yetis are known for their durability and for keeping things cold. Plus they have an excellent warranty that covers repair or replacement if there is a manufacturing defect. YETI coolers come in different sizes to fit your whitewater rafting needs. They offer hard coolers and a soft cooler, but we will focus on their hard coolers.
Roadie 20 – These hard coolers make it perfect for day trips. I use this on short day floats where I might bring some snacks and drinks. I also use it for solo trips where I am trying to keep the weight down. I use this cooler for most of my Mckenzie river day floats.
Tundra 35 – This cooler is a good size for smaller multi-day trips. I use this one on a small overnighter on the Umpqua River, or for day runs on the Mckenzie River. It is perfect for packing a lunch and drinks in it and is light enough for one person to move around.
Yeti Tundra 125
Tundra 125– This is my personal favorite for multi-day trips. It is a little bulky for one person to get in and out of a raft, but it is still doable. It is large enough for me to pack all my breakfasts in one, lunches in another, and dinner in one as well. This is the best cooler to start with if you are planning on running multi-day trips.
Pelican Elite Coolers
Another great option for whitewater rafting trips is Pelican Elite Hard Coolers. I have used their dry boxes for years, and have been seen as the flagship in the industry, but I am relatively new to their coolers. So far, they have lived up to the hype and share the same quality as their dry boxes.
I have tested these coolers on the river and I have found them to have superb insulation. They also offer a lifetime warranty! Pelican Elite Hard Coolers come in a variety of sizes including:
30 Qt – This cooler will fit perfectly in your raft frame and can hold enough food for a multi-day trip.
Pelican 150
150 Qt– This cooler is perfect for multi-day trips. I like the shape a little bit better than the YETI Tundra 125, and the latches are bomb-proof. I don't like that the clasps are hard to get to when you strap it in, but I am sure with a few adjustments to my frame I could make it easier to open while on the river.
Canyon Coolers
The canyon is one of the most popular brands of hard coolers on the market today. These hard coolers are chosen specifically for their whitewater rafting trips because they are known for their durability. Their latch system is solid, and they fit great on raft frames. They're also great at keeping food cold. The drain plug on these hard coolers is tight and doesn't come loose.
Canyon 45
One drawback is that they can be heavy in comparison to the Yeti or Pelican coolers. You might want to make sure you load it into your raft empty and then add the food and Ice.
Outfitter 125-I have used this cooler on multiple trips and can assure you that it will keep food cold on long whitewater rafting trips. I was reminded that I needed to hit the gym when I tried to lift it onto my raft, though. It definitely was durable and has survived many trips down the Lower Klamath River.
Pro 45-I love this cooler for carrying lunches or vegetables. It is a deep cooler that is all of 45 QTs. The coolest thing about this cooler is the dual-purpose cooler-divider and cutting board! It clamps onto the side of the cooler and makes for a great lunch station. This is the best cooler in its size class, and I rarely will go on a whitewater rafting trip without throwing this cooler on the packing list.
RTIC Outdoors Coolers
RTIC 145
These hard coolers have a lot going for them. Even their name is cool: Artic without the "A!" The RTIC, like many other coolers on the market, has a familiar design with some standout features that make it both sturdy and useful. With two drains, comfy handles, a big volume capacity, an easy-to-use design, and so much more.
The RTIC remains competitive against stiff competition from several excellent coolers due to its exceptional cooling performance and value. It has outstanding insulation, extreme durability, and ease of use at a price that is lower than the competition.
One disadvantage is that RTIC provides a one-year warranty against manufacturing defects, as opposed to three and five-year warranties offered by other companies. They also don't offer a bear warranty as Yeti Coolers do.
Their price point is lower than a Yeti cooler, but its performance is almost equal to other manufacturers. I would recommend RTIC if you are just getting started, and needed to stay on a tight budget. This is a great option for those getting into whitewater rafting.
I would recommend the RTIC 65 or RTIC 145.
Conclusion
When it comes down to it, YETI, Canyon, RTIC, and Pelican hard coolers are all great options for whitewater rafting adventures. Ultimately, it depends on your personal preferences and what you need from a cooler. YETI is known for its durability and keeping ice frozen, Pelican is known for its lifetime warranty, and Canyon is known for its ice retention.
My top choices for most rafting adventures are the Yeti 125's for all my meals, the Canyon 45 for lunches and vegetables, and either the Pelican 35 or Roadie 20 for drinks during the day.
The Yeti coolers are definitely my favorite because of their warranty, durability, how they fit in my raft frame, and their ability to keep ice frozen. However, I can stand by all these options and have used the other hard coolers on multiple occasions.
You really can't go wrong with any of the coolers I reviewed here. Contact us if you have any questions regarding how to pack for multi-day trips, or organize your gear effectively on a raft!
Source https://www.thecoolerzone.com/best-floating-coolers/
Source http://www.eddylinewelding.com/designing-your-raft-frame/
Source https://whitewaterology.com/7-best-coolers-for-whitewater-rafting-trips/