Why The Green River is One of the Best for Rafting Trips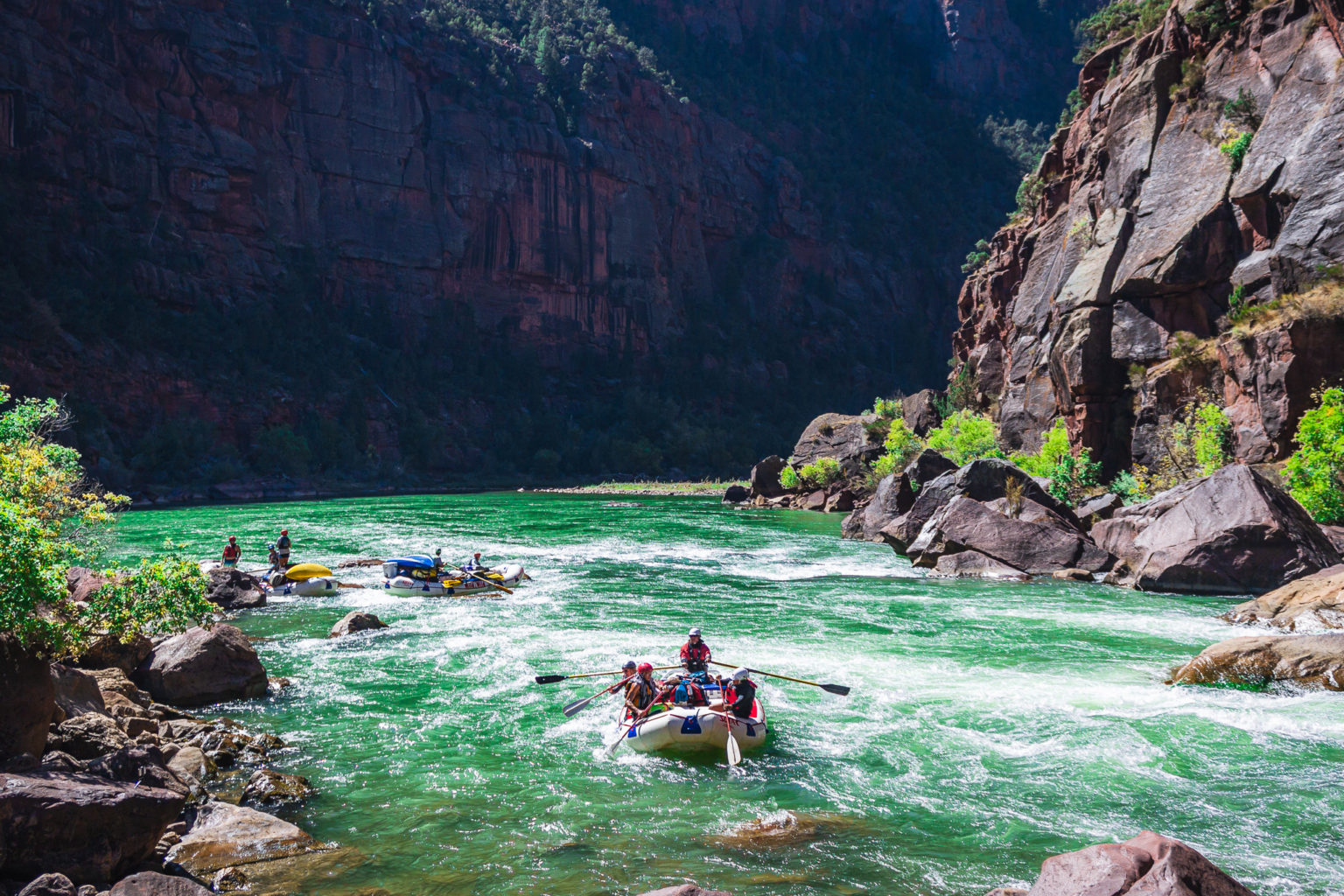 Whether you've been curious about rafting trips down the Green River, or have only just sparked your interest in such a journey to pristine and seldom seen wilderness, we're happy to share why it is one of the most memorable places one could ever experience.
The Green River is an ancient waterway that flows 730 miles from Wyoming's Wind River Mountains to the Colorado River in the rumbling belly of Canyonlands National Park. In its million-year-old voyage through mountains, plateaus, valleys and sandstone deserts, the stream slices the Earth open to reveal its many past lives. And in its many canyons comes a wealth of protected and preserved biodiversity.
There are multiple places to enter this portal to prehistoric eras and traverse scenery seldom seen by humankind. Luckily, the Green River, while unquestionably remote, is the perfect waterway to take your first or millionth river trip. Here's why.
Adventure Level of Green River Rafting Trips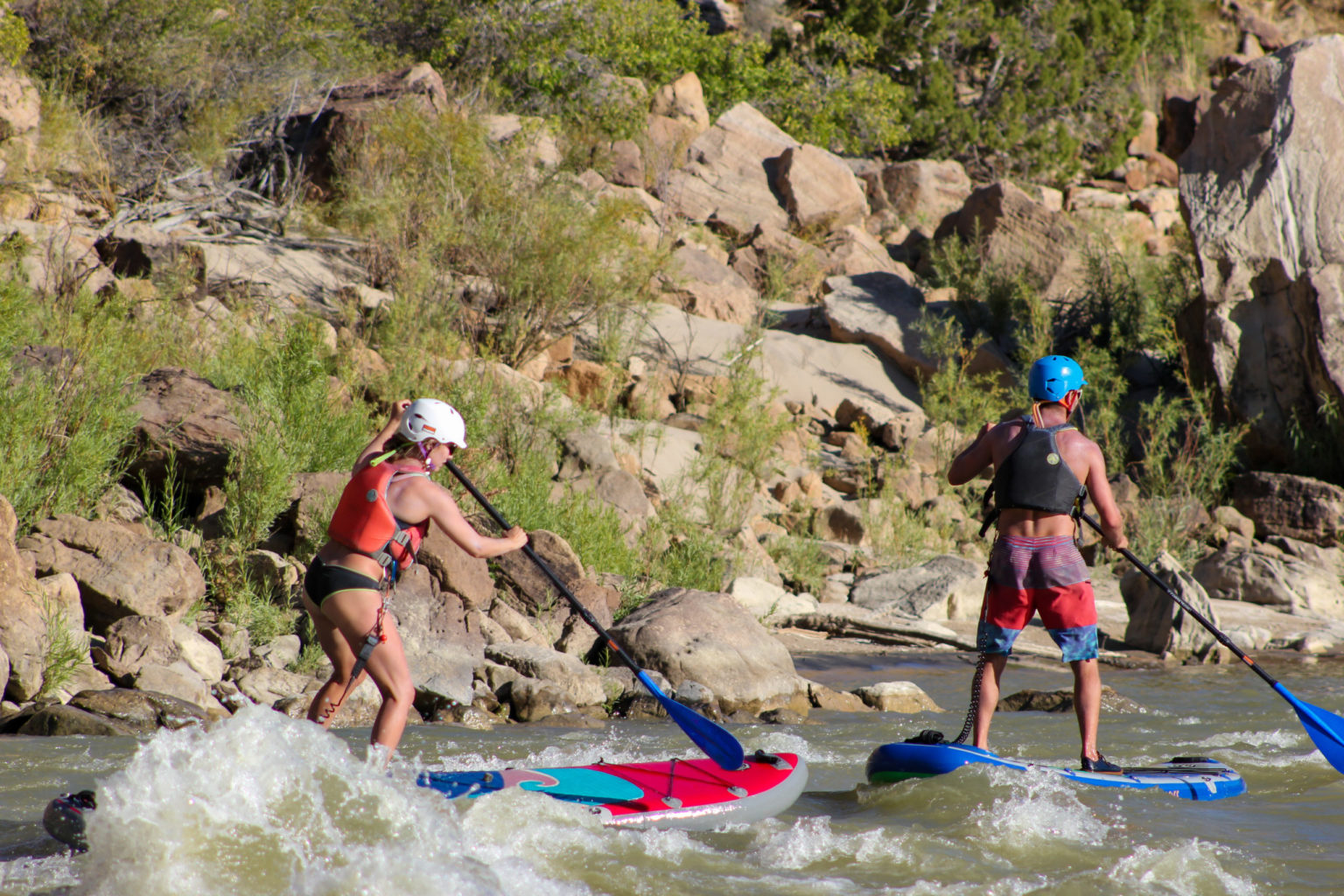 Green River descents skew towards the gentler side, which makes most of its whitewater sections incredibly fun and runnable even for novice kayakers. And since the Green River flows from Wyoming out of Flaming Gorge Reservoir, its water levels are pretty consistent— so long as Wyoming gets its fair share of snow.
In the viridian waters of Lodore Canyon, the Green River billows at its mightiest in Disaster Falls. At high water (usually in late spring), Lower Disaster Falls can froth up a Class IV rapid.
Many of the exciting whitewater sections along the Green River are in Whirlpool Canyon and throughout Desolation Canyon. These rolling runs of class II and III rapids come with plenty of splashes without the scares. So really, you can take just about anyone on a Green River rafting trip, kids and grandparents included.
History and Archaeology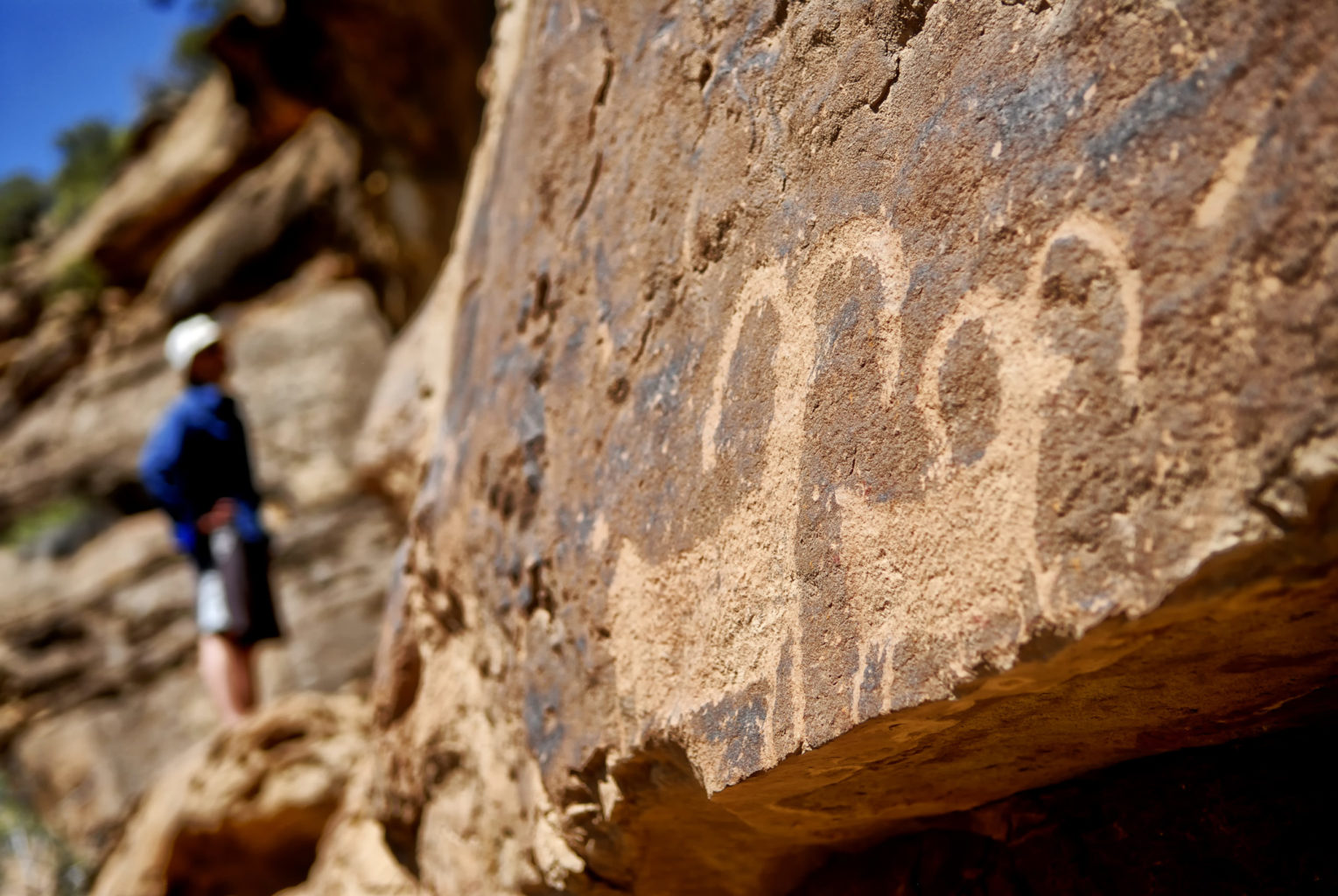 Well before rubber rafts started bounding down this archaic river in the 1950s, the Green served hunters and gatherers who survived the last ice age. 10,000 years ago, nomadic groups known as Paleo-Indians descended on this waterway beside mammoths, bison, camels and other long-gone game.
However, the ancient ones who immortalized their livelihood along the Green were the Fremont People. These indigenous groups chiseled and painted scenes from their daily lives on the canyon walls starting 2,000 years ago. Some of the most beautifully preserved petroglyphs and pictographs reside along the Green River, and are accessible only via rafting trips.
Other sights from people of the past are more recent, like the late 19th century outlaw hideouts of Butch Cassidy in Desolation Canyon, or the inscriptions of Denis Julien in Labyrinth Canon from the 1830s.
Hikes on Green River Rafting Trips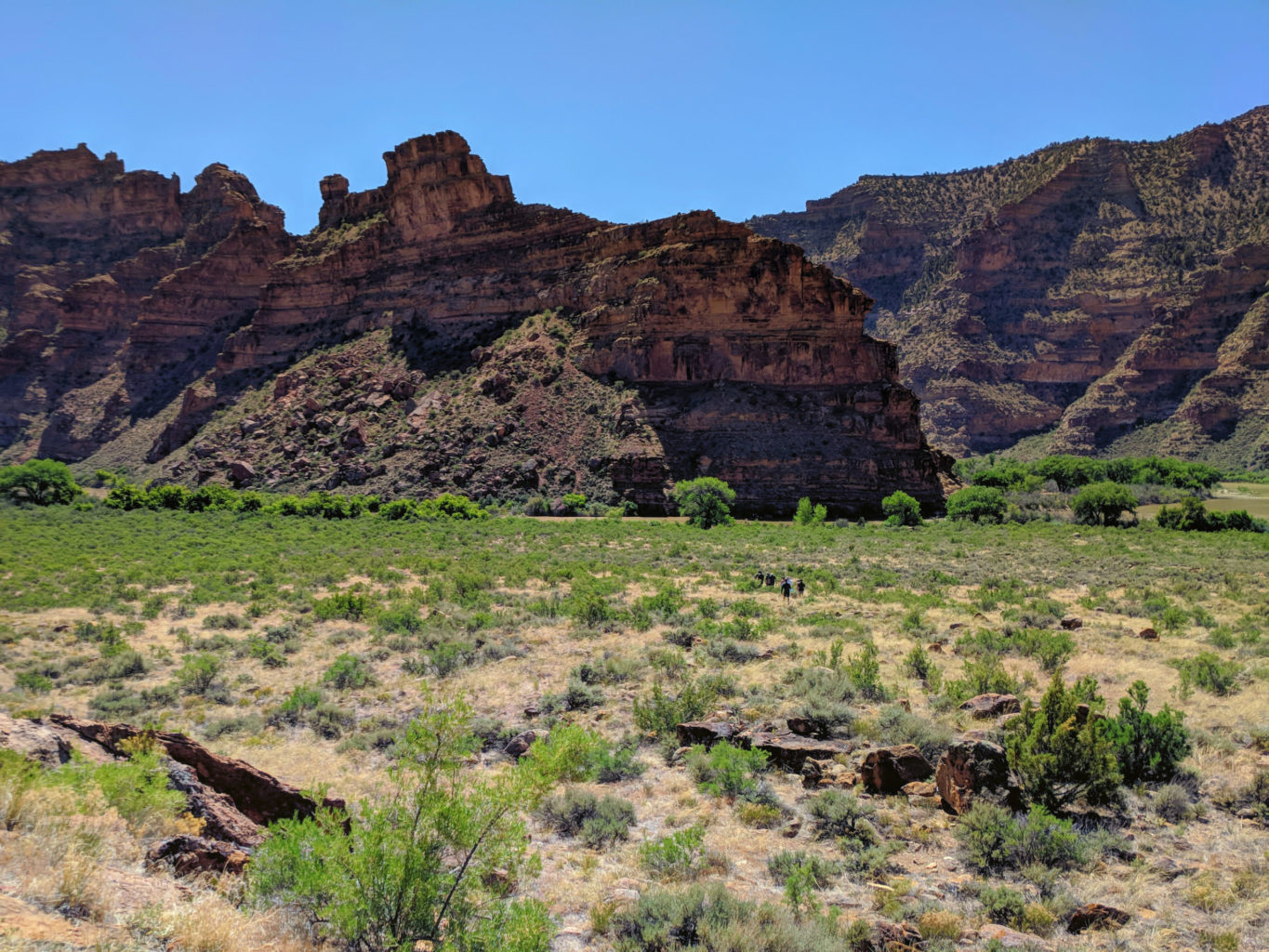 The Jones Hole trail in Dinosaur National Monument is a favorite for good reason. This 5-mile, in-and-out route completely changes from a desert ecosystem into a flourishing forest along a clear water stream. Along the way are trickling waterfalls, pristine petroglyphs, wildflower meadows and wildlife.
In Desolation Canyon, Rock Creek Ranch is only a short jaunt off the river. The 100-year-old homestead sports an apple orchard that still blossoms, and remnants that haven't been taken as keepsakes can still be discovered throughout the property.
Labyrinth Canyon's glossy stretch of the Green River presents plenty of opportunities to explore side canyons. Trin Alcove in Three Canyon is a geologic gallery with gorgeous slots that John Wesley Powell named on his expedition in 1869.
Gates of Lodore Rafting Trips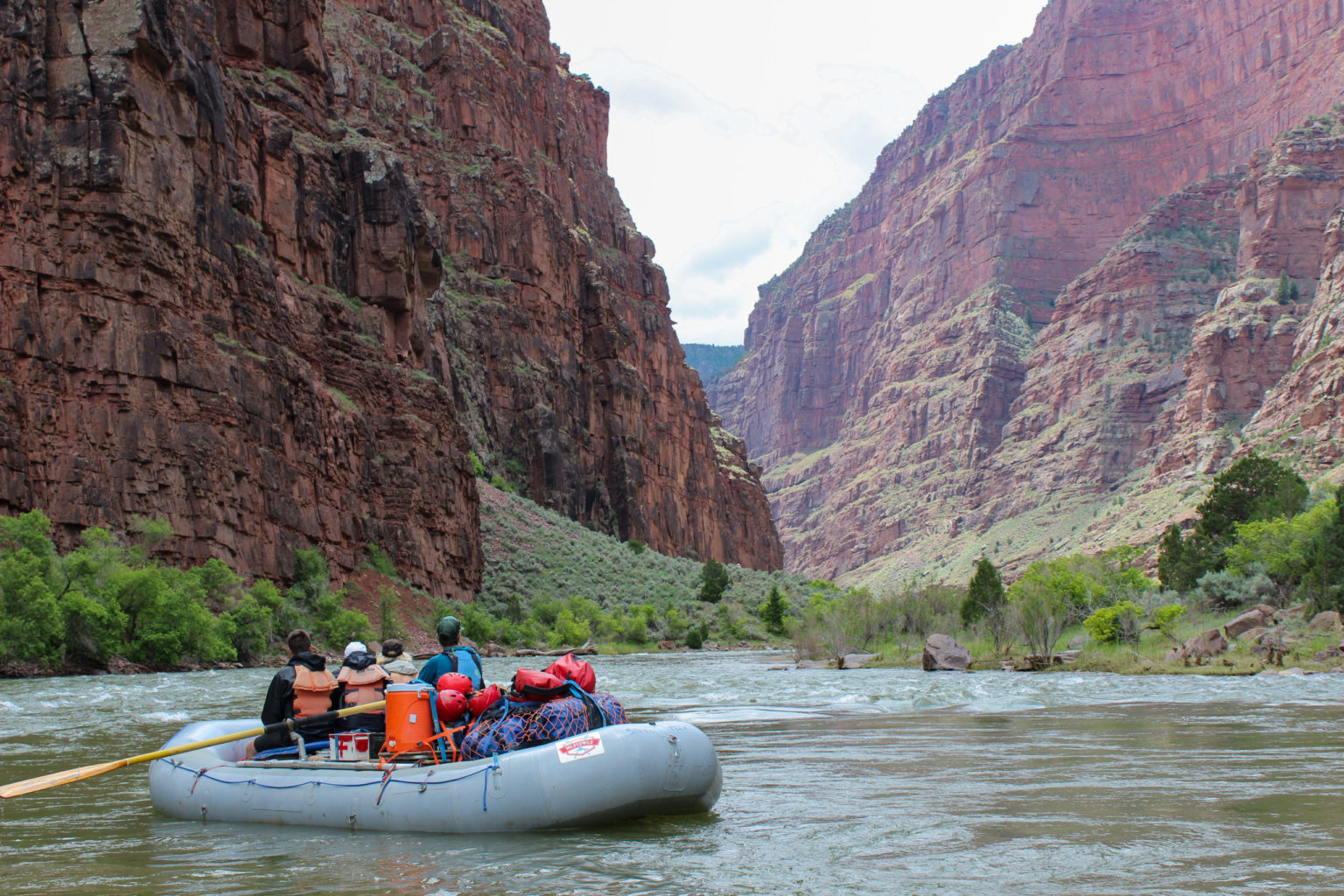 If you're looking for a shorter wilderness getaway, Green River rafting trips in Lodore Canyon are a superb way to immerse yourself in nature for a three or four days.
Any Green River rafting trip in Lodore Canyon starts with a memorable impression. Billion-year-old gates mark the entrance to this ancient chasm in crimson quartzite, and once you've passed through this 2,000-foot ingress, rolling waves are soon to come.
Lodore Canyon is gorgeously unique as it stays fairly narrow and steep until meeting the Yampa River in the drastic geologic circumstance of Echo Park. Here, the canyons and sculptures begin to change dramatically, adding even more interest to what the Earth was up to millions and billions of years ago.
The remoteness of this canyon has also allowed its petroglyphs and fossils to remain pristine for our enjoyment. At the rafting trip's end, the quarry (discovered in 1909) is a superb place for you to witness what this river has seen through the ages.
Dinosaur National Monument also ensures you'll experience a newfound rarity of nightly displays. This section of the Green River meanders through a Dark Sky Park, meaning it's a place of true, unadulterated darkness. Dark Sky Parks allow you to observe parts of the galaxy you could never see with the naked eye otherwise.
Check out Gates of Lodore Rafting Trips here.
Desolation Canyon Rafting Trips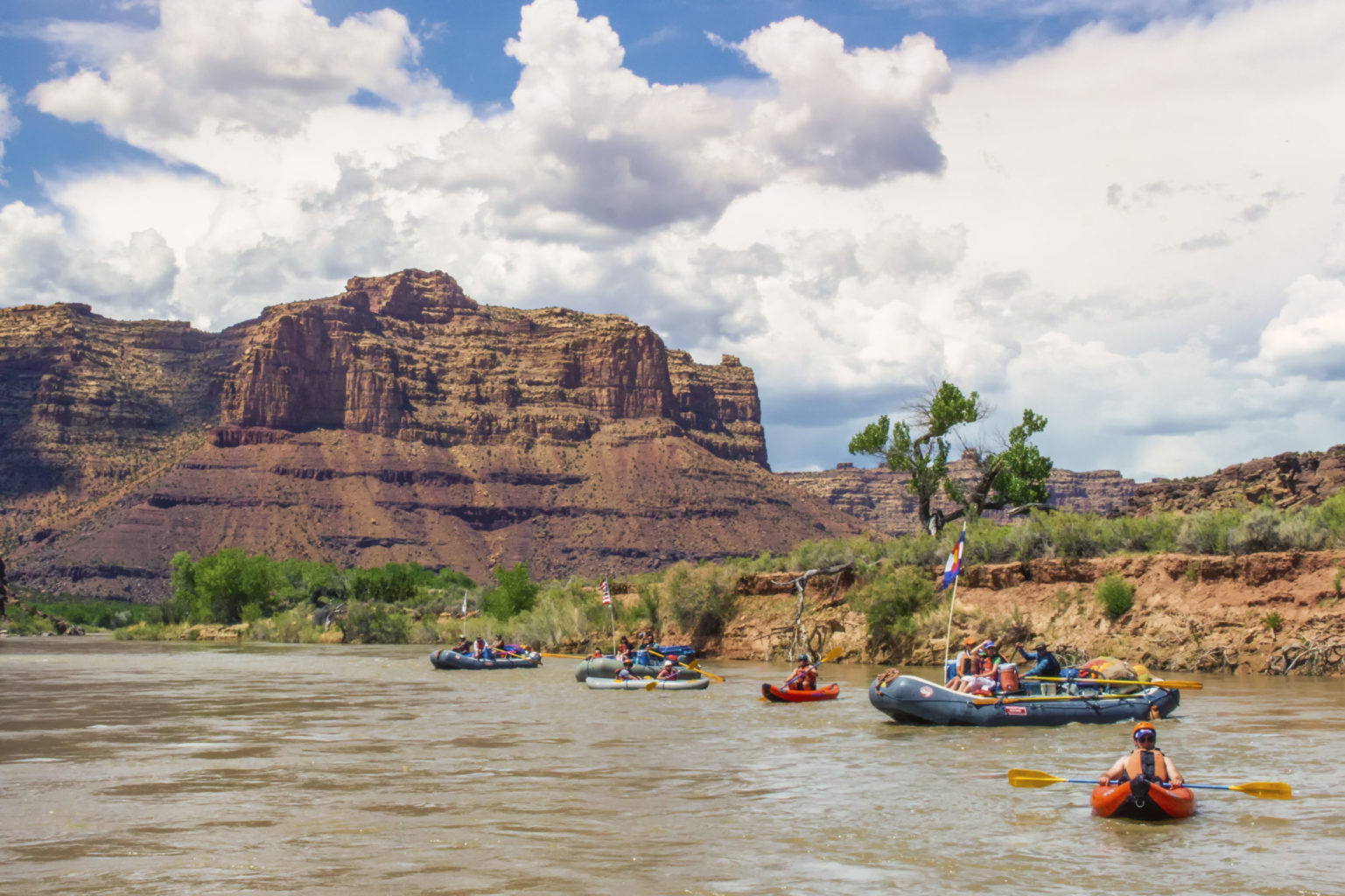 For those really wanting to take a Green River vacation, Desolation Canyon is supreme.
"Deso" is a massive rift along the Green River, and it resides in the most remote wilderness area in the contiguous United States. At times its walls rise higher than the Grand Canyon's at over 5,000 feet.
Don't let the name fool you either. Because this canyon is so isolated, it allows wildlife to thrive without the burden of intrusion. Bands of wild horses are not uncommon to see galloping through the valleys, or big horned sheep prancing along limestone cliffs, or eagles floating between the void. You know, classic wild west stuff.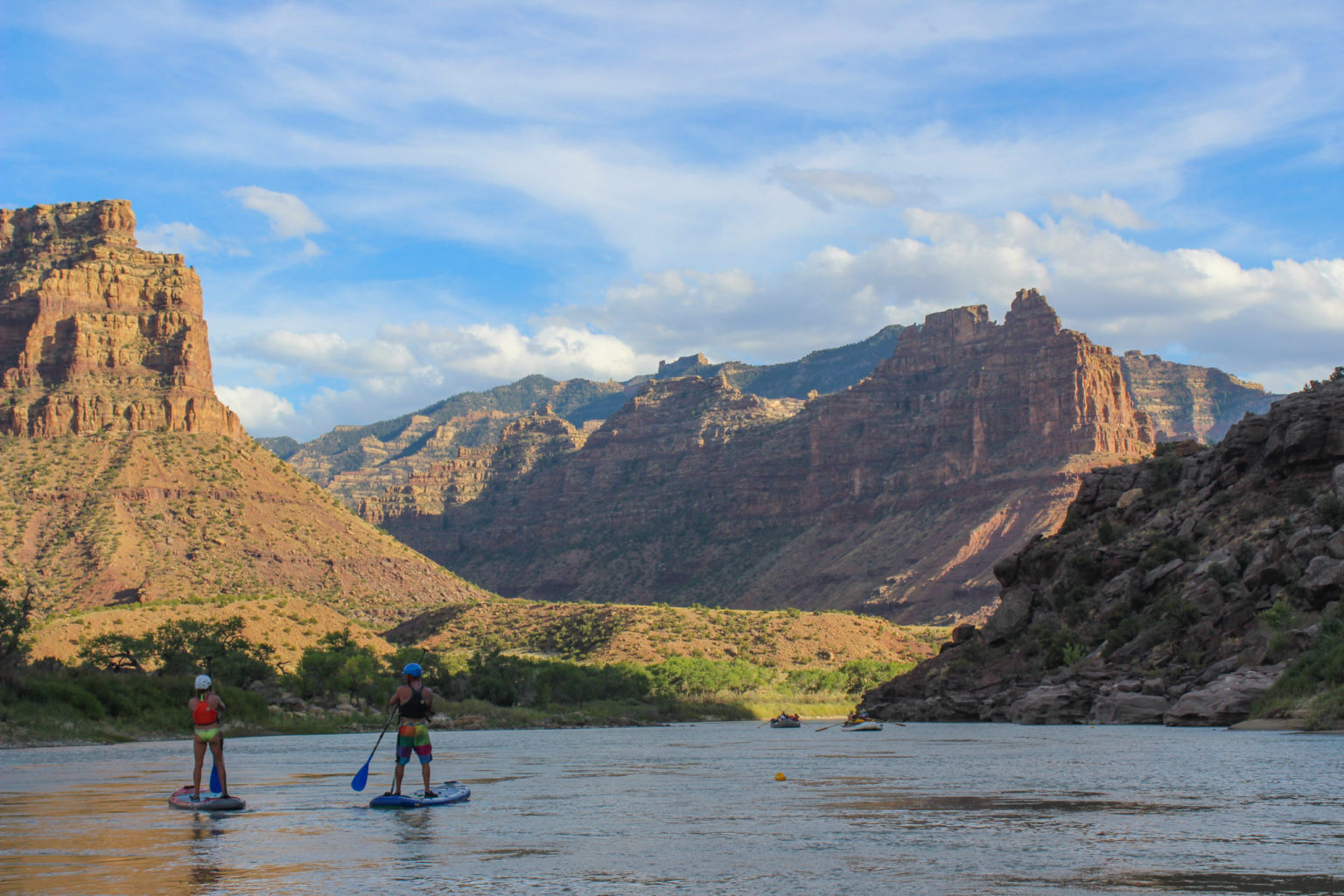 This incredible swath of untouched nature is protected under the Wild and Scenic River Act. That said, despite its remoteness, Deso is surprisingly welcoming to the youngest of adventurers. The consistent class II rapids make this a fun and friendly place to try out kayaking and paddle boarding for new and experienced river runners alike.
And below the looming rim are the Green River's widest and silkiest beaches. Camps here come splayed across from amphitheaters and hoodoos in constant sculpt, which are the perfect backdrop for any activity along the sand.
Check out Desolation Canyon Rafting Trips here.
Private Trips on the Green River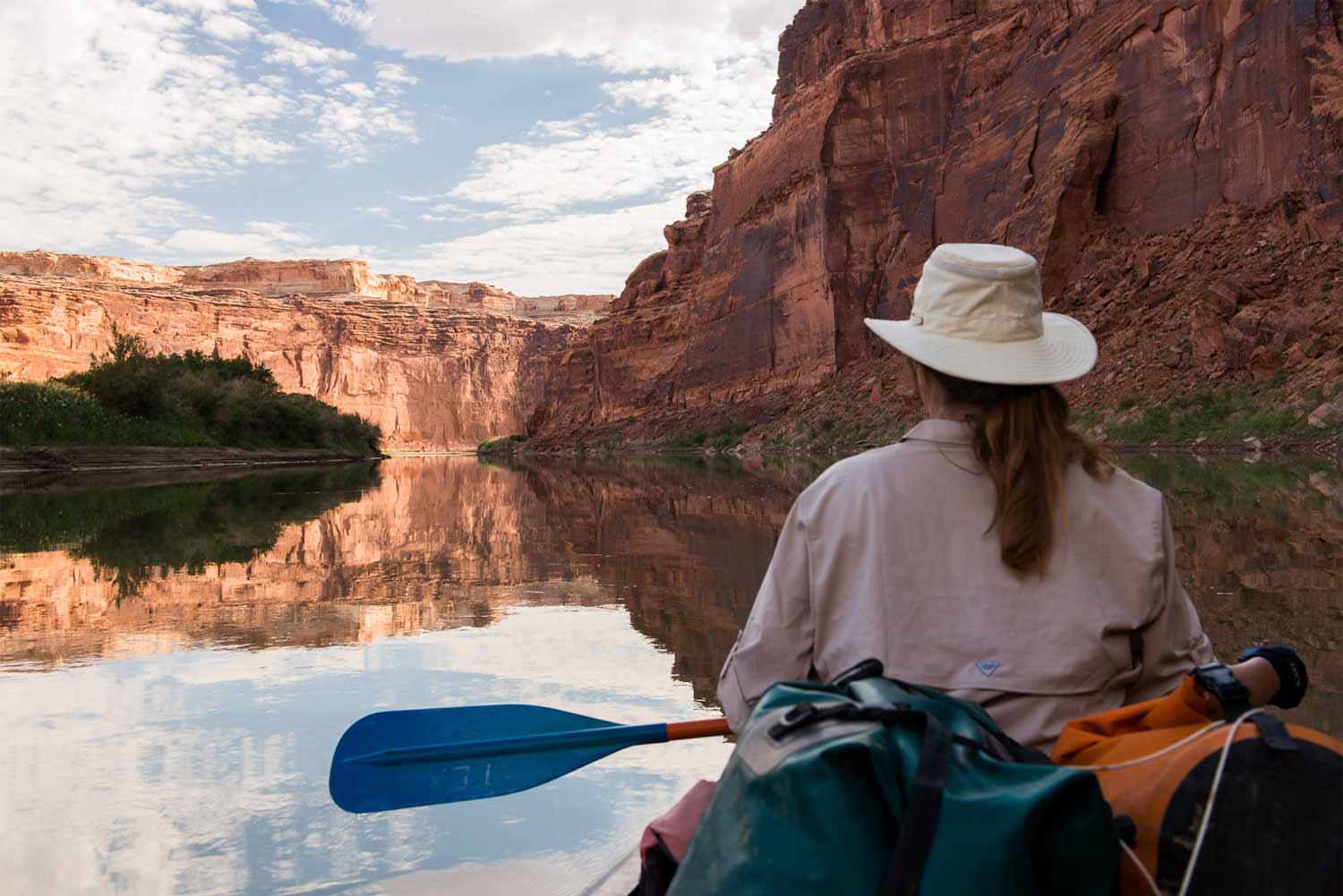 Credit Fred Wasmer, Labyrinth Canyon
If you're ready to row at it alone, Labyrinth Canyon is a beautiful rift steeped in beauty and glossy waters. This float trip is excellent for adventurers with less days to spare on the river, and for those giddy for side hikes loaded with history and geologic wonder.
A special feature of this river-worn labyrinth is its smooth, apricot colored Wingate Sandstone. Within this slick rock canyon are plenty of remnants from homesteaders, miners and early explorers.
Labyrinth Canyon trips can be from 45 to 68 miles long and require a permit. This chasm meanders before Stillwater Canyon to enter Canyonlands National Park. For a complete guide of rafting the Green River through Labyrinth Canyon, visit labyrinthcanyon.com
A Comprehensive Guide to Green River Rafting

The Naming of the Green.
The earliest known name for the Green River was Sisk-a-dee-agie, which means "river of the prairie hen" in the language of the Shoshone people, the traditional inhabitants of the upper Green River basin. When the Spanish priests, Dominguez and Escalante, crossed the Green at the mouth of Split Mountain Gorge in 1776, they called it the Río San Buenaventura. Fur trappers who hunted in the area in the early and mid-1800s called it the Spanish River or the Rio Verde (Spanish for Green), or the Seedskadee, an adaptation of the Shoshone name. Where the word "green" originated, and why it became the name that stuck, is lost in the mists of time. During periods of high runoff, the sediment-laden river does have a greenish tinge, but it is often just as likely to be red, depending on where most of the sediment originates. Today's Green River below Flaming Gorge dam is a brilliant, transparent blue-green, but the dam wasn't built until 1958, and when Powell launched in 1869, the name "Green" was already well established.
Green River rafting trips take you into some of the best lesser-known canyons and wilderness areas of the Colorado Plateau. The Green River is the Colorado River's largest tributary, running for 730 mostly uninhabited miles from the mountains of Wyoming all the way into the heart of Utah's canyon country, with a brief little jaunt into Colorado along the way. With no major population centers along the river, much of it feels just as wild, vast, and unknown as it did before the first river runners put it on the map. There are nine different sections of river suitable for rafting, including spectacular canyons, wildlife refuges, and world-famous fishing waters.
The Green River begins in the rugged and remote Wind River Mountains.
These peaks form the crest of the Continental Divide in western Wyoming and cradle the glaciers where the Green River is born. From the Green River Lakes, where the river begins to take shape, the Green wiggles its way for 120 miles across a landscape streaked with creeks, streams, oxbows, and marshes. Free flowing, clear, and cold, these are excellent trout-fishing waters. It's also possible to float (in small crafts) parts of this upper section during spring runoff, when water levels are over 700 cubic feet per second (cfs).
From Fontenelle Dam to Green River, Wyoming
Just south of La Barge, Wyoming, the river pauses in Fontenelle Reservoir. Twenty miles long, Fontenelle stores water for local use in mining operations as well as power generation. Downstream of the Fontenelle Dam, the landscape is high, dry, and windswept. The Green runs for 50 miles toward the town of Green River, Wyoming, sweeping up the Big Sandy River and flowing through the Seedskadee (SEED-skah-dee) National Wildlife Refuge.
Green River, Wyoming, was the starting point for a number of historic river expeditions. In May 1869, Major John Wesley Powell and nine men (some fellow soldiers, others fur trappers and mountain men) launched from the railroad bridge on the west side of town. Powell's crew traveled all the way to the confluence with the Colorado River and beyond, into Grand Canyon. They mapped the river and canyons and became the first people of European descent to travel the entire length of the river. Today, there's a National Historic Landmark a little way downstream at Expedition Island that commemorates not only Powell's journey into the unknown but several other early explorers and adventurers who also launched from the town of Green River.
Humans have lived along the upper Green River for thousands of years. Archaeological sites and artifacts have been found in the upper Green River basin that date back as far as 7,800 years ago (Source). The Shoshone and Ute people were the traditional inhabitants of the river corridor and surrounding land before white settlers forced them onto reservations. Fur trappers roamed the mountains and hills along the river and even built round boats out of willow branches and bison hides in order to travel on the river. There are some amazing early accounts written by mountain men such as William Manly that describe brief attempts to float the river and the myths and rumors that surrounded much of the river's corridor.
Sixteen miles south of Expedition Island, the Green River slows again, its current stalling in Flaming Gorge Reservoir. Like Fontenelle, Flaming Gorge stores the Green's water high up in its basin and releases it as needed to meet the needs of water users downstream and to keep a minimum ecological flow in the river corridor. Flaming Gorge is 90 miles long and is the biggest reservoir in Wyoming. It's known for its vermillion-colored walls that jut above the reservoir's surface; these walls are only a fraction of the brilliant, steep cliffs that lined the river before it was dammed. Powell named Flaming Gorge, along with Horseshoe Canyon and Kingfisher Canyon, also vanished under the reservoir. The upper reservoir is oriented north to south, as the river used to flow, but two thirds of the way down it crosses the state line into Utah and turns sharply to the east.
Below Flaming Gorge Dam is where the real Green River rafting begins!
Red Canyon and the A, B, C Sections
The Spillway Boat Launch is several hundred feet downstream of Flaming Gorge Dam, below the rim of what Powell called Red Canyon. The river is hemmed in on three sides by massive walls, two natural and one an imposing concrete bulwark. The 28-mile section of river immediately below the dam is broken up into three sections, most often referred to as "A, B, and C," and it is famous for fly fishing. Introduced trout thrive in the cold, clear water that is released from the dam; the A Section is also known as "The Aquarium" because the clear water makes it easy to spot the hundreds of fish swimming among the sand and rocks of the river bottom.
There are a couple of rafting outfitters that offer trips (both 1-day and longer, 2- to 3-day trips) below the dam, but it's also possible to float on your own. There are a handful of rapids, mostly Class II, but still big enough to get you wet and get some adrenaline flowing! Red Creek Rapid is a particularly tricky right sneak. The canyons are spectacular: steep, dark red, and dotted with evergreen trees. There are several places to take out, making it easy to raft as much or as little as you'd like.
Browns Park
Below the C Section (also known as Swallow Canyon, also named by Powell), the canyon walls open into the sage and grass plain of Browns Park National Wildlife Refuge. The river is calm for the next 19 miles, making it easy to sit back and look for wildlife. Pronghorn thrive in the open space of the refuge. Elk, deer, and the occasional bighorn sheep also frequent the area, and huge flocks of migratory birds, including sandhill cranes, make stopovers on the refuge.
Dinosaur National Monument and Lodore Canyon
The Green River crosses from Utah into Colorado and then into Dinosaur National Monument. Although it's named for those fascinating prehistoric creatures (and there are dinosaur fossils to be found in the southern part of the monument), the Green and Yampa Rivers and their canyons are a large part of what makes the monument so special. As the river turns to the south, a shadow falls across the open expanse of Browns Park. The Gates of Lodore, a minute crack in the wall that is the Uinta Mountains, looms over the landscape. Multi-day Lodore Canyon rafting trips launch here. Permits are required for rafting trips through Lodore. Several outfitters (including Holiday!) run 4- to 5-day trips through the canyon, and a limited amount of non-commercial permits are offered through a lottery system every year.
Lodore Canyon is one of the best river trips in the west, with consistent whitewater (Class II-IV), amazing beach campsites, hikes to waterfalls and ancient rock art, wildlife, and geology that can't be seen anywhere else. Lodore Canyon itself is 19 miles long (the full trip is 44 miles). The Green River emerges from Lodore at the base of Steamboat Rock in Echo Park. This is where it meets the wild Yampa River, the Green's biggest and most important tributary. The river flows through Echo Park, then into Whirlpool Canyon and Island Park before finally emerging at the mouth of Split Mountain Gorge. Split Mountain is also an excellent option for 1-day Green River rafting trips.
Uinta Basin
Below Split Mountain, the Green River exits Dinosaur National Monument and begins its slow traverse of the Uinta Basin. The Uinta Basin isn't wilderness—it's one of the most productive oil and gas–producing regions in the United States—but when the river moves out of sight and sound of the oil wells and infrastructure, it feels like wilderness. The landscape is enormous. Gray, purple, and green shale hills roll away as far as the eye can see. Crumbling buttes and short canyon walls rise above the water in places, and the river bottoms are full of cottonwood trees and wildlife. No commercial companies run this section, but there's no permit required, and you are almost guaranteed to see no other humans along the entire 103-mile stretch of river. The Duchesne and White Rivers join their flows to the Green's in this section. Most of the surrounding land is public, overseen by the Bureau of Land Management, but the river does flow through private land, as well as the Uintah and Ouray Indian Reservation and the Ouray National Wildlife Refuge, so it's important to know where you are and what the landowner's rules are before going hiking or setting up camp.
Desolation and Gray Canyons
Unlike the Uinta Basin, Desolation and Gray Canyons are wilderness, or at least are managed as such. From the put in at the Sand Wash Ranger Station (25 miles of bumpy, dusty road from the closest pavement) to the take out near Green River, Utah, the river flows for 83 miles through one of the largest roadless areas in the Lower 48. Because of the influence of the largely unregulated Yampa River, the Green River through Desolation and Gray Canyons feels the most like a wild, undammed river. The landscape is the least altered of any other stretch of the Green. Healthy groves of cottonwood trees, big sand bars, fun whitewater, and endless hiking opportunities make Desolation and Gray a popular family rafting trip. Archaeological and historic sites are another highlight. The Fremont cultural group (700–1300 years ago) left behind rock art and food storage structures (granaries), white homesteaders and outlaws made their homes in the side canyons and river bottoms starting as early as the late 1800s, and the Ute Tribe still lives on (and manages) the land on the east side of the river. The Price River, another major tributary, runs into the Green not far above the take out. Permits for non-commercial trips through Desolation and Gray are easier to get than for Lodore, and Holiday, along with other outfitters, offers fully catered 5- and 6-day trips.
The common take-out point for Desolation and Gray trips is Swasey's Beach, 12 miles upriver from the town of Green River, Utah, where the canyon ends abruptly at the Book Cliffs (the longest continuous escarpment in the world). It is possible to keep floating from Swasey's all the way into town, but there is a diversion dam a few miles downstream (with a boat passage) that should be scouted before running. The river flows under the main town bridge and passes the Green River State Park, where boaters can take out or put in for the canyons downstream. From the State Park, the river slips beneath Interstate 70 and the railroad bridge and then waves goodbye to civilization, disappearing into the greater Canyonlands area.
Labyrinth Canyon
The Green River is the Colorado River's biggest tributary—and maybe the most important. The Green River contributes approximately 4.5 million acre-feet of water per year (Source) to the Colorado River, making it the Colorado's single largest tributary. Every drop of the Colorado River, from its headwaters to where it no longer meets the sea, is claimed and consumed. The Green, however, flows through less-populated parts of Wyoming, Colorado, and Utah, where the climate is cooler and not suited for large-scale, water-intensive agriculture. Its water has not yet been fully developed. Although in theory its water belongs to these upper basin states, in practice most of it is allowed to flow downstream. This means that through Desolation, Gray, Labyrinth, Stillwater, and Cataract the river is still relatively healthy and behaves more like a free-flowing waterway. // Because there's a perception that the water in the Green is "extra," and because growing cities like Denver and Salt Lake City have "paper rights" to that water, developers continue to propose new projects to move that water out of its basin to where the greatest demand is. The problem is that when the water of the Green and Colorado was divvied up, more was allocated than actually exists. There is no extra. It is only because upstream users haven't developed their allotted water rights that downstream users have been able to use the full amount of water they were promised. When upper basin users claim their promised water and begin to develop it, the shortage in the system will become apparent, and new strategies will have to be implemented. The Green River is floating a narrow path between the demands of growing cities and the requirements of a healthy river ecosystem, and its future is uncertain.
For the first 24 miles downstream of the town of Green River, irrigated pastures dot the landscape in between colorful shale hills and crumbling cliffs. The brilliant green fields and pink-orange sandstone of the Ruby Ranch come into view near the mouth of the San Rafael River (the Green's last major tributary). Ruby Ranch is a historic ranch that's still in operation; it's also a popular put in for Labyrinth Canyon trips. Beyond the ranch, red and bronze walls rise over the river, marking the official start of Labyrinth. There are no rapids in this canyon, making it a popular trip for canoeists or families with small children. Holiday sometimes runs guided trips through Labyrinth, but it's more often done by private groups of friends or families. What it lacks in whitewater, Labyrinth more than makes up for with incredible scenery and options for side hikes. Springs, old uranium mining camps and homesteads, historic inscriptions, and rock art all beg to be explored. It's just over 67 miles from the town of Green River to Mineral Bottom, where it's possible to take out.
Canyonlands National Park and Stillwater Canyon
Mineral Bottom is also the place to put in for the next—and last!—piece of Green River rafting: Stillwater Canyon. If it wasn't for the dirt ramp and the outhouse at Mineral Bottom, you'd never know you were transitioning into a different stretch of river. The red canyon walls just keep climbing higher, and the river continues to move slowly, dropping less than 1 foot per mile in places. The river runs for another 52 miles, into the heart of Canyonlands National Park, to its inevitable end at the confluence with the Colorado River. Commercial outfitters don't run this section as a standalone rafting trip but as a way to approach Cataract Canyon, which begins below the confluence. Private canoe groups wishing to explore only Stillwater Canyon can hire the services of a jet boat company that will pick them up at the confluence and motor them back upstream (on the Colorado River) to the town of Moab.
Green River Rafting: a little less famous, but no less fun.
Although the Green River is not as well known as the Colorado, it is every bit as impressive of a waterway, with just as much variety in its landscape, history, ecology, and recreational opportunities, and even more to offer in terms of solitude. It travels through steep, rocky canyons, across hundreds of miles of unique wildlife habitat, and into deep desert wildernesses. Its mountain headwaters and high-elevation storage projects are a key part of the larger Colorado River Storage Project, which must meet the growing demand for water in our thirsty western states. The Green River and its tributaries, especially the Yampa, are also of critical importance to the survival of many endangered species and to the overall health of the Colorado River system. Spend one day splashing through Split Mountain Gorge, or paddle for many days in the depths of Labyrinth and Stillwater Canyons. Rafting trips provide the opportunity to experience firsthand everything that the river is. More importantly, they let you develop your own sense of what the river is, and what it means to you.
Green River by the Numbers
730 miles from its source to the confluence with the Colorado River
Rafting Green River : Nature's Own Thrill Ride
One of the places in our own backyard that always leaves a big impression on us is Whistler. It is an adventure-lovers paradise. Full of incredible experiences in rugged and beautiful nature, sometimes it feels like there could not possibly be more to discover, but there always is. Next on our list was whitewater rafting.
We have had a lot of adventures with TAG Whistler and we are always so thrilled with their friendly and fabulous crew. Their crew always has such a great sense of humor and that really adds to the fun and even the most nervous people are immediately put at ease.
Your adventure will begin with: a quick questionnaire about your possible covid symptoms or exposure, an easy temperature check, and if you do not have a mask you'll be given one. Your mask should be worn while at base camp and on the shuttle to the river (when rafting). You do not have to wear your mask during the rafting.
Where Is Whistler?
Whistler is a small town in British Columbia, Canada, located about 120 kilometers north of Vancouver. It is best known as a ski resort, but it also offers year-round activities such as hiking, mountain biking, and golfing. Whistler has a population of just over 10,000 people, and the town is sandwiched between two mountain ranges, the Coastal Mountains and the Cascade Mountains. Whistler is accessible by car via the Sea-to-Sky Highway, or by plane via the Vancouver International Airport. Whether you are looking to hit the slopes or enjoy some of nature's finest scenery, Whistler is definitely worth a visit.
The TAG base camp is a great spot to chill between activities
A Family Adventure
I thought it would be fun to make this rafting trip a family affair. I really work hard to be the best Auntie ever, and bringing a few of my favorite people for an adventure was a great way to keep up that status. There was so much laughter on the raft, and my nieces and nephew were immediately talking about another rafting trip; I would say it was a success. It was a fantastic way to spend some quality time with them. It turned out to be an awesome adventure and it was a perfect location for a first-time experience for the teenagers; leaving them wanting more.
Rafting Overview
When you get on the raft at Green Lake, your adventure begins with some paddling practice to get everyone coordinated and go through all the safety information you will need. Our guide was wonderful at making sure we all understood each command and made the trip down the river fun with his commentary.
It was a bit of a cold day and you were rafting in cold glacier water. We were happy to have wet suits on; it helped keep us warm as the water splashed up on and around us. On a hot day, the cold water would feel good without the extra long-sleeved wetsuit jacket.
Shuttle all loaded up and ready for the river
The adventure starts at Green Lake and you paddle onto the river that stems from the lake.
Green Lake
Green Lake is one of Whistler's hidden gems. Tucked away in the valley, it is a perfect place to escape the hustle and bustle of the village. The lake is surrounded by tall evergreens, providing a serene and peaceful setting. In the summer, the clear water is perfect for swimming, paddleboarding, and canoeing. And in the winter, the lake freezes over, making it a popular spot for ice skating and hockey. Whether you are looking for a place to relax or an adventure, Green Lake is sure to have something for you.
The road along Green Lake makes for a beautiful drive
White Water Rafting – A Real Thrill
There is nothing quite like the thrill of white water rafting. As you paddle down the river, you never know what's around the next bend. Will it be a calm stretch of water or a raging rapid? Either way, you are in for an exciting ride. And while it can be a bit daunting at first, white water rafting is actually surprisingly safe. With experienced guides at the helm, you will quickly learn the ropes and be paddling your way to adventure in no time. So if you are looking for a real thrill, white water rafting is definitely for you.
An aerial view of the river we rafted down
Why Go Whitewater Rafting?
For many people, the idea of whitewater rafting is fraught with images of being bumped and bruised by large boulders, but the reality is that whitewater rafting can be a fun and thrilling experience for people of all ages. One of the best things about whitewater rafting is that it gives you a chance to see some amazing scenery that you would never be able to see from land. There is something truly magical about floating down a river and watching the world go by. In addition, whitewater rafting is a great way to bond with friends and family. Paddling together and working as a team to navigate the rapids can create lifelong memories.
Mother Nature's Waterpark
Anyone who has ever been to a water park knows that they are a blast. There is nothing like hurtling down a waterslide or floating lazily in a lazy river. But what if there was a way to take the water park experience to the next level? Enter whitewater rafting. Whitewater rafting is like spending the day at a water park made by Mother Nature. Instead of man-made slides, you will be careening down natural waterways. And instead of a tame lazy river, you will be navigating rapids and churning waters. It is an exhilarating experience that is perfect for thrill-seekers and nature lovers alike. So if you are looking for an adventure, whitewater rafting is definitely the way to go.
A moment of calm before the storm
So much laughter on our raft!
Know Before You Go:
There are change rooms, but save yourself a bit of effort and come with your swimsuit on already.
Wedge does provide wet suits, jackets, helmets, and booties.
You can leave your extra belongings in a plastic basket in the change room – they lock the door between rafting trips, so your belongings should be totally fine. Our belongings were fine, but leave anything extra you do not really need at home.
There are helmets with the attachment for you to clip your GoPro or DJI Osmo Action into.
Have you ever been rafting? Tell us about it below!
Disclaimer: Darcy and I were guests of TAG Whistler for this experience, but as always, our opinions are our own.
Source https://mild2wildrafting.com/rafting-blog/why-the-green-river-is-one-of-the-best-for-reafting-trips/
Source https://www.bikeraft.com/a-comprehensive-guide-to-green-river-rafting/
Source https://worldadventurists.com/whistler-rafting-green-river/