7 California River-Rafting Trips to Take Next
With the weather so perfect, it's also the perfect time to get your mind and body ready to go river rafting in California.
February 13, 2021
Share
Thrill-seeking nature lovers, rejoice! With spring right around the corner, it's the perfect time to get your mind and body ready to go river rafting in California. Whether you're a beginner looking for a scenic float or a professional searching for your next adrenaline-pumping rapid, the Golden State has a river that'll realize all of your white-water rafting dreams. Brush up on your California rivers, gather your adventurous friends, and get ready for a river-rafting adventure of a lifetime.
A guide to white-water rafting in California
Just about anyone can go white-water rafting in California. The key is choosing the right river for your skill level. Rapids are classified from Class I (easy and calm) to Class IV (wild and challenging to navigate). You also have a wide range of rafting tours to choose from: half-day, full-day, or even multi-day tours. Doing your research before selecting a spot to go river rafting in California is crucial.
Recomended businesses
Show me California.com
Recommended Businesses near
Discover the best of California. Our recommended businesses are top-quality and are committed to their communities.
Categories
Does your business rank among the best in California?
Learn more about our selection criteria and vetting process.
Where to go white water rafting in Northern California

1. Trinity River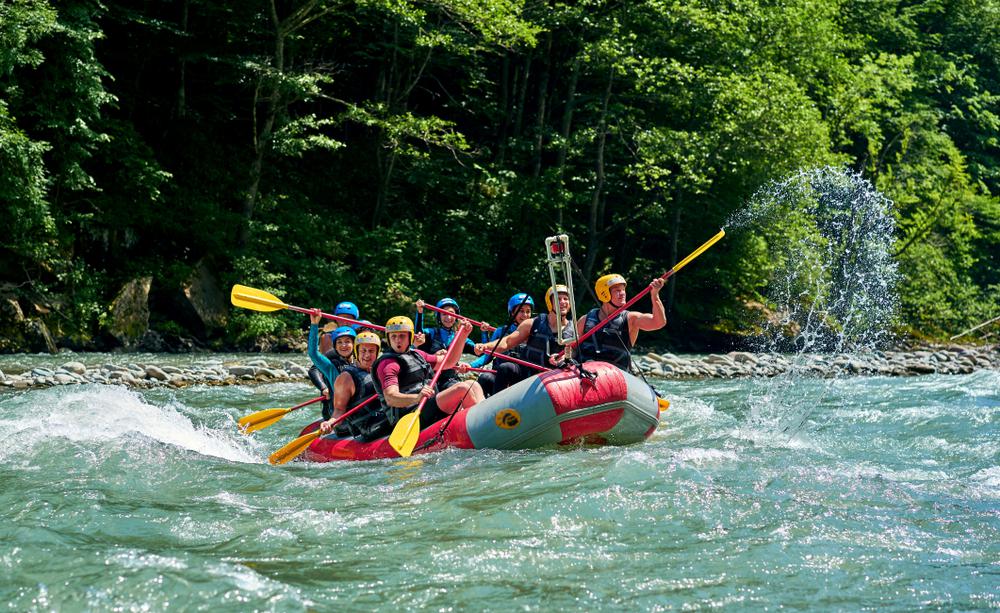 Rapids rating: Class II–V
Nearest town: Willow Creek
Northern California has some of the best river-rafting excursions in the country, and the Trinity River is proof of that. Whether you're a beginner or an expert paddler, rafting on this California river is bound to be a treat. You can find more serene floating and wildlife viewing on the nature-enclaved Lower Trinity. Step up to Pigeon Point from there, and you'll face Class II to III rapids—perfect for first-timers.
But if you're a real pro at river rafting in California, Trinity's Burnt Ranch Gorge is the place for you. The Class V rapids at this wild white-water spot are sure to give you a few thrills (and potential) spills. Previously thought unrunnable, Burnt Ranch Gorge's extreme conditions make it suitable only for highly experienced white-water rafters in California .
2. Truckee River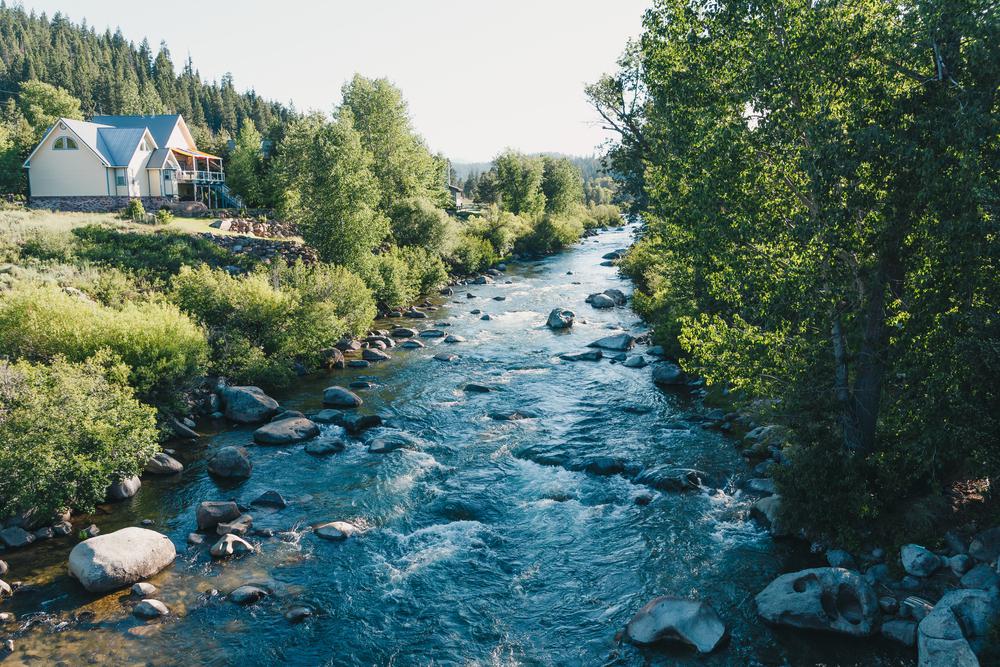 Rapids rating: Class II–III
Nearest town: South Lake Tahoe
The Truckee River is a perfect spot for beginner and intermediate paddlers looking to go white-water rafting in Northern California. Soak in the sun and trail your fingers through the (mostly) tranquil waters on your Truckee river-rafting adventure. You can take many breaks along the way as well, as Truckee is lined by beautiful picnic spots and swimming holes waiting to be discovered. The rafting trips on the Truckee River usually require half a day to complete and are a blast, so consider adding one to your itinerary when spending a weekend in Truckee .
3. Russian River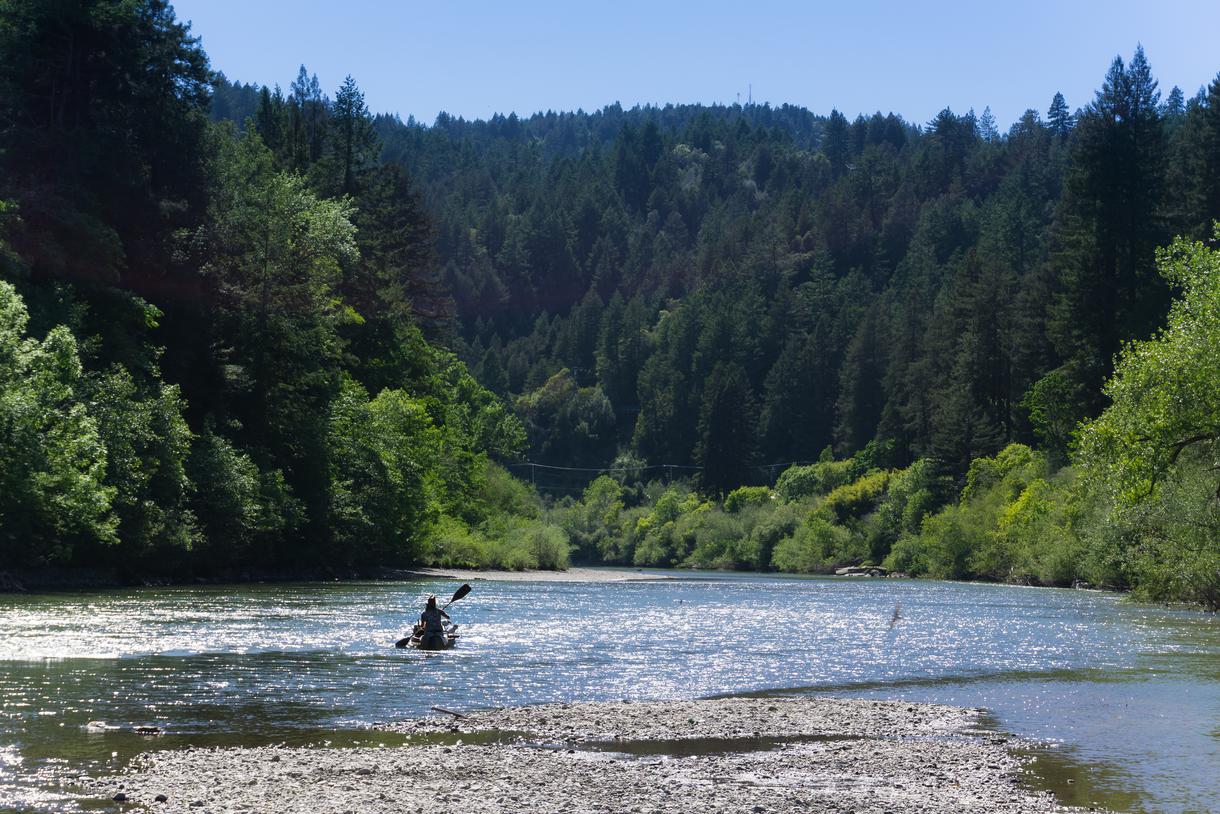 Rapids rating: Class I–III
Nearest town: Cloverdale
Featuring diverse terrain, beautiful wilderness, and clear waters, the Russian River provides respite from the hustle and bustle of daily life. This gorgeous river also offers a glimpse into California history, as it takes you through farmlands and historic towns. Russian River white-water rafting is ideal for those who want to take their paddling skills up a notch. With Class II and III rapids making up the majority of this NorCal river, the elevations and jumps here and there give paddlers just enough excitement without the danger.
4. American River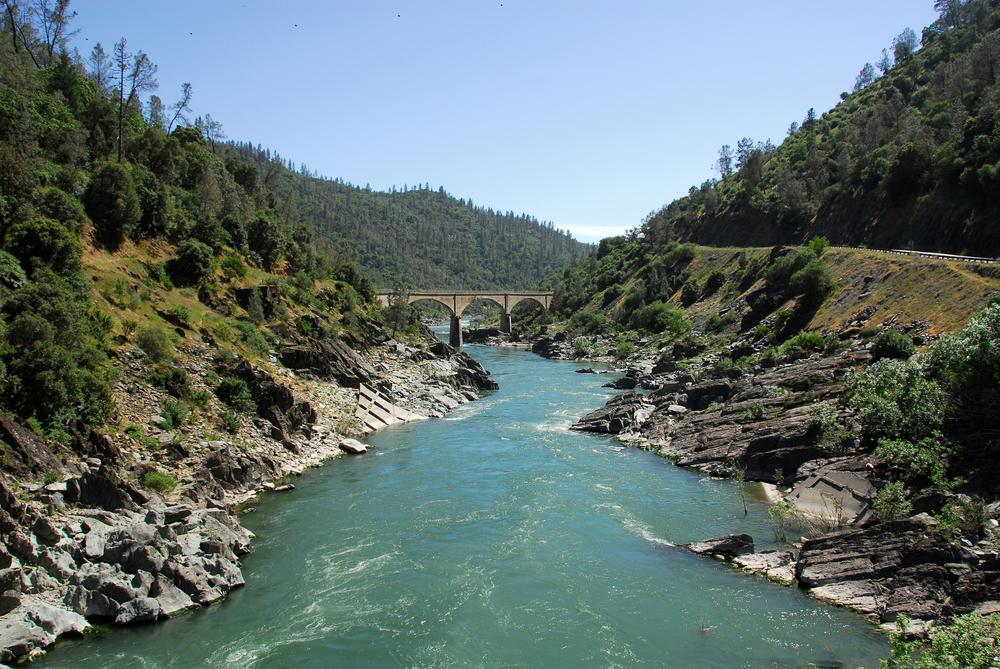 Rapids rating: Class II–IV
Nearest town: Auburn
When it comes to white-water rafting in Sacramento , everyone seems to love the South Fork of the American River. The splashy Class III rapids at this California river are a blast—especially on a hot summer's day. But if you had a more challenging ride in mind, you'll want to head out to the Middle and North Forks of the American River. The Middle Fork boasts one of the most unique rapids in all of California—the Tunnel Chute—which was formed when miners blasted a tunnel through the side of a cliff to divert water. The Chute drops you 6 feet before whisking you through a 90-foot-long tunnel.
But perhaps the most scenic spot for river rafting in California is the North Fork of the American River. The emerald-green waters of this spectacular river flow untamed through a forested gorge with 2,000-foot cliffs, with nearly non-stop white-water rapids. American River rafting is a must-do for all water sports enthusiasts looking for a thrill-inducing experience.

Top places for white water rafting in Southern California

5. Kern River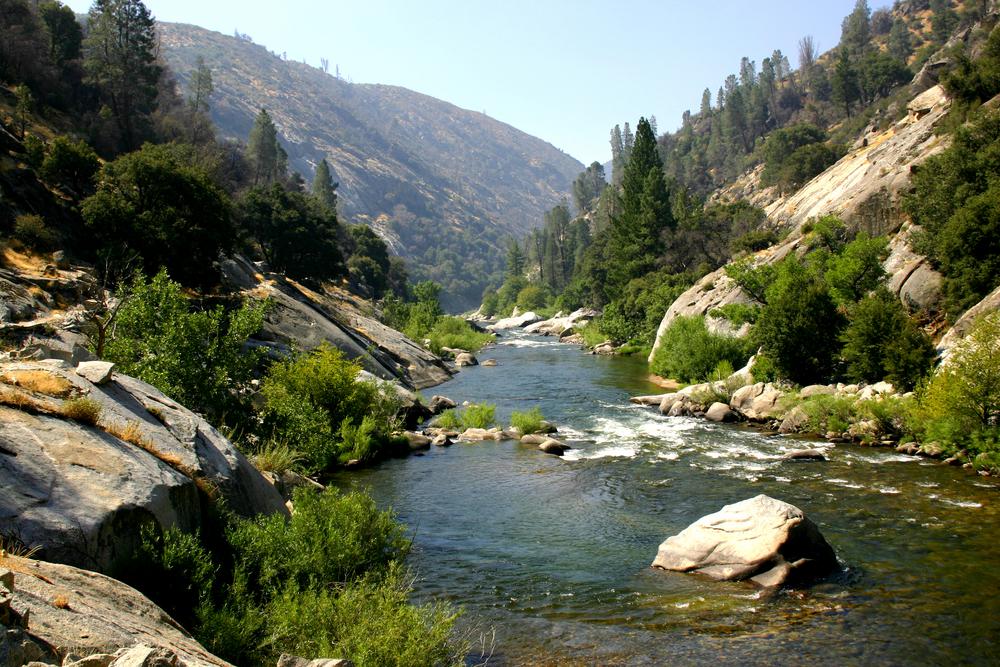 Rapids rating: Class III–IV
Nearest town: Kernville
Sadly, SoCal is not as abundant in river rafting destinations as NorCal. But the few rivers that do exist here provide rapids for days and awesome adventuring opportunities like no other. Since white-water rafting in San Diego and white-water rafting in Los Angeles aren't really possible, making the trip to the Kern River is the next best thing.
Not too far from L.A. is the Lower Kern River—a rafting spot like no other. Paddlers here can expect more challenging whitewater during the spring and a calmer, more reliable flow during the summer. Looking for a weekend escape from the city? Paddle the entire stretch of the Lower Kern, which amounts to a two-day adventure surrounded by wilderness and beautiful scenery.
6. Kaweah River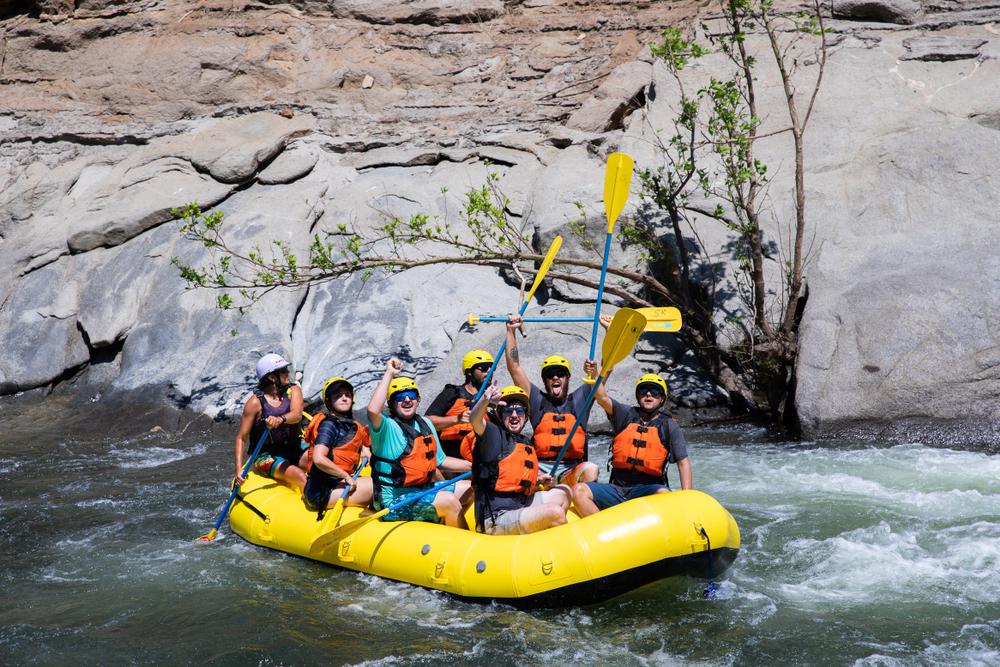 Rapids rating: Class IV
Nearest town: Three Rivers
The most important factor to take into account when planning a rafting trip on the Kaweah River is timing. Flowing from the peaks of Sequoia and Kings Canyon National Parks , this steep river offers some of the best white-water rafting in California. But to enjoy Kaweah in all its glory, you should aim to visit during the snowmelt season, which is from April through June.
Sorry, beginner and intermediate paddlers, but rafting on this California river requires serious expertise. The lower section of the river offers 10 miles of Class IV rapids with narrow chutes and plenty of obstacles. But if you're very experienced, you might also be able to tackle the six-mile stretch in the upper section, just outside park boundaries. Though we must warn you: Only try this section if you're extremely sure of your paddling skills.
7. Merced River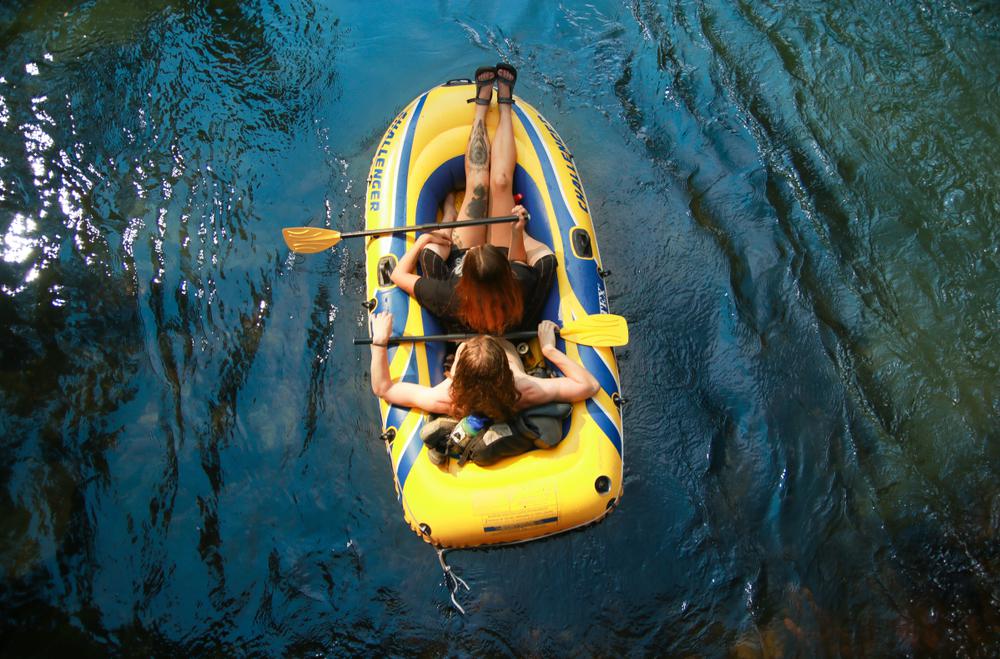 Rapids rating: Class III–IV
Nearest town: El Portal
You won't find any white-water rafting spots in Yosemite National Park , but this is the closest you can get to one. Running down from the High Sierra, the wild Merced River flows through Yosemite and right past Highway 140. The 18-mile-long, free-flowing river ranks high up on everyone's list of places to go river rafting in California.
If you're not very experienced, it's best to hit up the Merced River when the weather starts getting warmer. As the snowmelt subsides, the river mellows out to a fun, Class III level that lasts well through July. But those up for a challenge should visit between April and June for thrilling Class IV rapids.
Best Places to go white water rafting in California
Best Places to go white water rafting in California
White water rafting is a scenic and breathtaking warm-weather sport in California. When the sunshine melts the snow on the mountains, it raises water levels, speeds up the current, and creates a thrilling activity for all ages.
But, if you're searching for "white water rafting near me" on your smartphone, the options might be overwhelming or confusing. Here's a closer look at some of the best white water rafting rivers throughout California so you can get your thrill on from just about any corner of the state.
Before you choose a place to go white water rafting, it's important to understand a few critical points:
• Just about anyone can go since there are rivers for every level of experience.
• Different rivers will have varying classes of rapids, from Class I (the easiest) to Class V (the wildest and most dangerous).
• You can choose from a variety of trips, ranging from half and full-day trips to multi-day adventures.
• The rapids will be fastest in the spring, but some rivers have whitewater rafting year-round.
• Always pick a certified outfitter with a lot of experience.
Whether you're looking for a scenic float or some draw-dropping rapids to get your adrenaline pumping, there's a whitewater rafting adventure waiting for you on one of these California rivers and best of all some of the best places to go white water rafting in California are only a short drive away.
Northern California Whitewater Rafting
Lower Klamath River
If you're looking for white rating rafting for all ages in Northern California, the Lower Klamath River is an excellent choice. The nearest town is Happy Camp, which is about a 7-hour drive from San Francisco or just over 6 hours from Sacramento.
This picturesque river enjoys National Wild & Scenic status and is ideal for first-time rafters and families with young children. The rapids range from Class 2 to 3 along the 18-mile stretch, with plenty of nice beaches to stop at to enjoy this river.
Cal Salmon River
Assuming you want something a bit more exciting in Northern California, check out the Cal Salmon River. The nearest town to the river is Eureka, which will require about a 5-hour drive from either Sacramento or San Francisco.
Drive time aside, what you need to know about the Cal Salmon River is that it is incredibly challenging and even dangerous. Rapids can range from Class 4 to 5, and some runs are considered expert class, meaning you should have ample experience before going face to face with rapids like Freight Train and Last Chance.
American River Rafting also in Northern California
The majority of the American Rivers are damed controlled, meaning there will be water released no matter what, even in drought years.
South Fork of the American River near Lotus, CA
If you search for "American River rafting near me," you'll likely get different results depending on your location. But a trip on the South Fork of the American River is one that is sure to please just about every age and skill level.
The launch point for the South Fork American is near Coloma, CA. It is about a 1 hour of driving from Sacramento and 2.5 hours from the San Francisco Bay Area, making it incredibly accessible. This is an 11-21 mile section of river that has some exciting class 3 rapids, but it is also considered acceptable for all experience levels and children ages 7 and up. There is even a section of white water rafting on the American River for the younger ones ages 4-7, our Young Rafters Adventure. A 2 hour bouncy float through the middle section of the South Fork American River.
Some of this river's signature rapids include Troublemaker, Meat-grinder, Satan's Cesspool, and Hospital Bar. There are half, full-day, and multi-day trips on this river with Private Camping right next to the river.
Middle Fork of the American River near Auburn, CA
Paddlers who are looking for a bit more white water excitement can check out trips on the Middle Fork of the American River. The launch point for this trip is also about 1 hour outside of Sacramento and 2.5 hours from the San Jose area. This 18-mile stretch of river has Class 3 and 4 rapids, some with steep drops and churning whitewater. In addition to the heart stopping excitement, you'll be treated to some of the most beautiful canyon scenery in the state.
Some of the memorable rapids you'll want to watch for include Kanaka Falls, Tunnel Chute, and Ruck-a-Chucky Falls. Trips on this section range from 1 day to 3 days, and the minimum age to participate is 12. Participants for the rafting the Middle Fork American river should be in good physical condition, know how to swim, and be on the adventurous side.
North Fork of the American River just outside Auburn, CA
Are you're looking for the ultimate Spring Time whitewater thrill in Northern California, book a trip on the North Fork of the American River. This is the most difficult fork of the American Rivers, and trips are only available during the early spring and summer.
You'll meet in Auburn, CA, which is about 45 minutes outside of Sacramento and a little over 2 hours from San Francisco. The length of the trip is 12.5 miles and, when you aren't paddling furiously or grinning from ear to ear, you'll be treated to views of gorgeous forested gorges.
A few of the unforgettable rapids on this river include Entrance Exam, Chamberlain Falls, and Staircase Falls. This is a full-day trip for advanced paddlers, and the minimum age is 14.
Can't decide between white water rafting American River middle fork and south fork trips? Try the American River rafting trip combo and combine them!
Merced River near Yosemite National Park
The Merced is known as the "Gateway to Yosemite," and its namesake river draws its water from the surrounding Sierra Nevada mountains. While the river flows through the heart of Yosemite National Park, there isn't any whitewater rafting within the park's borders, but just outside the Park, the Merced is ready to raft. This is still one Central California river that should be firmly on any adventurer's list.
The put-in for the Merced River Rafting is just a 3.5-hour drive from San Francisco and about 6 hours from Southern California. The best time for this adventure is from April to mid-July. Expect to experience Class 4 and 4+ rapids on this 16-mile run with memorable experiences named Ned's Gulch, Corner Pocket, and Split Rock, just to name a few.
Southern California River Rafting
Lower Kern River
If you live in Southern California and don't want to make the trip up to the Merced River (we still recommend it), the lower Kern River is closer. Located just northeast of Bakersfield on the southern edge of the Sequoia National Forest, this dam-controlled section of river serves up rapids ranging from mild Class II to wild Class IV during the early spring.
Whitewater rafting is exhilarating and fun, but it can also be dangerous. We strongly recommend hiring a guide for your upcoming adventure. Check out the available tours on the American River and Merced River with Whitewater Excitement or contact us today with any questions. It would be our pleasure to help you find the perfect white water river rafting trip near you.
Rafting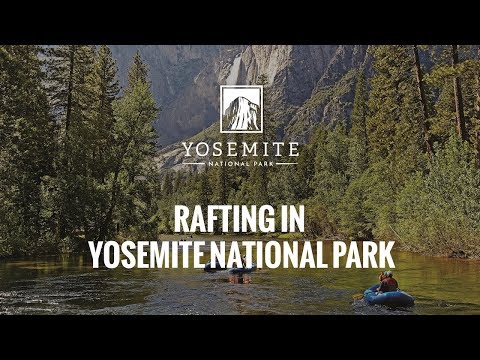 Spend the afternoon rafting in Yosemite–you'll have tons of fun while cooling off and taking in some amazing views. Your trip will include a 3-mile float down the Merced River in a raft that holds 2-4 people.
The Yosemite rafting season varies from year to year and depends on factors such as the depth of the rivers, the temperature of the water and the seasonal snowmelt. With a good snowpack year, the season can last anywhere from the middle of July to the end of August.
Rafting Information
$30.50 per person
NOTE: Two capable paddlers are required per raft, including at least one adult per boat, and children under 50 lbs. are not permitted in rental rafts. For safety reason, we cannot make any exceptions to these rules.
ADA Rafters
Our rafting staff will assist special needs visitors at the raft entry point, transport their device or chair to the river exit point, and provide transportation for the return trip in an accessible tram.
Rafting Cancellation Policy
Cancellations must be made at least 2 hours prior to scheduled session in order to receive a full refund. Any cancellation made less than 2 hours from rafting session time will be nonrefundable.
Rafting Rules and Safety Checklist
Please be alert and cautions during your trip. Have fun and enjoy Yosemite.
Rafting is not recommended for non-swimmers. Life jackets must be worn at all times in rental rafts.
Children weighing less than 50 pounds are not permitted in rental rafts. Rafting is considered unsafe for small children due to swift and cold water.
Two capable paddlers are required in each boat. A capable paddler is at least 5 feet tall and 12 years old. An adult is required in each boat.
Glass containers and alcoholic beverages are prohibited on rental rafts.
Be cautious and alert! Trees and rocks do exist in the Merced River, creating obstacles requiring your attention. Rafts may not be tied together.
Do not take valuables unless properly secured and waterproofed.
Purchase price includes raft, paddles, life jackets, and shuttle ride. Shuttles return every 30 – 40 minutes. The last shuttle departs at 6:00 pm.
Only paid persons may ride in rental boats.
Do not enter roped off areas on riverbanks. Please respect these sensitive areas.
Do not tie rafts together at any time.
Please beach rafts on sand or rock areas only; don't disturb the natural vegetation around the area.
Rental Reservations
No experience is necessary to rent a raft and experience the delight of rafting down the river at Yosemite National Park. Life jackets are provided and wearing them is mandatory.
Reservations are currently unable to be made over the phone or online and must be made in person on the day of your desired rafting trip.
NOTE: All raft rentals depart from Curry Village.
Using Your Own Raft & Innertube
If you'd like to use your own raft, you have the option of purchasing a ticket for the shuttle bus back to Curry Village at the end of your rafting journey for $5.00 per person. You can bring your deflated inner tube or raft back with you on the bus, as long as it fits in your lap. We also rent life jackets and paddles for $5.00 each. Life jackets are required for children younger than 13, and rentals are good for one trip down the river.
Source https://www.california.com/california-river-rafting-trips-take-next/
Source https://whitewaterexcitement.com/blog/best-places-to-go-white-water-rafting-in-california/
Source https://www.travelyosemite.com/things-to-do/rafting/