Insiders Guide to Rafting the Grand Canyon
The ultimate guide to rafting the Grand Canyon including how long it takes, whether you need a permit and how much it costs.
Share this
Join Grand Canyon National Park Trips
Create a personalized feed and bookmark your favorites.
Already have an account?
Join Grand Canyon National Park Trips
Create a personalized feed and bookmark your favorites.
Already have an account?
Rafting down the Colorado River in the Grand Canyon Photo: Kent Gubler
Rafting the Grand Canyon is a bucket-list trip for many people and a spectacular way to fully experience the beauty, solitude and unique environment of this natural wonder. Along your rafting trip, you'll have opportunities to stop and do hikes to Ancestral Puebloan sites, see waterfalls, swim in turquoise waters and spot wildlife like bighorn sheep. The Colorado River extends for 279 miles through Grand Canyon and attracts approximately 22,000 visitors per year, mostly on commercial raft trips.
How Long Does It Take to Raft the Entire Grand Canyon?
Depending on how fast the river is running, how many stops you make to camp alongside this 279-mile stretch of river and if you have motorized rafts or oar boats, rafting the entire Grand Canyon can take anywhere from 7-18 days. The fastest way to raft the Grand Canyon is with motorized boats that can cover the distance in about 7 days, depending on how many stops you make. For those in oar boats, plan on between 15-21 days.
To raft the entire Grand Canyon, you'll put in your boats at Lee's Ferry, which is located 42 miles south of the Glenn Canyon Dam in Page, Ariz. Until Navajo Bridge was built in 1929, people had to cross the Colorado River by ferry at Lee's Ferry. While a new wider bridge was built in 1995, you can still walk across the Historic Navajo Bridge.
From there, you'll spend the next 60 miles in Marble Canyon, a beautiful place that stretches to where Little Colorado River meets the Colorado River. With gorgeous towering cliffs, this canyon is home to so many wonders. There are Ancestral Puebloan storage granaries in Nankoweap Canyon. Even 12,000-year-old remains of the extinct Harrington mountain goat have been found here, as well as ancient figurines that are more than 4,000 years old. This canyon is actually part of Grand Canyon National Park.
Mile 6 in the Marble Canyon section of the Colorado River (Photo: Getty Images)
Your first whitewater rapids will be Soap Creek and Badger rapids. Soap Creek is at mile 11. After you leave Marble Canyon, you'll reach Hance Rapid, the first Class 8 that you will encounter. Located at mile 76.5, it's one of the biggest rapids on the Colorado, with the largest single drop (30 feet). At mile 87.5, you'll raft past Phantom Ranch, an iconic set of historic cabins and dormitories with a canteen that you can only reach by boat, by foot or by mule. Pull over to walk to the Phantom Ranch canteen to mail a postcard from the heart of the Grand Canyon.
Some of the biggest rapids of the trip follow, including Crystal at mile 98 (with its large holes in the center of the river), Sapphire, Turquoise and Ruby rapids. However, you'll navigate the infamous Lava Falls rapid at 179 miles, and it's really big and some would say, scary. It's a 9-10 on a scale of difficulty with 1 being easiest and 10 most difficult. It's a really technical rapid with steep drops and large waves like the Big Kahuna (yes, it is named) that can flip a boat.
At mile 225, you'll be at the starting point for shorter "Diamond Down" rafting trips through the Hualapai tribe's section of Grand Canyon. You'll probably see Haulapi River Runners' signature blue motorized boats fording the rapids.
You'll finish your trip at Pearce Ferry 279 miles from Lee's Ferry. Years ago, Pearce Ferry used to be located in Lake Mead's Pearce Bay. But drought has shrunk water levels in the lake. Today, Pearce Ferry is along the fast-flowing Colorado River.
Do I Need a Permit to Raft the Grand Canyon?
A permit is included in all guided commercial trips, so if you signed up to go on a guided trip, you don't need to worry about the getting a permit.
For private groups, rafting the Grand Canyon is only allowed by permit obtained through the National Park Service or, on the lower section, via the Hualapai tribe since 109.4 miles of the lower section is on their land where the Hualapai Nation meets the Colorado River. Private groups may apply for a permit through the park's annual lottery system. For more information go to www.nps.gov/grca/planyourvisit/weightedlottery.htm
To get a permit from the National Park Service, you need to create a user account if you don't already have one here. Then, you'll log in to fill out a lottery application. Keep in mind you will need to list both the trip leader and the Potential Alternate Trip Leader (PATL), both of whom need an account in the system for your lottery application to be processed. In 2022, there was a $25 fee for the application. In 2022, the lottery opened on March 1 and closed March 3 at 12 p.m. MST. You can log into your account to find out if you got the dates you selected, but you will also be notified by email. There are additional river permit costs that you will pay if you get selected in the lottery.
An important thing to know is you can't just apply for this lottery without at least one person on the trip for the entire time having significant experience running either a previous Grand Canyon river trip as a boat operator in command or participated as a boat operator in command on a river of similar difficulty. The selection of boat-operators is the responsibility of the trip leader.
If you plan to pull over on the stretch of the river where the Hualapai Reservation meets the Colorado, you will need a permit. Anyone found on the Hualapai Reservation where it meets the Colorado River who doesn't have a valid camping permit may face serious penalties, including impoundment of all river and camping gear, arrest and prosecution in Hualapai Tribal Court. To buy a Hualapai Nation river camping permit, call the Hualapai Nation Game and Fish Department at 928-769-2227 or 928-769-1122 or by email at hualapai.rafting@hualapai-nsn.gov
This 279-mile stretch is wild, with no developments of any kind except for the off-the-grid store and lodge at Phantom Ranch mid-way through the trip. River trips involve primitive backcountry camping on river beaches and being blissfully removed from the bustle (and all electronics) of urban living.
How Hard is Rafting the Grand Canyon?
Rafting the Grand Canyon is difficult and requires serious river experience for those leading the rafting trip. The Colorado River through Grand Canyon encompasses 160 sets of rapids that are so unique and generally difficult to run that they have their own rating system. While other rivers follow a whitewater rating system of I-V, Grand Canyon rapids are rated on a scale of 1-10. Some of these rapids are extremely difficult to run unless you are a very experienced river runner who has run similar-sized rapids in the past successfully. Unless you are traveling with people who are experts at running highly technical whitewater, plan to hire a commercial outfitter with seasoned guides.
Negotiating rapids on the Colorado River (Photo: Getty Images)
When is the Best Time to Raft the Grand Canyon?
Most commercial trips run between May and October, with the peak demand months being June, July, and August. This makes sense because summer is the time most people want to be on a river. However, it is the hottest time to be in the Grand Canyon with temperatures that soar to more than 100 degrees. You'll want to be aware of heat-related illnesses if you go in the summer.
Go in fall or spring to avoid the crowds and triple-digit summer heat. Private trips often go in winter when more permits are available.
How Much Does a Grand Canyon Rafting Trip Cost?
All commercial outfitters authorized by Grand Canyon National Park to run trips are required to meet certain safety and environmental regulations.
Since the National Park Service only allows a fixed number of river visitors through Grand Canyon each year, spots on commercial trips are limited and typically fill at least one or two years in advance. Trip lengths and cost range from $399 for one-day rafting adventure with the Hualapai River Runners to $6,700 and up for a 18-21-day trip running the entire Grand Canyon. Modes of travel vary from motorized rafts to oar-powered boats to wooden dories. You'll be camping alongside the river as there are no hotels, with the exception of Phantom Ranch, along the way.
A one-day rafting trip in the Grand Canyon is run by the Hualapai River Runner Guides. It's a great way to raft the Grand Canyon without having to commit to a multi-day trip. The first 12 of the 40 miles are filled with fun rapids, and you'll pass interesting landmarks like where several of John Wesley Powell's men abandoned the river trip down the Colorado River, never to be seen alive again. The remaining miles you'll motor though flat water.
Hualapai River Runners guided rafting groups depart from Peach Springs, Ariz., on Historic Route 66 from the Hualapai Lodge by bus, driving for a an hour down to the river's put-in spot. You can either raft to a take-out spot where a bus will greet you and return you to Peach Springs. Or you can raft to a helicopter landing spot after lunch where you will take a helicopter up to the top of the Grand Canyon, at Grand Canyon West. While up there, you'll have a chance to walk the SkyWalk, a glass horseshoe-shaped bridge over the Grand Canyon, as well as see cultural dances and interpretative exhibit panels on Hualapai life past and present. From Grand Canyon West, you'll return to Peach Springs via bus.
Along your rafting trip down the Colorado River with Hualapai River Runners, your guides will give informative narrations on Hualapai cultural history. Their motorized rafts are designed specifically for traversing the Colorado River.
Booking Your Trip
Deciding to take a river trip through the Grand Canyon is easy. Most people with a sense of adventure and a love for the outdoors, dream of such an experience: We imagine clinging to a raft as it bucks and surges its way through wave after wave of frothing brown water; we envision sleeping on a beach surrounded by the canyon's sheer walls with a narrow strip of stars twinkling overhead; or we picture ourselves clamoring over rocks and up around waterfalls through a twisting side canyon. It sounds idyllic. The tricky part is making that dream a reality.
Sixteen companies offer guided trips through Grand Canyon National Park. On average, these companies have been in service for 34 years, so you can't really rule out one for its lack of experience. Furthermore, all licensed outfitters are held to the highest safety and environmental standards set by the National Park Service, so you can rest assured that every company will provide you with a safe, environmentally responsible trip.
So how do you decide? You can narrow down your choices by considering what you personally want out of the your experience. You may be interested in the cruising luxury of a motorized-raft trip: the size of these big boats soften the power of the rapids and motors allow you to move faster down the river. Or you may want to get wet and paddle your own craft on a kayak-supported expedition. You can spend as few as three days on the river or as many as 19. Your trip may focus on natural or human history; or you might want to explore the canyon with your camera under the tutelage of a professional photographer. Some companies use wooden dories to navigate the river, others have a flotilla of paddle rafts, oar rigs and inflatable kayaks.
To filter through all your options, the best place to start is at the Grand Canyon River Outfitters Association website: www.gcroa.org. This site provides a summary of all the licensed commercial outfitters in the canyon with links to their individual websites, so it's the perfect place to see what kind of trips appeal to your specific goals and needs. Trips fill up quickly so you should try to sign up as early as possible to secure your dates. Sometimes this means more than a year in advance. If you are looking for something sooner, you may be able to fill a spot at the last minute however, so it's worth contacting the outfitters to see if there have been any cancellations.
Here are some criteria to look for: Type of river craft (motorized rafts, oar-powered rafts, paddle rafts, or kayaks), the length of trip, activity focus (hiking intensive?), theme (natural history trips, photography, music, geology, etc.), time of year (weather, water levels, temperatures) and special considerations (trips for seniors, physically challenged, families, etc.).
Tips and Tricks for Rafting the Grand Canyon
There are some definite tricks to staying comfortable and happy on rafting trips through the Grand Canyon. Protect your skin. Lotions and sunscreens are essential, but only go so far in preventing the ravages of sun, heat, water and sand. For your feet, what you really need to do is wear dry shoes and socks when hiking. Don't look to your guides for inspiration. Their feet are toughened by months on the river, so just because they choose to walk to Thunder Falls in their flip flops doesn't mean it's a good idea for you to do so. Keep your feet as dry as you can. When you get into camp, take off your river shoes and allow your feet to air out. If you have a pair of neoprene socks, you can wear those under your sandals when you are hiking or in the raft. You may not win any fashion contests, but the neoprene will keep your sandpaper-like sandal straps away from your delicate skin.
As for the rest of your body, keep slathering on the sunscreen. Better yet, wear a long-sleeved loose-fitting cotton shirt. White or other light colors are best, even if they end up rather brown at the end of the trip. You can douse your shirt in water to keep cool and the full cover works better than sunscreen in preventing burns. Wide-brimmed hats are also essential. Make sure your hat, and your sunglasses, are attached to you with a strap, otherwise, you are likely to lose them in the first rapid you encounter.
What to Wear During a Grand Canyon Rafting Trip
Rafter wearing a sun hat. (Photo: Getty Images)
You don't need much on a Grand Canyon trip if you go during the warm or hot season: a couple of t-shirts and one or two pairs of nylon shorts, one pair of long pants, one fleece sweater or jacket, one or maybe two bathing suits, rain gear, toiletries, a book, sunhat, a small towel, and a few miscellaneous items. Think about bringing clothing that dries quickly, is loose and comfortable, and doesn't show dirt, because regardless of how often you jump in the river for a bath, your clothes are going to be permanently brown by the end. Pants are a good idea for the evenings. If it gets windy, you'll be happy to have something to protect your legs from the sting of blowing sand and to offset the chill of cool evening temperatures.
Temperatures can be cold especially when a storm rolls through. If the weather is good, you need little more than a fleece jacket to throw on in the evening, but if it is rainy, you'll probably want some kind of insulating layers to put on under your raincoat. Bring a down parka for cool nights and mornings. Talk to your outfitter and find out what temperatures are expected during your trip. It's hard to fake a warm layer out of multiple bikini tops, so be prepared for the worst-case scenario by bringing a few warm and waterproof items.
Best Grand Canyon
Rafting Trips
With over 100 different options, one question we often hear is "what is the best Grand Canyon rafting trip?" In this post we break down what makes for a quality white water rafting experience and discuss our favorite trip options for rafting the Colorado River within Grand Canyon National Park.
Criteria for Selection
Our criteria focuses on time in the Grand Canyon, cost, and quality of the experience. While the number of days is a major variable regarding time, the time to hike and explore side canyons is equally valuable. We selected rafting trips that were not rushing through a section of the Colorado River. Our belief is you are better off covering a little less of the canyon with more time to explore than vice versa. We also value the more affordable trips and the quality of the experience. This last variable includes the ease of travel to and from the trip, the location where trips start and end as well as how the trip accesses the river.
In addition, all of these rafting trips have availability throughout the summers of 2023 and 2024.
Our Top 5 Grand Canyon White Water Rafting Trips
– 2nd Best for Families – Best for Families!
Why Certain trips didn't make the Cut
Dory and other specialty trips being more costly do not make the cut. You'll also notice a lack of all-paddle rafting trips on the list. While many people think they will be bored if they aren't paddling all day every day, we find many end up preferring to hang out on an oar raft or motor raft while taking in the views and get more than enough exercise with all the hiking and scrambling to waterfalls.
Best Grand Canyon White Water Rafting Trip
1. Full Grand Canyon 7-day Motorized Rafting Trip
While there are purists out there that say you have to use a human-powered raft to run the Grand Canyon, the 7-day motor trip is the most common tour for a reason. The trip allows rafters to see the entire Grand Canyon and run all the rapids while having time to stop at many of the side-attractions, all in just over a week. This trip provides the best overall value and is the most popular rafting trip for families. Kids as young as 8 can go one these trips. Depending upon the outfitter, trips costs around $2800 per person which comes out to about $400 per day.
If you are looking to spend less per day check out the runner-up one-day or 14-day trips. Importantly, Full Grand Canyon rafting trips do not require the 7.5 mile hike in or out of the canyon unlike the Upper and Lower trips. We also recommend the full canyon motor that ends at Whitmore Wash with a helicopter ride out of the canyon. This trip can meet and end in Las Vegas making for simplified logistics.
Find Your Grand Canyon Rafting Adventure…
Download Grand Canyon Trip Planner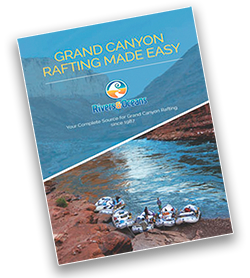 Call Us!
We find a phone call is the easiest way to find your best trip.
Email
Have a question, send us a note. We're here to help.
Find Your Trip
Request a trip search, we'll find tours meeting your criteria.
*** Our service is free to you and paid for by our partner outfitters. We guarantee the same price as booking directly with the outfitter.
Runners-Up
2. Full Grand Canyon: Colorado River 14-day Hybrid Rafting Trip
This is the best deal on a per day basis with the cost being around $320 per day. The total trip costs around $4400 per person. Kids must be at least 12 year old for these tours.
The best full Canyon hybrid trips run from Lees Ferry to Diamond Creek providing even more time to explore the canyon than on the 7-day motor. The problems with this trip is many people can't get away for two-weeks. Others can't imagine 2-weeks without a shower and sleeping on the ground.
Hybrid trips have mainly oar rafts with one paddle raft. We find this to be the best combination for human-powered trips. Most people don't want to paddle every day and others prefer paddling on days with easier white water.
In addition, many people who expect they will want to be in the paddle boat end up preferring the oar raft. While, other people who initially think they will not want to do the paddle raft at all end up loving it! Having the flexibility to be or not be in this craft is ideal. An additional advantage of a small subset of hybrid trips is they also bring a dory.
On a 14-day tour there are abundant opportunities for lengthy side canyon hikes, discovering the Canyon's secrets, and soaking in the scenery. Finally, there is no requirement to do the hike in or out at Phantom Ranch on a Full Grand Canyon rafting trip, making this trip more accessible.
Paddle Raft on Hybrid Trip
3. Upper Grand Canyon 6-Day Hybrid Rafting Trip
For those not wanting the motor raft experience and do not have two weeks for a full Grand Canyon experience. While the lower is known for Lava Falls and Havasu Creek, the Upper section rapids increase throughout the trip ending with the largest rapids on the last full day of rafting.
Starting at Lees Ferry means seeing each rock layer up close as you gradually descend through geologic time. Both the Canyon walls and whitewater build in size as you float downstream, giving you time to gradually take in the experience.
This trip includes a hike out of the canyon at Phantom Ranch, the deepest point in Grand Canyon. The hike covers 7.5 challenging miles along the Bright Angel Trail. This stretch of the Colorado River includes exciting rapids (class II-IV), tranquil flows, archaeological sites, and side canyon explorations. You will camp out on beaches in the bottom of the Grand Canyon. If you enjoy the trip come back and do the lower canyon next!
4. Western Grand Canyon 3-Day Motorized Rafting Trip
Those that want to spend a bit of time camping along the Colorado River, rafting Western Grand Canyon is a great option. The 3-day tour is the best Grand Canyon rafting trip that meets and ends in Las Vegas. They also include a helicopter flight into the launch point for the trip at Whitmore Wash. There is an option to spend a night at the Bar 10 Dude Ranch on the North Rim before starting your trip.
The 3-day trip runs fun rapids but still has some time to explore. It floats to the end of Grand Canyon at Pearce Ferry within the Lake Mead National Recreation Area. We see many people do this stretch and then decide come back to do the full canyon motor trip.
5. One-day Motorized Grand Canyon Rafting (Best Family Rafting Option)
This is the only way to spend one day rafting whitewater rapids in Grand Canyon. There is a one-day flat water run just below Lake Powell but it doesn't have any whitewater. Also, this trip is the most affordable. Depending upon when you go the 1-day motor will run around $350 to $400 per person. You can spend more for a helicopter ride out of the canyon and a stop at the Hualapai Skywalk. There is also no required hiking with this trip. Conveniently, this trip is the closest white water rafting to Las Vegas.
Some people say this isn't the "real" Grand Canyon because it is below where many companies end there trips at Diamond Creek. However, the one-day tour runs the lower Granite Canyon of Grand Canyon passing the spot where the Powell Expedition in the late 1880's decided to split because they were worried they would never make it out of the canyon!
The canyon is still deep, the views incredible and there are many memorable Class II and III rapids (Grand Canyon Class 4 through 7). The most challenging rapid is class III+ Killer Fang Falls which historians believe led to the demise of the Honeymoon Couple, Glen and Bessie Hyde in 1928. The trip even has time for a short side-hike to Travertine Falls. We see excellent reviews for this trip. Plus, all the guides are members of the Hualapai Nation, bringing a unique cultural perspective to the area.
The Family Rafting Option
The one-day Grand Canyon rafting trip is best for families due to the price-point being lower than other trips and kids as young as 8 years old are able to go on the trip. Doing a one day trip also makes for an excellent introduction to rafting and requires way less work for parents. While this is the best Grand Canyon rafting option for kids we feel the Rogue River in Oregon, the Salmon River in Idaho and Lodore Canyon in Utah are all even better river trips for families with kids.
Concluding Thoughts
Any rafting trip in Grand Canyon will be an amazing experience. However, the list above shows the best Grand Canyon rafting trips for most people. Our collection has a variety of lengths from one-day to 14-days with different types of craft and seeing different sections of the canyon so as to meet everyone's needs. One important variable is availability, all these trips are common meaning it will be easier to find you preferred date.
Those looking for more information may also want to read our posts about the different types of Grand Canyon crafts and how rafting the Grand Canyon varies by season.
Interested in us finding available trips for you, please contact us. Our service is free and covered by the outfitters. We guarantee the same rate as you would pay going directly with an outfitter. One call to us gets you availability for all 17 Grand Canyon rafting companies.
Grand Canyon Rafting Trip Reviews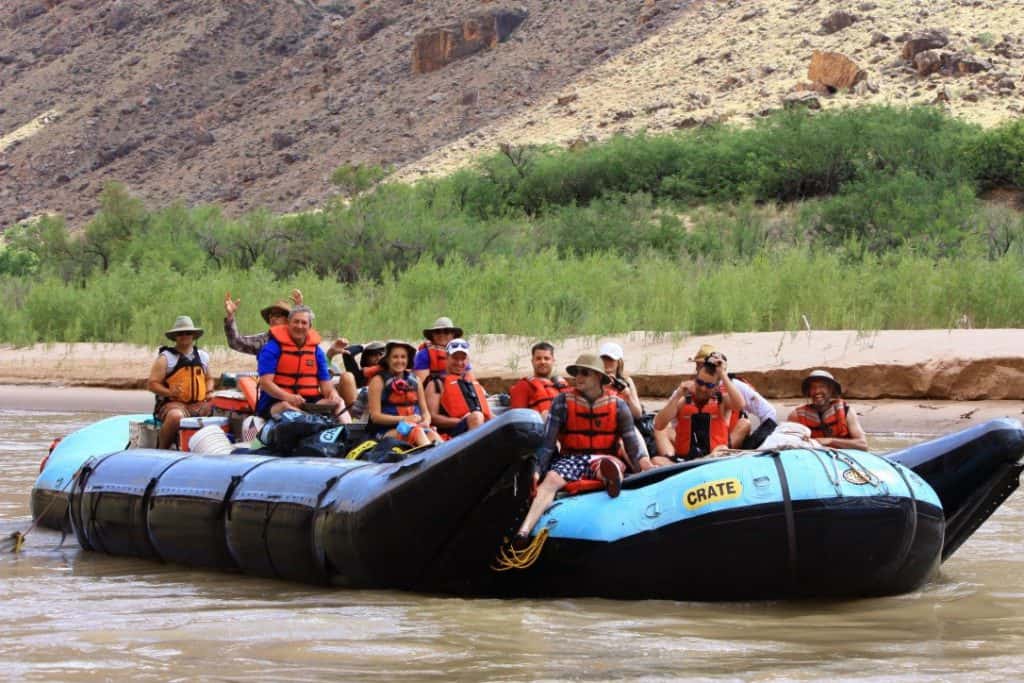 Wow! Our first trip down the river and we were lucky enough to be with John, Johnny, Robbie, and Adam of CRATE. They are truly amazing. They offered a truly amazing experience from day one. The ride was safe, fun, comfortable, and super exciting! We cannot wait to go back and when we do it
will be with the same company and crew. We can't thank you enough for your expertise in running the rapids, making amazing meals, and making the entire journey delightful! You guys are the best and we will never forget. We hope to see you again sometime in the future for a repeat trip of a lifetime.
XOXO
Jan and Dale
Great trip through Cataract Canyon
We just came back from going down Cataract Canyon with CRATE in the first week of May 2021. The trip was fantastic and CRATE was excellent in all areas: professional, SAFE, fun, knowledgeable, experienced and efficient. The food was fresh and excellent everyday, including salads at dinner. Our guides were an amazing group of individuals
who helped make the trip so good. Our trip include hiking most days, including 8-10 miles hikes to the overlook of the confluence of the Green and Colorado Rivers one afternoon and a full day to explore the Doll House. We were able to enjoy the canyons from the water and the rim, which really added to our experience. We'll certainly use CRATE again our next rafting trip.
40 years of CRATE experiences.
We've been down the river three times with CRATE. Twice down the Grand Canyon and once on the Green/Colorado. Each time we were impressed by the food, the hiking, and the good company of the crews. Most of all over the years is the focus on Safety. If you are thinking of a river trip,
Will never forget this trip…
Thanks CRATE for a trip of a lifetime. I have nothing but awesome things to say about this company and how they made this trip of the Grand Canyon just phenomenal. Walker and crew were very experienced professional guides, thanks for taking care of me and my family!
Amazing. Exhilarating. Exhausting.
Well, the cell phone coverage in the GC is worse than bad: its non existent! Which is, of course, why a float though time along the Colorado with CRATE is such a treat. How can one review an experience that is so completely wonderful? Luckily, its not a glamping trip, and the little bit of
effort that is needed by participants becomes a bonding routine…that and sharing the Groover and river's edge for grooming! Don't plan on dieting. Morning Cowboy Coffee, breakfast, lunch and dinner do not disappoint. Floated the CG with CRATE in 2016, and in now again in 2021 on the first trip in April. Fantastic. Looking forward to the next rip. CRATE makes it seem so simple and safe, a real testament to the ease that only true professionals deliver.
Trip of a lifetime… or trips thanks to CRATE
If we could count the infinite number of stars in the entire universe, CRATE deserves all of them + another one. My family has been enjoying the beautiful experience of rafting the Colorado River through the Grand Canyon with CRATE since 1972, coming up on 50 years next year since my father's first trip. I
have done five trips to date myself and there is no other company I would pick to guide our family and my friends through this incredible experience. Every trip seems to be increasingly special through and with CRATE. From the extremely friendly and professional communication with the McKays at the CRATE main office to the expansive knowledge and friendliness of the guides on the trips, everyone I have done the 8 day trip with is overwhelmed with gratitude and adamantly impressed with the service, knowledge and overall execution of the trip… even the most seasoned explorers and adventure seekers I know. I simply can't say enough about how special this trip is, but I think a large majority of that is because of their company, staff and hands-on, personal touch from beginning to end.
Amazing Life time experience!
I could never express to you how much we LOVED our trip with your company. Our crew lead by Sebrina, KC and Abe were AMAZING! We met other travelers who we consider to be life long friends from now on. Your crew were so professional! So organized! So helpful and I can't stress that one
enough.
They were thoughtful, kind, told us stories…always kept us engaged and occupied while meals were prepared.. Honestly the best trip we've ever had, even though we had to pee in the river and sleep with clothes on, it beats out our annual 5 star resort in Cozumel that we do every February. And the Bar 10 Ranch!! ?? So amazing too, great kids running that place! BRAVO!! Thank you Thank you Thank you! Such a life changing experience! Much Love to you and your family for running your business so perfectly! Dana and Shad
CRATE The Best way to experience the Grand Canyon
Hello there I just came back from my Fifth Rafting trip with Colorado River and Trails Expeditions, my fourth Grand Canyon trip and I was not disappointed again. We had a great crew (Ben, Cater, Phoebe, Casey and Kai) they are all experienced guides and have a great knowledge of the Grand Canyon's history and
geology. All are well versed with stories and poems about the canyon, the river and Old River runners. Their love of the canyon shows in everything they do along the way.
So we started out 11 day trip in Las Vegas at the Best Western McCarran Inn (Needs a Big Facelift) that's where I met up with some of the crew Craig, Todd, Beth and Sam. Bonnie gave us our bags and briefing and off we go to pack our dry bags and boat bags. The boat bags were new as before we had ammo cans to store some of our stuff. Up early and get a grab and go breakfast from the Inn and met the bus for the ride to Fredonia Arizona (aka the warehouse) and the onto Lees ferry to launch the boats. The bus ride was nice we all chatted and started to become a group, Casey and Carter rode the bus with us and gave a history lesson as we heading to the boat ramp.
We arrived at Lees Ferry and that was where we met Kim and Andrew the other travelers.
We loaded our bags and booze onto the Big boat (The Mother ship) we got into our rafts and off we went to do our flip drill yikes the water is really cold its about 46 degrees, we climbed back in the boats, hoping to not flip or fall out of the raft and away we go.
First day was an easy day floating along and learning to paddle all together and hitting our first taste of the rapids ahead with some class III rapids.
Our first camp was Hot Na Na Wash just about house rock rapid. We unloaded the Boat and got our bags and cots and set up our camps (you pick your own spot on the beach.) Then it was time to socialize with the crew and other paddlers. We had drinks and appetizers while the crew cooked us a fabulous dinner. Dinner call came and we all went to wash our hands it's an important part of staying safe in the canyon .Two hand washing stations in every camp was setup. We sat in a big circle and had dinner chatted and learn about each other. Being that I had been before I was asked a lot of questions and gave out some of my best tips and tricks for the trip. We stopped at Red wall cavern (aka Powel's amphitheater and played on the beach there for a while.
The next night we stopped at Redbud Alcove for a special night for Kim and Andrew as they were getting married in the Grand Canyon by Ben our trip leader. Phoebe provided the music by playing her violin and the rest of us took pictures and were witness to the ceremony. It was a moving moment on the trip for all of us lots of pictures and then back to camp for wedding cake.
We packed up the boat and our gear next morning and off we went to the next part of the adventure. We stopped at the Little Colorado on our way to Crash Canyon camp. The LCR was Aqua Blue and warm, we swam and floated for a while. We took lots of pictures and stayed a while to let the blazing sun retreat behind the canyon rim before heading to camp for the night. The next day we headed out to face the rapids Unkar, Tanner, Hance and on to Sockdolager. Passing thru furnace flats and hitting Grapevine rapid before making camp at Clear Creek. Tomorrow we would be at below pipe beach to drop off Kim and Andrew for their hike out to the south rim and wait for the new arrivals from above. We did a short hike across silver bridge and back around to pipe beach. The new rafters arrived and helped get them situated in their boat, Craig and I moved to the other boat with Aimee, Beth Emma and Todd with Casey as our boatman. We push off and head out to face some Big rapids today, Horn Creek, Hermit (my nemesis, I flipped in 2015) and Granite. We ran them all with great success and had a fun time doing them all.
The following days we spent running the Gems and hiking along the way camped at The Big Dunes, Stone Creek, and Hiked up to the patio at Deer Creek and lunched at Ponchos kitchen. Hike up Matkatamiba and built a body dam with the crew and laughed a giggled the whole time before watching Cater ride the cushion down the small rapid we created. We Rafted down to the Lower Ledges to camp there for the night. The next day we took our time and rafted down to National Camp. Hiked National Canyon came back to camp and received our briefing about the next day's Rapids (Lava Falls)
The next day arrived and we packed up camp and heading down the river listening to tales of Great Runs thru Lava Fall and some not so Great. We hiked up to the Lava falls Over Look with much anticipation. The guides looked and pointed out different parts of the rapid and how each boat would try to run them. Off we go and hit Lava hard and we (our Boat) ended up going backwards thru most of Lava Falls first time for everything. We all made it thru with no swimmers and held paddles high in celebration. We finished off with lower Lava which is actually my favorite part. We pulled over for a snack and to talk about our run thru Lava. We sat and talked a while letting the sun fall below the rim as we drifted along to camp for our last night. We camped at Upper Chevron I had my cot right on the beach that night. We all stayed up late tell our stories about what we liked best about our experience on the river. Ben our lead guide gave us all river names and we laughed and joked about it. We talked into the night and one by one we went to our cots to sleep one last time under the stars.
The Coffee call came early and we transferred our gear into our duffel bags provided by CRATE to carry our gear back to Las Vegas. We boarded the boats one last time and it's off to Whitmore wash for our helicopter ride to the Bar Ten Ranch where we catch our small turbo prop airplane back to civilization.
At Whitmore wash we meet up with Glen who gives us our instructions and place on the Helicopter. It takes a few trips to fly everyone out and I am on the last flight to the ranch.
I have a mixed bag of emotions as I am happy to be heading home but sad that I am saying farewell to my friends Cater, Phoebe, Ben Kai and Casey. So I say until next time because goodbye is too final.
So Until Next Time my Friends.
I wave as the helicopter lifts off I watch in wonder as we lift above the river and fly along the canyon wall as we rise above the rim of the canyon I can see Bar Ten Ranch off in the distance. We land and make our way up to the ranch to get our flight time to Las Vegas. Our adventure is almost over.
So if you are looking for a great adventure with a greatest company on the river then Look no further
Colorado River and Trails Expeditions is your best Choice
Tell Vicki I sent you
Source https://www.mygrandcanyonpark.com/things-to-do/rafting/grand-canyon-rafting-essentials/
Source https://www.riversandoceans.com/best-grand-canyon-rafting-trips/
Source https://crateinc.com/grand-canyon-rafting-trips/reviews/