La Fortuna White Water Rafting – Balsa River Rafting Tour
La Fortuna is known as the adventure capital of Costa Rica and white water rafting is one of the many adventure activities you can do. There are actually a handful of rivers for white water rafting, suitable for all rafting levels. If you're looking for an easy rafting adventure, then the Balsa River is the best option.
The Balsa River rafting tour has Class 2 and 3 rapids and is only 30 minutes from La Fortuna, making it a fun and easy day trip. It's an excellent options for families with kids and beginner and first time rafters!
La Fortuna White Water Rafting
We did the Balsa River rafting tour with Jacamar Naturalist Tours. They picked us up at 9:20 AM from our hotel, Arenal History Inn and took us to the Balsa River rafting entrance. After a safety talk and paddle practice, we were ready to conquer the Balsa River!
Balsa River
The Balsa River is a natural river connected to the Lake Arenal dam and the water is let in and out of the river everyday. This control of water means that there are always rapids all year long which is great. Even in the summer when it's dry and other rivers have a low water level, the Balsa River will still have Class 2 and 3 rapids.
This is one of the most popular white water rafting tours in Costa Rica and things to do in La Fortuna and Arenal because of it's easy accessibility and availability.

The dam keeps the rapids at Class 2 and 3, perfect for beginners or families with little children. The entire rafting time is about 2 hours.
Tour companies only go to this section of the river even though the upper Balsa River has much bigger rapids.
Balsa River Rafting Tour – First Half
The river is not in the rainforest so the scenery is not as pristine as others in Costa Rica. The entrance is actually right off the road near a bridge. So you will be rafting next to some farmlands and you can even spot cars on the parallel road. It doesn't take away from the fun though!
The first half of the river is Class 3 and you'll feel the adrenaline rush through your body as you paddle through quick and long rapids. They were really fun but nothing super crazy which is why this river is so good for first time rafters or kids.
We took a break about an hour in and got out on the riverbank to have some fruit and take a breather. Our guide set up a nice spread of watermelon, mango and pineapple. Some cows even joined us!
Second Half of the Rafting
After that, it was easy peasy rafting. I would say we barely rafted the second half of the river to be honest. You can definitely feel a difference between Class 2 and 3 rapids.
This part of the Rio Balsa rafting tour was more like floating down calm sections of the river and I noticed that the scenery changed once we finished the Class 3 rapids. It was definitely a lot more "jungley" and we couldn't see the farms or roads anymore. We also saw more birds at this section, like herons and egrets. We even saw a sloth in the trees along the river!
It was extremely nice to relax and enjoy the scenery during this part of the rafting. We even jumped into the river and floated down.
Video
Here's a short video of the Balsa River rafting tour from La Fortuna. It was a lot of fun and it was easy rafting.
Lunch and Sugar Cane
This tour also includes lunch and a short sugar cane presentation in their tour. You'll have a traditional Costa Rica lunch on their property and they will show you how they process sugar cane. You'll also get to try your hand at making sugar cane juice and sampling it.
La Fortuna Rafting Tour Discount
We have a 7% discount with Jacamar Naturalist Tours for the Balsa River rafting tour, click the link to get it!
Information about the Balsa River Rafting Tour
The Balsa River is a half day rafting tour. Pick up is around 9 AM and you will come back around 2 PM.
It includes lunch, roundtrip transportation, fruit, guide and water.
Minimum age is 8.
You can combine this tour with another one since it's a half day. Jacamar offers a canopy (ziplining) and white water rafting tour.
Small groups only. Rafts fit up to 4 to 6 people not including the guide. Kids can sit in the middle.
If you are looking for something more advanced, we recommend the Pacuare River rafting tour. It has a full day of Class 3 and 4 (sometimes 4+) rapids and is more for experienced rafters. Pick up and drop off from La Fortuna is available. We also have a discount you can get in the link!
More La Fortuna and Costa Rica Articles
Arenal Volcano National Park: The national park with Arenal Volcano. Has hiking trails, lava fields and views of the volcano and lake
Best Hotels in La Fortuna: Our favorite luxury hotels in La Fortuna and Arenal, perfect for a splurge or a romantic getaway
Driving to La Fortuna from San Jose: Routes, maps, photos and videos of driving from San Jose to La Fortuna and vice versa
5 Day Arenal and Monteverde Itinerary: How to have an amazing time in La Fortuna and Monteverde
Balsa River Rafting
The Balsa River is only a 50-minute drive from La Fortuna, on this river there are class II and III rapids.
Go Raft with a Guide on the Scenic Balsa River
The Balsa River is a white water river which has class II and III rapids. Along your rafting adventure you will see lots of exotic animals, like monkeys, toucans and some exotic birds.
The day begins with a pick up and transport from your Arenal area hotel. It's a short, 30-minute drive to the river, where you will meet your guides and be given equipment. The professional guides will go over safety rules and provide instruction on how to use the rafting equipment. Once all participants feel comfortable and are ready, the trip will begin.
You'll enjoy over 2 hours of exciting whitewater action. As you float down the Balsa River, you'll pass through scenic forests and have the opportunity
to spot wildlife. You will paddle through crashing rapids and emerge on the other side smiling and wet. The journey ends at the San Carlos Bridge, where you can swim and enjoy beer, soda, fruit and other snacks. After relaxing here, you'll be driven back to your hotel. Please keep in mind: this tour is not possible for pregnant women, people who have had recent surgeries, people who have suffered recent injuries and people with heart problems.
Transportation
Pick-up and drop-off at several hotels in Arenal.
What's Included?
Bilingual certified guides, towels, lunch, fresh fruit snacks and drinks.
What to Bring?
Closed toed water shoes, quick drying clothing, sunscreen and a change of clothes.
Arenal Vacations Personalized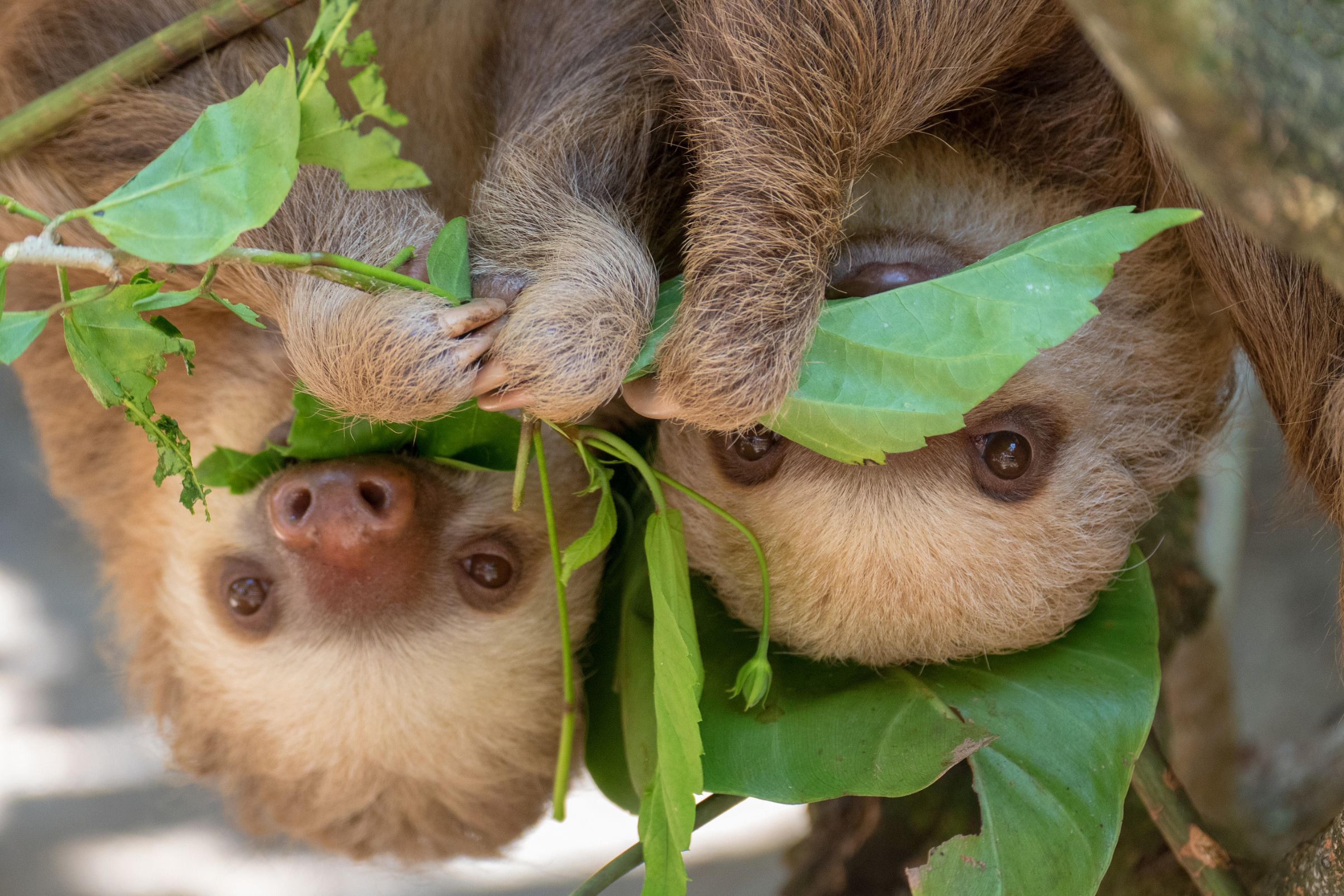 Customer Reviewed Costa Rica is a lovely country! I am very impressed with all you do to preserve the beauty and wildlife so abundant.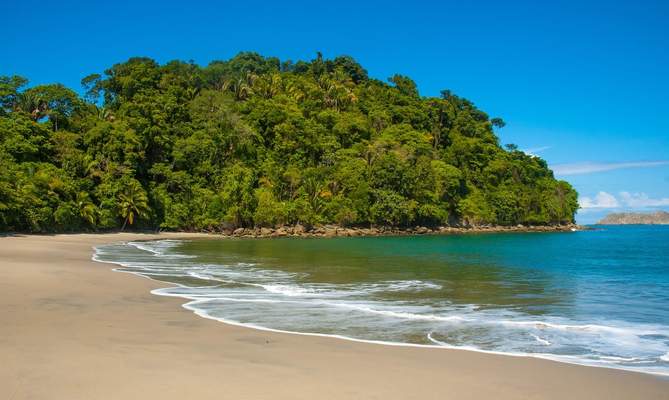 Customer Reviewed Great. What a beautiful country. Very impressive on how clean it is and the way of life.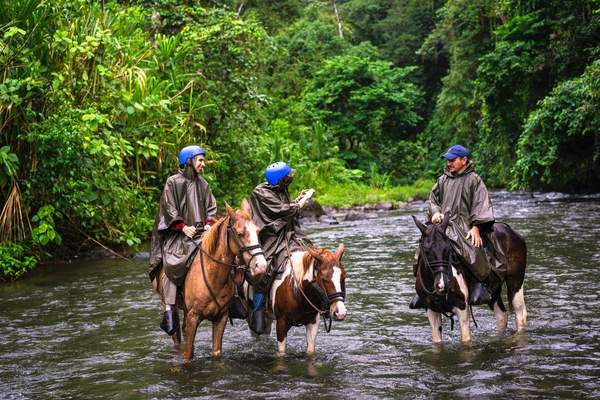 Customer Reviewed Best trip ever! Costa Rica is absolutely beautiful and magical. All the drivers were waiting and all the accommodations arranged — Anywhere took care of every detail so we don't have to stress.
Get Help Planning Your Visit
"We couldn't find a tour to Monteverde that suited our needs and you guys went above and beyond to make it happen! Thank you Yahaira!" – L. Rod Trustpilot 5-star rated
Balsa River Rafting
You can reach the Balsa River after just a 50-minute drive from La Fortuna. During this tour you'll cover Class II and Class III rivers.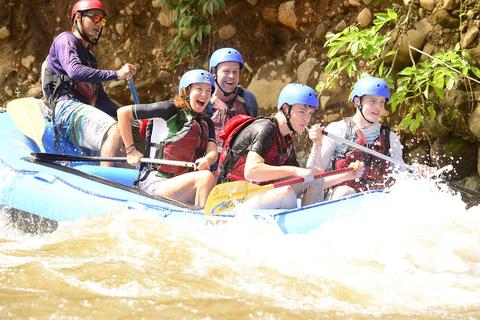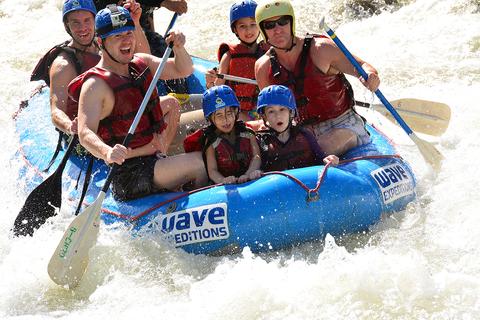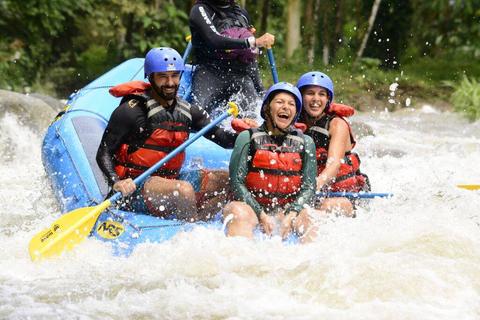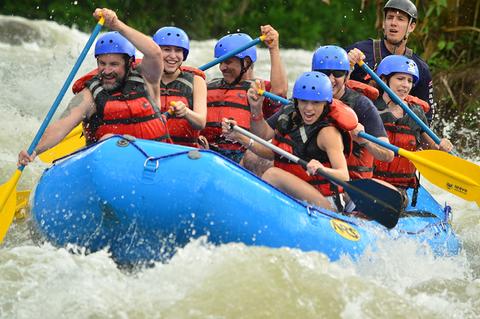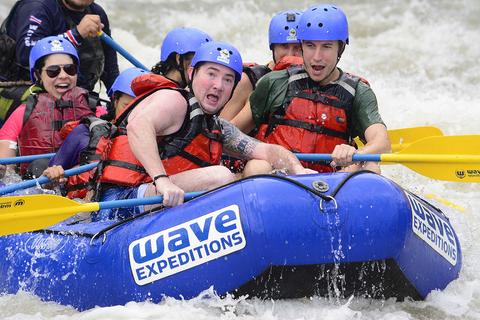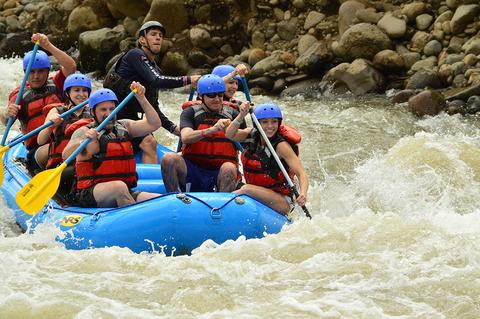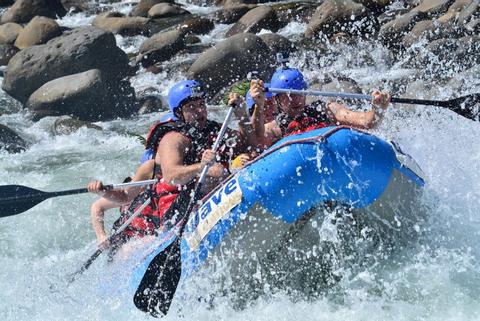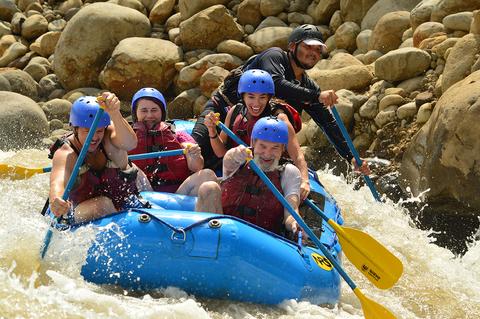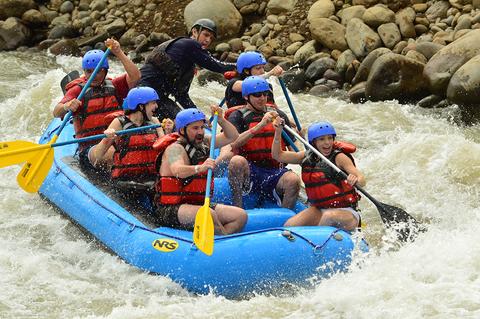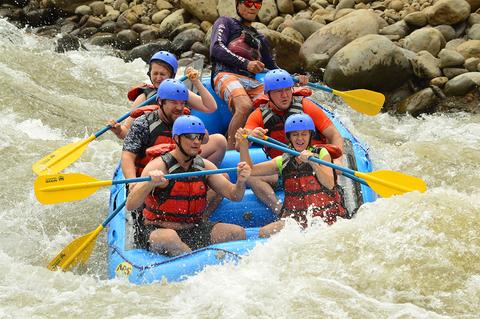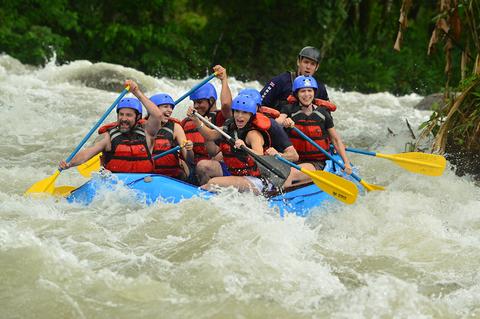 Available Days: Every day
Schedule: 8:30 AM, 10:30 AM
Hotel Transport Included
Mobile Ticket Included
Offered in English, Spanish
After covering rapids with nicknames like Magnetic Rock and Dredges, you'll take a 15-minute break and snack on some fruit. Along the way you'll have the chance to see monkeys, toucans, and other exotic birds.
Before you return home you'll stop for lunch at a small organic farm called Vida Campesina. Visitors get to try traditional Costa Rican dishes, cooked over an old-fashioned wood-burning stove.
Please be advised that this tour is not possible for pregnant women, people who have had recent surgeries, people who have suffered recent injuries, and people with heart problems.
Transportation
Many of our tours and activities offer transportation pick up & drop off options from several locations and destinations. Options vary by tour, see "BOOKING REQUEST" for full details.
Traveler Comments
– SYLVIA H , DEC 2021
A fantastic activity. Wave Expeditions staff were amazing – funny, knowledgable, safe and proud of their country. Loved the rafting and a good restaurant visited for lunch.
– TRACEY P , DEC 2021
Great team of folks. Very well organized rafting, taking a break midway and serving fresh fruits was great experience, we got unlimited amount of fruits to enjoy. Jumping in the river ( when safe). Tour ended with delicious local food
– PANKIL M , MAR 2021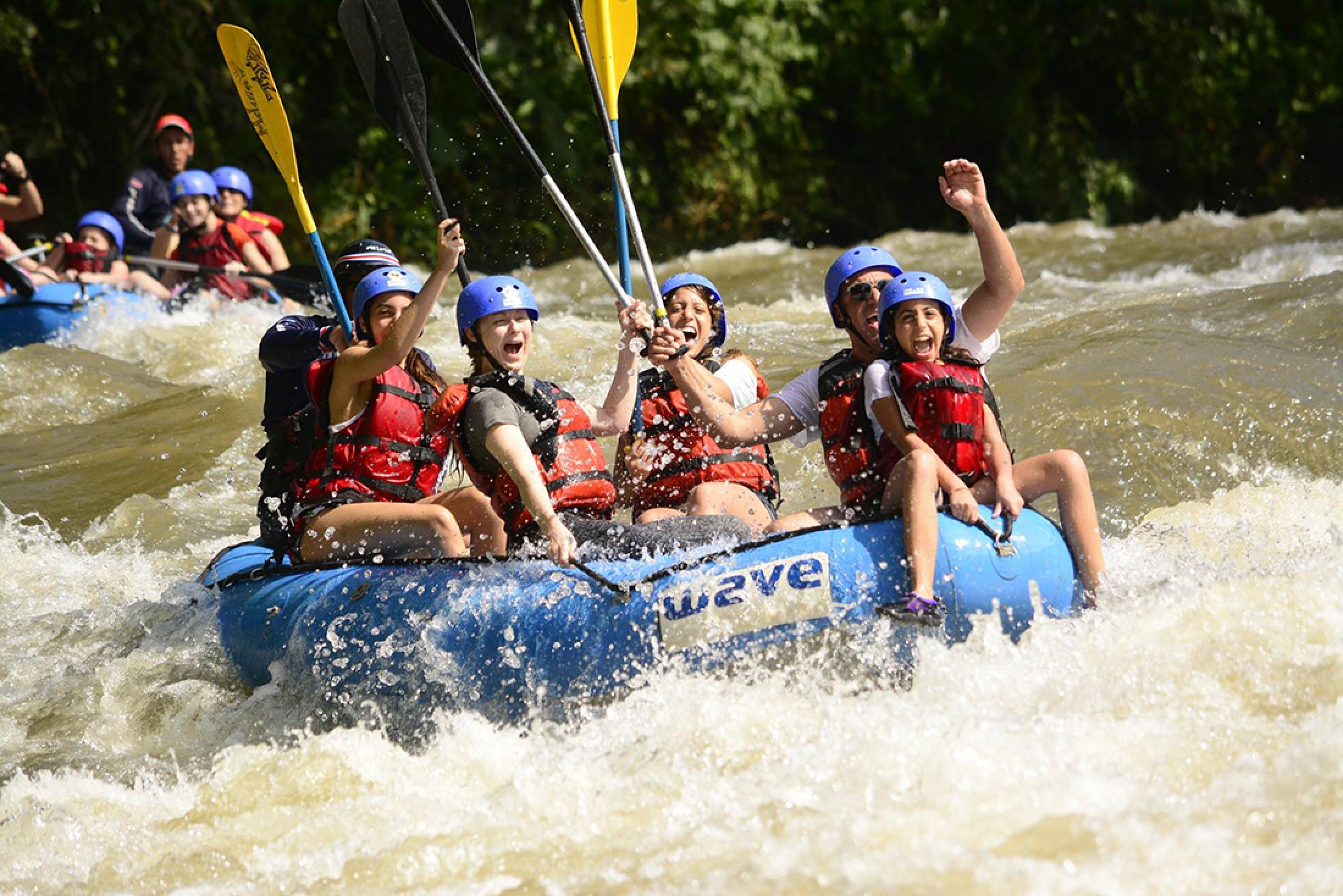 You can reach the Balsa River after just a 50-minute drive from La Fortuna. 940
Similar things to do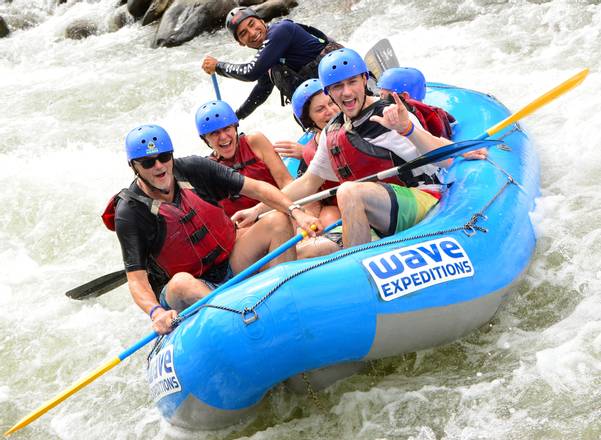 Combining two of the country's most adrenalin-packed activities, this tour will have you rappelling down waterfalls and surging over white-water rapids! Set in Costa Rica's Northern Lowlands near the base of the Arenal Volcano, the scenery for this tour couldn't be any more beautiful.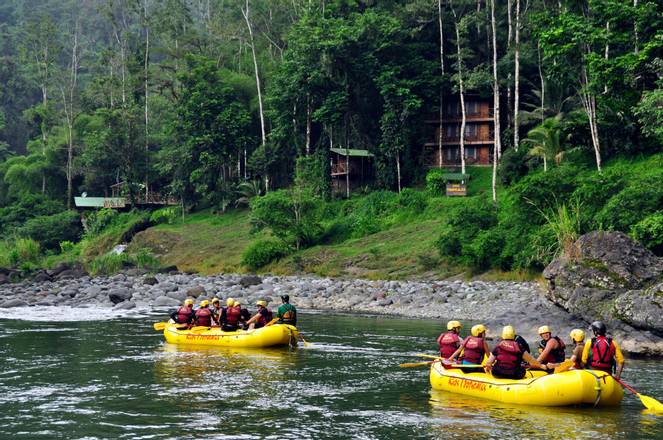 Why not experience one of the most gorgeous river rafting trips in the world on the Pacuare River. It lives in the lush valley of Turrialba in the Central Valley of Costa Rica known for its exuberant beauty, wildlife and great rapids. This trip is excellent for those 14 years and up and for the adventurous beginner to the experienced rafter.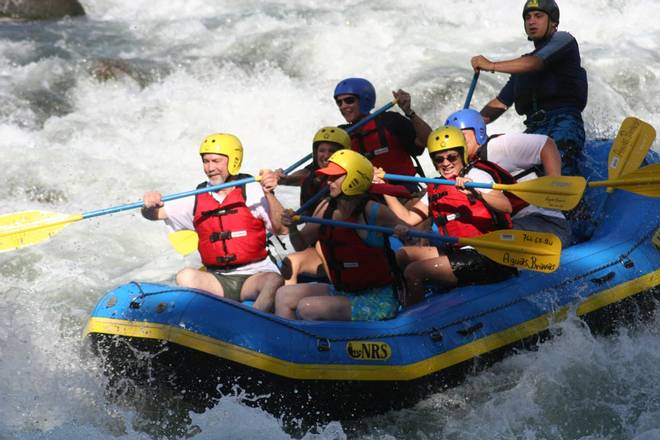 Sarapiquí River is one of Costa Rica's loveliest and most exciting destinations for rafting. This tour takes you down some of the swiftest parts of the river, including some Class III and Class IV rapids.
Source https://mytanfeet.com/activities/la-fortuna-white-water-rafting-balsa-river-rafting/
Source https://www.arenal.net/tours/balsa-river-rafting
Source https://www.anywhere.com/costa-rica/destinations/arenal/tours/rafting-balsa-river