Oregon Rafting
The State of Oregon is one the best places for whitewater rafting in the world! Oregon has 68 Federally-designated Wild & Scenic rivers and creeks. Flowing from steep mountain and through both forested and desert canyons, Oregon has a river trip to suit every taste and ability. ROW Adventures has been sharing guided rafting trips in Oregon since 1979 and you can count on our experienced guides for exceptional service and intimate knowledge of the area's natural history.
There is a great variety of rapids on the rivers of Oregon. Most of the rivers are suitable for a wide range of abilities so whether your experienced or new to rafting, there's something that will fit. Some of the state's famous rapids include Rainie Falls and Blossom Bar on the Rogue; Wild Sheep, Granite and Rush Creek on the Snake; Whitehorse and Oak Springs on the Deschutes and many others
Lodge-to-Lodge Rafting in Oregon
Oregon has one of the only "lodge to lodge" rafting rivers on the Rogue River. These trips give guests the best of both worlds – outdoor rafting fun during the day and the comfort of a lodge with beds and showers at night. The lodges are basic but comfortable, set in remote wilderness near the river. As the sun shines down on the Rogue River you are surrounded by the untamed natural beauty Southwestern Oregon. Flowing through the Siskiyou Mountains, a diverse forest of pine, fir, cedar, oak, madrone and manzanita flanks both sides of the canyon. Crystal clear streams with newts, turtles and inviting swimming holes flow in from side canyons. ROW offers three and four-day trips on this fabled western river.
Map of ROW Adventures Rafting Trips in Oregon
Best Oregon Rafting Trips
Deschutes River: Oregon's most popular river is the Deschutes. The popularity stems from consistently sunny and dry days, an important draw for those that live in some of Oregon's soggy climes. With trips from a day to as long as five days, the Deschutes flows through a variety of scenery varying from forested mountains to deep canyons of volcanic basalt. Fun, splashy, intermediate rapids, big mountain and desert canyon scenery, and idyllic camping under the stars all add up to a fantastic rafting adventure.
Rogue River: Perhaps the most famous Oregon river is the Rogue. Flowing through canyons of jaw-dropping beauty, the Rogue River has adrenaline-pumping drops, peaceful pools and lush, verdant scenery. Located in the southwest corner of the state, rafting trips on the Rogue are easy to access via the Medford airport or driving from any major city on the west coast. In addition, ROW is one of the only companies on the Rogue River to deliver both a lodge-to-lodge rafting option as well as a camping option. The Rogue offers something for everyone with plenty of fun rapids, wildlife viewing and soul-comforting, inspiring scenery.
Grande Ronde River Rafting: In the northeast of Oregon is the Grande Ronde River. This is gentle class II river trip suitable for all ages of rafters. At the edge of the Wenaha-Tucannon Wilderness, the river flows quickly through canyons of pine and fir, and as it descends towards the Snake River, opens up to mountains of waving grass studded with towering ponderosa pines. Trips are three to five days and this is the perfect choice for families or those looking for a mild whitewater trip.
Owyhee River: In the southeastern corner of Oregon lies a little-known desert gem, the Owyhee River. ROW offers trips on both the Middle and Lower Owyhee sections from four to five days. The scenery is more what you'd expect to find in Utah, with deep canyons and during the spring season, bountiful wildflowers and birds. These are some of the most isolated canyons of Oregon where the geology provides a full-color storybook of wonder.
Hells Canyon Rafting: On the Oregon-Idaho border, the Snake River has carved the deepest canyon in North America – Hells Canyon! With the biggest rapids in all the Pacific Northwest, Hells Canyon is a legendary whitewater rafting trip where scenery, challenging rapids, excellent fishing, superb hiking and more all combine into a classic adventure. During the day we explore a rich legacy of Indigenous rock art, pioneer homesteads, excellent hiking trails and superb fishing for trout and smallmouth bass. Add in beautiful camps on the river's edge and you have a dream rafting trip ranging from three to six days.
7 of The Most Legendary Rivers For White Water Rafting in Oregon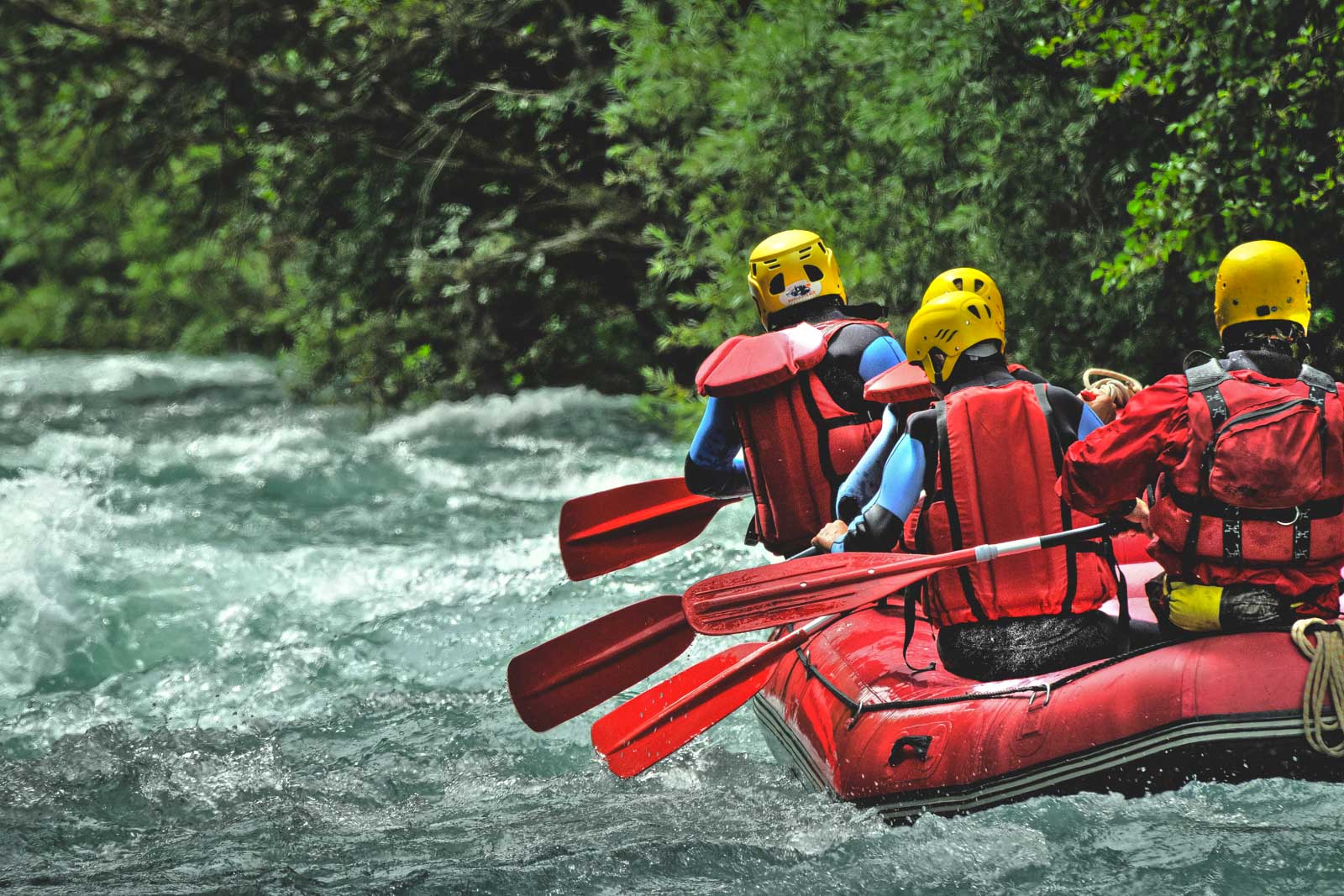 Disclosure: Oregon is for Adventure is a participant in the Amazon Services LLC Associates Program as well as other affiliate programs, designed to provide a means for us to earn fees by linking to Amazon and affiliated sites at no extra cost to you. Please see our Disclosure for more details.
Sharing is caring!
Oregon is fortunate to have an impressive number of wild rivers for white water adventure. In fact, if you live in the State it would be nearly impossible to be more than 2 hours from at least class III rapids.
If you own your own boat – raft, kayak, canoe – you already know this. But most of us are occasional river runners not owning our own craft. The two generally available options, in that case, are renting, or more likely hooking up with a guide service.
Compared to the cost of say skiing or golf, a half-day on the river is a lot more bang for the buck.
7 of The Best Rivers For White Water Rafting Oregon
Know your abilities before jumping in. The level of experience can be the difference quite literally between life and death.
Most anybody of reasonable fitness and common sense can navigate class I and II rapids and some III's. Ratings are tricky. All sorts of factors go into ranking a rapid – water volume, drop in feet, presence of obstacles seen and unseen, and things you're likely not to consider.
Know the river or go with a guide. And have the right gear – a good-quality PFD (vest), helmet, and the right footwear. No flip flops and no bare feet. You don't need to have expensive river shoes, old tennies are a good bet for the infrequent adventurer.
So where are some of the best spots for white water rafting in Oregon? That largely depends on the level of adventure you are seeking. Here are seven rivers with a good mix of rapids spread throughout the State each with a good choice of experienced guides. White water rafting in Oregon has your name all over it.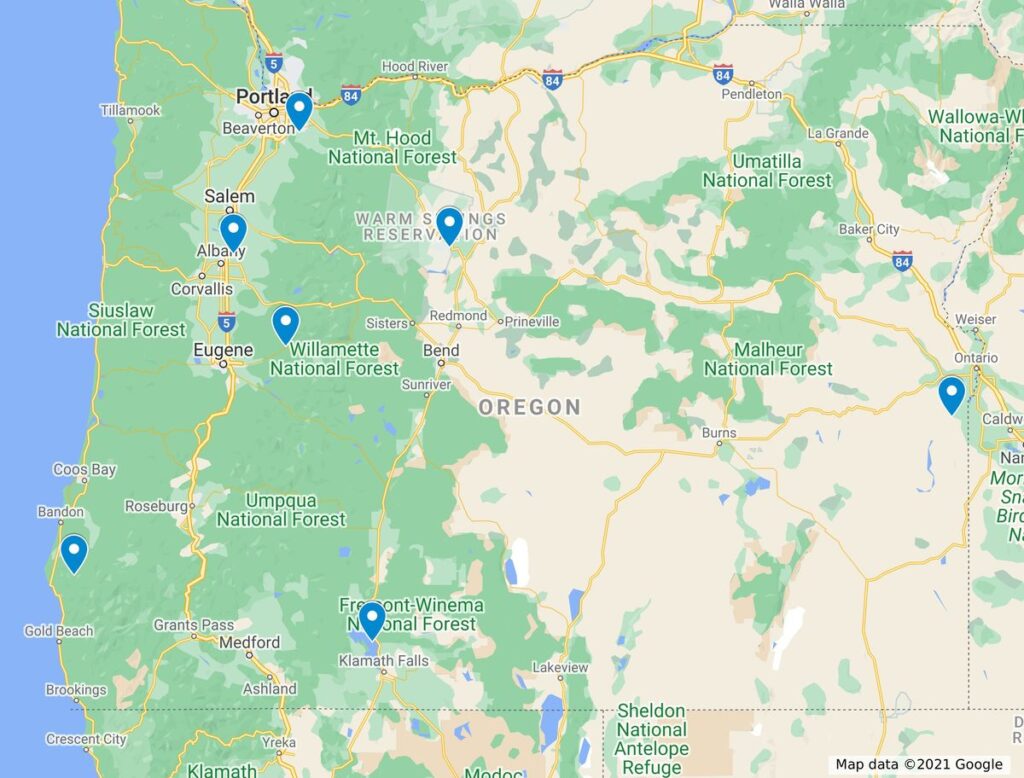 Click the image to view the clickable map for white water rafting in Oregon.
1. White Water Rafting The Upper Klamath
This is my favorite. It's a good length at 17 miles boasting a number of IV+ rapids in a 40 fpm (feet per minute drop). The starting point is the Boyle Powerhouse Dam in Oregon and ends actually in California. Apart from the heart-pounding water there is stunning scenery rich in wildlife and the occasional abandoned mine, deserted cabins or long ago Indian settlements.
What to Expect Here:
It all starts with some gentle II's and III's before dropping into the 5 mile long Hell's Canyon gorge where you are greeted with the IV+ Caldera rapid both steep and long with ominous boulders and deep holes. Then a couple of III's giving you time to restart your heart before hitting Satan's Gate, a respectable and fun IV. This is followed by Hell's Corner – wait for it – a full half-mile IV+ that will leave you breathless and with an adrenaline high not soon forgotten.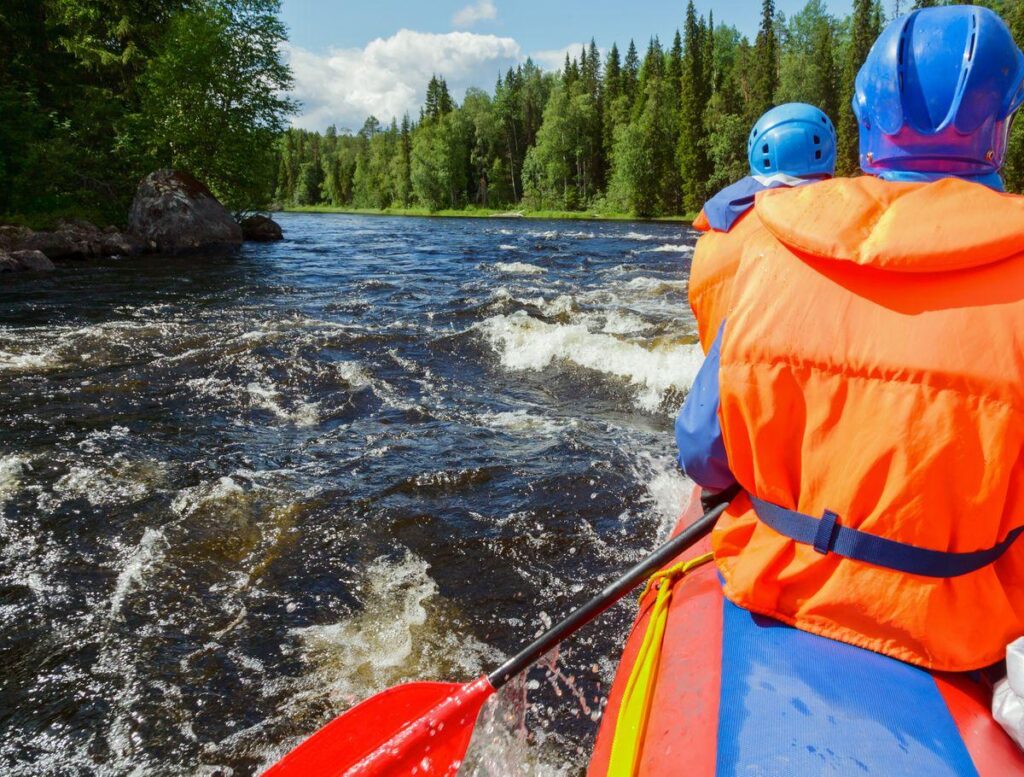 Rafting in Oregon is as scenic as it is fun
Now comes a series of III's and IV's with names that typify the experience: Ambush, Old Bushwhacker, Snag Falls, and State Line falls. A lot happens in little time. Now you get to cruise for 6 miles with some II's to hold your attention before taking out at Copco Lake. There are several competent guide services.
I have made about 10 rafting trips at this spot in Oregon with nothing more than a safe outing and good time. Book with Noah or Indigo.
→ You could also do this full-day Upper Klamath River Rafting Trip from Phoenix, Oregon.
2. White Water Rafting The Owyhee River
On the other side of the state, river rafting in Oregon is graced to have the Owyhee, not just a river but a vast 5 million-acre wilderness with just 3 paved roads. Imagine paddling by canyons with 2,000 ft. walls in a land the BLM says is "the most rugged, remote…high desert canyon complex in North America… perhaps the most spectacular".
This is an easy river to do on your own but guided trips of 3 to 10 days are the top of the Oregon white water rafting food chain in terms of sheer beauty and majesty.
What to Expect Here:
The spires and pinnacles you will be surrounded by will hold your interest for days. There are few landscapes in Oregon that exceed the Owyhee. The names say it all: Bogus Creek Falls, Chalk Basin, Pruitt's Castle, Iron Point Gorge, Weeping Wall, Montgomery Gorge, Rustler's Cabin.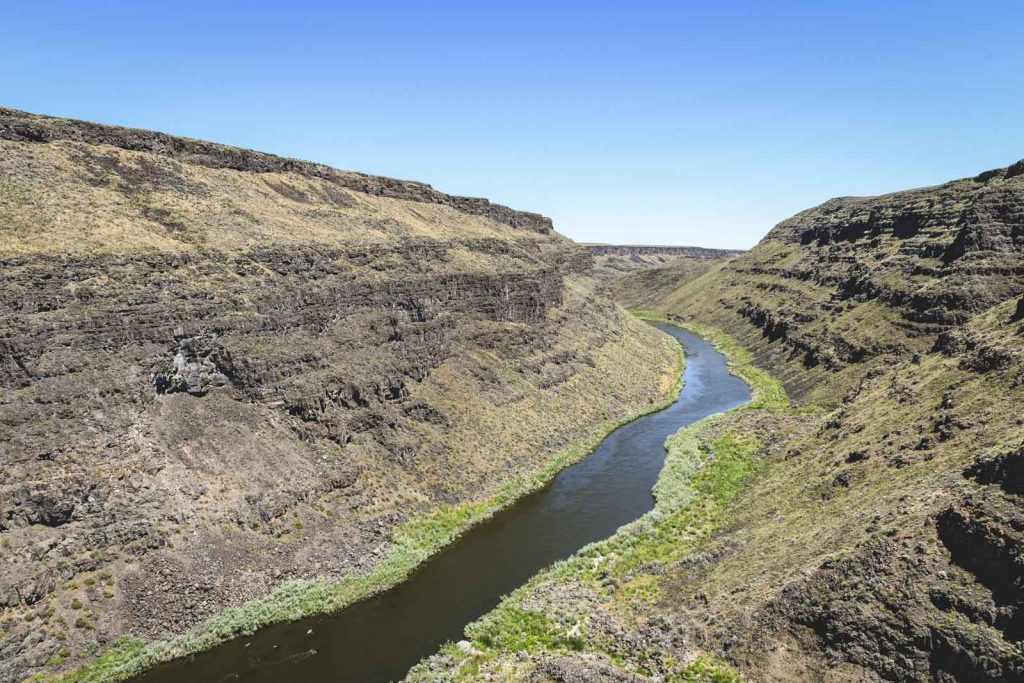 Beautiful view of Owyhee River in Oregon
It would be rare not to see raptors, antelope, bighorn sheep, otters, coyotes, and beavers. Rapids with names like Rock Trap, Upset, Artillery, Rock Dam, and Bullseye are a good indication of the action.
Middle Owyhee is 39 miles from Three Forks to Rome and is also at its best in the spring. This is a shorter run but a bigger bump with IV's and IV+ rapids that will leave you breathless. The names leave nothing to the imagination: Widowmaker, Bombshelter Drop, Raft Flip, Shark's Tooth. Or Ledge, Subtle Hole and Half Mile, rapids with many a story. Row Adventures know the territory well.
It's a haul to the Owyhee, closer (90 minutes) to Boise than any other major city. But well worth the drive, 2 hours from Burns; 4 from Bend or Pendleton. Jordan Valley is the gathering point for all things Owyhee.
3. White Water Rafting The Rogue, As the Name Implies
White water rafting in Oregon is more than just the water. Our rivers are some of the most scenic anywhere. And Hellgate Canyon is as pretty as it gets. But that is only one of several sections when taking on the Rogue.
This is a great river for all abilities—Options range from a 3 to 4 day – lodge to lodge – float in the wild and scenic section available only by lottery or guide to a two day sleeping on a riverside beach to a full day through the Hellgate and even a half-day with lots of action.
What to Expect Here:
There are some big holes like the Class IV Nugget Falls or what seems like the impossible – inching out and then dropping 10 feet over the Powerhouse spillway. Inflatable kayaks are immensely popular on short trips and are especially suited for kids and teens. Popular rapids include 'Ol Slippery Rock', 'The Surf Wave' and 'Bitterman Falls' whose names are fairly descriptive of the action.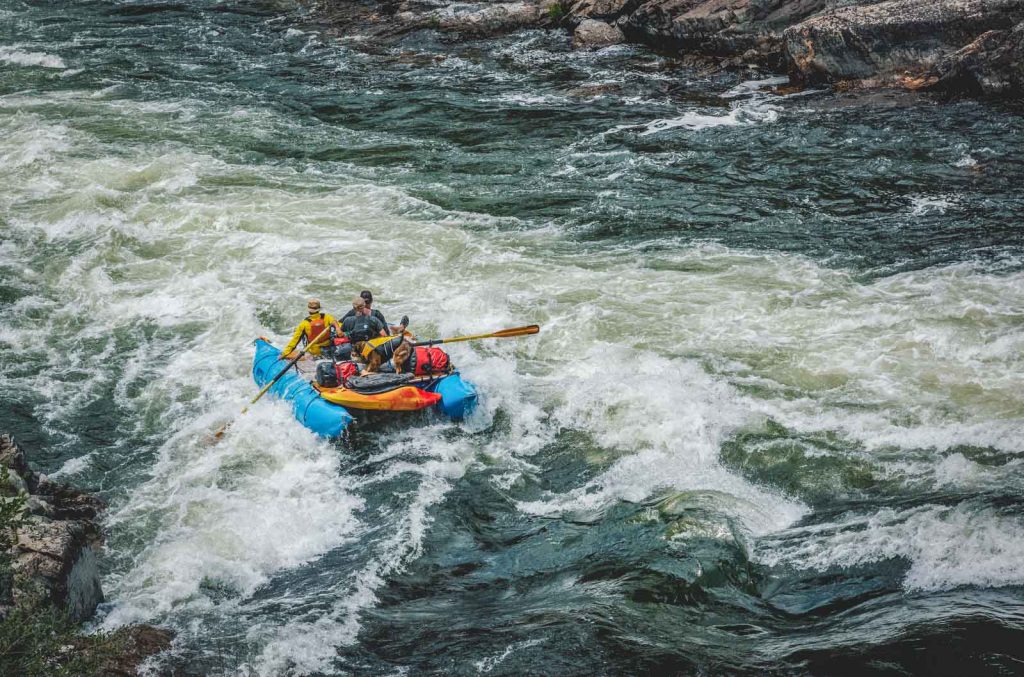 Hold on while you raft Rogue River in Oregon
The guided half-day trips are usually 7 miles in length and run about 3 hours in the water. The full-day run is exactly double, 14 miles and 6 hours. Ninety percent of the thrill is in the first half so the longer day seems a touch anti-climatic except for continued feasting on the scenery and wildlife with frequent sightings of osprey, eagles, beaver, mink, otters, turtles and occasionally black bears.
Two rental and guide services with excellent track records are Orange Torpedo. As with the Klamath above, all trips start within an hour of Ashland or Medford and are a short distance from interstate 5.
→ This highly rated half-day Rogue River whitewater rafting trip departs from Gold Hill.
The Best White Water Rafting Near Portland
If you're trying to stick close to portland, you're in luck! Some of the best white water rafting in Oregon is just a short drive away. These are all under two hours away from Portland. White water rafting the Clackamas is the closest at less than an hour from the hustle of bustle of Portland.
4. White Water Rafting The Upper Clackamas
I figure with a rapid named Toilet Bowl we are talking about serious water. Being a great location for white water rafting near Portland, this river gets a lot of traffic but there are many places to put in along Oregon Hwy 224 that follows the river from Three Lynx to North Fork.
It doesn't feel crowded. And this is not a river for casual floaters. It's 13 miles of the real deal with continuous II's and III's and some class IV beauties as a bonus never to be forgotten.
What to Expect Here:
It starts off with a bang at Sandstone Bridge where in no time you are elbow deep in Powerhouse (III+). Soon you are in a narrow gorge for almost two miles. At the 4.4 mile point, you are in Roaring River Rapid (III) where the Roaring River (just the name gives pause) enters the Clackamas seriously increasing flow. And before you know it Hole in the Wall is in front of you – a truly big IV.
This is one you have to think about. The rapid drops you – literally – into an eddy that can be quite strenuous and dangerous to exit. There is all likelihood that you will be walking (or crawling) out of this one aided by a regularly used ladder. The most experienced of guides will get out and scout Hole in the Wall.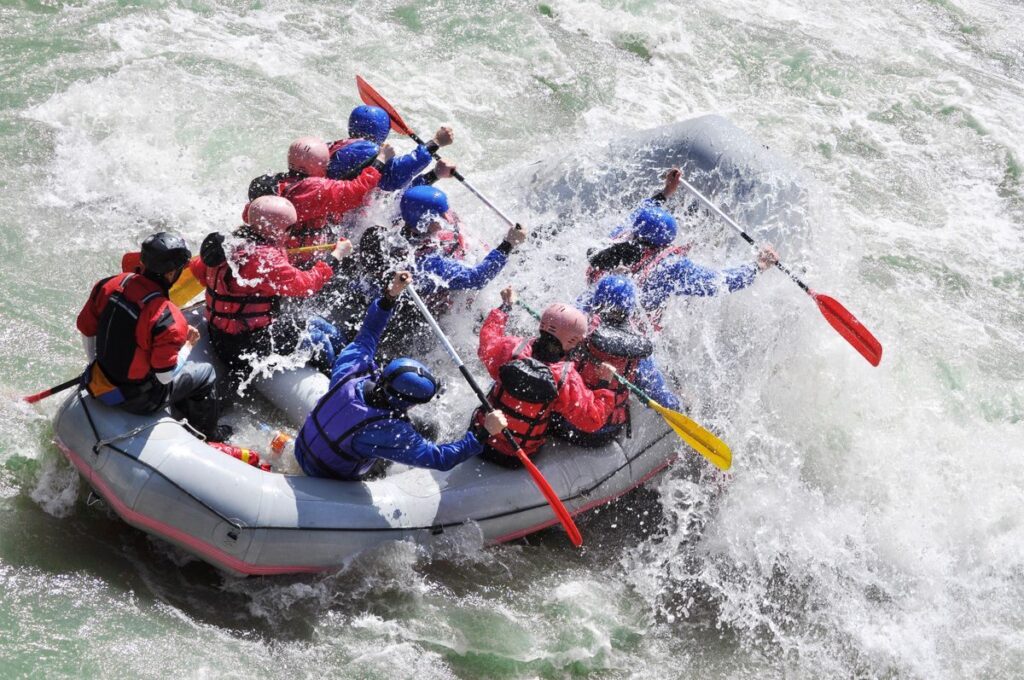 White water rafting is a blast on Clackamas River
After Hole in the Wall you get a relative breather for 2.5 miles before the beast awakens and you're on top of Carter Falls, another legit IV. Once through there is some respite until the 9.3-mile point and there for your pleasure is Rock & Roll (III), just past Big Eddy. And then bam! – Toilet Bowl (III+). A half-mile later is Bob's Hole, a III, but by now it seems like the perfect spot for playboating. Or checking your pulse.
The next three miles to Memaloose is comparatively gentle and it may give you nourishment to continue floating to the North Fork Reservoir. This is a river you need to know well before just dropping in. A guide is essential for newbies even if you are in good shape and have the right gear. Blue Sky is a good bet for 1/2 and full-day trips.
5. White Water Rafting The North Santiam for Thrills and Chills
Moving north our Oregon white water rafting opportunities are met head-on just 36 miles east of Salem. This pristine river has two major white water sections – Packsaddle to Fisherman's Bend, an 8-mile thriller and Fisherman's Bend to Mehama Bridge, at 6 miles.
If you will be happy with class II's and II+ starting at Fisherman's Bend is for you particularly if you are new to it all or have younger kids. But if you want some fun bumps and a bit of challenge then put in at Packsaddle Park and let 'er rip.
What to Expect Here:
From late spring to early summer, you will warm up on the "Swirlies" a strong class II followed by three miles of fairly constant wave riding broken only by forested views. Swirlies is a perfect spot for training or playboating in the whirlpools. Now comes Spencer's Hole a legit III+ (IV if the flow is above 10,000 cfs).
You get a nice eddy out of the hole to plan your next big ones – Carnivore (III) and Mill City Falls (III+). Kayaks should take out here leaving rafters free to keep floating.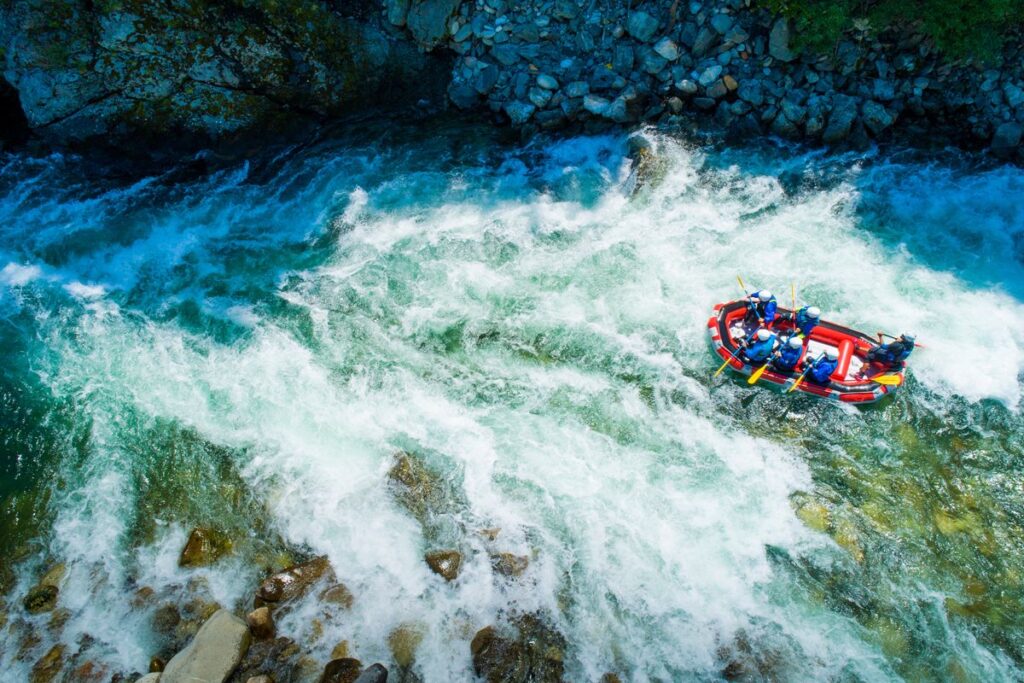 White water rafting the North Santiam River is endless fun
The North Santiam is warmer by far than the McKenzie. However, wet or dry suits are highly desirable unless air temps exceed 80º. All guide outfitters for both rivers will be able to provide such gear when needed. Both rivers lose some of their adventure level as flows decrease, but let not that deter you. These are fun rivers by any measurement. High Desert Outfitters is a good bet for a safe and quality trip.
6. White Water Rafting The McKenzie
Nothing more than Class II's and III's here but it is one of the most playful rivers in Oregon. It can't be all V's all the time, right? One can raft 42 miles of it although the 10 miles from Finn Rock to Prince Helfrich is by far the most popular stretch. Kayakers abound as the number of play spots is plentiful.
A variety of boats populate the river which is cold even in August. 40º cold. Year-round. This is a pristine river, an Oregon gem with an amazing blue tint.
What to Expect Here:
Surf waves are abundant affording challenging fun and some adrenaline rush. Eagle Rock and Nells Rapids are super sweet II's but Brown's Hole and Marten Rapids, III's, are the hot targets with many a boater tossed. The river is runnable year-round. Its drop is 17.5 fpm with flows never lower than 900 cfs (cubic feet per second) and as high as 12,000 cfs during spring runoff.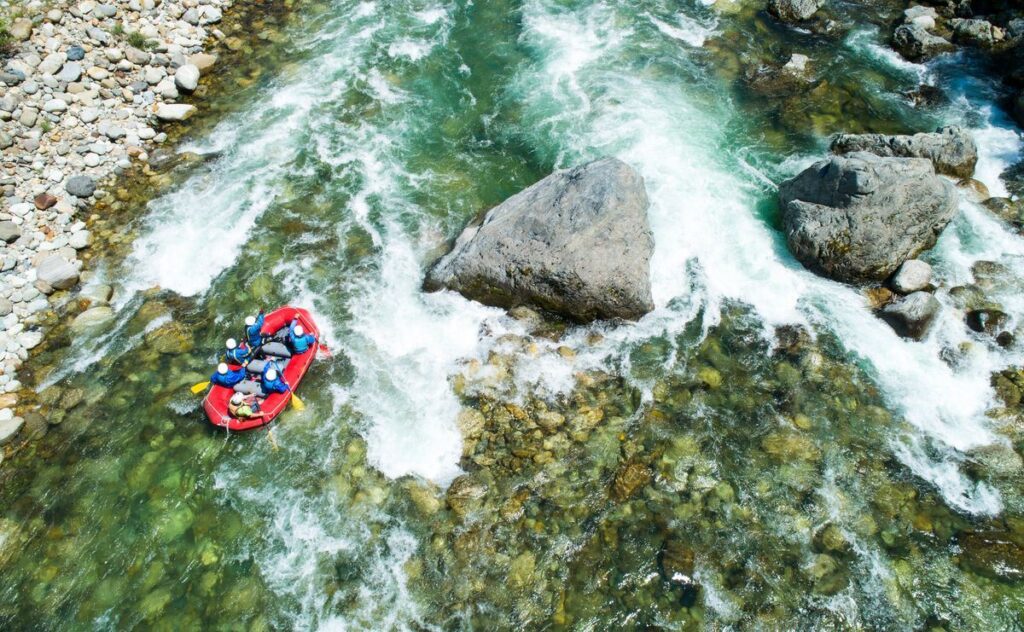 Don't miss The McKenzie for white water rafting in Oregon
The McKenzie access points are under an hour from Bend or Eugene. You will share the river with a concentration of fly fishers and anglers in their legendary McKenzie fishing dories. Twenty-year veterans High Country Expeditions has the advantage of being at the starting point getting you wet faster.
7. The Deschutes for White Water Rafting in Oregon
Heading eastward we find a fun river with varying degrees of challenge. White water rafting in Oregon is typified by this 200+ mile wonder of nature. Its entire length is navigable and you can run it year-round. The most popular section is through lands of the Confederated Tribes of Warm Springs.
What to Expect Here:
Put in at Harpham Springs for 10.5 miles of flows ranging from 3 to 8,000 cfs with a nice 24 fpm gradient in mostly a canyon setting.
In less than a mile you hit Wapinitia a solid III. A mile later it's another good III, Boxcar, that has a nice drop into a large hole. It's mostly cruising the next 4 miles with riffles and soft bumps taking you into Surf City (II+). As the name implies this is a fun spot to play and work on your surfing skills.
At Sandy Beach it's time to get out unless you are one of the very few each year who even try, much less succeed, Class VI (yes, VI) Sherars Falls another half mile.
You can add as much as 42 miles to this run by putting in at Warm Springs but there is a lot of flat, albeit scenic, water with frequent wildlife sightings. The Deschutes runs north to the mighty Columbia, kind of counter-intuitive. The longer ride only gets you two added big ones – Whitehorse (III+) and Buckskin Mary (III).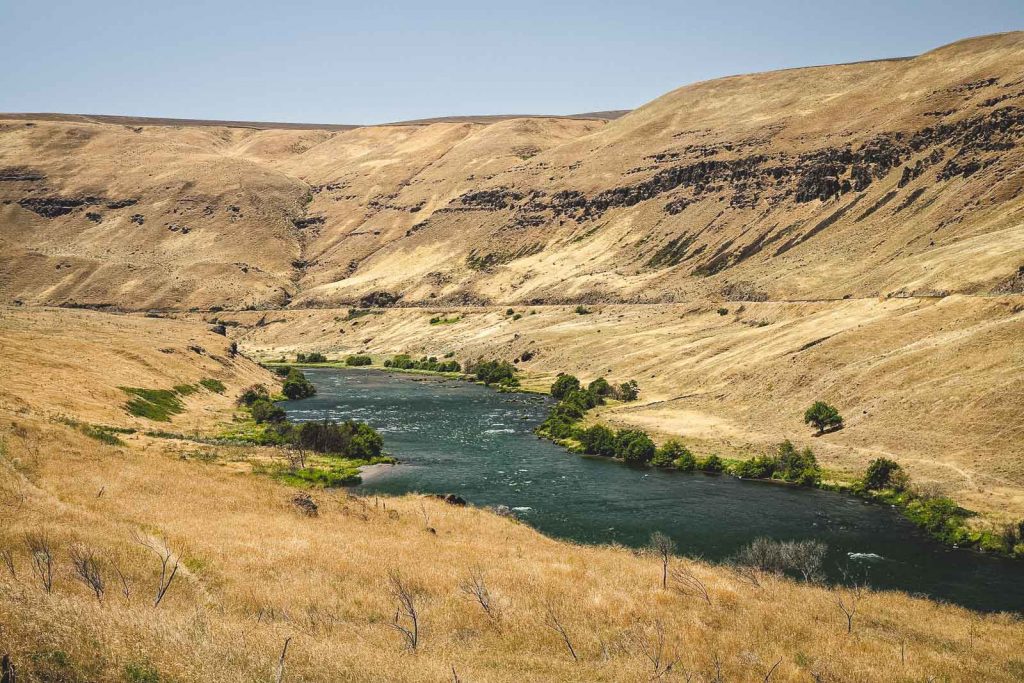 Deschutes River surrounded by eastern Oregon desert hills
Less than a half-mile later is Oak Springs Rapid, a decent III with a good size hole. Just over a mile later the Whiter (not White) empties into the Deschutes forming Upper Elevator, a II but a playful wave train. Most boaters get out here and with life vest on bob and swim for a bit.
You can put in at a number of locations, all convenient to either US Hwys 26 or 197 and pick and choose your white water rafting near Bend. BLM has a handy map reference page.
→ Hop on this Deschutes River Rafting trip from Maupin, Oregon for a fun day on the water.
Just looking for a quick white water rafting Oregon high? Do the Big Eddy Thriller, a ninety-minute fun-packed Deschutes run just minutes from Bend. Short in time but long on thrills with II's and III's, one of which you will get out of the boat and scout – or at least you should. Sun Country is the go-to for these trips.
5 Great Rivers to Raft/Kayak in Oregon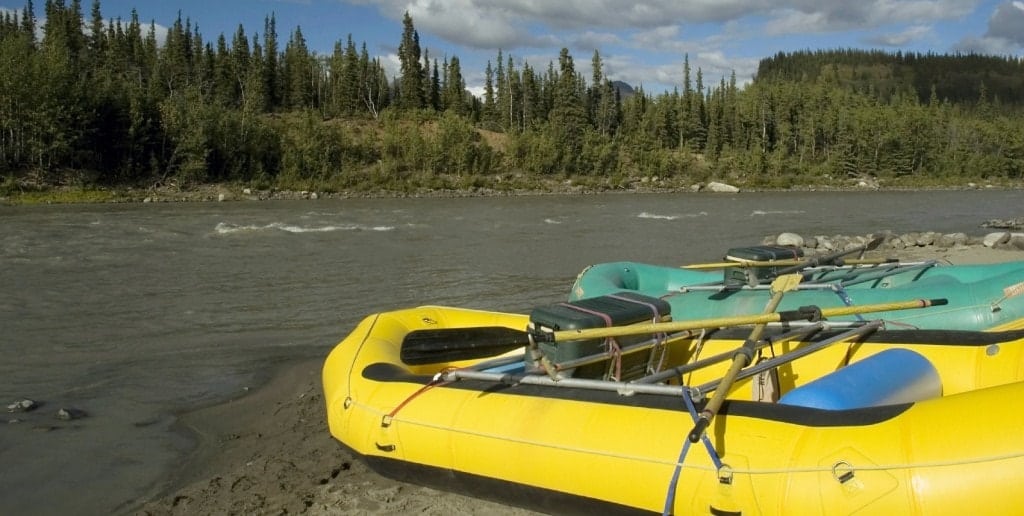 White water rafting is a great way to absorb the beauty of the river, share good times with friends and family, learn about the local geology, and just spend some free time. The benefits to white water rafting are long and every trip does not have to be a life defying adventure.
Rafting specific stretches of a river can allow a group to plan according to their comfort level, available time, and the river's accessibility. If you have never white water rafted before, do not let this discourage you from taking the steps to get familiar with a sport that will inevitably gain your favor. It is a fun sport that can be done safely. Most importantly, it is a great reason to just be on a river enjoying the scenery.
Planning a rafting trip can be a post in of itself. Whether you are new to rafting or a long time veteran, there's always something to learn in the planning process. Rafting rivers is a dynamic process. The rivers' characteristics, such as rapids, may have changed throughout the year and offer a different challenge no matter how often you have been on a river.
Tracking water levels, if the river is not overly controlled by a dam, also needs to be considered for the timing of your trip. Permits issued by the local governing authority need to be invested. Where to start and end your trip plays a major planning role.
The planning list can be long but is really no different from the diversity of items you would consider for any other trip. It's a fun way to anticipate your upcoming rafting trip. There is no shortage of online resources to help you plan. This post will help select your river.
There are many great rivers to raft in the United States. One state that comes to mind for rafting is Oregon. The Pacific Northwest region is notorious for its damp climate and access to great outdoor adventures. This is a great combination of river rafting.
Oregon specifically, boasts many rivers that can challenge the experts and also offer a great introduction to the beginners. It has it all. Here's a list of rivers to showcase the diverse offerings Oregon has:
1. Owyhee River (Southeast Corner of Oregon)
Commonly known as Oregon's grand canyon, the Owyhee river does not disappoint. The canyons that have been carved from the river is a spectacular scene. Some of the cliffs are over a thousand feet high, wildlife abundant with river otters, bighorn sheep, and golden eagles. It is in a remote part of Oregon and takes planning to make your trip successful.
It is also classified as a Wild and Scenic river with little access to services. The river is usually floated in 1 of 3 segments so start your planning now. Since the river is located in a desert region, finding the right time of year to float it is key. The water level needs to be sufficient for floating purposes.
2. Snake River (Eastern Oregon)
The Snake River starts in Wyoming but drains into the mighty Columbia River. It is a river that boasts many unique features in the United States. It is the deepest gorge in the US where it plunges 8000 feet between the Seven Devils range (east) to Oregon's rim country (west).
There are many combinations of possible trips to do on the Snake River, ranging from big rapids up high to lower gradient down low. Either option, you choose, the recreational bliss factor is huge on the Snake River.
3. Deschutes River (Central Oregon)
The Deschutes River is another mighty tributary to the Columbia River. It originates in Central Oregon, near just south of Bend, Oregon, and meets the Columbia River due north. The history behind the Deschutes River is fascinating in how it played a role with the Native Americans and more recently, the pioneers who journeyed out west. As history is diverse and rich, so are the recreational opportunities on the Deschutes.
There are many rafting possibilities on the Deschutes and is a rare river that has steady flows so it can be rafted year-round (check with the local agencies on year-round accessibility). This is another great river to raft with families and plenty of campsites around (some with pit toilets). Another bonus is the world-class trout fishing the Deschutes offers as well.
4. McKenzie River (Western Oregon)
The McKenzie River starts high up in the Oregon Cascade Mountain range and drains westward into the Willamette River (another tributary to the Columbia River). It is approximately 90 river miles long and also represents Oregon well. Much of the river is in the National Forest and offers great solitude and recreational opportunities.
Rafting the McKenzie will cater to many levels of rafters (or kayakers) and also offers great fishing, hiking, mountain biking, and spectacular scenery. Check with the local agencies on conditions and accessibility and you're planning can start right away.
5. Rogue River (Southwest Oregon)
The Rogue River is a 215-mile long river starting in the Oregon Cascade Mountain range and flows westward directly into the Pacific Ocean. It has many characteristics that are unique in Oregon. Starting in a temperate forest, rushing down into a desert valley, and finding its way through another mountain range with some of Oregon's most unique geology. This river has it all, from the nature lover to the adventure seeker.
A long stretch of the river is registered as Wild and Scenic (check with local authorities on permits) and is covered by the rafting/kayak community. The river provides opportunities for both beginners to experts and planning the appropriate section for your trip is crucial (as with most rivers). The ecological diversity offered by the Rogue River will whet almost any appetite.
The above list is only a small representation of what Oregon has to offer in terms of rafting or kayaking. In general, the Pacific Northwest region's ecological and geological diversity caters well to many water sports, rafting and kayaking only being a couple. Starting your planning with this list will inevitably open doors to other options worth exploring.
Source https://www.rowadventures.com/oregon-rafting
Source https://oregonisforadventure.com/white-water-rafting-oregon/
Source https://trekbaron.com/rivers-to-raft-kayak-in-oregon/