Packing for your Grand Canyon Vacation
It's important to be prepared for your Grand Canyon rafting vacation. You may encounter all types of weather and conditions. Planning ahead and having the proper gear will ensure you have a safe and enjoyable river rafting experience.Through several decades of experience on the river, Western knows what clothing and gear will keep you smiling every second of your adventure. Please check the weather carefully and note the "cold weather items" on the packing list, especially if you are traveling in April, May, late August or September. Some guests have suggested that we recommend packing a 'dry top' or paddling jacket in addition to your rain gear tops and bottoms. If you tend to get cold, you may want to consider it! On very cool or wet days it will provide additional comfort.
Splash Jackets on Redrock Outfitters: MENS | WOMENS
For your convenience, you can find all the other items on the packing list online with Western's retail division, Red Rock Outfitters.
Shop for your packing list now »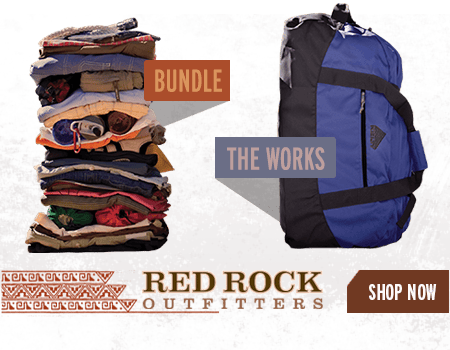 How to Pack for your Grand Canyon Rafting Vacation
Get a better idea of each of the items on your Grand Canyon 6 or 7 Day packing list. See an example of each item and understand why we recommend you pack it for the river.
Packing the Best Camera for Whitewater Rafting
Choosing the right camera for whitewater rafting is an important decision. With so many options out there, we discuss the pros and cons of the more common cameras we see on the river.
Do you REALLY need "Quality" Rain Gear?
Western River Expeditions sent two of our intrepid guides to answer the question once and for all: "What is Quality Rain Gear and Why Do I Need it?"
Packing your Bags
Packing for your Grand Canyon rafting vacation is a bit different than your standard vacation, but it's fairly simple. Just pack the items from our packing list into a duffel bag and we'll take care of the rest. A few pictures show the recommended duffel and the water-resistant bags Western River will supply to you.
Duffel Bag
All of your personal items should be packed into a soft-sided duffel bag approximately 12″ x 13″ x 24″ in size. Due to aircraft weight allowances and raft space, please limit your gear to 20 pounds, not including beverages (see note on next page regarding beverages).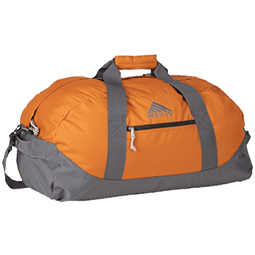 Gear Bag
Also upon arrival at the launch site of your trip, you will receive a water-resistant gear bag. This bag will contain your sleeping bag, sheet and ground tarp. You will put your duffel bag inside this bag, roll the top down and clip it securely to avoid getting your personal gear wet. Your personal gear bag will be available at camp each night of your trip.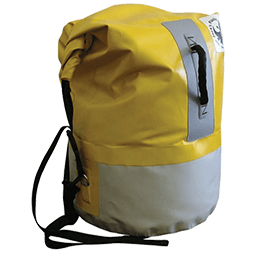 Day Bag
Upon arrival to the river's edge, you will be provided a water-resistant day bag (approximately 7″ x 13″). In this day bag, you will want to put those items you wish to access during the day (raingear, camera, medications, sun block, lip balm, river guidebook, etc). We recommend packing these items in a simple plastic grocery sack inside your duffle for easy transfer to your day bag at the launch site.
5 Things I Wish I'd Known Packing For The Colorado River
It can take more than a decade to get a permit for a private rafting trip through the Grand Canyon, so when a friend's family offered my wife and I two spots on their 16-person trip, we immediately requested time off from work and booked our flights.
Over the next month, we read up on the river and prepared our gear, but by the first night camping on a sandy Canyon beach, we learned that there's no way to fully know how to pack for the Colorado until you've spent time on the water.
Even When It's Hot, It's Cold (and when cool, still hot)
Our trip departed in August, which meant heat indexes well over 100 degrees during the day, and plenty of direct overhead sun. But because the river's water is released from the bottom of Lake Powell, it flows out at a consistent, chilly 47 degrees. That means that if you plan to paddleboard or kayak, you'll be most comfortable in a neoprene top, even though the air is sweltering. It doesn't take long to get hypothermia in 47-degree water!
Likewise, we over-packed for the evenings, expecting chilly desert nights. Instead, even the wind whipping through the canyon felt hot at night, so the choicest sleeping was on the boat over the cool water, or outside on the beach. Inside a tent was way too hot! But…
Scorpions Are Everywhere
Bark scorpions are abundant in the Grand Canyon, and their translucent white bodies can make them hard to spot. They are ambush hunters, so they hang out underneath driftwood and wrack on the beach. If it's hot and you're sleeping outside of your tent, you're likely lying directly in their path. Although they're not usually lethal to humans, their sting hurts like an amplified bee sting.
Two keys to not getting stung by a scorpion:
Bring a backup pair of comfortable flip-flops or sandals (i.e. not the wet ones you wore all day in the boat) that you can slip on for evening trips to the "groover" (the #2 bucket) or down to the water to relieve yourself.
Bring a pair of cool, loose-fitting gloves that you can sleep in at night, so that if you're lying on the ground with an arm outstretched, a scorpion making its way across the sand that mistakes your hand for an enemy won't be able to connect.
Sand Will Get Into Everything
Packing for the Colorado River is a balancing act. You want to bring your nice gear and be comfortable for the two-week trip, but you also have to accept that most of what you bring will be stained brown by the thick, muddy water. A year later, you'll open up a backpack or unzip a camera case and Grand Canyon sand will fall out. The super-fine particles are absolutely unforgiving.
You'll want to keep that in mind when packing electronics. Bring extra plastic cases or Ziploc bags so that you always have a clean place to stow your camera, phone, backup batteries, GPS, and Bluetooth speaker. If you only own high-end gear, it may be worth investing in a midrange model you can afford to lose, because…
All Of Your Stuff Will Get Wet
When you start out—and hopefully each morning—your oar boat will be packed immaculately. Your clothes and personal gear will be in big dry bags that are strapped down to the floor of the boat, and you'll have an ammo box or personal dry bag with the smaller stuff you need to access during the day.
But you never know when the worst could happen. You'll always be prepared for the big rapids like Lava Falls and Hance Rapid, but it's the smaller ones that can be the most dangerous if you let them sneak up on you. In our case, it was Bedrock Rapid that ended up turning our boat upside down, just after lunch, when we were feeling lazy, sipping a post-meal beverage and generally not prepared.
Thankfully I'd brought my waterproof Panasonic Lumix camera (it took all of the photos in this article), but my iPod and speaker—despite being inside a cheap dry bag I'd purchased before the trip—didn't survive the 30 minutes our raft spent upside down before we were able to catch up with it and turn it over.
Always be prepared, and be sure to purchase dry bags that are guaranteed "waterproof" and not just "water resistant." And although it's nice to have an SLR or high-quality camera for hikes and at the campsite, you'll want to keep it stowed safely away while on the raft. Bring a waterproof camera for time on the water, and use a carabiner to connect it to your lifejacket via a hand strap.
You (Almost) Can't Bring Too Much
When you begin your trip, you'll feel like you've brought far too much. Your boats will be completely loaded down. But consider that if you're like most groups, well over half of that weight will be in the form of canned beverages, and once that frothy goodness has been consumed, the crushed aluminum takes up a lot less room (and provides far less ballast to keep your boat upright when you hit the big rapids—like the infamous Lava Falls—near the end of your trip).
So, unlike a backpacking trip, the Colorado River is a case where it may be okay to bring the kitchen sink. Stock up on sunscreen. Bring extra clean shirts. Bring an umbrella­—a big one for your raft, and a personal one for hiking. And for fun, pack some costumes: wigs, tights, dresses, rainbow-colored ram horns—whatever you can find. After even a few days settling into the pace of life (and the hot sun) on the Great American Adventure that is a rafting trip through the Grand Canyon, you'll understand that normal dress codes simply don't apply.
Stratton Lawrence is a writer, editor, and adventurer based in South Carolina, where he's often on the water paddling the creeks and rivers of the Lowcountry. Whether he's rafting the Colorado River or floating a blackwater river, he packs a tough, waterproof camera, to document his explorations as a travel and outdoors writer for eBay.com.
An Insider's Guide to Packing for a Grand Canyon Rafting Trip
You've been booked on your Grand Canyon rafting trip for months—or maybe closer to two years—and now the wait is over. The time has come to embark on one of the greatest river adventures on the planet. So, let's get packing! Joy Parades, OARS Grand Canyon Adventure Consultant, shares the ins and outs of packing for a Grand Canyon rafting trip.
The List
Don't wait until the last minute. You'll just get stressed out. Start planning early by reading the trip information that was emailed to you. Select your beverage of choice, sit down, relax, and have a good read. The itinerary includes a detailed packing list and description of what to wear and how to pack. All of the items are on the list for a reason. I personally do not like to pack gear that I may not use, but I would rather be prepared instead of miserable on my vacation.
Waterproof Bags
"My stuff won't fit in the waterproof bags!" If you bring what is on our packing list, I assure you, there will be room for everything. Your gear will be divided between two large waterproof bags (one for clothing and personal items and one for your sleep kit), daypack and small waterproof bag. The large waterproof bags are your "checked luggage" and only available from when you arrive in camp each afternoon until you pack up the next morning. The daypack and small waterproof bag are your "carry-on luggage" and will be with you on the boats to access during the day. These bags should have such items as rain gear, hiking shoes/socks, camera, eco-friendly sunscreen, lip balm, medications, extra layers of clothing and any small things you don't want squished in your large bag.
Packing Tips
If you bring something with you that won't be used on the river, pack it at the bottom of your large waterproof bag—travel clothes, valuables (wallet, car keys, etc.) and collapsible duffel (if you are doing a partial canyon trip). Our bags are cylindrical in shape like a tube standing on end, so whatever you put in the bottom will stay there.
I use one- or two-gallon Ziploc® bags to organize my gear. They allow you to easily see what you have and keep everything clean. In each individual Ziploc® bag categorize your gear like toiletries, camp clothes, underwear/long underwear, book/notebook, etc. I like to put a basic "outfit" in one bag with my swimsuit, shorts and a long sleeved shirt. Bulky items like a fleece top or bottom can be packed directly into the waterproof bag.
For your daypack, I recommend putting everything in a plastic bag first and then into the pack. There's a good chance your daypack will get wet while going through rapids.
Pack Light and Reuse
Plan on wearing your clothes for multiple days. Clothing can easily be washed out in the river with eco-friendly biodegradable soap like Campsuds or Dr. Bronners. The climate in the Grand Canyon is extremely dry, so laundry dries out quickly.
Synthetic Layering
This is one of the most important elements of dressing and packing for a Grand Canyon trip. Instead of bringing one heavy top and bottom, you want to have several pieces of synthetic clothing to layer. This gives you the ability to adapt to a variety of weather conditions. Clothing made of synthetic fibers will wick the moisture away from your skin and keep you warm, even if wet.
Only when you have hot, dry days on the river, is cotton preferred. You can douse your cotton shirt in the river and the soaked cotton will have a cooling effect. With that said, July and August can be very hot, but these months are also traditionally known as the monsoon season. Thunderstorms this time of year can produce heavy downpours causing the temperature to plummet for a period time. Rain gear will only keep you dry, but a fleece top and bottom can take the chill off until the storm subsides and it warms up again.
For spring or fall trips, I would suggest bringing two sets of long underwear, as well as fleece. If you have a cooler day, you will want to wear one set on the boats, but still have a second dry set to wear in camp.
Rain gear
Rain gear is very important no matter when you float through the canyon. It's not just for rain. A waterproof jacket and pants protect you from rain, splash from the rapids and wind and they can be that one last bit of insulation you need to stay warm. Note the key word is waterproof, not just water-resistant.
Weather Forecast
Shortly before your trip departs you should check on the weather forecast in the Grand Canyon. Based on the forecast you may want to make some modifications to your packing. Make sure you use a website that lists information for conditions in the Grand Canyon along the Colorado River, like the NOAA National Weather Service. The rim is over 6,000 feet and generally runs about 20-25 degrees cooler than the temperature along the river.
Function over Fashion
And my last piece of advice is that your river clothes should serve a function. Depending on the season, they will be your sun protection, keep you dry from rain and rapid spray or provide warmth. Functionality should take precedence over fashion. In camp you will want to take off your river clothes and get comfortable. This is where you might want to mix it up with something fun and fashionable. Maybe a colorful sarong, printed happy pants, Hawaiian shirt or tie-dyed sundress. Have fun with it. It's your amazing adventure!
Source https://www.westernriver.com/grand-canyon-vacation/packing
Source https://gearjunkie.com/boats-water/colorado-river-grand-canyon-float-trip-packing-tips
Source https://www.oars.com/blog/how-to-pack-for-a-grand-canyon-rafting-trip/