8 Best Places to Go After COVID-19 COVID Vacation Ideas For Social-Distancing
As countries around the world started to open its door to tourism again after a long period of lockdown and closed borders, it is time for us to dive deeper into what travel will look like under this new normalcy of social distancing and which places are the best to travel to in the post-COVID-19 world.
I know that people are aching to travel again (there is actually a German word for this, no surprise there, "fernweh") as I am and based from my personal experiences with these places, I have decided to compile a list of 8 places that you can travel to after the COVID-19 pandemic with social-distancing in mind.
What this means is that when you travel to these places, you will be surrounded by nothing but nature and vast landscapes. No mass-tourism, no crowds, just you and the world, a place I often prefer even before the pandemic.
I will also be taking the number of confirmed COVID-19 cases in mind when suggesting these places but not entirely as some areas in highly affected countries are less affected than the others especially islands which helped contain the spread of the virus.
Without further ado, let's begin with the first country on the list, and you might not be surprised by it if you have been following my Youtube Channel: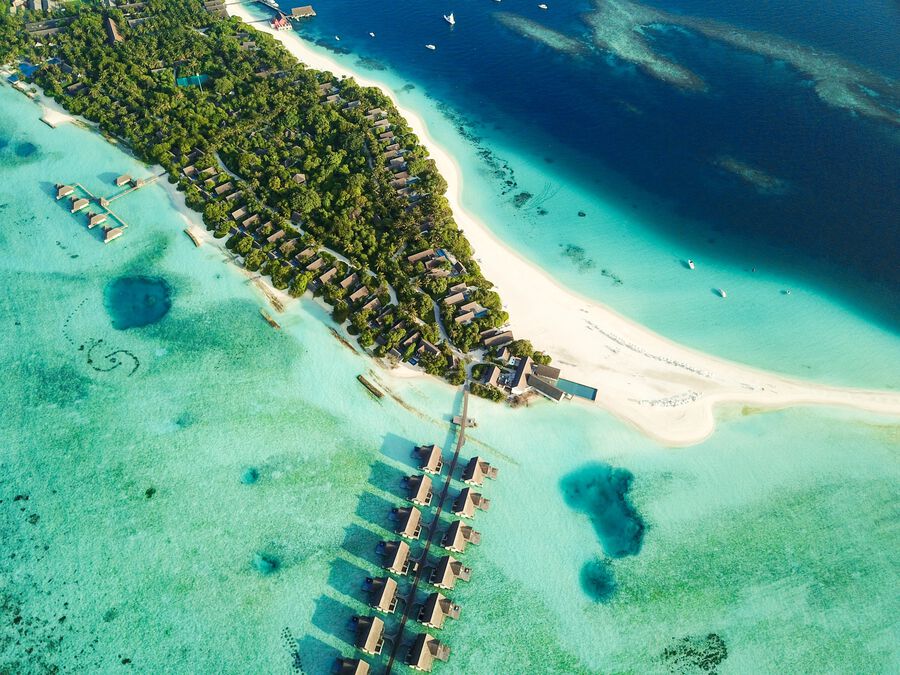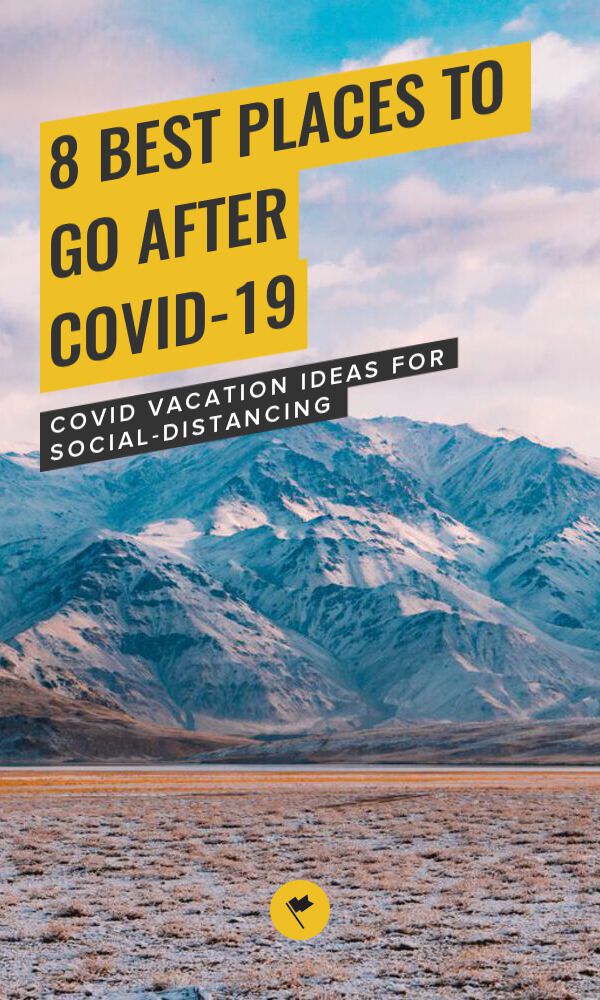 Save to Pinterest
Don't have time to read? Save this page on Pinterest for later and don't forget to follow us on Pinterest .
1. The Gobi Desert, Mongolia
Confirmed COVID Cases: 215+ in Mongolia
Trip Duration: 5 – 7+ days
People on this Trip: 6 people max
As I was reliving my Mongolia Moments when I was redoing my travel videos under lockdown, I started to realize how great the Mongolian Steppes and the Gobi Desert would be to social distance ourselves from the rest of the world and then one thing led to another, and I am now writing this article for you.
I remember the time I looked out of the yurt I was staying on my last night in the Gobi Desert and realizing how spacious our world is. There was not a single soul around me for miles away.
I went and walked up to a mountain top to look for some sign of other settlements and I was unable to see any. There was nothing around me but pure nature and I felt nothing but bliss as I stood on that mountain, realizing how lucky I was to be able to be there.
Due to the fact that Mongolia is sparsely populated, the COVID-19 pandemic didn't affect the country as much as other countries with only 214 confirmed cases in mid-2020 making Mongolia one of the safest places to go after the pandemic.
To explore the Gobi Desert, you will need to go on a tour that can range from 6 – 12 days depending on what you want to see in the Gobi Desert. The tour will consist of about 6 people maximum and you won't be in any crowded area during the entire trip as you hop around from one yurt to another like a nomad. It truly is the ultimate destination to go social distancing while traveling.
To get to the Gobi Desert, you will have to first fly into Ulaarbator (find cheap flights to Mongolia here) and find a tour to join to go to the Gobi Desert. I highly recommend the Sunpath Tour Operator or you can browse through other Mongolia Tours with the link below: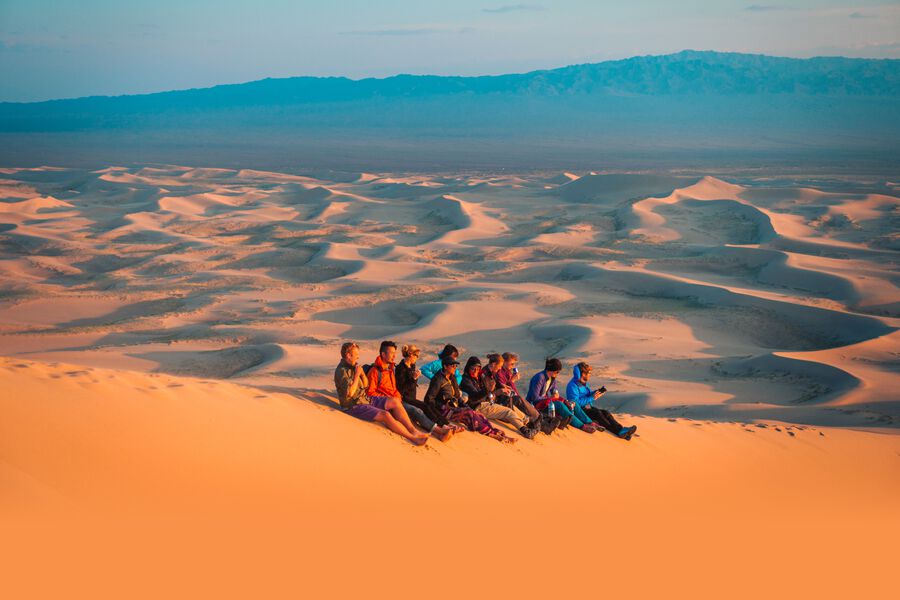 2. The Pamir Highway, Kyrgyzstan & Tajikistan
Confirmed COVID Cases: 3726+ in Kyrgyzstan, 5630+ in Tajikistan, but much less in the remote Pamir region.
Trip Duration: 8+ days
People on this Trip: 4 people max
The Pamir Highway is one of the best road trips you can do in your life. The highway stretches across Kyrgyzstan and Tajikistan along the remote mountain region of the Pamir bordering Afghanistan. This beautiful scenic road is considered to be one of the highest international highways in the world with the highest point at 4,655m above sea-level.
Along the way, you will be sleeping at local's guest houses in towns in the middle of nowhere, seeing what life is like out there along the Pamir, and interacting with the lovely people while being sandwiched between stunning landscapes and snowy mountains throughout your entire road trip.
The Pamir Highway is one of the most remote regions in the world and social-distancing will not be a problem at all while you are on this trip. Since the Pamir Highway connects the 2 countries, you will have to start your trip in Kyrgyzstan and end in Tajikistan.
The confirmed COVID cases in these 2 countries are relatively low compared to countries in Europe and America with only 3,700 cases in Kyrgyzstan and 5,600 cases in Tajikistan, mostly in urban areas. You will most likely be only arriving and departing from these cities but once you are on your way to the Pamir, you will be in a less affected region most of your trip.
To start traveling along the Pamir Highway, you will have to travel to Osh, the second largest city in Kyrgyzstan and from there, you can either join up with a tour at Osh Guesthouse where they run the trip often or you can pre-organize it via Caravanistan Forum which I personally used.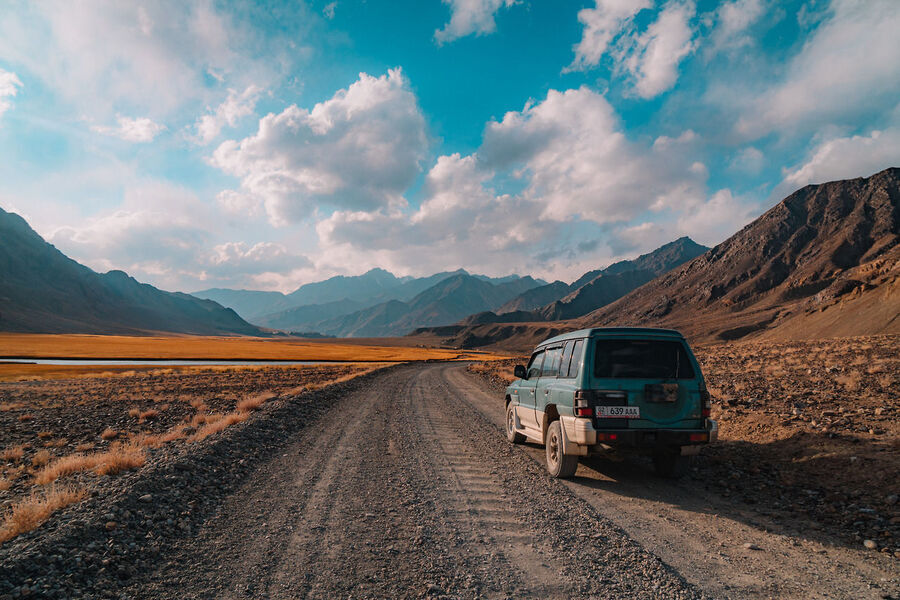 3. The Great Walks in New Zealand
Confirmed COVID Cases: 1166+ in New Zealand
Trip Duration: 3+ days
People on this Trip: 1+ person
New Zealand is one of the first countries in the world that was able to flatten the COVID curve successfully and they are way ahead of everyone else in terms of readying their country for tourism.
Due to excellent policies by the prime minister, Jacinda Ardern, and the country's effort to control the spread of the virus, New Zealand only saw about 1166 confirmed cases, making it one of the safest places to travel to.
New Zealand was already a well-known destination for its untouched nature and great hiking spots even before the COVID-19, especially in the South Island where many of the most beautiful Great Walks are located.
They have managed a way to create and maintain several hiking tracks around the country where you will be able to hike through some of New Zealand's most awe-inspiring landscapes with varying difficulties and duration. There is no better way to social distance ourselves from the world when traveling than to go hiking in New Zealand and they have a ton of scenic routes for us to choose from.
There are several of Great Walks for you to tackle while in New Zealand. While I was there, I was able to do parts of the Abel Tasman Coast Track as well as the full-length of the Routeburn Track which I highly recommend.
To do these great walks, first, you have to plan ahead and pick the dates you want to start and end the hike and then you will have to book the mountain huts on New Zealand's official website along the route. These mountain huts get booked out extremely fast so be sure to do it prior to your trip.
There are also other nature-related things to do in New Zealand other than hiking that will help you with social distancing and you can browse through all the available tours from the link below: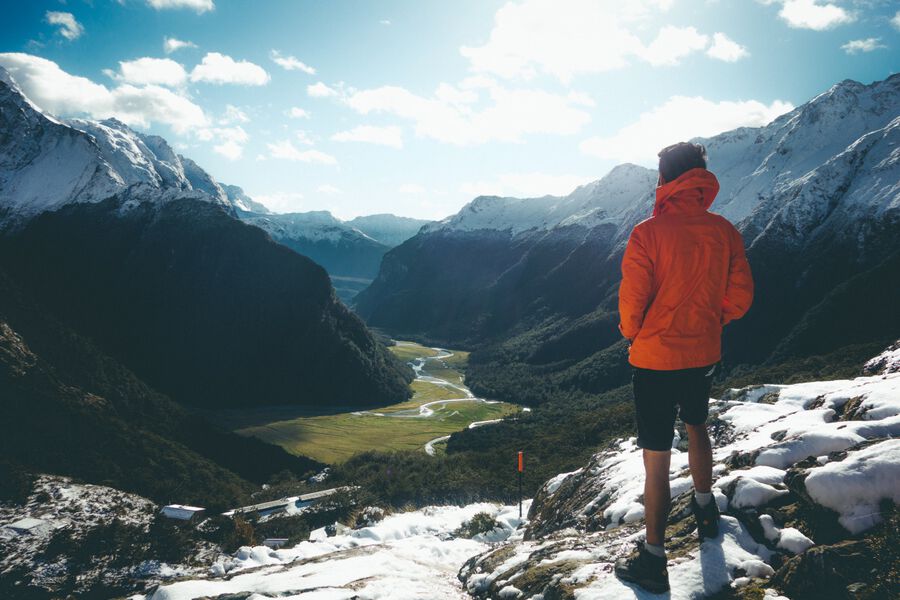 Instantly turn your travel photos into beautiful work of art in one click. Available for both mobile and PC.
4. Salar de Uyuni, Bolivia
Confirmed COVID Cases: 26,389+ in Bolivia but much less in the Uyuni region
Trip Duration: 3+ days
People on this Trip: 6 people max
South American countries are not doing as well when it comes to flattening the COVID curve as countries in Asia or Oceania but fortunately, there are a ton of regions that are less affected such as the Salar de Uyuni, the largest salt flat in the world in Bolivia.
Bolivia confirmed cases sit at 26,389 as of mid-2020 and even though the number is high, the affected regions are usually the highly populated area which Salar de Uyuni isn't, making it a great place to go social distancing and away from the rest of the world.
To explore Salar de Uyuni, you will be traveling in a jeep with a maximum of 6 people through the salt flats, sleep in a hotel made out of salt, and relaxing in a high altitude hot spring in the remote mountain region of Bolivia.
Most of the jeeps traveling the route will spread themselves out to different guest houses in the remote villages around Salar de Uyuni so you won't be around many people in a confined area during the trip making social distancing much easier.
To start planning your trip, you can book a tour from a local travel agency (I recommend Red Planet Expedition) when you arrive in Salar de Uyuni or you can browse through the tours available online and book one with the link below: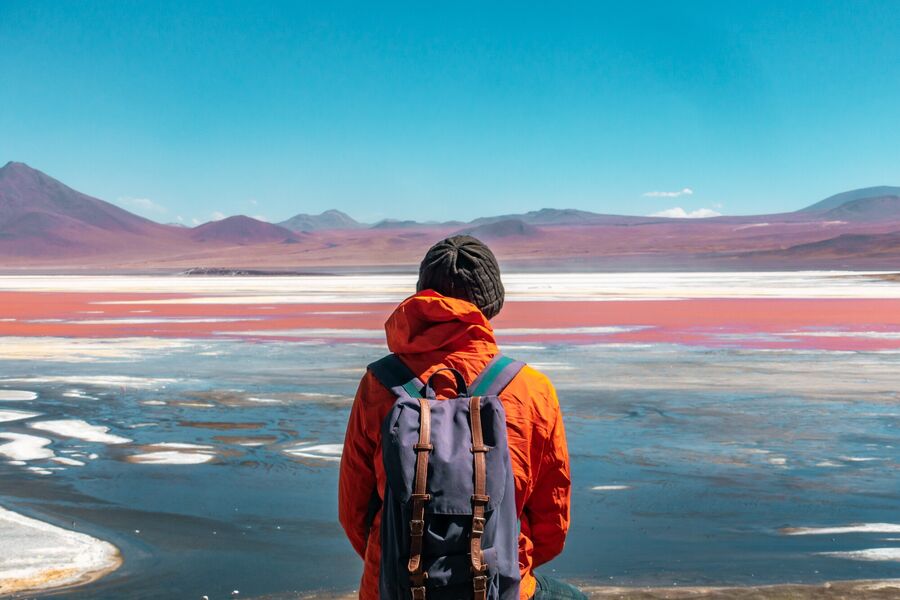 5. The Galapagos Island, Ecuador
Confirmed COVID Cases: 51,643+ in Ecuador but only 78 cases on the Galapagos Island
Trip Duration: 7+ days
People on this Trip: 8 – 12 people max
While we are still in South America, another excellent destination to travel to for social distancing is the Galapagos Island in Ecuador. Despite the high number of confirmed cases in Ecuador, standing at 51,600 cases as of mid-2020, the Galapagos Island has only seen about 78 confirmed cases, and for a good reason.
The Galapagos Island is located 926 km west from mainland Ecuador, making it easy for the island to control the COVID-19 spread, something I can't say the same for the mainland. Due to this fact, Galapagos Island is one of the best places to social distance while traveling and surround yourself with cute and beautiful animals instead of people.
To get to the Galapagos Island, you will have to go through either Quito or Guayaquil airports and from there, you can fly domestically to Isla Baltra and Isla Santa Cruz where the airport and the main town are located respectively.
While you are on the main island, you can spend a day browsing around and find the perfect cruise to join for a boat trip around the Galapagos archipelago which is the best way to explore the more remote regions of the Galapagos.
On this boat, you will be with around 8 – 12 other people and you won't be going into any crowded area for the next 6 – 12 days depending on your trip's duration so social distancing will not be a problem.
If you would rather book a cruise online and pay with a credit card instead of cash like you would if you book on the island, you can browse through available Galapagos tours with the link below: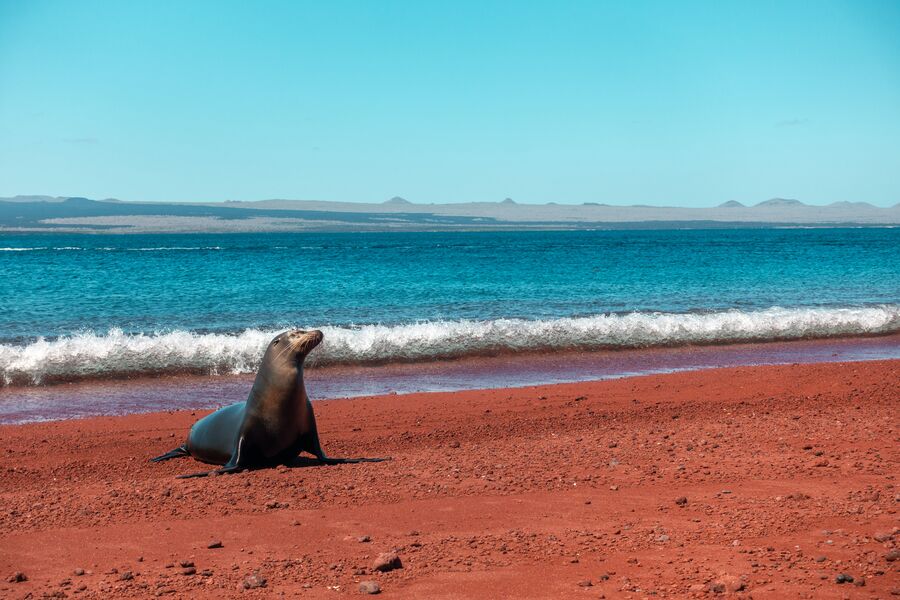 6. Easter Island, Chile
Confirmed COVID Cases: 254,000+ in Chile but only 5 cases on Easter Island
Trip Duration: 5+ days
People on this Trip: 1+ person
Talking about islands, another great remote island that you should visit after COVID-19 is Easter Island located over 3,500 km away making it one of the most remote islands I have ever visited in my life.
To be honest, Chile is not doing so well with the containment of the spread of COVID-19 with whopping 250,000+ cases as of mid-2020 but since Easter Island is so far away from the mainland, they have only been seeing 5 cases which makes the island a great place to stay social distance while traveling.
The beautiful culture of Rapa Nui is one of the most interesting cultures out there and to be able to see the Rapa Nui statue with your own eyes is a once-in-a-lifetime experience that you will not regret.
You can rent a quad bike and explore the island alone, away from people, or you can go off at night and see the stars as you have never seen before. I've never the Milky Way so visible in my life!
To get to the Easter Island, you will have to fly into Santiago and from there you can fly domestically with LATAM Airlines to get to Easter Island. When you arrive at the island, you can rent a car, a quad bike, or a bike and go out and explore the remote island by yourself.
You can find cheap flights to Easter Island on at Expedia or if you rather go on a tour around Easter Island instead of doing it independently, you can browse through great tours with the link below: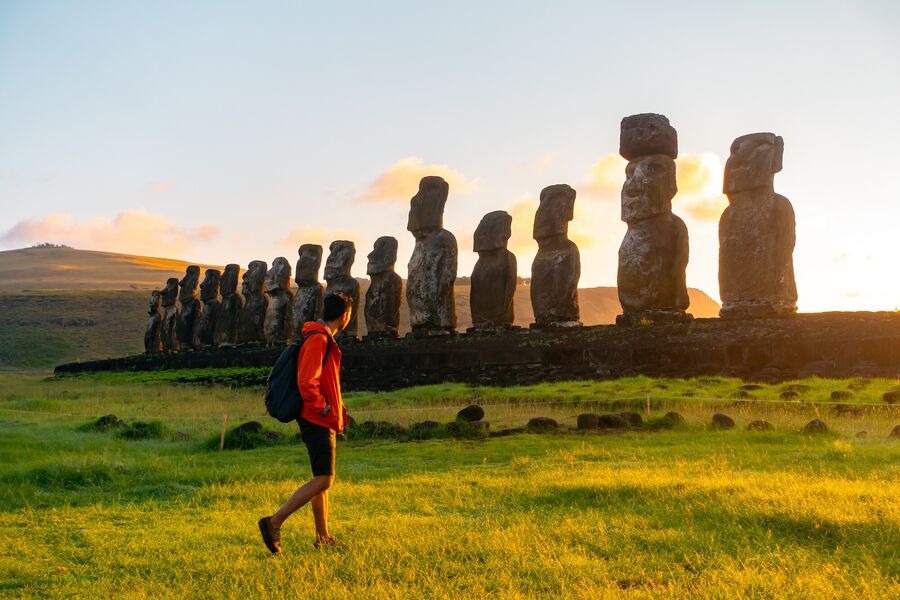 7. The Himalayas, Nepal
Confirmed COVID Cases: 10,728+ in Nepal but much less in the Himalayas region
Trip Duration: 5+ days
People on this Trip: 1+ person
You can't talk about remote areas without mentioning one of the most remote areas in the world, the Himalayas, which is another great place to travel to after COVID-19. Nepal is one of the cheapest countries you can travel to and get access to some of the most stunning areas in the Himalayas.
You can go off into the mountain and start hiking one of the many scenic trekking trails around the country or you can stick to the popular routes like the Annapurna Base Camp or the Everest Base Camp, both of which I highly recommend.
With the tourism infrastructure to accommodate hikers from around the world, you will have plenty of options when it comes to teahouses and since not many will be traveling after COVID-19 as before, you will be able to pick an empty teahouse to your liking and stay social distanced in an already remote region of the country.
Nepal itself is not doing well in relative to other Asian countries but the Himalayas is massive and extremely remote and so the region was less affected by the virus than the more urban areas like Kathmandu.
That said, you will have to travel to Kathmandu first to get into Nepal and from there, you can fly domestically to the trailhead and begin trekking in to the Himalayas. You can do these hikes independently as I did or if you would rather book something online prior to arriving, be sure to check out some of the available tours with the link below: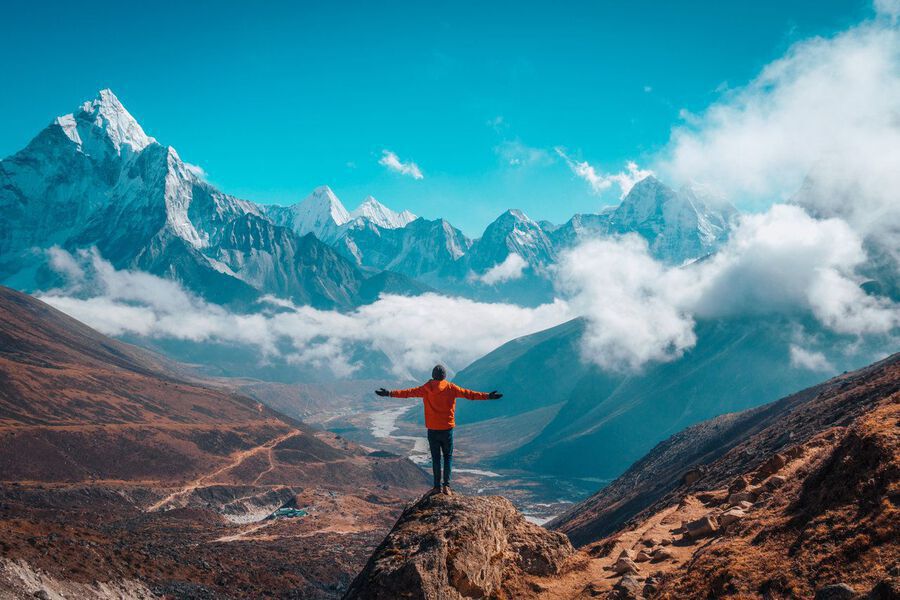 8. The Outback, Australia
Confirmed COVID Cases: 7,519+ in Australia but much less in the Outback
Trip Duration: 3+ days
People on this Trip: 1+ person
Australia is another country that is doing very well at containing the spread of COVID-19 with around 7,500 confirmed cases since mid-2020, making it another great place to visit after COVID-19.
The Outback desert of Australia is the perfect place to maintain social distancing while traveling in Australia. With a vast unpopulated desert area, so remote that even the Australians rarely go, you will have all the beautiful aboriginal sacred spots like Uluru and Kata Tjuta all to yourself.
There are also some beautiful hiking trails like the Kings Canyon that will take your breath away at every turn or you can go and ride camels at sunset while looking at Uluru. Either or, there are more things for you to do in the Outback than you might think.
To get to Uluru, you can either fly from cities like Melbourne or Sydney to Ayers Rock (another name for Uluru) or you can fly to Alice Spring and make your way down to Uluru. For tours to take you around Uluru or other areas in the Outback, you can browse the best deals with the link below: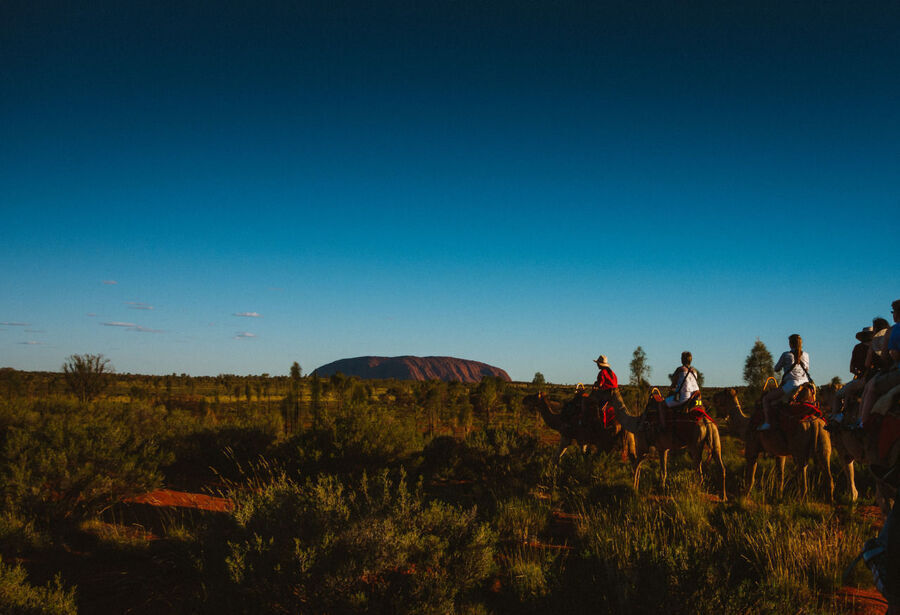 Extra. And of course, in your own country
Last but not least, please do not forget to look inside your own country and take the opportunity to travel and see what your home country has to offer. The pandemic has devastated many of the small local businesses especially those that relied on tourism, and sadly, many will close down before then, but for those businesses that are trying their best to stay afloat, they will need your help more than ever.
Spend the weekend and travel around where you live, support local businesses, and help drive the economy in whichever way you can, and soon, we will all be done with the COVID-19 and started to travel again.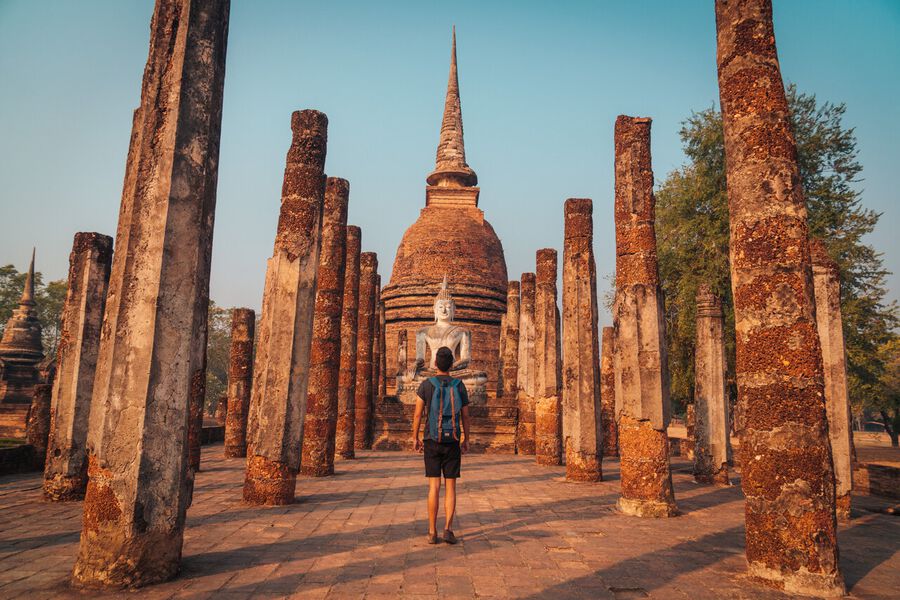 I hope this article will inspire you to look forward to your next adventure. Where are you planning to go next? Are these countries on your list? Let us know in the comments below.
Further Reading for Inspiration
Looking for more articles to help inspire you to travel more? Here is a collection of articles you might like:
Are you fully vaccinated? Are you looking for a country you can travel to where you don't have to quarantine? We've got that covered! Check out: 27 Countries That Are Open To Vaccinated Travelers.
Hiking to the Everest Base Camp is one of the most memorable epic moments of my life. Here's a long-read piece about my experiences hiking the Everest Base Camp: On My Way To Everest Base Camp.
Ever wonder what it is like to travel the world on a third-world passport? Check out: Traveling The World On A Third World Passport.
Here's why I always celebrate turning a year older with a hike: Climbing Kilimanjaro On My 33rd Birthday.
Are you currently planning a trip around the world and are looking for cheap countries to visit? Here are the 10 Cheapest Countries to Visit in the World.
Traveling in Europe can be cheap, really cheap. These are the 8 Cheap European Countries to Visit.
Looking for the most beautiful travel blogs to follow? Here are the 20 Most Beautiful Travel Blogs to Follow.
For adventurers and backpackers out there, here are the 10 Best Adventure and Backpacking Blogs You Should Follow.
I truly believe we need more Asian representatives in the English-speaking travel blogging industry, especially for blogs about Asia. Here are the Top 10 Kick-Ass Asian Travel Bloggers To Follow.
Did you know that you can travel without leaving your couch? Here are the 8 Great Travel Books You Should Read.
For the best travel videos to inspire you to travel even further, here are the 20 Most Creative Travel Videos of All Time.
If you are looking for travel vloggers to follow on Youtube that aren't cringeworthy, check out: 10 Best Travel Vloggers to Follow On Youtube.
The best way to improve your photography skills is to learn from the best. Here are the 10 Best Photography Youtube Channels to Follow.
A photo is worth a thousand words. Here are the 25 Most Beautiful Travel Photos I Ever Took From Around The World.
Ever wonder what it is like to be a travel blogger during COVID-19? Check out: Being A Travel Blogger During COVID-19 – What Is It Like?
Stuck at home and not sure what to do? Here are the 10 Best Things to Do When You Are Bored in Lockdown.
Can't travel internationally for the time being? How about traveling in your own country? Here are the 7 Reasons Why You Should Travel in Your Own Country.
To find the most inspirational travel quotes and captions to go with your photos on your Instagram, check out 20 Best Travel Quotes and Captions for Instagram.
We often hear bad stories about locals from travelers but what about the other way around? Here are some of the Notorious Stories Of Terrible Backpackers.
If you lost your bag while you travel, here is how to deal with the situation: My Bag Was Stolen In Germany.
Have you ever felt you do not belong in a place you are born in? Read this: Where Is Home? – My Quest In Search Of Where I Belong.
People often preach about how important it is to live in the moment but sometimes, that may not be such a good idea. Here is The Problem With Living In The Moment.
Solo traveling is not for everyone and even though I love it to death, it is not always flowers and sunshine for solo travelers. Here are the 10 Things I Hate Most When Traveling Solo.
Travel friends come and go but that may not be such a bad thing. Here is why you should embrace your travel friends: A Life Of Brief Encounters.
Hiking is life. Here's why: One Year Of Incredible Discomfort – 10 Things I've Learned From Climbing Mountains.
Here's why having no plan is the best plan: Magical Things Happen When You Have Nothing To Do – The Art Of Doing Nothing.
Is life getting you down? Here's why you can't always blame life for everything: Life Doesn't Suck. We Are Just Suck At Living It.
Want to know why I chose to travel alone? Read this: We Travel Alone, NOT To Be Alone.
For meaningful solo trip, you need to share it with someone. Here is why Happiness Is Only Real When Shared.
Traveling is no longer for the rich. Here is why: "People Think I'm Rich".
The Himalayan Mountain is one hell of a teacher. Here are the 7 Life Lessons The Himalayas Taught Me.
Want to travel alone but scared that you might get bored out of your mind? Here is How To Enjoy Yourself And Have Fun While Traveling Alone.
Want to start traveling solo also? Here is What It's Like to Travel Alone.
Here is a simple story on how I started traveling: F*ck It, I'll Do This Alone.
For more inspiring articles like this, visit my Inspiration page.
Disclosure: This post may contain affiliate links.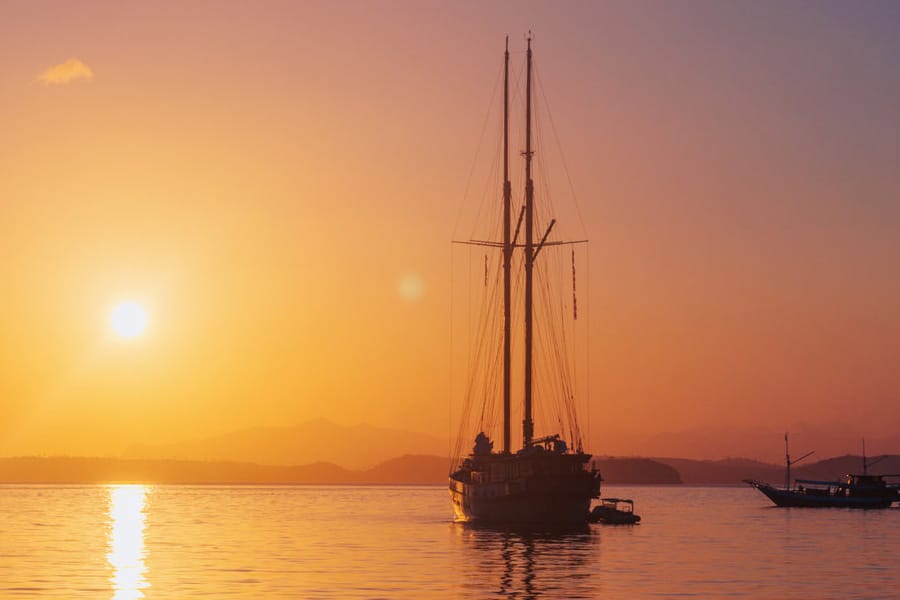 Looking for more inspirational articles? You will find plenty more articles under our Inspiration section where you will find more discussion related to the nomadic and traveling lifestyle and shower-thoughts that will invoke wanderlust in all of us .
Categories Inspiration
Sidebar Section
Hello there!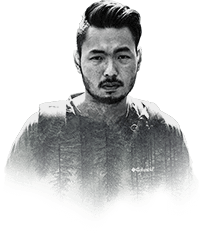 I'm Pete R., a solo traveler, a travel blogger, and a third-world passport holder from Thailand with over 8 years of travel experiences, ready to share them with you.
Where Will You Go After COVID-19? A Throw Forward Thursday: Let's Plan Our Future Travels Together
I am not gonna lie, it is hard to stay optimistic during this trying time. I have been switching between keeping myself busy with this blog and doing absolutely nothing for days on end for the past 2 months now and as the world is starting to move on from this COVID-19 pandemic, however long this might be, it is time for us all to take our lives back into our own hands and start planning for our future travel.
And so, instead of Throwback Thursday, I proposed to you a Throw Forward Thursday, a campaign coiled by Turkish Airlines where we all come together and share where we will be visiting after the pandemic is over, instead of longing for the old days. I'll start off with my plan: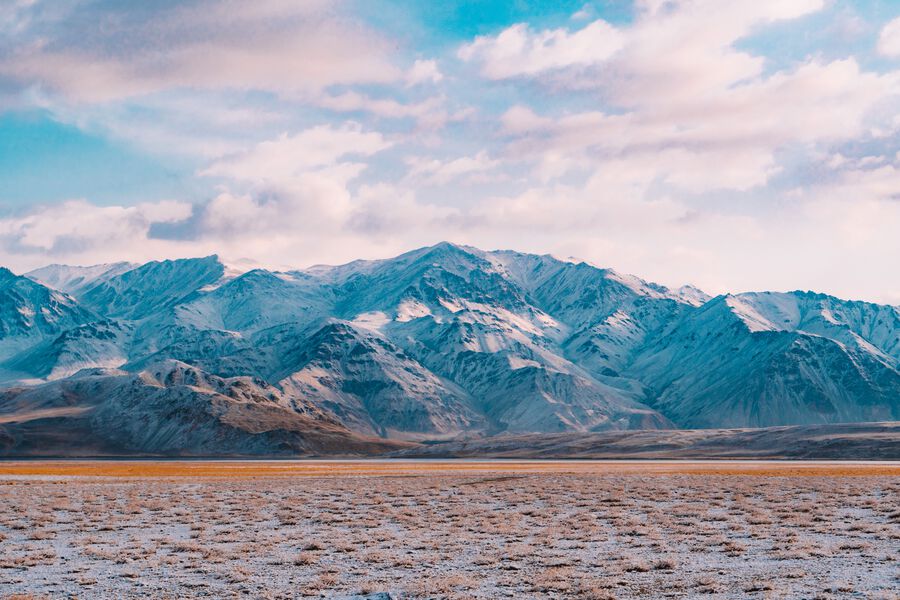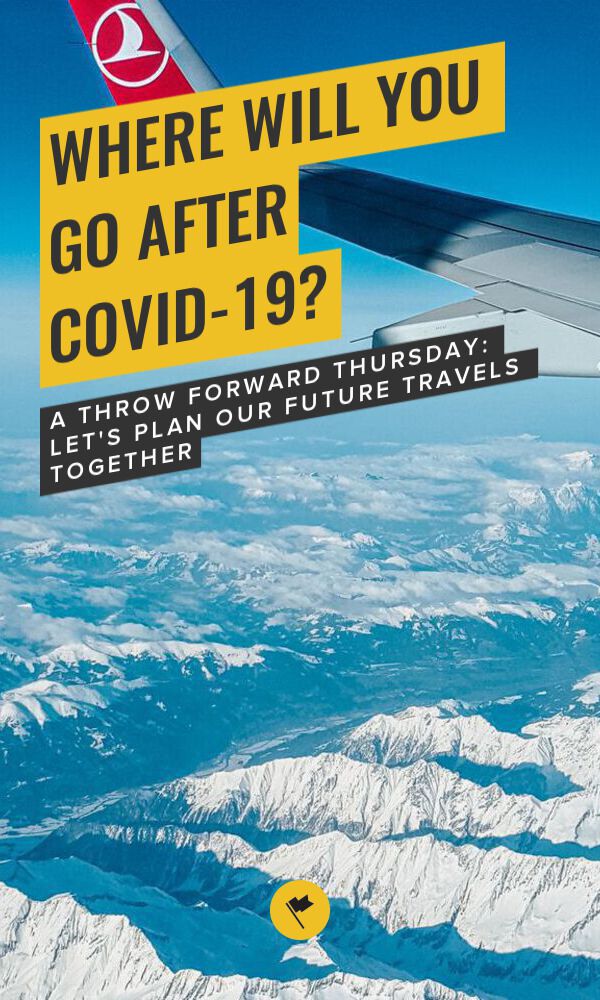 Save to Pinterest
Don't have time to read? Save this page on Pinterest for later and don't forget to follow us on Pinterest .
Beirut
Lebanon is one of the countries I have always wanted to visit for the longest time. I had the opportunity to travel with a Lebanese (shout out to my friend, Moni!) when I was backpacking in Jordan in 2015 and she painted quite a beautiful picture of Beirut and Lebanon for me.
She told me how progressive Beirut is, so much so that the city is considered to be one of the best places for nightlife goers in the Middle East. Combining that with the number of historically significant tourist attractions one can visit in and around Beirut, it is hard not to get excited for a trip to Beirut.
United Kingdom
Depending on the season, I would like to visit the United Kingdom in the Fall and Summer when the international travel ban is lifted in Europe, especially the untouched north where one can go off into the wilderness and go wild camping wherever one wants. Not to mention, the beautiful castles of Edinburgh and the nature of the Lake District which is a place my UK friends often recommend.
Initially, I planned to visit the UK in April 2020 but that trip got thrown out the window real fast when the COVID-19 befall upon us all, but I am still determined to visit the isles again when all of this is over.
Not many know this but I was in London back in my teen years during an exchange program with the school I was attending and the experience had left me with nothing but great memories and I expect nothing less from this future trip I'll be making again.
East Africa
I know, I know, Africa is a huge continent and since flying there won't be cheap or easy, I will do what I did with my South America trip, and make the best out of my long flight there. I will be combining several countries into one trip so that I can explore the region thoroughly and cost-effectively.
My East Africa trip will likely begin in Ethiopia and end in South Africa through Kenya, Tanzania, and Mozambique. I am really looking forward to summiting Kilimanjaro and finally tracking down the elusive leopards, one of the last Big Five animals I have yet to see, in the famous Serengeti National Park.
I also didn't make it to Cape Town last time I was in South Africa and so I am determined to go there this time and visit some of my good old friends down there. Let's just say, it is going to be a long trip that can take upward to 6 months of backpacking, a perfect way to let loose after being under lockdown for so long.
What Will the Future Of Travel Look Like
What will the future of travel look like? Only time will tell, but I for one is looking forward to traveling again when all of this is over. It will take some time before people will feel confident to fly again but as we settle into the "new normal", airlines will surely adapt to the new norm for the safety of their customers.
As some of you may know, being in Asia, the best way to travel anywhere is to go through the Middle East. I have nothing but praise for Middle Eastern Airlines, especially Turkish Airlines, a carrier that I can always rely on even when I am traveling in the most precarious places.
I remember trying to get out of Turkmenistan after I spent all my VISA days in the Turkmen desert, and as you know, Turkmenistan is one of the most isolated and closed countries in the world, and I was able to get out of the country in time thanks to Turkish Airlines, one of the few airlines that fly out of Ashgabat International Airport daily.
To get to Beirut, the first destination on this list, I will likely have to fly via Turkish Airlines, and even though, confidence in flying is at a record low, I am actually quite excited to be flying with them again, especially on their new spacious 787-9 Dreamliner aircraft, which I have yet to experience.
So the question for you is, where are you planning to go next when this is all over? You can share them here as well as on Instagram, Twitter, or Facebook with the hashtag #TFT and be sure to tag @turkishairlines (Instagram, Facebook, ) as well.
Let's help lift each other's spirits up and share your dream destinations together so that we can all look forward to a future full of hope and adventure.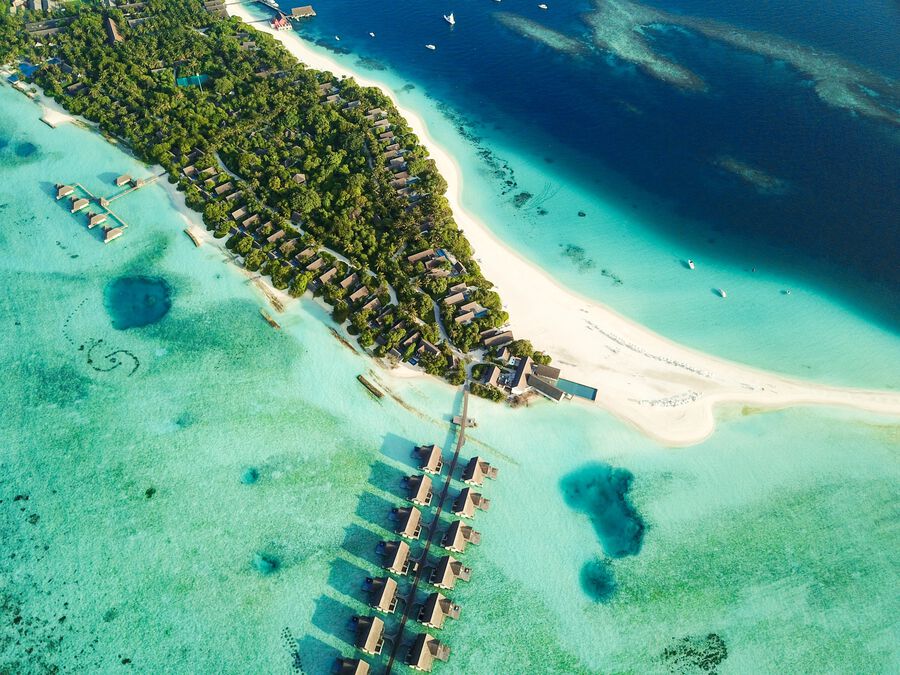 Disclosure: This post may contain affiliate links.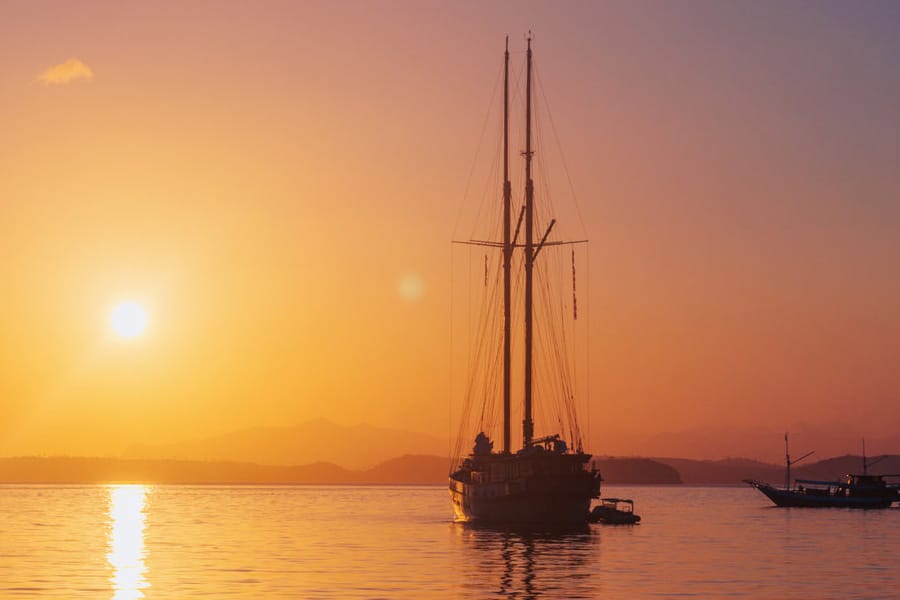 Looking for more inspirational articles? You will find plenty more articles under our Inspiration section where you will find more discussion related to the nomadic and traveling lifestyle and shower-thoughts that will invoke wanderlust in all of us .
Categories Inspiration
Sidebar Section
Hello there!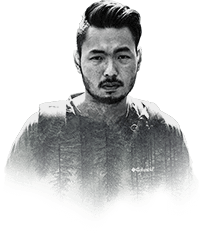 I'm Pete R., a solo traveler, a travel blogger, and a third-world passport holder from Thailand with over 8 years of travel experiences, ready to share them with you.
Travel After a Pandemic: What Will It Look Like?
COVID-19 may have brought the world to an abrupt standstill, but even shuttered borders and grounded planes couldn't stop voracious globetrotters from getting their wanderlust fix.
As travellers, we managed to find ways to bring some facet of the travel experience into our daily quarantined lives — through the food we've been eating to the TV shows we've been watching and the new activities we've been trying.
With every online tour and dose of armchair travel, we held steadfast to the notion that, one day soon, we'd lay eyes on that museum exhibit in person; we'd sip that Aperol Spritz in a sunny Italian piazza; we'd see that virtual vacation play out in real life.
Now that some European countries have announced plans to ease travel restrictions in the coming months, we're starting to get a tad bit more excited about our future travel plans.
Truthfully, we've always known that travel will come back: flights will take off, hotels will open their doors, and restaurants will welcome us back with open arms, but these experiences will be different to what we remember (and that's not necessarily a bad thing!).
We can't say for certain what the post-COVID travel landscape will look like, but industry experts have given us an idea of what we can expect on our first trip after the pandemic passes.
Plenty of backyard adventures await post-pandemic | © Tory Morrison/Unsplash
How soon will it be safe to travel after the pandemic?
The answer to this million-dollar question is unclear: nobody knows for sure. Since so many factors are at play — from local travel advisories to the robustness of healthcare systems — it's likely that travel will recover in stages.
What these phases could look like, however, is difficult to predict. Some countries — like Greece, for example — are planning to reopen their doors as early as June, while regions that have been harder hit by the crisis may not be ready for visitors until autumn-onward or even later.
While there's no clear picture of how the phases of recovery will unfold, many experts foresee domestic travel bouncing back first, followed by international travel at a later point in the future.
The in-flight experience will be different than we remember | © Peijun Song/Unsplash
What will travel look like post-COVID?
There's no doubt we will travel again, but travel as we know it will be different. New rigorous hygiene and safety protocols will roll out and soon become a normal – and even welcome – part of the travel experience in the post-lockdown landscape.
What exactly does this mean for travellers in the real world, though? Here's a small taste of what you can expect to encounter at each stopping point on your post-pandemic travels.
At the airport
Enhanced health and safety protocols
In addition to comprehensive health-monitoring efforts, airports across the world have already begun implementing new protocols to ensure fliers feel safe and comfortable from check-in to security and beyond.
Thermal cameras are being utilised in many airports for temperature checks, as they're known to be effective without disrupting the flow passengers.
You'll likely notice more plexiglass barriers at customer service counters, and increased cleaning measures throughout all terminals. Hong Kong International Airport is even trialling robotic cleaners to keep floors disinfected at all times.
Seamless and touchless travel
One of the most immediate changes could be a shift to contact-less travel from the time you arrive at the terminal until you board your flight. Technology for touchless document scanning and voice commands is being tested as a possible way to reduce the risk of spread at check-in and security counters.
Iris and face recognition might also be introduced as physical fingerprint and hand scanners are slowly phased out.
Passengers will be spread more evenly throughout airport terminals going forward | © Artur Tumasjan/Unsplash
On the plane
Cleanliness takes precedence
From upgraded air filtration systems to enhanced deep cleaning regimens, airlines are going above and beyond to protect travellers.
Small changes — like doing away with blankets and pillows — could be implemented in the name of hygiene, and masks will likely be required for both crew and passengers.
The next time you fly, you can rest assured knowing airlines have stepped up their sanitation procedures to ensure everything from your tray table to the lavatories will be spotless and sanitised.
More room for you with empty middle sets
You probably won't be rubbing elbows with fellow passengers on your first post-pandemic flight. Carriers like Delta and Qantas have temporarily blocked off middle seats to enforce in-flight distancing (although this is expected to be a short-term solution only).
Airline carriers are implementing new health protocols | © JC Gellidon/Unsplash
At your destination
Enhanced hygiene at hotels and restaurants to make you feel comfortable
Along with newly enhanced hygiene and cleanliness standards, hotels too could start digitising the check-in process and reduce guest occupancy to allow more space for social distancing.
Restaurants, on the other hand, plan to seat guests further apart and replace buffets with a la carte menus.
Regardless of where you're staying or dining, there will be a peace of mind. You'll see hand sanitisers placed near high-traffic areas, thorough and frequent disinfection of elevator buttons and staircase handrails, and a supply of gloves and masks on offer for guest use.
We'll likely ease back in with private accommodations and private tours
As travellers seek out cleaner and less crowded accommodation and travel options, industry experts are predicting a surge in demand for private tours, apartment rentals, villas, and private homes, and more one-on-one experiences with local guides.
Remote getaways will be top of mind for many travellers | © Lili Kovac/Unsplash
How will people travel when the pandemic passes?
If there's one thing we know for certain, it's that we'll be travelling with purpose on our future trips.
Now that we've had downtime to contemplate our post-quarantine adventures — and to think about how immensely lucky we are to have travelled in the first place — I think it's safe to say we'll all be pining for slower, deeper, and more meaningful experiences on the road.
But how exactly will people be spending their vacation time when we're able to travel again? From backyard exploration to staycations and wilderness-filled escapes, these are the types of trips industry experts are predicting to see in the post-COVID travel landscape.
Industry experts foresee loads of nature-filled trips in our future | © Chaz McGregor/Unsplash
Domestic travel is set to make a comeback first
Though so much is up in the air about post-pandemic travel, one thing most industry experts agree on is that regional travel will rebound first. People will be looking to get out and explore after being cooped up for weeks on end, but they'll likely choose destinations that are closer to home.
Staycations, nearby national parks and wide-open spaces, and weekends spent road-tripping will help to satisfy many travellers' thirst for adventure as travel restrictions loosen.
We'll see a resurgence in road trips and self-guided tours
Your future travel plans may not include music festivals or crowded airports, but one quintessential summertime activity is slated to boom: road trips.
Even for those who are leery to travel post-pandemic, a classic road trip or self-guided tour offers the ideal mix of adventure, safety, and comfort when travellers are ready to hit the road again.
Road trips will come back in a big way | © Natalie Rhea Riggs/Unsplash
More people will be looking to go off-grid
Without question, people will be gravitating toward expansive spaces and remote destinations to shake off their cabin fever when they resume travelling.
Whether it's a lodge in the wilderness or a backcountry camping holiday, off-grid getaways will be the perfect way for travellers to reconnect with nature, avoid crowds, and spend time outdoors post-lockdown.
Family vacations will likely surge in popularity
How many of us have missed special occasions such as birthdays, anniversaries, or spring break holidays while in lockdown?
Families that have been separated for weeks or months will be looking to multi-generational holidays to make up for lost time and rebuild those familial bonds.
Wellness and active holidays will be top of mind
Another way travellers will be shaking off those lockdown blues is through active pursuits and adrenaline-pumping activities.
In a recent New York Times article, James Thornton, chief executive of Intrepid Travel, was quoted saying, "If 2020 proves to be a year we spend a lot of time indoors, 2021 will be about getting outdoors and getting active, with tours centered around things like cycling, trekking and mindfulness."
We'll see an uptick in active holidays post-COVID | © David Marcu/Unsplash
Tips for planning your first post-pandemic trip
Despite the uncertainty of the situation, I'm sure, like me, many avid travellers are beginning to wonder: How soon is too soon to begin planning my next trip?
Whether you'd prefer to wait until travel restrictions have fully lifted or you're ready to search for your next escape ASAP, it's never too early to hop on sites like TourRadar and start thinking about all the places you'll visit once the pandemic is behind us.
After all, mapping out your trip and getting excited about that future getaway is one of the best parts of the vacation experience!
Here are a few tips to keep in mind when planning your first post-lockdown trip.
Even as some European destinations are taking steps to cautiously reopen for cross-border summer travel, your travel will require some careful navigating. When we do get the green light to hop on an international flight, we'll have to consider how to do it the right way.
At this point in time, it's probably best to err on the side of caution and start looking at the latter part of 2020 or even into 2021 for your next big adventure. Travel companies are being incredibly lenient with their policies right now, so it's easier than ever to rearrange your plans should circumstances change.
While most standard travel insurance policies exclude pandemics, you can find added peace of mind with a "cancel for any reason" policy. They cost significantly more than the average policy, but offer more protection should you decide to change your plans.
Some travel insurance companies have made changes to these policies due to the pandemic (which means you could potentially end up being reimbursed with vouchers instead of a cash refund), so remember to pay close attention to the terms before purchasing.
Given the unpredictability of the coronavirus outbreak, postponements are a possibility. The best way to protect your vacation at this time is to remain as flexible as possible, and have a plan B (and a plan C) just in case – rebooking will be your best bet!
Take measures to protect your health
Airports, airlines, hotels, and attractions will all be implementing stringent health and safety protocols to ensure guests are safe and comfortable, but there are additional measures you can take to protect yourself when travelling after the pandemic.
When the time comes to take off, consult official government guidelines and local news sources for up-to-date safety conditions for the destination you plan to visit. Additionally, it might be worthwhile to check if your government offers a service for citizens travelling abroad to enroll with a local embassy or consulate. This will help the embassy contact you in the event of an emergency.
As you start packing for your vacation, be sure to bring a good-quality mask, sanitiser (an alcohol concentration between 60-95% is thought to be most effective), and disinfectant wipes. And of course, continue to practise proper hand hygiene throughout the entirety of your trip.
Source https://www.bucketlistly.blog/posts/best-countries-to-travel-social-distance-after-covid
Source https://www.bucketlistly.blog/posts/where-to-go-after-pandemic
Source https://www.tourradar.com/days-to-come/travel-after-a-pandemic/