19 Mind-Blowing Places to Visit in Maui (That You'll Love!)
Maui is one of the most desirable vacation destinations in the United States, year after year. These are the best places to visit in Maui for first-time visitors.
If you're traveling to Maui last minute, you want to ensure you have lodging/tours ahead of time! Below are some of our top picks on the island!
Best tours and activities on Maui:
Maui deluxe sunset cruise from Lahaina (bestseller!)
Dolphin and whale watching tour from Lahaina (goes to Lanai!)

Whale watching from Lahaina day trip (bestseller!)
Lanai snorkeling tour day trip
Molokini and Turtle Town Snorkel with Deli Lunch (top-rated Kihei tour!)
Places to stay on the South Shore (Kihei/Wailea/Makena):
Four Seasons Resort Maui at Wailea (ultimate luxury experience!)
Mana Kai Maui
Andaz Maui at Wailea Resort
Grand Wailea Resort Hotel & Spa (Waldorf Astoria Resort)
Places to stay on the West Side (Lahaina/Kaanapali/Kapalua):
Did we miss any incredible Maui destinations that you should add to your island itinerary? Let us know in the comments. Thanks!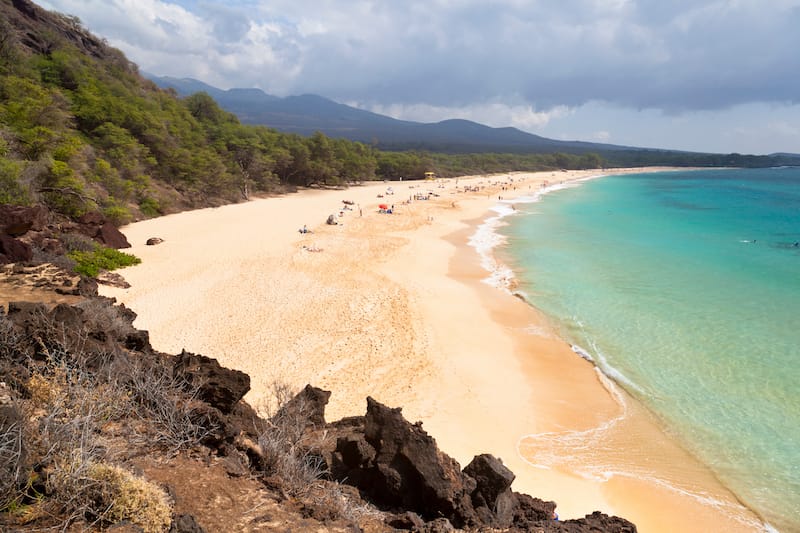 Best places to visit in Maui
Best Places to Visit in Maui
Paʻia
This small, quaint town on the northern shores of Maui is a must when you're visiting. If you are looking for the best things to do in Maui, Paia has a lot of them!
Once known as a center for the hippie counterculture, Pa'ia is now one of the most popular destinations in the country for those who enjoy windsurfing and artsy vibes.
With all the newcomers who started living in the town, it is now home to plenty of delicious eateries and shops that aren't as expensive as those in neighboring towns.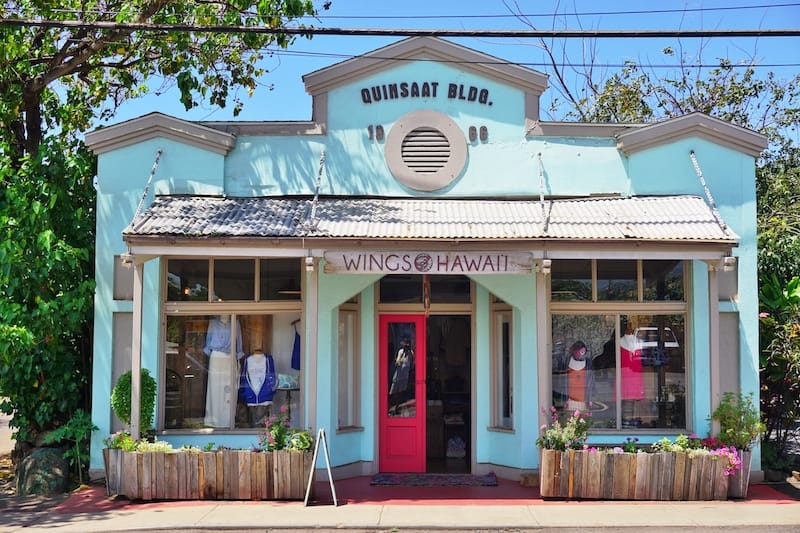 Pa'ia Hawaii – EQRoy – Shutterstock.com
There are tons of options for places to eat, including Pa'ia Fish Market, Kuau Store, Flatbread Company, and Cafe de Amis. Another popular spot is Mama's Fish House, which is located right on the outskirts of town and includes many of Maui's best dishes.
You can also check out the shops where you can purchase island-themed beachwear and other gifts. The beaches are unmatched and the perfect spots for surfing and beautiful views.
Baldwin Beach Park is ideal if you're visiting with family and looking for blue, clear water or Ho'okipa Beach to check out the turtles.
Lahaina
On Maui's west side is Lahaina, a historic town that has been transformed into an art lover's dream.
It was the capital of the Hawaiian Kingdom and once a whaling village. In fact, the town was the site where sailors went on vacation, which was the topic of the world-famous book Moby Dick.
If you're interested in the history of the town, be sure to check out Front Street, which is one of the Top Ten Greatest Streets in the US according to the American Planning Association.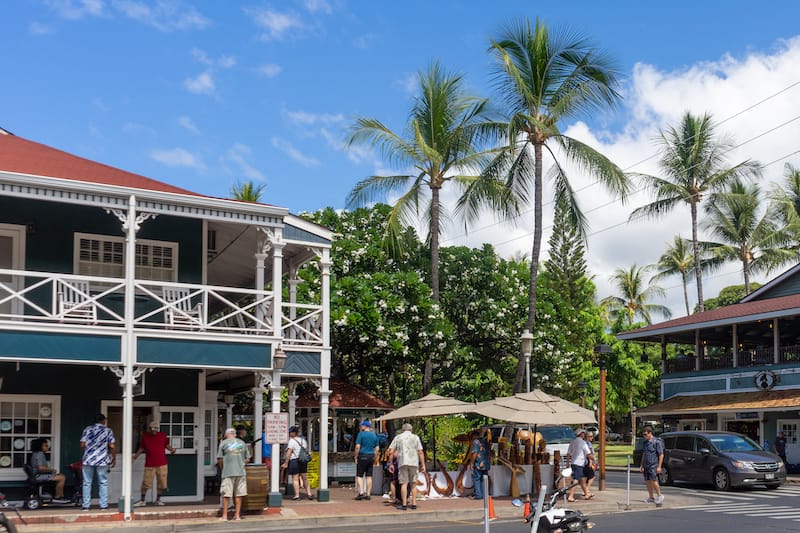 Lahaina – Felipe Sanchez – Shutterstock.com
There are historical shops, including the Lahaina Prison, Pioneer Inn, and U.S. Seamen's Hospital, as well as 55 acres of historic districts. However, it's also a great spot for entertainment and other top things to do in Lahaina.
Check out the beaches, fine dining, and the Ulalena at the Maui Theater to get a taste of Hawaiian culture. If you visit in the winter, be sure to go on the whale watching tour at Lahaina Harbor.
The peaceful and isolated town of Hana is located on Maui's eastern shore. Hana is home to stunning seascapes, waterfalls, rainforests, and pools.
It's not easy to travel here because of the one-lane bridges and sharp turns, so be sure to drive safely.
Once you arrive in Hana, be sure to visit the historic St. Sophia's Church, check out the souvenirs at Hasegawa General Store and Hana Ranch Store, and sunbathe at the town's multiple beaches.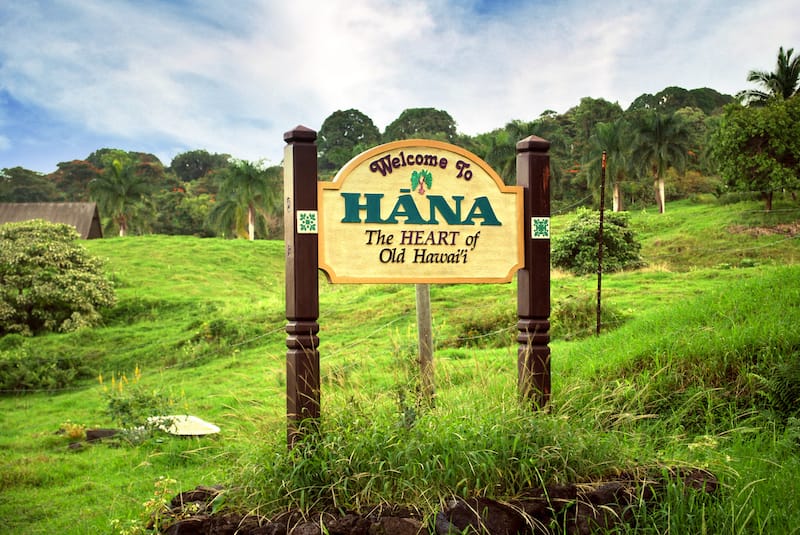 Hana, Hawaii
Get a reservation to check out Waianapanapa State Park, which is known for its black sand.
The state's largest Hawaiian temple, the Hale Piilani, is also not to be missed. If you are looking for somewhere to stay, the Hana-Maui Resort is full of Hawaiian traditions and culture.
Napili Beach
Known as one of the most-visited beaches in Maui, you won't be surprised that tourists love Napili Beach when you see the gorgeous turquoise water and white sand.
It's extremely busy, especially in the summer, but the beach is certainly not something to miss. The beach is popular for swimming, snorkeling, and sunbathing, and because of the outer reefs, the waves are rather calm.
The Sea House Restaurant is also a great spot to eat at, not only because of the delicious food, but because you'll get views of the entire beach.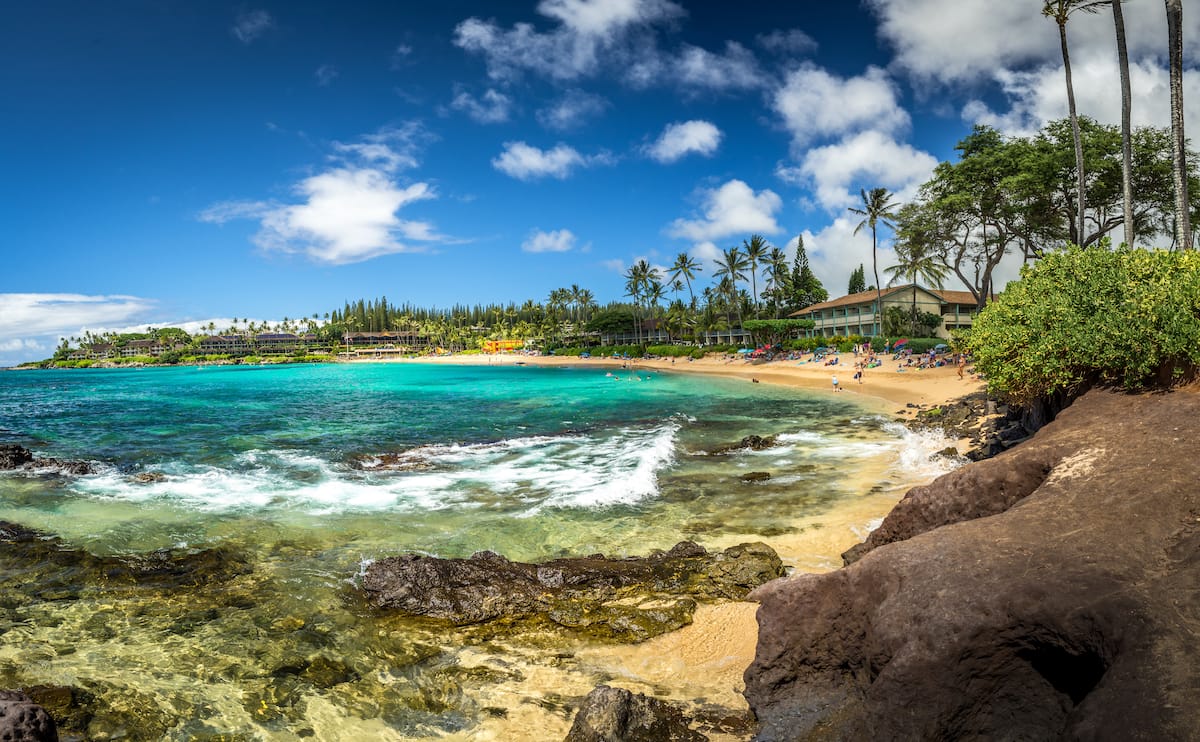 Napili Beach
You'll also be able to check out the tropical fish and sunset views. If you're there in the right season, you can also go whale watching.
Right outside of town, don't forget to book a tour with HeleWai Eco-Tours' Honolua Ridgeline Hike: A Conservation Experience to visit the remotest locations and native forests on the island.
Ali'i Kula Lavender Farm
Get away from Maui's gorgeous seaside and experience one-of-a-kind lavender vibes at the mystical Ali'i Kula Lavender Farm, home to 45 varieties of lavender and approximately 55,000 lavender plants.
Stroll around the serene gardens and discover the secrets of lavender cultivation while taking in the breathtaking views of the Pacific along the way.
You will even get a chance to take some lavender-infused items with you from the onsite boutique.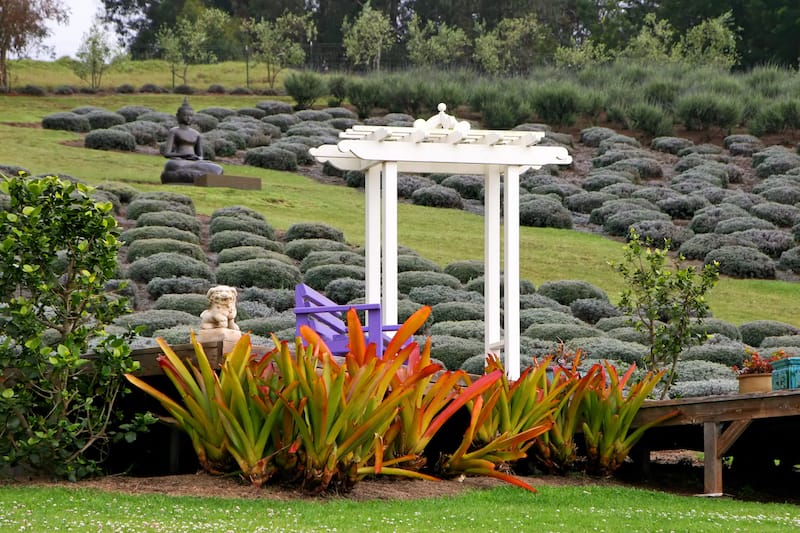 Kula Lavender Farm
Don't miss taking part in the following exciting events organized throughout the year such as the Gourmet Picnic Lunches, Craft Classes, Guided Card Tours, and even Lavender Treasure Hunts.
Not many people travel to Maui to head to a lavender farm, but this is a fantastic place to visit that will offer something different in between the beaches and excursions.
Kula Botanical Garden
Once serving as an ordinary plant reserve, Kula Botanical Garden has now become one of Maui's most popular tourist destinations for rejuvenation.
This piece of paradise, nestled on the Haleakalā slopes, is home to Maui's native flora that blossoms on fertile, rich volcanic soil.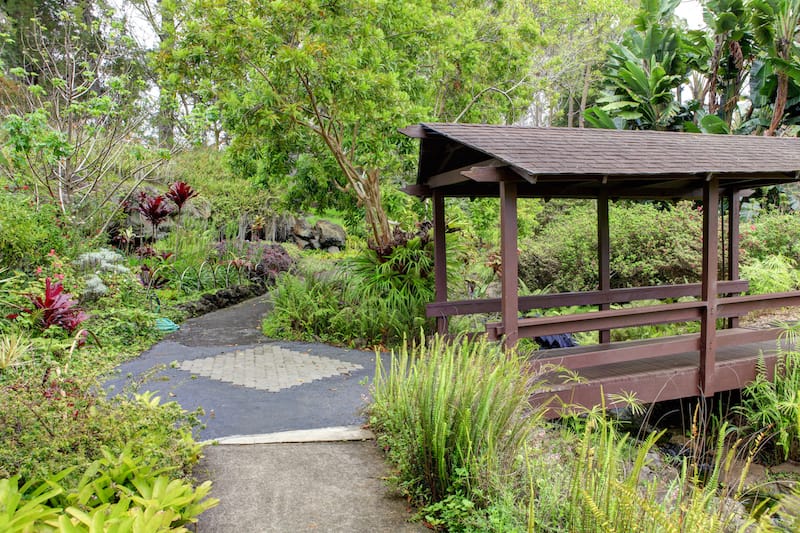 Kula Botanical Garden
Spanning over 8 acres of land, you'll have the opportunity to explore a wide variety of exotic plants and tropical flowers that you won't find anywhere else. It also houses a bird sanctuary with endangered native Hawaiian Nene birds.
This peaceful area also offers a gazebo, covered bridge, and picnic area for visitors who want to stay longer and enjoy a scenic yet relaxing day.
Molokini Crater
Molokini Crater is a true heaven on Earth for snorkeling and scuba diving enthusiasts.
This uninhabited natural crescent is a Marine Life Conservation District home to more than 250 species of vibrant marine life.
This partially submerged volcanic crater is far from sandy surroundings, making it one of Maui's most fantastic snorkeling spots with near-perfect visibility.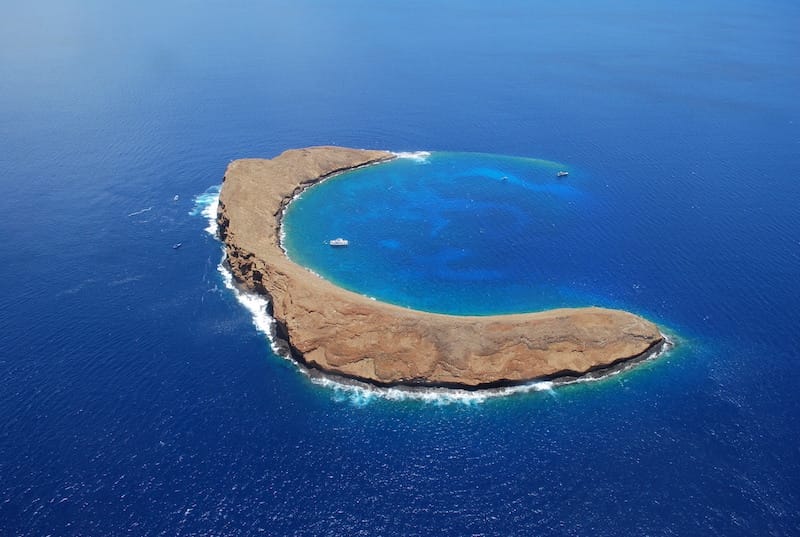 Molokini Crater
There are plenty of boat tours to Molokini, but for a one-of-a-kind experience, you should take an outrigger canoe and kayak tour. If you are not into snorkeling, just visit to admire the picture-perfect scenery of one of the world's rarest islets!
Kahakuloa Head
Kahakuloa Head is an essential stop when driving on Kahekili Highway. From the lookout point, you'll witness a 646-foot-high gorgeous peak covered in rocks and silky greenery jutting out from the vast blue waters.
Iconic Kahakuloa Head has a bit of history behind it, and legend has it that it was once a favorite cliff-diving spot of one of Maui's leaders, King Kahekili.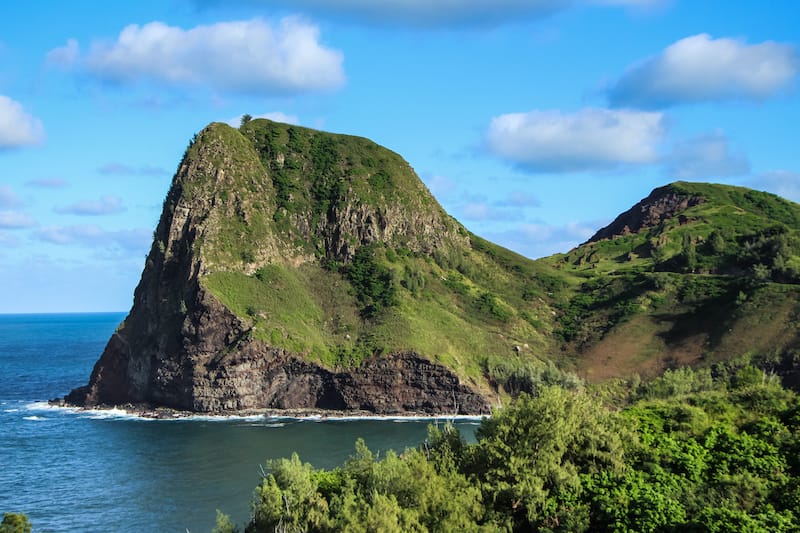 Kahakuloa Head
Please note, Kahekili Highway is a narrow road that hugs the cliffs of the sea, making it one of the most dangerous roads on Maui. Not many people risk it, so you may have the vistas uncrowded and if lucky, you'll have it all to yourself!
Pua'a Ka'a Waterfalls
If you want to go hiking on your trip to Maui, don't forget to visit Pua'a Ka'a Falls Trail, where you will get to experience the stunning waterfall and gorgeous views.
Located near Hana, the best part of this trail is that it's perfect for all skill levels, so you don't need to worry about being an experienced hiker.
It also does not experience much traffic, and you can even bring a furry friend with you as long as they're on a leash.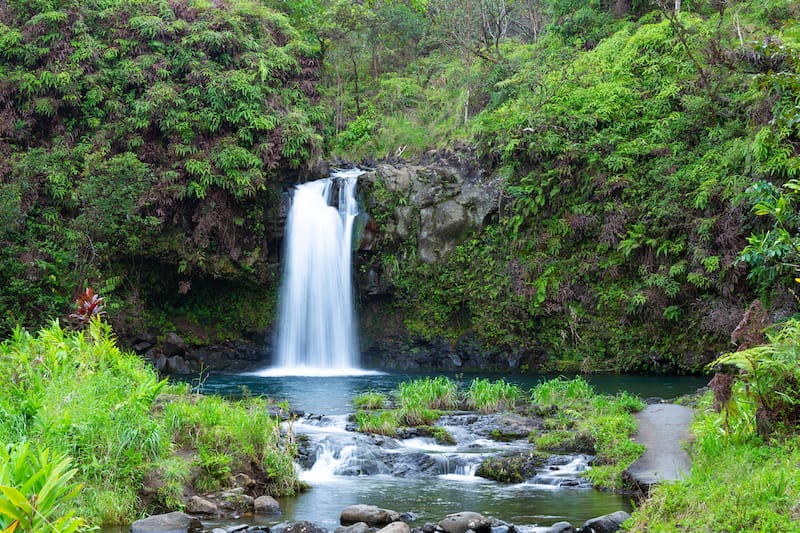 Pua'a Ka'a Waterfalls
In addition to the waterfalls, you can go bird watching and even visit year-round. The trail to the waterfalls is only 0.4 miles, so it's not a long trip at all making it perfect for the whole family.
Hana Lava Tube
If you're after a one-of-a-kind experience, then Hana Lava Tube along the Road to Hana is a must-see.
This subterranean tunnel is the largest in Maui and was formed as a result of thick layers of molten lava erupting from beneath the earth.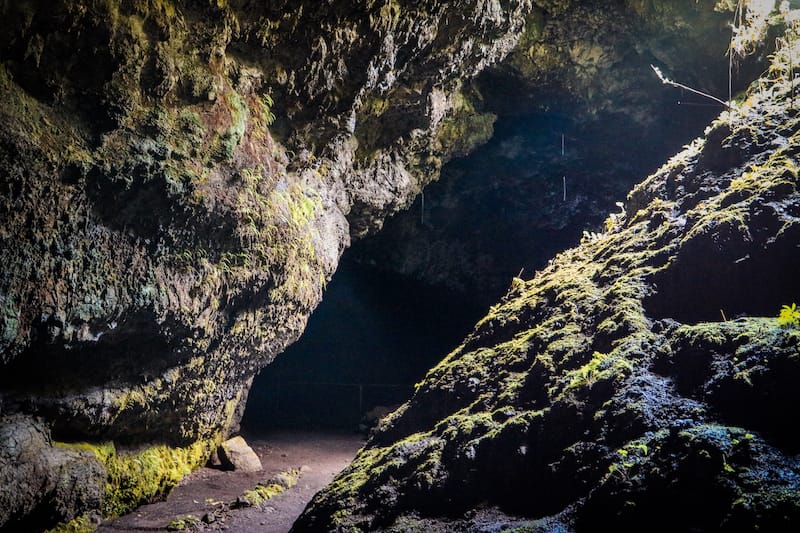 Hana Lava Tube
The outside layer hardened as the inner layer flowed beneath it for 2 years, forming a cylindrical tube of lava that allows you to walk inside and descend further to explore unique formations, such as the chocolate corridor of stalactites, a'a lava, cow bones, and more.
Just beware that even though the rocks have hardened for about 900 years, they can still be very fragile.
Kihei
Kihei is a true paradise that will amaze you with its ten stunning golden sandy beaches (and many things to do)!
Soak up its laid-back vibes while sunbathing on picture-perfect beaches, drinking, dancing, and embracing the vibrant nightlife in one of Maui's hottest tourist destinations.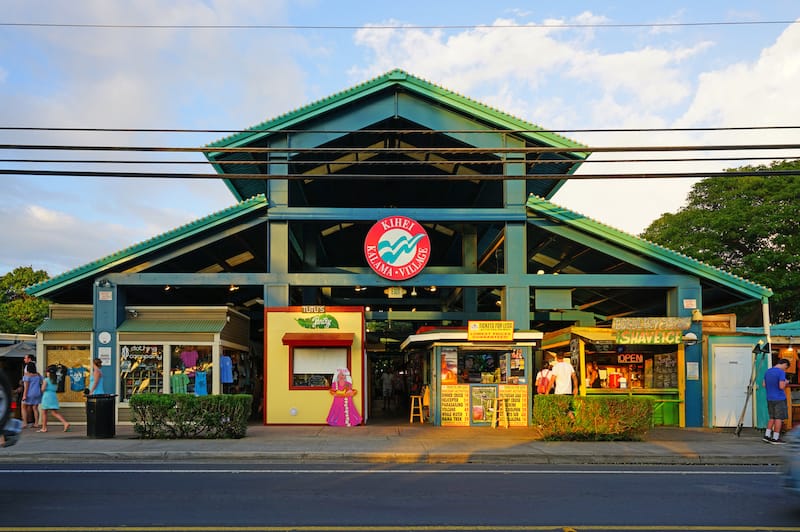 Kihei – EQRoy – Shutterstock.com
People who are on a budget can enjoy a real price break from West Maui's pricy resorts by choosing one of Kihei's many condo rentals and hotel alternatives.
Water junkies can also try snorkeling, diving, boogie boarding, paddling, surfing, or simply swimming in crystal clear waters to escape the incessant Kihei heat.
Haleakala National Park
Home to one of the world's largest dormant volcano craters, Haleakala National Park will take your breath away with its desert-like landscape and jaw-dropping sunrises from the soaring summit of Mt. Haleakala at an elevation of 10,000 feet.
Take a dip in the freshwater Pools of Ohe'o or go bird-watching while hiking at Hosmer Grove.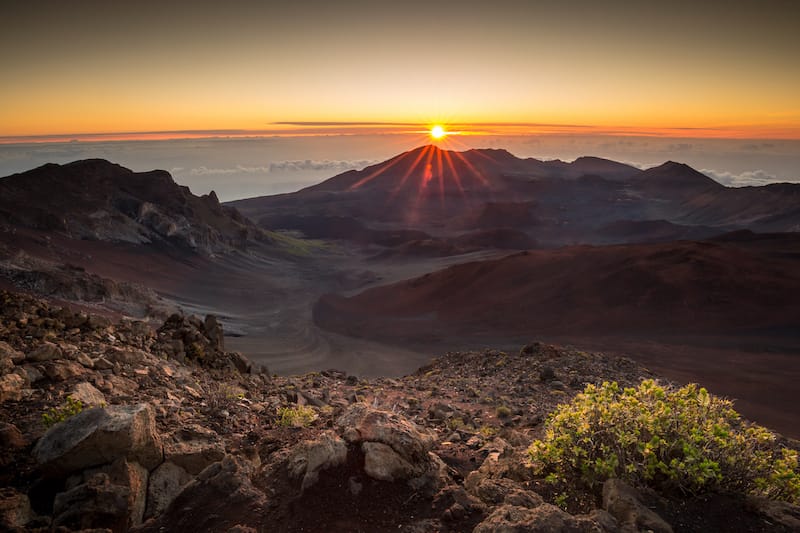 Haleakala National Park
For taking in the stunning scenery of far-off coastlines, take to the popular Pipiwai Trail, which will lead you past the bamboo forest toward the breathtaking Waimoku Falls.
Visit the top of Haleakala Crater and learn more about the island's rich history by taking part in full-day guided tours of Haleakala National Park and Central Maui.
Iao Valley State Monument
If you're keen to experience the real potential of Maui's natural wonders, then Iao Valley State Monument is the place to go!
As a renowned Maui cultural landmark, this tranquil paradise was once believed to serve as a sacred spot where ancient Hawaiian demigods resided. In 1790, this place also witnessed one of the bloodiest battles in Hawaiian history.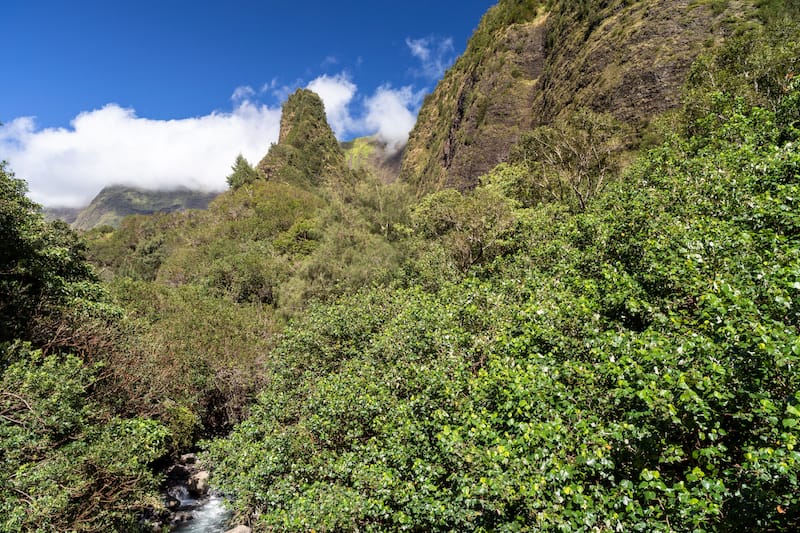 Iao Valley State Monument
The 4,000 acres of land is home to gardens, walking paths, and most importantly, the famous Iao Needle, Pali Ele'ele, and more.
Reconnect with nature by wandering in a lush valley, hiking on the Iao Needle Lookout Trail and the Ethnobotanical Loop, swimming under waterfalls, or simply having a picnic or BBQ amidst verdant foliage.
Ho'okipa Beach Park
Ho'okipa Beach Park is another must-visit beach for water junkies. It is one of Maui's most famous beaches for windsurfing, professional surfing, and snorkeling, thanks to its stunning reef system and giant swells.
Hawaiian green sea turtles are frequent visitors to the area, so be sure not to miss these lovely creatures (but please be respectful of them).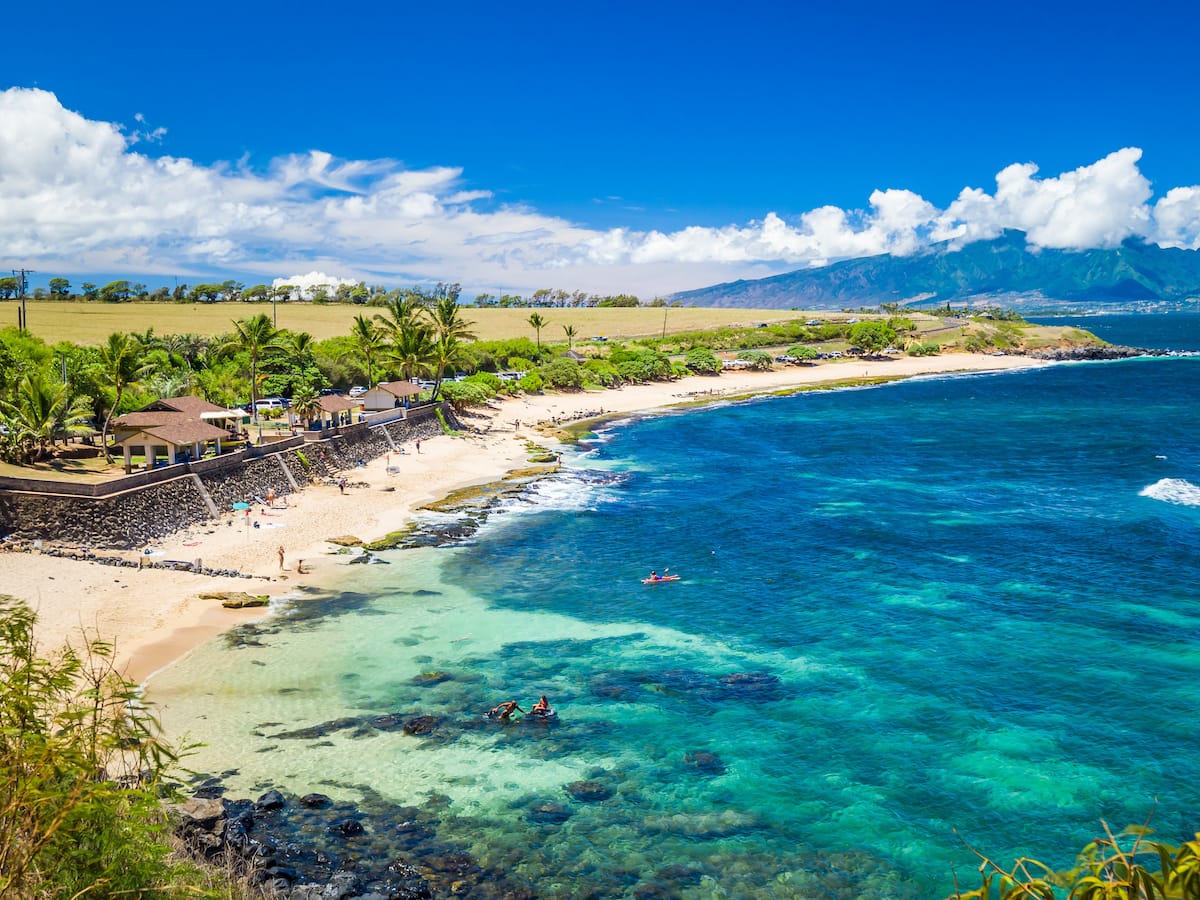 Ho'okipa Beach Park
Before heading to the beach from the parking lot, snap the perfect pic of the North Shore Maui coastline and beautiful reef formations from the top.
After a day in the water, head to nearby Mama's Fish House to taste the mouth-watering fish tacos and lobster tails.
Wai'anapanapa State Park
Wai'anapanapa State Park is probably the most Instagrammable place on this list with its crystal-clear waters, dramatic black basalt lava coastline, and silky green valleys.
Over 120 acres of land is home to trail loops, a blowhole, lava tube, sea arches, freshwater caves, and the fascinating Pa'iloa Bay made of jet-black sand.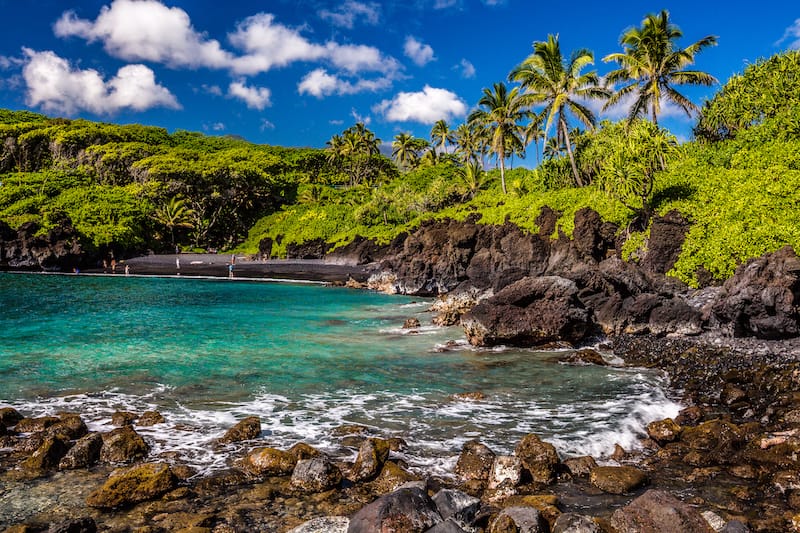 Wai'anapanapa State Park
The Maui state park also offers a few amenities to get the most out of your visit, such as restrooms, showers, a large parking lot, a picnic and BBQ area, and even cabins for rent.
Thrill-seekers can go cliff jumping, hiking on King's Trail, taking a dip in anchialine pools, and camping under the starry sky for an unforgettable experience in Wai'anapanapa State Park.
This is a Hawaii state park that requires reservations. Please be sure to make them here.
Ka'anapali Beach
Once named the best beach in the United States, Ka'anapali Beach must not be missed during your visit to Maui (it is in Lahaina). It's located on the west shore and has three miles of white sand and gorgeous turquoise waters.
Once upon a time, the beach was known as a retreat for Hawaiian royals, and now it is a sought-out resort for people all over the world.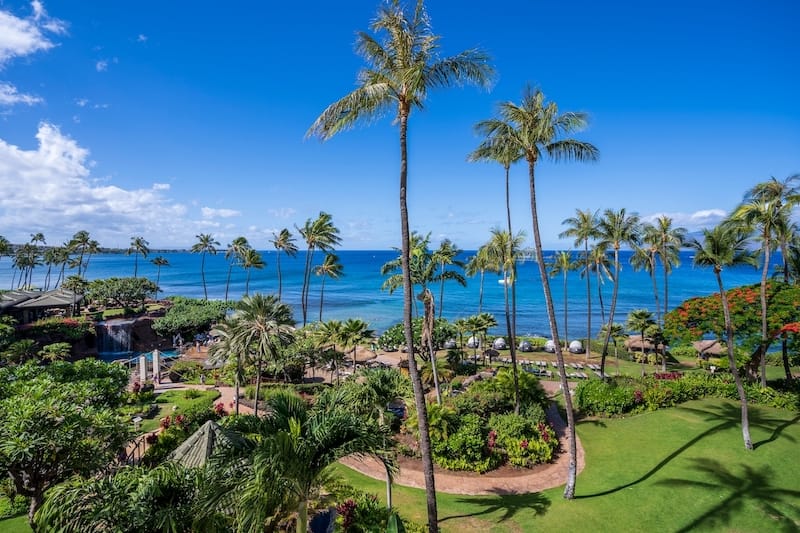 Ka'anapali Beach
Every day at sunset, Maui's King Kahekili's feat is reenacted on the beach's northern cliffs, which involves lighting torches and diving off the cliff. Daredevils should also check out the zipline tour to get all-around views of the stunning coasts.
You can also check out the condo villages and resorts, the Whalers Village shopping complex, whaling museum, and golf courses.
Wailea Beach
Meaning "the Water of Lea," named after the goddess of canoe makers, Wailea Beach is another stunning spot that you and your family should check out during your visit to Maui.
Unfortunately, it does get quite crowded due to the resort, but the beach is not something to miss.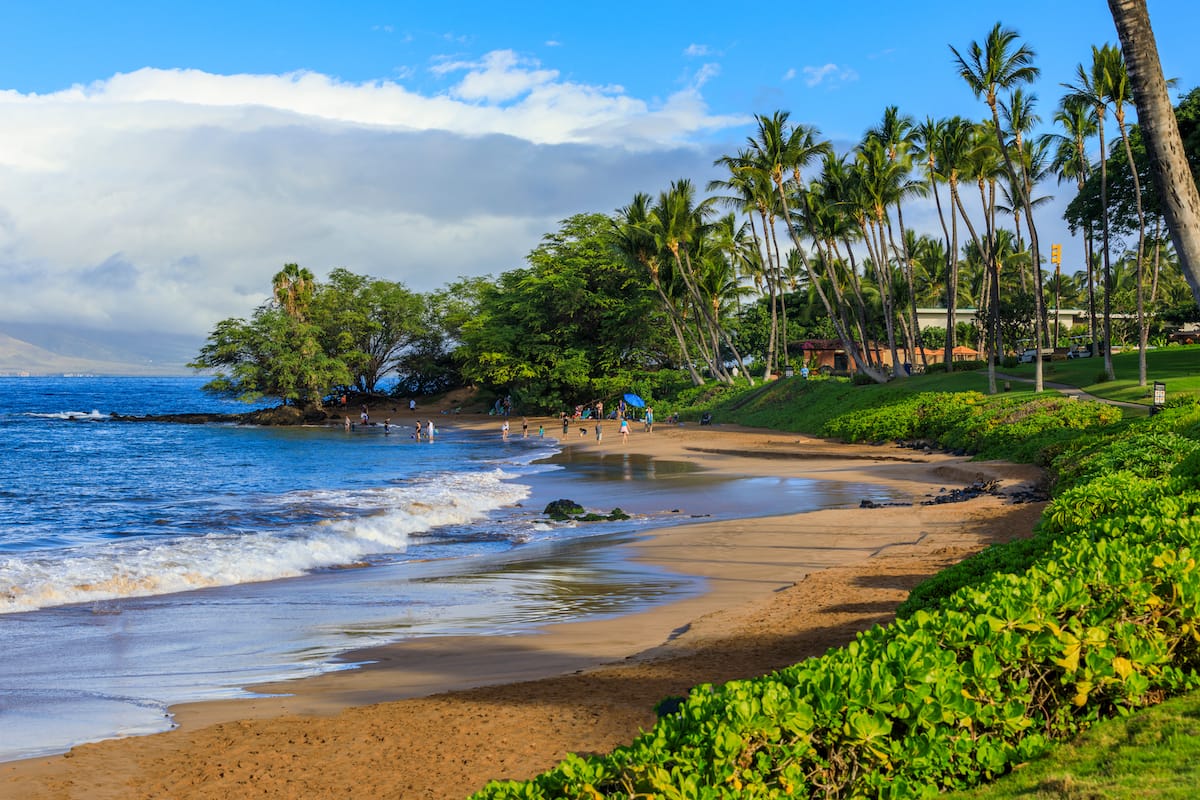 Wailea Beach
Aside from the stunning and calm blue waters, there are rocky cliffs surrounding the ends of the beach for unique views.
Popular activities include boogie boarding, body surfing, swimming, and sunbathing. If you visit in the winter, be sure to keep an eye out for whales.
Nakalele Blowhole
Hawaii has a handful of breathtaking natural wonders, among which you'll find the Nakalele Blowhole.
This hidden gem is nestled on Maui's eastern edge and will take your breath away with a stunning show of seawater that blasts up to 100 feet.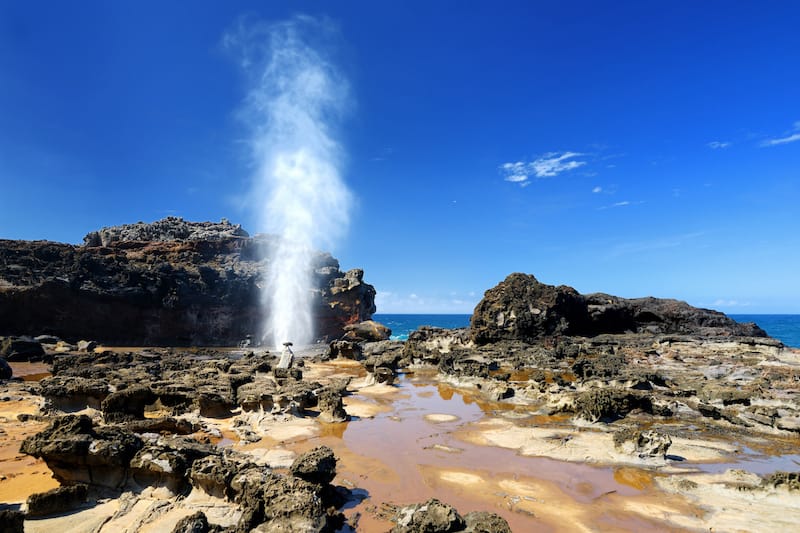 Nakalele Blowhole
The best time to visit the Nakalele Blowhole is on stormy days if you want to witness the powerful blast when the tide and surf mix to put on a real show!
The path to the lookout point can be quite challenging since the trail is quite steep and rocky, but the final views are well worth the effort.
Just note that you shouldn't get too close to any of the blowholes in Hawaii for your own safety.
Makena Beach and Makena Cove
Makena Beach is the perfect option for getting away from the crowded Wailea beaches and discovering Maui's true undeveloped beauty.
Since the water is quite choppy here, it is not recommended to go swimming; instead, you can try bodysurfing, skimboarding, or simply taking a stroll along the picture-perfect Maui beach while admiring the amazing vistas of Kahoolawe and Molokini islands.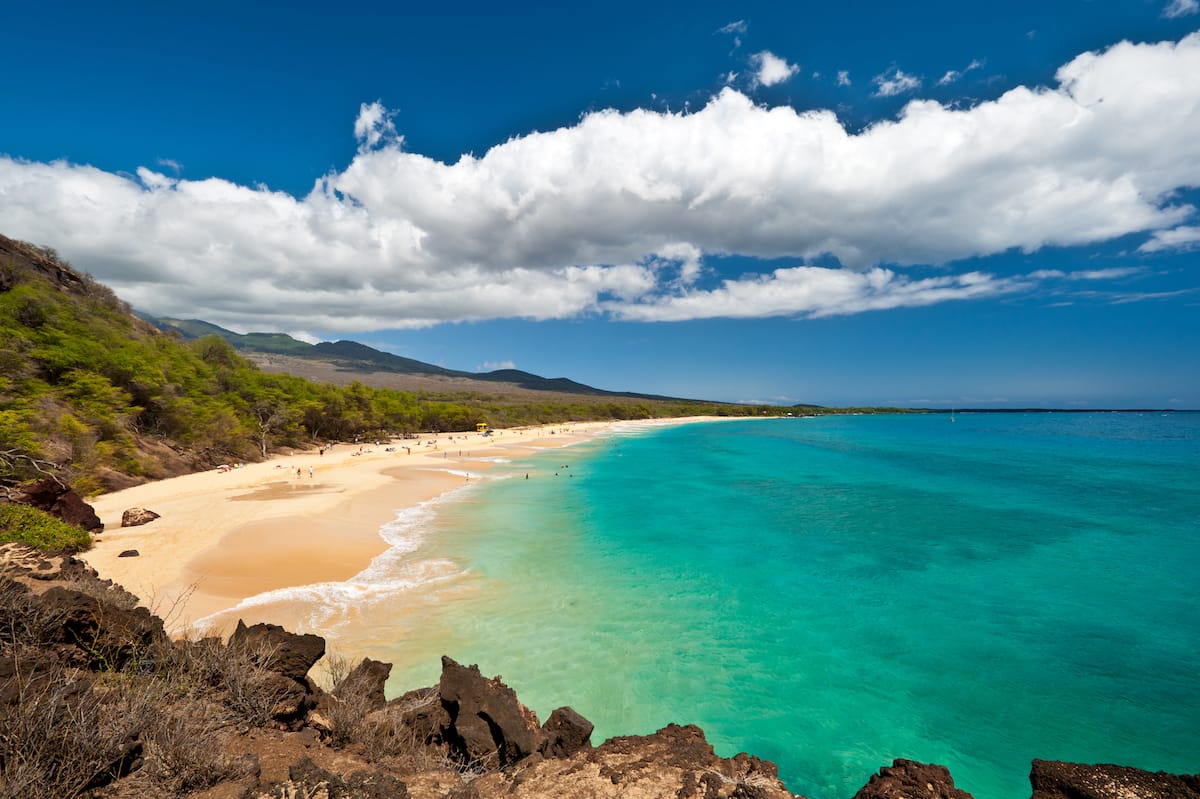 Makena Beach
Makena Cove, tucked away between houses and a rock wall, lies nearby.
Its dramatic scenery and nonexistent crowds have made it become a popular destination for adventurers looking to explore the area, relax, and unwind.
What are your favorite places to visit in Maui? Let us know your beloved Maui bucket list destinations in the comments! Thanks!
Where to Stay on Maui
Considering a visit to The Valley Isle, aka Maui? Yet, you wonder where to stay in Maui? Our guide will highlight the best places to stay in Maui and the best parts of Maui. Maui holds several favorable areas for different vacationers. Essentially, you can find it all depending on your desires like:
Maui hotels on the beach
Maui resorts on the beach
Maui luxury resorts
Cheap places to stay in Maui
Whether you consider yourself the luxury seeker, beach bum, shoestring backpacker, a couple on a romantic getaway, or a family, look no further than Maui for the perfect lodging for your vacation. As you review each location of Maui, pay attention to the pros and cons.
Overview of Staying in Maui
Beginning with the basics – Maui isn't a vast island. The Island spans about 48 miles long and 26 miles wide. If you decide to visit the whole Island in a day, it will take a solid half day. Maui divides into several significant regions across its 728 square miles: West Maui, South Maui, East Maui (Hana Highway), Central Maui, and Upcountry Maui.
Awe-inspiring beauty: Maui holds breathtaking views from being nestled between Haleakala to the east and the West Maui mountains to the west. Because of this valley's isthmus, many refer to Maui as the valley Isle.' If you're still debating if Maui will meet your vacation goals, consider:
Conveniences: It is easy to get around, including the Island's airport and Kahului Airport (OGG). You can find rental cars from the airport and other points to use. Conveniently, you'll also find shopping resources like Costo, Walmart, Whole Foods in central Maui, and local grocery stores in other parts of Maui.
Top Maui resort areas: The best Maui resorts exist in the West and South Maui.
Budget-friendly lodgings: Seeking a good deal? Consider the assortment of Maui cheap hotels.
— article continued below —
On this page, we'll cover each of the major Maui regions you can find accommodations within. Here are this page's highlights.
Explore the West Maui Region including its pros and cons
Discover the South Maui Region with its condos & more
Explore the East Maui Region including some amazing places in Hana town
Discover places to stay in the Central Maui Region
Explore accommodation options in the Upcountry Maui region
Watch our Where to Stay on Maui video
Search for Maui Hotelsand find the Best Rates
Search Maui Hotels
Maui Accommodations by Region
Maui is a destination that attracts a unique mix of tourists from all over the world. There are resorts and hotels all over the island, but there are also many free-standing hotels and vacation rentals, which give you the option to choose from a wide range of accommodations. We provide a list of these favorable destinations according to popularity.
Staying in West Maui
Including Lahaina, Kaanapali, and Kapalua
Initially developed in the 1960s, West Maui remains one of the most popular destinations to stay and play on the island of Maui. Here you'll find the old whaling village of Lahaina. In addition, the resort area of Kaanapali stretches along the coastline here. Kaanapali also hosts most accommodations and eateries on the island's west side.
For most visitors who come to Maui, the island's western side hosts the most favorable accommodations, including most top resorts, long-stay condos, and Maui hotels with kitchens. Essentially, the wide selection span from cheap places to stay or luxurious accommodations. Such a selection makes it simple to find your desired lodging. So go ahead splurge on a high-end room in resorts on the beach. Or stick to your budget with a cheap motel. West Maui has it all.
To get around, drive about a 35-40 minute drive (25 miles) from Kahului Airport (OGG) to Lahaina town and a 45-minute drive to Kaanapali (30 miles) from Kahului.
Why Should You Stay in West Maui?
West Maui offers a variety of unique attractions. Check out the following;
Bustling, Lively Streets: Find various stores and shops, especially in the Lahaina area. You can spend hours strolling through the streets of West Maui. Front Street, in particular, in the old whaling village, offers the most – a variety of shops, restaurants, and much more to attract visitors.
Water Adventures: The area, especially the docks in Lahaina, offers a range of water excursions like whale watching, snorkeling tours, paddling, surfing adventures, etc.
Stunning, Lively Beaches: Beautiful beaches stretch across this region. Kaanapali Beach, located just north of Lahaina, is very popular for its beachfront resorts and gorgeous blue waters. At the far northern end of the beach, visit the Black Rock. Besides the sandy beach, visitors will also discover an outdoor mall with abundant dining and shopping options located right on the coast. A three-mile paved walkway stretches along much of the beach here, making it easy to navigate from one spot to another.
Enjoy the Weather: This region embodies the best weather for a getaway. It's typically dry and sunny, making it ideal for being outdoors.
Outstanding Terrains: West Maui provides stunning views of the West Maui mountains rising behind the people in the background. The scenery will set the mood of your romantic getaway.
Our Recommended Accommodations to Stay in the West Maui
Including Lahaina, Kaanapali, and Kapalua
Napili Bay Area: Great for privacy and calmness. You can also find hotels on the beaches like high-end hotels, budget-friendly hotels. Consider the condos and smaller inns near the beach for those planning a more extended stay. These lodgings come with kitchens. Despite showing their age, these lodgings still maintain a charming appeal. Plus, they are in an unbeatable location.
Kapalua Bay Area: If you seek silence along with luxury, look no further than the resort area of Kapalua, a favorite spot for golfers. Here you'll find the Ritz Carlton Kapalua–one of the best vacation accommodations in Maui.
Kanpelli: Beach-fronted accommodations include the best resorts that sing luxury like the Sheraton Maui, Kaanapali Beach Hotel, Hyatt Regency Maui Resort, and Marriot (amongst others).
Lahaina: For the most desirable resorts, especially on the beach, look to the Westin Maui Resort & Spa and the Royal Lahaina Resort.
Scenery-wise, West Maui provides stunning views of the West Maui mountains rising behind you in the background.
The Drawbacks of Staying in West Maui
Like any other place, West Maui has some drawbacks.
With so many visitors choosing this more developed region, crowds pack this area more than other island parts. Prepare yourself for longer drives to reach popular destinations. For instance, the distance between West Maui and some other major attractions on the island, like the Hana Highway (Road to Hana) and the Haleakala summit, requires a vehicle.
Top 10 Places To Visit In Maui (HAWAII)
Hawaii's vibrant island of adventure, site-seeing and tropical escapades, Maui is undoubtedly one of the best islands of Hawaii. It's where you go to experience a little bit of everything. Want to visit a sacred site? Maui's the place. Want to visit volcanic craters? Maui has it!
Here's our list of places to visit in Maui. Get your swim gear ready – it's going to be an exciting dive!
1. Lahaina
In the Hawaiian native language, Lahaina means cruel sun or relentless sun. The name may sound harsh at first glance, but there's nothing to be concerned about. Lahaina is a wonderful city – tropical, just like the rest of the cities in Maui.
Snuggled up between the mountains and the coasts of west Maui, Lahaina is where the tourists go crazy with shopping.
Food, Fun and Ample Sun
Yes, that's right! Be it the most delicious Hawaiian cuisines, the most lit live entertainment shows or the gorgeous sunny beaches, Lahaina got it all. It's not a mainstream city, but its small-town vibes, local souvenir shops and laid-back resorts make it the perfect escape for any traveller.
Interesting Fact: Lahaina is home to one of the largest Banyan trees in the USA
2. Haleakala National Park
The Haleakala National Park is a must-visit destination in Maui. It's where ancient sacred Hawaii meets the modern-glamorous state. Located in the bustling Maui, Haleakala is all about Hawaii in its raw and purest form.
Surrounded by volcanic craters, acres of lush greens and native local homes, this is where you should be if you're looking for a unique holiday experience.
The Scenic Sunset
Driving to the top of Haleakala sure is a challenge you'd never encounter anywhere on the island. But the views from the top are absolutely beautiful. The summit's temperature would range between 10 and 18-celsius year round. Sunsets are the most magical moments here at the summit.
On our visit, we decided to take our own rented vehicle, and it was somewhat convenient. But if you're not a skilled driver, it's best that you go with a couple of people.
3. Hana
Occupying the east parts of Maui, Hana is one of the most isolated locations in the state. So much so that in 2020, the population was only 1,526. Due to the lack of people, Hana has been flourishing under the love and care of mother nature and its native locals.
You'd see breathtaking waterfalls, rainforests, beaches and some of the nicest resorts in Hawaii, here in Hana.
The Seven Sacred Pools
Oheʻo Gulch, also known as the seven sacred pools, is an iconic destination in Hana. It's also part of the Haleakala National Park and is sometimes referred to as the Kipahulu area. The scenic landscape is just breathtaking. However, we were surprised at how inaccurate the 'seven sacred pools' is.
In fact, there are dozens of falls and streams here in Ohe'o Gulch. However, keep in mind that swimming in these pools is strictly prohibited. If you're on the Pipiwai trail, you can dip in without worry.
The hiking trail tends to attract large crowds during peak season. So make sure you go there early to catch the most uninfluenced views and enjoy nature at its finest.
4. Iao Valley
The eternal resting place of many native tribal chiefs, Iao Valley, is simply a piece of heaven on earth. Famous for its hiking, the valley is also home to enchanting waterfalls and tropical rainforests. If you have a special interest in wildlife and botanicals, Iao Valley is the place for you to discover some of Hawaii's most fascinating flora and fauna.
Needless to say…
The Iao Needle is the next best thing about Iao. It took us approximately 2.5 hours to reach the top of the needle, and the experience sure was a memorable one. A remnant of a volcanic eruption, the Iao Needle has been called the phallic stone of Kanaloa – the native god of the ocean.
Interesting Fact: The Iao word means 'cloud supreme', believed to be named as such due to the puffs of clouds surrounding the west mountains.
5. Kaanapali Beach
Beach lovers out there, we guarantee you that Kaanapali definitely belongs on your bucket list. We were swept away by awe, seeing the laid-back white gold beach surrounded by glistening crystal clear water. It was once even named America's best beach.
Swimming here is an amazing experience. We do have to mention that the coast can get a bit crowded from April through May, but it's definitely worth the visit.
Cliff Diving Destination
The Black Rock, or Puʻu Kekaʻa in the native tongue, is a cliff in the northmost of the Kaanapali beach where the famous daily cliff diving ritual takes place. The Sheraton Cliff Diving ceremony happens just before sunset with a torch-lighting procession.
This dive is not an ordinary dive. It's a depth of about 12 to 15 feet, and it only lasts for about 20 minutes. On our visit, we were lucky enough to be there just a few minutes after it began, so we didn't lose much of the action. If you're planning to visit the ceremony, be there early.
6. Honolua Bay
One of the world's most famous surfers' destinations, Honolua welcomes some gigantic and expressive waves to its shores during winter, attracting expert surfers from across the world.
The word Honolua stands for two bays, and it's a significant location in Maui – environmentally as well as culturally. If you're not a pro surfer (like most of us), you still can enjoy Honolua to its utmost.
Snorkelling Paradise
Honolua is known for snorkelling all throughout the summer. This is the period when a variety of exotic fish species and turtles swim closer to the shallow waters. The ocean during summer is comfortably warm, and witnessing the sea beds is sure worth the experience.
Lined up along the stretch, you can easily find snorkelling gear for rent, so you don't have to worry too much about resources for your tropical sea adventure.
7. Makena – Big Beach
Makena stands for its name, the 'Big Beach'. It stretches up to nearly two-quarters of a mile and is one of the largest untouched beaches in Maui. By untouched, we mean unmodified.
When compared to other commercialised beaches in Hawaii, Makena is spacious, picturesque, and long, and it has golden-white sand shores.
Long Romantic Walks
Makena Big Beach is the ideal place for you and your better half to take a long romantic walk (if that's your thing). During sunset, the skies turn into a beautiful orange-blended hue, and the view is just so postcard-worthy.
The Big Beach is not just a pretty shore. If you love snorkelling, here is also a great place to take a dip and an underwater adventure.
8. Ho'okipa Beach Park
All of Maui's beaches equally create the perfect atmosphere for some sunshine and lazing. Ho'okipa beach park is no different. In fact, it's even better. It's for those who simply love beaches and all activities that come with them. You name it, they've got it.
From windsurfing to snorkelling, you can enjoy a truly remarkable vacation, sipping a cocktail under a Hau tree. It's very convenient and travel-friendly, you'd find vendors, picnic tables, parking lots and restrooms here in the Ho'okipa Beach Park.
Spot the Green Sea Turtles
Ho'okipa beach park is the best place to see green sea turtles year-round. The ideal time to visit is in the afternoon, preferably between 2 and 4 p.m. when the waters are warm. You should be aware that turtles are very gentle creatures, so ensure you don't startle them on your visit.
9. Ali'i Kula Lavender Farm
Where can you find 45 different varieties of lavenders growing in one vast botanical farm? You may find somewhat similar farms in the Netherlands, but no one would guess Hawaii.
Yes, on the volcanic island of Maui lies Ali'i Kula, a private lavender farm overlooking the magnificent landscape of Maui. It sure is worth the visit.
A Relaxing Escape…
The farm adjoins its own store with all lavender products made out of the fresh harvests from the store. You can find some soothing body care products and even lavender honey. For those looking for a healthy escape from the city bustle, this is a great place to start.
You can enjoy the views, spend some alone time and capture Instagram-worthy shots next to the iconic Buddha statue.
However, be aware that it's open from Friday to Monday, so make sure you don't mistakenly visit there mid-week (like we almost did if we had not found it online)
10. Pua'a Ka'a Waterfalls
A back trail extending from the Hana highway, deep into the Pua'a Ka'a state leads one to a breathtaking waterfall. The Pua'a Ka'a waterfall is one of Maui's greatest natural treasures.
Although hidden away from the visitors' eyes, tourists flock here – past the difficult drive – to take a dip in the cool basin of the waterfall. There are rocks and boulders in the pool, so make sure you do not swim upstream, as the water currents may sweep you away.
The little jungle
Nestled amidst the mini rainforest, Pua'a Ka'a is not just a waterfall, but a wayside park where you would find many trees, creatures like feral cats and mongooses, and insects. The park extends up to 5 acres and is home to many streams and natural pools.
On our visit during the afternoon, the area was a bit crowded, but if you can manage to be there early, you can experience nature at its purest.
Source https://nextishawaii.com/places-to-visit-maui/
Source https://www.hawaii-guide.com/maui/where-to-stay-maui
Source https://travelperi.com/places-to-visit-in-maui/