12 Places You Should Visit in the Florida Keys
A road trip through the Florida Keys is its own reward: a 113-mile journey across islands with some of the most jaw-droppingly gorgeous scenery you'll ever lay eyes on. But amidst the topaz waters, diving pelicans and lush mangroves are a treasure trove of attractions that are educational, historical or just plain fun.
Here are a dozen of the best things to do in the Florida Keys, from top to bottom.
KEY LARGO
Two words: Underwater park. John Pennekamp Coral Reef State Park is the first undersea park in the country… and the first place you should go when you arrive in the Florida Keys. There are endless ways to explore this aquatic attraction, including kayaking through the mangroves, snorkeling or scuba diving and setting out on a glass-bottom boat tour.
The African Queen Canal Cruise is another fun way to explore Key Largo. Hop aboard the famed vessel—yes, it's the one made famous by the 1951 movie starring Humphrey Bogart and Katharine Hepburn—and embark on a 90-minute sightseeing cruise departing from Marina del Mar. Dinner cruises are also available.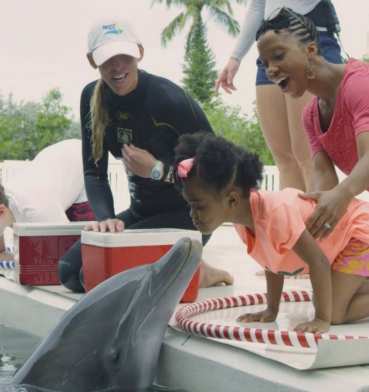 Theater of the Sea combines the pizzazz of a marine park with the charm of a family-owned attraction.
ISLAMORADA
Theater of the Sea combines the pizzazz of a marine park with the charm of a family-owned attraction. Watch a sea lion show, hold a parrot and enjoy a bottomless boat ride. The park's animal interaction programs—including swimming with dolphins—are sure to make a splash. (See what we did there?)
Although your vacation may last only a few days or weeks, the history of the Keys dates back thousands of years. Get up to speed with a visit to the Keys History and Discovery Center, located on the grounds of the Islander Resort. In addition to rotating exhibits, the museum's permanent collection of photos and memorabilia highlights the area's Native American life, shipwrecks and more with photos, models and artifacts.
MARATHON
Love dolphins? Do a deep dive into the life of the aquatic mammals at the Dolphin Research Center on Grassy Key, near Marathon. Watch the dolphin and sea lion shows, chat with trainers and cool off at the sprayground. For next-level fun, enroll your tween or teen in Dolphin Camp, or splurge on a Fantasy Dolphin Day to live out all your swimming-with-dolphins dreams.
BIG PINE KEY
Secluded Bahia Honda State Park, located on Big Pine Key, is home to more than 150 species of rare flora and fauna. But its three unspoiled beaches aren't only for the birds; they're also a great place for shelling, geocaching, snorkeling and other low-key activities. The park is also sought after for camping, with accommodations ranging from primitive camp sites to glamping cabins.
There's no shortage of animal encounters in the Keys. But for one of the most peculiar, you'll have to visit the National Key Deer Refuge on Big Pine Key. The endangered creatures stand no more than 32 inches tall and are found only in the lower Florida Keys, so hike, bike or kayak through the preserve and keep your eyes peeled for these beautiful creatures.
KEY WEST
Pay your respects to one of Key West's most legendary residents with a visit to the Ernest Hemingway Home and Museum. As you stroll through the gardens and pet the six-toed cats—descendants of the writer's own pets—imagine the Nobel Prize winner working on manuscripts when he lived in the house during the most prolific decade of his career, the 1930s. In the bookstore and gift shop, take home a souvenir to serve as your own muse.
The Key West Butterfly and Nature Conservatory is located on Duval Street, but it's about as far away from the famous thoroughfare's excesses as you can get. Whether you're looking for family-friendly fun or you just need someplace to catch your breath, a few hours inside this glass-enclosed conservatory surrounded by butterflies and birds should do the trick.
When the sun goes down, the fun heats up at Mallory Square, home of Key West's nightly sunset celebration. Jugglers, tightrope walkers, sword swallowers, buskers and other colorful characters put on a family-friendly show for your entertainment—and hopefully, for your generous tips.
Sure, it's touristy. But no visit to Key West would be complete without a photo op at the Southernmost Point. The oversized buoy landmark represents the lowest spot on the map of the Continental United States.
DRY TORTUGAS
Just when you thought the Keys were as remote as you could get, there's Dry Tortugas National Park. This conglomerate of islands 70 miles west of Key West is accessible only by boat or seaplane. But not to worry; even if you don't have your own transportation, you can ride the Yankee Freedom ferry from Key West to Garden Key and still explore the park's historic Fort Jefferson; snorkel, dive or swim in the clear waters; enjoy breathtaking birdwatching; and pitch your tent under the stars.
For more fun things to do in the Florida Keys, check out fla-keys.com.
Where to Stay in The Florida Keys: Best Places For You By Key
Ready to experience the tropical allure of the Florida Keys? The Florida Keys have some of the best beaches in Florida, and the region is easily one of the best places to visit in the state. In fact, the Florida Keys are one of our favorite places to visit in the entire USA. The Florida Keys are heaven on earth with the feel of a tropical island right in your own backyard.
It can be overwhelming trying to decide what to do in the Keys let alone trying to figure out where to stay in the Florida Keys but we are here to help. We have visited the Florida Keys on 4 different occasions so we have a good handle on the top places to make a base.
Where to Stay in Florida Keys
Table of Contents
The best areas to stay in the Florida Keys
Get your map here of Where to Stay in the Florida Keys
Key West – Key West is best for culture and history lovers. The key is most famed for its historic Key West Old Town and Mallory Square, although it is also the birthplace of key lime pie.
Key Largo – If your dream morning is spent underwater, Key Largo is for you. The key is full of diving, snorkeling activities, and plenty of chances to see marine creatures.
Big Pine Key – Big Pine Key is where to head for a tranquil holiday. The key even has a population of deer that roam peacefully throughout the island.
Marathon – Marathon is known for its fantastic coastline. The key has some of the best beaches in the Florida Keys and is best suited to those looking for somewhere scenic to sunbathe.
Islamorada – Islamorada is famed for sport fishing and feeding the tarpon. Plus you will find plenty of water sports and adventures.
Now that you've met the five main destinations in the Florida Keys let's take a more detailed look.
1. Key West
incredible things to do. Key West is lively with plenty of oomph, and if you like an action-packed holiday, you are in for a treat. Even better, there's Key West International Airport to fly into – perfect for easy access from mainland USA and other international destinations. However, we suggest visiting Key West on a road trip.
When visiting Key West, place walking Duval Street and enjoying the sunset from Mallory Square at the top of your itinerary. Duval Street is in Key West's Downtown district and is where you'll find all the best bars, restaurants, cafes, and shops.
The street is alive by night and day – switching between a hotspot for shoppers and partiers skipping from tiki bar to tiki bar. Mallory Square is where you'll find street performers, markets, and beautiful views of the sun going down over the Florida Straits.
After walking Duval Street, the Key West Historic District is the next place on your agenda. The old town of key west is famed for its pastel-colored architecture and range of attractions. Mallory Square is located in the Historic District near the port and is where you'll find the nightly sunset celebration.
Key West has many attractions, including the Key West Butterfly and Nature Conservatory, The Hemingway Home and Museum, and Fort Zachary Taylor Historic State Park. Key West is the best choice if you want typical tourist activities and plenty of museums, galleries, and organized attractions. Key West is also the birthplace of key lime pie, so arrive prepared to sample some of the best desserts you've ever tasted.
So, why should you stay in Key West? First off, Key West is an exciting option when choosing where to stay in the Florida Keys. Key West has a real city atmosphere, electric nightlife, and endless attractions, unlike some quieter keys.
Key West has a buzz that outgoing travelers will lap up. If you are looking for a fast-paced destination with lots of character and tourist infrastructure, Key West is your match.
Luxury: Pier House Resort & Spa
If you want a luxury Key West resort, Pier House Resort & Spa is the answer. This luxe four-star property sits in the center of the Key West Historic District, just off of the famous Duval Street. You can read reviews on TripAdvisor as well.
Pier House Resort has every high-caliber facility that you could think of. There is a beach bar on a private beach, an on-site spa, and two restaurants with gorgeous ocean views. And, for those wanting a swimming pool day rather than a beach day, Pier House Resort has a huge outdoor pool. While to soak up the sun in your own space, some room options even include private balconies.
Perry Hotel Key West is a quiet retreat on the marina. We loved relaxing at this hotel with its elegant rooms overlooking the waterfront. What we loved about it was the local vibe. Many people from the marina stop at the pool bar for lunch and snacks. Check for Reviews and pricing on TripAdvisor / Booking.com
Mid-range: La Concha
Mid-range hotels in Key West don't get much better than La Concha. Also located in the heart of the Key West Historic District, this hotel is within walking distance of Duval Street and South Beach.
La Concha offers an outdoor pool, terrace, library, and a cafe. Guests will appreciate the fantastic location, facilities, and comfortable furnishings. There is also a fitness center for health-conscious guests, which is good motivation for keeping active on holiday. This is a great place to stay if you want to enjoy the Key West nightlife as you are in the heart of it all.
Budget: Not Your Average Hotel
NYAH is the most budget-friendly accommodation choice in Key West. Not only does it have some of the lowest prices, the three-star hotel includes a complimentary continental breakfast each morning. It also offers dormitory rooms for those trying to save a buck.
NYAH has a budget-friendly bike rental service, three outdoor swimming pools, plus a 24-hour help desk. Good value for money, we'd say.
VRBO: Condo with Ocean Views
This property is one of the best places to stay in the Florida Keys for a luxury VRBO holiday. The space has unrivaled views over the Atlantic Ocean and an open-plan living room and master bedroom that open onto private balconies.
Guests have access to covered parking and a shared outdoor pool. However, you are just walking distance from the Key West Historic District, so you'll have plenty of off-property entertainment.
2. Key Largo
Luxury: Bungalows Key Largo
Bungalows Key Largo is a stunning, adult-only luxury resort. Guests must be over 21 years old to book a room at this all-inclusive resort, giving the Bungalows Key Largo an exclusive, intimate atmosphere.
The resort has two swimming pools, one of which is especially for relaxation and downtime. It also features a fitness center with classes included in your room price. Luxury never felt more inclusive.
Mid-range: Baker's Cay Resort
Baker's Cay Resort is a four-star property with mid-range pricing. From its private beach to two swimming pools, Baker's Cay Resort is a property that goes the extra mile.
The on-site spa boasts a steam room and a hot tub, while the fitness center has numerous classes. You can even arrange kayaking and fishing tours from the front desk.
Budget: Rock Reef Resort
Rock Reef Resort is the most budget-friendly option in Key Largo. Guests receive free parking, toiletries, and wi-fi – plus a range of private rooms catering to various budgets.
You can relax in the resort's shaded garden, sunbathe on the private beach, or kayak off the resort's dock. You are also within walking distance of Bluefin Rock Harbor Marina.
VRBO: Oceanfront Condo
This two-bedroom condo is beautiful, with spacious rooms and a balcony with ocean views. However, its shared facilities are where the property comes into its own.
Saltwater swimming pools are pretty rare, yet this condo gives guests access to a saltwater swimming pool with tropical fish to swim with and feed. You'll also get to enjoy tennis courts, a further two swimming pools, and a fire pit area.
3. Big Pine Key
renting a car to drive the scenic route to Bahia Honda State Park.
Big Pine Key is where to stay in the Florida Keys for a quieter experience, surrounded by nature and wildlife. It is best for travelers who are looking for nature, not nightlife. Since most of the best resorts are also located on nearby islands, visitors should be flexible about finding accommodation just outside the key. Let's take a look at our best accommodation options.
Luxury: Little Palm Island Resort
Little Palm Island Resort is one of the most popular places to stay in the Florida Keys. Little Palm Island Resort has everything – from beach massages to a hair salon and organized snorkeling tours.
The resort really feels like a tropical paradise, and when you aren't on the beach, you can relax in a cabana by the outdoor swimming pool.
Mid-range: Parmer's Resort
Parmer's Resort is a comfortable motel by the oceanfront. What more could you ask for with a heated outdoor pool, activities like kayaking and beach yoga, plus a continental breakfast each morning? Parmer's Resort is a fantastic mid-range accommodation option.
Budget: Old Wooden Bridge Guest Cottages & Marina
Old Wooden Bridge Guest Cottages & Marina has twelve cottages to choose from and plenty of on-site amenities. There is lots to keep you entertained, from BBQs to an outdoor swimming pool.
The property is just a twenty-minute drive from Seven Mile Bridge and eight minutes from the National Key Deer Refuge Visitor Center. Guests have a great location to explore the area better.
VRBO: Canal Front Home
This VRBO property is dreamily situated alongside a canal, with a boat ramp just steps away from its front door. If you want to bring a boat when you stay in the Florida Keys, this home is a good choice.
The property also has an open-plan living room and kitchen. While upstairs, indoor/outdoor space is maximized with a private balcony off the master bedroom.
4. Marathon
Luxury: Isla Bella Beach Resort & Spa
Isla Bella Beach Resort & Spa is a 4.5-star resort, but we think it should be pushed up to five stars. Isla Bella Beach Resort is a great luxury place to stay in the Florida Keys if you want to base yourself in Marathon. It has five different swimming pools, including a heated swimming pool. You'll also find on-site restaurants, a spa, and a garden café.
Mid-range: Courtyard by Marriott Marathon Florida Keys
Courtyard by Marriott Marathon Florida Keys is a mid-range three-star hotel, perfect for those who want comfortable accommodation at a reasonable price. The hotel is situated in a state park, just an eight-minute drive from Sombrero Beach. The on-site amenities are also second to none, with a 24-hour gym, outdoor pool, and tennis courts.
Budget: Sandpiper Motel
If you perked up at the mention of the Turtle Hospital earlier, note that Sandpiper Motel is located just across the road from it. Sandpiper Motel is cheap and cheerful with a fantastic location. Sure, it is no boutique hotel; however, Sandpiper Motel is the best value for money that you'll find in Marathon.
VRBO: 3 Bedroom Fisherman's Retreat
This property is heaven and truly a fisherman's retreat. You have a private dock, a bait freezer, and a fish cleaning table – there's even a grill so that you can cook up a storm with your catch.
When you want some downtime, watch the dock light up in the evening and enjoy your private hot tub. Relaxing by your own marina is a different sort of luxury.
5. Islamorada
The best things to do in Islamorada are mostly ocean related. Fishing enthusiasts must not miss out on a fishing charter, and anyone able to swim should take a snorkeling or diving tour.
If getting in History of Diving Museum instead. Islamorada has a special relationship with the ocean, and it is exciting to experience the relationship for yourself through water activities and museums.
Islamorada is one of the middle keys, and it is well worth day tripping to its nearby islands. We recommend a day trip to Long Key, just a twenty-minute drive down the overseas highway. On Long Key, you'll find Long Key State Park. Long Key State Park was once home to a luxury resort, but now it is a spectacular reserve with canoeing and bone fishing opportunities. Of course, there's also Windley Key Fossil Reef Geological State Park, located in Islamorada itself, just a five-minute drive from the Islamorada center. Once a limestone quarry, visitors now flock to Windley Key State Park to admire the fossilized coral on numerous hiking trails.
There are many things to do in Islamorada, and we'll link our complete guide here. The island is ideally suited to those who love fishing, seafood, and watersports. Don't expect the outgoing atmosphere of Key West. Instead, Islamorada is perfect for a relaxing ocean getaway.
Luxury: Amara Cay Resort
Amara Cay Resort is that classic luxury. Picture poolside bars, a full fitness center, and a private beachfront to enjoy. Amara Cay Resort is perfect if you want upscale accommodation when staying in Islamorada. In fact, it is so beautiful that it is frequently booked for weddings.
Mid-range: Hadley House
Hadley House is a stunning mid-range property in Islamorada, practically located on the beach – beach access doesn't get much easier. Guests can expect many perks, including free breakfast and complimentary bike hire. Thanks to Hadley House's marina, you can also easily access ocean activities and rent equipment directly from the hotel.
Budget: Sunset Inn
Budget-friendly properties are unfortunately rare in Islamorada. However, Sunset Inn is a strong choice if you are looking for cheaper options. You won't sacrifice much, as you still get a pool, BBQ area, and games room. But the complimentary cabanas, bike, hire, and wi-fi will definitely help save you some cash.
VRBO: Angler's Reef Home with Ocean Views
This VRBO property is enormous, sleeping up to six guests and boasting four separate balconies with ocean views. It is one of the most beautiful places to stay in the Florida Keys and has marina access and its own private beach.
Located in the exclusive, gated community of Angler Reef, you can relax in this VRBO property in complete luxury.
To Conclude
Florida to escape and connect with ocean life. You'll spend your days fishing, snorkeling, scuba diving, sampling delicious seafood, relaxing on the best beaches, and much more. Whether you choose Key West or Islamorada, you'll have a fantastic time. However, each key has something different and unique to offer – who knows, maybe you'll need a return tip or a Florida Keys road trip.
The question of where to stay in the Florida Keys is exciting. We hope you've found your perfect match and are ready for your upcoming holiday.
Which Florida Keys island is best for you?
No matter where you stay in the Florida Keys, you'll feel a bit outside of normal USA time.
Throughout this chain of coral islands drifting south from the tip of the Florida panhandle, you'll find incredible things to do: lost-in-time dive bars and weather-worn marinas are interwoven with oceanfront views from five-star resorts and Michelin-star-worthy dining experiences.
While all of the Keys share a relaxed, easy energy – and an appealing blend of beauty and laid-back inelegance – each island maintains its own distinct character and it's easy to island hop. From the scuba paradise of Key Largo to the unapologetic eccentricity of Key West, whatever kind of vacation you're looking for, you'll find it here. Here's a guide to the best islands in the Florida Keys.
Key Largo
Best for land and sea adventures
Key Largo, the biggest island in the Upper Keys, acts as a bridge between the mainland and the rest of the archipelago. Water and land-based thrills here will meet the demands of even the most intrepid explorer; start the adventure at John Pennekamp Coral Reef State Park, a 70-sq-mile tract of protected seaspace, teeming with marine life. Pennekamp is a scuba and snorkeler's dream, boasting stunning coral reefs that can also be viewed on glass-bottomed boat tours. There's even an undersea statue of Jesus known as Christ of the Abyss, a 9ft-tall replica of the famous statue in Genoa, Italy.
Activities abound on land too, starting with the Key Largo Hammock Botanical State Park. This patch of wilderness was saved from developers and now, instead of condominiums, it's home to one of America's largest West Indian tropical hardwood hammocks (the local term for areas of forest that form an ecological island, distinct from surrounding types of vegetation). Visitors can walk along nature trails surrounded by land that still feels wild and untamed, and the area is also open to cyclists. If you want to beat the heat on the trail, March to May might be the best time to visit.
Active types will also enjoy kayaking along the shores of Blackwater Sound and scanning the swampy forests for birdlife and American crocodiles at Crocodile Lake National Wildlife Refuge, a 6600-acre nature preserve in the northern part of Key Largo.
Get more travel inspiration, tips and exclusive offers sent straight to your inbox with our weekly newsletter.
Islamorada
Best for fishing (and a bit of everything else)
Islamorada is widely known as the sportfishing capital of the world, and with the abundance of marinas and plentiful stocks of billfish and other desirable catches, it's hard to argue with this moniker. The island has a well-developed scene for both backcountry and deep-sea fishing, but there are plenty other more unique draws.
Art lovers can gallery hop through the Morada Way Arts and Cultural District, a six-block stretch of downtown studded with studio spaces and galleries. Every third Thursday of the month, the district hosts an evening arts walk with live music and extended opening hours. For rest and relaxation, head to the white sands of Anne's Beach, book a massage at Blu Bamboo Salon & Day Spa or just perch at the poolside in a luxury resort such as Cheeca Lodge or the Moorings Village.
Just offshore, Lignumvitae Key, a haven for native plants, provides a chance to experience the natural beauty of the islands. Bougainvillea, lignum vitae and hardwood hammock forests thrive in this undeveloped landscape, giving a hint at what the whole archipelago might have looked like hundreds of years ago.
Marathon
Best for beach bums
Marathon's main beach, known to locals as Sombrero Beach, is one of the best in the Keys and a great free thing to do. Open to the public year-round, it's sprinkled with some of the archipelago's finest sand and it's also a protected nesting ground for turtles. Sun-worshippers will find more fine sand at Coco Plum Beach, a smaller and more natural beach popular with windsurfers.
As the halfway point of the Keys, Marathon is also a great place to stay for travelers looking to explore more widely. Head north to Long Key State Park – one of the quieter preserves in the Keys – or drive south across the famed Seven Mile Bridge to adventures in Bahia Honda State Park or Key West.
Big Pine Key
Best for getting in touch with nature
Nature nuts will not be disappointed by a trip to Big Pine Key. This sparsely populated island is mostly devoid of luxury and nightlife, especially as you move further away from US Route 1. But what Big Pine Key lacks in action it makes up for in tropical beauty.
The most famous wild space in the Lower Keys is Bahia Honda State Park, just east of Big Pine along the highway. You can swim, snorkel or kayak in the park's turquoise waters before hiking up to one of the highest points in the Keys. Watch the sky burst into color as the sun sets, then stick around to gawk at the sparkling stars. The best view of all though is of the landmark Saddleback Bridge, a rusty remnant of Henry Flagler's ill-fated Overseas Railway.
Big Pine Key is also home to the rare Key deer, a small, endangered subspecies of white-tailed deer found only in the archipelago. Wander the rambling trails of National Key Deer Refuge and stop at Blue Hole, the only freshwater lake in the entire Florida Keys – an unmatched place to see the diversity of local wildlife.
Key West
Best for art, culture and cutting loose
Key West, perhaps the most famous island in the Keys, is a sun-filled carnival and the closest thing to a proper city in the archipelago. For vacationers seeking parties that spill out into the streets, late-night wining and dining and epic drag shows, Key West is your best bet.
While its wild child reputation is well earned, there are many reasons to visit the southernmost Key beyond the rowdiness of Duval Street. Literary pilgrims flock to the Ernest Hemingway Home and Museum, where the famed writer lived from 1931 and 1939 (the cats that wander the grounds are descendants of Papa's six-toed kitten, Snow White).
Other worthy stops include Audubon House, where ornithologist John James Audubon produced some of his famous bird illustrations in the 1830s, and the Key West Historical Society, showcasing the rich history of the island. Take time for a stop at the Key West Pottery and Key West Island Books, a new and used bookstore with a great assortment of local titles.
This article was first published October 2021 and updated December 2021
Buy USA's National Parks
Lonely Planet's USA's National Parks is your passport to the most relevant, up-to-date advice on what to see and skip, and what hidden discoveries await you. Marvel at the Grand Canyon, paddle the Everglades and rock climb in Joshua Tree; all with your trusted travel companion.
Buy USA's National Parks
Lonely Planet's USA's National Parks is your passport to the most relevant, up-to-date advice on what to see and skip, and what hidden discoveries await you. Marvel at the Grand Canyon, paddle the Everglades and rock climb in Joshua Tree; all with your trusted travel companion.
Source https://www.visitflorida.com/travel-ideas/articles/places-to-visit-florida-keys/
Source https://theplanetd.com/where-to-stay-in-the-florida-keys/
Source https://www.lonelyplanet.com/articles/best-islands-in-florida-keys