Where to Stay in New Orleans in 2022 – The BEST Areas
New Orleans has always held a layer of intrigue among those living in the United States. An intrigue that has grown internationally, making the city of the top tourist destinations in the country.
Bourbon Street and the French Quarter stoke the majority of this fascination. Whether that be through the early morning raucousness or events like Mardi Gras.
But those that choose to explore beyond those heady streets, will quickly fall in love with a city teeming with history and architectural marvels. Beyond downtown, you'll discover a world of voodoo and haunting legends, alternative artists districts, and laidback streets where jazz musicians play with a deep and unabiding passion.
To help you uncover a different side of the Big Easy, here is our guide on where to stay in New Orleans.
Best Places to Stay in New Orleans
Table of Contents
Are you in a hurry and want to book directly? These are the best hotels and vacation rentals in New Orleans to suit every budget.
The Best Hotels in New Orleans
Luxury Hotel: Maison De la Luz
Mid-Range Hotel: Pontchartrain Hotel
Budget Hotel: Auberge NOLA Hostel
Family Hotel: The Roosevelt
Boutique Hotel: Henry Howard Hotel
Apartment Rental: The Picayune
First time to New Orleans? First-timers will appreciate the Central Business District.
The neighborhood knocks on the door of Bourbon Street and the French Quarter while providing easy access to each popular area around the city via the iconic streetcars. With that said, each part of town will appeal to a different style of traveler. Whether you're in town for a "classic" NOLA experience or wanting to explore the city's unique history.
Looking for cool things to do in New Orleans? Check out our article on Best Things to do in New Orleans – The Ultimate City Guide
Best Luxury Hotel in New Orleans: Maison de la Luz
In the Arts District, the Maison de la Luz is a place of opulence and one of the best luxury hotels in New Orleans. Steps away from the French Quarter, the hotel is your perfect retreat from the nearby action.
Each room has unique and ornate decor that encapsulates the elegance of the Roaring Twenties in France, or the Jazz Age as it was here in NOLA. Each room operates as its own guesthouse, offering floor-to-ceiling windows, shrouding the spacious rooms in natural light. Guests will love the grand soaking tub, the resplendent hardwood floors, and the bathroom parlor. The historic hotel is the perfect place to stay to capture a storied chapter in New Orleans' past.
Best Mid-Range Hotel in New Orleans: Pontchartrain Hotel
In the Garden District, Pontchartrain Hotel combines historic elegance with value for money. On St. Charles Avenue, the hotel was built in the 1920s with stylish rooms and decor to match. Decor, mind you, that has lost none of its splendor in the ensuing decades.
Guests can enjoy the Cable TV and the option for a separate seating area. A great choice after a long day exploring the gorgeous neighborhood. Before dining out on Magazine Street enjoy Pontchartrain's Bayou Bar and the bottom-floor Jack Rose restaurant. The hotel's location is the envy of many. You'll be a short ride away from the French Quarter and within walking distance of many attractions, from art museums to historic cemeteries.
Best Budget Hotel in New Orleans: Auberge NOLA Hostel
If you're looking to have a great time in New Orleans without shattering your budget, then unpack your bags at Auberge NOLA Hostel. Within a refurbished Victorian home, Auberge NOLA encapsulates the hostel experience. The vibe is laidback and tucked away from the revelry, allowing guests time to recuperate before the hostel leaders once again take them on a deep dive into New Orleans' nightlife.
Accommodation here is clean and comfortable, with multiple dorm rooms and bathrooms. The homestyle layout is a great departure from the rigidity of many inner-city hostels. This allows you to feel right at home as you cook in a kitchen as familiar as your one at home.
The large outdoor space is great for meeting people from around the world, with staff spending plenty of time getting to know each and every guest. The staff is often travelers just like you, who know what to experience you're looking for. They're a great help when looking for local tips and hidden gems.
The 6 Best Areas to Stay in New Orleans
The go-to spot for many first-timers, the French Quarter is one of the best places to stay in New Orleans. For those traveling to the Big Easy to indulge in the revelry that has made the city so famous, then the French Quarter ticks all the boxes.
Cafe du Monde for what some say are the best beignets in the city before exploring a whole range of art galleries and stores slinging storied antiquities.
While music and drinking are woven into the fabric of New Orleans, perhaps its real heritage is its connection with voodoo. There is an air of mystery and haunting spirits in NOLA and aside from the spellbinding cemeteries, it can be felt most within the French Quarter.
From Jackson Square and the St. Louis Cathedral to Chartres and Pirates Alley, there lies the tales of ghosts and kings, queens and leaders who met their end. Join a ghost tour to learn more about the city's haunted history.
As the moon hovers above the town, Bourbon Street is packed to the rafters with endless patrons jumping between bars and clubs holding a sazerac or hurricane. The home of Mardi Gras, the infamous street is arguably the party hotspot of the United States. For something less low-key (just slightly) wander down to the bustling Frenchmen Street where live music venues rule the hour.
Top Rated Hotels in The French Quarter
2. Central Business District / City Center
Top Rated Hotels in the Central Business District
3. The Garden District
the Garden District is where to stay in New Orleans. Fed by the historic, Charles Streetcar line, the world's oldest continuous streetcar, it's scenic and easy to get to New Orleans' French Quarter. Not that you'll be in a rush to leave.
The Garden District may be conveniently located, but it's a historic area in its own right. One worth exploring on one of many strolls or bike rides. You'll quickly discover how it got its name, as you wander its many leafy streets noted for the towering oaks and Victorian-era mansions that wouldn't be out of place on a plantation. The local streets undulated under the pressure of growing roots as if nature could swallow it whole at any moment. Explore on your own or join a tour to discover the rich history of the area.
Commander's Palace. The latter features stunning architecture and a large food hall where the community gathers.
Owing to its popularity among local students, you'll have access to a thriving nightlife scene that's also easy on the wallet. While local accommodation options run to full length from hostels to high-end with the odd hip hotel.
Best Places to Stay in The Garden District
Luxury: Grand Victorian Bed & Breakfast
Mid-Range: Pontchartrain Hotel
Budget: Auberge NOLA Hostel
VRBO: Exquisite Carriage House
4. Faubourg Marigny & Treme
Cajun bistros to the city, these two overlapping districts are some of the best places to stay in New Orleans. Although just blocks east of the French Quarter, it's not a far stretch to call Faubourg Marigny and Treme "off the beaten path."
Faubourg Marigny has an eclectic edge which is home to local artists and expansive warehouse studios. While most take the streetcar westward toward the Warehouse and Garden Districts, all it takes is a short trip in the opposite direction to find yourself among nothing but locals and the odd curious traveler. Here, the historic buildings and balconies are lathered with bright colors that create a kaleidoscopic neighborhood with surprises around every corner.
Although Frenchmen Street could easily be seen as an extension of Bourbon Street, it's within Faubourg Marigny. In fact, its charm and vibe encapsulate the neighborhood best. Here, locals rule the nightlife scene. Essentially abandoned in the mid-20th century, creatives moved in and transformed the neighborhood into a hub of free expression, whether that be with a paintbrush or a brass instrument. There is an appreciation for the effervescent tunes that float through the night sky from the jazz clubs. The revelry is communal and the drunken stupor of Bourbon Street is not nearly as prevalent.
Faubourg Marigny and Treme will find themselves alongside Esplanade Avenue. The thoroughfare connects to two major districts, with the former being a top spot for young travelers, while families will have much to love in Treme, aka Mid City.
Esplanade Avenue is lined with beautiful French Creole homes and revitalized shotgun cottages. Just blocks away is another must-see cemetery, St. Louis No.1 home to the burial site of Marie Laveau, the Voodoo Queen. Eventually, the road reaches City Park, a New Orleans oasis. This is where you'll find the Children's Museum, the New Orleans Museum of Art, and the New Orleans Botanical Garden. Alongside Audobon Park, in Uptown, City Park is the go-to spot for picnics and enjoying some respiteful shade.
In both areas, visitors will find a range of budget to mid-range hotels. Many of which help showcase the compelling local culture.
Top Rated Hotels in Faubourg Marigny & Tremme
5. The Warehouse District
Faubourg Marigny has an underground art scene, the Warehouse District is less subtle about its offerings. As you walk along Julia Street you'll over two dozen galleries showcasing local work. While Camp Street, in the center of the neighborhood, is home to the Ogden Museum of Southern Art.
Despite these highlights, this part of town remains unassuming and easy to look past, especially for first-time visitors. Between the French Quarter and the Garden District, you could easily bypass the Art District on the streetcar. But for those that stick around, you'll experience a different side of New Orleans.
By day, venture into the Riverwalk Outlet Mall or cruise along the famed Mississippi. Before turning your attention to any one of the award-winning restaurants in the district. As the stars start to shine, forego Bourbon Street and listen to the local musicians plying their trade at the Howlin' Wolf.
Top Rated Hotels in the Warehouse District
6. Uptown
Audobon Zoo create days' worth of fun for the little ones. While in the hot summer months, families can enjoy Cool Zoo, an amusement park packed with water attractions that will refresh the whole crew.
Uptown, however, isn't just for traveling families. In fact, owing to its duo of universities, its food, and nightlife scene is infused with youthful energy. Staying in the area, means you are close by to Tulane and Loyola, which are both worth exploring. On Oak Street, you can join students looking for a bit to eat at any one of the street's restaurants slinging cheap eats. Here, you'll also find thrift stores, boutiques, and bars, including the Maple Leaf Bar. The latter is one of the top live music bars in New Orleans.
Visitors will find a range of hotel options in Uptown. Including several historic hotels.
Best Places to Stay in Uptown
Where to Stay in New Orleans for the First Time: Central Business District & Warehouse District
While the simple answer may be to flock to the French Quarter, there's something to be said enjoying a central location. Both the Central Business and Warehouse districts enjoy envious proximity to the fun, attractions, and nightlife offered nearby. But they also present their own highlights.
Importantly, there is no shortage of accommodation options in either location. So it will suit a vast range of travelers, whether that be solo visitors, couples or families.
Staying in either of these areas will also help you explore the rest of New Orleans with ease.
Best Place to Stay in New Orleans for Nightlife: The French Quarter & Faubourg Marigny
If you're one of the many traveling to New Orleans to let your hair down, then you already know you'll be staying near Bourbon Street.
Home to Mardi Gras, vibrant buildings, and endless action, day and night the entire French Quarter is a veritable hive of excitement. While the famous street features 13 blocks teeming with every kind of bar and club under the sun.
But for something different, Marigny delivers in spades. It's here you find nightly musical revelry on Frenchmen Street. Further into the neighborhood is the St. Claude corridor, renowned for its alt-rock, reggae, and metal music with divey bars and plenty of locals.
Where to Stay in New Orleans for Families: Garden District & Uptown
An extension of one another, the Garden District and Uptown are the best places to stay in New Orleans for families. There's is an abundance of free things to do from exploring the banks of the Mississippi and mansion-laden streets to hanging out in the local parks.
Both areas are popular with local families, so you won't have a problem finding family-friendly restaurants and hotels. Outside of the downtown area, you'll have more room to park the rental car, while the St. Charles Streetcar will get you into the city without trouble.
Where to Stay in NOLA for Shopping: Warehouse District
Home to the Riverwalk and just a short walk to Canal Place, the Arts District is the place to stay for traveling shoppers.
The Riverwalk is where you'll find the Outlet Collection that features over 75 retailers and ample restaurants. Its location along the Mississippi creates a scenic shopping experience as you wander between the seemingly endless options.
At the end of Canal Street, the Canal Mall is a world-class shopping location with a wide range of local, national, and international brands. Perfect for luxury shoppers, you'll find everything from Louis Vuitton to Tory Burch.
Where to Stay in New Orleans for Sightseeing: The French Quarter & Garden District
Aside from its nightlife, New Orleans is celebrated for its intricate history. The city so blurs the line between truth and legend that mythology has become a prominent part of its story.
For the best sightseeing, the French Quarter is packed with attractions. The first additions to the many cobblestone streets were laid in 1718 followed by dozens of historic buildings. Highlights include the 18th century St. Louis Cathedral and the Spanish colonial Cabildo. Within the stone walls of many buildings are the tragic tales of historical figures, that met their end in gruesome circumstances. Of at least that's the story, join a ghost tour to learn more.
To further explore the city's somber but enlightening antebellum past, visitors should explore the Garden District on a guided tour.
Our Money Saving Tips for New Orleans:
Getting Around New Orleans:
Where to stay in New Orleans
Deciding where to stay in New Orleans? These are the best neighborhoods in New Orleans to experience the city.
New Orleans is much more than the French Quarter. Following the curve of the Mississippi, there are amazing neighborhoods in New Orleans both upriver and downriver. When deciding where to stay in New Orleans, consider any of these other neighborhoods, and you'll be rewarded with unique, only-in-New-Orleans experiences.
The French Quarter is the center of the action, packed with history, beautiful architecture, iconic restaurants, music venues, and, of course, Bourbon Street. Visiting the Quarter is a must, and it's a great place to stay to be in the middle of it all. But look beyond the French Quarter, and you'll find unique neighborhoods with even more amazing restaurants , bars , and things to do alongside more culture and history.
In neighborhoods like Uptown and Mid-City, you'll find family-run restaurants, locally-owned boutiques, neighborhood joints, tree-lined streets, and beautiful parks. Marigny and Bywater, adjacent to the French Quarter, offer a combo of hip and bohemian vibes, with trendy restaurants and funky shops.
Wherever you choose to stay in New Orleans, you'll have a great time – but these are the very best neighborhoods to stay in and all the things to do and eat when you're there.
An email you'll actually love
Get into a relationship with our newsletter. Discover the best of the city, first.
By entering your email address you agree to our Terms of Use and Privacy Policy and consent to receive emails from Time Out about news, events, offers and partner promotions.
Awesome, you're subscribed!
Thanks for subscribing! Look out for your first newsletter in your inbox soon!
Best neighborhoods in New Orleans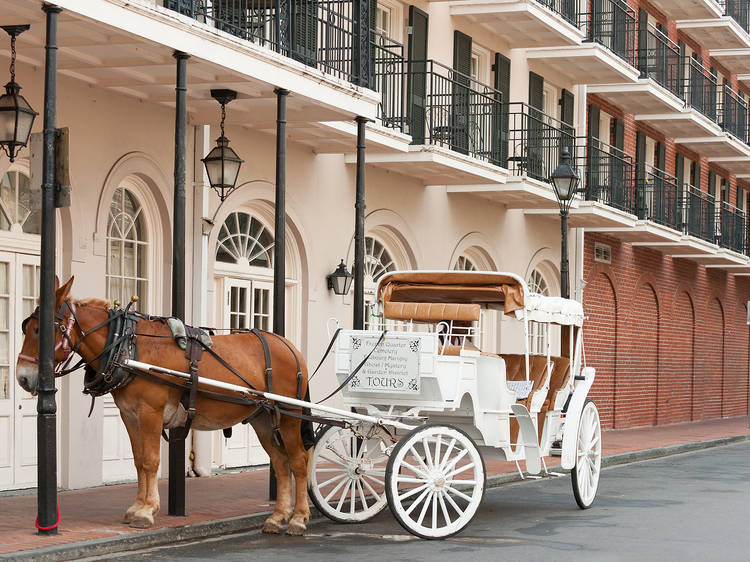 1. French Quarter
The French Quarter is the city's oldest and best-known neighborhood. Most visitors make a beeline to Bourbon Street, and many first-timers think the Quarter is nothing but a party. But there's a lot more to do here – gorgeous architecture, a ton of history, fabulous antiques, local boutiques, great food, music, and views of the Mississippi. It's family-friendly, with the Aquarium of the Americas , the Cabildo Museum , carriage rides, street performers, and more fun for kids. Stay here if you want to be in the middle of it all, with easy access to other neighborhoods.
EAT
While the Quarter is home to some newer, award-winning restaurants, dining at one of New Orleans' historic fine dining institutions is a must. Galatoire's offers a glimpse into the city's unique dining culture; most of the waiters, dressed in tuxedos, are local and have worked at the restaurant for decades, and many high-society locals are longtime regulars. The bright walls, black-and-white tile, and white tablecloths serve a refined but celebratory atmosphere. Dine on shrimp rémoulade, trout almondine, and other New Orleans classics for a memorable experience.
DRINK
Located in the century-old Creole restaurant Arnaud's, the French 75 bar offers a step back in time. The dark, intimate space is adorned with monkey lamps and other original vintage decors. Order a classic cocktail like an Old Fashioned or a sidecar, or ask the expert bartenders for an inventive concoction. Either way, you'll be impressed. Try the soufflé potatoes, an Arnaud's specialty, then check out the intriguing Mardi Gras museum upstairs.
DO
Running parallel to Bourbon Street, one block over is one of the Quarter's most elegant routes. From Canal to Esplanade, you'll find a beautiful stretch of art galleries, antique shops, fine jewelry, street performers, and picturesque buildings adorned with intricate ironwork. For a unique experience, check out M.S. Rau Antiques . The 25,000-square-foot gallery features an incredible collection of high-end antiques, art, and sculpture. Ask to see the "secret room", and you'll be amazed at the rare, museum-quality artifacts on display.
STAY
Family-owned and operated since 1886, the Monteleone is one of the most recognized hotels in the city. Its opulent rooms were favored by writers like Anne Rice, Truman Capote, Tennessee Williams, and William Faulkner. The star of the hotel is the Carousel Bar. Locals and tourists alike frequent this revolving bar for classic cocktails and musical entertainment. It's a must-do on any visitor's list, and as a guest, you can imbibe to your heart's content and stroll right on up to your room.
If you do just one thing…
Get beignets and cafe au lait at Cafe du Monde. Enjoy an order on the covered outdoor area and watch the crowds go by on Decatur, or take it to go and sit on the edge of the Mississippi. Your visit to the Quarter isn't complete unless you're covered in powdered sugar at some point.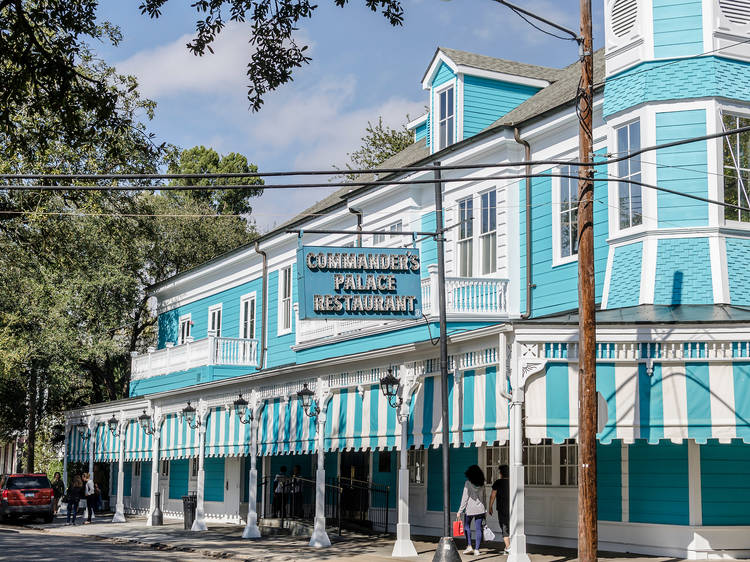 2. Uptown/Garden District
This area of the city – encompassing several smaller, residential neighborhoods upriver from the French Quarter – includes the St. Charles Avenue streetcar, grand historic mansions, Tulane and Loyola Universities, the beautiful Audubon Park and Zoo , and many beloved local institutions. It's away from the hubbub of the French Quarter, offering the culture without the craziness, but easily accessible by various modes of transportation. During Mardi Gras, it's a great place to be, as the parades roll down St. Charles in an exceptionally family-friendly environment. You'll find neighborhood cafes, po-boy shops, long-running family restaurants, and several popular spots for sno-balls, New Orleans' favorite summertime treat. You can enjoy pleasant walks, grand oak trees, and unique shopping. As you move further to Uptown, passing scores of grand Garden District mansions (which you can learn about by taking a guided walking tour), you'll find a mix of high-end restaurants ( Commander's Palace ) and colorful neighborhood dives ( Parasol's ).
EAT
This century-plus Victorian cottage tucked away in the Riverbend houses some of the best modern Creole fare in the city. Chef Frank Brigtsen straightforwardly updates classic dishes with delicious results. Perfect after enjoying a stroll through the surrounding neighborhood, it's a smart option for sampling New Orleans cooking in an intimate, friendly setting.
DRINK
Head to the outskirts of the Irish Channel on Tchoupitoulas Street to sample a wide selection of innovative, locally-influenced craft beers. Take a tour, then hang out in the convivial taproom for pints of standards like Hopitoulas and Irish Channel Stout or seasonal tap room-only flavors like hibiscus ginger.
DO
Tip's is a destination for music lovers, but even the disinterested will get swept up in the vibe. This funky space has been a landmark since 1977 for live music and weekly Cajun dancing sessions. The standing-room-only space is perfect for seeing a local band while soaking up some musical history. The associated Tipitina's Foundation supports local musicians and maintains an interesting Walk of Fame on the sidewalk.
STAY
This Victorian-era mansion on St. Charles Avenue was lovingly renovated by the team behind popular spots Sylvain and Barrel Proof. With only 14 guest rooms, you'll feel right at home in rooms featuring soaking tubs and local art. Relax on the front porch and watch the streetcars go by, or dine at the on-site restaurant, which features a contemporary take on New Orleans classics.
If you do just one thing…
Head to Magazine Street – six miles of unique local shops, art galleries, neighborhood bars, popular restaurants, and colorful architecture.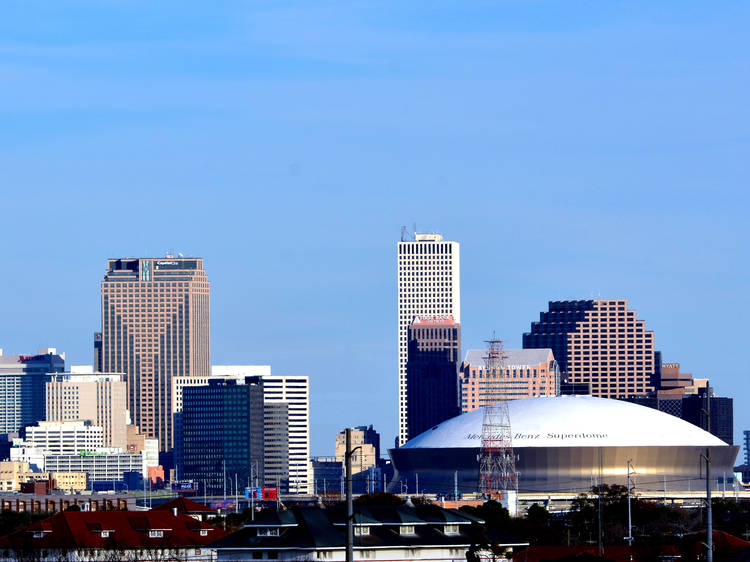 3. Central Business District
The CBD, just across Canal Street from the French Quarter, contains the bulk of New Orleans office buildings and includes the Warehouse District and the so-called South Market District. Typically the go-to area for travelers conducting business in the city, it has blossomed into a hip hub for food, drink, and culture. The Warehouse District, which began its transformation in the late '80s, is now a full-on arts district with renowned art galleries and museums. The CBD also includes the Orpheum and Saenger Theaters and the Superdome – home of the New Orleans Saints. You'll find a wealth of places geared towards office workers for a quick, inexpensive bite, along with some of the city's most talked-about restaurants, including Cochon , Peche , and Emeril's . Younger travelers will be drawn to cool hotels with rooftop bars like the Ace , Moxy , and Troubadour , as well as renowned landmark hotels like The Roosevelt , Windsor Court , and Le Pavillon . For a more modern vibe and trendier offerings, the CBD is a good choice for its walkability and proximity to the French Quarter.
EAT
A smaller spinoff of chefs Donald Link and Stephen Stryjewski's famed Cochon, Butcher has now come into its own as a top destination for a Cajun-influenced, meat-centric meal. Grab a deli sandwich at the counter or take home house-made meats, sausages, terrines, pickles, sauces, and jams. (Don't miss out on taking some Andouille and tasso home with you.)
DRINK
This elegant bar within the landmark Roosevelt Hotel was a favorite of Huey Long's. Sidle up to the long wood bar, order a sazerac or a Ramos gin fizz, and admire the famous Paul Ninas murals. A New Orleans icon, the Sazerac Bar has long been one of the city 's most popular pre- or post-meal gathering spots for friends, families, and business dealings.
DO
"Gallery Row" on Julia Street in the Warehouse District is a series of more than a dozen art galleries occupying former storefronts. The architecture creates a unique setting for browsing classic and cutting-edge art. On the first Saturday of every month, galleries host coordinated openings with a festive atmosphere. White Linen Night – held on the first Saturday in August – is the premier event, when hundreds of people come out in white linen to enjoy art, food, and music.
STAY
The Virgin Hotel brings even more hip cred to the CBD, offering relaxing digs within walking distance to the Quarter. Rooms are chic and comfortable, and there's plenty to explore around the hotel. Hang at the rooftop Pool Club and enjoy a cocktail and views of the city, grab a coffee in the Funny Library, or have dinner at Commons Club. The Virgin is pet friendly too.
If you do just one thing…
Visit the National WWII Museum, a world-class complex with award-winning exhibits showcasing the stories of those who served in WWII and on the homefront. Highlights include a theater with WWII-era musical performances, a restaurant, and a fantastic gift shop with 1940s-inspired gifts and clothing.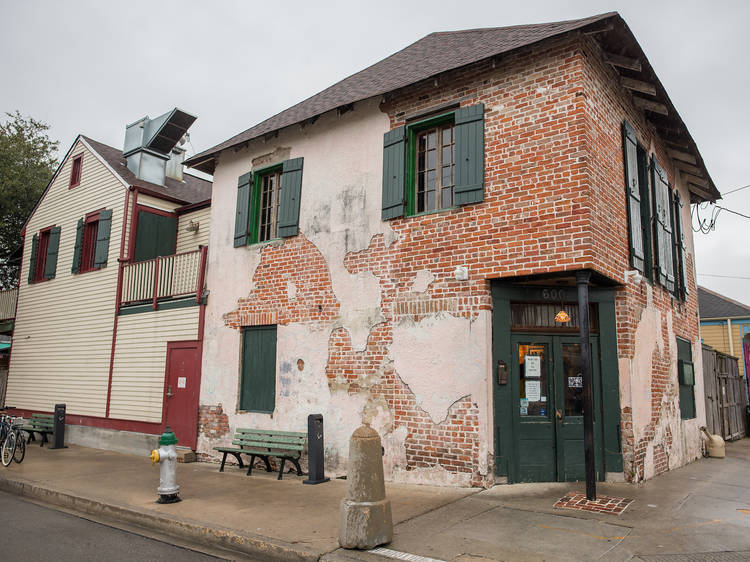 4. Marigny/Bywater
Downriver from the French Quarter, across Esplanade Avenue, are two of the trendiest neighborhoods in the city, frequently referred to as one continuous neighborhood. The young and the hip are drawn to this area, attracting an ever-increasing in-the-know crowd. Hotel chains have yet to invade, but there are several bed and breakfasts and a couple smaller inns to consider. The furthest reaches of Bywater are best accessed with a cab or rideshare, but the energetic can safely walk through the area during daylight. You'll find colorful Creole cottages and historic homes containing small cafes and shops, a few art galleries and hip record stores, and the riverfront Crescent Park. Restaurants are local and casual, with a smattering of vegan-friendly spots along St. Claude Avenue. Bars run the gamut from the classy Three Muses to the divey Hi-Ho Lounge . The epicenter is Frenchmen Street; here you'll find live music venues where you can hear anything from jazz or blues to reggae and rock, or even a brass band performing on a corner. It's still crowded, but a more unique alternative to the Quarter.
EAT
Perched above the bustling Frenchmen Street, up a narrow flight of stairs from the Apple Barrel bar, is this quaint, cash-only restaurant serving Creole Italian – a local specialty combining Italian and local French influences. Enjoy huge portions of seafood and pasta as you check out the quirky, colorful decor. Be prepared for a wait, and bring cash.
DRINK
While it's no longer a locals' secret, Bacchanal retains its unique local charm and funky hideaway feel. At the far end of the Bywater, you'll find this wine shop/hangout with a cozy "treehouse" bar and lush back patio. Pick a bottle and a cheese plate or one of several gourmet small plate offerings and listen to a live band. It's like a party at your friend's house every night of the week.
DO
Experience joy, art, and music at this interactive installation in the Marigny. The 5,500 square-foot warehouse space has been converted into a selfie-haven with bright, colorful rooms designed by local artists, celebrating local art, music, and culture. Jump into a pot with a giant crawfish, snap a pic with an oversized bust of local musicians, and become part of the art in virtual reality booths. It's sensory-overload, New Orleans style.
STAY
Hotel Peter & Paul sits in a building that used to be a Catholic church and school but has since been reimagined into one of NOLA's most stunning places to stay. If the gingham-clad rooms don't win you over, with their antique furniture and snazzily-tiled bathrooms, perhaps The Elysian Bar will: this is one of the hottest places to drink in the city right now.
If you do just one thing…
Support live, local music on Frenchmen. Whether it's a brass band at d.b.a, reggae at Cafe Negril, or trad jazz at Snug Harbor (to name just a few), experience the music up close. You can also stop in Louisiana Music Factory to take home some tunes from your favorite local artists.
Where To Stay in New Orleans (Neighborhood Guide)
With so much going on here, it's important to figure out where to stay in New Orleans. Early birds and light sleepers will want to avoid the madness of Bourbon Street, while party animals will feel right at home there.
I fell in love with New Orleans immediately on my first visit. The energy of the city is just amazing— it really sucks you in. After a 2nd trip there, I'm already planning a third. There's just no shortage of fun things to do in New Orleans!
The good news is that there are plenty of excellent choices when it comes to places to stay in New Orleans.
In this post, I'll provide a detailed look at the best areas in the city for tourists, along with a few hotel recommendations for each.
Table of Contents
The French Quarter
The French Quarter is where to stay in New Orleans if it's your first time in the city — the location to everything is perfect.
Here you'll find:
Historic Buildings
Boutique Hotels
Mississippi River Views
Famous Restaurants
Vibrant Nightlife
If it's your first visit and you're wondering where to stay in New Orleans, you can't go wrong with the French Quarter. It's also known as Vieux Carré, which actually translates to "Old Square."
If you're planning a short trip to the city, then you'll most likely want to stay in the French Quarter. This is the historic heart of the city and is even known as the "Crown Jewel of New Orleans."
Although it's called the French Quarter, much of the architecture you see is actually Spanish. That's because the area was ravaged by fire and was later rebuilt during the brief period of Spanish rule.
The French Quarter is also the center of tourism in NOLA. It's home to a vast array of hotels, restaurants, shops, and bars, making it a convenient base to explore the city. You'll never be hungry or bored in this part of the city!
Located right on the Mississippi River, the French Quarter is a very scenic place to stay.
There are a few riverside parks that make for a nice stroll. The area is also home to the historic Jackson Square and St. Louis Cathedral. If you enjoy discovering a city on foot, then the French Quarter is one of the best places to stay in New Orleans.
Best Hotels in the French Quarter
Here are a few of the best New Orleans hotels located in the French Quarter:
1. Omni Royal
Location: 621 St. Louis Street
Rating on Booking.com: 8.7/10
See the latest price here
This place consistently comes up when you search for where to stay in New Orleans, and for good reason. It's a historic hotel that dates all the way back to 1838.
Fun fact: gumbo, one of the most famous dishes from New Orleans, was invented here! You can try this and other classic New Orleans cuisine in their award-winning Rib Room.
This excellent hotel also boasts a heated rooftop pool and a nice fitness center for when you need to work off those extra calories! Click here to see the latest price from Booking.com.
2. W New Orleans French Quarter
Location: 316 Charles Street
Rating on Booking.com: 8.4/10
See the latest price here
The courtyard-style architecture of this hotel makes it one of the coolest places to stay in New Orleans. It's located right in the heart of the French Quarter, just a short walk from both Jackson Square and Bourbon Street.
After a big day of exploring Crescent City, it's great to return here to lounge by the pool in the courtyard. Some rooms even come equipped with their own private hot tub and patio for extra relaxation!
If you're in town on a weekend, this is a great place to stay. Their "Legs and Eggs" Sunday brunch at the on-site SoBu features a burlesque show and is tons of fun. Click here to see the latest price from Booking.com.
3. Hotel Monteleone
Location: 214 Royal Street
Rating on Booking.com: 9/10
See the latest price here
This charming hotel is located close enough to Bourbon Street to be near the action but far away enough to not deal with the noise. It's a great choice if you want to party there but also want to get some decent sleep afterward.
One of the best things about staying here is the Carousel Bar. It's not just a clever name as the bar is centered around an actual carousel.
It's definitely one of the best bars in New Orleans to grab a drink at! Click here to see the latest price from Booking.com.
Bourbon Street
Bourbon Street is the best place to stay if you're looking to party and be right in the action.
Here you'll find:
Raucous Nightlife
Mardi Gras Celebrations
LGBT-Friendly Bars
Center of Tourism
While it's technically a part of the French Quarter, Bourbon Street deserves its own section in this guide on where to stay in New Orleans.
Famous for its raucous nightlife, epic Mardi Gras celebrations and other fun festivals, this is a pretty wild place to stay.
Many of the hotels on Bourbon Street are literally right on top of the party, so this isn't the place to stay if you want some peace and quiet on your trip. It's better to stick with one of the French Quarter hotels mentioned above.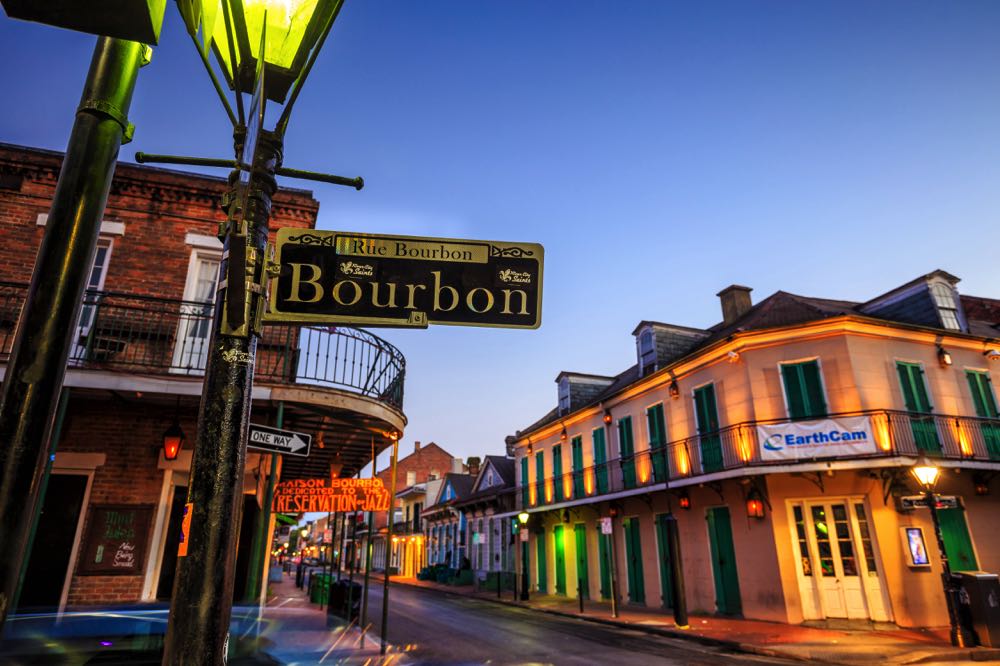 Click here for an in-depth look at staying on Bourbon Street. This post goes into detail about the layout and history of the street. There are recommendations for 10 different hotels to choose from as well.
Best Places to Stay By Bourbon Street
Here are a few of the top hotels on Bourbon Street.
1. Royal Sonesta
Location: 300 Bourbon Street
Rating on Booking.com: 8.3/10
See the latest price here
This is definitely one of the top places to stay in New Orleans. It's actually more like a resort than a hotel, with several on-site restaurants and bars.
Many rooms feature wrought-iron balconies overlooking Bourbon Street — the perfect spot for some people watching. If you can snag one of these for Mardi Gras you'll be right in the thick of all the action.
It's hard to imagine all the chaos of Bourbon Street is just outside when you're sitting in the tranquil courtyard here. It's an oasis in the middle of the huge party that's raging just beyond the hotel walls. Click here to see the latest price from Booking.com.
2. Lafitte's Guest House
Location: 1003 Bourbon Street
Rating on Booking.com: 8.7/10
See the latest price here
Whereas the Royal Sonesta is a massive hotel with some 500 rooms, this place feels more like staying in someone's home. After all, this boutique hotel is actually set in a restored house. With only 14 rooms, it certainly has a homey vibe.
If you're not a fan of the typical Bourbon Street bars with their offensively loud music, you'll enjoy staying here.
It's right next door to Lafitte's Blacksmith Bar & Shop, which is the oldest, and one of the best bars in New Orleans. It's still candle-lit to this day. Click here to see the latest price from Booking.com.
3. Hotel Mazarin
Location: 730 Bienville Street
Rating on Booking.com: 9/10
See the latest price here
Ok, so this hotel isn't technically on Bourbon Street, but it's just right around the corner. You're still within stumbling distance from the party if you stay here!
Before you hit the party on Bourbon, make sure you grab a drink in their 21st Amendment Bar. This Prohibition Era-inspired speakeasy is the perfect spot to kick off a night out in NOLA with a cocktail or two.
As far as the rooms here, they're definitely pretty fancy. We're talking crystal chandeliers and gold leaf accents! Click here to see the latest price from Booking.com.
Garden District
The Garden District is where to stay in New Orleans if you're looking for a peaceful, laidback experience in NOLA. This is also one of the most beautiful areas of New Orleans.
Here you'll find:
Antebellum Mansions
Oak-Lined Streets
Fine Dining
Boutique Shops
If the over-the-top party vibe of Bourbon Street is too much for you, then the Garden District is a solid choice. This is one of the most scenic and peaceful places to stay in New Orleans.
When it was first developed, there were only a few homes per block here. The extra space allowed for large gardens, hence the name given to the area.
Thanks to development, there aren't that many actual gardens here anymore. These days there are some pretty incredible mansions here, many of which are owned by celebrities.
Staying in the Garden District is a good choice for those who are looking for a more laidback experience in New Orleans. There are still plenty of choices for accommodation, dining, and shopping here, but it's not overly touristy.
Best Places to Stay in the Garden District
Here are a few top hotel choices.
1. Hotel Indigo
Location: 2203 St. Charles Avenue
Rating on Booking.com: 8.2/10
See the latest price here
Rooms at this Garden District hotel are well-appointed with chic decor. They have several options ranging from standard rooms to huge suites.
Those looking to squeeze a workout in will be happy to hear that there's a nice fitness center here. There's also a business center if you actually need to get some work done on your trip.
Getting to and from the French Quarter is easy as this hotel is located right across from a streetcar stop. Click here to see the latest price from Booking.com.
2. Parisian Courtyard Inn
Location: 1726 Prytania Street
Rating on Booking.com: 9.1/10
Price: Rooms from $188
This is a proper B&B and a beautiful place to stay. As the name would suggest, a delicious breakfast is included when you stay at the Parisian Courtyard Inn.
Guests who have stayed here rave about the amazing staff. If you're trying to figure out where to stay in New Orleans where you'll have a more personalized experience, this is a great choice.
There are only 10 rooms here, all featuring hardwood floors and antique furniture. Click here to see the latest price from Booking.com.
3. Garden District Bed and Breakfast
Location: 2418 Magazine Street
Rating on Booking.com: 9.7/10
See the latest price here
There's no doubt that this is one of the most gorgeous places to stay in New Orleans. This beautifully restored 1860's Victorian home is locally owned and operated.
Even the decorations in the rooms just scream New Orleans here, with beautiful antique decor and balconies.
Rooms here include a private bathroom, 12-foot ceilings, air-conditioning/heat, queen bed, wifi, and more. There's also free street parking if you're driving. Click here to see the latest price from Booking.com.
Faubourg Marigny/Bywater
This neighbourhood is where to stay in NOLA for a more local experience in the city.
Here you'll find:
Bohemian Atmosphere
Live Music
Affordable Restaurants
Artsy Vibe
Just east of the French Quarter along the river is the small neighborhood of Faubourg Marigny. Known by locals simply as "The Marigny," this is one of the oldest 'hoods in the Big Easy.
When the city of New Orleans began to grow, some plantation owners decided to break up their land to develop residential property.
Bernard Marigny was one of the first to do this in the early 1800s and the neighborhood still has his name.
The Marigny has gone through lots of changes over the years. One significant development occurred on Frenchmen Street, which grew to become the premier location for live music in the city.
There are tons of music clubs as well as roaming marching bands, making this one of the best places to stay in New Orleans for music lovers.
The adjacent Bywater has become somewhat of a hipster haven in recent years. This began in the 1980s when real estate speculation and profiteering led many residents to move downriver to the Marigny and Bywater areas.
The artistic community once found in the French Quarter is now largely based here. In the Bywater, you'll find the New Orleans Center for the Creative Arts — a school that's training the next generation of Crescent City artists and creatives.
Staying in either the Marigny or Bywater is a great choice if you want a more local perspective on your trip to New Orleans.
The Best Places To Stay in Marigny and Bywater
Here are a few great hotel options in the area.
1. Royal Frenchmen Hotel & Bar
Location: 700 Frenchmen St #1614
Rating on Booking.com: 8.9/10
See the latest price here
Set in a 19th-century Creole home, this boutique hotel is the perfect place to stay for bar-hopping on Frenchmen Street. Rooms here feature elegant furnishings and neighborhood views, some from private balconies overlooking the famous street.
Before hitting the town, hang out in their scenic courtyard or at the Royal Bar. Even if you're not staying here, it's worth it to drop by for the $3 martinis during their Happy Hour from 4-8 PM. Click here to see the latest price from Booking.com.
2. Hotel Peter and Paul
Location: 2317 Burgundy Street
Rating on Booking.com: 9.3/10
See the latest price here
There's a lot of history in this Marigny hotel. The former church, schoolhouse, convent, and rectory dates all the way back to 1860. A 4-year restoration process turned it into the upmarket hotel you see today.
The result is an absolutely stunning hotel. A lot of attention to detail went into the design of the rooms, and no two are alike. It's definitely one of the most beautiful places to stay in New Orleans.
In addition to the gorgeous guest rooms, this hotel boasts a few parlors for relaxing and socializing, a sunroom, cafe, bar, and even an ice cream shop. Click here to see the latest price from Booking.com.
3. The Mansion on Royal Street
Location: 2438 Royal Street
Rating on Booking.com: 8.3/10
See the latest price here
This excellent B&B is set in a 1850s Greek Revival mansion. It features eleven well-appointed suites, each with a unique design.
The Mansion on Royal is just a few blocks from Frenchmen Street as well as the riverside Crescent Park, making for a great home base to explore the area.
There's a lot to discover beyond your room here. You can relax in a rocking chair on their front porch or take a dip in the hot tub in the backyard. How cool is that?
You can even rent out the entire B&B for a wedding or other special event. Click here to see the latest price from Booking.com.
Central Business District (CBD)
This is the best place to stay in New Orleans if you're in the city for events.
Here you'll find:
Proximity to Arena and Stadium
Sporting Events and Concerts
Local Restaurants and Bars
If you're headed to the Big Easy for a conference, sporting event, or a big concert/festival, you may want to choose an area closer to the action.
The city's Central Business District is a great place to stay if you're going to an event at the Superdome or the Smoothie King Center.
Home to the NFL's New Orleans Saints, the Superdome also hosts events like the NCAA Final Four and the Essence Music Festival. I went to WrestleMania there a few years ago and had an absolute blast!
Over at the arena, the NBA's New Orleans Pelicans play ball. The season lasts from the fall through the end of spring, and there are home games very often during this time. They also have big concerts here quite often.
Staying in the CBD puts you super close to the stadium and arena and it's really not that far to get to the French Quarter. The streetcar makes a quick and affordable trip between the two.
Best Places To Stay in the Central Business District
Here are a few of the best choices for accommodation in the Big Easy's Central Business District:
1. Hyatt Regency
Location: 601 Loyola Avenue
Rating on Booking.com: 8.9/10
See the latest price here
It's hard to beat this location if you're headed to a sporting event in New Orleans. This 4-star hotel is just a stone's throw from both the Superdome and the Smoothie King Center.
They have a wide variety of rooms here to suit all budgets, all the way up to some super fancy executive suites.
There are quite a few restaurants and bars on-site, as well as a well-stocked fitness center if you need to work off all those calories! Click here to see the latest price from Booking.com.
2. Drury Plaza
Location: 820 Poydras Street
Rating on Booking.com: 9.3/10
See the latest price here
There's a lot to love about this hotel, starting with the location.
You're close to landmarks like Lafayette Square and the World War II Museum and right up the street from the scenic Riverwalk. It's also just a few steps from the streetcar that'll bring you to the Quarter.
The Drury Plaza has a nice outdoor pool with a jacuzzi and 24-hour fitness and business centers. You also get breakfast as well as free snacks and drinks in the evening when you stay here.
This place has thousands of positive reviews! Click here to see the latest price from Booking.com.
3. Ace Hotel
Location: 600 Carondelet Street
Rating on Booking.com: 8.6/10
See the latest price here
This hip boutique hotel is an excellent choice if you prefer something a bit more exciting than average chain hotels. Suites here come with living rooms featuring things like turntables and guitars, a nod to the importance of music in NOLA.
Speaking of music, there's a venue right on-site here. Three Keys is open late and has live music most nights as well as a full bar and snacks.
During the day, you can recover up at the rooftop pool. There's also a bar up there for when you want to get the party going again! Click here to see the latest price from Booking.com.​
Now You Know Where To Stay in New Orleans!
As you can see, you have plenty of awesome choices when it comes to places to stay in New Orleans. Wherever you decide to stay, I'm sure you'll have a blast in the Big Easy.
One word of advice about booking a place during big events like Mardi Gras or Jazz Fest -—do it early! Rooms go fast and the prices keep on rising during these types of events in New Orleans.
Have you been to New Orleans and have a great recommendation for where to stay, eat, or drink? Drop a comment below and let us hear about it.
Looking for more New Orleans articles? Check out these posts:
Images in this article are courtesy of Shutterstock.com. Check them out for beautiful royalty-free photos.
Like This Article? Pin it!
Disclaimer: Goats On The Road is an Amazon Associate and also an affiliate for some other retailers. This means we earn commissions if you click links on our blog and purchase from those retailers.
Share this –
Written by Sasha Savinov
Sasha is a regular contributor to Goats On The Road where he shares his advice as a full-time traveler and digital nomad. In particular, Sasha is an expert in travelling the United States, Mexico and Thailand. He's also an online English teacher and a video producer. In fact, he studied video production at Michigan State University. He and his wife Rachel share their adventures on their website, Grateful Gypsies.
Connect with Sasha Savinov –
You may also like.
Backpacking India: The Ultimate Budget Guide
Backpacking India is the ultimate experience. The flavours, the culture, the people, the colours, the history, the sites.
Accommodation Spotlight: Bed & Breakfast Cancun
As soon as the owners of B&B Cancun, Peter and Veronica, picked us up at the airport, we knew we were going to get a.
Digital Nomad Guide to Living in Koh Samui, Thailand
There are a few things that we look for when choosing a Digital Nomad destination – good accommodation options, a.
The DIY Guide to Traveling London, England
Ah, London. Everything's fancier and more dreamlike in London – the land of royalty, The Beatles, Shakespear.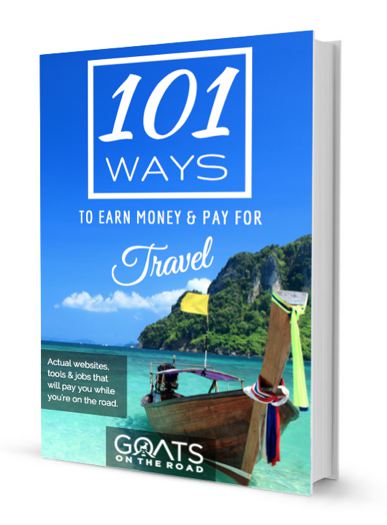 Want To Travel More?
We can help!
Sign up for our weekly newsletter and we'll send you our 101 Ways To Earn Money For Travel eBook for Free, plus we'll send you a series of emails to show you how to earn money and travel in a financially sustainable way.
Source https://theplanetd.com/where-to-stay-in-new-orleans-usa/
Source https://www.timeout.com/new-orleans/hotels/where-to-stay-in-new-orleans
Source https://www.goatsontheroad.com/where-to-stay-in-new-orleans/