Where to Stay at the Grand Canyon? Tips for Choosing a Hotel
Warning: Due to COVID 19 some information in this article (e.g. operating hours) may not be up-to-date.
The Grand Canyon is America's most famous national park; it is an immense deep gorge carved into the earth that takes your breath away. Crowds of tourists come every year to see this incredible natural wonder up close and in the section of this website dedicated to the Grand Canyon, you'll find lots of information on how to plan a trip to this national park.
In this article, however, we want to focus on tips and advice for the overnight stay. Where is the best place to stay at the Grand Canyon? Is it better to stay in the national park or to stay nearby? Which neighboring cities are ideal for a stop on the trip? Here are some suggestions.
Lodging inside the Grand Canyon or Nearby? Pros and Cons
Visiting the Grand Canyon does not necessarily require you to stay within the park: in fact often, depending on how you have designed your road trip itinerary, it may be more functional to choose accommodations in the immediate vicinity or perhaps somewhere 1 or 2 hours away. Everything depends on your travel plan.
At the same time, if you choose to sleep outside the park, it will be easier to find accommodations and at a more affordable price. Hotels inside the Grand Canyon tend to fill up quickly and tend to be more expensive, but they have two indisputable advantages. namely, the location which is convenient for visiting the park and the possibility in some facilities (if you are lucky enough to get the right room) to enjoy a breathtaking view from your window.
Let's look at both possibilities in detail:
Lodging in the Grand Canyon
Spending the night inside the park can certainly be a great experience, but, as said, I suggest you book well in advance. As you may have read on our website, there are many accommodations in the Grand Canyon. Below you can find directions to sleep in each one:
Hotels in the South Rim
The South Rim is the most frequented area (for a comparison and contrast between the South Rim and the North Rim, take a look at our article on what to do at the Grand Canyon). The possibilities for overnight stays in the park are varied and include a number of rustic accommodations, such as:
Yavapai Lodge: This comfy lodge, with its rustic style outside and modern interior design inside, is a 10-minute walk from the visitor center and offers guests a free shuttle to get around the surrounding area and also has a bicycle rental.
Accommodations in the North Rim
The North Rim, the wildest and most pristine area of Grand Canyon National Park, does not have a great selection of accommodations. If you want to sleep inside the Grand Canyon, you will have only one option, the Grand Canyon Lodge, with its spectacular panoramic terrace right on the edge of the canyon.
If you want to sleep in this property, recognized as National Historic Landmark, consider two facts:
It remains closed while the North Rim is closed (it's open May 15 through October 15)
You must book well in advance if you want to spend the night here…
Staying at the Bottom of the Canyon
If you're feeling particularly adventurous, there is Phantom Ranch, located at very the bottom of the Grand Canyon, a destination popular especially among the more daring hikers and those who descend from the edge of the canyon riding a mule. Reservations are made through a lottery.
Staying in the West Rim
As we explained in our article about the Skywalk, there is also another area of the Grand Canyon called the West Rim, which houses the Grand Canyon West, managed, unlike other areas of the park, by Hualapai Tribe. It is located in a remote area of northwest Arizona, with some amenities nearby.
The only place to stay overnight in the park is Hualapai Ranch, run by the Hualapai, as well as Hualapai Lodge, which is located in Peach Springs, about 90 minutes from the West Rim, along the historic Route 66.
A third option is the Grand Canyon Western Ranch Resort (3750 E. Diamond Bar Road), just 2 miles from Grand Canyon West. It is a real ranch with livestock where you can sleep in beautiful pinewood cabins or teepees. It offers entertainment, helicopter flights and horseback riding. This is the best choice for those looking for a quaint, authentic hotel in the area.
Most tourists, however, visit the Grand Canyon West on day trips, so if you belong to this category, I recommend you continue reading and take a look at the section dedicated to accommodations outside the Grand Canyon.
Where to stay near the Grand Canyon
Of course, it is also possible to stay either near the Grand Canyon or in the surrounding towns, and this option, as we have said, may be preferable for 3 reasons:
It is easier to find cheap accommodation
It can be more practical for your travel itinerary, especially if you're on a road trip
There are many more hotels and rooms available
Staying close to the South Rim
The most pleasant city to stay outside the South Rim is definitely Flagstaff (an hour and a half away), a pretty college town that you can read more about (both on how to visit it and how to stay overnight) in our article" What to do in Flagstaff". I suggest you take a look at this list of hotels so you can choose the most strategic accommodation.
If you're looking for something even closer (about an hour away), opt for Williams, a town where you'll experience the atmosphere of Route 66. Here, too, we have a recommendation for those looking for a unique experience, which is the Canyon Motel & RV Park, will allow you to sleep in rooms made out of authentic steam and locomotive train cars. For more standard accommodations in Williams, take a look at this page.
Another place, the same distance from the Grand Canyon as Flagstaff, is Tuba City. The town itself is quite depressing, but it should be considered because of its strategic location that is convenient for traveling from Grand Canyon to Monument Valley and for its proximity to Coal Mine Canyon, a fairly unknown but wonderful place. The closest small towns are Valle and Tusayan. In the former, just 30 minutes away, you will find the Grand Canyon Inn, a hotel that offers several nicely furnished old western-style rooms. In the second, you will probably find the best solution in terms of proximity and comfort, the Best Western Premier Grand Canyon Squire, a beautiful place with many amenities (Jacuzzi, gym, games room, etc. …) and only a 10-minute drive from the Grand Canyon Village entrance.
Where to Stay Near the North Rim
The North Rim of the Grand Canyon is located on the Kaibab Plateau, in a remote and rugged area of northern Arizona. As a result, there aren't many options for accommodations in the surrounding area. There are some accommodations available in the nearby town called Jacob Lake, but many visitors choose to stay in the Grand Circle towns scattered along the state border between Arizona and Utah, which are 90 to 120 miles from the entrance to the North Rim. These cities are:
St. George(list of hotels in St.George and the surrounding area), a good strategic stop to visit parks and canyons of exceptional beauty, as you can read in our article on what to do in St. George (Utah).
Page (list of hotels in Page), which could be a great choice if your itinerary also includes Lake Powell and Antelope Canyon.
Kanab: list of Hotels in Kanab and the surrounding area)
Hurricane (list of hotels in Hurricane and the surrounding area), which might suit you if you come from Zion National Park.
Lodging near the Grand Canyon West
As we were saying, in the case of the West Rim, most visitors prefer to seek accommodations outside the park. Since many visitors eager to see the Skywalk come on day trips, most choose to stay in Las Vegas (about 2.5 hours away for those who have a rental car), or easily reach it on a series of guided day tours. Below you will find some useful resources to stay in the city:
If you're looking for a city closer to the West Rim, you can opt for Kingman, about 70 miles from Grand Canyon West, which is known for being a great base for visiting the surrounding area and being on Route 66. You can check the hotels available in Kingman following this link. There are other options nearby, though a little further away, namely Laughlin, Nevada (110 miles away) and Lake Havasu City, Arizona (128 miles away).
Lodging in the Grand Canyon: Other Resources
There are many resources online to find accommodations at the Grand Canyon, below are the ones where I personally have always found the best deals:
Looking for accommodations for your trip from California to other parts of the Southwest? Read our guide that contains reviews of hotels and strategic tips for finding accommodations near major attractions: Where to Stay: Our Tips for the SouthWest Area
Warning: Operating hours can change and closures for extraordinary events can occur, so we strongly suggest to check the venues official websites.
Related posts
Grand Canyon: things to see in a day. Which rim is better?
You only have 24 hours to visit the most famous U.S. national park? Don't worry, even though time is of the essence, you will still be able to enjoy some…
Grand Canyon helicopter tour from Las Vegas: Are you ready to go?
Every year, crowds of tourists flock from Las Vegas to the Grand Canyon to visit what has now become a symbol of the American West, a national park that has…
Grand Canyon Skywalk, the Famous Glass Bridge Over the West Rim
Perhaps some of you may not know it, but among the many ways to visit the Grand Canyon there is one way that is very special and awe-inspiring, which allows…
Havasu Falls: A Hidden Gem in the Heart of the Grand Canyon
As you go around the Grand Canyon, images of the fascinating emerald waters of Havasu Falls stand out in all the postcards, photo books and calendars. Yet, it seems strange,…
lorenzo puliti
I am fascinated by the wonders of the world I never tire of going in search of them.
2 thoughts on "Where to Stay at the Grand Canyon? Tips for Choosing a Hotel"
Hello this is my first trip to the Grand canyon. I'm 70 years old. Where are the best views, the south rim, the North rim the west rim?? I have a bad heart condition and was just given 3 months. So I need to do this right.
Hello Barbara, I suggest you focus your visit on the South Rim, which is the best known rim and perhaps the best for viewpoints. You will also find shuttles, if you need them.
Leave a Comment Cancel reply
This site uses Akismet to reduce spam. Learn how your comment data is processed.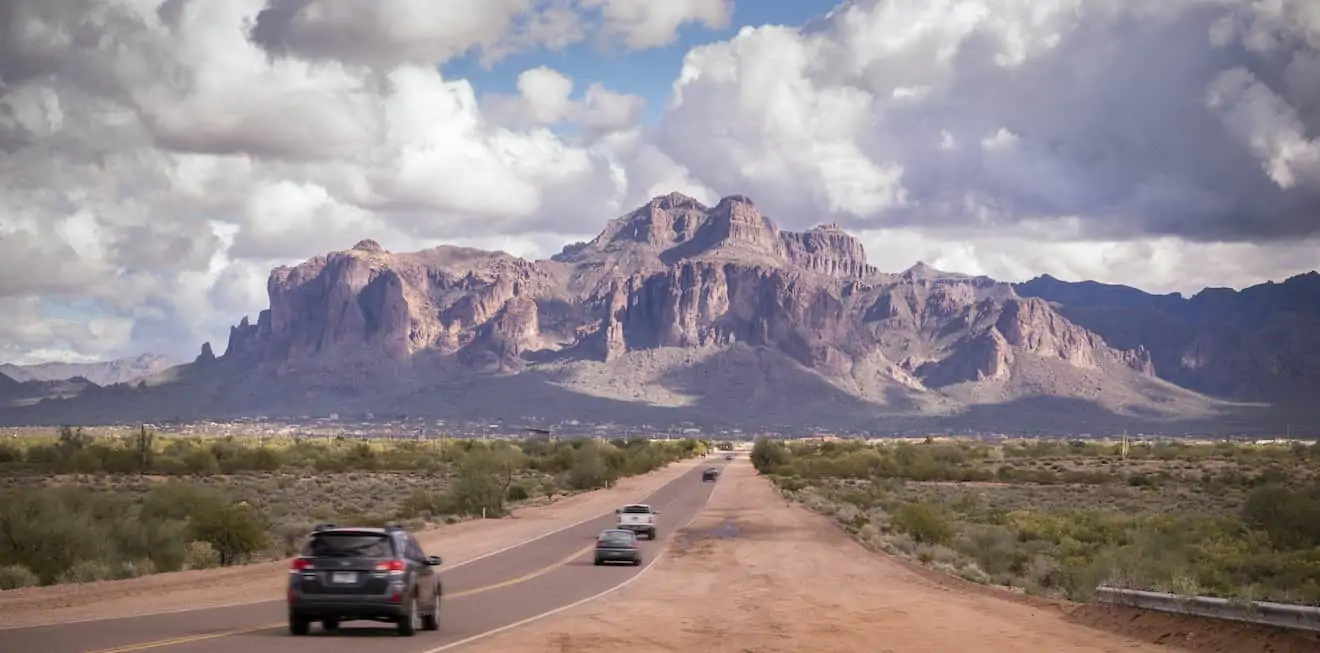 How to plan a road trip
Here you will find all our useful resources for planning a road trip: tips on how to choose the best route, advice for renting a car, booking hotels and more… Enjoy your road trip!
Where to Stay in Grand Canyon
The Grand Canyon is perhaps one of the most iconic landmarks in the world – certainly in the United States of America. Set slap bang in the middle of arid Arizona, it is a bucket list destination for almost every self-respecting traveler.
A rare but beautiful landscape, the Grand Canyon spans an awesome 4,926 km². Many people tend to believe that the Grand Canyon is just one specific viewpoint, but how wrong they are. The Grand Canyon is, in fact, a whole national park area that is crisscrossed with hiking trails and bouldering routes galore. That one specific viewpoint, however, is Mather Point.
Welcoming in excess of five million visitors every year, the Grand Canyon National Park is very well set up for the onslaught of eager tourists. There is a hotel, motel and B&B to suit every budget and travel style.
Although the Grand Canyon is Arizona's most loved landscape, there are a number of other beautiful national parks to explore in the state too. This one is really just the beginning.
Let's take a look at where to stay in Grand Canyon and where else you can visit in the area.
Grand Canyon Village – Tusayan
Source: booking.com The Grand Hotel At The Grand Canyon
Grand Canyon Village is the most popular place to stay in Grand Canyon and it is not hard to see why. This tiny township has been purpose-built for easy access to the National Park's main entrance gate. Unless you camp inside the park, you can't stay any closer than this.
Grand Canyon Village is home to just 2,000 permanent residents, who take great pride in living so close to this national treasure. In the town, you will find Hopi House, an interesting historical landmark well worth a quick visit. The gift shop is one of the best around and offers a wonderful selection of authentic Native American gifts.
By staying in Grand Canyon Village, you are within walking distance of trailheads of some of the National Park's most famous hikes – Bright Angel Trail, Rim Trail and even Mather Point.
Naturally, no visit would be complete without a visit to the Grand Canyon Visitor's Centre.
Good For: Active Travelers, Backpackers, Couples, Country Bumpkins, Families, Older Travelers: All Kinds of Travelers
Neighborhood Highlights: Mather Point, Yavapai Point, Hopi Point, South Rim Trail, Grand Canyon Railway, Lookout Studio, Trail View Point, Powell Point, Maricopa Point
Hotel Recommendations:
– Idea for travelers of all kinds, The Grand Hotel offers nightly entertainment and an indoor swimming pool. Rooms are clean and spacious. The beds are very comfortable and a welcome treat after a long day hiking in the National Park. WiFi is free but breakfast incurs an additional cost. – Just a 10-minute drive from the main entrance to the National Park, this hotel has everything you could wish for – swimming pool, fitness center and onsite bar. Free parking is available onsite for all guests. It is ideal for families, as they have rooms sleeping up to four people. – Including a wholesome breakfast, free WiFi and free parking, Holiday Inn Express is great value for money. The rooms all have private ensuite bathroom, air conditioning, and flat-screen TV. Guests are welcome to use the swimming pool whenever they like. There are facilities catering to disabled guests.
Williams
Source: Esme / shutterstock Williams, Arizona
Williams is a small town often dubbed 'the gateway to the Grand Canyon'. Situated on historic Route 66, Williams has a lot to explore.
Not only an ideal place to stay when visiting the Grand Canyon, Williams is a destination in its own right. In the town, you will find a wonderful array of vintage Americana shops selling all sorts of quirky bits and bobs to take home. There is an impressive selection of all-American diners, where the uninitiated customer may be overwhelmed with the choices and portion sizes that they offer.
Bearizona Wildlife Park is a drive-through wildlife park home to mountain goats, bears, bison – even wolves. An exciting addition to any family road trip to the Grand Canyon for sure.
If you have yet to tire of the great outdoors in William, you can take a visit to the gorgeous Kaibab Lake and enjoy a woodland lakeside wander.
Good For: Active Travelers, Backpackers, Country Bumpkins, Culture Vultures, Couples, Families
Neighborhood Highlights: Grand Canyon National Park, Bearizona Wildlife Park. Pete's Route 66 Gas Station Museum, Bill Williams Mountain, Kaibab Lake, Route 66 Zipline
Hotel Recommendations:
Red Roof Inn PLUS+ – Offering guests the use of an outdoor pool and hot tub (seasonally), and access to the hotel bar, this is a little gem. Great value for money, free WiFi is available throughout the property. There are double rooms and family rooms available. Rooms are cozy but comfortable and feature modern decor.
Quality Inn Near Grand Canyon – Rooms are uniform but have all the amenities you could ask for, including ensuite bathroom, work desk and air conditioning. All rooms have a coffee machine and flat screen TV. Less than an hour from the entrance of Grand Canyon National Park, taxis can be arranged on request and breakfast is included.
Grand Canyon Hotel – Suitable for families and groups of travelers, Grand Canyon Hotel is a homey and cozy hotel in the heart of Williams. Featuring a welcoming and sociable lounge area, as well as a beer and wine bar, there is a lot of fun to be had here. Each room is themed and has WiFi.
Flagstaff
Source: Frank Bach / shutterstock Flagstaff, Arizona
Flagstaff is a city in the Grand Canyon vicinity and provides a great base for any traveler keen to explore the Canyon and beyond. Bordered by mountains on one side, desert on the other and dense pine forests to the other, Flagstaff is ideal for active and adventurous travelers.
Flagstaff is less than one and a half hour's drive from the entrance to Grand Canyon National Park, and is one of the most popular neighborhoods for travelers to base themselves for their Arizona adventures.
Sitting 7,000-feet above sea level, Flagstaff is consistently cooler than the rest of the state, which is much appreciated by newcomers to sweltering Arizona.
Aside from the Grand Canyon, another must-visit spot in Flagstaff is the Walnut Canyon National Monument. Equally as impressive and considerably under the radar, do make time to visit. The Coconino National Forest is home to the magnificent red rock structures seen in National Geographic on countless occasions.
Good For: Active Travelers, Backpackers, Couples, Country Bumpkins, Road Trippers Families, Older Travelers: All Kinds of Travelers
Neighborhood Highlights: Grand Canyon National Park, Walnut Canyon National Monument, Coconino National Forest, Arizona Snowbowl, Museum of Northern Arizona, Riordan Mansion State Historic Park, Meteor Crater, Wupatki National Monument
Hotel Recommendations:
– Nestled away in the dense pine forest, Little America Hotel is a rural retreat in Flagstaff. The hotel offers free transport services to Flagstaff airport. The rooms are homely and each features air conditioning, ensuite bathrooms and free WiFi. There is free parking onsite and the property has disabled access. – A uniform but comfortable hotel on East Butler Avenue, guests at Days Hotel have access to the swimming pool and basic fitness center. There is a bar onsite and rooms include a microwave for preparing basic snacks. The hotel is pet friendly and has big family rooms available. Free WiFi can be accessed throughout the property. – Offering a hearty breakfast every morning, and with an onsite restaurant open until late, you won't go hungry at Rodeway Inn & Suites. There is a large outdoor pool and lovingly kept gardens. Guests have access to the indoor hot tub and sauna room too. Laundry facilities are available on request.
Sedona
Source: Scott Prokop / shutterstock Sedona, Arizona
Truly a destination in its own right, Sedona is another of Arizona's scenic hotspots. Sitting south of Flagstaff and just a two-hour drive up Route 64 to Grand Canyon National Park, Sedona offers you the best of both worlds.
There is so much to see, do and explore in Sedona. From the red rock buttes to the Chapel of the Holy Cross, you should remember to pack an extra SD card as you will be snapping photographs left, right and center.
After you have satiated your craving to explore the Grand Canyon National Park, you can hike the Cathedral Rock Trail, or even book a tour up to Antelope Canyon. Given that a trip to the Grand Canyon is often a once in a lifetime adventure, why not splash out when in Sedona and book a hot-air balloon trip. The landscape is too good to not experience from above, after all.
Good For: Active Travelers, Backpackers, Couples, Country Bumpkins, Road Trippers, Families, Older Travelers: All Kinds of Travelers
Neighborhood Highlights: Chapel of the Holy Cross, Airport Mesa, Cathedral Rock Hiking Trail, Red Rock Secret Mountain Wilderness, Sedona Heritage Museum, Honanki, Oak Creek Canyon, Bell Rock, Amitabha Stupa and Peace Park
Hotel Recommendations:
– This luxury hotel offers views of Sedona's famous red rocks. The hotel features its own private golf course, swimming pool, and well-equipped fitness center. All rooms are either condos or suites and feature fully equipped kitchen and dining area. Rooms are spacious and modern. The Ridge on Sedona is close to hiking trailheads. – A beautiful hotel with outdoor swimming pool and outstanding levels of service, the Hyatt Residence Club Sedona has premium rooms and bigger suites available. Great for families or travelers who enjoy premium hotel experiences, the suites come with a kitchen and seating area. All rooms have air conditioning and free WiFi. – Situated in Uptown Sedona, the rooms have all the modern technologies you could wish for, including free WiFi and iPod docking stations. Staff are on call 24/7 and are extremely accommodating. The breakfast buffet is impressive and included in the room rate. Family suites and premium rooms are available.
Tuba City and Moenkopi
Source: Lijuan Guo / shutterstock Blue Canyon, Near Tuba City
These neighboring communities can be found on native Navajo lands about an hour due east of Grand Canyon National Park. Small but welcoming communities that are proud of their heritage ties, Tuba City and Moenkopi are a little off the tourist trail but well worth a visit.
For budget backpackers or road-trippers, Tuba City and Moenkopi are great places to stay in Grand Canyon, as they offer all the facilities you could need and are a gateway to some of Arizona's best landscapes. The awesome – in the true sense of the word – Antelope Canyon is less than 80-miles north of Tuba City and surely gives Grand Canyon a run for its money.
There are some wonderful family-run diners to explore in Tuba City and Moenkopi. Even out here in rural Arizona, there are all your usual big chain fast-food outlets too, should you fancy something more familiar.
Good For: Road Trippers, Backpackers, Budget Travelers, Like a Local Travelers, Young Traveler
Neighborhood Highlights: Grand Canyon National Park, Antelope Canyon, Explore Navajo Interactive Museum, Moenkopi Dinosaur Tracks, Louise Yellowman Country Park, Kaibab National Forest.
Where To Stay At Grand Canyon: Best Hotels In And Near South Rim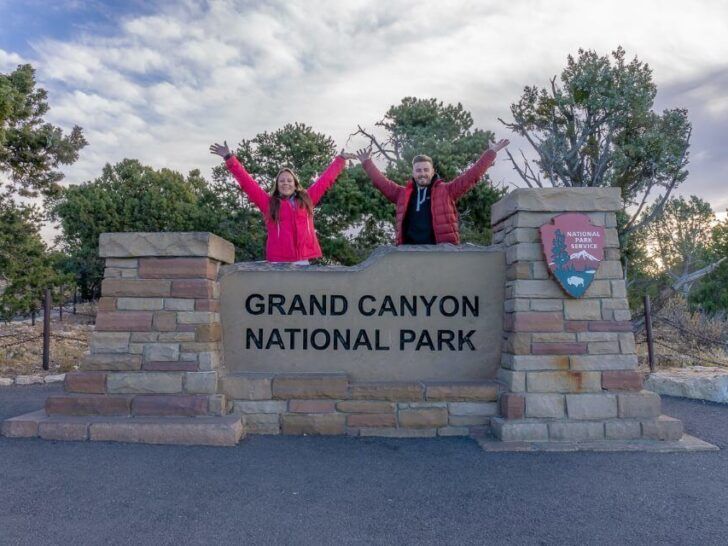 Are you looking for the best places to stay in and near Grand Canyon South Rim? We're going to explain all you need to know about each national park run lodge on the Rim, and the best hotels in nearby towns to help you choose the right place to stay for your budget and Grand Canyon goals.
Grand Canyon National Park is home to one of the world's most extraordinary and remarkable natural landscapes. Fortunately for visitors today, this has been a long known fact and a wide range of lodging options have been in place for decades.
Finding hotels or lodges can be a real problem when visiting some of the most popular US National Parks, due to lack of availability, options, cost or sheer size of a park.
However, this is not the case at Grand Canyon South Rim, with plenty of on site and nearby hotel options.
Hotels in nearby towns typically offer a wider range of price points, more amenities, better location for visiting other popular areas in Arizona and of course provide backup options if there is no availability inside the park.
Let's get stuck into where to stay at Grand Canyon South Rim!
*Please note this post may contain affiliate links. If you click on one, we may earn a small commission at no extra cost to you!*
Tips For Booking Hotels At Grand Canyon South Rim
Book as early as you have concrete travel dates to stand a better chance of getting the best hotel or lodge available for your budget.
Seriously consider whether you want the better South Rim location or the better amenities of a nearby town / city.
Think about what you will do either side of your visit to Grand Canyon, does it make more sense to stay on the Rim or day trip into the park?
Camping is a cheaper alternative if you can find availability and don't mind sleeping in a tent.
Top tip: Remember this is a year round four season National Park. You will find much cheaper lodging and more availability if you visit Grand Canyon in Winter, both inside the park and in nearby towns.
Where To Stay At Grand Canyon South Rim
You have 7 available lodging options inside Grand Canyon South Rim:
El Tovar
Bright Angel Lodge & Cabins
Kachina Lodge
Thunderbird Lodge
Maswik Lodge
Yavapai Lodge
Phantom Ranch
El Tovar, Bright Angel Lodge, Kachina Lodge and Thunderbird Lodge are all located next to one another in a crescent shape along the South Rim.
Maswik Lodge is located around a 5 minute walk back from the Rim, and Yavapai Lodge is located between the village and main visitor center near Mather Point.
Phantom Ranch is the only official lodging on the Canyon Floor but it is very hard to get a bed and you will have to enter a lottery system.
Staying inside the park means you have the better Canyon location, especially if you want to watch a sunrise or stargaze. However, you will find far fewer amenities.
Demand is high, therefore costs are high and finding availability for your preferred dates can be challenging. Booking months ahead is strongly recommended.
Important – Prices fluctuate significantly from day to day and month to month at these lodges. If you have flexible dates, you stand a much better chance of picking up a good deal.
Let's take a look at each option of where to stay inside Grand Canyon South Rim:
Do you need help planning your visit to Grand Canyon South Rim?
Our popular 30+ Page Grand Canyon South Rim Guidebook and Itinerary covers every aspect of planning a trip to Yosemite including hikes, hotels, restaurants, getting around, things to do and so much more!
1. El Tovar
El Tovar is the Grand Canyon South Rim's premier and most celebrated historic hotel. There are 78 rooms but many are suites with eye watering costs associated.
Stay here for location, history and if you have a larger budget for your trip.
Room Cost: Varies depending on season – rooms start at US$ 278 + tax per night for a double room in Winter. These numbers will double in Summer.
Note – It is very rare prices will be as low as $278, this is an off-season price.
2. Bright Angel Lodge & Cabins
Bright Angel Lodge & Cabins is the polar opposite to El Tovar. There are 90 lodging units, some with shared bathrooms offered at a more reasonable nightly rate.
Stay here for location and if you're traveling on a tight budget. Bright Angel is the only lodging you will find along the rim in which a night can cost under US$ 150 per night.
The lodge is right on the edge of a cliff at the beginning of the amazing Bright Angel hiking trail. If you do plan to hike into the canyon, staying here would be extremely convenient.
You will need to be flexible and be able to travel midweek to get a cheaper rate. Due to the lower price point and location, this accommodation fills very early.
Room Cost: Varies depending on season – rooms start at US$ 129 + tax per night for rooms with or without shared bathrooms in Winter. Prices don't get up too high in peak season.
3. Kachina Lodge
Kachina Lodge sits in the middle ground between cost and comfort when compared to the two above.
Some of the rooms at Kachina Lodge have 'partial' canyon views, but they will of course be snapped up instantly so getting booked early is key.
Stay here for location and mid-range budget.
Room Cost: Varies depending on season – rooms start at US$ 226 + tax per night in the Winter season, Summer will be more expensive.
4. Thunderbird Lodge
Aside from having a catchier name, Thunderbird Lodge is a carbon copy of Kachina Lodge.
The building looks similar and prices are similar overall, although Thunderbird tends to have more rooms at the higher price points.
Stay here for location and mid range budget. Thunderbird Lodge also has a 'family focus'.
Room Cost: Varies depending on season – rooms start at US$ 116 + tax per night in Winter, but expect to pay much more in peak season.
5. Maswik Lodge
Maswik Lodge is a little further back from South Rim but still only a 5 minute walk. This is a huge complex featuring 12 buildings, each two-story for a total of 280 rooms.
Note: At time of writing (June 2021) significant construction work is due to begin.
Stay here for location and mid range budget.
Room Cost: Varies depending on season – rooms start at US$ 113 + tax per night in Winter but increase throughout peak seasons.
6. Yavapai Lodge
Yavapai Lodge is the largest accommodation option along South Rim, with 358 guest rooms spread between Yavapai East and Yavapai West.
The lodge is a little further from the Rim but it has by far the most amenities. You will find Yavapai Tavern, restaurant, coffee shop, market, bank and post office within walking distance.
Yavapai Lodge offers one of the best value for money lodging options inside the national park. Stay here for value, location and amenities.
Room Cost: Varies depending on season – rooms start at US$ 222 + tax per night but prices will increase from Spring through Fall.
7. Phantom Ranch (Canyon Floor)
Phantom Ranch is the only lodging option below the Canyon Rim, outside of backcountry camping.
It can only be reached by hiking Bright Angel Trail or South Kaibab Trail, riding a mule or rafting along the Colorado River – which makes it a pretty awesome place to spend a night!
The problem is very limited space and enormous demand. The result is you can only stay here by 'winning' the Phantom Ranch lottery.
Stay here for the ultimate location and adventure.
Cost and info: You can eat meals, have duffel service, sleep in dorms or cabins and there are a wide range of prices.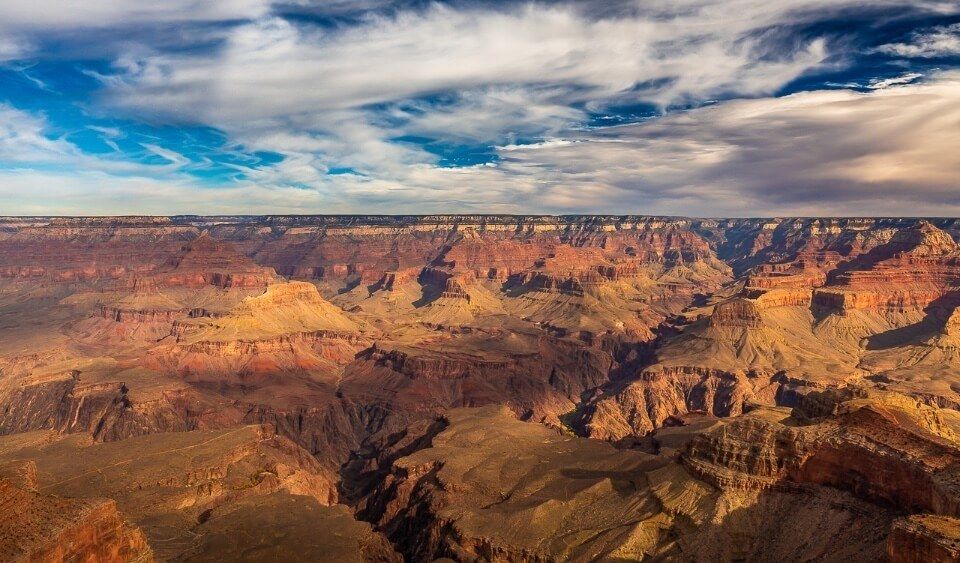 Where To Stay Near Grand Canyon South Rim
Accommodation on the South Rim is perfect for easy access to the canyon, but rooms fill very quickly, you will have limited amenities and they aren't cheap.
So what are your alternatives?
Well, we will take a look at the best hotels by top guest rating in each of the smaller towns near Grand Canyon national park, plus the two larger urban areas within day trip distance.
1. Tusayan
Tusayan is the closest town to Grand Canyon National Park. It hosts a handful of decent hotels and is just 6.5 miles (10 minute drive) to the South Rim visitor center parking lot.
If you are interested in sunrises and stargazing, we suggest trying to book a room here to limit drive time in the dark.
You will find a handful of restaurants, plus fast food such as McDonalds and Wendy's in Tusayan. There are also grocery stores, gas stations, tour companies and the Grand Canyon IMAX theater.
Hotels in Tusayan are in the higher price bracket due to its superior location. You will need to weigh up the perfect cost vs convenience balance for your travel budget.
Let's take a look at the 4 best hotels in town in order of highest to lowest guest rating:
Grand Hotel: Guest rating 8.4 / 10
Best Western: Guest rating 8.4 / 10
Holiday Inn: Guest rating 8.2 / 10
Plaza Hotel: Guest rating 7.9 / 10
2. Valle /Grand Canyon Junction
Valle (also known as Grand Canyon Junction) is the second closest place along AZ-64 after Tusayan but it is very small.
The junction is 28.7 miles from South Rim visitor center parking lot, which will take around 35-40 minutes to drive.
You will find just one hotel with the only restaurant in town attached, plus a luxury glamping option in Valle. There are also 2 gas stations but very little else.
The glamping option looks amazing but it is expensive, whereas the only hotel in Valle – Grand Canyon Inn – has good rooms going at a very reasonable rate.
We personally stayed at Grand Canyon Inn in October when lodging inside the park and in Tusayan were far more expensive. Our stay was great and we ate dinner in the on site restaurant.
Here are the Valle options for you to consider:
Under Canvas: Guest rating 8.9 / 10
Grand Canyon Inn: Guest rating 7.9 / 10
3. Williams
Heading further South to the very end of AZ-64 you will find the much larger town of Williams, which sits just off I-40. This section of I-40 is also part of famous and historic Route 66.
Williams to South Rim visitor center parking lot is 59 miles or 1 hour drive time. So it's certainly further out, but it also has far more hotel options at a much greater price range.
You will also find a handful of highly rated local restaurants and cafes (which are seldom seen closer to the park), plus groceries, gas and fast food.
Williams is the best place to stay if you're looking for a traditional small town with better amenities and good (but not the best) access to Grand Canyon. It suits those who like comfort and don't need to be inside the park for sunrise or stargazing.
With more to choose between in Williams, let's take a look at the hotels with top guest ratings for each price bracket:
Low Budget:
Comfort Inn: Guest rating 8.5 / 10
Quality Inn: Guest rating 7.4 / 10
Mid Range Budget:
Best Western Plus: Guest rating 8.9 / 10
Lodge Route 66: Guest rating 8.6 / 10
Luxury:
Sheridan House Inn (Adults Only): Guest rating 9.8 / 10
Trapper's Rendezvous: Guest rating 9.7 / 10
4. Flagstaff
Flagstaff, AZ rounds up this list of where to stay at Grand Canyon National Park.
By far the largest nearby city and a hub for tourism, Flagstaff is 79 miles from South Rim visitor center parking lot and will take around 1h 30m to drive.
Flagstaff also has an airport, which is served by Denver, Phoenix and Dallas / Fort Worth. If you are flying into the region from afar, Phoenix and Las Vegas are the two major airports near Grand Canyon South Rim.
You will of course find a huge selection of hotels, restaurants and other amenities if choosing to stay in Flagstaff.
Top tip: At just 1 hour and 30 minutes drive to Grand Canyon, Flagstaff is a very good central location for those who only plan to day trip into Grand Canyon before moving on to visit extremely popular tourist spot – Sedona, AZ.
Let's take a look at the top rated hotels for each budget in Flagstaff:
Low Budget:
Radisson: Guest rating 8.9 / 10
Sleep Inn: Guest rating 8.6 / 10
Mid Range Budget:
Fairfield Inn: Guest rating 9.1 / 10
Drury Inn: Guest rating 8.9 / 10
Luxury:
Grand Canyon Campgrounds and RV Park
If you can't find a hotel to fit your travel budget inside or near Grand Canyon National Park, you might consider camping or RV'ing instead.
Camping isn't for everyone but it is a way to stay inside the park and save money.
Mather Campground and Trailer Villager RV Park are located right on South Rim close to the lodges.
Mather Campground has 327 sites – check availability .
Trailer Village RV Park has 123 sites (80 electric hookups) – check availability .
National Park campgrounds are notoriously difficult to book into these days, especially with small to medium sized companies 'block booking' camp sites.
You will have to be very flexible with dates or book as early as possible if you have set dates.
More From Grand Canyon …
Itinerary: 8 Best Things to do & Detailed 1 Day Grand Canyon Itinerary
Sunrise & Sunset: 4 Best Places to Watch Amazing Grand Canyon Sunrises & Sunsets
Season: Which Is The Best Season To Visit Grand Canyon
Winter: 10 Key Things To Know About Winter In Grand Canyon National Park
Views: The 20 Most Amazing Viewpoints Along Grand Canyon South Rim
Airports: 5 Closest Airports To Use When Visiting Grand Canyon
Bright Angel: How To Hike The Awesome Bright Angel Trail Into The Grand Canyon
South Kaibab: Day Hiking the Stunning South Kaibab Trail At Grand Canyon
Best Hikes: 17 Amazing Day Hiking Trails At Grand Canyon South Rim
Rim to River: How To Hike South Kaibab To Bright Angel In One Day
Best Places To Stay In …
Yellowstone: Best Hotels Inside and Near Yellowstone
Yosemite: Full List Of Lodging Inside and Near Yosemite
Badlands: Best Hotels Near Badlands National Park
Acadia: Top Rated Hotels in Bar Harbor and Near Acadia National Park
New York City: Best Neighborhoods and Hotels in NYC
Mt Rushmore: Best Hotels Near Mount Rushmore
Zion: Best Hotels And Lodging Options Near Zion National Park
Sedona: Top hotels and best places to stay in Sedona
Need Help Planning A Trip To Grand Canyon South Rim?
Grand Canyon is one of the most visited National Parks in the US. It is one of very few landscapes that will genuinely blow you away and we know how important it is to get your trip off to the best possible start by planning in advance.
We have been lucky enough to visit Grand Canyon South Rim twice, at different times of year and with different goals.
First to sightsee, shoot sunrises and sunsets, and see the canyon from every single viewpoint on the Rim.
Second to day hike Rim to River, South Kaibab to Phantom Ranch to Bright Angel in one day.
If you're planning a trip to Grand Canyon South Rim and need a hand with planning where to stay, where to eat, how to get there and use the shuttles, which hikes to do, which overlooks to visit, where to watch sunrise or sunset and any other question you have about your trip, our 30+ page South Rim guidebook with example itineraries is perfect to download to your phone or print a hard copy.
Click below to see the details and have a great time at South Rim!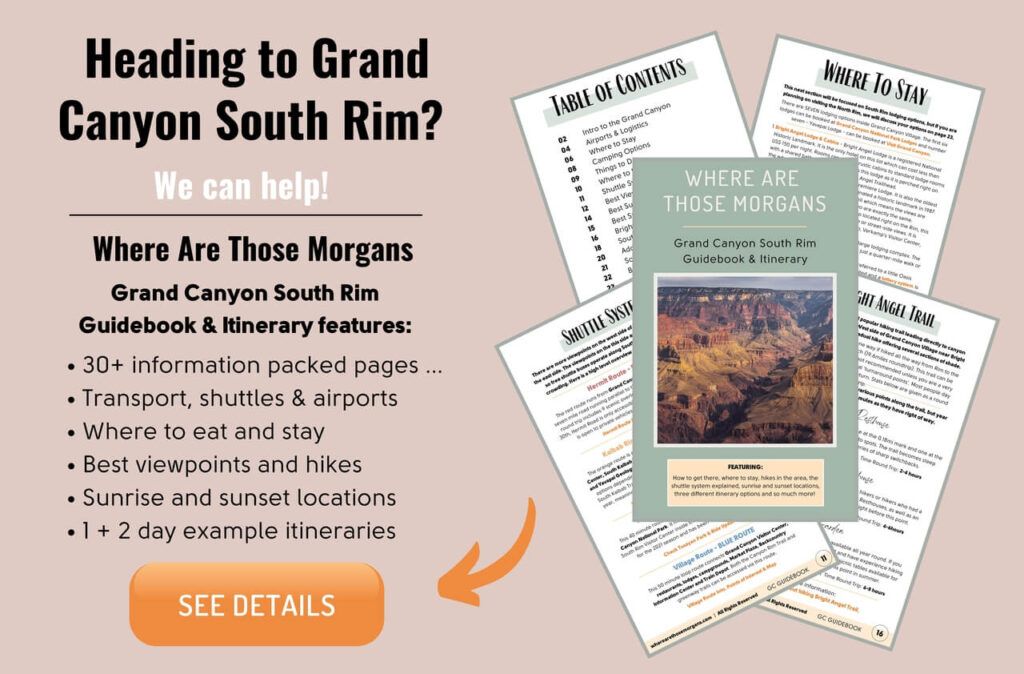 We hope this guide about where to stay in Grand Canyon National Park South Rim helps you plan your visit!
Have you been to Grand Canyon? Where did you stay and how was your experience?
Please let us know if you have any questions or need any help planning your visit.
Source https://www.travelinusa.us/grand-canyon-where-to-stay/
Source https://www.thecrazytourist.com/where-to-stay-in-grand-canyon/
Source https://wherearethosemorgans.com/where-to-stay-at-grand-canyon-best-hotels/