Where to stay in Barcelona for first time tourists
Four Barcelona areas are most popular and considered the best areas to stay in Barcelona for first time tourists. Scroll down this page for maps, tips, information and hotel recommendations for first time visitors.
1. Near downtown central square called Plaça de Catalunya

2. In 19th century Eixample district (has several neighbourhoods and considered the safest area)
3. In medieval gothic Ciutat Vella district (has several neighbourhoods)
4. In modern Sant Marti area near the beaches. (has several neighbourhoods)
You might also be interested in our popular Barcelona Top Ten attractions and our guide to planning 3 days in Barcelona.
If you are a family with children, see our guide to choosing the best Barcelona family areas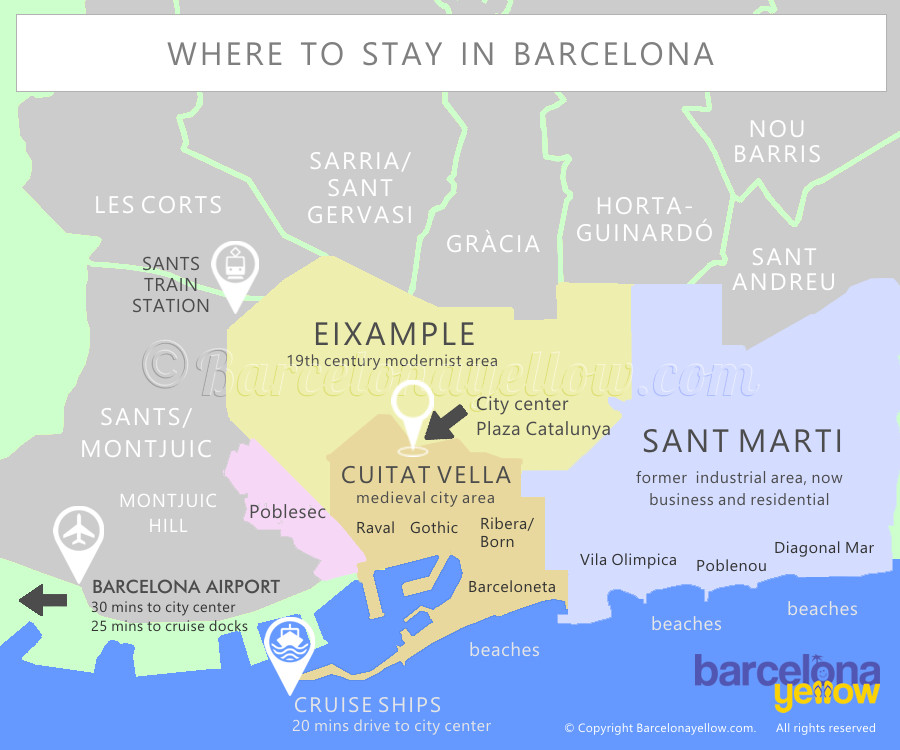 Four Barcelona areas are most popular and considered the best areas to stay in Barcelona for first time tourists
Best place to stay in Barcelona
Scroll further down this page for a complete and detailed description of each area.
A) Stay downtown near Plaça de Catalunya
Stay in Barcelona downtown city center area which is on and around Barcelona's most central square Plaça de Catalunya. This area is busy, crowded and quite noisy, but very well connected for sightseeing, shopping and rtransport making it the most popular Barcelona area to stay in for short stays.
It is called Plaça de Catalunya – often also just called Plaza Catalunya. This surrounding area does not have a specific name, but is considered to be the city center
It is popular to stay here because this is the most central and best well connected area of Barcelona.
Our tips for hotels in this area are brand new 3 star hotel Praktik Èssens – rated Superb by reviews. It's perfectly located near city center and offers luxury rooms, free WiFi, desk and airport shuttle. Also look at brand new 4 star Iberostar Paseo de Gracia rated Superb by reviews right on the square Plaça de Catalunya.
Plaça de Catalunya square borders on both the ancient medieval Barcelona city area – called Ciutat Vella – and the more recent 19th century modernist area of Barcelona – called Eixample.
So if you are staying on, or near Plaça de Catalunya, then you are very centralw with access to attractions, trains, airport buses, tourist office, day tours etc.
For maps and a more detailed descriptions of reasons to stay near Plaça de Catalunya scroll down the page
B) Stay in Eixample area
The Eixample district is the 19th century modernist expansion area of the city. This emerged after Barcelona's medieval walls were demolished and the city grew. The area is quite big, so you can stay in Eixample and be near city center and central square Plaza Catalunya or in slightly off center locations. A popular area of Eixample to stay in, is the Sant Antoni neighbourhood. Sant Antoni is quiet, residential, authentic and has a wonderful food market which just reopened in 2019 after many years of renovation.
Our tip for 2 good hotels in this areas are new 4 star Hotel Casa Bonay – rated Superb by reviews – it's a little way from downtown central square of Plaza Catalunya, but in a nice area near metro station Tetuan. Also look at the 4 star Gallery Hotel – rated Superb by guests which is near central shopping boulevard Passeig de Gracia. The Gallery hotel has a free sauna, gym and roof-top terrace with a pool and city views.
C) Stay in medieval Ciutat Vella area
Another popular choice for first time visitors is to stay in one of the neighbourhoods in the narrow winding streets of Barcelona´s medieval district – called the Ciutat Vella. The district Ciutat Vella is divided into five neighbourhoods which are called Poblesec, El Raval, Gothic, El Born/Ribera and Barceloneta. Popular here is new Hotel Cool Room Malda – rated Superb by guests for location, new and clean rooms and overall great value. Also H10 Madison – rated Superb by reviews. H10 Madison is just inside the gothic area, so also close to Plaza Catalunya. H10 Madison has modern, fully equipped and air-conditioned rooms and many facilities include free WiFi, a business center, family rooms and a small roof-top pool with nice view of the cathedral.
D) Stay in Sant Marti area near beaches
The Sant Marti district is the former industrial factory area of Barcelona. Sant Marti district is divided into several neighbourhoods and the most popular with tourists are Poblenou, Vila Olimpica and Diagonal Mar. This district is a mix of former industrial neighbourhoods and new modern residential areas, hi-tech offices and hotels that serve both business and tourists. In the summer from mid-May to end September, it is popular to stay in Sant Marti because of its close proximty to the Barcelona beach area.
What is best place to stay in Barcelona
A) Near Plaza Catalunya
In our opinion, the very best area to stay in Barcelona, is in downtown Barcelona on, or near the city central square of Plaza Catalunya. We have indicated this area with a blue circle on the map below.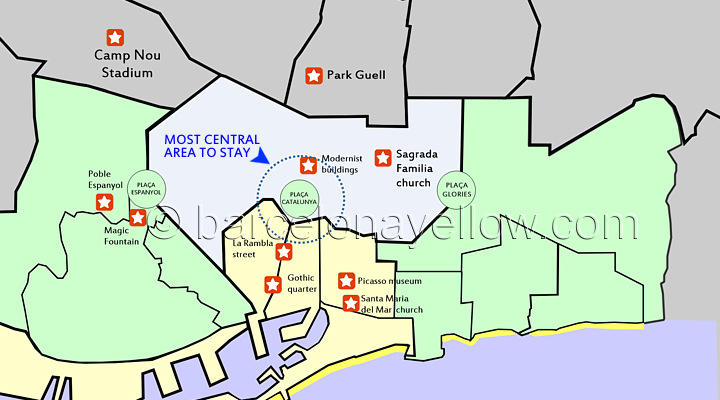 There are several advantages to staying in downtown Barcelona near central square Plaza Catalunya or a few blocks away. This area is:
* Near famous Gaudi modernist buildings
* Near top fashion brand flagship stores
* Near famous La Rambla walking street
* Near medieval city center of Ciutat Vella
* Near Aerobus airport buses on Plaza Catalunya
* Near hop-on-hop-off tour buses on Plaza Catalunya
* Many bus and metro lines on Plaza Catalunya
* Supermarket open till 10pm in Corte Ingles store on Plaza Catalunya
* Many top brand stores near Plaza Catalunya
* Main tourist office is on Plaza Catalunya
As you can see on the map above staying centrally in Barcelona's downtown city center is convenient for everything from shopping to sightseeing to getting around.
There are a couple of excellent hotels on the Plaza Catalunya itself, including the Hotel Oliva – rated EXCEPTIONAL – and Boutique Hotel H10 Catalunya Plaza – rated Excellent – or you can stay on the quieter side streets off Plaza Catalunya, like Bergera street, where you can find three nice hotels called Hotel Catalonia Plaza Catalunya and the Hotel Pulitzer both rated Excellent – and the Hotel Regina with a guest review rating of Excellent too.Close by is Pelai street, which connects Plaza Universitat with Plaza Catalunya are also a couple of recommended hotels popular for their convenience and value for money. Look at Hotel Lleo – rated Very Good – and the new hotel Midmost rated Superb by guest reviews.
There are many more hotels and apartments just a block or two from Plaza Catalunya and here are some ideas for you. Look at the hotel H10 Metropolitan – rated Wonderful, the Granvia hotel rated Wonderful, the Catalonia Square rated Wonderful – or the Adults only Guesthouse The Corner 592 rated Fabulous – to name but a few.
You can find more on the downtown Barcelona hotel map below. All these hotels are an excellent choice and in a great location. We like them because they are just outside the old medieval part of the city.
If we had to choose, we prefer being just outside the old medieval city of Ciutat Vella, rather than just inside it. The old city can feel a little crowded and noisy compared to the quieter and more elegant 19th century Eixample area, so a hotel or apartment just outside the edge of the old city is in our opinion, the perfect choice for where to stay in Barcelona.
Having said that, there are some very nice top hotels like the new Hotel Royal Ramblas rated Very Good or the the luxury Hotel 1898 rated Superb – which are both situated near the top of Las Ramblas street and just inside the medieval city area.
If you prefer the historic charm of the Gothic area's narrow streets, then of course there are several fine hotels there too. But if you stay inside the gothic area, then check if your hotel has soundproofed windows, especially if your room is facing the street.
We love Barcelona's medieval gothic areas, but for some guests, it can feel a little crowded and too noisy compared to the quieter and more elegant 19th century modernist Eixample area or the Sant Marti area, so a hotel or apartment just outside the borders of the old medieval city is, in our opinion, the best choice when choosing where to stay in Barcelona.
Hotels near Plaza Catalunya Barcelona
Iberostar Paseo de Gracia ★★★★ 4 star hotel on Plaza Catalunya
Olivia Plaza Hotel ★★★★ 4 star hotel on Plaza Catalunya
Catalonia Plaza Catalunya ★★★★ 4 star hotel on Pl Catalunya
Hotel Midmost ★★★★ 4 star hotel near Pl Catalunya
Hotel Pulitzer ★★★★ 4 star hotel on side street of Pl Catalunya
Hotel Regina ★★★★ 4 star hotel on side street of Pl Catalunya
Catalonia Square hotel ★★★★ 4 star hotel near Pl Catalunya
Catalonia Passeig de Gracia ★★★★ 4 star hotel near Pl Catalunya
H10 Urquinaona Plaza ★★★★ 4 star hotel near Pl Catalunya
Margot House ★★★★ new 4 star hotel near Pl Catalunya
H10 Metropolitan ★★★ 3 star hotel near Pl Catalunya
Hotel Ciutat Vella new ★★★ 3 star hotel near Pl Catalunya
Granvia ★★★ 3 star hotel near Pl Catalunya
Catalonia Portal de l'Angel ★★★ 3 star hotel near Pl Catalunya
Top self-catering apartments near Plaza Catalunya
B&B guest houses near Plaza Catalunya
Map best hotels near Plaza Catalunya
BLUE markers show hotel and number of stars. Click on hotel map markers for links to hotel information
B) Staying in Eixample area
Stay in Eixample (Expansion) 19th century modernist area of Barcelona. The Eixample is the area that was developed in Barcelona after the old city became overcrowded and the Expansion was planned. In the late 19th century the ancient medieval Barcelona city walls were demolished and a new part of the city called the Eixample was built.
The name Eixample means 'Extension' in the Catalan language. The Eixample district is very central and borders on the old gothic city and on the central square Plaça Catalunya.
Eixample is a very safe, interesting, stylish and central area to stay in Barcelona with many sights, stunning modernist architecture on tree lined streets and many high quality shop, cafes and restaurants.
The Eixample also has the most famous of the modernist buildings which were designed by Antoni Gaudi. Popular areas to stay in the Eixample part of Barcelona are near or on the most fashionable shopping street Passeig de Gracia, or near central square Plaza Catalunya, or near Barcelona's biggest attraction the Sagrada Familia unfinished church. Also very popular now is staying near Plaza Espanya in the Sant Antoni area near to attractions like Magic Fountain, the Spanish village Poble Espanyol and Montjuic hill.
Hotel America ★★★★ 4 star hotel in Eixample
Hotel Boutique Hostemplo ★★★ 3 star hotel in Eixample district
Hotel Casa Bonay ★★★★ 4 star in Eixample district
Hotel Praktik Rambla ★★★ 3 star hotel in Eixample
Villa Emilia ★★★★ 4 star hotel in Eixample
The One Barcelona GL ★★★★★ 5 star hotel in Eixample
C) Stay in Ciutat Vella area
C) Stay in historic medieval Cuitat Vella district which has five neighbourhoods. The Ciutat Vella means Old City and is the medieval quarter of Barcelona which is the oldest area of Barcelona.
This area of Barcelona is one of the biggest medievel city areas in Europe. It includes the five neighbourhoods of La Raval, Barri Gotic, La Ribera / El Born and Barceloneta. The most popular area to stay in the old city is the gothic area, which is the most central of the neighbourhoods. See pictures of Barcelona's gothic quarter.
The Cuitat Vella neighbourhoods has charming narrow crooked streets full of small boutiques and cafes and this is where you can find Barcelona cathedral, several gothic churches, museums, markets and Barcelona's Roman history with fragments of ruins of the original Roman city called Barcino. The tree lined pedestrian street La Rambla cuts through the old city of Barcelona and has many hotels nearby. Each of the five neighbourhoods in the old city of Barcelona has its own special spots and atmosphere.
The Raval area is a little more edgy than the others and not entirely safe in the very early hours of the morning in the area nearest to the harbour, but during the day and evening until 1am, it's safe, very colourful and bohemian.
Another popular area to stay in the old city of Barcelona is near street Via Laietana, which is the street that divides the Gothic area and the El Born/Ribera areas of the old city.
Via Laietana itself is a noisy busy street, but the location puts you between two of the medieval quarters close to sights of the Gothic area and the Born area. The Born area is very trendy with many restaurants, cafes and boutiques dotted around the famous gothic Santa Maria del Mar basilica. Barceloneta area is also popular for being near the beach and close to Port Vell marina. Barceloneta is the old fisherman's quarter in Barcelona and has many great fish restaurants and cafes.
Map hotels Ciutat Vella district of Barcelona
D) Stay in Sant Marti area
Hotels and apartments here are modern and close to beaches. Sant Marti is the district of Barcelona that borders the city coastline. It is the former industrial area of Barcelona and the most recently modernised and developed area of Barcelona.
Sant Marti is a little off centre, but it's quiet, nice and quite easy to get to the city center by metro or taxi. Sant Marti is a nice mix of hi-tech business, residential apartments, a university campus and many new hotels.
In the summer the Sant Marti area is perfect, if you also want to spend a few hours at Barcelona's beaches. Most popular areas in Sant Marti are the residential neighbourhoods of Poblenou and Vila Olimpic (the former Olympic Village) which have apartments and hotels.
Before the 1992 Barcelona Olympic games Sant Marti was the industrial part of Barcelona called the "Manchester of Barcelona" because of the many factories. There were beaches on the coast, but before 1992 they were full of slums and shanty towns. Since the Barcelona Olympic games the entire area has changed into a trendy, modern new residential, business with a new beach coastline. See our guide to Barcelona beaches.
Apartments near Barcelona beaches Sant Marti
Map hotels near Barcelona beach
Map popular Barcelona hotels
Related pages for hotels
© Copyright Barcelonayellow.com.
Do not copy from this page without permission
All rights reserved
Where to Stay in Barcelona
The 6 Best Areas & Places
SPAIN Barcelona is a multifaceted metropolis with a varied cultural scene, world-famous architecture and a long and deepfelt Catalan history. So how to find the best Barcelona neighbourhoods, areas & hotels to stay in during your visit – whether on a budget, first-time visit or a family?
This page has affiliate links (if you purchase through our links, we get a small commission at no extra cost to you – thank you! ), see our Privacy Policy & Disclaimer.
The old city, Ciutat Vella, consists of four smaller neighbourhoods: Barri Gòtic, El Raval (the former Barri Xinès), Barceloneta and La Ribera / El Born. The main artery is the famous pedestrian street, Las Ramblas, connecting Plaça de Catalunya with the Christopher Columbus column.
North of Ciutat Vella you have the architecturally fascinating Eixample district with its eye-catching urban grid layout and renowned Modernist architecture, as well as the bohemian Gràcia even further north featuring charming little cafés, local ambience and a vibrant nightlife in the Plaça del Sol. It is also in this neighbourhood you will find Gaudí's eye-catching Parc Güell.
Gaudí in Barcelona
5-day itinerary for Barcelona
3-day itinerary for Madrid
Santiago de Compostela
McMeal price Spain/your country
What is the best area to stay in Barcelona?
Barcelona is surrounded by mountains, and to the east of central Barcelona, right above El Poble Sec, the former lower-class area – today a popular district, Montjuïc, rises with all its attractions. On the other side the city is bounded by the mountain Tibidabo featuring an amusement park on the very hilltop. Finally, to the east you will reach El Poblenou and the modern Vila Olímpica, constructed for the 1992 Olympic Games.
So how to decide which neighbourhood / where to stay in Barcelona when visiting the Catalan capital – what are the best places, hotels and areas to pick for your visit – whether you are a first-time visitor, travel as a family or are on a budget? Below you will find some of our favourite neighbourhoods, areas and places to stay in Barcelona – described by district.
Photo: Kristina Spisakova / Pixabay
If you want to stay in the midst of the narrow and intricate medieval streets in Barcelona in one of the places strongly dominated by Gothic-style architecture, one of your best options will be the areas to the right of Las Ramblas – where you will find authentic Gothic constructions a bit everywhere. The ambience is fabulous here – and so it the acoustics in the squares when you listen to the local musicians playing! Take a stroll on Las Ramblas for people-watching and 'feel' the vibe and the Catalan way of life!
Las Ramblas is the generally crowded plane tree-lined boulevard separating the two neighbourhoods El Raval on the left-hand side and the Barri Gòtic, the Gothic Quarter, on the right-hand side. A stroll along Las Ramblas is often entertaining since it is Barcelona's vibrant and lively pedestrian street featuring both flower sellers and human statues posing for a photo and a few coins.
Explore the impressive churches such as the Gothic Basílica de Santa Maria del Pi, the Baroque Basílica of Our Lady of Mercy, and not least the Gothic Cathedral with beautiful stained glass windows and a secluded cloister.
The Barri Gòtic neighbourhood is also one of the best places in Barcelona where you can stay conveniently in the shadow on a warm summer day in one of the small hidden plazas – apparently appearing out of nowhere – when you least expect it. Other spectacular and larger squares include the picturesque and popular Plaça Reial and the Plaça de Sant Jaume, flanked by local governmental buildings: the Ajuntament de Barcelona, the City Council, and the Palau de la Generalitat de Catalunya, seat of the Presidency of the Generalitat de Catalunya.
Moreover, it is a great neighbourhood to spend half a day just strolling around, visiting a museum, exploring the small shops, enjoying a Catalan meal in one of the numerous restaurants and finally discovering the local nightlife and bars!
Budget
Hostal Fernando is located 100 m from Las Ramblas and the historic Plaça Sant Jaume. The hostel offers air-conditioned rooms with private bathroom, TV and safe, as well as dormitories with free Wi-Fi.
Mid-range
Catalonia Portal de l'Angel is a hotel set in a traditional 19th-century building, located between Plaza de Catalunya and Barcelona's Gothic Quarter. It offers a daily buffet breakfast, free Wi-Fi and an outdoor pool surrounded by painted murals.
Top
Catalonia Port is located in the Gothic quarter and has a gym and a sun terrace with a small seasonal outdoor pool. The hotel features a restaurant with seasonal Mediterranean cuisine. A free tea service, with drinks and finger food is available late afternoon.
Photo: Falco / Pixabay
This may be one of the best places if you want to stay in the historic neighbourhoods / areas in Barcelona where you can still feel the soul and the spirit of medieval times! The Ribera neighbourhood offers great Gothic architecture combined with museums, culture and top-notch bar and restaurant options.
La Ribera / El Born can be found east of the Gothic Quarter. Here you will arrive at another imposing cathedral, namely the Catalan Gothic basilica Santa Maria del Mar or 'Saint Mary of the Sea', built in the 1300s under the Kingdom of Aragon. In recent times it became known worldwide thanks to the novel 'Cathedral of the Sea' by Ildefonso Falcones.
The neighbourhood used to be Barcelona's wealthiest area, and it has remained one of the city's most fashionable places to stay in with trendy bars, galleries, boutiques and fine restaurants where you can try some of the local specialities in Barcelona. El Born features the historic and remarkable Passeig del Born which is the street leading up to Santa Maria del Mar.
Another attraction in La Ribera is the Museo Picasso in Montcada Street. It is a world-class museum housed in five adjoining medieval palaces – exhibiting more than 4,200 Picasso works – to a large extent from around 1900! The museum also features the complete series (58 paintings) of the famous Las Meninas.
Budget
Hostal Nuevo Colon is located in the historic Born neighbourhood, near Ciutadella Park and a short walk from Barceloneta Beach, as well as the Picasso Museum. The hostel has free WiFi and 24-hour reception.
There is a choice between rooms with en suite or shared bathroom, and some rooms come with a balcony.
Mid-range
Ciutat de Barcelona is located only 100 m from the Picasso Museum. It has an outdoor rooftop pool, air-conditioned, soundproofed rooms with free WiFi and flat-screen TVs. The hotel has a tapas-style restaurant with a breakfast buffet, lunch and dinner.
Top
H10 Port Vell 4* Sup is a 4-star hotel set in a historic building near Port Vell Harbour and features a rooftop terrace with a plunge pool as well as panoramic views of the area. Rooms are air-conditioned, include a 42-inch flat-screen TV, a minibar and a Nespresso coffee machine.
Photo: Amduma / Pixabay
Would you like to be near the beach in a former fisherman's neighbourhood? Then you may want to stay in Barceloneta, the old fishing and seaside village in Barcelona where you can still today feel a bit of the old maritime atmosphere. At the same time the seaside area has – as part of the 1992 Olympic Games preparations – been converted into a splendid and lively city beach. So if your dream is to combine a city break in Barcelona with a beach holiday – maybe if you travel as a family, your best option may well be to stay in one of the hotel places around Barceloneta.
The triangular district of rectilinear streets squeezed in between the Rambla de Mar (Barcelona's Port Vell) and the Port Olímpic, saw the day of light when Barcelona had to redesign the old neighbourhoods for the Olympic Games of 1992. The old traditional fisherman's district was therefore turned into a modern beach area with bars and seafood restaurants to meet the demand for the Olympics. Unfortunately, the fishermen's houses and public baths disappeared with this new beach district approach.
Today, Barceloneta is a vibrant and enticing neighbourhood with plentiful dining places, bar options and nightclubs near the outstanding sandy city beach. Locals and tourists alike come here to 'cool down' and have a swim on the warm summer days – and continue in the local bars afterwards!
La Barceloneta is the perfect place to try some fresh fish, paella or the seafood dish fideuà in Barcelona!
Budget
Residencia Universitaria Campus del Mar is excellently located in the Barceloneta neighbourhood, 200 m from the beach. The residence features a fitness centre and free WiFi in rooms and public areas. Rooms come with a kitchen area with a microwave and tea/coffee facilities. There is a library area, a games room, snooker & table tennis, a laundrette and private parking.
Mid-range
Hotel 54 Barceloneta is a design hotel located in Barcelona's beachfront area of Barceloneta and features a stylish terrace overlooking the port. It offers a 24-hour reception, free Wi-Fi and air-conditioned rooms with a smart TV.
Top
Hotel Arts Barcelona is a design hotel overlooking Barceloneta Beach and Barcelona city centre that has 2 outdoor pools and luxury spa providing panoramic city views. The hotel features a contemporary art collection and a restaurant with 2 Michelin stars in addition to a number of other bars and restaurants, including a pool-side bar serving light meals in the summer.
Photo: Elena Cagianelli / Pixabay
You will stay in the Eixample areas in Barcelona to experience great architectural works by the famous Modernist architect Antoni Gaudí – for instance near Passeig de Gràcia where you will be best located for his renowned places Casa Milà and Casa Battló which were constructed as residential buildings in the special Catalan Modernist style. Also Gaudí's world-famous unfinished church La Sagrada Familia is situated in this neighbourhood, so staying in Eixample will make it easy to discover the works of the most eminent Catalan Modernist architect.
In Eixample you will get a firsthand impression of the spectacular grid pattern proposed and designed by Cerdà – which was Barcelona's grand expansion project at the end of the 19th century.
The Eixample district was designed by Ildefons Cerdà as the contribution to a development plan for Barcelona towards the end of the 1800s to get rid of a range of sanitary problems in the city. The Catalan name Eixample means expansion, and the project was an expansion of the city with a grid of avenues where house blocks were built in octagonal 'manzanas', leaving room for spacious squares in between. You will probably know the layout of the streets and building structures from aerial photos of this part of Barcelona with the diagonal street 'Diagonal' cutting right through.
There is both a left part and a right part of Eixample. Towards the left you will find the Parc de Joan Miró, and around the centre of Eixample the Modernist architect Antoni Gaudí performed some of his great architectural works, the Modernist houses in Passeig de Gràcia: Casa Batlló and Casa Milà. They are brilliant examples of his extraordinary design in a fashionable residential neighbourhood, incorporating natural elements and curves in an imaginary universe of dragons, bones, flowers, plants and trees.
In the right part of Eixample you will find the Sagrada Familia, Gaudí's world-famous masterpiece of a basilica, built on a religious background and with religious motives – again including elements from nature and complex geometric natural curves. At his death it was far from completed – and still is not, but construction works continue and the basilica is intended to end up with 18 towers – one for each of the 12 apostles, one for each of the evangelists and the last two for Virgin Mary and Jesus.
Budget
Don Moustache Boutique Hostel offers dorms and rooms, and has a central location within 10 minutes' walk of Girona Metro Station, Gran Vía Avenue and Passeig de Gràcia. Famous Gaudí houses are within walking distance. Breakfast with hot drinks and fruit.
Mid-range
Hotel Barcelona Center is 400 m from Passeig de Gràcia, and a 10-minute walk from Plaza Catalunya. Free access to the sauna, small gym and rooftop hydromassage tub. The hotel features a traditional Spanish restaurant.
Top
Ayre Hotel Rosellón is located just 200 m from Barcelona's famous Sagrada Familia and has a rooftop terrace with panoramic views of the basilica. It has an elegant restaurant and a café. A varied buffet breakfast is served each morning. The hotel is conveniently close to a metro station.
Photo: Kevin Ramirez / Pixabay
Among the popular neighbourhoods – if you would like to enjoy some of the best outdoor places and parks in Barcelona – a bit away from the bustling city, you may opt to stay at the Montjuïc mountain. Here you will find a number of facilities used for the 1992 Olympic Games, the museum-like Poble Espanyol village with building styles from all over Spain, the Botanical Garden and a number of other fabulous museums, among others counting the Fundació Joan Miró.
For the most vibrant surroundings you may opt to stay at the foot of the mountain around El Poble Sec, a multicultural non-touristy and authentic neighbourhood with local and inexpensive tapas bars and eateries.
'Poble Sec' means 'dry village' and was the name given to the neighbourhood since it had no water source at all until the late 1800s. El Poble Sec used to be one of Barcelona's lower-class areas beyond the city walls. However, this changed with the construction of Eixample and the new urban planning. Successful artists now discovered the neighbourhood and quite a few theatres were established along the avenue Parallel for entertainment, cabarets and other innovative shows. Also today there are plentiful bars, clubs and a diverse cultural scene with theatres such as El Molino, La Ciutat del Teatre and Mercat de les Flors in the area.
A characteristic landmark of El Poble Sec are the three still standing smoke stacks that rise above the neighbourhood. They remind the Catalans of the local industrial history when the hydro-electric power plant 'La Canadenca' turned El Poble Sec into Barcelona's leading industrial area.
From El Poble Sec you can hike up the Montjuïc mountain, or alternatively take the funicular (or cable car). To reach the hilltop you can also start at the Plaça d'Espanya, the beautiful square with the remarkable fountain built for the International Exhibition in 1929, providing a music and colour show, Font Màgica, and continue from there on foot up the hill.
Notice the impressive Palau Nacional / Museu Nacional d'Art de Catalunya, a magnificent art museum. Stay for a moment on the palace terrace where you can enjoy one of the best panoramic views of a number of well-known places in Barcelona!
On Montjuïc you have the chance to visit the former Olympic Stadium from the 1992 Summer Olympics, the scenic Botanical Garden, Montjuïc Castle, likewise providing stunning views, the world-famous Fundació Joan Miró with great works by the renowned artist, as well as the Poble Espanyol, the village with architectural styles from different regions in Spain.
Mid-range
Hotel Brick Barcelona is ideally located in the Sants-Montjuïc district of Barcelona, and is set 700 m from Magic Fountain of Montjuic, 2.3 km from Montjuïc. Rooms come with a private bathroom and a flat-screen TV. A daily buffet breakfast is available.
Top
Hotel Miramar Barcelona GL has a picturesque setting in a former palace within gardens on Montjuïc Mountain, overlooking the Mediterranean Sea. The hotel offers 2 swimming pools, free Wi-Fi and rooms with panormic views. There is an on-site fitness centre, a seasonal outdoor swimming pool, an indoor pool, hot tub, sauna & steam room. The restaurant serves a selection of Catalan and Mediterranean dishes.
Photo: Sosinda / Pixabay
Do you want to stay near the best leisure opportunities and recreational places in Barcelona where you can take both active part in beach activities and water sports, as well as chill out in the surrounding seaside areas? Would you like to have plentiful options to enjoy a meal and a drink in a restaurant overlooking the sea? In this case La Vila Olímpica del Poblenou may be one of the best areas to stay in Barcelona. At the Olympic Marina you will have more than 40 bars and restaurants to choose between!
La Vila Olímpica del Poblenou, known as merely La Villa Olímpica, was constructed in the beginning of the 1990s to house the athletes for the 1992 Summer Olympic Games.
The neighbourhood El Poblenou used to be an industrial and working-class district with numerous factories and residential buildings for the workers. After the gentrification the district has become popular among both young people and artists. The modern structures and surroundings include shopping centres, restaurants, bars, discos and lovely green spaces in addition to the attractive beachfront.
The urban architecture is kind of a continuation of the ideas from the Eixample district. The streets have been designed in a rectilinear grid system and the street plan spans about 2000 new apartments.
The Port Olímpic is the port side of the neighbourhood. Here you can do all kinds of water sports and sailing activities. Featuring a wealth of restaurants, tapas bars and top-notch discos, it is today a popular place in Barcelona to go out near the beach!
An iconic landmark at the Port Olímpic is El Peix by Frank Gehry from 1992 – a giant goldfish sculptural work at Passeig Marítim de la Barceloneta raised above La Vila Olímpica.
Mid-range
ibis Styles Barcelona City Bogatell is located 900 m from Port Olímpic with all its restaurant options – and features private parking, free WiFi access, an outdoor pool, a bar, bike hire and a children's playground.
Top
ZT The Golden Hotel Barcelona features a seasonal outdoor swimming pool and terrace, a restaurant, free WiFi and buffet breakfast. The hotel is located 1.5 km from the vibrant Port Olímpic and only 1.4 km from the Sagrada Familia.
Do you need an itinerary for Barcelona? Check here what you can cover in 5 days: Barcelona – Itinerary 5 Days
Find useful travel gear: Travel Essentials
'Where to Stay in Barcelona – The 6 Best Areas, Neighbourhoods & Places'
Where to Stay in Barcelona
Barcelona Best Places to Stay – Areas & Neighbourhoods
Featured image of
Where to Stay in Barcelona – The 6 Best Areas, Neighbourhoods & Places:
Dominick Vietor / Pixabay
Best area in Barcelona to stay – Best location to stay in Barcelona
Top neighborhoods to explore in Barcelona
Barcelona, the capital of Modernism and Spain's second-largest city, is a compact and relatively easy-to-walk city. Barcelona has several distinct neighborhoods to explore, each with its own vibe and different things to see and do.
Here's our guide to the top neighborhoods to stay in and explore when you visit Barcelona.
See some of Gaudí's designs, including Park Güell, in the Barcelona neighborhood of Gràcia © Lukasz Szwaj / Shutterstock
Best neighborhood for trendsetters: Gràcia
Once an independent municipality from Barcelona, Gràcia is perhaps the neighborhood in Barcelona with the strongest personality. Considered the trendiest district in the city, Gràcia is filled with local designers' workshops, vegan restaurants and even Japanese patisseries. Despite all the organic food stores and yoga studios, traditional markets still abound, and Catalan culture is thriving, as evidenced in the language, local folklore and popular events that take place in the neighborhood.
The streets of Gràcia are filled with several squares that are meeting points for people of all ages who gather over drinks each evening starting around 7pm. Gràcia is the best neighborhood for strolling, bar-hopping and observing the local atmosphere. The neighborhood is packed with all types of restaurants, from local tapas joints to Michelin-star restaurants. You can also find architectural gems designed by Modernist architect Antoni Gaudí, such as Casa Vicens and Park Güell. Being well-connected with downtown, Gràcia is a strategic location for those wanting to be close to the city center but farther from the hustle and bustle.
Uncover Barcelona's industrial roots in the neighborhood of Barceloneta © Marco Rubino / Shutterstock
Best neighborhood for the beach: Barceloneta
Barceloneta, which means "Little Barcelona" in Catalan, has become a year-round vacation spot and the preferred neighborhood for tourists. Originally a traditional fishing neighborhood founded in the 18th century, Barceloneta later became a working-class district. As industrial expansion around the city harbor grew, so did the neighborhood. You'll get a sense of the industrial roots as you stroll along the narrow lanes of the historic neighborhood.
While the area's buildings lack the patrician facades that characterize other parts of Barcelona, they have kept their own unique character and today house a wide array of tapas bars and nightclubs. Stay in Barceloneta if you enjoy late-night parties or are looking for some Spanish sunshine on the beach. Barceloneta is filled with plenty of spots for families to enjoy. Take a stroll around Port Vell (old harbor) and the animated promenade, and visit L'Aquàrium and the Museu d'Història de Catalunya.
Discover the world's most intriguing experiences with our weekly newsletter delivered straight to your inbox.
The Barcelona neighborhood of El Born has an endless supply of street cafes and bars © Marco Rubino / Shutterstock
Best neighborhood for landmarks: El Born
El Born competes with Gràcia for the title of Barcelona's trendiest neighborhood, but instead of vegan restaurants and urban gardens, El Born is home to concept stores, art studios and a distinctly international vibe. Formerly a craftsmen's district, El Born is one of the oldest neighborhoods in Barcelona. Look for century-old shops such as Casa Perris (a grocery store that sells in bulk) and some of the most important landmarks in the city, including Basílica de Santa Maria del Mar, a Gothic church from the 14th century, and Palau de la Música, a music hall and one of the best examples of Modernist architecture.
If your budget allows, El Born has a wide range of fine-dining restaurants, mostly offering Mediterranean and Spanish cuisine. For those on a budget, you can also find plenty of international fast food eateries and an endless supply of bars. El Born enjoys a prime location between Barceloneta and the city center and is within walking distance of most city landmarks, making it one of the most popular neighborhoods for accommodations.
The famous La Sagrada Família is a highlight of Barcelona's L'Eixample neighborhood © Travelpix Ltd / Getty Images
Best neighborhood for Gaudí architecture: L'Eixample
L'Eixample, which means the "expansion district" in Catalan, is a neighborhood built between the 19th and 20th centuries that was constructed as Barcelona expanded beyond the Old City. Its strict street grid pattern that's crossed by wide avenues makes it popular for aerial photos. The district of L'Eixample is typically divided into Left Eixample and Right Eixample, which are separated by Passeig de Gràcia, the most elegant and exclusive avenue in Barcelona, and where you find Gaudí-designed buildings such as La Pedrera and Casa Batlló.
Concentrated in Right Eixample are important historic sites, such as La Sagrada Família, Gaudí's still unfinished masterpiece, and Hospital Sant Pau, named a Unesco World Heritage site for its Modernist architecture. L'Eixample is a well-connected neighborhood, and it also has the most extensive range of accommodation options in the city.
Best neighborhood for hustle and bustle: El Raval
El Raval is the most vibrant of Barcelona's neighborhoods, and it's where everything is happening. Part of the Old City and located southwest of La Rambla, this neighborhood is home to the Museum of Contemporary Art of Barcelona, as well as Mercat de la Boqueria, the busiest local market in Barcelona, where stall-holders cook with some of the best quality ingredients in the city. El Raval is also the most multicultural neighborhood in Barcelona, making it an area of huge contrasts. If you fancy a more local party vibe than in Barceloneta, check out El Raval's bar-hopping scene. Stop into Bar Marsella, a late-night institution known for being the oldest continuously open bar in the city.
Peek into Barcelona's past in Barri Gòtic, the city's Gothic Quarter © David Soanes Photography / Getty Images
Best neighborhood for history: Barri Gòtic
The historic center of Barcelona is Barri Gòtic, the Gothic Quarter, featuring the oldest buildings in the city. Most of the buildings in this area are neo-Gothic, the result of a massive 19th-century restoration project. Fine examples of original Gothic architecture can be found in the interiors of La Catedral and La Llotja de Mar. For history buffs and first-time visitors to Barcelona, the Gothic Quarter is a must-visit. Even if you've been to Barcelona before, you're bound to find new-to-you bars, restaurants and historic squares hidden down the narrow alleyways. Rambling the labyrinthine lanes is a delight. Being right in the city center, Barri Gòtic is within walking distance from most tourist attractions. Some parts of the Gothic Quarter are known for late-night parties, so keep this in mind when looking for the right neighborhood to stay in.
This article was first published July 2021 and updated July 2022
See our full range of Spain travel books
Make the most of your time in Spain with Lonely Planet's range of travel guides and phrasebooks. Be the architect of your own trip as you discover the best things to do in Spain through insider tips, suggested itineraries and handy maps.
See our full range of Spain travel books
Make the most of your time in Spain with Lonely Planet's range of travel guides and phrasebooks. Be the architect of your own trip as you discover the best things to do in Spain through insider tips, suggested itineraries and handy maps.
Source https://barcelonayellow.com/accommodation/where-to-stay-in-barcelona
Source https://travelinculture.com/where-to-stay-in-barcelona-best-areas-places/
Source https://www.lonelyplanet.com/articles/best-neighborhoods-in-barcelona