The 5 Safest Places to Visit in the Middle East
The Middle East is a somewhat mysterious and untouched region to many hesitant globetrotters. While skeptical travellers have held back from visiting the region in recent years, 2018 has marked a resurgence of travel; and for good reason! Despite ongoing conflict in some areas which gives the region as a whole a bad rap, many parts are completely safe for travel. If you take some time to do your due diligence and take reasonable precaution (as you would travelling anywhere else), there shouldn't be anything holding you back from exploring this beautiful, complex, and diverse land.
The Middle East is rich in history, culture, and unmatched glorious landscapes from the mighty Sahara desert to the mesmerizing natural splendour of the Dead Sea – the lowest place on earth. As curious beings, travellers like exploring lands that are different from their own, and a trip to the Middle East undoubtedly cure a traveller's insatiable desire for new and exciting experiences.
Get inspired by our take on the top 5 safest places to visit in the Middle East (based on the Global Peace Index 2018 report) and see why tourists are flocking to the region. Take our advice, and plan your Middle Eastern adventure before all the other eager tourists arrive.
Jordan
Jordan is often called a safe haven of the Middle East and has welcomed refugees from many neighbouring conflict areas (in addition to an ever-growing number of tourists) with open arms and hearts. One of the most notable memories travellers take home is the warmth and kindness of the Jordanian people. The country is attracting avid adventurers who are keen on canyoning, diving, ATVing, caravaning via camel, and hitting the Jordan Trail — trekking through villages and desert landscapes, with stops at Wadi Rum, the Dead Sea and the ancient Nabataean city of Petra. There is plenty to be seen for the history buff, including Crusader castles, Roman amphitheatres, and the walk through Petra's Siq to the Treasury – without a doubt the most stunning sight in the region. If you're looking for some serenity, you'll find it in Jordan, with only a fraction of the number of tourists here compared to neighbouring Egypt and Israel.
There are plenty of adventures to be had in Jordan
Oman
Oman entered the tourism scene later than some of its Middle Eastern counterparts, beginning in the 1980s. Oman's capital Muscat is much more low key when compared to some of the glitz and glam of the neighbouring UAE. If you're looking to get off the beaten track and fully immerse yourself in the Arab Kingdom, Oman is the place for you. The country's infrastructure is well-developed, and you can find high-end hotels if that's your jam. Take a journey through Oman's whimsical trading and fishing villages and marvel at the country's exotic natural wonders, including breathtaking Fjords, rocky, barren mountains, rolling sand dunes, and beautiful coastlines.
Enjoy views like this in Oman's capital city, Muscat
Qatar
One of the most up-and-coming Middle Eastern Countries, Qatar is another destination that is moving forward in sophistication and modernity while staying true to its rich culture. Qatar boasts incredible skylines, coastlines, and sand dunes, a bustling culinary and art scene, and old-world hospitality that can't be beaten. A trip to the world-class capital of Doha is not complete without checking out the Museum of Islamic Art, built on its own island. There's no better way to experience the lavish sand dunes of Qatar than a dune bashing outing for either a day trip or an overnight adventure under the stars. The Doha Corniche promenade is a great place to take in the city's skyline, or better yet, hop on a dhow for an unobstructed view of the magical skyline. For soccer fanatics, mark your calendar for the 2022 FIFA World Cup, which will be held at Doha's Khalifa International Stadium.
The Museum of Islamic Art in Doha is a must-see in Qatar
The United Arab Emirates
The UAE is a gorgeous, oil-rich region situated on the eastern side of the Sinai Peninsula and bordering the Persian Gulf. When people think of the UAE, one place typically comes to mind: Dubai, a glamorous city lined with ultra-modern skyscrapers, home to the world's tallest building and over-the-top shopping malls. However, many don't know that the remaining six lesser-known Emirates also have a lot to offer visitors. The capital Abu Dhabi is a hot spot for leisure and sports and is well known for the Sheikh Zayed Grand Mosque and the Ferrari World theme park. For epic outdoor adventures and watersports in crystal clear waters, make your way to Jumeirah. Hike Ras al-Khaimah's rugged Hajar Mountains, check out the art and heritage scene of Sharjah, and last but not least, take some time to sit back and marvel at the rolling sand dunes of Al Dhafra.
Dubai's soaring peaks will astound you
Kuwait
In contrast to some of the other oil-rich Gulf countries, the city-state of Kuwait has maintained an authentic Arab vibe. Here you'll find a mix of traditional Islamic culture with Western influences. Kuwait City is a bustling metropolis with elaborate architecture and skyscrapers, including the Kuwait Towers, luxury hotels, and outstanding museums. Kuwait is also home to a dynamic culinary and restaurant scene. Check out the Souq Marbarakia's extensive food halls and nibble on plump dates and olives. Don't forget the awe-inspiring desert plains and the white sand beaches that attract beachgoers in droves. Hop aboard a traditional dhow for insights into Kuwait's maritime heritage.
Kuwait's beaches are not to be missed | Photo credit: xiquinhosilva on VisualHunt /
Etiquette and safety tips in the Middle East
While many parts of the Middle East have adopted Western norms to varying degrees, it's better to play it on the conservative side regarding dress and behaviour. When in public it is advisable to have shoulders and knees covered, and tight or revealing clothing should be avoided. Full-length robes and headscarves are not necessary for non-Muslims. Muslims fast during Ramadan, and therefore eating and drinking in public should be avoided during that time. It's best to check the social norms for the particular country you plan to visit as customs vary from region to region.
Exploring the Middle East is an adventure that too many people pass up: are you ready to discover it for yourself? If you're still concerned about safety, a possible option is to join a guided tour for an extra sense of security. This beautiful region shouldn't stay a hidden gem!
Which country in the Middle East are you itching to explore? Let us know!
Allison Gutscher
Allison is originally from the US and relocated to Austria in 2013 for true love. She works in performance marketing at TourRadar, and on her down-time, tries to improve her German skills. Allison loves long runs, yoga, tennis, playing the piano, going to concerts, and travelling every opportunity she gets.
Where in the Middle East is safe to travel to?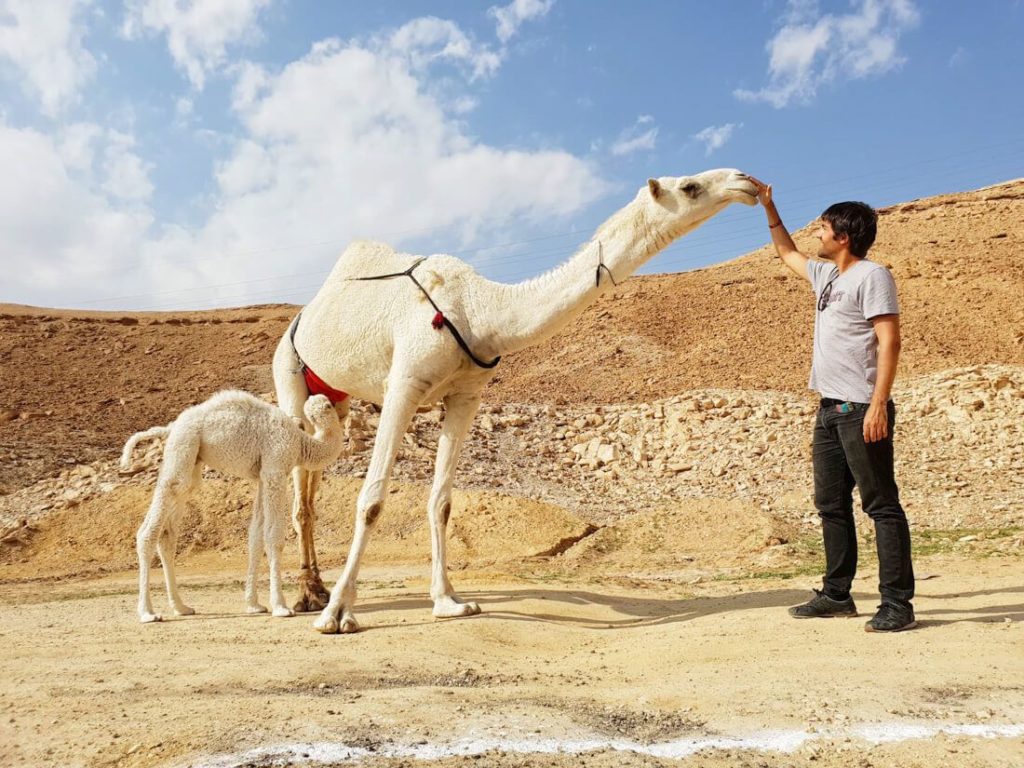 Right before I began to write this article, I decided to Google the latest Middle East-related news, and these were the first results that showed up:
How Europe is getting entangled in the big Middle East conflict
Saudi Arabia hinders Yemeni agreement
Israel and UAE historic deal to normalize relations
UAE and Israel to establish spy base in Yemen
They are all related with the ongoing Middle Eastern issues, to a greater or lesser degree.
That's what the international media talks about and, unfortunately, pretty much the only information most people from around the globe get access to.
As a result, the Middle East is perceived by many as an unsafe territory, hence an unlikely place to travel to, which is extremely sad and wrong, because this region is large, rich, composed of many different countries which, more often than not, have nothing to do with each other's issues.
The Middle East is one of the most troubled regions in the world, nobody is denying that, plus there are some areas – just a few, in my opinion – which can be extremely dangerous.
Based on my travel experience in the Middle East, in this post, I wanted to tell you where in the Middle East is safe to travel, which includes a thorough analysis and country breakdown.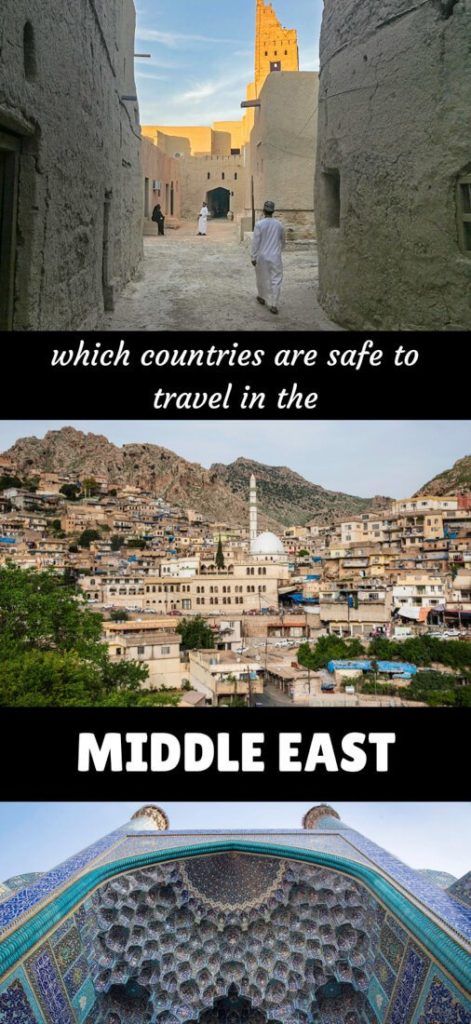 In this Middle East safety guide, you will find:
Remember to get travel insurance for Middle East
IATI Insurance is one of the very few that covers travel in ALL Middle Eastern countries
Get 5% discount if purchasing via this link
Is the Middle East safe? 4 reasons to believe it isn't a dangerous place to travel to
The Middle East is huge
The Middle East is an enormous territory almost as big as Europe and composed of 15 countries, 16 if you count Turkey as well.
These countries are:
Bahrain, Egypt, Iran, Iraq, Israel, Jordan, Kuwait, Lebanon, Oman, Palestine, Qatar, Saudi Arabia, Syria, the United Arab Emirates and Yemen
From a cultural point of view, they have little to do with each other. Of course, they share many similarities but comparing, let's say, Iran, the United Arab Emirates and Lebanon, is like comparing Belarus, Germany and Spain.
Iranians are not Arabs but they are Persians and practice Shia Islam.
The United Arab Emirates is a very rich Arab nation. On the one hand, they practice a very conservative branch of Sunni Islam and, on the other, their laws are very tolerant towards foreigners.
And Lebanon is the most culturally diverse country you can never think of, in which around 40% of the population are Christian, from many different branches and backgrounds.
And then of course you have Israel, Palestine, Yemen and a large etcetera.
Each country is a completely different world, so you can't put them all in the same bucket.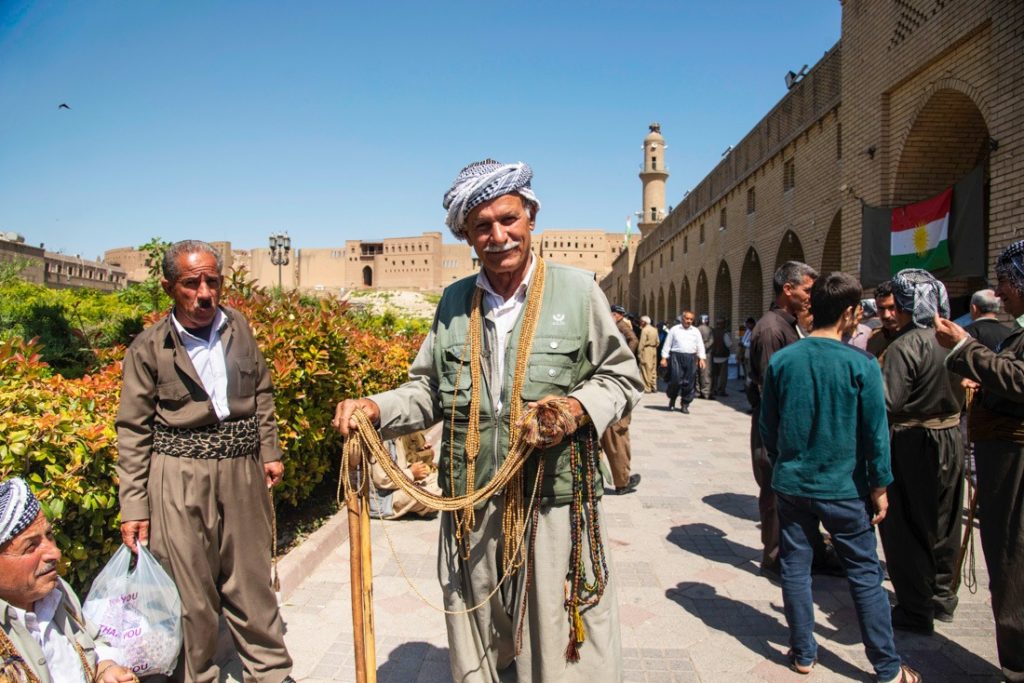 Erbil is the capital of Iraqi Kurdistan, a region inhabited by Kurds, a separate group of people from Arabs, and one of the safest places in the Middle East
There are actual borders
The Middle East isn't like a Schengen zone, in which all Arabs and non-Arabs cross from one to another freely, but they have secured borders, many of which people are not even allowed to cross.
What I want to say is that, if there was a war or any conflict in a specific country, it doesn't mean that the neighboring countries are unsafe as well.
For example, according to the World Economic Forum, Oman is the 4th safest country in the world. Yet, it shares a border with Yemen that is completely open to both foreigners and locals.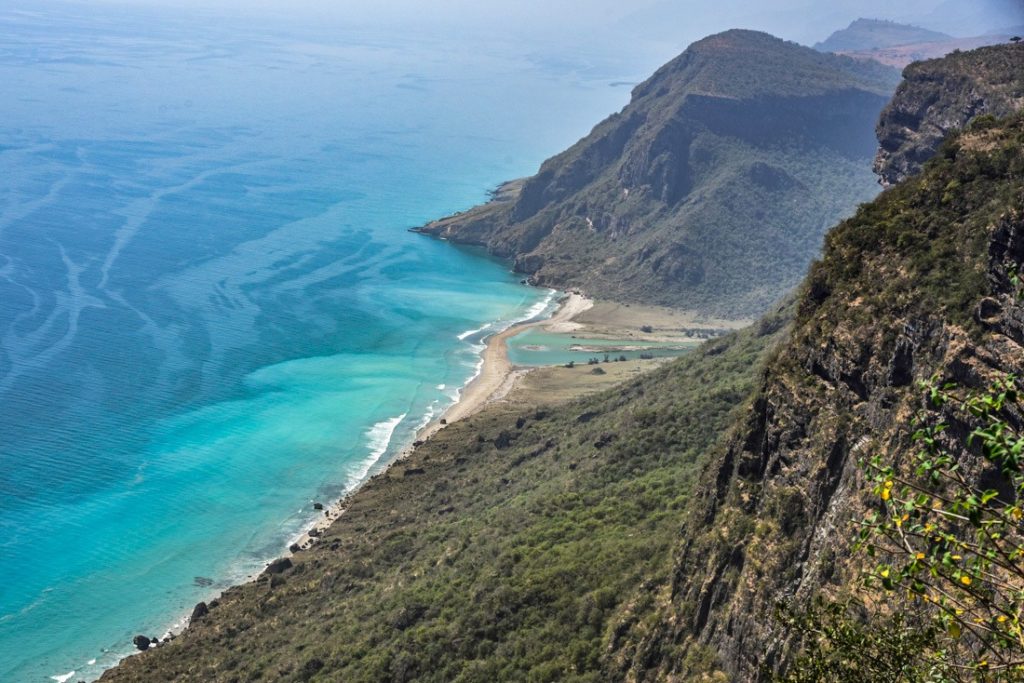 This is Salalah in Oman, just a couple of kilometers away from the Yemeni border, and the most beautiful region in the country
The media tells you only one part of the story
You already know that but, just to remind you that the media only shows you one side of the story which, unfortunately, tends to be the ugliest side.
Just remember that countries are big pieces of territory and, whenever they show you an image of a partially destroyed city like Aleppo, it doesn't mean that the rest of the cities are unsafe as well.
I mean, did you know that the city of Damascus almost remained untouched in the current Civil War?
What if the only thing you knew about the USA was the 9/11 attacks?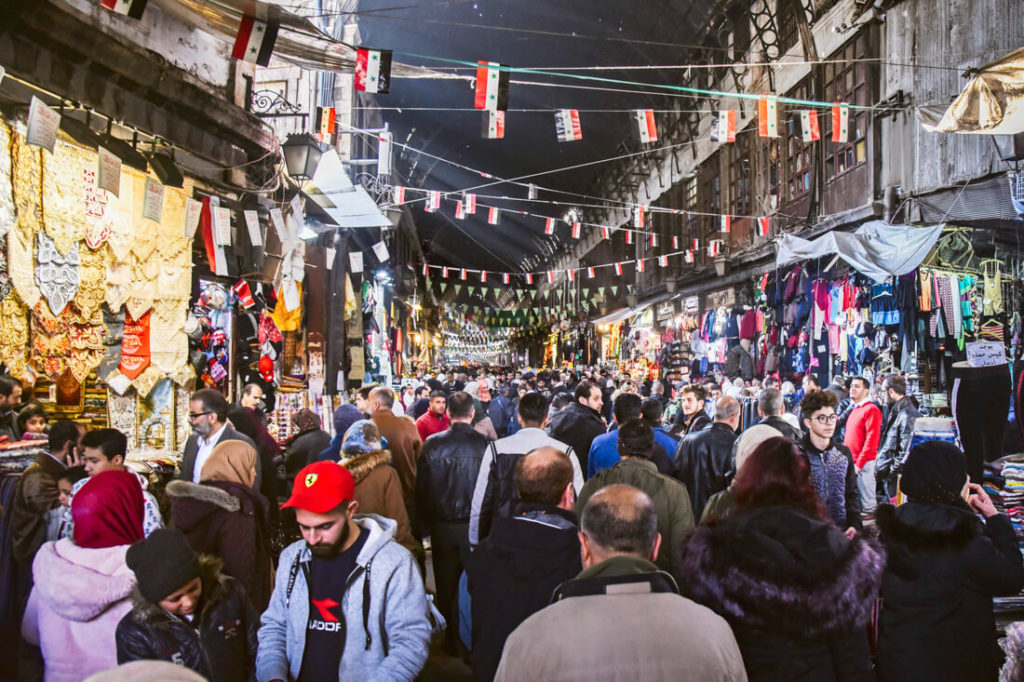 Syria is considered one of the most dangerous countries to travel in the Middle East but I took this photo in Damascus in 2019
Many Middle Eastern countries are safer than yours
Hopefully, the above reasons were quite obvious to many of you, but I have always had a hard time trying to convince my friends about this one.
For some reason, crime in the Middle East is barely existent.
You may find some little petty crime in a few capitals like Amman (Jordan) and Cairo (Egypt) but that's because they are the most touristic capitals in the region and, in any case, it's nothing particularly disturbing.
War and terrorism-wise, some parts of the Middle East are f***ed up, for sure, but outside those few areas, life is definitely safer than in your home country, and the locals have developed such a strong sense of community that it makes traveling super pleasant, as you don't need to worry about anything.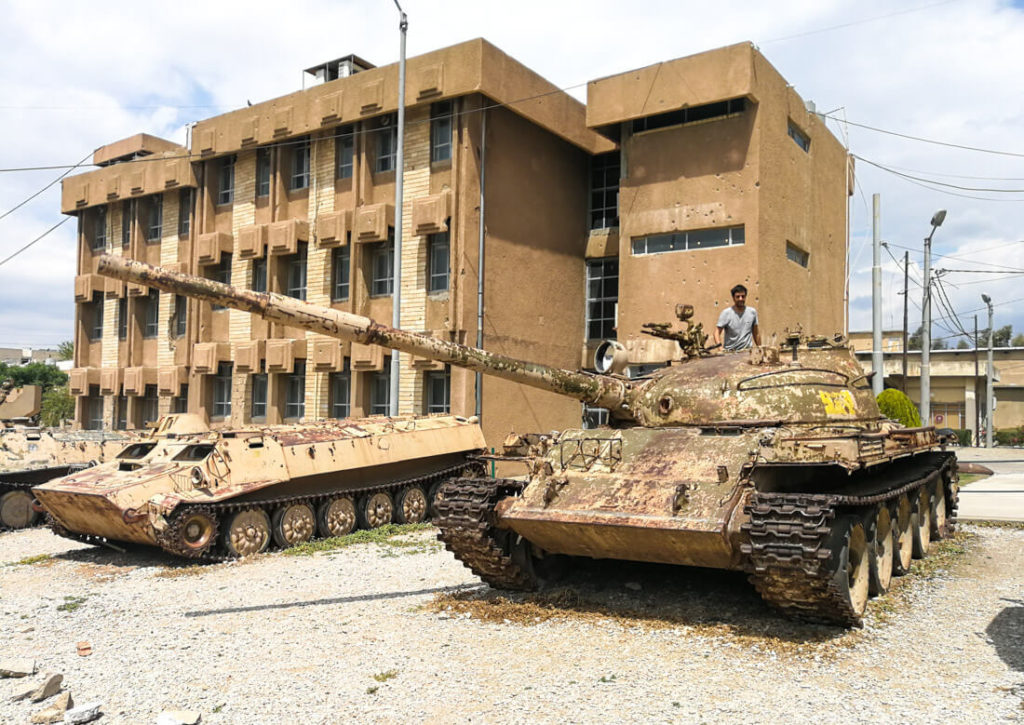 Some old tanks from Sadam Hussein's Army
Which countries in the middle east are safe to visit?
Please note that the following country breakdown is a mere opinion, based on all my years of travel in the Middle East. It may differ from your own and, if it does, I will be happy to answer your concerns in the comments section.
Extremely safe countries in the Middle East to travel to
The safest countries in the Middle East to go right now are the Gulf Monarchies on and around the Arabian Peninsula.
All of them are incredibly rich (except for Saudi Arabia), two of them having the highest GDP per capita in the world.
Oddly enough, the local population in all of them barely reaches 50%, the rest being all immigrants, mostly coming from South Asia (Pakistan, India and Bangladesh), but there is also a large Western expat community.
The Gulf Monarchies are definitely safer than any other Western country.
Bahrain
The smallest of all, Bahrain is a tiny island connected to Saudi Arabia by a bridge and infamous for having the most permissive rules towards alcohol and prostitution, the reason why its many bars tend to be filled with Saudis who come over for the weekend to enjoy some freedom.
In my opinion, there is nothing of interest in Bahrain other than eating out and clubbing but still, if you want to party legally until 6am in the morning, this is one of the safest countries in the Middle East to do so.
I already mentioned it in the previous section that Oman is, according to the WEF, the 4th safest country in the world and in the Global Terrorism Index, compiled by the Institute of Economics and Peace, Oman is ranked as 0, meaning that the impact of terrorism is non-existent (USA is ranked as 5.4).
Moreover, despite the country's obvious modernization, Oman is the only country that has been able to keep its most traditional essence, making travel here an even better and more authentic experience, in which the local Omanis will continuously bless you with their hospitality.
Furthermore, something worth mentioning about Oman is that, unlike other Arab countries, they have always strived to have good relationships with all Middle Eastern countries, including Israel and Iran, plus they stayed out of the Yemeni conflict.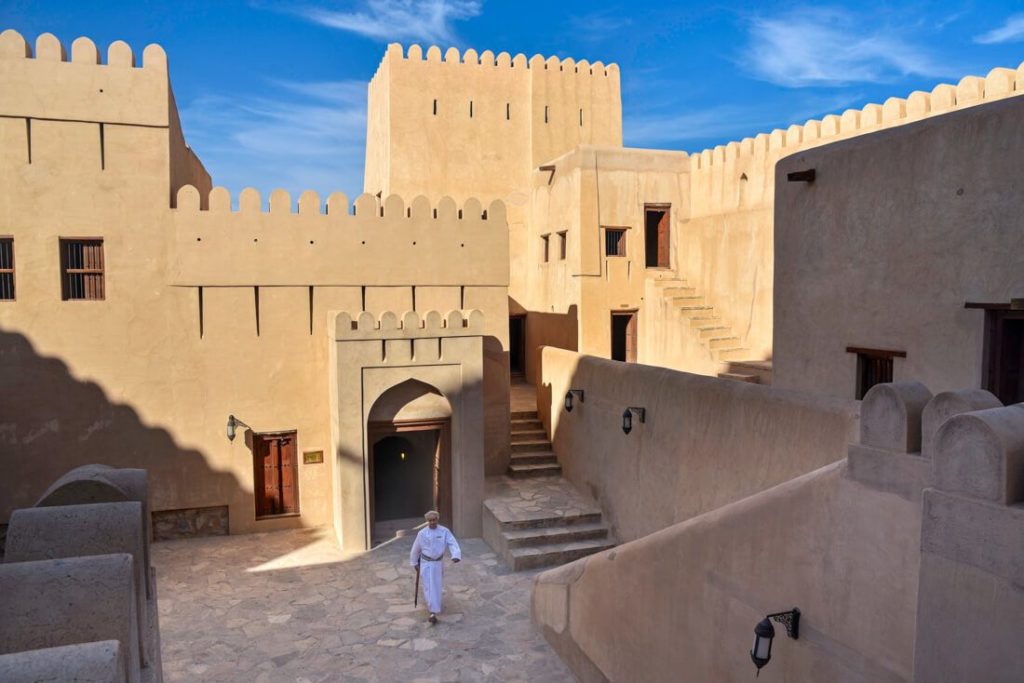 In Oman, the safest country in the Middle East, there are plenty of ancient fortresses
United Arab Emirates (UAE)
Home to one of the most international cities in the world, Dubai, the UAE is an extremely developed country whose impeccable safety is hailed by absolutely each and every expat living there.
Let's not forget, however, that the UAE is heavily involved in the Yemeni war, helping Saudi Arabia with the airstrikes, but then, your main concern should be ethical, rather than worrying about the country's safety.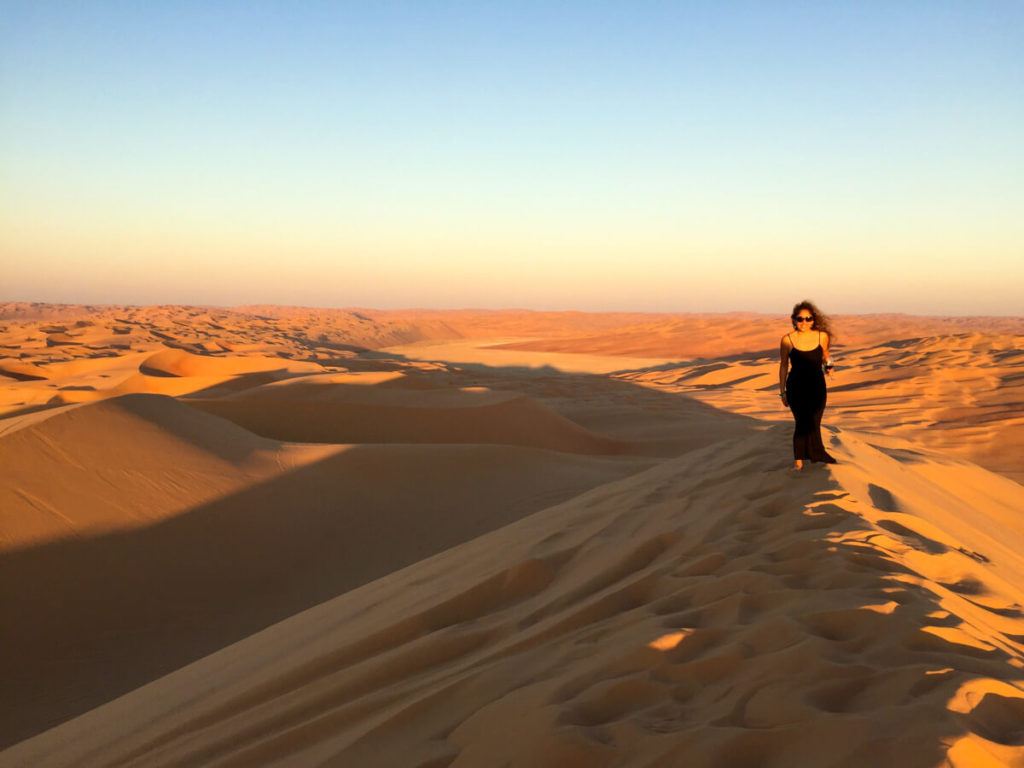 The United Arab Emirates is not only about the typical luxuries you find in Dubai, but it is home to incredible deserts
Qatar
Officially the country with the highest GDP per capita in the world, Qatar is a powerful Arab country whose state model follows the same line as the UAE.
Due to its recent close ties with Iran, however, Qatar is going through a diplomatic crisis with its best friends from Saudi Arabia and the UAE, who decided to boycott them indefinitely, but that doesn't affect the security situation of one of the safest countries in the Middle East.
Saudi Arabia
Saudi Arabia doesn't come without its own issues. There is no political freedom and their laws are strictly based on Sharia, the Islamic law, whose main criticism in the West is that its rules bring women down to second class citizens.
Unfortunately, because of those facts, foreigners assume Saudi is inhabited by dangerous fanatics who would completely stone a woman to death just because she is a blonde foreigner, and I have actually heard a woman saying that.
After coming back from Saudi Arabia, I was heavily criticized by many readers who were questioning my ethical principles, and there was this specific woman who told me:
I don't want to travel to Saudi Arabia because I don't want to be stoned to death.
If you actually believe this, you clearly have no idea about anything. Saudi Arabia is, along with the other Gulf Monarchies, one of the safest countries in the Middle East.
I backpacked and hitchhiked around the country for over 2 weeks and had a real blast, not only because the country is filled with stunning natural sites but also because the people were amazingly kind, hospitable and helpful.
In my opinion, Saudi is the most misunderstood country on Earth, even more than Iran.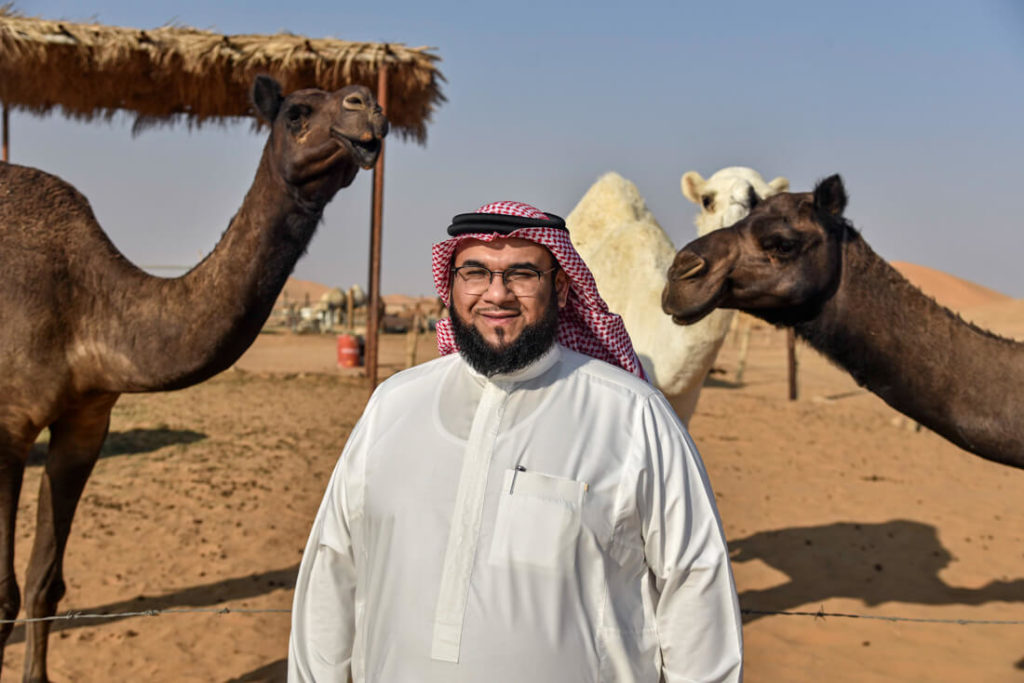 Beautiful, kind-hearted Saudi are the highlight of any trip to Saudi
Kuwait
I haven't been to Kuwait, but this is another business hub, similar to Qatar and the UAE, so the country is absolutely safe.
"Just safe" countries in the Middle East to go
Personally, I consider that some of the following countries are extremely safe to travel to as well, but I am putting them in the ''just safe section'' because, while there isn't any terrorist thread and stuff like that, they are politically unstable, especially Iran and Lebanon.
Unlike what many people in the West think, especially in the USA, Iran is an extremely safe Middle Eastern country.
On the one hand, violent crime is extremely rare and, on the other, there is no terrorism, especially because Iranians are Shia Muslims, the worst enemy of ISIS and other terrorist organizations alike.
I don't know a single person who hasn't had a great time in Iran, not only because the country has an enormous touristic potential but also because, along with the Omanis, Iranians are the most hospitable and kind-hearted people in the region.
However, because of the current protests and all the issues with the USA, who have flooded them with endless, annoying sanctions, traveling here comes with its own particular challenges, logistically speaking.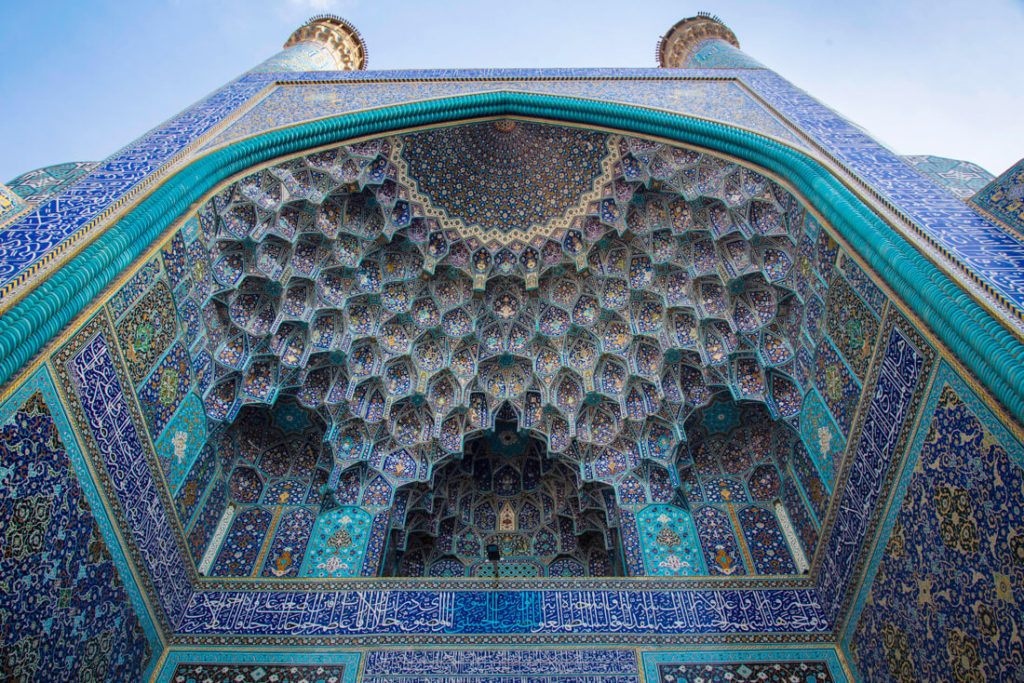 The Islamic architecture in Iran is absolutely out of this world
Lebanon
Lebanon is another often misunderstood country, for the following reasons.
First of all, it is located right at the heart of the turmoil, nestled between Syria and Israel and the truth is that a tiny northwestern region of Lebanon has suffered in the past from a small Syrian war spillover, but you weren't able to go there anyways, even if you wanted to.
Second of all, people still associate Lebanon with war and yes, a bloody Civil War happened here, but it ended in 1991!
And third, while there have been some critical terrorist attacks, those bombs have always targeted Shia-populated districts – far away from any touristic area – plus there haven't been more attacks than in other European countries.
Nevertheless, the political situation in Lebanon is today highly unstable and protests are now being spurred by the massive port explosion that worsened the situation even more.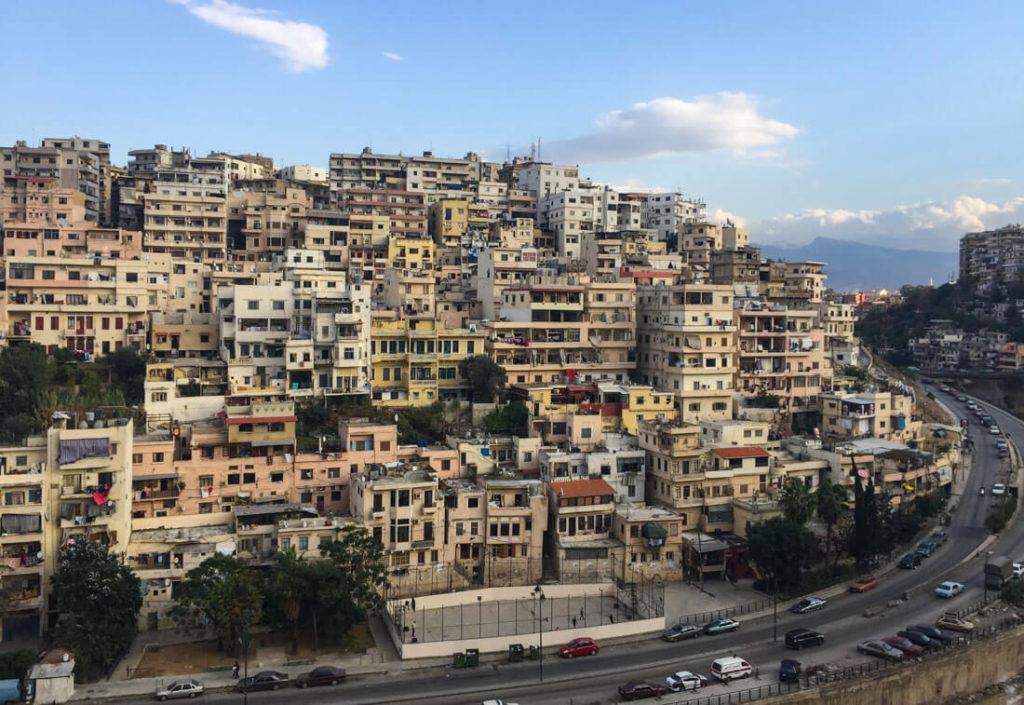 The FCO advises against traveling to Tripoli but the truth is that today, it is a peaceful traditional city
Jordan
After Egypt, Jordan is the most touristic country in the Middle East, home to mass tourism sites such as Petra, Jerash and the Dead Sea.
A very safe and politically stable country that even managed to escape from the 2011 Arab Spring.
Nevertheless, since this is a very touristic country, some petty crime exists – just regular pickpocketing – plus some women have claimed being verbally harassed by local men.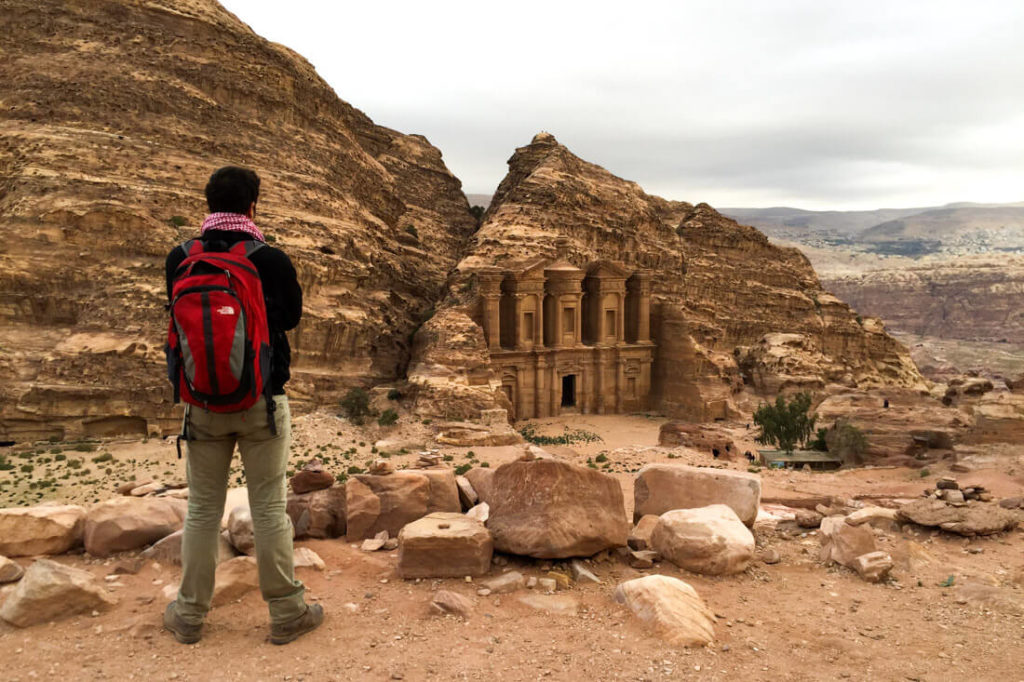 Petra is the most visited place in Jordan
Egypt
The situation in Egypt is very complicated and difficult to explain.
On the one hand, this is one of the most touristic countries in the world but, unfortunately, it has recently suffered from terrorism and, unlike in Lebanon, some of those attacks have targeted tourists.
As a result, tourism in Egypt has massively decreased to the extent that there is a tangible crisis, visible when you see a shit load of businesses closed and some internationally famous sites are empty.
Nevertheless, while I do believe that those attacks are a major concern, you need to know that they tend to be one-off events and the likelihood of suffering a car accident is much greater than being caught in a terrorist event.
Still, travel with caution, avoid the northern part of the Sinai Peninsula and Coptic Christian sites.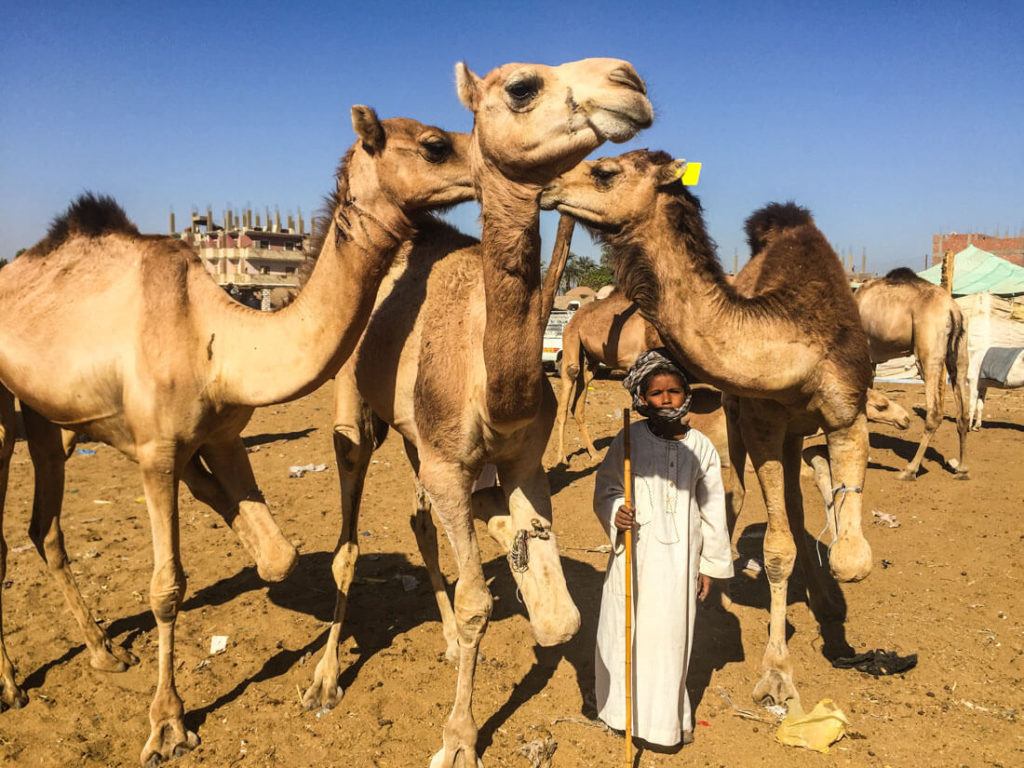 Besides its traditional temples and archaeological sites, in Egypt you can do many things, like visiting this traditional camel market in Daraw
Israel & Palestine
The conflict between Israel and Palestine is real, but the situation has dramatically improved and today, the West Bank, home to some really important Christian sites and cities, such as Bethlehem, is very safe for travel, so is Israel.
In the last years, all the Palestinian-Israeli issues you have been hearing in the media have mainly happened in the Gaza Strip, a Palestinian region which is geographically separated from the West Bank.
The Gaza Strip can be dangerous but you can't go there as a tourist anyways.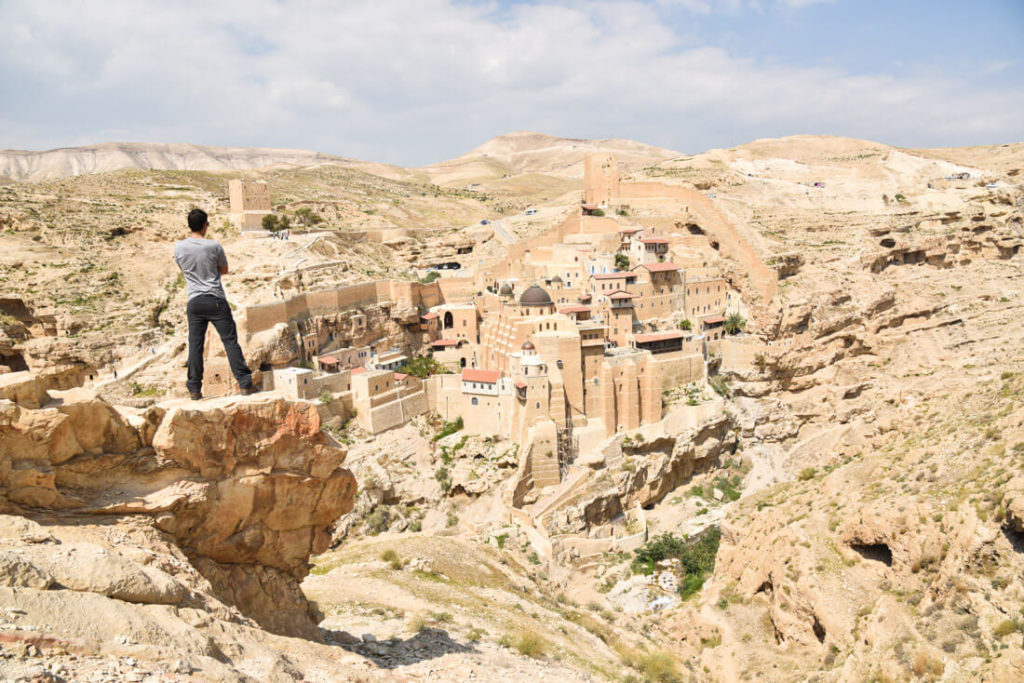 Palestine is filled with epic Christian sites, such as this Orthodox Monastery named Mar Saba
Relatively safe countries in the Middle East to travel to
More than a relatively safe country, Iraq is divided into 2 regions: one which is extremely safe, and one which is OK safe.
The extremely safe region is Iraqi Kurdistan, and the one which isn't that safe is actual Arab Iraq, Baghdad and stuff.
Iraqi Kurdistan is a completely different world. They aren't Arabs but Kurds, control their own borders and are pro-American and pro-Israel, which is why they stayed out of the conflict that made Arab Iraq into a failed state.
I have been in Kurdistan twice, hitchhiked all around the country and it's a real, very safe paradise, one of the safest regions outside of the Gulf Monarchies.
Arab Iraq, nevertheless, is not as bad as you may think. In fact, after Pope Francis visited it in March 2021, the authorities introduced a visa on arrival, available for up to 35 nationalities.
This can only mean that the security situation in Iraq has drastically improved. I did travel there independently for a few weeks, and everything seemed fine but of course, you need to pay some extra attention because the country is highly unstable.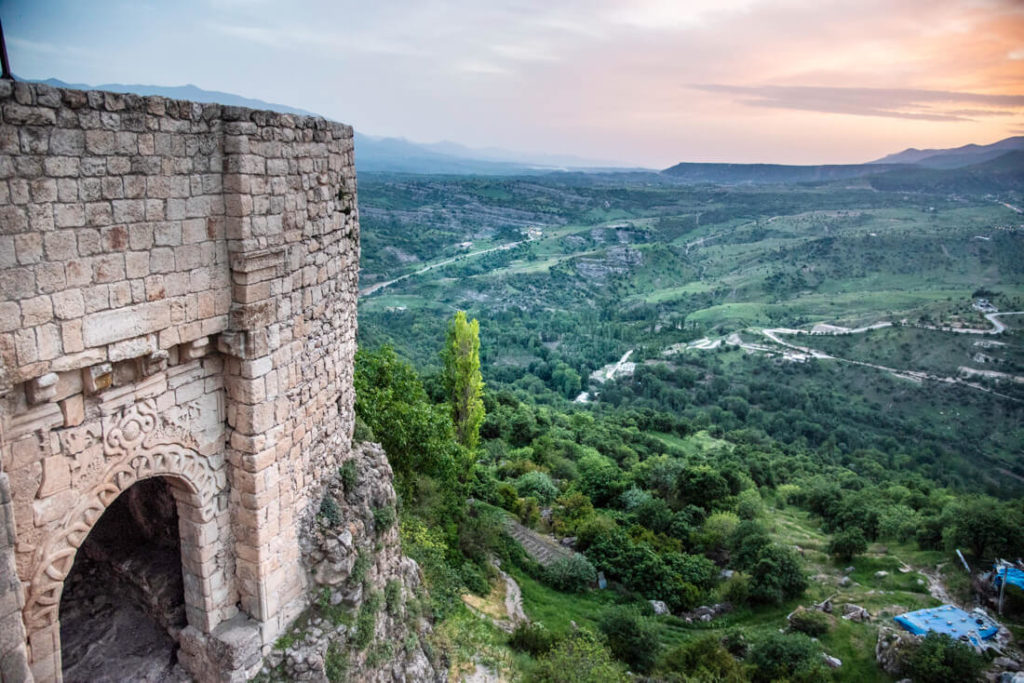 This is Amedi, one of the oldest villages in the world, found in Iraqi Kurdistan
Dangerous, or less safe, countries in the Middle East
These two countries are dangerous but I am also calling them less safe countries because either the situation has improved – in Syria – or there are specific regions that managed to stay out of the conflict – in Yemen.
Syria
Want to travel to Syria?
We have several trips scheduled until the end of 2022.
The first group trip is arranged for July 1st to 8th . Find out more:
Syria Tours Against the Compass 2022
You already know the situation in Syria. There's been a Civil War since 2011 that caused hundreds of thousands of dead and displaced people, making it one of the most dangerous countries on Earth.
Nevertheless, you also need to know that, today, the war is almost over and there are some Government-controlled areas, especially in the Western part of the country, which are now relatively safe for travel and, when I say relatively I mean that they are currently safe but the situation can change overnight.
I traveled in Syria recently, visiting Aleppo, Homs and Damascus. The security measures were insane, but I didn't experience any bad situation; on the contrary, all the Syrians I met were great and helpful.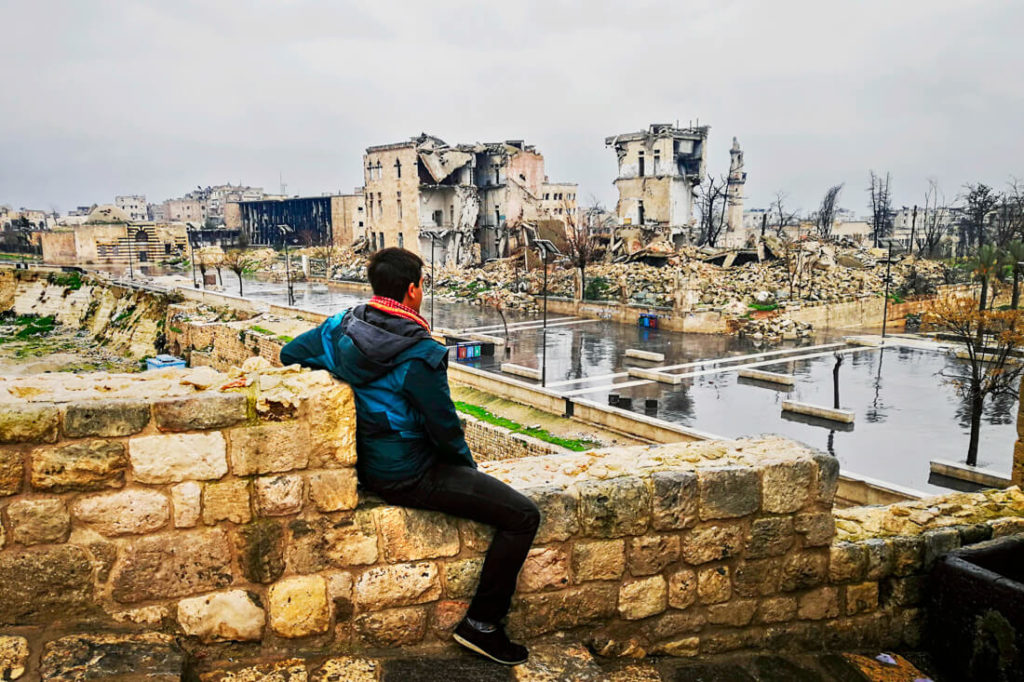 The partially destroyed city of Aleppo
Yemen
Yemen is unsafe.
It's an actual war zone where airstrikes are common and there are pro-ISIS people who would not hesitate to kidnap you if that meant making some extra money.
However, there are two regions – the island of Socotra and Hadramaut – that somehow, are staying away from this horrible war and, according to many travelers, they are relatively safe, especially Socotra.
Is the Middle East safe for solo female travelers?
Remember to get travel insurance for Middle East
IATI Insurance is one of the very few that covers travel in ALL Middle Eastern countries
Get 5% discount if purchasing via this link
I am completely aware that traveling in the Middle East as a woman is a different experience than as a man but, unfortunately, I can't really speak for them.
What I would like to highlight, however, is that the different Middle Eastern issues the media talks about have little to do with a woman's experience, but are more about being traditional, conservative Muslim countries, where the locals don't know how to behave with Western women, or just women in general.
Because this is such an important topic, I decided to create a solo female travel section where solo women adventurers share their experiences:
If you want to write a guest post for Against the Compass, please send me your pitch ideas at joan(at)againstthecompass.com
The 7 Safest Countries in the Middle East For Americans to Visit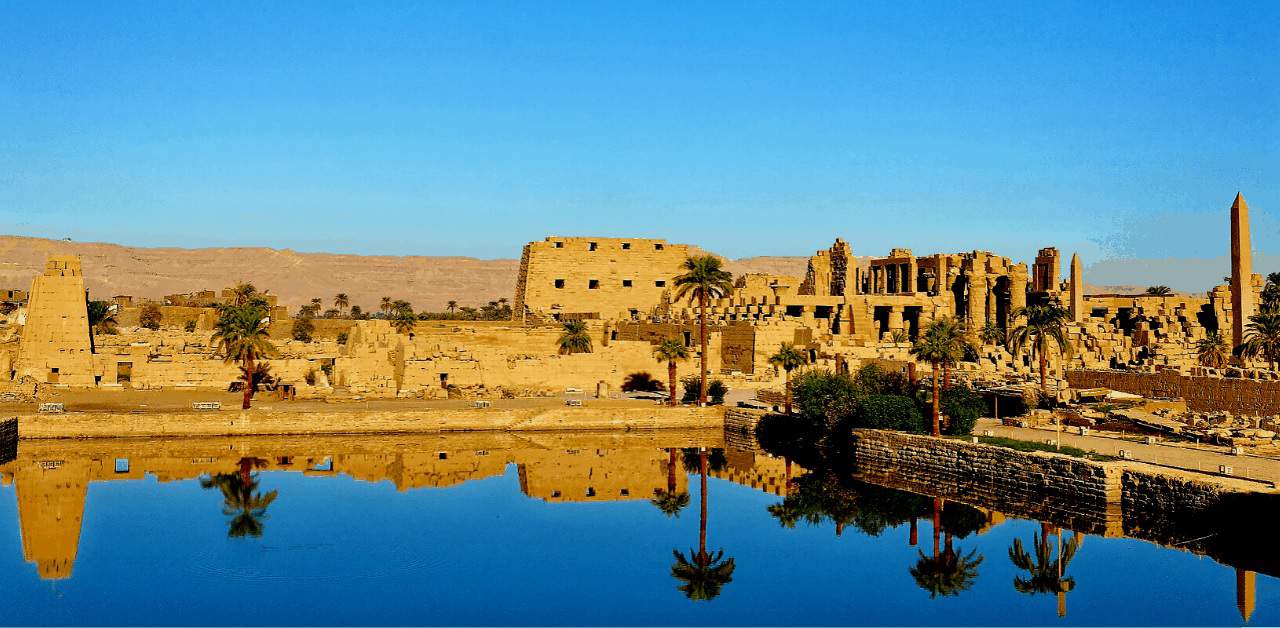 Disclaimer: This post may contain affiliate links. All hosted affiliate links follow our editorial policies.
The Middle East is a region that tends to intrigue adventurous travelers. But it's often written off as an unsafe destination plagued with turmoil– a misconception largely perpetuated by the corporate news media.
While there are certain areas that are genuinely unadvisable to visit, many Middle Eastern countries are completely safe for travel. These nations welcome tourists warmly, with a genuine respect where it is offered in return.
As long as you do your research and take the same precautions you would when traveling to any foreign destination, the Middle East is a fascinating place to explore. It offers incredible history and endless opportunities for adventure.
To that end, we've compiled a list of the 7 safest countries in the Middle East for Americans to visit.
It's based on a combination of research and personal experience, and includes some of the must-see attractions and entry requirements for each country.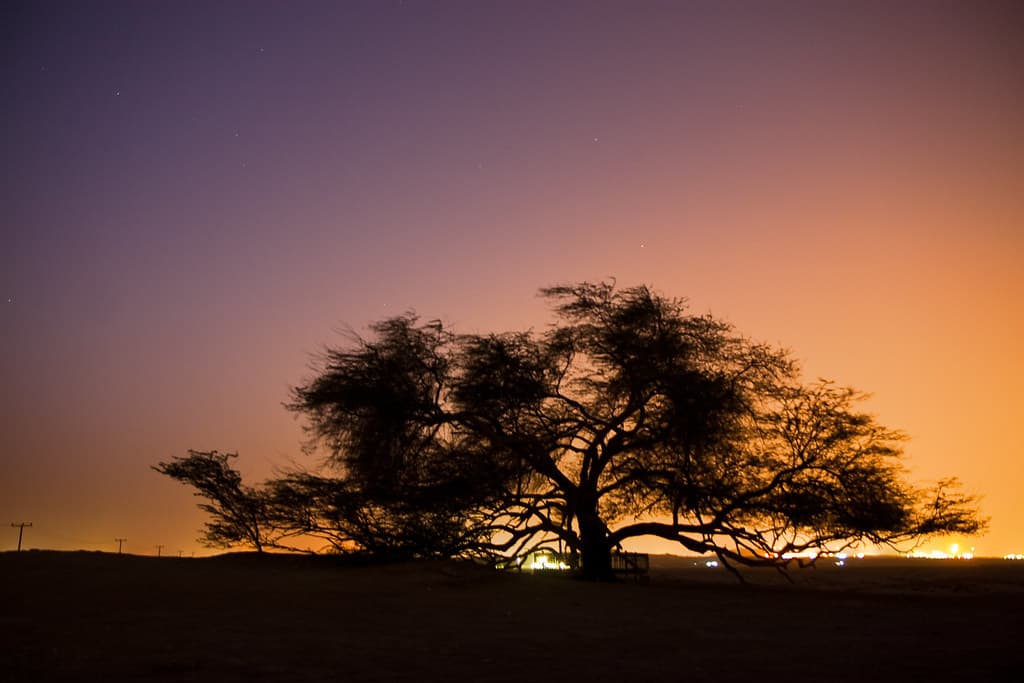 "Sunset at the Tree of Life" by Alex Europa is licensed under CC BY-NC-ND 2.0
1. Bahrain
Bahrain is an archipelago in the Persian Gulf with many incredible spots to explore.
These include the country's highest point, Jabal al Dukah (also known as the Mountain of Smoke), and the Dilmun Burial Mounds, which has thousands of tumuli (burial mounds) dating back to 2050 and 1750 BCE.
But perhaps the most intriguing place to visit in Bahrain is the world-renowned Tree of Life, or Sharajat-al-Hayat . This 400-year-old tree is located in the middle of the harsh desert, with no apparent source of water.
Local legend has it the tree is granted water by the ancient God of water, Enki, and marks the original location of the garden of Eden!
What Makes Bahrain Safe
The crime rate in Bahrain is relatively low, with violent crime being extremely rare. However, it is important to not let your guard down completely, as petty crimes like theft and burglary are more common.
Politically motivated demonstrations and protests are known to occur here, but they tend to be localized to specific areas and there is generally a visible security presence.
Bahrain Entry Requirements for Americans
To enter the country, you'll need a valid U.S. passport for at least six months prior to your trip and a Bahrain visa, which you can apply for online or upon arrival.
Visa applications require a recent photo, letter of intent for your visit, trip itinerary, and a financial statement that proves you can financially cover the cost of your trip.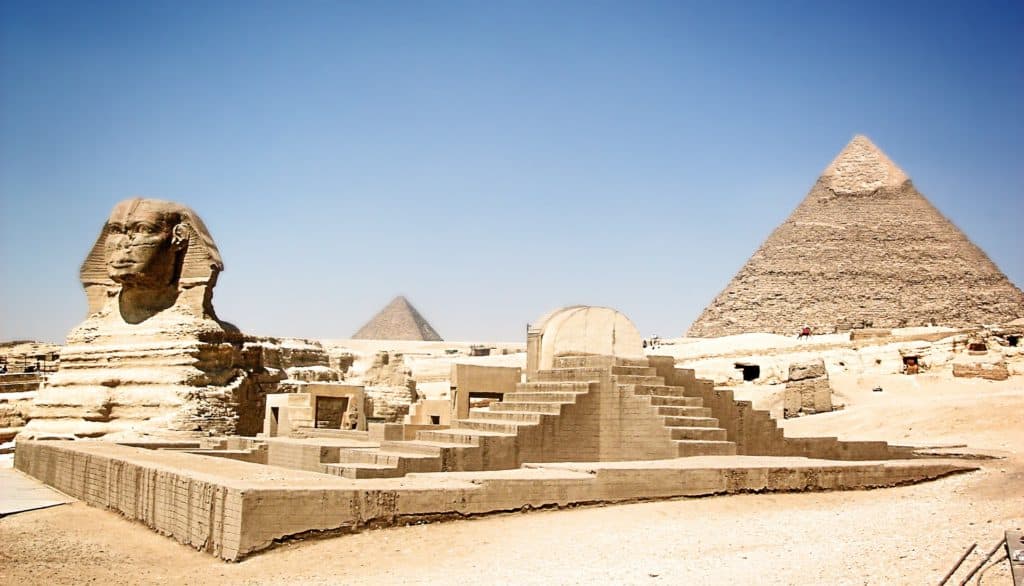 Image by Cesar Salazar from Pixabay
2. Egypt
Egypt is one of Africa's most popular tourist destinations, and therefore one of the safest Middle Eastern countries to visit.
Pe ople travel from all over the world for a chance to see the Great Pyramid of Giza and explore the Nile Valley, which is home to the Valley of the Kings, the Great Sphinx of Giza, and the incredible temples of Luxor and Karnax.
Along with exploring the historic capital of Cairo, cruises along the Nile are also incredibly popular. These typically sail between Aswan and Luxor, stopping at Esna, Edfu, and Kom Ombo along the way.
What Makes Egypt Safe
While the past decade hasn't been particularly great for Egypt's tourism due to the Arab Spring and subsequent political issues, the country remains welcoming and safe for tourists.
As long as you stay away from regions like the Libyan border, Western Desert, and Sinai Peninsula (where there is a slightly higher chance of violence), the worst crime you are likely to face is petty theft.
So just remember to stay aware in more densely populated places, like Cairo, as you would in any large city.
Egypt Entry Requirements for Americans
To enter the country, you'll need a passport with at least six months validity as well as a Egypt tourist visa, which you can apply for online.
Single entry visas for a stay of 30 days or less are $25, while multiple entry visas are $60.
You can also get a visa upon arrival at any of the border entry points. Just make sure you have cash, because debit and credit cards are not accepted.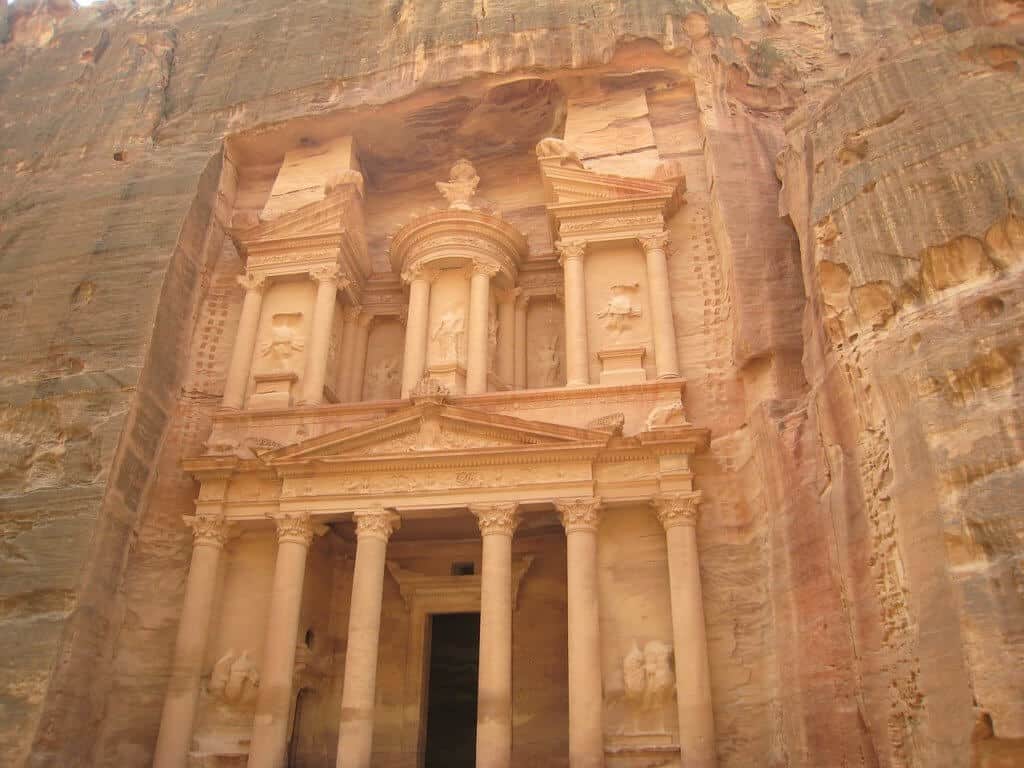 The World Renowned Petra Treasury
3. Jordan
Along with being known as one of the safest countries in the Middle East, ecotourism in Jordan has increased dramatically in recent years.
This is due to an impressive series of nature reserves, including Ajloun Forest , Azraq Wetland Reserve, and the Dana Biosphere Reserve , which is renowned for its biodiversity.
Other great places to explore in Jordan include Jerash (one of the best-preserved Roman archaeological sites in the world), the Dead Sea , and Wadi Mujib. And don't miss Wadi Rum , which is known as "the Valley of the Moon" and offers some truly magical sunsets!
But a trip to Jordan would not be complete without visiting the ancient city of Petra and climbing the 500-step secret trail to get spectacular views of the famous Treasury ( Al Khazneh ).
What Makes Jordan Safe
Jordanians are extremely generous people and are much more welcoming to Americans than certain stereotypes might suggest.
The Jordanian government also puts a lot of effort and money into making visitors feel safe. You'll see high-profile security measures and a noticeable police presence in tourist regions, so even petty crime rates here are low.
Jordan Entry Requirements for Americans
To be allowed entry into Jordan, you'll need a passport valid for at least six months. You'll also need a visa, which can be obtained online through Jordan's Ministry of Interior website.
You can also purchase a single-entry visa upon arrival at the Queen Alia International Airport and at Aqaba Airport for 40 JOD ($56.50).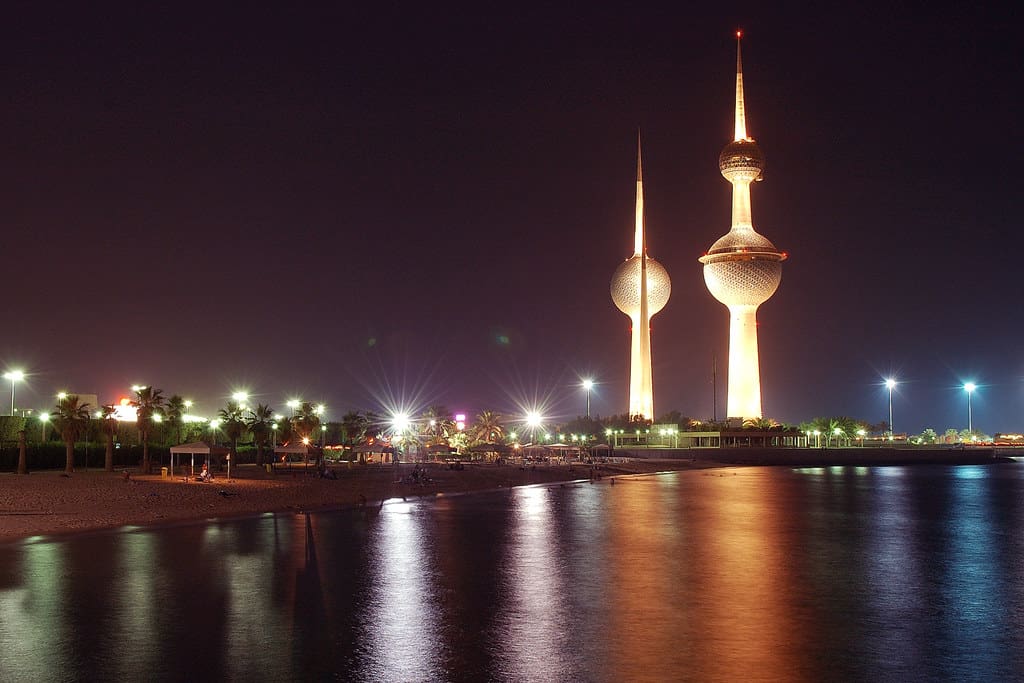 "Kuwait Towers At Night" by Cajie is licensed under CC BY-NC-SA 2.0
4. Kuwait
Kuwait is an oil-rich country on the Arabian Peninsula that is known for their dynamic cityscapes. There are incredible skyscrapers and impressive architecture, including the Kuwait Towers and Grand Mosque.
To learn more about the history of the country, there are plenty of awesome museums, such as the Kuwait National Museum and the Tareq Rajab Museum of Islamic Arts.
You can also go on a desert safari, visit the Al Kout Beach, or enjoy some traditional food at the Souk Al-Mubarakiya, a traditional souk market.
What Makes Kuwait Safe
Kuwait is a wealthy country with extremely low levels of crime, and the incidence of violent crimes against travelers is negligible.
Some embassies warn against traveling to Kuwait due to terrorism, but there has only been one incident here since 2005. Even that took place at a mosque during Ramadan, and was not a direct attack on foreign visitors.
The biggest threat you're likely to face in Kuwait is on the roads. There is a general disregard for road signs and signals, so it's best to just hire an experienced driver instead of driving yourself.
Kuwait Entry Requirements for Americans
Americans are required to have a U.S. passport that has been valid for a minimum of six months, as well as a visa. The Kuwait online visa is the easiest way to satisfy this requirement.
The travel visa application form requires your personal info (name, address, passport number, etc.) and details of your Kuwait visit.
Once approved, it should be printed out and brought with you to the Kuwait border control.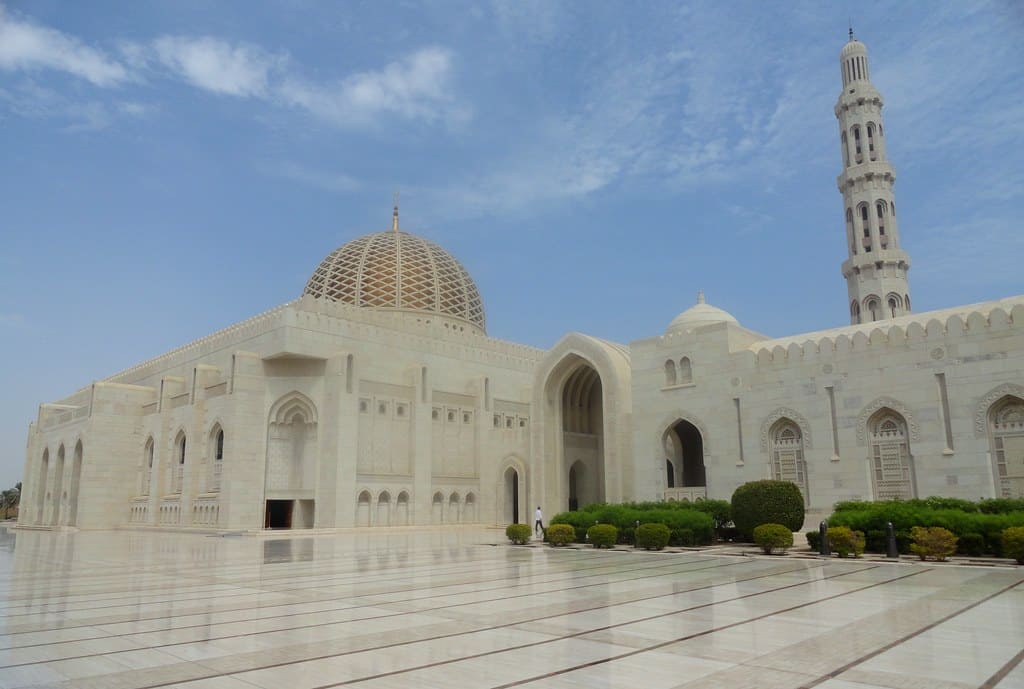 "Sultan Qaboos Grand Mosque, Muscat, Oman" by travelourplanet.com is licensed under CC BY 2.0
5. Oman
Oman is the oldest independent state in the Arab world, and the country has kept its traditional feel.
As far as things to do in Oman, visitors can explore ancient villages like Misfat Al Abriyeen, tour historical sites like the Niza Fort, and visit the nation's most prominent spiritual site, the Sultan Qaboos Grand Mosque.
For those seeking a bit of outdoor adventure, there are the Jabal Akhdar Mountains, Wahiba Sands, and emerald waters of Wadi Shab offering intriguing landscapes to explore.
What Makes Oman Safe
Oman is known for its friendly people, who are incredibly welcoming to tourists.
This combined with the low crime rate makes Oman one of the safest countries to visit in the Middle East.
In fact, according to the World Economic Forum , Oman is listed as the 4th safest country in the entire world!
Oman Entry Requirements for Americans
Travelers will need a U.S. passport that is valid for at least 6 months and a visa to enter the county.
Visas should be applied for in advance on the Royal Oman Police E-Visa website.
Single entry tourist visas for 10 days cost $53.70, and single entry tourist visas for 30 days cost $101.49.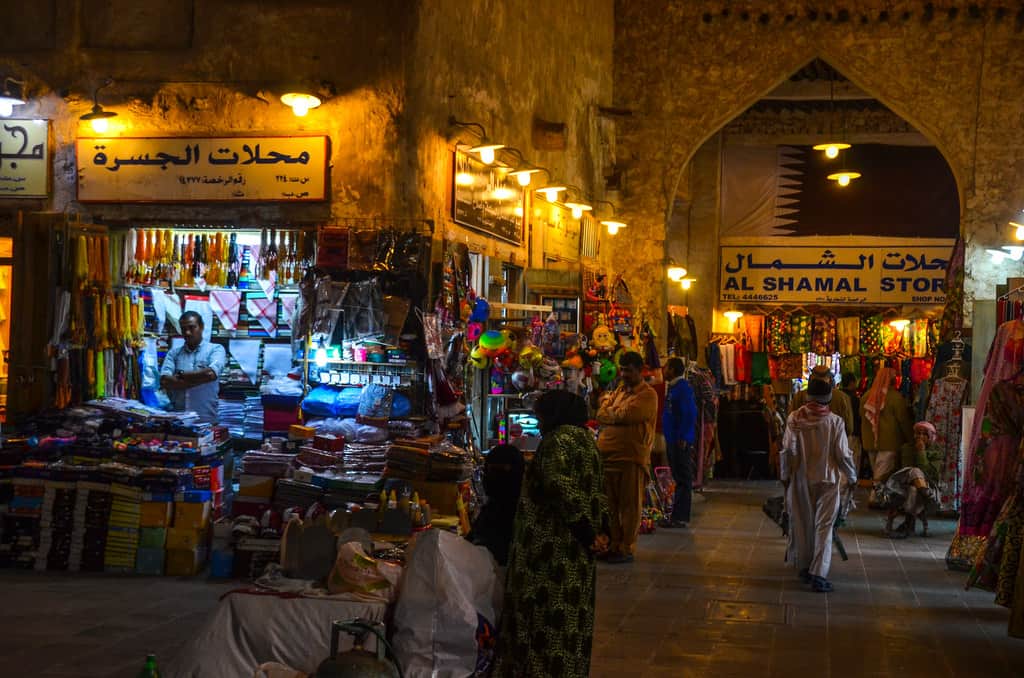 "Entrance to Souq Waqif, the market in Doha, Qatar." by www.ralfsteinberger.com is licensed under CC BY 2.0
6. Qatar
While Qatar is developing rapidly, the country also has plenty of historical sites. These include the Souq Waqif, the oldest soul in Doha, and the restored Al Zubarah Fort.
Qatar is also known for its thriving cultural scene, which can be experienced by visiting the Museum of Islamic Art. There's also the Katara Cultural Village, which has a variety of traditional cultural festivals , concerts, and international restaurants and cafés.
And of course visiting the famous sand dunes of Qatar is a must. You can go dune bashing across the desert all the way to the sea, and even spend the night in tents sleeping under the stars.
What Makes Qatar Safe
With low levels of crime and rare instances of violence, Qatar is an exceptionally safe country to travel to.
Considering the fact that even bouncing a check is considered a felony here, any instance of crime is taken extremely seriously.
There have been reports of credit card scams in Qatar, so it is recommended to avoid using ATMs outside. But other than that, even the risk of pick pocketing is low!
Qatar Entry Requirements for Americans
To enter Qatar, you will need a passport that is valid for at least six months and a tourist visa.
You can obtain a free visa waiver upon arrival at the Doha International Airport that is valid for 30 days.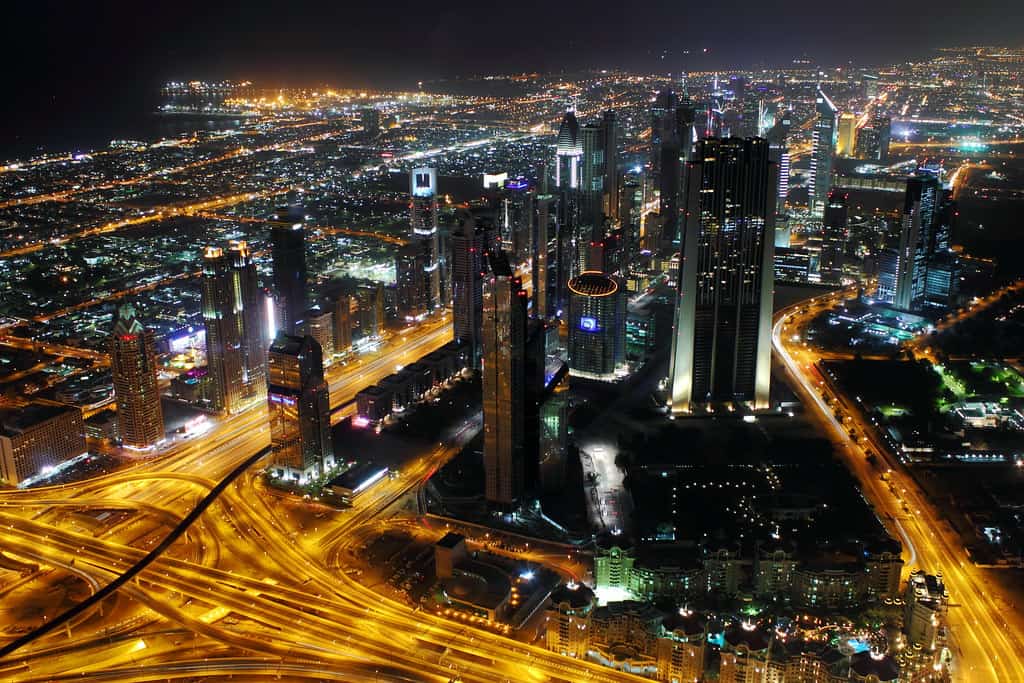 "Dubai by Night from the Burj Khalifa #1" by Federico Ravassard is licensed under CC BY-NC-SA 2.0
7. United Arab Emirates (UAE)
The UAE is a federation of 7 emirates, but most travelers flock to the glamorous city of Dubai. With its elaborate shopping malls and stylish skyscrapers (including the world's tallest man-made structure, the Burj Khalifa), it's no wonder why.
It's surprisingly affordable to hire a luxury car rental, provided you have an international driver's license. This makes it easier for visitors to explore the city, as long as they follow the extensive rules for driving in the UAE.
There's also plenty to do across the other 6 emirates, including visiting the Sheikh Zayed Grand Mosque in capital city of Abu Dhabi, hiking the magnificent Hajar Mountains in Ra's al-Khaimah, visiting the Al Zorah Nature Reserve in Ajman, and exploring Sharjah (which is considered the "Cultural Capital of the Arab World").
What Makes UAE Safe
The United Arab Emirates is one of the most wealthy Middle Eastern countries, as well as being one of the safest for travelers.
In reality, the majority of people you come in contact with here will be foreigners.
And more populated places like Dubai are heavily monitored by police, so crime is very rare and the overall risk of danger is low.
UAE Entry Requirements for Americans
For entry into the UAE, you need a passport valid for at least six months before the date of entry.
No visa arrangements are required to be made in advance, as U.S. citizens can obtain a free visitor visa upon arrival that allows a stay of up to 30 days. -by Christina Maggitas, featured image via Canva
Source https://www.tourradar.com/days-to-come/safest-places-middle-east/
Source https://againstthecompass.com/en/countries-middle-east-safe-travel/
Source https://greenglobaltravel.com/safest-countries-in-the-middle-east-for-americans-to-visit/