The best places to visit in Italy with kids
A family guide to the best places to visit in Italy with kids: family-friendly destinations in Italy for a perfect family vacation and resources with the practical travel tips you need when traveling around Italy with kids.
Italy is a very family-friendly destination and one of the best places in the world to visit with kids.
Blessed with stunning mountains, coastlines and cities, it is perfect for pretty much and type of trip and any age.
Fancy an outdoor vacation? Head to the family-friendly Dolomites!
Do you prefer sea and sun? You can choose among infinite family friendly beaches along the thousands of Kilometers of the Italian stunning coastline!
Prefer sightseeing and history? Italy is one of the countries with the highest concentrations of Unesco world heritage sites!
Cannot decide among all these options? You can go to Tuscany and find yourself visiting a hilltop historical village in the morning, going horse riding in the afternoon and lounging by the beach all on the same day!
All of this plus the family oriented nature of the Italians make Italy our favorite place for a family vacation.
I am from Rome and have traveled around Italy extensively: while I adore trips to far flung lands, Italy has always delivered special holidays and this is my selection of the best places to visit in Italy with kids.
Top 10 places to visit in Italy with kids map
The best places to visit in Italy with kids
This list of the best places to visit in Italy with family is non exhaustive and without a doubt I will add many more as we keep exploring.
However, it is a great starting point if you are planning a trip to Italy with kids and includes places we found excellent for kids and travel guides to the most famous destinations in Italy, all from a family angle!
The places are listed in a loose North to South order.
The Dolomites: the best places to visit in Italy with kids for outdoorsy families
The Dolomites are a stretch of gorgeous mountains in the North East of Italy and one of the best places in Italy for people who love hiking and outdoor pursuits.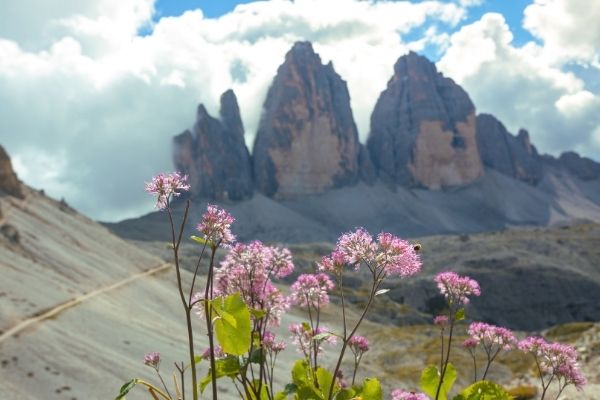 They are an area of outstanding natural beauty, so much so that they entered the list of UNESCO World Heritage site and indeed, they are the picture perfect mountains of your imagination!
The peaks here are high, beautiful yet often accessible thanks to many hiking paths suitable for different ages.
The villages are beautiful and pristine, characterized by a fairy tale style of pointy roofs and flowery balconies that are peculiar to this area and for kids there are lots of activities and things to do ranging from hikes to water parks, open farms, crazy golf to exceptional skiing sloped in the winter.
There are many locations on the Dolomites that are great for families, in summer and winter.
Venice – the magical city on water your kids won't believe is real
Venice is unique in the world and a wonderful city to visit with kids.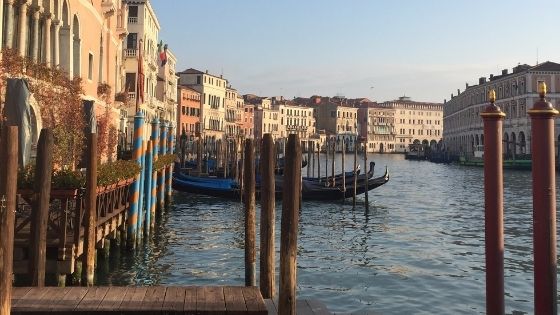 Entirely developed on water, the city is magical for children and it is full of attractions and activities that will allow even little children to engage with this most peculiar city on water.
Parents of toddler tend to worry about the safety of a city with canals instead of streets and with good reason.
However, all you need to make a visit to Venice safe and enjoyable with kids is some travel tips to know what to expect and how to tackle this peculiar geography!
Among the many things families will enjoy in Venice there are the city's stunning main landmarks such as St Mark's Square and its pigeons, the option of gondola and boat rides, the opportunity to discover the city with a treasure hunt for kids (super fun) and several nice excursions you can take in the area such as that to Murano, where you can learn to blow glass (!) and Burano, famous for rainbow houses.
Lake Garda – the picture perfect lake escape for families
Lake Garda is a large Lake in the North east of Italy and one of the most family friendly areas in the entire peninsula.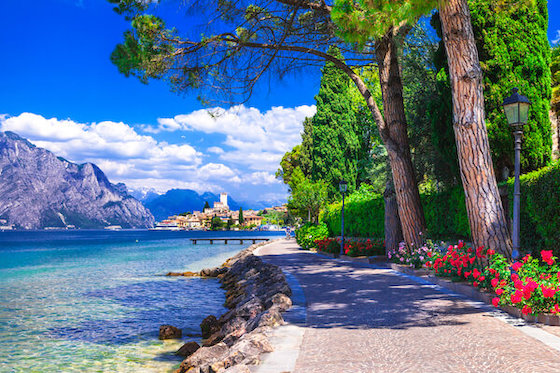 Nestled between beautiful mountains, it has lovely small beaches perfect for small kids especially, plenty of cycling and hiking opportunities, many playgrounds, pretty towns for sightseeing and it is exceptionally well equipped to welcome families with young children.
The area has many family hotels and campsites with amazing facilities (some have water parks on site!) and has several theme parks that rollercoasters loving kids will adore!
Lake Garda has many lovely towns worth calling home for a while, each with a different atmosphere and entertainment options.
Cinque Terre – the rainbow colored UNESCO towns that seem out of a fairy tale book
Cinque Terre is one of the most famous areas in the whole of Italy, known for colorful villages perched on cliffs plunging into the sea.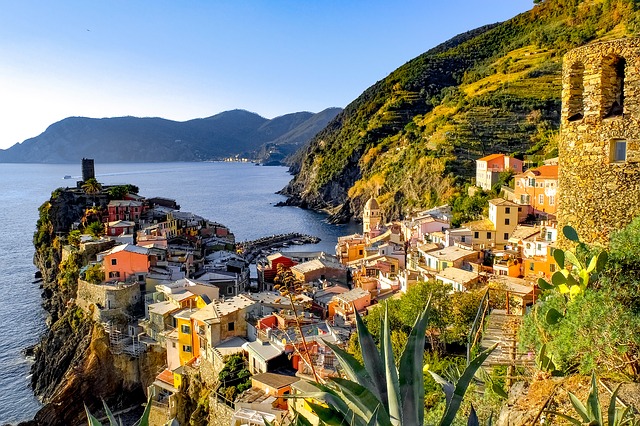 They are not the first place that comes to mind when looking for family friendly places in Italy however, they are a wonderful and it is entirely possible to visit and enjoy them with little children in tow!
Cinque Terre are a stretch of five villages connected by hiking trails and now an excellent train service.
They are a wonderful place to visit in Italy with kids because they mix beautiful and romantic atmospheres parents will love with fun things such (small) beaches and nice playground.
Cinque Terre are unforgettable however, they do require a bit of planning if you are visiting with a toddler as some towns are without a doubt more child friendly than others.
Despite that, they are so beautiful, there is no doubt you will love them!
Tuscany – the home of countryside and towns so beautiful your family will never want to leave
The region of Tuscany is one of the most visited in the whole of Italy and possibly the best place to visit in Italy with kids of all!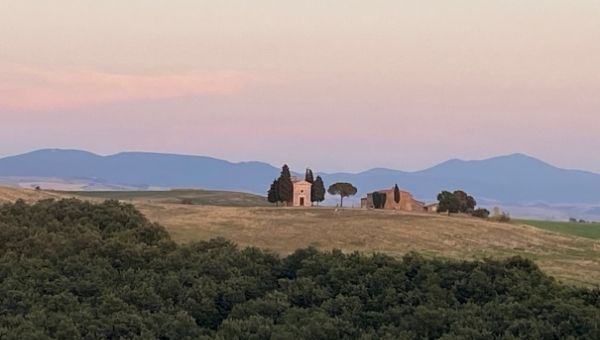 I simply adore the place and have elected it as our go-to place for family summer holidays: we go there every year and we love it every time more.
Tuscany has absolutely anything and everything you may wish for in a family destinations.
The Tuscany countryside is stunning and accessible.
Hilltop villages with car free centers, exciting castle and scenic playground abound, open farms are everywhere and you even have family friendly wineries, truly showing how easy it is in Italy to have a multi-generational holiday that makes everyone happy!
As well as countryside Tuscany has stunning cities and a wonderful coastline with beautiful sandy beaches.
You can choose from a plethora of family friendly accommodation options from local guesthouses to all inclusive resorts and campsites, which makes Tuscany a wonderful choice for all budgets and travel styles.
Rome – the breathtaking home of the Colosseum and some of the most exciting historical sites for kids
Rome is one of the most beautiful cities in the world and one of my favorite places in Italy to visit with kids.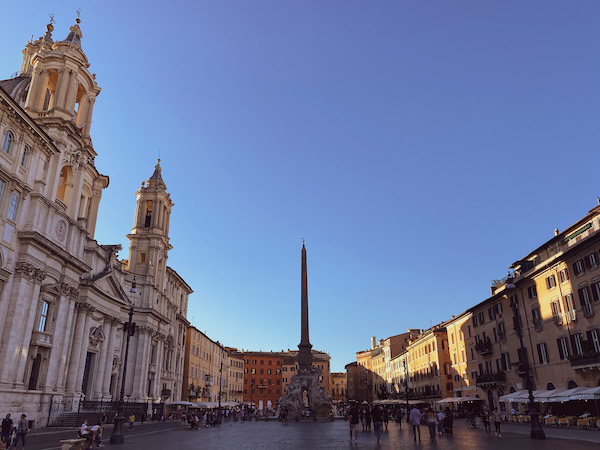 There is just so much to see and do here, you can spend a lifetime in the city and never get sick of it or do the same things twice (although you will want to, some of the attractions are just so beautiful!).
Families with very young kids are likely to love the many parks of Rome, the Rome children museum Explora, the many piazzas perfect for running around and the fact that Rome main attractions are family and stroller friendly.
Older children will get excited by the Colosseum and Castel Sant'Angelo, famous attractions where history comes to life and the option to climb the incredible St Peter's Dome.
Kids of all ages and adults will love the infinite sightseeing opportunities, the wonderful shops and the delicious food the city has to offer.
The only downside of Rome is that is has almost too much to see! This is why you need some tips!
You can find out introduction to Rome with kids here or check our my our sister site about Rome here (I am from Rome, it has all my tips!)
Amalfi Coast – the stunning coastlines so beautiful local calls it 'the Divine'
The Amalfi Coast is a stunning stretch of coastline in the South of Italy and one of our favorite places to visit in Italy with kids, especially in spring and summer.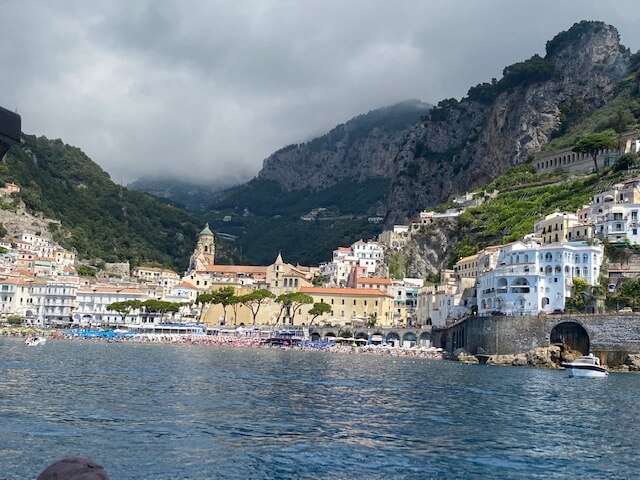 The areas is mostly known for a scenic drive that connects the several towns of this area offering sweeping views over cliffs plunging into the Mediterranean however, there is plenty to do here for kids that does not involve motion sickness inclusive driving!
The towns in this area are pretty and welcoming, some with lovely playgrounds and small sandy beaches, and the water is amazing.
You can swim here, play in the sand and even go boating, maybe the best way to explore this beautiful area. The views from the water are breathtaking!
The Amalfi Coast is a little like Cinque Terre, in the sense that not all areas are equally child friendly. However, we discovered many that where such as Minori and, to an extent, Amalfi town itself.
Puglia – the stunning heel of Italy that will charm adults and kids alike
Puglia, the heel of Italy, is a stunningly beautiful region still largely overlooked by international tourism and one of the best places to visit in Italy with kids of all ages.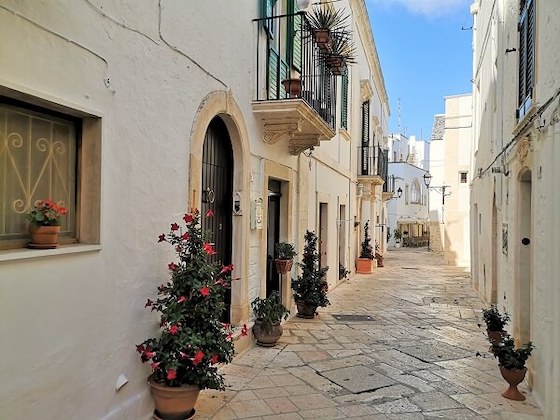 A long region, it has a lot to offer.
Its coastline is a vision of beautiful pristine sandy beaches and blue waters, its towns are a picture perfect delight of different architectural styles ranging from baroque churches to the unique trulli of Alberobello, the food is out of this world and the welcome warm and friendly.
Families who want a sea and sun vacation in Italy will find plenty of places to call home for a while here however, it is also easy to explore Puglia by car.
Kids are likely to adore the place: the beaches are vast and family friendly, the towns often car free and if you get to see the trulli, do expect a wow from little ones – they truly look like fairy homes!
This is the best place in Italy for families who want to mix sightseeing and time at the beach
Sicily – the stunning island where natural wonders, history and beaches meet
Sicily closes this list because of its location to the South if Italy but don't this is very much a last but not least scenario!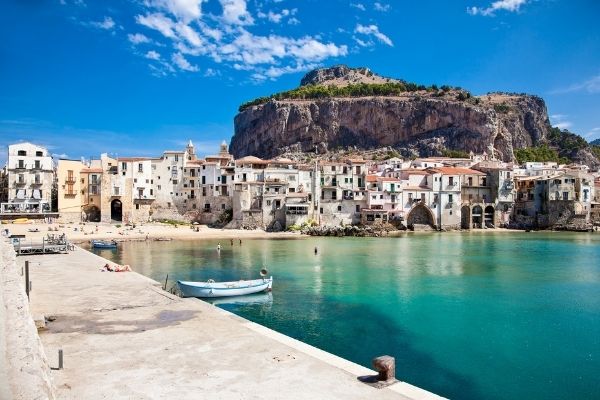 Sicily is stunning and one of the best places to visit in Italy with kids if you are hoping for a vacation that puts together sightseeing, time at the beach, culture and also the tasting of incredible food!
Sicily is all this and much more!
Visiting Sicily with kids is easy: the island has a very family friendly atmosphere and many lovely kid-friendly beaches perfect for swimming and sandcastle making.
Older kids will be excited by the presence of Mount Etna, an active volcano, and the whole family will enjoy the many pretty towns and archaeological sites that dot the island.
Sicily is a work and there is so much to see and do here,your only issue will be prioritizing what to see! Maybe we can help you make up your mind!
Sardinia – perfect beach destination in Italy for families
If you are looking for a perfect beach destination for families in Italy, you should head to Sardinia.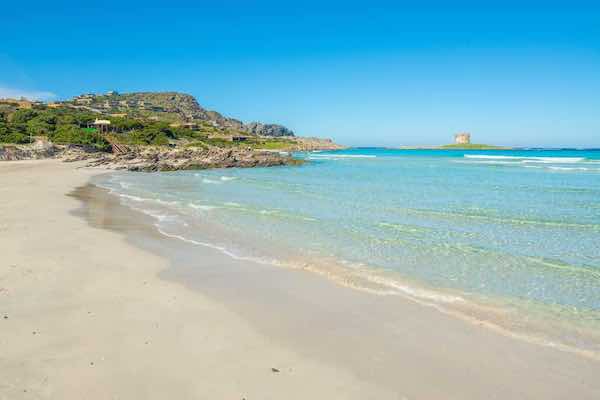 Clear sky over La Pelosa beach in springtime. Sardinia, Italy
Home to breathtaking white beaches and shallow clean waters perfect for toddlers and snorkeling, Sardinia is an island paradise complete with great family resorts and accommodation options for families with kids of all ages.
I hope you enjoyed this overview of the best places to visit in Italy with kids: safe travel planning!
Marta Correale
Marta Correale is an Italian mama of two. Born and raised in Rome, Marta has a passion for travel and especially enjoys showing off Italy to her kids, who are growing up to love it as much as she does! A classics graduate, teacher of Italian as a second language and family travel blogger, Marta launched Mama Loves Italy as a way to inspire, support and help curious visitors to make the most of a trip to Italy and learn about Italian culture on the way.
You May Also Like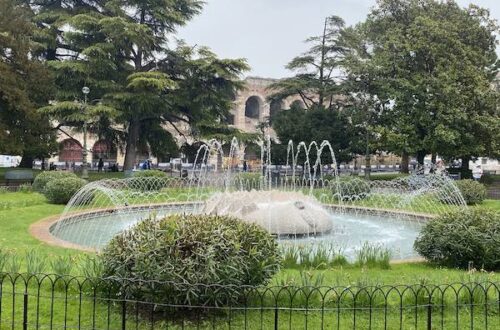 One day in Verona with kids: all you need to know for a perfect stay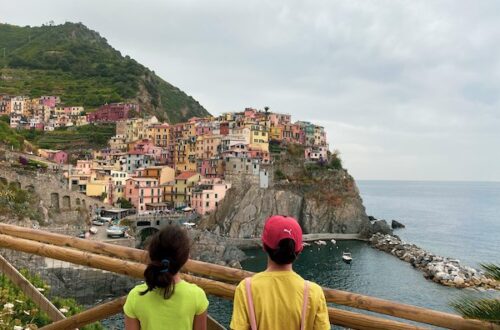 May 30, 2022
Visiting Manarola with kids: all you need to know to visit one of the prettiest villages in Cinque Terre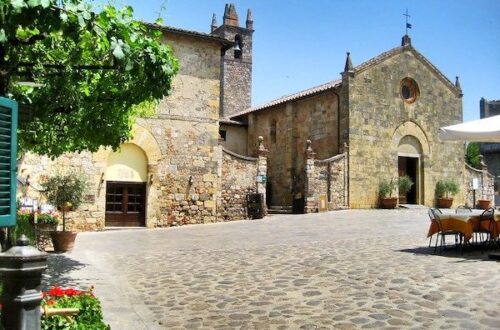 July 27, 2022
What Was Your Favorite Place in Nature as a Child?
Welcome to another edition of "Readers Weigh In," where I pose a question on the Go Explore Nature Facebook page and you respond. Then I feature as many answers as possible with everyone here (along with a link to your wonderfully amazing blog if you have one).
The question I posed this week was actually inspired by all the amazing and thoughtful comments left in response to the eBook review of "A Tree for Max."
What Was Your Favorite Place in Nature as a Child?
The Explorers on an annual trip to Yosemite
Here's what some of you had to say.
As a child, one of my favorite outdoor spots was an old apple tree we had in the backyard. There was a tire swing hung in it and I just loved to go climb it or swing and watch the birds that would come to the nearby feeders. I also spent a lot of time at the beach during my childhood because my grandfather had a trailer and camped there all summer. Great times those were …
The creek down the the dirt lane from our home.
When I was little, we had a big white birch tree in our yard. I loved climbing it and hanging out in it. One year a small tornado went right through our neighborhood and knocked it down, but my parents had it pulled back up with cables and it survived!
My favorite place in nature was climbing trees – the view from 15 feet up was amazing and, fortunately, no falling accidents!
My grandparents' farm in Indiana.
My favorite place was actually in my friend's back yard up in her orange trees. There were two different ones and they were our homes, offices, airplanes, you name it. We went out to our trees everyday and let our imaginations run wild. Haven't thought about those trees for a long time.
My favorite place as a kid was a big oak tree behind a friend's house. And the beach. And big granite slabs in the Sierra …
I grew up in trailer parks in upstate New York so needless to say finding an escape was crucial for me! Thankfully we lived near a bit of forested land, if you went down into the forest you came across a large stream that was always running and had many trillums, skunk cabbages and other beautiful plants growing. I would adventure up and down the stream for hours and no one worried about me. It was pretty magical.
My favorite tree when I was growing up was a huge, curved oak tree. I would get up early, pack a snack and a book, and ride my horse, Penny, down to the old tree. It was curved like a huge lounge chair, and I would have to slide off her back onto the tree, but it was the most comfortable place to lean back, read, and let Penny graze around on the grass. I spent many hours on that tree … watching clouds and critters and nature.
Many years later, I learned that my old tree was a Native American signal tree. It had been bent and tied to grow crooked when it was a sapling, and it marked a ceremonial rock circle on a hill not far away. It was documented by the Mountain Stewards. 54 years later, I still live on the property, although the old curved tree blew down several years ago in a storm. I have pictures of my old friend, but none compare to the memories I have forever etched in my mind!
Susan Mary R.:
A field of daisies at the end of our road
I grew up a block from the beach and spent a lot of my time there.
If you want to get in on future conversations, be sure to "like" the Go Explore Nature Facebook page.
Now it's your turn – what was your favorite place in nature as a child?
It's always nice to share.
About Debi Huang
Los Angeles based family nature expert sharing family-friendly outdoor trips in LA since 2009. Contributor at NaturePlayTrips.com.
Search
Meet Debi
Los Angeles based family nature expert sharing family-friendly outdoor trips in LA since 2009. Contributor at NaturePlayTrips.com.
Which is our favorite way to travel?
Which is our favorite way to travel? One of the questions we are often asked after 3 years of travels around the world.
There are so many different options to move around the world and explore!
However, for our full-time traveling family, it isn't as much about preferring one means of transportation to another but rather deciding which works best depending on the place we are visiting. We have had the opportunity to try almost everything. Let me explain what we like and what not about each one.
Jumping on the back of our boat in Labuan Bajo, Indonesia
Airplanes
Our travels started by moving around the world mainly on airplanes. We have been on over 50 planes in the past 3 years. We have traveled as long as 25 hours and as short as 30 minutes. Our full-time traveling family went on ones where we could barely fit as well as on giant ones with 2 floors! We have tried over 15 different airlines. Some we loved and some we dislike and are now officially on our "naughty list". It has been a true adventure every single time!
What do we love about traveling by plane? First of all the fact that you can reach the other part of the world quickly. Instead, our kids will tell you that they truly enjoy catching up on all the movies they have missed. We also love our whole ritual on our travel days. We work very well together throughout the whole check-in and security process.
What we do not love about traveling by plane? We are not crazy about the food. However, most companies now offer more meal options. For example, vegetarian, child, diabetic, Muslim, and so on. This makes it a bit more pleasant.
However, keep in mind this was all before Covid started. Now it is a whole new way of traveling! Unfortunately, a lot more has changed, which explains what we dislike about traveling by plane NOW. We are respectful of the new rules and follow them of course. However, we do not enjoy wearing a mask for hours on a flight. This is the reason why in the last year we have done only the necessary flights! It used to be a fun day for our kids to go to the airport. Unfortunately now we dread it a bit. You have to be careful to social distance, keep your mask on, and don't touch too much! Too many new rules to follow!
Will things go back to the way they used to be? I truly hope so! Anyway for the time being we have limited our flights to avoid having to deal with all the hassle. This gives us a chance to explore different options and at the same time slow down!
Check out how we plan our flights here.
On our way to fly over the Himalayas
Train
We have not used trains for long trips. Mainly just short rides in Italy and Australia. It can be cheaper than a flight and also quicker since you don't have to worry about arriving hours and hours earlier. We had planned on moving around Japan mainly by train. Unfortunately due to Covid, our trip there was canceled for the time being. So for now we can't share much about that experience yet!
However, if you are traveling around Europe for example, this can be a great option. There are great deals if you buy an interrail or euro rail pass. Interrail Pass is a rail pass available to European residents. Residents of countries outside Europe may purchase the Eurail Pass instead. Types of Interrail Pass include the Interrail Global Pass, the Interrail One Country Pass, and the Interrail Premium Pass. The pass allows unlimited rail travel in (and between) all 33 participating countries for a certain period of time. High-speed trains and night trains often require a paid seat reservation. As you can see the train is a great way of moving around Europe especially when you have a set time to do so. We had an alternative plan to explore Europe so we didn't go with this option but it is out there for anyone interested!
Trains are in most countries! We were also booked on one from Mumbai to Goa a few years ago. We ended up having to cancel it because the dates were not working for us. In this case, it would have been a 10-hour trip!
What do we love about traveling by train? You get to enjoy the scenery around you as you travel. It can give you a chance to meet and chat with people. If you are tired of sitting you can walk up and down the train. There is much more space compared to a plane! This is especially great when traveling with kids.
What we do not love about traveling by train? Honestly, we don't have that much travel experience as a family to find things we dislike. I might have to come back to this later on in our travels!
Kuranda Scenic Railway – Cairns, Australia
Campervan
We know a lot about his form of transportation!
Once Covid came into our lives, we decided it was time to evolve our travel lifestyle. So we bought a campervan!
However, during our travels, we have used camper vans for exploring Ireland, Australia, and New Zealand too. So we are not new to the mean of transportation.
What do we love about traveling by campervan? We love the independence it gives us. Our car and our house are always with us! It has happened more than once that we had to stop on the side of the road for the night because we were tired of driving or did not want to pay for a night at a campsite. We love waking up in different places, especially when we arrive late at night, and are pleasantly surprised the next morning with the surroundings! Plus if we don't like a place we can easily leave, if we love it we can stay longer!
This type of lifestyle also gives us a chance to be more immersed in nature. We tend to stay outside a lot more. Incredibly we also love being cozily together inside when it is dark and gets cold! So we don't mind sharing such a small space for the 5 of us!
What we do not love about traveling by campervan? Parking can be a real struggle, especially when stopping in a big city. Usually, we have to park it way out of the center! That is when our bikes come in very handy! The fact that different countries have different rules drives us a bit crazy. We need to be careful and figure them out before we get in trouble!
Our spot for the night on Korcula island, Croatia
Boat/Ship
We have had plenty of experience with boats! Our full-time traveling family has had a chance to try many different types of boats in the past years!
From the short trips from one island to another in Bali and Thailand. To bigger ferry boats in Croatia and the Philippines. We also went on tour boats in Australia, Bali, the Philippines, Thailand, and Nepal, mainly to snorkel, swim with whale sharks and see gharial crocodiles.
Exploring the Canal du Midi, France
We had a chance to live and be our own captains on a boat while navigating down the Canal du Midi in France for a week.
We enjoyed the beauty of navigating using only the sails and the wind in Italy and Croatia.
Last but not least, we experienced a week in the Caribbean on a cruise ship! We have tried different sizes and types. At this point, we have a very clear idea of how we feel about spending time on boats!
What do we love about traveling by boat? We love being in the water. It is especially cool when from the deck you can see dolphins or whales swimming around you! Or when you can simply jump in and explore the underwater world. It is also pretty amazing when you are on a sailboat and can open the sails and navigate only by using the wind!
What we do not love about traveling by boat? We don't like being stuck in a limited amount of space for too long. Beautiful calm and sunny days are amazing on a boat but the wavy, stormy days can be a real nightmare! On a boat ride from Bali to the Gilli Islands the sea was pretty wild and we all have memories to this day of how awful it felt! This doesn't stop us from jumping on boats whenever the occasion comes up, but we probably won't be a full-time boat traveling family any time soon!
A tiny boat ride on Lago di Lugano, Italy
Road trips! We have done so many of those!
In most of the countries we visited, with just a few exceptions, we rented a car for at least a part of the trip. Being a family of 5, most of the time makes it cheaper and easier to pack us up in one car rather than try to catch a bus, train, or plane! Of course, we mainly rent them when we are moving around not when we are visiting a big city. That is the one time when we do not want to have a car!
Our car rental in Portugal, has plenty of space!
What do we love about traveling by car? The freedom! We can decide when to leave and how far to drive. We are on our own and our kids can be as loud as they want. They are not disturbing anyone! When traveling with kids this is the biggest relief!
I love how well my husband has been able to pack up our stuff in the most impossible cars! In most countries, we visited we did at least a part of a road trip and that is the most memorable moment of the trip! In Morocco, I remember stopping on the side of the road to the fruit vendors to buy huge bags full of fruit! Healthiest and freshest meal for our road trip!
What we do not love about traveling by car? Distances can sometimes feel a bit overwhelming! On our last trip back to the US we decided to fly into Chicago and then drive to Arizona (over 1700 miles). The first days were fun, but then the road started feeling boring and just too long. That is when your kids start saying the magic words…."are we there yet?". At that point, all you want to do is stop at the first airport and catch the first flight out!
Check out how we book our cars here.
Future car ride….will we all fit?!
Buses are another great way of moving around countries, and cities or simply taking you from point A to point B if you don't want to drive or fly. We are 5 so it isn't our go-to main means of transportation! We do take tour buses around cities though, the famous hop-on/hop-off tours are our go-to way of exploring cities such as Dubai, Cape Town, and so on. Where there is much to see but it is too distant to just walk around. In the long run, you are saving more money and time! Plus they offer great deals most of the time, especially on more days packages. We bought a 7-day ticket in Dubai and used the bus simply to get us from one area to another very distant area in our last days there.
What do we love about traveling by bus? We enjoy taking tours on buses that give you the option to hop on and off, especially in very big cities. This way if they are very spread out it makes it a better deal to see as much as we can in a limited amount of time, especially fit places that are very distant from each other. It is also nice for once to just sit back and enjoy the ride, at least till your kids don't start getting bored…
What we do not love about traveling by bus? For our kids, it is not as fun as going on a plane. We know that after a few hours they would get restless and want to move. So we try to avoid this situation by avoiding traveling by bus as much as possible. Except of course when touring a city.
The kids bus ride in Dubai, United Emirates
Alternative forms of transportation…
There are also other forms of transportation when you are exploring a new country. Sometimes you can't simply rent a car, take a train or a bus but you have to find different options. Here are a few of the ones we used!
Taxi/Uber/Grab
Depending on which country you are visiting the options may be different. Clearly, the costs are very different. Taxis are way more expensive but you will find them everywhere. When Uber or Grab (mainly in Asia) are available we try to use them instead. For a family of 5, they are way cheaper and everything is done through the app so I know exactly what it will cost once I get a ride. A taxi's final bill can be a very unpleasant surprise! Especially when we fly into a new country unless we are renting a car, we have to rely on this form of transportation in order to get us to the hotel or Airbnb.
Taxi in Kolkata, India
Tuk Tuk
You can find them in many countries in Asia. We used them mainly in Thailand and India. They can be very small but you would be amazed by how many people they are able to squeeze in! We managed to tour some cities by simply riding on a tuk-tuk! They are a fun experience, but when in a city like Bangkok you will for sure breathe all the smog!
Tuk Tuk in Thailand
Bikes
We love bike riding! We have rented bikes in Australia, South Africa, and Thailand in recent years. However, now that we have our "house on wheels" we each have our own bike! We have already explored many towns and lakes by simply biking around. A great way to get around altogether and also much easier than trying to park our camper van!
Biking in Ljubljana, Slovenia
Hot air balloon
This might not exactly be the most convenient and cheap way to get around. But we do recommend it as once in a lifetime experience! We recently flew from the center of Firenze, Italy to the outskirts where our camper van was parked. It was an amazing adventure for the whole family!
You might want to check out the video here to see Firenze from a different point of view!
Hot air ballon over Firenze, Italy
Family size motorbikes
In Thailand and the Philippines, we were able to rent this type of motorbike! We all squeezed in together and explored the little islands we were on. It is so much fun!
However, there is a downfall. When you have to go uphill, you have to get off and walk! Especially since we are 5 and not very light! But I wouldn't change those moments for anything in the world! Plus it is great workout!
You might want to check out the video here of this crazy experience!
Family size motorbike in the Philippines
Camels
Camels have been used for centuries in order to transport people. We had a chance to go all together on them both in Egypt, Australia, and India. The weirdest feeling is when they get down so you can get off. They have to move forward as they bend their knees. The whole time it feels like you are going to fall off, but you actually don't!
A walk in the desert with camels in India
Horses
We went horseback riding in Mexico, and Thailand. However, our experience in Bhutan was the most unique. We actually traveled from one place to the other. We each had our own horse. Luca was barely 4 but he was fearless! Actually, all 3 of our kids were fearless and our horses were just perfect!
You might want to check out the video here of this amazing adventure!
Horse ride in Bhutan
As you can see there are many ways to get around. All I wanted to do was show you that you can experiment and find what works best for your family. Sometimes it is also important to simply think outside the box and be flexible to what the country you are in has to offer.
As I look back at everything we experienced I feel extremely blessed for each and every one of these forms of transportation. They are now part of our baggage experience as well as creating some incredible lifetime memories. Don't be afraid just take a deep breath, look ahead and take the leap. Remember, it will be amazing especially if you do it together!
If you have more questions about our travels, you might want to check this post too Are we still traveling full-time around the world?
Navigating in Dubai, United Emirates
Source https://mamalovesitaly.com/best-places-to-visit-in-italy-with-kids/
Source http://goexplorenature.com/2012/01/what-was-your-favorite-place-in-nature-as-a-child.html
Source https://www.the5worldexplorers.com/which-is-our-favorite-way-to-travel/