What Omar, Tlaib were going to do on their thwarted trip to Jerusalem, West Bank
Banned lawmakers' shared itinerary reportedly included Temple Mt. visit, meetings with US Embassy staff, far-left Israeli groups, a Palestinian official, UNRWA staff, refugees
Reps. Rashida Tlaib, left, and Ilhan Omar at a rally with Democrats in the Capitol, March 13, 2019. (Tom Williams/CQ Roll Call/Getty Images, via JTA)
JTA — By now it seems clear that Reps. Ilhan Omar and Rashida Tlaib are not going to be visiting Israel or Palestinian areas of the West Bank.
Israel's government announced Thursday that it would not allow the Democratic congresswomen to make their scheduled visit this weekend because both have declared support for the Israel boycott movement. A controversial 2017 law entitles the state to deny entry to boycott supporters.
Tlaib subsequently requested and was granted entry on humanitarian grounds to visit her grandmother in the West Bank. First she accepted, but hours later rejected the offer.
Explaining the decision to ban the pair, Prime Minister Benjamin Netanyahu cited the lawmakers' itinerary, which he said "reveals that the sole purpose of their visit is to harm Israel and increase incitement against it."
Apparently the pair did not have an identical itinerary, however. Omar and her aides on Friday said she had planned to sit with Israeli Knesset members and security officials on Saturday and Sunday, before beginning her joint program with Tlaib. On Friday Omar tweeted that "I planned to hold meetings with members of the Knesset (both Jewish and Arab) along with Israeli security officials."
Omar planned to meet the Israelis, including Arab Knesset member Aida Touma-Sliman, because of her role as a member of the House Committee on Foreign Affairs, an aide to the congresswoman told The Times of Israel on Friday.
Omar's aide said that she and her staff had been planning to arrive in Israel earlier than Tlaib, on Saturday. He said she planned to hold her meetings with Israelis, without Tlaib, on Saturday evening and Sunday morning.
What was on the lawmakers' shared schedule? Gili Cohen, a reporter for the Kan public broadcaster, shared a copy of their plan on Twitter.
Where they would have gone
In broad strokes, the tentative itinerary — titled "US Congressional Delegation to Palestine" — took Tlaib and Omar through major Palestinian population centers in Jerusalem and the West Bank, and to a string of meetings with Palestinian non-profits and activists, as well as international human rights groups.
The joint program featured no meetings with Israeli officials of any political persuasion, including Arab lawmakers. The plan also did not feature any extended time spent within Israel's internationally recognized borders. (Neither Omar nor her aides in their comments Friday on her planned meetings with Israelis made any reference to Tlaib meeting Israeli officials.)
The lawmakers were scheduled to meet a Palestinian official, Hanan Ashrawi, a member of the executive committee of the Palestine Liberation Organization.
PLO Executive Committee member Hanan Ashrawi speaks at a press conference in Ramallah on February 24, 2015. (WAFA/File)
One Israeli non-profit, the left-wing B'Tselem, was to be present at one of those meetings, along with three other non-Israeli organizations, and the congresswomen were to receive a tour of Hebron from Breaking the Silence, a controversial far-left Israeli group.
"I would've loved to take @IlhanMN and @RashidaTlaib on our tour of Hebron," tweeted Avner Gvaryahu, who would have given the tour. "There's no joy in seeing or showing the harsh reality of the territories, but change will only come when we face up to the truth."
The would-be trip contrasts with a Democratic congressional delegation to Israel and the Palestinian territories taken earlier this month by 41 representatives and sponsored by an organization affiliated with the American Israel Public Affairs Committee. That delegation met with both Israeli and Palestinian officials and activists, including Palestinian Authority President Mahmoud Abbas.
Palestinian Authority President Mahmoud Abbas speaking to Democratic members of Congress on August 7, 2019. (Credit: Wafa)
Omar and Tlaib's trip was to start with a lunch with staff at the US Embassy in Israel on Sunday afternoon. From there they were going to meet with UNRWA, the United Nations agency that aids Palestinian refugees, before moving on to meetings in eastern Jerusalem. UNRWA, which is currently embroiled in a major misconduct and corruption scandal, is often criticized by Israeli officials for an anti-Israel bias and for its policy of extending refugee status to millions of descendants of the original Palestinian refugees.
On the second day, Omar and Tlaib planned to visit Jerusalem's holy sites, including the Western Wall and the Church of the Holy Sepulchre. They additionally planned to visit the Al-Aqsa mosque, which is located at the Temple Mount, the holiest site in Judaism and the third holiest in Islam. The remainder of the trip took them to meetings and tours in the West Bank cities of Hebron, Bethlehem and Ramallah, including at a refugee camp.
Who organized the trip
Miftah, a Palestinian NGO chaired by Ashrawi, organized the trip. Its website says its mission is to "promote the principles of democracy and good governance within various components of Palestinian society" and to "engage local and international public opinion and official circles on the Palestinian cause."
In this May 26, 2019, photo, a teacher supervises while Palestinian schoolchildren take a final exam during the last day of the school year, at the UNRWA Hebron Boys School, in the West Bank city of Hebron. (AP Photo/Nasser Nasser)
The group, like many Palestinian civil society organizations, supports the movement to boycott Israel. It has also praised Palestinian suicide bombers and published an anti-Semitic blood libel accusation, for which it later apologized. Netanyahu described Miftah as "an avid supporter of BDS, and among whose members are those who have expressed support for terrorism against Israel."
A report on the group's site from 2006 about Palestinian women in the second intifada praises Wafa Idris, who killed one Israeli civilian and injured 150 people in a 2002 suicide bombing in downtown Jerusalem. The report says Idris, the first female suicide bomber of the second intifada, "marked the beginning of a string of Palestinian women dedicated to sacrificing their lives for the cause."
Years later, in 2013, Miftah staffer Nawaf Al Zaru posted an article on its site criticizing US president Barack Obama for hosting a Passover seder at the White House. In the article, Al Zaru repeated a false accusation that Jews kill non-Jewish children and use their blood in religious rituals.
"Does Obama in fact know the relationship, for example, between 'Passover' and 'Christian blood'. Or 'Passover' and 'Jewish blood rituals?!'" Al Zaru wrote. "Much of the chatter and gossip about historical Jewish blood rituals in Europe are real and not fake as they claim; the Jews used the blood of Christians in the Jewish Passover."
In this March 21, 2019 photo, an Israeli solider stands guard as Palestinian school children cross back from school in the Israeli controlled part of the West Bank city of Hebron. (AP Photo/Ariel Schalit)
At first the group defended the article by saying the blogger who first criticized it had "wrongly accused MIFTAH and Dr. Ashrawi of promoting Jewish blood libel during Passover through its publication of an Arabic-language article that briefly addressed the subject." But the group deleted the article from its site, apologized and said it disciplined Al Zaru.
"The said staffer has been reprimanded and all our staff has been informed as to the disgusting and repulsive phenomena of blood libel or accusation, including its use against Jews," the apology said.
In a statement, Miftah called the ban on Omar and Tlaib "an affront to the American people and their representatives. It is an assault on the Palestinian people's right to reach out to decision-makers and other actors from around the world." The group said it wanted to facilitate Omar and Tlaib's "direct contact with the Palestinian people, who are subject to Israel's cruel regime of colonization, oppression and land grab."
Ashrawi did not returned a request for comment.
Why was this trip different?
This was not the first congressional delegation to Palestinian areas sponsored by Miftah. Politico first reported Friday that Miftah co-sponsored a trip by five Democratic congressmen to Israel and the West Bank in 2016 that was allowed into Israel without a problem. The participants were Matt Cartwright, Dan Kildee, Hank Johnson, Luis Gutierrez and Mark Pocan.
The itinerary of that trip was similar to Omar and Tlaib's would-be visit, but the representatives did meet with Arab-Israeli lawmakers. Other than that, the trip was centered on visiting Palestinian areas and Arab cities in Israel, and on meeting with Palestinian activists and groups.
But while both Omar and Tlaib support boycotting Israel, all of the congressmen had been to Israel previously or otherwise had spoken out in support of Israel, though they have also criticized its policies, at times harshly. All five were endorsed by JStreetPAC, the political funding arm of the liberal Israel lobby. JStreetPAC did not endorse Tlaib or Omar.
Times of Israel staff contributed to this report.
I joined The Times of Israel after many years covering US and Israeli politics for Hebrew news outlets.
I believe responsible coverage of Israeli politicians means presenting a 360 degree view of their words and deeds – not only conveying what occurs, but also what that means in the broader context of Israeli society and the region.
That's hard to do because you can rarely take politicians at face value – you must go the extra mile to present full context and try to overcome your own biases.
I'm proud of our work that tells the story of Israeli politics straight and comprehensively. I believe Israel is stronger and more democratic when professional journalists do that tough job well.
Your support for our work by joining The Times of Israel Community helps ensure we can continue to do so.
Thank you,
Tal Schneider, Political Correspondent
We're really pleased that you've read X Times of Israel articles in the past month.
That's why we started the Times of Israel ten years ago – to provide discerning readers like you with must-read coverage of Israel and the Jewish world.
So now we have a request. Unlike other news outlets, we haven't put up a paywall. But as the journalism we do is costly, we invite readers for whom The Times of Israel has become important to help support our work by joining The Times of Israel Community.
For as little as $6 a month you can help support our quality journalism while enjoying The Times of Israel AD-FREE, as well as accessing exclusive content available only to Times of Israel Community members.
Thank you,
David Horovitz, Founding Editor of The Times of Israel
US congresswoman Rashida Tlaib rejects visit to Israel, citing 'oppressive conditions'

Reuters
Saturday Aug 17, 2019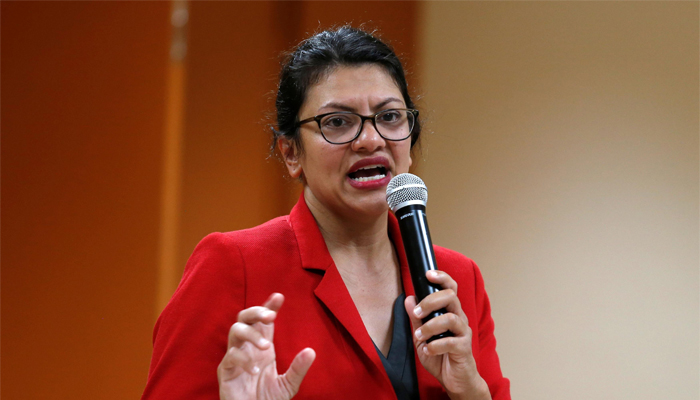 US Congresswoman Rashida Tlaib speaks in Inkster, Michigan, US, August 15, 2019. REUTERS/Rebecca Cook
WASHINGTON/JERUSALEM: US congresswoman Rashida Tlaib on Friday rejected an offer by Israel to let her travel to the West Bank, the latest twist in a dispute drawing Donald Trump and Benjamin Netanyahu together against US Democrats ahead of elections in both countries.
Tlaib, a Democrat in the US House of Representatives who has been critical of Israeli policy towards the Palestinians, said she would not visit her family there because the Israeli government had imposed "oppressive conditions" to humiliate her.
She had planned to make an official visit to Israel along with fellow Democratic congresswoman Ilhan Omar of Minnesota.
Israeli Prime Minister Netanyahu, under public pressure from Republican President Trump, had said Thursday he would not allow the pair to make their trip. On Friday, Israel said it would allow Tlaib to visit family in the Israel-occupied West Bank on humanitarian grounds.
The Michigan congresswoman, however, rejected the offer.
"I can't allow the State of Israel to take away that light by humiliating me & use my love for my sity to bow down to their oppressive & racist policies," Tlaib tweeted, using the word sity to refer to her grandmother.
"Silencing me & treating me like a criminal is not what she wants for me. It would kill a piece of me. I have decided that visiting my grandmother under these oppressive conditions stands against everything I believe in—fighting against racism, oppression & injustice," she said.
Israel's Interior Ministry said it had received a letter from Tlaib on Thursday seeking permission to visit her family in the West Bank village of Beit Ur Al-Fauqa and it granted her request.
Tlaib did not outline what the conditions imposed on her visit were. Israeli media reported that she had agreed not to promote boycotts against Israel as part of her request to Israel's Foreign Ministry.
Israel bars US Democratic lawmakers Ilhan Omar, Rashida Tlaib under pressure from Trump
Tlaib and Omar, the first two Muslim women elected to Congress have been sharp critics of Trump and Israel's policy toward Palestinians
Tlaib and Omar have voiced support for the pro-Palestinian Boycott, Divestment, Sanctions (BDS) movement which opposes the Israeli occupation and policies toward Palestinians in the West Bank and Gaza. BDS backers can be denied entry to Israel by law.
Israeli Interior Minister Aryeh Deri, who approved Tlaib's visit request, blasted her decision not to come.
"It turns out that it was a provocation to embarrass Israel. Her hatred for Israel overcomes her love for her grandmother," he wrote on Twitter.
Ban outcry
The initial ban sparked an outcry among Democrats in the US Congress, who have largely been strong supporters of Israel, raising concerns about straining the two nations' relationship as Netanyahu aligns himself ever more closely with Trump.
House Speaker Nancy Pelosi and Senate Democratic Leader Chuck Schumer have strongly backed US aid to Israel, which totals $3.8 billion annually but both called on Israel to reverse the ban on their fellow Democrats on Thursday.
US Representative Steny Hoyer, the second-most powerful Democrat in the House, said Israel's demands for Tlaib to visit her grandmother were unacceptable.
"Not only was this request disrespectful of Rep. Tlaib but of the United States Congress as well," Hoyer said in a statement on Friday. "This matter is a self-inflicted wound by one of America's closest allies, one of our closest friends, and a vibrant democracy."
The American Israel Public Affairs Committee, a powerful Jewish lobbying group, said while it did not support the two congresswomen's views, they should be allowed to visit.
Most Republicans in Congress have largely remained silent about the dispute. The fact that lawmakers are on a month-long recess has allowed them to avoid pointed questions.
Tlaib and Omar are the first two Muslim women to be elected to Congress, and the Detroit-born Tlaib is also the first Palestinian-American congresswoman. Both are members of their party's progressive wing and sharp critics of Trump and Israeli policy.
Their official visit was to have included visits to the occupied West Bank and East Jerusalem, territories Israel captured in the 1967 Middle East war and that are part of an independent state along with Gaza.
Domestic politics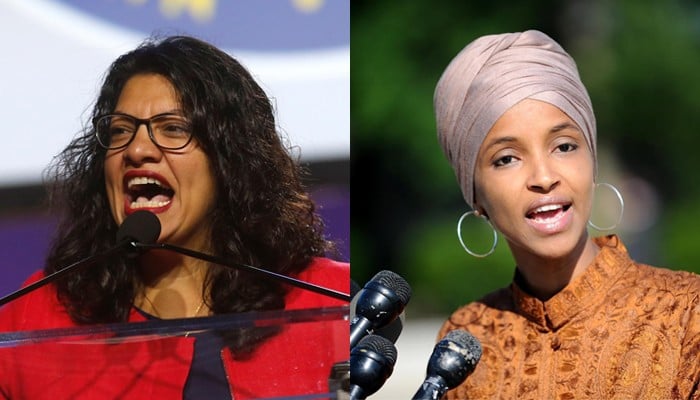 Israel to bar visit by US congresswomen Ilhan Omar, Rashida Tlaib: ministry
Israel's interior ministry said its decision to bar Omar and Tlaib was in line with law banning entry to foreigners who support boycotting Israel
The moves by Trump and Netanyahu could help them whip up support in their conservative voter bases as each head into election campaigns. Israel holds a national election on September 17 and Trump faces re-election in November 2020.
Trump has been attacking Tlaib and Omar, along with lawmakers Alexandria Ocasio-Cortez of New York and Ayanna Pressley of Massachusetts — all women of colour known as "The Squad" — for weeks, accusing them of hostility to Israel in a barrage condemned by critics as racist.
While most Democrats disagree with the views of Tlaib and Omar on Israel, Trump's repeated attacks have rallied support. The president, in turn, has tried to paint that support as an endorsement of the two lawmakers' position and sought to make them the face of the party.
Tlaib and Omar represent districts in states Trump is aiming to win in his 2020 re-election campaign: Michigan, which he narrowly won in 2016, and Minnesota, which he narrowly lost.
Tlaib "knows what she's doing and she believes so strongly in justice in Palestine that she's giving up her chance to see her grandmother," says Frank Smith, 65, a retired auto worker in Detroit. "She must be doing something right because she's driving Trump nuts."
The prospects of ending the occupation and resolving the Israeli-Palestinian conflict under the so-called two-state solution have all but evaporated.
The Trump administration has touted its own peace plan but details remain vague. The relationship between Netanyahu and Trump seems ever closer, however.
Since Trump became president, Washington has recognized Israel's sovereignty over the Golan Heights, withdrawn from a nuclear accord with Iran, and moved the US embassy from Tel Aviv to Jerusalem.
Read more: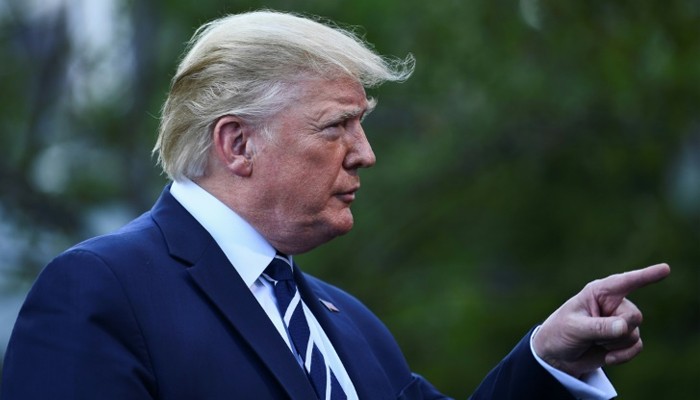 Trump says congresswomen 'squad' should 'apologize to America'
Trump says congresswomen 'squad', which includes Representatives Ocasio-Cortez, Tlaib, Omar, and Pressley, should 'apologize to America'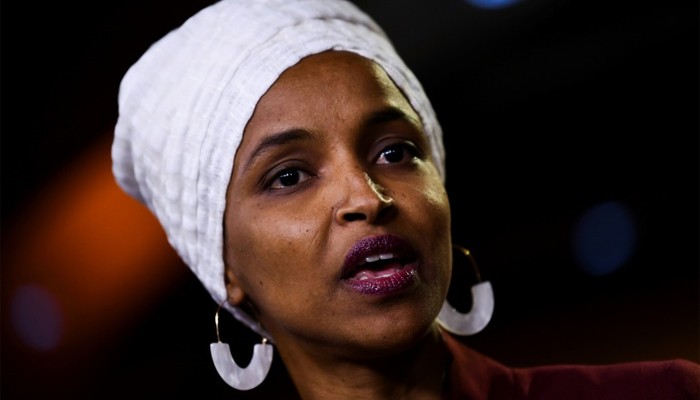 Ilhan Omar brands Trump as 'fascist' after 'send her back' taunts at MAGA rally
Ilhan Omar, a Democratic lawmaker, was targetted as she faced chants of 'Send her back!' at a Trump rally in North Carolina
Rep. Tlaib cancels West Bank trip after Israel grants her permission to visit grandmother
"I have decided that visiting my grandmother under these oppressive conditions stands against everything I believe in," she wrote on Twitter.
Rep. Rashida Tlaib cancels West Bank visit after Israel backtracks on ban
Rep. Rashida Tlaib, a Michigan Democrat and the daughter of Palestinian immigrants, said Friday that she had decided to cancel her visit to her grandmother in the West Bank after Israel announced that it had granted her permission.
"I have decided that visiting my grandmother under these oppressive conditions stands against everything I believe in — fighting against racism, oppression & injustice," Tlaib tweeted.
Her office later issued a statement, adding that Tlaib had planned to pick from fig trees with her grandmother and discuss Israel's policies with Palestinians and Israelis.
"The Israeli government used my love and desire to see my grandmother to silence me and made my ability to do so contingent upon my signing a letter — reflecting just how undemocratic and afraid they are of the truth my trip would reveal about what is happening in the State of Israel and to Palestinians living under occupation with United States support," she said in the statement.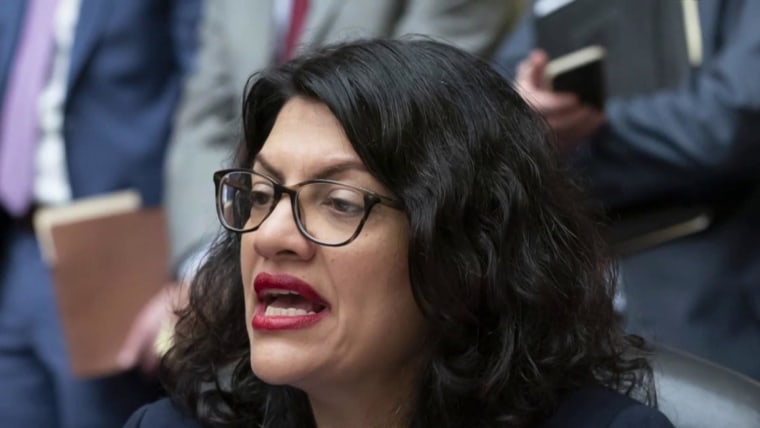 Rep. Tlaib rejects offer to visit Israel under 'oppressive conditions'
"I have therefore decided to not travel to Palestine and Israel at this time. Visiting my grandmother under these oppressive conditions meant to humiliate me would break my grandmother's heart. Silencing me with treatment to make me feel less-than is not what she wants for me — it would kill a piece of me that always stands up against racism and injustice."
Her statement came after Israeli Interior Minister Aryeh Deri said in a statement that Israel had decided to approve Tlaib's entry for "a humanitarian visit of her 90-year-old grandmother."
However, in a Friday tweet, Deri suggested that Tlaib's request was a ploy to disparage the country.
"I approved her request as a gesture of goodwill on a humanitarian basis, but it was just a provocative request, aimed at bashing the State of Israel. Apparently her hate for Israel overcomes her love for her grandmother," he said.
Tlaib's announcement came a day after Israel said it was barring her and fellow Democratic Rep. Ilhan Omar of Minnesota from visiting Israel and accused them of attempting to "boycott and negate Israel's legitimacy."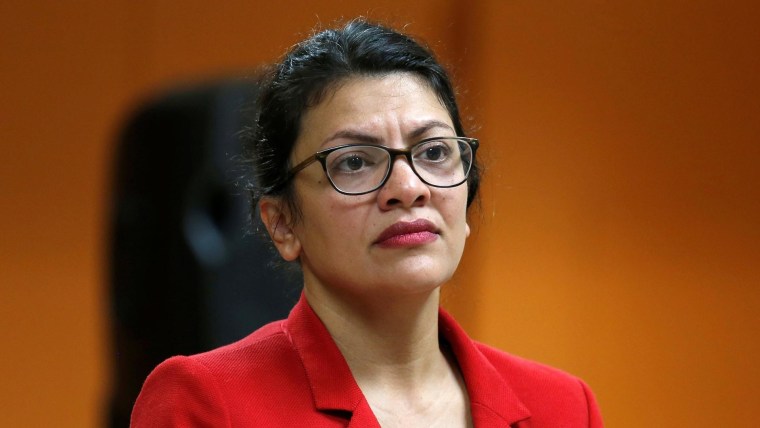 Israel will allow Rep. Rashida Tlaib to visit West Bank
The interior ministry said early Friday that Tlaib had sent a letter asking to be granted access in which she promised to not promote boycotts against Israel and to respect the restrictions imposed on her during her visit. The interior ministry "expressed hope that she would honor her commitment."
Related
Politics Democrats blast Israel's 'dangerous' decision to bar Omar, Tlaib from entering the country
But Tlaib later wrote on Twitter that traveling to the region under the proposed conditions would "kill a piece of me."
Tlaib and Omar have previously voiced their support for the pro-Palestinian Boycott, Divestment and Sanctions movement, known as BDS, and under Israeli law, supporters of the movement can be denied entry to Israel.
Explaining Israel's decision to block the trip, Prime Minister Benjamin Netanyahu said Thursday that "it became clear that they were planning a campaign whose sole purpose was to strengthen the boycott and negate Israel's legitimacy."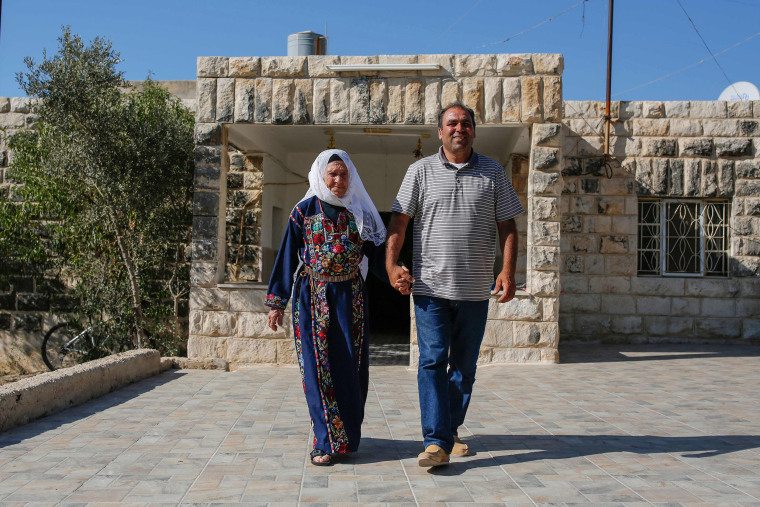 Muftia Tlaib, Rashida Tlaib's grandmother, with her son Bassam outside their home in the village of Beit Ur al-Fauqa in the occupied West Bank. Abbas Momani / AFP – Getty Images
On Friday afternoon, President Donald Trump tweeted derisively of Tlaib's decision. "Rep. Tlaib wrote a letter to Israeli officials desperately wanting to visit her grandmother. Permission was quickly granted, whereupon Tlaib obnoxiously turned the approval down, a complete setup," he wrote. "The only real winner here is Tlaib's grandmother. She doesn't have to see her now!"
Earlier Friday, several Israeli commentators criticized the condition placed on Tlaib's permission to enter the country, saying it was a reflection of the Israeli government's approach to Palestinian rights.
"Israelis have rights, Palestinians have needs," tweeted Israeli lawyer Daniel Seidemann, who focuses on the conflict in Jerusalem and was due to meet with the congresswomen during their trip. "Israeli rights are inalienable; Palestinian needs are fulfilled by our magnanimity, a reward for 'good behavior.'"
Haggai Matar, the executive editor at the Israel-based +972 Magazine, said the notion that Israel was allowing Tlaib to visit her family as a "humanitarian" gesture was worse than the ban.
"We won't respect you as an independent political leader, as a US congresswoman, but you're welcome to beg for mercy like all Palestinians — is the message," he tweeted Friday.
Democratic lawmakers slammed Israel's decision Thursday to bar the lawmakers, warning that it could damage the U.S.-Israel relationship and accusing President Donald Trump of instigating the move. House Speaker Nancy Pelosi called the decision "a sad reversal" and "deeply disappointing."
Ahead of the Israeli government's announcement, Trump tweeted that it would "show great weakness" if the country allowed the two to enter, later tweeting that "Representatives Omar and Tlaib are the face of the Democrat Party, and they HATE Israel!"
It also sent shock waves throughout Israel and the Palestinian territories with many decrying the move.
Hanan Ashrawi, a veteran Palestinian politician, called it an "outrageous act of hostility against the American people."
"This is a dangerous precedent that defies all diplomatic norms and an assault on the Palestinian people's right to engage with the rest of the world," she said in a statement.
Yaakov Katz, the editor of the English-language newspaper The Jerusalem Post, criticized the decision to bar the lawmakers arguing that it would "cause damage for years to come."
"The country should let them in. It has nothing to hide," he tweeted.
Saphora Smith is a London-based reporter for NBC News Digital.
Lawahez Jabari is a producer based in Tel Aviv. She has covered the Middle East conflict — on both the Israeli and Palestinian sides — for more than a decade.
Dartunorro Clark covered national politics, including the Covid-19 recovery, for NBC News.
Source https://www.timesofisrael.com/what-omar-tlaib-were-going-to-do-on-their-thwarted-trip-to-jerusalem-west-bank/
Source https://www.geo.tv/latest/245046-us-congresswoman-rashida-tlaib-rejects-visit-to-israel-citing-oppressive-conditions
Source https://www.nbcnews.com/news/world/israel-grants-permission-congresswoman-tlaib-visit-west-bank-n1043026