Visiting Ireland with a baby or toddler: all you need to know
All you need to know for visiting Ireland with a baby or toddler. Baby friendly places in Ireland, best strollers for Ireland and Ireland travel tips for families with babies and toddlers.
Ireland is a lovely destination to visit as a young family and one I often recommend as a first family trip overseas.
Safe, English-speaking and compact in size Ireland is a country where families feel welcome: many families here are multiple children themselves and especially in bigger centres it is easy to find baby equipment and facilities.
I know this well. My two children are born in Ireland, so I know very well what it means to be and travel around Ireland with a baby, a toddler and both!
As well as my own experience, I also have many friends who both raise their children here or have come to visit with little ones.
This article is the collection of all my tried and tested tips for visiting Ireland with a baby or toddler.
Safe family travels!
Table of Contents
Arriving in Ireland with a baby or toddler
If you arrive in Ireland by plane and the first task they have upon landing is locating their stroller!
Unless you have a super compact stroller that can come with you on the plane, chances are that you have to regain your checked in precious vehicle on arrival and this can be stressful: will it be at the plane gate? At the oversize baggage belt? At the main baggage belt?
The answer to this might change depending on the airline so asking your airline crow upon descending the aircraft is usually the best option.
However, Dublin airport is equipped with a 'buggy collection point' just outside the aircraft and all the flights I have ever taken into Dublin have resulted in me being able to collect the stroller pretty much at the aircraft door (depending on the exact arrival dock, you may have to walk to the end of the boarding tunnel)
Documents and Visas for entering Ireland with a baby
After you regain your stroller, you are off to immigration and passport control checks.
Ireland is part of the European Union but outside the Treaty of Shengen. This means that all passengers, even EU citizens, will go though passport control upon entering the country and this includes babies!
The exact documents needed for you and you family to enter the country depends on your citizenship: the best place to find information is your local Irish embassy or consulate or the Department of Foreign Affairs.
Please note: if you are traveling alone with a child with a surname different from yours, you may have to produce proof of your relationship with them (usually the birth certificate stating you are the parent / legal guardian). I have only been asked occasionally (and I was ready) so please, do take this seriously as it does happen!
Getting from the airport to your accommodation with a baby
Depending on your ariprit of arrival you have several transport options. These are the most common:
Taxi: Car seats are not required in Ireland in taxis. Taxi drivers will let you board their car without a car seat although you are of course entitles to bring your own. If you don't have a car seat, usually you take the taxi ride with your baby sitting on your lap.
I feel it is important to know that the drive from Dublin airport to the city for instance is motorway: please use your own judgement when deciding whether to bring/not bring a car seat from home.
Private car: if you get a private car, may it be a rental car or that of a friend picking you up, please be aware that you MUST use a car seat. Most rental companies offer an option to rent them wit the car however, I highly recommend you bring your own. This is the only way to make sure of the condition and safety of the seat and also that it is indeed the right size for your child.
Bus: several buses connect the airport to destinations around the country. Depending on the type of bus and how busy it is, you can fold the stroller and store it in the luggage compartment or you may be allowed to take it on board Usually airport buses have a compartment (either below or a luggage rack on board) while local buses have strollers/wheelchairs bay on board, one stroller per bus only.
Driving in Ireland with a baby or toddler
There are two main things to take into account when driving in Ireland wit children
The first is what I mentioned before: the fact that car seats are compulsory.
The second is that Ireland has some motorways but also very many country roads that are narrow and meandering, a potential nightmare if you have a child prone to motion sickness!
Any time you are driving in Ireland, I highly recommend you take your time, go slow and stop as many times as you need to give yourself and your child a rest from the zig-zagging and get some fresh air.
Staying in hotel in Ireland with a child: cots and extra beds
Hotels and B&Bs in Ireland are usually very accommodating with small kids and are happy to let you co-sleep with no charge for the baby or offer a cot or extra bed.
The best way to make sure is to read the specifics of the room you are booking before committing: I usually use the website booking.com as it has very clear policies on what is and is not allowed and what type of facilities the accommodation owner is able to offer.
Things become even easier if you are staying in an Ireland family hotels. these are hotels that make a special effort to welcome families and usually have bigger rooms, play ares and often additional children facilities like high chairs, cots and children menus in their on site restaurants.
Staying in an Irish castle with a baby or toddler
If you dream of staying in an Irish castle but worry a young child may not be welcome in such an elegant setting, worry no more!
While some Irish castle are not very suitable for kids, many are and even take pride in their family offering. Ashford Castle is maybe the most famous of all but Clontarf Castle in Dublin Waterford Castle and Lough see castle are also wonderful and perfect for even very young kids.
Ireland with baby: carrier, stroller or both?
I recommend both! A carrier will come in handy in Ireland for some outdoor pursuits and strolls on the beach (Ireland has many wonderful beaches) but the stroller will be invaluable for longer stretches.
Overall, Ireland is very stroller friendly and you can use either a light umbrella stroller or a bigger one.
While you may have to fold them in restaurants, most places are well equipped to have them and the bigger wheels are handy in the Irish countryside where small wheels tend to struggle.
Breastfeeding in Ireland
Breastfeeding is becoming more common in Ireland but the country has one of the lowest breastfeeding rates in the world so you do not see many breastfeeding mothers around, despite the often very high number of babies.
This doesn't mean you cannot breastfeed your child in a public place: you can and some bigger shopping malls even have breastfeeding rooms equipped with comfortable chairs and baby changing facilities.
The rooms can be very pleasant so I do recommend you seek them out in shopping centers but should one not be handy, you can easily breastfeed while at a restaurant or a cafe.
Eating our in Ireland with a baby or toddler
I find eating out in Ireland with kids pretty straightforward.
Many restaurants are equipped with high chairs and children's menus are getting more and more common too. The choice of foods on kids' menu is often limited (pasta with tomato sauce/bolognese, fish fingers, chicken nuggets, pizza) and I usually supplement it with small bits from my plate.
If you have our won food, please be advised that not everywhere is equipped or available to heat it up for you: always ask in advance.
Formula, baby food, diapers in Ireland
Formula, baby food, diapers and baby supplies are easy to find in shops around Ireland.
You can find all of this in big (sometimes also small) supermarkets and you have a decent selection of international brands such as Milupa and Cow and Gate (Danone), Huggies, Pampers etc.
Cheaper brands of decent quality can be found in supermarkets like Lidl or Aldi too which also have regular sales for baby stuff.
If you have a toddler, you will find many supermarkets have big shelves with snacks just for them and many are delicious rice cakes, raisins and crackers of all types as well as pushes of fruit and smoothies abound!
When visiting Ireland, I do recommend you bring some of your own supplies for the first day or so but you do not need to stock up: the selection here is very good.
Medications, pharmacies and emergencies
You can buy some over-the-counter medications (eye drops, ibuprofen, paracetamol etc) both in supermarkets and pharmacies.
Please be advised that only a limited amount of paracetamol can be bought in the same transaction: do not expect to be able to stock up in one go.
Pharmacies come in all shapes and sizes and some observe late-night opening and are open at the weekends.
However, the number of pharmacies open outside standard business hours is limited, especially outside of the bigger centers, so I recommend you have basic supplies such as a first aid kit on you at all times.
The Ireland emergency numbers are 112 and 999.
Sightseeing in Ireland with babies and toddler
Sightseeing in Ireland with a baby or toddler is surprisingly easy. You can visit almost everywhere with a baby in a carrier and many of the most famous attractions in Ireland can be visited at your own pace and with a stroller, making them perfect for toddlers.
Some useful information about some of Ireland's main sites.
The cliffs of Moher with a baby or toddler: tail sea cliffs plunging into the ocean may not sound like the most suitable place to visit with a toddler but if you stay in the main viewing area, they are safe and fun for kids.
The cliffs themselves are protected by a tall barrier and there is a large space before it for strollers and for kids to walk as well as a nice and safe visitors center.
Since they are cliffs, there are parts that are unshakable for kids (although really some parts are unsuitable for adults too and marked as such!) so paying attention is paramount.
However, you do not have to skip the cliffs because you have a child; they are wonderful at all ages!
Blarney castle: Blarney castle is easy to visit with children and great fun for them. Kissing the stone is unsuitable for young kids and I would not recommend entering the castle as such with them however, the sounds are wonderful and very child friendly.
Be careful if visiting the poison gardens: this is a lovely area of the castle with medicinal plants and some must not be touched nor eaten, especially by a child. The garden is easy to spot, well marked and easily avoided should you have a curious toddler likely to go foraging!
Ring of Kerry: the Ring of Kerry is a long drive along a scenic meandering coastal road.
The only thing to be aware of here is the length of the journey and the bent nature of the road: if your child suffers the car, this is a drive I do not recommend.
You may want to consider shorter drives in the area such as Dingle instead: the peninsula is wonderful but much smaller and easier to tackle with kids. The lovely Dingle town is also a good place to stop for a rest.
Dublin: Dublin is very easy with babies and toddlers.
The city is stroller friendly, many restaurants have high chairs and children's menus and there are some play centers that are just for tiny kids. If you want to treat them to something special, Imaginosity children's museum is wonderful!
If you prefer to go sightseeing, it is good to know that The National Gallery is overt child friendly and that there are breastfeeding and baby changing facilities on Grafton street (inside Brwoth Thomas) and on the top floor of St Stephen's Green shopping center.
Kylemore Abbey: famous Kylemore Abbey is a lovely place to visit also with a toddler.
The abbey is surrounded by wonderful green areas and easy walks and you can easily visit with a baby or a young explorer letting mean lead the way along the paths. For a nice play break, head to their play area!
Newgrange: It is possible to visit Newgrange with a young child. However, since Newgrange is a passage tomb, the darkness and the confined space can be challenging for a toddler and can upset them. personally, I prefer to book tickets separately and get the adults to take turns: strollers are welcome in the visitors center but cannot enter the actual burial chamber.
Special places to seek out when visiting Ireland with a toddler
One of the things I love the most about having a toddler in Ireland is that the country has a lot of attractions that may not make the list of many visitors but are wonderful for families. Farms, manor houses with playground, adventure playground, fairy walks – these are local family's favorites and can be a great place to slow down and give your toddlers opportunities for interaction and actual play.
Some places we love are (the list is not exclusive):
, in Blessington, near Dublin,
Wells House is Wexford, in Wicklow, in Offaly, and Ardgillan Castle near Dublin and Farm in Wicklow,
All beautiful and equipped with gorgeous play areas.
What to pack for visiting Ireland with a baby or toddler
Ireland has different seasons and very changeable weather so what to pack depends very much on the time of year of your visit. Asa general rule, I recommend you bring:
Baby carrier
Stroller
Baby snowsuit for the winter (as well as warm clothes)
Short sleeve tops/long sleeve tops/ sweaters for layering in all season
Wetsuits (for pools and outdoor water play in summer)
Waterproof shoes
Wellington boots
Waterproof trousers for wet days and jumping in puddles (they will do a lot of it!)
First aid kit
Basic supplies for the flight and your first day: snacks, diapers, formula, baby wipes, diaper disposable bags etc.
I hope you found this introduction to traveling to Ireland with a baby or toddler useful. Safe travels!
Mama Loves Ireland
Céad míle fáilte! A thousand times welcome! I am a travel-loving Italian Mama lucky enough to call Ireland her home. Let my articles help you plan your trip to Ireland and get ready to fall in love with the Emerald Isle, just like I did. With love. M x
Visiting Ireland with kids: all you need to know
We live in Dublin and even if Ireland is home for our family, we seem to never tire of admiring it with the eye of the visitor.
After 15 years here, I still explore with the same awe I had when I first set foot on Irish soil and my husband and kids, both born and raised here, seem to share the same experience.
It is from this specific point of you, that of the visitor turned local, that I write this post today.
It is my family guide to Ireland and contains all my best tips for visiting Ireland with kids.
Wishing you a wonderful Ireland family vacation!
Table of Contents
The best time to visit Ireland with kids: Ireland in each season
If you are planning a family trip to Ireland, you may have to arrange it around school holidays and if that is the case, you will be happy to hear that no matter when the school break falls, it can be a good time for visiting the Emerald Isle!
Ireland has a reasonably temperate climate, considering how far North it is, and while your experience of the place will be very different if you come in summer or winter, there is something fun to do in all seasons.
If you can choose, however, without a doubt some times are better than others to plan a trip to Ireland. In particular, it is useful to know the following.
The best time to visit Ireland is the spring / summer, and specifically the months between May and August.
At this time, Ireland his reasonably dry, you are likely to get nice sunny, bright days and the days are long, meaning you get a good amount of light for sightseeing well into the evening.
The summer is a great time to visit Ireland with kids who love sports and outdoor pursuits; hiking, zip-lining and adventure centers here abound!
Another fun time to visit Ireland with kids can be Christmas.
Christmas in Dublin, Galway and Cork, in particular, is lovely as they have some of the best Christmas markets in Ireland.
While undoubtedly a cold time, the cities dress up with Christmas decorations and it can be a fun time for shopping, meeting Santa, indoor play centers (there are many in the big cities) and hot chocolate!
Documents needed to enter Ireland with kids
The documents you need to enter Ireland depend on your country of origin.
Ireland is inside the EU but outside the Treaty of Schengen and this may affect your travels and require additional paperwork.
The best source of information for documents needed to enter Ireland is your nearest Irish embassy or consulate. You can find the complete list here (official sire of the Irish departments of Foreign affairs).
Good to know: if you are traveling to Ireland alone with a child with a surname different from yours, you may be asked to show their birth certificate stating you are their parent or an equivalent document that proves you are their legal guardian and are allowed to travel with them. I have been asked this document occasionally only but since it can happen, I believe it is important to know about it and be ready.
How to get around Ireland with kids: car, train or bus?
By far the easiest way to travel around Ireland with kids is by car.
Ireland has an ok network of buses and trains.
However, without your own vehicle, you are very much limited in your choice of accommodation.
In many cases, the most atmospheric and budget-friendly accommodation options in Ireland are a little away from the main centers and they can be hard to reach if you are relying on public transport and trains only.
If you can, a car in Ireland is your best friend!
If you prefer not to drive, another good alternative is taking day trips and day tours.
Ireland has a very good selection of days tours offered by several companies that allow you to visit many of Ireland's main attractions without having to get behind the wheel.
In many cases, you can even choose a home base and simply take day trips from there: Dublin, Cork and Galway are all good options for this type of trip.
This is a quick selection of some of the most interesting offers.
Need to know: rules for the use of car seats in Ireland. The use of car seats in private cars is mandatory in Ireland for kids up to age 12. Make sure you book one when renting a car or bring your own! Taxis are exempt from this rule: if you only need to hop on a taxi on arrival, you may want to consider going without a seat. However, please be advised that the transfer from the airport to your hotel is likely to involve motorway driving.
Ireland sightseeing with kids: tackling Ireland's main sites as a family
Ireland is very kid-friendly and many of the places you are likely to have on your Irland bucket list are easy to visit even with kids in tow.
Visiting Dublin with kids
Dublin is a very family-friendly city and I know its kid-friendly side very well, Dublin being our city!
If this is your first time visiting, I highly recommend you find a hotel in the city center and explore some of the city's main sites as well as plan additional time just for the kids.
My tops things to see in Dublin with kids are Trinity College and the Book of Kells, Dublinia (interactive Viking Museum), Dublin castle and maybe surprisingly, the Guinness storehouse!
Kid specific attractions to seek out, in my opinion, are Stephen's green park, the Dublin splash tour, the zoo and Imagnosity, Dublin's children museum (outside of the center but great for a rainy day!)
Exploring Glendalough with children
Glendalough is a gorgeous monastic site only 40 Km from Dublin, in Country Wicklow.
It is a lovely place for sightseeing with kids as it has a lake and ample space to run around.
The best way to reach is by car. With kids, I suggest you skip the visitor center and simply walk towards the lakes and the monastic site.
The visit is free, the forest is lovely for a walk or a picnic (it is also stroller friendly if you have younger kids) and the Glendalough hotel has a decent, kid-friendly restaurant for food and facilities.
The Cliffs of Moher
The Cliffs of Moher are one of the most famous attractions in Ireland and while they may not strike you as the most ki-friendly place (350 mt cliffs plunging into the ocean anyone?), they actually are a bit of a treat with kids.
The area is very well equipped for small visitors (they have a nice visitor center and cafe) and the cliffs are protected by tall slabs of rock that make them safe.
However, cautious here is needed: if you have over-enthusiastic kids, make sure they don't run too far ahead and make sure they do not go on the parts of the path that are marked as unmanned!
While you ill see a string of adult visitors ignoring the warning signs, these paths are not safe and especially for kids, they can pose a real danger.
Good to know: not fr from the cliffs there are the Ailwee caves, a wonderful place for kids. Here, you can go on a guided tour of a real cave (easy, no experience necessary) and experience what total darkness is! It is slightly scary but also cool. You also have a falconry center in the same complex with really fun and educational flight displays of falcon and owls.
Driving the Ring of Kerry with children
The Ring of Kerry is a wonderful drive following the coast of the Kerry peninsula, in the West of Ireland and it is one of the most famous places and drives in the whole of Ireland.
It is indeed a lovely area and it can surely be visited with kids. However, it can also be hard to take.
The problem here is that the road is long and winding and while the scenery is stunning, you find yourself in the car a lot – this can be too much for many kids and frankly awful if they suffer from motion sickness.
If you want to visit Kerry with kids, I recommend you take a few days and break up the drive as many times as you need. Even better, you can explore the National Park with a home base in Killarney, which is lovely and family-friendly.
If you prefer not to tackle it at all but still see nice scenery, I would recommend considering Dingle or the Beara peninsula instead: they both have amazing scenery and require less time in the car.
Blarney Castle
Blarney Castle is one of the most famous attractions in Ireland and one of my favorite.
The castle itself is atmospheric, imposing and romantic, and towers above a stunning estate with gardens, forests and grottoes.
It is a fantastic place to spend a day outside with the kids and it is packed with stories and things to see: you will learn stories of the local witch and you will also have the chance to visit a poison garden. Super fun!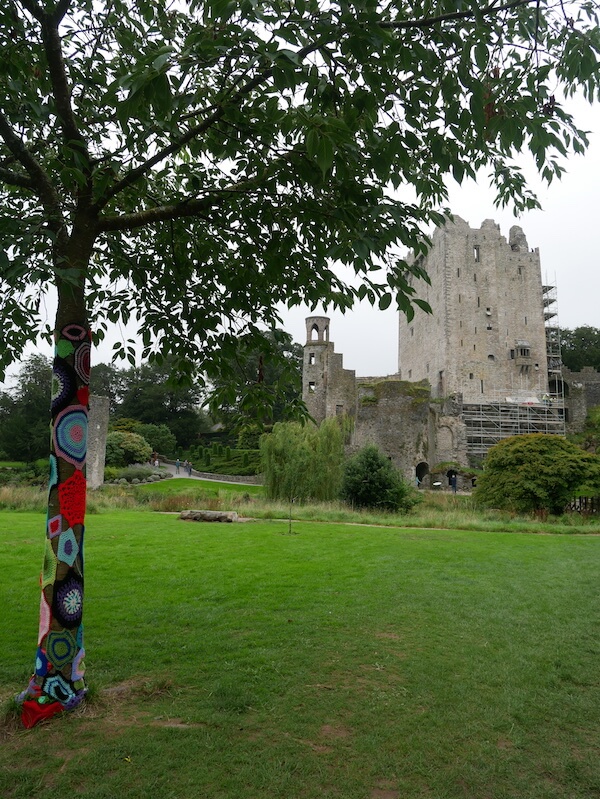 Connemara
Connemara is an area of great natural beauty and a very popular destination in Ireland not just for visitors but for local families.
It is an area many Irish people use as a base for the summer as it is remote, beautiful and not too awfully expensive.
Visitors usually want to see Kylemore Abbey and Clifden but families should also add a stop in a farm.
A stop in one of the local farms can be really fun for the kids and it can also be a way to tap into a slightly more local experience than what you get in main tourist sites.
You are also likely to meet many Irish families having a fun day out, which can be a fun way to make local friends and play for a few hours!
A fantastic place for families in Connemara is the Delphi centre and resort: this is a hotel and adventure center with lots of activities for kids and adults, in one of the most stunning locations in Ireland!
Newgrange
Newgrange is an incredible place for adults and kids and one I recommend visiting especially if you have school-age children who can appreciate the marvel of it.
A passage tomb dating back to the neolithic, Newgrange can only be visited by booking a guided tour.
I do not recommend it with little kids, who may find the dark and small space distressing, but it is a place school kids tend to love.
Good to know if you have toddlers with you: almost in front of it there is a nice farm open to visitors with animals and a nice cafe.
Please note: in 2020, visiting inside the tomb are suspended for health and safety reasons.
Kilkenny
Kilkenny is a small city in the center of Ireland with a lot on offer for kids: a castle (with amazing playground), a city train for tourists, lots of shops and restaurants and a plethora of outdoor certifies in the area such as kayaking!
We go to the city often, sometimes as a day trip from Dublin and sometimes for a weekend and the city never lets us down.
You can read why we love it and the best things to see in Kilkenny here.
Kids attractions in Ireland
As well as kid-friendly sightseeing, Ireland has many kid-centered attractions that I highly recommend you add to your Ireland itinerary.
Among the many, I recommend
Farms, castle and manor houses
Ireland has many castles, farms and manor houses now open to the public and often offering kids' activities. Some we know and love are:
(amazing play area and activities), Co Wicklow (maze, falconry center, fairy walk, playground), Co Wicklow (forest walk and playground), Co Wicklow (forest Gruffalo walk, archery, playground), Co Wexford
Ardgillan castle (a fairy walk, playground), Co Kildare (amazing playground), Co Kildare (playground, walk, an amazing science center and a historic, record-breaking telescope), Co Offaly (castle visit to feel king for a day), Co Meath (lovely manicured gardens with lots of space to run and Santa visits at Christmas), Co Wicklow
Parks and Adventure centers for kids
Over the last few years, adventure centers have pen up in several parts of the country and they can be real fun for kids.
Tayto Park is a theme park while the others are adventure centers with outdoor adventurous activities such as ziplining, treetop rope course and more.
Some we love are:
, a kids favorite, super fun theme park (think rollercoasters etc) , Co Kilkenny , Co Roscommon , Co Galway (great for a family weekend getaway too!) Co Wicklow
Where to stay in Ireland with kids
Ireland has a vast choice of accommodation choices for families ranging from hotels to holiday rentals to guesthouses etc.
Hotels tend to be the most expensive option. They come in all shapes and sizes and often have good facilities for families including indoor pools, kids' activities and restaurants onsite – very handy!
You can find here >>> our selection of the best family hotels in Ireland.
Guesthouses and B&Bs are smaller and have a more personal feel. They are usually in local homes and kids are welcome, although not all can accommodate 3 or 4 people in a room. My favorite website to book guesthouses and B&Bs is booking.com which allows choosing the best rooms for your party taking your kids' age into account and also has good cancellation options. You can find deals and options here
Rentals can be a good option for longer stays
For all these bookings I usually trust booking.com which has always served us well and has amazing free cancellation policies on most properties. See all they have in Ireland here
Visiting an Irish pub with kids in tow
if you are in Ireland, chances are you may want to experience a real Irish pub and there is no need to skip on this just because you have kids.
While not all pubs are kid-friendly, many are: pick those that serve food and ask for a kids menu – many will surprise you with a good one!
Please note: In 2020, new rules have been introduced with timed slots for meals and pub visits. Make sure you make dinner plans in advance by ringing the pub or making a reservation online to secure a table.
What to pack for visiting Ireland with kids
You can find my packing lists for Ireland here, however, these are the main things I suggest you add if coming to Ireland with kids:
Stroller for babies and toddlers. I recommend one with bigger wheels, so it can tackle country paths and longer walks. All terrain strollers are the best in Ireland as they seamlessly go from town to country.
Car seat
An extra change of clothes and shoes for rainy days
Books about Ireland they can read as the go
A small pair of binoculars for birds and wildlife
I hope you enjoyed this quick guide to visiting Ireland with kids and it helped you plan your Ireland family vacation. Safe travels!
Mama Loves Ireland
Céad míle fáilte! A thousand times welcome! I am a travel-loving Italian Mama lucky enough to call Ireland her home. Let my articles help you plan your trip to Ireland and get ready to fall in love with the Emerald Isle, just like I did. With love. M x
Ireland with a Baby or Toddler
We visited Ireland with our 11 month old son and our friends. This was our first international trip with a baby, and I'm here to tell you that traveling around Ireland with a baby is very easy!
This post contains compensated links.
Transportation in Ireland with Toddlers & Babies
The very best way to ensure you can experience all that the Emerald Isle has to offer, especially if traveling to Ireland with a baby or toddler, is by renting a car. This gives you the freedom to up and go as you please. Just be aware that in Ireland they drive on the other side of the road! This was a major adjustment for us being from the US.
Ireland with Baby Carrier or Stroller
We travel with a lightweight, compact umbrella stroller so it was not much effort to bring, but we mainly used a baby hiking carrier on this trip. We didn't use the stroller as much because of the terrain in many places we visited. We're still glad we brought the stroller to Ireland as it was helpful at times as a place to nap or even a seat for eating!
6 Tips for Travelling to Ireland with a Baby or Toddler
1. Don't Stress about Time
Ireland is very much a go-at-your-own-pace kind of family adventure, especially if you have your own rental car.
2. Eating at Restaurants and Pubs with a Baby or Toddler
Most restaurants and pubs offered a "baby bowl" for young children in Ireland. It would usually consist of mashed potatoes and a cooked vegetable or soup. It isn't on the menu, but you can always ask! In many cases we found that the baby bowl is free!
3. Changing Diapers in Ireland
Some places in Ireland do not have baby changing areas, so this may need to be done in the car or on the ground. Packing a small blanket or a travel change mat is a good idea.
4. How to Dress Your Baby in Ireland
We found that the Irish weather was constantly changing throughout the day. Dressing in layers is key! For babies and toddlers, it's best to dress them in too many layers (which can be removed as required). The weather could go from cold, rainy and windy to sunny and warm several times a day! We usually dressed our baby in a snowsuit while out exploring.
5. Baby Essentials in Ireland
Virtually all baby travel essentials and food can be found at stores in the bigger Irish cities, so be sure to stock up before venturing out to the Irish countryside.
6. Getting Around with a Baby or Toddler in Ireland
A baby carrier or hiking backpack carrier will be the best option for exploring with a baby or toddler. See a list of the best baby carriers for travel or our recommended hiking backpack carriers.
For toddlers, we recommend a toddler specific carrier. If you plan to bring a stroller, bring a lightweight travel stroller that will also be good on rough terrain!
The 7 Best Things to do in Ireland with Toddlers or Babies
1. Blarney Castle with a Baby or Toddler
We assumed Blarney Castle was just a cheesy touristy area, where people go to kiss a stone and leave. That presumption was so wrong! I recommend planning at least half a day to explore all that Blarney Castle has to offer. The gardens and walks around the area are gorgeous.
If you are visiting Ireland with a toddler, Blarney Castle is a great place to visit since there is plenty of room to let a toddler explore! We really loved the poison garden, but you really have to keep kids away from the plants!
We had our baby in a hiking carrier while we explored. And of course, what trip to Blarney Castle would be complete without kissing the stone?
If you are flying with your baby or toddler, don't forget to check out our tips for flying with a baby, our best airplane activities for babies and toddlers and these tips on flying with a toddler!
2. Dingle Peninsula with a Baby or Toddler
The Dingle Peninsula was, by far, our favorite part of our holiday in Ireland with a baby. We took a day to drive around Dingle Peninsula and made several stops at ruins and ancient sites. The scenery along the rugged coast is unbelievable, we couldn't stop hopping out of the car to take pictures of all the sites.
We stopped at Inch beach before driving west around the Dingle Peninsula, leaving plenty of time to stop along the way to explore: the beehive huts, ruins, ogham stones, old forts, beaches, and many opportunities to count sheep! We used this self-guided tour and went at our own pace.
3. Kilkenny Castle with a Baby or Toddler
If you like Irish history and exploring castles then you'll want to make a stop here. We used the baby carrier for touring inside Kilkenny Castle, but there is plenty of beautiful outdoor space for toddlers to run around – making it another great place to visit in Ireland with a toddler. There is also a fairly new playground at the Castle Park on the property for toddlers to play.
If touring the Kilkenny Castle, tickets are fairly inexpensive at 8€ for adults, and children over 6 years old are 4€. The town of Kilkenny is cute to walk around as well.
4. Doolin Cave with a Baby or Toddler
This is definitely for the adventurous momma and you'll need the hiking carrier for this one. We visited Ireland with another couple, and while the men went golfing at Lahinch, the girls visited the Doolin Cave!
The Doolin cave is home to the great Stalactite, which is the longest free-hanging stalactite in the Northern Hemisphere! We called ahead and made sure it was okay to do the Doolin cave tour with a baby in a hiking carrier.
You need to be in somewhat decent shape to be able to ascend and descend the steps in the Coolin cave with the weight of the baby in the carrier, it's quite the workout! It really was a fun adventure!
Don't miss all our best tips on hiking with a baby.
5. Kylemore Abbey with a Baby or Toddler
Kylemore Abbey was not originally on our itinerary but decided to take the extra time to visit. I'm so glad we did! We were lucky to have a sunny, warm weather day. I'd definitely recommend going to Kylemore Abbey when it is warm to be able to fully enjoy the outdoors!
The Kylemore Abbey was originally a castle, and now the Benedictine order of nuns own and use the property. You can tour parts of the Abbey as well as the church and woodland walking paths.
The best part of this place was the walled Victorian Garden! The pathways are mostly gravel, so depending on your stroller, you may want to use a baby carrier. There are several cafés on site with kids activities and play areas.
6. Cliffs of Moher with a Baby or Toddler
The Cliffs of Moher is definitely a MUST SEE when visiting Ireland, even if you are traveling with toddlers or a baby. I would plan at about two hours to explore the area. Depending on the time of year, you may be able to spot interesting wildlife, such as puffins!
There are plenty of paved walkways around the viewing sites, making it easy to use a stroller at the Cliffs of Moher with a toddler or baby. The visitor center has some activities and information, as well as a family friendly café and diaper changing station.
Tickets at the entrance are 8€, however if you book online, you can save 50%. Children under 16 are free!
7. Dublin – Guinness Storehouse Tour with a Toddler or Baby
Our family trip to Ireland ended in Dublin, and we didn't have much time to explore. We chose to do the Guinness Storehouse Tour. The tour is go-at-your-own-pace, which is great for families traveling to Ireland with kids. We enjoyed learning about the history of Guinness and process of making beer.
At the end of the Guinness Storehouse tour you can use your "free pint" ticket at the Gravity Bar, which is included with admission, to have any beer you choose! The Gravity Bar has excellent views of Dublin and a great place to kick back. We used the baby carrier for this experience, but the stroller would have been just as fine!
Thank you to the The Flying Hens for this guest post!

We are the Henard family, aka "The Flying Hens." Mr. Hen is a pilot for a major airline and we are able to use those flight benefits to travel the world with our children. We love to share our stories of adventures near and far, you can find us at theflyinghens.com and on Instagram @theflyinghens
Pin It For Later!
Hello
We heard it too: "I guess your traveling days are over". We are here to say that you CAN travel with a baby.
On Baby Can Travel you'll find everything from baby and toddler travel tips, gear recommendations and inspiration for where to go. All from parents JUST LIKE YOU!
Source https://mamalovesireland.com/ireland-with-baby-or-toddler/
Source https://mamalovesireland.com/visiting-ireland-with-kids/
Source https://www.babycantravel.com/ireland-with-baby-toddler/