Vietnam or Cambodia: Which is the Best Country for Travel?
Trying to decide between visiting Vietnam or Cambodia? I feel ya! It is a TOUGH choice. We've been to both multiple times and in this post we help you decide.
What's in our guide to choosing between Vietnam and Cambodia?
Cambodia vs Vietnam. What a hard choice!
Both countries are inexpensive, well organized for tourism, and offer lots of opportunity for adventure, cultural immersion, and basking on the beach.
How is a poor (or wealthy) traveller to choose?
Obviously, if you have all the time in the world, my advice is to travel Vietnam and Cambodia.
But if you have a real life back home that you have to live, then it's better to just visit one per trip. It would take about six weeks to explore all the best attractions in Cambodia and even longer to see Vietnam's sights.
You can make a great trip out of 2-4 weeks in either country, though.
So, if you have a month or less to travel in Vietnam or Cambodia, it's time to decide…
Vietnam or Cambodia: Which Should You Visit?
Need more help deciding?
Check out our guides to choosing between Thailand & Vietnam and Thailand & Cambodia.
1. Travel Experiences in Vietnam and Cambodia
Must-See Highlights
While Vietnam has Ha Long Bay, a natural wonder, Cambodia has Angkor Wat, a man-made sight to behold. Both are bucket-list experiences, both are also overcrowded and expensive! Still, they are worth seeing and so much better if you can get there in shoulder season, so when you're planning your trip, take that into account.
City Experiences
For city experiences, the old centre of Hanoi is a fabulous place to wander and marvel at the local culture and living conditions.
Hoi An is also a must-see destination and one that I long to return to as soon as possible!
Cambodia doesn't have a comparable city experience, with both Siem Reap and Phnom Penh being underwhelming and mostly avoidable, while smaller cities are run-down and lacking in charm.
Beaches
As far as beaches go, Vietnam has some pretty ones but they tend to be overcrowded and touristy — with many Vietnamese tourists also being drawn to their fabulous beaches. In Cambodia, you'll get to play out your deserted island fantasies on Koh Ta Kiev or other south coast islands.
Wilderness and Trekking
In Sapa, north of Hanoi, trekking has become one of the biggest tourist highlight in the country. While going for a walk through the mountains and villages in this region is astonishingly beautiful, it is not exactly adventurous, as you'll be trekking with hordes of other tourists.
Adventure-seekers will want to find alternative treks in the north or go caving in the fabulous Phong Nha.
In Cambodia, jungle trekking is a wild experience, too. The views tend to be less sensational, as you're surrounded by dense jungle most of the time, but the experience is a little less polished, meaning you'll feel more like an adventurer. Just watch out for the leeches!
Let Cambodia Transform You
This FREE don't-miss list gives you access to the 12 best transformational experiences in Cambodia. Don't miss out!
Wildlife
Cambodia's northeastern reaches are home to a dwindling population of Asian elephants. Animal-lovers have a chance to get up close to these incredible animals — and if you've never seen elephants before, it's something you cannot miss.
Vietnam has lots of National Parks which you can explore but chances are you won't see any wildlife as you tromp through the jungle. You can visit primates up close at the Cuc Phuong National Park Endangered Primates Centre. We've never been there but we've heard good things.
City Tours and Bike Tours
Both Vietnam and Cambodia offer amazing experiences when it comes to tours, long or short.
In Vietnam, you can:
In Cambodia, don't miss your chance to:
If you want to explore Vietnam and Cambodia together, take a Mekong bike and boat adventure from Siem Reap all the way to to Saigon!
Travel Experiences – Vietnam or Cambodia?
When it comes to exciting travel experiences, Cambodia wins. Though Vietnam has lots of incredible places to see and things to do, Vietnam is more touristy and therefore, the travel experiences just aren't quite as adventurous or remote as we'd like.
There is nothing in Vietnam as iconic as Angkor Wat or as perfectly deserted as Koh Ta Kiev. Cambodia also has Kampot, one of our favourite small towns in the entire world, plus the chance to see almost wild elephants in the north.
2. Transportation in Vietnam and Cambodia
Getting around in both Cambodia and Vietnam is super easy.
You just tell the staff at your hotel or hostel where you want to go and they'll make all the arrangements for you. All you have to do is be ready on time. This service might cost you a dollar extra but it is almost always worth it to avoid the hassle of going to buy your own tickets.
Usually, if you arrange tickets through your hotel, a mini bus will pick you up at the front door, so you don't need to walk across town with your luggage.
(If you want to know about travel from Vietnam to Cambodia, don't miss our guide to getting to Cambodia) →
Transportation in Vietnam
Busses in Vietnam
A well organized bus network links every conceivable spot a visitor would want to go in Vietnam.
Quality – Long-distance busses are cheap, generally on time, and usually comfortable.
Price – A five or six hour bus ride will cost you around $6, depending where you're going. A great deal!
Bus type – Journeys are usually in a sleeper-style bus, where you can (almost) stretch out on a bunk and might even get some sleep.
Safety – Nightmare tales of dangerous drivers and filthy busses are mostly a thing of the past — now busses are, if not luxurious, the best way to get around Vietnam.
Use 12go.asia for routes, times, prices, and booking busses in Vietnam.
Train in Vietnam
There is also a train line that starts in the north and winds its way through coastal communities and then finally heads inland to end up in Ho Chi Minh city. The train is no faster than the bus and is more expensive, so often not the best choice. It can be useful for making the overnight journey from Hanoi to Sapa or for a quick ride from Ho Chi Minh City to Mui Ne.
Easy rider motorbike in Vietnam
One of my favourite Vietnam experiences was my trip from Hue to Hoi An by motorbike. I have never driven a motorbike in my life but in Vietnam, you can hire a bike with a driver.
You sit on the back watching the world go by while they do all the work. This kind of transportation is ideal for maximum 5 or 6 hours — after that your butt (and possibly the rest of you) will fall asleep!
Flying in Vietnam
We never recommend flying around inside a country — it is expensive, bad for the environment, and makes you miss huge chunks of fascinating travel. To avoid flying in Vietnam, plan your trip for just the north, centre, or south.
However, if you must fly in Vietnam, there are lots of cheap flights available. But be warned, the low cost airlines in Vietnam (JetStar and VietJet) have a reputation of being late all the time!
We once got to the airport in Nha Trang only to discover that our flight was delayed by 8 hours. Yikes! We quickly re-booked onto Vietnam Airlines and took the financial loss as an expensive lesson.
Transportation in Cambodia
In Cambodia, the major destinations are served by bus, while more off-the-beaten-track destinations are connected by mini bus. If you're going way off the tourist map, you may need to hire a motorbike or tuk tuk.
Busses in Cambodia
Quality – Long-distance busses are cheap, but usually late, and can be old and uncomfortable. My bus journey from Phnom Penh to Kratie was advertised as 4 hours and took 8. Not cool!
Price – a 5 or 6 hour bus ride will be around $10. Still not expensive, but more expensive than Vietnam.
Bus type – Bus journeys are usually in a seated bus, which can range in quality from new to well past its prime.
Safety – Cambodia's bus safety record is not great (road accidents are alarmingly common in Cambodia) so it's worth it to find a reliable bus company. Our favourite was Giant Ibis, which costs a little more but is totally worth it for safety and reliability. Unfortunately, they only cover limited routes in Cambodia.
Use 12go.asia for routes, times, prices, and booking busses in Cambodia →
Mini busses in Cambodia
If you go anywhere besides the major attractions (which you must to get the most out of Cambodia) you will have to take a mini bus. They vary in quality and are almost always late. A mini bus ride can be easy and comfortable, or it can be an all-day adventure, starting with 100 stops around town to pick up babies, chickens, sacks of grain, small motorbikes and more.
Don't expect to get anywhere quickly in a Cambodian mini bus – but treat the journey as part of the experience.
Long-distance taxis in Cambodia
If you have a decent budget and are travelling in Cambodia with friends or family, hiring a car and driver can be the best way to go. These services tend to be far more reliable than public transportation and will get you everywhere twice as fast.
You can also stop off along the way to see the sights, especially if you hire a driver who speaks English well enough to double as a guide.
Vietnam vs Cambodia – Transportation
Chalk one up for Vietnam! Their transportation is faster, cleaner, safer, and cheaper. It's fairly easy to get around Cambodia too, but expect delays and a little more adventure!
3. Food in Vietnam and Cambodia
If you're a meat-eater, you will probably prefer the food in Vietnam. There are delicious bowls of Pho made with hearty beef broth everywhere you look, lots of fresh seafood, banh mi sandwiches on every corner, and free egg sandwiches for breakfast at most hotels and hostels.
Want veggie food in Vietnam?
Don't miss my detailed Vietnam food guides to Hoi An, Hue, Ho Chi Minh City and Hanoi.
For vegetarians, vegans, and people who have sworn off meat after visiting a market in Southeast Asia, you'll probably prefer the food in Cambodia. I know I do! In the tourist areas, it is much easier to find food that is completely vegan — plus, Cambodia curries are incredibly delicious.
That said, both countries have incredible food and I wouldn't make the choice based on food alone.
Vietnam or Cambodia – Food
This one is a tie. Vietnam and Cambodia both have lots of great food to inspire the foodie adventurer. It's just a matter of preference!
4. Drinking in Vietnam and Cambodia
Happy hour cocktails
It's happy hour again (and again and again…). In both Vietnam and Cambodia almost every tourist bar and restaurant has happy hour – often lasting most of the day. In many places, 2-for-1 mixed drinks and cocktails can be had for $2.50 or a little more.
Not all cocktails are created equal though. In Cambodia, it can be worthwhile to spend a little more money and make sure you're getting brand-name alcohol. Bootleg booze is a problem there, so just make sure you're drinking in popular and well-reviewed bars (and not buying bottles off the back of a scooter).
Beer and craft beer
Vietnam has a long history of brewing beer. Drinking fresh beer (bia hoi) on the street is still one of the major must-dos in Hanoi. A cup of watery bia hoi costs around 50 cents.
In Ho Chi Minh City, the craft beer scene is insane. A glass of craft beer will cost you the same as it does in the West, but it's worth it, especially if the idea of watery lager makes you angry!
Beer in Cambodia is a bottle of Angkor. It's fine hot-weather nothing-special beer. But nothing to get particularly excited about.
Vietnam or Cambodia for Drinking?
Because of the craft beer movement taking over the country, Vietnam wins the drinking category! However, there are lots of cheap cocktails to be had in Cambodia, so if you like a cheap drink, Cambodia is better for you.
5. Accommodation in Vietnam and Cambodia
Both Vietnam and Cambodia offer a wide range of accommodation — from basic dorm rooms to astonishingly luxurious resorts — all at relatively bargain-basement prices.
You can get a decent clean place to sleep for $4 or a room in a fancy boutique hotel for $50.
Budget accommodation in Vietnam and Cambodia
In much of Vietnam, it is easy to find a private room in a very nice, spotlessly clean hotel for around $12. The hardest part about finding accommodation in Vietnam is sorting through all the great choices.
In Cambodia, finding those gems is much more of a challenge, though they do exist. On the budget end of the scale, you're more likely to be roughing it in Cambodia, with things a little less clean and a little less polished for tourists. But rooms tend to be a few dollars cheaper, too.
Boutique and luxury accommodation in Vietnam and Cambodia
If you have the budget for a little more luxury, then Cambodia has the edge. Vietnam welcomes lots of wealthy tourists from China, Korea, and Russia, so their luxury properties tend to be busier and therefore be able to charge more.
In Cambodia, the upscale tourist market is smaller, so you can find wonderful resorts and great boutique hotels at the same price as you might pay for a Motel 6 or Best Western somewhere else. This won't last forever though. More foreign interests are moving into the country and developing Cambodia for mass tourism, so if you're gonna go, go soon.
(Don't miss my reviews of Blue Lime and TeaHouse boutique hotels in Phnom Penh) →
Vietnam vs Cambodia – Accommodation
For budget travellers, Cambodian accommodation is marginally cheaper. However, it's harder to find fantastic budget accommodation in Cambodia, so Vietnam wins this round for budget travellers.
For travellers with a little more expendable cash, Cambodia wins out, since the mid-range and high-end accommodation is more affordable (and usually more stylish and welcoming) than in Vietnam.
Find the best hotels in Vietnam
Don't miss my detailed guides to where to stay in Hoi An, Hanoi, Ho Chi Minh City, Phong Nha.
6. Dangers and Annoyances in Vietnam and Cambodia
Both Cambodia and Vietnam are very safe places to travel and dangers that are common in the west, like pickpockets and violent crime, are almost non-existent. Bag-snatching can happen in Phnom Penh and Ho Chi Minh City though, so don't dangle your purse temptingly by the side of a busy road.
Vietnam has really cleaned up its act in the last decade, leaving most of the worst scams and rip-offs in the past. Now, pricing tends to be fair and honest — though you'll still pay way more in the markets than locals do! Road safety is better too, and there are very few scams to watch out for.
Cambodia, being poorer and not as developed for tourists, has a few more scams and rip-offs to be aware of — starting at the border, where officials will charge you a couple of dollars extra just to enter the country. Many scams are targeted at young men, and involve excessive drinking, drugs, and sex. If you avoid stupid and illegal behaviours, you should be OK.
Vietnam or Cambodia – Dangers & Annoyances
Vietnam is an overall safer place with fewer scams and annoyances to watch out for. Both countries are perfectly safe for travellers and most scams are avoided just by being smart and aware.
7. Solo Travel in Vietnam and Cambodia
Vietnam Solo Travel
Solo travel in Vietnam is fun, safe, and inexpensive. Most travel is done by bus, so the ticket price stays the same whether you're by yourself or in a group. There are plenty of clean, cheap hostels almost anywhere you would want to go. And if you like your privacy, you can get a nice spotless private hotel room for around $12.
It's pretty easy to meet other travellers, since there are lots of shared activities, like exploring caves or riding the night bus! I have also had great conversations with locals when I've ended up being the only one on a tour!
If you're in the major cities in Vietnam or Cambodia alone, the absolute best way to get around is by Grab Bike. It's like hiring an Uber, but you get a motorbike instead — something you can't do with two people!
Cambodia Solo Travel
Solo travel in Cambodia is a little more difficult. Lots of tours, activities, and journeys have to be done by tuk tuk.
If you're in a group, you can share the cost, making it much cheaper to travel. The quality of accommodation in Cambodia isn't as good either (and neither is the service) — there were a few times when I felt a little vulnerable and isolated in my dirty home stay or hostel.
Finally, tours in Cambodia can be difficult if you're on your own. Lots of tours are private tours – which is great if you're in a group but can be pretty unexciting if you're alone.
I almost missed out on jungle trekking because I couldn't find someone else who wanted to go. One other woman stepped in at the last moment which is great, because I would have felt very uncomfortable doing it on my own.
Vietnam vs Cambodia – Solo Travel
Vietnam wins this one, too! Although Cambodia is totally fine for solo travel (more so if you stick to the popular tourist destinations), it's just a little easier to travel alone in Vietnam.
8. Getting a Visa for Travel in Vietnam and Cambodia
In Cambodia, getting a travel visa is fairly easy. You don't need to arrange any paperwork ahead of time. You can just show up at the border or the airport and buy a visa then and there. You do have to watch out for border scams in Cambodia and expect to have to pay an extra couple of dollars in "fees" to the border guards. It's a little annoying but just part of the experience.
For Vietnam, getting a visa is a little more complicated:
Most travellers will need to arrange for a pre-approved visa letter through a travel agency in Vietnam (such as myvietnamvisa). You can present this letter to pick up a visa on arrival at an international airport in Vietnam or to get an e-visa ahead of time.
Some passport-holders (including United Kingdom, France, Spain, Italy, and Germany) qualify for a visa exemption, which allows you to stay 15 or 30 days without a visa, depending on where you're from.
Need a Vietnam visa?
Our quick and easy guide to guide to getting a visa for Vietnam will help you get it sorted out in no time!
9. So Which is Better? Vietnam or Cambodia?
By my count, Vietnam beats Cambodia by a long shot. But, if you were to ask which one I prefer to travel in, I'd say Cambodia! Vietnam won this head-to-head because it is easier to travel in… but as we know, worthwhile things are often difficult.
Choose Vietnam if you want a gentler introduction to Southeast Asia that will still wow your senses and blow your mind.
Choose Cambodia if you want to be a little more adventurous, pushing out the boundaries of your comfort zone.
Let Vietnam Transform You
This FREE don't-miss list gives you access to the 12 best transformational experiences in Vietnam. Don't miss out!
More Great Posts to Help you Plan Your SE Asia Trip
We've written a ton about travelling in Vietnam and Cambodia. Check these ones out.
You made it to the end of the post, so have you made your decision? Are you going to go to Vietnam or Cambodia? Or will you make the time to visit both? If you have any questions or any additions to this post, let us know in the comments below.
♥ Happy mindful adventures, Jane & Stephen
It's easy to help us keep this blog going! Some of the links in this post are our personal affiliate links. If you book or buy something using one of the links in this post, we'll earn a small fee at no extra cost to you. Of course we would never recommend anything we didn't 100% believe in! Huge thanks in advance! –S&J
Vietnam vs Cambodia – 13 major differences – which to visit
When planning your trip to Asia, have you run into these questions?
1. Which is better to travel, Vietnam or Cambodia?
2. Are the travel experiences in Vietnam and Cambodia the same?
3. When is the best time to visit Vietnam and Cambodia?
4. Is it safe to travel to Vietnam and Cambodia?
Both Vietnam and Cambodia are popular destinations in Southeast Asia. We usually recommend you to visit both if you have enough holiday time (12-14 days). These two destinations can be easily visited together because they are geographically close and both small countries.
However, if you don't have enough time and need to choose between the two, then which one should you pick? Here are the main 13 differences for your reference.
You should choose Cambodia if temples (Angkor Wat), religion, wildlife (elephant sanctuaries), and historical heritage sites are things you are interested in.
You should choose Vietnam if you prefer more diverse experiences such as natural wonders (Halong Bay), colonial history, ancient towns (Hoi An), city life (Ho Chi Minh), floating markets (Mekong Delta), and more.
For a classic itinerary, travelers spend 8-10 nights in Vietnam and 3-4 nights in Cambodia (only Siem Reap).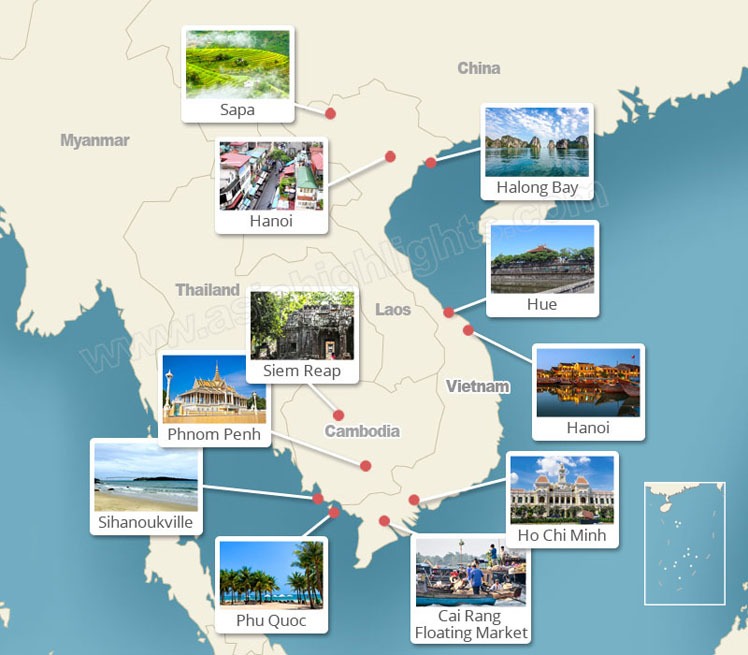 They celebrate the same Lunar New Year as China.
French buildings and food are commonly seen across the county.
Strong Khmer culture, but also influenced by French culture as well as Indian religion.
Main religions: Buddhism and Hinduism
English is understood and spoken in the big cities like Hanoi, Hoi An, and Ho Chi Minh but is not spoken in villages.
English and Chinese are widely spoken in tourist areas like Siem Reap and Phnom Penh.
Street vendors prefer Dong (VND), while most hotels and big restaurants accept both USD and Dong.
USD is used in Cambodia and is more popular than Riela (KHR).
November to February: Comfortable weather with average temperatures of 15-25℃.
March to May: Hot weather with temperatures as high as 38℃ during the day.
June to October: Rainy season with daily showers, (flooding sometimes occurs in October)
June to August: Rainy season, you can expect daily showers
September to early November: wet and slightly cooler (heaviest rains should be expected from Sep-Oct)
November to May: The dry season (hottest from March to May with temperatures reaching as high as 38℃)
Hanoi: 2 nights
Halong Bay: 1 night
Hoi An: 2 nights
Hue: 2 nights
Ho Chi Minh: 2 nights
Mekong Delta: 1 night
Want more? Consider 2-3 nights in Sapa
Siem Reap: 3-4 nights
Phnom Penh: 1-2 nights
Phu Quoc Island (highly recommended): Less crowded with high-end hotel options, 1 hour from Ho Chi Minh by flight
Nha Trang: popular with Asian travelers, due to its value for money
Danang: beach near Hoi An (40 minutes by driving), crowded but easy to reach
Traveling from the north to the south of the country is only 2 hours by flight.
The overnight train is popular with locals. These trains are clean but very bumpy due to the narrow tracks.
From Siem Reap to Phnom Penh: 1 hour by flight but 6 hours by road
Train: not recommended because it's slow with old facilities.

What Our Customers Said
I contacted to Bella from Asia Highlights that to buy tickets to Yi Peng Festival in Chiang Mai when i was in my country.She helped me very much.You can trust this agency, and i advice Bella as the best!!
I had booked Chiang Mai Yi Peng Sky Lantern Festival with Asia Highlight Travel, my travel advisor was Bella Kiu, the experience was great, got my tickets , communication was seamless.
I thought "no hope" in getting the tickets to Yee Peng Festival organize by CAD. Fortunately, together with Bella Liu, I managed to secure all our tickets. No one left behind. This trip to Chiang Mai will be a memorable one.
Bella was super helpful in getting my ticket to the Yi Peng festival exchanged and was very accommodating. Quick and easy transaction and received ticket within 24 hours. Good communication throughout the process.
Asia Highlights as a whole is also very informative and contains helpful advice that has helped me plan my travels in Thailand.
Albee was an absolute pleasure to work with. She responded to my suggestions readily to find suitable alternatives for my 2 week trip to Thailand with my wife. She answered all my questions promptly and thoroughly.
Belle is very professional in helping me to decide on what I can do as a solo traveller. She is very helpful and making my trip planning easy .
Albee was very prompt, professional, and responsive as a planner for our trip. She listened to our preferences and designed an experience that catered to our specific needs.
1. History and Culture
As neighboring countries, Vietnam and Cambodia have much in common when it comes to history. Vietnam has a bigger culture contrast than Cambodia.
Vietnam was formerly occupied by China, France, and Japan, thus it's deeply influenced by these countries in terms of religion, food, culture, and architecture.
The Vietnamese celebrate the same Lunar New Year as in China .
When visiting, you can easily find temples and assembly halls built by Chinese immigrants (mainly from Fujian and Guangdong).
The lifestyle in Sapa (northeastern Vietnam) is similar to that in Yunnan (southwestern China).
In Vietnam, you will see European and Japanese architecture alongside vendors selling French and local food.
Many Vietnamese people feel more comfortable speaking French than English.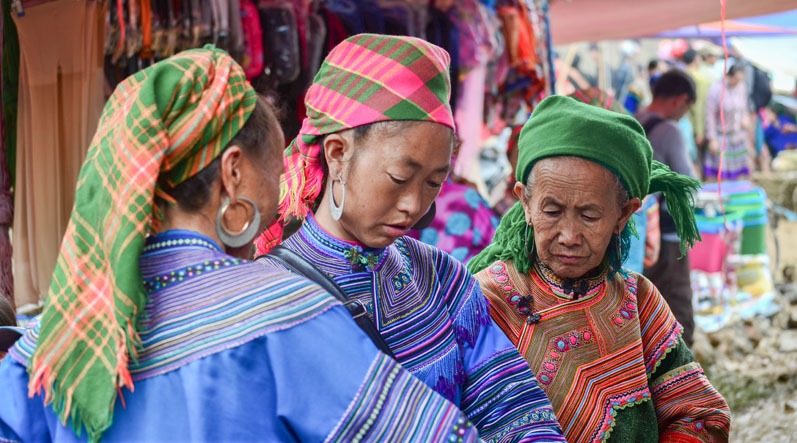 Sapa
Compared to Vietnam, Cambodia is less influenced by other countries. It has received a lot of influence from Indian religion and was possibly influenced by Indian culture in ancient times.
Most Cambodians believe strongly in religion (mainly Buddhism and Hinduism). When in the country, you will see temples nearly everywhere. Angkor Wat is the most famous monument in the country and represents the brilliant ancient civilization of the Khmer.
2. Language
Both Vietnam and Cambodia have their own official languages. English is more widely used in Cambodia because tourism is the country's main industry.
In both countries, you will need to be prepared for the local people to have a thick accent. When I traveled to Vietnam in March 2019, I had 5 guides. All of them spoke fluent English, but 2 of them had an accent (they still could be understood). When we were in the villages without a guide accompanying us, we used Google Translate to communicate with local villagers.
Cambodians speak comparatively better English.
3. Currency
Vietnam: Vietnamese Dong (VND) (USD1≈VND23000)
Cambodia: Riela (KHR) (USD1≈ KHR4100)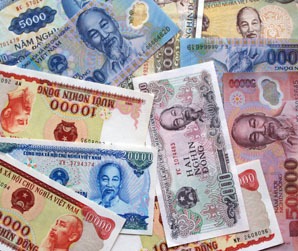 Vietnam Dong
Cambodia is more friendly to USD. Local people in Cambodia actually prefer to use USD because they have less confidence in Riela. In Cambodia, you can use USD in most situations. After buying something you might receive Riels as change.
In Vietnam, local people prefer Dong over USD. It is easy to convert USD to Dong at the airport or in the jewelry stores in the streets in Vietnam. Withdrawing cash is also convenient done at ATMs. They accept most popular cards such as Visa and Master.
4. Climate
In Cambodia, the weather is similar all over the country.
In Vietnam, the north is usually cooler than the south by 2-3℃ because there are more mountains in the north (especially in Sapa).
Generally, the best time to travel to these two countries is the same. Plan your trip anytime from November to February for comfortable weather (not too hot or too cold).
Tips: Christmas and New Year (from December 24th to January 2nd) is the high season. During this time, the price of hotels, vehicles, guides, and flight tickets are usually double or even triple that of any other time. We usually suggest you make your bookings at least 3 months in advance to ensure availability and better prices.

The rainy season is from June to October. During this time, you can expect some showers without much effect on sightseeing. Traveling in the rainy season usually means more affordable travel and fewer crowds. There might be flooding in September and October in central Vietnamese cities like Hoi An.
Cruises in Halong Bay can be canceled or affected by typhoons in July and August. These tropical storms may happen in summer but aren't too common.
If you happen to encounter bad weather while in Halong Bay, your cruise company or travel agent will inform you 1-2 days in advance of the cancellation or itinerary change. You can consider Ninh Binh (also has the famous Karst landscape and is 2 hours from Hanoi by road) as an alternative.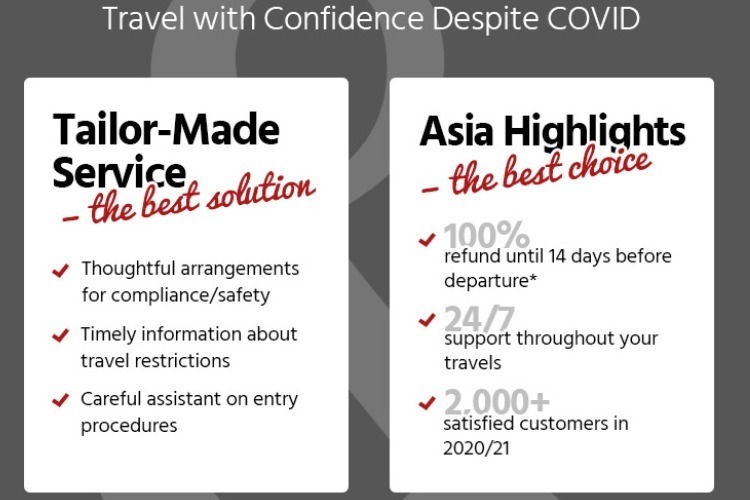 5. Average stay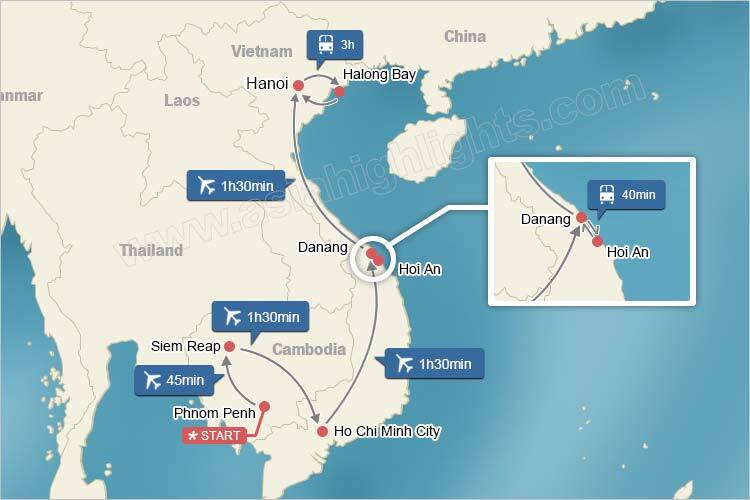 Vietnam has more popular places to go than Cambodia, thus most itineraries spend more time in Vietnam.
Usually, we recommend 8-10 nights in Vietnam. Trips will normally visit all regions of the country including:
The north: Hanoi and Halong Bay
The center: Hoi An
The south: Ho Chi Minh and the Mekong Delta
For more time and deeper exploration, you can consider adding a trip to the terraced fields and minority villages of Sapa (2-3 nights) or Hue (1-2 nights) for the ancient royal culture of Vietnam. >>>How Long to Spend in Southeast Asia (for First Timers)
The most popular destination in Cambodia is Siem Reap where Angkor Wat is located. It takes 3-4 nights to see the main highlights there. Two full days to explore the temples and one day to visit the floating villages (better from October to February when there is a higher water level).
Popular activities in Siem Reap:
Watching sunrise & sunset
taking a helicopter ride over Angkor Wat
cycling around the temples
taking an ox cart ride through the countryside
If time permits, you can extend your trip to Phnom Penh to visit the Killing Fields (Choeung Ek), and the Tuol Sleng Genocide Museum (S21 prison).
Tuol Sleng Genocide Museum (S21 prison)
6. Accommodation
Both countries offer different levels of hotels from luxury brands to local guesthouses which you can choose based on your interests and how much you would like to spend. Both countries offer good-value hotels.
Compared to other Asian countries, the cost of hotels in Vietnam is comparatively lower. On average,
The cost of a local 4-star hotel is around USD 60 per night.
An international 4-star hotel is about USD 100 per night.
There are fewer luxury options in the Mekong Delta and Sapa, but a 4-star plus hotel is still easy to find.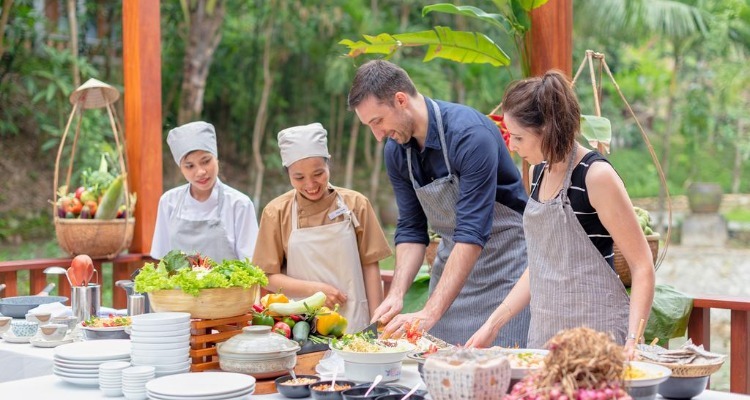 Join a cooking class at Pilgrimage Village Boutique Resort in Hue
Interested in trying a homestay with private bathroom in Sapa for closer contact with the local minority people? Just contact us. We will make all the arrangements for you.
The hotel cost and level in Siem Reap are similar to that of major cities in Vietnam (Hanoi and Ho Chi Minh). Due to less development, you might find the hotel facilities in Phnom Penh are not as good as those in Siem Reap.

7. Visa
These countries enjoy Free Visa Exemption to enter Vietnam:
Belarus, Brunei
Cambodia, Chile
Demark
France, Finland,
German
Italy, Indonesia
Japan
Kyrgyzstan
Laos
Myanmar, Malaysia,
Norway
Philippines
Russia
Spain, Sweden, South Korea, Singapore
Thailand
United Kingdom
If you're from USA, Canada or other countries not listed above, applying for an e-visa is the most convenient way to enter Vietnam. This can be done by completing an online application. The visa will take around 3 working days to be processed and will cost only around USD25.
E-visa is only for single entry and a maximum stay of 30 days. For multiple entries or for those who want to stay for longer, it is necessary to apply for Visa on Arrival or through the Vietnamese Embassy.
To enter Cambodia, you can apply for an E-visa in advance (single entry with a maximum stay of 30 days) or apply for a Visa on Arrival (around USD30).
You should prepare the following documents for a Visa on Arrival.
One completed visa application form (fill out on the plane or in the airport)
Original passport with at least 6 months validity
One recent, passport-sized photograph (2 inches x 2 inches or 35mm x 45mm)

8. Beaches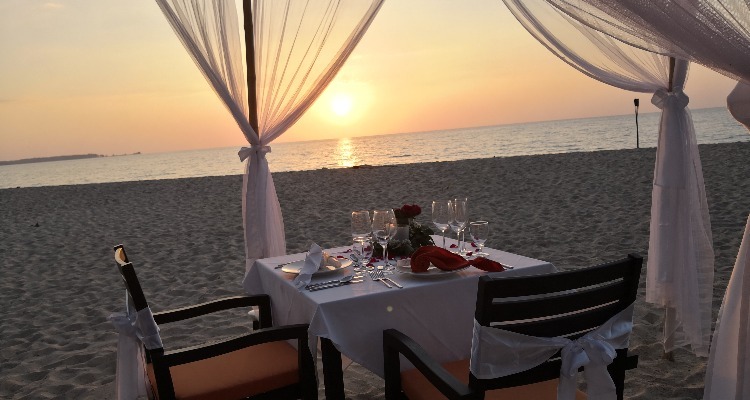 Enjoy a romantic beach dinner at the sunset.
If you would like to spend some time relaxing on the beach at the end of your tour, Vietnam is more recommended than Cambodia for a better experience and more value for money.
Vietnam has a long coastline from north to south and plenty of options for beautiful beaches. The best beaches in Vietnam include Phu Quoc, Nha Trang, and Danang.
We like Phu Quoc the most for its romantic sunsets, superior hotel options, clean beaches, and serene atmosphere. This is a good option if you're looking for a place to escape from the hustle and bustle of the city.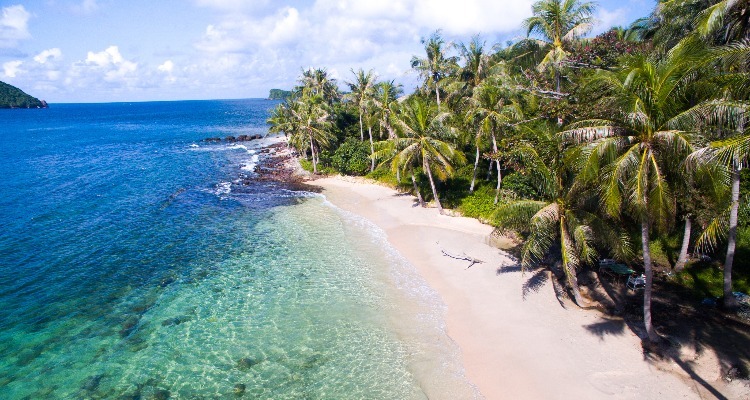 Spend some time relaxing on the beach at the end of your tour.
In Nha Trang and Danang, the beach facilities are good as well, but there are more crowds and tourists from China and other Asian countries.
The most famous beach in Cambodia is Sihanoukville. It was considered to be pristine in previous years, however, at the moment it is hard to get to with the only available flights from Ho Chi Minh, Siem Reap, and Phnom Penh.
The beaches in Thailand are extremely popular. Why not flying 1.5-2 hours to Phuket or Koh Samui for a few nights in a beach resort at the latter part of the tour?
9. Wildlife
If you're a fan of animals and adventure, then Cambodia is a good option.
Interested in interacting with gibbons, spotting dolphins, visiting elephant sanctuaries, or bird watching? No problem, Cambodia has plenty to offer in terms of wildlife experiences. Join us for Eco-Tours in Cambodia.
10. Food and drink
Vietnamese Pho has gained in popularity all around the world in recent years for its fresh ingredients and satisfying flavors. We recommend having Pho for breakfast as it's a great way to start the day.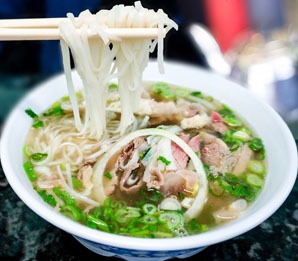 Vietnam Pho
There are many choices for drinks in Vietnam including fresh juice, beer, coffee, and tea. Vietnamese coffee is particularly famous and is made with a special slow drip filter then mixed with sweet condensed milk. Vietnam is also famous for its civet cat coffee which is worth a try if you are willing!
Cambodian cuisine is rich in flavor and has been influenced by many different cultures. Rice, vegetables, and fruit are popular ingredients in many dishes. Some examples of typical Khmer food include Fish Amok, Lap Khmer, and Nom Banh Chok.
Cambodia is well known for its fresh fruit juices and unique local beers. As it was once a French colony, you'll also find plenty of tea and coffee.
When traveling with Asia Highlights, you'll be provided with plenty of iced bottled water in the car to help you stay cool in the summer as well as best suitable restaurant/bar recommendations for your free time.

11. Transport
When flying to Southeast Asian countries from America or Europe, you will always have a layover in China, Japan, Singapore, or South Korea because of the long flight time (around 20 hours). Thanks to the development of the tourism industry in both countries, getting to Vietnam and Cambodia is very convenient from other Asian countries like Thailand, China, and Singapore.
Vietnam has more choices for international flight connections than Cambodia because of its bigger airports in Ho Chi Minh and Hanoi.
From London or Frankfurt, there is a non-stop flight to Hanoi once a week.
If you would like to include both countries in your trip, the flight between Vietnam and Cambodia takes less than 2 hours.
Tips: Flights to/from Siem Reap (where Angkor Wat lis located) is subject to change daily under COVID-19 situation. Your 1:1 travel advisor will help you check the flight schedule and recommend the best conveneint and money-smart connections.
A tailor-made service with generous cancellation policy might be the best solution for a worry-free journey in 2022.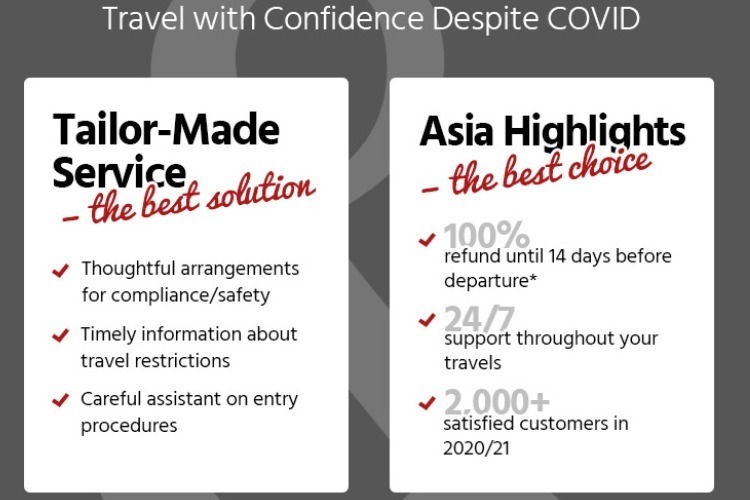 12. Budget
Like in most Asian countries, spending around USD180-250 per day (including hotels) is enough for a wonderful experience including a private car and guide in Vietnam.
The price of traveling in Cambodia is higher than Vietnam by USD5-20 per day.
13. Safety
Both countries are safe for travel, but you should always protect your personal belongings and never leave your wallet out or flash large amounts of money in public.
Though Vietnam and Cambodia are safe countries, petty crimes like theft and scams do happen in popular tourist areas.
Do not trust strangers who promise great bargains. Use reliable tour operators. Only use official taxis and transport agencies.
Related Articles
Tour Vietnam and Cambodia Your Way with Us
When traveling with Asia Highlights, we can arrange all the transportation for you. Our travel advisors will help you make decision between these two countries and also suggest the best possible route for you. Check out some related tours and articles for inspiration.
Why Travel with Asia Highlights During the Pandemic
Tailor-made experience: All of your ideas/needs will be carefully considered to create your ideal trip.
Worry-free planning: Your 1:1 travel consultant in Asia will take all the uncertainty out of your planning, helping you navigate any travel restrictions.
No-risk booking: 100% refund policy! (up to 14 days before departure)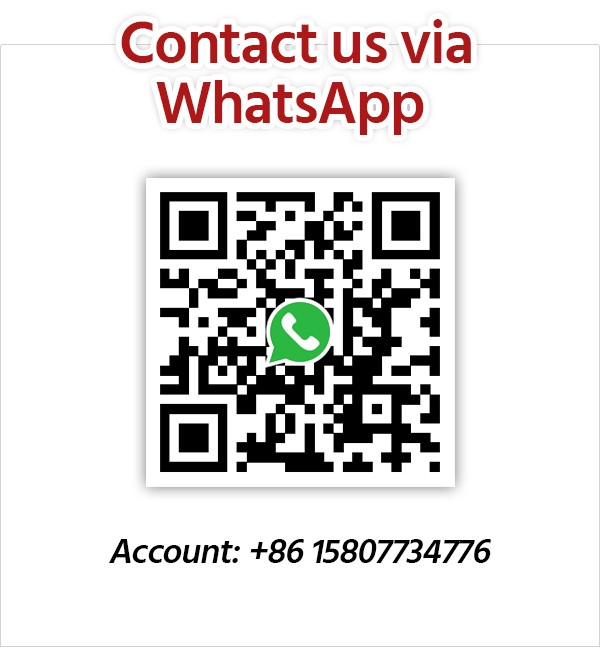 Get Inspired with Our Sample Itineraries
At Asia Highlights, we create your kind of journey — your dates, your destinations, at your pace. You can have any trip tailor made for your travel.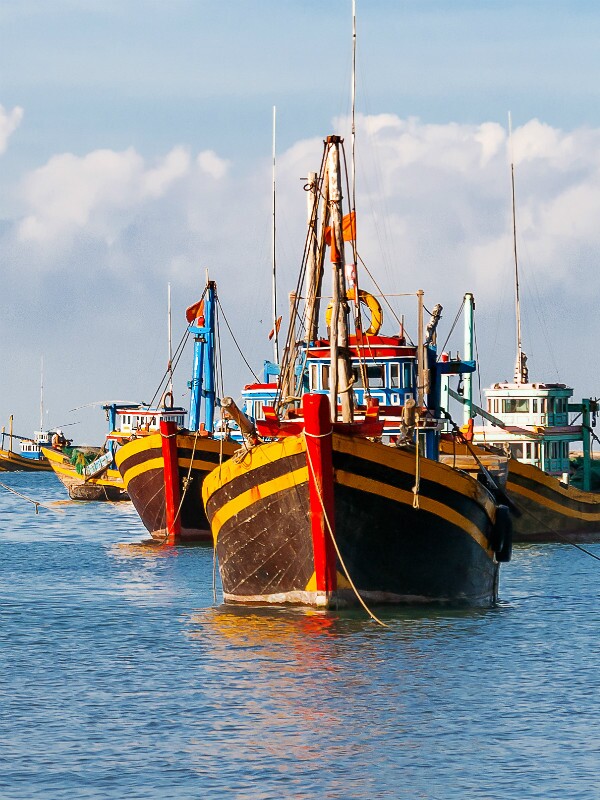 More Travel Ideas and Inspiration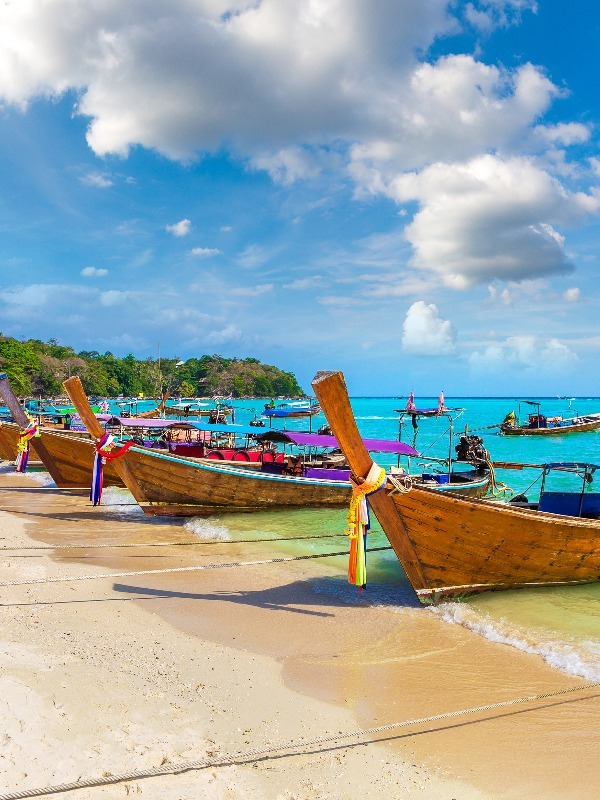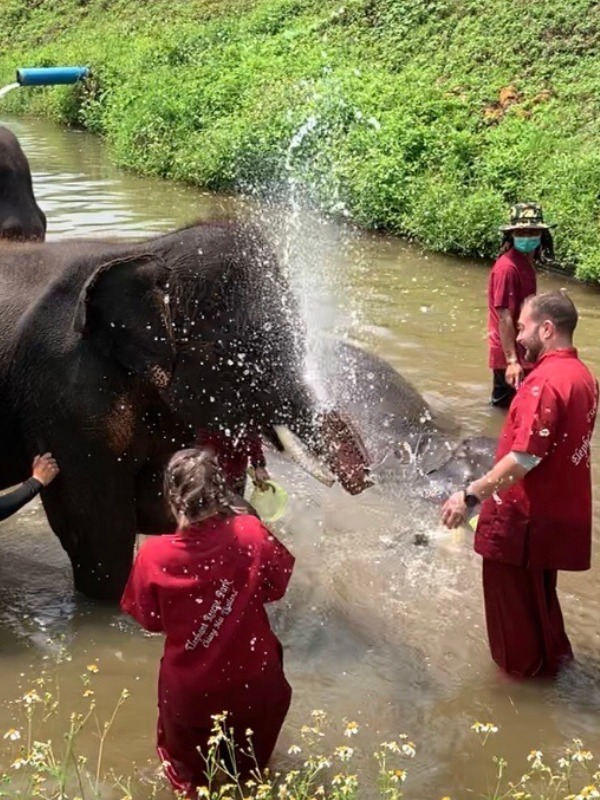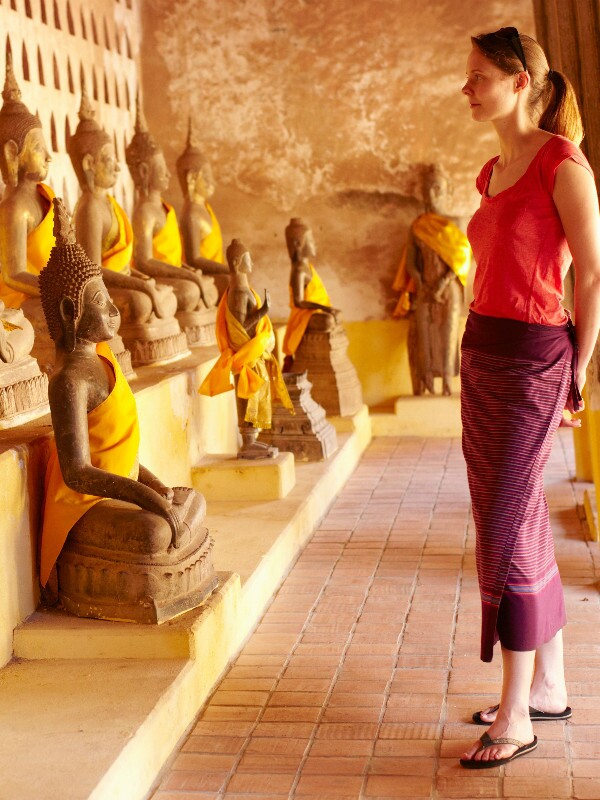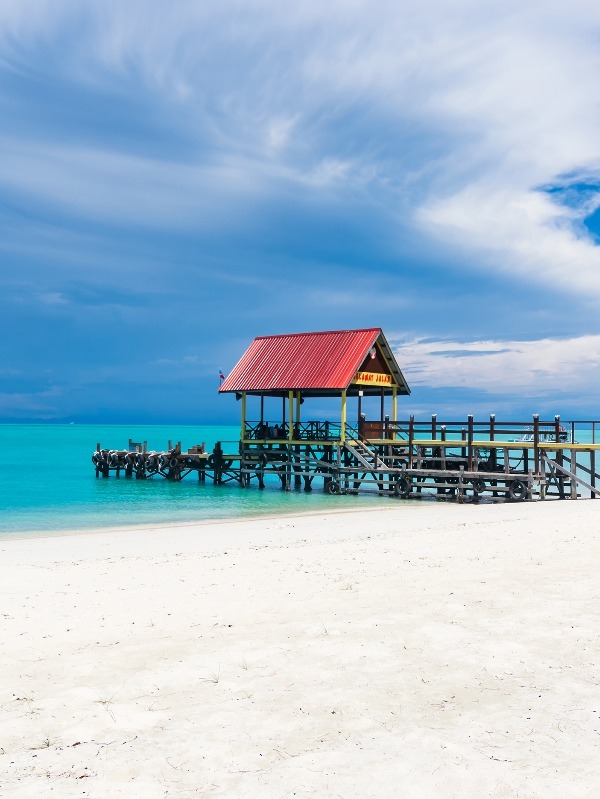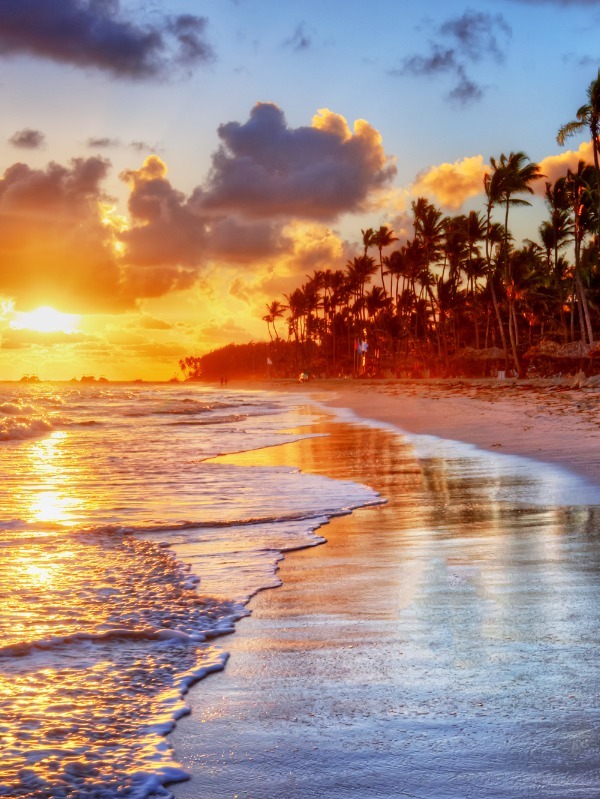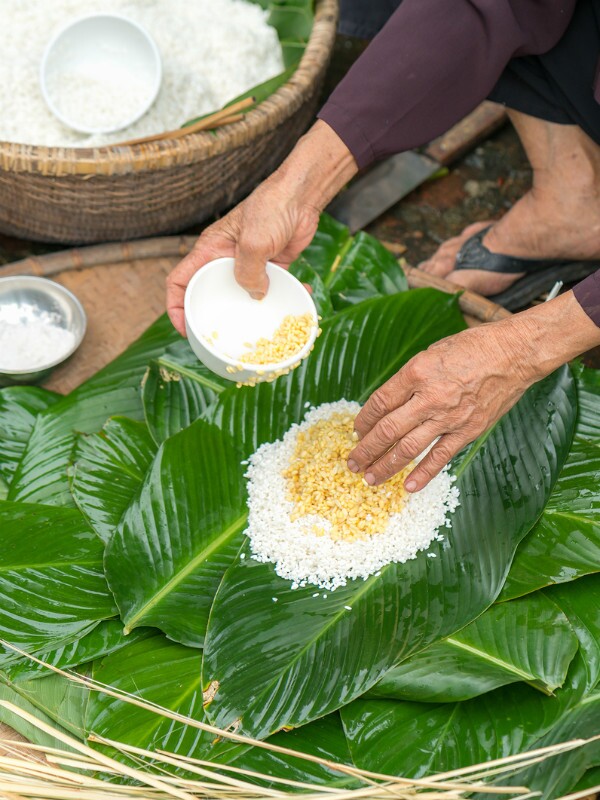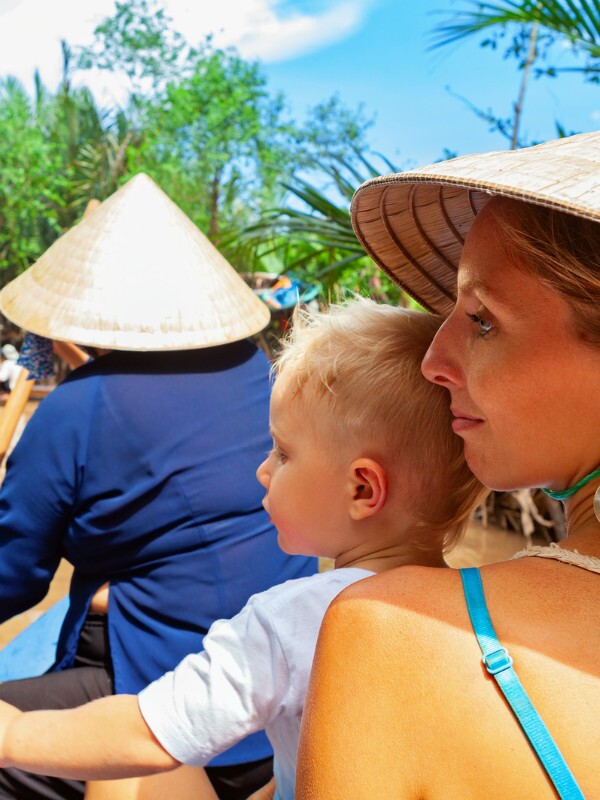 We are here to help you.
Start planning your tailor-made tour with 1-1 help from our travel advisors. Create My Trip
4.9 Excellent
The Asia Highlights Experience

1-to-1 Expert Planning
Your tour will be tailor-made to suit you by a destination expert. Your personal travel advisor will always reply within 24 hours.

Personal Journeys
Enjoy having your own personal local guide and ride. Explore destinations at your own pace. Have as much flexibility as possible.

Authentic Experiences
Go beyond the sightseeing. Understand the destinations by practicing the local culture and interacting with local people.

One-Stop Service
Leave all the booking work to us, including international and internal transportation, visas, hotels, meals, and activities.
At Asia Highlights, we create your kind of journey — your dates, your destinations, at your pace. Not just any journey, but the unique trip with the exceptional experiences you're looking for — whether it's a family vacation, a honeymoon, or your annual break. more .
Cambodia vs Vietnam: Let's Help you Decide
Cambodia and Vietnam are neighbouring countries in arguably one of the most beautiful corners of the globe. Both countries have areas still rooted deep in tradition, with magnificent relics dating back centuries to remind us of the illustrious history that made each place what it is today.
They're also both equal in their proud offering of natural wonders and burgeoning city life, but which will you tour through for your next adventure? Let us help you decide.
Which destination is calling for you? Take a look at the most popular tours for Cambodia and the most popular tours for Vietnam.
Cambodia
Vietnam
Capital city
Phnom Penh
Hanoi
Most popular destination
Siem Reap
Ho Chi Minh City (formerly Saigon)
Natural attraction
Angkor Wat
Halong Bay
Nightlife destination
Sihanoukville
Ho Chi Minh City
Highlights
Cambodia
Cambodia is a country that has seen much suffering but is on the road to recovery with a very bright future ahead. This beautiful piece of Asia has immense charm and is attracting tourists aplenty to her many temples, natural wonders, bustling markets and city life. Angkor Wat in Siem Reap is only one of the prime tourist attractions that draw people in daily. The level of preservation of this Buddhist temple (previously Hindu temple) is astounding and one could spend days exploring its many intricacies.
While a substantial number of other temples, ruins and impressive buildings continue to beckon travellers to Cambodia, there is still so much more to this unassuming country. Beautiful beaches, with quiet corners or colourful activity, dense jungles that are seemingly untouched, fields and mountains and plenty of activities to while away the time. From hiking to scuba diving and snorkelling, there is no shortage of things to do in Cambodia.
Cambodia is a beautiful country with a rich (and also dark) history. Please make sure you educate yourself on the tragic war that destroyed Cambodia in the 70's. One way to educate yourself is by reading the book 'First they killed my father' – a page turner describing the war from the eyes of a 5 year old girl.

I strongly advise against traveling to Koh Rong. Yes, this is a beautiful, paradisaical island with white beaches and turquoise waters, but looks can be deceiving. One out of every three backpackers get sick on this island, and I even got Reactive Arthritis because of it.

There are a few places really worth visiting in Cambodia:

Angkor Wat
One of the seven world wonders. Wandering through Angkor Wat takes you back hundreds (sometimes thousands) of years and watching the sunrise behind these old temples is definitely a breathtaking experience. If you want to beat the crowds make sure you don't go to the same sunrise spot all the Tuk Tuk's take you, but try to watch the sunrise from a different temple. Also, travel in the morning as during the day it can get really hot.

Kampot
A lovely town in Southern Cambodia, located on the Praek Tuek Chhu river. There are many things to do in the surroundings of Kampot, but I strongly recommend hiring a bike and just cycling around town. Kampot also knows many lovely (vegan) restaurants and has many cute cafes where you can order a delicious latte, which are sometimes hard to find in Cambodia.

The Genocide Museum (S21) and the Killing Fields
Learn more about the dark history of Cambodia, meet people who have survived the war and hear the stories of those who haven't. Both the genocide museum as the killing fields are MUST DO's when in Cambodia. – Evelien, Eef Explores
Travel to: Cambodia
For party lovers, Cambodia's Sihanoukville is an island of fun, not unlike Koh Phangan in Thailand. It's always throbbing to the beat of the latest dance tunes, drinks are affordable and the vibe is immeasurable. Full moon parties are also becoming a thing here, attracting dancing feet in droves.
The first advice that I often give out to friends, family and even readers who are traveling to Cambodia is to have an open mind about the this charming country. Most people end up being surprised at how much the country has progressed and that there's more modernity now in terms of infrastructure, mobile network (wifi is super fast and free everywhere), as well as transportation. Locals are the best people to direct you to the popular food places, and off the radar places to visit. – Yafieda, Travel Chameleon
Photo by Hoach Le Dinh on Unsplash
The islands are incredibly beautiful and you can still find some quieter ones that are perfect for switching off – we spent 10 days forgetting about time and social media on the white sand beaches and the tree house bungalows of Koh Ta Kiev!

We visited an amazing community-based ecotourism project in the Cardamom Mountains called Chi Phat, and it was one of the highlights of our year of travel. What was a stronghold of illegal poaching and logging has now been transformed into a thriving conservation and tourism project. Local guides, once poachers, lead jungle treks to mountains, grasslands, and waterfalls, and show you a side of Cambodia few have ever seen. We even slept under the stars in hammocks in the middle of the jungle, and highly, highly recommend it to anyone looking for a unique wildlife experience. – Mark & Miranda, The Common Wanderer
Vietnam
The people of Vietnam are so welcoming and friendly, that it's very easy to fall immediately in love. Added to this, the picturesque settings ranging from super remote to humming with activity are all as beautiful as one could ever imagine beauty to be. Some areas of Vietnam are virtually untainted by anyone but the original, local communities, giving travellers a real taste of the true and authentic spirit of this country. Many attractions keep tourists busy and it's easy to get completely sucked into the mystery of age-old temples, ruins and villages. Beaches are also beautiful and in abundance, as are resplendent jungles and roaming countryside explorations.
In terms of nightlife in Vietnam, Ho Chi Minh City is buzzing with activity. Think roadside cafes aplenty, offering cheap drinks and an addictive vibe, live entertainment, bustling streets with loads of friendly people going somewhere to have a good time. Nha Trang is more your beach party type of ambiance, keeping travellers on their dancing feet.
Be prepared to go on a rollercoaster of contrasting environments. Vietnam constantly shifts from peaceful seaside village to overwhelming cityscapes packed with millions of scooters and never-ending bustle. Crossing a road can be extremely stressful, but if you follow the lead of the locals you'll be fine. Try to visit at least 3 different areas in Vietnam to experience everything the country has to offer (and give you some reprieve from the hectic cities).

Vietnam has a fantastic sleeper bus network. If you have the time, book your internal travel on these buses; they're super comfortable, safe, very cheap ($30 for 5 flexible stops country-wide) and you'll get to see the countryside as you go.
Our other recommendations are to hike through the traditional Sapa region of northern Vietnam and visit historic Hoi An. You'll get to experience completely different cultures, foods and scenery this way.

Anyone can fall in love with Vietnam. The country caters to everyone from broke backpackers to families, couples, retirees and those wanting to stay in luxury. The country is extremely safe and the locals are very friendly. We would recommend visiting Vietnam to everyone we know! – Alex & Michaela, Greeting the World
It was the first place I visited in Asia, and remains my favourite. Make sure you do some sort of tour that introduces you to the local people, especially in the villages and countryside. Learning a few Vietnamese words before you go is a great way to bond. It's easy to travel around using the train network and I'd definitely recommend doing an overnight train ride at some point. Make the effort to go to Halong Bay and you won't be disappointed!

Vietnamese is one of the best cuisines in the world. I'd strongly recommend you do a food tour in each city you go to to really get an understanding of the regional differences, and so you get to try as much food as possible. I'd also recommend you visit the beaches – the island of Phu Quoc is beautiful and just a short flight from Ho Chi Minh City. Finally for now, I'd recommend you either to a cycle or motorbike tour up the Hai Van Pass. The views are incredible, and the journey through the villages is amazing.- Vicky, Vicky Flip Flop
Food And Drinks
Cambodia
Cambodia is well known for a number of quality dishes, including lak, which is beef, stir-fried in a lime sauce and served with egg and fried potatoes. If you're looking for something sweet, then sticky rice and mango is an absolute delight! Angkok draft beer is found all over Cambodia and is always served icy cold.
Here's a short list of the most delicious Cambodian dishes:
Fish-amok, fish mousse with fresh coconut milk and kroeung, a type of Khmer curry paste made from lemongrass
Lap-Khmer, thinly sliced beef that is either quickly seared or "cooked" ceviche-style by marinating with lime juice
Kdam-chaa, fried crab prepared with green, locally grown Kampot pepper
I would suggest having breakfast at one of the food stalls in Central Market (also known as Psar Thmei). They have a variety of food to choose from such as Khmer noodles, desserts, and grilled seafood among others. Take a visit visit to the Killing Fields and Toul Sleng Museum for a glimpse of history, followed by a tour with Khmer Architecture to get to know the city better through its buildings. In the evenings, you could catch the sunset on the Riverside cruise and have drinks at Eclipse SkyBar (Phnom Penh Tower) for an amazing cityscape view of Phnom Penh. – Yafieda, Travel Chameleon
Dishes such a poh – a noodle soup – and banh chung – sticky rice encased in a leafy wrapping that has been cooked for an extended period of time – are essential culinary feasts in Vietnam. Coffee is also a staple, especially served cold over ice. Beers are very affordable, making the nightlife an even more enjoyable affair.
Vietnam
Here's a list of the most famous Vietnamese dishes:
Pho, salty broth, fresh rice noodles, a sprinkling of herbs and chicken or beef
Cha ca, sizzling chunks of fish seasoned with garlic, ginger, turmeric and dill on a hot pan tableside
Banh xeo, crispy crepe bulging with pork, shrimp, and bean sprouts, plus the garnish of fresh herbs
The nightlife in Saigon is definitely a must. The drinks are cheap and the sitting culture is very odd but worth the experience. If you have more time, you should definitely look into staying with local host families where you will get the chance to eat, speak, live and breath a culture that is far away from yours. Most Vietnamese families don't speak English so take this chance to be in a challenging environment. It will change your life! – Trisha, P.S. I'm On My Way

Try to visit some of the outer lying temples too like Banteay Srei, the delicate 10 th century temple dedicated to the Hindu God, Shiva and known locally as the Pink Lady Temple. – there are hundreds of beautiful temples scattered around the region. Try Khmer curry, called amok , it's delicious – and taste bugs too if you're game! Visit Battamabang for the bamboo railway and to watch the monks' daily gathering of alms. Travel to Mondulkiri to spend time at an elephant sanctuary like the Elephant Valley Project which rescues and releases elephants back into the wild. And spend days on Koh Rong Samloem island, enjoying the sun, clear water and gorgeous beaches. – Evie, Mumpack Travel
Getting around
Cambodia
Here some tips for getting around in Cambodia in the most time-effective way:
Domestic aviation in Cambodia is improving swiftly. Phnom Penh, Siem Reap and Sihanoukville airports currently operate scheduled passenger flights. Although the flights from and to Sihanoukville are still few.
There is also a VIP helicopter charter company, Helistar Cambodia, that operates virtually everywhere in Cambodia.
Long journeys in Cambodia can be taken by bus, pickup truck or shared taxi. In many towns, they can be found at the local market square.
Generally speaking, the rail infrastructure is quite dire. It's possible to hitch a ride on the daily cargo train that runs for 111 km between Phnom Penh and Touk Meas (near Kampot).
Remember also that several publications are freely available in hotels, restaurants and bars. All tourist guide books include information, maps and advertising.
Group tours are the best way to see the most of the country and guarantee a hassle-free experience while having parts of your accommodation, meals or experiences included.
Vietnam
Here some tips for getting around while in Vietnam:
Traveling by plane is cheap and fast in Vietnam. The trip from Hanoi to Ho Chi Minh City will take about 2 hours.
The railway is the least developed transportation infrastructure in Vietnam. Most of the network was built during the period of French colonization and since then it has not improved. There have been programs for developing it in the last decade but the network has still many deficiencies.
Long-distance bus services connect most cities in Vietnam. Usually, they depart early in the morning to accommodate traffic and late afternoon rains. Note that average road speed is typically quite slow.
Foreign driving licences are not accepted in Vietnam. The concept of renting a car to drive yourself is almost non-existent, and when Vietnamese speak of renting a car they mean hiring a car with a driver.
You may wish to visit Vietnam by bicycle. Several adventure travel companies provide tours with equipment. Most of the population gets around on two wheels, so it's a great way to get closer to the people, as well as off the beaten path.
While slowly being supplanted by motorbikes, cyclo pedicabs still roam the streets of Vietnam's cities and towns. They are especially common in scenic smaller cities, where it's pleasant to cruise slowly along taking in the sights.
You'll be missing a big part of Vietnamese life if you do not spend some time on a boat. Be careful though because many boats, although seaworthy, are not fit to international standards.
Whether it's the sophisticated melding of eastern and western cuisine, the alien karst landscapes draped in green and floating on blue, or the simplicity of sunrise on a park bench, watching a strange new world awaken around you, Vietnam has universal appeal.

The adventurous will revel in the grandeur of the Phong Nha cave systems, while the French colonial streets of Hanoi are an essential destination for anyone claiming foodie status. And if that sounds like far too much effort, there's always its sun-drenched coastal sands on which to simply chill out, cocktail in hand!

Your suitcase and a sense of humor are all that's needed to thrive in this cultural mecca, so leave your worries behind and make Vietnam your next destination! – Andrew & Karen, Fork and Foot
Budget
Both countries are definitely cheap. Food prices start around $1US and beers cost around 50c (draught) and 60c (cans in the supermarket). About the accommodation, you'll have no troubles in finding cheap and comfortable hotels and guest houses. In Vietnam there are many ATMs dispensing also US dollars. Depending on your travel style, there are plenty of tours that travel on a budget or shoestring – and it just depends on what your trvel style is.
Phrases and Words
Cambodia
Vietnam
So, where will you go next? Take a look at the most popular tours for Cambodia and the most popular tours for Vietnam. Or, if you can't decide do both in a single tour with G Adventures! Watch the highlights below:
Sebastian P.
From his hometown of Sydney, Australia, Sebastian has turned travel into a profession. Starting out as a tour guide in Sydney, he then moved to Europe to lead tours across the continent, before returning home where he continues inspiring others to find their own adventures.
Source https://www.myfiveacres.com/travel-tips/vietnam-or-cambodia/#:~:text=When%20it%20comes%20to%20exciting%20travel%20experiences,%20Cambodia,quite%20as%20adventurous%20or%20remote%20as%20we%E2%80%99d%20like.
Source https://www.asiahighlights.com/southeast-asia/vietnam-vs-cambodia
Source https://www.tourradar.com/days-to-come/cambodia-vs-vietnam-lets-help-decide/