Top 5 Places To Visit In The Atacama Desert, Chile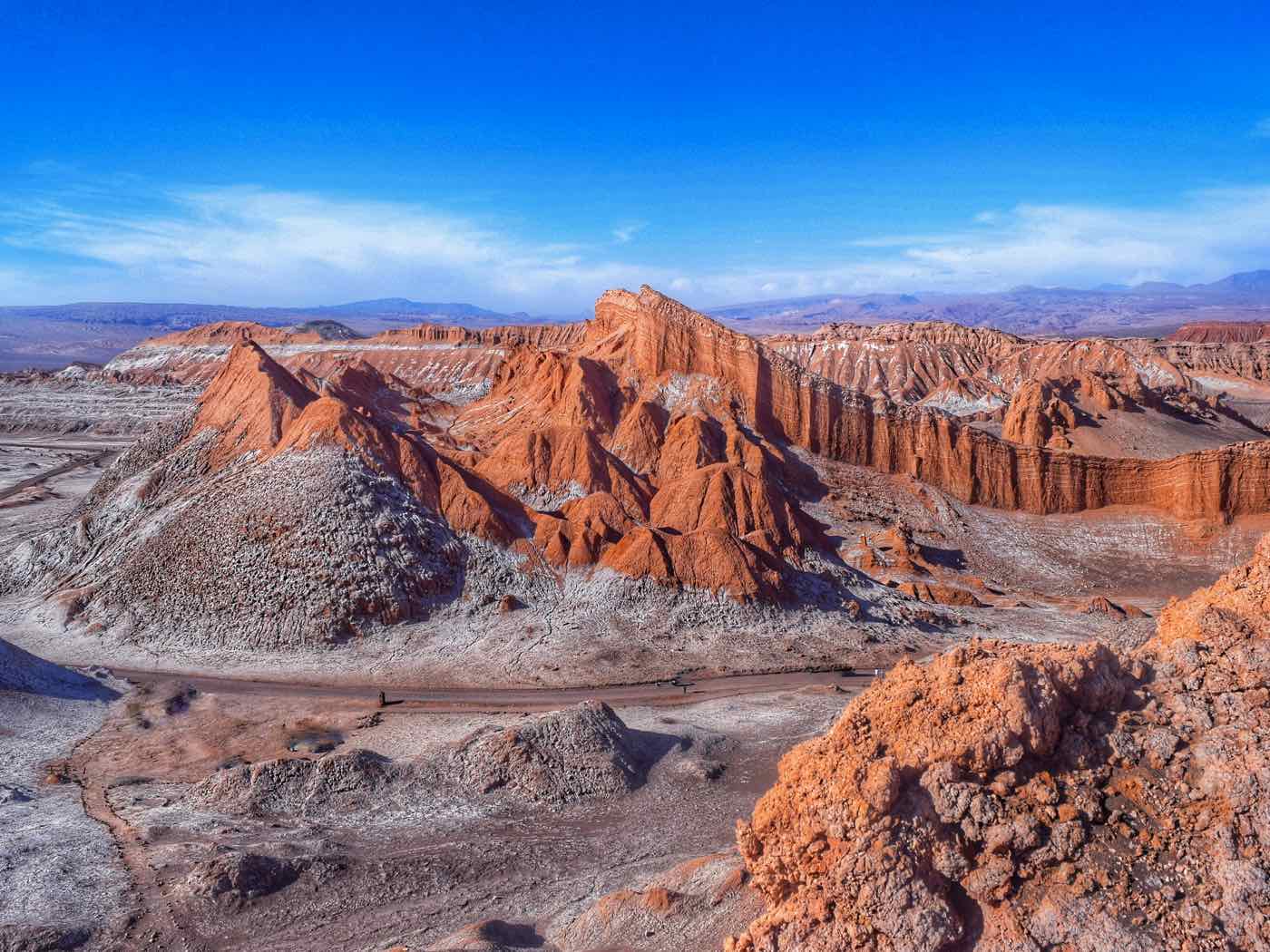 With its rugged landscapes, geysers and lagoons, these are the best places to visit in the Atacama Desert, Chile.
This region of northern Chile is a place full of magic, wonder, and photos just waiting to be taken. When I arrived, I just couldn't believe the variety of landscapes. Where else in the world do you have epic salt caves, close to vast sand dunes, impressive lagoons, volcanoes, salt flats and geysers. Oh and of course there's the desert too – officially named the 'driest place on earth'.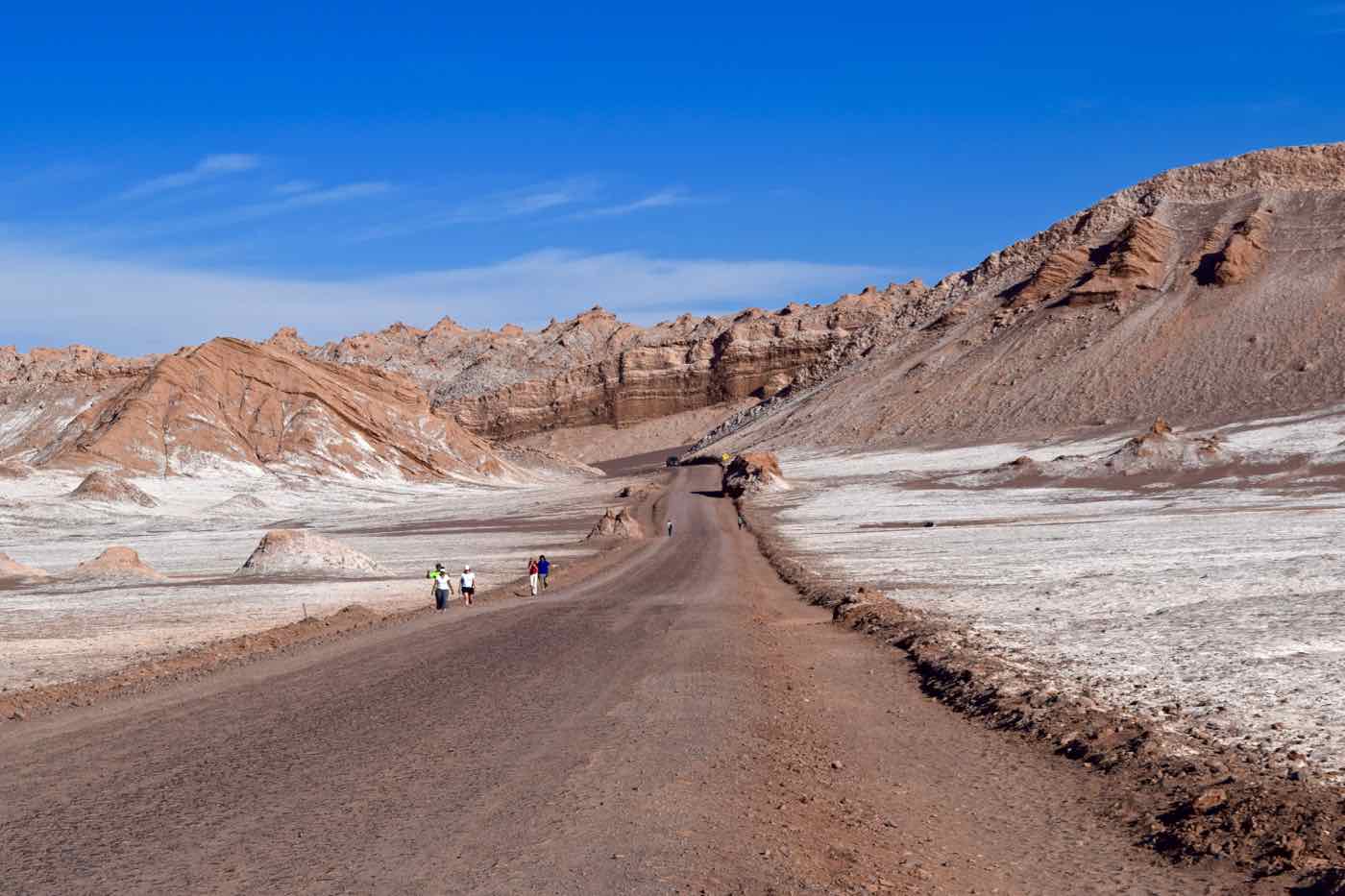 As you can imagine, it's a region packed full of things to do. I'd recommend spending around a week in the Atacama Desert. It'll give you a bit of time to acclimatise (after all, this is a region at high altitude) as well as venture off on a few exciting day trips.
I fell in love with the region, and my time in Atacama was the highlight of my entire trip to Chile. I've recommended it to countless friends, and several have now been and come back absolutely over the moon I put it on their radars! So, if you're considering a trip, here are a few tips along with my guide to the top 5 places in the Atacama Desert.
Where Is The Atacama Desert Located?
The Atacama Desert is located in northern Chile. Unless you're travelling overland, the best way to reach the region is by catching a flight to Calama Airport. From there you can catch a bus or a hotel transfer to reach the main town of San Pedro De Atacama. From there, you can easily tick off the top places to visit.
Public transport is virtually non-existent to the key sites, so rather than hire a car, I'd recommend booking organised tours for all of these. Not only do you have the added benefit of tour guides full of information, but also many of the roads are dangerous, with deep ravines and lots of bends.
We saw one car completely upside-down at the side of a road near El Tatio Geysers – for the sake of a few pesos, it's just not worth it.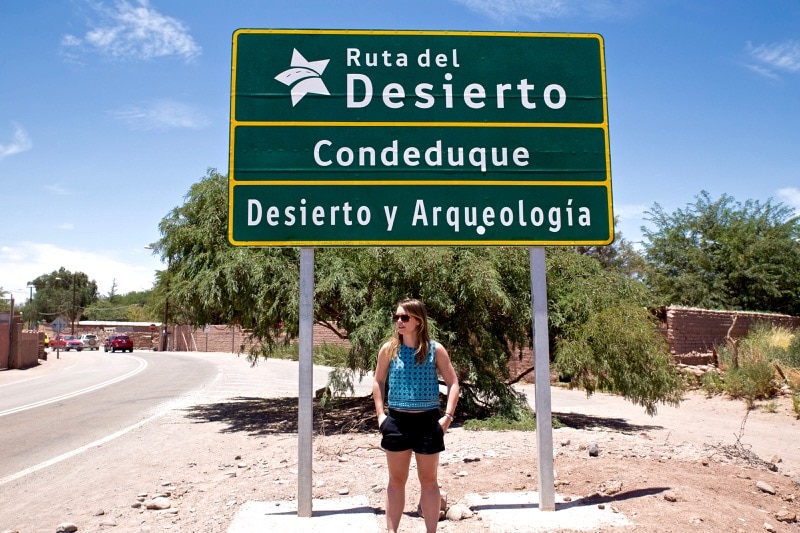 5 Best Places To Visit In The Atacama Desert
Wake Up Early For Sunrise At El Tatio Geysers
Experiencing sunrise at El Tatio Geysers was a magical start to the day. As I stood looking out over the geyser field, watching water and steam erupting, just as the first sun of the day cast its eerie light, I knew it was worth the early start.
While it was a chilly morning, after a dip in the geothermal hot springs, I was nice and toasty! This tour also stopped at some stunning viewpoints, including a picture-perfect mirror lagoon.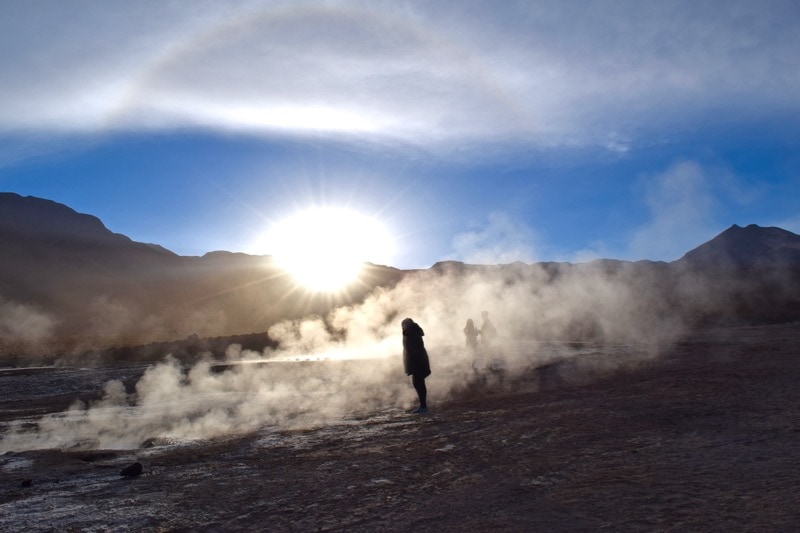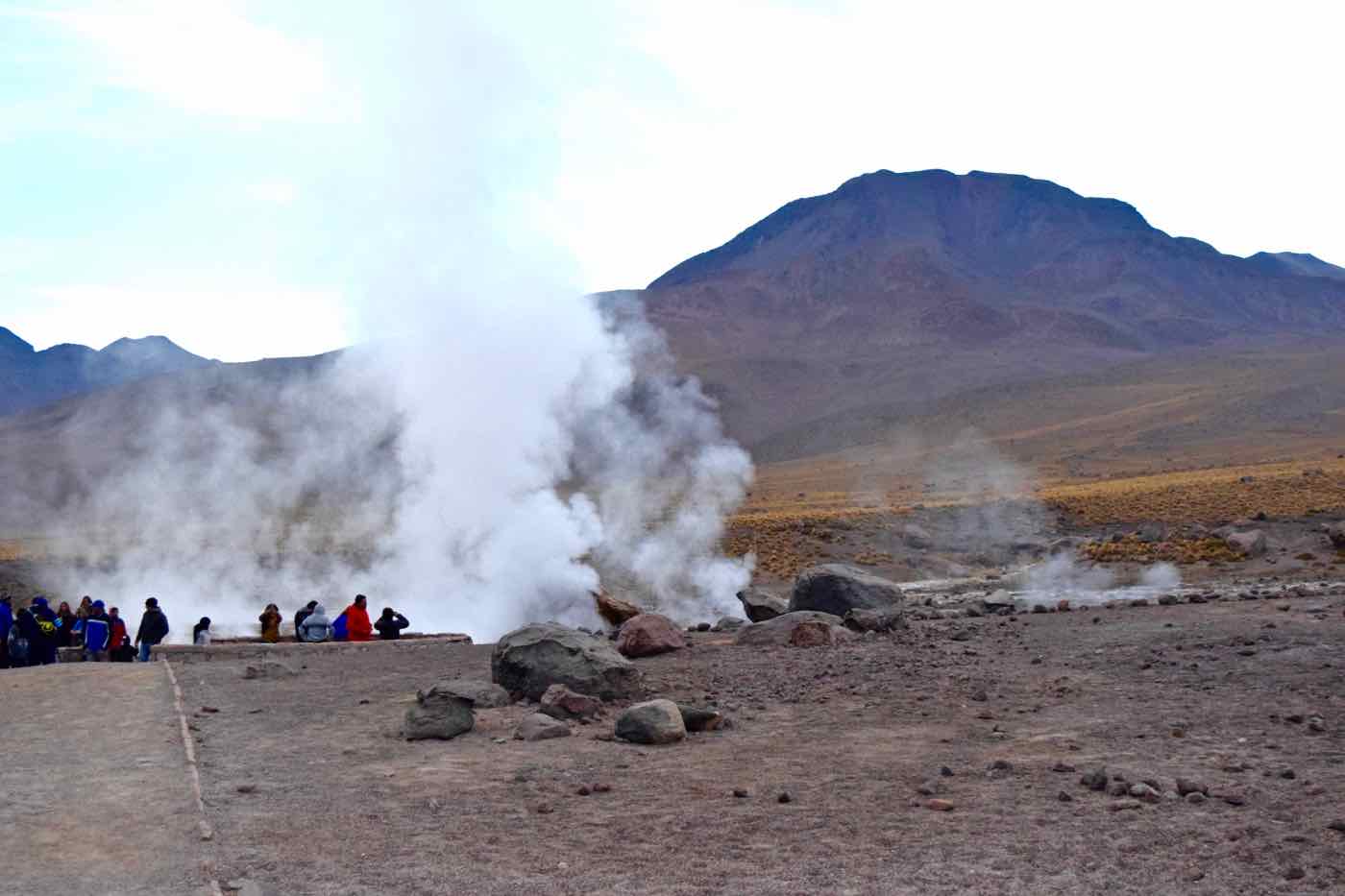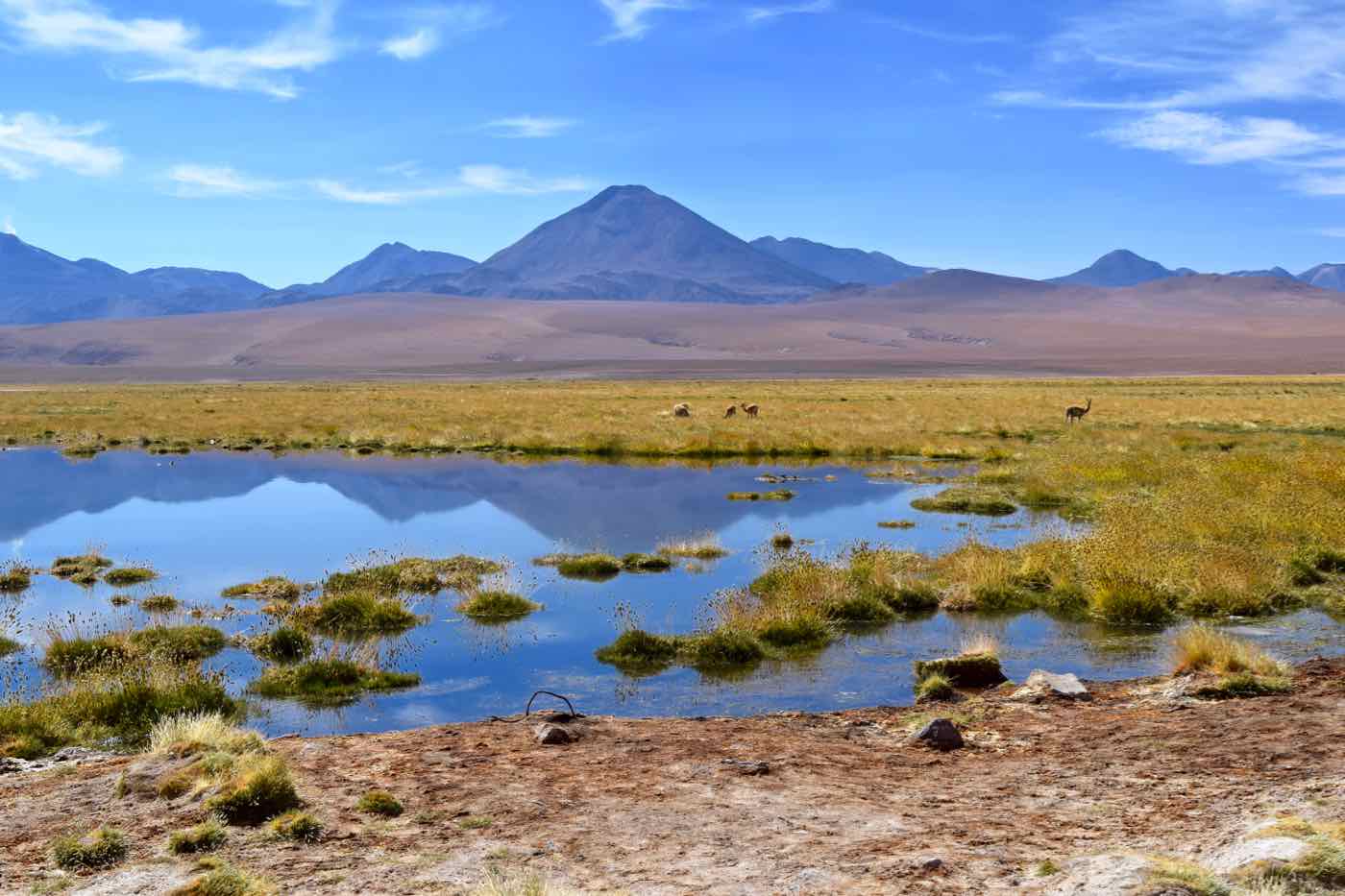 Explore The Valley Of The Moon – El Valle De La Luna
Trekking through salt caves as the white crystals glistened, climbing up sand dunes, and catching a breathtaking sunset overlooking the Valley of the Moon – this was one of the most magical experiences in the Atacama region.
I'd recommend reading my Valle de la Luna travel guide where I've written all about this tour. You can find out everything including what you'll see, what to wear and a few tips to make the most of your day out.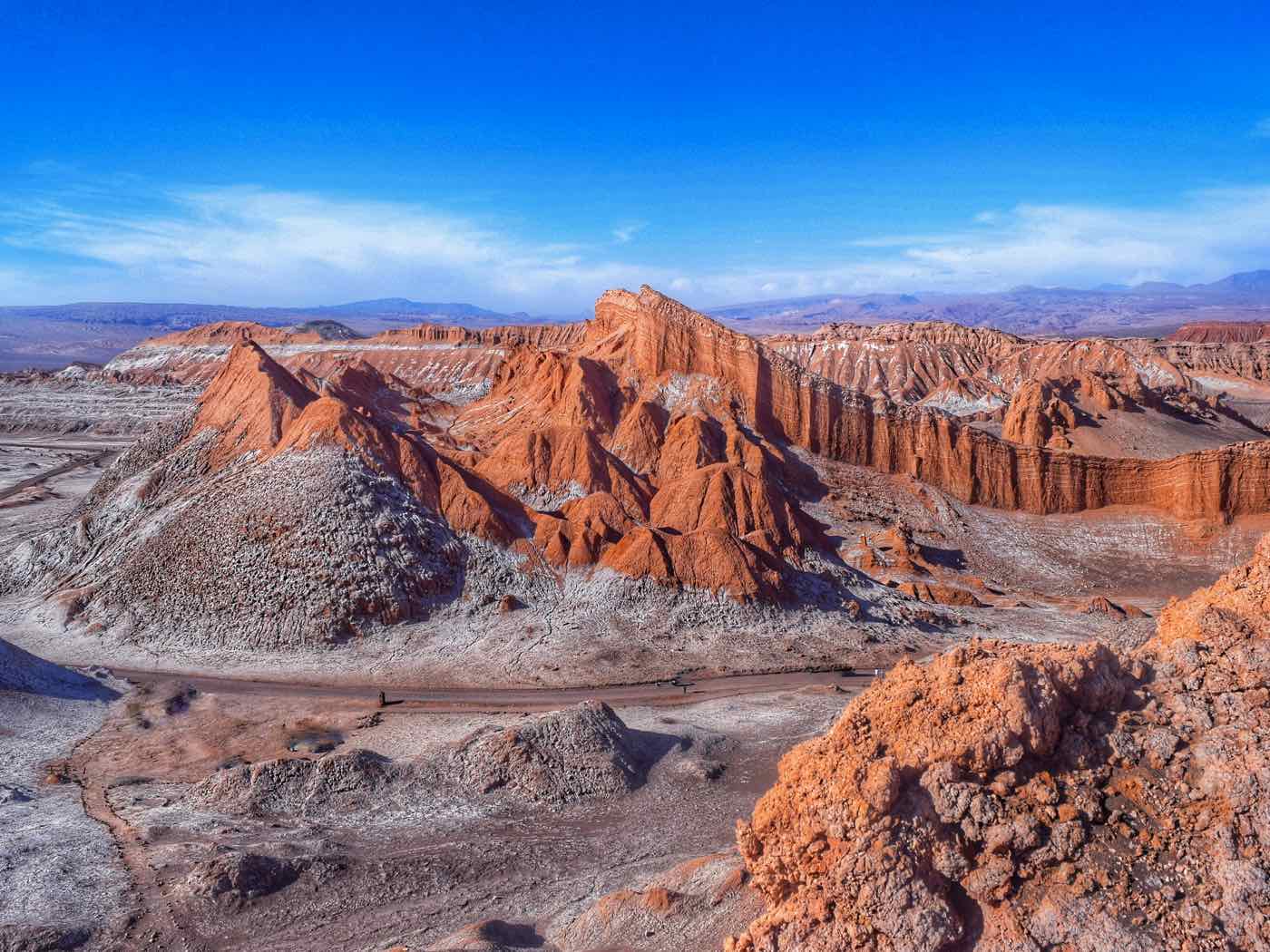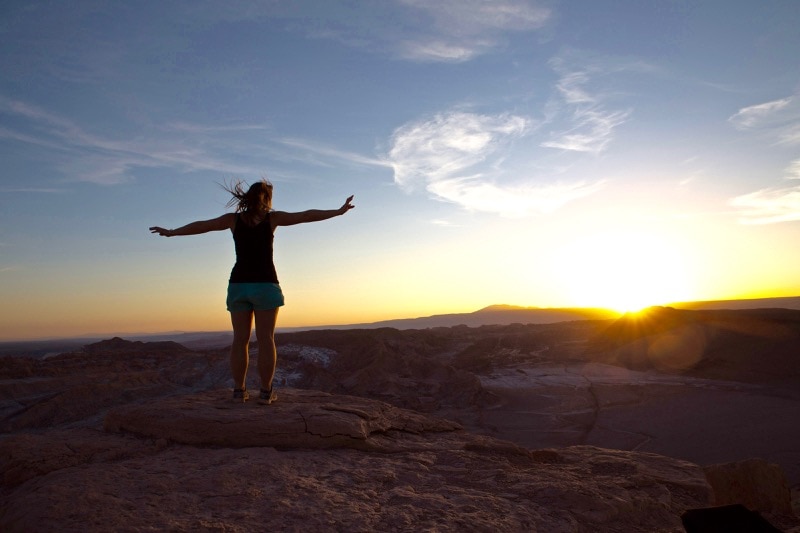 Take A Tour Of Atacama Salt Flats and Chaxa Lagoon
Chile is home to the world's second largest salt flats. Be sure to take a trip to Chaxa Lagoon in the heart of the salt flats to see pink flamingos in their natural habitat.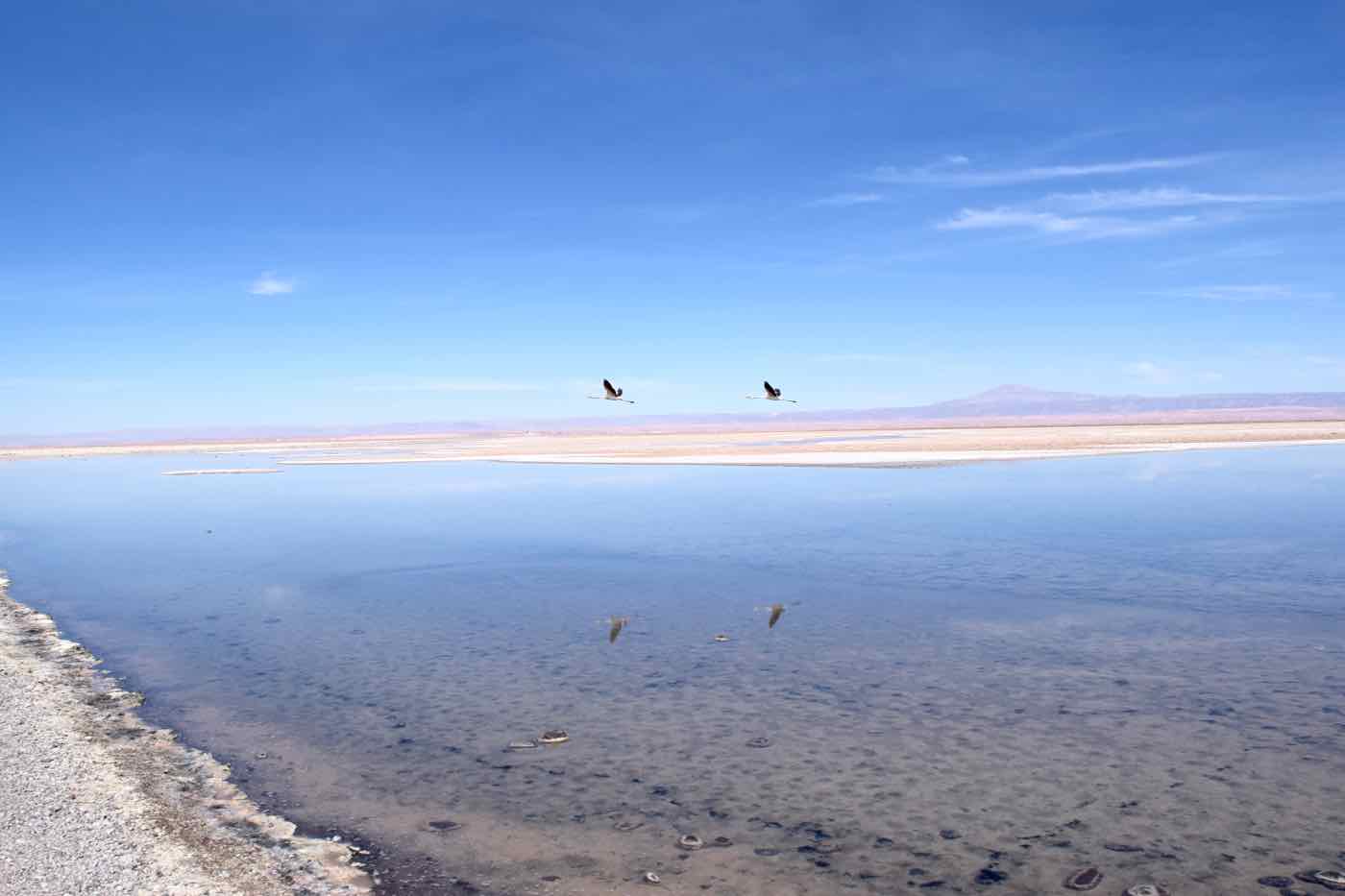 The scenery is stunning, with perfect mirror reflections and a backdrop of the Andes Mountains.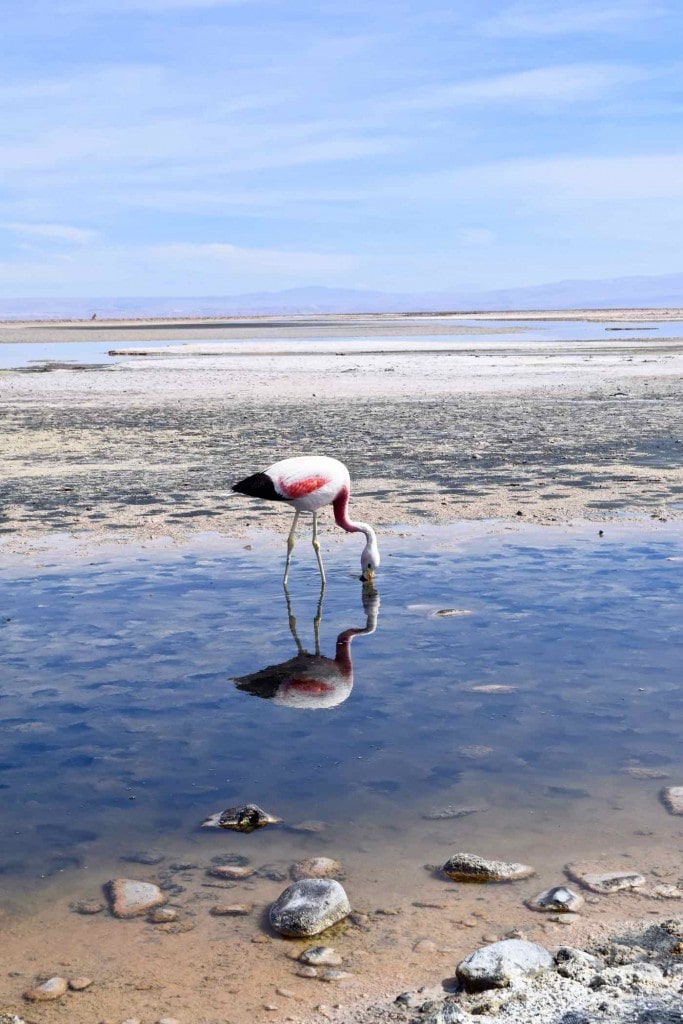 Visit Miscanti and Miñiques Lagoons
Up in the Atacama highlands you'll find two of Chile's most picturesque lagoons, known as the lagunas altiplanicas. With its deep turquoise colour, Miscanti Lagoon sits under the active volcano of the same name.
Moments away, Miñiques Lagoon is a rich blue hue, and a great spot for spotting vicunas (similar to llamas) in the wild.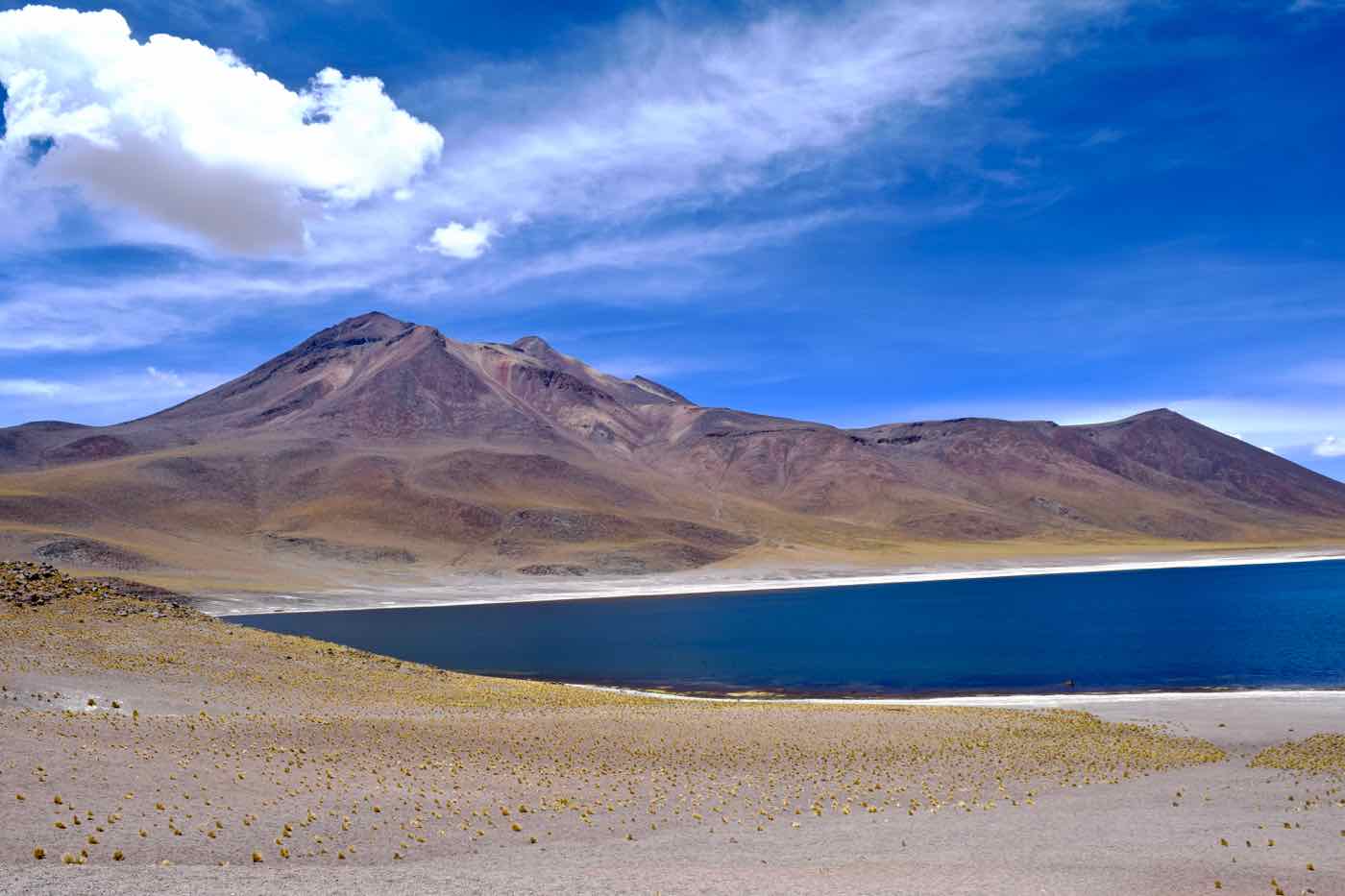 Spend Time In San Pedro De Atacama
The Atacama Desert's tourist town is bohemian and cool, with its main streets full of white and pale brown adobe (mud bricks) buildings. Life here revolves around tourism, with over a hundred tour operators, plenty of restaurants (from budget to fine dining) and bars.
Don't miss the cute plaza with it's 17 th century white church – reported to be one of the oldest in Chile.
This area is also paradise for stargazers, so don't forget to look up and take it all in. It'll make you feel pretty small! In my opinion, one of the best things to do in San Pedro De Atacama is spend an evening just a few minutes from the town, where there's no light pollution, and look up at the incredible starry sky.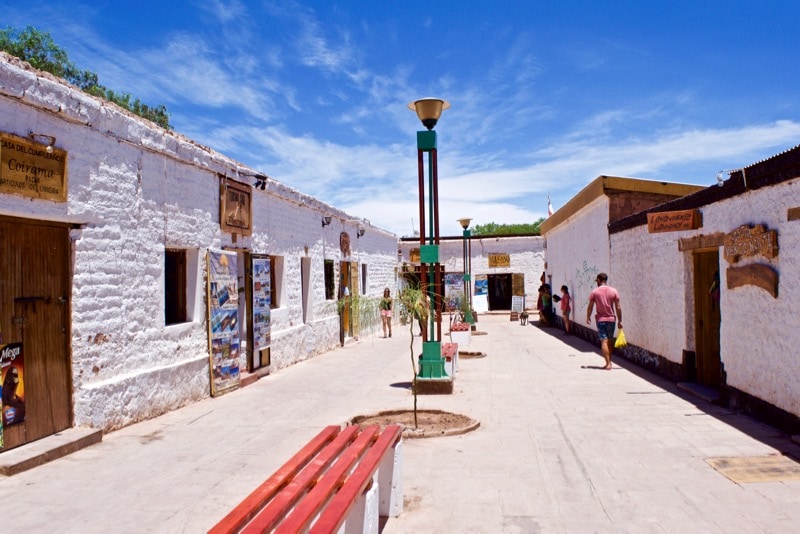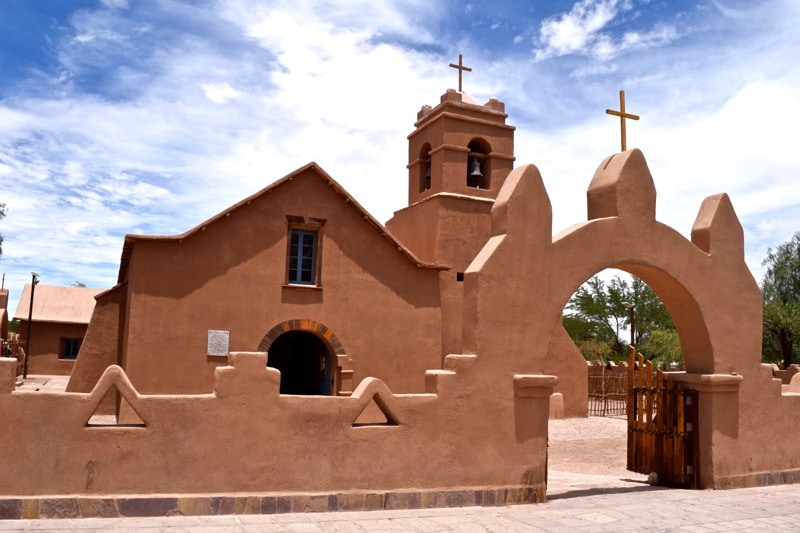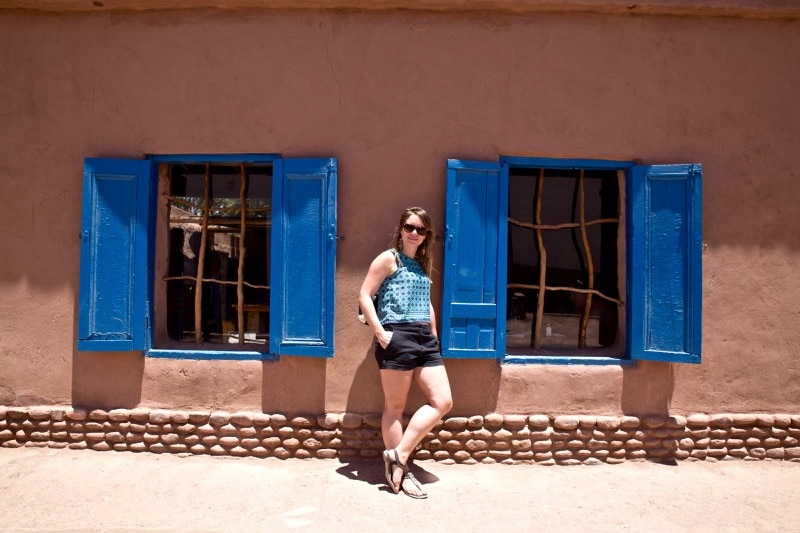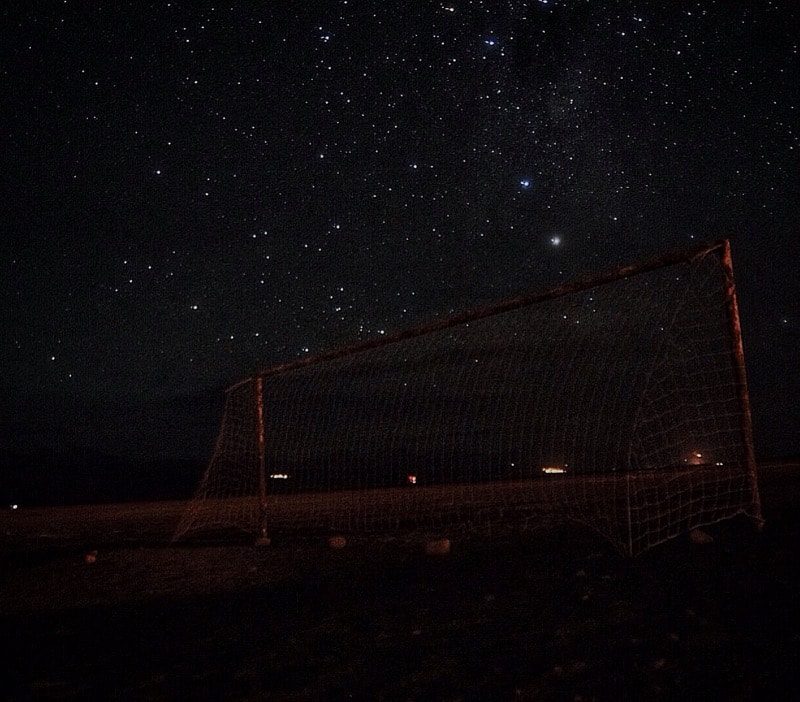 I hope you've enjoyed reading about the top things to do in the Atacama Desert! Are you planning to visit soon? Which places can't you want to see for yourself? Let me know in the comments below!
10 Top-Rated Attractions in the California Desert Region
California is home to areas of the Mojave Desert, the Colorado Desert, and the Great Basin Desert. Each of these has unique characteristics, beautiful attractions, and incredible places to visit. Mountains, canyons, sand dunes, Joshua trees, and miles of dry cracked earth create a landscape to make outdoor photographers drool.
Depending on the season and time of year, California's desert region offers wonderful places for hiking, rock climbing and bouldering, sightseeing, and other recreational opportunities.
Cities like Palm Springs; Palm Desert; or even Las Vegas, Nevada make good bases for exploring some of the national parks and desert areas. Have a look at some of the most spectacular places with our list of top desert destinations in California.
1. Death Valley National Park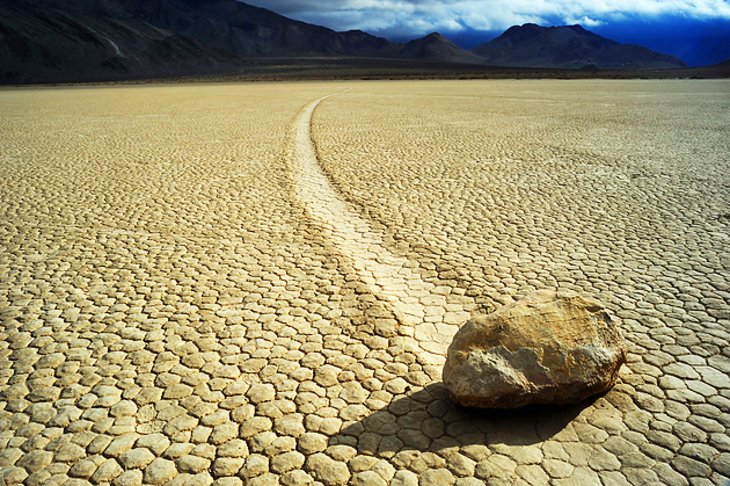 The Race Track, Death Valley
Of all the desert areas in California, Death Valley is perhaps the most diverse and interesting for sightseers. Salt flats, mountains, sand dunes, black volcanic fields, colorful hills, cracked parched earth, and even a lake, are all part of what makes this valley so unique.
This region is known for its harsh landscape and is home to the hottest, driest, and lowest point in the United States. Highway 190 runs through the park and offers access to the major attractions of Death Valley.
You can visit the park as a Day Trip from Las Vegas, just a couple hours away. If you want to stay closer to the park, you'll find accommodation right in Death Valley National Park, or in nearby Beatty.
2. Joshua Tree National Park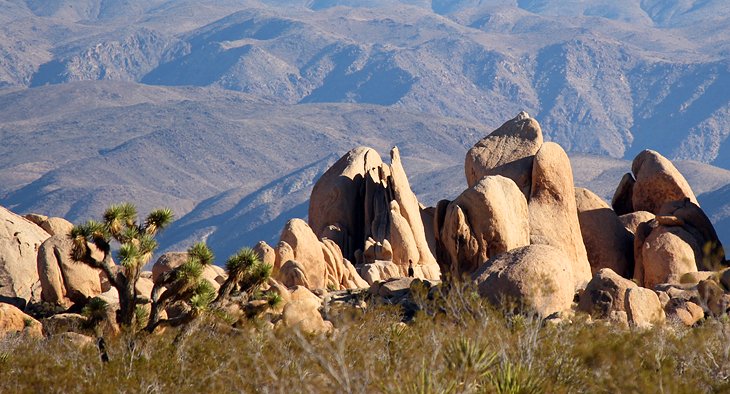 Boulders in Joshua Tree National Park | Photo Copyright: Lana Law
Joshua Tree National Park, named for this whimsical-looking tree that only grows in the Mojave Desert, covers a fantastic landscape of interesting rock formations, mountains, and one-of-a-kind sites. Many people describe the area as peaceful or even spiritual.
Numerous hiking trails lead through the trees or to high points in the park and are a great way to experience the serenity of the desert.
In winter, this park is a haunt for climbers who set up camp here for extended periods. If you are planning on camping in Joshua Tree National Park, be aware that finding a spot can be difficult in the high season.
Joshua trees reach a height of up to 60 feet and belong to the Yucca family. Many of these trees are said to be several hundred years old. The thickest clumps of trees are found in the west, in the "Wonderland of Rocks". This area has interesting rock formations, shaped by the huge pressure and high temperatures under which the gneiss was forced up out of the earth many millions of years ago.
The park is home to a wide variety of wildlife. By day the visitor will come across only a few species of animals, such as squirrels, dwarf antelopes, and occasionally a coyote. In summer visitors should be equipped for the heat, which often exceeds 40° C.
3. Salton Sea Recreation Area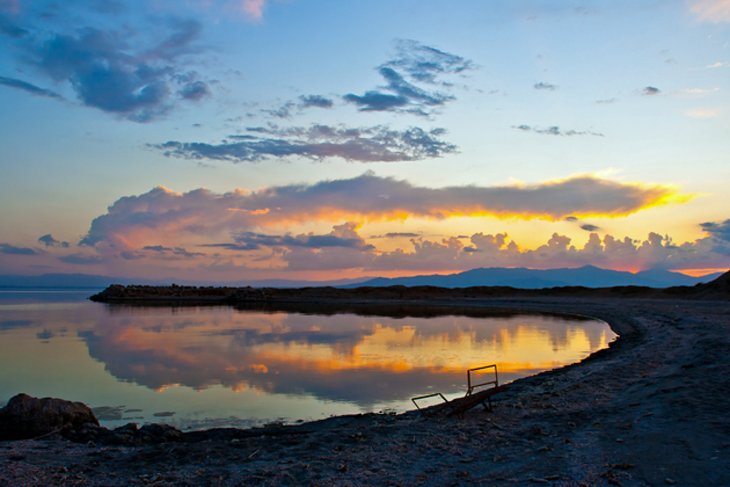 Salton Sea Recreation Area
An ancient dried-up lakebed became an actual "sea" again in 1905. Having broken through an irrigation canal in Imperial Valley, the Colorado River flooded over into the old bed and filled it to a depth of 82 feet. The river continued to flood until 1907.
This inland lake, measuring approximately 30 miles by 8 to 14 miles, lies below sea level and has no natural outlets.
The Salton Sea State Recreation Area has been created on the northern bank, where there are campsites and picnic areas. This is a popular spot for fishermen and water sports enthusiasts, as well as bird-watchers.
4. Kelso Dunes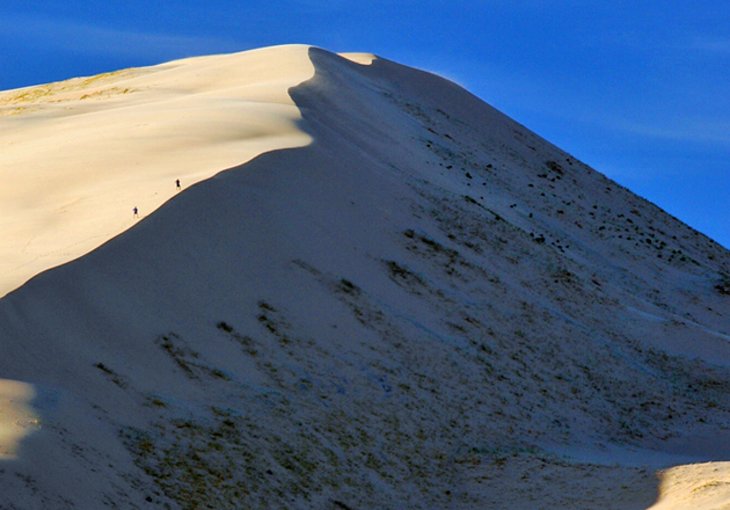 The Kelso Dunes can be admired from a distance, but adventurous souls will want to walk to the top. The highest point is 700 feet above the desert floor.
Although the hike to the top of the highest dune is only three miles round-trip, walking across the sand and the completely exposed nature of the hike make it somewhat challenging.
This lovely geological formation is located in the Mojave National Preserve.
5. Palm Springs and Palm Desert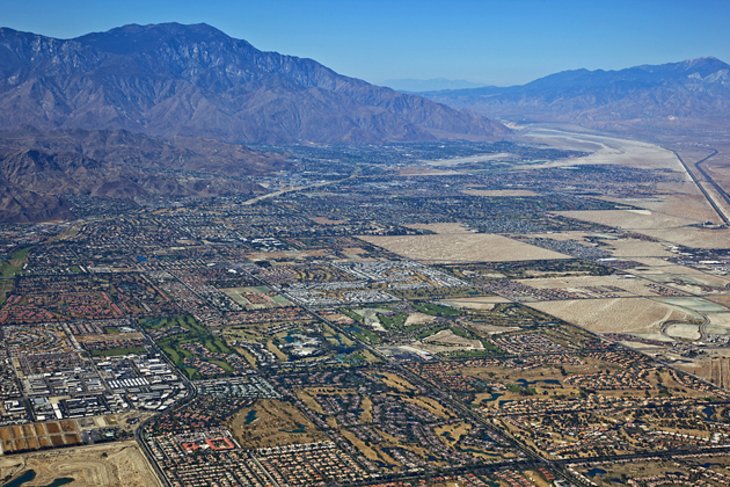 Set at the base of the San Jacinto Mountains, Palm Springs is a vibrant city on the edge of the Colorado Desert. The sun shines here almost every day of the year. In summer, its undeniably hot, but in winter, when daytime temperatures are in the 70s F, it is a wonderful place to be.
Downtown Palm Springs is home to excellent restaurants, quaint shops, and a variety of attractions.
One of the most popular things to do in the area is to take a ride up the Palm Springs Aerial Tramway to the top of Mount San Jacinto. Up here, where the air is much cooler, you'll find a completely different landscape. Some of Palm Springs' best hiking trails are found up here.
Palm Desert is a bedroom community of Palm Springs and home to sensational scenery, golfing, and numerous attractions. Both Palm Springs and Palm Desert are home to some beautiful resorts, particularly for guests interested in golf.
6. Anza-Borrego Desert State Park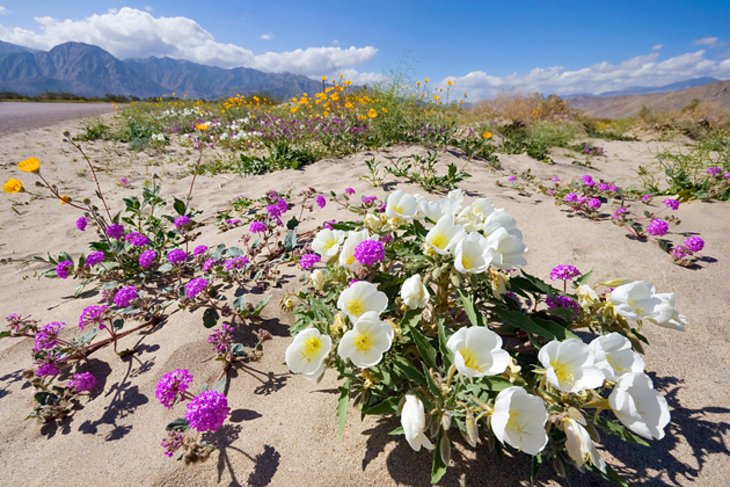 Anza-Borrego Desert State Park
About 85 miles northeast of San Diego is the entrance to the biggest State Park in California. Anza-Borrego Desert State Park covers an area of about 600,000 acres of remote desert landscape.
Dunes, alluvial land, canyons, palm groves, flowers and cacti (which flower in March and April), as well as fantastic views, represent only some of the attractions of this area on the edge of the Colorado Desert.
7. Red Rock Canyon State Park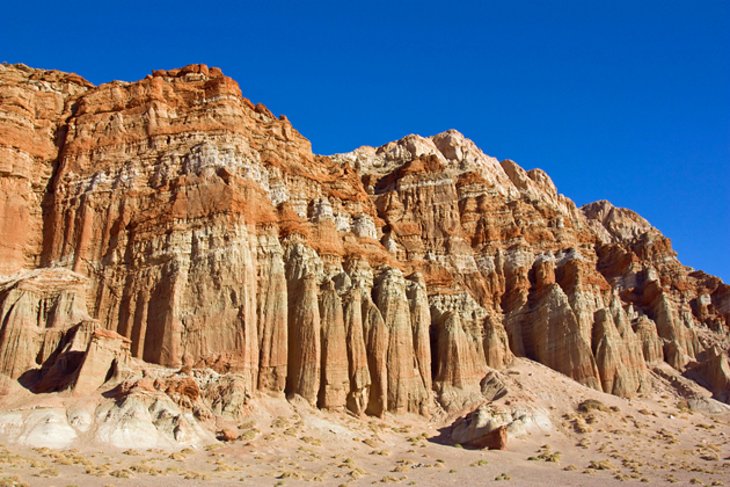 Red Rock Canyon State Park
Red Rock Canyon State Park is home to a beautiful desert landscape with cliffs, buttes and other unique rock formations. This is a good place to spot wildlife, particularly roadrunners, hawks, and lizards.
In Last Chance Canyon, which runs through the park, you can see rock art and the remains of old villages.
Many people come here to enjoy the hiking trails or to camp. Miles of trails run through the park, and camping is available at the Ricardo Campground.
8. Algodones Dunes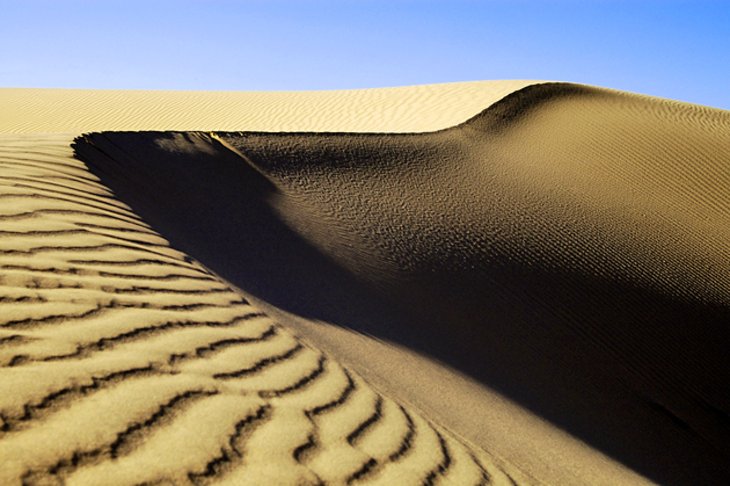 About 20 miles east of Brawley in the southeast corner of California are the Algodones Dunes, one of the largest dune regions on the continent. The shifting sands are a beautiful site but it is off the beaten path and one of the lesser visited desert sites in California. Few roads and a lack of nearby cities make it less accessible than some of the more popular attractions.
The largest dunes are on the west side. Camping is permitted in the North Algodones Dunes Wilderness Area but off road motorized vehicles are not.
9. Calico Ghost Town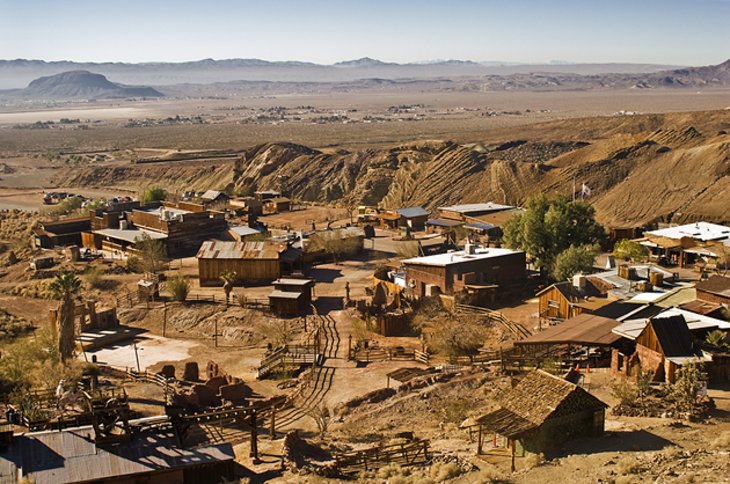 Calico Ghost Town
The ghost town of Calico lies 10 miles east of Barstow. From 1881 to 1896 it was one of the most important American towns, from where thousands set off to prospect for silver in the nearby mountains.
When the price of silver fell in 1895 the silver mines closed and Calico went into decline. In 1954, the ghost town was restored by the owner of Knott's Berry Farm and is now a tourist attraction, with restaurants, stores, and other activities.
10. Big Morongo Canyon Preserve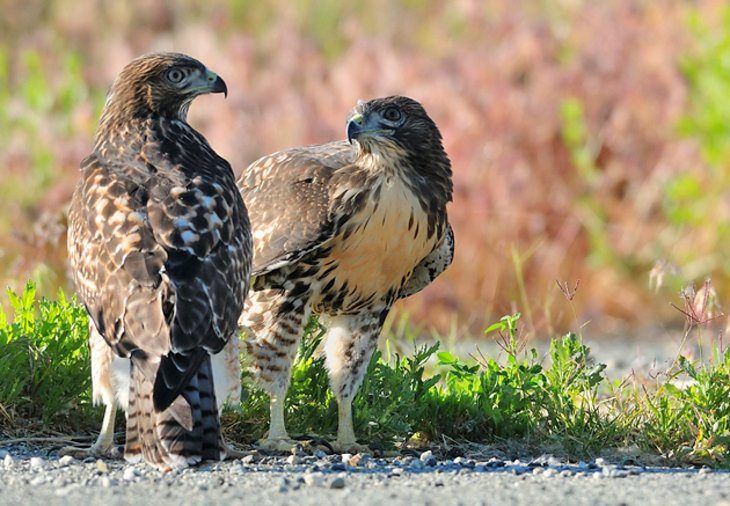 Big Morongo Canyon Preserve
The Big Morongo Canyon Preserve is located in the Morongo Valley area just west of Joshua Tree National Park in the San Bernardino Mountains. The preserve runs through portions of the Mojave Desert and the Colorado Desert, and is one of the best birding spots in California.
Over 250 bird species have been spotted here, including some rare species. Numerous trails, some with boardwalks, run through the marsh and stream habitats.
Frequently Asked Questions
What are the best day trips in California's desert regions?
Excluding Death Valley, which is off on its own, two day trips are recommended.
Starting and finishing in Palm Springs, head to Joshua Tree National Park and travel from north to south, eventually ending at the Salton Sea. From here, head across to Anza-Borrego Desert State Park. The great thing about this route is that you'll be able to see where you are going from Keys Lookout in Joshua Tree National Park.
Another route starting in Palm Springs is to combine Red Rock State Park, Calico Ghost Town, Kelso Dunes, and Big Morongo Canyon Preserve. This route has a great deal of variety.
The best time to visit is in the spring, as you'll have moderate temperatures and the best chance of seeing the desert wildflowers in bloom.
More Related Articles on PlanetWare.com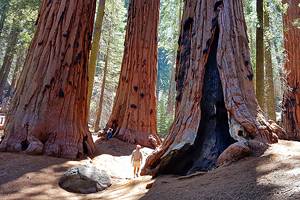 Explore California Parks: Some of the most fantastic sites on the planet are found in California's national parks. Head for Sequoia National Park to see the largest trees in the world and spend a night under the stars at one of Sequoia's beautiful campgrounds. Afterward, move on to hike the trails in Redwood National and State Parks to see the tallest trees on Earth. Explore things to do in Yosemite National Park, including hiking and camping.
8 Best Desert Spots in the Southern California Desert

Experience The Best Nature Spots of the California Desert
You know what's funny? The majority of southern California is actually a desert. Many of those who travel to California vacation along the coast so they can lounge by the beach and enjoy the pristine ocean views.
While California beach cities are rightfully popular, there is much more to do and see. The California desert has numerous nature spots to check out. Honestly, I've found a much deeper love for California's deserts than I have for its coastal locations.
If you're searching for epic desert beauty and an escape from busier cities, you're in luck. Here's a list of our 8 best desert spots in the southern California desert.
Our content may contain affiliate links. If clicked through to make a purchase, the price remains the same for you and we will earn a small commission. This helps us to continue creating useful and valuable content for you and other visitors.
1. Mojave National Preserve
For being one of the largest desert regions in California, it's surprising how many haven't heard of Mojave National Preserve. This preserve lies near the border of Nevada, about an hour away from the city of Barstow.
Visitors can expect hiking trails, view points, dense Joshua Tree forests, massive sand dunes and more. Some of our very best desert hikes have been found right here in the preserve.
Just to name a couple, The Rings Trail which takes you through a porous canyon and has you climb up iron rings out of the canyon.
Or for a longer more challenging hike, Tahquitz Peak. This trail leads you through the densest Joshua Tree Forest in the world and then has you hike up a medium sized mountain. Expect sweeping views of the desert valley from the top!
For a more unique adventure, make sure to include Kelso Dunes in your itinerary. These huge sand dunes stretch over 45 square miles and stand 650 ft tall from the desert floor.
Haven't had enough? Well, there's also an underground lava tube you can climb down into and explore. Stand inside a rare cave created from molten lava oh so many years ago.
Surprisingly, there is just enough light leaking in through the ceiling to be able to see without a flashlight.
This is just a few of the perks the preserve has to offer. There is still so much to see and do within this place, we've barely scratched the surface.
We recommend a few days to explore everything. If you only have one day to visit Mojave National Preserve you can still cover plenty of ground.
2. Joshua Tree National Park
Just below Mojave National Preserve is one of California's most popular desert national parks, Joshua Tree National Park. Within this park you can expect, you guessed it, Joshua Trees.
Even though this is the main attribute to this park, there are still many other things to see outside of the sprawling fields of J Trees. Hiking being the number one activity.
You can also rock climb, camp, take a scenic drive, ride bikes, and stargaze. Known as one of the best star gazing spots in the California desert!
What's great about Joshua Tree NP is that it's loaded with all types of hiking trails.
Trails either short and flat or long and more strenuous. Short hikes allow you to see a great variety of the park in a small amount of time.
Just have one day? Check out the 3 best mile and under hikes in Joshua Tree which you can easily fit into a single outing.
We love this park for its variety of trails. You'll find dense Cholla cactus gardens, towering canyon walls, a water filled dam, and even a natural rock arch. Just to name a few features!
3. Red Rock Canyon State Park
For being the smallest on this list, Red Rock Canyon State Park offers some of the greatest views of the California desert.
The most iconic attribute known as the gigantic Red Rock Cliffs. These are located both off the main highway and along a couple of the hiking trails.
The cliffs were formed with layers of white and red sediments, which make up the unique folds in the cliff faces.
These layers originally resided in an old inland lake millions of years ago and have been lifted by the El Paso, Garlock, and Sierra Frontal Faults.
Feel yourself become an insignificant speck as you approach these towering cliffs. They are massive! I can honestly say this is one of the most monumental things I have seen in the southern California desert so far.
Outside of the Red Cliffs, enjoy a few hiking trails that take you deeper into the park. Our favorites include Hagan Trail and Nightmare Gulch Loop. Both relatively easy, flat, and full of astonishing desert scenery.
You can read more about these trails on our post of Red Rock Canyon State Park.
4. Whitewater Preserve
Right outside the desert city of Palm Springs lays a hidden gem right off the main highway. Overlooked by many, this quaint and beautiful desert spot is known as Whitewater Preserve.
The landscape consists of gorgeous desert scenery with a small creek that runs through the area, all while being surrounded by tall and impressive mountains.
After 4 plus visits, we're both still in awe each time we step foot in this place.
Spend your day, or just a few hours, walking along a well maintained trail taking you alongside the infamous whitewater creek. Not technically "white water" but it appears so from the bright white sand underneath.
Even though there is only a couple trails to hike on, this is still one of our favorite spots to spend the day.
Sitting beside the creek with no other sounds but running water and small gusts of wind make this an intimate place for any desert lover.
5. Death Valley National Park
The most popular national park in California, known for its magnificent desert scenery, is Death Valley National Park.
Named Death Valley based on the fact that it's literally the hottest place on the planet.
During summer, this park once reached a record breaking high of 134°F. Although dangerous to visit in the summer, Death Valley NP makes a fantastic desert excursion for all other seasons of the year.
The park is full of unique features and hiking trails that showcase some of the best qualities of the California desert. Badwater Basin being one of the most popular areas of the park.
Amazingly this basin is the lowest point in all of North America, residing 282 feet below sea level. Here you can walk on picturesque salt flats that spread 35 square miles.
Other popular spots include Devil's Golf Course and Zabriskie Point. Devil's Golf Course is a dense area of rock salt eroded by wind and rain into jagged spires.
Zabrieskie Point is the most famous viewpoint in the entire park. Here you can see the golden colored badlands which makes for an amazing place to be during sunset.
Oh and don't forget Mesquite Flat Sand Dunes! These are similar to the Kelso Dunes mentioned earlier at Mojave National Preserve. As you can see, there's tons to do at this amazing national park.
If you're coming from Las Vegas, you can sign up for an immersive Death Valley tour around the park. It also includes stops at Rhyolite, Goldwell Open Air Museum, and a drive by Mercury – an area once used as a test site for nuclear firearms.
6. Indian Canyons
Located right outside of Palm Springs is a small desert oasis known as Indian Canyons. This lush nature reserve even boasts a California classic, palm trees.
To fully enjoy the reserve, visitors can choose from a number of different hikes that take you deeper into the canyons. Our favorite being Murray Canyon Trail which is a solid 4 mile hike.
This trail leads you through the sprawling desert to a stream surrounded by thick palm tree groves. Ultimately ending at a waterfall known as the Seven Sisters Waterfall. Waterfalls in the desert? Yes you heard that right.
However, the stream only runs for a couple seasons of the year. So if you want to see a more wet environment, plan your visit around the winter and spring months.
Besides this, you can hike to the high peaks of the nearby mountains, explore more canyons, or just relax near the calming stream. The combination of water and condensed green palm trees makes this a desert oasis you don't want to miss.
7. Alabama Hills
The rolling landscape of Alabama Hills is a natural wonder. This unique location is found in the high desert of California, just outside of the city of Lone Pine.
These "hills" are an arrangement of rock formations that spread far across the land below the Sierra Nevada mountains.
What's great is that this area is all BLM (Bureau of Land Management) which means you can literally camp anywhere. Not only that, it's free!
Numerous movies have filmed here due to it's exclusive landscape. Interestingly enough there are only a few hiking trails in this area. The most popular being Mobius Arch Loop Trail which takes you to a natural rock arch.
Despite the lack of trails, this area is so insanely gorgeous that you don't even need to hike to be in the thick of it.
The best way to enjoy Alabama Hills is to camp (wherever), wander or scramble the rocky area, and enjoy the incredible views of the magnificent Sierra Nevada Mountains. And of course stargazing once night falls!
For more info about this desert spot, check out our blog post on 5 Epic Things to Do at Alabama Hills!
8. Amboy Crater
Last but not least, we highly recommend visiting the oddball spot known as Amboy Crater.
Not technically a park or nature reserve but more so a random feature of the California desert that most don't even know exist! Mainly because it's located in the middle of nowhere off the historic Route 66.
Amboy Crater is an extinct cinder cone volcano estimated to be around 6,000 years old. (Which is actually kinda young!)
Not only can you visit this crater, you can actually hike to the very top of it!
The trail winds you through a field of black volcanic rock and to the base of the crater itself. From here, you can hike up the backside of the volcano which takes you to the very top.
It truly is an amazing spot and one of the most uncommon hikes we have done in the California desert.
Enjoy walking around nearly the entire circumference of the crater while taking in endless views of the Mojave desert. A remarkable experience, making it a one of a kind desert hike.
Explore California and Experience The Magic of the California Desert
Southern California is very much a desert and it's landscapes vary widely as you trek across the lower state.
We've covered Joshua Tree forests, massive sand dunes, underground lava tubes, lush oasis, tall red rock cliffs, and even an extinct cinder cone volcano, all in this list.
What's amazing is that this is just a few of our favorites from the spots we've seen so far.
There is still so much more to explore within California's large desert region. We cannot wait to discover more wonderful locations while we continue to journey across the desert.
What are your favorite desert locations in the state of California? Have we missed any important ones from this list? Share with us in the comments below!
Source https://www.wanderlustchloe.com/top-5-places-to-visit-in-the-atacama-desert-chile/
Source https://www.planetware.com/california/california-desert-us-ca-11.htm
Source https://wewhoroam.com/best-desert-spots-california-desert/