Top 21 Most Beautiful Places to Visit in Switzerland
A fusion of Italian, French, and German cultures but still with a strong identity of its own, Switzerland makes an alluring travel destination.
The landlocked European country is known for its attractive cities, it's apre-ski chic and famously idyllic mountain scenery complete with cuckoo-clock houses and bell-adorned cows – Switzerland is still a place where you can imagine Heidi skipping through the Alpine meadows!
From my many visits to this breathtaking country over the years, here are my favourite best, and beautiful places to visit in Switzerland…
1. Lake Geneva – a beautiful crescent-shaped lake shared between France and Switzerland and overlooked by the Alps
Switzerland is often called the country of mountains and lakes – it harbors around 1500 lakes, and every single one of them is beautiful in their own way.
The most mesmerizing water is perhaps Lake Geneva, the largest lake in the Swiss Alps and the second largest freshwater body in Central Europe.
It fascinates with its pristine beauty and unusually clear waters. Not for nothing is it compared with a mirror – the Alps covering it from the wind make the water surface unshakable.
This natural mirror reflects picture-postcard mountain peaks, vineyards, tall spruces, buildings, and medieval castles scattered across the slopes.
A beach holiday on Lake Geneva is truly a unique pastime – only here you can sunbathe while admiring snow-capped summits.
2. Zurich – the stunning city nestled on a sprawling lake regularly recognised as one of the world's most liveable cities
Located on the northern shores of the eponymous lake, Zurich wins hearts with a magnificent panorama of the snow-covered Alps on the horizon.
The city center is bristling with tourist attractions, sights, and interesting things to do – more than 50 museums, 100 art galleries, boutiques, and a vibrant nightlife will keep you pretty busy.
Architecture lovers will appreciate centuries-old buildings adorned with fresco paintings and plants in flowerpots. When checking out the Old Town of Zurich, look closely at the St.Peter's Cathedral, it has the largest clock face in Europe.
If you prefer recreational activities outside of city confines, boating on the lake or hiking along the scenic Uetliberg Mountain trails are at your disposal.
3. Lucerne and Lake Lucerne – a beautiful lakeside city surrounded by snowcapped mountains
Lucerne – located at the foothills of picture-perfect Mount Pilatus – is a quintessentially Swiss city beloved of many a visitor and home to traditional town squares, historic buildings, painted facades, and narrow cobbled streets lined with shops selling traditional goods.
The gorgeous city is also famous for its beautifully preserved medieval bridges, one of which dates back to 1333. There are lots of things to see in do in Lucerne, make sure you add extra visiting time for the picturesque Lake Lucerne.
It's a huge irregularly shaped lake encircled by towering mountains – an area that is often said to be similar to Norway's famous fjords.
You may also like our post on the best places to visit in Norway.
4. Swiss National Park – part of the worldwide UNESCO Biosphere Reserve known for its stunning Alpine scenery
Switzerland has only one national park, but this one is pretty special. Located in the Western Rhaetian Alps, in eastern Switzerland, it's part of the UNESCO biosphere reserve, it's home to beautiful scenery, wildlife and 80 kilometres of paths which allows visitors to explore the carefully preserved alpine environment.
Expect to see winding wild azure rivers, stunning peaks and dense areas of beautiful alpine forest.
5. Chateau de Chillon – a beautiful and romantic castle nestled on Lake Geneva
Lake Geneva is one of the most famously beautiful lakes in the world but if you really want to crank up the fairytale factor then head for Chateau de Chillon. This medieval castle lords over Lake Geneva from its rock island, and offers gorgeous views both inside and out.
Over a thousand years of history are displayed in the remarkably well-preserved castle and the building has inspired the works of famed writers Jeans-Jacque Rosseau and Lord Byron – if you visit you'll see why!
6. Zermatt and the Matterhorn – the famous alpine peak ever and its neighbouring mountain resort village
Located in southern Switzerland's Valais canton this is Switzerland's highest ski resort. Zermatt is a car-free Alpine village famous for both its picture-postcard prettiness and its close location to the imposing Matterhorn.
The steep slopes of this famous mountain once intimidated hikers from even attempting to scale it.
Since the first successful attempt in 1865, many more brave mountaineers have made it to the top of the famed mountain.
This area is easily one of the most beautiful places to visit in Switzerland but this kind of scenery comes at a price – accommodation in Zermatt is among the most expensive in the country. Our blogger friend has also written a post on the best hikes in Switzerland.
7. Bern – a UNESCO listed city filled with picturesque medieval architecture
There are many beautiful cities to visit in Switzerland but Bern, located near the centre of the country, is pretty special. It's actually the capital of Switzerland but it's one of Europe's smallest capitals.
The medieval streets of Bern's Old Town are particularly scenic and has even earned itself a UNESCO World Heritage status.
It's a compact, relaxed city where time moves slowly and the locals don't seem nearly as busy as other cities.
Expect to see covered arcades, whimsical fountains, cobbled streets, world-class galleries, fantastic urban swimming, and traditional architecture all framed by rolling hills and the glacial Aare River.
8. Wengen – a pretty Swiss Alpine village known for its timber chalets and belle époque hotels
The Alpine village in the Bernese Oberland region is easily one of the most stunning places to take a trip to in Switzerland.
Wengen is an impossibly perfect example of an Alpine village where traditional timber chalets cling to the slopes of the Lauterbrunnen Valley.
It's been developed into a car-free resort town that has an exclusive upscale feel and a fine collection of belle époque hotels.
In winter the high altitude and gorgeous scenery attract a discerning skiing crowd, in fact, Wengen has so many skiers at this time its population increases almost ten-fold.
9. Lake Oeschinen – one of Switzerland's best-kept secrets
Located in Switzerland's Kander Valley, this pristine stunning lake is fed by the glacial brooks of three surrounding mountains.
It's a beautiful and tranquil spot where nature lovers come to swim, row, hike and – in winter – ride the 3.5-kilometer long toboggan run which travels from the lake to the gondola station.
The surrounding area is also known for its rich flora and fauna – orchids, gentian, edelweiss and herds of grazing sheep and cows all call this place home.
10. Interlaken – a pretty traditional resort town surrounded by stunning scenery
This is a traditional resort town located between two Alpine Lakes, although it's not so much the town which has earned itself a place on this list but the surrounding area – Interlaken lies at the footsteps of the most beautiful alpine range in all of Switzerland and arguably the whole world.
The scenery is truly breathtaking with surrounding snowcapped mountains sprinkled with waterfalls, glacial lakes and lush green alpine meadows.
It's also the main transport gateway to the mountains and lakes of that region, making it an excellent base for exploring. Expect stunning mountains, dense forests, alpine meadows and glaciers, great for both hiking and skiing.
11. St Moritz – the glitzy alpine resort town
One of the oldest ski resorts in the world is the highlight of the Engadin Valley and it tends to attract a well-heeled crowd.
While its counterparts often suffer from unpredictable weather, St. Moriz boasts 322 sunny days per year.
Probably this is why royal dynasties, politicians, billionaires, and celebrities prefer St. Moriz as a resort of their choice.
The high cost puts many people off St. Moritz but those who get here benefit from a kind of ski 'business class'. Skiing (as well as sledding, snowboarding, and cross-country skiing) is the best reason to visit these parts but not the only one.
St. Moritz-Bad is also a famous health resort with lots of spas, thermal pools, massage salons, beauty parlors, mud baths, and saunas.
12. Brienz – a lovely lakeside village filled with 18th-century wooden chalets
Brienz is a traditional village located in the middle of towering mountains and right on the shores on the brilliant turquoise Lake Brienz.
It's located near Interlaken but deserves a special mention of its own.
For a touch of romance head for Brunngasse which was once awarded the title of the most beautiful street in Europe. Here most of the houses are wood carved and date back from the 18th century, giving it a chocolate box prettiness.
13. Villars-Sur-Ollon – a postcard-pretty mountain village and upscale resort
Sitting on the sunlit southern terrace in the Rhone Valley, the gorgeous upscale resort town of Villars-sur-Ollon offers breathtaking views of the Dan du Midi and the Mont Blanc massif, as well as Lake Geneva.
The world-famous ski resort boasts 25 kilometers of premier snow slopes and 44 kilometers of cross-country ski trails.
Besides that, it has three snowparks, a snow kindergarten, sledging hills, and numerous winter hiking trails, not to mention the lively après ski activities.
If after a busy day you want to experience true relaxation, a plethora of wellness centers in the thermal spring area are waiting for you.
In summer, the main activities of Villars-sur-Ollon are hiking, mountain biking, and golf. You can explore over 300 km of marked trekking routes and 150 km of mountain bike trails.
One of the most exciting routes leads to the mountain lakes Lac de Chavonne, Lac de Bretaye, and Lac Noir.
14. Grindelwald – a dreamy mountain resort surrounded by a unique Alpine landscape
One of the most famous ski resorts in Switzerland, Grindelwald, sits in the shadow of three magnificent peaks: Jungfrau (4158 m above sea level), Mönch (4099 m) and Eiger (3970 m).
Nature skillfully crafted this one-of-a-kind landscape consisting of steep rocks, neat plateaus, and gentle slopes.
There is no such place in Central Europe where glaciers get so close to the valley. They are easily accessible for snow enthusiasts.
Besides skiing, you can explore the mysterious Blue Ice Grotto and the sublime Glacial canyon, which are just a stone's throw from Grindelwald.
However, the main highlight of this place is the cogwheel railway nestling on the summit of the Kleine Scheidegg Mountain.
15. Basel – home to a beautiful Old Town and plenty of culture
Divided in half by the Rhine River, Basel, the 3rd largest Swiss city, proudly sits between Germany and France.
It owes its cultural diversity as well as a bizarre mixture of architectural styles to this unique geographical position.
This is perhaps the only place on Earth from which you can travel to another country (more precisely, to two foreign countries) by tram.
If you decide to focus only on the Basel's center, you'll have so much to see and to do. Head to the market square with its richly embellished government buildings and the Gothic cathedral to soak in history or visit one of the 40 local museums – they are a concrete proof that Basel is a city of arts.
16. Lake Constance – the sprawling lake that borders Switzerland, Germany and Austria
Situated in northeastern Switzerland at an altitude of 400 meters, this lake is known by three names: Lake Constance, Bodensee, and the Swabian Sea.
The huge reservoir, which is about 65 kilometers long, is the third-largest lake in Europe. Thanks to its enormous size, it washes the shores of three countries – Switzerland, Germany, and Austria.
The picture-perfect landscape unfolding around the lake is a true paradise for outdoor enthusiasts.
Water sports, hiking, roller-skating, and biking activities lure tourists from every corner of the world. While you are here, a cruise across these azure waters is a must-do.
17. Seebergsee – a stunning alpine lake surrounded by beautiful green hills
The Seebergsee lake, which home is the canton of Bern, seems almost a pond in comparison with other Swiss lakes. However, while being inferior to its counterparts in size, it is not inferior in beauty.
This oasis of tranquillity offers several routes for cyclists and backpackers running across ravishing green foothills.
Picturesque grassy landscapes framing the lake are an ideal spot for picnics, sunbathing, and chilling out. Feel free to plunge into these cool waters and swim across the entire lake.
After that, you can climb a couple of steep cliffs lending epic views of the Seebergee and the surrounding mountain terrains.
18. Jungfraujoch – a mountain region known for its beauty
A journey to Jungfraujoch Mountain is a once-in-a-lifetime experience for those who love mountain peaks, clear air, crystal clear sky, and chilling wind. You can get there by the cog railway Jungfrau running 9 km from the Kleine Scheidegg pass to Jungfraujoch.
By the way, the Jungfraujoch station, housed at an altitude of 3454 meters above sea level, is the highest in Europe.
It offers fantastic panoramic views of Eiger, Mönch and Jungfrau mountain peaks, as well as the longest glacier in the Alps.
Spend a few minutes enjoying these divine views and then plunge through a tunnel to reach the Ice Palace exhibiting a large collection of ice sculptures.
After that, you can climb the Sphinx observation terrace or go for a stroll along the Alpine Sensation circular underground walk.
19. Spiez – a gorgeous lakeside resort surrounded by hills and vineyards
Spiez is a small town in the picturesque bay of Lake Thun. The town is especially beautiful in the summer when it is filled with lush greenery and flowers.
Unlike many other cities in Switzerland, Spiez does not have an ancient core – except for an old castle, it's dotted with small but lovely low-rise buildings.
However, the local nature is worth it to drop by Spitz on your trip to Switzerland. The skyey waters of Lake Thun are surrounded by the towering Swiss Alps, which carefully protect the mere from cool winds. The stunning greenery of Swiss nature and vineyards complement the blue-ish color palette.
Be sure to try the produce of local wineries and mouthwatering fish specialities. Besides in-town activities and attractions, you may take a look at many sights found within a 20-minute drive from Spiez; some of them you can reach if taking a boat ride on Lake Thun.
20. Appenzell – a charming tradition-rich mountain town
This beautiful region in Switzerland is a place where traditional Swiss culture is still very much alive.
It's only 66 square miles in size yet it's packed with more charm and cultural richness than you'll find in most other countries.
Protected by the surrounding mountains, gorgeous villages dot the rolling hills and historical pastimes like folk music and traditional dancing are still a regular occurrence here.
21. The Rhine Falls – one of the best places to visit in Switzerland
The majestic Rhine Falls are Europe's largest waterfall by average flow rate. It has over a width of 150 metres and a height of 23 metres, these breathtaking falls won't disappoint you.
The falls are located between the borders of Schaffhausen and Zürich. The nearest town is Neuhausen am Rheinfall where you can visit the beautiful Wörth Castle.
Getting to the falls is very simple as you can easily access them by car, bicycle and public transport. The best and recommended time to visit is between the Swiss summer period in June and July.
This is definitely an amazing experience to do by boat and explore the area.
We also have posts on…
With itchy feet, an inquisitive nature and an ardent wanderlust, Emma Clair has always been a traveller at heart. Hailing from the Emerald Isle she calls a small coastal town near Dublin home, but has lived in a few countries including Saigon, Vietnam where she resided for over a year. She counts supping on Bloody Marys on a rooftop in Manhattan, downing Singapore slings at the Raffles Hotel, daring a paraglide on the Grand Cayman, spending an exotic Christmas in Malaysia and exploring the Angkor Wat, Cambodia as her all time favourite travel moments. Although, she'll always have a special place in her heart for the city where she makes her annual pilgrimages – Paris, her true city of lights.
20 of the Most Beautiful Places in Switzerland Revealed!
THIS POST MAY CONTAIN COMPENSATED LINKS. FIND MORE INFO IN MY DISCLAIMER.
Home » 20 of the Most Beautiful Places in Switzerland Revealed!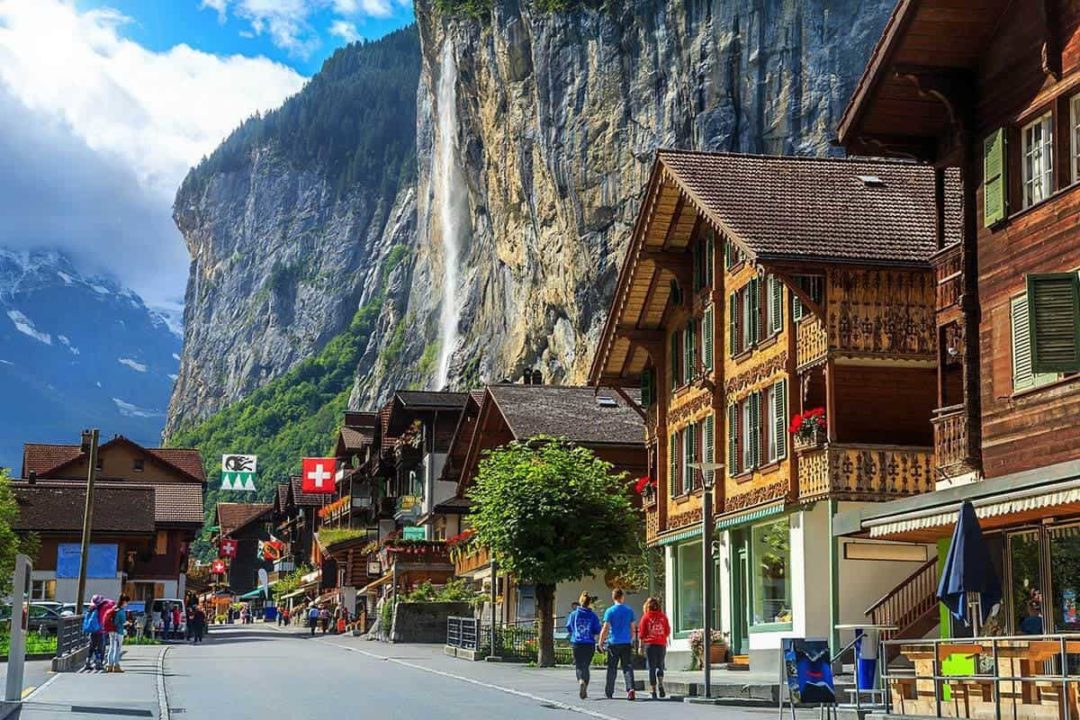 Share with others
Switzerland is one of the most beautiful countries in Europe, and it's no secret that the most beautiful places in Switzerland are filled to the brim with a lot of charm. It seems to have a storybook landscape, bringing a sense of awe to many travelers visiting this country.
As individuals explore each destination, they often find that they are gorgeous and don't compare to anything they have ever seen.
With so many incredible sights, destinations, towns, and cities, it can be hard to pinpoint what the prettiest place in Switzerland is, but we have attempted to do just that!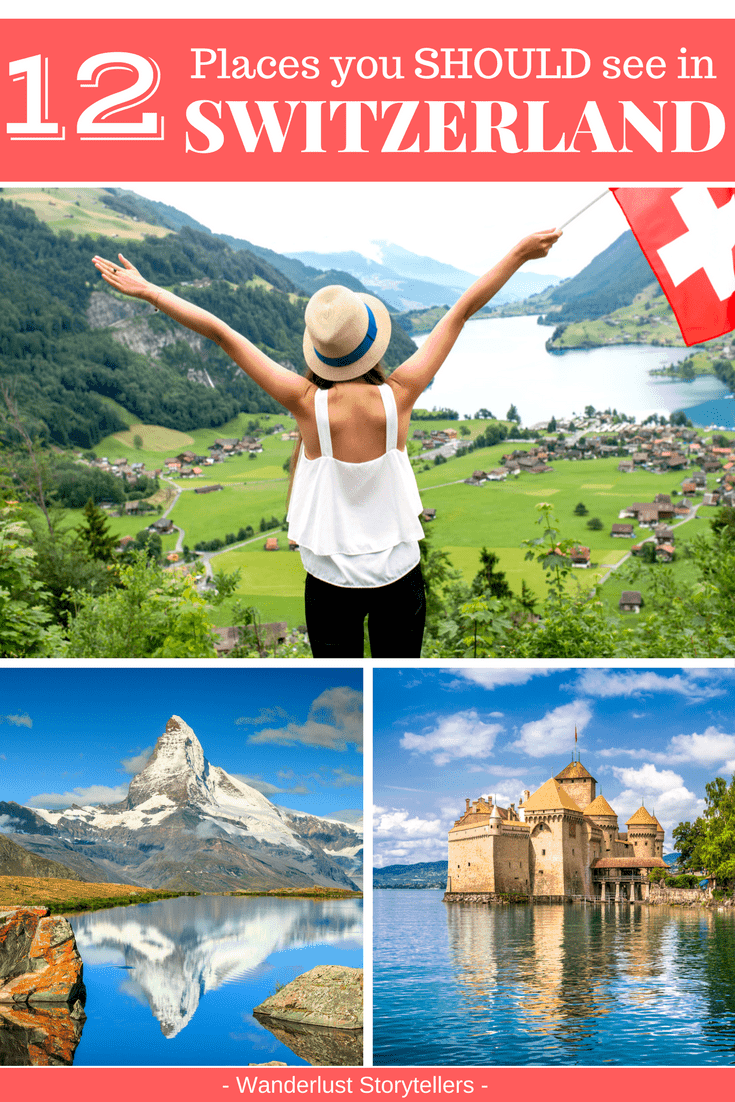 Click HERE to save the listicle to Pinterest!
20 The Most Beautiful Places in Switzerland to Visit
Below is a list of the best places in Switzerland to include in your itinerary. The list includes a range of beautiful sights, from the most beautiful cities in Switzerland to the most beautiful lakes, mountains, and castles.
While we love to scout out destinations that might still be unheard of, you will also find a few selections of pretty popular tourist places in Switzerland on the list as well.
Here are 20 of the most beautiful places in Switzerland to visit. Which of them will be the most beautiful place in Switzerland for you?
1. Jungfraujoch
Known as "The Top of Europe," Jungfraujoch might be the most beautiful place in Switzerland. It is a 'must-see' for your Swiss holiday.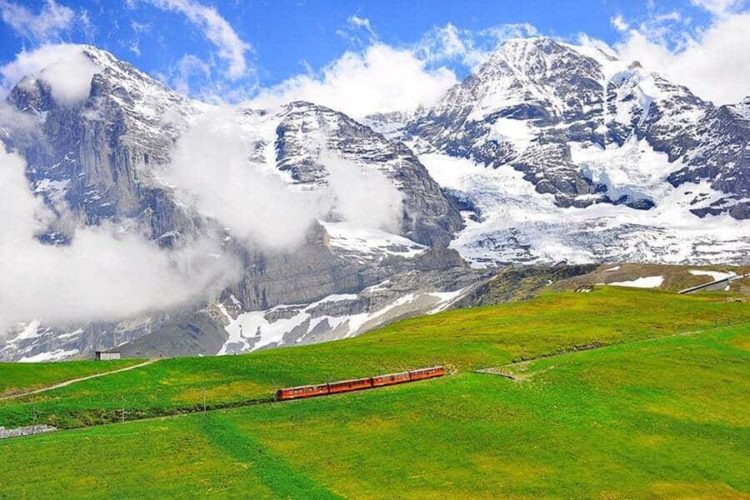 It starts with a train journey up to Jungfraujoch, where visitors can look at the scenery around them (thanks to the scientific observatory and observation terrace located 3,454 above the ground).
Europe's longest glacier, the Great Aletsch Glacier, is located below and has been named a UNESCO World Heritage Site. Visitors can also walk along the Eiger Trail or Panorama Way. After more activities?
Why not take a gondola ride to see the Lauterbrunnen Valley.
2. Lauterbrunnen
Lauterbrunnen is deservedly so second on the list of the most beautiful places Switzerland has to offer!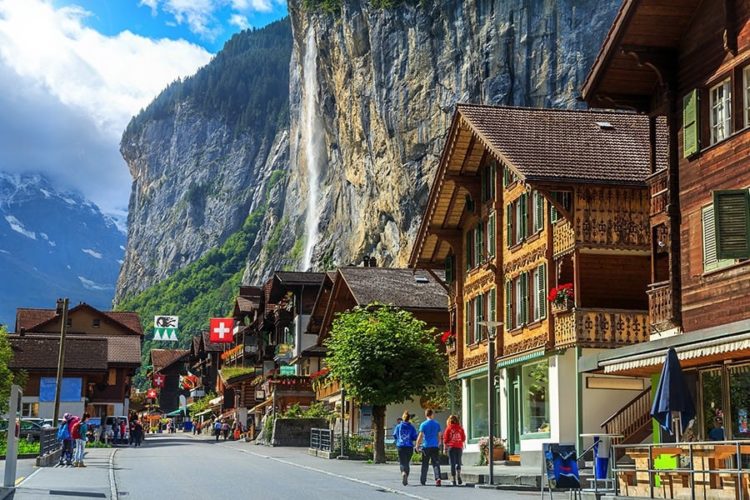 Situated in the Swiss Alps, this village is set in one of the most impressive trough valleys in the Alps.
Surrounding the village, you find dramatic rocky cliffs and the famous 300-meter-high Staubbach Falls.
If the unique setting of this village is not enough for you, you can also visit the viewing platforms close by to see the sensational glacial waters of Trümmelbach Falls as they rush through the mountain crevices.
Or maybe you simply want to challenge yourself and scout out all 72 waterfalls in the Lauterbrunnen Valley!
Last but not least, don't forget to grab a cable car from Stechelberg village to Schilthorn mountain for views over the glorious Bernese Alps!
3. Interlaken
Located between Lake Brienz and Lake Thun is Interlaken, one of Switzerland's most beautiful places for sure!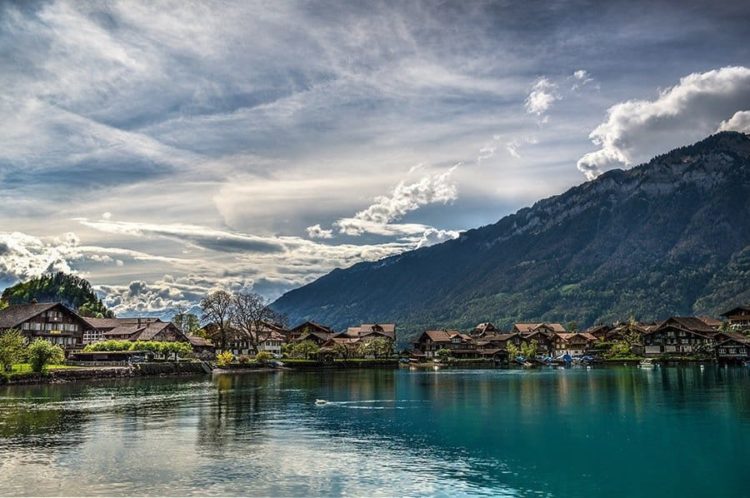 This resort town is stunning, with acres upon acres of open space, flower gardens, and the peaks of Eiger, Jungfrau, and Monch towering over the town.
Visitors can enjoy the area's many cafes or go kayaking, hiking, or abseiling, dependent on the time of year. There are over 45 different modes of transport, including cable cars and railways.
Visitors flock to the area during the winter months to take advantage of skiing and snowboarding opportunities.
During the warmer months, paragliding is popular. No matter what time of year it is, Interlaken is one of Switzerland's must-visit places!
4. Lucerne
Lucerne is one of the top places in Switzerland and one of the most beautiful places in Switzerland!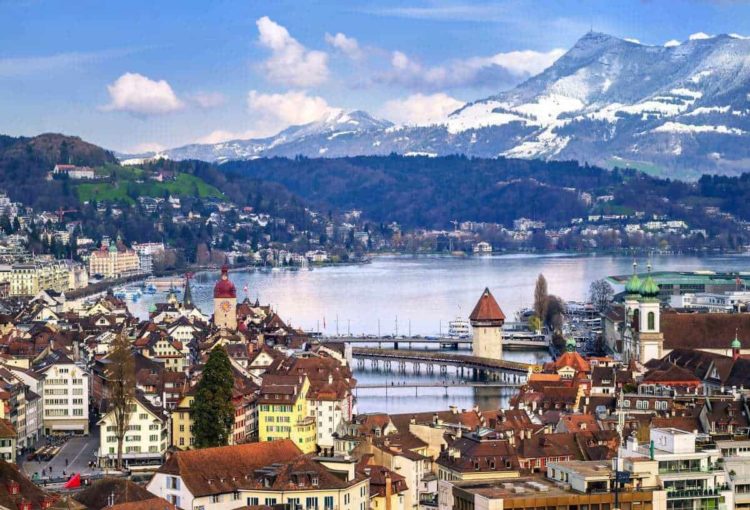 This medieval town is surrounded by mountains and peppered with historic buildings and covered bridges.
Cars aren't allowed here, so tourists can easily walk around as pedestrians truly have the right of way.
As one of the top historical places in Switzerland, this town is most famous for its landmarks of the Chapel Bridge and the Lion Monument. Those that want a spectacular view of the area, including Lake Lucerne, can ride up Mt. Pilatus by cableway.
A fabulous way to explore this wonderful city and some of its top landmarks and sights is via a self-guided walking tour. Click here to grab some info on planning your walking tour of Lucerne.
5. Bern
If you are looking for Switzerland beautiful places, you cannot miss out on Bern!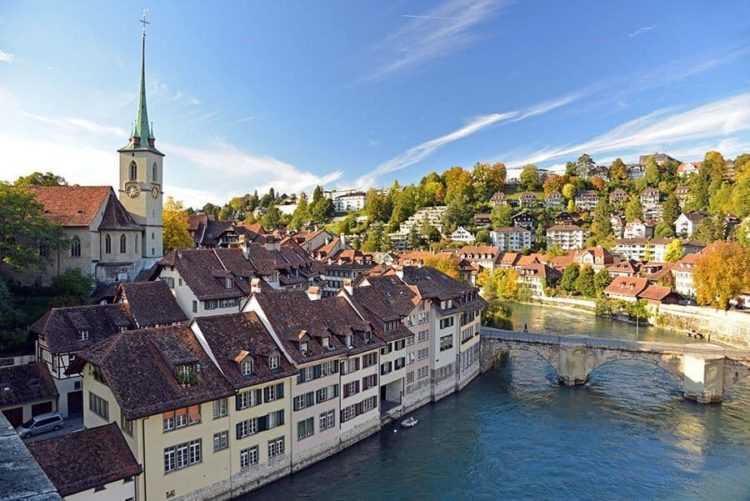 The capital of Switzerland, Bern, is a UNESCO World Heritage Site and perhaps the most beautiful city in Switzerland. This old town is medieval, which is apparent in its architecture.
The tallest cathedral in Switzerland is located here as well. There are also 16th-century towers and cobbled streets. A popular attraction is the medieval clock tower, Zytglogge, which has moving puppets.
In addition to all of this, a variety of impressive museums and galleries are located here. This city is great for those who want to see massive collections of Swiss art and sculptures. These museums include the Bern Museum of Art and Zentrum Paul Klee.
Those looking for something else to do while here must check out the markets.
Located in parliament square, Bundesplatz, visitors can buy all sorts of unique items to take back home with them while getting an intriguing view of the Bundeshaus parliament building.
6. Lake Geneva (lac Léman)
Lake Geneva (lac Léman) is regarded as one of the most famous places in Switzerland and, as a result, is typically one of the most visited places in Switzerland. This body of water is the largest Alpine lake in Europe.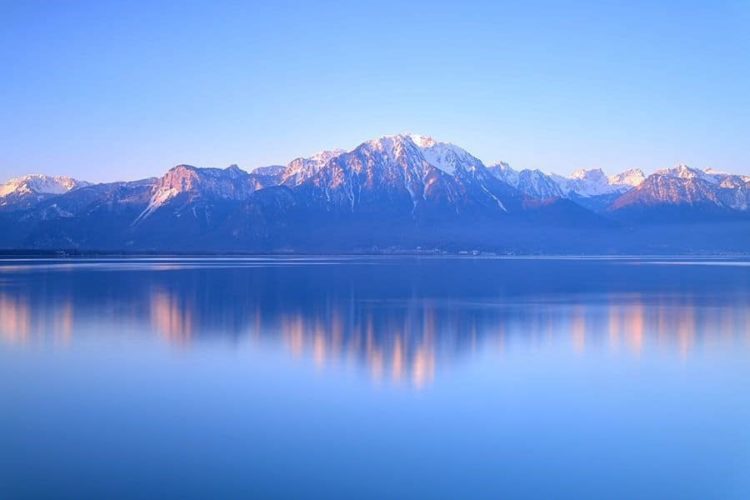 One of the most famous attractions of the lake is the Jet d'Eau This fountain shoots water 150 meters high.
Those who visit the lake can also take advantage of all the things to do in the city of Geneva, including the Grand Theatre and the Opera House.
Lake Geneva is one of the most beautiful lakes in Switzerland due to the majestic Swiss Alps as a backdrop to this lake.
Needless to say, this is one of the prettiest places in Switzerland by far!
7. The Matterhorn
The Matterhorn is one of the most iconic symbols in Switzerland and one of the most picturesque places in Switzerland.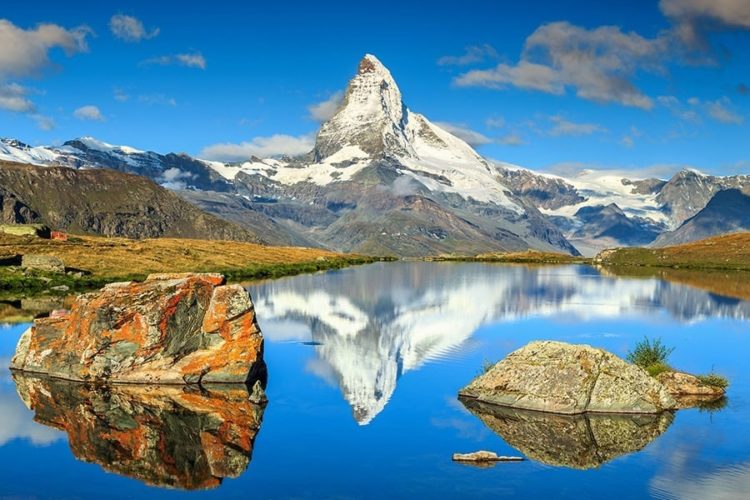 The peak of The Matterhorn is one of the Alps' highest points. The Matterhorn borders Italy and has a height of 4,478 meters.
The steep faces of it are each pointed in four different directions like a compass.
At the foot of the Matterhorn is the village of Zermatt. It's known for its chalets and horse-drawn carriage rides. Motorized vehicles are not allowed in the village so that its peacefulness of it can be preserved.
This is a popular destination for travelers year round and is one of the sights Switzerland is famous for.
8. Chateau de Chillon
Located close to Montreux is the Chateau de Chillon, known as the Chillon Castle. This is one of the most scenic places in Switzerland.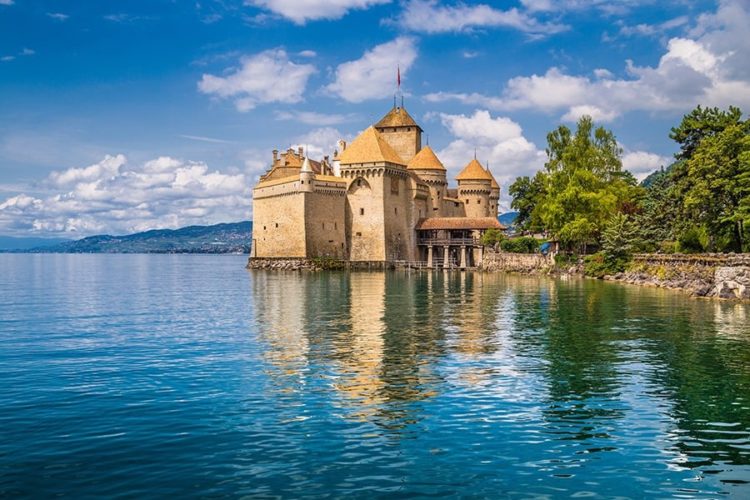 The castle has a lot of history as it was a stronghold for the Dukes and Counts of Savoy back in the 12th century.
It features three courtyards and 25 buildings. There are underground rooms, murals, and impressive paintings.
When visiting Lake Geneva, many tourists also stop at Chateau de Chillon.
9. Mürren
If you looking for the most beautiful spots in Switzerland, you will be happy with this one! Mürren is a cozy Swiss mountain village located at the foot of the Schilthorn peak.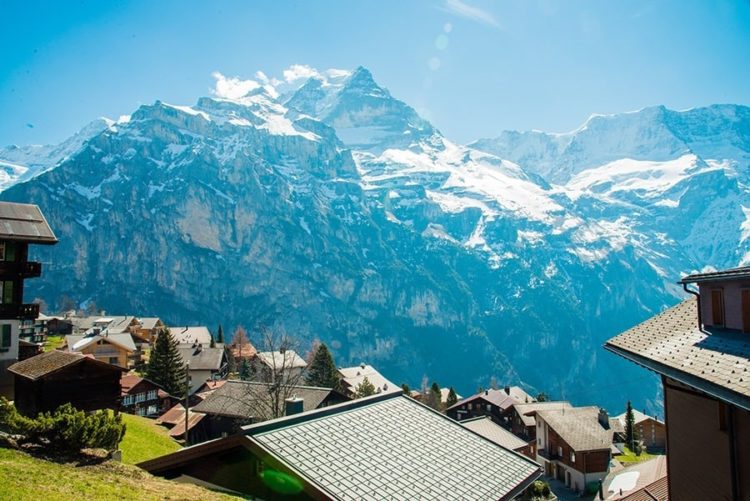 This village is one of the prettiest places in Switzerland. It is so scenic that it has even been featured in a James Bond film.
The Piz Gloria revolving restaurant featured in the film no contains the Bond World 007 exhibit and offers incredible views over Eiger, Mönch, and Jungfrau, right to Mont Blanc and into the Black Forest!
10. St. Moritz
With its jagged peaks, impressive glaciers, beautiful lakes, and lush forests, St. Moritz is one of the top mountain destinations in the world. Two winter Olympics have been hosted here.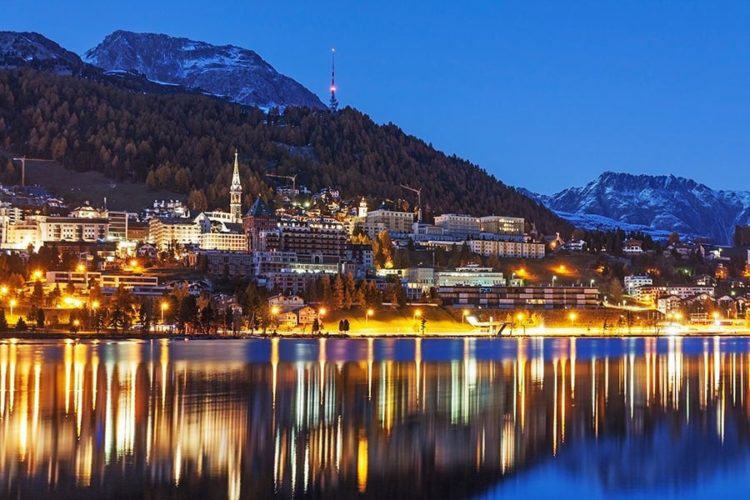 This town has two parts: St. Moritz Bad and St. Moritz Dorf. The former sits on the valley floor and has more affordable accommodations. St. Moritz Dorf overlooks the lake.
This is a popular destination throughout the year, and during the winter, visitors can enjoy everything from bobsledding to skating. A popular activity is tobogganing on Cresta Run.
Visitors can enjoy glacier skiing, watersports, and hiking during the summer.
This is one of the super nice places in Switzerland to visit!
11. Ticino & Lake Lugano
Some of the most beautiful landscapes in Switzerland can be found in Ticino. Say no more, this is hands-down one of the most amazing places in Switzerland.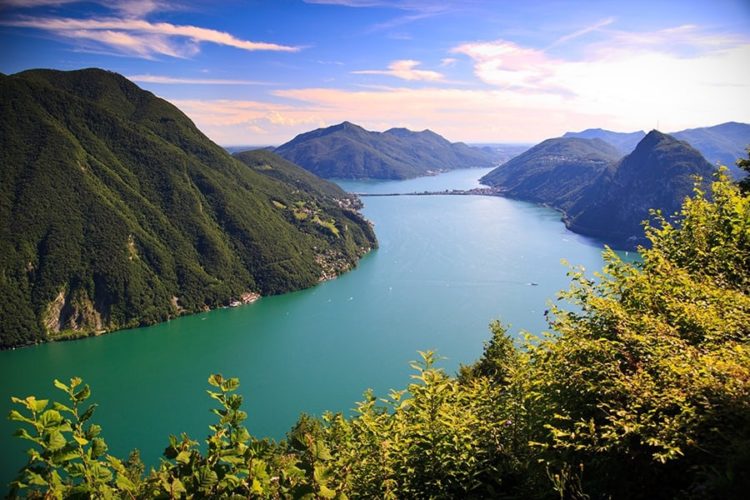 This is the only canton that officially speaks Italian in Switzerland. It's not surprising as Ticino is located on the Swiss/Italian border.
The area is well-known for its food as it has a Mediterranean flair with its palms, figs, and citrus tastes.
Those who come here will often rent a boat to see Lake Lugano. This gives them a panoramic view of Monte San Salvatore's snow-capped peaks.
One of the most scenic places in Switzerland!
12. Gruyeres
Maybe the most beautiful town in Switzerland? This town has a lot of medieval characters. It's above the river Saane, which offers impressive views.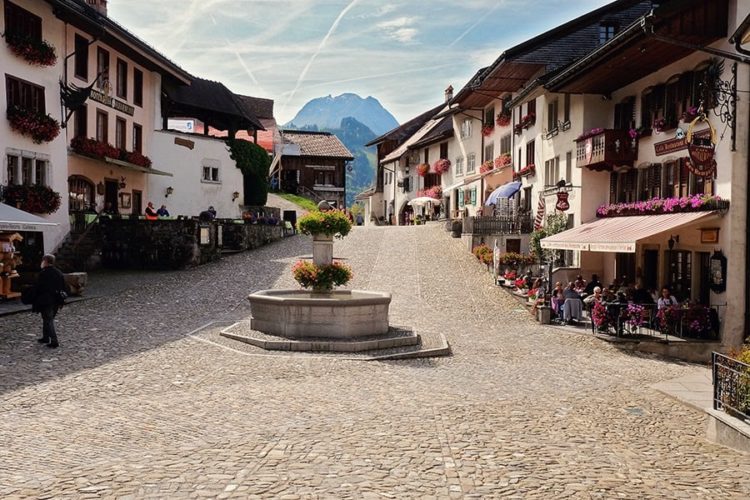 A popular attraction is a 13th-century structure, St. Germain Castle, that has been turned into a museum. Visitors can go here to learn more about the culture and history of the town.
It also features artworks related to the once-popular film "Alien". Yes, this is the town where you can find the only museum of H.R. Giger!
This fact alone makes Gruyeres one of my list's best places to visit in Switzerland!
Another interesting place to go is The Tibet Museum. Visitors can view Buddhist sculptures as well as some Himalayan ritual objects.
Gruyeres is one of the top popular places in Switzerland due to its connection to the well-known Gruyere cheese.
So make sure to enjoy a cheese fondue for lunch to get into the atmosphere of all things cheesy.
You can read more about a day trip to Gruyere on our blog.
13. Creux du Van
One of our readers contributed this beautiful sight, and I wanted to add it to our list as it offers something completely different from the points listed above.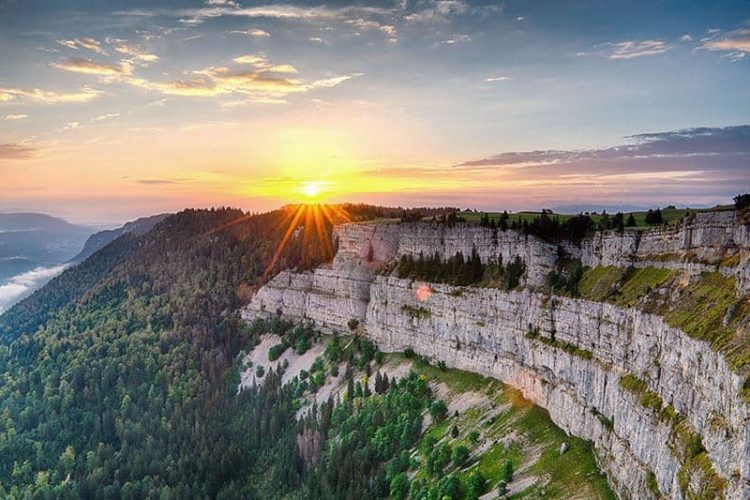 The Creux du Van is a truly spectacular natural rocky cirque created by the constant erosion of water and ice. It measures approximately 1,400 meters wide and 150 meters deep.
It is well known as the amphitheater of Switzerland and located in the Val de Travers district in the Swiss canton of Neuchâtel.
Interestingly, there is a spring at the bottom of the basin where the water is four degrees above freezing year round!
You will need to climb exactly 725 meters to find yourself standing in the middle of an arena.
Once you are there, you can also hike along the edge. So a great excuse to get out and enjoy some stunning scenery!
14. Grindelwald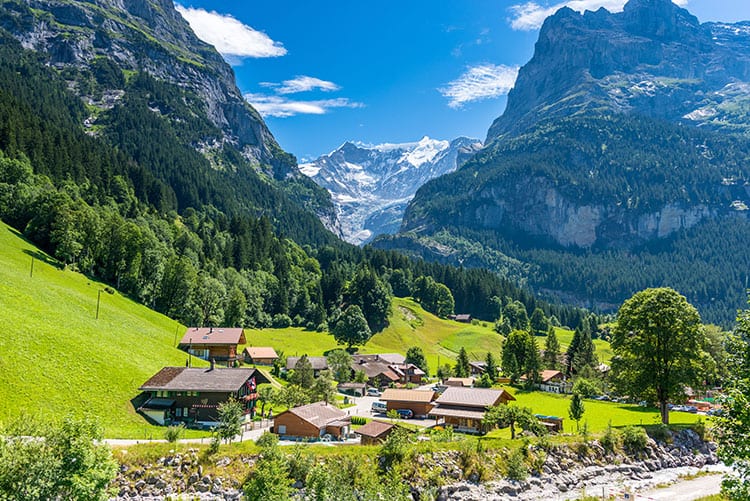 The village of Grindelwald is another beautiful place in Switzerland for adventurers and nature lovers to visit.
This lovely green valley is part of the Jungfrau region of Switzerland, so be prepared for stunning mountain views and plenty of snow activities. Grindelwald also boasts the biggest ski resort in the region.
Many people come here to climb the iconic Eiger mountain that forms part of the Bernese Alps or take on the Wetterhorn peak that towers over the village. And of course, the famous Jungfraujoch is also located in this area.
In summer, you can run, hike, or mountain bike in plenty of trails. The Grindelwald First is a relatively small summit, which makes it perfect for a short outing or fun cable car ride. There's even a restaurant at the top!
15. Sion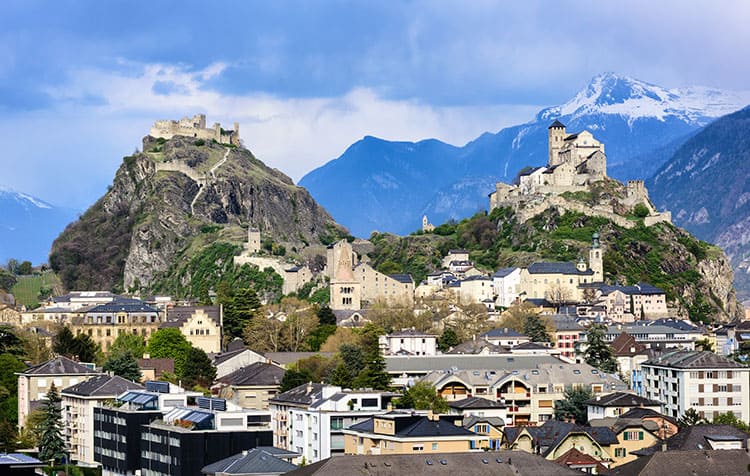 Thanks to the two medieval castles on the hills overlooking Sion, you can spot this fascinating town from far away.
This is one of the best villages in Switzerland to visit if you enjoy culture and history. Two prominent hills rise up in the middle of the town, each with a castle built on top.
Tourbillon Castle was built in the 13th century and boasted high stone walls and towers. The steep terrain around it naturally defends the impressive structure. Visitors must climb steep stairs to reach the top and see the castle up close.
On the opposite hill, facing the castle, sits the fortified church, Valère Basilica. Inside you'll find a 500-year-old organ—one of the oldest functioning organs in the world!
There are also plenty of other historical monuments and excellent wine farms to explore in Sion.
16. Basel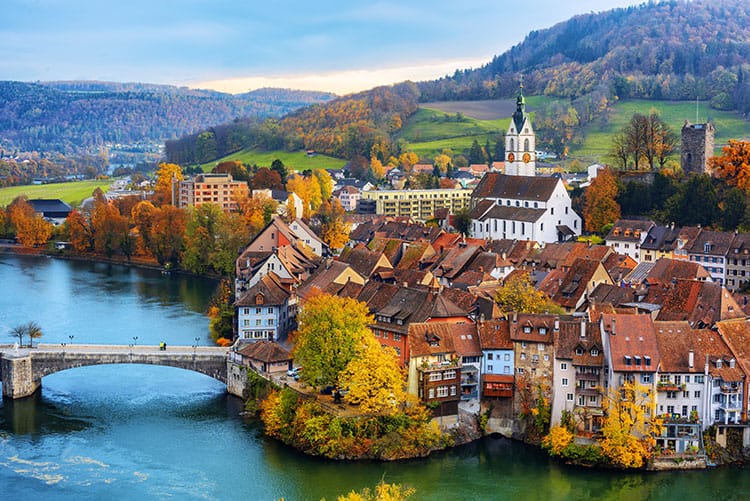 Although Basel is the third-largest city in Switzerland, it is still a beautiful place to visit and enjoy the lovely scenery.
It is located on the river Rhine, giving visitors many peaceful spots to relax on the riverbank. Or, in the summertime, you can join the locals for a swim in the famous river.
Basel is also popular for its great art scene—there are over 40 museums in the city, many of which are dedicated to art. You can walk around Basel's Old Town to see a beautiful variety of architecture. There is a large market square and an impressive town hall built from redstone, among many other sights.
The city prides itself on being green. Visitors will enjoy seeing the many parks and the flourishing botanical garden in this beautiful Swiss town.
17. Soglio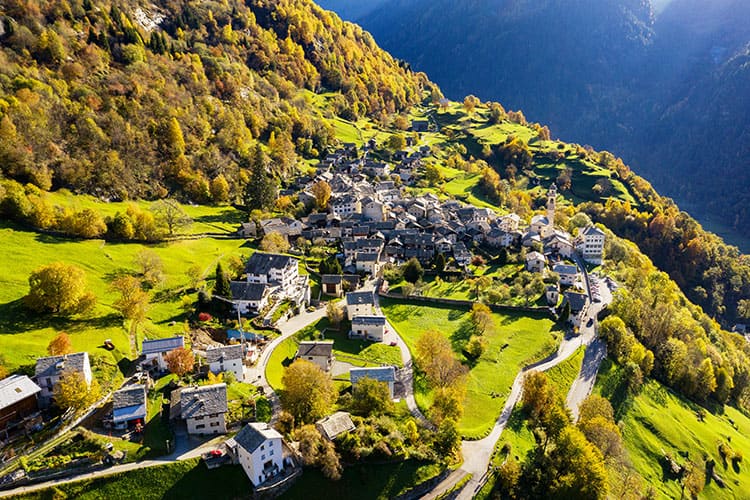 The small village of Soglio is one of the most picturesque places in Switzerland.
From the charming old stone houses to the breathtaking views of the Alps, you will surely agree with famous painter Segantini that this is the "gateway to paradise".
Soglio is located very close to the border with Italy. Only 300 people live in this sunny village that lies against the mountainside. There isn't much to do here, but just taking in the beautiful scenery is more than enough.
The village sits on a ledge so that visitors can enjoy amazing views over the green valley and the Alps in the background.
The Church of St. Lorenzo, with its steeple overlooking the valley, is a well-known Soglio landmark. The rest of the village is filled with cobblestoned streets and traditional houses that are very pretty to wander through.
18. Stein am Rhein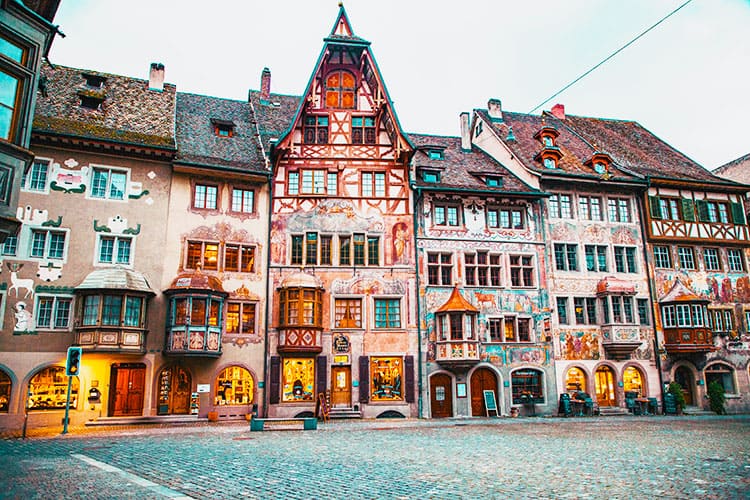 For some of the most beautifully preserved medieval structures in Europe, you must see this lovely town called Stein am Rhein.
It is located in northeastern Switzerland, next to Lake Constance and the Rhine River. The town is famous for its half-timbered houses with their exquisitely painted facades.
You can spend hours walking around the Old Town, admiring the medieval architecture and the detailed pictures painted on each building's front.
Visitors can also visit the magnificent 13th-century Hohenklingen Castle, built on a hill overlooking the town.
Or, walk closer to the sparkling blue Rhine and see the white walls of St. George's Abbey. This old Benedictine monastery dates back to the year 1007.
19. Ftan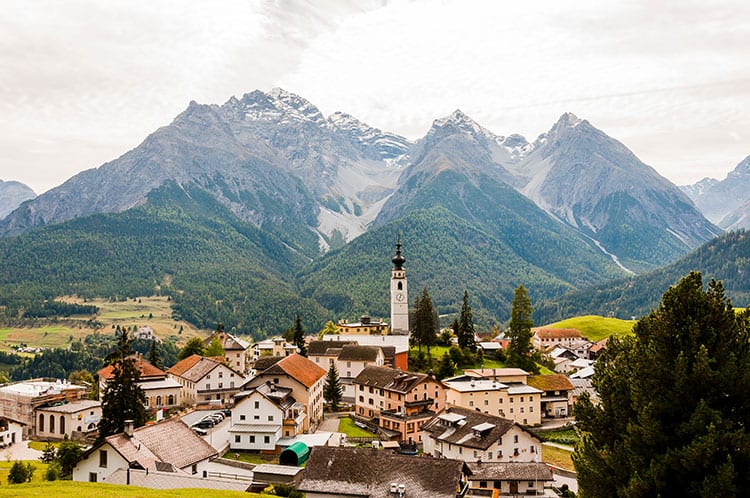 Do you want to experience the serenity of traditional village life and stunning views of the surrounding landscape? Then visit Ftan, a charming small village in the beautiful Lower Engadine valley.
This valley is home to many small villages and beautiful stretches of unspoiled nature. With only about 500 inhabitants, Ftan is one of the smaller villages in this region.
Visitors arriving at this village will be amazed at the stunning mountain backdrop. Once inside the village, you can walk around and admire the original Engadin houses. The old Protestant church is also a prominent landmark of Ftan.
Hundreds of tourists flock to the village for the skiing season in winter. The Motta Naluns ski resort sits just a few hundred meters above Ftan, giving you easy access to the ski lifts and 70 kilometers of slopes.
This is a beautiful town to visit all year round!
20. Swiss National Park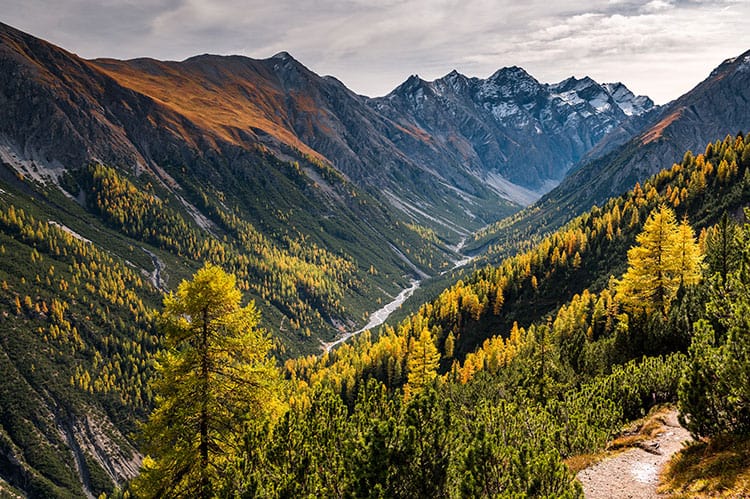 The final most beautiful place on our list is something quite special. The Swiss National Park is the country's only national park and is recognized as a UNESCO Biosphere Reserve. It is also one of the oldest parks in Europe.
Thanks to the strict rules enforced by the park, this is an area of stunning, raw alpine beauty. The picturesque greenery, majestic rivers, and snowy peaks span 170 square kilometers of the Western Rhaetian Alps.
There are 80 kilometers of hiking trails for you to explore—and you'll come across countless types of wildlife, including ibexes, golden eagles, and wolves.
The park is family-friendly, and cozy mountain huts are available to spend the night. You'll want to stay as long as possible and absorb all the natural beauty Switzerland offers!
Questions About The Top Places To Visit In Switzerland
Wondering which of the many places on this list to see first? We answer your questions below.
1. What Is The Most Beautiful Town In Switzerland?
From 2015 to 2019, the people of Switzerland voted for their most beautiful town in a yearly competition. Since then, the competition has changed to vote according to a theme, eg. the most culturally active town.
While the competition was active, the most beautiful winning towns included Trub, Oberhofen, Schwellbrunn, Morcote, and Soglio.
It's really hard for us to choose the most beautiful Swiss town—so many offer breathtaking scenery. But if we have to pick just one, it would be Lauterbrunnen for its stunning views.
2. What Is the Best Village In Switzerland?
If you want to head away from the larger cities and towns in Switzerland, many beautiful small villages are waiting to be discovered.
With only a few hundred residents around, you're sure to find peace while you enjoy a beautiful sightseeing trip.
Once again, it's difficult to choose between all the picturesque villages hidden among the mountains. But we think that Soglio is a great choice.
Soglio has it all—historic architecture, beautiful hiking trails, and panoramic views everywhere you look!
3. Which Destination Is The Most Romantic Place To Visit In Switzerland?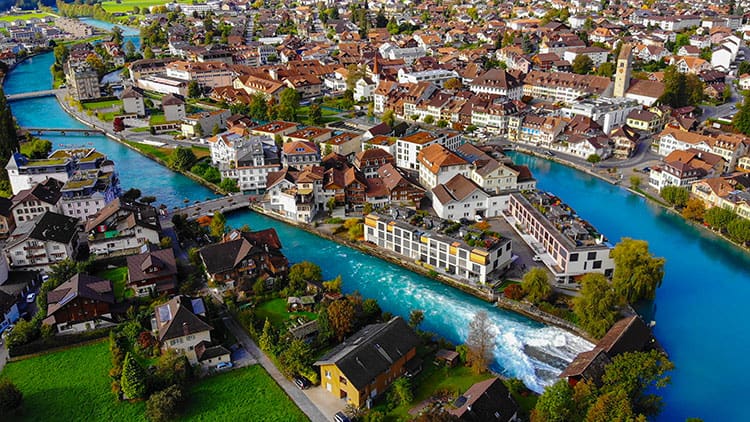 Whether you want to spend some quiet time with your partner in a scenic location or go on amazing adventures together, Switzerland is certainly a top place to go!
There are many romantic places to choose from—the serene Lake Lucerne, the historic Old Town of Bern, and many more.
Our top pick would be Interlaken. This beautiful town set between two lakes will give you lovely views for your entire stay. There are plenty of fun things to do together and many romantic hotels to choose from. This is a great honeymoon destination!
4. Which Valley Is The Most Beautiful Valley In Switzerland?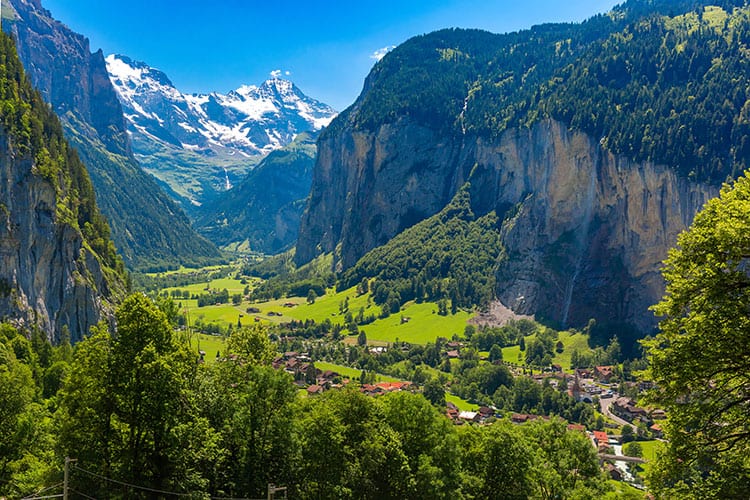 We know we've already mentioned Lauterbrunnen, but it is hands-down the most beautiful valley in Switzerland.
It is a wonderful experience to walk around town and see the majestic snow-capped mountains looking down on you from all sides.
The lush green valley is called 'the valley of 72 waterfalls', as that is how many stunning waterfalls you can see here!
Final Words
We all know that Switzerland is an incredible country to visit. Even though it might be one of your more costly holidays, this country truly has a diverse range of incredible destinations that will surely leave a long-lasting impression on your memory bank.
Switzerland has always been one of the top destinations to travel to. If this list of the most beautiful places in Switzerland has proven that to you, then I"m not sure if anything will.
17 Most Beautiful Places in Switzerland to Visit in 2022
The most beautiful places in Switzerland range from mountain resort towns and villages to vibrant cities nestled on lakes and rivers. But which Switzerland destinations are the prettiest? Read on to find out!
Tucked in the heart of Central Europe, Switzerland is packed with some of the continent's most beautiful places and epic landscapes. Its name evokes thoughts of luxury watches, big banks, and delicate chocolates, but there's much more than meets the eye in Switzerland. So much more.
From fairytale cities and towns circled by snowcapped mountains to some of the world's purest rivers and lakes, Switzerland is a country where a quick taste simply isn't enough. Its dramatic alpine scenery, delicious food, and cute cities and towns are meant to be salivated over slowly, and will always leave you returning for more.
Sure, it will cost you a pretty penny to satiate your Switzerland wanderlust, but it's totally worth it to experience all this breathtaking country has to offer. So bring a camera and an appetite, and let's explore the most beautiful places in Switzerland.
1. Lucerne
Flanked my majestic mountains and old city walls, Lucerne is the quintessential Swiss town. It's jam-packed with precious sights and scenery, encapsulating just about everything you'd expect to see in a picturesque Swiss town.
Lucerne boasts a postcard-worthy lake, Lake Lucerne, and a charming covered bridge, Kapellbrücke. These notable sights provide a breathtaking view amid the epic mountain backdrop. Additionally, Lucerne is a popular place for shopping, where you can buy (overpriced) postcards showcasing all the above.
Stay overnight to truly experience the magic of Lucerne
At times, it feels surreal that a place could be this beautiful (and deservingly crowded). What makes a visit to Lucerne more magical than touristy is staying overnight. Day trippers come here in droves, but if you're willing to stay for a night or two (I paid $30/night for a hostel during high season, which is actually a good deal for Switzerland standards), then you'll have the whole place to yourself in the moon-lit mornings and evenings.
During mid-day, consider day trips to places like Mt. Pilatus to experience the other side of Lucerne, while avoiding the hordes of tourists that flock to the old town. Mt Pilatus (6,982 feet / 2,128 m) overlooks Lucerne and the surrounding alpine landscape. It's an absolute must to venture up there when the weather permits!
If you're looking for a fairytale city with crisp alpine air and stunning views, look no further than Lucerne and Mt. Pilatus, two beautiful places in the heart of Switzerland.
2. Zermatt
Add Zermatt to your Switzerland itinerary and you won't regret it!
Zermatt is a popular ski resort town at the base of one of the world's most iconic mountains, the Matterhorn. Like all beautiful places in Switzerland, Zermatt comes with a steep price tag. But it's worth every Swiss Franc to experience the lofty snowcapped mountains, ritzy resorts, and charming cottages that line this compact, car-free town.
The Matterhorn is a sight to behold
During a visit to Zermatt, the star of the show is undoubtedly the Matterhorn, which stands tall at 14,692 feet (4,478m) elevation. I first saw the Matterhorn on the Toblerone chocolate bars growing up, so it was surreal to finally see it up close!
For me, seeing the Matterhorn was a dream come true! After hours of thick cloud cover and rain, I was convinced that I, like most visitors who spend a day or two in Zermatt, wouldn't see this majestic mountain. I came to terms with the fact that the closest I'd get to seeing it was the Matterhörnli Chocolate I devoured earlier in the day. Then, when I least expected it, the clouds began to clear and the Matterhorn gloriously revealed itself. What a spectacular sight!
Zermatt is a year-round destination. From January through March, it's a winter wonderland with a lively après ski scene. From April onwards, it becomes a summer resort town, where you can still go skiing up in the Swiss Alps if you choose.
Planning to travel anytime soon? Subscribe to my email list for exclusive travel tips, hacks, and other resources to save time and money!
3. Ticino
One of the most unique Switzerland destinations is Ticino. Located in Southern Switzerland, this is an Italian-speaking region that is totally different from the rest of the country. It's known for its incredible architecture, palm-tree lined lakes, and delicious food.
Ticino is home to two UNESCO World Heritage Sites, breathtaking lakes, iconic castles, and so much more. It feels more Mediterranean than the rest of Switzerland, and the food is just like what you'll find next door in Italy.
During my visit to Ticino last summer, I was blown away by the traditional stone houses in the mountains. Some of my favorite towns and villages include Corippo, Lavartezzo, Sonogno, and Foroglio. Take a drive north from Lake Maggiore and Lake Lugano, and you'll be amazed by what you see. For more photos and images of these places, be sure to check out my Instagram!
Ticino is only about an hour away from Milan, and even closer to Lake Como. So, it's definitely worth pairing this trip with a Northern Italy itinerary. Is this one of the best places in Switzerland? 100%!
4. Bern
Bern is the capital of Switzerland and a great launchpad for exploring the Bernese Alps. It's also an obligatory stop for those seeking a dose of Switzerland's history, culture, and architecture. As such, it's no wonder this is top among the places to visit in Switzerland.
Nestled along the Aare River, Bern's Old Townis a picture-perfect, pedestrian-friendly sight. It dates back to the late 1100s, making it a treasured UNESCO World Heritage Site.
Scattered around its cobbled streets are dozens of 16th century fountains that are a bit quirky and out of place yet add a colorful character to the Old Town. Bern's Minster, or Gothic-style Cathedral, is another iconic sight that you can't (and won't) miss. In between, you'll find two prominent towers—the Zytglogge and Käfigturm— that bring you back to centuries past.
Swimming down the Aare River
The best time of year to visit Switzerland (including Bern) is during the summer, when you can go swimming down the Aare River. Take a train to Uttigen, and from there, begin your boat ride down the Aare with amazing views of snow-capped mountains. The journey downstream to Bern is about 2.5 hours, which gives you plenty of time to relax, sunbathe, and go swimming in the turquoise alpine waters (which some even consider clean enough to drink). It's truly the perfect summer activity. The Aare is the best lazy river imaginable!
The nice part about being in Bern is that the Swiss Alps aren't too far away!
5. Grindelwald is one of the best places to visit in Switzerland
Not far from the capital is a town called Grindelwald, the gateway to the Jungfrau Region. It's one of the most beautiful places in Switzerland, where you'll find plenty of opportunities for hiking, mountain climbing, and skiing.
Grindelwald is nature at its finest
Grindelwald blew my mind, and I think it will for you, too! The snowcapped mountain views, the happy (and noisy) cows, and the crisp Alpine breeze were enough to give me a dose of adrenaline. And then, there was the mountain cart and scooter rides down the mountain…amazing!
My friend Sven and I took a gondola to the top of Grindelwald First (7,110 feet / 2,167 m), where we spent a few hours checking out the hiking trails and enjoying the panoramic view of the village and valley. Then, we did the mountain cart and scooter ride. The only more thrilling way to see these landscapes would be by paragliding. But if you're a bit of a wimp, like me, then mountain carts and scooters down the mountain are just as fun!
6. Sion
Located in the Swiss canton of Valais, Sion is a city known for its two hilltop fortifications. It's home to the 13th-century Tourbillon Castle, one of the most beautiful castles in the world, and Valère Basilica, a castle church with one of the world's oldest playable organs.
Sion is a great launchpad for exploring the region's thermal spa resorts. It's also a popular place for shopping and museum hopping, which you'll find aplenty throughout the Old Town.
Sion is situated in the center of one of Switzerland's most notable wine regions. It's especially known for its Fendant, a dry white wine that embodies the sunny and dry valley where it's grown. Beyond Sion's rustic scenery and medieval center, it also has a modern and industrial side to it, making the city the best of both worlds.
People come to Sion for its medieval old town and stay for the fine wines and vistas of the Rhône Valley. Oh, and it's also just 20 miles away from the Matterhorn, so you can easily cover both in one fell swoop.
7. Montreux
Montreux is a pretty resort town on the shores of Lake Geneva (also known as Lac Léman). With its Mediterranean flair, Montreux is the pulse of the Swiss Riviera, extending from Lausanne to Montreux in Switzerland's French-speaking Vaud region. It's one of the most beautiful places in Switzerland because of its idyllic lakeside setting, rolling hills and mountains, and sprawling vineyards.
Whenever I hear the name Montreux, I always think of the Deep Purple song – 'Smoke on the Water.'
"We all came down to Montreux, on the Lake Geneva shoreline…"
Montreux has been a hot destination since the 19th century, when famous artists, writers, and musicians began settling here in search of inspiration. Since then, it's become a popular place for tourism and cultural attractions, including the Montreux Jazz Festival that's held every July.
Wine is another big draw to Montreux, as the terroir along the lake is perfect for growing grapes. It's been an important part of the local economy since at least the 12th century. The Lavaux Vineyard Terraces that hug the shoreline are so impressive and culturally significant that they're deemed a UNESCO World Heritage Site.
Fun fact: Montreux's tourism board gives visitors a free welcome drink at the Montreux-Vevey Tourisme information desks. They also let you keep the mini wine glass – a great souvenir!
The Chillon Castle is a must
Another highlight of a visit to Montreux is the Château de Chillon (Chillon Castle), an island castle on the shores of Lake Geneva. This medieval castle dates to the 13th century. From the Chateau de Chillon, you'll have a stunning view of the lake below.
If you're looking for a fun lake town with a Game of Thrones-esque castle and lots of wine, Montreux is a great choice!
8. Appenzell
Located in the northeast corner of Switzerland, Appenzell is a must-see on your Switzerland travel bucket list. This is the smallest Swiss canton by population, but it has no shortage of breathtaking sights that make it worthy of a visit.
Appenzell is best known for its verdant rolling hills, alpine folk traditions, and like the rest of Switzerland – its cows! This is where Appenzeller cheese comes from. This world-famous cheese dates back more than 700 years!
Explore the Alpstein mountains, which offer some of the best hiking, climbing, camping, and mountaineering in the country. It's also home to amazing postcard-worthy lakes and villages, and perhaps the most iconic sight of all – Saxer Lücke. In between lots of hiking, don't forget to eat you way through the little villages and towns that dot the region.
Appenzell is just under 2 hours by train from Zurich, but it's truly worlds apart with its serene nature and charming mountain villages. As such, it's no wonder that it's among the best places to see in Switzerland.
9. Basel
Basel is a pocket-sized city in northwestern Switzerland that shares borders with Germany and France. It's one of the most beautiful places in Switzerland in a different way than the other destinations I've highlighted so far. There are no towering mountains dangling over the city, nor is there a semblance to a postcard fairytale town. But what Basel lacks in the quintessential Swiss stuff, it makes up for with its cool culture and countless things to do.
Though Switzerland's third largest city, Basel feels like a hidden gem. Outside of the art circles and pharma industry, it's relatively unknown and unexplored for most international travelers. But it shouldn't be.
Basel is home to world-class museums, galleries, and festivals that showcase the city's multicultural persona. It also has a walkable Old Town with architectural treasures like the red Rathaus (City Hall) and Basel Minster.
Visit Basel in the summer
During the summer, Basel is especially beautiful and lively. The Rhine River provides locals and visitors with a scenic summer swim. The alfresco scene along the riverbank, amid the backdrop of the Old Town, makes for an incredible sight!
Bike riding is another must when you're visiting Basel. You can easily explore three countries in one day— Switzerland, Germany, and France— while riding up and down gently rolling hills, through cities and towns, and getting lost a couple of times in the process. This was such a fond memory of my trip to Basel last summer.
Basel was so beautiful and interesting, that I even decided to extend my stay for a couple of days!
10. Interlaken
As its name indicates, Interlaken is wedged between two lakes. It's one of the most touristy resort towns in Switzerland, and for good reason.
Interlaken resembles something out of a fable, brimming with old timber houses, scenic mountains, and emerald-colored waters of Lake Brienz and Lake Thun. People come to this romantic place for all the above, as well as its proximity to the Bernese Oberland in central Switzerland.
Though this picturesque holiday town is enticing to just about anyone, it's most appealing to the adrenaline junkies. In Interlaken, there's no shortage of adventurous activities, including paragliding, canyoning, and white water rafting. Hiking and skiing are also immensely popular. Whichever outdoor adventures you decide to partake in, you're guaranteed scenic views of Switzerland's landscapes.
Other attractions in and around Interlaken include lake cruises, visits to nearby castles and waterfalls, and train and helicopter rides. There's so much to do in Interlaken that you're best off spending at least a few days here, though preferably not during high season when it's flooded with tourists.
11. Zürich is the most beautiful city in Switzerland
As the largest city in Switzerland, Zürich is the major financial and cultural hub of central Europe. It's known for being expensive and high-end, though it's also considered one of the world's most livable cities, due to its booming economy, beautiful landscape, and variety of cultural attractions. It's cheap to get to from the US, but things are pricey once you get here. Totally worth it though – here's why:
Zürich is among the most beautiful places in Switzerland
Zürich is bordered by river, lake, and mountains, ideal for capturing the perfect Instagram photos. It also boasts a well-preserved Old Town, including sights like the Grossmünster and Fraumünster, both built more than 800 years ago.
For the art and history aficionados, Zürich houses more than 50 museums and 100 art galleries – making it an attractive place for appreciating past and contemporary art. This beautiful city is very walkable, but it also has an excellent public transportation system to get you around to all its precious sights. The main train station isn't far from the airport, so you can even see some of the city on a brief layover.
What I love about Zürich is that it embraces new trends while also preserving its rich cultural heritage, offering visitors a special taste of old and new.
In Zurich, you'll never run out of fun things to do, so bring your friends along and explore this beautiful city in Switzerland!
12. Chur
Chur is yet another beautiful place in Switzerland that you should add to your bucket list. It's the country's oldest city with a history spanning more than 5,000 years. The Old Town is enchanting by itself, but the alpine backdrop certainly adds to its splendor.
Like Zermatt, Chur's Old Town is totally car-free, making it one of Switzerland's most pedestrian-friendly cities. It offers a vast collection of cultural and historic attractions, including the Chur Cathedral, Bündner Kunstmuseum, and St. Martin's Church.
Chur is also the starting point to one of Europe's most thrilling train rides, the Bernina Express. This train connects Chur with Poschiavo, Switzerland and Tirano, Italy. Gliding past glaciers, mountains, and lakes, the Bernina Express is the highest railway in the Alps.
Whether you're stopping by for a day or a weekend, you'll find plenty of charm and intrigue in Chur, Switzerland.
13. Lauterbrunnen
It's easy to fall in love with Lauterbrunnen and the Swiss Alps.
Lauterbrunnen is a small picturesque village set in a valley in the Bernese Alps. These alpine meadows are surrounded by rocky mountain peaks and waterfalls, adding to its magical setting. This town is all over Instagram these days, a telltale sign that it's among the most beautiful places of Switzerland.
Lauterbrunnen is part of the Jungfrau UNESCO World Heritage Site, which covers an area of 824 square kilometers. There are so many things to do here—summer and winter—including hiking, skiing, paragliding, and chasing waterfalls. Two imposing cascades are Staubbach Falls and Trümmelbach Falls, which hang high over the valley.
As I drove threw the Lauterbrunnen valley, one of the paragliders nearly missed the car! See my TikTok video below:
I stopped by Lauterbrunnen very briefly en route to Grindelwald, but wish I had stayed longer. There's enough to do here to spend at least 2-3 days partaking in these incredible alpine activities.
In Lauterbrunnen, there are many stunning landscapes like the waterfall below.
14. Stoos is one of the top places in Switzerland
Trying to figure out where to visit in Switzerland? The Switzerland scenery in Stoos will leave you in awe.
This car-free village in the mountains is one of the best places to go in Switzerland, hands down. It's best known for its steep funicular and gorgeous ridge trail with views of Lake Lucerne.
For amazing hiking, skiing, and sightseeing, it doesn't get any better than Stoos. It's truly a top destination not only in the Swiss canton of Schwyz, but also in the country as a whole. It's easy to ground yourself in a gorgeous nature area like this one!
15. Geneva
Nestled on the shores of Lake Geneva, also known as Lac Léman, Geneva is a must-see destination in the French-speaking part of Switzerland. It's one of the most beautiful cities in Switzerland, and a place that you should consider visiting in 2022.
Geneva probably has the most international name recognition of any city in Switzerland. The city serves as the headquarters for many international organizations like the International Red Cross and the European headquarters for the United Nations, among many others. It's also a hub for diplomacy and banking.
The highlights of any visit to Geneva include strolling around its Old Town and beautiful lake. A boat cruise—which allows you to see both— is a must when the weather permits. To get from one side of the city to the other, you can take a water taxi across the lake, which gives you an up-close glimpse of Jet d'Eau, a water fountain that shoots up to 459 feet (140 meters) into the air.
There are more than 40 museums in Geneva, most notably the International Museum of the Red Cross, Patek Philippe Museum, and Musée d'ethnographie de Genève (MEG).
Geneva is also known for its high-end watches. Did you know that the city is also famous for its flower clock? It's made from 6,500 flowers and shrubs:
Day trips near Geneva
Aside from the attractions inside the city, there are many popular day trips nearby. My favorite spot is Annecy, France, a short bus ride away across the border. Known as the Venice of the Alps, Annecy is one of my favorite places in Europe. I decided to spend a night here rather than just doing a day trip.
Another sought-after day trip is Mont Salève, which is called the "Balcony of Geneva." You can take a téléphérique—or cable car— to the top with incredible views of the Geneva area. Another mountain worth noting is Mont Blanc (15,780 ft. / 4810 m elevation), the tallest mountain in the European Union, just a short distance away.
Rain or shine, Geneva is chock-full of unique attractions that offer a taste of its rich culture, history, food, and shopping scene.
16. Lausanne
Lausanne is a city on the Swiss Riviera that you should add to your Switzerland wish list.
Located near the crossroads of the French and Swiss Alps, Lausanne is filled with cathedrals, castles, and stunning scenery. Explore the Renaissance and Baroque architecture in the Old Town, and walk around the scenic waterfront area on Lake Geneva, where you'll be inspired just like many famous writers over the centuries. Lausanne is perched atop three hills, each looking out on the lake and French-speaking region below.
Though Lausanne is the fourth largest city in Switzerland, it feels like a hidden gem. If you're looking for a beautiful and off-the-beaten-path place to visit in Switzerland, this is it!
17. Thun – the best place to go in Switzerland for lake views
Last, but certainly not least on my list of the most beautiful places in Switzerland is a quaint town called Thun (pronounced "toon").
Resembling a fairytale village, Thun enchants travelers with its medieval flair and beautiful scenery. The idyllic alpine setting emits a feeling of tranquility and charm that is so prevalent in Switzerland.
One of the most iconic sights in Thun is the Thun Castle, a turreted 12th-century fortress. This castle turned tourist attraction gloriously watches over the sleepy alpine village below.
Situated between Bern and Interlaken, Thun presents the perfect day-trip opportunity or weekend getaway that will leave you in awe. Nothing says Beautiful Switzerland like a visit to Thun!
Beautiful places in Switzerland to visit in 2022
I hope you enjoyed my list of the most beautiful places in Switzerland! I hope it provides you with some interesting itinerary ideas for your next trip.
Are there any other beautiful places in Switzerland that I should add? Leave a comment below, and I'll look out for them next time!
Source https://globalgrasshopper.com/destinations/europe/10-beautiful-places-visit-switzerland/
Source https://www.wanderluststorytellers.com/most-beautiful-places-in-switzerland/
Source https://www.myglobalviewpoint.com/most-beautiful-places-in-switzerland/