24 Best Places to Visit During Christmas in the USA
This post contains affiliate links, which means that we may receive a commission if you make a purchase using these links.
Are you looking for the best places to visit during Christmas in the USA?
If yes, you're in the right place because this article will highlight some of the best places to experience a fun Christmas in the USA.
Many people struggle to find the right destination to visit during Christmas that provides fun activities they will enjoy.
That's why in this article, we put together some of the best Christmas towns in the USA that are perfect for celebrating the holidays.
Whether you're exploring these places on your own, with your partner or family, we know you will find your Christmas trip to any of these destinations worth every minute.
24 Best Places to Visit During Christmas in the USA
Ready to experience places full of holiday cheer? Below are some of the best places to visit during Christmas in the USA.
1. New York, New York
New York is easily one of the best places to visit during Christmas in the USA. This city offers a magical experience!
You can see light displays and decorated Christmas trees almost everywhere in the city.
Start your December vacation in the US by touring Midtown Manhattan and visiting Rockefeller Center, which features a large tree (one of the biggest in the world) topped with a Swarovski crystal star.
Another popular activity in NYC during Christmas is going ice skating under the view of the iconic skyscrapers.
Go for a walk in Central Park, which looks like a winter wonderland when it is covered in snow. And for holiday lights, head over to Dyker Heights, where the houses come straight out of a Hallmark movie!
New York is also one of the best places to go at Christmas for gift shopping, so stop by at the holiday markets like Union Square and Bryant Park Holiday Village.
If you end up at Bryant Park, don't miss the taste of their hot chocolate for anything.
In short, NYC is a magical place to visit during Christmas time!
Where to Stay in New York
Click here to find accommodation in New York.
2. Asheville, North Carolina
Asheville is one of the best places to visit during Christmas in the USA
From the holiday shopping offers to the holiday displays, art deco architecture, and exotic restaurants, one could argue that Asheville is one of the best places to visit during Christmas in the USA.
If you are here for Christmas, don't miss the Biltmore Estate, the largest privately-owned home in the US.
The estate is always decked out in Christmas décor and features about 55 hand-decorated trees and 7,500 feet of fresh garland.
You can also explore Asheville by checking out the national gingerbread house competition or the Winter Lights at the North Carolina Arboretum.
People celebrate Christmas by going through art galleries, taking a ride on the Holly Jolly Christmas Trolley, and trying out beers at the mini-breweries.
Asheville has a mild temperature of about 30 o F to 50 o F so snowing is quite likely.
Where to Stay in Asheville
Click here to find accommodation in Asheville.
3. Bethlehem, Pennsylvania
Looking for a place to enjoy a splendid Christmas vacation in the USA? Add Bethlehem to your list!
For a place known as Christmas City, you should expect nothing short of amazing in Bethlehem. This Pennsylvania town sits about one hour away from New York City and is one of the best Christmas towns in the USA.
Christmas lovers will have the time of their lives at the Hotel Bethlehem, where over 35,000 lights are displayed during the Christmas season.
The Christmas markets are another major highlight in Bethlehem. One of the most popular markets is the Christmas Village, where merchants display European fares and other handmade crafts.
A short mile downtown, you'd find the Christkindlmarkt, a German-styled market where you can shop, listen to live music, and enjoy magical demonstrations.
Where to Stay in Bethlehem
Click here to find accommodation in Bethlehem.
4. Charleston, South Carolina
Charleston is one of the most popular cities for Christmas vacation in the USA, especially on the east coast.
The city is magnificent during Christmas, and you will find historic homes wrapped in splendid decorations.
Charleston also hosts festive events, parades, plays, and concerts perfect for everyone, including kids, couples, and families.
While you are here, walk downtown to see the gorgeous Christmas decorations and visit the Citadel to see the bulldog monument in a Christmas outfit.
Also, drive around the Magnolia Plantation to see the beautiful plantation houses and gardens and to learn about its slavery past too.
Where to Stay in Charleston
Click here to find accommodation in Charleston.
5. Newport Beach, California
There is no snow in Newport Beach, but Christmas is magical nonetheless.
Newport Beach hosts a Christmas Boat Parade that gets everybody's spirits up with the happy crowd, fireworks, and over one million lights on the participating boats.
Take a walk down Balboa Island, where you'll see houses decorated for the holiday season. You can also shop at Fashion Island to shop for all the gifts on your Christmas list.
The Fashion island, although not literally an island, features over 160 boutiques, beauty spas, and restaurants.
Many hotels and resorts are conveniently located around Newport, so you do not have to worry about where to stay.
Where to Stay in Newport Beach
Click here to find accommodation in Newport Beach.
6. Whitefish, Montana
Christmas celebrations start in Whitefish as early as the first Friday in December with the Whitefish Christmas Stroll.
There's a lot of singing, bell ringing, and activities that ignite the Christmas feelings during this special event.
As a wonderful mountain town, Whitefish has a lot of snow during the winter months, so you will be getting a white Christmas; snow, Santa's, and fairy lights.
From the streets, you will see the snow falling on the slopes of the Big Mountains; a perfect location for skiing.
On Christmas Eve, there's a Torchlight Parade at Whitefish Mountain Resort, where the crowd welcomes Santa Claus while their torchlights come together to make everything sparkle.
Where to Stay in Whitefish
Click here to find accommodation in Whitefish.
7. Chicago, Illinois
Chicago is very enchanting during Christmas, it features lots of special events, and every restaurant and venue has something planned for the holiday season.
Christmas kicks off right before Thanksgiving in Chicago with the Annual Lights Festival that features parades and musical performances at Lincoln Park Zoo.
The Museum of Science and Industry also hosts an event (Christmas Around The World) where about 60 trees showcase how other cultures celebrate the holidays.
Other popular activities include ice skating at Millennium Park, attending Winter Wonderfest at Navy Pier, and visiting Christkindlmarket, a large outdoor German Christmas market filled with every kind of gift and souvenirs you can think of.
Chicago gets quite cold during the winter season, so the chances of snowfall are high – so be sure to pack your warm jackets for this Christmas trip.
Where to Stay in Chicago
Click here to find accommodation in Chicago.
8. Park City, Utah
Park City is very close to the airport, so that means you can start enjoying the activities as soon as you get off the plane.
Nestled in the mountains, there are a lot of Christmas events in Park City, including the Christmas Eve Torchlight Parade, where skiers come down the mountain to lead Santa into town after his trip from the North Pole.
For shopping, Park City's Main Street is people's favorite, and here, you'll find a variety of shops and boutiques.
You could take in the view of the stunning streets, attend Snowfest, hit the slope, and watch out for Santa, who spends the day skiing the hill down the PayDay trail on Christmas Eve.
Where to Stay in Park City
Click here to find accommodation in Park City.
9. Milwaukee, Wisconsin
If you are coming to Wisconsin, then get prepared for the cold temperature. Pack your warm jackets, sweaters, and gloves for this holiday getaway.
While you are here, enjoy the beautiful winter lights by taking a walk around the city at nightfall, try to watch the classical Nutcracker ballet by the Milwaukee Ballet, and visit the Christkindlmarkt, a German-style market where you can shop for anything.
Other popular activities here include shopping in the Mayfair Mall and touring the Milwaukee Winter Farmers Market where you will find fresh local food and delicious homemade dishes.
And if you don't mind less-Christmassy activities, we recommend visiting the museums like the Milwaukee Art Museum or taking a tour around some of their famous breweries like the Miller Brewing Company.
Where to Stay in Milwaukee
Click here to find accommodation in Milwaukee.
10. Charlotte, North Carolina
There are so many things to do during Christmas in Charlotte and one of our favorites is ice skating at the Whitewater Center.
If you're into shopping, don't miss the massive Southern Christmas show, featuring over 450 merchants selling different kinds of goods and decor.
You can also shop at the 2019 Vintage Charlotte Winter Market or experience the German Christmas market at OMB.
There are also some jaw-dropping displays, especially the Panthers Tree Lighting which features music, performances, and a special appearance from Santa.
Other activities to enjoy here include riding through Sherwood Forest Drive in Olde Providence South or seeing the classical performances of the Trans-Siberian Orchestra.
These fantastic holiday events make Charlotte one of the best places to visit during Christmas in the USA.
Where to Stay in Charlotte
Click here to find accommodation in Charlotte.
11. Key West, Florida
Looking for someplace new and unique for Christmas celebrations? Try experiencing your US Christmas getaway at Key West.
The temperature in Key West warms up to 76°F in December, and the weather is perfect for swimming and diving. In fact, this place is one of the best warm winter vacations in the US.
At Key West, you will be trading the frosty snow weather with warm water and the traditional Christmas Tree with decorated palm trees.
One must-see that should be part of anyone's experience during Christmas is the Lighted Boat Parade held every year at Schooner Wharf Bar & Galley.
You can also take a trip to Holiday Historic Inn Your, head to the Key West Bight where you'll find 100 boats seeded with holiday lights, and don't miss the Florida Seafood along Duval street.
Where to Stay in Key West
Click here to find accommodation in Key West.
12. Williamsburg, Virginia
James Kirkikis / Shutterstock.com
Williamsburg is a historic city, and so is Christmas vacation here.
This historic center is always decorated for the holiday season, and there are so many special Christmas events, including the Grand Illumination, that is held on the first Sunday of December.
There are also a lot of holiday concerts and presentations all around the city making Williamsburg one of the best places to visit during Christmas in the USA.
During Christmas, visit Jamestown to celebrate the colonists, check out the Christmas markets, and have cookies with Santa.
Also, the Busch Gardens Christmas Town is a must-see during your getaway at Christmas especially if you are here with kids.
Where to Stay in Williamsburg
Click here to find accommodation in Williamsburg.
13. San Francisco, California
San Francisco knows how to put on a show during Christmas, so it's no surprise it's one of the best places to visit during Christmas in the USA.
There are lights, food, festivals, markets, just name it. If you are in San Francisco for Christmas, start by waking the neighborhoods to explore their cultural food, lighting and participate in their fun holiday celebrations.
Also, enjoy the Chinese Christmas shows in Chinatown and explore the gingerbread houses on displays in the hotels.
People love visiting the bakery in Little Italy for the traditional Italian Christmas cookies, attending the Christan Dickens fair, and the Italian Christmas market.
You will come across plenty of gift ideas and souvenirs so get ready to have your shopping bags full.
Where to Stay in San Francisco
Click here to find accommodation in San Francisco.
14. Leavenworth, Washington
Mark A Lee / Shutterstock.com
Best place to spend Christmas in the USA? Leavenworth, a magical white Christmas destination!
While Leavenworth is a small city, its Christmas charm draws many, many people to experience the holiday season here.
Leavenworth is decorated with lights all around and about 20,000 people come to see the lighting ceremonies that happen every weekend during the first three weeks of December.
You can go to the Town Square to see the Christmas tree, drink mulled wine, hot cocoa, and savor the splendid decorations.
Whatever you do, be sure not to miss the Nutcracker Museum and Hat Shop.
The average temperature is 34 o F, so be dressed appropriately for this Christmas getaway. In case there is snow, take a sleigh ride through the evergreen trees, and don't forget to make a reservation ahead of time.
In short, Leavenworth is one of the best Christmas vacations for families in America!
Where to Stay in Leavenworth
Click here to find accommodation in Leavenworth.
15. Washington DC
Washington DC is one of the best places to visit during Christmas in the USA
Monuments and museums aren't the only things to see in the capital. During your Christmas vacation in Washington, expect to see over-the-top decorations, mind-blowing performances, and unique food and drinks.
There are two breathtaking Christmas trees here, the National Christmas Tree and the tree inside the Library of Congress.
Both are spectacular and the former gets nationwide TV coverage. If you can, try and visit the Downtown Holiday Market to shop for unique souvenirs or take one of the National Catedral's Christmas Concerts.
There are also a lot of bars and restaurants to excite your taste buds in Washington DC, so it's a place worth visiting.
Where to Stay in Washington DC
Click here to find accommodation in Washington DC.
16. Oklahoma City, Oklahoma
There are a lot of activities that go on in Oklahoma City, especially during the holidays. If you want beautiful Christmas lights, check out Downtown in December, one of the most popular festivals in Oklahoma.
The event features fun outdoor activities like snow tubing, ice skating, and a tree lighting ceremony.
If you love art and films, then you'd love the Nutcracker performance at the Civic Center Music Hall.
And if you stay till New Year, don't miss the most popular New Year's Eve party, the Bricktown's Opening Night Festival.
Where to Stay in Oklahoma
Click here to find accommodation in Oklahoma.
17. Carmel by the Sea, California
randy andy / Shutterstock.com
Wine lovers, this is the perfect place for dozens of wine tastings.
When you are here, stop at any of the wine spots for wine tasting, experience the beach sunsets, and enjoy the lights at the Holiday Tree Lighting.
One of the best places to visit in Carmel by the Sea is the Carmel Plaza which hosts regular small concerts and offers lots of shops and restaurants.
There is also the annual lighting event at Devendorf Park which features a performance of The Nutcracker. Also, the owners of Hofsas house serve cookies and apple cider every evening throughout the holidays.
These unique events make Camel by the Sea one of the best places to visit during Christmas in the USA.
Where to Stay in Carmel by the Sea
Click here to find accommodation in Carmel by the Sea.
18. Oahu, Hawaii
One of the best places for Christmas vacation in the USA is Oahu, Hawaii. If you want to enjoy tropical Christmas with traditional Christmas themes, and low humid weather, then here is the right place.
Here, you won't find snow. Instead, you'll find beaches with breezy weather ranging from 77 o F and 81 o F.
The best place to start your Christmas family vacation here is the Dole pineapple plantation, a popular spot for pineapple ice cream.
From here, visit the surfing village of Haleiwa, where you'll find little shops and the famous Haleiwa's Joe's lunch spot.
Also, enjoy the firework displays at the Hilton resort and if you're staying till New Year, check out the Eve event at Aloha Tower or the upscale Night Circus Party at the Sheraton Waikiki.
Where to Stay in Oahu
Click here to find accommodation in Oahu.
19. Jackson Hole, Wyoming
Not sure where to go for Christmas? Well, Jackson Hole is a real Christmas wonderland. There are a lot of winter activities here; skiing, sleigh rides, and snow play.
There are about three ski areas in this town and they all have incredible scenery. Asides from spending time on the slopes, you can also watch shows and concerts.
Santa also always makes an appearance at the Townsquare starting from the 15th of December to Christmas Eve, so if you are here with kids, it'd be fun to take them there.
The Jackson Town Square is also adorned with elk antlers and visitors often take a horse-drawn sleigh ride to see these magnificent creatures.
Where to Stay in Jackson Hole
Click here to find accommodation in Jackson Hole.
20. Rocky Mountain National Park, Colorado
The spectacular mountain scenery in the Rocky Mountain National Park is enough reason to visit this city during Christmas.
Visitors love to ski, snowboard at one of the dozens of ski resort spots, and snowshoe under the trees.
On Christmas' week, park rangers organize many activities, such as walks under the moonlight, storytelling, learn about the wildlife, and even movie sessions.
But that's not all. There are many other activities to enjoy in the Rocky Mountain if you aren't interested in the mountains.
You could take a dip in a hot spring, catch a Christmas parade at Estes Park, or enjoy a Colorado winter hike.
And if you are in for the lights, exploring the lights at the Mile High City will do the magic.
Where to Stay near Rocky Mountain
Click here to find accommodation near Rocky Mountain.
21. Boston, Massachusetts
Boston is one of the best Christmas destinations in the USA
We aren't kidding. The best place to have your Christmas vacation in the USA is Boston!
Whether you're in Boston for the snowy landscape, the holiday shows, or the winter markets, you'd enjoy Christmas in Boston.
Residents and visitors enjoy Christmas through various activities like Holiday Cruises at the Boston Harbor, ice skating or skiing at City Hall Plaza, and watching the 50,000 lights at Christopher Columbus Waterfront Park.
Quincy Markets is also a popular spot in the city, with giant trees wrapped with Christmas lights and live music for everyone.
Remember that December in Boston is cold, so bring along your sweaters, coats, boots, and gloves on this Christmas trip.
Where to Stay in Boston
Click here to find accommodation in Boston.
22. San Antonio, Texas
Looking for a festive place to visit for the Christmas season? You'll love Alamo City!
There are many enjoyable things to do during Christmas in San Antonio; the holiday-themed events, the food, and the Riverwalk bridges decked with a million twinkling lights.
San Antonio has a rich Spanish colonial heritage, and you'd find this reflected in their famous museums and beautiful Riverwalk.
On top of that, the Riverwalk trees and bridges are decorated with a lot of lights and there is nothing more enjoyable than taking a stroll along its beautiful landscape.
Restaurants at the Riverwalk offer great Mexican food, so get ready to indulge your taste buds.
Kids can enjoy the holiday train, visit theme parks like Seaworld San Antonio or tour the San Antonio Zoo.
Where to Stay in San Antonio
23. Los Angeles, California
Arthur Cauty / Shutterstock.com
The best Christmas getaway in California is definitely Los Angeles. The weather is very warm, making it perfect for visiting the beach, and Santa Monica and Venice have very nice beaches in California.
For some festive experience, check out the Christmas decorations around the city like the Third Street Promenade in Santa Monica, or the LA Zoo Lights which feature beautiful animal-themed displays.
On Venice Beach, there is a competition every Christmas for the best-decorated house, and everyone loves to outdo one another with beautiful decorations.
If you love holiday music, there is a Christmas concert at the Walt Disney Concert Hall, or visit the Universal Studios for beautiful decorations and fun Christmas-themed snacks.
All in all, LA is one of the coolest places to visit for Christmas in the United States!
Where to Stay in Los Angeles
Click here to find accommodation in Los Angeles.
24. McAdenville, North Carolina
Known as Christmas Town USA, McAdenville becomes a winter wonderland every December.
McAdenville has fewer than 600 residents and is a suburb of Charlotte. Still, since the 1950s, the entire town has put on a Christmas show with impressive holiday displays and over 200 evergreen trees with a half-million dazzling lights.
On top of that, more than 160 houses are elaborately decked out in various Christmas decor. The town also holds an incredible annual Tree Lighting as well as a traditional Yule Log Parade and Ceremony.
Good to know: McAdenville only has three entrances when the lights are on, so check their website for more details.
Where to Stay near McAdenville
Click here to find hotels near McAdenville.
Wrapping Up on the Best Places to Visit During Christmas in the USA
When you spend your Christmas away from home, you want to make sure it's perfect, that it's worth it and has all the enjoyable activities you won't forget.
These Christmas destinations above are some of the best places to visit during Christmas in the USA for a fun, happy holiday. Besides, all these pleasant places are sure to get you in the holiday spirit!
So pack your bags and get ready for an unforgettable holiday season! We hope you have a wonderful time! Merry Christmas!
Did you like this article about USA Christmas trips? Then share it on your social media!
Top 20 Places to Celebrate Christmas in the World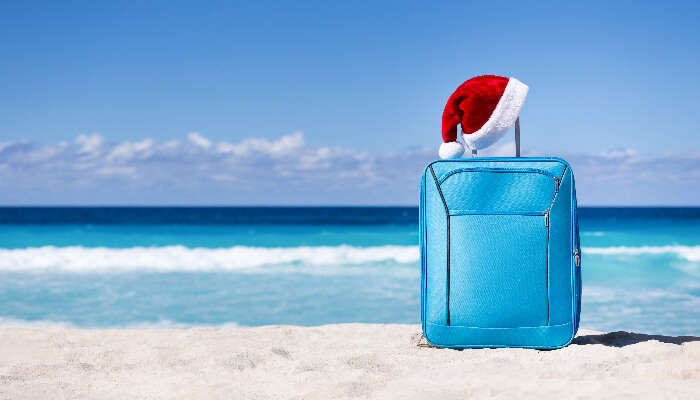 A distinct festival rooted in the tunes of carolers and European traditions, the Christmas season which is also dubbed as the most wonderful time of the year is just around the corner. From the ultimate winter wonderland experience in the Himalayan highlands to making your way to the New York Times Square for the big celebrations, December holidays are the perfect embodiment of the festive spirit.
Whether you are planning to travel domestically—staying as close to home as possible, or planning to enjoy the merriment of the occasion with a safe trip abroad, here's our top 20 places to celebrate Christmas in the world.
20 Popular Places to Celebrate Christmas in the World
From sparkling castles to vibrant escapades, the following are the best places in the world to celebrate Christmas:
1. Bethlehem, West Bank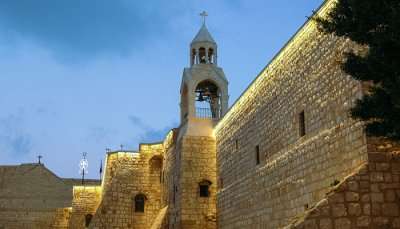 Bethlehem, a cultural homeland and the biblical birthplace of Jesus is an iconic destination nestled south of Jerusalem. Glancing the celebrations at Manger Square and capturing the impeccable sights of the Old City during the time of Christmas is truly an experience of a lifetime. The festivities at St. Catherine Church, including the midnight mass, attracts travellers from across the globe to witness the massive celebrations of the birth of Christ.
2. New York City, USA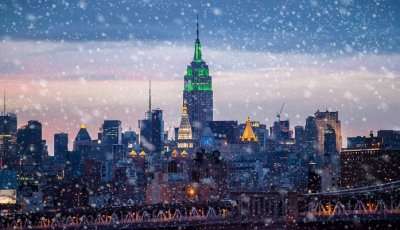 New York City is known for its vibrant Christmas lights, featuring musical ambience and dust of snow covering the region. Being one of the best places to celebrate Christmas in the world, the city hosts numerous events and live performances where one can witness world-class artists. The charm of the tallest Christmas tree at the Rockefeller Center is unmatchable, and wandering across the local streets, checking out the exclusive flea markets installed during the festival are amongst the most popular things to indulge in.
3. Lapland, Finland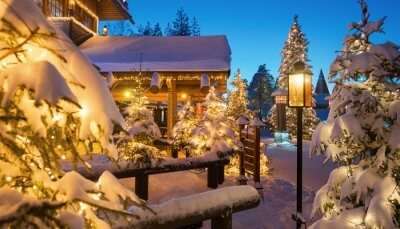 The city features exquisite scenes of Christmas where you can see a joyful local in his red and white attire traversing through the streets with his reindeer sleigh. He is the most admired resident in the city, and one can witness him recreating Christmas Day for everyone. Santa Park, located in the city centre, is a fun place that hosts various activities, especially for kids.
4. The Vatican, Italy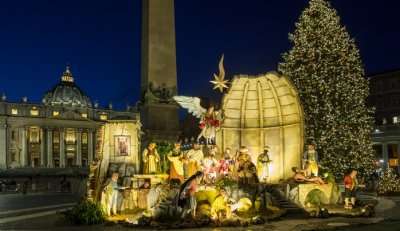 The Vatican City is the place that remains charming throughout the year, and when it comes to celebrations, the experience is beyond words. During this time, pilgrims visit Vatican City to attend the Midnight Mass at St Peter's Basilica. Many observe it as a day of remembrance and cherish being part of this celebration. The Vatican Christmas Tree placed in Saint Peter's Square is a popular site to visit during this time.
5. Bondi Beach, Australia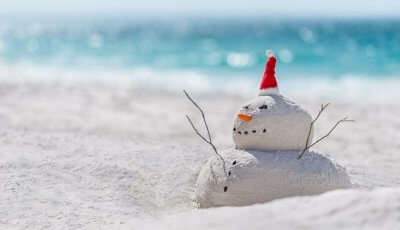 It is an ideal place for adventure freaks to plan their Christmas vacay. Being a hub of backpackers, Bondi Beach features incredible celebrations full of colourful people around. You can expect electrifying bands and DJs performances. If you wish to have a vacation beyond sparkling lights and melodious carols, then Bondi Beach might be a perfect place for you!
6. Munich, Germany
Munich is known for its enticing winters, and when it comes to Christmas celebrations, the place remains the best to sneak peek at the pious beliefs and customs. Walking down the glittering streets to reach the 100-foot tall Christmas tree placed at Marienplatz gives you a chance to be a part of the festivity. You can check out collections at the dozens of Christmas markets installed across the streets. The trams that connect the old city serve delicious mulled wine and gingerbread during this time. Savour the delicacies if you wish to check out the authentic taste that has remained unchanged for decades. The city hosts live holiday music at the town hall, where you can glance at the festivity.
7. Amsterdam, Netherlands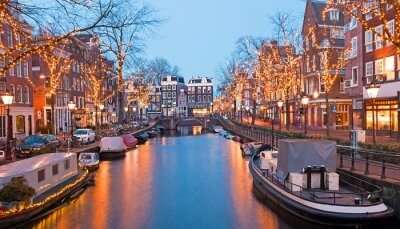 Amsterdam is another best place to celebrate Christmas in the world. Here, the sagas of Santa Claus are melodiously versed, and locals celebrate the festival in their traditional ways. The city observes the rituals introduced almost 400 years ago, and the neighborhood gets sparkled with synchronized lighting. Christmas celebrations here are extended until New Year's Eve when you can witness electrifying fireworks at Dam Square. The Dutch capital features Christmas celebrations with enormous trees of the city twinkling in festive colors.
8. Dublin, Ireland
Dublin is an ideal place to plan your Christmas vacation as the experiences purveyed by the city are truly enchanting. Dublin hosts numerous festival markets, workshops, and exhibitions, where travelers can have a good time with their loved ones. The 12-days exclusive Christmas Market at Docklands is the best place to catch the festival vibe. The streets of the city glitter throughout December, where one can attend workshops and live acts by Elves. The colorful vistas of Dublin promise a holiday that will remain in your memory for a lifetime.
9. Prague, Czech Republic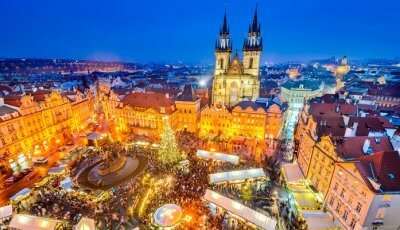 Christmas markets in Prague are the iconic places to check out the festival magic of the Czech Republic. Lightened up with thousands of twinkles, this spectacular 'heart of Europe' turns into a 'winter wonderland' during Christmas. Ornate wooden huts beside the streets serve authentic Christmas meals that add spellbinding flavors to the celebrations. Prague is undoubtedly one of the best places to celebrate Christmas in the world, and you get a chance to explore the historic site of Mala Strana and capture the vistas of Gothic architecture. You can attend an opera performance or be part of the live events hosted at the city square.
10. Zurich, Switzerland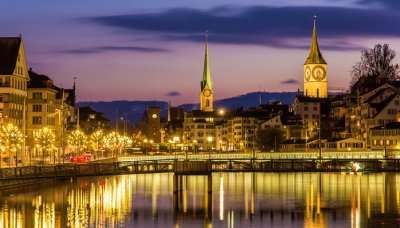 Zurich is known for its chocolates, cobbled streets, snowy mountains, and Christmas celebrations. Travelers from across the world visit Zurich throughout the year, and the city welcomes visitors warm-heartedly. However, Christmas brings in a spree of excitement, and grand exhibitions and shows are organized that allure art lovers and designers from near and far. You can also go on a guided Christmas walk that takes you to the singing Christmas trees. Visiting the Christmas village at Sechseläutenplatz near Bellevue and attending local celebrations can be added to your plan if you wish to interact with locals. The Christmas markets in Zurich offer plenty of local delicacies including punch, mulled wine, raclette, etc.
11. Valkenburg, Netherlands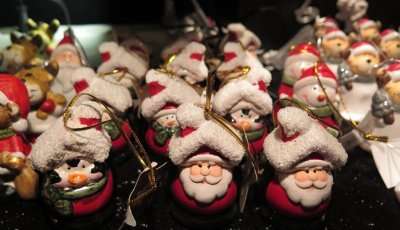 The Christmas celebrations at Valkenburg are famous among globetrotters. Those interested in witnessing the iconic castle ruins that turn majestical during Christmas plan their expeditions here and unravel the hidden escapades of Valkenburg with an ardent spark of festivity. The rustic medieval streets get illuminated with dazzling lights and light music. The exotic caves of MergelRijk that feature old-world charm get enchanted with nativity scenes. Shopping from Christmas markets that offer authentic Polish handicrafts is a popular thing to indulge in here during the festival. Home to an enormous and oldest Christmas Market, Valkenburg is a paradise for shopaholics who wish to kick-start their new year in style.
12. Vienna, Austria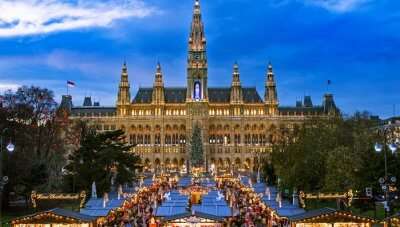 Vienna hosts one of the best Christmas celebrations in the world with a picture-perfect snowy backdrop. A Christmas trip to Vienna evolves around colourful sights, mystic sounds, authentic recipes, and cultural interactions. If you wish to have a vintage-style Christmas celebration, then you can plan a trip to Vienna. The essence of Mulled Wine in the environs, majestic imperial architecture glistening up with soothing lights, and classical melodies retreating your ears are some unique experiences that make Vienna a popular place to spend Christmas week with your mates.
13. Copenhagen, Denmark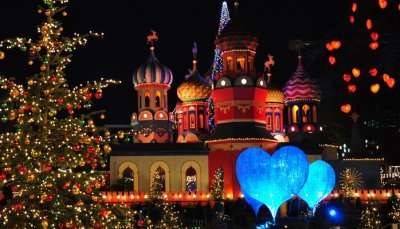 The Christmas vibe in Copenhagen is related to the concept of hygge, which is the feeling of contentment or well-being. The locals believe in staying around good company and spend time with family and friends during Christmas. Every family indulges in Christmas shopping which sums up with a warm cup of glogg. The Tivoli Garden, which is the heart of the city, features the ultimate setting during this time with around a million sparkles and innumerable Christmas trees. Restaurants host culinary fiestas, giving you a perfect chance to savour the authentic flavours of the region.
14. Riga, Latvia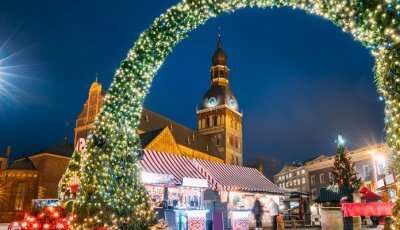 Riga, the largest city of the Baltic states, features an enormous variety of traditional, stylish, and innovative Christmas trees. The magnificent architecture with splendid festival decorations, synchronized markets setting, live music scenes, and mega feasts makes Riga one of the best places to celebrate Christmas in the world. The city also organizes numerous events for kids, and one can enjoy taking pony rides and a horse-drawn carriage. Christmas in Riga is the perfect time to enjoy local delicacies and check out handmade items such as woolen socks, wooden candlesticks, and woven mittens.
15. Berlin, Germany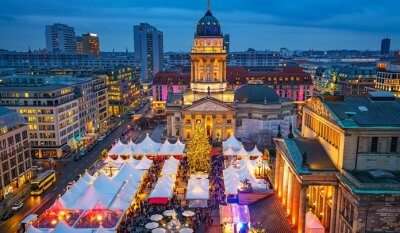 Berlin, the capital city of Germany, is known for its spellbinding Christmas scenes. One can attend classical Christmas concerts, and various theatre artists recreate Christmas stories with an amalgamation of local beliefs and customs. The city hosts over 50 exclusive markets during the time of Christmas. Indulging in historical rides is a perfect thing to catch the festival vibe.
16. London, England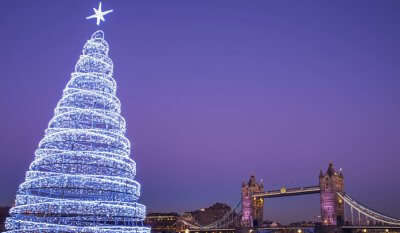 Christmas in London is such an experience that features almost everything that makes your holiday memorable. From stunning Christmas markets to serene mass prayers, ice-skating rinks, to enthralling live events, the encounters of London are one of its kinds. Strolling through the charming Oxford Street with glittering lights showering festivity is admirable. The exclusive Christmas markets in London give you a gorgeous window to check out products from high-end fashion boutiques, local bookshops, and more. ZSL London Zoo, Royal Albert Hall, WWT London Wetland Centre, and Rainforest Café are the prime places to visit in London during Christmas.
17. Edinburgh, Scotland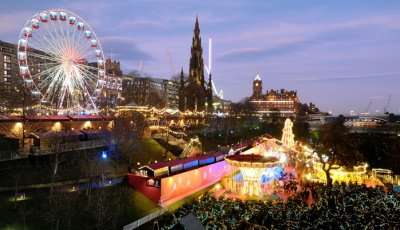 The festivity begins in Edinburgh with the commencement of December. One can indulge in browsing through the traditional Christmas markets and attend local celebration ceremonies hosted across the city. Amusement rides such as Star Flyer purveys the best idea of capturing the festival vibe of Edinburgh. Christmas afternoon teas with locals followed by attending a performance at the majestic theatres on Christmas eve is an exquisite experience that winds the sense of culture and customs. You can relish local recipes while glancing at the skies lighten up by electrifying fireworks. Edinburgh celebrates Christmas in its unique style that lures travelers from across the world.
18. Tallinn, Estonia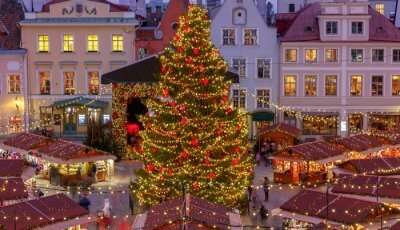 The Christmas celebrations in Tallinn can be traced back to 1441. If you wish to encounter the unparalleled mystics of Christmas, then you can plan to unravel the traditional setups of historical markets dusted with fresh snow. Tallinn gets covered under a blanket of snow during the time of Christmas. The lightened lanterns glorify the cobblestone streets that lead to the vibrant celebrations full of contentment and togetherness. The first Christmas tree of the world was established here in the city in the year 1441. The tree still stands in Town Hall Square as the legendary tree.
19. Strasbourg, France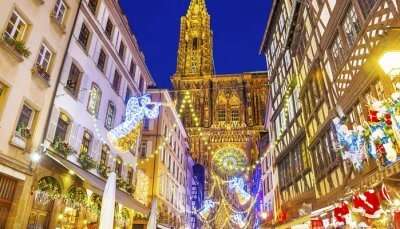 Strasbourg is home to themed Christmas villages that turn into a fairytale location during the time of Christmas. Events such as live concerts, theatres, exhibitions, storytelling, etc., are organized during this time across the city. Hosting the oldest Christmas market in France, Strasbourg is an ideal place to understand European culture. You can walk around the streets with your significant other and taste local delicacies served exclusively during Christmas to catch the festival spirit.
20. Hong Kong, China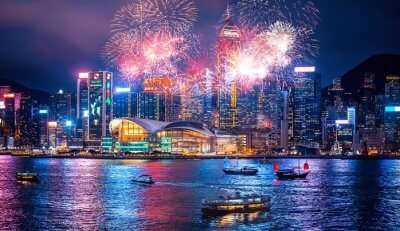 Hong Kong is amongst the best places in Asia to celebrate Christmas. Sparkling skyscrapers, glittering shores, and dazzling Christmas markets featuring musical ambiance all around the city make Hong Kong city one of the best places to celebrate Christmas in the world. Disneyland, Hong Kong Ballet, Hong Kong Philharmonic, WinterFest, and the Grand Symphony hosts grand Christmas celebrations.
So, where are you planning to go on your Christmas trip? Don't forget to consider the above-mentioned best places to celebrate Christmas in the world before planning your future tour. Check out the best international holidays with TravelTriangle and enjoy the festival like never before. You can also get your itinerary customized by mentioning your preferences.
For our editorial codes of conduct and copyright disclaimer, please click here.
Frequently Asked Questions About Places to Celebrate Christmas In The World
Is it safe to travel during Covid times?
You need to follow all the mandatory travel guidelines prescribed by the respective authorities to ensure a safe travel experience. Remain masked at public places and maintain social distancing. It is advised to sanitize your hands after touching surfaces and carry disinfectant sprays. Check the official website of the place you are visiting and don't forget to carry your negative RT-PCR report as you may have to produce it at various entry and exit points.
What are the best places to visit in the world during Christmas?
Bethlehem, New York, Tallinn, London, Hong Kong, etc. are known for hosting some of the best Christmas celebrations. However, it depends upon you what you want to explore on your Christmas holiday. Whether a vintage style celebration with an orthodox vibe or electrifying city fiestas is in your mind!
Where is the oldest Christmas tree?
The first Christmas tree of the world was established in the city of Tallinn in the year 1441. The tree still stands in Town Hall Square as the legendary tree.
What are the best places to celebrate Christmas in India?
Goa, Pondicherry, Shillong, Kerala, Mumbai, Bangalore, etc. are known for amazing Christmas celebrations in India. You can also attend exclusive events hosted across the country which includes mass prayers, live band performances, DJ parties, and more.
The 18 best places to go for Christmas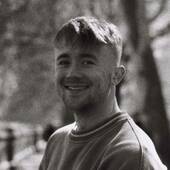 There's visiting a place – and then there's visiting it at Christmas. The most magical time of the year has a habit of transforming destinations around the world in spectacular ways: cities get decked out in dazzling decorations, streets teem with local traditions and squares are taken over by pop-up festive markets dishing out stocking fillers and seasonal treats.
That said, some destinations are great to visit at Christmas for precisely the opposite reason: because you might not even realise it's Christmas at all. Who hasn't sometimes wanted to forget the holiday exists, head somewhere that Christmas isn't a thing, and come home when the madness is over?
And so, when considering the best destinations to visit at Christmas, we haven't just included places with quirky traditions or unmissable festive vibes. We've also included some Scrooge-appropriate destinations where you can swerve the festivities entirely.
Dive into our festive travel hit list below and you're guaranteed to find somewhere great to spend the season – whether you're embracing or escaping those twinkly Christmas vibes.
RECOMMENDED:
An email you'll actually love
Get into a relationship with our newsletter. Discover the best of the city, first.
By entering your email address you agree to our Terms of Use and Privacy Policy and consent to receive emails from Time Out about news, events, offers and partner promotions.
Awesome, you're subscribed!
Thanks for subscribing! Look out for your first newsletter in your inbox soon!
The best places to go for Christmas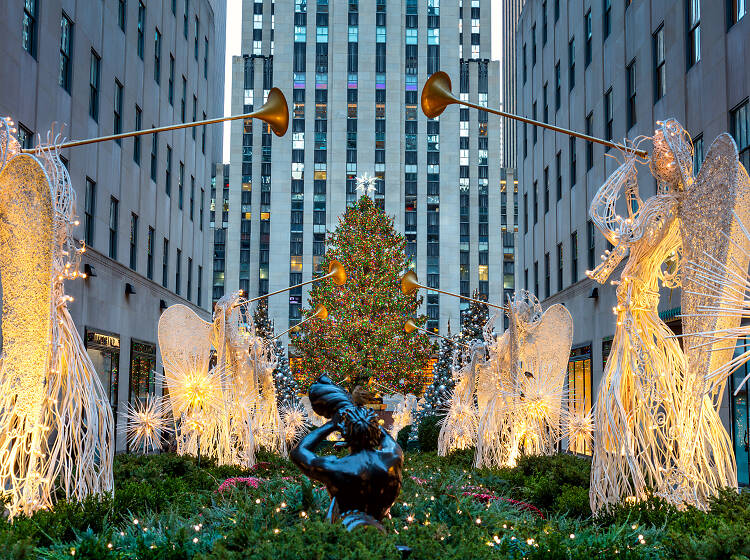 New York City, USA
Good for: shopaholics
From the dreamy romance of ice skating at the Rockefeller to Broadway's dazzling festive shows, there are plenty of reasons why the Big Apple has such a rep at Christmastime. NYC is a classic festive choice and, with its selection of department stores, markets and bazaars, there remains nowhere quite like it when it comes to shopping, either.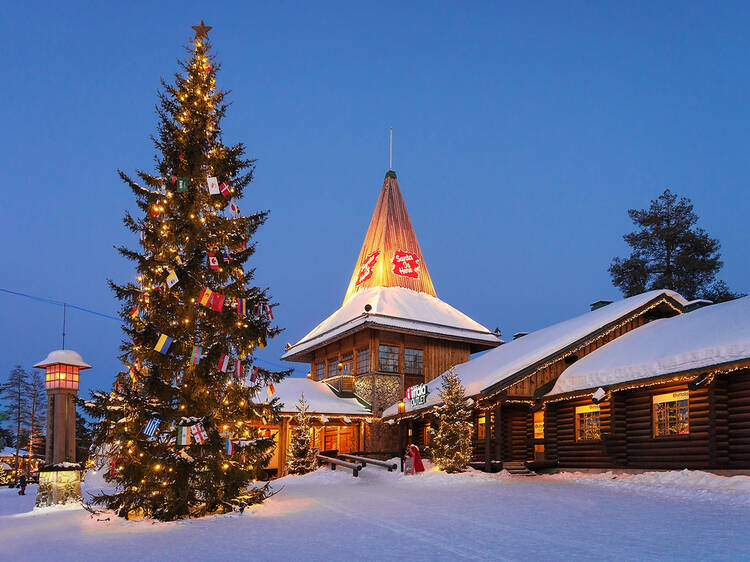 Lapland, Finland
Good for: wannabe Santa elves
There are few destinations as legendarily Christmassy as Rovaniemi, which, as the capital of Lapland, is also the official hometown of Santa Claus. But Rovaniemi isn't all about Santa. Once you're done exploring Santa Claus Village and getting reindeer rides about town, be sure to sweat out your worries with a festive sauna – a Finnish Christmas tradition.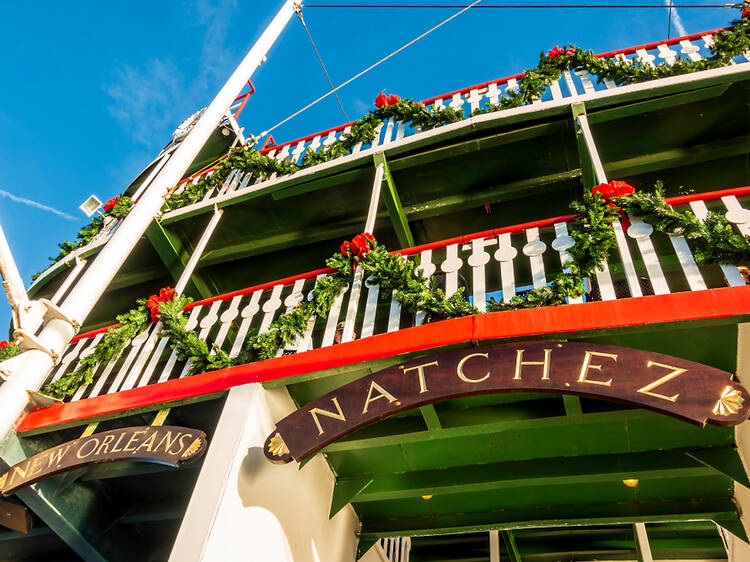 New Orleans, USA
Good for: an unconventional Christmas
New Orleans is packed full of alternative Christmas traditions, from its bonfires on the banks of the Mississippi and charmingly redecorated streetcars to its lively carol concerts and glam AF hotel lobby decorations. With daytime temperatures hitting about 17C, it's also that bit warmer than much of the rest of the continental US at this time of year.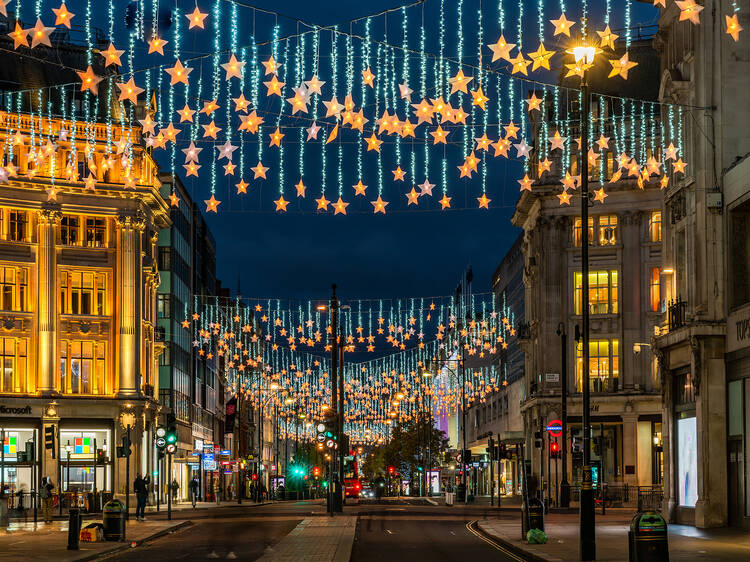 London, UK
Best for: traditional romantics
Festive cheer sweeps through London sometime in early November and doesn't let up. By the time the end of December comes around, Christmas vibes hit a fever pitch: the already-very-romantic UK capital finds itself lined by fir trees, twinkling with Christmas lights and sound-tracked by jangly festive tunes. Aye, it's exactly as magical as it sounds.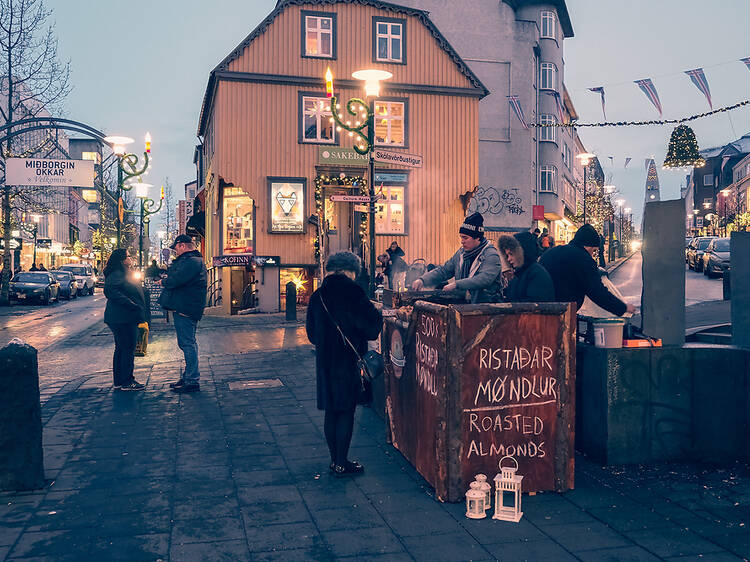 Reykjavik, Iceland
Best for: the lads!
No, not those kinds of lads. We're talking about the 'Yule Lads', 13 folkloric dudes who traditionally leave gifts in boots for Iceland's well-behaved kids. Christmastime is also just a rather lovely time to visit Reykjavik, with the city boasting markets and ice-skating – as well as, thanks to its extra-long nights, great opportunities for viewing the Northern Lights.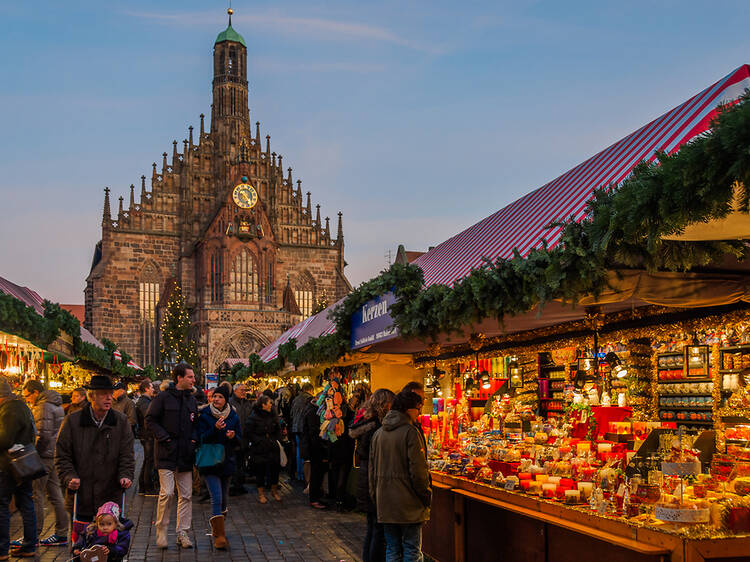 Nuremburg, Germany
Good for: Weihnachtsmarkt fanatics
Germany's Weihnachtsmarkts (traditional Christmas markets) are famous the world over – and Nuremburg's is one of the country's oldest, biggest and best. Notes of gingerbread and mulled wine waft through a mini city of wooden stalls teeming with candy canes, scrummy lebkuchen and handmade decorations.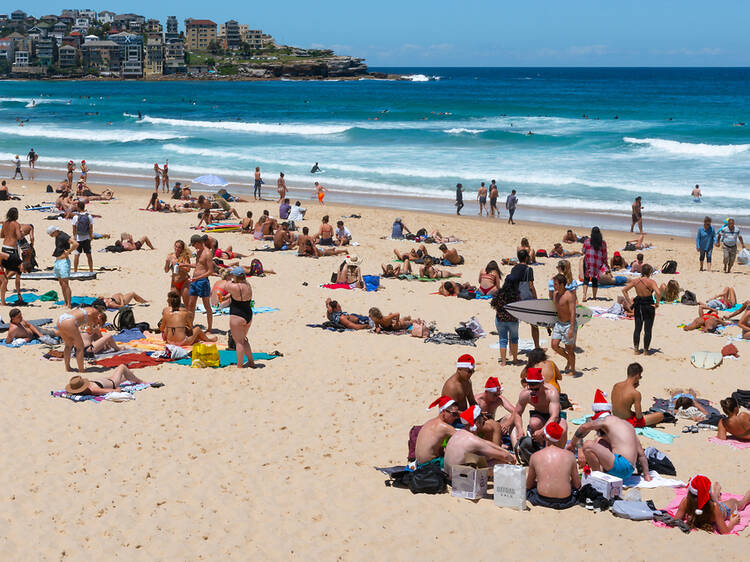 Sydney, Australia
Best for: Christmas dinner on the barbie
Looking for somewhere that goes full-throttle for Chrimbo but isn't so, erm, wintry? Australia's likely your best bet. Sydney has all the festive lights, trees and even ice skating of a typical Christmas-celebrating city, but with toasty average temperature highs of 25C. Don't knock an Xmas dinner cooked on a beachside barbeque until you've tried it.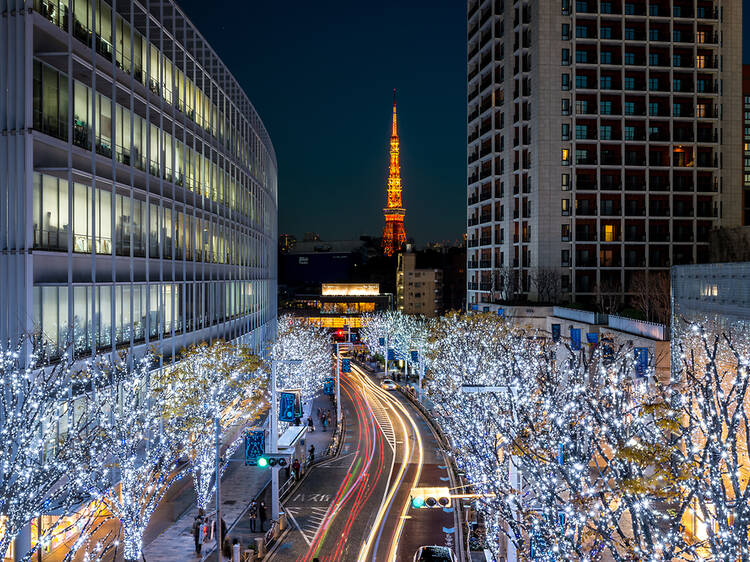 Tokyo, Japan
Best for: the culturally disconnected
With no public holiday and everything open as usual, Japan doesn't really celebrate Christmas – but that's also its charm. The country is nicely disconnected from the rest of the world's Xmas mania but still has tonnes of festive stuff to see and do, from Tokyo's gorgeous winter illuminations to the annual Japanese tradition of getting KFC on Christmas day.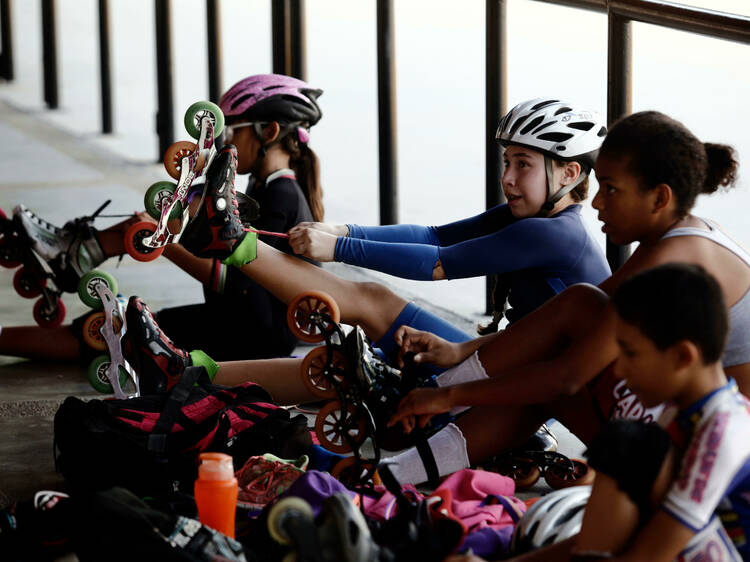 Caracas, Venezuela
Best for: religious roller-skaters
Think you've got a neat ride when it comes to heading down to church (if that's your jam, anyway) during the Christmas period? Check out the locals in Caracas. From December 16-24 before 8am, roads are closed in the Venezuelan capital so that churchgoers can roller-skate to mass. It's also common for rollerbladers to dress up in Santa gear. does it get much cooler than that?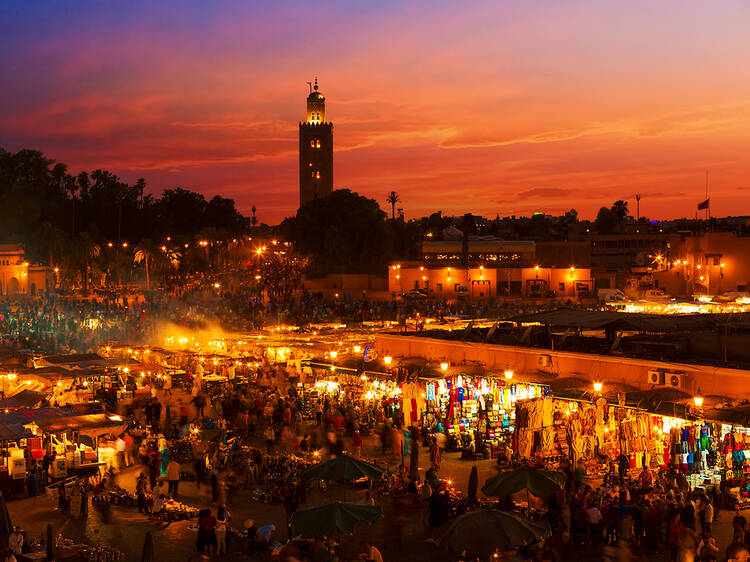 Marrakech, Morocco
Best for: festive escapees
Christmas isn't celebrated by the vast majority of people in Marrakech, making it perfect for escaping conventional festive vibes. The Moroccan city also isn't anywhere near as hot in December as it is in the summertime (hitting highs of 20C without dipping too low at night), so exploring its medina, souks, mosques and riads is even more pleasant.
Source https://www.roamingtheusa.com/best-places-to-visit-during-christmas-in-the-usa/
Source https://traveltriangle.com/blog/best-places-to-celebrate-christmas-in-the-world/
Source https://www.timeout.com/travel/the-18-best-places-to-go-for-christmas