Top 10 Things to Do in Guangzhou
Guangzhou was named a first-tier city in the world by GaWC, one of the world's most authoritative urban research institutions. You can see the significant development of the city. In this metropolis, also one of the most prosperous cities in mainland China, you will have a lot of entertainment options, so let's see the top 10 things to do in Guangzhou.
Night Cruise on Pearl River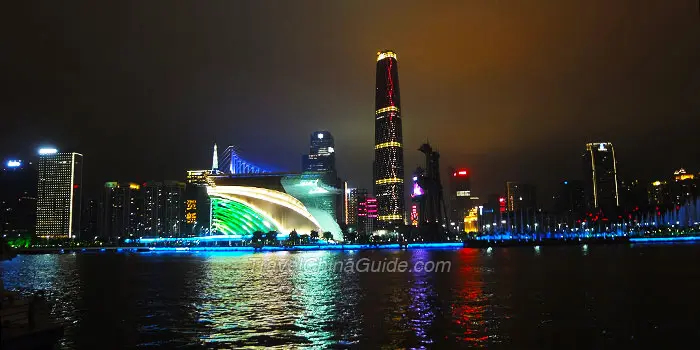 As the third longest river in China, the Pearl River with a length of more than 2,000 kilometers (about 1,243 miles) is comprised of the Xi River, the Bei River, the Liuxi River and the Dong River. They finally converge in Guangzhou and become an attractive scene. Cruising on Pearl River undoubtedly is one of the best things to do in Guangzhou at night. Cruising along the river let you get a whole new take on the city. You can enjoy the Haizhu Square, the famous Canton Tower, as well as various towering skyscrapers. The beautiful night scene under the neon lights will be sure to leave you with a lasting impression.
Recommended Tour: Pearl River Tour by Night Cruise from $81
Ascend Canton Tower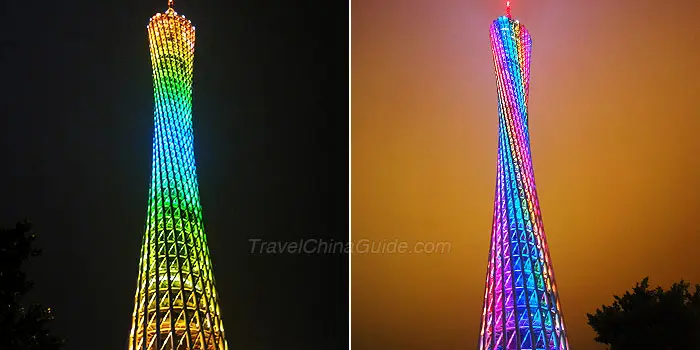 Canton Tower has become a landmark of the city, so it is also one of must-see places in Guangzhou. As the highest tower in China, Canton Tower has a height of 600 meters (1,968 feet). Ascending Canton Tower, you cannot only enjoy a wonderful bird's view of the whole city but also have a chance to experience some extreme challenges. For instance, you can take the world's tallest horizontal sky wheel Bubble Tram to enjoy the panorama; the Spider Walk, a wholly transparent spiral aerial ladder will give you a unique experience; the Sky Drop, where you can experience 30-meter free fall at a height of 485 meters, has won the Guinness World Records of the highest vertical free fall in the world. Make sure you will not miss this interesting place.
Recommended Tour: 3 Days Guangzhou City Tour from $279
Shamian Island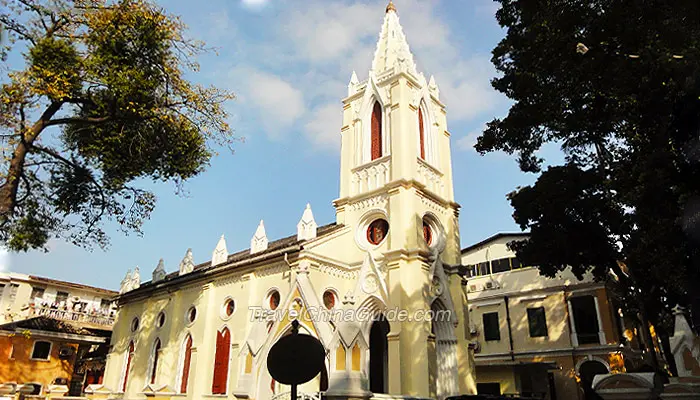 One of the best places to visit in Guangzhou is the Shanmian Island, where you can take an architectural tour. The streets are strewn with statues, pavilions, wooden chairs and fountains. There are more than 150 buildings in European styles on the island, including 42 distinctive new baroque, pseudo-Gothic, neo-classical styles architecture and some buildings with the characteristics of China and Europe. Strolling around there, you can experience the exotic atmosphere easily and the beautiful scene will leave you a deep impression. What's more, there are nice bars can offer you a thriving night life.
Recommended Tour: 5 Days Guangzhou & Guilin Tour from $679
Stroll in Yuexiu Park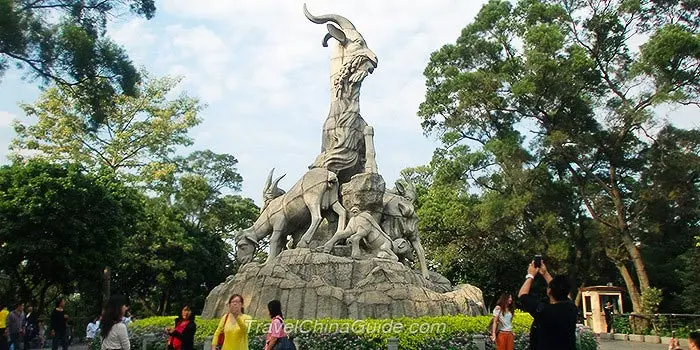 Strolling in Yuexiu Park is one of the free things to do in Guangzhou. As the largest park in Guangzhou, in addition to enjoying the natural landscape, you can view the Five Rams Sculpture in Yuexiu Park, which is one of the most famous sculptures and the symbol of the city. The vibrant trees, placid lakes, as well as green mountains offer a laid-back atmosphere to enjoy the leisure time. After visiting the picturesque scenes, you can visit the Guangzhou Museum and old city wall in the park. The museum needs a entrance ticket for CNY 10 per person. In addition, some entertainment projects are good options for those people who take children.
Cantonese Morning Tea & Dim Sum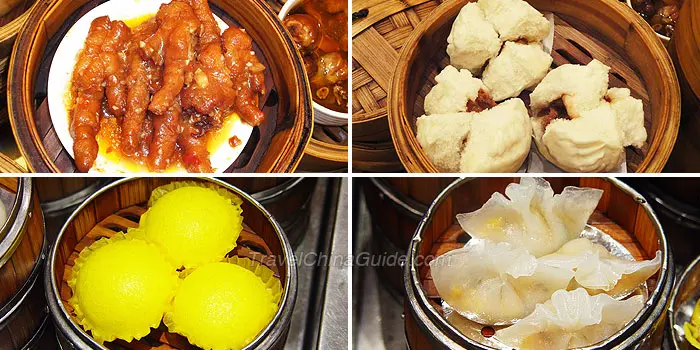 It's a traditional custom for the local people to enjoy morning tea, more often known as Yum Cha with friends and families. This is a kind of lifestyle especially for elder people. Seeing as you are in Guangzhou, it must be one of the best 10 things to do. The Cantonese Morning Tea is more like a gorgeous breakfast which includes the tea and dim sums in more variation than you know. Surely you should try the classical ones like Shrimp Dumpling, Steamed Shaomai, and Steamed Vermicelli Roll.
Have Fun in Chimelong Tourist Resort
Chimelong Tourist Resort is composed of a series theme parks including Chimelong Paradise, Safari Park, Water Park, International Circus, and Birds Park. Chimelong Paradise is a large amusement park with a lot of word-class amusement facilities. The Safari Park is the largest safari theme park in China with the most species of animals. Meanwhile, watching a fantastic circus performance is one of the best things to do in Guangzhou at night. As for the Water Park, it is a cool place to have a good time with friends or families in summer.
Recommended Tour: 1 Day Guangzhou Chimelong Tour with Family from $185
Ancestral Temple of the Chen Family
Visiting the Ancestral Temple of the Chen Family is a must-do in Guangzhou, especially for history buffs. Built in 1888, the temple retains relatively complete and was built for providing accommodations for those students from all over the family to take part in the imperial examination. In addition to the ancient architecture, various delicate sculptures are the attractions you can't miss. The wood carvings, stone carvings, brick carvings and pottery sculptures will definitely catch your eyes. What's more, the colorful paintings with different styles and characteristics are worth of perusing.
Recommended Tour: Guangzhou Day Tour to Sun Yatsen's Hall & Temple of Chen Family from $106
Sun Yat-sen Memorial Hall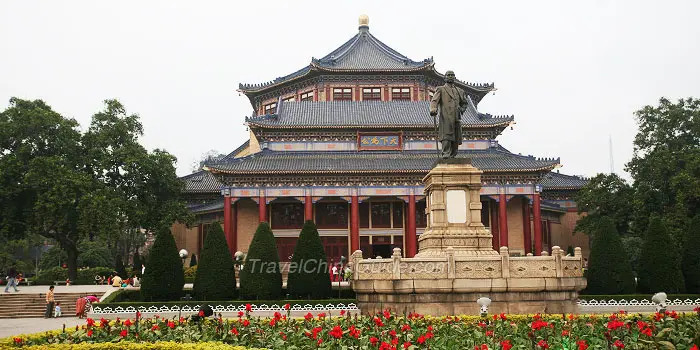 Sun Yat-sen Memorial Hall is one of the must-see places in Guangzhou because of its historical significance. It was built in commemoration of the Chinese great revolutionary leader Sun Yat-sen (1866 -1925). A witness to so many historical events, the Memorial Hall now is an important venue for large gatherings and performances in Guangzhou. The main building is a magnificent octagonal palace with Chinese traditional characteristics. In the hall, you can see the introduction of Sun Yat-sen and his life experience. In addition, in the yard stands the oldest kapok tree and the two largest magnolia trees of the city.
Shopping in Wholesale Markets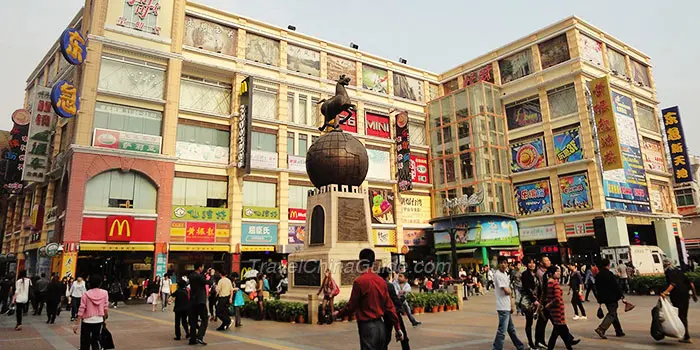 Guangzhou owns a large quantity of wholesale markets and the best-known is the garment wholesale markets. Every day, numerous businessmen from all over the country gather in these markets to purchase all sorts of clothes. Shopping in these wholesale markets is really one of the top things to do in Guangzhou. You can find many fashionable garments with a much lower price. The recommended markets include Huimei Garment City, White Horse Clothing Market and Zhanxi Market.
Hiking in White Cloud Mountain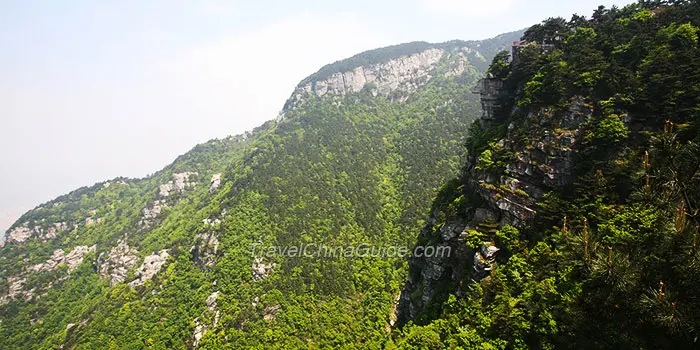 As the most famous mountain of the city, White Cloud Mountain offers wonderful hiking routes. Spending a weekend there is one of the fun things to do in Guangzhou for the local people. It consists of more than 30 peaks and Moxing Ridge is the highest one among them. Standing on the peak, you can enjoy a spectacular view of the whole city. Especially after the rain, you can see the white clouds floating around the peaks and that's why it has been called White Cloud Mountain. There are 7 scenic areas in total and electrical cars are available among the spots if you feel tired about hiking. The best time to visit the mountain is spring. The booming blossoms everywhere, the placid lakes, and fresh air provide a laid-back atmosphere to help you escape hustle-and-bustle of city life.
Where to stay in Guangzhou
The largest city of Southern China's Guangdong province, Guangzhou is a port city on the Pearl River. China's third largest city, with more than 14 million people, the city has history dating back to 214 AD, set against a modern evolution of technology. The city is also known as Canton, and is the birthplace of Cantonese food, which the rest of world knows a "Chinese food."
Although the city is huge, public transportation is comprehensive throughout Guangzhou, and the city is divided into ten districts, three of which (Tianhe, Liwan and Yuexiu) fall in the city center. Deciding where to stay in Guangzhou is an important first step in planning your vacation in the Guangdong province. Check out the Guangzhou districts below, and choose the best Guangzhou hotel for you.
We will cover off all types of Guangzhou accommodation options from Hostels to luxury Guangzhou hotels as well as how to decide where to stay in Guangzhou, the best Guangzhou hotels, best places in Guangzhou to visit, the best places to stay in Guangzhou, hotels near Guangzhou attractions, Guangzhou neighborhood guide and many more.
Plan your trip to China
Avoid hidden fees in the exchange rate while withdrawing from millions of ATMs abroad, paying in restaurants and shops, and buying your accommodation and flights using the Wise Card. You can hold up to 50+ currencies at once, and convert them in real time with the free Wise app.
Need help planning your trip from start to finish? Check out these:
Read more on Bejing:Looking for a particular destination, see below otherwise you can go to China Travel guide to view current posts
– China Travel Guide – Quick and Easy Guide
This post contains some affiliate links for your convenience. Click here to read my full disclosure policy.
Table of Contents
Tianhe Commercial Area – Where to stay in Guangzhou for tourists

Tianhe is the commercial business district of Guangzhou, with some of the highest skyscrapers and several shopping malls. If you are traveling to or from Hong Kong, this is the best area to stay in downtown Guangzhou, as it's the transportation hub for trains to Hong Kong, less than one hour away by high speed train.
Some of the Guangzhou attractions in Tianhe include the Guangdong Museum, Guangzhou Library, the Opera House and Shipai Village, the largest urban village in the city. Three major shopping malls include Grandview Mall, Tee Mall and Zhongtian Shopping Mall.
Best places to stay in Tianhe
Cheapest Backpacking Hostels in Tianhe:
Guangzhou Catalpa Garden Youth Hostel
Liwan – Where to stay in Guangzhou with family
On the north side of the river is the old part of Guangzhou city center. One of the best destinations of Liwan is the Shangxiajiu Pedestrian Street, which is lined with shops and restaurants. From local brands to global brands like Nike, you can literally shop til you drop on Shangxiajiu street.
Other attractions in Liwan include Shamian Island with its colonial architecture, ancient Xiguan houses, and Liwan Lake Park, a wonderful escape from the urban environment. The Liwan Plaza jewelry market has over 2,000 stores. If you want to know where to stay in Guangzhou city for the best shopping, Liwan is it!
Best places to stay in Liwan
Cheapest Backpacking Hostels in Liwan:
Lazy Gaga Hostel
Baiyun District Area – Where to stay in Guangzhou on a budget
In the northern suburbs of Guangzhou is the Baiyun district. The namesake mountain, Baiyun Mountain can be found here, making it a great place to stay for those wishing to explore the outdoors. There's a cablecar to the top if you prefer not to walk, but either way, make sure to come here for outstanding views of downtown Guangzhou.
Baiyun also happens to be where the Baiyun international airport is located, so there are many hotels in this area, catering to business travelers or those with an overnight layover. If you choose to stay in the Baiyun district, allow extra commuting time to downtown Guangzhou as it's about 40 minutes via the Metro.
Best places to stay in Baiyun
Family Friendly Hotels in Baiyun:
Royal Tulip Carat Guangzhou
Pazhou Exhibition Area / Haizhu – Best place to stay in Guangzhou for canton fair

Guangzhou is the home of the Canton Fair; the oldest and largest trade fair in China. If you want to know where to stay in Guangzhou for Canton Fair, the Haizhu District is the best choice. Held twice a year at the Pazhou Complex, the Canton Fair draws international buyers from around the world.
The Pazhou complex is located in Guangzhou's Haizhu district, an industrial area south of the Pearl River. The district is home to the Canton Tower, one of Guangzhou's newest landmarks. The colorful tower looms 610 meters over the river, and visitors can ascend to one of the highest outdoor observation decks in the world. With the Exhibition complex nearby, there are many Guangzhou hotels to choose from and a few cheap hotels near Canton Fair Guangzhou.
Best places to stay near Canton Fair
Beijing Road Commercial Area / Yuexiu –Where to stay in Guangzhou for shopping!
The oldest part of Guangzhou, dating back to 214 AD. Many of Guangzhou's attractions can be found in this area. Yuexiu Park is Guangzhou's largest park, with nearly 1 million square meters. In addition to several mountains and lakes within the park, there's a 30,000 seat stadium. The district also houses the Guangzhou Museum, Mausoleum of Nanyue King, several temples including the Temple of Five Rams.
The Beijing Lu shopping district is the main shopping street of Guangzhou, and has something for every kind of shopper. The pedestrian-only street is a great place for people-watching, shopping and dining. Amidst all of the commercialism, the district also has a lot of history, making this a great place to stay in Guangzhou, especially for first-time visitors who want to make the most of their visit.
Best places to stay in Yuexiu
Cheapest Backpacking Hostels in Yuexiu:
Lazy Gaga Hostel
Guangzhou Attractions: 25 Best Places to Visit (2023)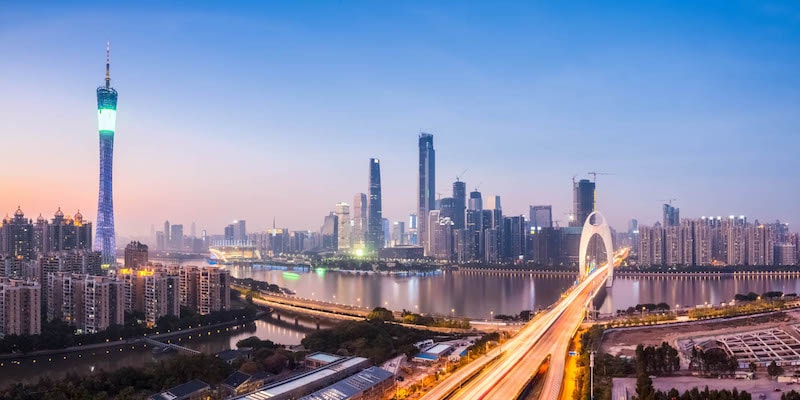 One of China's largest cities in the south, you'll find the sprawling metropolis of Guangzhou to be a captivating place with a vibe all its own. Unlike the other big cities in China, it has an entirely different feeling to it. Perhaps it's the warmer weather or the genuine warmth of the citizens there, but the lively atmosphere mixed in with historic sights and fun activities make it a perfect stop on your China itinerary. Known as the City of Five Rams, here are the 21 best Guangzhou attractions to see when you're visiting this city.
1. Chimelong Safari Park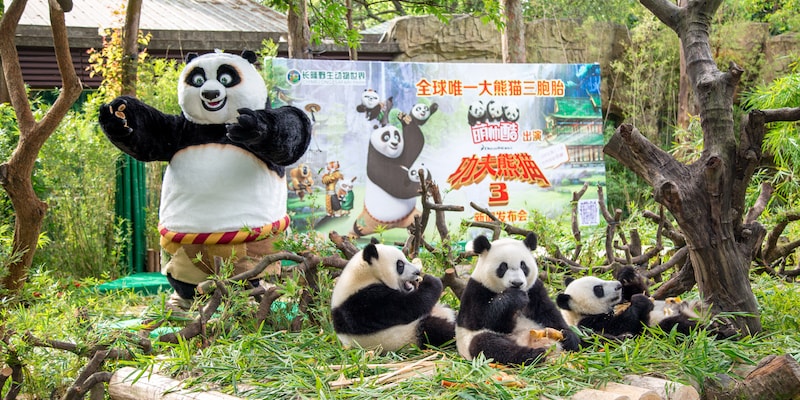 (source: chimelong.com)
Guangzhou is another city that gets the zoo thing right. This Guangzhou attraction is vast park with tropical foliage throughout, it's easy to spend an entire day walking around the Chimelong Safari Park. It has many ways to explore the wild animal exhibits there. You can choose to do so from the aerial cable car, on foot, or the safari on wheels. Their conservation efforts with Wild Trip are incredibly well-done, making it a wonderful place to visit for families and animal lovers of all ages.
Operating Hours: Weekday, 9:30am – 6:00pm | Weekend, 9:30am – 6:30pm
Ticket Price(s): Adult – CNY 300 | Child – CNY 210
2. Chimelong Tourist Resort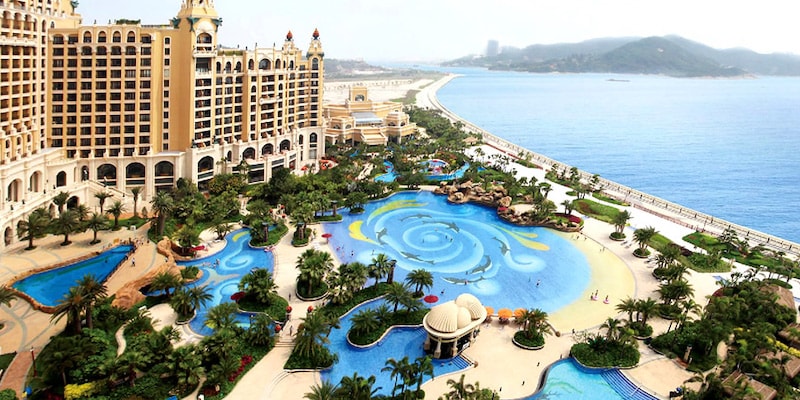 (source: chimelong.com)
For even more excitement during your time in Guangzhou, you can check out the rest of what the Chimelong Tourist Resort has to offer. There's an amusement park, water park, bird park, and circus. It's Guangzhou's answer to Disney though it was there long before the Disney Resort was crafted in Shanghai. Unlike many things in China, the Chimelong parks are immaculate and well-organised. For these, as well as the zoo, it's recommended you visit during the week to avoid the crowds.
Operating Hours: Daily, 24 hours
Ticket Price(s): Subject to hotel rates.
3. Sacred Heart Cathedral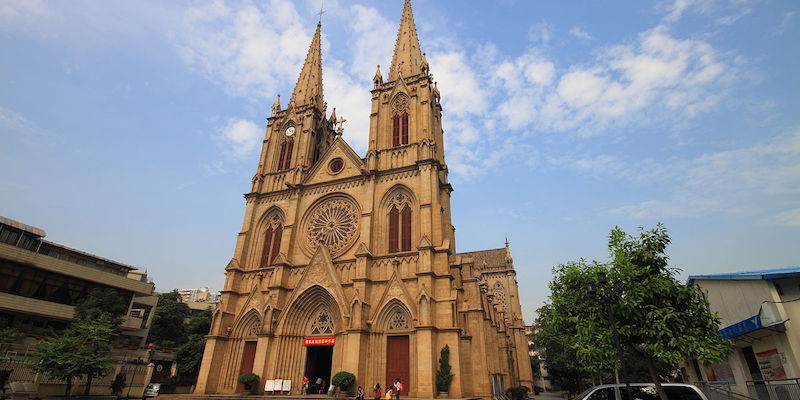 This Catholic cathedral took 25 years to build. Finally completed in 1888, this Guangzhou attraction is among only a handful of cathedrals in the entire world that was constructed entirely out of granite. You can attend mass in the morning or on the weekend. They offer services in English and Korean as well as Cantonese and Mandarin. If you're not keen on attending a service though, you can merely pop by to visit this popular tourist destination.
Operating Hours: Daily, 8:00am – 05:30pm
Ticket Price(s): Free
4. Canton Tower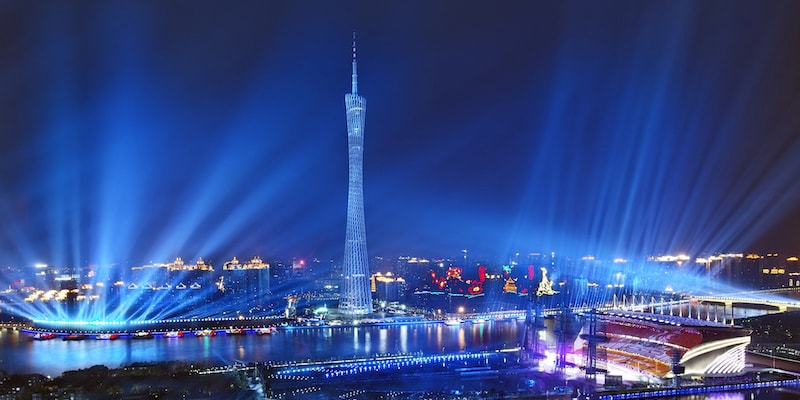 (source: arup.com)
When you see photos of Guangzhou, the Canton Tower is usually among them. Considered the landmark here among other Guangzhou attractions, it stretches up to nearly 2,000 feet up in the sky. At night, it brilliantly exudes colourful lights. During the day, stop in to visit the observation decks and rides, or keep it tame with a visit to the coffee shops and restaurants.
Operating Hours: Daily, 9:30am – 10:30pm
Ticket Price(s): CNY 130
5. Huacheng Square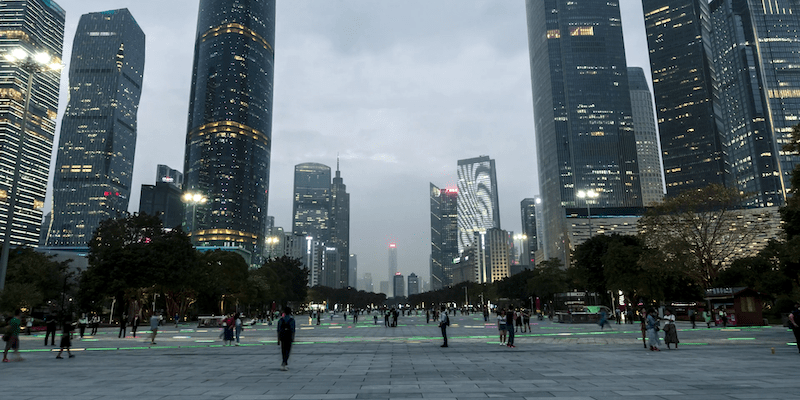 (source: videoblocks.com)
In this square, you'll get a taste of the contemporary lives of residents here. It's a simple place to walk around and relax in, taking in the ordinary life that the people of Guangzhou enjoy. The view is anything but ordinary though. It's filled with ponds and fountains and is a bike- and car-free area to explore. Underneath it, the Mall of the World resides, ready for you to shop and find incredible deals.
Surrounding it, you'll find the Guangdong Museum, International Finance Center, and Canton Tower on the other side of the river. Again, this is one of the best places to visit in Guangzhou during the night too because the colourful lights are truly spectacular.
Operating Hours: Daily, 24 hours
Ticket Price(s): Free
6. Redtory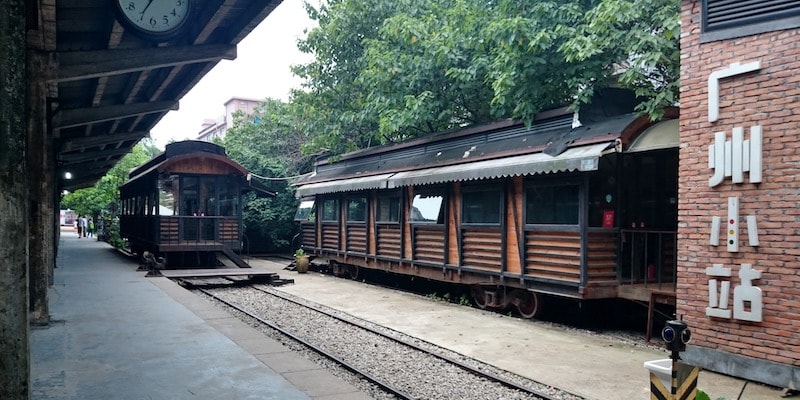 (source: visionsoftravel.org)
It once served as a place for industrial factories. Now Redtory has new life breathed into it in the form of art. You'll find many fantastic art galleries and art spaces to poke in this Guangzhou attraction. There are also many hip offices, trendy stores, and artsy coffee shops. It's a wonderful place to surround yourself with creativity and see a different face of China in modern times. It's a great place to take a break from sightseeing while still sightseeing, plus you'll likely find many cool and creative things to take back home with you.
Operating Hours: Daily, 10:30am – 9:00pm
Ticket Price(s): Free
7. Shamian Island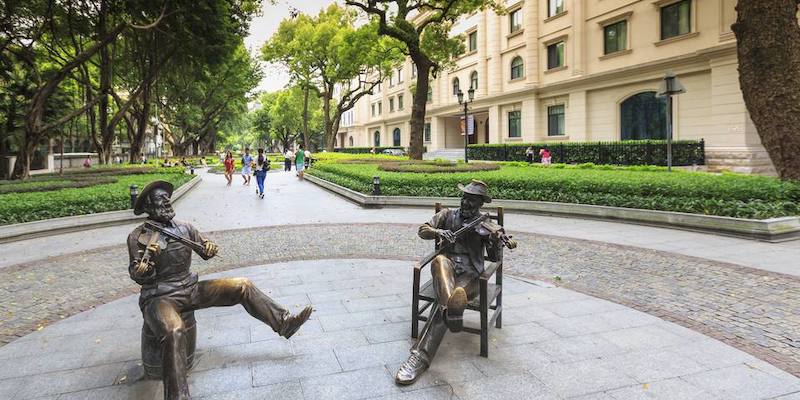 (source: tripsavvy.com)
Another way to see a completely different perspective on China in this city is to visit Shamian Island. It once served as a significant foreign trade port in the times starting from the Song Dynasty to the Qing Dynasty. It's very historic with loads of buildings and churches to explore. With the European styling, it is like wandering into a small town in Europe. It's separated from the mainland only by a small canal and is easy to access, providing a beautiful way to spend an afternoon walking around and seeing the sights.
Operating Hours: Daily, 24 hours
Ticket Price(s): Free
8. Baomo Garden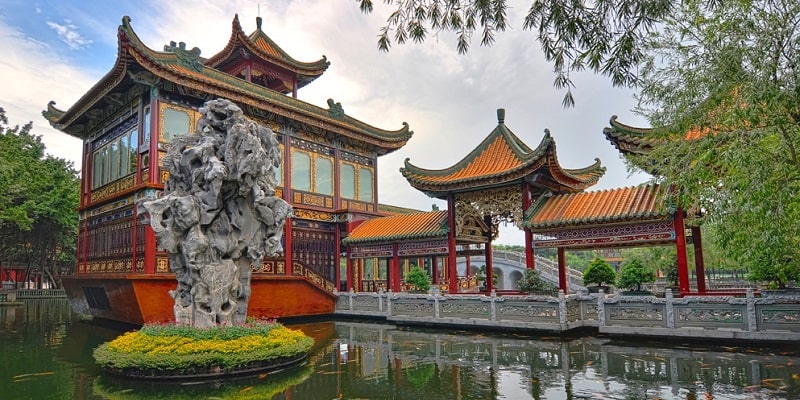 (source: chinatoursnet.com)
While it's on the outskirts of the city centre, Baomo Garden (one of the Guangzhou attractions) is a beautiful assembly of Southern Chinese architecture and gardening. If you've had the pleasure to visit cities in the northern regions of China, you'll spot the differences between them. This particular garden was created at the end of the Qing Dynasty. It was destroyed in the 1950s but was then rebuilt and restored to its gorgeous original condition.
Operating Hours: Daily, 8:30am – 5:30pm
Ticket Price(s): Adult – CNY 54 | Child – CNY 27
9. Guangdong Museum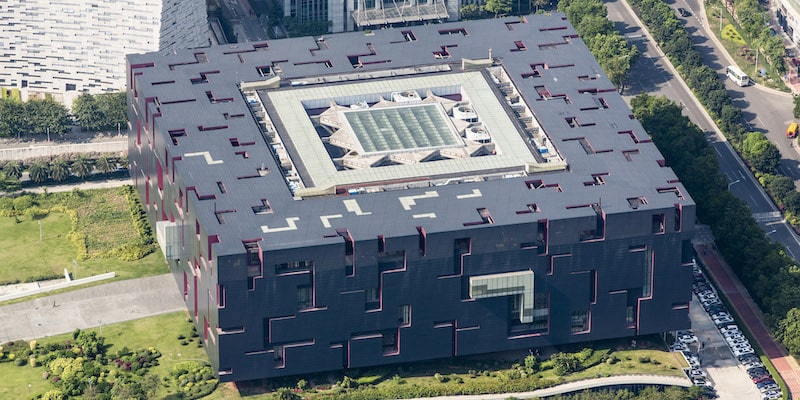 (source: arup.com)
When you're at Huacheng Square, a nice place to visit in Guangzhou afterwards is the Guangdong Museum. It's a relatively new addition, at least the new building is, which was made a focal point in the city centre in 2004. Here, you can explore exhibits with pottery, ceramics, calligraphy, paintings, fossils, and much more for permanent exhibitions while plenty of temporary exhibitions are also showcased to add even more to discover.
Operating Hours: Tuesday – Friday, 9:00am – 5:00pm
Ticket Price(s): Free
10. Yuyin Garden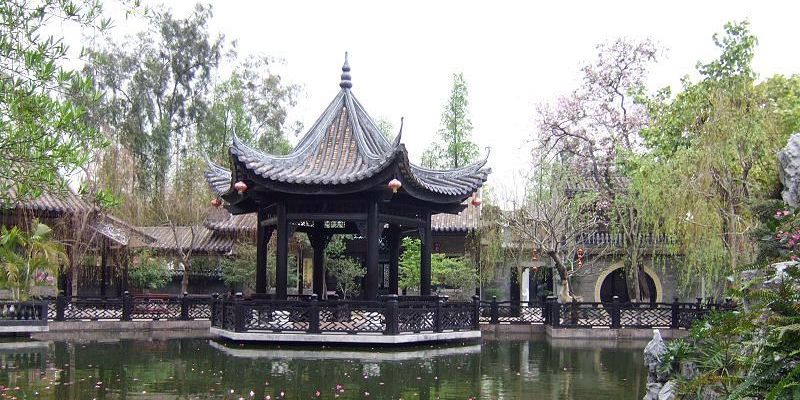 (source: trekearth.com)
This stunning garden was once private, built back in 1864. Because it was so incredibly beautiful, this Guangzhou attraction became the object of desire for many tourists. Walking through this garden is a treat for the senses with bridges taking you over a calming pool, pavilions, rocky hills, and blooming flowers. The scenery is breathtaking, something you'll undoubtedly want photos of, but it will also bring you a sense of calm and peace in the middle of this big and bustling city.
Operating Hours: Daily, 8:00am – 6:00pm
Ticket Price(s): Adult – CNY 18 | Child – 9
11. Chen Clan Academy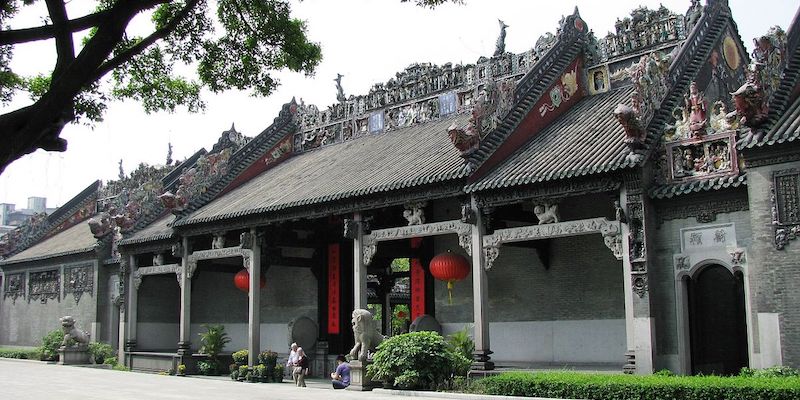 When it was built in 1894, the Chen Clan Academy's purpose was to serve as a study hall for the boys to prepare for the intensive imperial exams. These days though, it is home to the Guangdong Folk Arts Museum. There are 19 buildings in total here with a variety of exhibitions that include artwork and crafts plus cultural relics. The peaceful scene here is excellent for an hour or so of your time.
Operating Hours: Daily, 8:30am – 5:30pm
Ticket Price(s): CNY 10
12. Sun Yat-Sen Memorial Hall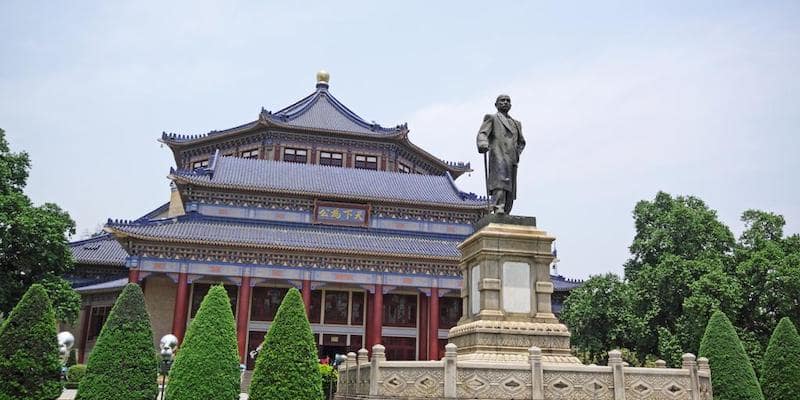 (source: airfrance.ie)
This memorial hall features unique octagonal architecture, worth seeing alone. But the historical significance this Guangzhou attraction poses will make you want to linger for more than a gander. This was after all the Presidential Palace at one time. It was destroyed though when an attack was made on Sun Yat-Sen. Then in 1931, a memorial hall was erected to commemorate him. Again, it was destroyed but repaired several times more. The last restoration took place in 1998. You'll get treated to the entire intriguing history of it when you visit.
Operating Hours: Daily, 8:00am – 6:00pm
Ticket Price(s): Free
13. Baiyun Mountain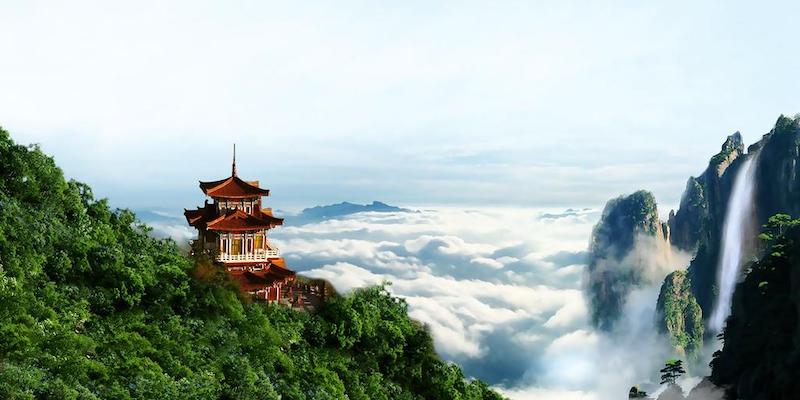 Chinese people are big on mountains, something you will quickly learn once you visit any city there with mountains. Guangzhou is no exception. Baiyun Mountain, also called Cloud Mountain, is a scenic area featuring 30 peaks. The highest one is just over 1,200 feet about sea level. The peaceful area and fresh air make it a delightful place to see. There's a cable car that can take you up to Peak Park, or you can get some exercise walking up the stairs. Not a fan of crowds? Try it out during the week and not on holidays to have fewer people to share it with.
Operating Hours: Daily, 6:00am – 5:00pm
Ticket Price(s): CNY 5
14. Pearl River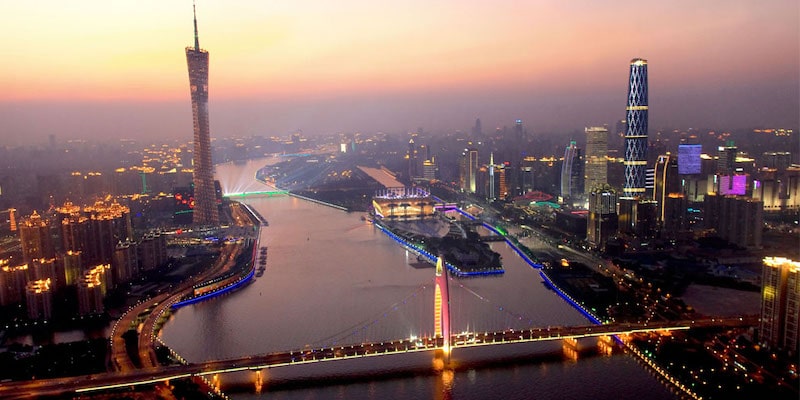 (source: hulutrip.com)
The river flowing through the centre of this city doesn't look that spectacular during the day. But the Pearl River is a thing of beauty at night. One of the best ways to enjoy it is by getting on a riverboat cruise. You'll see the city landscape and bright lights which truly capture the unique and vibrant vibe of Guangzhou. It's something you shouldn't miss out on!
Operating Hours: Daily, 24 hours
Ticket Price(s): Free
15. Yuexiu Park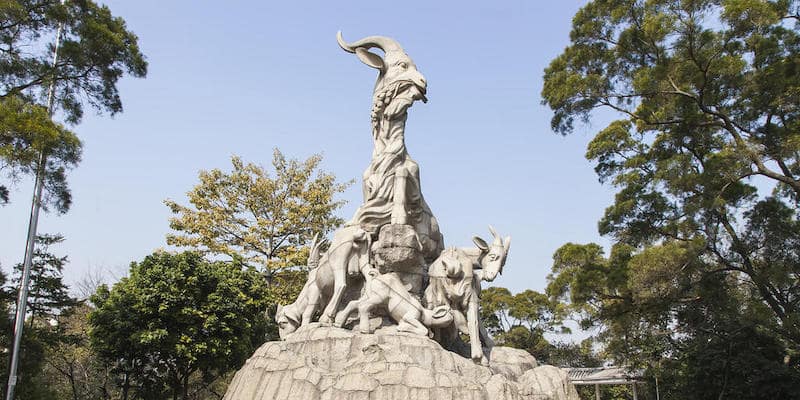 This is the park that features the Five Rams Sculpture, a symbol of Guangzhou from where the nickname comes from. The Guangzhou Museum is also located inside this park in the Zhenhai Tower. This is another piece of architecture in the city that was destroyed and rebuilt many times since it's original 1380 construction.
Operating Hours: Daily, 6:00am – 10:00pm
Ticket Price(s): Free
16. Mausoleum of the Nanyue King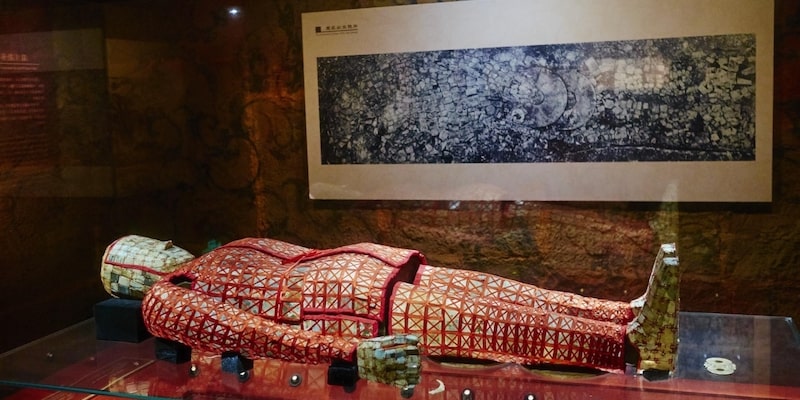 (source: scmp.com)
Enter the tomb, if you dare! This enthralling attraction in Guangzhou lets you walk into the actual tomb while getting a chance to discover all the artefacts there. It's over 2,000 years old but wasn't discovered until 1983. Once it was, they opened a museum to share this incredible discovery with everyone.
Operating Hours: Daily, 9:00am – 5:30pm
Ticket Price(s): Free
17. Temple of the Six Banyan Trees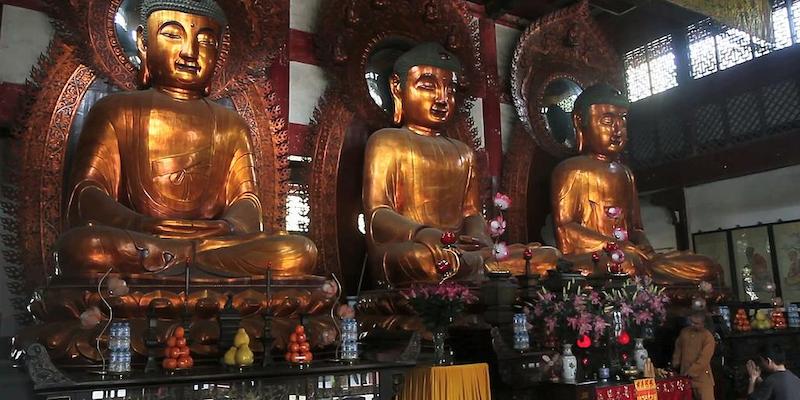 It was initially built for Emperor Wu in 537. But then this Guangzhou attraction was rebuilt and renamed based on a poem by famed poet Su Shi. The most incredible parts of the temple compound are the Golden Buddha Hall and the 9-story Flower Pagoda with a brilliantly bright exterior that is worth seeing.
Operating Hours: Daily, 8:00am – 5:00pm
Ticket Price(s): CNY 5
18. Whampoa Military Academy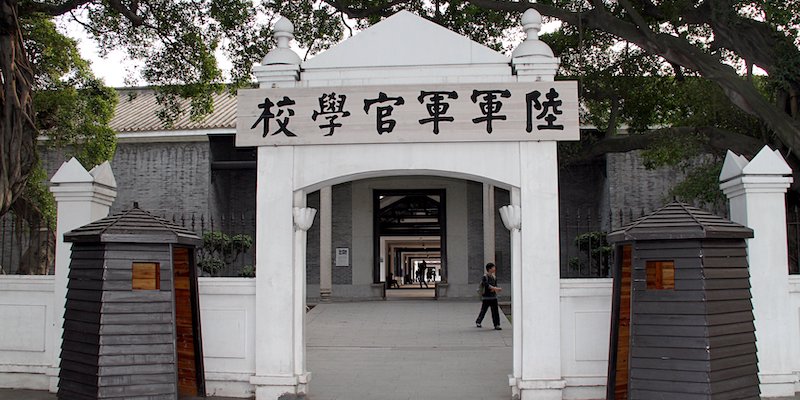 (picture by: RolfMueller)
It was once a military school that opened in 1924. Helmed by the ruling party at that time, Kuomintang, it was converted in 1950 after the Communists took over. From then on, it's been a museum that showcases historical exhibits even in English so you can glean more about this amazing time in China's history.
Operating Hours: Tuesday – Sunday, 9:00am – 5:00pm
Ticket Price(s): Free
19. Guangxiao Temple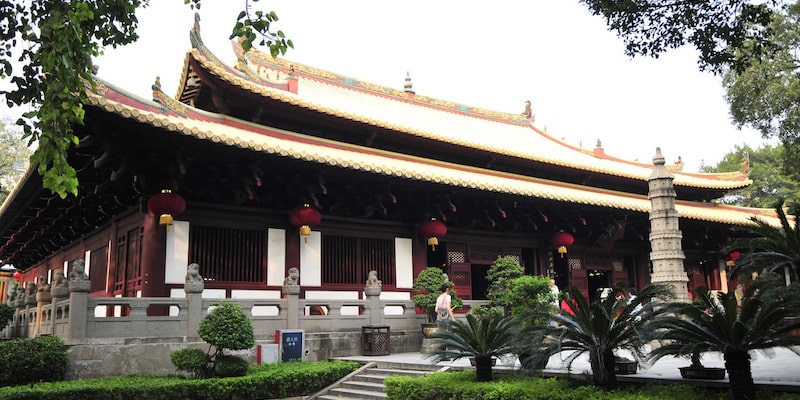 (picture by: Huang Xin)
Once upon a time, this attraction in Guangzhou was a residence for a king. Then, over the course of thousands of years, it was turned into a temple. This was during the era of the Three Kingdoms. Over the years leading right up to present-day, it was destroyed numerous times. It was rebuilt just the same though it has been scaled down from its former size. Despite all this, the Guangxiao Temple remains one of the most important of the Buddhist temples in the city and worthy of a visit.
Operating Hours: Daily, 6:30am – 5:00pm
Ticket Price(s): CNY 5
20. Qing Ping Chinese Medicine Market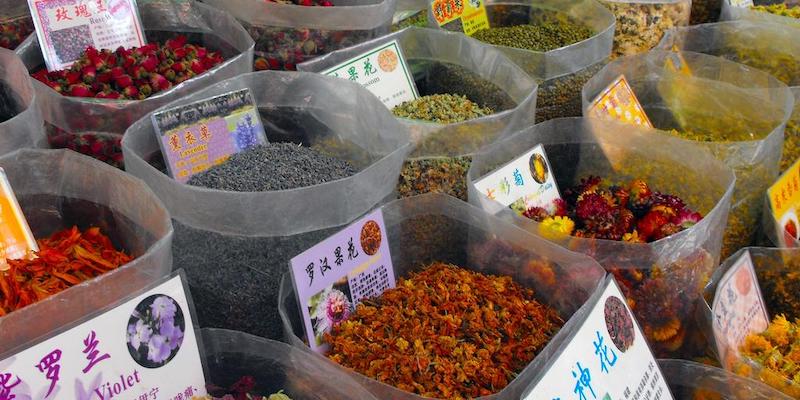 Looking for something exotic while you're in Guangzhou? Qing Ping Chinese Medicine Market is a must-see. You can buy traditional Chinese herbs for your health, or simply explore it. You can find local guides that speak English so you can definitely gain more knowledge about the herbs here. You'll also be able to learn how to use the herbs you find here safely for your better overall health and longevity.
Operating Hours: Daily, 6:00am – 5:00pm
Ticket Price(s): Free
21. South China Botanical Garden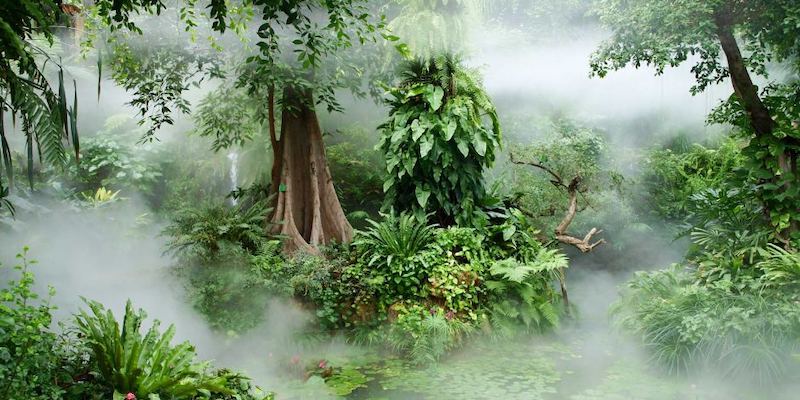 (source: abc.net.au)
Just to the north of the city, you will find one of the most stunning attractions in Guangzhou a perfect stop. It was created in 1929 and boasts the title of being the oldest as well as biggest South Asian tropical garden in all of China. There's a conservatory plus the Long Dong Magic Forest there features a recreation of a Neolithic village which was named one of the city's most scenic spots.
It features two peninsulas a man-made lake. Each peninsula is themed, making it more enchanting. The Palm Garden stays green year-round, and the Relic Garden showcases 4 seasons for a truly epic place to visit in Guangzhou.
Operating Hours: Daily, 7:30am – 5:30pm
Ticket Price(s): CNY 20
22. Lotus Hill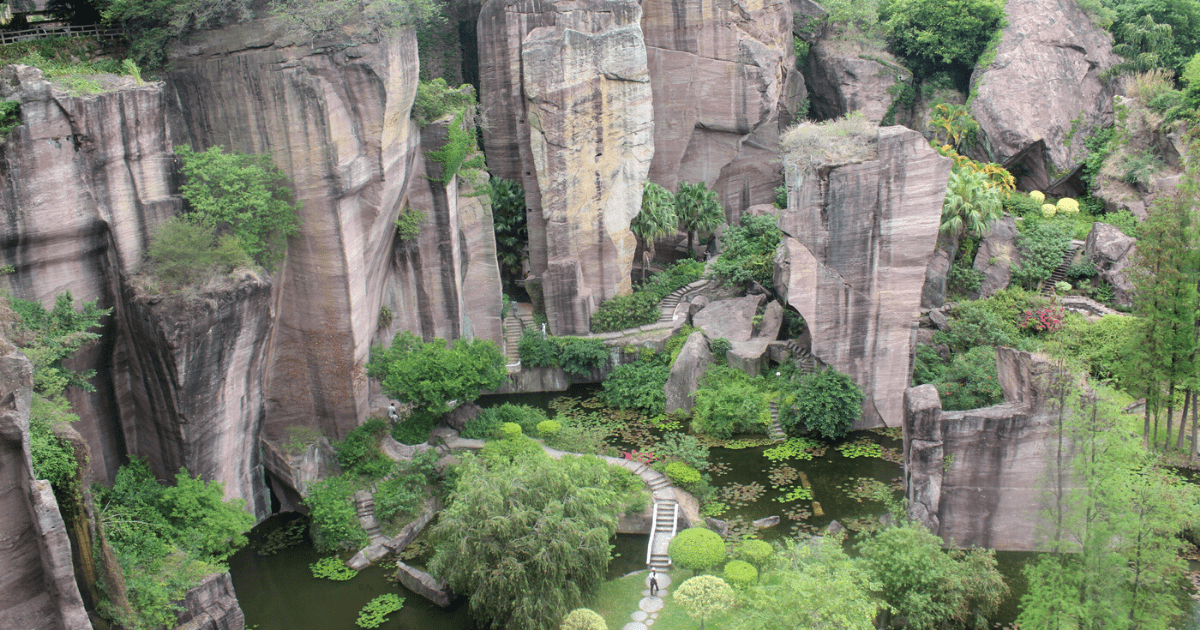 Lotus Hill is a scenic attraction that boasts a picturesque landscape, surrounded by a lake. Located on the outskirt of town, this hill is situated in the creek of Pearl River. A plethora of ancient and magical sites await you after two hours by car; where you will be able to see the Lotus Tower, a golden Kwan Yin Fairy statue and various ancient stone formations. Lotus Hill is most beautiful during spring when the peach blossoms flower and during summer for the Lotus Festival. Almost 100 lotus flowers bloom and handpicked here for the festival.
Operating Hours: Daily, 7:00am – 5:00pm
Ticket Price(s): Adult – CNY 54 | Child – CNY 27
23. Flower City Square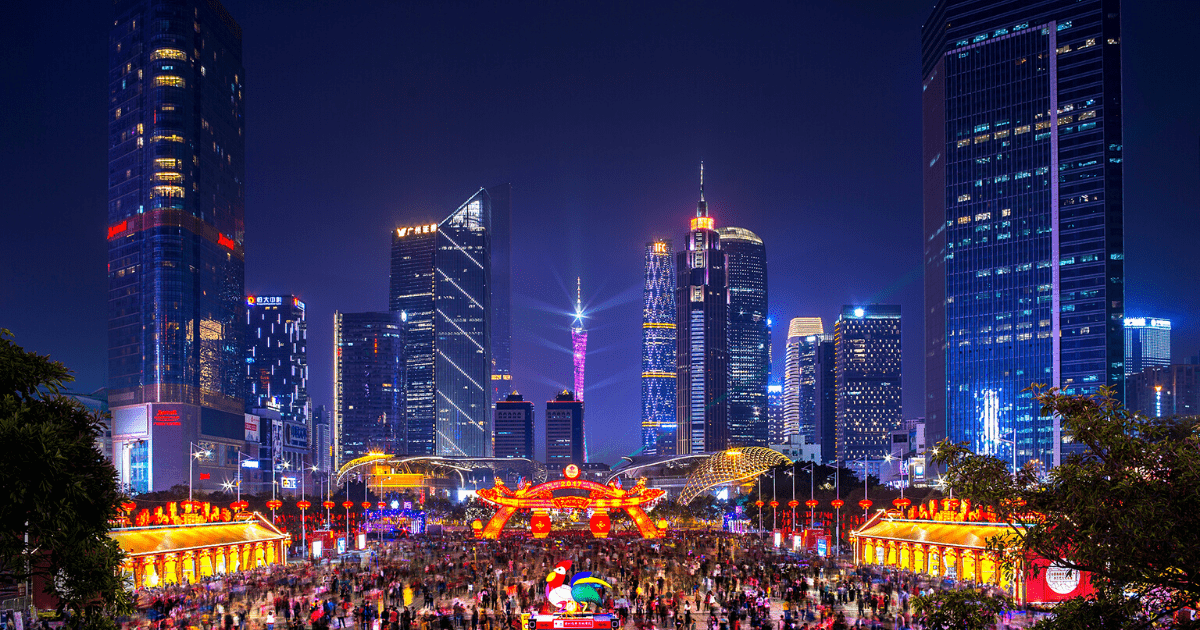 Flower City Square is a 56 square kilometre that is situated in Zhujiang New Town. This is the largest square in the city that is home to many entertainment and shopping areas. Just beneath the square, you will find Mall of the World shopping centre with underground passages leading to other malls. Ideal for people watching, this is also the spot for Guangzhou's International Light Festival that takes place every year in November.
Operating Hours: Daily, 24 hours
Ticket Price(s): Free
24. Shang Xia Jiu Pedestrian Street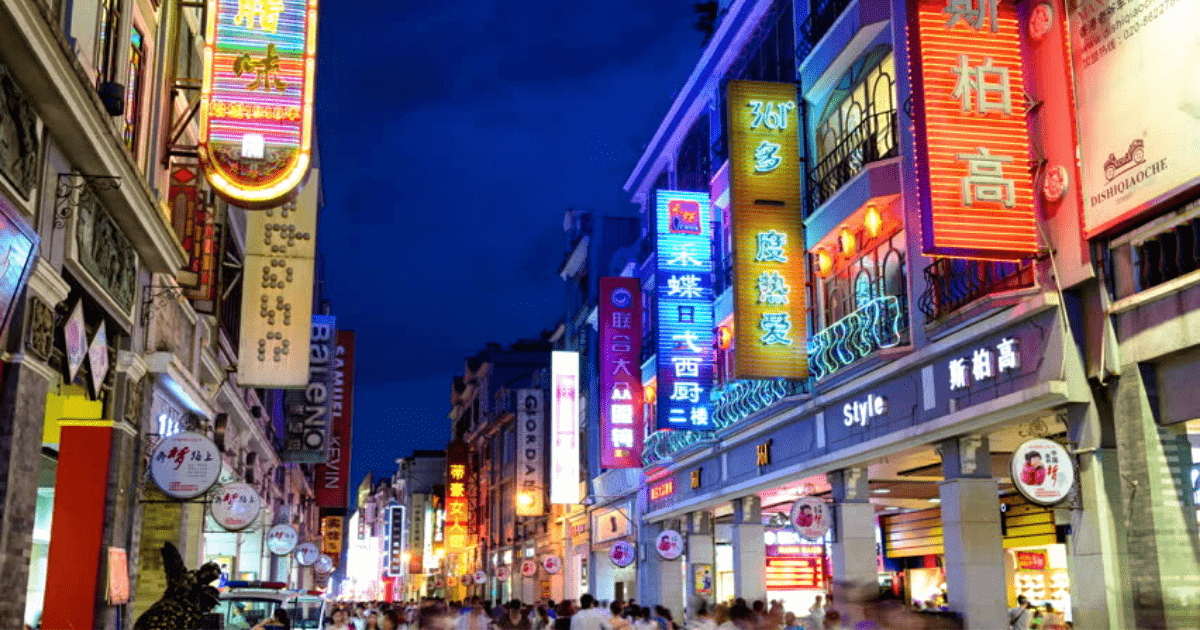 Shang Xia Jiu Pedestrian Street is a vibrant area that is located in the central area of Liwan district. One of the must-visit attraction for shopaholics, this street is lined with plenty of retail shops, shopping malls and renowned restaurants. During your stroll here, you will also get to appreciate the building's architecture that is inspired by ancient East and West culture. This street can get lively on the weekends, so we would suggest going early for a good headstart.
Operating Hours: Daily, 10:00am – 10:30pm
Ticket Price(s): Free
25. Dafo Temple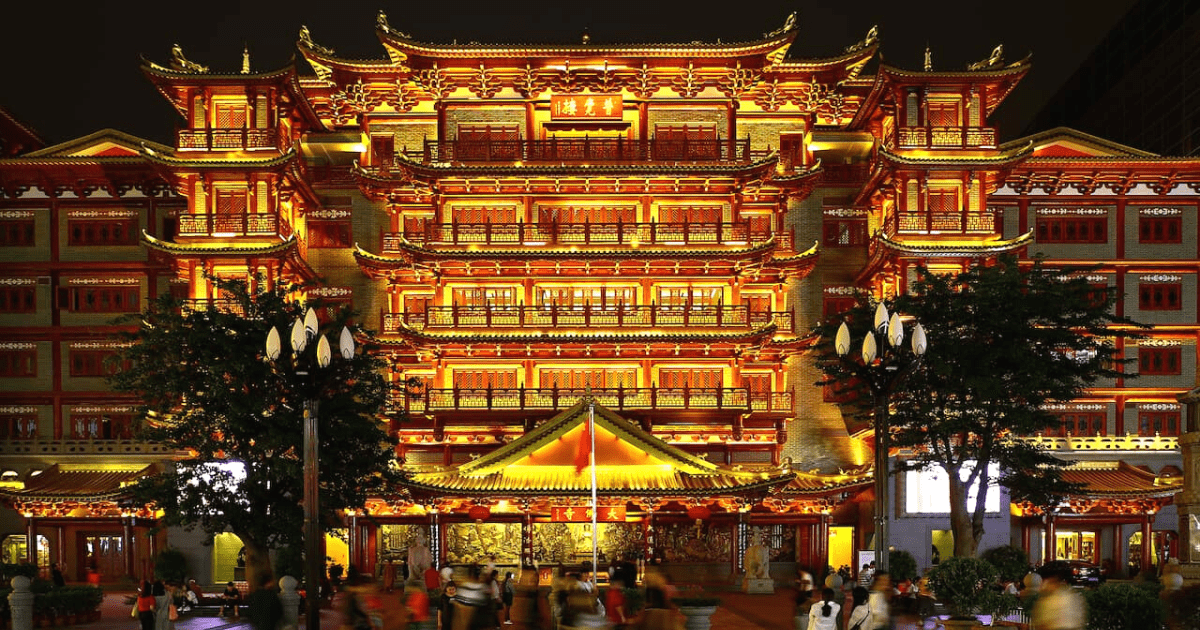 With more than a thousand years history, Dafo Temple is one of the top must-visit attraction in Guangzhou. This Buddhist temple was commissioned by Emperor Liu Yan from the Southern Han dynasty and is one of the five grand temples in Guangzhou. Devotees come far and wide to offer prayers to Buddha in the magnificent Mahavira Hall. There are three golden Buddha statues enshrined in this hall with each of them built at 6 metres high.
Operating Hours: Daily, 8:00am – 6:00pm
Ticket Price(s): Free
Don't forget while you're in Guangzhou to taste the regional cuisine! The city is very Cantonese, and because of this, you will find that it offers dim sum at just about every turn. In addition to that, tea is a huge part of the culture. Of course, it's a part of all Chinese culture, but the citizens of Guangzhou take it very seriously.
Another thing you shouldn't miss is the whole roasted pig. Called "kao ru zhu," it is a divine way to indulge in a pork dish. You can find many restaurants in the city that feature it. Like all Chinese cities, Guangzhou has its own take on cuisine, something it does exceptionally well. Between the Guangzhou attractions and food, you'll have much to remember from your trip to Guangzhou.
Source https://www.travelchinaguide.com/cityguides/guangdong/guangzhou/top-10-things-to-do.htm#:~:text=One%20of%20the%20best%20places%20to%20visit%20in,strewn%20with%20statues,%20pavilions,%20wooden%20chairs%20and%20fountains.
Source https://www.travellingking.com/where-to-stay-in-guangzhou/
Source https://www.trixoli.com/en-my/attractions/china/guangzhou/