The Ten Most Expensive Travel Destinations in the World
Don't forget to pack your wallet when visiting these 10 cities, as they are the world's most expensive travel destinations! See which cities made the list.
Hopper Editors – Oct. 26, 2017
The Ten Most Expensive Travel Destinations in the World
No trip is the same, but the most expensive travel destinations will not surprise: small Scandinavian cities like Copenhagen and Oslo are still more costly than almost anywhere; New York still costs an arm and a leg. There's more: anywhere that has ever effectively colonized the world is probably going to cost a pretty ha'penny; anywhere Ernest Hemingway, F. Scott Fitzgerald and George Orwell have all been "down and out" around the same time that a global fine dining guide was being published is still going to draw tourists every month of the year; and anywhere that has built an entire economy around tourism is going to be competitive. For the ten most expensive travel destinations, read on.
10. Tokyo, Japan
Photo by chainsaw day care/Flickr.
Tokyo has the largest metropolitan economy in the world and mixes a futuristic cityscape, scores of nightlife and business districts with an impeccably preserved past in the five districts of Old Tokyo. With respect to their astonishingly sophisticated gourmet scene, homegrown fashion designers and the other multitude of local cultural industries leading the world, Tokyo is a glimmering example that discipline is art and art is commerce. So it ain't cheap. Depending on the neighborhood, a four-star hotel will cost around $300 per night, taxis are just ridiculous and a night on the town will leave all but the wealthiest sober or poor. The only reason Tokyo isn't higher on this list is because the Yen has been weakening against the U.S. dollar.
9. Cancun, Mexico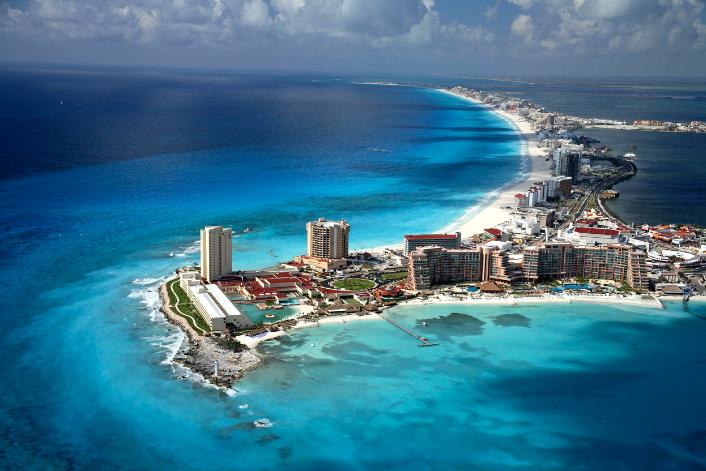 Cancun, Yucatan Peninsula – photo by irvant cakra
Despite being in a relatively inexpensive country to visit and reside in, Cancun is remarkably more costly than the rest of Mexico because of its clout: white sand beaches, turquoise waters, a coastline studded with world-class luxury resorts and tons of ancient tourist attractions like the Mayan ruins, ritual sites, lush jungles and more. That being said, backpackers and hostel-hoppers do not tend to hop into Cancun, as a lot of their businesses are built around resort life and a night following the resort life, including hotel, dinner, cocktails and taxi, can get pretty expensive.
So it's expensive. There are still lots of reasons to visit Cancun: the top 10 reasons to visit Cancun by Hopper
8. Copenhagen, Denmark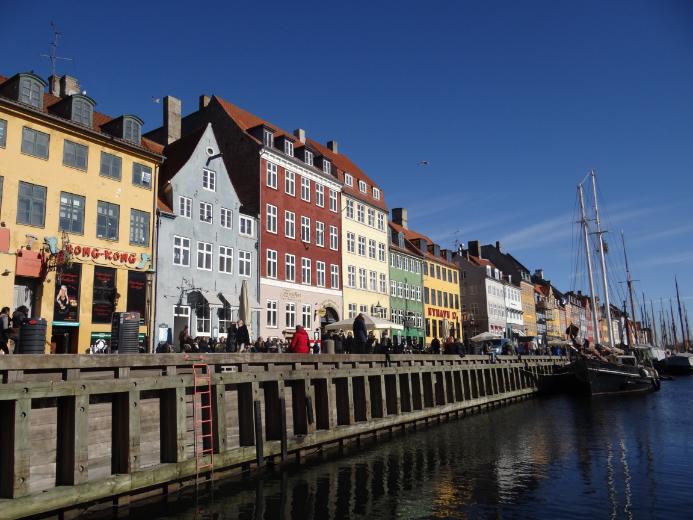 Nyhavn, Copenhagen – photo by Hannah Silverman
With its large number of Michelin-starred restaurants, happening clubs that stay open all night, a wide variety of diverse but no less expensive accommodations, vibrant pedestrian malls both hyper-modern and historic, Copenhagen is certainly more expensive than many (many) other cities. But there are many ways to experience the city on a light wallet, namely buying alcohol in the grocery store and imbibing in a hotel room or in public, or exploring the bohemian neighborhood of Christianshavn.
7. London, England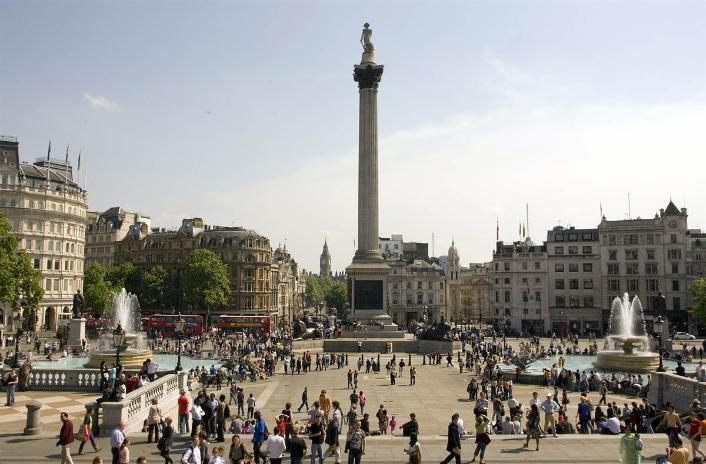 Trafalgar Square, London – photo by Sang Kim
London might not rule the world anymore, but it's still one expensive city. The pound is nearly double the rate of the U.S. dollar. If you don't look at the currency symbol next the numbers, it seems cheap – but it's not. The London Olympics added more to London's infrastructure and drew international attention, and of course, there will never not be Anglophiles flooding into the Tower of London or Abbey Road Studios invariably seeking the ghosts of John Lennon or Anne Boleyn (ghosts adjusted to taste). That being said, transportation and hotels are a huge cost for visitors.
6. Sydney, Australia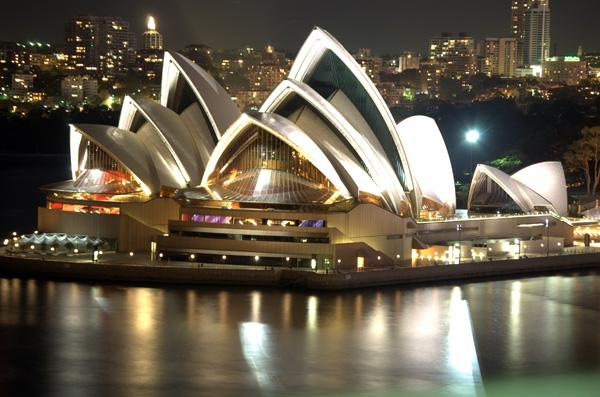 Sydney Opera House, Sydney – photo by ketul patel
Sydney is an expensive city in an already expensive country, Australia. The Australian dollar has become stronger and stronger in recent years, which means that now living in Sydney and Melbourne is more expensive than living in Copenhagen, Hong Kong or New York City. So what does this mean for the traveler? Well, besides the exorbitant plane ticket, it means beers are upward of $10 and everything else costs an arm and a leg too. The country's minimum wage is more than AUD$16, after all.
5. Paris, France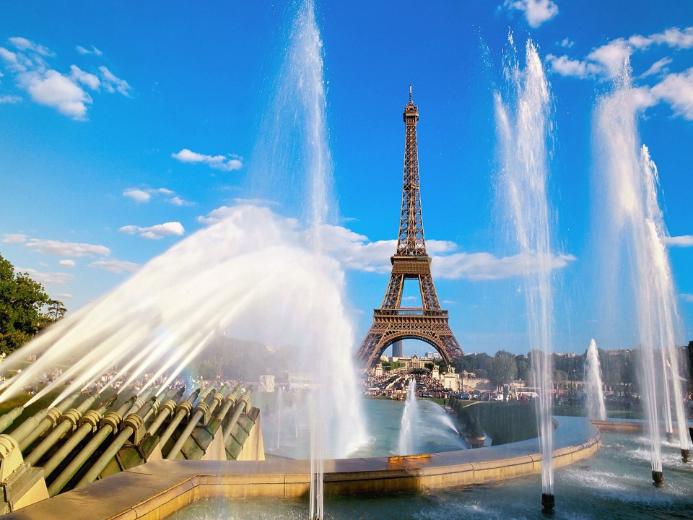 Eiffel Tower, Paris – photo by The Swiss Rock
Another city romanticized for its former starving artists, Paris, has turned to be quite the economic hub. It's much harder to be down and out these days when a cocktail costs 20 euros! With 28 million newlyweds, Francophiles and other tourists flooding the cobbled, art-laden streets of St-Germain-des-Prés or along the banks of the Seine towards the Notre Dame Cathedral, the city's hospitality industry is going through the roof. An average night in a decent hotel costs approximately $360, which means a couple could spend up to $550 per day from evening into the morning.
4. New York City, United States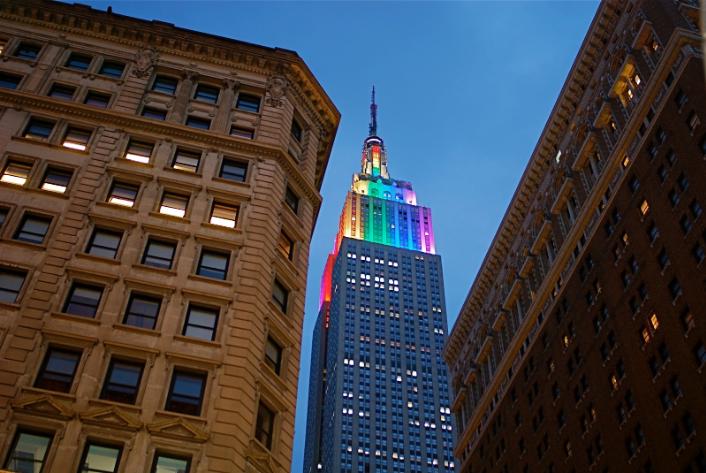 Empire State Building, New York City – photo by Noel Y. C.
The running joke in New York is that an apartment in Manhattan will cost you your soul, which roughly translates into $2000 per month per shoebox – Murphy bed not included. The Greenwich Village artists have relocated to Williamsburg in the last 40 years, while Manhattan has been sacrificed to the likes of Donald Trump, Jay Z, Wall Street finance guys and whoever's still hanging onto rent control. What does it mean for travelers? Well, a helluva lot for a semi-decent hotel. With its constant stream of tourists filling the lobby of the Empire State Building and flooding into Momofuku, a four-star hotel averages out to $325 a night. Visitors to New York should bank on spending an outside amount of about $550 per couple a night – that's with dinner, cocktails and cab ride.
3. Stockholm, Sweden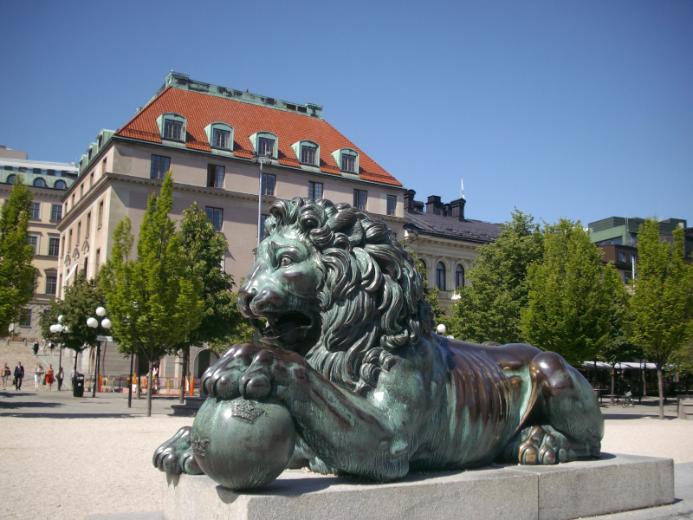 Gamla Stan, Stockholm – photo by laimanov
Stockholm, with its glimmering waterfront, remarkable stone architecture, over a hundred museums and large inner-city parklands, is an obvious choice for Scandinavian vacation getaway. It's also a rich city in a nation with its own currency (no Euro), which means that it's incredibly expensive.
2. Zurich, Switzerland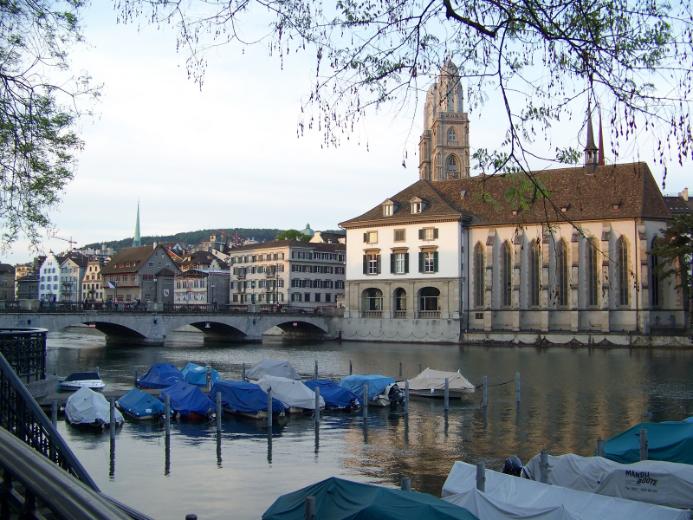 Zurich, Switzerland, is the city that never quits. Through the comfortable summer and powdery winter, Zurich's tourism remains the same – at least for the well-heeled travelers who find themselves there. From skiing in the Alps to lounging on Lake Zurich, even the outdoorsy nature activities are expensive, but in town, visitors can expect to pay just over $300 for a four-star hotel for one night, on average $40 for a cab and the average cocktail or beer costs $11, but if you think about it, that's really a drop in the bucket for the Alps crowd anyway.
1. Oslo, Norway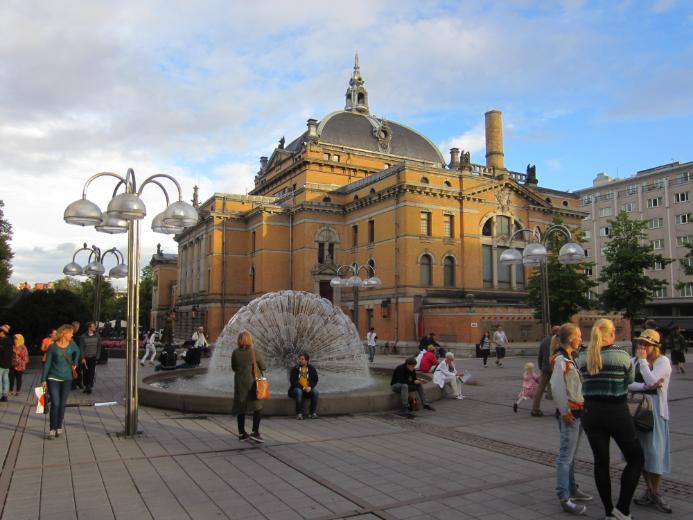 Oslo National Theatre, Oslo – photo by warrenfromkansas
Oslo, like many of its Scandinavian counterparts, is small and exorbitantly expensive – the most expensive, in fact. Which isn't surprising considering Norway is oil rich on a level that has its per person GDP in the Qatar range. All it means is that if visitors want to check out the Scream by Edvard Munch in person or dig around their other remarkable arts and cultural hubs, they'd better remember to pack their wallets (with black cards).
Top 10 Most Expensive Places to Travel in the World and Why
The international travel industry is worth billions of dollars, and post-pandemic travel rates are set to hit pre-pandemic levels by 2023. As such, many people are looking to spend their hard-earned money on a luxurious vacation at expensive destinations. But what are the most expensive places to travel to?
Musha Cay, an island in The Bahamas, is the most expensive place to travel in the world. It's incredibly exclusive, as it's privately owned. Consequently, visitors can't book a hotel room, though they can spend $50,000 per day to stay in a rental home. Still, there's a five-day stay minimum.
If you're looking to enjoy the highest level of sophistication and relaxation, you'll want to consider one of the most expensive travel destinations listed in this guide.
Top 10 Most Expensive Places to Travel in the World:
Musha Cay, The Bahamas
Wolf's Fang Camp, Antarctica
Ile du Nord, Seychelles
Laucala Island, Fiji
Volcanoes National Park, Rwanda
Bora Bora, French Polynesia
Burj Al Arab, Dubai
Torres del Paine National Park, Chile
Reykjavik, Iceland
Grand Cayman, Cayman Islands
10. Grand Cayman, Cayman Islands
Though Oslo, Norway, is often lauded as the most expensive travel destination, Grand Cayman gives it a run for its money. The largest of the Cayman Islands, this tropical paradise is home to several hotels, restaurants, and one-of-kind activities.
Depending on your current location, you can expect to spend between $200 and $700 to fly to Grand Cayman, and hotel prices start at about $160 per night. When you include dining and activity costs, the per-day total to stay here averages at about $300.
Naturally, you can expect to spend far more if you arrive at Grand Cayman via one of the world's most expensive cruise ships!
Why It's Expensive
There are several reasons why Grand Cayman is one of the most expensive travel destinations in the world. Firstly, it's relatively remote, sitting in the north region of the Caribbean Sea. As a result, getting to this island can be costly.
But the range of activities, resorts, and fine dining restaurants also make Grand Cayman comparatively expensive. That said, it's not the most exclusive place to visit, with hundreds of thousands of people (sometimes more than a million) visiting each year.
9. Reykjavik, Iceland
Iceland is home to volcanoes, hot springs, and dramatic landscapes that you won't find anywhere else on the planet. Iceland's capital city, Reykjavik, is one of the only developed areas, making it a go-to destination for visitors looking to experience some of the island's natural beauty while still enjoying modern amenities.
While Reykjavik does have a few hostels and several hotels, prices for these rooms are well above average. For example, a stay in a hostel might cost you between $10 and $20 in most European cities, but you'll need to invest about $80 to stay in a shared room in Reykjavik!
Food costs are also comparatively high, as ingredients are often imported. It's also worth noting that traveling to Reykjavik is pretty pricey. Because Iceland's closest geographic neighbor is Greenland, planes must carry an astounding amount of fuel to reach this island nation.
You can expect to spend $500 to $800 on a roundtrip flight to Reykjavik and between $100 and $500 per night on accommodation. You can add another $100 for food (per person, per day) and several hundred dollars for exploration activities.
This brings the total average vacation price to $600+ per day!
Why It's Expensive
Iceland is remote, relatively barren, and a popular destination for nature lovers and photographers. Its natural wonders are breathtaking, but its nonarable land makes agricultural pursuits almost impossible.
As such, many of the foods and materials you'll find in Reykjavik feature higher prices that reflect the cost of importing such goods. Hotels and hostels are also expensive, as demand for such spaces is high while supply is minimal.
8. Torres del Paine National Park, Chile
The Torres del Paine National Park in Chile is one of Earth's most celebrated natural destinations. It's home to expansive rocky landscapes, crystal-clear lakes, and unique wildlife. Those looking to get far away from bustling metropolitan cityscapes or droll small towns may want to make a beeline for this park.
However, it can be challenging to find a place to stay in Torres del Paine due to its remoteness. The Tierra Patagonia Hotel & Spa is one of the few hotels available to guests, but staying here isn't cheap.
Visitors looking to enjoy a balance of rugged natural landscapes and modern amenities can expect to spend about $17,000 for a one-week stay ($2,400 per day). Choosing a Patagonia vacation package is the best way to save a little money while also enjoying the highest-quality excursions into the park.
Why It's Expensive
There are few hotels within Torres del Paine National Park, making the few existing accommodations pretty pricey. Additionally, Torres del Paine National Park is relatively remote, lying more than 1,700 miles south of Chile's capital city of Santiago.
Visitors will need to fly to a port city (like Punta Arenas) and take a few ferry rides or an hours-long bus ride to reach the park. Traveling to Torres del Paine National Park is challenging and time-consuming, raising the overall price to visit this unique destination.
7. Burj Al Arab, Dubai
Dubai is one of the most expensive places to visit, but it does have a few budget-friendly hotels available to travelers. However, the Burj Al Arab isn't one of them.
The Burj Al Arab is the most expensive hotel in Dubai and a destination unto itself. That's because many of the rooms are covered in gold and refined materials, include butler services, and offer breathtaking views of the Persian Gulf.
Guests here also have access to terrace beaches, spas, yacht charters, and luxury car rides—the wealthiest people on the planet frequent Burj Al Arab due to its luxurious decor and outstanding services.
This hotel also has several restaurants, many of which feature dishes made with the most expensive spices in the world. Its rooms are gilded and covered floor-to-ceiling in costly materials like mahogany wood and velvet fabrics.
If you'd like to stay here, you'll need to pay for a flight to Dubai, which averages about $1,000 for those departing from North America. You'll also need to be prepared to spend between $2,000 and $24,000 per night on your hotel room.
Those looking to spend the least amount of money may be able to get away with paying a minimum of $2,500 per day while staying here (including dining and activities).
Why It's Expensive
The Burj Al Arab ensures that each guest receives the finest possible experiences, utilizing precious materials in each room, offering world-class dining experiences, and catering to each person's specific needs. For these reasons, prices here are astounding.
6. Bora Bora, French Polynesia
When you need to get away from it all, it's challenging to find a better travel destination than Bora Bora. This tiny French Polynesian island is incredibly remote and full of opportunities to kick back and relax.
Whether you'd like to swim in bright blue ocean waters or soak up some sun in privacy, Bora Bora has everything you're looking for. But you'll need to pay a high price to stay here.
While there are many hotels in Bora Bora that charge affordable per-night room prices (less than $200), there are also luxurious resorts that charge about $2,000 per night! Additionally, you'll need to take more than one plane ride to reach this island, totaling $1,500 to $2,500.
When you add fun experiences (snorkeling, diving) and dining expenses to this initial total, you'll end up with an average per-day vacation price of about $2,600.
Why It's Expensive
Bora Bora is incredibly remote and hard to get to. It lies in the middle of the South Pacific Ocean, lying more than 2,600 miles away from the nearest major landmass (New Zealand).
You'll need to catch several planes to reach this island paradise. And once you arrive, you can expect higher-than-average food prices, as all goods are imported. You can also anticipate paying extraordinary fees for hotel rooms, as most accommodations here are designed for wealthy visitors and include exceptional services like private ocean access and butler services.
5. Volcanoes National Park, Rwanda
Anyone who's ever wanted to walk with gorillas and experience the raw beauty of Africa will want to consider vacationing at Volcanoes National Park in Rwanda. This lush park is home to golden monkeys, elephants, spotted hyenas, and gorillas.
However, airfare to Kigali International Airport (plus the cost to travel to the park) will set you back about $2,000. And if you're keen to stay within the park boundaries, you can expect to spend between $1,800 and $2,800 per night.
When you add exploration activities, food, and beverages to these initial costs, you're looking at a per-day vacation cost of $3,000 or more.
Why It's Expensive
Staying in Volcanoes National Park is an exclusive experience, as there's only one resort hotel located within the park's boundaries: Bisate Lodge. Due to its one-of-kind location, the resort can charge premium prices that dwarf the high costs associated with other nearby lodges and hotels.
4. Laucala Island, Fiji
Laucala Island is privately owned, making it one of the most exclusive island destinations in the world. If you'd like to see the bright blue ocean waters and lush greenery of this island, you'll need to book a room at the COMO Laucala Island Resort.
This resort has a three-day or five-day minimum stay policy, and rooms start at about $5,600 per night. While this price does include standard amenities like WiFi, it doesn't include resort activities like jet skiing, kayaking, or snorkeling. Room prices also don't include dining, which will increase the per-day cost of staying here.
Overall, visitors can expect to spend about $6,000 per day while visiting Laucala Island. But while you're here, be sure to make the most of your experience by trying some of the most expensive seafood dishes at the Plantation House restaurant!
Why It's Expensive
Fiji often ranks highly as one of the priciest and most luxurious destinations in the world. Many of its islands are privately owned, and some are home to the most expensive resorts on the planet.
The primary reason why Fiji is such an expensive place to visit is that it's so remote. The closest major landmass, Australia, is more than 2,800 miles away.
Consequently, building materials, high-quality foods, and top-notch beverages are all imported to these islands. Luxurious amenities also drive prices up, with many resorts and hotels in Fiji featuring in-room dining, butler services, and private pools.
3. Ile du Nord, Seychelles
Ile du Nord (commonly called North Island) is an unspoiled island paradise covered in dense green vegetation and bordered on all sides by bright blue ocean waters. It's a popular vacation destination among celebrities and royals, making it an exclusive and desirable place to visit.
Getting to and staying at this island is incredibly expensive, with most guests needing a helicopter to arrive at its granite shorelines. You'll need to spend about $870 for this helicopter ride and about $9,000 per night to stay in a North Island villa.
There's often a three-night minimum stay, so you'll need about $30,000 to $40,000 (includes dining and airfare) to enjoy this holiday spot.
2. Wolf's Fang Camp, Antarctica
Many of the most expensive travel destinations are warm, tropical environments. But a handful of destinations are found in the coldest parts of the world. White Desert, Antarctica, is a fantastic example.
The White Desert "The Greatest Day" package costs $14,500 and includes a private flight to Wolf's Fang Runway. It also includes a champagne picnic, a mountain ridge climb (called a nunatak hike), and private excursions in a 4×4 vehicle.
Not including flight time, this experience lasts only three hours, so you'll be spending almost $5,000 per hour to experience the icy conditions here. This price doesn't include airfare to Cape Town, South Africa, where the White Desert flight departs.
A roundtrip flight to and from Cape Town (from North America) averages at about $1,000, so the actual total for this unique vacation is $15,500+, not including hotel stays in Cape Town or food and drink.
Why It's Expensive
Antarctica is one of the most remote places on the planet, and it's covered in thick layers of ice. These qualities make it exceptionally challenging to reach by airplane, which is most travelers' primary means of transport.
Additionally, there aren't lots of accommodation options in Antarctica. Instead, there are a handful of base camps, few of which are outfitted with luxurious amenities.
Visiting the White Desert is one of the most expensive single-day travel experiences because it's reachable via private jet and includes several unique experiences, including a champagne picnic. This makes The Greatest Day package incredibly expensive.
1. Musha Cay, The Bahamas
Though we've explored some of the most expensive island destinations in the world, nothing quite compares to Musha Cay, a privately-owned island in The Bahamas. This island has zero hotels, instead featuring five decadent rental homes.
These rental homes vary in size, with the largest being 10,000 square feet. Called Highview, this multi-story home has two kitchens and a private sauna. It's only a short stroll away from the shoreline.
The smallest rental home is a one-bedroom cottage situated directly on the sandy shores, making it a perfect romantic destination for couples or beach-loving visitors.
However, you'll need to spend $50,000 per day to stay in one of these homes. Additionally, there's a five-night minimum stay requirement, bringing your stay total to a whopping $250,000. This price doesn't include airfare to the island or some special activities (like massage or deep-sea fishing).
Why It's Expensive
Not only is Musha Cay a tropical paradise, but it's a privately owned destination. Corporations aren't permitted to build low-cost hotels and restaurants here.
Additionally, the home rental price includes food, beverages, and access to high-class amenities. These features contribute to the overall cost of staying on this island.
Musha Cay attracts the world's wealthiest and most elite families and individuals due to its exclusive nature, relatively remote location, and exceptional prices.
Visit These Expensive Destinations
Island destinations tend to be the most expensive places to travel, as they're remote, exclusive, and priced for the highest-paying customers. For example, Musha Cay, a privately-owned island in The Bahamas, tops the list as the most expensive place to travel in the world.
Of course, your ideal expensive vacation depends on your personal preferences and budget. If you're looking to save, you could also choose to visit Grand Cayman, Reykjavik, or Torres del Paine National Park.
If you enjoyed this article, you'll want to check out these related articles now!
Eric is a subject-matter expert on the world's most expensive luxuries and collectibles. He has explored thousands of luxuries and collectibles over the past few years and now brings them to readers around the world.
Recent Posts
When you think about a luxury dining experience, a buffet probably isn't the first thing to come to mind. However, there are several top-notch luxury buffets that can change the way you think about.
Train travel is often seen as a luxurious option, and for good reason. There are few things more relaxing than settling into your seat and watching the world fly by outside your window. But some.
About Us
Welcome to TheMostExpensive.org! You'd be surprised what some people will pony up to pay for some of life's simplest items. Then again, some aren't so simple. We have a bunch of the world's most expensive things on our website. If it's the inspiration you need – we've got you covered.
12 Of The Most Expensive Countries To Travel To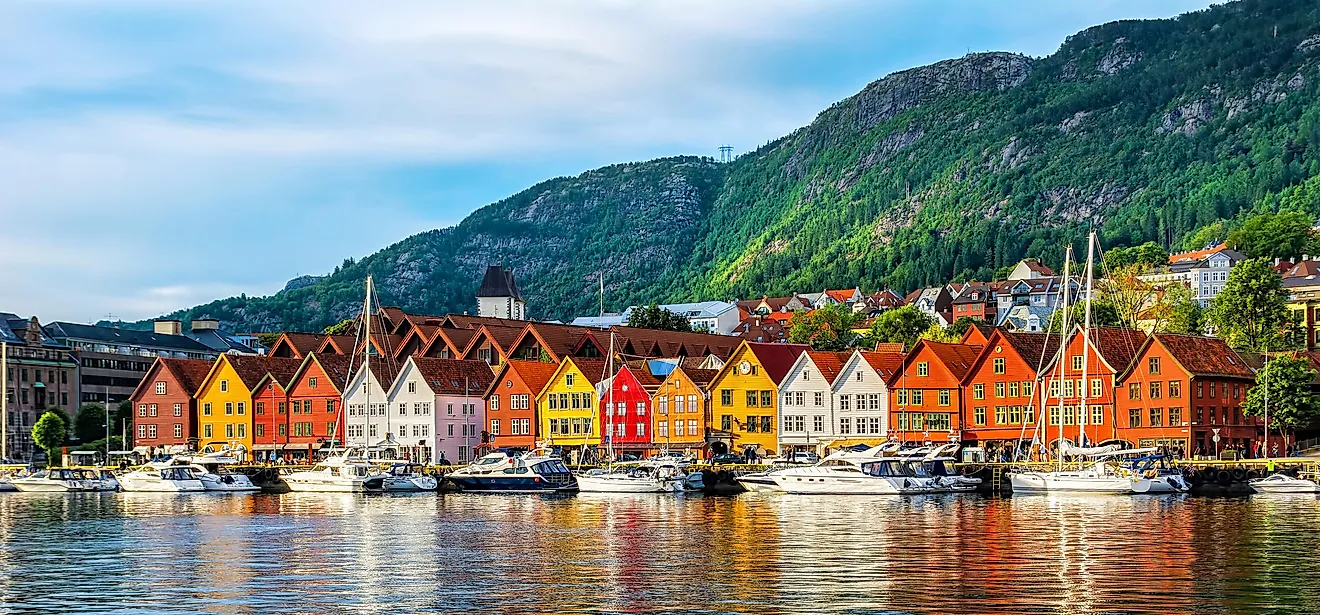 There are places for budget backpacking travelers, then there are places like the ones on this list that are ready to burn a hole in your pocket and drain your bank account. We're talking expensive hotel stays, exorbitant taxi rates, and pricey fine-dining to spoil your palate. If money is no object and you're looking for a place to travel and spend serious amounts of cash, here are the countries that are mainstays in many most expensive lists based on studies like the ones published by Hoppa and others like the Travel and Tourism Competitiveness Report.
12. Switzerland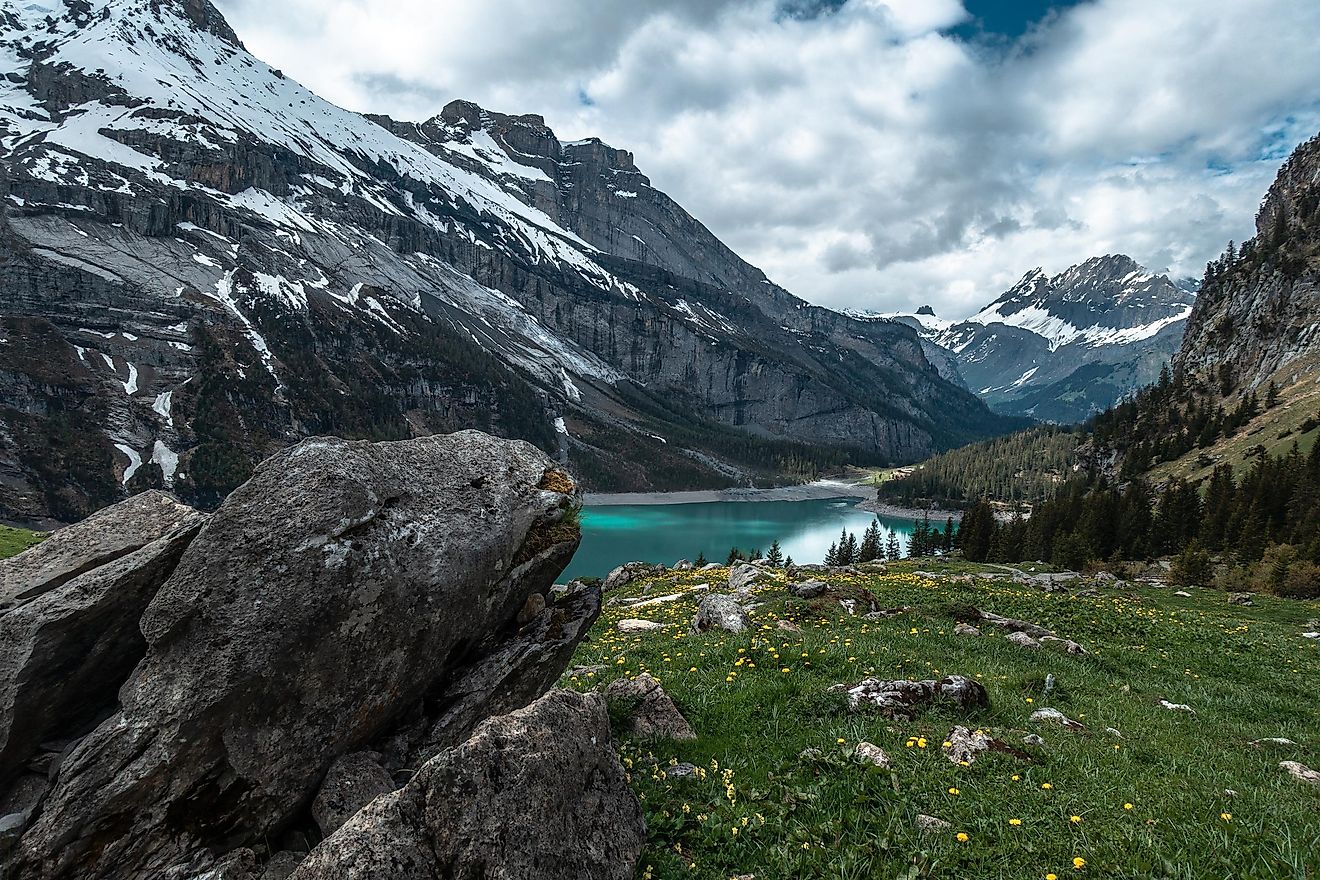 Photo by Pascal Debrunner on Unsplash
With beautiful crystal clear lakes, sprawling flower fields, and snow-capped Alpine mountains, Switzerland should be in any traveler's bucket list. This small landlocked country has plenty of nature to keep your mouth open in awe throughout your trip. It's like living inside a painting only this one will bore a hole in your pocket.
CEO World Magazine calls it the most expensive country in the world to live in, and Zurich, it's business hub is home to Bahnhoffstrausse, the most expensive shopping strip in the world. This avenue is home to brands like Rolex, Gucci, and Prada but what makes shopping here extra expensive is the high cost of living in the country.
Between airfares, hotel rates, and taxi fares, Switzerland tops many lists of expensive countries to visit. It ranks third in Hoppa's 2020 List of Most Expensive Holiday Destinations in the World. In another list, Zurich ranked first in the most expensive fine dining options for tourists category and third in terms of expenses you'll spend to travel around the country.
11. Cayman Islands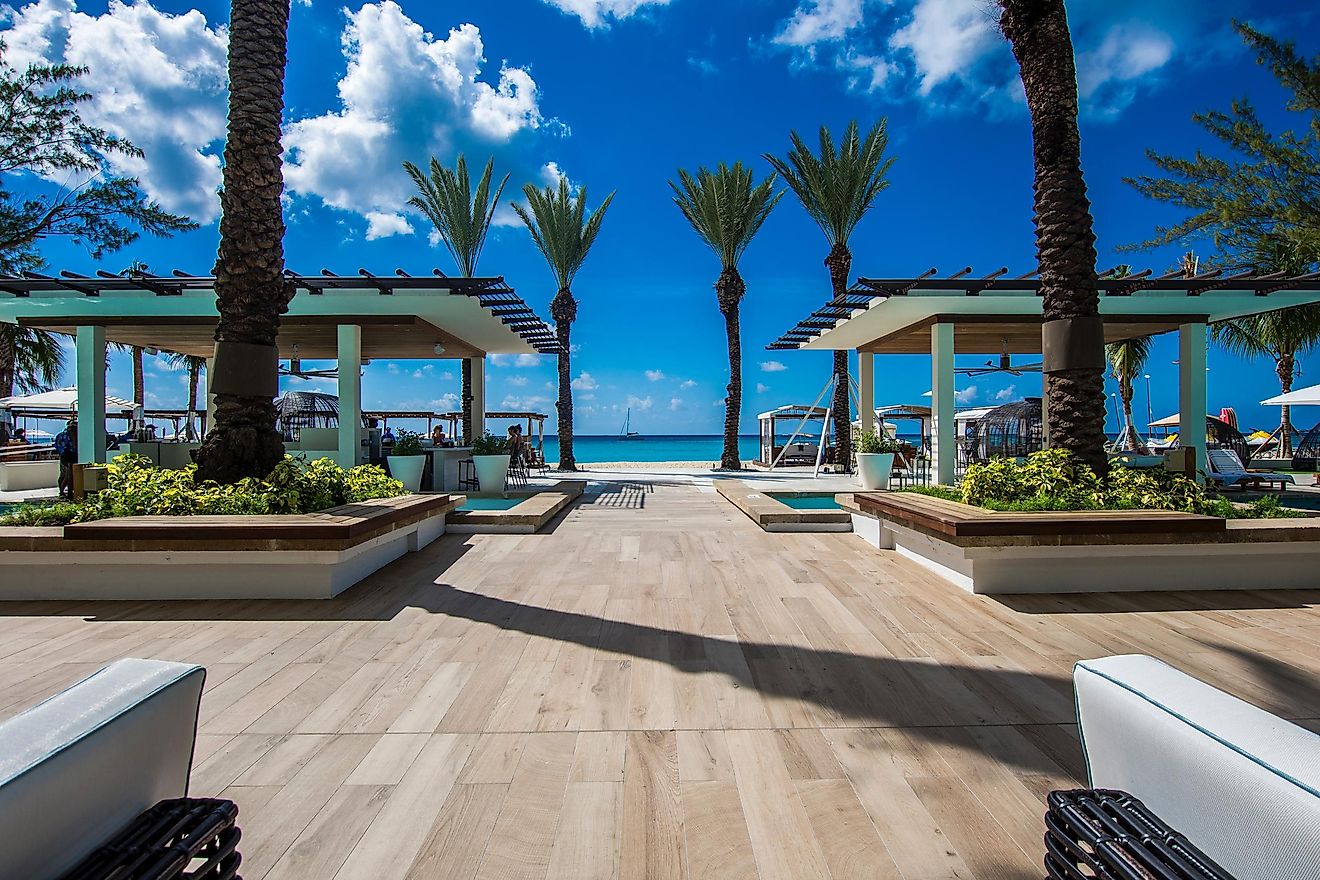 Photo by Marc Babin on Unsplash
This picturesque island located in the Caribbean is home to pristine white sand beaches, beautiful coral reserves, turquoise-green waters, and a promise of untouched peaceful seclusion. It's a slice of paradise for many tourists looking for a reprieve from their busy lifestyles.
The place has become synonymous with luxurious-living, affluence, and millionaire lifestyle in recent years so much so that Hoppa has ranked it number one in the list of most expensive holiday destinations.
Frolicking in Cayman's talcum-soft sands and coconut lined beaches come with a price and a hefty one at that. A holiday in this island will cost you around $590 a day. It has the most expensive hotel rooms in the world at a whopping $360 per person per night on average.
10. Norway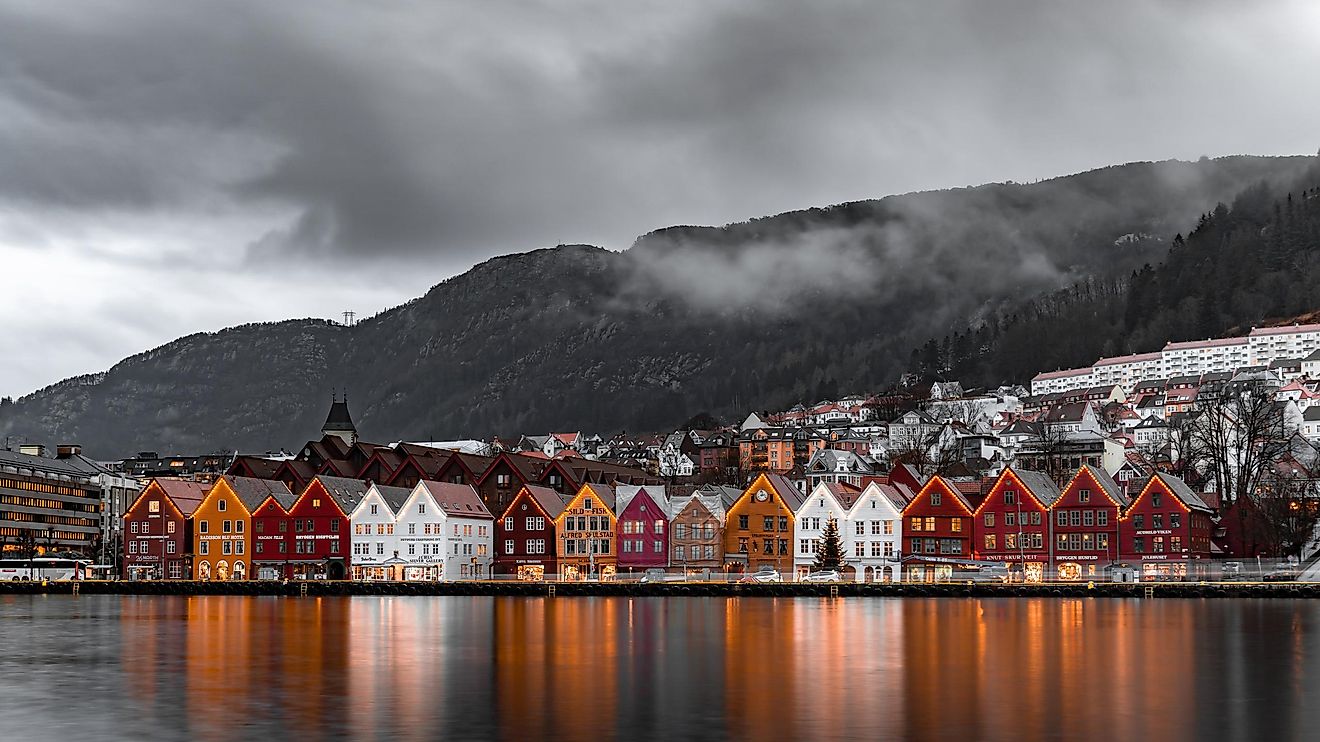 Photo by Michael Fousert on Unsplash
Many flock this Scandinavian country each year for its rich culture rooted in its Viking heritage, astonishing natural sceneries, and charming little lakeside towns. It is home to numerous UNESCO World Heritage sites, and to beautiful Norwegian flords or narrow lake drains. Oslo, its capital city is among the cleanest and safest in the world but it's also notoriously expensive.
Norway is one of Northern Europe's most expensive countries and is often on the list of most expensive places to visit. Be ready to spend around $258 per day in the capital and even more if you plan to buy goods as goods and services cost around 50% higher than those in the US.
9. Denmark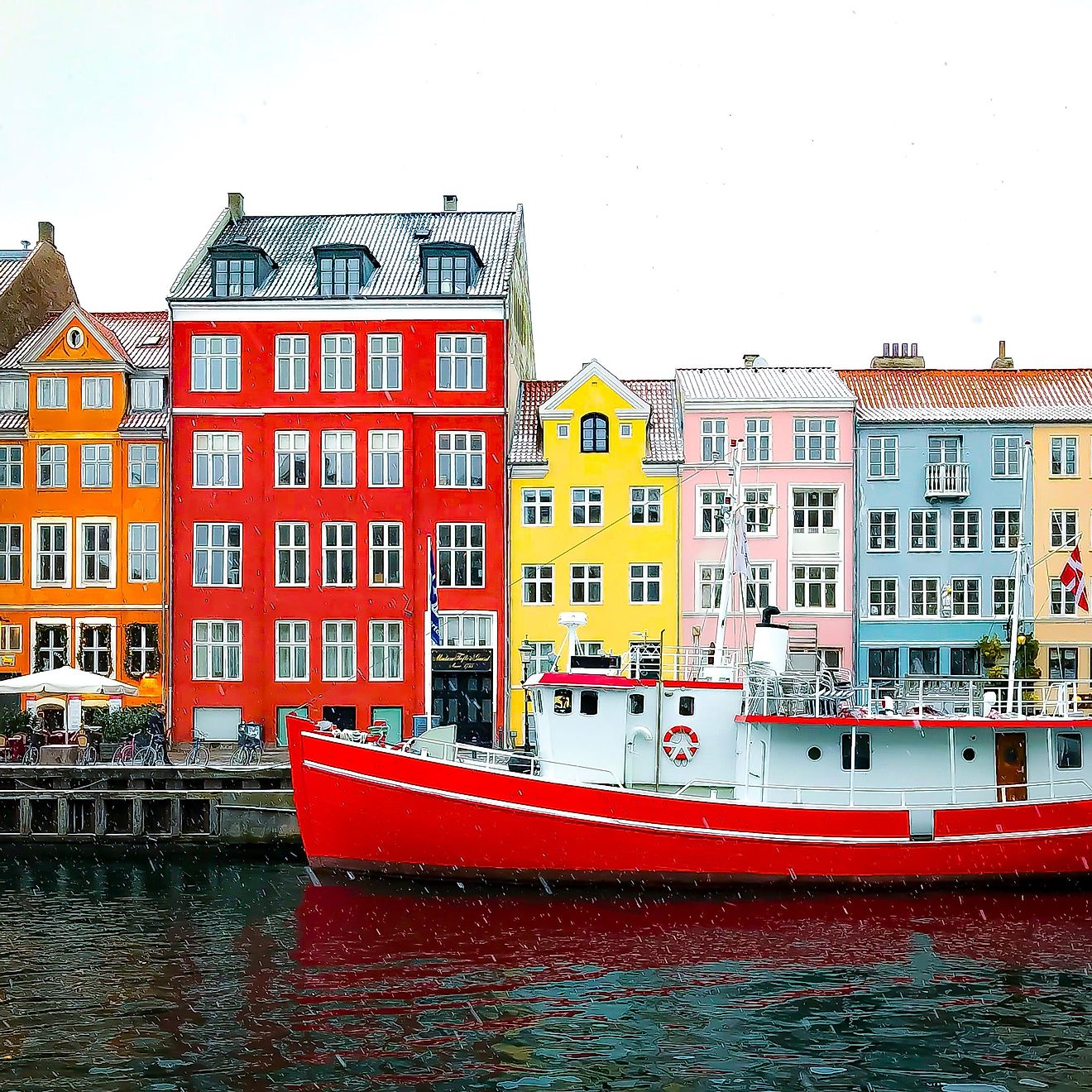 Photo by Maksym Potapenko on Unsplash
It's easy to see why Denmark is one of the most favorite places for short-term visits for tourists around the globe. They have a medieval Viking charm, lots of activities to do, and locals who are often always happy and welcoming. They are famous for their colorful architecture that lines their waterways, and a myriad of castles to visit. Many tourists enjoy the sights and sound of the capital city Copenhagen until they start noticing the dent the prices are making on their bank accounts.
Average spending in the city would be around $316 per day. And while it's relatively cheap to get there by plane, what will set you back are the prices of goods and services which are 40% more expensive than those in the US.
8. Sweden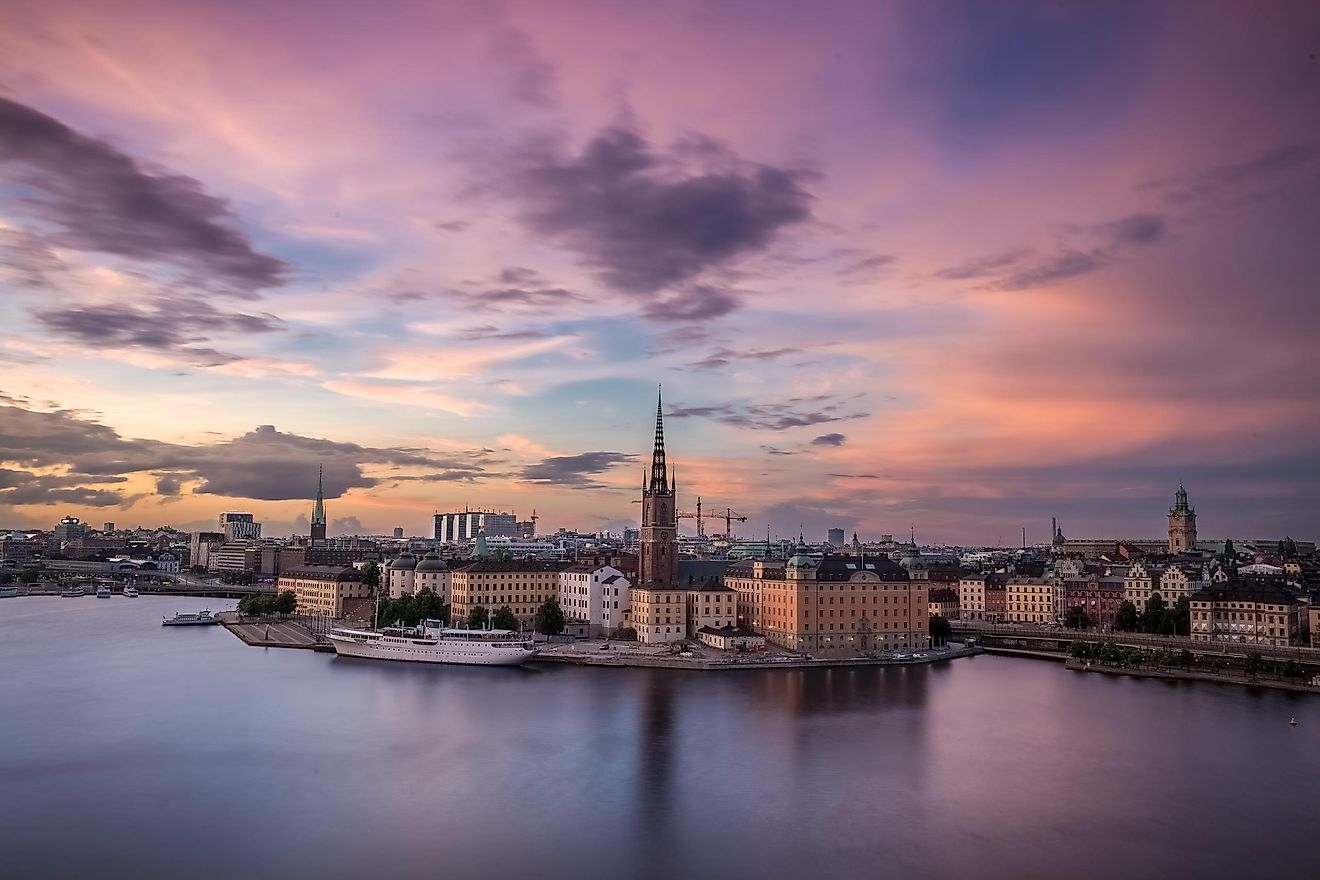 Photo by Raphael Andres on Unsplash
Tagged the Venice of the North because of its numerous canals that traverse parts of its cities, Sweden is one of the most beautiful Scandinavian countries to visit. Stockholm, its capital city is chic and charming with plenty of activities to do for tourists. You can walk around and admire the architecture or visit one of the many museums to learn about Viking culture.
While not as expensive as say New York or Switzerland, Sweden still commands quite a hefty price tag for tourists. On average one will have to spend around $316 per day to enjoy this Scandinavian country. While getting there won't be as pricey (they have one of the cheapest airfares) staying there is a different story. The price of goods in Sweden is 30% more expensive than in the US.
7. Ice Land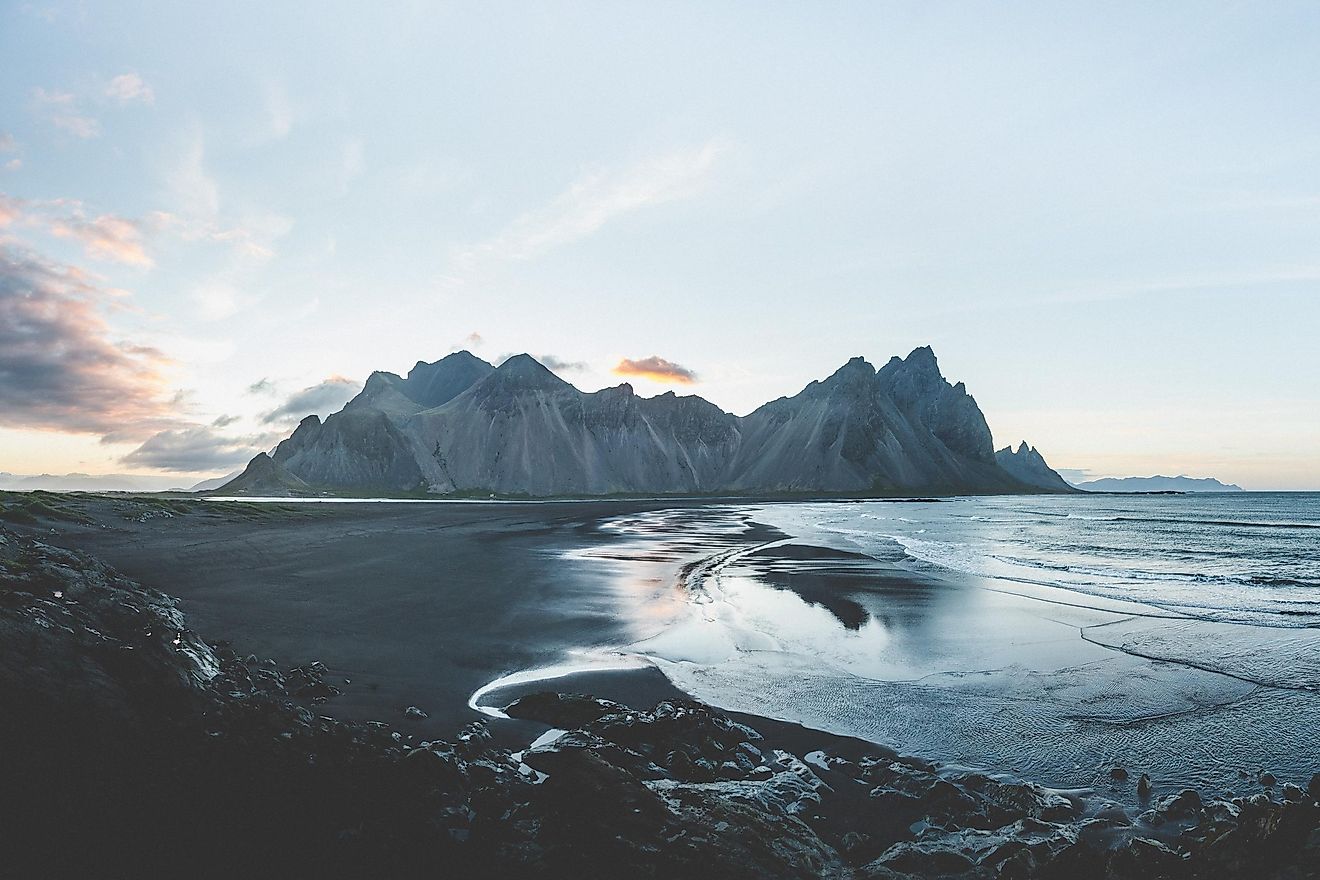 Photo by Norris Niman on Unsplash
One of, if not the, most beautiful Nordic Countries, Iceland has been a destination of choice of those with a little more money to spend. Often called the land of ice and fire, Iceland boasts of picturesque mountains, glacial lagoons, geothermal lakes, rock and ice formations, and their famed-geysers.
But this much beauty comes with a price tag too! Ranked fifth in the world's most expensive destinations, Ice land can cost you $447 per day. While flights to Iceland can be among the cheapest, prices of other goods are 10% more expensive there than in the US.
6. Japan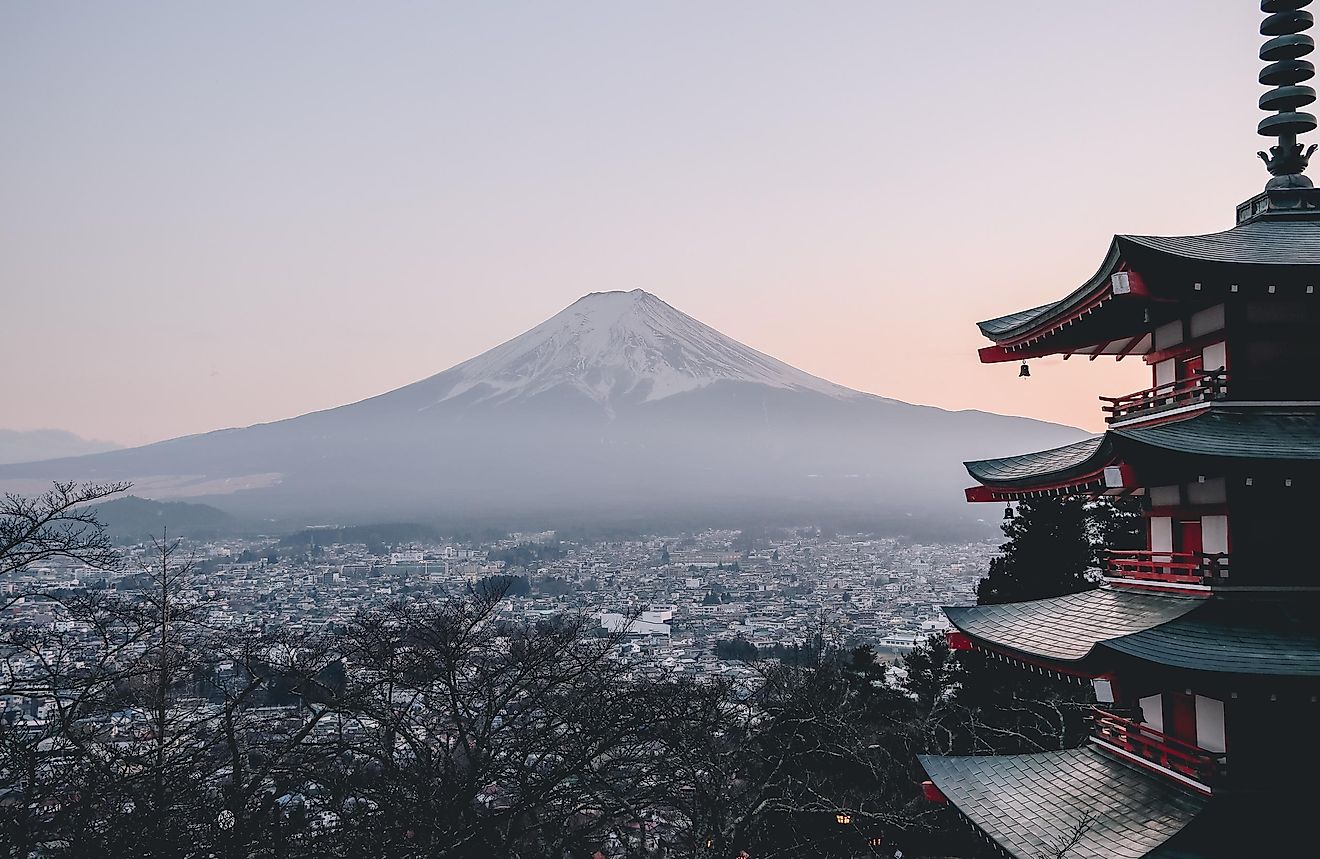 Photo by Manuel Cosentino on Unsplash
Already in many people's travel bucket lists the world over, Japan is home to exquisite foodie fares, unadulterated culture, and plenty of interesting sights and sounds to experience. While there are many scrumptious foods to fit your budget in their convenience stores, still, compared to other countries Japan is one of the most expensive places to visit as a tourist.
Tokyo, its capital city, is home to the famous Ginza street where glitzy flagship designer stores have set-up shop and are ready to max out your credit cards. A hotel in the city will cost you around $300 a night and that's just for four-star accommodation. Taxi fare here is among the most expensive in the world. It ranks fourth in the 2020 world's most expensive places to live in.
5. USA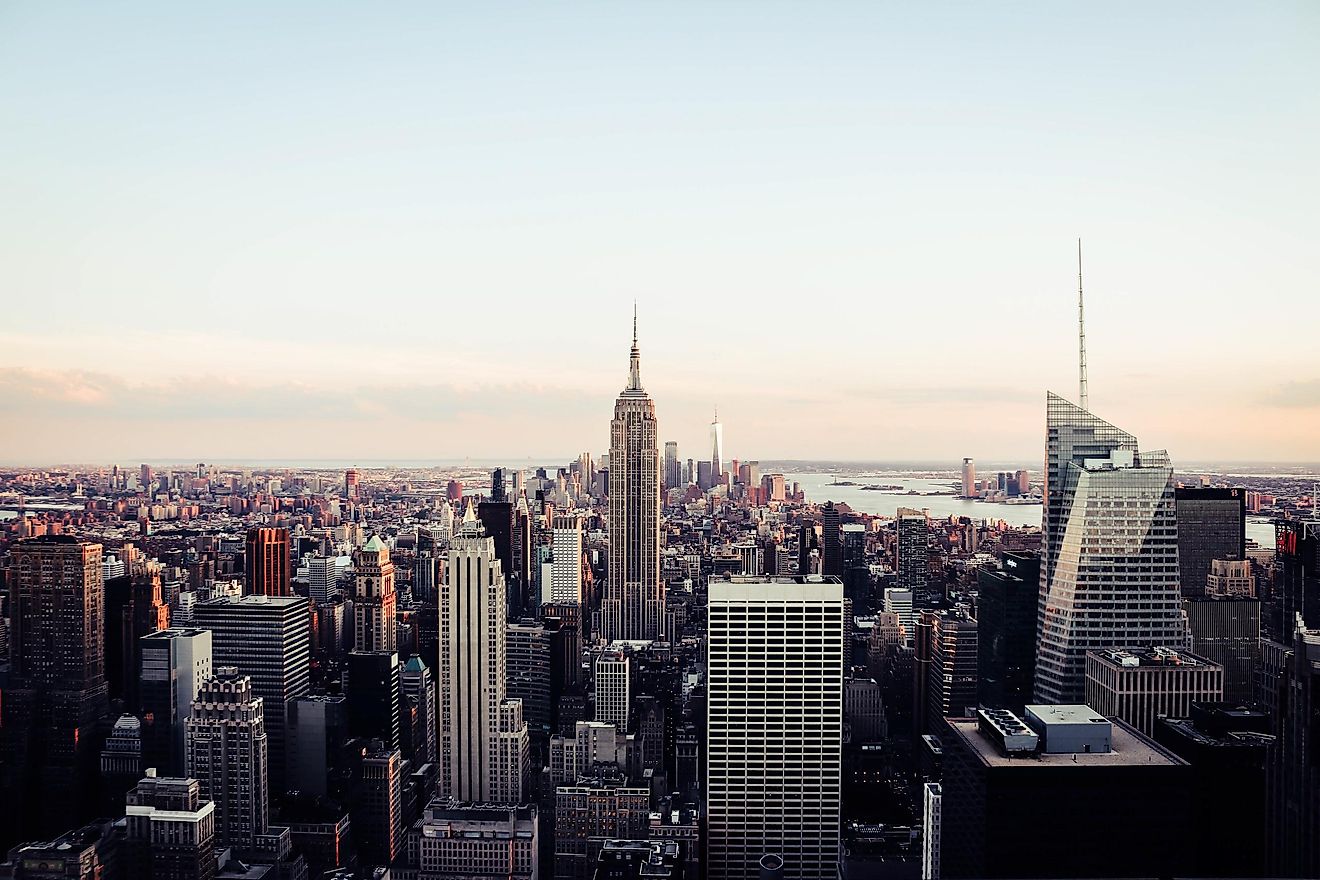 Photo by Oliver Niblett on Unsplash
With tourist hot spots like New York City and San Francisco, the US still tops many lists of expensive places to travel. Although toppled by the Cayman Islands in Hoppa's list, New York, home to the world's most expensive zip codes, still ranks fourth in terms of demanding a hefty price tag. New York is notoriously expensive and will set you back $464 per day followed closely by Las Vegas which will cost a tourist around $392 per day.
The city that never sleeps, still commands one of the priciest hotel price tags at around $250-$300 a night and that doesn't even include the price for cab rides, dinners, and excursions.
4. United Arab Emirates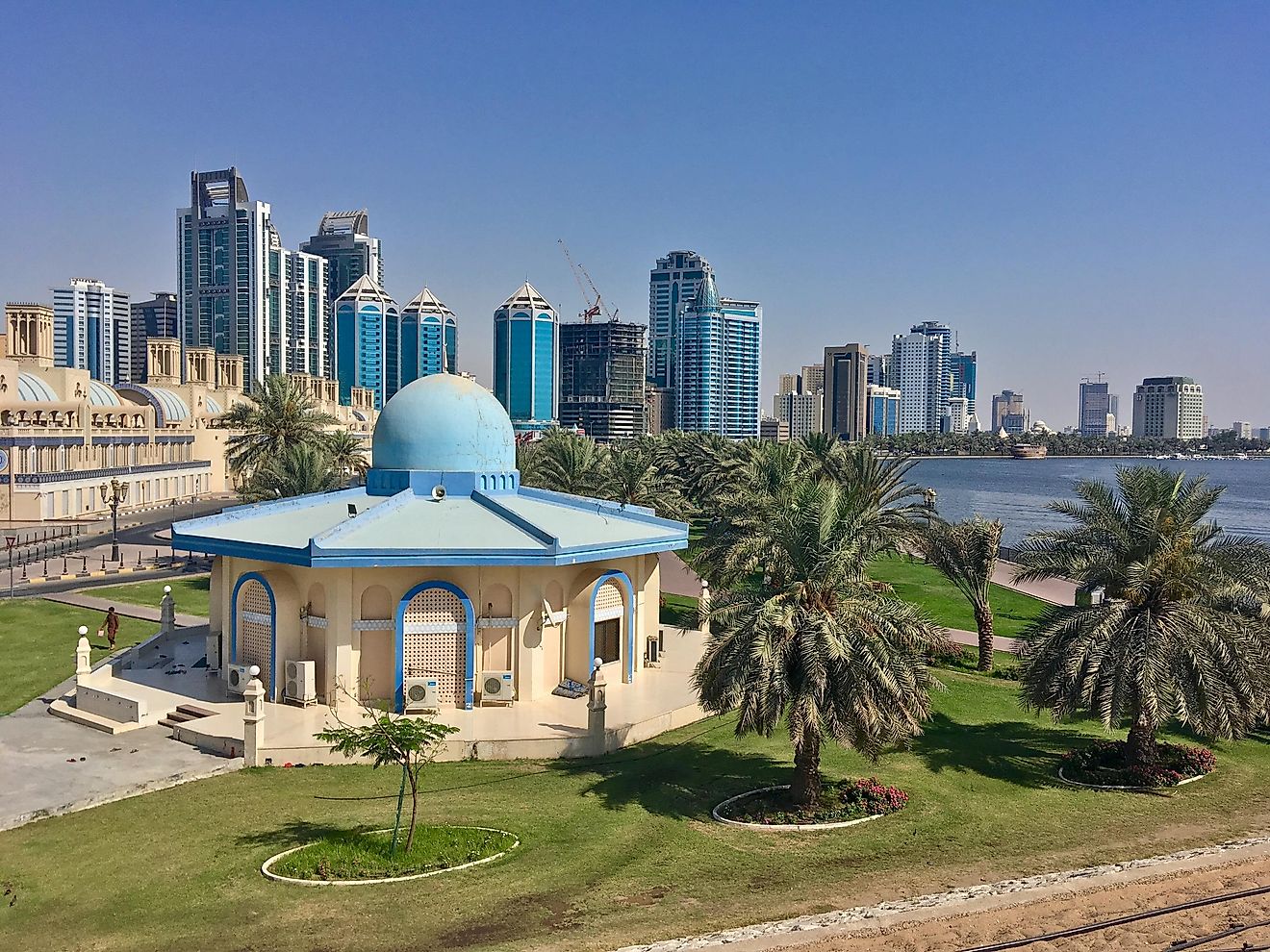 Photo by Ainur Kamaev on Unsplash
Many cities like Dubai and Abu Dhabi in recent years have become home to favorite travel destinations of those with a little more money to spend. Fueled by oil wealth, these places have become glamorous playgrounds for the rich. Its unique architecture, flashy shopping centers, and a man-made island shaped like a palm tree are a testament to their opulence and love of luxury. With exquisite excursions such as helicopter trips and yacht cruises, Dubai is one of the most expensive holiday destinations ranking second in Hoppa's list.
A five-star hotel will cost you around $300 per night on average and the much-talked-about Royal Caribbean shore-cruise, the most expensive in the world, costs around $33,000, and no that's not a typo.
3. England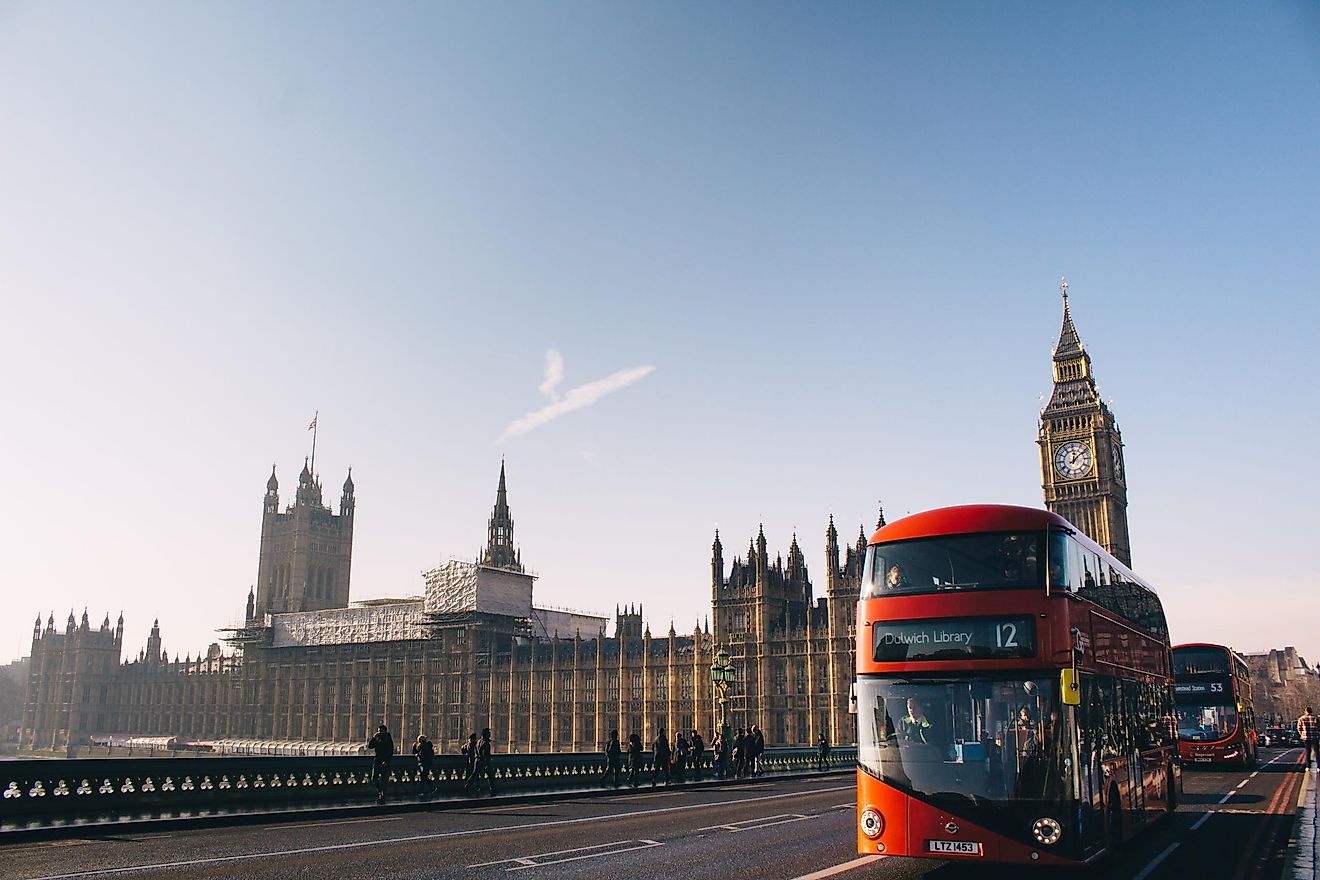 Photo by Aron Van de Pol on Unsplash
Go to England, they say, go to England to visit the queen, but what they didn't tell you is how much it will cost you. A visit to one of Europe's main business hub and center of everything hip and happening in Europe will cost you around $382 per day. Of course there are always more affordable options like sleeping at a friend's house but on average a tourist would have to spend up to $217 for a night in a hotel in London. The UK also has one of the most expensive train ticket prices in Europe. England and other areas in the UK have a lot to offer and a wide array of places for all types of tourists but it's one of the most expensive places to visit so be prepared and purchase tickets in advance.
2. France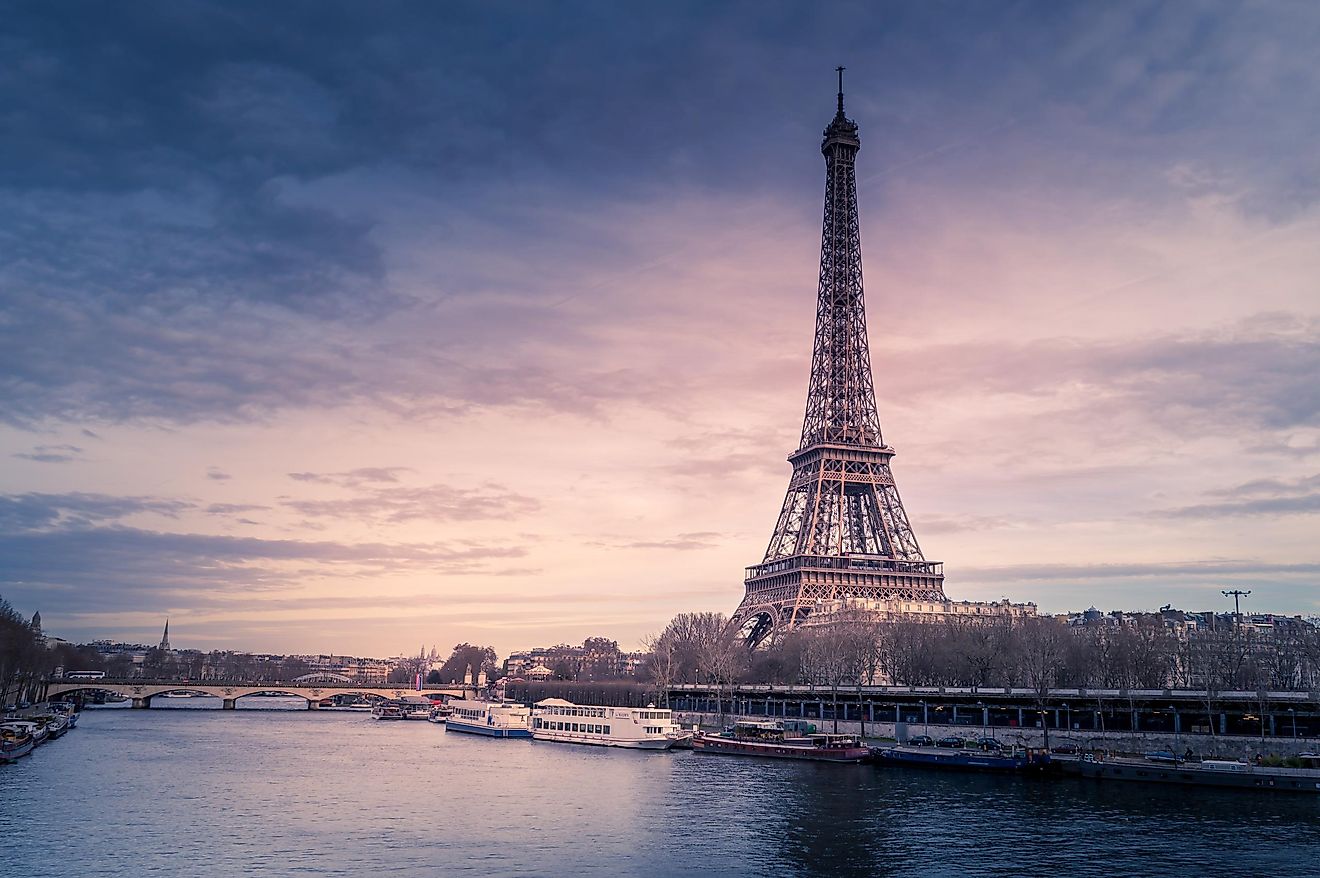 Photo by Chris Karidis on Unsplash
When it comes to European adventures, France still tops the list of places to visit to get an understanding of European culture. Famous for its rich culture, history, and culinary offerings, France is still one of the most interesting places for tourists the world over. The famous French city Paris is has earned the reputation as the city of romance, as well as opulence and luxury.
While there are now many budget options that will let you visit the city, on average a trip to France will still set you back quite more compared to other countries. A day in Paris will cost you around $352. Many historical palaces have been converted to hotels, one of which charges $26,000 a night.
1. Australia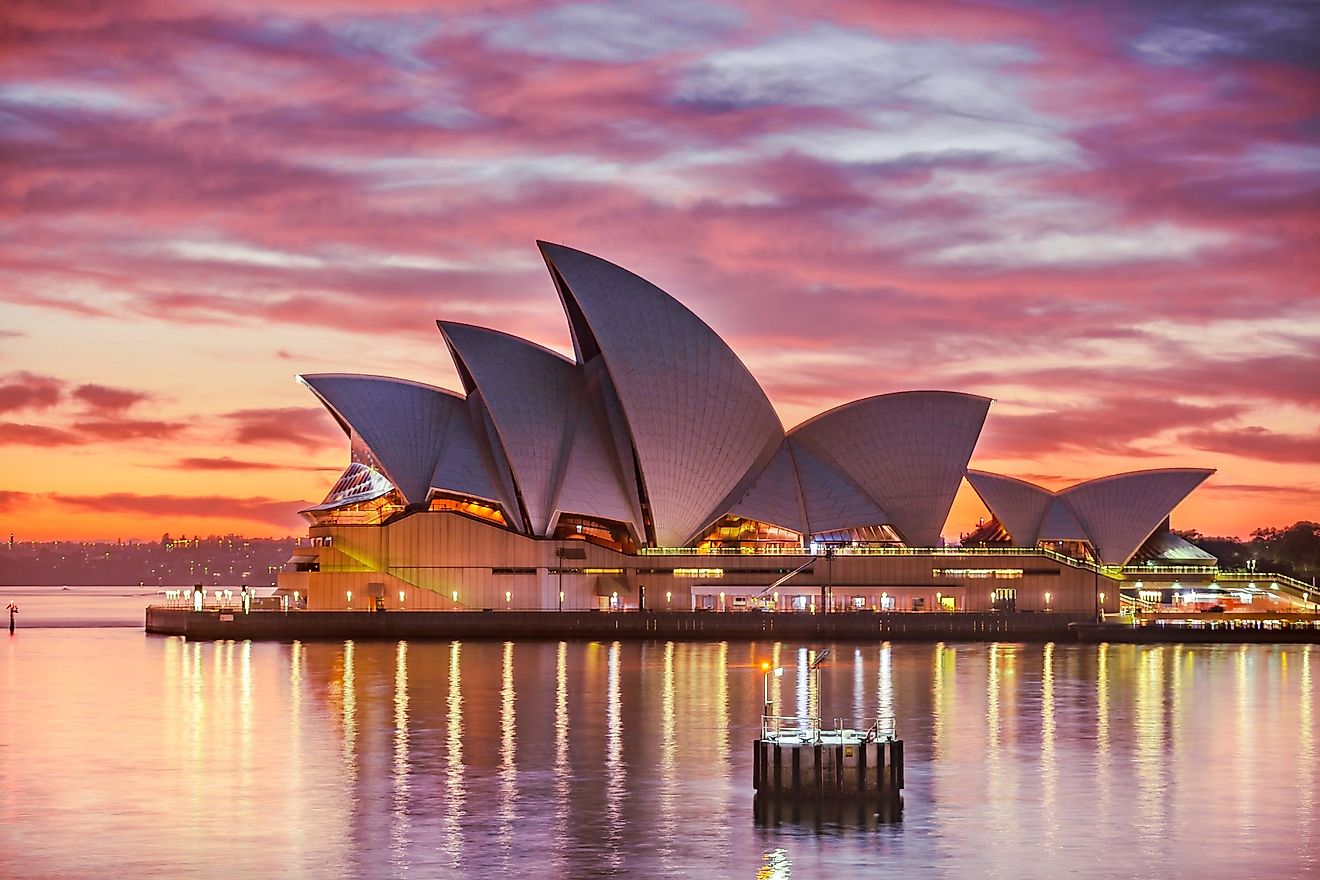 Photo by Keith Zhu on Unsplash
A favorite destination for nature and wildlife lovers as well as adventure seekers, Australia is home to The Great Barrier Reef and the famed Sydney Opera House. Its for travelers who enjoy the great outdoors, sun sand and wild animals.
But the land down under has become not just an expensive place to live but also to visit. Aside from the exorbitant price of plane tickets to reach this seemingly isolated island South of the globe, goods and services are also around 10% more expensive than those in the US. On average a tourist in Sydney would have to shell out around $295 per day according to Hoppa's study.
Source https://media.hopper.com/articles/the-ten-most-expensive-travel-destinations-in-the-world/
Source https://themostexpensive.org/most-expensive-places-to-travel/
Source https://www.worldatlas.com/articles/12-of-the-most-expensive-countries-to-travel-to.html