Come explore Seattle's Heart & Soul
With more than a century of history, Pike Place Market is the oldest continuously operating farmers market in the country and one of Seattle's most popular draws. The market lures visitors and locals alike (we're talking 10 million people per year) with its farm-fresh produce, butcher-paper clad bouquets, abundance of shops, restaurants, and bars—not to mention some of the best people-watching in the city. From wader-clad fishmongers slinging salmon to street buskers playing for passersby, there's always something going on here.
Quick History
Spearheaded by eight local farmers looking to cut out the middleman, Pike Place Market began selling produce to the public in August 1907. Within three months, the market had grown to 76 stalls, and by 1922, had expanded to 11 buildings along nine acres near the Seattle waterfront.
The market was nearly demolished in the 1960s, never having fully recovered from the effects of World War II (Executive Order 9066 during the war forced two-thirds of the market's vendors, all of Japanese descent, into internment camps). Thankfully, architect and activist Victor Steinbrueck (co-designer of the Space Needle) and his group, Friends of the Market, successfully campaigned to establish a seven-acre historic district around the area, saving the market from being replaced by offices and a giant parking garage.
Today, the multilevel space is home to more than 500 shops, vendors, restaurants, and bars. In 2017, the MarketFront expansion just south of Victor Steinbrueck Park brought additional open-air space for vendors and new restaurants, as well as a renovated public plaza with views of Puget Sound and the Olympic Mountains. Building on the market's philanthropic roots, the expansion also included a neighborhood center and low-income housing (on that note, drop your spare change in market mascot Rachel the Piggy Bank—all donations are funneled through the Pike Place Market Foundation to benefit the market's social services).
Photo Ops
Pike Place Fish Market Courtesy of Chris Bachmann
While there are a few must-snap spots, Pike Place Market is pretty photogenic, wherever you happen to be pointing the camera.
One of the most notable is the aforementioned Rachel the Piggy Bank. Find her under the red Public Market Center sign at the entrance on First and Pike (she's seldom seen without a few giggling riders or groups posed alongside her 550-pound bronze frame). Rachel's lesser-known but equally sizeable cousin, Billie the Pig, is also available for photos at the MarketFront.
The towering sign itself is a local landmark. Dating back to 1927, it is one of the oldest outdoor neon signs on the West Coast. For a less crowded shot, try posing a block east on Pike Street, complete with a stunning background of Puget Sound and maybe even a ferry sailing in from Bainbridge Island.
Just behind Rachel, follow the sound of good-natured shouts from Pike Place Fish Market and take a few live-action shots of fresh catch being tossed across the stand. North on Pike Place is the first Starbucks—well, almost the first, the store opened a block north in 1971, but moved to the Pike Place location in 1975. Snap a picture of the original mermaid logo and pick up Starbucks swag only found at the Pike Place location.
Market Eats (and Sips)
Beecher's Cheese Courtesy of Beecher's Cheese
Food-focused travelers will want to wander produce stalls and taste the fruit slices on offer, from crisp Washington apples to peaches, depending on the season. If you're looking to eat alfresco, pair the fresh fruit with specialty cheeses and charcuterie from DeLaurenti for a picnic lunch. Stop between tastes at Ellenos, a homegrown Greek yogurt stand with a cult following, or Seattle staple Beecher's Handmade Cheese for a bowl of its signature mac and cheese. Don't be deterred by the line outside Piroshky Piroshky—the Russian pastries (beef and cheese is a crowd favorite) are worth the wait. Michou Deli and Le Panier a few doors down are both good spots to grab a pre-piroshky bite.
Once done, wash it down with one of the 16 beers on tap at Old Stove Brewing Co. in the MarketFront expansion, or try one of the most beloved Moscow mules in town at Rachel's Ginger Beer in Post Alley (there are also plenty of ginger beer drinks sans booze).
For sit-down dining, Lowell's is a classic market experience with prime waterfront views and plenty of local seafood on the menu. Make a night of it with a reservation at Matt's in the Market (revered for its elevated fare and eye-to-eye view of the glowing market sign) or The Pink Door, where you'll find Italian dishes and cirque-cabaret performances Sunday and Monday nights (look for the nondescript salmon pink entrance in Post Alley).
Just Desserts
There's no shortage of ways to satisfy a sweet tooth at Pike Place Market. Stop at Daily Dozen Doughnuts at the south end of the market for its hallmark paper lunch bag of mini fried doughnuts covered in your pick of powdered sugar, cinnamon, or sprinkles. Shug's Soda Fountain & Ice Cream on First Avenue is chock-full of charm, with its vintage soda fountain and scoops from local ice cream purveyor Lopez Island Creamery. And for chocolate lovers, look no further than indi chocolate—the bean-to-bar producer's new home in the MarketFront includes a cafe, a retail area for its cocoa-based products, and windows offering a behind-the-scenes look at chocolates in the making.
Shopping
Metsker Maps Courtesy of Metsker Maps
Exploring the shops at the market can take a full day on its own. Pike Place is home to more than 200 artisan craftspeople selling everything from homemade soap to hand-thrown ceramics, all happy to chat about their work. The market is also known for its seemingly endless rows of flower stands, where arrangements can run for as little as $10 (it's one of the best deals in town).
After browsing on the street level, follow the illuminated sign pointing down to the lower arcade levels to find an array of offbeat shops housing magic tricks, vintage posters and magazines, and retro pop culture paraphernalia, from lightsabers to rare comics at Golden Age Collectables.
The original Sur La Table at the heart of the market on Pike and Pine is a must-visit for culinary aficionados, while Made in Washington offers Pacific Northwest–centric souvenirs (think smoked salmon, glass art, or a Sasquatch kitchen towel). Just around the corner, Metsker Maps of Seattle is in the business of all things travel and geography—look here for an area map or a book on local topography. Nearby, find whimsical prints and t-shirts at Robot vs Sloth and a knitter's haven So Much Yarn—a one-stop shop for yarn and knitting supplies.
Along Western Avenue, pop into boutiques Ugly Baby and The Paper Feather for quirky gifts and handmade paper products, respectively.
After Hours
While the farmer stalls close up during the evening, there's still plenty to do after the sun goes down if you know where to look. Sibling bar to restaurant Matt's in the Market, Radiator Whiskey serves its impressive store of whiskey, bourbon, scotch, and rye from barrel taps, along with signature cocktails (have you ever tried a bourbon margarita?). For a late-night beer, Pike Brewing Company is open until midnight with a rotating tap list—visit earlier in the day for a guided tour and tasting.
Tucked behind a staircase on the Pike Place Hill Climb, Zig Zag Cafe is a local stalwart known for its mood lighting and expertly crafted drinks. Steps away, shoebox-size JarrBar is a Mediterranean-inspired watering hole serving craft cocktails and small plates until 2am.
Secret Garden
Even locals are sometimes surprised to stumble upon the Pike Place Urban Garden in its under-the-radar location on the rooftop of the LaSalle Building. Produce grown here is donated to the Pike Market Senior Center and Food Bank. Snag a spot on a bench between winding tomato plants and raised garden beds to take in views of the water and the towering Seattle Great Wheel.
Top Tours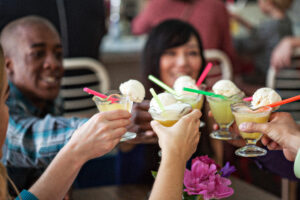 Savor Seattle Courtesy of Jackie Donnelly Ink Spice Photography
For the uninitiated, a tour can be the perfect intro to all things Pike Place Market. Seattle Free Walking Tours gives a broad overview of the market, blending anecdotes and plenty of stops to taste samples. The Friends of the Market tour takes you to lesser-known spots, with an emphasis on the market's history, while the nighttime Market Ghost Tour leads visitors through the empty market while telling ghost stories and true tales of the market's sometimes-spooky past.
To taste your way through Pike Place, take your pick between a host of food-centric tours, offered by outlets like Savor Seattle and Eat Seattle, taking foodies through the culinary highlights of the market. Or try a private tour with Diane's Market Kitchen, followed by a cooking class using market-fresh ingredients.
Top 10 Fun Things to Do at Pike Place Market in Seattle
Angela has been writing about life, travel, and recreation in the Northwest, where she grew up, since 2000.
TripSavvy / Noah Kreyenhagen
Pike Place Market is way more than a farmers market, offering a real variety of things to eat and fun things to do. The Market sprawls across several city blocks packed with a broad cross-section of urban life. A large chunk of Pike Place Market is officially designated as a National Historic District. It operates all year round and includes well-established businesses as well as stalls and crafts booths that change vendors on a daily basis.
Pike Place Market is a colorful and exciting place to hang out and explore. There is much more there than you could possibly see and do in a single visit. Each time of day and season of the year brings new experiences. Yet there are certain things that are a part of every visit to Seattle's Pike Place Market, fun things to do and see that keep visitors and natives coming back time and time again. Here are the top 10 activities and attractions that are always part of a Pike Place Market experience. Many of them are free!
Ogle the Bounty of Land and Sea
TripSavvy / Noah Kreyenhagen
No matter where you're from or what your background, there's something beautiful and satisfying about the sight of abundant fresh foodstuffs. Baskets spilling over with fresh berries. Ice bins filled with salmon, crab, and shrimp. Tables stacked high with plump tomatoes and blushing peaches. Strings of bright chili peppers. You'll see plenty of that at Pike Place Market, particularly in the Main Arcade and the Corner Market and Sanitary Market buildings.
Sample Foods from the Northwest & Around the World
TripSavvy / Noah Kreyenhagen
Fresh food, food products, and dining options at Pike Place Market come from the Northwest and around the world. Food producers, particularly those along the Main Arcade, offer sample tastes of local cheeses, preserves, candies, and more. Fresh nectarines or cherries can be so enticing you'll buy and eat them right there. Throughout Seattle's Market area you'll find food counters serving cuisine from Russia, Greece, Italy, Vietnam and more, as well as bakeries and delis. Your sit-down eating options range from casual counter service to fine dining. Good food is definitely among the top things to do at Pike Place Market.
Marvel at the Fresh Flower Bouquets
As you stroll Pike Place Market's Main Arcade you'll see long stretches of gorgeous flower bouquets. Most are locally grown, brought fresh to the Market each day in colorful masses carried in five-gallon buckets. The abundance and variety of flowers lead to beautiful scenes and are a favorite photo opportunity. You can pick up a beautiful mix, wrapped in paper, for as little as five dollars.
Browse the Pike Place Market Crafts Booths
Pike Place Market
Clustered at the north end of the Main Arcade you'll find the Market's day stalls, rented out to craftspeople on a daily basis. The rule here is that all the vendor's offerings must be handmade. You'll find handcrafted goods of all kinds, from fine woodwork and musical instruments to colorful jewelry and art prints. Soap and lotions, pet toys, leather goods, and pottery are among the other handcrafted items typically found at Pike Place Market.
Take a Photo with Rachel the Pig
The large bronze piggy bank located under the big "Public Market Center" sign and clock is known as Rachel, named after the real pig that served as the model. Rachel has become the Seattle Market's mascot. Coins and bills placed in Rachel's slot fund the Market Foundation. Taking a photograph with the big bronze pig is among the most popular things to do for first-time visitors. Not only does Rachel make a great spot for a photo, with the colorful Pike Place Fish Market in the background, but she's a convenient landmark to meet up with friends.
Explore the Market's Nooks and Crannies
The shops and businesses facing Pike Place, which include the first floor of the Main Arcade, the Corner Market, and the Sanitary Market buildings, are in the heart of the Pike Place Market district and are part of most visits. But there's a lot more to see and do at Seattle's public market. There are many shops and service providers located "Down Under", the floors below the Main Arcade. ​Post Alley, home to many great restaurants and specialty shops, cuts through the neighborhood. Take the time to explore and you'll be delighted by new discoveries.
Purchase a Souvenir of Your Seattle Visit
Pike Place Market
Whether you're looking for the conventional T-shirt, a tasty treat, or something truly unique, you'll find that Pike Place Market stalls and shops are packed with Seattle souvenirs of all kinds. Smoked salmon, Market Spice Tea, or a jar of cherry preserves make a thoughtful thank-you gift for the neighbor watering your lawn while you're away. Matted photos, Northwest Coast art or a watercolor of the Seattle Market are all wonderful mementos of your own Seattle adventure. Whatever you have in mind, you'll find it at Seattle's Pike Place Market.
Enjoy the Talents of Pike Place Market Buskers
Pike Place Market
What's a busker? A busker is a street performer. You'll find buskers of many talents throughout the market. These street performers are permitted and regulated by the Pike Place Market Preservation and Development Authority. Acts range from guitar soloists to entire bands. There are pianists, fiddlers, magic shows, and jugglers. Many have been entertaining Pike Place Market visitors for years. Buskers play for tips, so be sure to show your appreciation.
First-time Visit to Pike Place Market
Seattle's Pike Place Market is an iconic staple to the Pacific Northwest, and most people from Washington have visited many times. But what's it like as a visitor from the East Coast, exploring the market for the first time? Adrian Stouffer, a Pennsylvania native, recently took a family trip to Washington on a whim, and this is one of the many spots she explored along the way.
Traveling to Washington
It was 9:30 a.m. We were touching down in Seattle after a four-hour flight from Philadelphia. My husband, Jason, and younger son, Dane, sat beside me bobbing in and out of consciousness. Across the aisle were my older son, Tyson, and my mother-in-law, Ada staring intently at their in-flight movies. Taxying toward the gate, excitement started to build among us for the adventure ahead.
"So, all we need to do today is get our bags and car, drive two hours south to Mt. Rainier, hike all day and then drive three and a half hours north to Oak Harbor. Piece of cake," I announced to the family grinning mercilessly at my itinerary. However, things can sound better on paper than they are in reality.
Instead, my husband Jason suggested that we check out some of Seattle and then head north to our hotel aka "Marathon Homebase." Although it was unlikely we would get to see Mt. Rainier during the rest of our trip, I agreed.
Landing in Seattle
Deciding to run a marathon on his 40 th birthday, Jason had randomly selected a race in a quaint little town nearly two hours north of Seattle called Coupeville; a town that is literally the entire way across the United States from where we live in Pennsylvania.
Grabbing our bags, we made our way to the rental car and then headed toward the city. Shipping containers and large shipping cranes framed the skyscrapers as we approached the heart of Seattle. Determining where we could best use our limited time, we decided to visit Pike Place Market, a famous farmer's market open since the early 1900s.
Visiting Pike Place Market
Cruising the Alaskan Way, the main drag paralleling Elliott Bay, our directions notified us that we were a few short turns away from our destination. Seeing a giant Ferris wheel, restaurants and shops galore, we impulsively chose a parking garage in proximity to these attractions. Walking around what we discovered was "Pier 57," it seemed to be more of a tourist destination. Although it wasn't of interest to us, the pier did have some attractive art installations, views of the bay, a couple decent restaurants and one fine-looking Ferris wheel known as "The Seattle Great Wheel."
Feeling lost on how best to get to the market from our current location, we decided to use Google walking directions. Our attempts to ask people seemed vague and indiscernible as our level of 'hangry' (especially Jason's) began to skyrocket. We walked up a large, steep hill. Looking back at my husband, I wondered if it was too much strain on his legs prior to a marathon. (Mt. Rainier certainly would have been too much.) We found Pike Street nearing the top of the hill, but there were no markets in sight. Finally, after passing several restaurants and shops, we happened upon the big and beautiful clock spelling out the words, "Public Market Center."
Seattle Seafood
There was a frenzy of activity. Beneath the Pike Place Market clock, we saw our first stop – the famous fish slingers at the Pike Place Fish Market, a sustainably-sourced fish stand.
A large group of people were crowded around men adorned in large rubber aprons and boots as they shouted out orders and slung whole fish, crabs, crayfish, really whatever your seafood-loving heart could desire. Jason suggested we have Dungeness crabs shipped back to us because they offer overnight shipping or leak-proof travel packs, but at $50 per pound, we decided to leave it for the next person.
Wandering the Market
Investigating the market further, we encountered a cornucopia of sights, smells and sounds. It was overwhelming as the walkways were packed with people, making it difficult to navigate with two small children.
"Better feed the bear," I thought to myself as Jason trudged along the cobblestone street murmuring about finding somewhere to eat.
Using our faithful friend, Google, again we were trying to locate the highly rated restaurant, Matt's in the Market. It took a while to find as we didn't realize it was on the second floor of the Corner Market and we had to use an elevator to get there. Looking at the menu more closely, we realized it wasn't ideal for our five- and eight-year-olds.
Lunch with a View
At this point, I was desperate to get Jason food and the kids were getting restless, so we haphazardly chose another restaurant in the same Corner Market – Pike Place Bar & Grill.
"3.8 rating," I whispered to my husband apprehensively as we entered the doorway.
"Whatever works at this point," Jason retorted.
Despite the lackluster décor, the large windows looking down on the heart of the market were open, inviting a gentle breeze throughout the restaurant. We sat at a table near one of the windows. The hanging baskets of colorful annuals looked divine in contrast to the murky, grey skies. Perusing the menu, we thought it was safest to order some fried fish and local beers. The service was attentive yet forgetful – I had to ask several times for my older son's food that was forgotten. The fish was tasty, the fries were too salty, the beers were refreshing, but most importantly, Jason was fed.
Browsing the Market
Next, we were on the hunt for the unknown (if that makes sense). Luckily, the market traffic had died down somewhat. Turning into one of the corridors, we noticed a dried pasta stand called Papparadelle's. They offered us samples of their chocolate pasta. I passed as the thought of making chocolate pasta for dessert made me dry heave, but the kids and Jason seemed to like it. I bought a lemon garlic orzo and a trumpet herb campanelle pasta as a souvenir for my mother, a pasta fanatic.
We browsed many seafood, honey, jewelry, produce and prepared food stands. Jason bought cotton candy grapes for the kids, the sweetest local nectarines you could ever taste and a few rambutan, a hairy-shelled fruit that we had only seen before in Costa Rica. The best part of the entire market to me and my mother-in-law, Ada, were the gorgeous bouquets of flowers lining what seemed like endless stands and at a shocking price! A giant bouquet of wonderfully diverse flowers was only $15. The same bouquet would have cost nearly $80 to $100 in Pennsylvania. If we weren't staying in a hotel for the next couple of nights, I would have bought several bouquets just to enjoy them.
Chocolate in Seattle
Deciding it was time for dessert, we poked our heads into an intriguing little coffee shop across from the main market stands – Joe Chocolate Co. Not being familiar with the west coast way of life, we were surprised to find not only lots of delicious-smelling chocolate and coffee, but beer, wine and some great bites, too. Later, I learned that the business was started as a snack company that supports hikers in an environmentally sustainable way and just recently opened the shop at Pike Place.
Scouring our options on the large board hanging over the barista station, one drink particularly piqued our interest – the chocolate coffee latte. Jason, Ada and I each ordered one, plus a few homemade cookies for the road. Tyson and Dane opted for some dark chocolate-covered frozen bananas. Unfortunately for Dane, they were adorned with cocoa nibs, not sprinkles. The bitterness was not desirable for him.
On the Road
Sipping the chocolate coffee, we were surprised the by the intense flavors. I would liken it to drinking a coffee and a really good hot chocolate all in one. Knowing we would be returning to Seattle on our way back to Pennsylvania, we decided to head back to the car. Our next destination was Oak Harbor near Coupeville on Whidbey Island. After drinking the chocolate latte, I feel like we could have run there instead.
Stay tuned as Adrian takes us on the next leg of her journey – visiting Whidbey Island, Oak Harbor and Deception Pass.
Source https://visitseattle.org/things-to-do/sightseeing/pike-place-market/
Source https://www.tripsavvy.com/pike-place-market-fun-in-seattle-1608524
Source https://explorewashingtonstate.com/first-time-visit-to-pike-place-market/