Sicily with kids: all you need to know to plan a trip to this stunning land of nature and art
Sicily is a world, a wonderful world of stunning nature, breathtaking archaeological sites, art filled city and some of the best food and welcoming people you will ever meet.
It is a fabulous place to visit at all ages and a wonderful Italian destination to visit with kids.
Unless you have a lot of time (15+ days), the best way to visit Sicily is to pick part of it, get a car, and explore locally.
Slow travel is the best type of tourism you can do here and if you come at a time when you can go to the beach, you will need to factor in even more: once your kids bathe in the Sicilian sea, they will never want to leave!
These are our top travel tips to visit Sicily with kids.
Please note: this post contains affiliate links and, should you make a purchase, we might make a small commission at no extra cost to you.
The best places to visit in Sicily with kids: East, West or both?
Sicily is the largest island in the Mediterranean and one of the richest in terms of natural and man-made attractions.
For ease, I have organized the best things to see in two parts, Eastern Sicily and Western Sicily.
Both are worth visiting and it is genuinely hard to objectively recommend one over the other, the choice very much coming down to individual attractions you find yourself drawn to.
If you cannot choose, it is also possible to combine the two however, this will take some time.
I would strongly recommend not to tackle a full drive around Sicily if you only have a handful of days and pick one of the two arras instead.
What I haven't included in this guide are the Sicilian islands: this is not because they are not worth it but the opposite!
They are so beautiful and so varies, they deserve time on their own!
The best places to visit in Eastern Sicily with kids
Eastern Sicily is one of the most popular areas of the island for visitors, thanks to the presence of many attractions and of two convenient airports: Catania and, farther South, Comiso.
In this area you will find beautiful cities, wonderful archaeological sites, exciting Mount Etna and some wonderful beaches and fishing villages adults and kids will love.
Places we recommend to visit in Eastern Sicily are below.
Taormina
Taormina is a wonderful small town perched on a hilltop overlooking the East Coast of Sicily.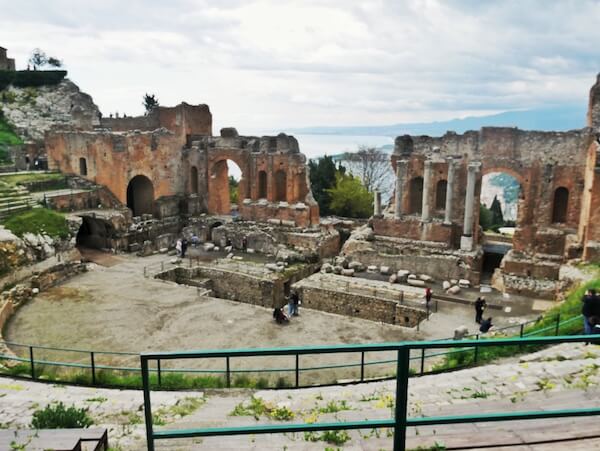 A famous port cruise, Taormina has been a must-see place for visitors since the time of the Grand Tour and has a glamorous reputation to match. It is indeed very pretty!
The town has a pretty main street and lovely shops and restaurants but stands out for two things that unique and make a stop here unforgettable: the ancient theater, one of the most scenic archaeological sites in Italy and the world and stunning viewing terraces looking over Mount Etna and the Mediterranean.
Taormina is lovely with older kids: they will love the cable car connecting the beach to the higher part of town and the opportunity to climb Mount Etna, the tallest active volcano in Europe!
Families with young kids will like it too although mobility here is not the easiest (think steps!) so finding appropriate accommodation is paramount.
Catania
Catania is a rather large city in east Sicily and the first one many visitors see, if arriving at its convenient international airport, Catania Fontanarossa.
Close to Taormina, Mount Etna and Siracusa, just to name a few of the most famous localities in the area, it can be a good weekend destination or a starting point for a longer stay.
Catania has several things that will attract children.
The small tourist train to see the city center without having to walk (great with toddlers!), the fountains of the elephant, the fish market and beautiful Villa Bellini (park) are likely to be a hit but most of all I believe they will remember the present of the volcano, that dominates the city, its architecture and atmosphere!
Good to know! Kids who love amusement parks and aqua parks will love to know that this area has EtnaLand, the biggest amusement park in the South of Italy!
Mount Etna
Mount Etna is one of the most exciting places for kids in Sicily. An active volcano, you can climb up and experience the fumes, heath and views a mighty volcano comes with!
There are several ways to visit the volcano and some areas and hikes easier with kids than others and the options of guided tours abound.
Some to consider are (please check age suitability of each)
Siracusa
I am going to be totally honest here and declare Siracusa one of the most beautiful cities I have ever seen!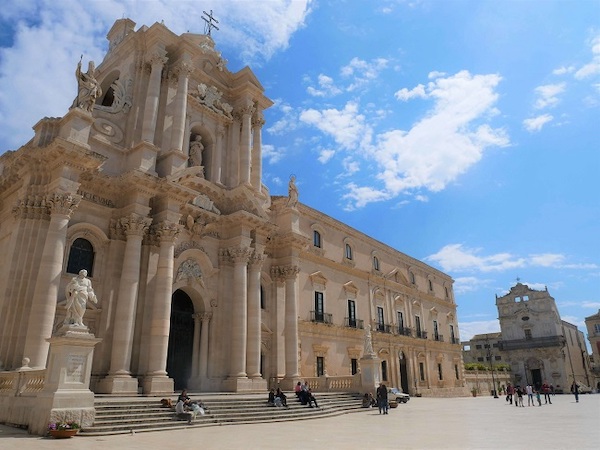 Sicily is all special but Siracusa is just off the scale amazing and the one place we loved the most out of all our time in Sicily with kids.
The town has a wonderful historical center, the island of Ortygia, with a breathtaking duomo, beautiful views of the sea and delightful ancient city center streets and a little farther out there is Siracusa's archaeological park, dating back to Greek and Roman times.
We visited Siracusa with the kids when they were 6 and 8 and the place was a huge hit: the old town and the park, especially the incredible Latomie, the park quarry are a sight to behold and very easy to visit at all ages.
Siracusa also has a great museum for kids, the Leonardo Archimede Museum, full of the inventions and discoveries of these two incredible personalities.
The Noto Valley (Val di Noto)
Val di Noto is an area of the South East of Sicily with a cluster of baroque cities so beautiful and unique, they are now UNESCO world heritage site.
Ragusa Ibla, Noto, Modica, Scicli are only some of the most beautiful and will surround you with art and the atmosphere of the Commissario Montalbano books and TV Series – a must see before a trip to this area of Sicily!
The cities are all stunning but there are a few things in particular kids may enjoy: the the small tourist trains that allow to visit baroque treasures from a comfortable seat (Ragusa Ibla and Modica), the famous and delicious chocolate of Modica, made here and work famous and the playgrounds in Noto itself.
Good to know: this area has some gorgeous beaches and smaller villages worth seeing like Instagram-friendly Marzamemi.
Western Sicily with kids
Western Sicily offers very different atmospheres from its Eastern Counterpart but has as much to offer to families.
Not to be missed in this area are:
Palermo
Palermo is the capital city of Sicily and one of the most beautiful cities in Italy.
Its architecture is incredible and mixed influences from all the civilizations that called this city home, making it not just beautiful but also a wonderful learning ground for older kids (and adults!) who love history.
Palermo has a lot to offer to adults and kids: not to be missed are all the main historical attraction such as the Palermo cathedral and the markets, an explosion of colors and flavors that is just too fun (and delicious)!
For some quieter time and younger kids, it is worth going to Parco della Salute (playground with sea view) and in case of rain you may want to check out the Puppet Museum or Teatro dell'Opera dei Pupi, devoted to the special Sicilian art of Pupi Theater.
Cefalu'
Cefalu' is a small seaside town about 70km from Palermo and a wonderful place to visit with kids for a day trip or longer.
The town has a historical center, a lovely sea promenade, a picture perfect harbor (the photo at the top of this article is Cefalu') and a stunning cathedral and rock offering beautiful views.
Kids are likely to love the small tourist train and of course the local family friendly sandy beach!
Scopello, Castellammare del Golfo, Riserva dello Zingaro
In between Palermo and Trapani lies an area of outstanding natural beauty called 'Riserva dello Zingaro' (Zingaro Reserve), blessed with stunning beaches and wonderful, crystal clear waters.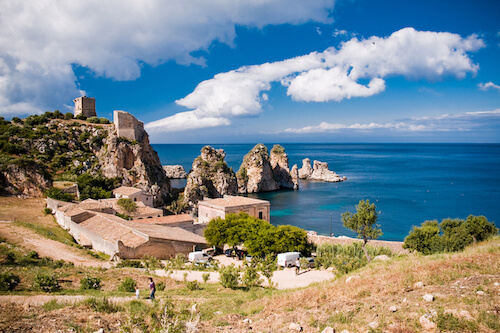 The area is a delight with kids and perfect if you want a sea and sun vacation in Sicily with the option of interesting excursions.
For families, the town of Castellammare del Golfo is the most suitable, thanks to lovely sandy beaches and plenty of accommodation opportunities, but we have a soft spot for the small town of Scopello nearby, which is tiny and super charming.
In the area, not to be misses in the stunning temple of Segesta, a marvel of Greek architecture in a stunning natural setting.
Trapani's saline (salt pans)
A fantastic place to visit in Western Sicily with kids are the saline (salt pans), the area where salt gets produced.
The place is interesting but also visually incredible.
The salt is produced in a vast lagoon dotted with windmills and the way the water and salt reflect the light give this unusual landscape a properly otherworldly aspect!
Kids are guaranteed to drop their jaws as they see the little mountains of salt – if they are ok staying out a little late, come at sunset for the most breathtaking pink skies.
Erice
Erice is unique and wonderful Medieval town perched on top of a hill in the province of Trapani, in Western Sicily.
It is very different from other areas of Sicily as its geographical position means that it is often misty and moody, something not many associate with this otherwise sun drenched island!
Erice is good fun with kids: the most scenic way to reach it is by cable car (you can also drive here) and the small alleys of the town are a super fun maze for small kids to enjoy.
If visiting with very young kids, a carrier is a better idea than a stroller as the roads here and ancient and very bumpy (part of the charm!).
Not to be missed with kids is the castle, that has a small playground just in front.
Good to know: Erice has cooler temperatures than the surrounding area and it is a great place to be if you want to be in Sicily but don't love the heat!
Erice, the saline (salt plains) and Segesta can be visited as a day tour from Palermo, should you not want to drive in this area.
La valle dei Templi, Agrigento (Valley of temples)
If you love history or you have kids who are fascinated by ancient civilizations, then the place to be is the area of Selinunte and Agrigento, dotted with outstanding Greek temples and vestiges.
The Valley is one of the most famous sites in Sicily and indeed, it is wonderful and big, with several temples are areas worth seeing.
How much kids will enjoy it will largely depend on the temperature on the day of your visit.
The park is outdoors and in normal weather conditions small kids will love the ability to run around however, in summer it gets super sunny and super hot so that will affect how long and how pleasant your visit will be!
The park has several shaded area and a shuttle should the walking get too much however, the best way to tackle it is to get there early (or late) and then mix a day here with time on the beach.
San Leone area nearby offers several options.
Practical tips for visiting Sicily with kids
You can get to Sicily by plane (Palermo, Catania, Trapani and Comiso are all handy), car (with ferry crossing from Calabria) or train.
If you catch the train, the ferry crossing is included as the train boars the ferry itself! Super fun to experience with kids.
The best way to explore Sicily is by car.
The weather is summer can get overly hot and proximity to water will be important.
In winter, it can get surprisingly chilly so dressing appropriately is a must: this is not a sea and sun destination all year round!
With small kids, I recommend bringing both a stroller and a baby carrier: you can read my tips for using strollers in Italy and tips for visiting Italy with a baby or toddler here.
I hope you enjoyed this non-exhaustive guide to Sicily with kids and it gave you ideas on where to go next. Safe travels!
By Marta Correale Comments Off on Sicily with kids: all you need to know to plan a trip to this stunning land of nature and art
Marta Correale
Marta Correale is an Italian mama of two. Born and raised in Rome, Marta has a passion for travel and especially enjoys showing off Italy to her kids, who are growing up to love it as much as she does! A classics graduate, teacher of Italian as a second language and family travel blogger, Marta launched Mama Loves Italy as a way to inspire, support and help curious visitors to make the most of a trip to Italy and learn about Italian culture on the way.
You May Also Like
Olperl Nature Park: how to visit this magical mountain wonderland in Val Pusteria for kids
July 17, 2021
Using baby strollers in Italy: all you need to know + best models
October 12, 2020
Visiting Capri with kids: all you need to know to plan a family trip to this stunning Italian island
About MLI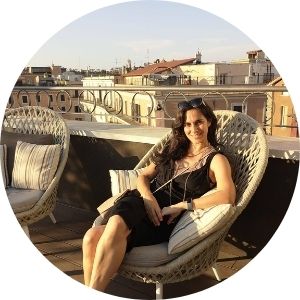 Ciao! My name is Marta Correale, I am the travel-loving Italian Mama behind this Mama Loves Italy Blog. On this site, you will find Italy travel ideas, inspiration, guides and tips that I hope will help you plan a wonderful stay in my wonderful, complex, magical country. Read more
Articles on this website may contain affiliate links and, should you make a purchase through them, we might make a small commission at no extra cost to you.
We are a participant in the Amazon Services LLC Associates Program, an affiliate advertising program designed to provide a means for us to earn fees by linking to Amazon.com and affiliated sites. As an Amazon Associate, I earn from qualifying purchases
We use cookies to ensure that we give you the best experience on our website. If you continue to use this site we will assume that you are happy with it. I agreePrivacy policy
Things to Do in Marco Island With Kids
For those living on the East Coast of the United States, Florida can be a convenient and fun family vacation destination. In addition to the Orlando theme parks that are almost a rite of passage for families, there are also many beautiful beach destinations in Florida.
When looking for a spring break destination for our family, I looked at JetBlue Vacations to find a great deal, and ended up booking Marco Island. We loved our relaxing trip to Marco Island and found that there were lots of fun things to do in Marco Island with kids.
Disclosure: This post contains affiliate links. A purchase/click through one of these links may result in a commission paid to us at no additional cost to you. We paid for our trip to Marco Island, but did receive complimentary admission to the Naples Botanical Gardens.
The Dolphin Explorer Eco-Tour, one of the best things to do in Marco Island
Things to Do in Marco Island With Kids
Location of Marco Island
Marco Island is located south of Naples and Fort Myers in southwest Florida on the Gulf of Mexico. We flew into the Fort Myers Airport (Southwest Florida International Airport), rented a car, and drove about an hour south to Marco Island.
The Gulf Coast of Florida offers some gorgeous beaches, and Marco Island is no exception. It's the largest island in the Ten Thousand Islands of Florida, although it still feels like a quaint beach island.
The beach at the Marco Beach Ocean Resort, located right on the waterfront
Visit the Beach on Marco Island
With its gorgeous Gulf Coast location, the beach is definitely one of the best things to do in Marco Island with kids. If you want to spend lots of time on the Marco Island beaches, I'd definitely recommend reserving a hotel right on the water. We stayed at the Marco Beach Ocean Resort, which offers beachfront access.
Marco Island offers two public beaches that are open to guests. These include Tigertail Beach, which has concessions, a playground, restrooms, and more. There's also the South Marco Beach Access, which has parking and restrooms.
Water Activities on the Beach
While we enjoyed just sitting on the beach and enjoying the water, you can also book water sports from the beach. There are lots of different options. One day, my daughter and husband went parasailing right from the front of the hotel. Jet Skiing, paddle boarding, and other water sports are also available.
Shelling is also a popular activity on Marco Island. We didn't find as many shells on the beach at our hotel but did find them on the boat tour we took during our trip.
The Dolphin Explorer Eco-Tour and Cruise
Dolphin Study Eco-Tour and Cruise, located on Marco Island, is the only Florida activity included in the book "100 Places that Can Change Your Child's Life". This three-hour tour (we chose the afternoon tour), guided by a naturalist, was the perfect way to teach my kids about dolphins and nature around Marco Island. We even went to an uninhabited island to collect shells.
During the trip, we also had the opportunity to see other wildlife, including ospreys and bald eagles. Of course, what you see will vary by the trip. This tour was one of my favorite boat tours I've ever taken on vacation. It's a must-do on Marco Island, in my opinion – especially if you are traveling with kids who love dolphins.
Naples Botanical Gardens – located a short drive away from Marco Island
Naples Botanical Gardens
On the third day of our trip, we spent the morning on the beach and then headed to Naples to the Naples Botanical Gardens. I received complimentary tickets to review it (the only comp on this trip), and it was a great way to spend the afternoon. There's a large children's garden that the kids loved playing in, but they also enjoyed walking around all of the gardens. I'd recommend going in the morning, however, because it was pretty hot in the afternoon.
Naples is a short drive from the island, so if you plan to do a few things in the town, you may want to combine them in one day.
Wildlife as seen from the Marco Island water
Ten Thousand Islands National Wildlife Refuge
If you are up for an adventure and want to to explore nature, you may consider visiting the Ten Thousand Islands National Wildlife Refuge. It's located between Marco Island and Everglades City, with boating access points at Calusa Island Marina and Port-of-the-Islands marina. We didn't visit the refuge during our vacation, but it looks like it would be a great place to explore for the day.
Marco Island Historical Museum
The Marco Island Historical Museum is a great place to learn about the history of Marco Island, including the Calusa Indians that lived there. It's probably best for older kids or adults. In addition to the life-size Calusa Village at the museum, you'll also find some original Marco artifacts on loan, including the famous Key Marco Cat.
Shopping
If you want to do some shopping while you are on vacation, you'll definitely have some options. Marco Island itself is home to gift shops, boutiques, and surf shops. The Esplanade Shoppes and the Marco Town Center Mall are two destination areas where you can find shops.
There's also the Naples Outlet Center, a small outlet mall offering some popular shops like Coach and Hanes.
Uninhabited island for shelling off the coast of Marco Island
Where to Stay on Marco Island
There are several great options for family hotels. During our trip, we stayed at the Marco Beach Ocean Resort, an all-suite beachfront hotel offering a pool. We loved our stay there and would definitely recommend it to families.
Other hotels in the area include the following:
What to Eat on Marco Island
As you'd expect based on the location, you can find some delicious seafood in Marco Island. Most of the restaurants are fairly casual and are kid-friendly. During our trip, we loved the following restaurants:
The Snook Inn
Philly Grill
The Crazy Flamingo
Frequently asked questions about Marco Island
Do you need a car on Marco Island?
We typically took our car out from valet about once a day. I'd definitely recommend having one, because you'll probably want to drive to the grocery store, restaurants, and attractions during your trip.
Do you need to take a ferry to Marco Island?
Marco Island is accessible via a bridge, so you don't need to worry about taking a ferry there.
Pin for later
Additional Resources: Want to read more Gulf Coast travel tips and reviews? Click to read our post with destination recommendations, ideas on what things to do, hotel reviews, and more.
7 of the best Greek islands for families you and your kids will love
Greek islands are one of the best destinations in the world for a beach vacation with the kids.
Blessed with beautiful waters, stunning beaches, pretty villages, amazing history and glorious food, Greek islands have all you may dream of when it comes to a family vacation in the sun.
But, when it comes to chosen one: which Greek islands the best for kids?
This was the question we had when we started planning our first family trip to the Greek islands and we discovered there was no one size fit all answer.
Each Greek island has something to offer for families with some islands and areas with beach clubs and entertainment options and others quiet and natural.
Depending on what you are looking for and the age of your kids, each island can be the best Greek island for kids so, to help you pick, we put together a list of those that we believe are best for different kinds of families.
We have focused our attention on the ease of connections and safety of the beaches and have tried to cover different places, so you will find the best Greek island for your family whatever your travel style!
With tons of great beaches to play in, an amazing variety of seafood and lots of kid-friendly activities to choose from, we are sure you will find one that has all you need (and more!).
Greek islands are among the best places to visit in Greece with kids. We hope you'll love them!
Please note: this post contains affiliate links and, should you make a purchase through them, we might make a small commission at no extra cost to you.
Please note: as an Amazon Associate, I earn from qualifying purchases
Table of Contents
The best Greek islands for families – our top picks!
Rhodes with kids – best island in Greece for kids in the Dodecanese
Rhodes is the biggest island of the Dodecanese archipelago and one of the best Greek islands for families with children.
This beautiful island offers stunning golden sands, warm shallow waters and a relaxing atmosphere, perfect for long days in the sun.
It also has pretty villages and towns such as Lindos and Rhodes medieval center that are wonderful for families who want to mix time on the beach with sightseeing – Rhodes castle is fantastic for kids!
The north-western coast has wonderful kid-friendly beaches and it is very well equipped with family hotels, restaurants and kids' activities.
Basically, no matter what type of beach vacation you are after, Rhodes delivers!
For days when the kids want full-on fun, they will love visiting the Fantastia Luna Park (amusement park) and Faliraki Water Park in Rhodes while, for days when you want a quieter and slower-paced atmosphere, you can spend a day at Agathi and Kallithea Springs.
The best way to visit Rhodes with kids is by renting a car as the distances are rather big here!
Tip for families: Rhodes has many family hotels and resorts in Lindos, Kolymbia, Rhodes town and Faliraki, with options ranging from apartments to boutique hotels to family resorts. Find family accommodation in Rhodes here.
Crete with kids – one of the best Greece destinations for families
Crete is one of the most amazing family-friendly Greek islands and one of the best places in the world for a beach vacation with kids, with a side of culture!
ancient ruines of famouse Knossos palace at Crete, Greece
Also known as 'Megalónisos' or The Great Island, Crete is home to beautiful, sun-drenched beaches, mysterious caves, gleaming coves and historical ruins, which make is perfect for families who love the beach but also historical sites.
Knossos, home to the Minoans, one of Europe's oldest civilizations, is located here and it is a blast to visit with kids.
This is the place that gave birth to the story of the Minotaur, the labyrinth and the escape of Daedalus and Icarus and it is not just interesting for kids, it is also breathtaking for adults.
I highly recommend you read all the stories about this place before you go and brush up on your Greek Mythology – it will make the visit extra special!
Top tip: make sure you have good sunscreen, sun hat and lots of water for your visit in summer especially. This place can get super hot.
Make sure you also visit the Archaeological Museum and, if you have small kids, do not skip a stop at the Labyrinth Park, a super fun family attraction in Crete kids are sure to love!
Other fun attractions for kids in Crete are the Natural History Museum and Crete Aquarium although you can be sure the kids will most of all want to stay in the water, of which Crete is generous!
Fabulous family-friendly beaches in Crete are Elafonisi and Stavros (North/West), Frangokastello (South) and Malia, one of the most popular resorts in Crete for families thanks to its facilities and the proximity to Heraklion.
The best way to get around Crete with kids is by car. Favorite home bases to visit the island with kids are Heraklion and Chania.
Corfu with kids – best Greek island for kids in the Ionian sea
The island of Corfu is an absolute gem and one of the best Greek islands for families with kids of any age.
Corfu island landscapes in Greece.
This spectacular island features glorious hills, cozy villages, lush greenery and several pristine beaches and it also has fun water parks for those days when the kids just need to let their energy out and have a blast!
Corfu has several shallow bodies of water where kids and even toddlers can enjoy swimming and splashing.
Family beaches not to be missed in Corfu are also Palaiokastritsa and Halikounas, which has beautiful sand and you are also like to enjoy Sidari.
This beach has stunning rock formations and kids of all ages can enjoy building sandcastles and playing an array of water sports.
The town of Corfu itself is lovely and has delightful small alleys that are a pleasure for village exploring with kids.
Among the many things that make Corfu a great as a family destination is that it is a good base for organized tours and island hopping.
From here, you can easily hop on a day cruise to Paxos and Antipaxos, a walking tour around the pretty city center (perfect to find your feet on your first day) – two lovely options for curious families like ours, who like to mix time on the beach and some exploring!
Paros with kids – best Greek island for families who love sandy beaches and local atmospheres
The magical island of Paros is another great Greek island for families with kids.
In the stunning archipelago of the Cyclades, Paros has picturesque blue-domed churches, pretty harbors and gorgeous sandy beaches, Paros is every tourist's dream location.
Despite its beauty, Paros is traditionally mostly visited by locals and is not as crowded as the other Greek islands which is a surprise when you see its stunning beaches.
Depending on where in Paros you go, you can find beaches that are suited to windsurfing or family-friendly ones.
Among the best kid-friendly beaches in Paros there are Santa Maria, large and with shallow waters perfect for small kids (one of the best beaches in Paros for toddlers), Kolymbithres (quiet and with lovely, protected coves), sandy Bartselo and the aptly-named Golden beach.
This is our top pick as the best Greek islands for families who want sandy beaches and a small village feel.
When traveling with the family, a good place to stay is Naousa, a small fishing town that is pleasant with kids and has many local restaurants with seafood parents and small foodies are sure to love.
For the days when you feel like taking a break from the beach, you can also go explore the mountainous part of Paros which has lovely trails perfect for active kids.
Do not miss pretty Lefkes, a delightful village full of charm!
Santorini with kids – fantastic greek island for families with older kids
Santorini is known as one of the most romantic and photogenic islands in Greece and it may not come to mind as the best island for families however, you can definitely enjoy Santorini with kids!
Unlike other islands in this list, Santorini is suited for honeymoons and relaxation more than full-out fun in the sun however, it has some fun activities for adventurous kids especially that I believe make it belong in this list.
It doesn't have to be expensive either! Have a look at this selection of cheap hotels in Santorini: some are excellent for families too.
If your kids are excited to tour this wonderful Greek Island, Oia is the perfect place to start.
Here is where you have the shimmering whitewashed houses and blue roofs you have seen in all the Santorini photos and breathtaking views of the caldera below.
This is a scenic, wonderful area of Santorini and the only issue you may have with kids is accessibility as this area is not stroller friendly.
Bring a summer baby carrier if visiting with a little one.
Children are likely to enjoy the cable car ride from Fira to the beach and history lovers will love Akrotiri and Ancient Thera, wonderful at any age.
If you will like to experience the black volcanic beaches, be sure to visit Kamari or Perissa, usually listed as the best family beach in Santorini.
You can also plan to take your family on a boat tour to see the Santorini volcano up close joining one of the local excursions available, which is exciting especially for primary school kids and tweens.
As you can see, there is quite a choice of activities and this is just the beginning: there are many more things to do in Santorini with kids, perfect for kids big and small.
Skiathos – the best Greek island for families with a baby or toddler
If you are looking for a Greek island to visit with your baby or a small child, then have a look at stunning Skiathos.
Koukounaries is the most famous beach of Skiathos, rated 7th best in the world, 3rd in Mediterranean and best in Greece.
Smaller than other islands, Skiathos has a huge number of sandy beaches, many with powdery sand and shallow waters that are simply perfect for a first family vacation.
It is also a rather green island, with lovely trees and confers that make it stand out from others in Greece and means you get lovely shady corners and areas protected from the wind.
Out of the many family beaches here, kids are likely to love sandy Kolios, Troulos and Maratha, all sandy, and lovely Agia Eleni beach and wonderful Mandraki beach and forest.
As well as kid-friendly, these are among the best beaches in Skiathos so you know parents also will have a wonderful time here!
Kos – the best island in Greece for and all-inclusive vacation
If you are looking for a Greek island vacation to relax in an all-inclusive resort, then you should consider Kos.
The island has the beautiful beaches and historical sites you expect to from a perfect Greece destination and one of the easiest to reach by boat and plane.
Because of this, Kos receives a large number of visitors, which means it offers lots of resorts to choose from, some surprisingly affordable and with all families may need, including beach clubs and kid-friendly swimming pools.
Kos also has water parks, perfect for a day of pure water fun
The main attraction here is the beach but not to be missed are also Kos Town, the pretty village of Kefalos, and the Asklepieion, the most important archaeological site on the island.
What to pack for visiting the Greek islands with kids
A family vacation on a Greek island is a vacation made of sea, sun, beach and sightseeing so your packing list must include the following:
Walking shoes / walking sandals for kids, so they can easily tackle steps and trails – find our favorite travel shoes for kids here.
Water shoes for the many pebbled and rocky beaches of Greece
A rash guard / rash vest for kids, to protect them from the relentless sun
All your beach vacation essentials and a good stroller if visiting with a toddler, either an umbrella buggy one or an all-terrain stroller, depending on the destination you choose.
Source https://mamalovesitaly.com/sicily-with-kids/
Source https://www.familytravelmagazine.com/things-to-do-in-marco-island/
Source https://www.learningescapes.net/best-greek-islands-for-families/