How to Explain the Story of Thanksgiving to Kids
By emphasizing friendship and generosity, the story of the first Thanksgiving teaches kids about the importance of fellowship and how it can bind all Americans together.
Thanksgiving is a wonderful time for families to come together for good food, good company, and good cheer before all the hustle and bustle of Christmas preparations begin. Although we often describe Thanksgiving as a time to show gratitude, it's important to teach kids the history of the holiday as well. Consider this your cheat sheet for telling the story of Thanksgiving to kids while easily including a healthy, crucial dose of history.
The Pilgrims Voyage on the Mayflower
The Thanksgiving story starts in England way back in September 1620, when 102 passengers, called Pilgrims, boarded a ship called the Mayflower. Not quite knowing what they'd find or how hard their journey would be, they sailed across the ocean to start a new life. It took a grueling 66 days at sea to reach their new home in New England.
The Pilgrims landed in Cape Cod in November unprepared for the harsh conditions, and the first winter in America took a toll. Disease and bitterly cold weather kept them on their boat and claimed many lives. Come spring, only half of the original Mayflower passengers were alive.
Building Homes on Native American Land
In the spring, the Pilgrims settled into a village they called Plymouth. However, this land wasn't uninhabited. Various indigenous tribes of the Wampanoag people, with different complex languages, cultures, and customs, had lived and prospered in this so-called "new world" for at least 10,000 years. Some of the Pilgrims' first visitors were founding people and custodians of the land, including an Abenaki Indian and a member of the Pawtuxet tribe called Squanto.
The Native Americans bestowed essential survival knowledge to the Pilgrims and taught them how to cultivate the land. This included teaching them which crops grew well, how to avoid dangerous and poisonous plants, and how to extract sap from maple trees. Squanto also introduced the Pilgrims to the Wampanoag people, in an alliance that lasted for more than 50 years.
Without this act of generosity and friendship, the Pilgrims would not have made it through another winter. But with the help of their neighbors, they welcomed a harvest the following fall and celebrated with the first Thanksgiving.
The First Thanksgiving Feast
In November 1621, the Pilgrims and the Pokanokets came together for a harvest celebration. These were commonplace in both Native American tradition and in European countries long before this "first Thanksgiving." That year, however, Governor William Bradford organized a three-day event and invited their new indigenous allies, including the Wampanoag chief, Massasoit.
Although their Thanksgiving dinner may have been a little different from what we enjoy today, the same concepts of gratitude and friendship remain. They may not have eaten turkey as we do, as official records only state that wild poultry was served. But they certainly dined on venison as the Wampanoag guests brought with them five deer. They also would have feasted on vegetables gathered from the harvest, including corn made into cornmeal, and a bounty of freshly caught seafood.
Thanksgiving was a regular event afterward to celebrate the harvest. But it wasn't an official holiday until Abraham Lincoln scheduled Thanksgiving for the final Thursday in November in 1863 during the middle of the Civil War.
What Can Be Problematic About Thanksgiving
It's true the first Thanksgiving was one positive interaction between founding people and colonizers, which is why we celebrate friendship and gratitude every November. However, when the Pilgrims came to America, there were countless negative experiences that resulted in the deaths of tens of thousands of Native Americans. For this reason, Thanksgiving also signifies a whitewashing of history and an attempt to deflect from the atrocious harm caused to indigenous groups by European settlers.
"It is important to educate children about cultural appreciation—not cultural appropriation," says Jennifer Long, member of the Kul Wicasa Oyate and the Executive Director of Native Hope, a nonprofit that helps Native American people heal from historical wounds, problem solve in the community, and inspire hope for the future. "This should be done through factual teachings. When educators are trying to explain Thanksgiving, it is important to remind children that history is often written through the language of the dominant culture. When this occurs, there is always a loss in factual narrative."
Many Americans still gather near Plymouth each year on Thanksgiving for a National Day of Mourning, established to honor Native ancestors and their struggles. "For many Native Americans, Thanksgiving symbolizes a history of mourning," Long explains. "Because after the Wampanoag provided generous assistance to the European settlers, many events that followed led to the loss of land and lives for millions of Native People."
In whatever way you celebrate or commemorate Thanksgiving—as a symbol of friendship, sharing, and gratitude, or a moment to recognize the deep wounds carried by indigenous groups and prevailing effects of colonialism—the story of Thanksgiving should remind kids and adults alike that we have so much more to gain in fellowship than in conflict.
Thanksgiving Story Books For Kids
Want to keep learning? Check out these great children's books about Thanksgiving that delve into the story in different ways.
The "first Thanksgiving": Unpacking myths and stereotypes with kids
For the past few years, whenever Thanksgiving approaches, I feel a bit nervous. So much of what adults teach children about Thanksgiving is historically inaccurate and perpetuates racist stereotypes about Native Americans.
Here are just a few things we typically teach kids about the so-called first Thanksgiving that are wrong:
The English colonists who we label as the Pilgrims did not call themselves that. And the Wampanoag people did not think of themselves as Indians.
The shared meal between the English and Wampanoag in 1621 was a harvest meal, not a religious event.
The Wampanoag likely participated more for political reasons of keeping the peace with the English, not because of friendship.
The English did not "find corn." They dug and stole Wampanoag stores of corn, as well as dug up and stole items from graves.
The "Thanksgiving meal" did not usher in peaceful relationships between the two groups. Within a generation, the English were celebrating killing Wampanoag leader Metacom during King Philip's War.
Oyate, a Native organization that promotes accurate history, unpacks several other myths about Thanksgiving here .
Disclosure: For your convenience, this post includes affiliate links. If you purchase items through these links, I may earn a small commission at no additional cost to you. You can read my full disclosure policy here.
Share this.
Then, there are the problematic Thanksgiving activities that many schools involve children in. These perpetuate racist stereotypes, confine indigenous people only to the past, and lump vastly different tribal cultures into one inaccurate category.
Related Post: Teaching about Native Americans in preschool and kindergarten: Do's and Don'ts
The most obvious example is preschool programs where children dress up as Pilgrims and Indians. Guy W. Jones and Sally Moomaw write about this in Lessons from Turtle Island: Native Curriculum in Early Childhood Classrooms . "In addition to embedding inaccuracies firmly in children's minds," they write, "this gives them the impression that they can become Indians by dressing up in what is deemed Indian attire. Would teachers dream of dressing up children in blackface for Martin Luther King Day?"
The good news is that there are lots of resources to help antiracist parents and educators offer a different narrative of Thanksgiving for children of all ages.
Get my guide to evaluating children's books for Native American stereotypes
Answer these 10 questions to determine if portrayals of Native peoples are helpful or harmful.
You'll also get my kids and justice themed resources in your inbox each Tuesday. Don't like it? No problem. You can unsubscribe in one click.
Ideas for children ages 3 – 6: Focus on gratitude, not the "first Thanksgiving" story
Young children are oriented to the present. They get easily confused about the passage of time, so they sometimes think that things we tell them about the past are the way things are now.
One of the most harmful stereotypes that many non-Native people believe is that Native Americans no longer exist. Dr. Debbie Reese of American Indians in Children's Literature often references doing a Google image search for the phrase Native Americans. Almost all the images found will be from the past, not the present. This isn't true for any other major racial/ethnic group in the U.S.
Young children are also very sensitive to violence. If adults feel like a particular group of children isn't old enough to learn the full truth about what happened before, during, and after the meal that's been dubbed the first Thanksgiving, then we shouldn't the story to them at all. (If young children ask you what Thanksgiving is about, this dialogue is a great example of age-appropriate truth telling. )
Instead we can focus on ways of showing gratitude across many cultures, and in children's own lives. If you want to read stories about Native Americans with young children, make sure they are set in the present day and are written by Indigenous authors.
Resources and recommendations for work with young children:
Read books about expressing gratitude such as We Are Grateful: Otsaliheliga by Traci Sorell (Cherokee). This award-winning book shows how Cherokee people express gratitude in each season of the year, and includes Cherokee vocabulary. It takes place in the present day. (Also listen to this interview that Sorrell did with WBUR, which includes suggestions on how to talk about Thanksgiving with children of different ages.)
Avoid books and programs that purport to tell the first Thanksgiving story for young children.Oyate compiled a list of problematic books here . If you do read books about Thanksgiving, make sure they don't reference the "Pilgrims and Indians" story. Be on the lookout for problematic holiday specials too. (I'm looking at you This Is America, Charlie Brown.)
2022 Update: Recently Wampagnoag author Danielle Greendeer has written the picture book Keepunumuk: Weeâchumun's Thanksgiving Story. I have not yet had a chance to read it, but several people I trust recommend it.
Look at the books you are reading year-round in your home or classroom. If you don't have many by Native authors that are set in the present day, consider adding some from this list.
Proceed with caution when it comes to craft activities. Many that you'll find online for young children perpetuate harmful stereotypes or use items that are sacred to Native nations, such as feathers. If you want to do a craft, consider this activity on corn from the National Museum of the American Indian, or activities like making a gratitude tree.
Parents, if you find out your child's school is offering activities that cause harm, speak up! Here are two sample letters about Thanksgiving plays/skits. The first is here (I would omit the reference to the Medium article because there are some recommended books that are on Oyate's not recommended list.) The second letter is here.
Educators, perhaps you've used stereotypical activities in the past and your school is using a better approach this year. This sample letter to parents can help you explain why you're making these changes.
Get my guide to evaluating children's books for Native American stereotypes
Answer these 10 questions to determine if portrayals of Native peoples are helpful or harmful.
You'll also get my kids and justice themed resources in your inbox each Tuesday. Don't like it? No problem. You can unsubscribe in one click.
Ideas for ages 7 – 12: Unpack myths about Thanksgiving that children have already learned
Once children are elementary age, they have a stronger grasp of time and are more interested in history. They have probably also been exposed to some of the myth of the first Thanksgiving from sources like school lessons, cartoons, or books.
Related Post: 15 Indigenous children's books set in the present day
If you have an elementary age child or teach them, you know how much they like showing they are smarter than adults. So unpacking the myth of the first Thanksgiving, and encouraging them to share what they learn with adults, can be a very appealing activity.
Resources and recommendations for school age children:
Explore gratitude through poetry books such as Thanku: Poems of Gratitude by Marlena Myles and Miranda Paul. Several of the poets included are Native American, and illustrator Myles is Dakota/Mohegan/Mucokee Creek.)
Separate myth from fact and learn about the Wampanoag nation (past and present) in thisinteractive "you are the historian" resourcefrom the Plimoth Patuxet Museums.
Read a book which teaches accurate history about encounters between the English and the Wampanoag. Last year, we read History Smashers: The Mayflower by Kate Messner for our homeschool, and my then 8 year old was fascinated. A resource that has color photos and is a bit shorter is 1621: A New Look at Thanksgiving by Catherine O'Neill Grace and Margaret M. Bruchac.
Related Post: 20 picture books by Native American and First Nations authors
Educators, create a lesson on how Native nations practiced gratitude for centuries before European contact. For younger children, use the Haudenosaunee Thanksgiving Address. For grades 4 – 8, use this "American Indian Perspectives on Thanksgiving" resource from the National Museum of the American Indian to get started.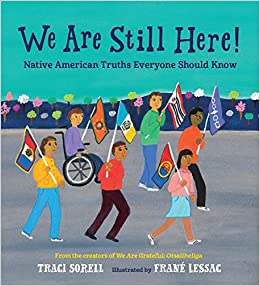 Combat the myth that Native peoples only existed in the past by reading a book like We Are Still Here!Native American Truths Everyone Should Know by Traci Sorell or The People Shall Continue by Simon Ortiz.
Parents, speak up about harmful activities and lessons at school. Using the sample letters above (in the ages 3 – 6 section of this post), write an email to your child's school. Include links to a few of the recommended resources in this post that are right for your child's age.
Incorporate year-round learning activities about Native peoples into your classroom or home. This list of books is by Indigenous authors and set in the present day. Find chapter books for ages 8 – 12 by Native American authors here. (Some are historical and some are set in the present.) For crafts, games, and activities that explore history, use A Kid's Guide to Native American History. Co-author Yvonne Wakim Dennis is Cherokee and Syrian. The book's activities have been carefully selected to avoid sacred items and stereotypical ideas.
Get my guide to evaluating children's books for Native American stereotypes
Answer these 10 questions to determine if portrayals of Native peoples are helpful or harmful.
You'll also get my kids and justice themed resources in your inbox each Tuesday. Don't like it? No problem. You can unsubscribe in one click.
Ideas for ages 13+: Explore how the "first Thanksgiving" story perpetuates harm
Teens want to be able to connect the dots between different times, places, and events to understand larger themes. They can not only unpack the myth of the first Thanksgiving, but understand how it fits into larger patterns of land theft and genocide against Native Americans.
Resources and recommendations for teens:
Explore Native American perspectives on Thanksgiving. (Be sure to emphasize that Native people are not a monolith and there are a diversity of perspectives.) This lesson from Learning for Justice uses writings by two Native authors to examine how the Thanksgiving holiday is a painful reminder of colonization for some Indigenous people.
Introduce the idea of the Day of Mourning. In 1970, the United American Indians of New England declared Thanksgiving Day a National Day of Mourning. They initiated the observance after the Commonwealth of Massachusetts refused to let Wamsutta James (Wampanoag) give his planned speech at an event commemorating the 350th anniversary of the Mayflower. On UAINE's website, teens can find information on how the Day of Mourning has been observed, and how people outside of Massachusetts can participate in the day.
Use this lesson plan that accompanies An Indigenous Peoples' History of the United States for Young People . The lesson explores how narratives about Thanksgiving are connected to past and present day narratives about Europeans "discovering" an uncultivated "wilderness" which God entrusted them to "improve."
Ideas for Thanksgiving family gatherings
As you prepare to attend or host Thanksgiving gatherings with family, consider ways you can not only avoid doing harm but also play a small role in repairing harm.
If your children are helping you make decorations for the Thanksgiving meal, be on the lookout for cultural appropriation. Some of these will be obvious (construction paper "Indian headdresses"), and other are more subtle (turkeys whose feather patterns bear a resemblance to those headdresses. You can see an example in the picture at the top of this post.) There are plenty of harvest/fall themed decorations that children can make that don't perpetuate stereotypes.
Does your family usually pray or have some kind of ritual before the meal where people take turns speaking? Acknowledge that today is not a happy day for many Native peoples. If you're white, share how you want to take a different path than your ancestors did in terms of supporting the rights of Native nations. You might use this prayer from the Kiowa nation that expresses weariness (scroll towards the bottom of the post.) Another idea is to read from Wamsutta James' suppressed speech .
Schools for Social Justice has a parent tip sheet in both English and Spanish that includes alternate ideas for observing the 4th Thursday in November.
Graphic from NDN Collective
You could invite family members to join you in making a financial contribution to Native-led organizations that carry out mutual aid and social justice campaigns. Two of my favorites are Native Hope and NDN Collective . At the time I'm writing (2021), there is also an urgent need for bail fund s and legal defense funds for indigenous protestors in the Stop Line 3 oil pipeline campaign.
Before or after the meal, make time to write letters, send emails, or sign petitions about a Native American rights issue. Ask your children if they'd like to be included by adding their names or drawing a picture to go with your letter. To find action ideas, visit:
How to Teach Kids the History of Thanksgiving Respectfully
Thanksgiving has long been a beloved holiday in American homes. It signifies the start of the holiday season; everyone is in high spirits; but, there comes a time when we need to teach our young ones about the meaning of the particular holidays and its history. And teaching the history of Thanksgiving for kids is certainly not that simple.
When it comes to Thanksgiving, some of the information that we've been taught is not so straightforward as it seems. Even some adults are not too familiar with all the historical aspects, and the disputes, such as the location or the circumstances of the "First Thanksgiving", which is certainly not helping matters. Although, it does leave room for inquiry, and we're happy to oblige.
Teaching kids the history of Thanksgiving from a single perspective, or rather, the one version where the Pilgrims came and everything was merry-go-round-like will certainly be misleading. So, how do we, as educators, approach this issue in a way that would be unbiased and ideal for kids?
Well, there's really no way around it; if we're to teach kids the history of Thanksgiving respectfully, we're gonna have to start from the ground up and include all the facts regarding this popular holiday. Sugarcoating history is a slippery slope, if not outright disrespectful to the parties in question.
The complete impartial recount will present children with an opportunity to think critically and debate, as well as teach them to appreciate the fact that sometimes there can be more than one side to history's chronicles. We've already talked about historical bias, so without further ado, let's get into it.
The Roots of Thanksgiving
The first thing that we need to clarify when teaching the history of Thanksgiving for kids is that the holiday itself, or rather the customary expression of gratitude through prayer, by no means emerged in the USA as we know it. Thanksgiving, even though it wasn't named as such, has been present in cultures around the world for a very long time.
It can be traced back as far as antiquity, where the ancient Greeks, Romans, and Egyptians held feasts in tribute to their gods, thanking them for the fall harvests. The Jewish holiday of Sukkot, or the Feast of Tabernacles, is also very similar to the modern-day Thanksgiving we all know and love. Lastly, going back to North America, the indigenous tribes on the continent have also had a rich tradition of conducting bountiful feasts on the laurels of their great autumnal harvests.
Do note that presenting this information to your students should by no means devalue Thanksgiving itself, but rather complement their common knowledge, and, if anything, even deepen their understanding of the fact that this is indeed a secular holiday. With that out of the way, let's continue by going over what we already know about Thanksgiving.
First Thanksgiving
So, the event widely accepted as the First Thanksgiving refers to the feast after the first successful harvest by the Pilgrims at Plymouth in October 1621 and the circumstances are as follows. Before that fateful feast, the Pilgrims had settled in an abandoned area, formerly inhabited by the Patuxet Indians. The last surviving member of the tribe, Squanto, had taught the Pilgrims how to grow crops and survive the winter. The ordeal of the harsh winter was lessened by the help from the Wampanoag tribe who gave the settlers additional provisions. As an expression of gratitude, they then invited the indigenous people to a bountiful feast.
The Thanksgiving Proclamation
The holiday as such was not to be repeated and officialized until nearly two centuries later, in 1789, when George Washington issued the first Thanksgiving Proclamation in which he stated that Thanksgiving should take place on the third day of October as "a day of public thanksgiving and prayer". After that, the tradition was observed on-and-off throughout the Civil War, until 1863, when Abraham Lincoln proclaimed that Thanksgiving should be a national holiday that would take place on the final Thursday of November each year.
The Problems With How We Teach Thanksgiving to Kids
The first common problem with how we teach the history of Thanksgiving for kids is that, for some reason, which is likely to be that we don't like explaining certain uncomfortable truths, we tend to not talk about the fact that the core concept of the First Thanksgiving is flawed.
As we explained in our "roots" segment, it is simply misleading to state that the customary tradition of Thanksgiving occurred in that particular timeline. Many other cultures took part in the custom way earlier and even on the same territory, as evidenced by the native tribes celebrating it. Furthermore, it is also disputed that the New Englanders were the first Europeans who took part in Thanksgiving on American soil. There is some evidence that the French Huguenots in Florida in the 1560s or the Spanish conquistadors in the 1590s also took part in a Thanksgiving ritual.
Secondly, the event in Plymouth, Massachusetts wasn't even referred to as the first Thanksgiving by New Englanders until the 1830s, which goes to show that it was a revisionist device that we won't continue to elaborate on in this segment.
The Pilgrims' Landing
The storied Plymouth Rock is generally pointed to as the piece of evidence that the Pilgrims landed then and there. But, the only information that we have pointing to it as the exact landing spot is yet another inconclusive recount – second-hand information relayed 121 years after the alleged landing. Moreover, it definitely comes off as odd that William Bradford never even mentioned Plymouth Rock in his memoir.
The Pilgrims' Quest
Another prominent issue with how we teach the history of Thanksgiving for kids is that we often mention that the Pilgrims came to America in the quest for religious freedom. While they did initially leave England to exercise greater religious freedom, they did so by going to Holland, or Leiden, to be specific. Bradford and Winslow did find greater liberty when it came to their beliefs in Holland, so if that's the only thing they were after, they would've stayed there. Instead, they opted to explore the New World in pursuit of better and easier living, as well as all the opportunities such an exploratory journey would bring.
The Pilgrims' Name
While we know them as Pilgrims, when teaching about Thanksgiving, we also tend to omit the fact that this is a largely fabricated moniker, if we're being blunt. The Pilgrims had actually referred to themselves as Separatists, most of them being either Methodists or Puritans. But, due to the pilgrimage they had undertaken, and some revisionist tendencies we mentioned above, by the 1800s, they were dubbed as pilgrims.
The Pilgrims' Image
The way we visually represent the Pilgrims is also a fallacy. By now, we're all too familiar with the buckled hats and black clothing, but that couldn't be further from the truth. In fact, the Pilgrims had an appreciation for brighter colors; red, orange, and green garments were not uncommon among the Plymouth Colony settlers.
The Pilgrims' Relationship With the Settlers
Probably the biggest fault with how we teach Thanksgiving is that we tend to misrepresent the relationship between the Pilgrims and the natives as amicable. Even though there might've been an exchange of goods between the parties and perhaps a cordial approach from the Wampanoag tribe, at least at first, there's hardly any concrete evidence of actual congeniality. They might've shared a feast celebrating the harvest, but that doesn't indicate coexistence by any stretch of the imagination; there are more than enough indications of the opposite.
Teaching the History of Thanksgiving for Kids: Tips & Resources
When pointing out the problems, it would be only right to include solutions as well. So, the main solution to teaching Thanksgiving to kids respectfully is to simply present multiple perspectives around the holiday's history. We, as educators, often fall into the trap where we teach in a condescending manner without being aware of it. What we mean by this is that no matter the age group, we shouldn't misrepresent the facts, or sugarcoat, as we said earlier, in fear that the students won't understand or won't be able to "cope with uncomfortable truths". Such teaching is but an indication of the teacher's inability rather than a moral high ground of protecting the children.
By considering our suggestions and applying them in the classroom (or when homeschooling), we wholeheartedly believe that the children will be presented with an opportunity to learn to think critically, but they'll also avoid marginalizing and disrespecting certain ethnic groups, which would surely come as a consequence if we're to further skew discourse on an already troubled history.
On a practical note, KidsKonnect has more than enough resources in the form of worksheets that would aid you in getting all the aforementioned points across. The worksheets have been designed for use with any international curriculum and you can edit them to make them as specific as you'd like.
Before You Go
The holiday season is a jovial time to enjoy ourselves and give thanks for what we have, but it also provides ample occasions for valuable lessons that will stick with your students for life. By teaching the history of Thanksgiving for kids respectfully, you won't only teach proper history, but also encourage acceptance of cultural differences and work toward building historical awareness.
We hope that you found our article insightful and that it will benefit you as an educator as well as your students. For more teaching resources and worksheets, check out our extensive library that has proven to be more than useful to hundreds of thousands of teachers across the globe. For more content on all topics related to education, head over to our blog.
Source https://www.parents.com/holiday/thanksgiving/how-to-explain-the-story-of-thanksgiving-to-kids/
Source https://www.rebekahgienapp.com/thanksgiving/
Source https://kidskonnect.com/articles/teaching-thanksgiving-respectfully/