Best Places To Stay In South Beach Miami Florida
Experts agree hotels are safe, provided you take the necessary precautions outlined by the CDC. Additionally, the CDC now says fully vaccinated people can safely travel in the US. All the hotels on this list are open and accepting guests.
That said, the state of Florida has lifted restrictions and protocol for COVID-19. Still, you should keep in mind that many private businesses still opt to follow the CDC masking and social distancing guidelines and come prepared with safety precautions for hotels, restaurants, and other businesses who might enforce their own rules on the premises of their properties.
In addition, services are subject to COVID-19 restrictions. Some spa, transportation, and entertainment amenities might be curtailed or unavailable. Others might be on their way to being reinstated.
Downtown Miami & Brickell Best For Modern Luxury
The true heart of Miami and the city center, Downtown Miami is a sharp contrast with the laid-back style of South Beach Miami. Miami downtown is a busy and lively area, with a dazzling business district feel to it. This is where the striking skyscrapers, international hotel chains, and luxury restaurants are located.
Just south of downtown Miami is its southern neighbor, Brickell, a modern, towering area of the city of Miami nicknamed the Manhattan of Miami. Brickell is filled with the best trendy restaurants and stylish young professionals going about their daily business.
Downtown Miami and Brickell are connected by the Metromover, a system of automatic, elevated trains that run around the entire financial district. This is the best area to stay if youre in town for business or simply enjoy a city atmosphere due to its connectivity and ease of movement.
Ride the Skyviews Miami Observation Wheel
Dine-in one of the trendy restaurants of Brickell
Art Deco Elegance: The National Hotel
This historic South Beach oceanfront hotel features 116 newly designed city and direct ocean view guest rooms in the Tower and 36 luxurious cabanas and suites, skirted alongside native tropical palm trees and Miami Beach's longest infinity-edge pool.
Its hallmark one-of-a-kind infinity-edge pool has been the backdrop for concerts, fashion shows and home to a host of high-caliber performances including Whitney Houston, Mariah Carey, Paris Hilton, and Pitbull among others. There is also a second leisure pool, heated and set near the private sandy area
You can choose from 3 onsite food and drink options, fresh fusion cuisine at Tamara Bistro, refreshing poolside cocktails at Aqua Pool & Lounge and handcrafted libations at the indoor Blues Bar
Guests have access to spa services and fully-equipped state-of-the-art fitness facilities
Free Wi-Fi in all areas
Pets allowed
Parking available nearby for $42.80 per day
The Ultimate Guide To South Beach Miami In A Weekend
Famed for its Cuban influences, trendy nightclubs, fresh seafood, beachside hotels and resorts, and the colorful art deco buildings around town, South Beach is a glamorous paradise within Miami.
I spent a few days in South Beach after visiting the Bimini Islands and got to experience the culture, food, and beaches. I was impressed.
Here is my guide to South Beach, Miami in a weekend!
Where To Stay In Little Havana
Life House Little Havana This extremely stylish place to stay boasts dorms and private rooms, all of which are exemplified by their attention to detail. Soft design features like wood beds and floors sit alongside a sense of classic but modernized decor for a very cool place to stay. Guests can order vegan breakfasts to their room, watch what they like thanks to the super-fast internet, and enjoy the location of this place just a 15-minute stroll away from the center of Downtown Little Havana.
Best Hotel In Brickell: Hampton Inn & Suites By Hilton Miami Downtown Brickell
Located just a few minutes walk from Miamis trendiest spots, this is our pick for where to stay in Brickell. This incredible hotel comes complete with a fitness room, swimming pool, and a jacuzzi. The rooms are modern and stylish, and they are outfitted with a kitchenette, refrigerator, and coffee/tea facilities.
Trendy Eco Luxury On The Beach: 1 Hotel South Beach
This is a 426-room resort, with a sublime 600-feet of beach frontage, a 30,000 square foot center pool, and a house fleet of white Teslas offering complimentary transport. In keeping with the 1 Hotels philosophy, each room is designed for comfort with pure and natural elements, every detail brings the outdoors inside, all beautifully executed.
The state-of-the-art eco rooms include use of tablet with daily digital newspapers, 55-inch smart TV, Bluetooth speakers, in-room water filtration system, and espresso machine with organic coffee.
There are 4 swimming pools, all with panoramic ocean views, including an adult exclusive rooftop pool on the 18th floor with mesmerizing 360 degree views and poolside cabanas.
Full-service Bamford Haybarn Spa with a selection of holistic treatments, services and classes and a 14,000 square-foot Spartan Gym.
Six dining options from grab-and-go to exquisite cuisine, all with an emphasis on fresh ingredients: Plnthouse, Watr at the 1 Rooftop, The Sand Box, Nativ Made, Drift, and the newest signature restaurant Habitat, by Chef Jose Mendin.
Family-friendly: Seedlings Program Kid's Club offering a variety of activities including sports, teambuilding and games, swimming, outdoor adventures, arts crafts.
Non-smoking throughout
South Beach Where To Stay For First
When we mention the word Miami, what is the first thing that comes to your mind? I bet it is the beach, am I right? Indeed, mile after mile of pristine waters, golden sands, tanned locals, and happy tourists. A place filled with celebrity-studded hotels and nonstop nightlife, Miami Beach from South Beach to North Beach is legendary.
Moreover, a stay in Miami Beach offers a variety of entertainment options that goes far beyond sun and sand, encompassing world-famous nightlife and world-renowned art galleries, top-notch hotels and the best dining options, designer shopping, and a unique architectural style that makes it one of the worlds most visually distinctive regions. Its also worth mentioning that Miami beach encompasses a man-made barrier island with the main street, Ocean Drive running from top to bottom.
Although the entire length of Miami beach is dotted with great places to stay, South Beach is considered the best area to stay and is one of the most famous neighborhoods of Miami. The nightlife in South Beach is abundant plus all you really have to do is put on your flip-flops and walk a few steps until you hit the water, so youll never have to question what to do! So if youre looking for a good time with lots of nightlife options, stay in South Beach.
Where To Stay In Miami For Sightseeing
Miamis tourist attractions are spread out all over the city, so theres not a single district that we could classify as the definite area for sightseeing. In the end, the perfect location will depend on your tastes . That said, these are some of the most interesting districts:
Townhouse Hotel Bright Chic And Cool
Bright and airy and heavy on the white, the midrange highly rated Townhouse Hotel is a great example of when a boutique hotel gets the shabby chic style just right ! From the moment you step inside this unique and creative hotel in Miami youll be able to tell the interior designer was in a playful mood think oversized baby blue pillows, L shaped couches giant poufs and the odd beachball. Penthouses have private terraces, and ocean or city views.
Theres a funky rooftop terrace and bar and each room also contains a flat-screen TV, iPod docking station, and complimentary Wi-Fi. Modern relaxing accommodation with a hip, cool twist located right on South Beach!
Prices from $100 per night.
To check prices or availability for Townhouse Hotel Miami Beach
Where To Stay In South Beach
1 Hotel South Beach Impeccable design and comfort collide in this decidedly upscale hotel. The rooms feature sleek furniture, an eye for minimalism and simplicity, and a cool, neutral color palette. Guests can relax in style at the wellness center and spa, swim in one of four pools, eat in one of the six onsite restaurants, or simply chill in their rooms. In terms of location, Miami Beach Botanical Garden is within walking distance of this hotel.
W South Beach Just a stones throw from the beach, W South Beach is a towering luxury hotel thats cool, stylish and Instagram friendly an updated version of the playful classiness that Miami has always been known for. The pool is surrounded by slick black and white striped day beds, the rooms are chic, bright and design-led, and boast ocean views. Overlooking the Atlantic Ocean, this branch of W is one for all you design fiends out there.
Loews Miami Beach Hotel This 4-star hotel is positioned directly on the beach, making it a great option for those who place high importance on being close to the sea and sand. Other nearby things to do include Lummus Park a three-minute walk away and all the coolness of Miamis Art Deco District a mere five-minute stroll. This hotel is all about luxury with six dining options, a sprawling pool area, and much more, you wont ever want to leave.
Best Hotel In Downtown Miami: Hilton Miami Downtown
A fantastic location, elegant décor, and luxurious rooms are just a few of the reasons this is our top pick for where to stay in Downtown Miami. This hotel boasts a fitness centre, swimming pool, and a stylish on-site bar.
It is close to well-known attractions and is within walking distance of Miamis hottest clubs.
Best Airbnb In South Beach: Cozy And Stylish One Bedroom Hub For The Best Nightlife
If youre planning on hitting the clubs at night, you better choose the right place to get rid of the next days hangover. This Airbnb is the perfect home to chill and relax during the day. It offers a great location, super close to the busy streets, but you can still enjoy a peaceful sleep. Its got a super homely design, but still has some modern and stylish features, which gives the apartment a super welcoming and homely vibe.
Hotel Urbano A Funky Reasonably Priced Retro
The fun and funky Hotel Urbano offers mid-range boutique accommodation in a quiet but central location in Miami. Bold and creative with cool retro interiors, the hip and trendy Miami hotel has partnered with Art Fusion Galleries to display an eclectic range of exhibits throughout the hotel.
Rooms at this funky accommodation in the heart of Miami are stylish and colorful and all the amenities of contemporary living will be at your fingertips from iPod dock to HDTVs with balconies thrown in too. Other unique hotel highlights include private poolside cabanas, a modern cocktail bar, a state-of-the-art gym, and Cuban-inspired food freshly served up at their popular onsite restaurant.
From $90 per night.
To check prices or availability for Hotel Urbano
One South Beach Miami An Upscale Eco
Situated in the northern section of South Beach on Collins Avenue, this swish Miami abode with an eco-friendly ethos has a modern beach feel with softwood furnishings throughout. If you like to catch plenty of rays and enjoy the water, you cant really go wrong with the 5 star exceptionally rated One Hotel South Beach. The hotel sits directly on the seafront so expect sublime ocean views, but it also boasts two swimming pools and 70,000 square-foot of decking space. Its rooms are modern and elegant, with soft furnishings, custom-made beds, ocean views, walls lined with driftwood, and all the mod-cons youd expect.
The trendsetting Miami accommodation is located near plenty of popular attractions, including the Lincoln Road Mall, the New World Center, and the Miami Beach Convention Centre. A large swimming pool occupies the hotels central grounds, while theres a smaller but equally stunning beachside terrace and pool area complete with bar, sun loungers, daybeds, and cabanas. Besides its popular pool areas, the hotel features a gym, a rooftop bar, a hair salon, and also a modern spa. If youre a golfing fan, the hotel is ideally located near to Miami Beach Golf Club, so dont forget to pack your clubs!
Prices from $200 per night.
To check prices or availability for One Hotel South Beach
Where To Stay In Miami: 10 Best Areas
Welcome to my detailed guide to choose where to stay in Miami, the best areas to stay in Miami for first-time tourists. By the end of this article, you will feel more familiar with the best places for families, nightlife, beaches, sightseeing, budget, without a car, and safe.
This rich and vibrant city on the southeast coast of Florida is one of the United States most popular tourist destinations. Its a great place to enjoy some beach time, party, and explore the cultural delights of a modern and cosmopolitan city.
You should take a few factors into account when deciding the best part of Miami for your stay.
If you have your own transport, then it is easier to stay in the outer suburbs of the city, in districts like Coral Gables or Coconut Grove, and still reach all of the sights of the city center with ease. These outlying suburbs are great too if youre traveling with the family since they are relaxed and less full-on than the city center. If you are looking for the safest places to stay in Miami, then look into Coral Gables and Coconut Grove.
But if youre a first-time visitor or you dont have your own transport, then staying somewhere central like Miamis downtown makes sense. If you are looking for the best area to stay in Miami with family, check out Key Biscayne, Brickel, North Beach.
Downtown Miami, Brickell, South Beach, Coconut Grove are the best area to stay in Miami without a car.
Best Condo In South Beach: Stylish Beachfront Studio
This amazing place is located right on South Beachs front, which means that youll only have to walk a couple of steps until you feel the sand under your toes. The condo has been recently renovated and offers super modern and luxurious amenities. If you dont feel like salt water, you can also opt to jump into the pool in your backyard and soak up the sunlight on your sun beds.
Downtown Miami Good Area For Business Travel And Sightseeing
Downtown Miami, as the name suggests, is the most convenient and central part of the city in which to stay. This district is the best choice for first-time visitors, especially if the beach isnt the overriding attraction for your visit.
Downtown Miami contains the huge tower blocks of the citys central business district. But theres so much more to see and do here, and downtown is packed with fascinating museums, galleries, and activities. The Frost Museum of Science is a fascinating place to visit, as are the Miami Art Museum and the Miami science museum. The Perez Art Museum Miami is a fabulous art gallery with an extensive collection of South American art.
While in downtown Miami, you should check whats on at the Adrienne Arsht Center for the Performing Arts, which has an ever-changing and varied itinerary of shows and plays. Another great venue is the Guzman Center for The Performing Arts, with a theater that stages regular plays and operas.
If you want to learn a little more about the place where youre staying, then take a visit to History Miami, which is a museum that tracks the growth and development of the state of Miami from the times of native American arrival until the present.
Other attractions to check out: American Airlines Arena a sports and entertainment multi-purpose venue in a vibrant waterfront, Bayside Marketplace a two-story open-air shopping center, for a family with kids, and Ferré Park a promenade, former Museum Park.
The best things to do in South Beach, from art museums to drag brunch
Skip to the good part with our guide to the best things to do in South Beach.
South Beach is a lot of things you'd expect: bold, colorful, sexy, hot. But it can also be subtle, serene and—just when you thought you had it pegged—totally surprising. While South Beach's pristine beaches and wild party scene are undoubtedly its biggest draws, this famous oceanfront neighborhood is full of world-class shopping, historic architecture and hidden gems, including clandestine speakeasy bars and some of the best restaurants in Miami. Whether you're seeking culture in the form of art or a divine croqueta, or just hoping to discover something new, our guide to the best things to do in South Beach has you covered.ay.
An email you'll actually love
Get into a relationship with our newsletter. Discover the best of the city, first.
By entering your email address you agree to our Terms of Use and Privacy Policy and consent to receive emails from Time Out about news, events, offers and partner promotions.
Awesome, you're subscribed!
Thanks for subscribing! Look out for your first newsletter in your inbox soon!
The best of the city under one roof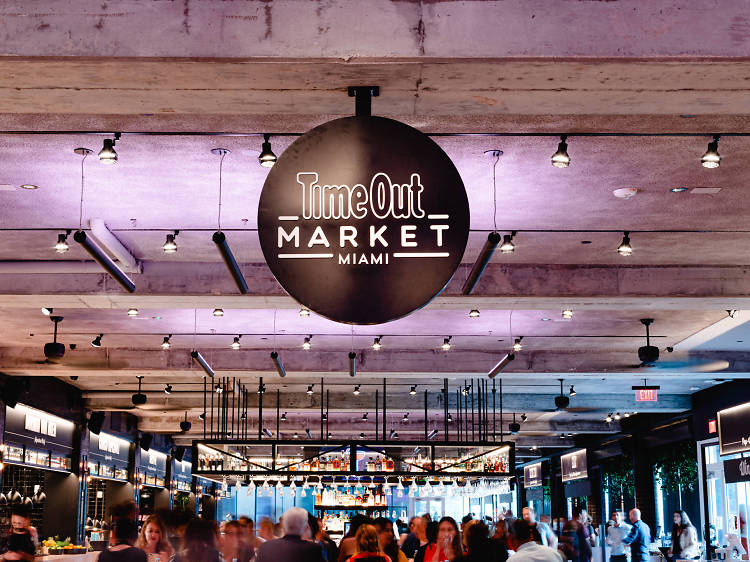 Time Out Market Miami
This sprawling food hall—curated by yours truly—is home to some of the city's best restaurants and chefs, including the man behind a recent Michelin-starred spot. From sandwiches on artisanal bread and burgers dreamed up by a James Beard Award winner to modern Caribbean food and excellent pho, find a range of satisfying eats all under one roof at Time Out Market Miami. There's also a daily happy hour (4–7pm) as well as a late-night weekend happy hour (Fri, Sat 9–11pm) at the central bar, making this the most affordable drinking spot in South Beach.
Best things to do in South Beach, Miami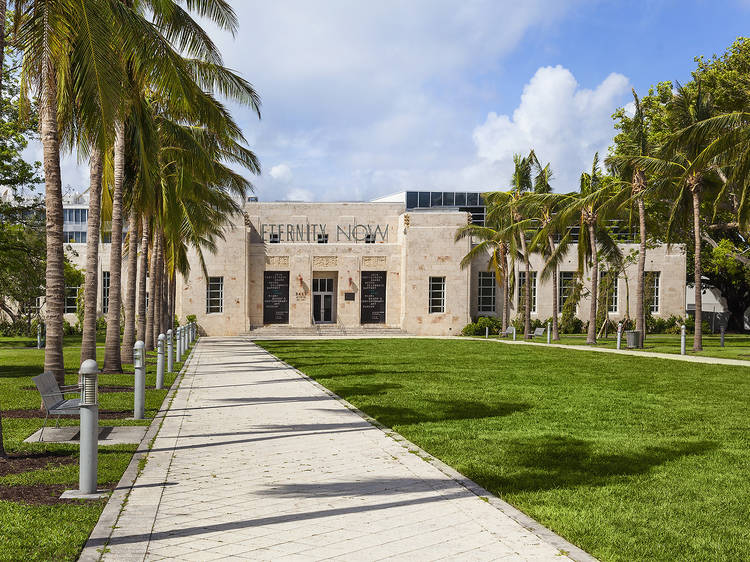 1. The Bass
Things to do
Cultural centers
South Beach
Don't discount the bitty museum for its size—The Bass is a renowned contemporary art institution that packs incredible collections and traveling exhibitions into its diminutive edifice. Patrons should also keep an eye out for the colorful public art that constantly moves through the museum lawn. Time it right and you can hit up Sweet Liberty's happy hour (4–8pm, daily) after having yourself a cultured afternoon. Who's in for .95 cent oysters?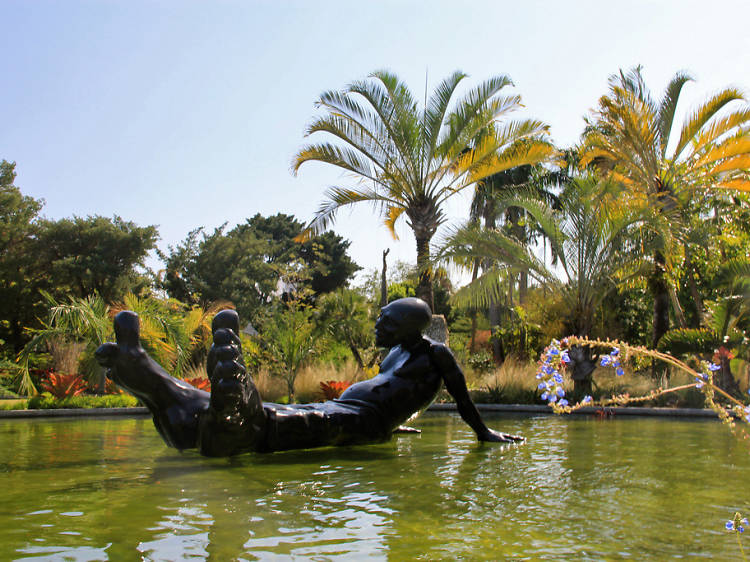 2. Miami Beach Botanical Garden
The 50-year-old, 2.6-acre urban garden had a facelift in 2011 and is back to being a popular spot to spend time away from the bustle of the city for visitors and locals alike. It hosts a variety of yoga and meditation classes, orchid exchanges, horticultural seminars and live music events on the weekends. Native Florida plants include bromeliads, palms and cycads, but there's also a Japanese garden and wetland with mangrove and pond apple trees.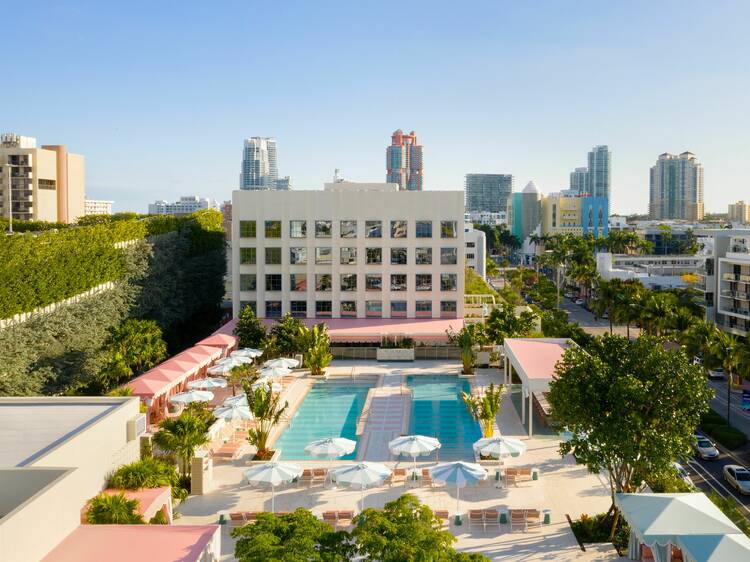 3. The Goodtime Hotel
Music mogul Pharrell Williams and nightlife entrepreneur David Grutman (of LIV fame) joined forces to birth the Goodtime Hotel, a pastel-hued, real-life riff on a quirky Wes Anderson film where every nook is an iconic Instagram moment and the potential for lowkey celeb sightings abound. Inside to poolside, Strawberry Moon is the place to be. The spunky Mediterranean restaurant and club hosts summer pool parties and daily happy hours (4–7pm at the bar) where locals and visitors bring their fashion A-game.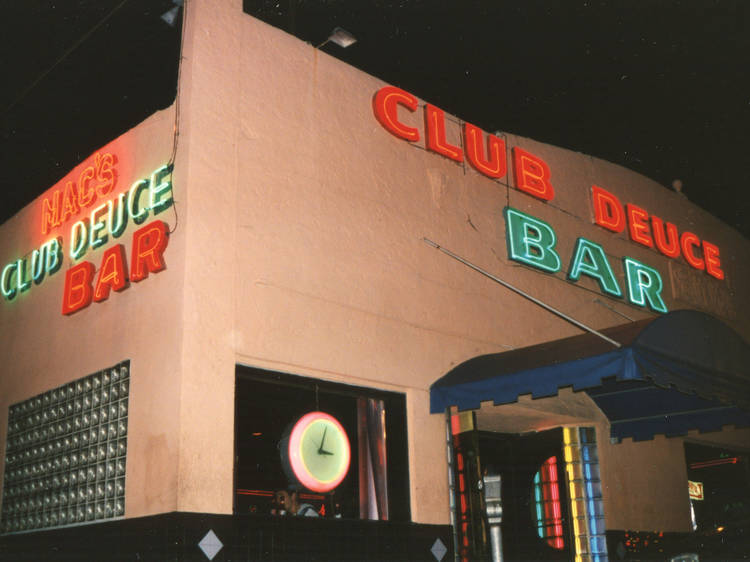 4. Mac's Club Deuce
A favorite of the late celebrity chef and travel journalist Anthony Bourdain, this smoke-filled spot is charmingly out of character for South Beach, and "eclectic" doesn't begin to describe the mix of denizens who gather here nightly. The Deuce attracts the motliest, coolest, scariest crowd of any bar in Miami. And for good reason: Its pool table, jukebox and vintage neon wall art are the ideal complements to a legendary daily two-for-one happy hour that goes from 8am to 5pm.
5. Sunset Harbour
This quieter pocket of South Beach overlooking the sailboat-dotted Intracoastal Waterway is populated by locals who live in its highrise condos plus in-the-know visitors who come to enjoy the charming scenery and a smattering of excellent restaurants, bars plus outdoorsy activities like paddleboarding, kayaking and scooter rentals. For a breezy, seafood-centric brunch, Stiltsville Fish Bar is a great option. Local coffee institution Panther has a home here, along with the popular Pubbelly Sushi and Osteria Morini.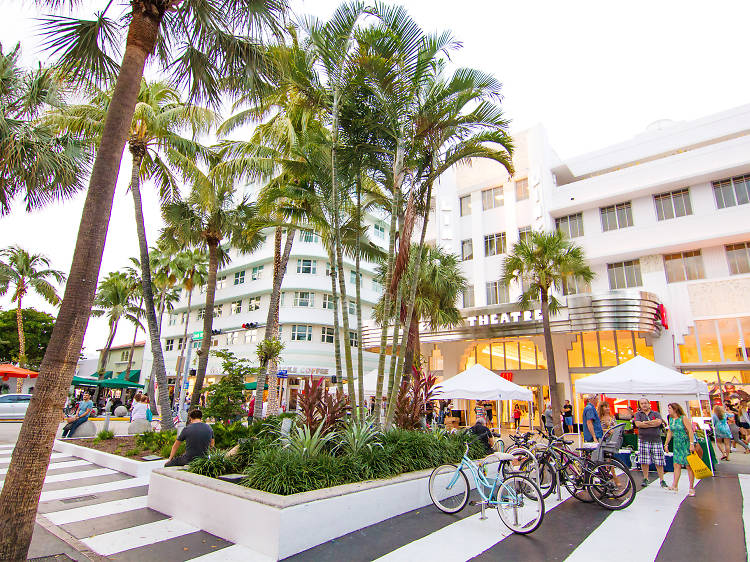 6. Lincoln Road Mall
Shopping
Shopping centers
Mid-Beach
One of the country's first pedestrian malls, Lincoln Road is continuously overrun with tourists in search of the quintessential South Beach shopping experience. To wit, it makes for fantastic people-watching if you're a local. Expect a ton of sidewalk cafes, bustling food halls like Time Out Market and Lincoln Eatery, experiential mall Showfields, big brand stores and a Sunday farmers' market stocked with fresh produce, vintage furnishings and more.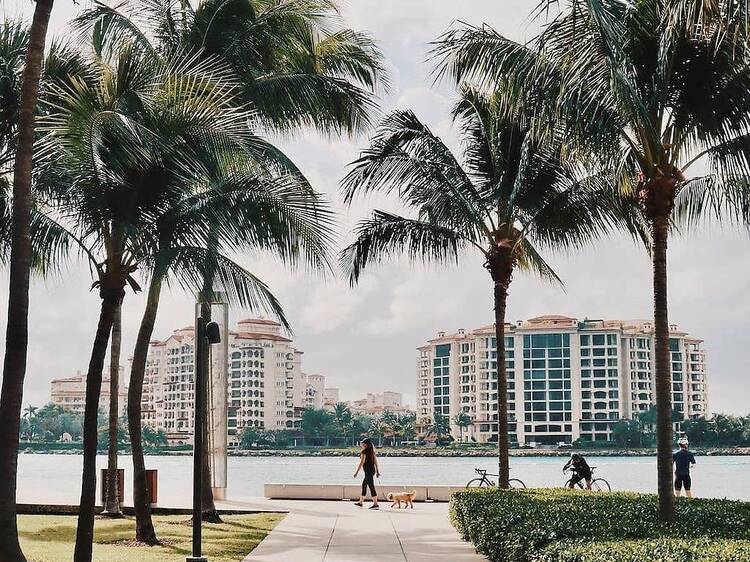 7. South Pointe Park
Attractions
Beaches
South of Fifth
South Beach's southernmost tip includes a spectacular waterfront park with plenty of green space for picnics or lounging as you watch the cruise ships sail by. It boasts ample metered parking, plus the park features access to both the beach and a walkable pier. It's walking distance from Joe's Take Away, Joe's market-style counterpart, where you'll get Miami's freshest crabs to go for the ultimate beach picnic.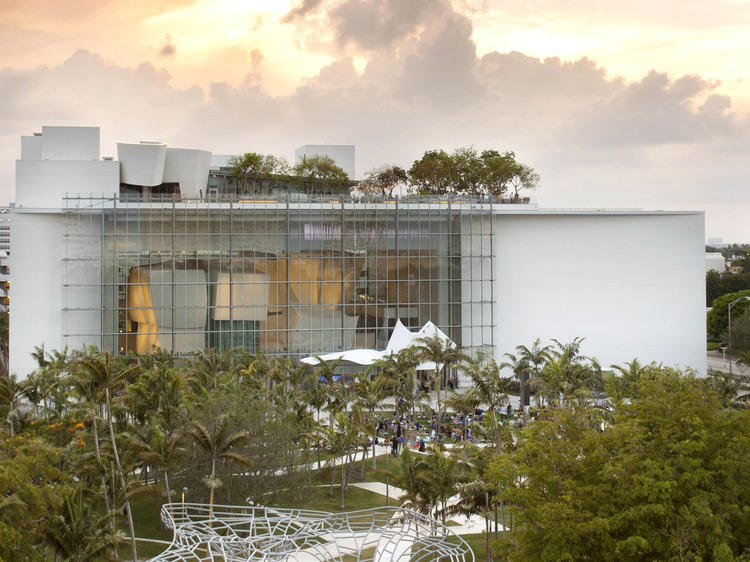 8. New World Center
Things to do
Performances
South Beach
New World is home to America's only full-time orchestral academy, so fellows from around the world regularly put on concerts here. Looking to keep it casual? The adjacent SoundScape park hosts free outdoor Wallcast concerts and movies throughout the season, perfect for packing a picnic and enjoying a screening under the stars. New World's concerts are often fun collaborations with local DJs, famous composers and more, so things don't feel as stuffy as normal orchestras.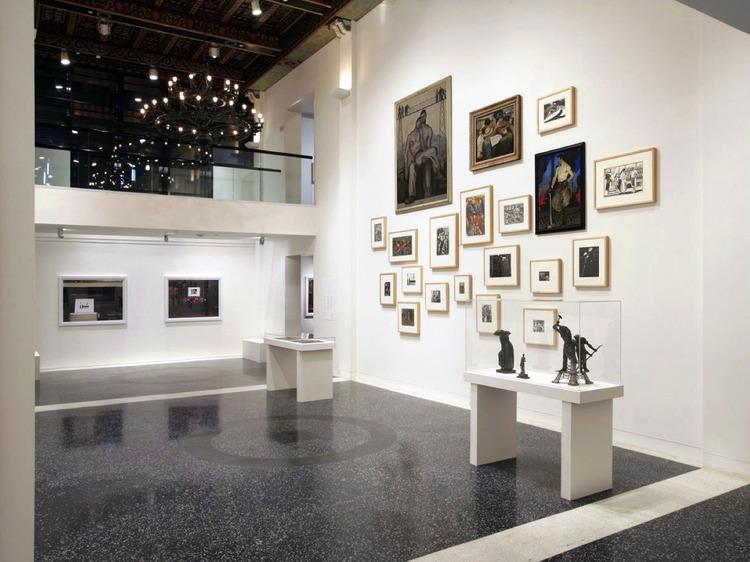 9. Wolfsonian-FIU
Things to do
Cultural centers
South Beach
Whether it's browsing modern-age artifacts or perusing midcentury propaganda, visitors exploring Wolfsonian-FIU's permanent and traveling exhibitions learn about the myriad ways art and design have helped shape the contemporary world. The Art-Deco–era building also houses youth programs and admission is currently free (through October) and they complete an ongoing renovation. Across the street, the Wolfsonian also hosts member-discounted movie nights at O Cinema, an indie theater housed in the historic city hall.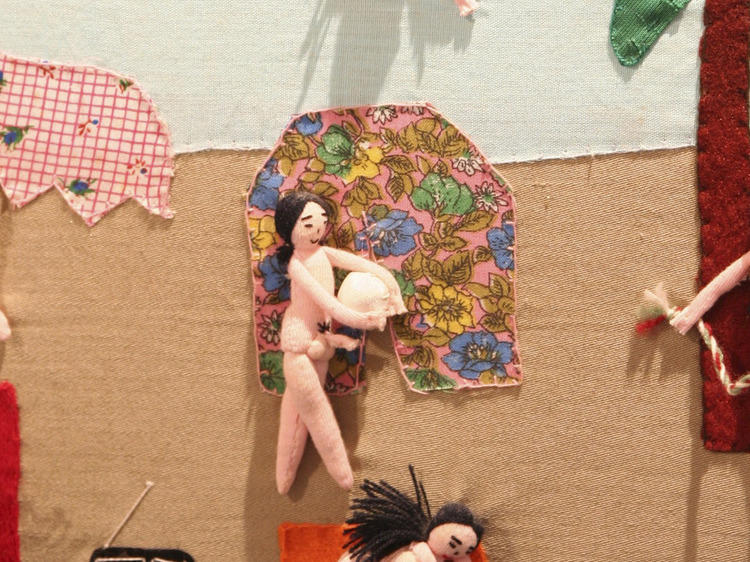 10. Wilzig World Erotic Art Museum
Things to do
Cultural centers
South Beach
The 20-year-old museum explores millennia of sex through classical art, ancient artifacts and a trove of naughty toys. In addition to housing numerous exhibits of erotic art from around the world, WEAM features a sizeable collection of antique penises and Instagram-worthy phalluses in all sizes and states of arousal. The new George Daniell Museum is also located in the same building. Known for his portraits of Audrey Hepburn, Sophia Loren and others, the gay American photographer and artist worked for Time and Life magazines.
11. Jewish Museum of Florida-FIU
Things to do
South of Fifth
The Jewish Museum of Florida tells the story of Miami's large Hebrew community. You can breeze through this small cultural center spanning two interconnected historic synagogues in less than 30 minutes. The museum's core exhibit, "MOSAIC: Jewish Life in Florida," features more than 600 photographs and artifacts that capture the group's settlement across the peninsula.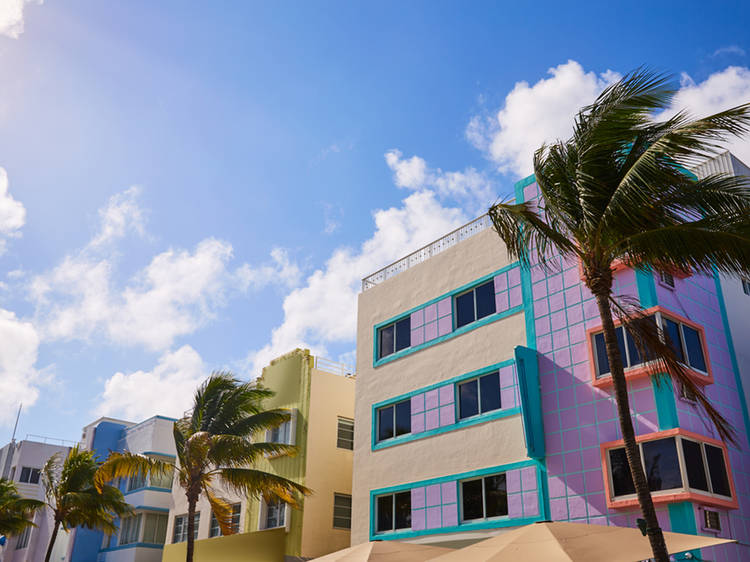 12. Art Deco District Welcome Center
There's a lot of history to soak up in South Beach, specifically in the city's Art Deco district. Start your day in the colorful neighborhood with a stop here and make the most of your visit. The center will send you off armed with maps and suggestions for DIY walking tours. Scared to do it on your own? Book a guided excursion and let one of the Miami Design Preservation League's certified historians guide you through two hours of storied hotels, restaurants and other structures, including a number of interiors.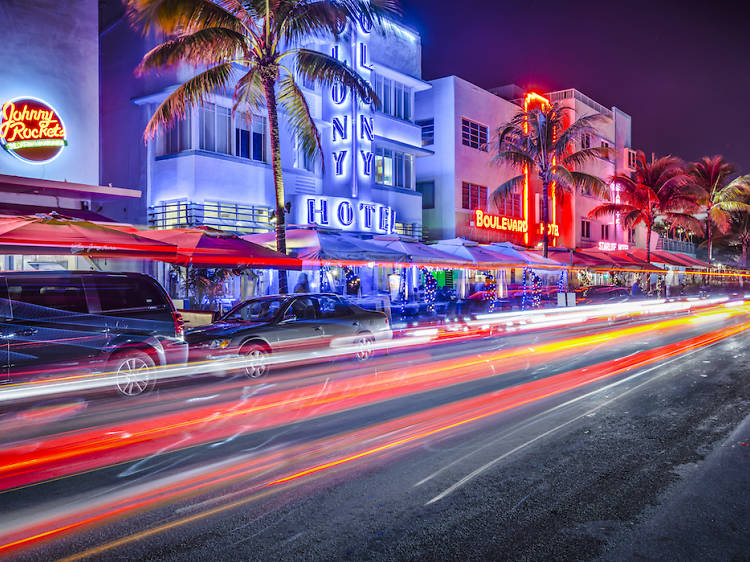 13. Ocean Drive
Bear with us here: Ocean Drive is fun. The touristy strip gets a bad wrap for its overpriced drinks (hello, $65 margarita) and we wouldn't really advocate eating or drinking at one of the sidewalk cafes (unless it's an epic drag brunch at Palace Bar, of course). But Ocean Drive is the absolute best place for weird Miami people watching. While you're there, check out the Versace Mansion, which is now officially called the Villa Casa Casuarina. It's a luxury hotel with a public restaurant where you can still gawk at the frozen-in-time decadence of the late designer's home.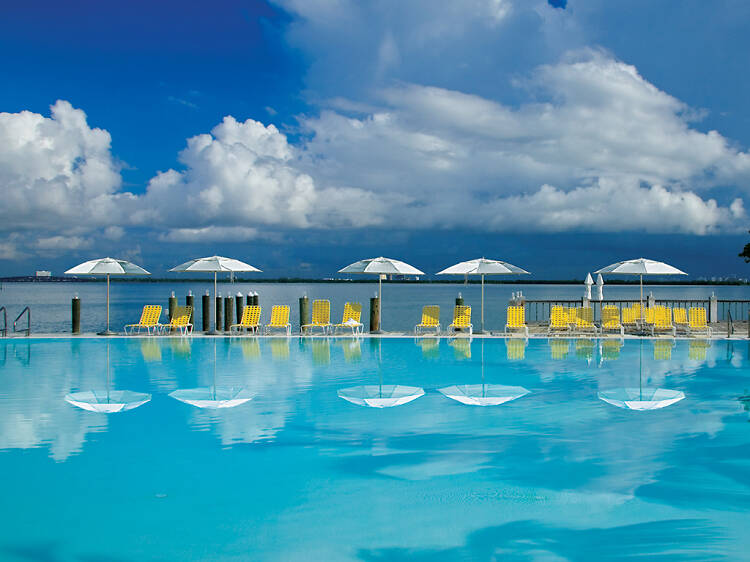 14. Standard Spa
Hotels
Spa hotels
Belle Isle
A trendy boutique hotel chain—yes—but the Standard is also a hangout for South Beach scenesters. Monthly memberships hover in the hundreds of dollars and a day pass will set you back $75 to $125 but neither one keeps the locals from filling its loungers or sipping rosé poolside. The Standard often hosts fun pop-up events and a chill, open-to-the-public dockside barbecue on Sundays. You can also eat at the Standard's waterfront restaurant, Lido, to soak in the vibes without paying for a pass. It's an ideal spot for happy hour (Mon–Thu, 4-6pm) as the sun melts into the bay.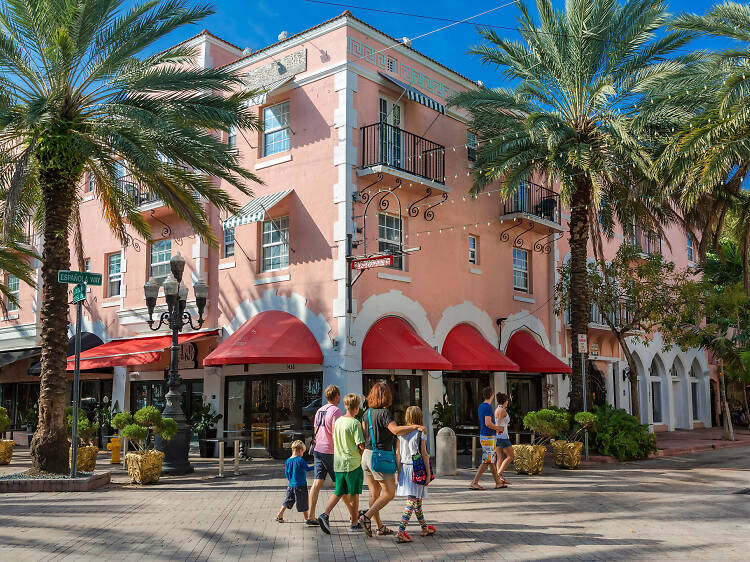 15. Española Way
Shopping
Lifestyle
South Beach
This charming pedestrian boulevard is home to one of our favorite South Beach cafes, A La Folie. A bohemian hideaway for nearly 20 years, it serves homey, locally hard-to-find French classics like tartiflette, a gooey potato-and-onion gratin dotted with cubes of fatty bacon and layered with pungent Reblochon cheese. Newer spots have revived the promenade, including Andalusian hotspot Tropezón and the buzzy Roof at the Esme Hotel. Longstanding dive Kill Your Idol is a solid late-night proposition, especially for karaoke on Thursdays.
An email you'll actually love
Get into a relationship with our newsletter. Discover the best of the city, first.
By entering your email address you agree to our Terms of Use and Privacy Policy and consent to receive emails from Time Out about news, events, offers and partner promotions.
Awesome, you're subscribed!
Thanks for subscribing! Look out for your first newsletter in your inbox soon!
Where to Stay in South Beach Miami – South Beach Hotel Guide
Known for it's sprawling beaches, colorful art-deco architecture, exciting nightlife, beach clubs, and miles of cafes, shops and bars makes South Beach the place to be in Miami for those looking for a bit of a Vegas-esque beach vacation. If you are heading to Miami without a car then I definitely recommend staying in South Beach as you can walk most places. South Beach has such a high concentration of things to see and do in a small area, and it's easy to get around on foot. Here are some of my top recommendations for South Beach hotels.
Headed to Miami soon? You may also want to check out these posts:
Enjoying the quieter SOFI neighbourhood of South Beach
Where to Stay in South Beach for a Quiet and Relaxing Vacation
One thing we did learn during our trip to Miami is that the heart of South Beach and Ocean drive can be a lot to handle for those that are looking for a little more of a relaxing vacation. Our first hotel during this trip was right in the thick of party central and man did we every struggle those first two nights. Miami, and South Beach specifically, is known for it's party scene.
So it's no surprise it's a little trickier to find quiet hotels in South Beach.
If you're looking for more of a relaxing South Beach experience I definitely recommend staying in a hotel in the SOFI neighbourhood (South of Fifth). SOFI is much quieter than the main strip of South Beach but still within walking distance of all of the action.
Marriott Stanton South Beach
We spent our last two nights in Miami at the beautiful Marriott Stanton South Beach (you can read my full experience here) which turned out to be the answer to all of our prayers. The Marriott Stanton South Beach is the perfect solution for those who want to be able to enjoy the fun of South Beach but also be able to relax and escape the chaos. The hotel itself was very quiet and right on the beach. It's located in the SOFI neighbourhood so it's much quieter but it's within walking distance from all the bars and restaurants if you want to get in some nightlife too.
Marriott Stanton South Beach is ideal for: Those looking for a relaxing, family friendly, quiet stay right on the beach.
Rating: 4 Star Hotel
More Quiet Hotels in South Beach (priced highest to lowest)
Where to Stay in South Beach for Vibrant Nightlife
If your main goal in visiting Miami is to party like never before, then you definitely want to be right in the heart of South Beach. I'm talking somewhere near the heart of ocean drive, not far from the beach, and stumbling distance from all the hottest bars. Well this one is for you!
Dream South Beach
The Dream South Beach is the perfect hotel for those who are looking for fun, nightlife, pool parties, and want to be within steps from Ocean Drive. Dream South Beach is a party focused hotel with 107 rooms in South Beach's Art Deco District. It's located right in the heart of Ocean Drive and just steps from the beach.
The rooms at the Dream South Beach are a little on the small side but they're absolutely gorgeous. I loved the blue tones! The real highlight of the Dream South Beach though is the amazing rooftop infiniti pool that stays open late into the night. They have a bar up there and host parties into the wee hours of the night. The Dream South Beach also has a taco restaurant on the main level that offers a large menu of Mexican food and an intense tequila bar. Nothing quite says a party like tequila and tacos!
The Dream South Beach is ideal for: Couples and groups of friends looking for a fun, upscale Miami party experience. Young, hip partiers.
Rating: 4 Star Hotel
Other Top Rated Nightlife Hotels
Here are some of the top rated hotel known for their parties and nightlife the South Beach area (in no particular order).
Alternative Option: Grab an Airbnb
Another great option rather than renting a hotel in South Beach is to book yourself an Airbnb. Choosing Airbnb over a hotel can not only save you a lot of money when you travel, but you'll have amenities like a kitchen to be able to make your own meals. I absolutely love staying in Airbnb's for the privacy and amount of money I am able to save. There are tons of great Airbnb's in South Beach too!
I hope you enjoyed this South Beach Miami hotel guide! Hopefully it helps you narrow down your hotel choices a bit.
If you're headed to Miami soon you might also want to check out these posts:
Source https://www.wheretostayclub.com/best-places-to-stay-in-south-beach-miami-florida/
Source https://www.timeout.com/miami/things-to-do/best-things-to-do-in-south-beach
Source https://kirstenwendlandt.com/south-beach-hotel-guide/