The 8 Best Beaches to Visit in October
In theory, a beach trip should always be an opportunity to escape everyday life—a relaxing, fun-filled, stress-free time. Unfortunately, what often happens during peak beach season is the opposite. If you're tired of dealing with crowds, commotion, and the constant struggle to find a spot on the sand, we have an easy solution: rethink your timing. Skip May through September in favor of an October beach getaway, typically the best time of year for finding fewer tourists and still-sunny weather. Below, the 8 best beaches to hit this October.
P.S. Check out What to Pack for a Beach Vacation before your next seaside getaway!
Style + Travel Editor | Instagram @jackiehoman | jackiehoman.com
Browne's Beach, Barbados
If you want a Caribbean vacation in October, opt for Barbados—its easternmost position makes it one of the least likely islands to experience a direct hit during hurricane season. Considered one of the best beaches on the island, Browne's Beach boasts calm, warm, crystal-clear water that's perfect for morning snorkeling with sea turtles—one of the area's most popular activities. After your marine life encounter, you can wind down on the fluffy white sands or grab food and drink from any one of the local beachside restaurants. Speaking of good bites, don't miss October's Food and Rum Festival to see Barbados live up to its "Culinary Capital of the Caribbean" title, with an appearance by British celebrity chef Tom Aikens.
Anse Lazio, Praslin Island, Seychelles
Often called one of the most beautiful beaches in the world, Anse Lazio is fantastic year-round, but an October visit means fewer crowds and milder weather. Enjoy views of the turquoise Indian Ocean waters and fine-grained, white sands from a villa at Raffles Seychelles on the island of Praslin. Framed by palms and indigenous Takamaka trees, the beach feels like true tropical paradise.
Playa de la Tejita, Canary Islands, Spain
With average highs of 79 degrees in October, the Canary Islands are ideal for a fall beach getaway. Playa de la Tejita is a gorgeous, large, natural beach with views of the Montaña Roja and strong winds perfect for kite- and windsurfing. While the sea tends to be too choppy for swimmers, the beach is excellent for sunbathing, surfer-watching, and long scenic walks, especially for those looking for something secluded and totally crowd-free.
Driftwood Beach, Jekyll Island, Georgia
Photographers (and everyone on Instagram), gather round: Driftwood Beach is a must-see this month. Famous for its sandy strip piled high with pieces of—you guessed it—driftwood, this picturesque Georgia locale is jaw-droppingly pretty. While summer months can be stifling hot here, October kicks off the pleasant weather season. Grab your cameras, Jetsetters!
Photos courtesy of Yasawa Island Resort & Spa, Fiji
Yasawa Islands Beaches, Fiji
October is the perfect time to visit Fiji before its cyclone season starts in November. Looking for the ultimate relaxation spot? The unspoiled beaches at Yasawa Islands are extra serene compared to Fiji's more popular Mamanucas. One caveat: this getaway is best for someone wanting to really disconnect, since there aren't many shops or restaurants on the island—here, it's all about natural beauty. With clear blue waters and uncharted reefs, the Yasawas are especially great for scuba diving and snorkeling. You also can't miss swimming in the hidden chambers of the Blue Lagoon Caves. We recommend staying at Yasawa Island Resort for access to 11 of the most amazing private beaches and the opportunity to stay in a traditionally thatched, beachfront bure suite.
The 11 Warmest Places To Visit In October
Photo by Arturo Rivera on Unsplash
How do you feel when autumn rolls around? Do you immediately miss the long hot days of summer? Do you think that rust-colored leaves and pumpkin-spiced lattes make a poor replacement for palm trees and pina coladas? Well, not to worry. If you need some October sun, we've got some perfect warm places for you to visit!
Whether you're after a quick trip to somewhere close by or a long haul vacation to somewhere more tropical. Whether you're dreaming of a beach break, an island escape, or a city sojourn, we've got a destination for you.
So dig out your swimsuit, pack that sunscreen, and plan a last bit of sunshine before the winter really rolls in. Take your pick from our list of 11 wonderful, warm places to visit in October.
Table of Contents
Cancún
Photo by Gerson Repreza on Unsplash
For somewhere warm to visit in October, you won't get many places better than Cancún. This popular spot on Mexico's Yucatán Peninsula has beautiful beaches and it's is hot hot hot. Temperatures in October can reach 33℃ (91℉), while warm trade winds keep the worst of the humidity at bay. Plus, the sea is warm too! Water temperatures are at their highest in autumn, so water sports enthusiasts should head to Cancún to make the most of the balmy 28-31℃ (82-88℉) Caribbean waters.
But if watersports is not your thing, Cancún is also famous for its raucous resort nightlife and the endless entertainment on offer. And with the Mayan ruins Chichen Itza, located conveniently close by, you can mix a little culture into your beach holiday too!
Aruba
Photo by Lex Melony on Unsplash
Where else to soak up some rays than in the Caribbean? With its postcard-perfect beaches and stunning clear seas, Aruba is a dream destination for beach lovers. It's the most visited Caribbean island, and its climate is a large part of its appeal. Unlike some of the other islands, Aruba doesn't have a wet season but enjoys a dry and sunny climate all year round with daytime temperatures around 28-34℃ (82 – 94℉).
And, while many other caribean spots have to worry about the hurricane season in October, Aruba sits outside of the Caribbean hurricane belt. So visitors don't need to be worrying about storm risks or hurricanes ruining their vacation plans.
Las Vegas
Photo by Grant Cai on Unsplash
Want some warmth without leaving the States? Head for the dessert! In the summer months, temperatures in Las Vegas can be as high as 40℃ (104℉). That's just too hot for most people to be out and about in, and it can be dangerous, with visitors suffering from heatstroke, sun exposure, and dehydration.
But if you choose to visit in the fall, you'll find temperatures in the mid to high 20's (low 80's). Much more pleasant! In October, Vegas is plenty warm enough, but you'll also be able to comfortably explore the incredible scenery of the Nevada desert, stroll along the Las Vegas Strip, and dine outside without fear of sunstroke!
Want another tip? Book a midweek trip. Vegas is a popular weekend getaway for many people, so visiting during the weekend is the best way to avoid the crowds and make the most of lower prices on hotel rooms and activities.
Lanzarote
Photo by Thibault Mokuenko on Unsplash
If you're thinking more about European places to warm up in October, how about the Canary Islands? A long-time favorite for Brits looking for some late in the year sun, the Canary Islands are a great short-haul beach destination. This group of Spanish islands is located closer to the coast of Africa than Spain so they enjoy a hotter year-round climate than the mainland.
The archipelago is made up of eight islands, all equally warm places to visit in October with average highs of 25℃ (77℉) and plenty of daily sunshine hours. But we've chosen Lanzarote for our list because we like its tranquility. It's less built-up than the more popular islands of Tenerife and Gran Canaria, which attract the package holiday crowd. And it doesn't get as much wind as Fuerteventura, a favorite with wind and kite surfers. Lanzarote is an underdeveloped, peaceful, and beautiful place for an autumn beach holiday.
The Algarve
Photo by Diego Gennaro on Unsplash
Portugal's Algarve is another favorite for cold brits trying to warm their winter bones. With a solid seven hours of sunshine expected daily in October and highs of 24℃ (75℉), it's a great place to head for some warmth. And while the Algarve has plenty of beautiful beaches, that's not all it has to offer. You can stroll the old towns, explore the mountains and the national parks, play golf, party in the lively resort towns, tour the region's famous wineries or take to the water on dolphin watching trips.
And don't be afraid to get in the sea, because the Algarve enjoys the warmest water temperatures in the country. Plus, Portugal is one of the best places in the world for surfing, and as the autumn rolls around, the waves start getting bigger and bigger. So head to Sagres to surf with the pros or stick to the south coast for beginner-friendly waves and surf schools.
Rome
Photo by Fineas Anton on Unsplash
If a city break is more your style, autumn is a great time to visit one of Italy's top spots, Rome. This UNESCO heritage site-filled city holds no end of cultural and historical wonders. It's a must-visit for lovers of history, art, and architecture. But in the summer heat, with all the tourists that Rome attracts, it can feel overcrowded, and navigating the city's many highlights can become a bit of a chore.
This is why October is a brilliant time to visit Rome because the summer's heatwaves have passed, and the crowds have all left. So you can explore the city in warm, but not hot, weather and view the sights at your leisure without the hassle of queues and crowds, and chaos. Evenings are cooler than in the summers but still pleasant enough to make the most of the pavement cafes and restaurants across the city. And with only an average of seven days of rainfall across the month, you probably won't even need an umbrella!
Marrakech
Photo by Raissa Lara Lutolf Fasel on Unsplash
If you're in Europe and you fancy heading somewhere a little exotic but not too far away, try Morocco. Flights to Morocco take less than four hours from the UK, but once you arrive, you'll feel like you've traveled half the world away.
Marrakech especially is a treat for all the senses. The city is a riot of colorful sights and sounds and smells and is quite unlike anywhere else in the world. It's a beautiful destination for architecture and history lovers, foodies, shoppers, people watchers, photographers, spa lovers, and culture hounds. And, it's plenty warm enough!
Temperatures in Marrakech still reach 28℃ (82℉) in October, and you'll find an average of eight hours of sunshine a day. Perfect weather for strolling the winding streets and exploring the souks, palaces, and gardens of this fascinating city.
Bali
Photo by Artem Beliaikin on Unsplash
If you're feeling the urge for a long-haul flight, then Bali should definitely be on your list. Bali is one of our favorite vacation destinations. We love it for its variety and how it offers something for everyone from cultural attractions to big wave surfing. Visitors to Bali can enjoy volcano hikes and dramatic landscapes, spa stays, diving with turtles and manta rays, island hopping adventures, yoga, and holistic retreats, and of course, long days spent relaxing on the beach.
October is a beautiful time to visit Bali with an average temperature of 27℃ (80℉) with highs reaching 31℃ (81℉), balmy evenings and over nine hours of sunshine per day! October is still the dry season, although the rains might be starting to sneak up by the end of the month. Don't let that put you off, rain in October tends to fall in short isolated showers, generally in the evenings, so it shouldn't impact your beach days at all!
Crete
Photo by Matthieu Oger on Unsplash
We love the greek islands and would happily visit them at any time of year. But the Mediterranean climate makes them brilliant, warm places to visit in October. In autumn, the scorching heat of summer is replaced by a more mild heat that's still great for sunbathing and ocean swimming but not too hot for hiking and city exploring.
We've picked Crete for our list because it's one of the warmest Greek islands in October with average maximum temperatures of 23℃ (73℉) and sea temperatures to match. We also chose it because, as Greece's largest island, it offers a wealth of activities to occupy you should the weather be not quite hot enough to make for a beach holiday. Crete is home to a wealth of fascinating historical sights, wonderful cities, great natural wonders, and hiking opportunities, so whatever kind of holiday you're hoping for, you can find it in Crete.
Dubai
Photo by Fredrik Ohlander on Unsplash
If you want to seek autumn warmth while being surrounded by unimaginable luxury, then Dubai is the place for you. This land of conspicuous wealth, bucket-list adventures, and stunning beaches also happens to offer plenty of October warmth! In fact, it's one of the most popular times of year to visit this Persian Gulf spot.
Dubai's summer temperatures can soar to an intense 40℃ (104℉), which is understandably far too much for some people. Instead, a popular time to visit the city is in the shoulder seasons of spring and autumn when it's hot without being too hot!
In October, the temperatures drop to a more comfortable 30℃ (86℉), much more conducive to sunbathing and city exploring. And if that's still too hot for you, head to one of the many water parks, airconditioned luxury hotels, or into the indoor ski hill to cool down!
Hawaii
Photo by Christian Joudrey on Unsplash
And finally, that fantasy vacation destination for many of us, Hawaii! Of course, it's a glorious place to visit all year round, but October offers an excellent combination of good weather, reduced prices, and fewer crowds than at peak times of the year.
October marks the end of the Hawaiian summer, and so the tourist crowds tend to die away. However, this is not a holiday destination that shuts down in the offseason. You'll find accommodation and activities open all year round, and you can surf, swim, snorkel, hike, bike, tour and sail all year round!
And the weather doesn't change too much either. You'll still find regular high temperatures of 28℃ (86℉), minimal rain and water temperatures of 27℃ (86℉). So head to Honolulu and Waikiki to experience the famous spots without the mad crowds of summer, or visit the Kona Coast of The Big Island for the hottest and driest October weather.
So there we go, plenty of ideas for warm places to visit in October! So there's no need to stay home and wait for winter to roll in, away you go and enjoy some autumn sunshine!
12 Stunning Caribbean Islands to Visit in October
This article has links to products and services we love, which we may make commission from.
Are you planning a trip to paradise and hoping to catch a great low-season vacation deal? This guide shares the best Caribbean islands to visit in October before the winter crowds touch down so you can get an overview of which destination is suitable for your style of travel.
Below, we discuss the top Caribbean islands, why people visit in October, the best things to do there, and what to eat.
Which island did you choose? Tell us in the comments.
Top Caribbean Islands to Visit in October
This map will help you visualize the following islands while you research your next October vacation!
Note: Some of the Caribbean islands are popular cruise ports. If you are visiting as part of a cruise and looking for activities to do independently you will also find the overviews below useful.
If you are not cruising, consider accommodation away from the port towns to avoid the crowds coming off the ships.
Antigua For Outdoors Enthusiasts
The Eastern Caribbean is a perfect place to visit in October for its warm weather and amazing beaches, and Antigua is one of the nicest islands in the area.
The island is 14 miles long and 11 miles wide, and its coolest temperatures throughout the year land in the seventies.
In October, you'll be in the middle of low season, which is ideal for cheap rates and lighter tourist crowds.
For outdoor excitement, you can rest and relax on Galleon Beach (264R+276, Freeman's Bay Saint Paul) or take a hike up Shirley Heights.
Galleon Beach features soft white sand and amazing blue water.
Shirley Heights is a relatively quick hike, but at the top, you'll be able to see the best view of Antigua.
There is also the hike up to the summit of the highest point, Mount Obama, which is named after the US President.
It takes around 3-4 hours and it said to be very muddy so plan to hike with good footwear.
Check out our hiking gear list for advice.
Did you know that Antigua freed its enslaved people as soon as Britain mandated the act of emancipation?
32,000 plantation worker were released at midnight on August 1, 1834.
This was a unique move among the isles of the West Indies.
Today, you can take a one hour guided tour through Ras Freeman, formerly Willis Freeman Plantation, which is located in one of the first villages to be freed during slavery.
Barbuda For Consistent Tropical Climate
Just north of Antigua is the island of Barbuda, known for its gorgeous coastlines and pristine beaches.
Very few people live on Barbuda itself, but it is still an incredibly popular tourist destination throughout the year.
You'll hardly experience any temperature variation in Barbuda due to its tropical marine climate, and the entire island is almost completely flat.
Some of the best outdoor adventures include visiting Pink Sand Beach (H5RG+R9Q, Codrington) and the Frigate Bird Sanctuary.
The more adventurous type will love the caves at Two Foot Bay National Park and Darby's Cove.
The amazing natural landscape makes Barbuda one of the best Caribbean places to visit in October.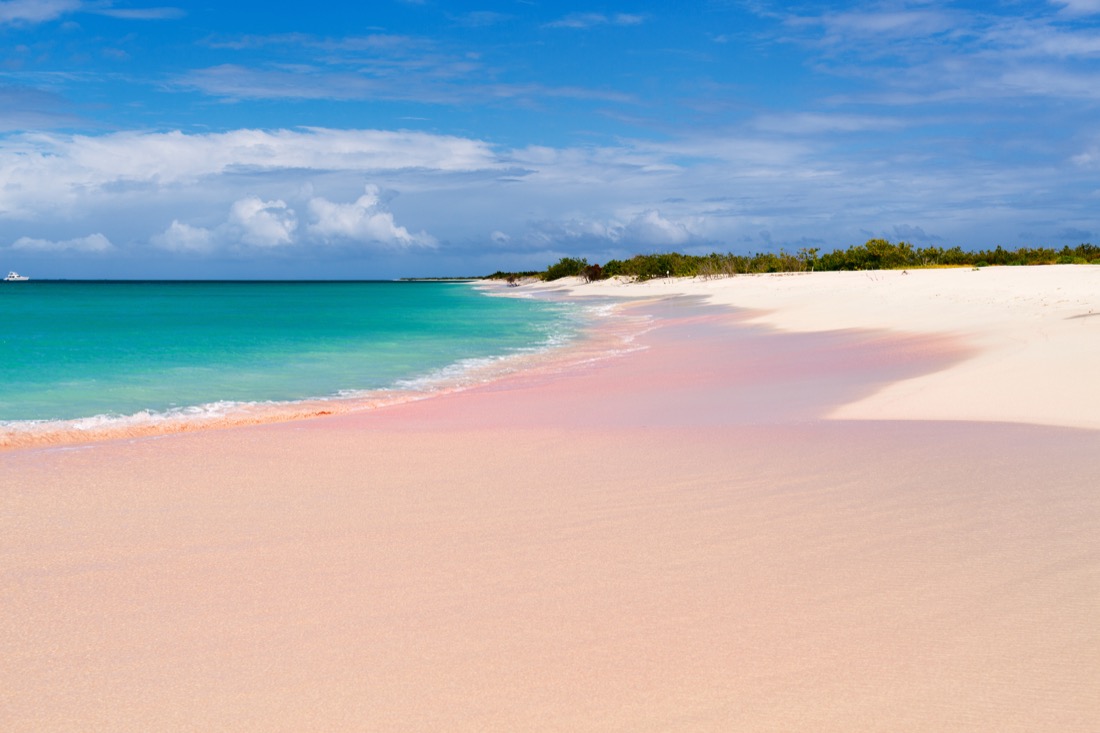 Andros Island, Bahamas For Mangroves and Snorkeling
Andros Island is the largest island in the Bahamas, and it is truly one of the best places in the Caribbean to visit in October.
Over 100 miles long and 40 miles wide, Andros Island features hundreds of islets, mangroves, swamplands, and estuaries.
From the deepest Tongue of the Ocean to the giant Andros Barrier Reef, the third-largest fringing barrier reef in the world, and the most biological diversity in the Bahamas, there is so much natural wonder to explore on Andros Island.
West Side National Park was named in 2002 and features pines, mangroves and flats of clear blue water.
It is one of the largest Marine Protected Areas in the Western Atlantic.
The month of October is considered one of the island's summer months, and it is a perfect time to go snorkeling and scuba diving.
You may also find our free beach packing list useful.
Barbados For A Much Loved Caribbean Vacation
Of all the Caribbean islands, Barbados is the furthest east; it is also quite large and hosts a little less than 300,000 year-round residents.
The month of October is part of Barbados' wet season, though you'll still be able to enjoy tons of lovely weather during your visit.
Barbados is one of the best Caribbean Islands to visit in October for its beaches, gardens, caves, and Historic Bridgetown Barbados.
Large waves and intense surf can be found on the eastern coast at Bathsheba Beach; calm water is located on the south shore at Dover's Beach.
The adventurer will love the Andromeda Botanic Gardens and Harrison's Cave, while the history lovers should visit St. Nicholas Abbey or the Morgan Lewis Windmill.
Historic Bridgetown Barbados's The Garrison, is one of the island's Cultural Heritage Conservation Areas.
Here you can learn more about its military colonial history through its 115 listed buildings.
There's also a great food scene although you may be fighting against the cruise tourism for a table!
Barbados also features in our guide to the best islands to visit in December for winter vacations.
Turks & Caicos For Popular and Secluded Beaches
Most well-known for its incredible tourist attractions, the two small groups of tropical islands known as Turks and Caicos are accessible primarily by ship from the US.
Featuring one of the longest coral reefs in the world and the only conch farm on the planet, you'll be able to spend quality time in the waters exploring all the natural wonders the islands have to offer.
Grace Gray Beach is the favorite beach of many visitors, but tons of smaller, more secluded beaches like Malcolm's Road Beach and Bight Beach are also lovely and not as crowded.
All beaches on the islands are free and public, so the choice is yours; explore the island to find your favorite spots!
The most popular activities in Turks & Caicos take place on and in the water – kayaking, SUP, sailing, and jet skiing.
You even get see-through boards so you won't miss the life below the ripples as you float or paddle!
Make sure you take a short ferry ride for a day trip to North Caicos and Middle Caicos to see the gorgeous natural landscapes and views.
Source https://www.jetsetter.com/magazine/best-beaches-to-visit-in-october/
Source https://www.jtgtravel.com/worldwide/warm-places-to-visit-in-october/
Source https://www.twoscotsabroad.com/caribbean-islands-to-visit-in-october/