Where to Stay in Yosemite National Park
One of the most visited national parks in the United States of America, Yosemite, a UNESCO World Heritage Site, is situated in Sierra Nevada mountains, California. Recognized globally for its biological diversity, stunning granite cliffs, and massive sequoia groves, Yosemite welcomes around 4 million visitors every year.
Considered as one of the crown jewels of USA's National Park System, Yosemite houses thousands of lakes and ponds and approximately 800 miles of hiking trails. Yosemite Falls, at 2,425 feet, is the highest waterfall in North America. Home to over 300 species of mammals, including around 85 native mammal species, Yosemite has a huge concentration of Black bears, mule deer, bats, and over 150 species of birds.
The best way to explore the National Park is to stay in one of the accommodation options within the park. However, these lodges tend to fill up fast, especially during Spring. In such situations, it's best to know of some of the more popular towns surrounding Yosemite that can be used as a base for easily accessing the park.
We've explored some of the nearby towns so you can decide where to stay near Yosemite National Park. But first, let's round up those accommodation options within the grounds of the park itself.
The Best Acommodation Within Yosemite National Park
Source: shaferaphoto / shutterstock Yosemite National Park
The third-most visited national park in the United States, Yosemite is characterized by its massive, ancient sequoia trees and intriguing granite cliff formations. Yosemite Valley, a significant part of the National Park, attracts the majority of visitors in Yosemite and Tunnel View is the first view of the surrounding valley that the visitors get to enjoy. Home to innumerable granite cliffs, Half Dome, at the eastern end of the Valley, is known worldwide for its distinctive shape and a fascinating hiking destination. El Capitan, another significant granite formation in Yosemite, is among the most sought-after rock climbing destinations in the world, especially because of its year-round accessibility.
Good for: All kinds of travelers.
Other Highlights: Glacier Point, John Muir Trail, Tuolumne Meadows, Olmsted Point, Pacific Crest Trail, Cathedral Range, and Badger Pass Ski Area.
Hotel Recommendations:
– Strategically located on State Highway 120, a short distance from Yosemite National Park and Yosemite Valley, this 48-unit lodging facility promises the most spacious and furnished, modern guestrooms. Featuring unique photography masterpieces shot in the Yosemite National Park, accommodation options here comprise standard king and queen size rooms, king suites with jacuzzi, and ADA rooms. Guests can enjoy the heated outdoor pool, seasonal on-site restaurant, spa, and complimentary Wi-Fi. Family picnics in the surrounding park areas and gazebos can be easily arranged. Great for all kinds of travelers.
The Majestic Yosemite Hotel – The only AAA® four-diamond hotel in Yosemite National Park, the Majestic Yosemite Hotel is one of the finest accommodation options. Known for providing the highest level of customer service and hospitality, the property dates back to the 1920s and is considered an architectural masterpiece that combines solitude with grandeur. Boasting a splendid location that features Half Dome, Yosemite Falls, and Glacier Point within close proximity, the Majestic Yosemite provides standard rooms, junior suites, hotel parlors, and cottages. Common facilities at the property include Wi-Fi, air-conditioning, outdoor patio, and on-site dining. Perfect for all kinds of luxury travelers. – Being true to its name, Yosemite View Lodge is arguably the closest hotel accommodation near Yosemite Valley. Carefully designed to span the banks of Merced River, most guestrooms at Yosemite View Lodge offer astounding views of the river from the comfort of their balcony or from the in-house spa. A few steps away from all the adventure and thrill of Yosemite National Park, the lodging facility remains in accordance to the encompassing nature that engulfs the property. Accommodation options at the property include king rooms, double queen rooms, and well-appointed suites. Taking luxury one notch higher, Yosemite View Lodge features four swimming pools (one indoor and three outdoor) and seven spas (one indoor and six outdoor). This pet-friendly lodge also houses a cocktail lounge, gift shop, on-site restaurants, and free guest parking. Perfect for all kinds of travelers. – A stunning four-diamond, all-season lodging facility nestled comfortably within the surreal High Sierra and near the South Entrance of Yosemite National Park, Tenaya Lodge is a premium destination resort that offers its guests the finest luxuries of life. Comprising 302 lavish guestrooms and suites, a world-class spa facility, three swimming pools, a skating rink, and five dining options, this opulent resort is the perfect place to enjoy a holiday with your family. For adventure lovers, the staff at the lodge can arrange mountain biking through the Sierra National Forest, horseback riding, guided flashlight hiking at the Rock Wall, and much more. Great for all kinds of luxury travelers. – The perfect, budget-friendly getaway to Yosemite National Park, Yosemite Cedar Lodge offers spacious, well-furnished accommodation within a short drive from Yosemite's entrance. Featuring cozy guestrooms and suites with four-poster beds, cable TV, coffee machine, refrigerators, and private bathrooms, the lodge is one of the most family-friendly properties in the area. Additional amenities at the property include free parking, a communal guest lounge, a sports bar, an on-site family-style restaurant with loft, indoor and outdoor pool, and a rejuvenating spa. If the scenic vistas around the property aren't enough to keep you entertained, visit the Mariposa History Museum located nearby or get your heart pumping at the Yellowstone Zip Line. Suitable for all kinds of travelers.
Big Trees Lodge – Arguably one of the most authentic mountain resorts in California, Big Trees Lodge dates back to 1856. A National Historic Landmark, the property is situated closely to quite a few famous attractions such as the Pioneer History Center and the Mariposa Grove. Essentially, Big Trees Lodge offers two kinds of accommodation – rooms with private bathroom and rooms with shared bathroom facilities. All the rooms at the property are decorated in Victorian style with period décor and warm colors. These rooms have no TV, telephone, or internet to maintain peace and solidarity. A golf course, an outdoor swimming pool, a sun room with pristine views of the surroundings, and well-manicured lawns are some of the features that the guests can enjoy. A wonderfully-designed dining room welcomes guests to a broad selection of food and wine. Great for all kinds of travelers.
Yosemite Valley Lodge – Open throughout the year, Yosemite Valley Lodge is regarded as one of the best lodging choices for group travelers and families visiting Yellowstone National Park. Surrounded by enchanting mountains and plush greenery, the lodge provides bewildering views of the nearby Yosemite Falls. The property features 245 newly remodeled guestrooms, including 4 family rooms that consist a king bed, a bunk bed, TV with DVD player, private bathroom, coffee maker, and dining space. Wi-Fi is available throughout the property. A ranger/naturalist talk is held at the lodge amphitheater every night during the summer months. Guests can enjoy hiking and biking through the nearby mountains, rafting down the Merced River, and swimming in the on-site pool. Perfect for all kinds of travelers.
Yosemite Ridge Resort – A few miles away from the West Entrance of Yellowstone National Park, Yosemite Ridge Resort is located in Buck Meadows and is operational all year. Enfolded by the pine covered mountains of the picturesque Stanislaus National Forest, Yosemite Ridge Resort offers accommodation in one-bedroom garden cottages, standard and family-sized cabins, and full-hookup RV sites with 30/50-amp service, satellite TV, and unadulterated views of the mountains. Garden Cottages at the property also feature BBQ facilities and picnic table. Recreational activities near the lodge include rafting the Tuolumne River, hiking and biking across Moores Creek, and an authentic steam train ride on coaches that date back to the 1800s. Great for all kinds of travelers.
Buck Meadows Lodge – Located on Highway 120 in Buck Meadows, the lodge is a short distance from Yellowstone National Park and is perfectly suited for backpackers and budget travelers. Set on the last major road before entering the National Park, Buck Meadows Lodge offers 10 well-appointed guestrooms (including two king cabins) adjacent to its sister property, the Yosemite Westgate Lodge. All rooms are equipped with comfortable beds, LCD TV, a seating area, and private bathroom. ADA facilities can be found all over the property. Guests can replenish themselves at the on-site café or enjoy a hearty meal at the full-service service restaurant. Suitable for all kinds of travelers. – Tucked away under an oak and pine grove within an enclosed valley with a stream, Yosemite Bug Rustic Mountain Resort offers a magical experience to visitors. Boasting a world-class health spa, a highly famous restaurant, and multiple meeting spaces, "The Bug" provides a variety of accommodation options within a relaxed and serene atmosphere. Keeping in mind the park's diverse types of visitors, the resort offers well-appointed modern hotel-style rooms, international-level dormitories, budget private rooms with shared bathroom, log furniture glamping cabins, family dorm rooms, and vacation houses with housekeeping facilities, all set on the dreamlike hillside. Among the top-rated lodging facilities for Yosemite's winter explorations, "The Bug" offers wonderful opportunities for hiking, sightseeing, and skiing around the area during the colder months. Perfect for all kinds of travelers. – Less than a couple of kilometers from the entrance of Yosemite National Park, Evergreen Lodge at Yosemite offers well-appointed guestrooms and cottages with comfy beds, patio, fireplace (in cottages only), and private bathroom with free toiletries. Guests can refresh themselves at the outdoor swimming pool while their kids have a fun time at the children's playground. Suitable for all kinds of travelers, including big groups of up to 6 members. – Set along the Middle Tuolumne River, Yosemite Riverside Inn features charming cottages and guestrooms with brilliant amenities and a stunning view of the neighboring mountains (in selected rooms). Guests can enjoy barbecue on-site and avail hiking and fishing opportunities that can be arranged by the staff at the property. Yosemite's entrance is just 10 minutes' drive away. Great for all kinds of travelers.
The Best Towns to Stay Near Yosemite National Park
Groveland
Source: OLOS / shutterstock Groveland, California
A beautiful neighborhood set in Tuolumne County, Groveland is regarded among the most popular getaway towns to Yosemite National Park. This charming town is a great base to explore the National Park which is only about half an hour away. Visitors to this neighborhood can enjoy the authentic local cuisine at one of the many diners here. For a nice evening in town, head to Iron Door Saloon, one of the oldest drinking places in California. For a quick lesson in the history and origins of this town, pay a visit to Groveland Yosemite Gateway Museum.
Good for: All kinds of travelers.
Other Highlights: Rainbow Pool, Pine Mountain Lake Golf Course, and Mary Laveroni Community Park, and Groveland Jail.
Hotel Recommendations:
– A short drive from Yosemite National Park's entrance, Yosemite Inn at Pine Mountain Lake features fully-equipped holiday homes with modern amenities such as a dishwasher, microwave, oven, TV with satellite channels and DVD player, fireplace, dining area, and a lot more. Additional facilities include a wrap-around deck, free parking, and barbecue area. Suitable for families and big groups of up to 6 members. – A peaceful half hour drive from Yosemite's entrance, this pet-friendly hotel features wonderfully-decorated guestrooms with cozy beds, telephone, TV with satellite channels, free Wi-Fi, and private bathroom. The on-site restaurant and bar offer a delightful menu, including specialty cocktails and local wine. Pike Mountain Lake is only 5 minutes' drive from the hotel while the airport is only 10 minutes'. Great for all kinds of travelers. – Featuring opulent air-conditioned accommodation with spa baths (in selected rooms), this historic hotel in the heart of Groveland is a scenic drive from Pine Mountain Lake Airport and Pine Mountain Lake. The pet-friendly property also features complimentary Wi-Fi and allows guests to use the free parking facility. Perfect for all kinds of travelers.
Sonora
Source: BasicGov / Flickr Sonora
Not to be confused with the state by the same name in Mexico, Sonora is a small neighborhood and the county seat of Tuolumne County. Once known for its mining and timber industry, Sonora's main claim-to-fame is its proximity to Yosemite National Park. Regarded as the closest city to Yosemite, Sonora is a former Gold Rush town. Set in the foothills of the magnificent Sierra Nevada mountains, Sonora is popularly referred to as the "Queen of the Southern Mines."
Good for: All kinds of travelers.
Other Highlights: Columbia State Historic Park, Tuolumne County Museum, Dragoon Gulch Trail Head, Heaven for Kids Playground, and Table Mountain.
Hotel Recommendations:
– Featuring a seasonal outdoor pool, a 24-hour reception, a sun terrace and complimentary Wi-Fi throughout the property, Country Inn Sonora offers comfortable guestrooms with modern amenities such as extra-large double beds, air-conditioning, cable TV, and private bathroom. Guests can spend their leisure time at the common lounge which includes plush sofas and a fireplace. Great for all kinds of travelers. – Set in the heart of Sonora, this elegant hotel features exceptional guestrooms and suites with state-of-the-art facilities. Guests can start their day with a fabulous made-to-order breakfast before heading out to explore the neighborhood. A well-manicured garden is the perfect place for a nice stroll in the evening. Perfect for all kinds of travelers. – A short drive from Columbia Airport, this fascinating property welcomes guests to experience luxury at its best. Start the day with a refreshing dip in the outdoor pool followed by a sumptuous complimentary breakfast. Spend the day hiking, fishing, or boating around the area, and then return to enjoy a wonderful evening of BBQ and karaoke. Suitable for all kinds of travelers.
Jamestown
Source: booking.com Comfort Inn, Jamestown
A former California Gold Rush town, Jamestown is regarded as a historical landmark in the state of California. About an hour's distance from Yosemite National Park, the neighborhood is home to the extremely popular Railtown 1897 State Historic Park and the Sierra Railway, an iconic railroad museum which offers visitors a chance to explore the historic Sierra Railway and this one-of-a-kind area. Jamestown and its surrounding locations have been featured in several movies and TV shows, including Hidalgo and The Wild Wild West.
Good for: All kinds of travelers.
Other Highlights: Preservation Virginia, Jamestown Church, Archaearium Archaeology Museum, Jamestown Settlement, Williamsburg Winery, Chippokes Plantation State Park, and Veterans Park – Kidsburg.
Hotel Recommendations:
– Famous for its wonderful location in Jamestown, this outstanding property features well-appointed guestrooms fitted with cable TV, coffee machine, telephone, and private bathroom. Guests can enjoy themselves at the indoor pool or stay in shape at the on-site fitness center. A complimentary breakfast is served daily. Suitable for solo travelers, couples, and small families. – A short drive from prominent attractions of Jamestown such as Lucille Ball-Desi Arnaz Center and Chautauqua Lake, Comfort Inn Jamestown offers pet-friendly accommodation options with beautifully-furnished rooms. Guests can work out at the on-site fitness center and enjoy a delicious breakfast afterwards. The 24-hour beverage center at the lobby keeps visitors replenished at all times. Great for all kinds of travelers. – Featuring an indoor swimming pool with hot tub, a fitness center, a common lounge/dining area, and daily complimentary American breakfast, this brilliant hotel offers well-appointed accommodation within 20 minutes' drive from Midway Park Amusement Park. Guests can also use the laundry facility and free on-site parking. Perfect for all kinds of travelers, including big groups of up to 5 members.
Oakhurst
Source: Leonard Zhukovsky / shutterstock Oakhurst
Formerly known as Fresno Flats, Oakhurst is a charming little neighborhood in Madera County and is set in the foothills of Sierra Nevada mountains. A short drive from Yosemite National Park's South Entrance, the town is among the most densely populated areas around Yosemite. Situated along the banks of Fresno River, Oakhurst was once home to the extremely famous video game developer company, Sierra On-Line.
Good for: All kinds of travelers.
Other Highlights: Children's Museum of Sierra, Oakhurst Community Park, Fresno Flats Historical Park, and Bass Lake.
Hotel Recommendations:
– A short drive from Yosemite National Park's South Entrance, the pet-friendly Oakhurst Lodge features lavish guestrooms with free Wi-Fi, cable TV, private bathroom, and striking views of the surrounding mountains. Guests can start the day with a complimentary continental breakfast and try their hands on making Belgian waffles. A 24-hour reception staff takes care of all your special needs. Perfect for all kinds of travelers. – A short drive away from Bass Lake and Yosemite National Park, Yosemite Sierra Inn offers a rejuvenating outdoor pool, a well-equipped business center, and a delightful continental breakfast to every guest. Rooms here are fitted with comfy beds, air-conditioning, cable TV, and private bathroom. Guests wake up to the beautiful vistas of the neighboring mountains and start their day with a quick read of the free guest magazine to plan their day. Suitable for all kinds of travelers. – Boasting an outdoor and an indoor pool, an on-site restaurant, a fully-functional fitness center, a guest launderette, and a business center, Best Western Plus Yosemite Gateway Inn offers luxurious guestrooms decorated in bright colors and original artworks and fitted with free Wi-Fi, flat-screen TV with cable channels (including HBO and ESPN), coffee machine, and ensuite bathroom. A mouth-watering complimentary breakfast is served daily. Great for all kinds of travelers, including big groups of up to 6 members.
Madera
Source: booking.com Holiday Inn Express, Madera
Madera, the county seat of Madera County, is set in the San Joaquin Valley, California. Geographically, the southeastern-most section of Yosemite National Park falls on the northeastern section of the county. Home to a significant Latino community, the neighborhood derives its name from the Spanish word for "wood." Though agriculture is the primary business in the area, Madera houses a great many vineyards, most of which offer vineyard tours and wine tasting tours to visitors.
Good for: All kinds of travelers.
Other Highlights: Lions Town & Country Park, Rotary Park, Madera County Historical Society, Quady Winery, and Where the Palm Meets the Pine.
Hotel Recommendations:
– Situated near the shopping and dining neighborhood of Central Valley, SpringHill Suites by Marriott Madera boasts of a heated pool and world-class fitness center. The artistically-designed suites at the property come with free Wi-Fi, LCD TV, iPod docks, and kitchenette. Guests start their day with a nourishing breakfast at the dining area and then go on to exploring Yosemite and other popular attractions nearby. Suitable for couples, families, and groups of up to 5 members. – A couple of kilometers from Madera County Fairgrounds, Holiday Inn Express Madera features bright and spacious guestrooms and suites equipped with latest facilities. Start your day with an energizing workout at the on-site fitness center followed by a refreshing dip in the pool or the jacuzzi. Later, head to the dining area for a filling breakfast before you set out to explore the area. Enjoy the Madera Wine Trail and walk through many family-owned wineries that surround the property. Great for all kinds of travelers. – A short drive from Madera drive-in theatre and Madera Golf Course, Hampton Inn & Suites Madera features wonderfully-decorated guestrooms with avant-garde amenities. Guests can enjoy facilities such as an on-site fitness center, a business center, a tour desk, and a spacious parking facility. A complimentary breakfast is served daily. Perfect for all kinds of travelers, including big groups of up to 5 members.
Fresno
Source: Tupungato / shutterstock Fresno
Spanish for "ash-tree," Fresno is among the most densely populated neighborhoods near Yosemite and is the county seat of Fresno County. Situated in the heart of San Joaquin Valley, the city is named after the ash trees that line the banks of San Joaquin River. Once established to serve as a railway station, Fresno has transformed into a major economic center, focusing primarily on large-scale agricultural production. Other notable attractions around the area include Sierra National Forest, Kings Canyon National Park, Bass Lake, Sequoia National Park, and Huntington Lake.
Good for: All kinds of travelers.
Other Highlights: Fresno Chaffee Zoo, Forestiere Underground Gardens, China Peak, Woodward Park, Island Water Park, Kearney Mansion Museum, Fresno Art Museum, Veterans Memorial Museum Inc, and Shinzen Friendship Garden Inc.
The 5 Top Areas in & Around Yosemite NP – A Practical Guide for Where to Stay in Yosemite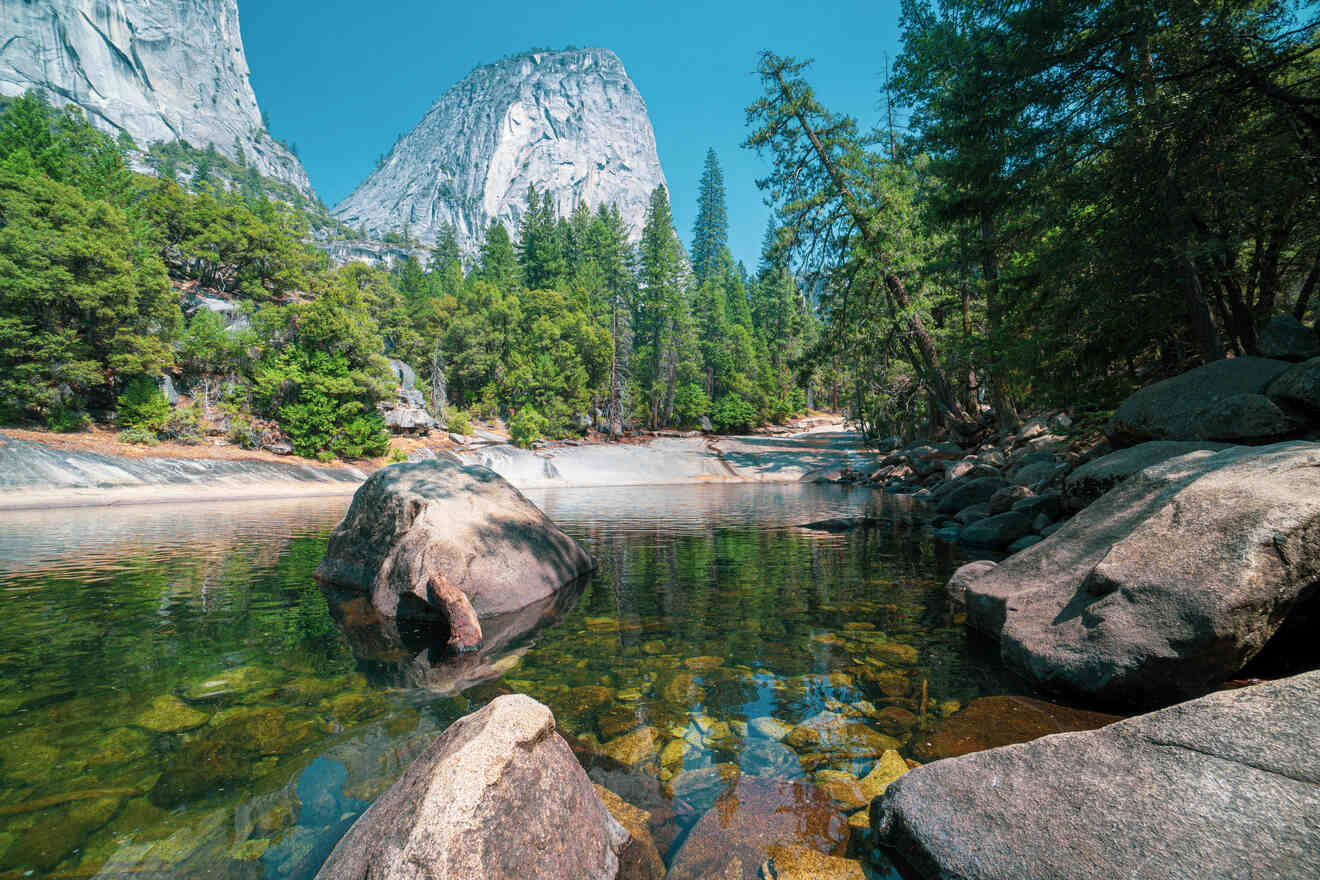 Located in the High Sierra Mountain range in the central-eastern part of California, the majestic Yosemite National Park is one of the most famous and most visited parks in the United States. Every year the breathtaking landscapes of Yosemite and Mariposa County, in general, are visited by many nature lovers, hikers, climbers, campers, tourists, and travelers from all around the world!
Regardless of age or ability level, there are so many outdoor activities for travelers all year round. Peak season for Yosemite is spring, as it is the best season to see the waterfalls. Summer is best for hiking, and autumn is lovely for photography to capture the changing colors of nature. You can go skiing or snowboarding in the mountains in winter (just keep in mind that Highway 120 that climbs above Yosemite Valley from the East is usually closed in winter between November and May). For that reason, you can choose any season according to your preference!
In this article, I will help you answer the question of where to stay in Yosemite and the surrounding Mariposa County and give some tips for you to find the perfect stay near Yosemite. Let's get started:
If you are in a hurry
If you don't have time to read the whole post, here are some fantastic places to stay in Yosemite with very good reviews for each budget.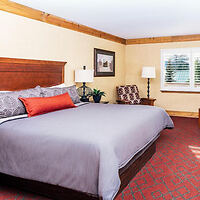 Best luxury hotel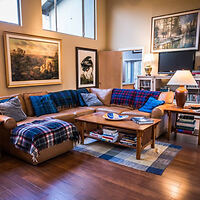 An Airbnb with amazing reviews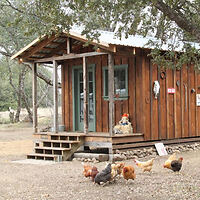 Best value for money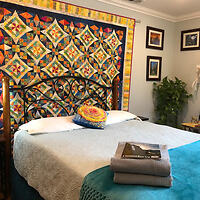 Best affordable accommodation in the center
Yosemite National Park has 5 entrances, and this map will help you to visualize the regions. Here are the 5 convenient areas I will be giving information about in this post which are all great places to start discovering Yosemite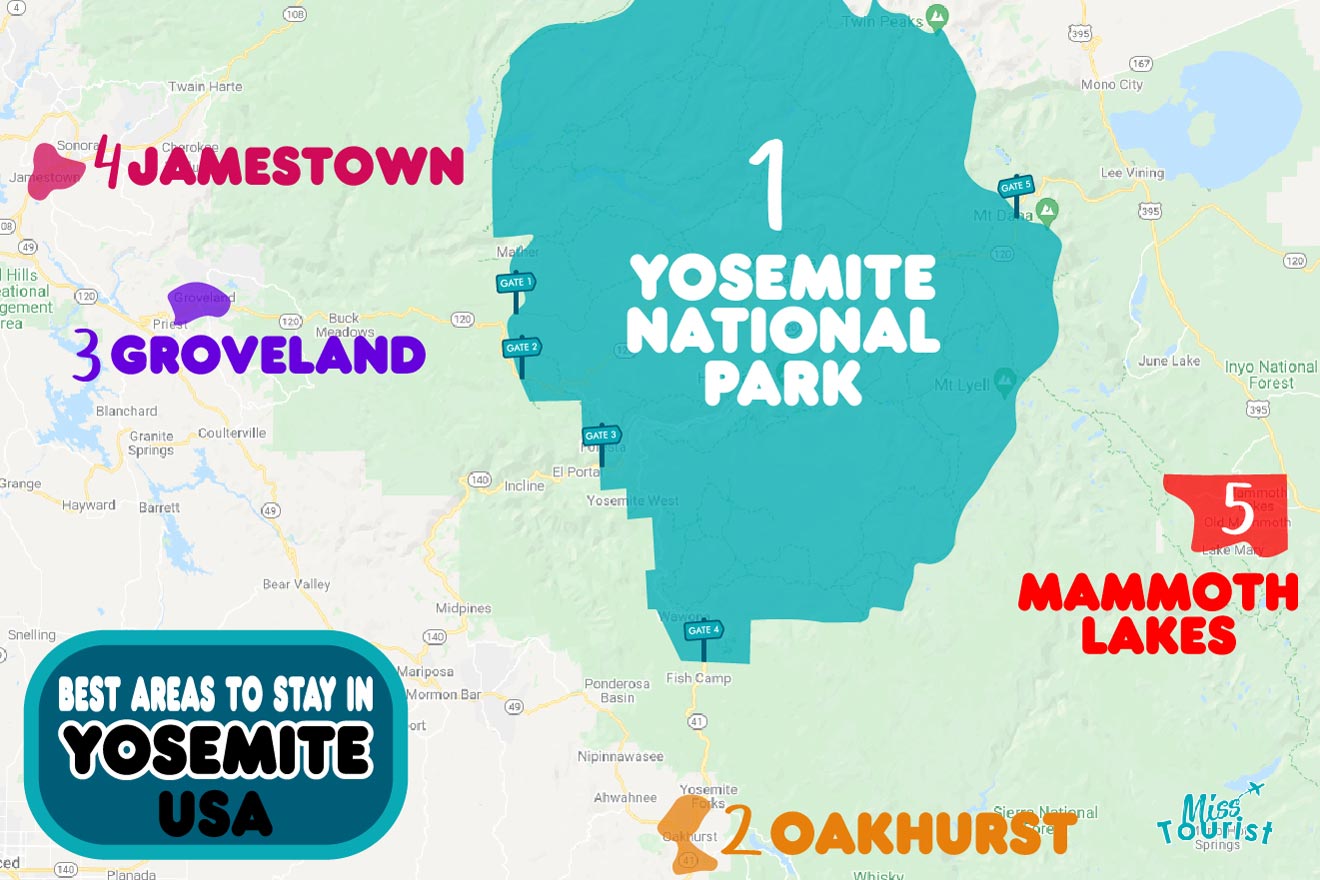 1. Yosemite Valley & Inside Yosemite Park – where to stay for the first time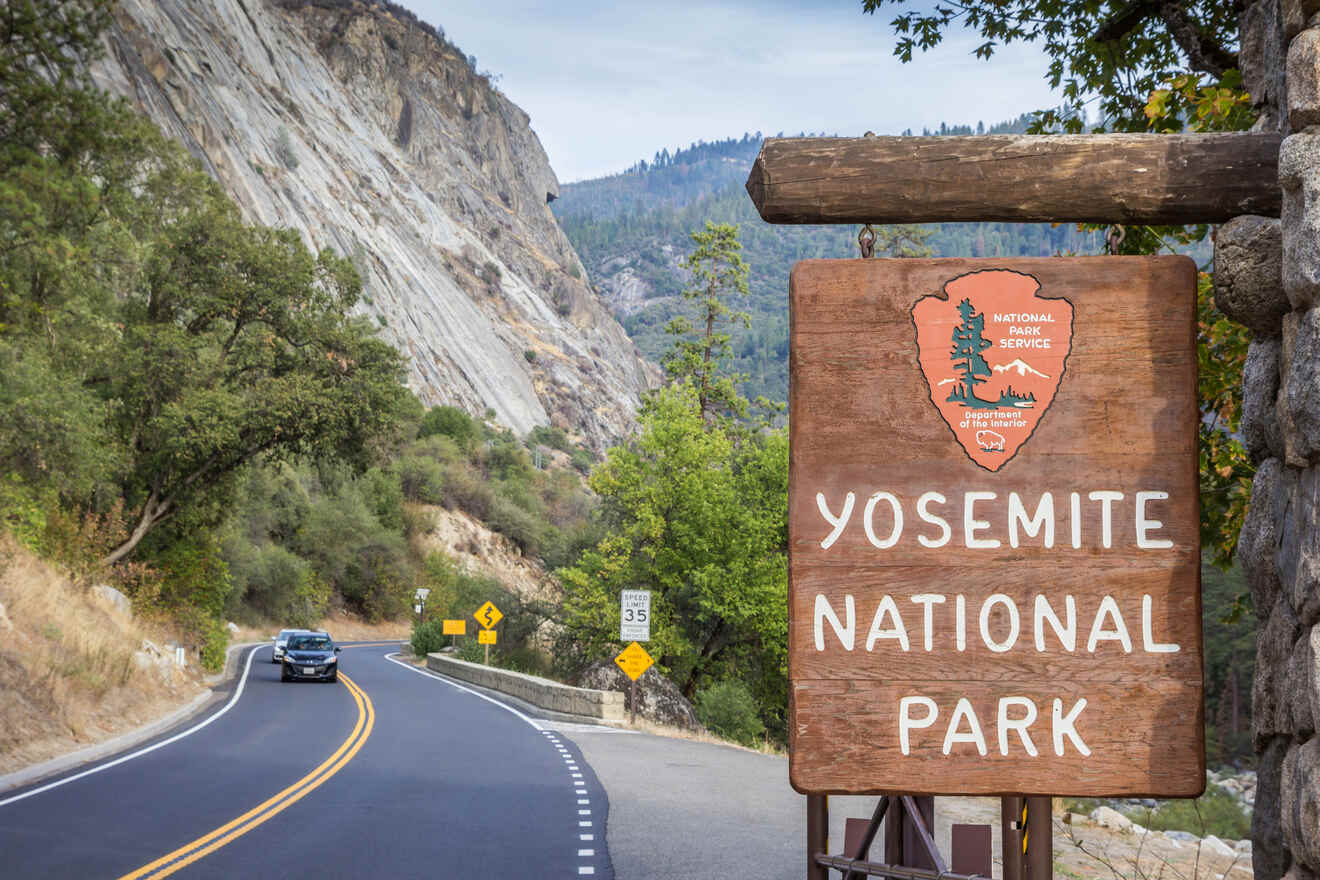 Even though there are many breathtaking places around Yosemite Park, Yosemite Valley is the most popular area preferred by travelers. Yosemite Valley is a 7- mile long canyon surrounded by granite walls and waterfalls right at the heart of the national park that is home to many famous hikes and cliffs that you might recognize, like Half Dome. There are very few accommodation options inside the valley itself, all of them are owned by the national park and are very basic.
Thankfully, there are many more privately owned options inside the national park, which are still close to Yosemite Valley. These places generally have better facilities and more services, and since the whole national park is super majestic, it doesn't really matter which part of the park you stay in. So if you are looking for better facilities, choose one of these places that I will mention below.
If you are visiting Yosemite for the first time, to be at the heart of nature and feel the atmosphere, Yosemite Valley must be your first choice.
Let's have a look at perfect lodging in this area: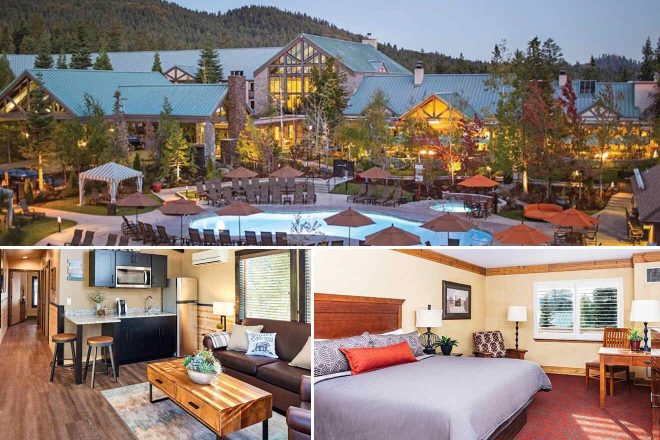 Offering full-service Tenaya Lodge is just 5 minutes to the entrance of Yosemite National Park. This is the best lodging option that combines luxury and comfort for travelers. Tenaya Lodge features modern facilities, a spa, and a gourmet restaurant. You can rent a bike from the hotel and discover surrounding areas. Also, Yosemite Ski Area is just an hour's drive from the lodge
Other accommodation options near Yosemite Valley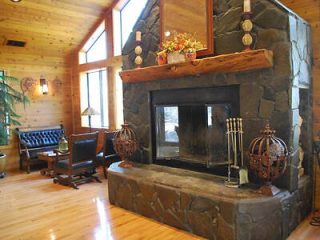 One of the best options in the area. This fancy lodge including an indoor swimming pool, a dining hall, and a spa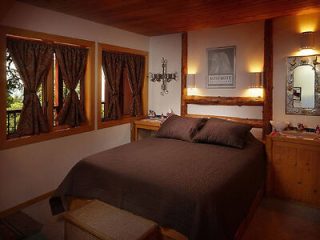 Perfect for couples, clean and cozy rooms, great location. A nice gate away with a romantic atmosphere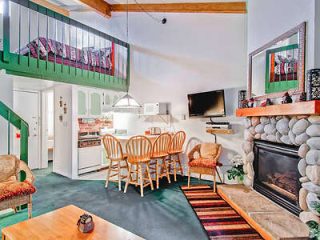 Great location inside Yosemite, nicely decorated spacious rooms with a balcony and dining room
Things to do near Yosemite Valley
Enjoy the scenic view at Tunnel View
See Bridalveil Fall
Have a picnic at Cathedral Beach
Hike at Four Mile Trail
Watch Yosemite Falls from Swinging Bridge
Enjoy sunset at Glacier Point
Spot Half Dome
Visit the historic Majestic Yosemite Hotel
2. Oakhurst – the best location outside of Yosemite National Park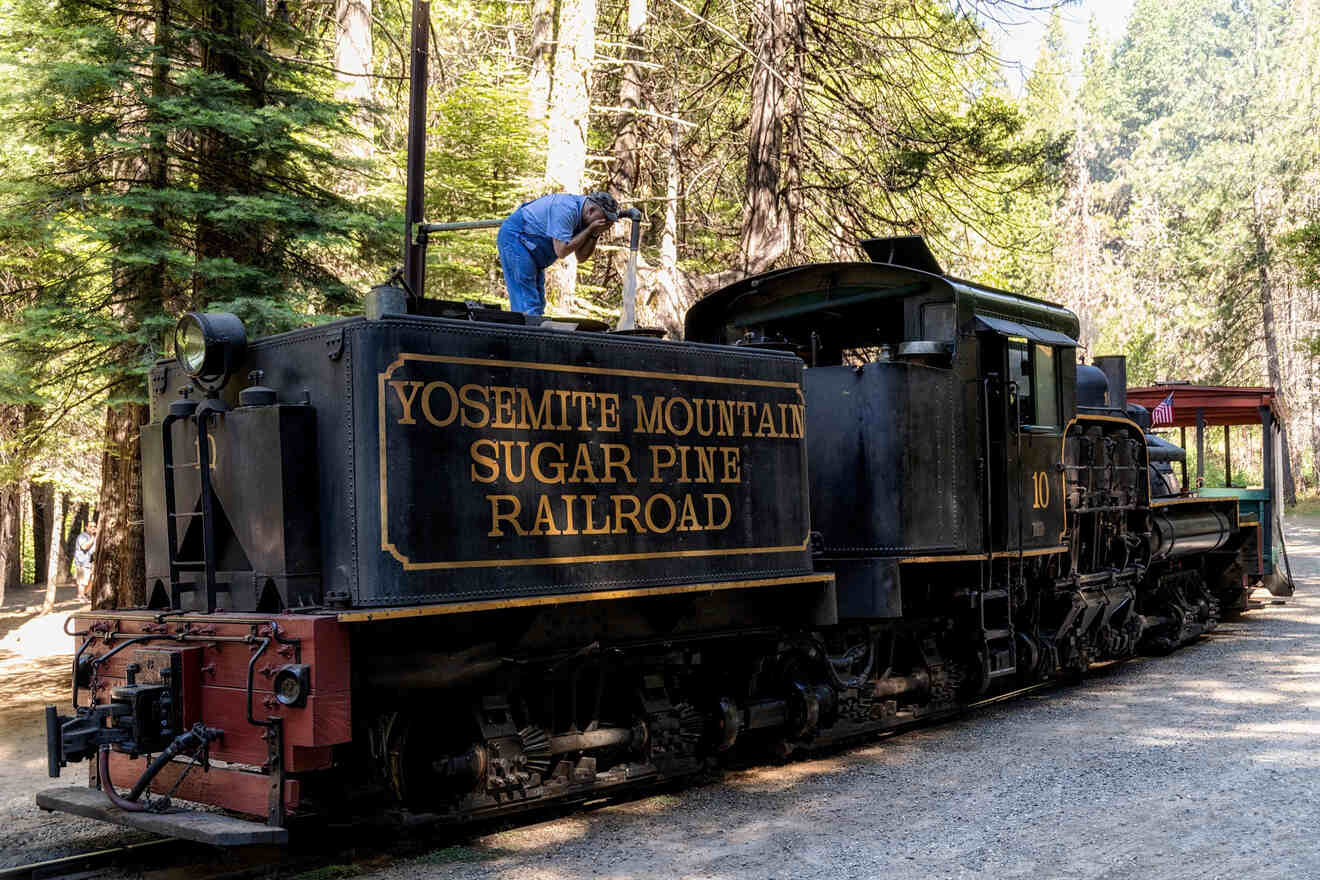 Located at the intersection point of Highway 41 and 49, Oakhurst is one of the closest towns to Yosemite. In the Sierra Nevada Mountain foothills, Oakhurst is just 16 miles away from the southern entrance of Yosemite and 47 miles to Yosemite Valley. Oakhurst is a gateway city to Yosemite by having a wide variety of restaurants, shops, and outdoor activities. By staying here, you will find relatively cheaper accommodation options than inside Yosemite park and will have the comfort of staying in a town.
To plan your Yosemite trip, you can easily go to Yosemite Madera County Visitor Center and get information about the surrounding site and road conditions. Their front desk will be happy to answer your questions. You can also collect some maps and brochures about Yosemite from there. If you are looking for a stay not far from the city but also close to Yosemite, Oakhurst is a perfect choice! There are many cabins and lodging options to stay from luxury to budget in Oakhurst.
Let me list some of the nicest hotels and cabins with excellent reviews: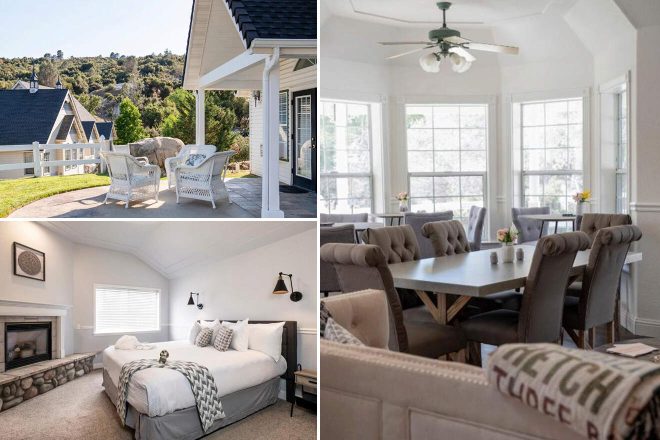 Just ten minutes drive from Bass Lake, this nice lodge has all the facilities that you need. You can benefit from views of the Sierra Mountains on your patio. The lodge has a private entrance and comes with a full kitchen and a spa bath on site, the perfect place to relax
Other accommodation options in Oakhurst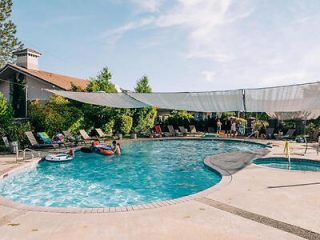 This cute lodge has a great view and comfortable rooms. Very close to dining places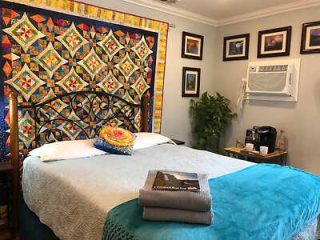 Nicely decorated and clean room, convenient location. A nice place to stay in Oakhurst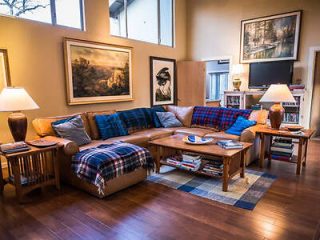 Only 15 minutes drive from Yosemite south entrance, the room has a high ceiling and amazing view
Things to do in Oakhurst
Enjoy the Madera Wine Trail
Travel the scenic Sierra Vista Byway
Check out the talking bear statue at the Oakhurst Visitor Center
Attend a train tour at The Sugar Pine Railroad
Visit The Fresno Flats Historical Park and Museum
Do liquor tasting at Oakhurst Spirits
Travel to Bass Lake and enjoy scenic landscapes
Try axe throwing
3. Groveland – where to stay in Yosemite for history lovers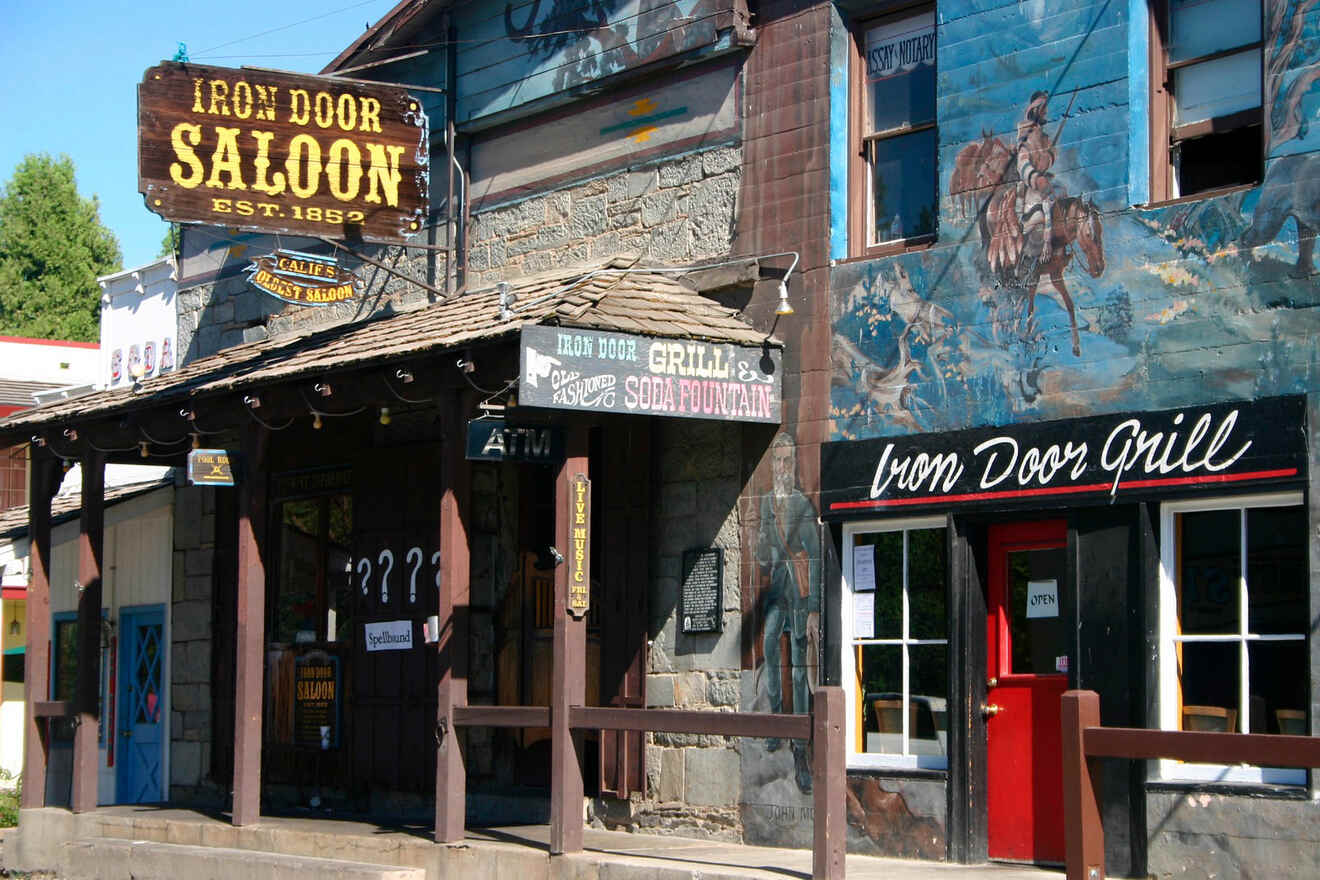 Just outside of Mariposa County and half an hour drive from the western entrance of Yosemite, Groveland is a historically interesting town that will especially make westerns lovers very happy. Imagine yourself stepping back in time as you walk the old-fashioned streets and visit the saloon for a wild wild west vibe. Groveland will make you feel like you are traveling in the country and into the past!
This historic town offers many shops, restaurants, and nice accommodation options. Simply admire the mural-covered walls of the town by going for a stroll, or try some outdoor activities like horse riding, camping, and golfing. And, of course, take day trips into Yosemite National Park! Groveland is a lovely alternative stay option near Yosemite, but as it is a very popular stop, it is a good idea to drive there before or after rush hours to skip the traffic jam.
Let's have a look at the best accommodations in this lovely town: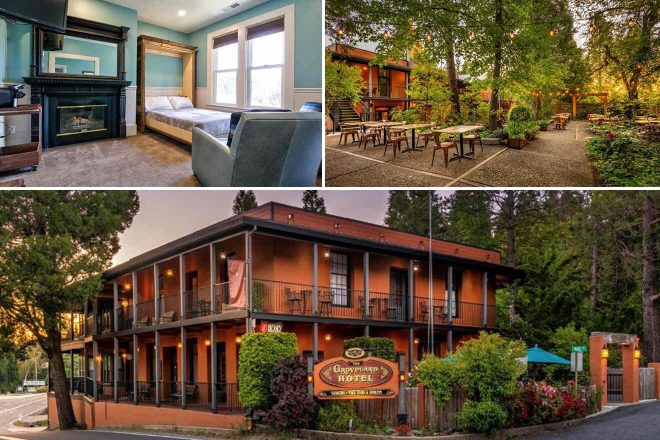 This nicely decorated lodge is in California gold country and half an hour drive to Yosemite National Park and just 5 miles from Pine Mountain Airport. Private parking is available on the site. Including a balcony with a perfect view, comfortable rooms will fulfill all your needs in this amazing place to stay near the heart of Yosemite
Other accommodation options in Groveland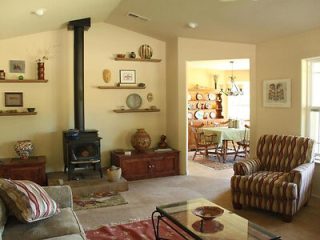 Just 20 minutes from Yosemite entrance, great to experience farm style ranch life and interact with horses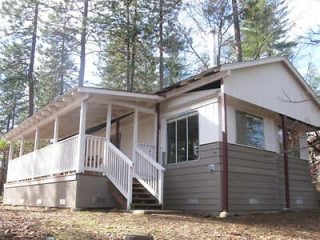 The hotel has a great location and fully equipped rooms. Nice option to relax and enjoy the forest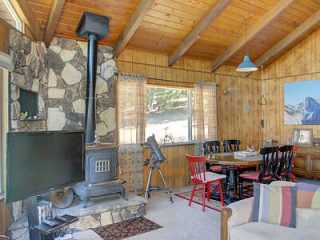 Surrounded by trees, chalet cabin style comfortable stay very near to Yosemite Park
Things to do in Groveland, California
Visit the Groveland Yosemite Gateway Museum
Hike in one of the trails in the Sierra Nevada Foothills
Sample local wine at Yosemite Cellars
Take golf course at Pine Mountain
Take a day trip to the heart of Mariposa County and check out the historic Mariposa town
Join a walking tour with Echo Adventure
Visit Yosemite Falls
Check out Mariposa Grove
4. Jamestown – for budget travelers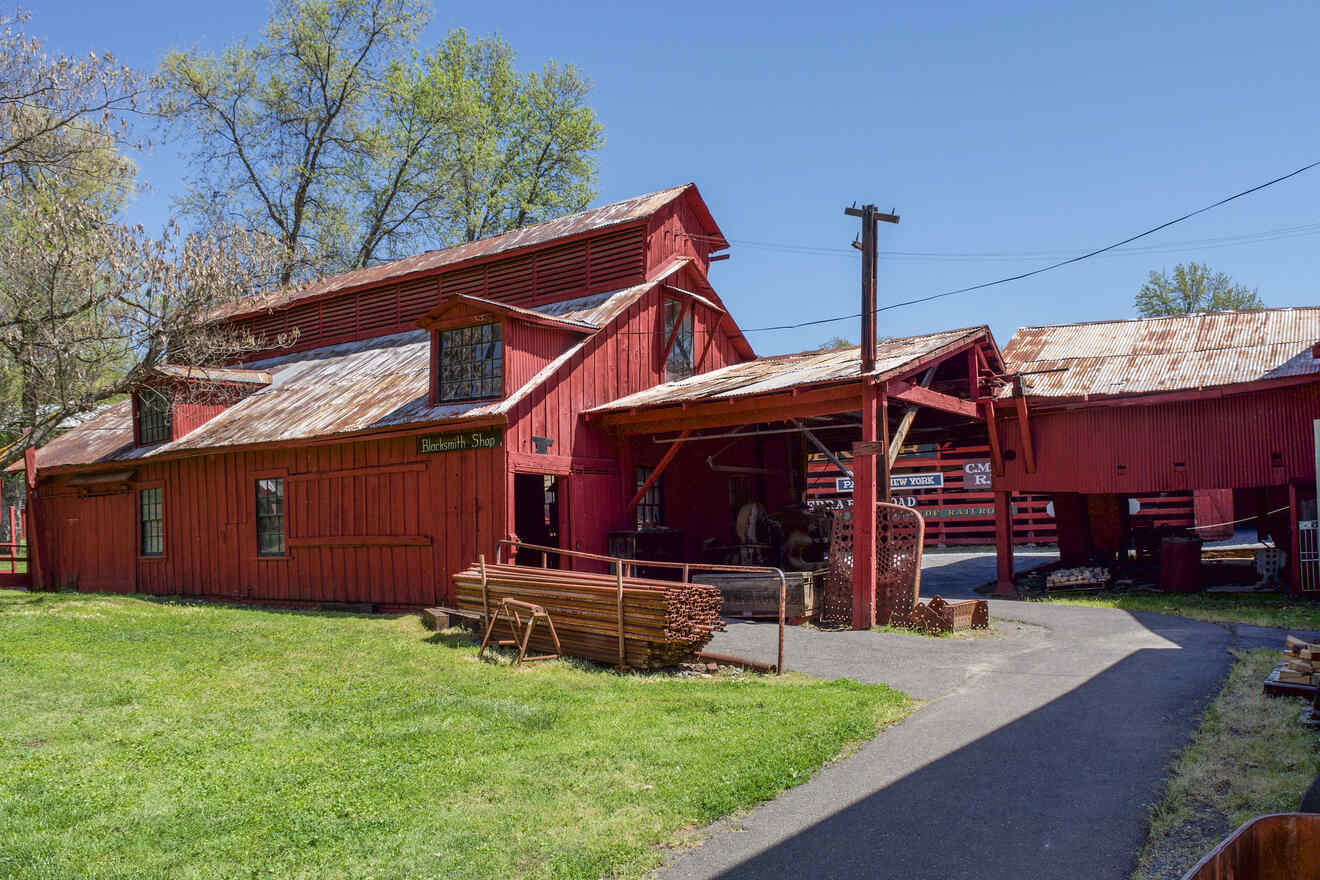 As Yosemite is a very popular place to visit, accommodation prices can be very high. Jamestown is a very good alternative for those who are traveling on a budget. You will be able to find reasonably cheaper places to stay here. From Jamestown to the South Entrance, it will take about a 2 hours drive, but when you compare the accommodation prices with nearby Yosemite towns and Jamestown, you will see that it is worth the extra drive, and the road view is beautifully scenic too!
In 1897 Jamestown became popular with the discovery of the first gold in the county. It is an interesting historic town which is also great for families. There are many preserved buildings and historical sites devoted to steam trains where you can have a fun time with kids discovering these attractions. Of course, outdoor activities such as hiking and fishing are available too.
Jamestown is very ideal for budget travelers who would like to enjoy the comfort of town with a good value of money and still be able to access beautiful nature.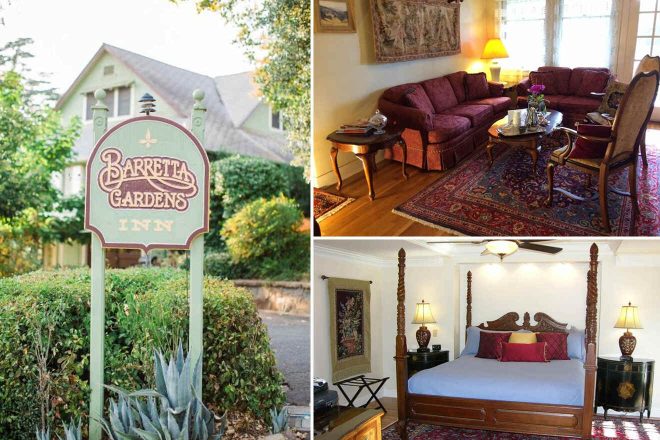 This Victorian-style beautiful hotel is just 10 minutes walk from Sonara town center. The rooms are very clean and nicely decorated. You can enjoy a very nice breakfast on the porch overlooking a nice garden. A great place to stay near Yosemite!
Other accommodation options in Jamestown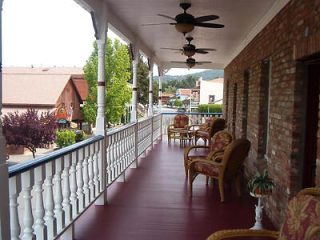 In a central area, this hotel offers easy access to surrounding such as skiing and golfing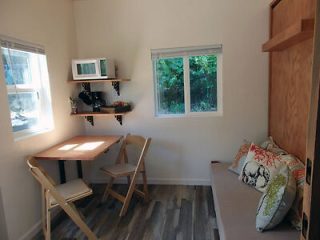 Airbnb with a great location, amenities including a dining hall and private parking. Perfect for relaxing and short stays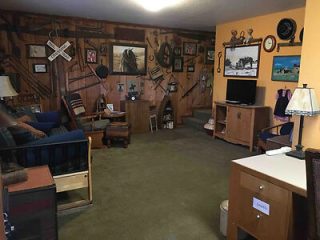 Very close to town. Rooms are very clean and comfortable and offers a very nice outside site
Things to do in Jamestown
Taste wine at Gianelli Vineyards
Dine in a western-style historic inn
Stroll along the Walk of Fame
Take a tour at Railtown 1897 State Historic Park
Have a day trip to the historic town Mariposa
Hike trails at the Table Mountain and Red Hills Recreation Management Area
Have a snack at Wood's Creek Cafe
5. Mammoth Lakes – best area near Yosemite for winter sports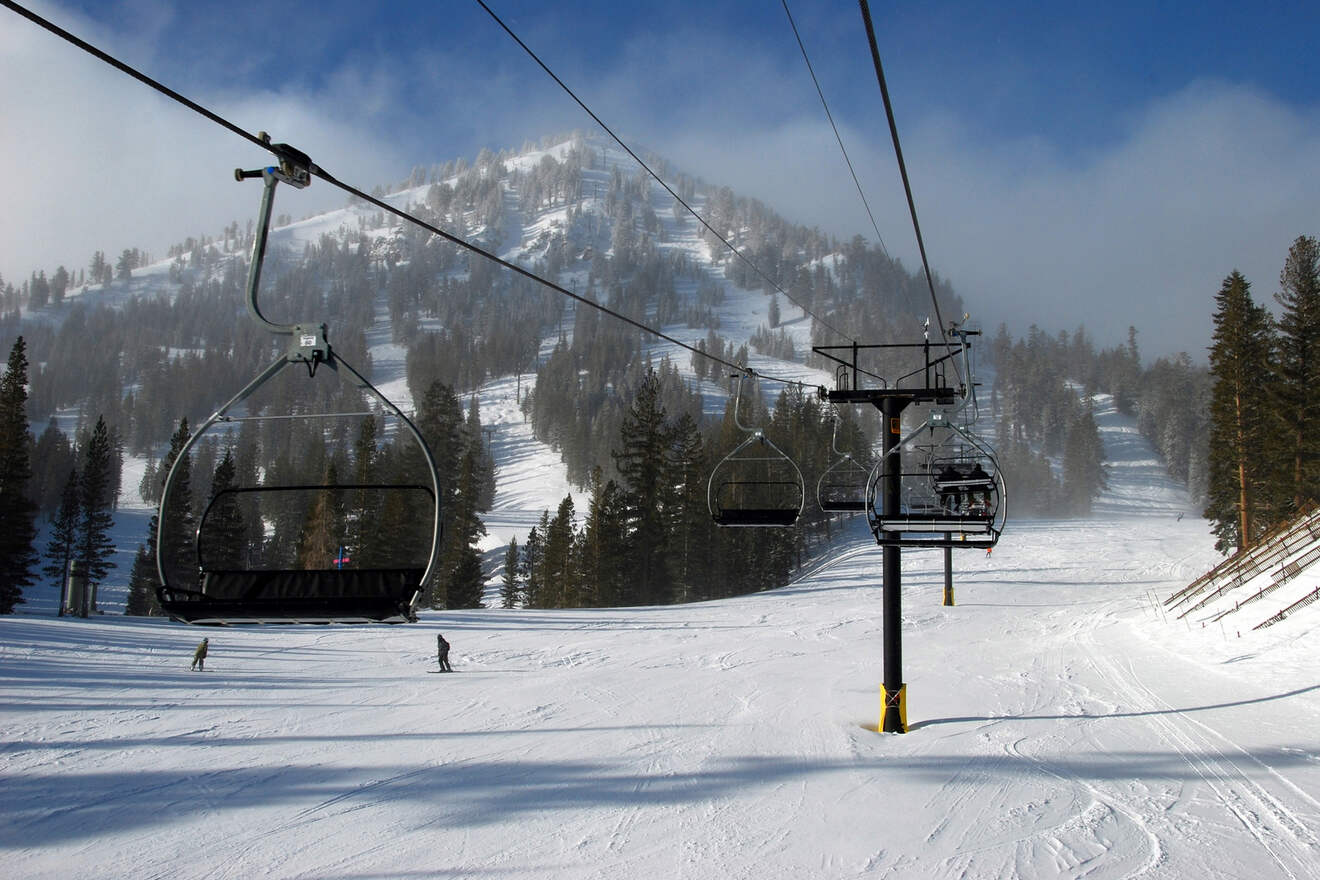 Although there is a small ski area inside the park itself, if you want to combine your Yosemite trip with a proper ski trip, Mammoth Lake is a great option!
Located in the Eastern Sierra with a high altitude of 7,880 feet, Mammoth Mountain is the biggest ski area close to Yosemite!
The ski season is usually from December to April but note that since Mammoth Lakes is east of Yosemite National Park, the closest entrance is closed in winter due to snowy conditions. This means if you are planning to hit the slopes at Mammoth, as well as see the national park, it's best to spend a couple of nights in each location due to the fact you will have to take the long way round to enter Yosemite, so you don't have to rush.
You can still enjoy plenty of other activities in Mammoth Lakes in other seasons, as well as the shorter 45-minute drive to Yosemite. You'll find amazing, scenic hiking trails, 75 miles (120 kms) of mountain bike trails, and opportunities for kayaking or SUP on Mono Lake. Get ready to discover wildlife, waterfalls, and hot springs!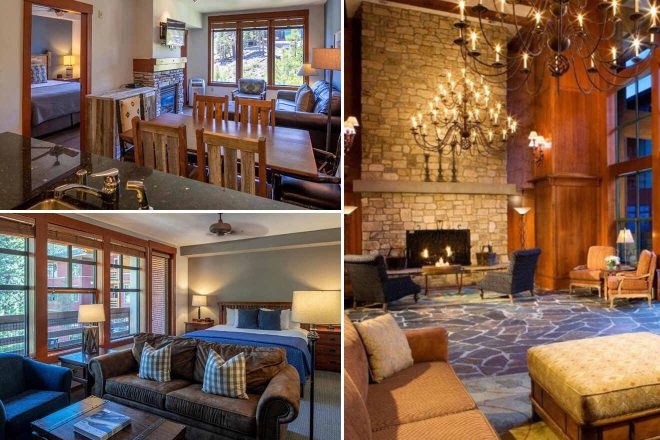 If you want to enjoy the mountain vibe in Yosemite with 5-star comfort, this hotel could be the best place to stay. The hotel is situated at Mammoth Mountain Ski Area with easy access to ski lifts, including a heated outdoor pool, 5 hot tubs, 3 gyms, and a private park. All rooms have a private outside area
Other places to stay in Mammoth Lakes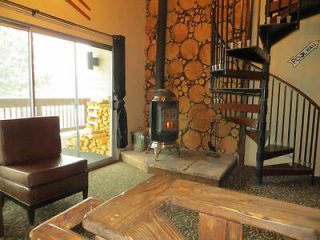 Having a great location, the hotel also offers a shuttle service. Private parking is available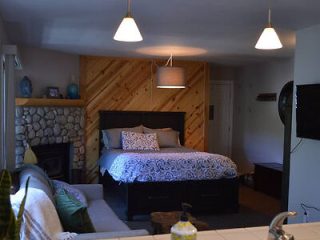 Perfect location, fully furnished rooms, including a nice outside area. Private parking available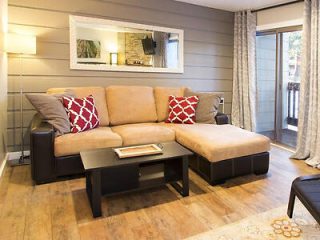 Nicely decorated comfortable rooms, very convenient location to discover surrounding sights
Things to do in Mammoth Lakes
Hike in Duck Lake Trail and Little Lakes Valley to Gem Lakes
Visit the Devil's Postpile National Monument and get your passport stamped along the way
Go to Mono Lake at sunset
Try local beers at Mammoth Lakes Brewing
Eat fresh German-style bakery products at Schat's Bakery
Go to Minaret Vista to watch stars
Wear your swimsuit and enjoy a day at Wild Willy's Hot Springs
Of course, after talking a lot about the landscapes, it is not possible to forget camp-lover travelers. There are more than 200 different campsites in Yosemite National Park but here I am going to give information about my 7 top pics. You can have more information about these camps' opening seasons, prices, and road conditions at the national park's website.
1. The Pines Campground (North Pines, Lower Pines, and Upper Pines Campground)
Near Curry Village, North Pines, Lower Pines, and Upper Pines are a group of campgrounds situated in Yosemite Valley. The site offers perspectives of the famous El Capitan. If you are visiting Yosemite for the first time, it is an ideal decision as this campground has a very nice location!
NOTE: it is critical to make a booking months in advance.
is the biggest of the three and the only one open all year round. It has 238 camping sites.
In North Pines, the camping areas are widely spread and more separated, making it calmer than Upper Pines for the most part, plus it has a beautiful riverside view. It is open from March to October, and like many camping areas in Yosemite, you should book your campground around 5 months in advance.
All campgrounds include toilets, washrooms with drinking water, and showers. If you need to buy some food, markets are available in Curry Village.
2. Tuolumne Meadows Campground
Having 300 sites, Tuolumne Meadows is the biggest campground in Yosemite. It is around 1,5 hours drive from Yosemite Valley in the northern area of the park, and this site is usually calmer than the Pines campgrounds. This camping site is the ideal base to spot the Tuolumne river and some lakes.
Tuolumne Meadows's elevation is 8,600 feet so make sure to take some warm clothes. The campsite is only open in summer from July to September. That's why you need to make a reservation in advance if you would like to enjoy this beautiful spot.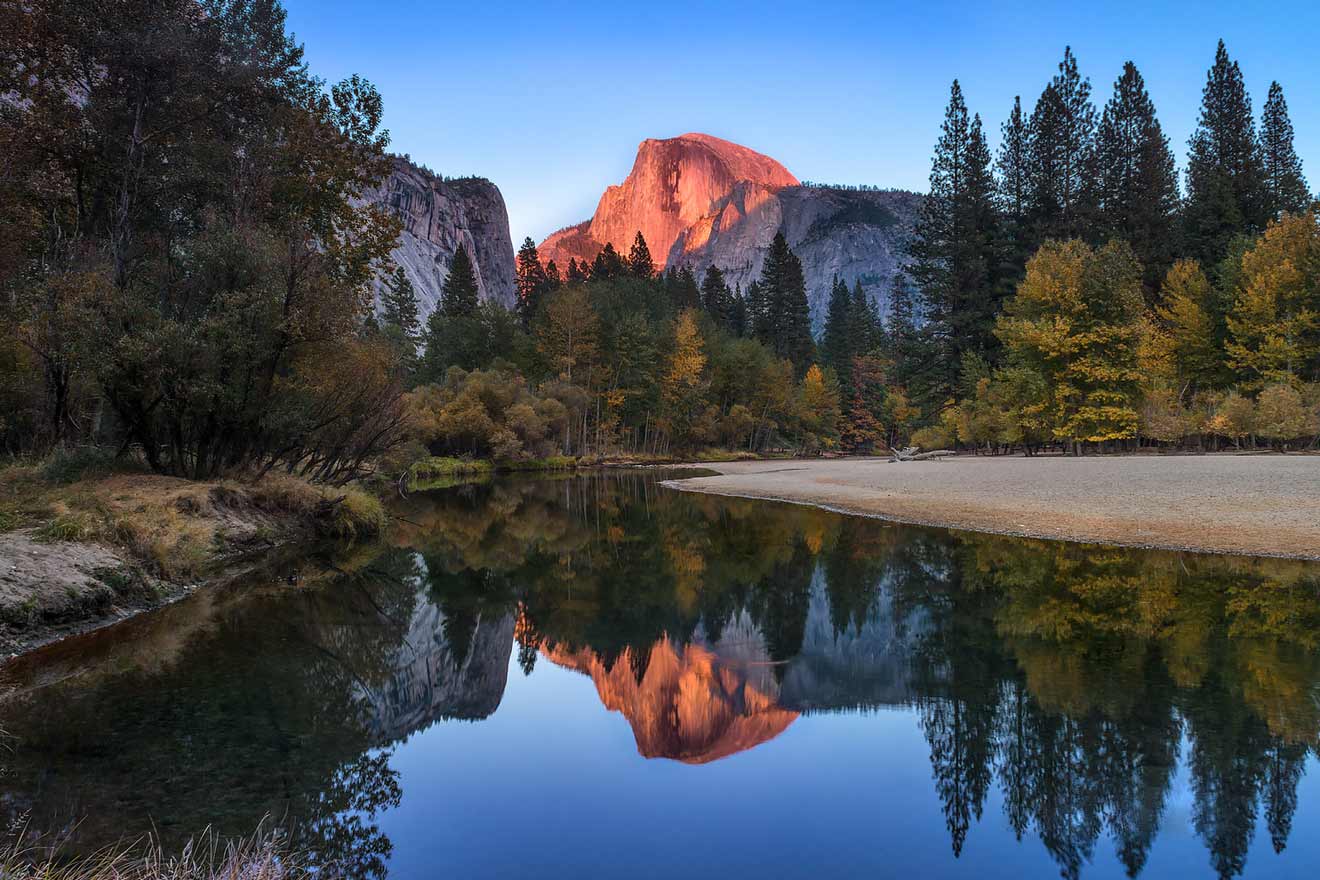 3. Campground Wawona
This campground is located near the south entrance and around an hour's drive from Yosemite Valley. Wawona is a very nice campsite among the pines and Merced River with an elevation of around 4.000 feet. Facilities include toilets and bathrooms.
As many campgrounds can be fully booked months before, this one might be a great alternative with a nice location. Wawona Campground is open year-round but requires reservations from April – October.
4. White Wolf Campground
Located in the north of Yosemite Valley, White Wolf Campground is ideal for those searching for hiking areas away from the crowds. Camping areas are nicely divided, so it feels less swarmed than other Yosemite camping areas even when the campground is full.
Hiking trails like Lukens Lake start from this camping area which is a moderate trail for all ability levels and those searching for a swim in the lake. White Wolf Campground is open from July to September, and it is advised to make a reservation in advance.
This campground also facilitates toilets, bathrooms including drinking water, and a dump station. Showers are accessible in the valley at Curry Village.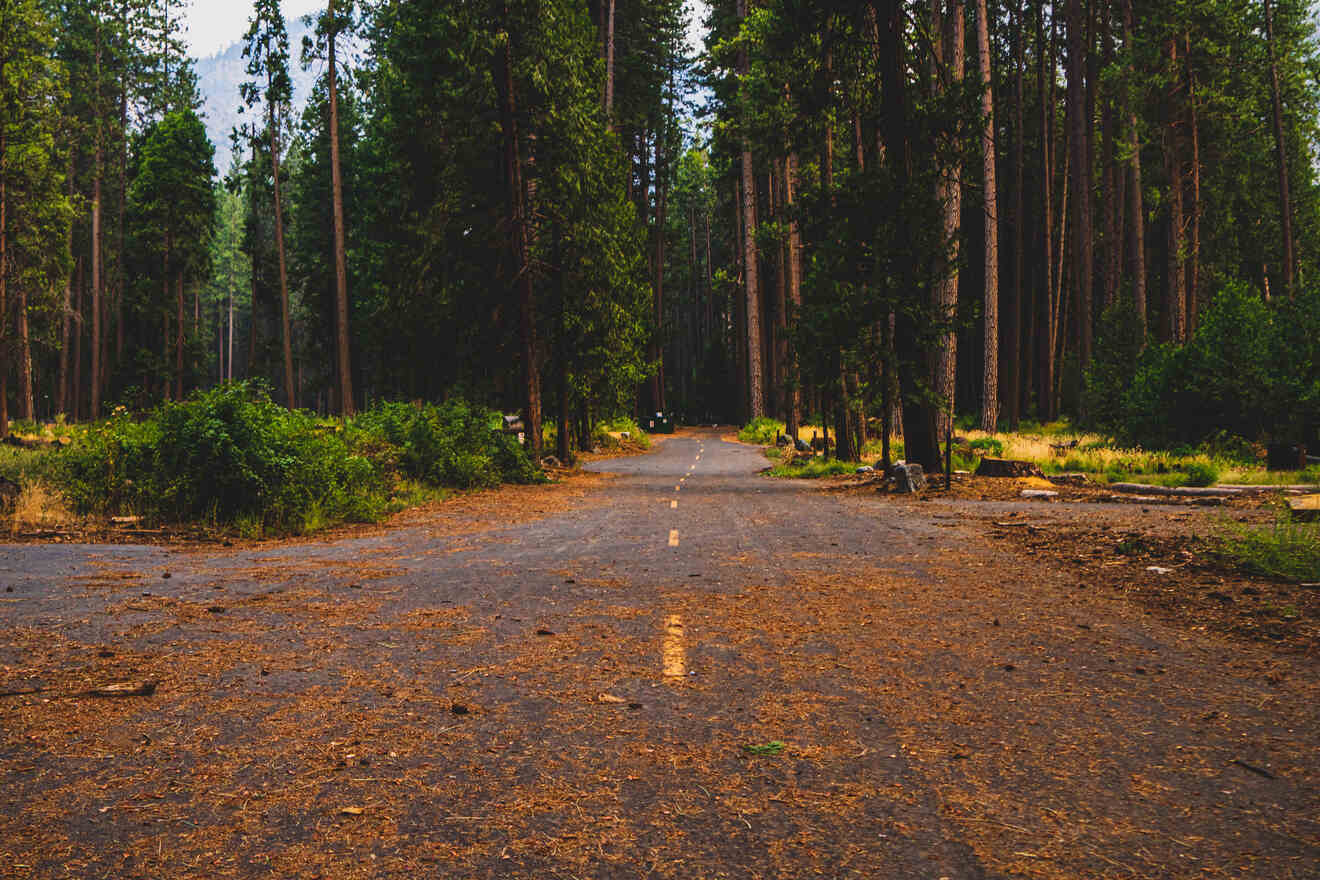 5. Indian Flat RV Park
Indian Flat RV Park is just 8 miles away from the park's entrance. This park is a great alternative for those looking for more facilities in the camping site. Electricity and showers are available inside the park.
Merced River is very close to go fishing or swimming. There is also a nice lodge with a minute driving distance which has a swimming pool, restaurant, and a bar. It could be a nice stop for the families who want to chill after exploring the park.
Groceries are available at El Portal. If you are looking for a campground with good facilities, Indian Flat Rv park could be a good choice! Recommend to reserve months in advance.
6. Bass Lake RV Park
Situated 18 miles south of Yosemite National Park, Bass Lake RV Park is a 1,5-hour drive from Yosemite Valley. This is one of the most expensive campsites in Yosemite but offers a lot more facilities! Free Wi-Fi, outdoor pool, living and dining areas. Shuffleboard, horseshoes, a food court, a children's playground, and a clubhouse are available on the site.
Bass Lake is just 3 miles away, where you can rent a boat and enjoy the scene. Very close grocery stores and restaurants are available as well.
7. Bridalveil Creek Campground
Bridalveil Creek Campground is an amazing campsite located on Glacier Point and only 45 minutes drive from Yosemite Valley. With an amazing view of cliffs, waterfalls, and flowers, it is an epic place to set up a camp. Toilets, bathrooms, and picnic tables are available in the camping area.
Bridalveil is an outstanding camping site among other Yosemite camp areas with its notable location. Some of the trails you can hike in this area are Panorama Trail, Taft Point, Sentinel Dome, Ostrander, and 4 Mile Trail.
If you are thinking of visiting more National Parks in The USA, check out these 18 Gorgeous Arizonian Rentals near the Grand Canyon.
Frequently asked questions about Yosemite National Park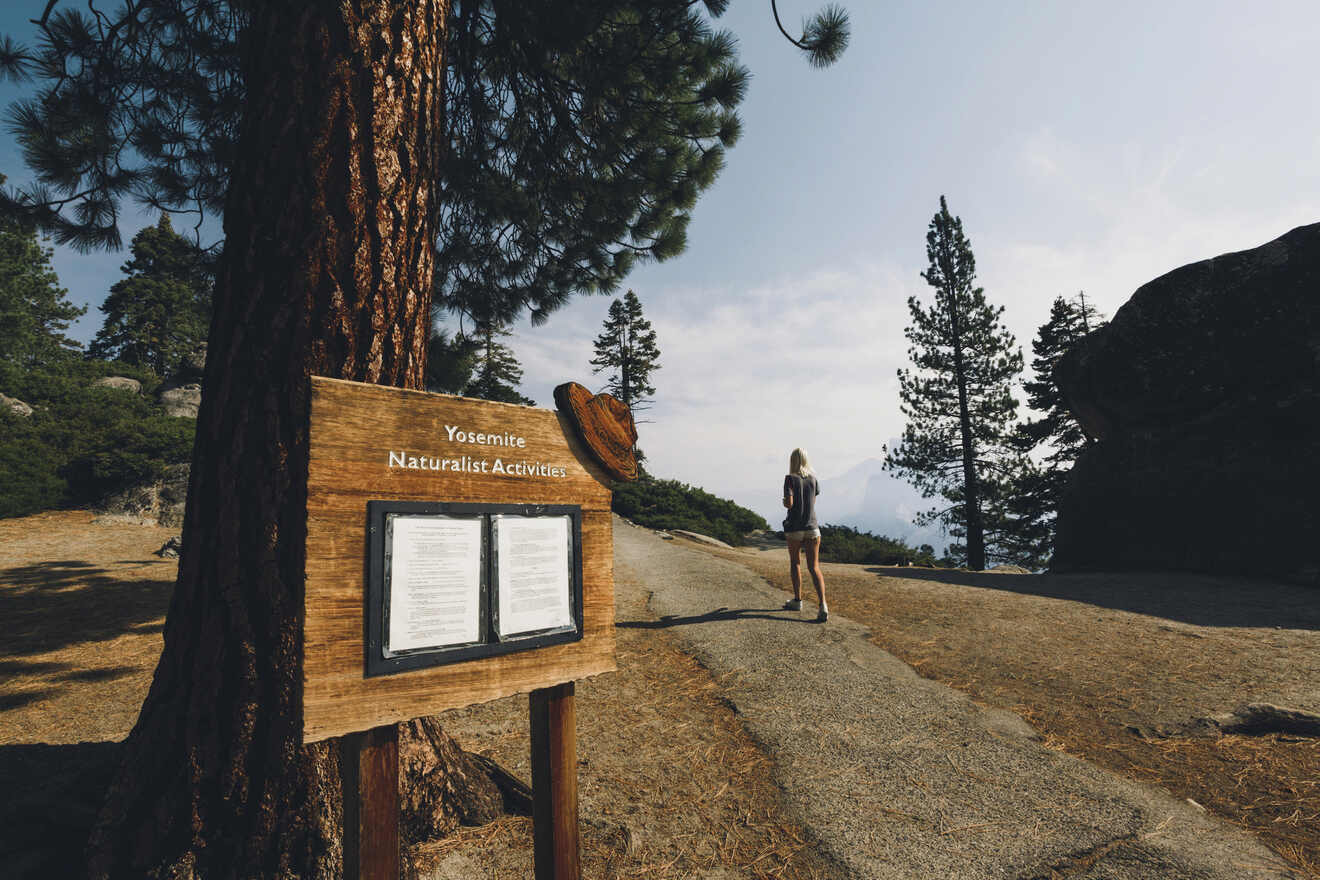 ️ Where should I stay when visiting Yosemite?
If it is your first visit to Yosemite, you should stay in Yosemite Valley to be at the heart of the national park and feel pure nature.
What is the best month to visit Yosemite National Park?
Even though Yosemite offers different beauties in different seasons, the best season to visit is in spring between March and May. If you want to avoid the tourist crowd, December to March could be a nice time.
What town is closest to Yosemite National Park?
Groveland and Oakhurst are the closest towns to Yosemite National Park.
How many days should I stay in Yosemite National Park?
Three days is enough to see most of the sights and to do a few hikes. However, you can still enjoy a day trip to Yosemite or stay longer and discover this marvelous park deeply.
How do I get to Yosemite?
Driving is the best option to get around Yosemite. If you don't have a vehicle, renting a car is the next best option. Otherwise, public transport and shuttle services are available around the park.
Is Yosemite National Park dangerous?
Yosemite National Park is not dangerous but be aware of the wildlife. As long as you follow the warnings, you will be safe.
Conclusion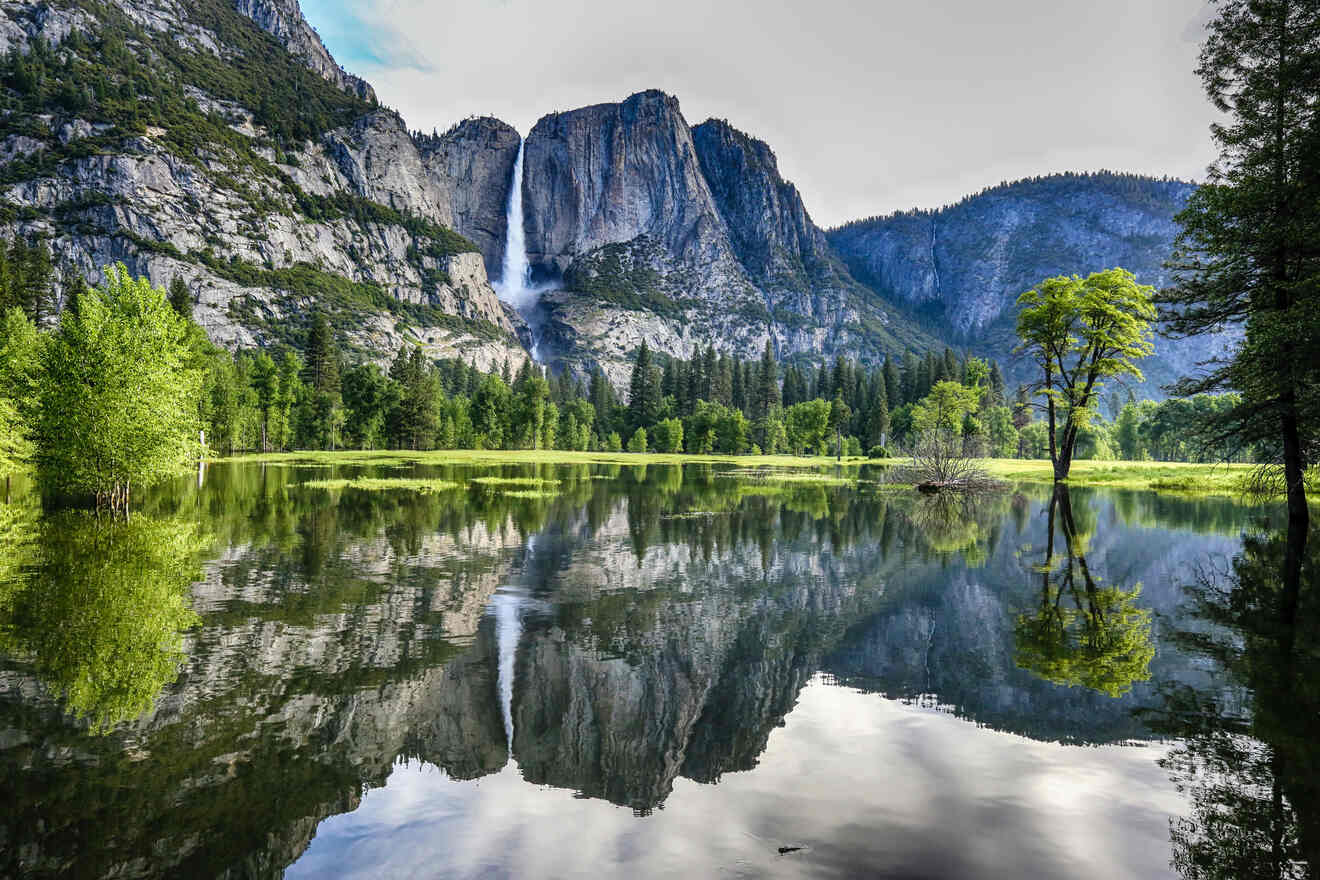 Visiting Yosemite National Park is an amazing vacation experience. In this post, I gave some practical information about different areas for different priorities in the park and some budget options in the surrounding Mariposa County. I hope this article made your mind clear about where to stay near Yosemite!
To sum up, if it's going to be your first time in Yosemite, I highly recommend you to stay in Yosemite Valley to be right inside the park. If you want to base in a city center yet want to be close to Yosemite National Park, you can prefer a hotel in Oakhurst, Jamestown, or Groveland. Mammoth Lakes offers an all-in-one destination for those looking for winter sports activities such as skiing and snowboarding.
I know it is hard to decide among all of these beautiful places. To summarize, here are the 2 best hotels that I would definitely like to recommend to you. They both have perfect locations and good reviews.
– at the heart of Yosemite National Park, a perfect stay for families and couples. – charming and affordable lodge near Yosemite, make sure to book in advance!
I hope you have already found your perfect place in the majestic Yosemite and start to make your travel plan.
Since Yosemite National Park is a very famous destination among travelers, I would like to remind you again to make a booking months in advance for your hotel as they book out quickly!
If you plan to continue to travel around California, you might want to check out the 15 best Airbnbs in California and 12 epic Airbnbs in Joshua Tree blog posts to find another place to stay.
I am looking forward to seeing your comments about your stay in Yosemite, California!
Where to Stay in Yosemite National Park | 12 Best Places
When deciding where to stay, Yosemite's lodging options can be quite varied. You can choose to camp beneath the stars with nothing but canvas between you and the great outdoors, or opt for solid walls to protect you from the elements.
There's a perfect place for everyone to find within (and outside of) the Yosemite National Park entrances. Grab your best pair of hiking shoes and prepare for a nature-filled holiday you won't forget any time soon.
Here's the lowdown on where to stay in Yosemite when you visit Yosemite National Park.
Disclosure: This post contains affiliate links. If you click one of them, I may receive a small commission (for which I am very grateful for) at no extra cost to you.
Best Places to Stay in Yosemite
There are a few options for those wondering how to stay near Yosemite National Park or even inside it. Camping is the obvious choice. Otherwise, cabins and hotels within the boundaries of Yosemite park offer excellent options if you want to stay close to nature but prefer more urban amenities.
Campsites and cabins are limited and often booked far in advance, so another possibility involves choosing a hotel in the nearby towns. Experiencing the park's landscapes by day and enjoying the cosmopolitan comforts of the town by night—it's the best of both worlds.
Get my free National Park Checklist
When you join the newsletter!
Camping in Yosemite National Park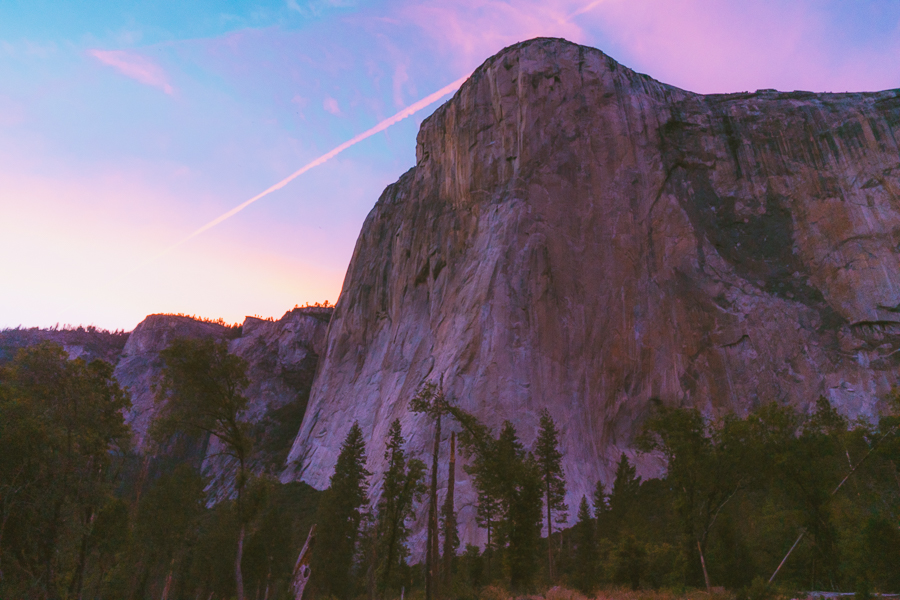 If you're looking for outdoor places to stay in Yosemite National Park, the park is home to ten incredible campgrounds spread within its borders. The glacier-carved Yosemite Valley and the Merced River is undoubtedly the central location to camp in, with Yosemite Falls, Yosemite West, Glacier Point, and Half Dome all nearby.
Luxury: Curry Village
When considering the best place to stay for a Yosemite National Park glamping experience, a stay at Curry Village is as close as you can get. It really is a tiny village, complete with restaurants, bike rentals, a swimming pool, and even shops.
Its location on the eastern end of Yosemite Valley near Glacier Point is scenic and close to popular trailheads. It's more expensive than renting a site and bringing your own camping gear. But renting anything at this unique campground in Yosemite National Park guarantees a 5-star experience in the woods.
There are 46 wooden cabins with private bathrooms and 14 more that share communal bathrooms, as well as 403 canvas tent cabins and 18 standard motel rooms.
The canvas tent cabins have wooden floors and cot beds with electrical lights. Propane heaters are available for some of the tent cabins. None feature power outlets, but they're fully kitted out with linens and blankets. Showers and washrooms are a short walk away.
The wooden cabins have heat and power outlets and can also include double beds. The motel rooms at Stoneman Cottage have daily housekeeping and heating and are simple and rustic at their core.
Reservations for Curry Village open one year and one day in advance and sell out fast, so be quick and book one of the luxury cabins or tent cabins now.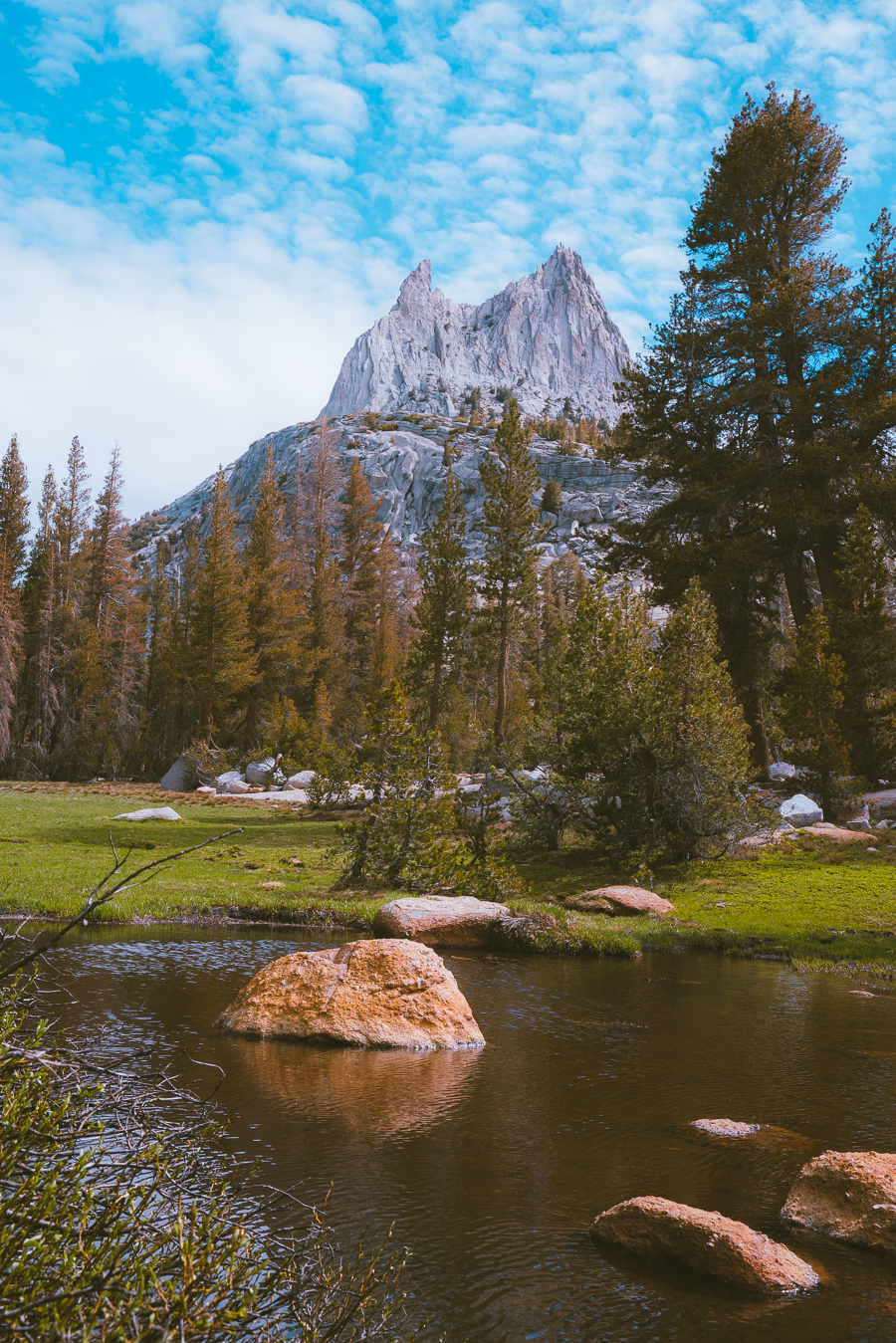 Mid-Range: North Pines Campground
Towering granite cliffs, majestic pines, and a melodious river: this campsite at the far end of Yosemite Valley is an ideal woodsy location. It's situated within walking distance of many hiking trails, yet far away enough from the crowds that it maintains a pleasant peacefulness.
With only 81 campsites up for grabs, competition is high in the peak summer season, especially for coveted riverside spots. This campground is only open for a portion of the year from April to early November, but the sites are roomy enough to accommodate RVs up to 40 feet in length.
Each campsite comes with picnic tables and a fire ring, as well as a food storage locker. The national park is a bear habitat, after all, so necessary precautions are enforced. Drinking water and flushing toilets are also at your disposal, as well as a shuttle bus service.
This campground is only open from March to October approximately.
Budget: Upper Pines Campground
With 238 campsites at your disposal, Upper Pines Campground might be the best place to stay in Yosemite National Park if you want a better chance at grabbing a camping spot.
Large pines and cedars dominate this area, offering a mix of sun and shade, with views of the valley walls peeking in between the trees. It also happens to remain open year-round to eager campers, although the number of available sites drops to around 50 from December to mid-February.
The campsites at Upper Pines are a little smaller than at North Pines and don't offer much privacy, but there are many trailheads nearby. Although some sites can accommodate RVs smaller than 35 feet, the cheapest option is to book a backpacking site, which goes for as little as $8 a night.
Yosemite National Park Hotels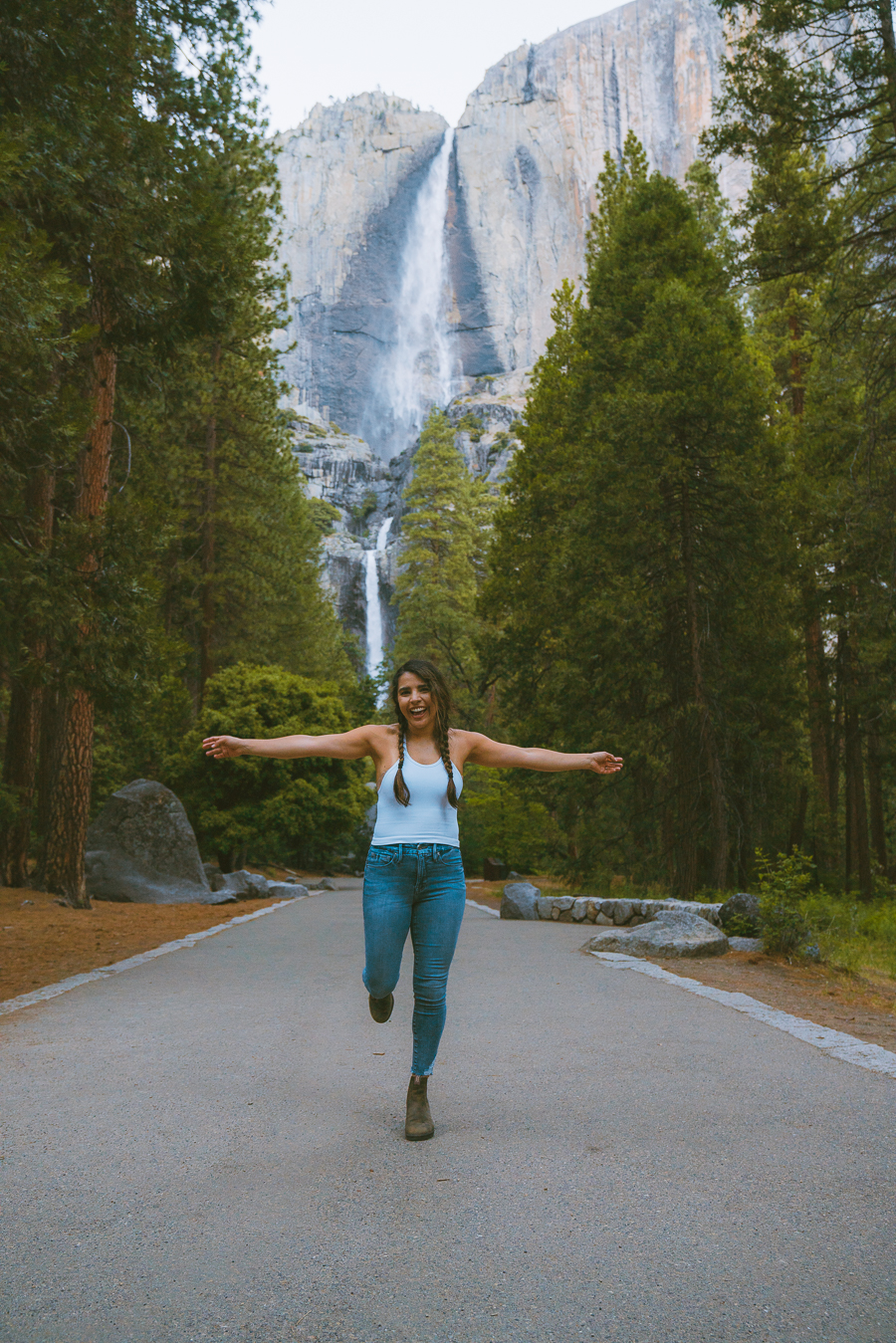 Yosemite National Park lodging options are available. Below are some private vacation rentals for a pleasant stay.
Luxury: Yosemite Copper Bear Lodge
This luxury home within the park boundary of Yosemite National Park sleeps an impressive eight people in its three bedrooms and is only minutes from the valley floor. Gloriously large windows offer views of the surrounding forest, and plush leather furniture and antlered chandeliers give a real country-lodge vibe.
The warm wooden accents and rustic flourishes make it a cozy choice, especially after a day of hiking the nearby trails. Sit back and relax to the melody of tiny mountain creeks babbling amongst the maples and large white firs beside the outside deck.
There're also plenty of other things to keep you entertained: a pool table, game table, mini arcade, and even board games. For those who value their electronic comforts, the 42-inch flat-screen TV will be appealing.
From the house, it takes about 25 minutes to reach Yosemite Valley. When considering where to stay at Yosemite National Park, Copper Bear Lodge is one of the best lodging options.
Mid-Range: Yosemite View Lodge
When looking for places to stay in Yosemite, this one is a winner even though it's technically 5 minutes drive outside of the park boundary.
With the Merced River beside the lodge and greenery-flecked hills, this 3-star lodge is no less charming than a proper Yosemite campsite. It boasts four pools and a hot tub for those hiking-weary feet, and an on-site restaurant and bar. Every room is comfortably furnished and comes with a kitchenette, a coffee machine, and cable TV.
This Yosemite lodging option also has a convenience store available for trail snacks to take on your hike. Classic American breakfast is served buffet-style, and pets are welcomed. The Wi-Fi may not be free, but enjoying some downtime in the game room is.
Budget: Sage Cabin
Located within the park boundary of Yosemite Park, this compact cabin is the answer if you're wondering where to stay when visiting Yosemite on a tighter budget. This prime rental real estate is warmly and modestly furnished.
With one bedroom and bathroom and the capacity to sleep 4 with a sofa bed, the cabin has a patio with a barbecue and a delightful reading loft. Hiking and running trails can be accessed straight from the cabin, and the bustling Yosemite Valley is only 15 minutes away.
Yosemite National Park lodging doesn't get better than this at this price. Satellite internet is available, although on limited bandwidth. But come snow or sunshine, the cabin is kitted out to be cool in summer and warm in the wondrous winter landscape of Yosemite.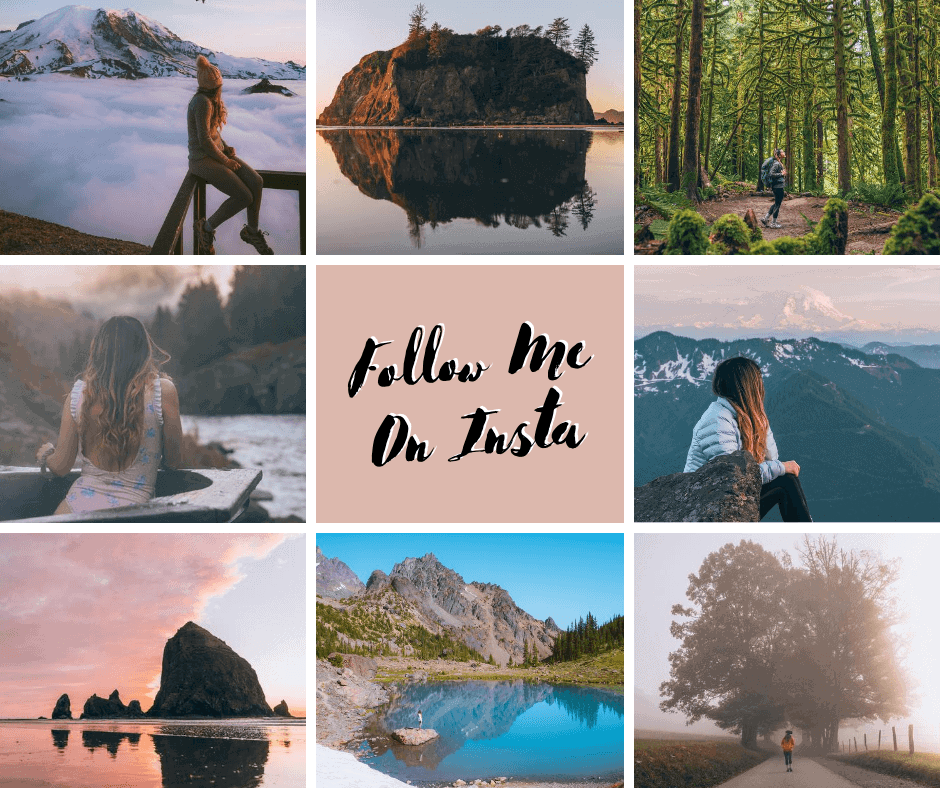 Places Near Yosemite National Park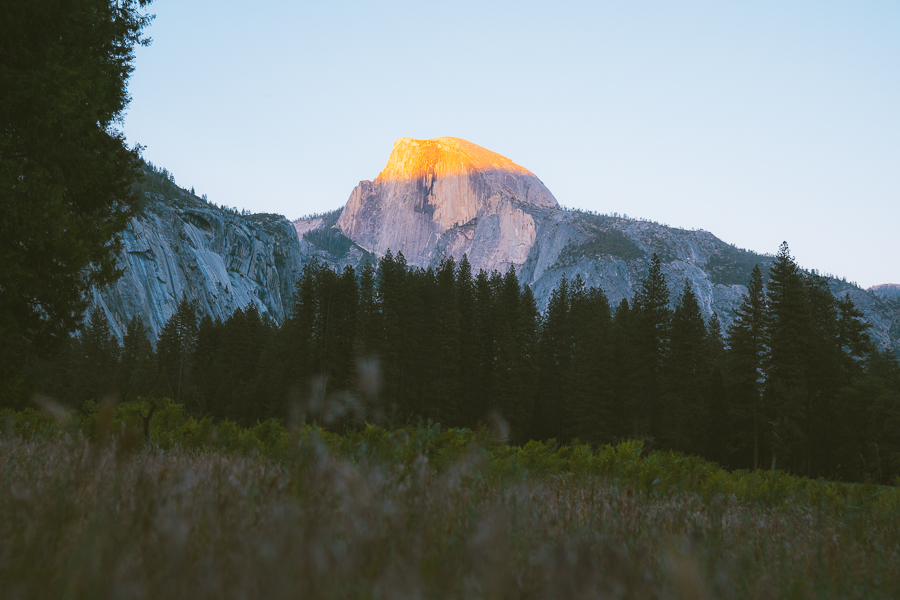 There are several small towns and cities that encompass the area around Yosemite National Park. Even though you'd need to drive a little to get to the park, the lower prices make staying in one of these places very attractive.
Not to mention, the city comforts of easily accessible Wi-Fi and plenty of restaurants and amenities to choose from. Two cities nearby Yosemite include Oakhurst and Groveland. To follow are some of the best places to stay near Yosemite National Park during your trip.
Luxury: Hounds Tooth Inn (Oakhurst)
A chic, clean aesthetic with touches of contemporary-country lodge decor characterizes this elegant inn near Yosemite. The spacious rooms are comfortable to a fault, and the breakfast is beyond believable.
With continental, vegetarian, vegan, gluten-free options, and breakfast-on-the-go, it's hard to beat this delicious feast. Some rooms include a jacuzzi and patio, which is completely worth the extra bit of money for the ultimate post-hiking relaxation.
A private garden is at your disposal, as well as a sitting area with splendid views of the Sierra Mountains. The Wi-Fi is free, as is parking. The Mariposa Grove of Giant Sequoias and Fish Camp are on the way to the national park's south entrance as an added bonus if giant sequoias are on your bucket list.
Mid-Range: A Bed of Roses (Oakhurst)
Rustic and modest interiors with warm accents and plush carpets give you a cozy country feel in this charming B&B near Yosemite. Less than 10 miles from Yosemite's south entrance, an exceptional breakfast is served up every morning to eager guests.
Every room features an iPod docking station and a flat-screen TV with cable. One of the larger rooms features an elevated spa bath with a skylight, as well as a mini fridge and private seating area. An outside deck with a grand view of the Sierra Mountains is shared by all, and barbecue facilities are available.
There's even a small seasonal outdoor pool for warm summer nights, and the Wi-Fi is complimentary.
Budget: The Oakhurst Inn at Yosemite (Oakhurst)
This two-star vacation rental is a delightful gem near Yosemite with a seasonal outdoor pool, 24-hour front desk service, and free Wi-Fi.
The family rooms are pleasantly furnished with large beds, white linens, and warm wood accents, and a terrace complete with a jacuzzi is open to all guests. Air-conditioning and flat-screen TVs are standard for the rooms, and vending machines are available.
The breakfast is American and Continental buffet style, and the location is peaceful, with Bass Lake nearby.
Source https://www.thecrazytourist.com/stay-yosemite-national-park/
Source https://misstourist.com/where-to-stay-in-yosemite-california-usa/
Source https://www.thewanderingqueen.com/where-to-stay-in-yosemite/