The 15 WARMEST Places to Visit in Europe This Winter
This post may have affiliate links, which means we may receive a small commission (at no extra cost to you!) if you choose to purchase through them. Here's our Disclosure & Privacy Policy for more info.
Share The Article
Last Updated 5 months ago
When you think of 'warm winter getaways', it's usually not European cities that come to mind.
Most people think of islands in the Caribbean, safaris in Africa, or over-water bungalows in the Maldives. However, Europe has some decently warm cities during winter, many more than you might have previously thought.
Just because it's winter doesn't meant you have to scratch Europe off your holiday bucket list. We've researched all the warmest places you can travel to in Europe during the winter months of December, January, February and March.
Why visit Europe in winter?
As you will see in the places mentioned below, a pattern starts to emerge. All of these European cities during the winter months are cheaper, less crowded, and free of sweltering 35+ degree weather, making it a great time of year to visit.
While everyone else is on a crowded beach in Cancun, you can be checking some insanely beautiful countries off your bucket list, and not freeze your buns off at the same time. Here are the warmest places with the highest temperatures to visit in Europe this winter.
-Malta-
The 15 WARMEST Places to Visit in Europe This Winter
1. Canary Islands, Spain
The Canary Islands are a cluster of beautiful Spanish islands just off the coast of Morocco and only a 4 hour flight from London. These islands boast some of the warmest and sunniest weather in Europe during winter.
Which island should you visit?
You really can't go wrong with any of them, but the most popular are Tenerife, Grand Canaria, and Lanzarote. No matter where you end up be prepared for endless amounts of outdoor activities, sports, hiking and natural wonders.
Average Daily Highs °
December: 21°c – 70°f
January: 20°c – 68°f
February: 20°c – 68°f
March: 21°c – 70°f
2. Limassol, Cyprus
Not only is Limassol fairly warm throughout the winter months, but it's also a city that has the best of both worlds. You'll love the mixture of modern areas with the strikingly beautiful old town.
The narrow stone streets wind out from the old fishing harbour with buildings dating back to medieval times. Combine that with beaches, castles and Greek ruins and Limassol is a winter getaway you won't regret.
Any city in beautiful Cyprus will have similar temperate weather because of the island's location in the far east of the Mediterranean Sea.
Average Daily Highs °
December: 18°c – 65°f
January: 17°c – 63°f
February: 17°c – 63°f
March: 20°c – 68°f
3. Azores Islands, Portugal
The Azores Islands sitting along in the North Atlantic Ocean have been long referred to as "Europe's Hawaii" and it's not hard to see why. Waterfalls, volcanos, natural thermal pools, mountains, lush greenery and miles of beaches are just some of the similarities.
Many people haven't even heard of the Azores before and that's a good thing! Enjoy the unspoilt nature while you still can!
If you need to get out of the snow, fly into the Azores direct from New York in 5.5 hours, or from Lisbon in 2 hours.
Average Daily Highs °
December: 18°c – 65°f
January: 17°c – 63°f
February: 16°c – 61°f
March: 17°c – 63°f
4. Seville, Spain
Seville is officially the warmest city year round in continental Europe and winter is a great time to visit. While you might get caught in the occasional downpour, it's much better than trying to visit in summer when temperatures commonly reach over 40°C! Ouch!
Winter brings less tourists and much lower prices, with even some of the highest rated hotels coming down to under $100 a night.
You won't run out of gorgeous cathedrals, handsome museums and fine art shows to fill your days with.
Average Daily Highs °
December: 17°c – 63°f
January: 16°c – 61°f
February: 18°c – 65°f
March: 21°c – 70°f
5. Faro, Portugal
Faro is the southernmost city in Portugal and the perfect getaway spot for someone seeking quiet R&R time. It's a quaint and charming town offering an escape from the hustle and bustle, and has warm weather in winter unlike most of Europe.
Just like in Seville, tourist numbers are lowest in winter, but that doesn't mean there isn't lots to do. The winter season only bring around 5 days of rain each month, so there are still many sunny days to golf, beach walk, bird watch and cycle.
Average Daily Highs °
December: 17°c – 63°f
January: 16°c – 61°f
February: 17°c – 63°f
March: 19°c – 66°f
6. Gibraltar, UK
Many people have heard of the 'The Rock of Gibraltar', but not as many could place it on a map. (Especially us North Americans!)
Gibraltar is a tiny 6 square kilometre British Overseas Territory, located on the tip of Spain, with views toward Morocco. It's been under British rule since 1713, but has exchanged hands many times before that.
While it's small, Gibraltar is a great winter vacation spot for it's mild climate and long list of things to do. You can explore over 150 caves, 50km of World War II tunnels, botanical gardens, take the cable car, or walk on the suspension bridge. You'll also be a stones throw from both Spain and Morocco to easily add some extra warm winter destinations to your trip.
Where is hot in February? 12 sunny destinations
Whether you're travelling with the family over the half-term holiday, with your other half for Valentine's Day or simply to escape the northern hemisphere's seemingly interminable winter, February has a hot break to suit your needs. Fly-and-floppers are directed to Zanzibar; animal-lovers to see whales off Mexico's Pacific coast or big cats on a South African safari. Cultural heavyweights Cambodia, Abu Dhabi and Easter Island all offer some of their most agreeable weather, while Spain's Canary Islands deliver short-haul sun in Europe.
Main photo: The arch of Cabo San Lucas at the tip of Baja California (Alamy)
*This article contains affiliate links.
All products and brands mentioned in this article are selected by our writers and editors based on first-hand experience or customer feedback. We feature properties from a specially selected list of trusted operators who are of a standard that we believe our readers expect. This article contains links which are ads and if you click on a link and buy a product we will earn revenue. These links are signposted with an asterisk. The revenue generated will help us to support the content of this website and to continue to invest in our award-winning journalism.
1. Los Cabos, Mexico
Average temperature 20C
At the foot of the Baja California peninsula in northwestern Mexico, these two towns — glam Cabo San Lucas and more authentic San José del Cabo — head up an area of white-sand beaches, fine hotels and a giant cacti-dotted arid interior. As one of the cooler months, February is a good bet for physical activities — from guided hiking through Sierra de la Laguna to jet-skiing or kitesurfing — and peak season for boat trips (from La Paz) to see or snorkel with whale sharks and spot baby humpback whales. Yellowtail is the main target for sport-fishers at this time, while horse-riding along the beach is also popular. Best of all, you'll dodge the price hikes and large crowds inevitably brought when North American students flood in for March and April's raucous spring break parties.
Stone Town in Zanzibar City (Getty Images)
2. Zanzibar, Tanzania
Average temperature 28C
Zanzibar sizzles in February, which is ideal for any visitors planning to spend most of their time horizontal — be it swimming in the bath-warm Indian Ocean, bronzing on a powder-white shore or getting massaged at a beach resort. Snorkelling is another option: Chumbe Island's protected reef is seemingly home to fish of every shape or colour. Some verticality is required during dolphin-watching boat tours, but you can always float in the pool afterwards. For the more energetic it's near-essential to stroll around the capital's narrow-laned, Unesco-listed Stone Town quarter, past Persian bathhouses, Swahili restaurants, coral-stone houses and Freddie Mercury's birthplace. February brings the Sauti za Busara music festival: four rhythmic days of African jazz and local taarab shows in Stone Town's Old Fort.
Sunrise at Angkor Wat (Getty Images)
3. Cambodia
Average temperature 24C
In March, Cambodia swelters. That's fine if you're staying at one of its growing collection of island-based beach retreats — from rustic, affordable eco-lodges on Koh Rong or to the more opulent likes of Song Saa — but less ideal for sightseeing at the Southeast Asian country's headline act. Touring the former Khmer capital of Angkor and its incredible 9th to 15th-century temples can be hot work, especially if you're climbing Ta Keo's steps or scrambling over huge roots at tree-hugged Ta Prohm in high humidity. Early to mid February offers a far milder heat, including for those early risers watching sunrise over Angkor Wat — the fairest and largest temple of them all. Additionally, there will be higher water levels on the Tonlé Sap River to aid cruises from capital Phnom Penh, or perhaps even Vietnam.
Julian Marley performs in Kingston at one of the annual celebrations held in honour of his father, Bob (Alamy)
4. Jamaica
Average temperature 24C
February is peak season in the Caribbean and promises perfect, dry weather for snorkelling, swimming or simply sunbathing on fudge-hued shores and sufficiently cool days during which to also explore historic plantations and waterfall hikes inland. All of that is possible in Jamaica, whose popular tamarind fruit is in season and whose visitors are deliciously ruffled by gentle daytime winds known as the "doctor breeze". The island then throws in two cherries on top. Falling on February 6, Bob Marley's birthday is marked by everything from concerts to fashion parades, chiefly in the settlements of Kingston and Negril. Similarly energetic, country-wide Carnival celebrations conclude after Easter with a riot of rum-soaked street parties and marching bands. Dancing is pretty much mandatory.
5. Easter Island, Chile
Average temperature 23C
As summer ends on Easter Island — or Rapa Nui, as the locals call it — flights stay regular as temperatures revert from sweltering to tolerable. The big draw on this Chilean territory, more than 2,000 miles west and a six-hour flight from mainland South America, are its hundreds of monumental, monolithic moai statues. Supposedly carrying the spirits of ancestors, many of these huge-headed stone figures were placed on platforms around the island's perimeter — a mind-boggling feat given their weight. Spot some as you hike a bright-green Pacific coast path; other things to do are surfing, diving to see submerged moai and, in February, attending the two-week Tapati festival. A blend of dancing and singing competitions alongside horse racing, triathlons and other traditional sporting events, it's an excellent way to sample the local Polynesian culture.
N'Gor, Island Surf Camp near Dakar (Getty Images)
6. Senegal
Average temperature 21C
Though it flies under the average tourist's radar, there's lots to like about a holiday to Senegal — from a cool contemporary art scene and Saint-Louis's sun-baked colonial architecture to golden beaches and spicy eats. The West African country's surfing scene is especially good for beginners or veterans alike, and February — with no rain, much sun and very bearable heat — is the optimum time to ride the waves. Stay at a solar-powered lodge such as N'Gor Island Surf Camp, near capital Dakar, and you could also journey southeast for a safari in the Niokolo-Koba National Park. Open from mid-December to April 30 and hugging the Gambia River, its forests are home to hippos, crocodiles, lions, leopards, warthogs and elephants. If that's too far to go, opt for a birdwatching boat journey along the mangrove-snagged Casamance Delta instead.
Street food noodles in Singapore (Alamy)
7. Singapore
Average temperature 27C
Far more than just a stopover, Singapore might even have too much to do. Hawker centres around the city serve a contender for Earth's best street food (Liao Fan Hong Kong Soya Sauce Chicken Rice & Noodle won a Michelin star in 2016), while some of Asia's premier cocktails are consumed in bars here. That includes the Raffles hotel's Long Bar, from where the Singapore Sling hails. Singapore's vertical gardens and futuristic developments impress, as do nature reserves housing saltwater crocodiles or macaque monkeys. In February, amid warm and mostly dry weather, there's usually an added attraction: the arrival of lunar new year. Tending to fall in this month, it involves colourful parades and many a costumed, pugilistic lion dance in Chinatown.
Centre Place, one of Melbourne's many laneways (Alamy)
8. Melbourne, Australia
Average temperature 21C
All of Australia enjoys sunshine during February — with even Melbourne and its notoriously temperamental climate liable to bask. With very little rainfall likely, the city's buzzing, cafe-lined laneways are at their most vibrant; so too the many rooftop bars, such as laid-back Good Heavens, and gorgeous parks. Barbecues are ten a penny, as are cricket games; just try not to mention the Ashes. It's a fine time to catch a concert at the free St Kilda Festival, or to rummage around independent clothes and homeware stores in the hip suburb of Richmond. Most of all, though, try to do as the locals do — namely, decamp an hour's drive south to the eucalyptus-scented Mornington Peninsula, where calm, sandy beaches and informal but high-quality vineyard restaurants await.
Sheikh Zayed Grand Mosque (Alamy)
9. Abu Dhabi, United Arab Emirates
Average temperature 20C
A more authentic alternative to Dubai, the UAE's capital city is home to numerous treasures. Top trump, arguably, is the Sheikh Zayed Grand Mosque; not only one of the world's largest Islamic places of worship, but beautiful thanks to dazzlingly white domes and minarets. Similarly eye-catching are the island-set Louvre Abu Dhabi, whose aim is to bridge the gap between Eastern and Western art, and indoor theme park Ferrari World, devoted to Italy's most famous fast car. A couple of hours' drive east is Al Ain, a Unesco-protected garden city whose largest oasis contains 147,000 date palms; nearby are ancient, distinctive beehive tombs reckoned to be about 5,000 years old. They're far more fun to visit in February than summer, when the mercury can surpass 40C.
A cheetah cub in Kruger National Park (Alamy)
10. Kruger National Park, South Africa
Average temperature 26C
Kruger National Park in South Africa is arguably Africa's most reliable national park when it comes to sightings of the Big Five (the buffalo, elephant, leopard, lion and rhinoceros) or other popular beasts. So while February's dense vegetation makes things harder, your odds remain excellent. That greenery yields an upside too, as the park never looks more lush and photogenic. This is also the season when many baby animals arrive on the scene and when birding is at its best thanks to the arrival of migratory species. Try, if you can afford it, to stay on an adjacent private reserve such as Sabi Sand or Timbavati: the guiding quality will be better, there will be fewer other visitor and you'll be permitted to go off-road (unlike in the main park) in search of those elusive animals — a crucial advantage.
The bandstand and promenade in Arrecife, Lanzarote (Alamy)
11. Lanzarote, Spain
Average temperature 18C
Keen on escaping somewhere sunny over February half-term, but less so on a long flight? Getting to Lanzarote takes just over four hours from London and you can expect seven daily hours of the yellow stuff on average. There are theme parks and family-friendly beach resorts aplenty, especially on the south coast. But try also to explore this Canary Island's bumpy geography. Walking some of the Cueva de Los Verdes's four-mile lava tube (a cave created by lava flows 3,000 years ago) should delight youngsters, as will deep craters amid Timanfaya National Park and its hundreds of volcanoes. Should parents need a hedonistic break, it's usually easy to hire a babysitter and journey to one of the main malvasia vineyards for a tour and tasting session.
12. The Philippines
Average temperature 27C
Palawan's longstanding tagline as the Philippines' Last Frontier made sense two decades ago, but thanks to social media, the whole world now knows about how beautiful it is. Luckily Palawan, archipelago, contains more than 1,700 isles to accompany its namesake main one, and still has the potential for escapism. Visitors might go diving on eco-spirited Pangalusian, meet monkeys on Coron, tour pearl farms on Large Bulucan or settle into luxury life on private Pamalican, where Aman operates a resort. With lagoons, street parades, rice terraces and wreck dives, the El Nido area of Palawan still has the most rounded offering, however.
Take me there
Looking to go somewhere hot in February but yet to book your trip? Here are the best packages from Tui* and BA Holidays*.
Warmest Places & States in the US in February – To Escape The Winter Blues!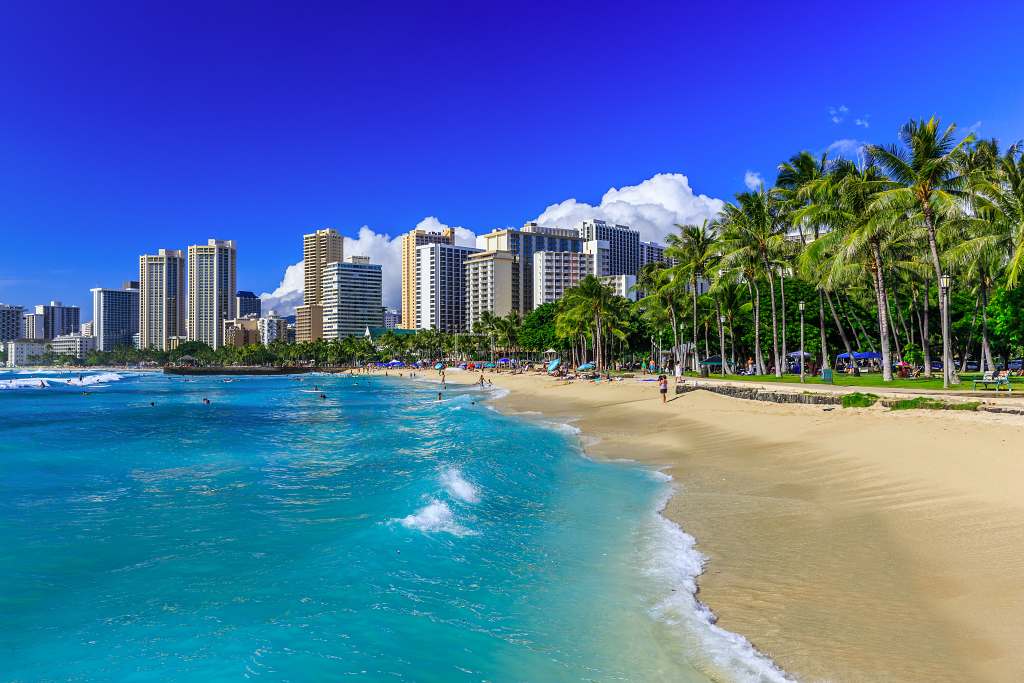 The second Monday of the year (aka Blue Monday) can have us longing for warmer climes, winter getaways, and spring to roll around sooner rather than later! In which case you may be thinking, like me, about where you could visit in February that will offer brighter days and warmer temperatures.
I decided to do a bit of my own research to bring you my top list of the warmest places to visit in the US in February so that you can simply choose a destination and set out to seek the sunshine!
While many destinations in the United States are still covered in snow throughout the month of February, there are a handful of destinations that still offer t-shirt temperatures and even the climate for some beachside relaxation! Florida, California, Texas, Arizona, and Hawaii offer the warmest weather in the US in February, and I'll give you an overview of a few different locations so that you can see what takes your fancy…
Disclaimer: This post contains affiliate links. This means that should you click on certain links, and then subsequently purchase a product, I will receive a small commission.
Table of Contents
The 10 Warmest Places to visit in the US in February
1. Houston, Texas
66°F High 47°F Low / 19°C High 8°C Low
Weather across Texas in February is pretty mild which allows visitors to explore the sights, walk around the cities and enjoy the state's festivals without getting too chilly. However, even on cooler days, Houston offers plenty of indoor activities for travelers to discover such as the Houston Museum of Natural Science, the NASA Johnson Space Center, the Museum of Fine Arts, and Minute Maid Park, the home of Houston's Major League Baseball team the Astros.
Temperatures in Houston in February will generally be in the mid 50/60s(F) so you'll be able to wear lightweight clothing and still enjoy the city's Waterwall Park, Buffalo Bayou Park, and Discovery Green.
Recommended hotels to stay in Houston, Texas:

Homewood Suites by Hilton Houston Near the Galleria: Located a 5-minute walk from the premier shops and restaurants at the Houston Galleria Shopping Center, this hotel features free WiFi and a daily complimentary buffet breakfast.
Hyatt Regency Houston Galleria: Located just 300 meters from The Galleria, it offers guests an outdoor pool, sun terrace, and an on-site restaurant. Free WiFi is offered throughout the property and valet parking is available on site.
2. Jacksonville, Florida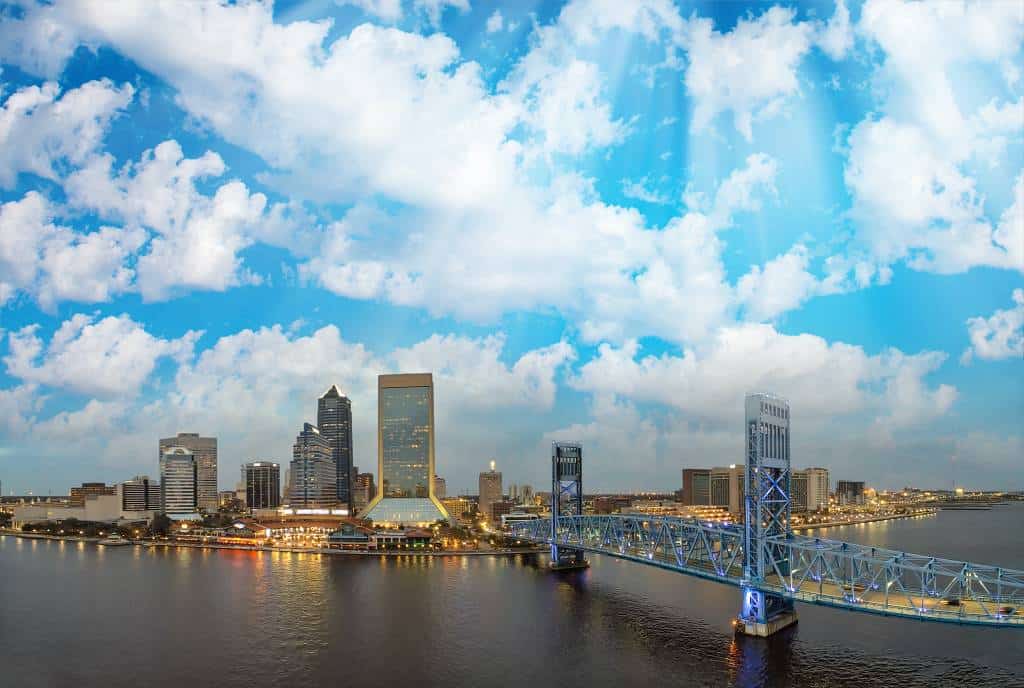 68°F High 45°F Low / 20°C High 7°C Low
Despite often being overlooked in favor of more famous travel destinations, Jacksonville, Florida really does have it all, plus it boasts the weather in February to enjoy it! Jacksonville features beaches, parks, shops, restaurants, art galleries, museums, and more so it can be your one-stop-shop for an awesome winter vacation!
Jacksonville can be the perfect choice for those who want to combine cultural sights and activities with enjoying the great outdoors as it offers natural waterways, urban parks, wide-open beaches, and ecological preserves. The city also makes a good family holiday location as there are plenty of indoor and outdoor attractions to keep people of all ages entertained!
Recommended hotels to stay in Jacksonville, Florida:

Jacksonville River City Downtown Hotel: located just a 2-minute walk from the Times-Union Center for the Performing Arts, and a 3-minute walk from Jacksonville Landing with the many shopping and nightlife options. It also offers guests a complimentary fitness center, a 24-hour front desk, and a concierge service.
Hyatt Regency Jacksonville Riverfront: located adjacent to the St. Johns River and a 6-minute walk from shops and dining at Jacksonville Landing it offers guests a rooftop pool and a 24-hour fitness center.
3. Los Angeles, California
69°F High 49°F Low / 20°C High 10°C Low
Los Angeles is an excellent year-round destination with temperatures never getting too cold to walk around and explore the city sights. You can start your trip to LA with a sight-seeing tour or hop-on, hop-off ride around town, before soaking up some culture in the city's museums and galleries.
Visiting the observation deck at LA's City Hall is an absolute must and you may also want to make time to visit the Warner Bros. Studio and the original Disneyland! By night, you might want to watch shows like Cirque du Soleil, catch some stand-up comedy, or watch one of the many gigs or sports games that are on throughout the month.
Recommended hotels to stay in Los Angeles:

Ocean View Hotel is an option for those wishing to be close to a beach. It is a 3-star boutique hotel with some rooms having views over the bay in Santa Monica. There are 67 comfortable guest rooms, modern décor, and balcony a feature throughout.
Loews Hollywood Hotel certainly scores from the location point of view. It is a 4-star hotel close to all the action, including shopping. Its facilities are all you would expect from quality accommodation.
4. Miami, Florida
78°F High 62°F Low / 26°C High 17°C Low
Miami is another of the warmest places to visit in the US in February with temperatures well into their 60s(F)/20s(C). This lush climate allows you to spend days walking along the seafront, enjoying the amusements, bars, shops, and restaurants as well as lounging on the sand and perhaps taking a dip in the sea!
February is also a great time for festivals in Miami, with Miami Veg Fest, the Coconut Grove Arts Festival, Miami International Boat Show, the South Beach Wine & Food Festival, and even The Miami Marathon taking place throughout the month. This year, Miami is hosting the Superbowl Live on the 2nd of February, so it is a fantastic time to be in the city!
Recommended hotels to stay in Miami:

The Marlin Hotel: The Marlin Hotel is next to the gorgeous white sands of South Beach, and the hotel includes free high-speed WiFi, a fully stocked mini-bar, flatscreen TVs, plus complimentary beach bags and beach towels for your trip to the beach!
The Savoy Hotel & Beach Club: The Savoy Hotel has spacious suites in the heart of Miami Beach. You'll love the European-style decor, raised sundecks that look over the ocean, and the American cuisine on offer.
5. Orlando, Florida
74°F High 52°F Low / 23°C High 11°C Low
If you're looking for warm places to visit in the USA in February then it's likely that Orlando, Florida will spring to mind. Orlando is the home of Disneyworld, Universal Studios, SeaWorld, and Gatorland, not to mention loads of epic outlet stores and festivals.
It, therefore, makes a wonderful family vacation destination for February and is especially good for those who want to avoid the scorching temperatures of summer. Temperatures in the 60s(F)/teens(C) mean that it is plenty warm enough to enjoy your hotel or villa swimming pool while also not being too hot to have days out at the Osceola County Fair or Pioneer Days festival.
Recommended hotels in Orlando:

Universal's Endless Summer Resort – Dockside Inn and Suites: it offers Early Park Admission to The Wizarding World of Harry Potter™ and Universal's Volcano Bay water theme park 1 hour before park opening. The hotel boasts 2 resort-style pools, a fitness center, a game room, and Universal Studios Store.
Grand Hotel Kissimmee at Celebration: Located 9 km from Disney's Boardwalk, it offers visitors an outdoor swimming pool, free private parking, and a fitness center.
6. Phoenix, Arizona
72°F High 49°F Low / 22°C High 9°C Low
Phoenix temperatures in February are similar to that in Los Angeles and Jacksonville, Florida which means that a mix of indoor and outdoor activities will work best. Spend your days exploring the Desert Botanical Garden, hiking up Camelback Mountain, or discovering Pueblo Grande and your evenings checking out museums, gigs, and restaurants around town. There's a lot of fun things to do in Phoenix!
February in Phoenix also boasts a bunch of great festivals such as Arizona Beer Week, the Arabian Horse Show, the Street Eats Food Truck Festival and the Winter Range festival where cowboys and girls come out to compete in Old Wild West-style events!
Recommended hotels in Phoenix, Arizona:

Hilton Garden Inn Phoenix Downtown: Located just 0.6 km from Copper Square the hotel offers an on-site bar, a 24-hour front desk, and comfortable air-conditioned rooms.
DoubleTree Suites by Hilton Phoenix: is located very close to the Phoenix International airport and a metro light rail station that offers direct access to the city center. The hotel offers a free shuttle to the airport, an outdoor pool, and a fitness center.
7. San Antonio, Texas
67°F High 44°F Low / 19°C High 7°C Low
Despite San Antonio, Texas being one of the cooler locations on this list, it will still offer warmth and respite for those coming from snowy spots around the US and from the UK and Europe. Temperatures generally sit in the 50s/60s(F)/teens(C) which is warm enough to sight-see, walk along the river, visit the zoo, take a San Antonio River Cruise or visit the McNay Art Museum.
When temperatures get a little cooler at night, you'll be able to soak up San Antonio's theatre scene, enjoy Valentine's dinner or watch some live country music at one of the city's bars or gig locations.
Recommended hotels to stay in San Antonio:

Drury Plaza Hotel San Antonio Riverwalk: it gives direct access to the riverwalk and boasts an outdoor rooftop swimming pool, indoor pool, and 2 whirlpools. It also offers guests free Wi-Fi and a hot breakfast.
La Quinta by Wyndham San Antonio Downtown: located 1.6 km from the historic Alamo it offers guests an outdoor pool and free Wi-Fi.

8. San Diego, California
65°F High 51°F Low / 18°C High 10°C Low
February sees the start of Spring arriving in San Diego with warmer temperatures, Valentine's deals, and whale watching season all making it an excellent time of year to visit. It is also much cheaper to visit San Diego at this time before the crowds of late Spring and Summer arrive and you will find great deals on beach resorts.
Another must-see in San Diego is the USS Midway Museum – book your skip-the-line tickets here.
While it won't be beach weather in February, San Diego has plenty of other attractions and events such as Balboa Park, the Embarcadero harbourside, San Diego Old Town, and Little Italy that all make it well worth a visit. February is also San Diego Museum Month during which around 40 museums offer half-price discounts – another way to save money while you travel.
Recommended hotels to stay in San Diego:

Best Western Plus Hacienda Hotel Old Town: Located next to the Old Town State Park and a 10-minute walk from Old Town Trolley Station, it offers guests an outdoor heated pool and a restaurant.
Inn by the Sea, at La Jolla: Located 2 blocks from the Pacific Ocean and the beaches of La Jolla, the hotel boasts a heated outdoor pool, free wi-fi, and air-conditioned rooms.
Click here for my 3-day San Diego Itinerary.
9. Tampa, Florida
73°F High 54°F Low / 23°C High 12°C Low
Another hot spot for February in the US is Tampa, Florida with downtown being packed full of great things to do! Tampa offers museums, galleries, shops, and restaurants galore as well as unique attractions like the TECO Streetcar, the Tampa Riverwalk, and the Agua Luces when five of the city's bridges are illuminated.
If the weather is particularly good in February, you may want to kayak or stand-up paddleboard on the water of the Hillsborough River which is a peaceful way to see the city skyline. February in Tampa also sees the Annual Flower Show come to town as well as the Beer, Bourbon & BBQ Festival and regular comedy and country gigs.
Recommended places to stay in Tampa, Florida:

Tampa Marriott Water Street: it offers guests an outdoor rooftop pool with a hot tub, restaurants, and a fitness center.
Hampton Inn & Suites Tampa Ybor City Downtown: Located in historic Ybor City, it offers guests an outdoor pool and a fitness center.
10. Honolulu, Hawaii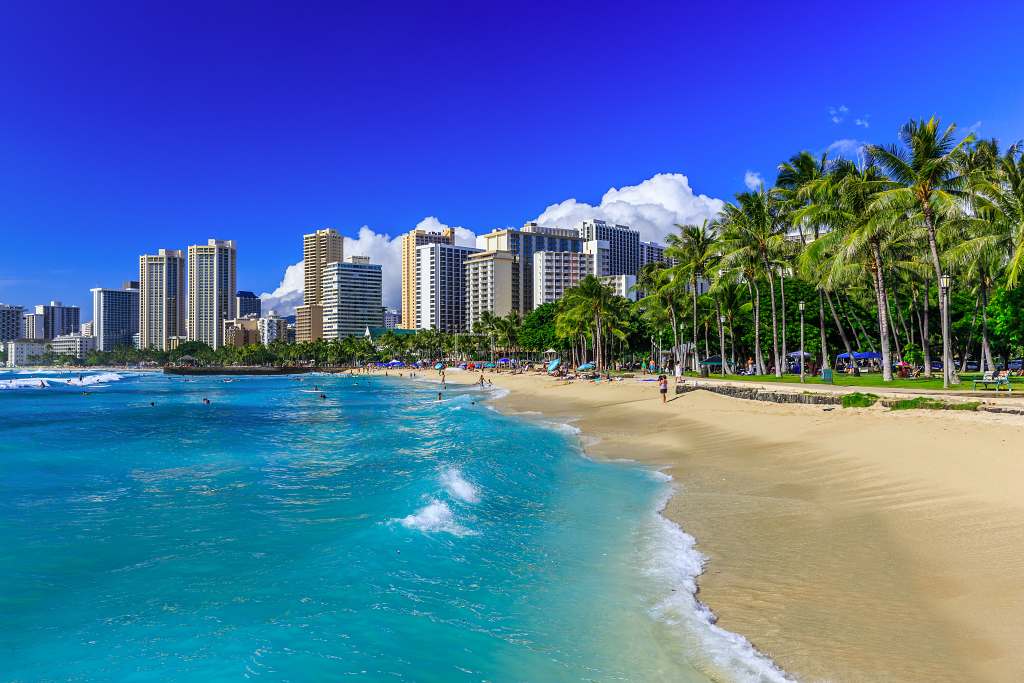 80°F High 65°F Low / 27°C High 18°C Low
The crown for the warmest place in the US in February goes to Honolulu, Hawaii. The temperatures here in February barely drop below 65(F)/20(C) which is most definitely warm enough to enjoy Hawaiian beaches, Polynesian culture, and to sip cocktails on the sand!
Some of the highlights of Honolulu include Waikiki Beach, Iolani Palace, Diamond Head State Monument, and discover the history of Pearl Harbour at the USS Arizona visitor center. Visitors who love the great outdoors may also want to swim and surf or even tackle the Koko Crater Trail on the southern side of the city.
You might be interested in: Pearl Harbor Tour with Arizona Memorial.
Recommended places to stay in Honolulu, Hawaii:

Hilton Garden Inn Waikiki Beach: located just a 5-minute walk from Waikiki beach and next to dining and shopping areas. It offers guests an outdoor swimming pool, onsite restaurant and bar, and a fitness center.
'Alohilani Resort Waikiki Beach: located just a 2 -minute walk from Waikiki beach it offers guests a swimming pool, a spa, a fitness center, and onsite restaurants.
Now you have your list of warm places to visit in the US in February, all you have to do is book it and get packing! Let me know in the comments where you'd like to head this Feb!
Source https://www.traveloffpath.com/warmest-places-in-europe-winter/
Source https://www.thetimes.co.uk/travel/holiday-types/advice/where-is-hot-in-february
Source https://travelpassionate.com/warm-places-to-visit-in-february-in-us/