The 11 Best Areas to Stay in London (& 5 Other Great Ones)
When planning your first trip to London, you might get overwhelmed with a lot of decisions. How many days should you visit? Which sights are must-see – and what can you skip? And where in big, beautiful London should you stay?
On my first trip, I made a big mistake: I stayed way out in the Docklands to save money – and ended up spending the difference in time and money riding the DLR back to Central London every day! There are definitely better – and worse – areas to stay in London.
While I've shared specific guides on the best areas to stay in Central London, as well as North, South, East, and West, I thought it was time to pull it all into one post about where to stay in London. So if you're stuck on where to stay or curious about the best areas in London, read on. These are the best of the best – and each one has its own great aspect of London culture to enjoy during your stay.
This post was originally published in November 2021, and was updated in March 2022.
Table of Contents
Brixton (South) – Best for Culture
Set just four miles from central London, Brixton is one of the best areas to stay in London. The lively neighborhood has become a hive of cultural activities, with live-music venues, buzzing nightlife, and a flourishing cultural scene. London foodies usually rave about Brixton's gastronomic scene, which overflows with casual eateries serving fare from every corner of the world.
Those who'd like to call Brixton home during their stay in London are on their lucky days since the neighborhood has plenty of rentals and hotels to choose from. Also, Brixton has excellent transport links, with the Victoria line beginning at Brixton's underground station.
Camden Town (North) – Best for Punks ‍
Camden Lock is a top option for where to stay in London. While all London neighborhoods have their own charm, none can match Camden Town's vibe. Its streets ooze eclectic energy, partly due to the mishmash of Londoners who call Camden Town, home. So, if you're into people-watching, you might find the most diverse panorama here.
Camden Town is also home to a wide array of attractions. You can find a warren of bustling cafés, lively markets, food stalls, tattoo shops, vintage shops, and more. You won't have much trouble moving around as the quirky neighborhood has tons of connections with tube and overground services. As for accommodation, Camden Town offers a fair amount of hotels and rentals for travelers.
Chelsea (West) – Best for Luxury Lovers ‍♀️
One of London's most fashionable neighborhoods, Chelsea is another recommended option when considering where to stay in London. Chelsea is one of those places which you should visit even if you don't stay there. Its charming streets and glamorous townhouses make the perfect landscape for an urban walk.
Chelsea has a plethora of hotels. So, it is good news for those who want to stay in this sophisticated area. Most accommodation is around the Sloane Square area; however, you can find a few more options closer to the river. Whether you stay near the river or not, a stroll down the Chelsea Embankment is a must-do.
Clerkenwell (Central) – Best Hidden Central London
Clerkenwell holds a special place in my heart, and it has become my go-to area every time I visit the city. While I was living in London, it was home to my favorite local pub The Clerk & Well, and I used to go there after school in Bloomsbury.
During medieval times, Clerkenwell used to be a monastic settlement. Today, the residential area is a desirable place to live, full of smart stylish apartments and converted warehouses that once were Victorian factories. While the scenery isn't as Instagrammable as other areas of London, Clerkenwell has a residential area with its own charm. And as it seems to be so residential, it's actually a great hidden gem in terms of where to stay in London near the central attractions without the price ticket that accompanies them.
Kensington (West) – Best for Royal Fans
Kensington, an upscale area located in the heart of West London, is a mine of tourist attractions. Most people associate it with Kensington Palace, the royal residence where Prince William and Duchess Kate live. However, it has plenty of worth-visiting sites, like London's dreamiest mews, rows of houses that used to be stables and boast unique character. You can also check Earl's Court, an area that has retained its distinct personality despite being within Kensington.
Kensington has a generous offer of hotels. If you're willing to splurge, Kensington has plenty of upmarket accommodation options near the palace.
King's Cross (North) – Best for Explorers
A major rail hub, King's Cross is a prime option for where to stay in London if you're planning to visit other parts of Europe. The vibrant neighborhood is home to St Pancras International, London's main Eurostar hub with services to continental Europe every day. Brimming with pubs, restaurants, music venues, and lovely green spaces, King's Cross has become a new cultural hotspot for Londoners.
Not too far from King's Cross is Somers Town. Unlike other glitzy London areas, Somers Town boasts a low profile. Being a quiet area, you won't have to push through tourist throngs or feverish Londoners running errands. While you have more than enough bars, restaurants, and cafés to visit in Somers Town, the neighborhood is within touching distance from popular landmarks so you'll be able to wander around easily.
Both King's Cross and Somers Town has plenty of hotels and rental options!
Marylebone (Central) – Best for Bar-Hopping
While I haven't explored Marylebone thoroughly during my visits, I can assure you one thing, there's no better area to stay in London for food and drinks connoisseurs. This chic residential area has a fantastic gastronomic scene and is home to some of London's most acclaimed restaurants.
Marylebone extends from North to South London, starting in Oxford Street and ending in Regent's Park. Besides its delectable gastronomic scene, Marylebone also has other noteworthy attractions, like 221b Baker Street (Sherlock Holmes' would-be residence), the Sherlock Holmes Museum, and Madame Tussaud's Wax Museum.
Paddington (West) – Best for Families ‍ ‍ ‍
Paddington is a West London neighborhood, full of luscious green parks and world-class entertainment, but its best feature is the amazing transport links. Paddington is a commuter's dream; you can easily access major attractions by rail, bus, car, or foot. It offers transport on Circle, Bakerloo, District, and Hammersmith & City lines. Also, Oxford Street is only ten minutes away.
You can find a plethora of accommodation options within walking distance of Paddington station to choose from. Since this area is a bit off the beaten path but has great transit access, it's great for families who might want a bigger space at a better price.
Shoreditch (East) – Best for Hipsters
One of the hippest neighborhoods in London, Shoreditch has given birth to some of the world's most famous street artists. It's especially popular among younger generations, with teenagers, young creatives, and fashionistas flooding its streets.
Shoreditch has a heritage of being home to London's first two theaters. It has never lost its artistic flair and today holds the title as the capital's top street art scene. There are also trendy museums, hip bars, and alternative shops wherever you look. You can also explore its green spaces, like Hoxton Square, one of London's oldest squares.
If you already know that Shoreditch is the place for you, great news! The fashionable neighborhood is brimming with hotels at unbelievably affordable prices.
Southwark (South) – Best on a Budget
Long gone are Southwark's industrial days. Today, South London's most ancient town has become one of the most desirable areas in the city.
It is a goldmine of landmarks. You'll find London's best sight at every step, including the world-famous Tate Modern, The Shard, and the Globe. Thanks to its privileged location, you'll also be close to the unmissable attractions, like London Eye, Borough Market, and the London bridge. Unsurprisingly, Southwark has excellent connections to the rest of London, with underground stations on the northern edge and plenty of National Rail and Overground links.
Best of all, you can still find semi-reasonably priced places to stay in Southwark because it's not quite as conveniently connected to the Tube and bus system as other parts of the city.
Whitechapel (East) – Best for History Buffs
If you're a crime or history buff, you might know that Whitechapel served as Jack the Ripper's favorite area to commit his bloody murders back in the 1800s. However, times have changed, and so has Whitechapel.
Today, it is a multicultural district with a wealth of attractions worth visiting. If you're an art person, head out to Whitechapel Gallery to see some quirky contemporary art. Those who want to buy souvenirs can explore Whitechapel Market and then stop by Brick Lane to sample exotic dishes.
When it comes to the best neighborhoods in London, Whitechapel is an unbeatable option. It also offers plenty of lovely hotels and rentals to call home for a few days, and has cleaned up a lot since ol' Jack's days.
Other Great London Areas to Stay
Have none of the areas above found a way to your heart? Don't worry we've included four more areas that you can consider on your next London trip.
Angel (North)
Located on the northern fringes of central London, Angel is an excellent option for where to stay in London if you want to stay close to the action. It also has excellent transport links, with two tube stations and the overground. However, what makes Angel so special is how it has been able to retain its uniqueness. Being so close to the City hasn't influenced the lively neighborhood, which has stayed loyal to its own personality and charm.
Upper Street is the heart of Angel, with gastronomic and cultural hotspots you won't be able to ignore. You can check out N1 center and Camden Passage, brimming with high-end and vintage shops for the fashionistas if you'd like to do some shopping.
Unfortunately, Angel doesn't have lots of accommodations for travelers.
Farringdon (Central)
Farringdon is a small neighborhood located in the southern part of Islington. It has a cool and youthful vibe due to its closeness to Bloomsbury and the academic institutions. Being so popular with students, you'll find there's plenty of student housing.
Farringdon Station is the neighborhood's heart, and it's an excellent gateway if you have organized day trips to other English cities from London. Its streets are full of trendy restaurants, lovely boutiques, and gastropubs to explore during the day.
Holborn (Central)
Located in Central London, Holborn has everything you need just a stone's throw away. It has excellent transportation links, with the Central and Piccadilly lines running through the neighborhood. You can also avoid public transportation and walk to several landmarks. For example, Covent Garden is only a ten-minute walk from Holborn. Despite being so close to the bustling areas, Holborn remains quiet, especially at night to guarantee a good night's sleep.
While you might find hotels around the area, you'll have a harder time finding vacation rentals here since the buildings are mostly businesses and offices.
Shadwell (East)
Shadwell is a bustling mixture of old and new buildings, and still harbors vestiges of its maritime past. It lies between Wapping and Whitechapel, making it an excellent base to explore the city.
Shadwell also embodies the perfect balance between tranquil and lively areas. You'll see some parts are full of riverside pubs and casual cafés, while others boast modern apartments in warehouses and Georgian and Victorian houses.
Getting around in Shadwell is a breeze thanks to the neighborhood's transport links and its closeness to some of London's landmarks. It also has tons of hotels and rentals to choose from.
Waterloo (South)
Waterloo might not be an obvious option for most travelers. However, it's a stunning place to stay on your visit to London. While it might seem more average than other London areas, Waterloo offers a lot to do and see. First, Waterloo is rich in theaters, with some being world-class, like The Old Vic and the National Theatre. Waterloo is also an excellent place to experience London's lively nightlife. Kennington Road is brimming with cafés and gastropubs that cater to post-work Londoners.
To top things, Waterloo is centrally located, which means you'll be within walking distance from many landmarks, especially those along the South Bank. It also has excellent connections on the London Underground, and there are plenty of bus routes running through the area. If you need help getting started, here's a list of cheap hotels near Waterloo.
The only question now is which area you'll choose to stay in London – as there are many great choices! If you have questions about these best areas to stay in London? Let me know in the comments or ask it in my London Travel Tips Facebook group!
Valerie
Valerie fell in love with London on her first trip to the city way back in 2011. Since then, she spent a year living in London and visits as often as she can. Join her to explore my favorite city on earth and learn everything you need to discover the best London has to offer!
You May Also Like
The 7 Best Cheap Hotels Near London Euston Station
May 24, 2022
Amba Hotel Marble Arch (Hotel Review)
November 22, 2021
Best Places to Stay in London – The Insider's Guide to Where to Stay on Your Trip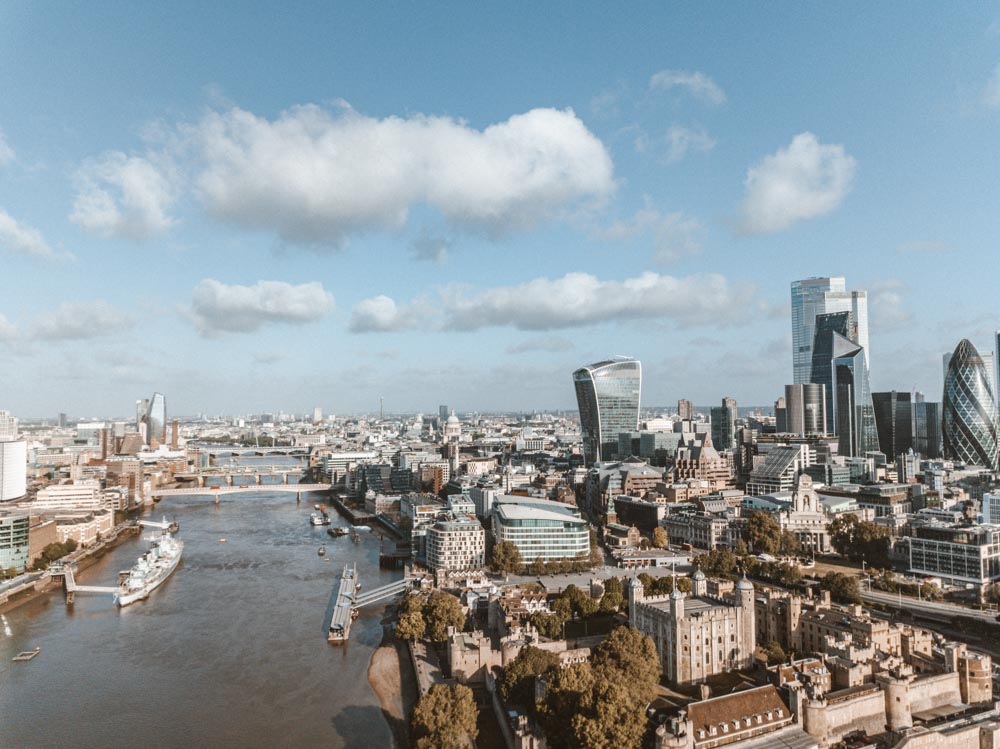 Maybe I'm biased as it's my hometown, but there's something so special about London.
To the uninitiated, this city, packed with more than 9 million people, is a mystery. There are so many things to do and places to see in London that it can be a boggle.
Well, worry no more – I've written a comprehensive guide to the best areas to stay in London and where to stay in London to help you choose the perfect spot to suit your travels.
Best Area to Stay in London At A Glance: Covent Garden
The best area to stay in London is Covent Garden, particularly if you are a first-time visitor. Covent Garden is home to lots of London's attractions, has tonnes of cool bars and restaurants and is in (really short) walking distance to other London hotspots like Westminster, Trafalgar Square, Soho and Piccadilly Circus.
Covent Garden properties come at a price, but are well located for getting around and proximity to the big sights.
Suggested Stay in Covent Garden: The Henrietta Hotel
A chic pick in the centre of town.
The Henrietta
Prestigious Hotel In the Heart of Covent Garden
The Henrietta is one of my favourite places to stay in London. It's cool and (ever so) chic yet doles out spectacular 5* service, making guests feel comfortable.
Inside the hotel feels like someone's (very expensive) home. That's partly down to the size (18 rooms) and partly down to the decor.
Think contemporary minimalist with quirky art deco touches.
Interior designer Dorothée Meilichzon has gone to town in the bedrooms – gold lamps, mirrors, upholstered headboards. It all sounds too garish for words when you describe it, but in reality it's just beautiful.
It's nice to see something a bit different to the standard white walls with neutral accents favoured by many hotels.
That's all before you get to the incredible location, mere paces away from Covent Garden Market. Highly recommended.
Search for accommodation in London
Best Places to Stay in London
The West End – Best for First Time Visitors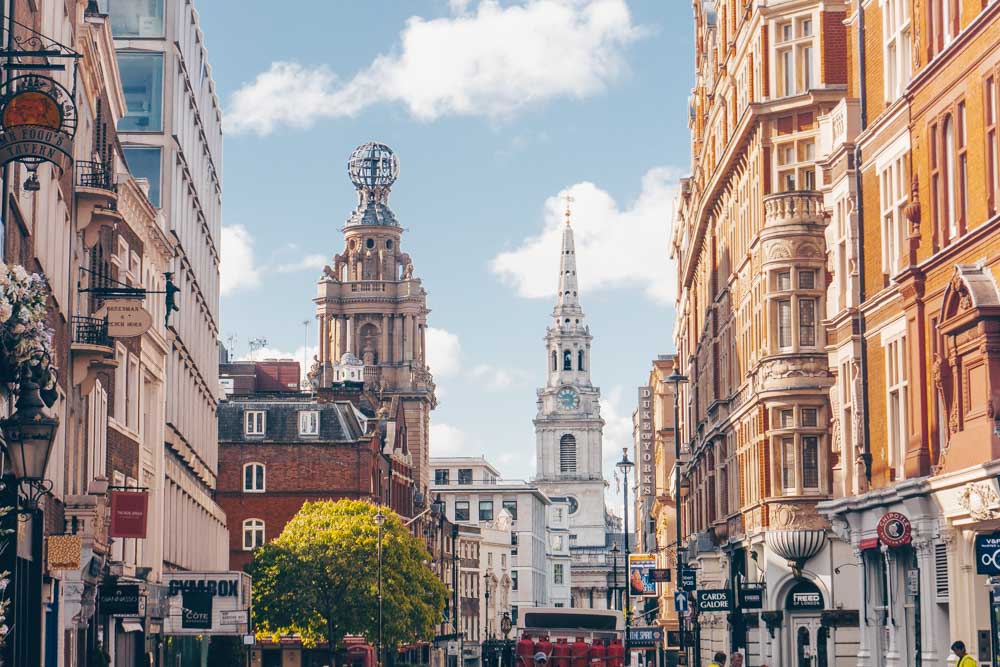 Yes, the West End is busy, but it's enchanting. For many, The West End is London – buzzing, packed and always lively.
The West End – which generally refers to Covent Garden, Piccadilly and Leicester Square – is undoubtedly the best area to stay in London for sightseeing and shopping. But it's got a lot more to it than West End theatres. Although, if you're looking for where to stay in London for theatre, this is it.
Day or night, there's always a play to see, music to hear and something to keep you occupied.
I think that the West End is the best area to stay in London for first time visitors and, of course, where to stay in London for theatre, as it offers the London experience.
Prepare yourself for London at its most exuberant and you won't be disappointed.
West End Highlights
A play at a West End Theatre
The British Museum – Britain's most visited attraction and a tour around the world throughout the ages.
Oxford Street – The UK's most famous shopping street can be an eye-opening, if slightly overwhelming experience – plus its festive lights are practically a rite of passage for Christmas in London.
Piccadilly Circus – The bright lights and large adverts are one of London's most iconic sights.
Hotel Cafe Royal, Piccadilly Circus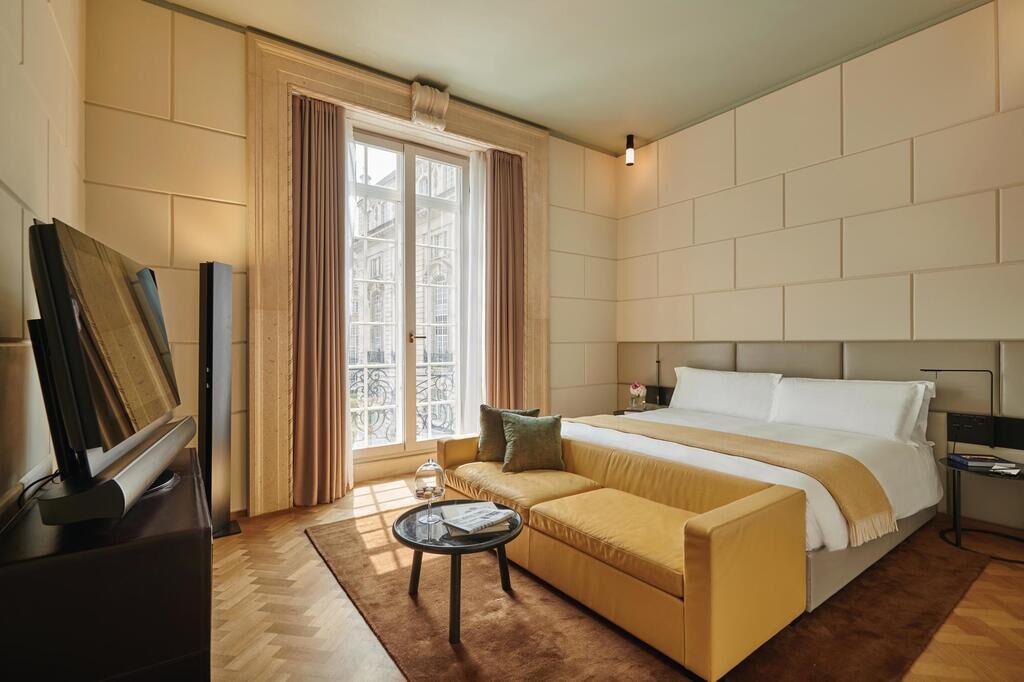 An oasis of calm in the heart of Piccadilly Circus
Even if you haven't been to London before, chances are you've seen a picture of Piccadilly Circus – one of the iconic London views. Guests staying at Hotel Cafe Royal are lucky enough to see this view as soon as they step out of the hotel – thanks to its Regent Street location.
Still, it takes much more than a great location to garner a reputation as one of the best places to stay in London. Lucky for us, Hotel Cafe Royal has a lot more on offer – most notably, its spa.
The Akasha Spa is reason enough to book your trip. This London spa hotel is a quiet enclave of peace and serenity, complete with a spa menu that will excite even the most dedicated (and dare I say it, jaded) spa-goer.
Book in for a session in one of the nine treatment rooms. Looking for something a little different? The Akasha Spa boasts London's first Watsu pool, which is used for a range of specialist hydrotherapy treatments. I challenge you to finish one without feeling completely relaxed (be warned: I'm pretty sure that it's impossible).
Hotel Cafe Royal, 68 Regent Street, London, W1B 4DY.
Rooms start from £330
Westminster – Best for Tourists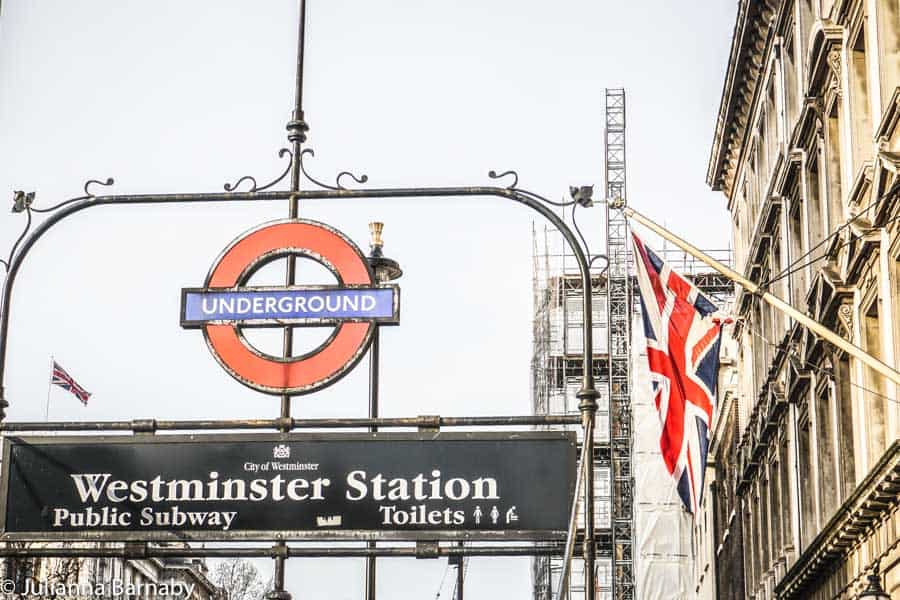 If you're wondering which area is best to stay in London for tourists – I'm going to say that Westminster is a great bet.
Stretching back from the River Thames, Westminster is at the top of many London visitors' lists thanks to sights such as The Houses of Parliament, Westminster Abbey, Trafalgar Square, and the National Galleries. For this reason, Westminster is the best London neighbourhood for tourists.
It's a short walk to the West End and there are good transport links to most parts of London. When it comes to the best neighbourhood to stay in London for sightseeing, Westminster is at the top of the bill.
Westminster Highlights
Westminster Abbey – Royal weddings, coronations and royal burials – Westminster Abbey has seen them all.
The Houses of Parliament and Big Ben – The seat of British parliament is a suitably ornate affair on the banks of the River Thames. Plus you can't come to London without seeing Big Ben. – There may be fewer pigeons these days, but London's most famous square is still a great spot to people-watch in the shadow of Nelson's Column.
The National Galleries – The National Gallery and National Portrait Gallery each house an impressive collection. Entry is free of charge, apart from to special exhibitions.
The Corinthia London, Westminster
London's best spa hotel – you'll never want to leave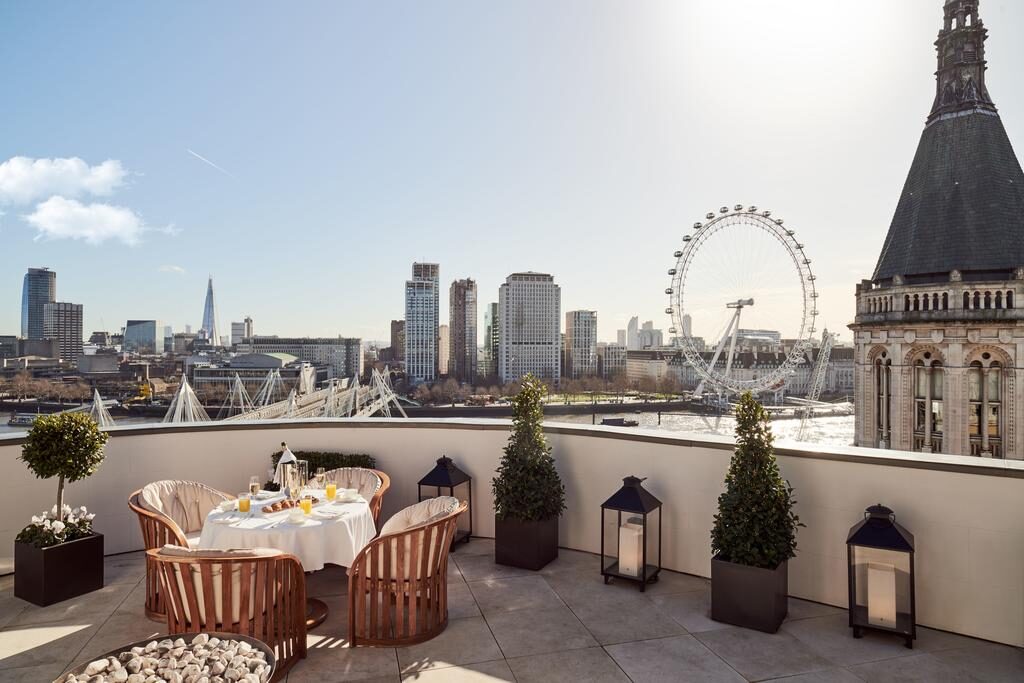 What's not to love about The Corinthia? A grand hotel that opened less than a decade ago, it's got luxury London lifestyle stamped all over it.
While you might be attracted by the fine-dining restaurants, stellar bars and uber-luxe rooms and decor, there's one thing that you shouldn't miss in The Corinthia, and that's its spa.
Why have I chosen the Corinthia as one of the best spa hotels in London? ESPA Life is not only the city's largest spa, but also its most luxurious.
Imagine 3,300 square metres of pure decadence, ready for you to spend some serious pamper time in. There are 17 treatment rooms and, rather enticingly, private sleep pods for you to have a snooze in after you finish your treatment.
The treatment list is extensive – covering the usual massages and facials as well as several "journeys" exclusive to ESPA. Skilled therapists will advise you on the perfect combination of treatments if you're not sure where to start.
The Corinthia London, Whitehall Place, Charing Cross, London, SW1A 2BD.
Rooms start from £350
London Bridge and the South Bank – Best for Tourist Attractions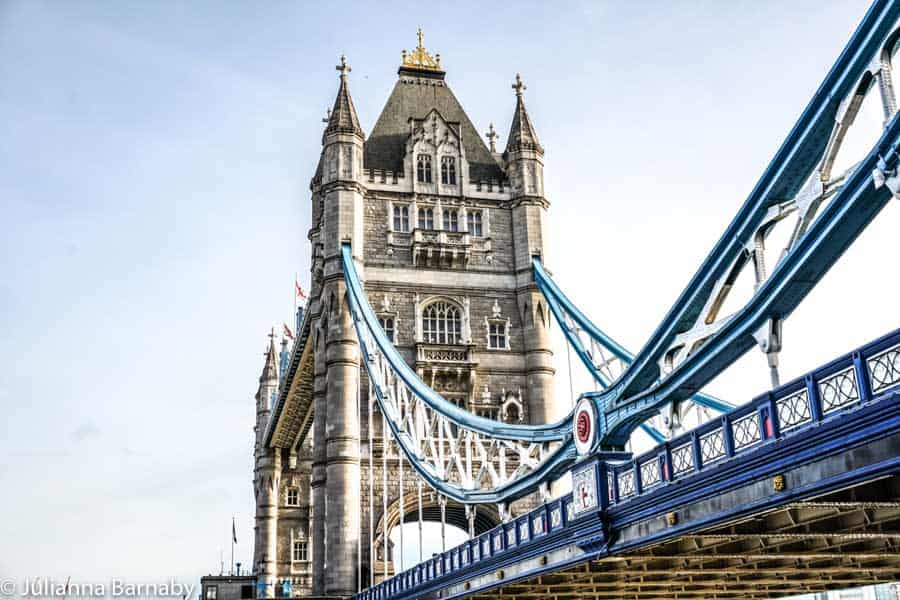 Tower Bridge
More than just a common nursery rhyme, London Bridge makes a good base for exploring London thanks to its central location and excellent transport links.
London Bridge might not be the first place you think of when you ask where to stay in Central London, but it's an excellent choice.
London Bridge and the South Bank Highlights
Afternoon tea at Ting in the Shangri La. You can enjoy the views (and the food) from the Shangri La in the Shard by booking in for their afternoon tea. – London's most famous food market. Go with an empty stomach, buy gourmet treats to bring home before settling in to one of the excellent restaurants in the area (Wright Bros. and Brindisa are particularly good).
The Viewing Platform at The Shard – Survey the city from the top of its tallest building
The London Eye – Observe London as you circle around this giant observation wheel.
The National Theatre – Groundbreaking plays, old classics and more – the National Theatre consistently puts on the best shows in town. Tickets can be hard to come by but can often be bought on the day if you have the time to call or queue (or can sometimes be bought online too).
Skylon – Dinner and cocktails with views in the Oxo Tower.
The Tate Modern – London's largest modern art gallery towers above the South Bank. A must visit for all contemporary art lovers.
Shangri La at The Shard, London Bridge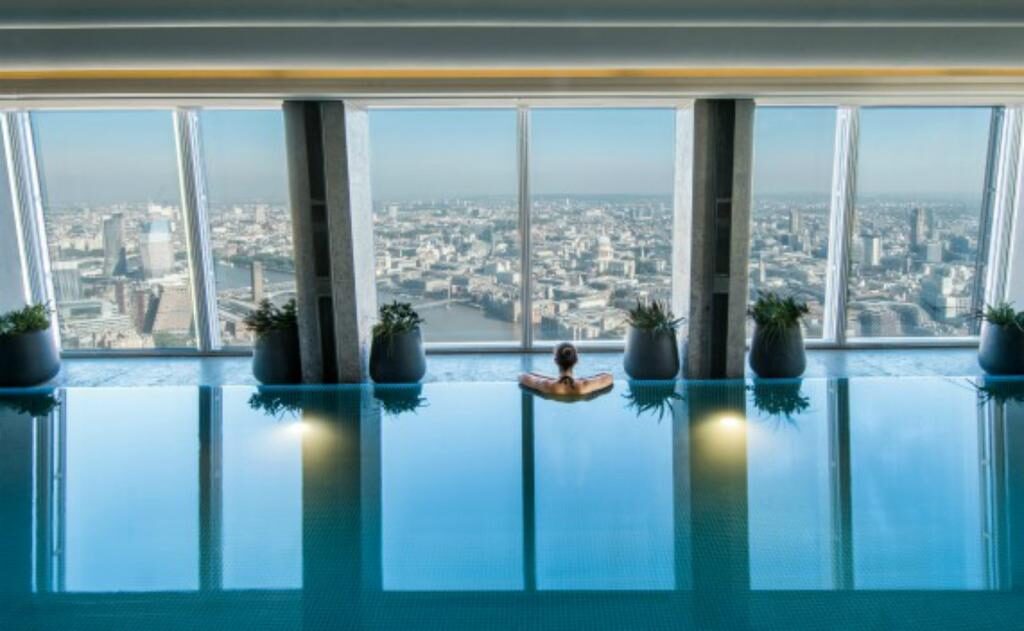 Rooms with an incredible view
The Shard is London's tallest building, so it makes sense that its hotel, the Shangri La, has some of the best room views in the city. Still, that doesn't do it justice.
Perched on floors 34 to 52 of the building, Shangri La is an excellent luxury hotel in London that just happens to have an absolutely amazing view everywhere you look.
The hotel is everything you would expect from luxury brand Shangri La – service is friendly yet efficient, with an excellent roster of restaurants and bars and a free breakfast.
There are L'Occitane toiletries in the room, and marble bathrooms with heated floors. It's a business-oriented hotel, but still has obvious appeal for leisure travellers too.
Relaxation wise, the infinity pool on the top floor is a must. I won't blame you if you get distracted from your laps by the sight of London from above. If you do completely give up on the pretence of swimming, the adjacent loungers come with full service and the same views.
Don't forget to book into Ting for one of the best afternoon teas in the city either.
The Shard is right next to London Bridge station – as in less than a minute away, so you can get around the capital with ease. Borough is full of foodie treats to explore, including the legendary Borough Market.
Shangri La, 31 St Thomas St, London SE1 9QU
Rooms start at £340
Sea Containers, South Bank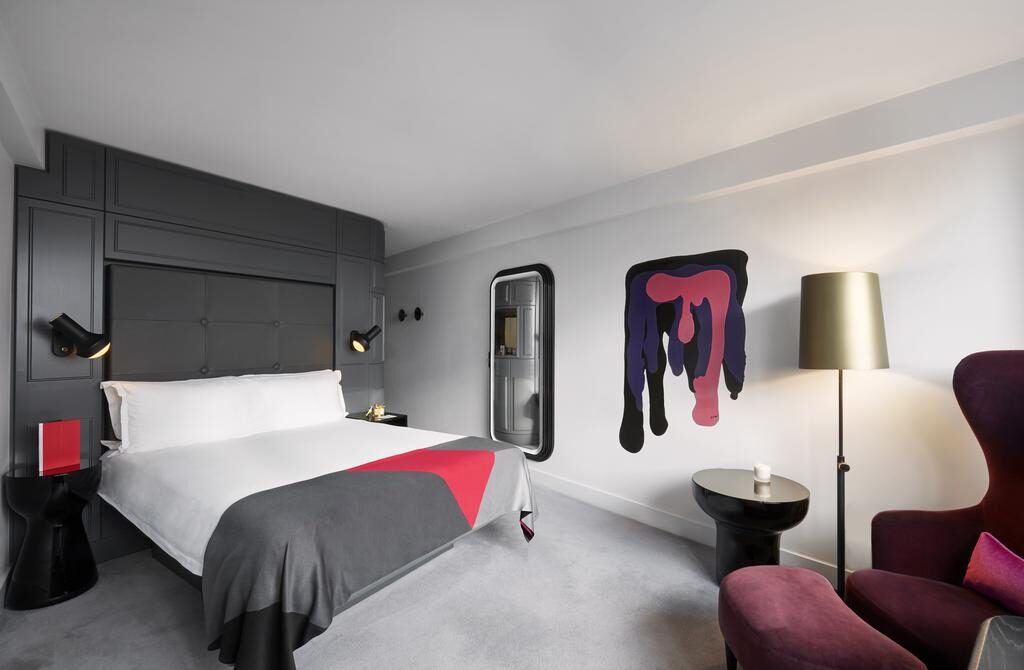 Whimsical style with River Thames views
I know it's wrong to have favourites, but the Sea Containers really is one of my favourite hotels.
Why? Well, it's located on the South Bank, a short walk away from the National Theatre, Royal Festival Hall and a fabulous street food market. It overlooks the Thames and rooms come with the view to match. More than that though, it's just got the whole luxury hotel thing down to a T.
Designer Tom Dixon has excelled here, creating a five star London hotel that is both playful and high-end at the same time. The whimsical style is meant to emulate a transatlantic ocean liner – a play on its Thames-side location.
Don't feel like going out? Mondrian at Sea Containers has you covered: whether it's seeing a film in the in-house Curzon cinema, sipping on cocktails in the rooftop Rumpus Room or spending an afternoon in the spa, you could occupy yourself for a whole weekend without stepping foot outside of the hotel.
Mondrian at Sea Containers, 20 Upper Ground, London SE1 9PD
Rooms start at £140
Soho – Best for Nightlife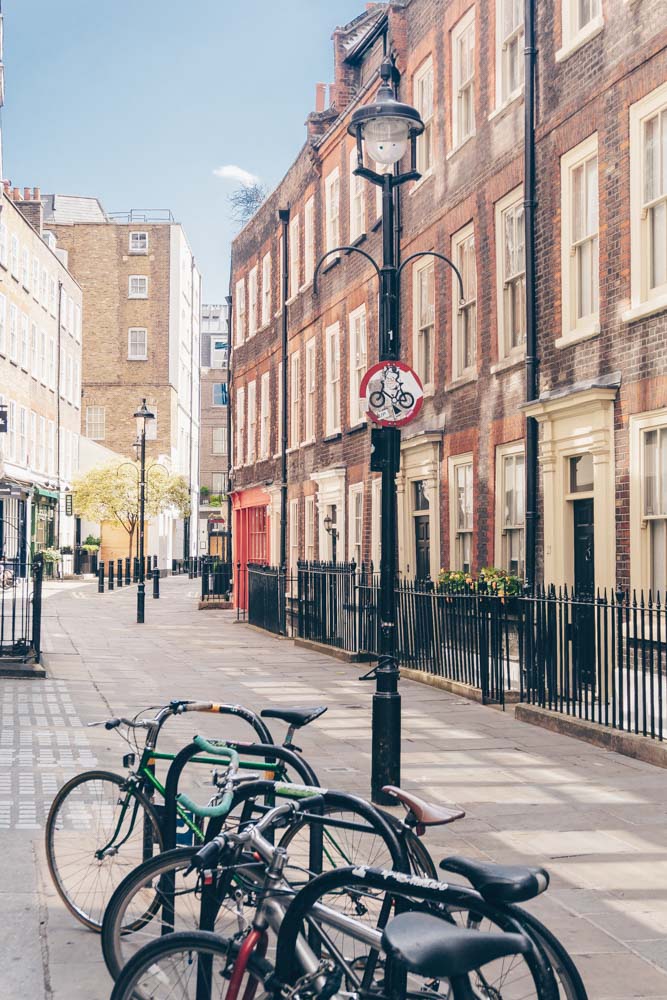 I've chosen Soho as the best area to stay in London for nightlife. There are a number of clubs and late-night bars in Soho itself, it's within walking distance to some of the capital's liveliest clubs too.
Trendy Soho has undergone something of a regeneration in the past decade. What used to be a rather seedy part of the city centre has been transformed into one of liveliest parts of town.
While it's still a lively hub, with some of London's best restaurants and bars, Soho has also welcomed a range of high-end hotels. If you're looking for the best nightlife and you're asking yourself, where should I stay in London, Soho is your new best friend.
Soho Highlights
Yautcha – Delicious all-day dim sum at affordable prices. – Gorgeous Russian-European hotel serving up gastronomic treats and cocktails. The ultimate date night dinner.
Curzon Cinema – Watch the latest indie flicks in comfort and style. Also hosts live talks and panel interviews.
Ham Yard Hotel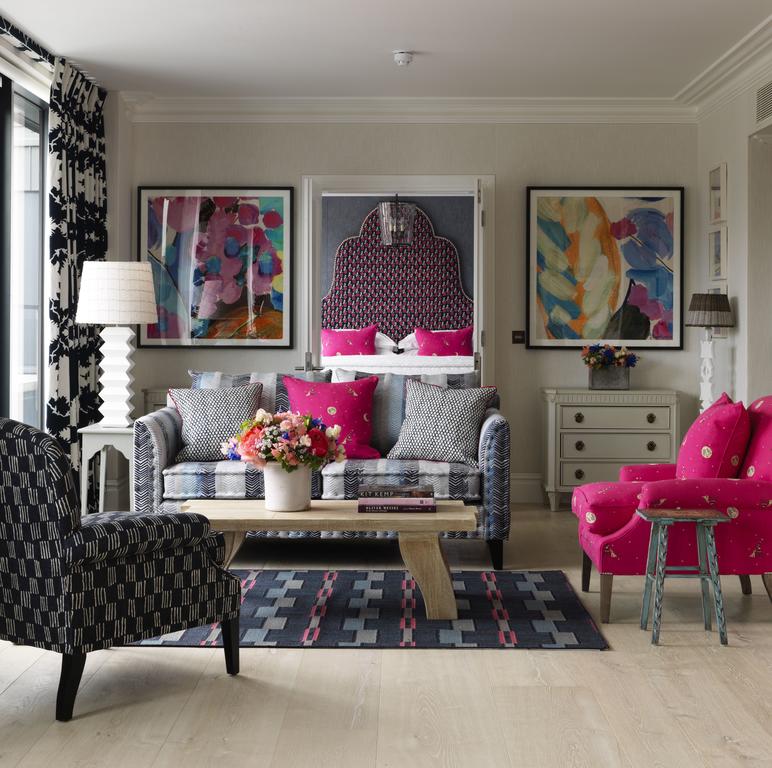 Maximalist decor and… a bowling alley to boot.
If you've heard of Ham Yard Hotel, you might be thinking "Ham Yard Hotel – is that the hotel with its own bowling alley?".
It's the very same.
One of London's best boutique hotels, Ham Yard combines eclectic and maximalist decor with oodles of personality and bags of comfort.
This is my favourite property from award-winning hoteliers Tim and Kit Kemp thanks to its unusual style and unpretentious feel.
Sound like your kind of place (the only answer to that is yes)? You'll be glad to know that it's tucked in a handy location at the bottom of Regent's Street – perfect for your central London break.
Rooms start at £310, One Ham Yard, Soho, London, England, United Kingdom, W1D 7DT
Kensington – Best Place to Stay in London With Family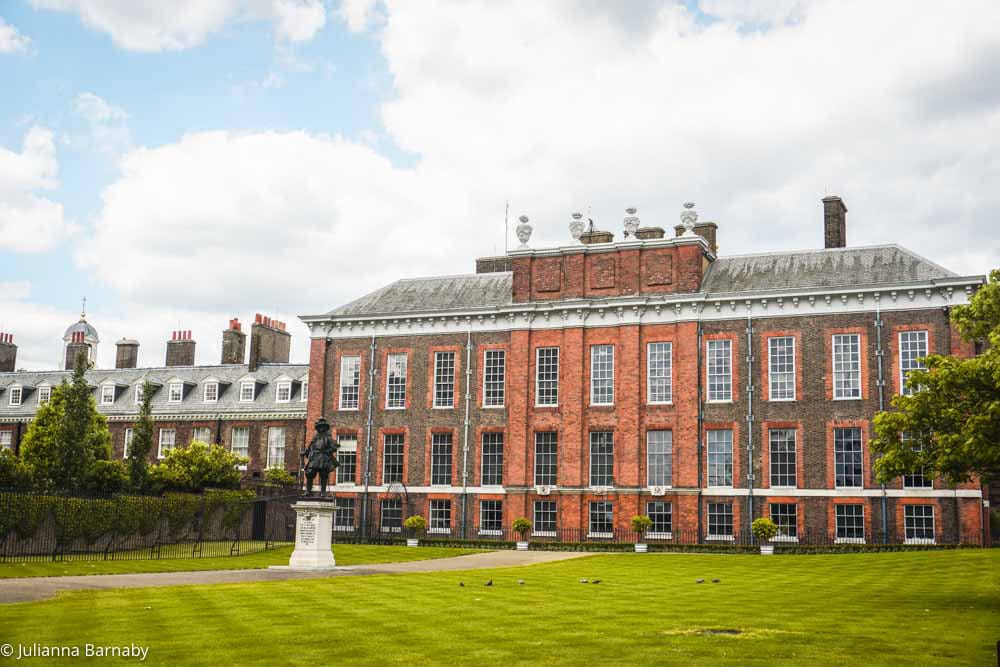 Kensington Palace
It's not called Museum Mile for nothing. Kensington has some of the city's best-known museums: The Natural History Museum, Science Museum and gloriously eclectic Victoria & Albert Museum (V&A).
Kensington is the best area to stay in London with a family, thanks to the number of free museums within walking distance and its slightly more relaxed pace.
It is relatively expensive, but there are so many pluses. It's also easy to hop on the underground or a bus to get into the centre quickly.
Away from the museums, do like the locals do and enjoy leisurely alfresco coffees in the summer before popping into a high-end restaurant for a culinary treat.
Kensington Highlights
The Natural History Museum – Dinosaur skeletons, geology more – explore the natural history of the world.
The Science Museum – Wacky experiments, interactive exhibits and thought-provoking facts. Learn something new during a visit to the Science Museum.
Victoria & Albert – The world's largest museum of decorative arts and design is an eclectic array of over 4.5 million objects.
Cambio de Tercio – One of London's best Spanish restaurants.
The Ampersand Hotel, South Kensington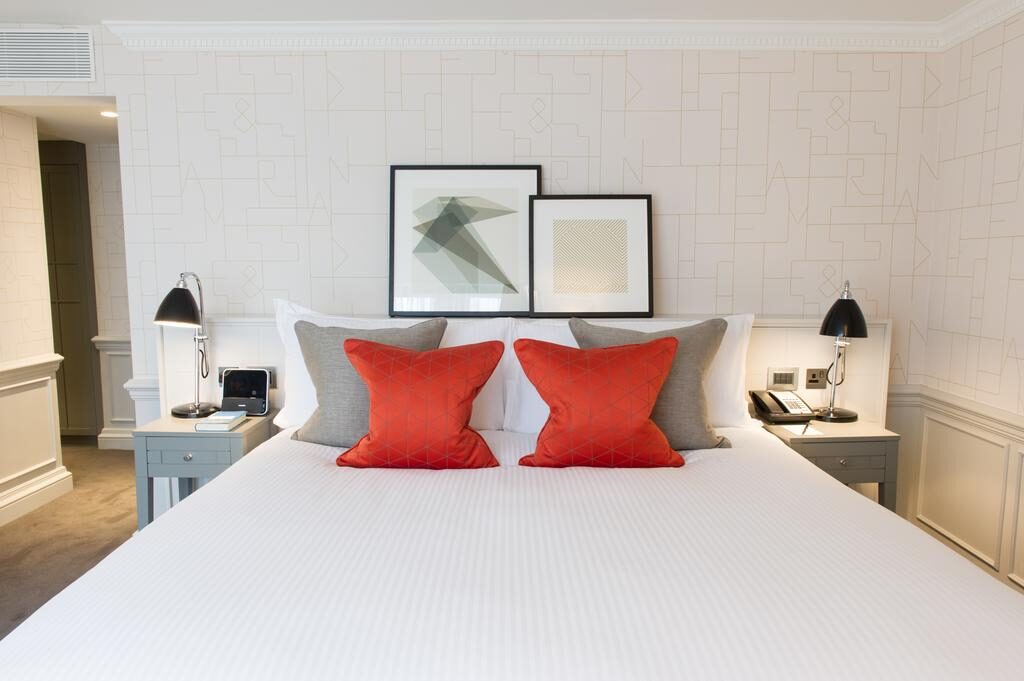 Family-friendly luxury in the heart of South Kensington
Round the corner from the famous so-called "Museum Mile" The Ampersand's location is draw enough to families planning on spending some time in the Natural History Museum, Science Museum and V&A.
It can sometimes feel like family-friendly luxury hotels in London are few and far between, but the Ampersand excels at balancing the two.
Billing itself as one of London's best family hotels, the hotel offers additional beds for certain room categories and there is also the option of an interconnecting room.
Families will be particularly interested in the suites, which come with mini kitchenettes. Perfect for preparing kids' snacks or babies' meals in. There's also a full children's menu in Mediterranean style Apero Restaurant downstairs.
The Ampersand Hotel, 10 Harrington Rd, Kensington, London SW7 3ER
Rooms start from £175
Blakes Hotel, Kensington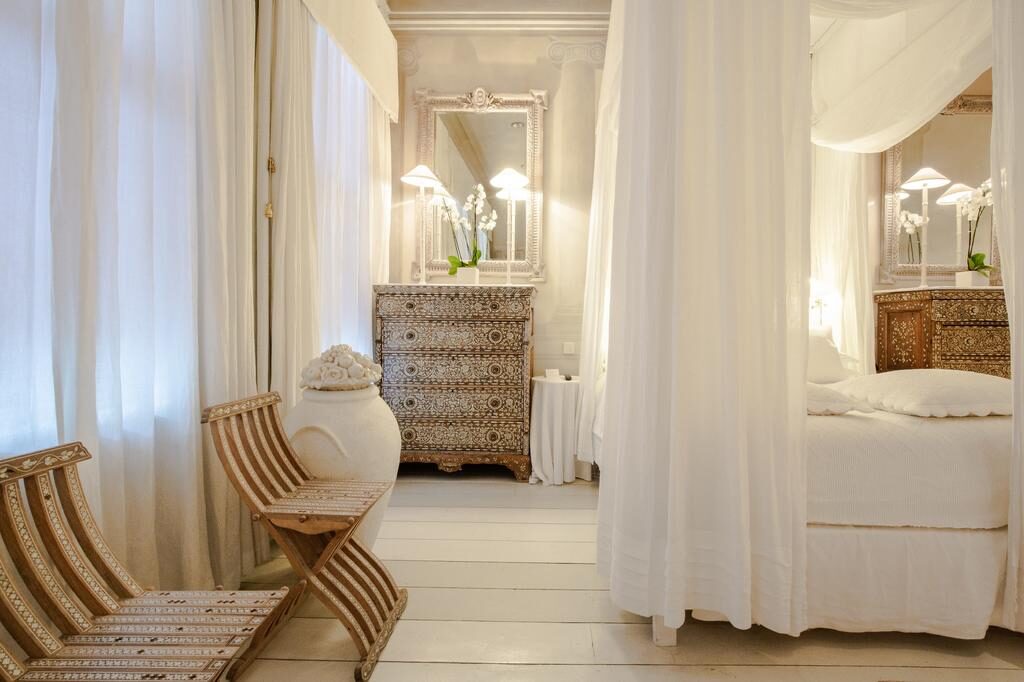 A sumptuous series of townhouses – a long-established luxury London gem
OK, this one is most certainly not family friendly, but if you are planning on staying in Kensington sans kids, take a look at Blakes.
One of the original London boutique hotels, Blakes has been providing London's visitors with a decadent place to lay their heads since 1978.
The hotel is the perfect destination for a romantic break in London, thanks to the dramatic and individual decor. Four-poster beds, gilt frames, freestanding baths – it's theatrical style provides a fitting backdrop for a couples escape.
Well-heeled Kensington is brimming with dining and drinking options for a special meal. Alternatively, cosy up in the opulent Blakes Below bar for a romantic date night in the hotel.
Blakes Hotel, 33 Roland Gardens, South Kensington, London, England, SW7 3PF.
Shoreditch
Street food markets, street art and container shopping centres – Shoreditch never ceases to reinvent itself.
Stay in Shoreditch if you want to see London like a local, and if you're looking for where to stay in East London. In fact, Shoreditch is one of the best places to stay in London, period.
Yes, there are high end hotels and swanky bars, but a lot of Londoners live, sleep and play in Shoreditch too.
Shoreditch is the best neighborhood to stay in London for those who want to experience a different side of London. One that's less glamorous, a bit grittier but that's full of low-key bars, cool cafes, pop up restaurants and lots to do.
A slew of luxury hotel openings in recent years means that you're spoilt for choice when it comes to finding a place to sleep in Shoreditch. And, regardless of who you are and what you enjoy, while it may not be the best area to stay in London for sightseeing, Shoreditch is without a doubt the best area to stay in London if you're looking for that local flavour.
Shoreditch Highlights
Boxpark – The original London shipping container hub of restaurants and shops is still its best. – Get up early at the weekend for a dazzling display of floral arrangements at this long-standing market.
The Clove Club – No menu – just five courses of perfectly-made food for a show stopping dinner.
Ace Hotel, Shoreditch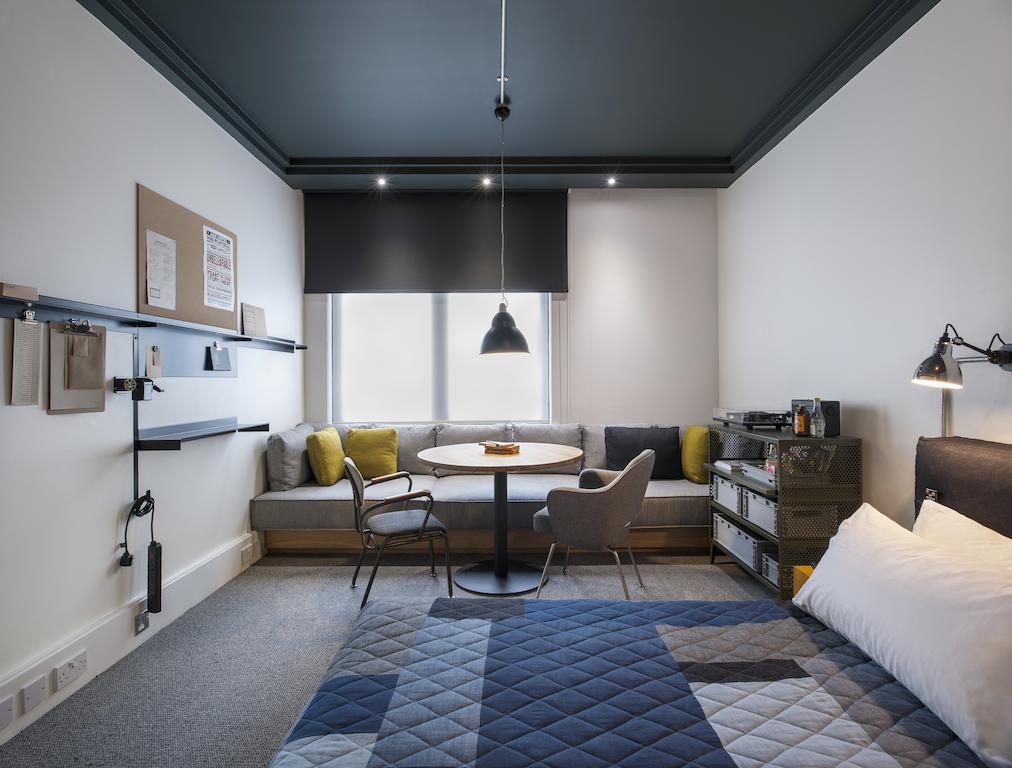 One for the cool kids in buzzy Shoreditch
Shoreditch is one of London's coolest neighbourhoods and a fitting home for the Ace Hotel London.
This London outpost of the achingly cool US chain burst onto London's hotel scene, paving the way for the many stylish and hip hotel properties that have followed in its wake.
So, what's to love? The great location for starters, the vibrant decor, the blink-and-it's-there service, the effortlessly chic decor – the list is endless. Think sixties decor paired with light wood and splashes of colour.
Bedrooms are some of the most stylish in town – with denim APC bedcovers and mid-century modern touches. Bathrooms are suitably on-trend too, with concrete sinks and an industrial vibe.
The lobby / coffee shop and bar is always buzzing, filled with a mix of the city's creative types and hotel guests.
Ok, I'll admit, Ace is not the kind of hotel to book for if you want to escape for a weekend from it all, but if you are looking for somewhere a little different for your stay, this should be the first port of call. Ace Hotel effortlessly pairs five star surrounds with the kind of atmosphere that other hotels can only dream of.
Night owls can hang out in any one of Ace's bars. The Gallery Bar makes the perfect pre-dinner drinking spot, whereas Miranda's, the basement bar is more suited to the late evening and early hours of the morning.
Ace Hotel, 100 Shoreditch High St, London E1 6JQ
Rooms start from £128
The Curtain, Shoreditch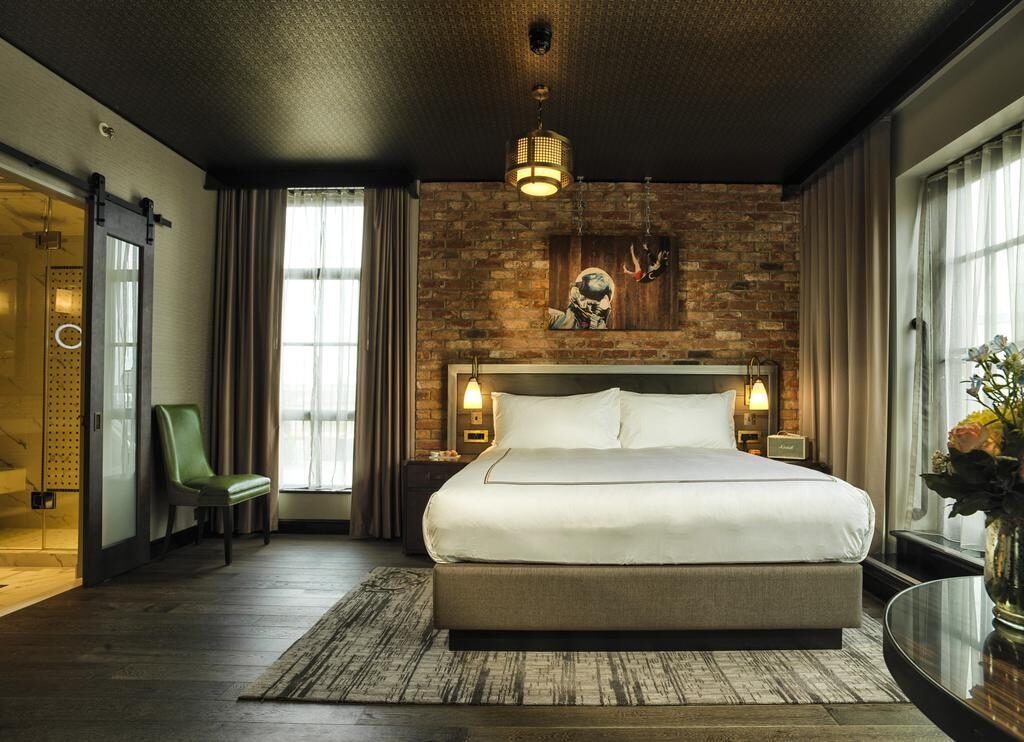 A slice of New York in a Shoreditch location
It's hard to gain a reputation as being cool in Shoreditch these days. In an area that's brimming with some of London's coolest hotels, restaurants, pop ups, bars, shops – not to mention street art, you have to be pretty outstanding to stand out from the crowd.
Well, certainly New-York hotelier Michael Achenbaum, the man behind new(ish) hotel The Curtain is doing something right. Less than a year after its opening, The Curtain has cemented a loyal following thanks to its too-cool-for-school attitude and impressive digs.
The rooms walk the line between contemporary and rough-luxe, with exposed brick bedroom walls metres away from marble bathrooms.
Yes, The Curtain knows that it's cool and it's not afraid to flaunt it – hence the sneaker shining service to bring new life to your trainers, and the customised Carhartt uniforms worn by all the staff.
You'd have to be pretty jaded not to do a double take at the 1,600 square metre rooftop – which boasts an outdoor pool, day beds and bar that are made for whiling away hot summer days in.
It's Shoreditch, so it should come as no surprise that The Curtain has an extensive bar and club offering, including a few restricted to members and hotel guests.
The Curtain, 45 Curtain Rd, London EC2A 3PT
Rooms start at £155
Mayfair, Belgravia and Victoria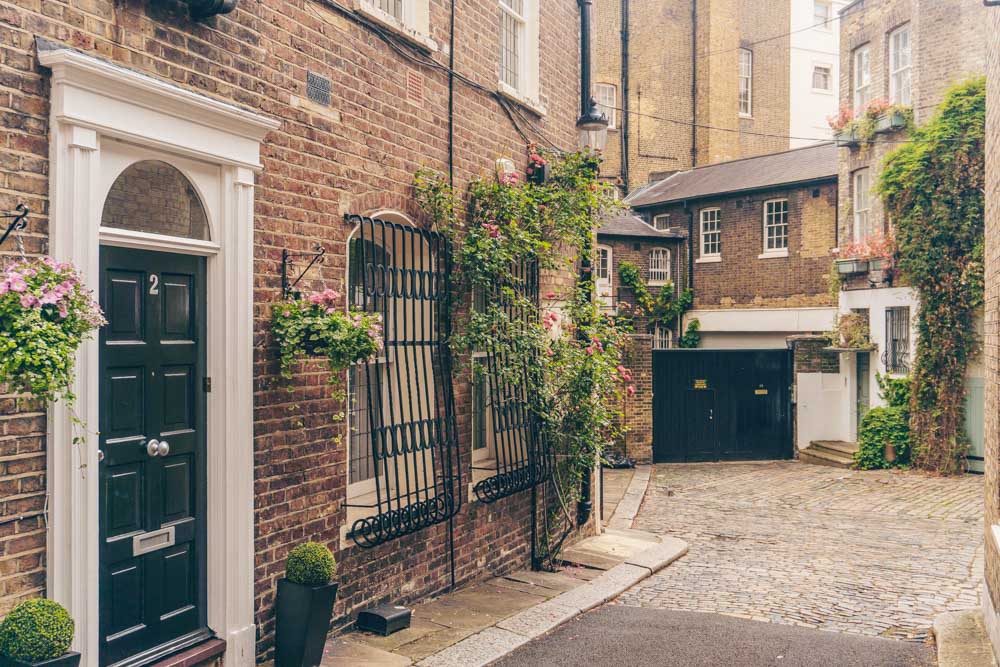 Mayfair, Belgravia and Victoria are actually three neighbourhoods next to each other in Central West London. But for anyone visiting London, they are united by their luxury clientele and some of London's most prestigious addresses.
So why have I chosen these neighborhoods as the best areas to stay in London for a luxury city break?
Well, anywhere that's good enough for the Queen is certainly good enough for me. Buckingham Palace might dominate the headlines when it comes to things to see, but there's a whole wealth of things to discover in this salubrious area.
Named after the May Fair that used to be held there until the 18th century, Mayfair's fairground days are long gone. It's home to some of London's best hotels (and certainly some its most expensive), with the high-end restaurants and shops to match. While it's certainly not the best area to stay in London on a budget, this part of the city is certainly a good area for those looking for luxury.
Mayfair, Belgravia and Victoria Highlights
Buckingham Palace – Visit the state rooms for a glance at the Queen's official residence.
St James's Park – The best of the central London Royal Parks, St James's is made for summer picnics and lakeside strolls.
Sketch – It's plastered all over Instagram for good reasons, the pink interiors are good enough to eat. Settle for a deliciously decadent afternoon tea there instead.
Royal Academy of Arts – Rotating exhibitions, talks and debates at this acclaimed institution.
The Goring, Belgravia
Grand Dame Hotel For a Downton-Style Escape
The only original London grande-dame hotel still under family ownership, The Goring is a quiet enclave of luxury and tradition in Belgravia. Genteel and elegant, everything about The Goring discreetly ticks boxes for high-end decadence.
Spacious rooms, opulent decor and the kind of service that comes from centuries of practice, it's no wonder that the Middleton family stayed at The Goring before the last Royal Wedding. The hotel also has one of the best afternoon teas in town, which is well worth a trip even if you aren't staying there.
The Goring, 15 Beeston Pl, Westminster, London SW1W 0JW
Rooms start at £295
Dukes, Mayfair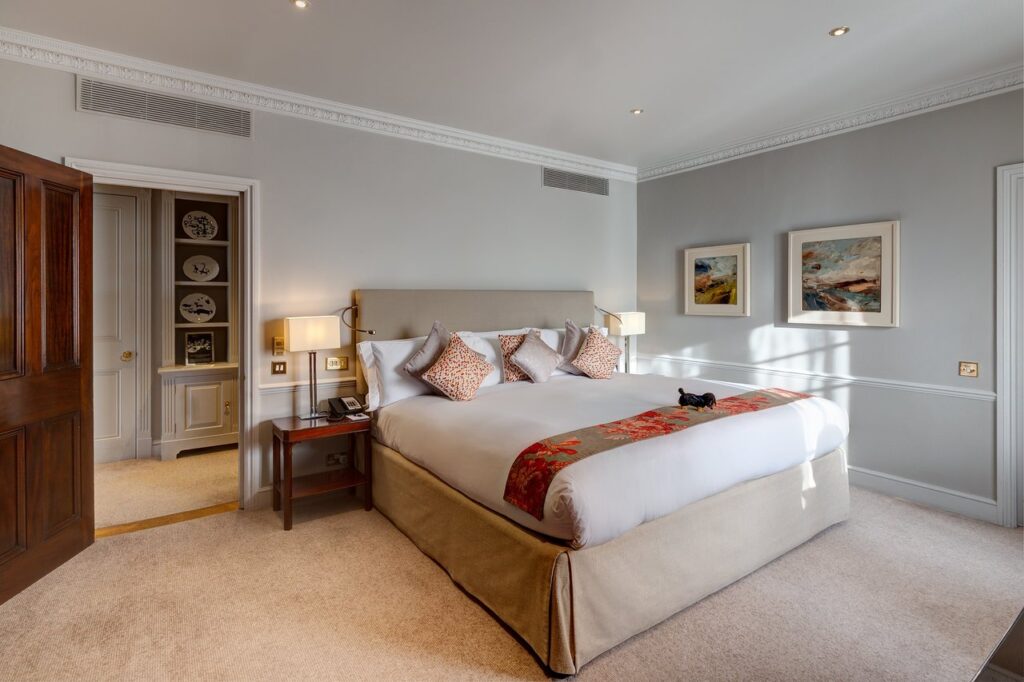 James Bond, Martinis and High-End Sleeps
A few steps away from Green Park (one of London's Royal Parks), Dukes has everything going for it when it comes to location and history. Luckily, nothing else disappoints.
This old-school cool hotel is the place to stay for the quintessential London break. Dukes is one of the best choices for where to stay in London thanks to its long-standing heritage of perfection.
No want is too big, no question too difficult for the staff to help you out with. A recent refurbishment has seen the rooms brought bang up to date with all the expected mod-cons (and a few extras too).
Location-wise, it's hard to believe that the frenetic pace of Mayfair is mere minutes from the muffled hush of the hotel. Yet a there's easy access to Green Park station and in the heart of all.
Dukes Hotel, 35 St James's Place, London, SW1A 1NY, England.
Claridge's, Mayfair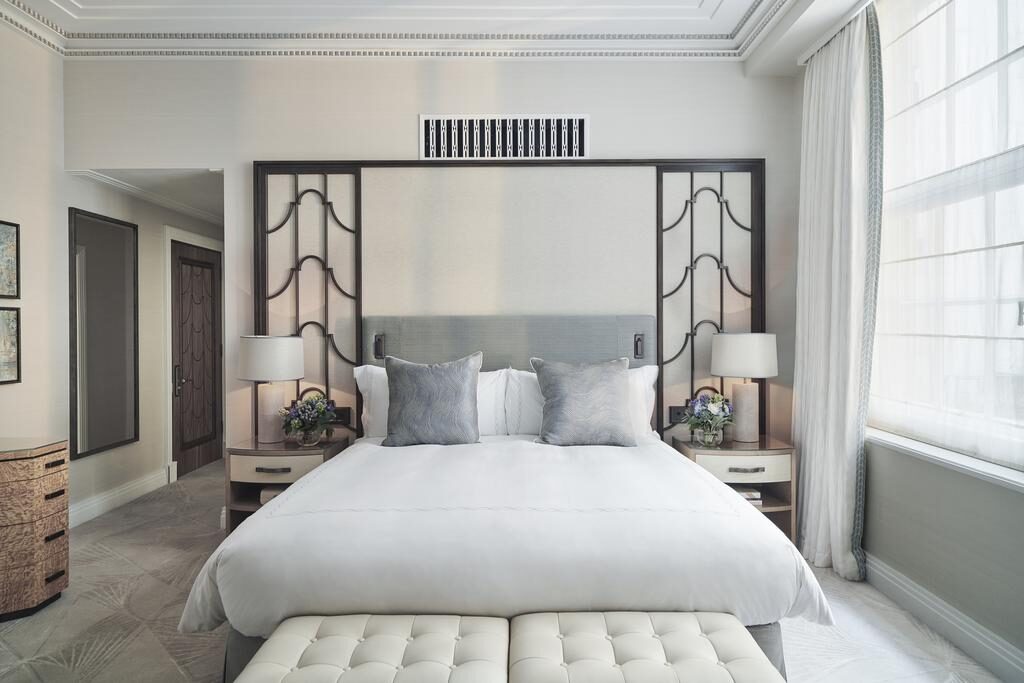 The iconic hotel that never fails to deliver
Oh Claridge's. You simply can't have a list of the best hotels in London without including one of the long-standing darlings of British hospitality.
While many of the older hotels can err on the dated side, Claridge's never fails to impress. Guests are welcomed with a striking Dale Chihuly chandelier in the lobby – after that it's an exercise in the very best of class and style.
Everyone stays at Claridge's darling. Royalty, celebrities – you never know who a discreet glance around might uncover. The hotel is half-jokingly called "the annex of Buckingham Palace" thanks to the near-unbelievable number of royals who patronise the hotel.
The hotel remains very much true to the Art Deco style of the 1920s – think mirrored surfaces and ornate designs that are tempered by an understated colour scheme. Marble bathrooms, Egyptian cotton bed sheets, Claridge's doesn't fail to live up to its reputation.
Book an evening in Michelin-starred Fera, where Simon Rogan oversees a kitchen that sets out (and achieves) to excite and delight.
Claridge's, Brook Street, Mayfair, London W1K 4HR
Rooms start at £400
Marylebone
Although it's a mere hop, skip and a jump from more popular areas like the West End, Marylebone is a more low-key neighborhood. It's one of the best London areas to stay thanks to a combination of lots of things to see and lower prices.
Offbeat museums, trendy restaurants and traditional pubs: Marylebone has been the hub of London's more genteel social scenes since the 17th century.
Paddington, just down the road, also has a few cool hotels and tends to be a bit cheaper. So, while it may not be where to stay in London on a budget, Marleybone offers so much in the way of chic and quirky experiences that make it the best location to stay in London for a luxurious but unique time in the capital.
Marylebone Highlights
Daunt Books – Browse the collection in Daunt Books. It's a book-lover's dream.
The Wallace Collection – An eclectic collection of 18th century finds and one of London's best museums.
Pachamama – Riding the trend of Peruvian restaurants in London, this one is a cut above the rest.
Zetter Townhouse, Marylebone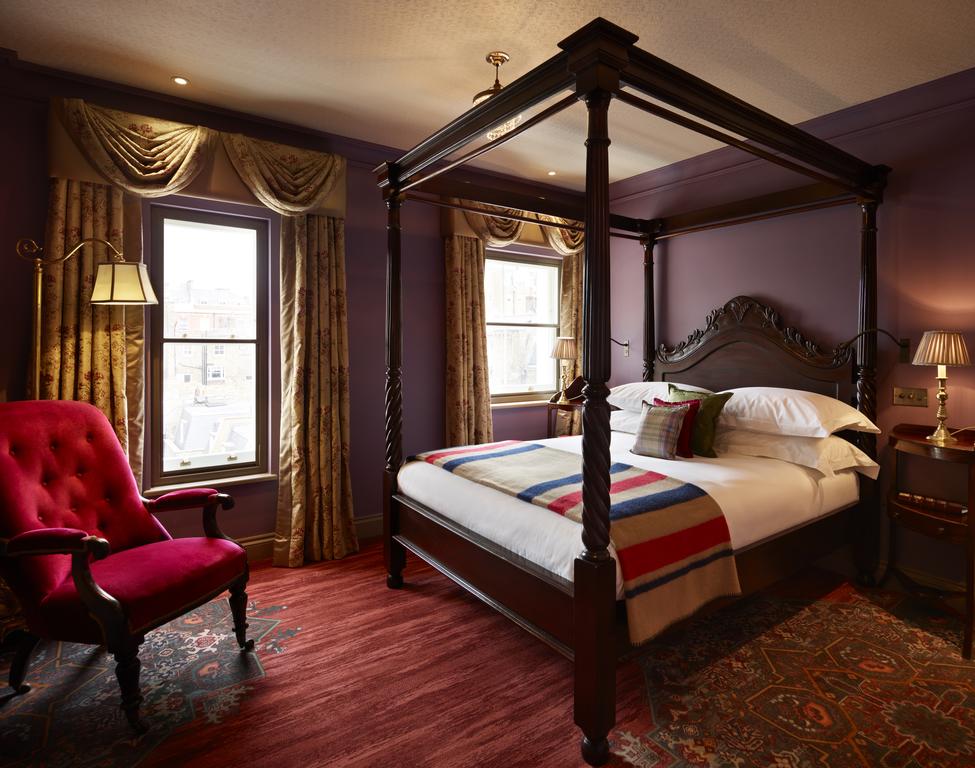 Bags of luxury and eccentricity in a central London location
Gloriously quirky, booking into the Zetter Townhouse is like taking a trip into the rabbit hole – full of wonderful surprises and almost too surreal to be believed.
You might wonder what to expect from one of the most romantic hotels in London? Read on…
Sister to the original Zetter Townhouse in Clerkenwell, the Marylebone outpost has inherited all of its sibling's eccentricities – including the fantasy that it's the home of some (slightly zany) relative.
Stepping into Wicked Uncle Seymour's (the relative in question), prepare to be wowed by the Zetter Townhouse's colourful yet endearing interiors.
Though it might feel like a world of its own, in reality, the Zetter Townhouse is only minutes from Marble Arch and Hyde Park. Where better for a romantic picnic, complete with champagne and strawberries? Finished with that? The rest of central London is right on your doorstep, ready for you to explore.
The Zetter Townhouse, 28-30 Seymour St, Marylebone, London W1H 7JB
Rooms start from £190
The PILGRM, Paddington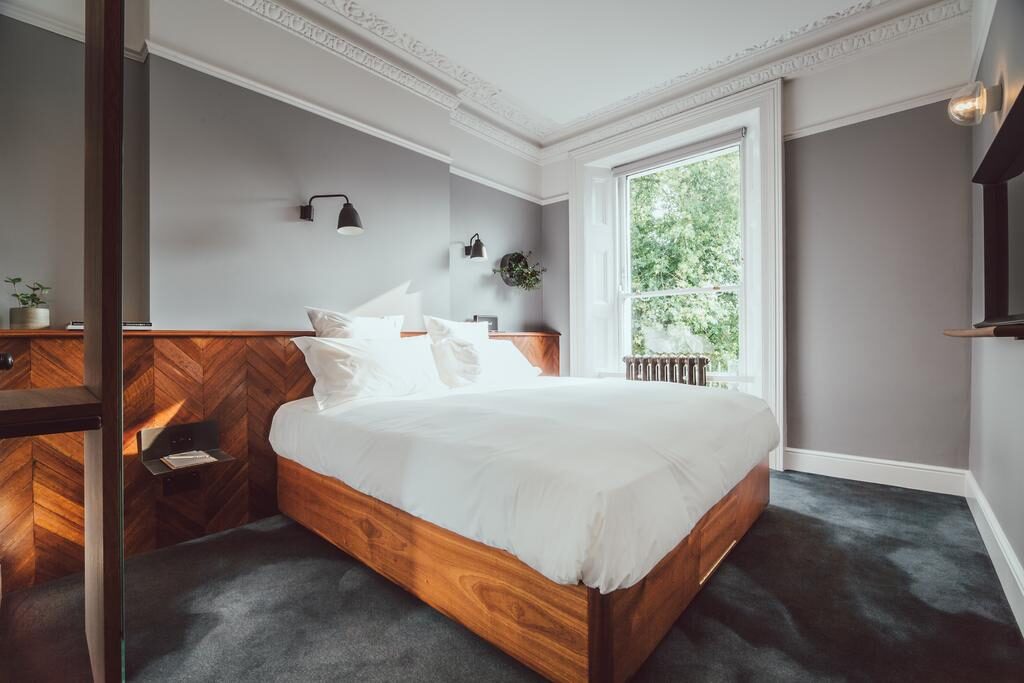 A new kind of hotel in Paddington offering luxury for less
Why the missing I in the name? Why not? The Pilgrm isn't afraid to break the rules. From the absence of a hotel reception, lack of check-in process, in-room telephones and air-conditioning The Pilgrm has done away with some of the traditional hotel norms.
Has it been a success? The answer is a resounding yes: it's become one of the coolest hotels in London since it opened – a difficult feat given the less fashionable (but very practical) location.
Four townhouses have been transformed into a beautiful property that makes for the perfect place to stay in West London.
One of Pilgrm's big draws is affordability – the prices are low (well, by London standards anyway) but the quality is high. Yes, rooms are small, but filled with little luxuries such as Bluetooth speakers and the very crispest and comfiest bed linen.
The Pilgrm goes by the mantra that "luxury is care" – in other words you don't need lots of bells and whistles in a hotel, but the things you do need should be done well and with care.
The Pilgrm, 25 London St, London W2 1HH
Rooms start from £99
Kings Cross and St Pancras – Best for the Eurostar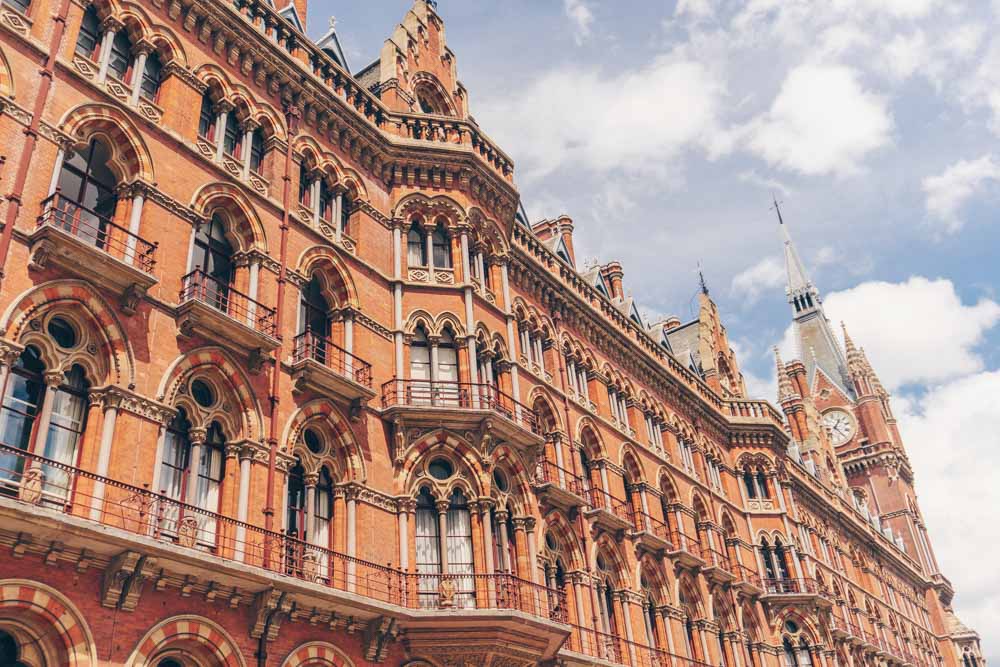 Kings Cross and St Pancras is an area reborn. It's also, for convenience, one of the best neighbourhoods to stay in London.
What was once an outpost of grimy bars and late night entertainment has transformed itself into one of the best places to stay in London outside of the centre.
St Pancras International is London's Eurostar station – bringing continental visitors to the area in large numbers. It's easily the best area to stay in London if you are travelling on the Eurostar – there are great transport connections into the centre and a lot to do in the area itself.
Kings Cross and St Pancras Highlights
Drink, Shop, Do – A lovely cafe come bar where you can learn a new skill at one of the ever-changing workshops. Gets lively in the evening.
London Canal Museum
German Gymnasium – Large restaurant in the style of grand cafes of days gone by.
St Pancras Renaissance
Belle Epoque luxury with all the mod cons, in close proximity to the Eurostar.
Minutes away from the Eurostar terminal at St Pancras International and from Kings Cross Station, the St Pancras Renaissance is one of the great railway hotels of the Victorian times reimagined for the modern age.
There are several nods to the hotel's Victorian heritage – the elaborate wrought iron balusters winding up the stairs and Chesterfield-style banquettes being two examples. Not to mention the wood panelling and chandeliers. It's like stepping back in time, but with all the mod cons and conveniences of the contemporary age.
St Pancras Renaissance, Kings Cross St Pancras, Pancras Road, London, N1C 4TB
Rooms start from £245
The City – Best for Business Travellers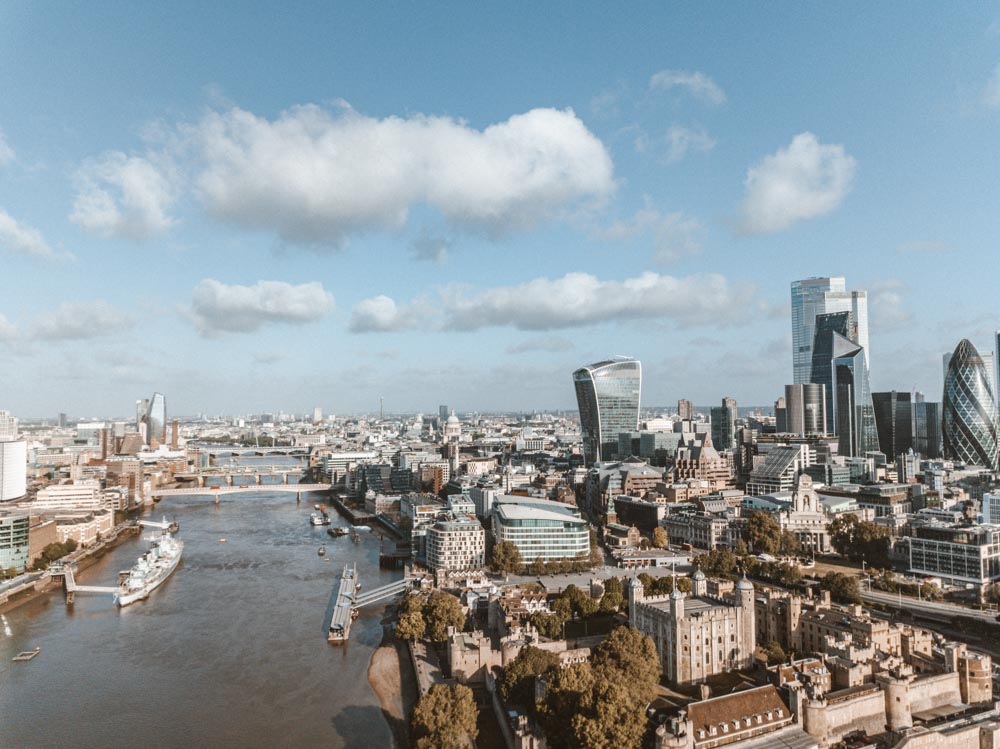 London's financial and business hub has a lot going for it.
As London's financial hub, it's where a lot of corporate entities have their offices. The City is the best area to stay in London for business travellers because of this.
Don't think that this means it's boring though. Some of London's oldest (and most beautiful) pubs are in the City, plus there are cool destinations like Leadenhall Market and St Dunstan in the East for you to check out during your down time.
Be warned, it tends to get a lot quieter during the weekend (but this can also translate into lower prices, so not all bad).
The City Highlights
Duck & Waffle – Everything at Duck & Waffle is a stroke of culinary genius translated to your plate. Plus it's open all night, perfect for late-night, high-end eats and drinks.
Spitalfields Market – A renovated market building brimming with trendy restaurants and bars, and cool vintage stalls (depending on the day). – A gorgeous wrought-iron market housing a range of restaurants, shops and bars. – Walk around the ruins of this old church, tucked away in the heart of the city. Ivy climbs up the walls of this long-abandoned church, which was bombed in
The Ned, City of London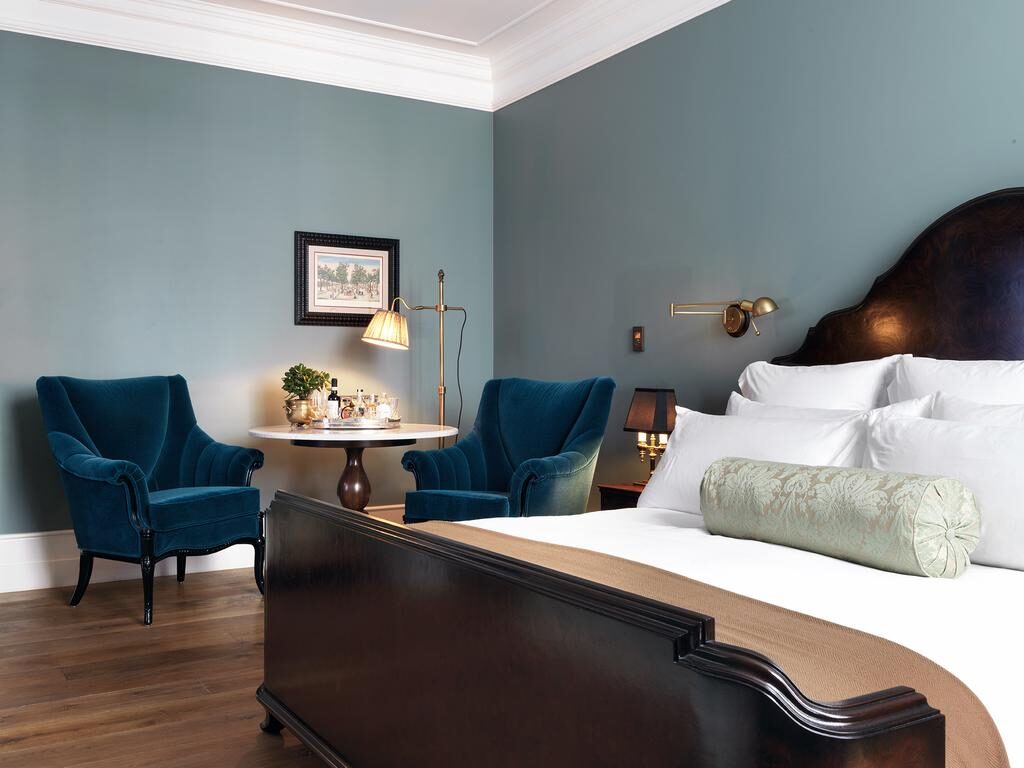 The new City hotel that's fast becoming the hottest bed in town
There's a good chance that if you're in London for business purposes, you are going to have to spend some time in the City. So where better to base yourself for your stay?
Before The Ned came along last year, staying in the City could be a bit… dull. But Nick Jokes (of Soho House fame) has brought a breath of life to the area with this 252-room luxury hotel.
The striking listed building used to be Midland Bank's HQ – built in the 1920s, you can still spot many of its original features in the hotel today. Decor wise, The Ned draws heavily on the Twenties and Thirties for inspiration – adding to the overall sense of exclusivity of the property.
The eighth-floor, which boasts a pool with views out over the city, and a rooftop bar – is reserved for hotel guests and members only – as is the Lutyens Grill restaurant downstairs.
In London a lot for business travel? The Ned also doubles as a private member's club – handy if you plan to visit quite a lot.
The Ned, 27 Poultry, London, EC2R 8AJ
Rooms start from £210
Shepherd's Bush – Best Value
A residential area with a lot to love.
Shepherd's Bush is a peaceful area with a memorable name – the origins of which nobody can agree on.
It's the best place in London to stay for value thanks to its convenient location and Tube access to the most touristy areas of London, but thanks to its more residential atmosphere, it's a little more on the cheap side, making it the number one choice if you're looking for where to stay in London on a budget. So you get a cheaper hotel without feeling like you're missing out.
Shepherd's Bush is also a great place to shop, with two shopping areas within easy reach. Shepherd's Bush is also a great option when looking for where to stay in London with kids, given its relaxed and residential atmosphere.
It might not be the best place if you wondering where to stay in London first time, but if you're looking instead for where to stay in London on a budget, this is a great choice.
Shepherd's Bush Highlights
Westfield London – An enormous and exciting shopping centre with every kind of highstreet shop you can think of, as well as a cinema and various workshops, events, and activities like yoga and candle making.
Shepherd's Bush Market – A staple of Shepherd's Bush, this famous market is a traditional, multicultural hub of foods and fabrics from across the world. A great place to wander and explore.
Bush Hall – This iconic hundred-year-old venue hosts local musicians, stand-up comedians, and cabaret shows. Check what's on during your visit and you're guaranteed to find something you're interested in!
K West Hotel & Spa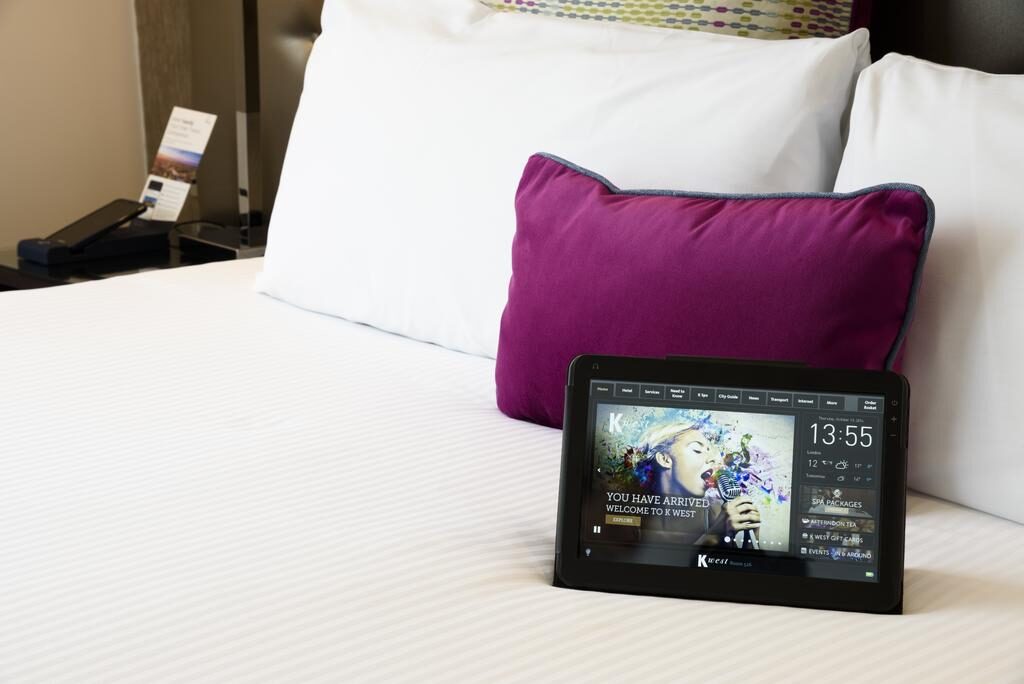 A boutique hotel with a modern spa in a great location.
K West Hotel & Spa offers a wide selection of award-winning treatments at its luxurious spa, making it a great choice of hotel if you're staying in Shepherd's Bush.
Given the area's already low-key and less busy atmosphere, a hotel with a spa where you can unwind, relax, get a massage, and feel rejuvenated is a great option.
Staying in Shepherd's Bush means having central London within reach but also being able to retreat to a quieter area at the end of the day. And after you retreat, why not treat yourself to dinner and a massage?
They also have a hydrotherapy pool and an herbal steam room for the ultimate in relaxation. The bar also offers fantastic cocktails and has a live DJ playing every weekend if you want something a little more lively. The rooms have a hyper-modern decor that's bright, colourful, and welcoming.
So there we are, the guide to where to stay in London, area by area.
I hope that you have an enjoyable stay during your time in my hometown!
Where to Stay in London: Frequently Asked Questions
How Do You Get Around in London?
The simplest way to get around in London is the Underground (what Londoners call The Tube). London's subway system is old but very reliable, with stations at every landmark, tourist attraction, and area that you might find yourself in. You can also take a taxi, if you prefer. London's black cabs are iconic and their drivers know London's streets better than anyone.
Where Should I Stay for my First Visit in London?
If it's your first time in London and you've got the money, you'll want to be as central as possible, and surrounded by all the best sights and things to do. For that, you'll want to stay in the West End or Westminster. In London's West End you have all the best theatres, shopping and shows at your fingertips, and Westminster features most of the must-see sights of London. This is absolutely the best area to stay in London for tourists.
What is the Best Neighbourhood to Stay in London?
That depends on what you're looking for but, as a London native, I don't think there's a better neighbourhood in London than Shoreditch. The hipster capital of London is where all the young Londoners like to hang out. There, you've got the best bars and cafes, cool street art, and awesome food markets to explore. Far removed from the glamorous tourist attractions of Westminster, Shoreditch is what you could call the 'real London experience'.
Any questions about what area in London is best to stay, or just about London generally, leave a comment below and I will get back to you as soon as possible.
Where to Stay in London – The Best Places for First Timers!
Are you planning a city trip to London? Cool! You're going to love the city. But finding a hotel in London can be really overwhelming – especially if it's your first time in London. In this post, we will show you the best places to stay in London and share our hotel tips with you.
Your trust is really important to us: This post contains so-called affiliate links. More information
Your trust is really important to us: This post contains so-called affiliate links. Every time you buy or book something using these links, we receive a small commission. There's no hidden surcharge or any other downside. That way, you can support us with our work. Thank you so much, Jenny & Basti
Hi! We are Jenny & Basti.
We're head over heels in love with photography and traveling. On our travel blog, we share useful travel tips and give you practical photography advice.
We're head over heels in love with photography and traveling. We turned our shared passion into our profession and have been at home everywhere in the world ever since. On 22places we share everything about our travels: with a lot of attention for details, inspirational, authentic, and above all: always honest. On our travel blog, we share useful travel tips and give you practical photography advice.
London is one of the cities in the world that you should visit at least once in your life. Preparing for a trip to London can be rather challenging, especially if you're visiting for the first time. The city is huge and travel times can really add up. So finding somewhere to stay in a strategically placed location is very important.
Every city trip starts with a few key questions, and London is no exception: Where to stay in London? Which neighborhood should you choose for your hotel? And what do you need to keep in mind when looking for accommodation in London?
In this post, we'll show you which neighborhoods in London are the best places to stay and give you our best tips for finding a hotel in London. For each of the neighborhoods featured here, we'll also be sharing our personal hotel recommendations tailored to every budget.
Read all our posts about London:
London Boutique Hotels
11 unique hotels in London
Our 22 London attractions
London Pass Review
Which city pass is the best?
London Travel Guide
Useful tips for your city trip
General tips for staying in London
Make sure you have easy access to public transport
Whichever neighborhood you choose for your stay, you should always make sure to book a hotel near an Underground/Tube station (that's a subway station for our American readers).
Easy access to public transport can drastically reduce your transit time, giving you a lot more time to enjoy your trip rather than spending hours commuting in and out of town.
Rush hour is particularly chaotic in London, and public transport is jam-packed from 8 to 9 am in the morning and 5 to 7 pm in the evening. If you can, avoid taking the Tube altogether at these times. Of course, that's a lot easier if you're staying in a central location.
In any case, even outside of peak hours, staying in a convenient location always makes for a more enjoyable experience overall.
Hotel prices in London
You're probably well aware that a city trip to London isn't exactly a budget vacation.
The cost of accommodation in London varies considerably depending on proximity to the city center and the main sights and attractions, and on your requirements for a good hotel.
In a nutshell: If you want a double room in a good, clean, and comfortable hotel offering good value for money in a convenient and central location you should expect to pay between 150 to 200 euros per night.
There are also some slight seasonal variations in room rates. Don't expect any miracle off-season deals, however, since London is a popular tourist destination all year round.
If you're on a budget and don't mind longer transit times to the sights, we've also included a few cheaper places to stay in more affordable neighborhoods further down in the post.
Where to stay in London: the best neighborhoods on a map
We've prepared a map for you to give a first idea of where all the neighborhoods we'll be covering are located.
The map highlights all the neighborhoods we recommend for staying in London as well as a selection of the most famous sights for quick orientation.
The best neighborhoods to stay in London:
West End: Ideal for your first time in London.
Kensington and Chelsea: Ideal for luxury lovers who love the elegant side of London.
Shoreditch: Ideal for hipsters and nightlife.
King's Cross: Ideal for everyone on a budget.
Each of the districts is suitable for different types of travelers. Carry on reading to find out which district is right for you.
Our tip: Choose a hotel north of the Thames. Despite ongoing urban renewal projects in parts of South London, some of the neighborhoods there, such as Brixton, can be a bit rough for tourists. If you aren't comfortable with that, you're better off staying north of the Thames.
Our personal top hotel recommendation for London
We're huge fans of CitizenM hotels. They're only available in a few select cities, but fortunately London is one of them. We've already stayed at CitizenM hotels in New York and Rotterdam and they were both delightful.
All of the hotels only have a single room category, and the rooms all share the same super-modern design. The beds are very comfortable and excellent value for money is always guaranteed here.
There are 3 CitizenM hotels in London. Personally, we would opt for the hotel in Shoreditch because we really like the location.
CitizenM hotels in London:
This is what the rooms at CitizenM look like
For first-timers: Staying in the West End
Staying in the West End of London is the best option if you're visiting London for the first time and want to be within walking distance of the main attractions.
So where would you say is the center of London? Good question! There's no official definition.
The real heart of the city beats in the West End, which includes Piccadilly Circus, Covent Garden, and Trafalgar Square. It has a similar vibe to the Times Square/Broadway area in New York, but with a distinctly British flavor.
The West End has great shopping and dining options and is widely regarded as the London's cultural hub with its huge array of museums, galleries, theaters, and musicals.
Restaurants in the West End range from high-end to casual. Regent Street and Piccadilly in particular are especially well known for their fine dining options. Many have Michelin stars. But you'll also be spoiled for choice if you're looking for more affordable eateries. There are plenty of restaurants near Leicester Square and in Chinatown that offer delicious fare at reasonable prices.
Many major tourist attractions, such as Buckingham Palace and Westminster Abbey, are within a 15 to 20 minute walking distance from the West End, or just a few minutes by Tube.
Source https://londonmymind.com/where-to-stay-in-london/
Source https://www.londonxlondon.com/best-places-to-stay-in-london/
Source https://www.22places.com/where-to-stay-in-london/