St Thomas Vs Aruba (Which Island Is Better For A Vacation)
Two of the most sought after destinations for a Caribbean vacation are Aruba and St Thomas.
In this article, we will compare and contrast these two amazing Caribbean islands to help you make a wise decision for your upcoming Caribbean vacation.
As a general rule, St Thomas is better for travelers who are interested in duty free shopping, island hopping to other Virgin Islands and tranquility. Alternatively, Aruba is ideal for a visitor who is looking for sunny weather, beaches, entertainment with an interest in seeing flamingos.
Read on for further details and explanations on how these two beautiful Caribbean islands compare. Contribution to this article was made by individuals who visited both islands on vacation.
St Thomas Vs Aruba: Which Island Is Bigger
Aruba is the larger of the two islands being 69.5 square miles. On the other hand, St Thomas is only 32 square miles.
The highest point of elevation in Aruba is Mount Jamanota which stands at 620 feet whereas in St Thomas, Crown Mountain is more than double the elevation at 1,556 feet.
St Thomas Vs Aruba: How Does The Landscape Differ
The look and feel of St Thomas and Aruba are extreme opposites. St Thomas is lush, tropical and mountainous in appearance.
On the other hand, Aruba is a coral based island and incredibly flat in topography. The island is dry and arid in appearance.
Also, Aruba is very windy due to its location near the equator which makes it an excellent spot for kite surfers.
Visitors may prefer to drive in Aruba as the topography makes it easier for a newcomer to navigate.
St Thomas Vs Aruba: Does The Currency Differ?
The currency of the two islands differs. The official currency of Aruba is the Aruban Florin. It was introduced on the island in 1986, replacing the Netherlands Antillean Guilder.
It is pegged to the United States (US) dollar at a rate of USD$1 to AFL$1.79. The currency is issued and managed by the Central Bank of Aruba which began its operations in 1986.
Nevertheless in Aruba, the US dollar is accepted throughout the island. Prices by most businesses are quoted both in US dollars and AFL.
Some businesses may provide you with change in US dollars while others will give you the local currency. There are ATMs on the island that dispense US dollars.
As an overseas territory of the United States of America, the US dollar is the official currency of St Thomas.
St Thomas Vs Aruba: Does The Official Language Differ?
The official language of St Thomas is English and the official language of Aruba is Dutch. Nevertheless, English is widely spoken on the island.
Four languages are used Aruba. These are Dutch, Papiamiento, English and Spanish.
It is mandatory for children to learn English at school and if you are a Spanish or English speaker you will find it easy to integrate on the island.
St Thomas Vs Aruba: Entry Requirements
US citizens do not require a passport for entry into St Thomas. As an overseas dependency of the United States of America (USA), travel to St Thomas is considered an internal flight.
Contrastingly, US citizens require a passport as well as a return ticket for entry into Aruba.
However, there is a similarity in that US citizens can clear customs and immigration in Aruba on departure and pick up their bags on arrival into the USA just as customs and immigration in St Thomas.
St Thomas Vs Aruba: Can You Island Hop To Other Islands
St Thomas offer easier and more affordable island hopping opportunities than Aruba. St Thomas is the main commercial island in the US Virgin Islands.
The international airport Cyril E King International is located in the capital city, Charlotte Amalie.
There are ferries from the island to the other US Virgin Islands such as St Croix, Water Island and St John.
There are also ferry services available to the British Virgin Islands (BVI). US Citizens require a passport to enter the BVI from St Thomas.
On the other hand, there are no ferry services available from Aruba to Bonaire and Curacao. There is a regional carrier, Insel Air that provides direct and non-stop flights daily between the three islands.
St Thomas Vs Aruba: Which Island Is More Vulnerable to Natural Disasters
The hurricane season in the Caribbean starts on June 1 and ends November 30 annually. St Thomas is more susceptible to hurricanes of the two islands.
The last major hurricanes to affect St Thomas were hurricane Maria and Irma both in 2017 which hit the island as category 5 storms.
The location of St Thomas also makes it susceptible to earthquakes. The last major earthquake that affected St Thomas was in 1867 which led to a tsunami which caused major damage to the island.
One major advantage of Aruba's location is that it is located outside the hurricane belt. As a result, a direct hit by a hurricane is highly unlikely.
Nevertheless, while a direct hit from a hurricane is rare, it is not impossible. In 2007, the island was affected by a category 2 hurricane named Felix. The damage to the island and infrastructure was minor.
It is always prudent for visitors to the Caribbean during the hurricane season to consider travel insurance in the event of travel delays and interruptions.
St Thomas Vs Aruba: Which Island Has Better Nightlife
Aruba is the clear winner when it comes to nightlife. There are a number of options that visitors can enjoy. Party lovers will enjoy the bars and clubs located along South Beach Aruba.
There are casinos, bowling alleys, cinemas and golf courses so visitors can enjoy a myriad of entertainment.
Contrastingly, St Thomas does not have so much variety when it comes to nightlife. There are several restaurants and beach bars in the Red Hook, Frenchtown and Haven Sight areas. These are located near to each other so it is easy for individuals to bar hop.
St Thomas Vs Aruba: How Does The Weather Differ?
The weather pattern in the two countries differs. Aruba has a longer dry season than St Thomas.
On a whole, the rainy season in Aruba is much shorter than other Caribbean Islands. Annually, the rainy season begins in October and ends in January each year.
Neighboring islands of Bonaire and Curacao also have similar weather patterns. As a result, visitors to the island are almost always guaranteed sunny and warm weather during vacation.
The warmer weather on the island means also little to no mosquitoes and flies when compared St Thomas where the rainy season is longer.
St Thomas Vs Aruba: How Does The Cuisine Differ?
The food in Aruba is more unique and the restaurants are top notch whereas in St Thomas the food is the typical West Indian cuisine. Fish and fungi is the national dish of the US Virgin Islands.
One factor that may have contributed to Aruba's exquisite cuisine is the dependency on the tourism sector.
As a result, restaurants ensure that their culinary experience is world class. Sea food plays a major role in the dishes served in Aruba. There are many high end restaurants on the islands as well as affordable ones.
Some of the well-loved places to eat by the locals on the island include O'Neil Caribbean Kitchen, Zeerovers, Peanuts restaurant and Red Fish restaurant.
Additionally, Dutch snacks such as Frikandel and Bitterballen are unique to the Dutch Caribbean and you should try them if you visit Aruba.
If you love cheese, then the national dish, Keshi Yena which is a traditional meal made by Arubans is one that you will enjoy. Cheese is added to leftovers to create a casserole which is baked.
In Aruba the main and popular fruit drink is Awa di lamunchi. This is a local Antillean drink made with lime that is also served in Bonaire and Curacao. This drink is not served in Dutch St Maarten.
St Thomas Vs Aruba: Which Island Is Better For Duty Free Shopping
For duty free shopping, St Thomas is the better destination. St Thomas is one of the best islands for duty free shopping in the Caribbean. Each visitor including children is allowed $1600 each of duty free purchases back into the USA.
St Thomas is the capital of duty free shopping in the Caribbean. Brands such as Gucci, Louis Vuitton, Little Switzerland, Diamonds International and Bebe have a presence on the island.
Yacht Haven Grande is a premium waterfront development which features a marina and a number of medium to high end stores. In addition, to some of those previously mentioned, Coach and Bulgari have retail operations at Yacht Haven Grande.
On the other hand, in Aruba duty free shopping is available only on the airport where individuals tend to have less time to browse and make purchases. However, there are a number of high end stores in the capital city of Oranjestad.
These high end luxury international brands typically do not have a presence in most Caribbean islands. At The Renaissance Mall, there are shops such as Louis Vuitton and Kate Spade where you can buy luxury items.
St Thomas Vs Aruba: What Are The Unique Things To Do
Unique Things To Do In Aruba
Arikok National Park- this stunning area occupies about 20% of the island and is home to natural pools and caves. The appearance of the park is desert like and visitors can enjoy the park either by hiking or by driving. The cost of the visit is $11.00 per person at the time of writing.
Visit Renaissance Island– this is a private island that is owned and operated by the Renaissance hotel where you can get a direct and personal experience with flamingos. Access to Flamingo beach as it is fondly called must be via the Renaissance hotel which provides boat transfer to the island. Visitors at the hotel can access the beach during their stay.
If you are staying at another location, you will need to purchase a day pass. Some travelers opt to book a room for one day which gives you access to the beach twice which is the day that you check in and the day that you check out.
Explore The Butterfly Farm- if you are near the Palm Beach area, a unique attraction that you can enjoy is a visit to the butterfly farm. Tours explain the metamorphosis of the creature from the egg stage to the butterfly. This attraction is perfect for amazing pictures and for multi-generational families.
Unique Things To Do In St Thomas
Visit Coral World Ocean Park– This Park is an amazing way to see and learn more about sea life in St Thomas. There are activities available for all ages such as educational shark and sea lion tours. In addition, you can enjoy kayaking with the dolphins while at the park.
Visit Mountain Top & Drake's Seat– These two areas are must visit spots to take in the panoramic views of the island. Mountain top is 1500 feet above sea level and provides a stunning view the other Virgin Islands and the British Virgin Islands. From mountain top you can see a total of 20 islands.
Explore Fort Christian– This is one of the key landmarks located in the capital city of Charlotte Amalie and is the oldest structure in the US Virgin Islands. Built between1672 to 1680, Fort Christian has a red exterior with a Victorian clock at the front. A tour explores the history of the Danes and slavery. The admission fee is $10 for non-locals.
Climb 99 Steps- is another key feature that stands out in Charlotte Amalie. These steps were constructed from bricks brought to the island from Denmark and are used to connect the streets in the city. At the end of 99 steps is Blackbeard Castle which is another must visit historic site while on the island.
Final Thoughts
On a whole, Aruba is an ideal choice for a traveler who enjoys high end luxury shopping, unique cuisine, beaches and a bustling nightlife experience. Alternatively, St Thomas is an exceptional choice for a traveler whose priority is going the beach, snorkeling, island hopping and duty free shopping.
If you are contemplating traveling to St Thomas, Aruba or the rest of the Caribbean, cruising is an affordable option to consider. I have recently completed an informative course by cruise specialist, Emma Cruises which you should check out titled How To Cruise For Less.
This course provides detail tips and techniques on how to save money while cruising onboard, onshore as well as the importance of insurance. So if you if you are considering a cruise for your next Caribbean vacation, check out How To Cruise For Less.
Need More Information?
Feel free to browse our website for more content on the St Thomas, Aruba and the Caribbean by using the search bar located at the top of this page. The following are some of our articles which we believe may be suitable for you.
Top 15 Most Beautiful Places to Visit in Aruba
This beautiful island – which is sometimes called The Happy Island – belongs to the Netherlands, is located near Venezuela, and is one of the most popular islands to visit in the Southern Caribbean.
The paradise-like winter escape and is home to unspoiled and quiet white sandy beaches, excellent snorkeling, hiking, and diving opportunities.
Throw in a few shipwrecks, all-inclusive resorts, plenty of sunshine, and a breeze perfect for windsurfing and kiteboarding and you have an island which is pretty much perfect vacation material! Here are the best and most beautiful places to visit in Aruba…
1. Eagle Beach – one of the most stunning destinations to explore in Aruba
This beach is one of the beloved tourist attractions in "the Happy Island." Eagle Beach is best known for its pristine and soft white sands, ocean views, and the most expansive beach on the island.
Besides, there is ample area for parking making it comfortable for tourists. You can enjoy a variety of water sports as well as regional delicacies at the beachside restaurants.
The beach is also home to two of the most clicked and renowned fofoti trees in Aruba, with its dramatic silhouette pointing in the direction of the Caribbean.
Apart from all this, you cannot miss the chance to enjoy a calm sunset at this beach. Additionally, the beach is not only adored by humans but also turtles. So, enjoy snorkeling with the turtles of Aruba here!
2. Renaissance Islands – a 40-acre beautiful tropical paradise
To enjoy the beauty of this place, you need to be a guest at Renaissance Aruba Resort & Casino as it is only open to them between 7 a.m. and 7 p.m. daily.
It is a perfect place to pamper oneself or enjoy quality time with loved ones.
You can spend time simply sun-basking or playing beach games or can even book your exclusive spa appointments. It provides a captivating view to its visitors and pink flamingos around complimenting the turquoise waters of the sea.
3. Natural Pool – a unique and natural beauty spot
What better than a natural pool amidst the picturesque surroundings? This natural beauty is a unique rock formation creating a calm and clean pool for its visitors.
The fantastic natural pool, also known as 'Conchi' (bowl) or 'Cura di Tortuga' (Turtles Cove), is nestled inside Aruba's national park Arikok.
It is ideal for anyone seeking adventure as when you reach the pool, it gives an impression of discovering something truly phenomenal! Besides, visitors can also grab a snack before heading to the Natural Pool.
4. Druif Beach – home to scenic soft sands and some great waves
Aruba is famous for its captivating beaches, and Druif Beach is one of the most lovely beaches on the list. It has a tranquil ambiance, and its crystal clear water makes it perfect for swimming and other water sports activities.
Other than that, the beach is nicely maintained and provides suitable spaces for lounging.
You can also enjoy a beach volleyball match with friends and family or observe the beauty of the place and relax under the sun.
5. Arikok National Park – an interesting and wonderful place to visit in Aruba
Well, to your surprise, this national park makes 20% of the entire island, yes really! It is spread across, making it perfect for exploring the flora and fauna it offers.
The park has many unique geological, cultural, and historical sites for its visitors.
It is advisable to hire a guide to understand the beauty of the place in-depth. Besides, a good range of educational and informative programs are available throughout the year. Book yours beforehand and relish the beauty of the park!
6. Oranjestad – the capital of Aruba and one of the best places to explore
Oranjestad is the capital city of Aruba. As it is the capital, it is evident that it will have various things to offer to you. Some of the major attractions are listed here.
The first being, the Butterfly farm for some fun with these colorful insects.
Next is the Bon Bini Festival, which happens every Tuesday at Fort Zoutman and presents cultural performances to make the tourists familiar with the culture of Aruba.
Further, look at the Indigenous artifacts dating from as far back as 2500 BC at the National Archeological Museum. Lastly, fill your belly at Gostoso Restaurant with some delicious meals.
7. De Palm Island – an exclusive beautiful place
Enjoy the charming private De Palm Island with its luxurious offerings.
The beach has it all covered for you, from luxury beach beds, refrigerators with beverages, sofa, dining area, towels, private shower, and concierge service.
Other than that, the island has numerous rest. Besides, the beautiful flamingos at the beach will grab your attention in no time!
8. Palm Beach – a gorgeous resort area on the northern coast of Aruba
Another fantastic beach on the list is Palm Beach. Its charming scenic views and calm waters become an ideal place for relaxing under the sun.
Moreover, clear waters make this beach a comfortable haven for swimmers and snorkelers.
The beach gets its name from the palm trees planted across the beach. Additionally, to have a fulfilling experience at the beach, there are plenty of hotels, casinos, water sports concessions, piers, beach bars, restaurants, and shops for you.
9. Manchebo Beach – another beautiful beach in Aruba
Another turquoise beach with pleasant scenery is Manchebo Beach. Besides, there is a famous resort and spa to give you a blast.
It is situated on Aruba's quiet, intimate and beautiful Eagle Beach and offers a classic Aruban experience unlike any other. You'll get a chance to experience the breathtaking setting as well as a thoughtful grasp of Aruba's culture.
It is an ideal beach and resort for couples, honeymooners, wellness-conscious travelers, and beach lovers. It has something to offer for everyone. Enjoy your time splashing water and relaxing under the sun at this charming beach!
10. Arashi Beach – a great place to relax
A sparkling white sand beach at the north of Malmok Beach, Arashi Beach has a lot to offer for a day out by the soothing waves.
The snorkeling experience at Arashi Beach is second to none as there is abundant underwater life that leaves you spellbound. There are sufficient beach huts, a fun bar, and a large parking area for the comfort of the visitors.
Besides, the beach has recently added showers, lounge chair rentals, and occasional live music at the bar to add that extra crunch to your beach experience!
11. Boca Catalina – for beautiful and untouched nature
It is recommended by many to explore Aruba by riding on an all-terrain Segway X2 SE and take in Aruba's famous white sand beaches, untouched nature, and beautiful sights.
One can visit Boca Catalina, which is another spot for snorkeling enthusiasts.
The vibrant underwater life and the clean, calm waters of the beach make it a perfect place for anyone who wants to enjoy a relaxing day out. You need to swim 40-50 feet underwater to experience the best aqua life you can!
12. Hooiberg – a volcanic mountain to explore in Aruba
Finally, the list has something other than beaches!! Yes, Hooiberg is a volcanic mountain in Aruba. The hill is tucked away in the center of Aruba, just about 2 kilometers northeast of Oranjestad, the capital of Aruba.
For those interested, it's about 530 meters wide, and its height is about 165 meters, which makes Hooiberg the second highest mountain in Aruba!
You can climb the mountain and get that adventurous spirit out! Besides, you can also jog around as it is ideal for some morning workout sessions. Other than that, you can always visit a place to observe its beauty and splendor!
13. Casibari Rock Formations – an extraordinary highlight of Aruba
Another breathtaking place in Aruba is the Casibari Rock formations. To have a clear and splendid look at the island, you must try this out!
The fascinating thing about this place is its history of formation. Even scientists remain baffled about the geological event that could have created the formations.
These rocks seem to have fallen from the sky and hence are sometimes considered sacred by the locals. Therefore, it is always a wonderful place to explore and observe this unbelievable natural occurrence.
Besides, after climbing and exploring the site, you can fill your bellies at a BBQ Bar & Grill offering snacks, cold drinks under shaded seating.
14. Baby Beach – a beautiful protected man-made lagoon
As the name suggests, this man-made lagoon is perfect for kids and babies.
Parents can take their kids out and relax under the sun leaving the kids on their own as the sea is shallow enough for swimmers who like to wade out for a long-distance and still touch the sea bottom. So ideal for families with small kids!
Positioned in the southern part of Aruba, the famous Baby Beach is close to San Nicolas. It is a true Caribbean beach paradise with BBQs offering some tasty meals- seafood and light snacks!
15. Malmok Beach – a great spot for diving
Malmok Beach on Aruba is a long, narrow sandy beach that traverses the limestone and rock terraces of the Malmok coast. The nearby coral reefs and shipwrecks are perfect for diving in Aruba.
Other than that, the clear waters of this beach make it ideal for snorkeling enthusiasts.
Apart from that, beaches are always great to spend some me-time or some fun time with family and friends!
16. The Donkey Sanctuary – a heartwarming attraction for animal lovers and families
This lovely animal sanctuary has been going since 1997 and here rescued injured or abused wild donkeys have a safe haven for life. It's actually a great attraction to visit on the island and offers a gift shop and feeding (and hugging!) opportunities, so a great day out choice for families.
Aruba vs Curacao: Which Caribbean Island is Better?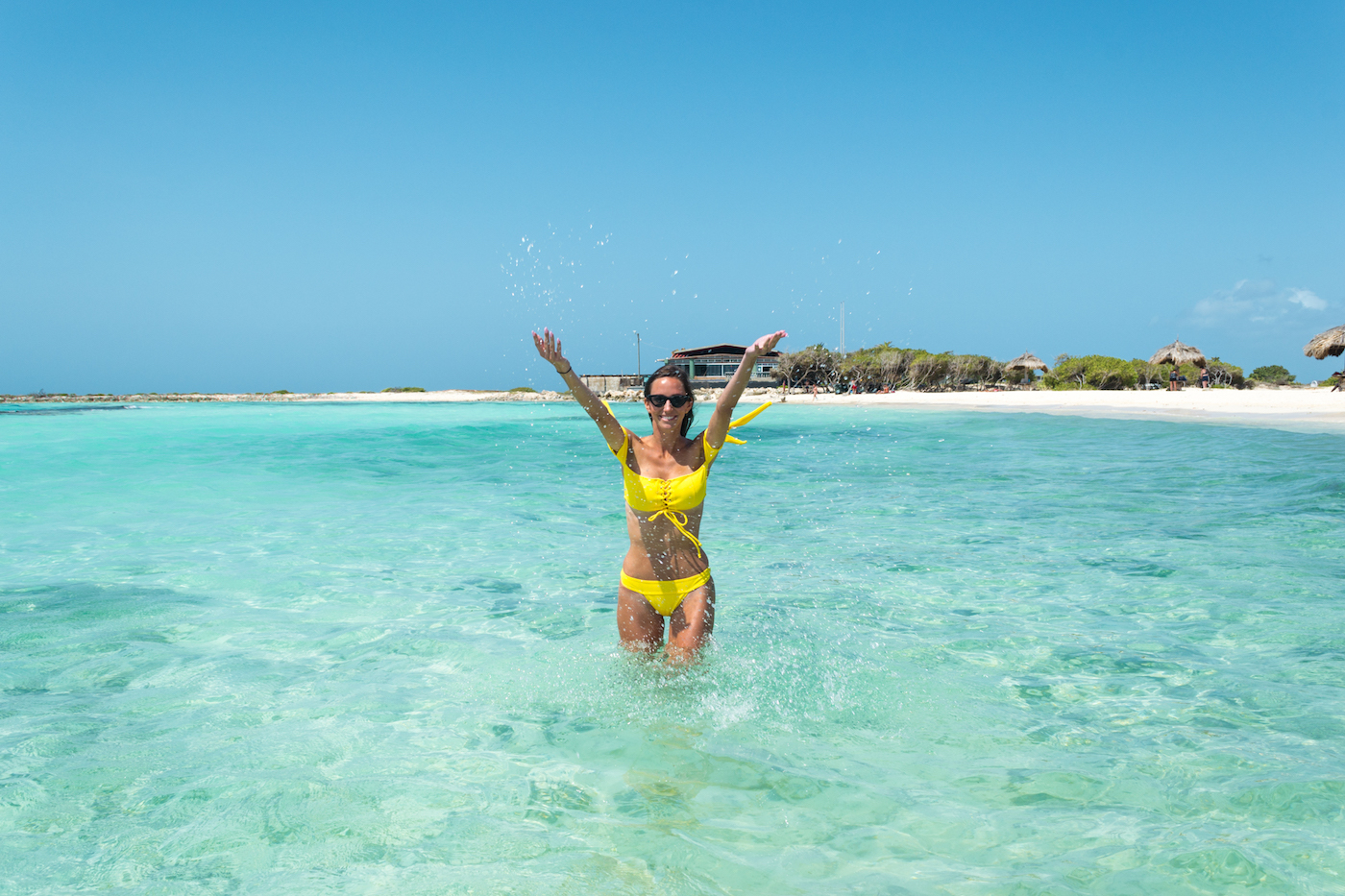 Deep down in the southern part of the Caribbean, just off the coast of Venezuela, lies the ABC islands, which consist of Aruba, Bonaire and Curacao. These three islands are also apart of the Dutch Caribbean and are island territories of The Netherlands, which is why my Dutch husband wanted to go here. We only managed to get to 2 out of 3, but the debate was on: Aruba vs Curacao.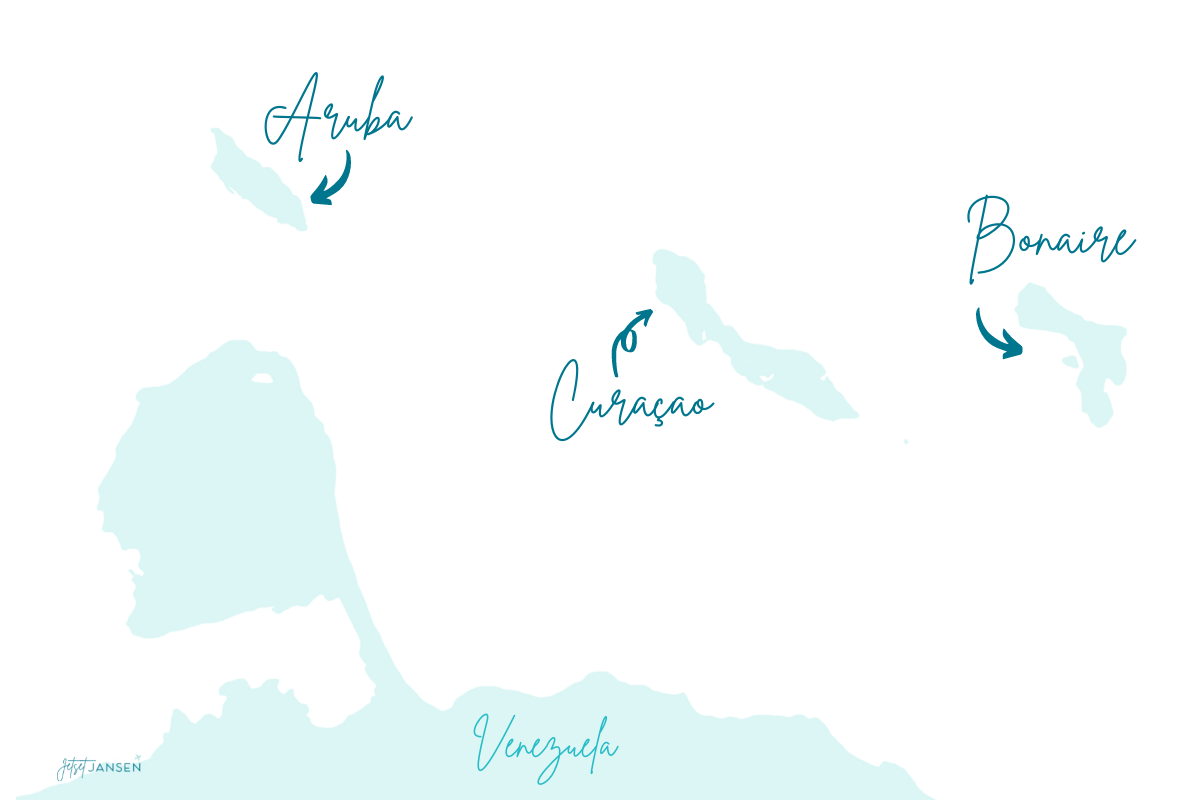 The two islands seem close on a map but there are no ferries running between the islands and the ocean is too rough for smaller boats. The only way to get between Aruba and Curacao is to take a flight or visit both islands as part of a cruise. Flights from Aruba to Curacao are a short 35 minutes, so if you have the time to visit both islands in one trip, definitely do so. But if you only have a few days, I'd pick one or the other so you don't waste time in transit.
At first glance, you would assume Aruba and Curacao would be fairly similar, being that they are both island destinations for diving, have pretty beaches and are Dutch. And they are similar in that sense, but these two islands also have some pretty noticeable differences.
Aruba Island
The first and smallest of the three islands is Aruba. Aruba island is a fun and beautiful island to visit. Because of its size, it's easy to get around and explore. It has some areas that are built up for tourism, especially around the cruise port. And in general, Aruba is pretty 'Americanized'. Though it's the smallest island, it receives nearly twice as many tourists than Curacao does–with around 80% of those coming from the United States.
Landscape-wise, it has an interesting terrain that was pretty unexpected. Instead of tropical palm trees, it has a rocky, desert-y landscape with lots of cacti. You'll even come across giant cacti! The weather is pretty consistent year round, which makes it an ideal getaway if you're looking for a tropical escape.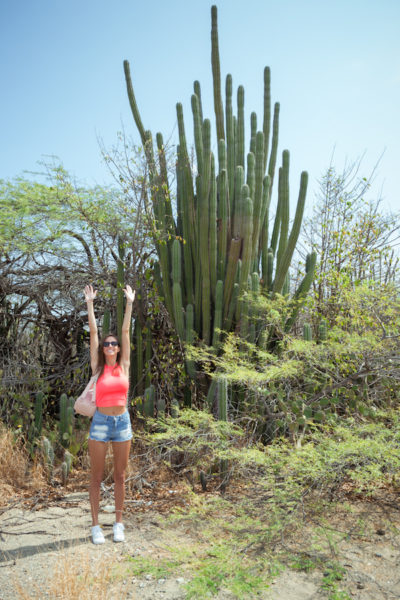 It's also home to the Divi Divi trees, which all point southwest due to the trade winds and act as a natural compass. It's great for people who have no sense of direction! (me).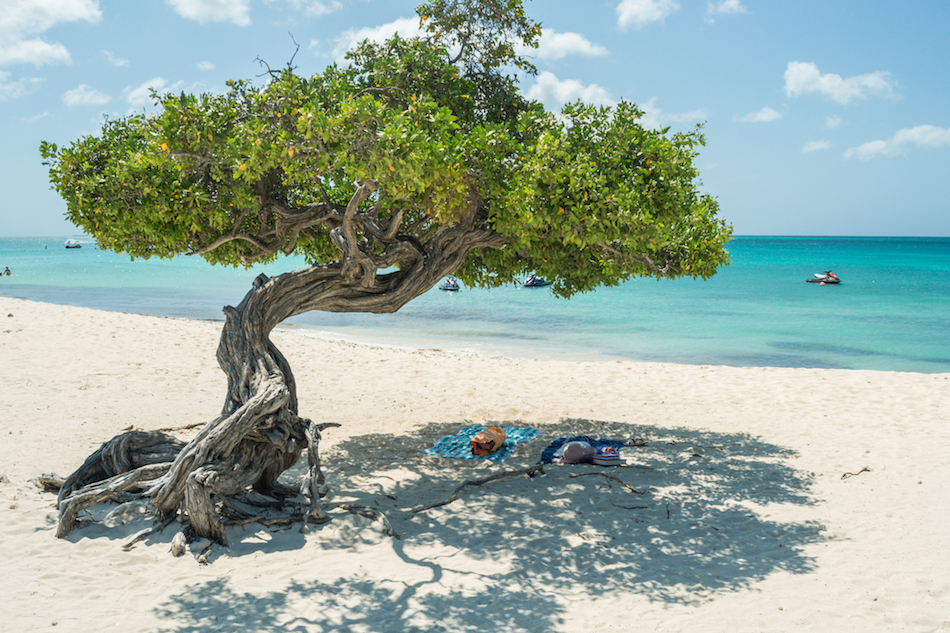 Update: Evidently the Divi Divi trees often get mixed up with the Fofoti Tree! While they look very similar, their trunks grow a bit differently. They both point southwest because of the wind but Divi Divi trees are found across the island, while Fofoti trees are found on the beach.
Another interesting fact about Aruba is that about 20% of the island is a National Park. The Arikok National Park has a rocky coastline and natural pools to explore. To explore this part thoroughly, you'll want to rent a suitable car or you can get on a tour through the park.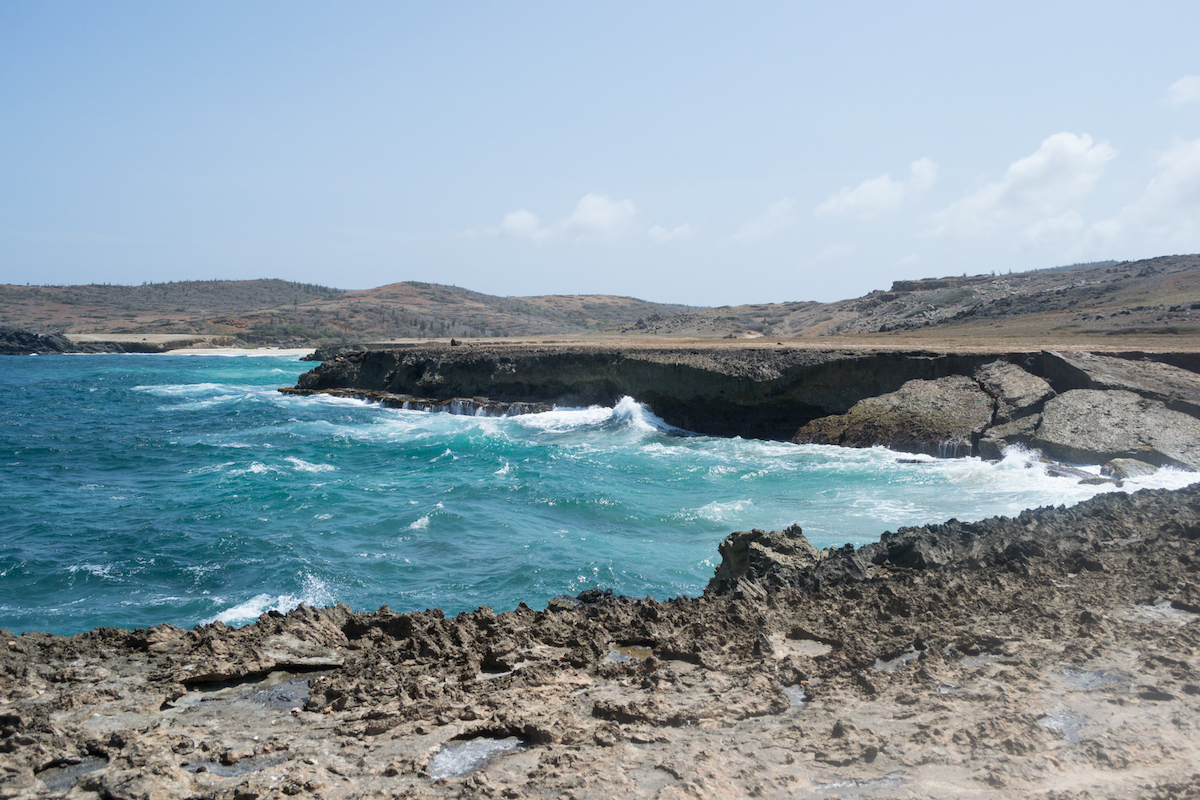 For the most part, Aruba is a pretty flat island. There's lots of pretty beaches and beautiful scenery here. It was hard to pick a favorite spot because the water was pretty all over.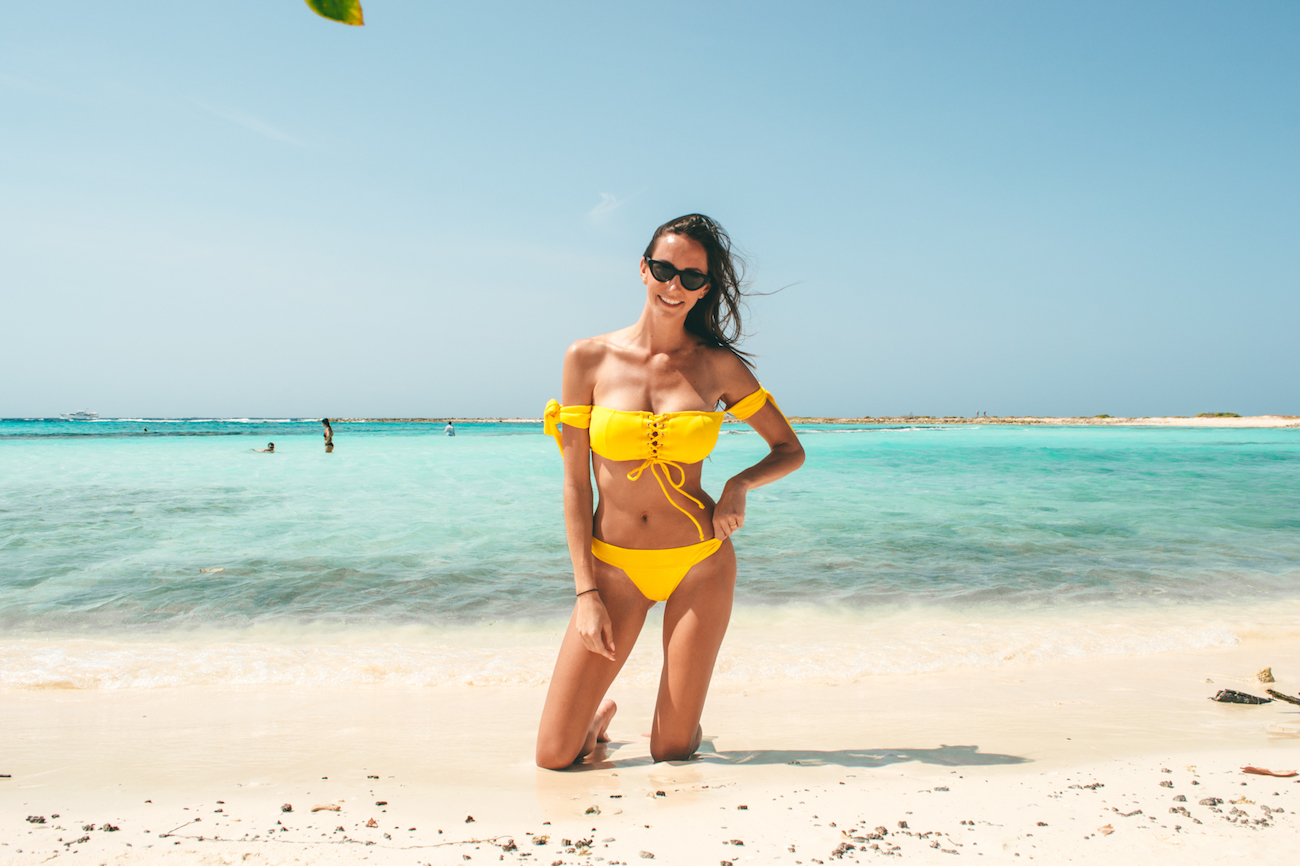 How many days do you need in Aruba?
Spending 3-5 days in Aruba is enough time to have a relaxing beach getaway, but you could easily spend a week here. 3 days is on the shorter end–it allows you to get some beach time, but you won't be able to explore as thoroughly. 5 days in Aruba is a great amount of time to relax and explore, and 7 days will allow you to explore at your leisure and have plenty of time to experience the island.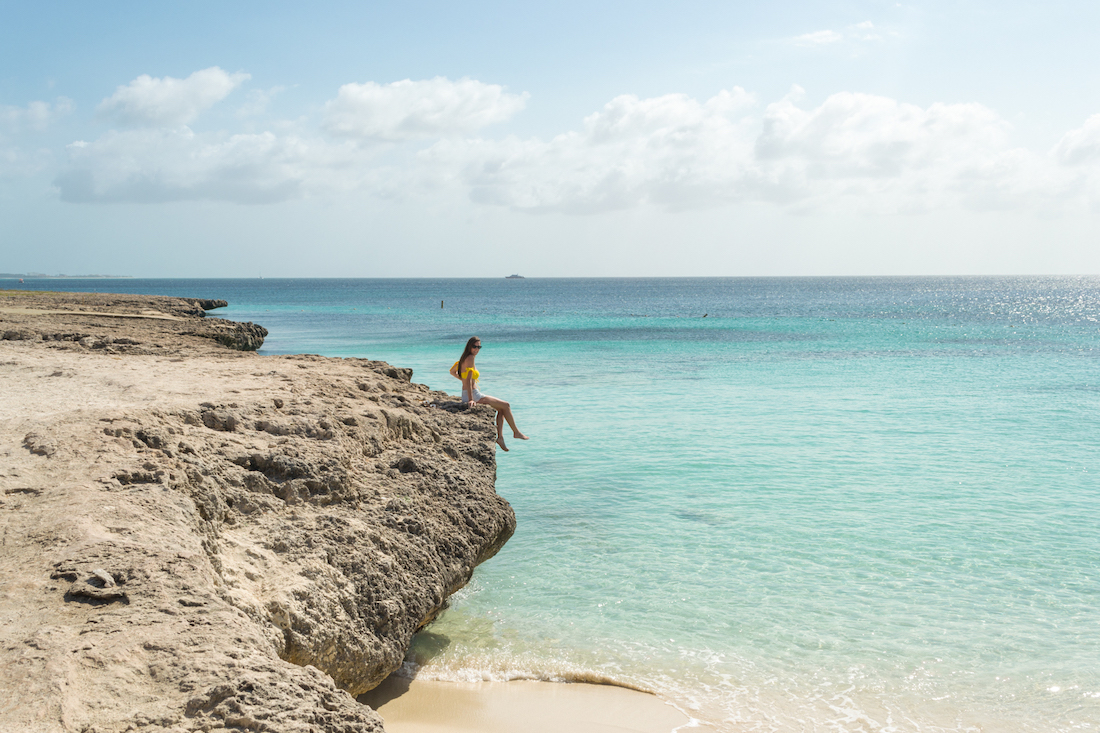 Curacao Island
In the middle of Aruba and Bonaire is Curacao. The island of Curacao is the largest of the ABC islands and twice as large as Aruba. Though ironically, it gets about half the visitors of Aruba and some 60%+ of those visitors are only there for one day on a cruise excursion.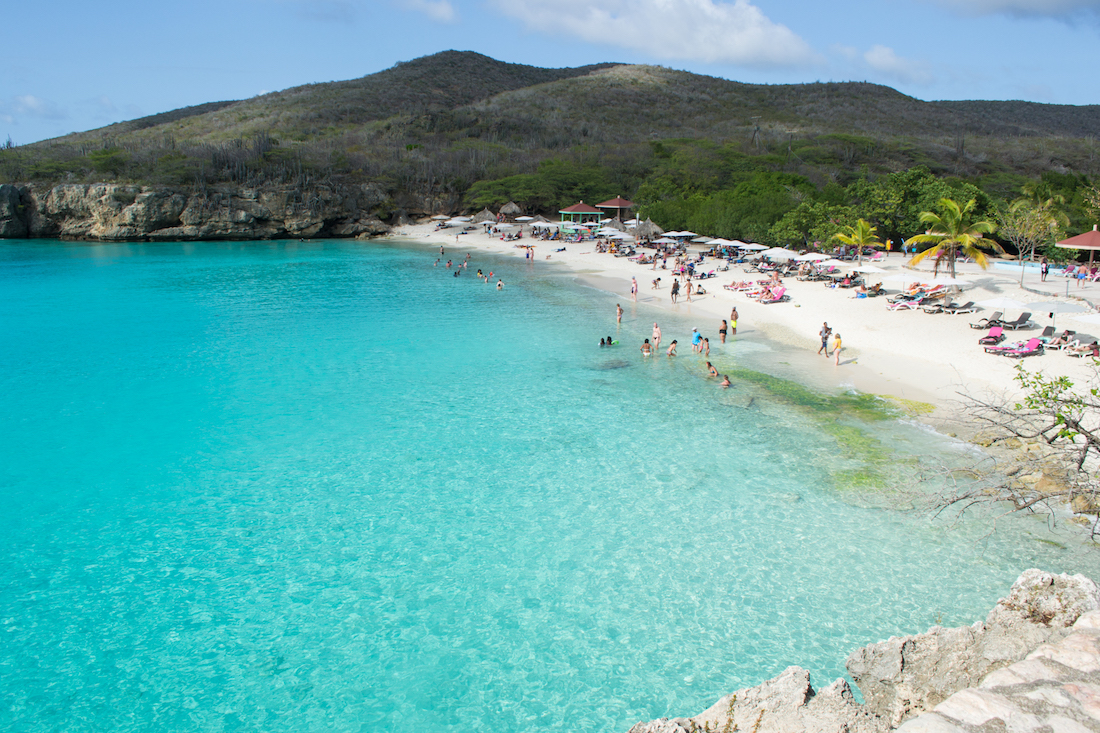 This island also has a desert-like landscape inland and definitely beautiful beaches as well. The landscape is more mountainous with a popular mountain hike to Mt. Christoffel, the highest point on Curacao. It's hard to beat mountainous islands, especially when it comes to photography.
Curacao has a strong Dutch culture and is sort of like the tropical version of Amsterdam. The buildings are brightly colored in the capital city with the same Dutch colonial look. It's a very colorful island and is fun to explore.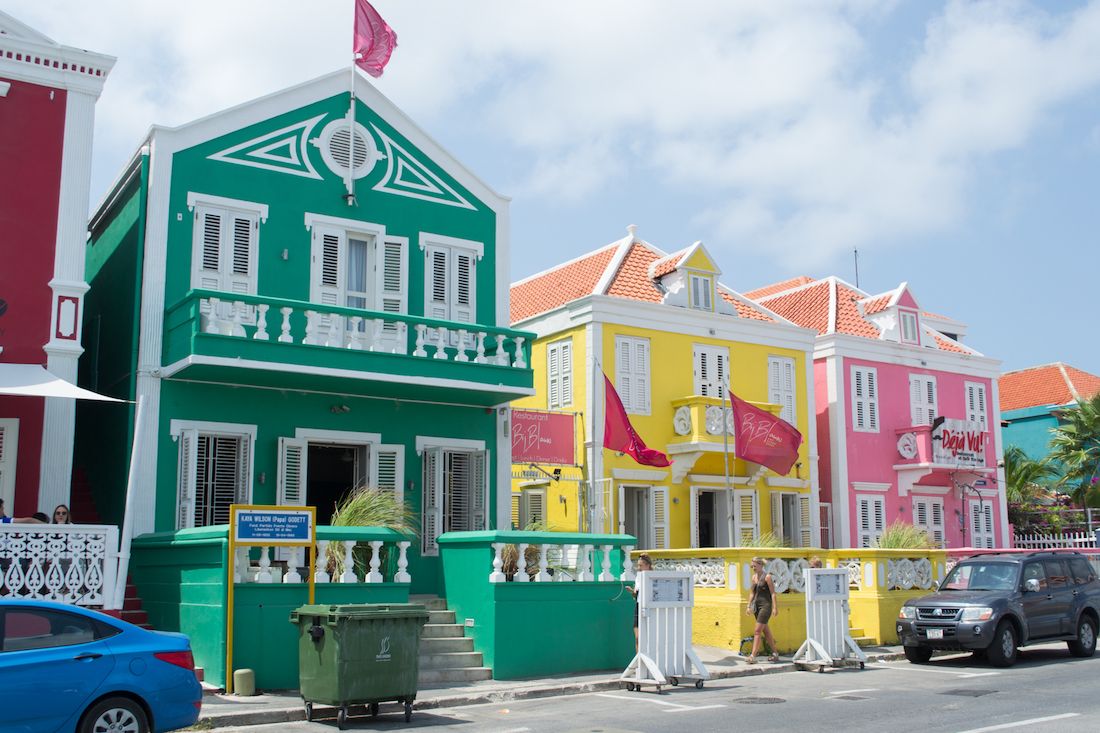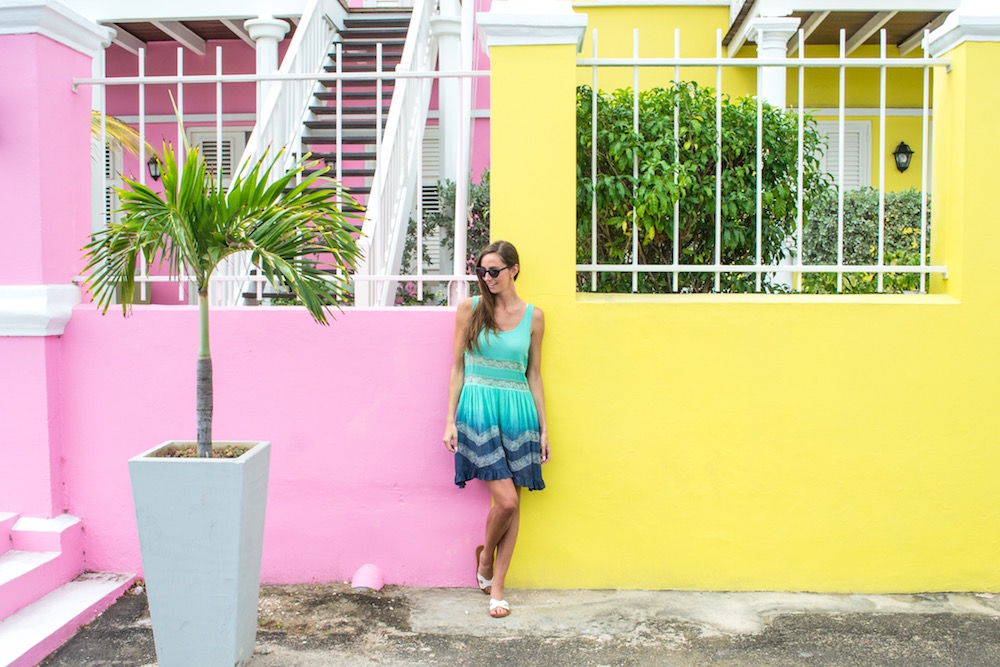 You'll find a few more Dutch comforts here like Albert Heijn, the popular grocery store chain in The Netherlands, and stands selling raw herring–a Dutch delicacy served with chopped onions.
How many days do you need in Curacao?
Since Curacao is a larger island, you'll want to have a little more time to explore here. 3 days will allow you to see the highlights but isn't a lot of time to explore further. Spending 5-7 days in Curacao is the perfect amount of time to explore the island and have some time to relax.
Aruba vs Curacao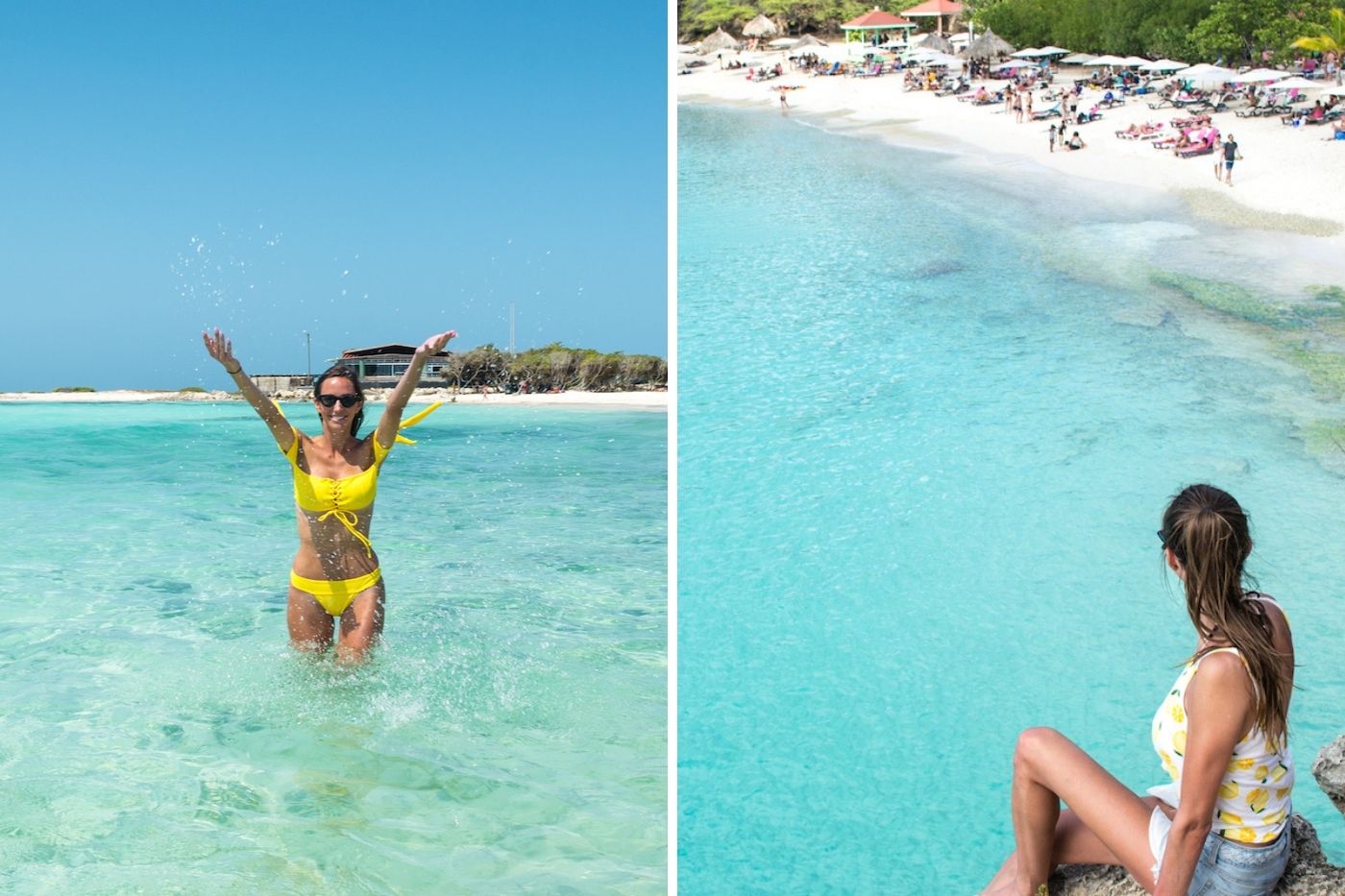 So, which island is better, Aruba vs Curacao? My husband and I had the debate for several days. Both islands have their pros and cons, so let's break it down.
Getting around: Aruba wins
Both islands are a decent size and renting a car is 100% necessary because cabs are expensive (even though they are regulated). Plus, if you don't know how much your taxi should be with the regulations, you're likely to get ripped off.
Aruba is easy to get around with a map and once you drive around for a bit, you find your way. It's also a smaller island so it is much easier to get out and explore pretty thoroughly on your own. However, you will need a 4×4 if you want to go ALL over the island, since a lot of the island is the rocky/sandy terrain of the national park.
Curacao, on the other hand, is an absolute train wreck of a labyrinth of one-way streets. It is essential to have someone on google maps constantly routing you and even then, one-way streets will pop up and you will be thrown on a loop road unable to get back where you need to be because there are so many one-ways. To be fair, that's mostly describing the capital. Once you're out of the city, it's very easy going. But going into the main part of the capital is an adventure if you aren't familiar with it.
Affordability: Curacao wins
This one is up for debate but we found Aruba to be more expensive. Almost every restaurant we found around the city center was minimum $20 per person, usually more. Any taxi from the airport to a hotel or region was around $28 (again, they are regulated but steep if you aren't going within the main city and we definitely got ripped off by our first one). The mini markets in Aruba are WAY too expensive. Stop in for a few beers and a bag of chips and you'll end up spending $25.
We stayed a bit outside Willemstad in Curacao and were able to find places to eat for less. We also found larger grocery stores that had more normal prices, so we were able to pick up breakfast and lunch supplies.
Beaches: Aruba wins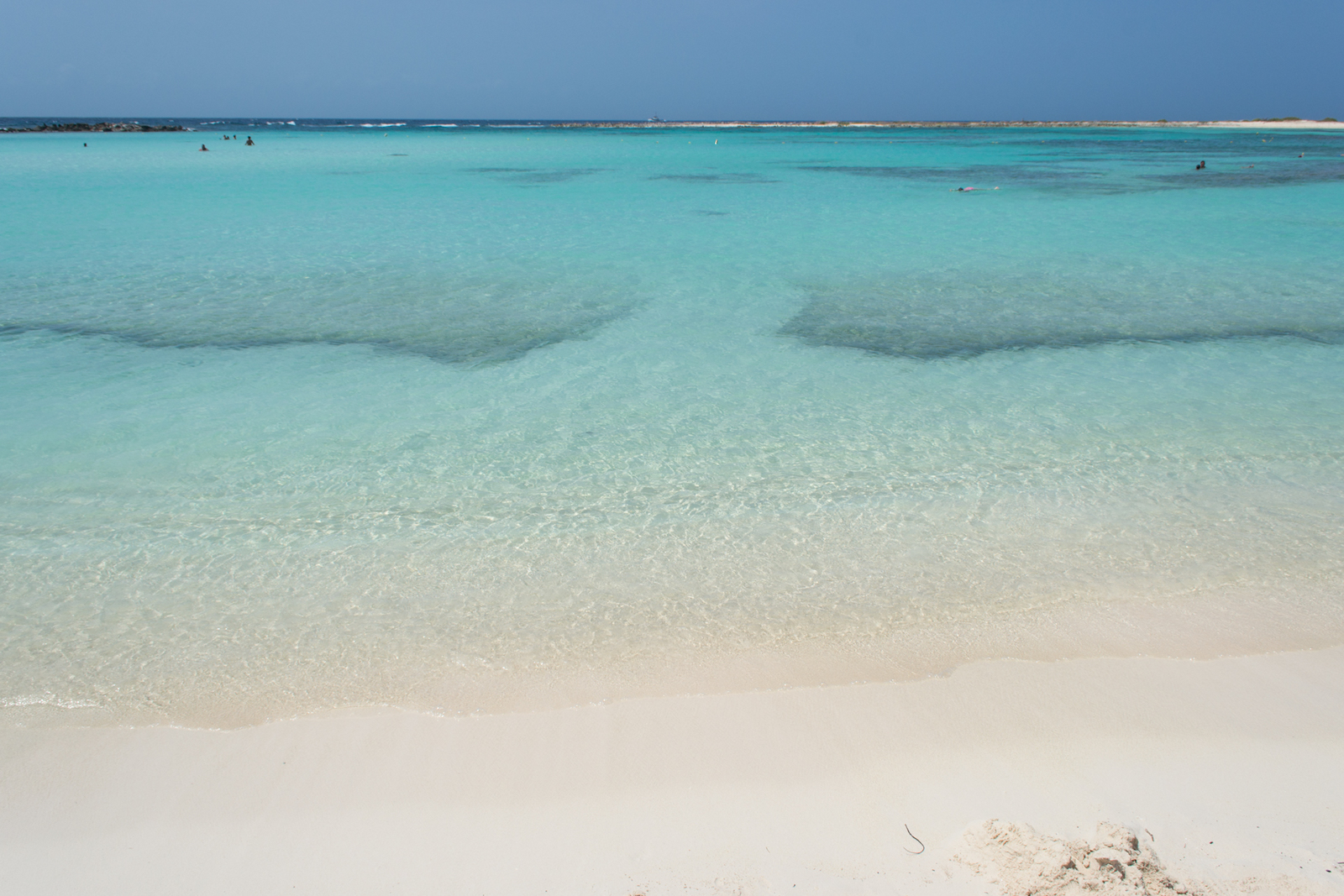 Although Curacao has some pretty beaches, Aruba has better beaches. The main difference between the beaches in Aruba and Curacao are that Aruba's beaches are longer and cover more coastline while beaches in Curacao are typically smaller. Even so, you'll find white sand and glistening turquoise water on both islands, so you can't go wrong.
Eagle Beach is the longest and one of the most popular beaches in Aruba with Divi Divi trees on the beach. It's also a popular place to stay since there are many hotels along the beach. Baby Beach in Aruba is absolutely gorgeous. It's in a little cove so the water is still and incredibly blue. Each beach we drove to was very scenic and had glistening turquoise water.
Curacao's front runner for me is Playa Kenepa. When you arrive, you walk up to an overlook that has a view into the turquoise cove. It really is a gorgeous view. The sand is white, the water blue and it's just a great place to spend the afternoon.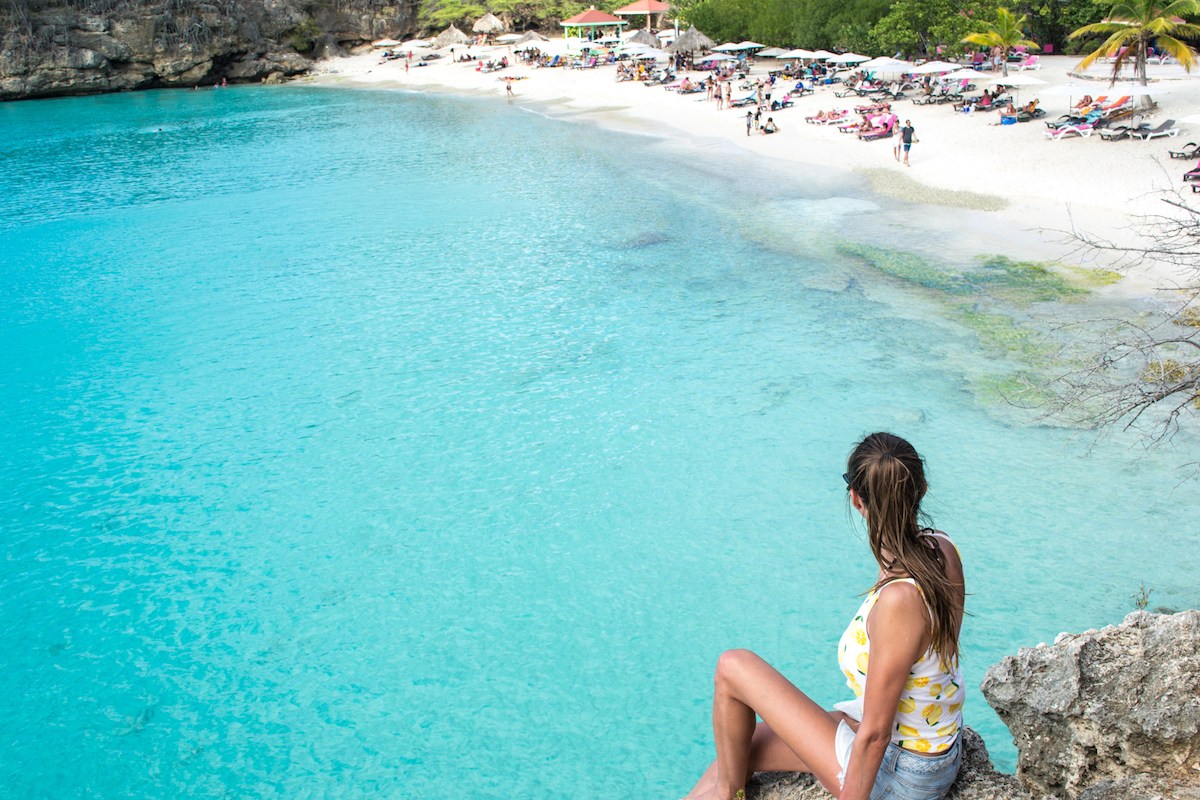 Weather: Curacao wins
Curacao is sunny with warm/hot temperatures and is a bit breezy. Aruba is sunny with warm/hot temperatures and is EXTREMELY WINDY. Like, wind all the time. Aruba has trade winds going across the mostly-flat island constantly. My long hair was in a constant knot and I often felt grimy from dirt being blown around. Though it does give a nice reprieve from the heat.
The good news is that both Aruba and Curacao sit outside of the hurricane belt, so you don't need to worry about hurricanes or a heavy rainy season. Not to say that it doesn't rain at all–you're more likely to see rain in the fall or winter months, but it isn't necessarily something to plan your trip around.
Culture: Curacao wins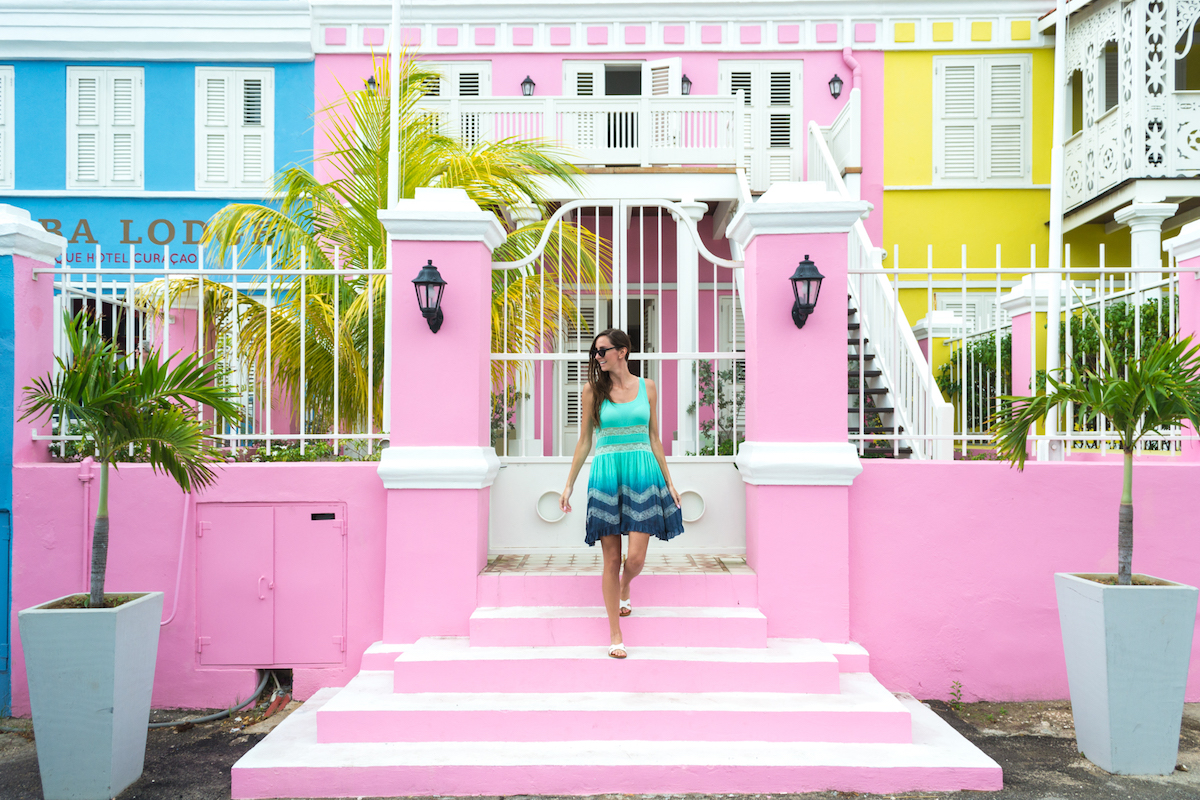 While we expected to find a heavy Dutch influence on Aruba, that just wasn't the case. Yes, there are Dutch people living there and some people do speak Dutch but Spanish was heard way more. The mini marts/food stores were all named something Asian and there were too many American restaurant chains. Aruba is definitely a little more touristy.
Curacao was incredibly charming. In Willemstad, you can find brightly colored colonial buildings alongside the water that resemble the buildings alongside the canals in Amsterdam. It also tends to be a popular place for Dutch transplants since the island is bigger and known for its popular bars and clubs. So you'll hear more people speaking Dutch and find more places with Dutch delicacies. My husband was very excited to find more of his people here and to converse in his native language again.
Capitals: Curacao wins
In the Aruba vs Curacao debate, Willemstad, Curacao easily wins for capital cities. Like I said before, this is where you will find the colorful buildings that look like Amsterdam (though Amsterdam's building are mostly monochromatic). The town is lively and fun to walk around. There are shops, restaurants, history, the Queen Emma bridge, markets, etc. It's touristy without feeling too touristy.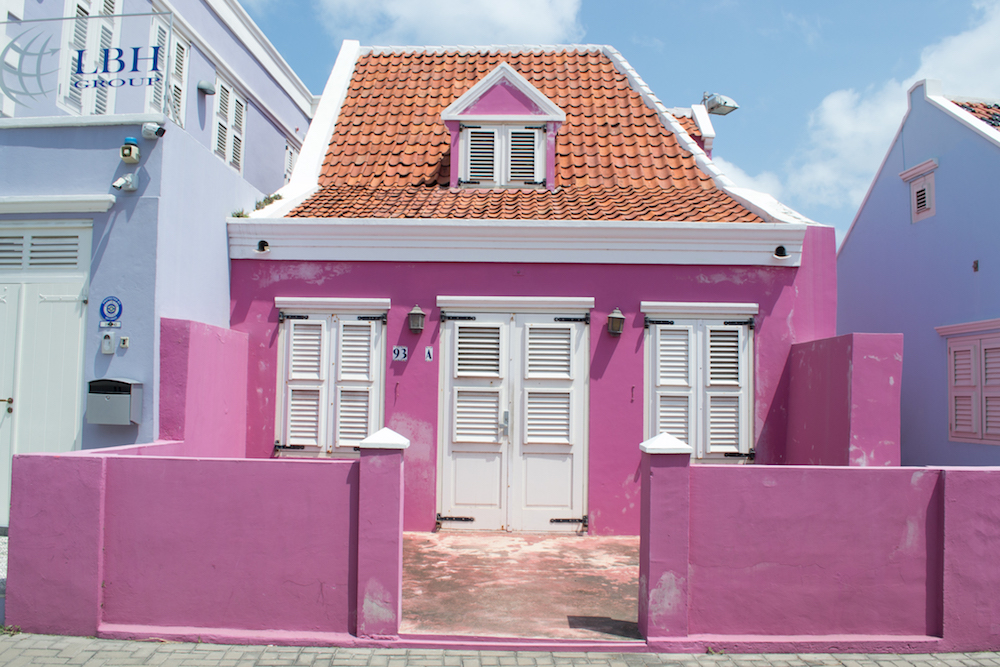 Oranjestad, Aruba was a bit of a disappointment. The main part of the city seemed built for cruise ship traffic. The expensive shops and expensive restaurants just screamed cruise traffic or "tourist trap" to me. The pedestrian street that they do have was completely empty when we went. And I've been to other islands with shopping areas like that–that are only lively if cruises come in. It does have the colorful buildings in Oranjestad, but we didn't really know where to go or what to do.
Landscape: Aruba wins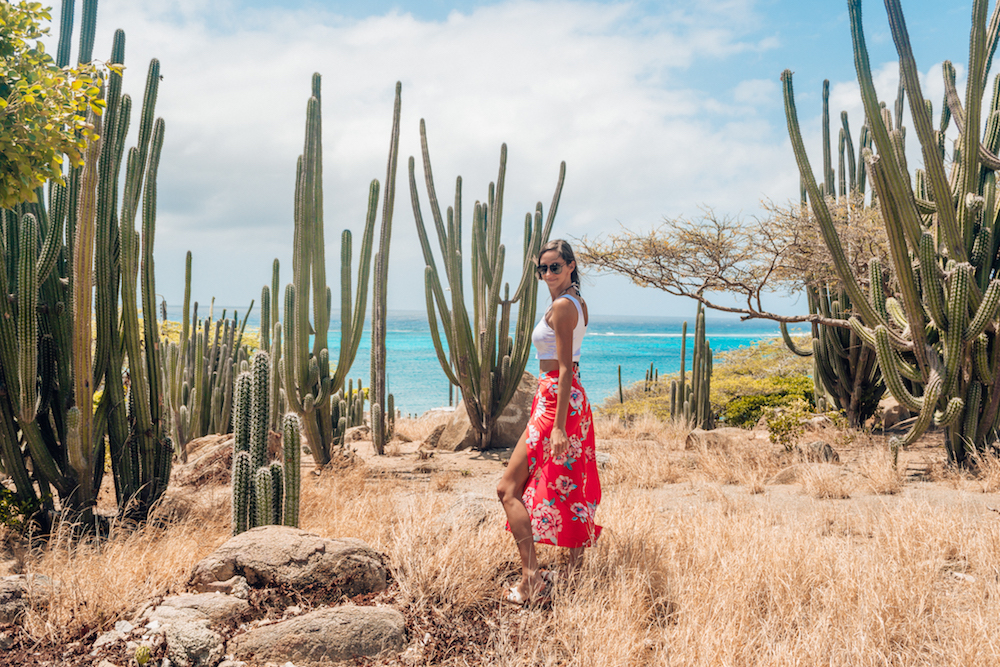 Aruba has a very desert-like landscape. It's very dry with lots of dirt and lots of cacti. There's not much vegetation besides cacti and divi divi trees. Curacao did not have as many cacti and a lot of the plants and trees were dried up and dying to me. It still had some very pretty areas but driving through was just ok. To me, Aruba was a little more interesting to see as there were fields of cacti all across the island.
Safety: Aruba wins
In general, Aruba has nice people living there. Everyone seems very laid back and you don't feel the need to lock up your belongings in safes. People reassured us that our things would be fine and left alone. We met some friendly locals at Carnaval who told us some tips for visiting and even invited us to ride horses with them.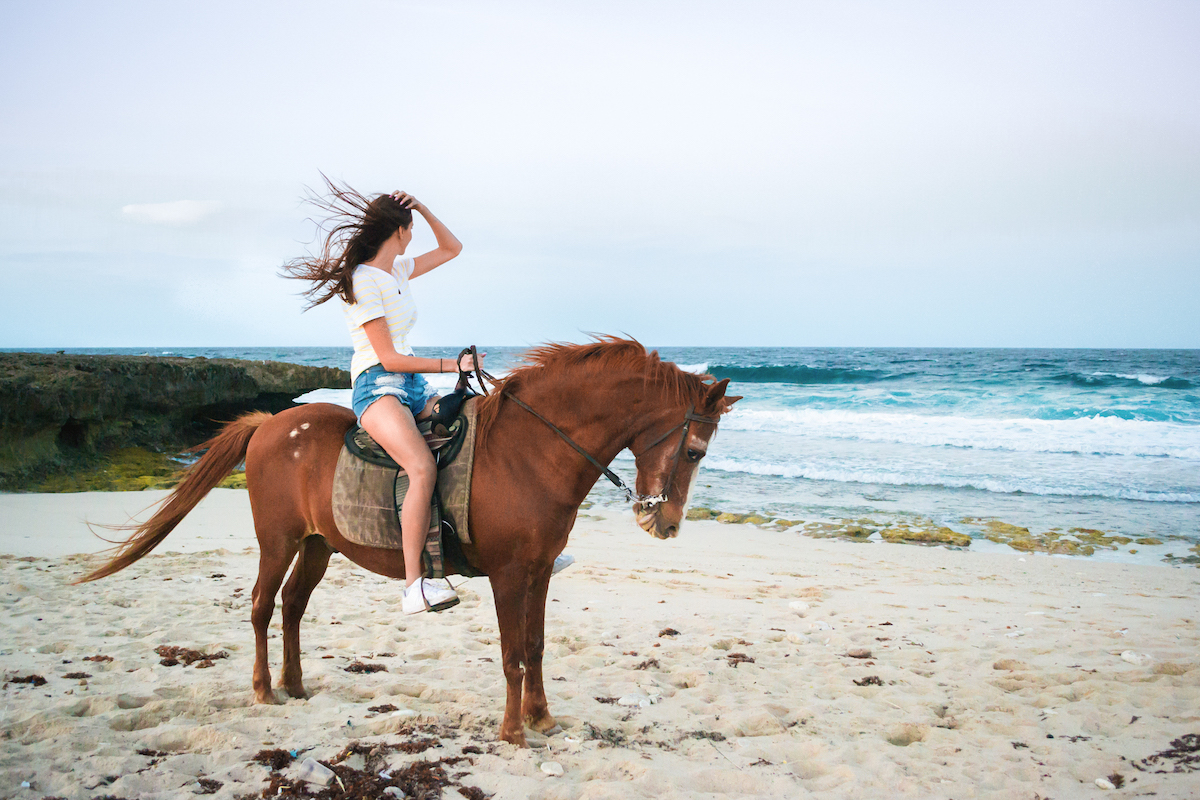 We met them at their ranch and went horseback riding through the cacti at sunset. The paths took us through the desert landscape and we eventually ended up at a secluded beach.
For Curacao, we felt like we needed to be more watchful. Though we didn't have any problems, the vibe was a bit different here. The first thing people told us when we arrived was to NEVER leave anything in our car. Then they told us to keep it unlocked with the windows down because apparently break-ins are common. This was a common topic on forums as well.
Cruise Ports: Curacao Wins
Cruises aren't necessarily my thing, but because of the popularity of Caribbean cruises, it's a valid topic to mention. Especially since Aruba and Curacao both are cruise destinations. In fact, Fodor's mentions Oranjestad, Aruba as one of the 11 busiest cruise ports.
Though Aruba gets more traffic, the area around the cruise port is very geared towards tourism. The long streets are filled with shops and nice hotels. There are gift shops and luxury, designer boutiques…it definitely caters to a certain crowd.
The cruise port in Curacao is in Willemstad and puts you within walking distance of the old, Colonial buildings. While it still has shops and things, it's a little less Americanized. Some of the shops are located inside Rif Fort which is a historic fort built in 1828. You can walk along the Queen Emma Bridge and of course shop the main streets. It just has a different feel and you can explore the history of the island on your stop, while Aruba feels more of just a shopping port.
When it comes to Aruba vs Curacao as a cruise stop, Curacao wins for sure in my opinion. It of course depends on what type of cruiser you are and what you like to do, but…you can shop luxury goods in the mall at home.
Flamingos: Aruba Wins
I know you've seen the pictures of pink flamingos on a beautiful, tropical beach. Those pictures happen to be from Aruba. But a little context behind the pictures–flamingos aren't actually native to Aruba. They can be found on the private island owned by the Renaissance Hotel. There are 6 flamingos that are permanent residents there, possibly because their wings are clipped (no one really seems to know what the story is and why they stay there).
Curacao on the other hand has a lot of Flamingos in the wild. But it certainly isn't the picturesque setting of a tropical beach. They can likely be found in St. Willibrordus salt pans and a few other lagoon-type places. While it's neat to see them in their natural habitat, it is pretty far away. It's hard to get a good look at them and to take any good photos, you'll need a zoom lens and a tripod. It's also not the most scenic of places.
This one is a bit subjective. I don't really know if Aruba's flamingos had their wings clipped or not. They could be rescued or there could be some other story behind it. If it was a rescue situation, Aruba wins for allowing up-close encounters and because of the setting. Flamingos eating out of your hand on a gorgeous beach is hard to beat.
So…which island is better Aruba vs Curacao?
If you've kept track, you'll notice that it's a tie, which is why my husband and I debated this for so long. There are a few more topics I could add but they are a little more specific or hard for me to answer. Such as:
I had good seafood on both islands. Aruba has a popular seafood restaurant called Zeerover where you can pick freshly caught fish and they'll cook it right up for you. You can also find traditional Dutch food on both islands, which is definitely worth trying. However, we didn't eat at too many hot spots for me to be able to get a clear winner.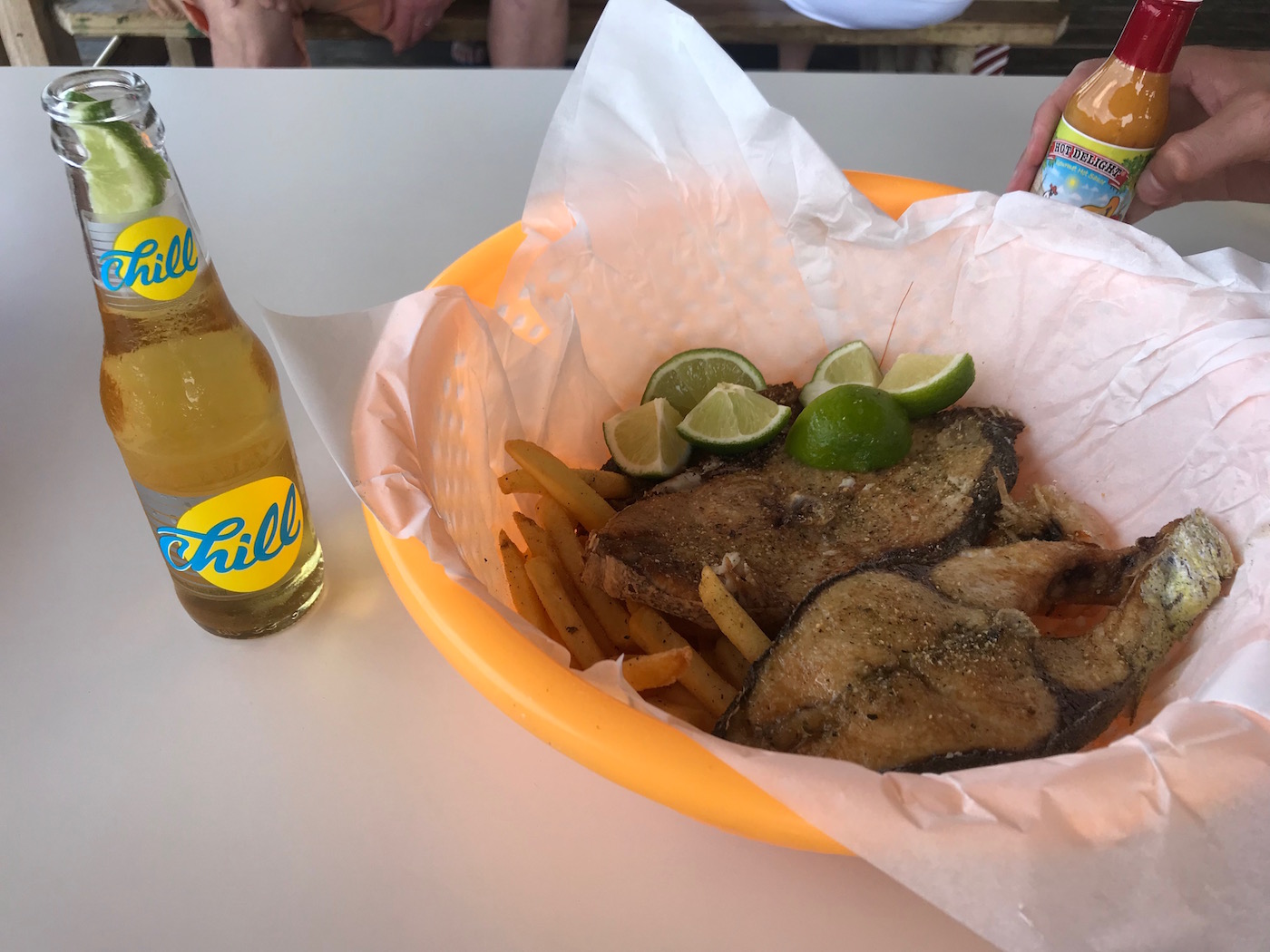 Snorkeling/Diving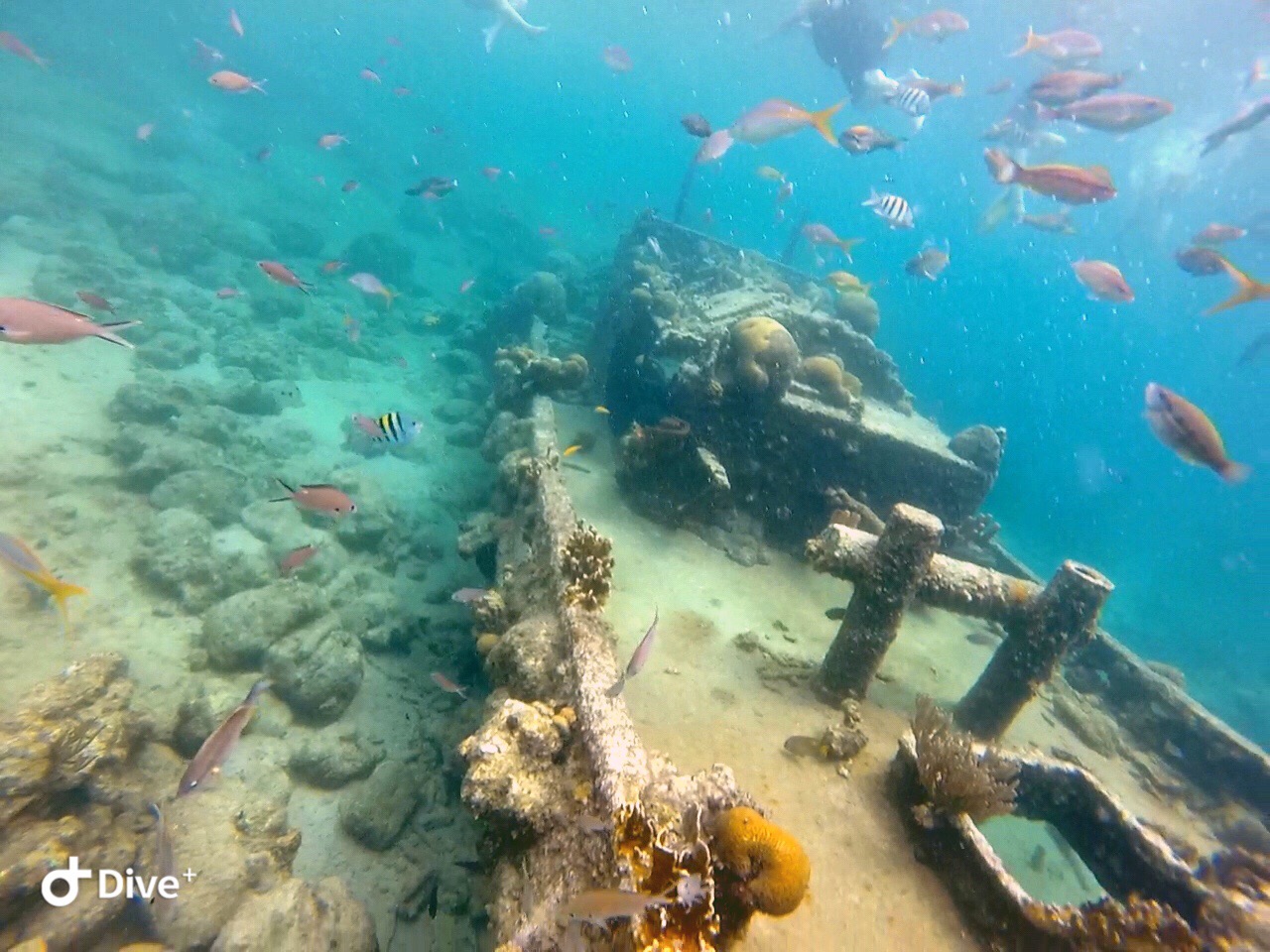 Curacao seems to have more spots for snorkeling and definitely more shore diving/snorkeling. Aruba was where I originally wanted to dive as they have a 400 ft wreck (The Antilla) and a few plane wreck dives, but it didn't work out. Instead we dove in Curacao and did the tugboat wreck and some reefs. I've read on numerous blogs that most people prefer Curacao over Aruba for diving, which I was a bit surprised by (and if the option is there–most said Bonaire wins overall).
Note: If you plan on diving in Aruba or Curacao, make sure you plan your trip with enough time to do so! As a general rule, you should wait 24 hours after diving to board a flight.
Carnaval
If we're adding Carnaval to the Aruba vs Curacao debate, I think Curacao would win this one as well. We only attended Carnaval in Aruba (so I can't accurately judge) but apparently the parade and celebration in Curacao is much, much bigger than Aruba.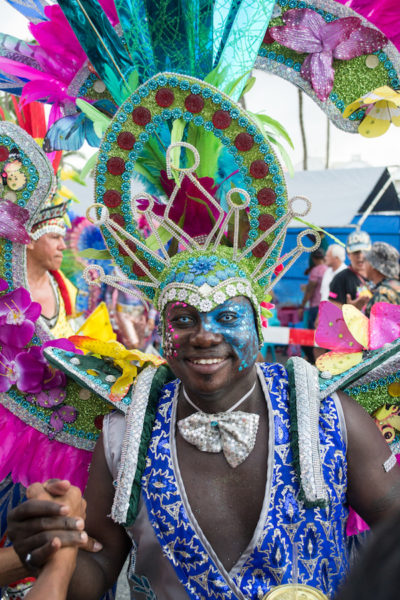 We had a great time celebrating Carnaval in Aruba and the costumes were fantastic. For my first time experiencing a Carnaval celebration–I had a lot of fun. But we did hear that Curacao has bigger celebrations and a bigger parade.
So who wins: Aruba vs Curacao??
This is the debate people! Even after I've weighed out both sides, I keep going back and forth. Frankly, it depends on what is most important to you.
Aruba and Curacao are beautiful islands and both are worth visiting. Curacao might be the better island for you if you have a little more time to explore and want more of the tropical Dutch vibe. If you want a relaxing beach getaway, then Aruba might be the better island for you.
I would easily return to both of these islands. Curacao-for the culture, beautiful buildings and beaches. Aruba-for the beaches, landscape and laid-back vibe of the island (and to finally dive there!).
If you need more help deciding, or have already decided which Caribbean island suits you more, check out the island guides below!
Read More:
PIN IT FOR LATER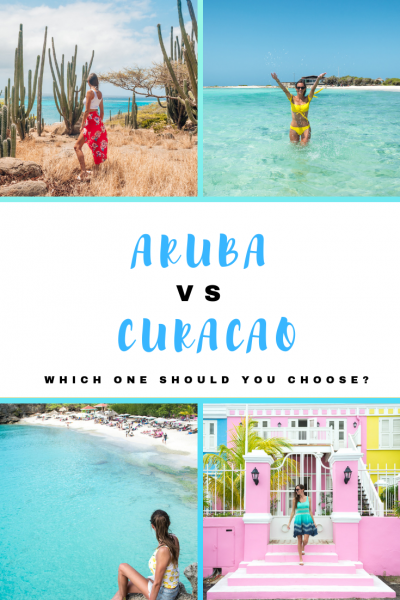 Have you been to these islands? What do you think: Aruba vs Curacao?
Source https://www.aroundthecaribbean.com/st-thomas-vs-aruba/
Source https://globalgrasshopper.com/destinations/caribbean/15-most-beautiful-places-to-visit-in-aruba/
Source https://jetsetjansen.com/which-island-aruba-curacao/