Smoky Mountains – Must See Places
What will you see for your Gatlinburg vacation? Picking a destination to see in the Great Smoky Mountains National Park is no easy task. Luckily, we've assembled the top 15 must see places in the Smoky Mountains!
Once you cross these off your list, you can truly say you've experienced the best sights that America's most visited national park can offer!
15 Must See Spots in the Great Smoky Mountains
1. Newfound Gap
Nestled high on the main ridge of the Smoky Mountains, you'll find Newfound Gap a short drive from Gatlinburg, TN. Visitors to the gap will be treated to spectacular views of the Smoky Mountains, access to the Appalachian Trail, and the monolithic Rockefeller Monument.
2. Clingmans Dome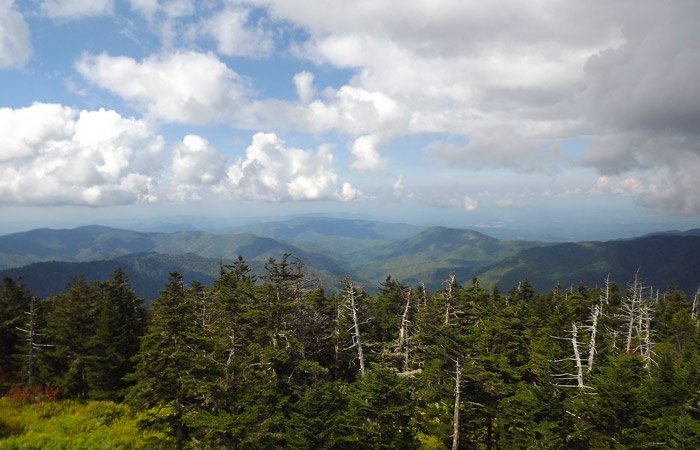 The highest mountain in Smoky Mountains at an elevation of 6,644 ft. This mountain peak can also be reached by taking the Clingmans Dome Road that is open from May to November. At the top, visitors can make the short hike to a stunning observation tower with panoramic views of the Smoky Mountains. On a clear day, it's possible to see six states: Tennessee, North Carolina, South Carolina Virginia, Kentucky, and Georgia.
3. Charlies Bunion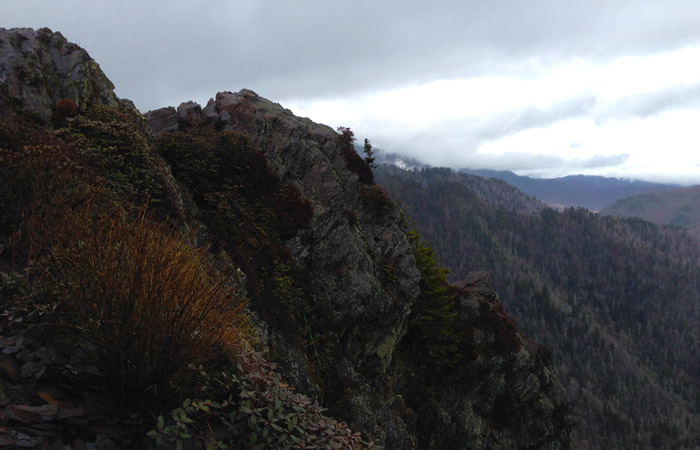 Charlie's Bunion, a popular overlook, can only be reached by making an 8 mile round-trip hike on the Appalachian Trail. While the hike is strenuous, it's hard to find views that are more satisfying. Charlies Bunion itself is an exposed rock that famously resembles a blister or "bunion."
4. Mt. LeConte and Alum Cave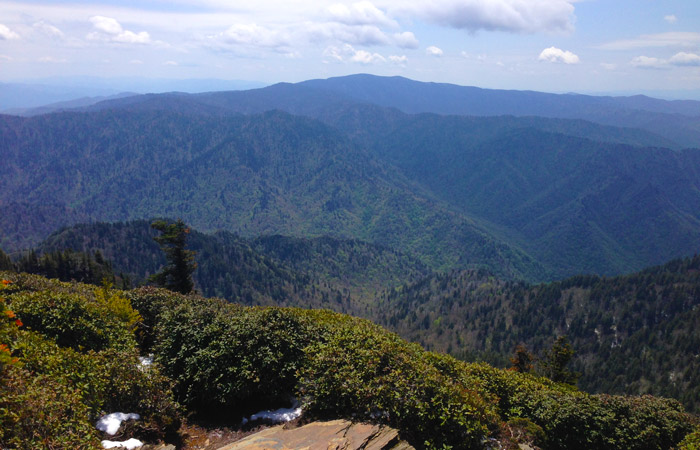 Mt. LeConte is the 3rd tallest mountain in the Great Smoky Mountains National Park at a towering elevation of 6,594 ft. While there are five trails to the summit, Alum Cave Trail is the most popular (and shortest) way to the top.
On the way to the summit, hikers will pass by Arch Rock and Alum Cave Bluffs – 100 foot high bluffs that were important in Cherokee lore and for having rich mineral deposits. Saltpeter was mined from the bluffs and used for making gun powder in the Civil War.
Near the summit, hikers will encounter the LeConte Lodge, the only operating lodge within the Great Smoky Mountains. A short hike further to over looks like Cliff Tops and Myrtle Point will yield impressive views of the Smokies.
5. The Chimney Tops Trail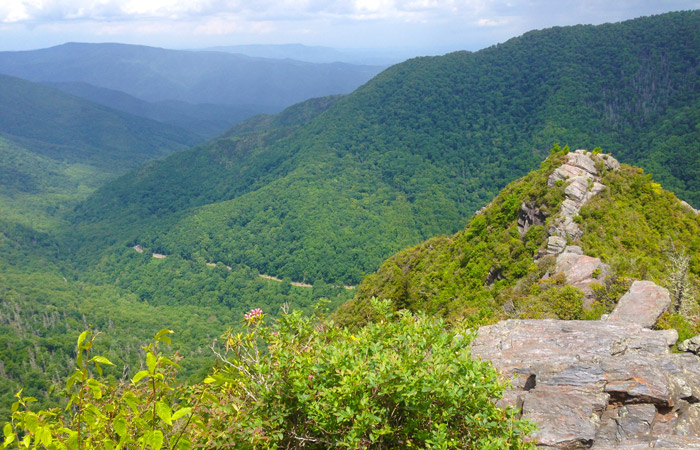 This famously steep trail that leads to the Chimney Tops, has unique rock formations that jut-out from the mountain like chimneys from a roof. This 3.8 mile round-trip hike is strenuous, but can easily be completed in an afternoon. For your hard work, you'll be treated with great views and a gorgeous high elevation spruce fir forest ecosystem.
6. Andrews Bald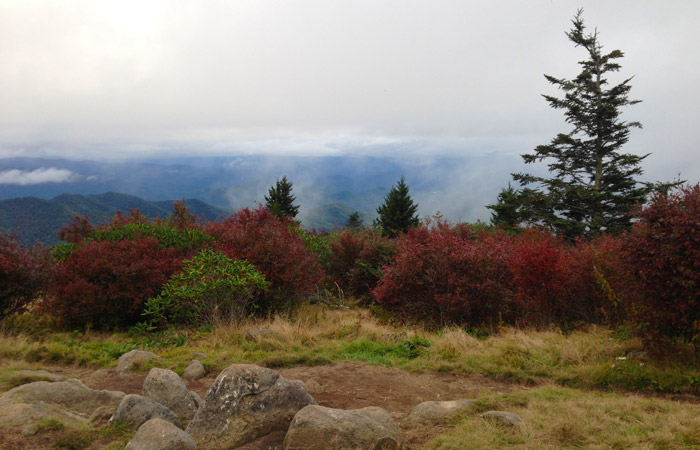 Of the many high elevation fields or balds in the Great Smoky Mountains, Andrews Bald boasts the highest elevation and arguably, the best views. No one is sure of how natural balds formed in the Appalachian Mountains, but no one doubts that fields like Andrews Bald make a terrific picnic spot and a must-see destination.
7. The Sinks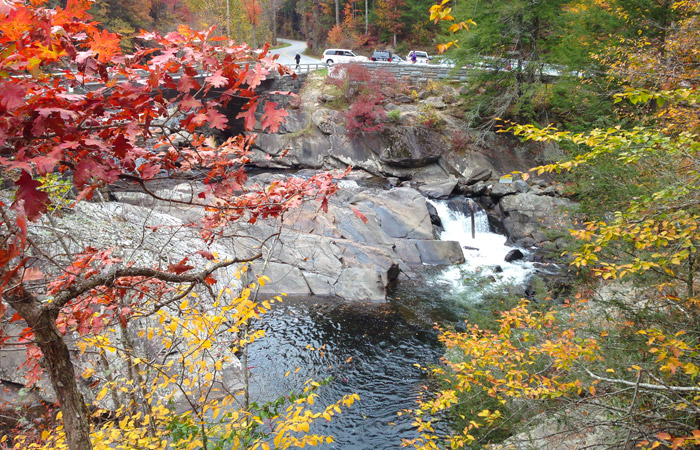 "The Sinks" are a popular series of cascades and waterfalls along the Little River Gorge Road only a few miles away from Gatlinburg. About two miles after Metcalf Bottoms Picnic Area, you'll cross a bridge over this turbulent waterfall that has created a popular swimming hole. Thrill seekers will occasionally plunge down the falls in kayaks. Exercise extreme caution around these falls.
8. Ramsey Cascades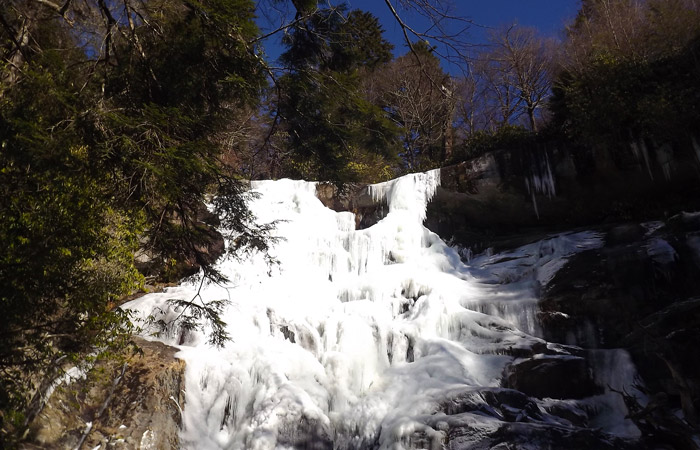 The tallest waterfall in the Smoky Mountains rests in the Greenbrier area of the national park. A 10 mile Ramsey Cascades hiking trail leads to these stunning falls and passes through magnificent old growth forests filled with gigantic yellow poplars, birch trees, and hemlocks.
9. Elkmont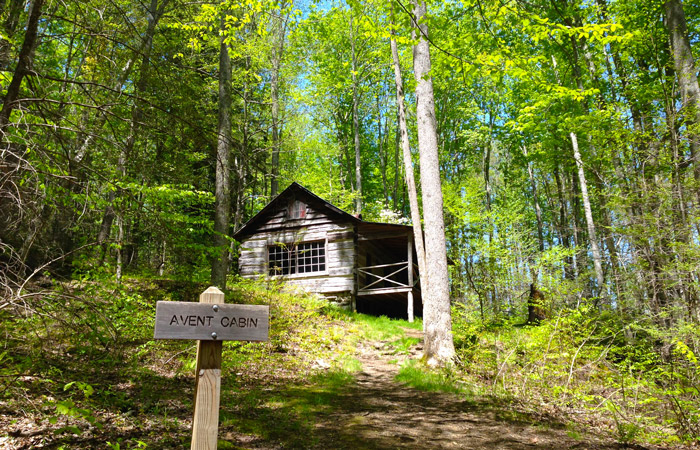 What part of the park has been home to logging camps, ccc work groups, and an exclusive resort community? Visitors today can still see historic sights and structures in Elkmont that remain from a colorful history. In addition for being a great stop for history buffs, Elkmont has several popular hiking trails and beautiful streams ideal for fishing and tubing.
10. Roaring Fork Motor Trail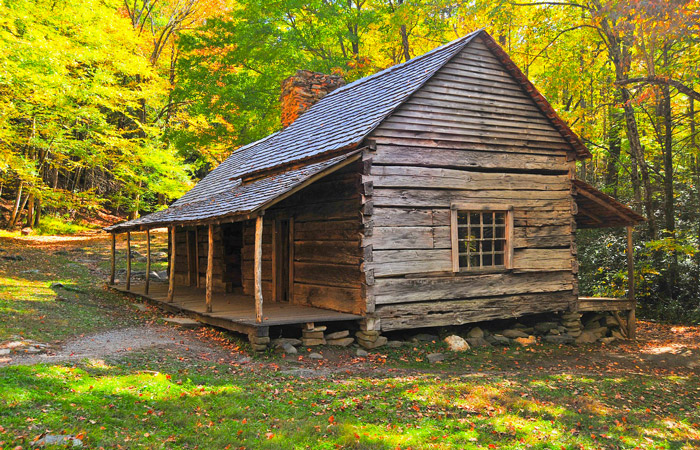 Want to explore beautiful waterfalls and rustic homesteads? This loop road is just your ticket! The Roaring Fork is one of several of Gatlinburg's entrances into the Great Smoky Mountains and offers access to incredible waterfalls and sights like the Noah "Bud" Ogle cabin built in the 1880s. This popular road is closed from December to March.
11. Grotto Falls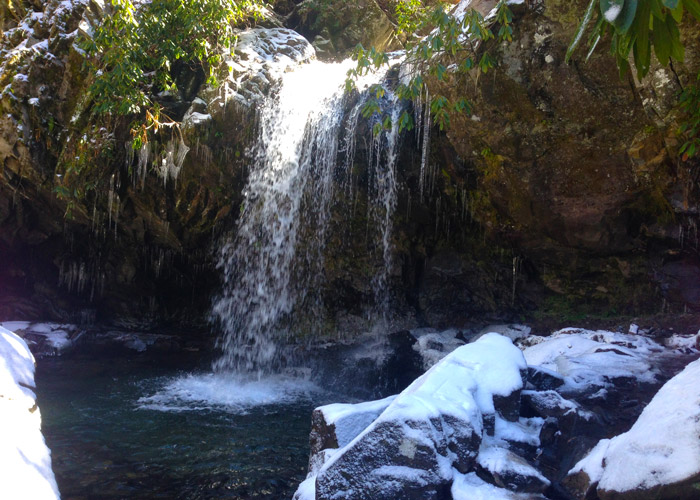 Grotto Falls is a terrific hiking trail for seeing wildflowers and a truly unique waterfall. In fact, the Trillium Gap Trail passes underneath the falls – a great way to cool off in the heat of summer. If you have enough time, this hiking trail also continues to the summit of Mt. LeConte. Laurel Falls Trail is another popular waterfall hike near Gatlinburg.
12. Rainbow Falls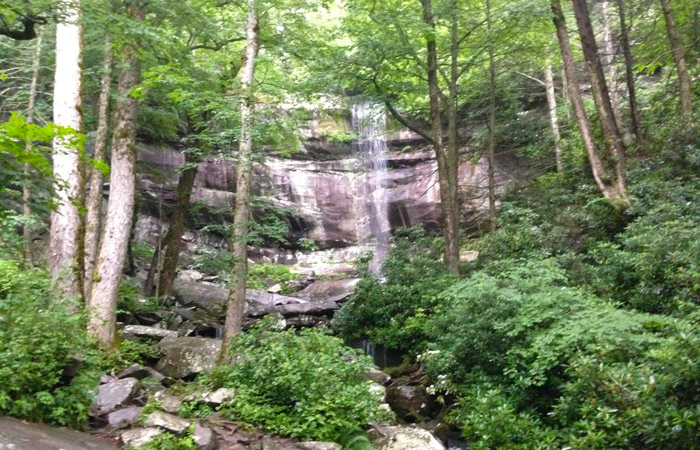 This stunning 80 foot high waterfall known for creating enough mist to form rainbows in bright sunlight. The trailhead for this beautiful waterfall is off of Cherokee Orchard Road. Rainbow Falls is a 5 mile round-trip hike, but it is possible to reach the summit of Mt. LeConte to complete a whopping 14 mile day hike.
13. Cades Cove Loop Road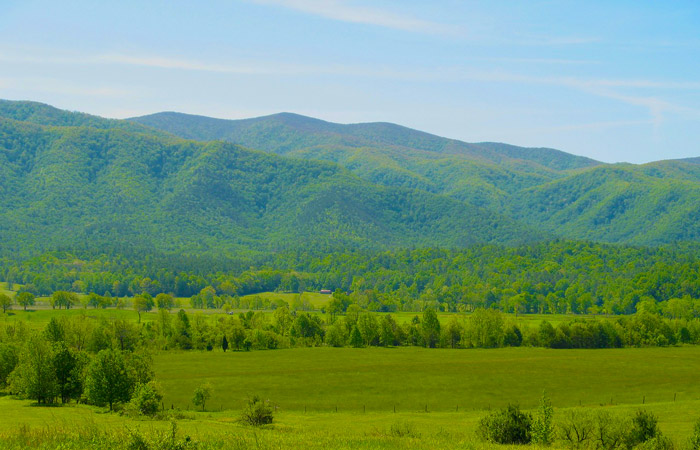 Once a remote valley community, Cades Cove today is easily the most visited and photographed locations in the Great Smoky Mountains National Park. It's no secret why – a combination of old homesteads, churches, mills, wildlife, and spectacular mountain peaks is a must see for nature-lovers and history buffs. The 11 mile loop road offers numerous pull-offs to explore hiking trails and historic sights from yesteryear like a working grist mill.
14. Abrams Falls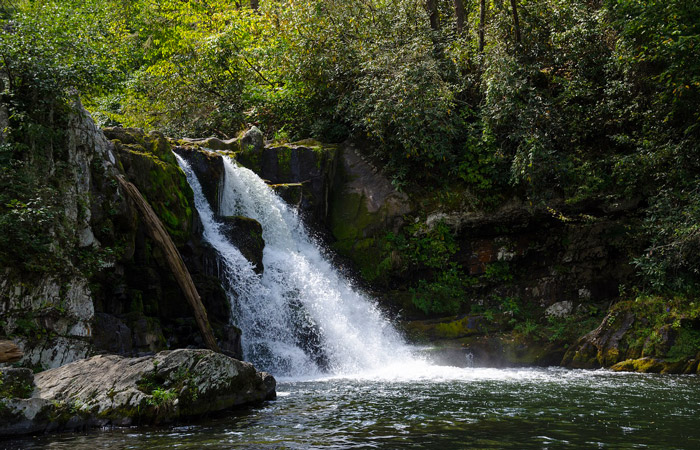 A moderate 5 mile hike leads to one of the most dramatic waterfalls in the Smoky Mountains near Cades Cove. From the trailhead near the halfway point in Cades Cove, hikers will descend down a stunning river gorge to this high-flow waterfall in the park. Otters are known the frequent this section of the river on Abrams Creek.
15. Cataloochee Valley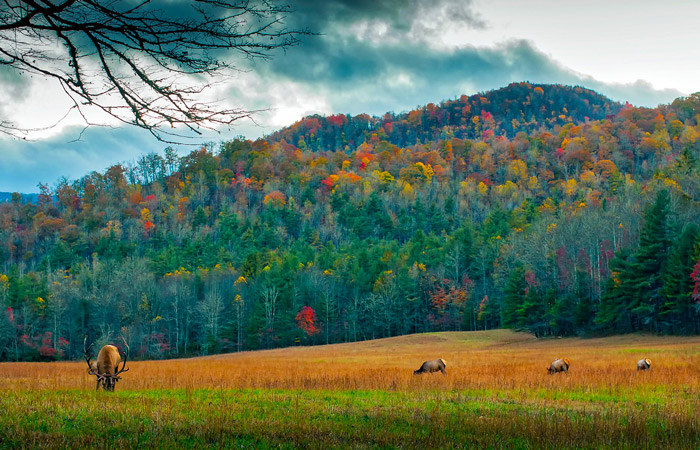 Home to the only Elk herd in the southern Appalachian mountains, Cataloochee in the North Carolina side of the park is a sight worth seeing off the beaten track. Other highlights to see include the Palmer Chapel and Beech Grove School House.
Final Thoughts
Admittedly, it can take many days to experience the best sights in the Great Smoky Mountains National Park. So how can you see as many of these natural wonders as possible?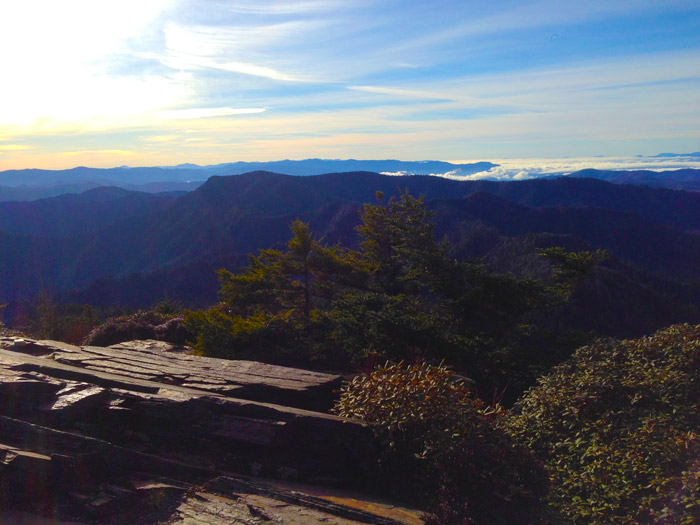 A great way to cross some of these beautiful sights off your bucket list is to book a long cabin vacation in Gatlinburg, TN. Nestled just outside of the national park, there are many Gatlinburg cabins that offer a comfortable home base to plan trips and excursions in the Smokies.
Are there some "must-sees" we forgot to mention? Please comment and let us know! We'd be glad to update the list and include them.
Recent Articles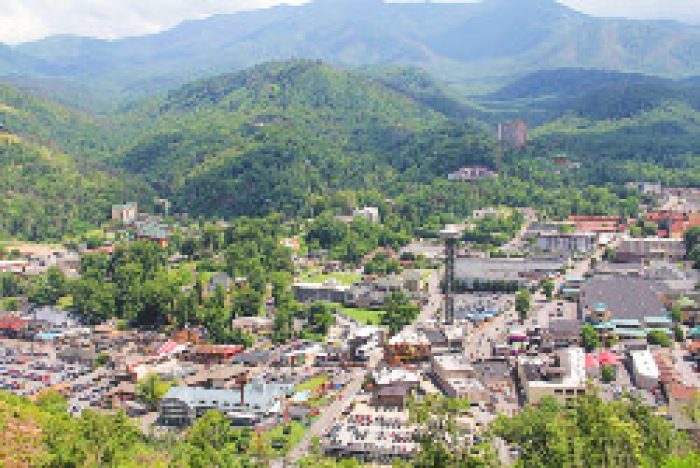 48 Hours: Short Vacation Ideas for Gatlinburg
With only 48 hours in Gatlinburg, you'll need to optimize your time to keep the fun going. Check out our best short vacation ideas for Gatlinburg to get started!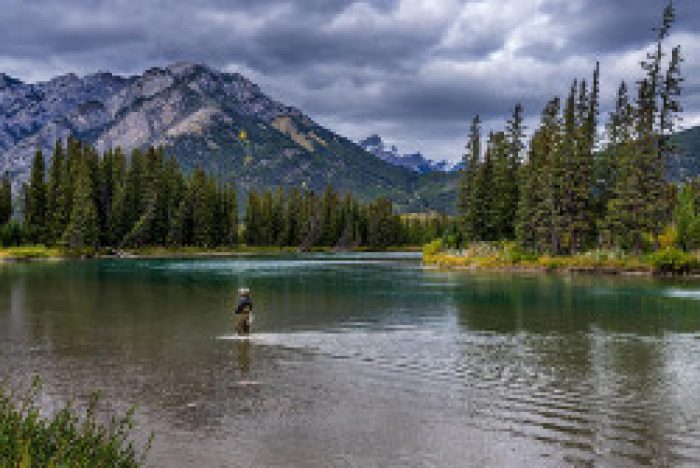 Exploring the Best Places to Fish in the Smokies
Make your next Smokies getaway relaxing by trying out one of the best places to fish in the Smokies and slow things down.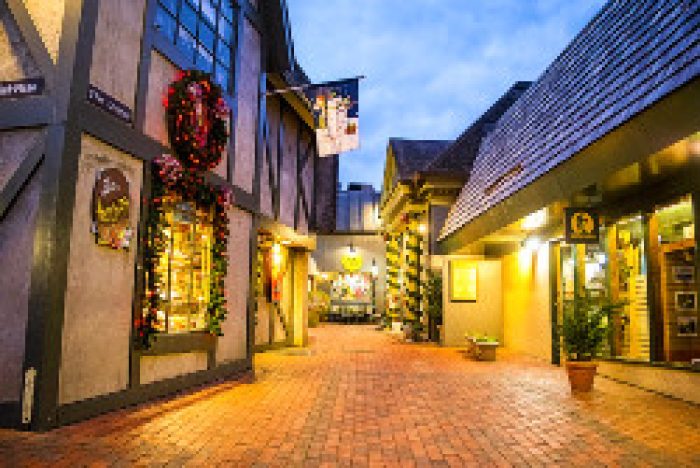 Five Stores: Exploring the Village in Gatlinburg
Enjoy the shopping side of the Smokies by visiting The Village in Gatlinburg, where shops, food, and a good time await you and your guests.
Categories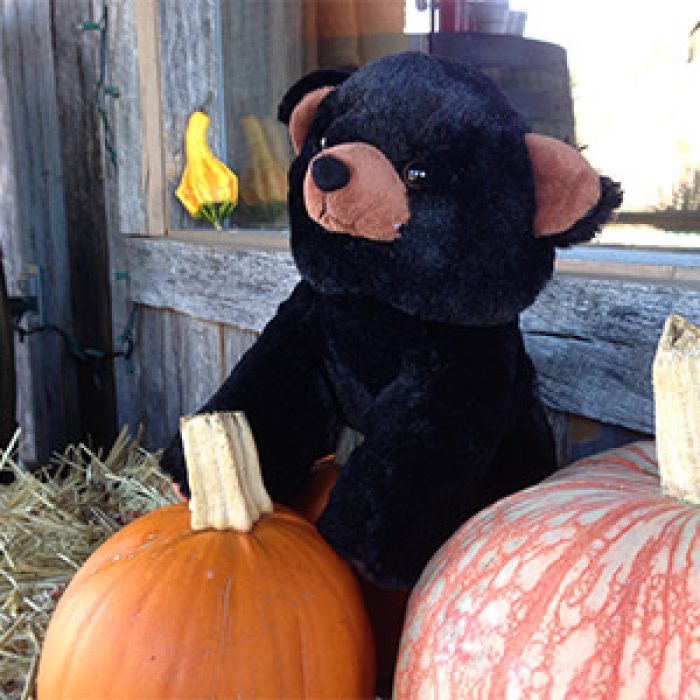 Blogger Bear's Smoky Mountain Adventures
Meet our new guest blogger! This blogging bear loves sharing the Smoky Mountains with everyone. He knows his home well – read more.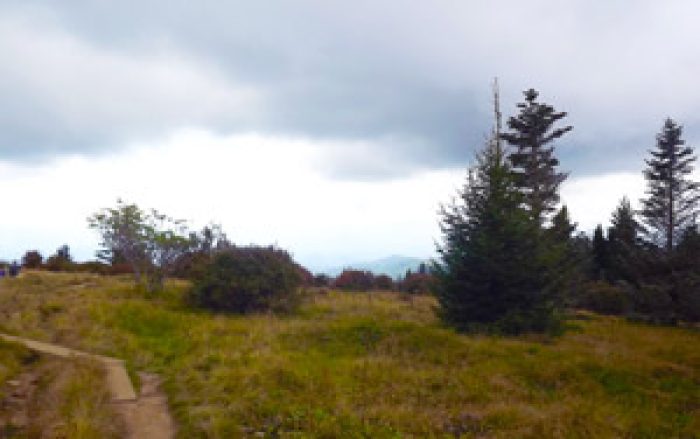 Hiking in the Smokies Blog
Planning adventures in the great outdoors? Our hiking blog has tips and tricks for vacationers in Gatlinburg who want – read more.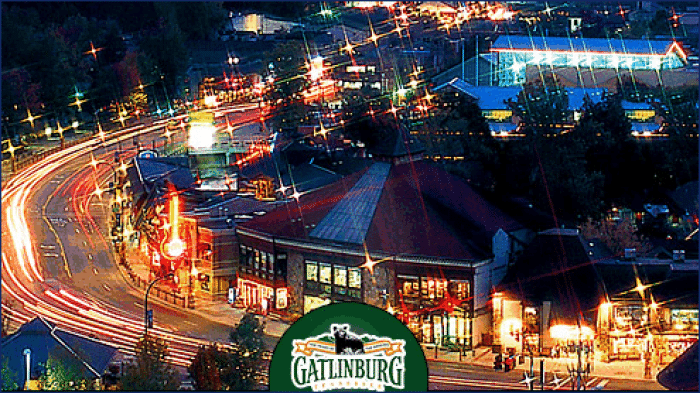 Seasons in Gatlinburg
Any time of year is a great time to visit Gatlinburg and the Smokies! Explore these articles to learn more about fun e – read more.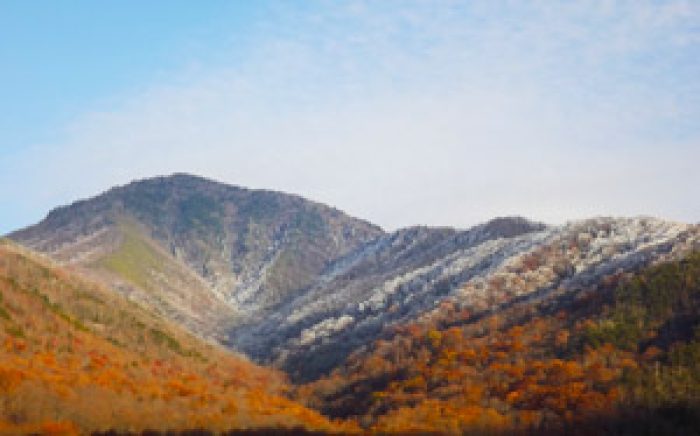 Vacation Tips
Archives
(1) (1) (1) (1) (1) (1) (1) (1) (1) (1) (1) (1) (1) (1) (1) (1) (1) (1) (1) (1) (1) (2) (1) (1) (1) (1) (1) (1) (1) (1) (1) (1) (6) (3) (2) (1) (2) (2) (3) (1) (2) (1) (2) (3) (1) (1) (2) (2) (1) (1) (1) (2) (4) (4) (2) (4) (4) (4) (4) (4) (4) (4) (5) (3) (4) (5) (4) (4) (4) (4) (4) (1) (4)
Please Note: Cabins USA Gatlinburg's area information, area events, and blog pages are provided as a public service. Cabins USA Gatlinburg does not endorse any of the products, vendors, consultants, or businesses referenced in these web pages. Any mention of vendors, products, businesses, or services on the Cabins USA Gatlinburg web site is for informational purposes only. Users of this web site are responsible for checking the accuracy, completeness, currency and/or suitability of all information. The inclusion of this information does not imply endorsement by Cabins USA Gatlinburg. Furthermore, specific questions regarding any content should be directed to the appropriate organization and not necessarily to Cabins USA Gatlinburg.
849 Glades Rd., Unit 1A1
Gatlinburg , TN 37738
(865) 436-5031
Preparing Search Results
Please be patient, this may take a minute.
Want to receive up to date information on cabin specials and events in the Smokies? Sign up for our newsletter! Simply provide a contact name and email so that we can reach you. Cabins USA Gatlinburg respects our guest's privacy and never shares this information with third-party sites. We treat any information that you share as confidential.
Nights: select your arrival date and enter the number of nights you plan to stay.
Promo Code: If applicable – Please enter a valid code.
Optional Search Features (Amenities, Cities, Areas)
After your first search, it isn't necessary to click the "search" button again as this feature will automatically filter your results for any new search features you provide, unless you change the date, the number of nights, or go to a new webpage.
It isn't necessary that you wait for a search to be completed before you select or deselect different search features.
When browsing results, you can add them to your "favorites" by clicking the red plus mark on the bottom left of your desired property. You can view your selected properties by click the "favorites" tab at the top of the search bar.
Add/Remove Favorites
When using our "search" feature, you can make a list of favorites. After doing an availability search for your desired vacation date, our site will produce a list of available cabins. Simply click the "+" sign on the lower left side of the property you are interested in.
Doing this will add the rental to your favorites list. You will notice that the "+" has now changed to a "-". You can click this minus sign to "unselect" this property from your favorites list.
You can also remove a property from your favorites list by clicking the minus sign to the right of the property name under the favorites tab. Additionally, you clear your favorites list by clicking "remove all" on the favorites bar. After doing this, you will have to perform a new availability search.
The number next to the favorites tab is the number of properties you have selected.
View List
To see all of your favorite rentals on one page, simply click "view list"
Compare Favorites
Under the favorites tab on the search bar, you can view your selected favorites. By checking the box next to your selected rentals, you can compare up to three properties.
Simply select the 2 – 3 properties you wish to compare, then click "compare" to see these rentals side-by-side.
Once you find your perfect rental for the right date, simply click "book now" to begin the booking process.
Cookies enable you to use shopping carts and personalize your experience on our site, tell us which parts of our website you have visited, and give us insights into user behavior so we can improve our communications and products. By clicking on or navigating the site, you agree to allow us to collect information through cookies.
Best Places To Visit On Your Trip To The Great Smoky Mountains
It's hard to narrow down the best places to visit in The Smoky Mountains. This UNESCO World Heritage Site is huge, spanning over 800 square miles in Tennessee. The area has endless activities and attractions, from hiking and fishing to music and history. So how do you choose what's best? It's simple; you don't. You visit them all!
We've got you covered if you're looking for some input. Our top picks of places to explore in the Great Smoky Mountains are based on scenery, available activities, and overall vibes.
1. Cataloochee
Cataloochee valley boasts some of the best hiking trails.
1,200 farmers and fishermen originally inhabited this valley many years ago. Now, you can explore the remains of their 19th-century settlement by visiting old schoolhouses and antebellum homes. The wildlife is also flourishing with elk, turkey, black bear, and trout (Cataloochee Creek has plenty). Fishing, horseback riding, and picnicking are popular activities in the area.
If you're hoping to visit during autumn or winter, Cataloochee Mountain is the perfect spot for a ski trip! It's the only lift-served ski area in the Great Smoky Mountains National Park.
2. Wears Valley
If you're looking for a place to call home during your time in the Smokys, Wears Valley is the best option. This quiet town is only a 15-minute drive from Townsend and 30 minutes from Pigeon Forge. You can easily rent one of the Wears Valley cabins and spend your days relaxing in a cabin with all the amenities you want.
While it's not as crowded or bustling as some other areas, Wears Valley has a lot to offer its visitors. Visit Noah "Bud" Ogle's home and farmstead, ride go-karts at The Track, or explore the Wears Valley Zipline Adventure Park. It is the perfect spot for a family trip, as there are plenty of kid-friendly activities.
3. Gatlinburg
Gatlinburg is a famous mountain town that offers a wide range of activities. You can hike the trails up to Clingmans Dome, the highest point in The Smokys. Or take a scenic drive along the Newfound Gap Road for incredible views of the mountains. Gatlinburg has several amusement parks like Ober Gatlinburg and Ripley's Aquarium if you're seeking a little more excitement. And, of course, remember to sample the moonshine!
4. Pigeon Forge
Surrounded by the Great Smoky Mountains, Pigeon Forge is a great place to start your Smoky Mountain adventure. This town is packed with family-friendly fun, from go-karts and laser tag to museums and live shows.
The Island in Pigeon Forge is a must-visit. This three-story complex is an entertainment power pack offering restaurants, shopping, games, and more. You can also take a scenic ride on the Great Smoky Mountain Wheel, one of the tallest observation wheels in the country.
For an authentic taste of the Smokys, head to Dollywood. It is a world-renowned theme park with thrilling rides, live entertainment, and delicious food.
5. Clingmans Dome
The 6,643-foot round-top peak, known as the highest point in Tennessee, is located at the top of the state park. To reach it by foot, drive up the scenic access road from Newfound Gap and hike a half-mile to the summit. Once you're there, remember to take in the panoramic view from the spaceship-like observation tower on top.
The peak can get crowded quickly, so try to avoid people early in the morning. However, if you're an experienced cross-country skier or snowshoer, wintertime might be your best opportunity for guaranteed solitude. Clingmans Dome is also a perfect place to catch a glimpse of the elusive red-spotted newt.
6. Elkmont
Elkmont is a historic area that was once a thriving community for wealthy vacationers. Now, it's a popular spot for fishing, camping, and picnicking. The ideal time to visit is during the Elkmont Ghost Town Celebration in October, when the area comes alive with music and entertainment.
If you're feeling brave, take a nighttime hike to the Abandoned Rails Tunnel. It's rumored to be haunted by Elkmont's past ghosts! We're curious if that's true, but it makes for an exciting story.
7. Townsend
This small town is often referred to as "the peaceful side of the Smokys," and it's easy to see why. There's a slower pace here, and the town is surrounded by natural beauty. Plus, it's an excellent place for hiking, biking, and fishing.
One of the best things about Townsend is that it's located near some of the best attractions in the Smokys. Cades Cove, for instance, is only a short drive away. This popular spot is known for its wildlife and scenic views.
8. Cades Cove
It is one of the most famous spots in The Smokies, and for a good reason. This gorgeous valley is home to various wildlife, from deer and bears to turkeys and coyotes. Plus, it's great for hiking, picnicking, and camping.
And don't forget about the views! Cades Cove is full of scenic lookouts where you can enjoy incredible mountain views. If you're hoping to avoid crowds, the best time to explore early morning or later in the evening.
9. Fontana Lake
The 10,230-acre lake on the Tennessee-North Carolina border is surrounded by majestic mountains and offers boaters more than 240 miles of shoreline to explore. The best way to see the lake is by renting a canoe, kayak, or SUP from one of the many outfitters in the area.
Fontana Lake is also a popular spot for fishing, so remember to bring your rod! Also, take precautionary measures to avoid snake bites, as there are many water moccasins in the area. You must carry a first-aid kit with you at all times.
Conclusion
Overall, the Great Smoky Mountains are incredible to explore and visit. With so many astonishing things to see and do, it's no wonder this is a popular destination for vacationers worldwide.
Besides all the must-visit places, the food is fantastic, and the people are friendly and welcoming. You can shop til' you drop or relax and take in all the stunning scenery. And when it comes to accommodations, the options are plentiful. Whether you're looking for a cozy cabin or a luxurious hotel, you will find the perfect place to stay in the Smokys.
A beginner's guide to visiting Great Smoky Mountains National Park
Caitlin Riddell is previously TPG's Director of Social Media, and now leads the Social Media team at sister company Lonely Planet. A Tennessee native, she is based in NYC and enjoys traveling the world with her nieces and nephew.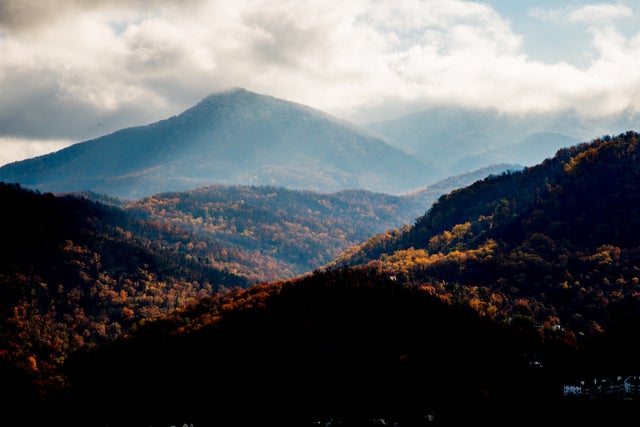 This post contains references to products from one or more of our advertisers. We may receive compensation when you click on links to those products. Terms apply to the offers listed on this page. For an explanation of our Advertising Policy, visit this page.
The Great Smoky Mountains National Park, covering the Tennessee-North Carolina border is filled with scenic views, roaming wildlife and Southern charm. The park proudly carries the title of the most-visited national park year after year. Its proximity and drivability from much of the Southeastern United States brings more than 11 million visitors each year while the second-most visited national park, the Grand Canyon, only pulls in around 6 million per year in recent years.
I am a proud East Tennessee native and grew up going to Pigeon Forge and Gatlinburg. I hiked the park's countless trails each summer so I'm excited to dive in and share with you the must-see, must-do attractions the Great Smoky Mountains National Park and surrounding area has to offer.
For more TPG news delivered each morning to your inbox, sign up for our daily newsletter.
What to see and do
There is truly something for everyone in the Great Smoky Mountains. Nature lovers can take advantage of numerous hiking trails, tubing opportunities down the Pigeon River, scenic drives and even a one-of-a-kind synchronous firefly festival. Those that prefer more of the touristy attractions can enjoy the day at Dollywood learning about Appalachia culture and riding some of the best roller coasters in the country, or explore all that Pigeon Forge has to offer in the form of mini-golf and moonshine tastings.
Hiking
Clingmans Dome (1 mile round-trip) is the highest point in Great Smoky Mountains National Park, at 6,643 feet, with truly unbeatable views. The hike to the peak is only a half-mile from the Clingmans Dome parking area and it's fully paved, but be warned — it's very steep. It can also be pretty chilly at the top, often 20 degrees cooler than the rest of the park, so bring a jacket. The observation tower at the summit offers sweeping views of both the Tennessee and North Carolina sides of the national park.
Chimney Tops Trail (3.3 miles round-trip) felt the brunt of the destruction caused by the 2016 wildfires, but it's been mostly restored since reopening in fall 2017. This trail continues to be one of the most popular in the park year after year. It's a great option for more experienced hikers, as it's a pretty short, steep trail that offers incredible panoramic views at the top.
Abrams Falls Trail (5.2 miles round-trip) is a fun, moderate trail that leads to a swimming hole and waterfall at the end — a perfect spot to take a dip and cool down a bit before hopping back on the trail.
Alum Cave Trail (4.4 miles round-trip) is my personal favorite, and one of the most scenic hikes in the Smokies. This trail offers some beautiful waterfalls and breathtaking views. Follow this trail to the top of Mount LeConte.
Laurel Falls (2.3 miles round-trip) is widely considered one of the best waterfall hikes in the Smokies. This trail is one of the easiest and most popular roundtrip hikes in the park leading to an 80-foot waterfall with incredible photo opportunities.
Kid-friendly hikes
While I consider Laurel Falls to be pretty accommodating for any hiker, the park also has many kid-friendly hikes highlighted on its website, including Kephart Prong Trail and Porters Creek.
Gatlinburg SkyBridge: It's home to the longest pedestrian suspension bridge in North America and the best views of the Smokies, hands down! There's also a chairlift at the same location since the 1950s — a true staple in Gatlinburg!
Be sure to consult the National Park Service's official website to make note of any alerts, trail closings or extreme conditions that might affect your hike.
Scenic drives
Cades Cove Loop Road: This scenic 11-mile one-way loop road is perfect to experience the beauty and nature that the Great Smoky Mountains has to offer. The only thing needed to soak up these views is a car or bike and a little bit of patience, as the loop typically doesn't move quickly (especially on high-traffic weekends such as summer and fall holidays). Get your cameras ready and expect to see lots of wildlife. On recent trips through the loop, I've seen bear cubs, deer and more. It's worth noting that the road is closed to motor vehicle traffic on Wednesday and Saturday mornings until 10 a.m. throughout the summer to allow pedestrians and cyclists a chance to enjoy the loop.
"The Tail of the Dragon": Well-known to motorcyclists and car enthusiasts alike, this 11-mile section of Route 129 is infamous for its twists and turns, featuring 318 curves in all. Needless to say, it's not the best bet if you're looking for a nice scenic drive, as this is frequented by experienced motorists and can get dangerous during high season.
Synchronous firefly festival
This annual event, unique to the Smoky Mountains, should be on everyone's bucket list. I'm embarrassed to admit that I've never been able to snag tickets to this extraordinary display of some of nature's most unusual creatures, but that doesn't stop me from attempting each year. This natural occurrence takes place in late May or early June in the Elkmont area of the park. As you can imagine, the popularity of this event means availability to attend in person is limited. Visitors who would like to view the fireflies in person must enter a lottery for a parking pass to take the shuttle from the Sugarlands Visitor Center. More information can be found on the National Park Service's website.
Tubing down rivers
Tubing (aka floating down the river in a raft) is a perfect and easy way to beat the summer heat in the Smokies, and there are two recommended areas on the Tennessee side of the park to do so: the Little Pigeon River in the Pigeon Forge area of town and the Little River in Townsend. Tubing is one of the best ways to take in the scenery, especially in late summer/early fall when the leaves begin to change. Make sure to confirm with the tubing rental company in advance that the water flow is good on the given day you select.
Dollywood
No trip to the Smoky Mountains is complete without a visit to the "eighth wonder of the world," and my favorite theme park in the country: Dollywood. Dolly Parton opened the theme park in Pigeon Forge, Tennessee, a short drive from the entrance to the national park, back in the late 1980s as a tribute to the Smoky Mountain culture that she calls home. It's since become home to some of the most exciting roller coasters, mouth-watering Southern food and annual festivals that attract visitors from far and wide. Check out our full review of Dollywood including when to go and what to expect, and be sure to pencil it into your plans.
Shopping and entertainment
One of the newest additions to the Smoky Mountains area is a mountainside family-friendly adventure park called Anakeesta, right off the Parkway in Pigeon Forge. This destination offers everything from zip lines and scenic gondola rides to a treehouse village adventure and mountainside coaster.
The Island in Pigeon Forge is a newer development right off the Parkway (you can see the Great Smoky Mountain Wheel from miles away). The retail and entertainment center offers something for everyone, including multiple dining options (Paula Deen's Family Kitchen, Margaritaville, Dick's Last Resort and Yee-Haw Brewing Company — a personal favorite!) and retail vendors (toy stores, cigar shops, hand-blown glass gift gallery and more).
There's never a shortage of entertainment opportunities in Gatlinburg. Stop by Ole Smoky Moonshine or Sugarlands Distilling Company for moonshine tastings. Schedule a game of mountainside mini-golf. Or spend a rainy day at Ripley's Aquarium of the Smokies, featuring more than 10,000 exotic sea creatures. Also, be sure to check out our guide for 10 family-friendly activities in Gatlinburg.
Another great rainy day activity is to hit up the outlet stores at the Tanger Outlet Mall on the Parkway in Sevierville, featuring retailers like Disney, Eddie Bauer, J.Crew, Kate Spade and many others.
Just a short drive from the park, visitors can swing by Cherokee, North Carolina, for a visit to Harrah's Cherokee Casino Resort, a Caesar's property, for some gaming action at the biggest casino in the area.
Where to stay
Cabins: For the most authentic experience, I highly recommend a log cabin in the Smokies. There are thousands of cabins to choose from across Pigeon Forge, Gatlinburg, Townsend and more. Be sure to consult our essential guide to renting a cabin in the Smoky Mountains for a list of my favorite cabin rental companies, as well as things to consider when booking a cabin in the area.
Camping
If you're looking to get a little closer to mother nature, the Smokies offer several different options for camping. Make note that most of these areas within the park require reservations in advance.
Backcountry: All backcountry campgrounds in the park require hiking, as well as a permit and reservations.
Frontcountry: Camping closer to your vehicle in front-country campgrounds is available at 10 different spots throughout the park.
Group campgrounds: For groups of seven people or more there are multiple group campgrounds available. These also require advanced reservations.
Horse camps: A unique camping option includes five drive-in horse camps providing ready access to backcountry trails within the park.
Head to the national park's official website for the map of designated camping locations throughout the park.
Blackberry Farm
Arguably the most luxurious accommodations one can experience in the Smoky Mountains, Blackberry Farm, on the Tennessee side of the park in Walland, gives "Southern hospitality" a whole new meaning. Blackberry Farm resort is a James Beard and Southern Living award winner year after year, and for good reason. You'll be hard-pressed to find a more impeccable combination of hospitality, amenities, cuisine, craft brews and wines from around the world. Don't believe us? Check out its impressive list of accolades and start saving for your next getaway. A visit to Blackberry Farm is one you won't soon forget.
Dancing Bear Lodge
In Townsend, Tennessee, also known as "The Peaceful Side of the Smokies," Dancing Bear Lodge is another award-winning resort offering rustic cabins, scenic views and an elevated experience.
LeConte Lodge
The aptly named LeConte Lodge sits atop Mount LeConte, the third tallest peak in the park, and is one of the most distinctive lodging experiences in the Smokies. The only way to get to the lodge is to hike up the mountain via the Alum Cave Trail, which is about a four-hour hike for experienced hikers. If you're looking for a more luxurious experience, this likely isn't it. The lodge is truly back-to-basics. There is no electricity or plumbing, however, there are four flush toilets in outhouses. While the lodge is not points and miles-friendly (no credit cards accepted — eek!), the service more than makes up for it. One of my close friends, a new mom, visited the lodge with some friends on a girls trip and the staff graciously offered to store her breast milk for her — a move that made her a loyal fan for life! With some of the most incredible views in all of the national park, it's important to note that reservations are difficult to come by and must be made in October of the previous year.
Asheville, North Carolina
While I'm biased to the Tennessee side of the park, there are a ton of incredible options just over the border in North Carolina as well. Consider a stay in Asheville at the Omni Grove Park Inn — a personal favorite filled with mountain views and Southern charm (and an incredible spa and golf course to boot!)
Where to eat
Whether it's shrimp and grits, fried chicken or biscuits and gravy, Southern comfort food fills the senses and just hits differently. There's no better place in the U.S. to find authentic Southern cuisine than at the foothills of the Smoky Mountains. Take note of my favorite spots to feast near the park, but also make sure to swing by a grocery store to pick up picnic fare to pack for your day in the park.
There is no shortage of dining options in Gatlinburg, Sevierville and Pigeon Forge with everything from delicious donut shops, Mexican cantinas, family-owned eateries and lots more! Here are my favorites:
This area is known for having a multitude of pancake houses, and it will seem like there's one on every block, but the most iconic is the Pancake Pantry located on the strip in Gatlinburg. Lines frequently stretch out the door here, so I suggest arriving early and coming hungry.
The Peddler is a rustic, riverfront steakhouse right at the entrance to the park in Gatlinburg and known for its quality and tradition in the area. The restaurant has been around for decades and promises a quality experience for every single patron.
The Apple Barn & Cider Mill, right off the Parkway in Sevierville, is a great stop for multi-generational visitors. I have memories of visiting here with my mom and grandmother when I was much younger, eating mouth-watering apple fritters and stocking up on its delicious jams and kinds of butter. It's a must-visit spot for any out-of-towners.
If there are beer connoisseurs in your group, head over the North Carolina border to Asheville. The city boasts more breweries per capita than any other city in the U.S., including Sierra Nevada, New Belgium, Oskar Blues and more than 40 others.
If you're looking for a unique, kitschy experience check out one of the dinner shows that lines the parkway in Pigeon Forge for a truly entertaining and one-of-a-kind dining experience. Dolly Parton's Stampede and the Hatfield & McCoy shows are both unlike anything you'll find elsewhere in the U.S., packed full of cowboys, bluegrass music, corn on the cob and more!
How to get there
The closest airports to the Smokies are McGhee Tyson Airport in Knoxville on the Tennessee side of the park and Asheville Regional Airport in North Carolina. McGhee Tyson is about 30 minutes to an hour's drive away from the park, depending on where you want to enter. Knoxville is at the crossroads of two major interstates – I40 and I75, which makes it an easy drive from many major cities in the Eastern U.S. The Asheville airport is about an hour's drive away from the park and will bring you in on the east side near Maggie Valley and Cataloochee.
Getting around
The Smokies are very car-friendly and fairly easy to navigate by automobile. With plenty of car rental options at the airports and around town, renting a car is probably your best bet.
As mentioned above, the area is also a hot destination for motorcyclists, with scenic views around each turn of the Blue Ridge Parkway. Be sure to do your research in advance for any restrictions on where you can or can't ride.
The city of Gatlinburg offers trolley service that will pick you up or drop you off at more than 100 different locations around the area, including Dollywood and the national park itself. Costs, routes and hours vary, so check its website in advance to help plan your trip.
When to visit
While fall is peak season for the Smokies (October typically sees the highest visitation on average each year due to the beautiful fall foliage), there's really not a bad time to visit. June through October are the busiest times, with January and February being the slowest. The area experiences pretty mild winters for the most part, so even planning a trip in November or December would be a great time to take in the sights, and likely find discounted accommodations. Gatlinburg, Pigeon Forge and surrounding areas also have a lot to offer in the winter including the annual Winterfest light festival, Dollywood's Smoky Mountain Christmas and more! Just keep in mind that some trails and roads might be closed from November to March, so be sure to do your research in advance on the national park's official website.
Bottom line
While I may be a little biased as a Tennessee native, the Great Smoky Mountains National Park is somewhere everyone should experience at least once. The truth is there is so much to do and see in the Great Smoky Mountains that we couldn't possibly cover everything here. You'll inevitably find your own favorite off-the-grid trail, scenic overlook, moonshine distiller or pancake eatery that we haven't covered, and when you do, come back here and share it with us so we can add it to our list!
As the most visited national park in the country, it's no secret how much the park and surrounding areas has to offer — whether it's a family reunion, summer vacation, bachelorette party, destination wedding or just a trip with the guys, the Smokies has something for everyone and they'll have a big ol' glass of sweet tea waiting for ya.
Frontier Airlines increases price of unlimited all-you-can-fly pass, international destinations now included
Source https://www.cabinsusagatlinburg.com/smoky-mountains-blog/post/66/smoky-mountains-must-see-places.php
Source https://www.thepinnaclelist.com/articles/best-places-to-visit-on-your-trip-to-the-great-smoky-mountains/
Source https://thepointsguy.com/guide/great-smoky-mountains-national-park/