Driving to Florida: Atlanta to Orlando
And the overstimulating first thought may be that you are just a day's drive from Disney and Universal and SeaWorld and International Drive — and so many exciting choices that your head might explode: a Star Wars universe, Harry Potter and Hogwarts, dolphin encounters in Discovery Cove, and all manner of roller coasters and thrill rides to make your stomach flip for a week.
Are we there yet.
That's understood. We get it.
But breathe. And read.
There are so many things to do in Florida between where you are and where you are going.
If you can spare a few hours on your road trip — better, a day or two — you might:
– bounce on whitewater rapids;
– absorb Civil War history;
– experience a baptism in Florida's real fountains of youth;
– descend a limestone sinkhole into a miniature rainforest;
– see wild horses and bison on the prairie;
– drink orange juice in the heart of citrus country;
– zip on a cable 10 stories above a blue-green canyon pool;
– dive into Florida's prehistoric memory at Devil's Den.
You can create your own travel itinerary for driving from Atlanta to Orlando with the VISIT FLORIDA planning tool — but here are some thought starters on what you can appreciate on your road trip through Florida, and what to expect when you reach Orlando.
ESSENTIAL INFORMATION
Distance from Atlanta to Orlando: approximately 440 miles (706 kilometers)
Driving time: 7-8 hours
Best route(s): I-75 south to Florida Turnpike .
Fuel costs: use this calculator .
Charging stations: plot your course on Plugshare .
Rest areas: Interstate 75 in Georgia , Interstate 75 in Florida , Florida Turnpike
Alternative transportation: RedCoach and Greyhound . Travel time 10.5-12 hours.
PLACES TO STOP WHILE DRIVING FROM ATLANTA TO ORLANDO
Here are some Florida things to do from north to south, as well as the distances from Orlando and the addresses of each point of interest, so you can program them into your GPS.
Big Shoals State Park
11330 SE Co Rd 135, White Springs
This park has the largest whitewater rapids in Florida, a Class III-level excitement (though it is seasonally dependent on the water level in the Suwannee River). There are 28 miles of trails for hikers, bikers, and horseback riders. Limestone bluffs 80 feet high provide panoramic vistas.
Time allowance: 4 hours.
Distance from Orlando: 173 miles (278 kilometers)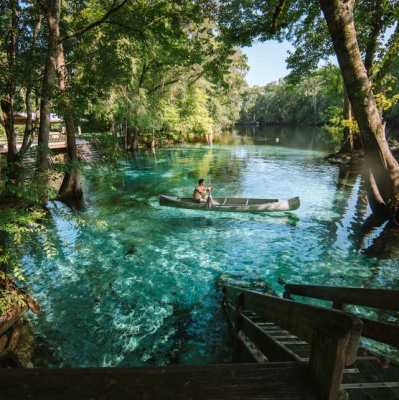 Florida's springs are a can't-miss, bucket-list vacation experience. This is beautiful Ginnie Springs.
Florida's Springs
A can't-miss, bucket-list vacation experience. Equal parts physical and spiritual. 72 degrees year-round. A clear-as-glass lens into the Florida Aquifer, the beating underwater heart of the Sunshine State. You can dive and snorkel and explore. Or you can just float and forget where you were going and why you were in such a hurry.
Watch these videos and remember these names:
– Ichetucknee
– Ginnie
– Troy
– Juniper
– Silver
– Rock
Time allowance: 4 hours
Distance from Orlando: from 33 to 160 miles (53 to 257 kilometers), depending on where you stop.
Butterfly Rain Forest
Florida Museum of Natural History, 3215 Hull Road, Gainesville
Be a participant in a living exhibit, walking through a tropical canopy with hundreds of birds and butterflies as your escorts. Cameras are encouraged. Wonderment is involuntary.
Time allowance: 3 hours.
Distance from Orlando: 111 miles (178 kilometers).
Devil's Den
5390 NE 180th Ave., Williston, and
Blue Grotto
3852 NE 172nd Court, Williston
Both are divers' dreams — crystal-clear underwater journeys into the 33-million-year-old limestone arteries of subterranean Florida.
Time allowance: 4 hours.
Distance from Orlando: 100 miles (160 kilometers).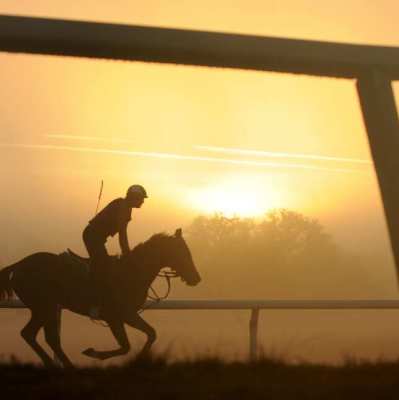 An exercise rider rides a thoroughbred horse around the track while training on a foggy morning at Ocala Stud in Ocala.
– Jacqui Janetzko for Visit Florida
Ocala Horse Country
With its legacy of champion equestrian and thoroughbreds, Ocala is officially the "Horse Capital of the World." VISIT FLORIDA's Saundra Amrhein wrote: "For miles, brown and white board fences enclose squares of green pastures. Well-built barns abound. And the sleek, muscular animals themselves graze in fields against a blue horizon backdrop. Marion County is home to more than 600 thoroughbred farms and is one of a handful of thoroughbred centers in the world."
Time allowance: 4 hours.
Distance from Orlando: 80 miles (130 kilometers).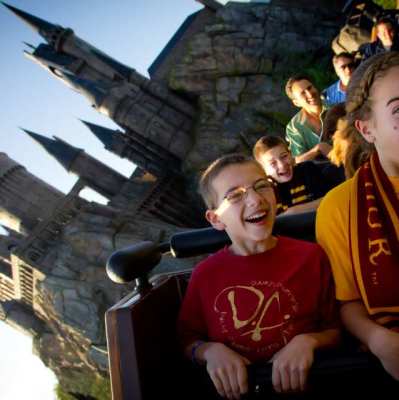 The Flight of the Hippogriff™ is a family-friendly roller coaster that spirals and dives around the pumpkin patch, and then swoops past Hagrid's hut at Universal's Islands of Adventure.
– Universal's Islands of Adventure
WELCOME TO ORLANDO
This region, perhaps more than anywhere else, represents how vital Florida is to America's sustenance — as a food source and entertainment capital. Orlando, Kissimmee, Lake Buena Vista, Celebration and, farther west, Winter Haven and Tampa are internationally recognized theme park destinations — powered by Disney, Universal, SeaWorld, LEGOLAND and Busch Gardens, brands that regularly refresh their attractions. I-Drive in Orlando is 11 miles of experiences such as the Wheel at ICON Park, plus shopping, hotels, dining and nightlife. Professional sports teams include the NBA's Magic and Major League Soccer's Orlando City SC.
The short question might be: How much vacation time do you have?
Theme Parks
Florida is epicenter of the worldf for theme parks. Orlando is the capital. Every day here, no one is too old, or too young, to wear Mickey ears or wave a wand and shriek in delight. Besides the titans — Disney, Universal, and SeaWorld — here are a couple other theme park destinations to watch:
– Orlando Watersports Park
– Kissimmee's Fun Spot
Shopping
Janet K. Keeler wrote that "Orlando International Premium Outlets may just have the best location of any shopping mall in the U.S.A. The complex has unmatched visibility, tucked as it is into a huge pie-shaped parcel where Interstate 4 and the Florida Turnpike meet." Audubon Park is a shopping and dining district surrounded by 1920s bungalows and more modern ranch-style homes. Winter Park got its start in the late 1800s as a resort community. The 49-store Winter Park Village isn't old, but there's a slowed-down vibe to a stroll here. And, like Winter Park itself, it seems exclusive.
Dining
Orlando, like any major American city, is a smorgasbord of exquisite experiences: James Beard chefs, concentrations of cultures such as Vietnamese and Puerto Rican, fan favorites, and local color. Then there are the theme parks and entertainment districts such as Disney Springs, which offer a culinary diversity to match any thrills you had during your stay.
Kennedy Space Center
For close to 60 years, Cape Canaveral and the Kennedy Space Center have been the world's launchpad for manned space flight. Mercury. Gemini. Apollo. The space shuttle. At the Visitors Center, you can stroll through a garden of rockets or watch one rise into the blue.
Cocoa
If you're this far east, remember the beaches just an hour from Orlando. Cocoa is America's Atlantic surfing capital, birthplace of 11-time world champion Kelly Slater. The surf culture is thick here, quietly represented by its local board shops and loudly proclaimed by Ron Jon, the multi-level shopping experience (you likely saw the signs on I-75).
Driving from Atlanta to Orlando is a road trip full of Florida adventure possibilities. The Orlando theme parks and entertainment centers may be your ultimate destinations, but along the route there are numerous Florida points of interest and memories to make. Enjoy the ride.
Road Trip from Orlando to Atlanta
If you're thinking of visiting the warm and modern southern city of Atlanta then a road trip from Orlando is the perfect way to arrive in style. Maximize the experience as you travel from the Sunshine State to make it a trip of a lifetime.
The 440-mile road trip from Orlando to Atlanta will take you 6 and a half hours to drive, passing cities like Gainesville, Ocala, Valdosta and Macon, and landmarks such as the Museum of Aviation, Lane Southern Orchards and High Falls State Park.
The route passes by many scenic state parks, wildlife sanctuaries, museums, and more. So keep on scrolling to find all the details you need to make your trip from Orlando to Atlanta a journey that you're sure to remember!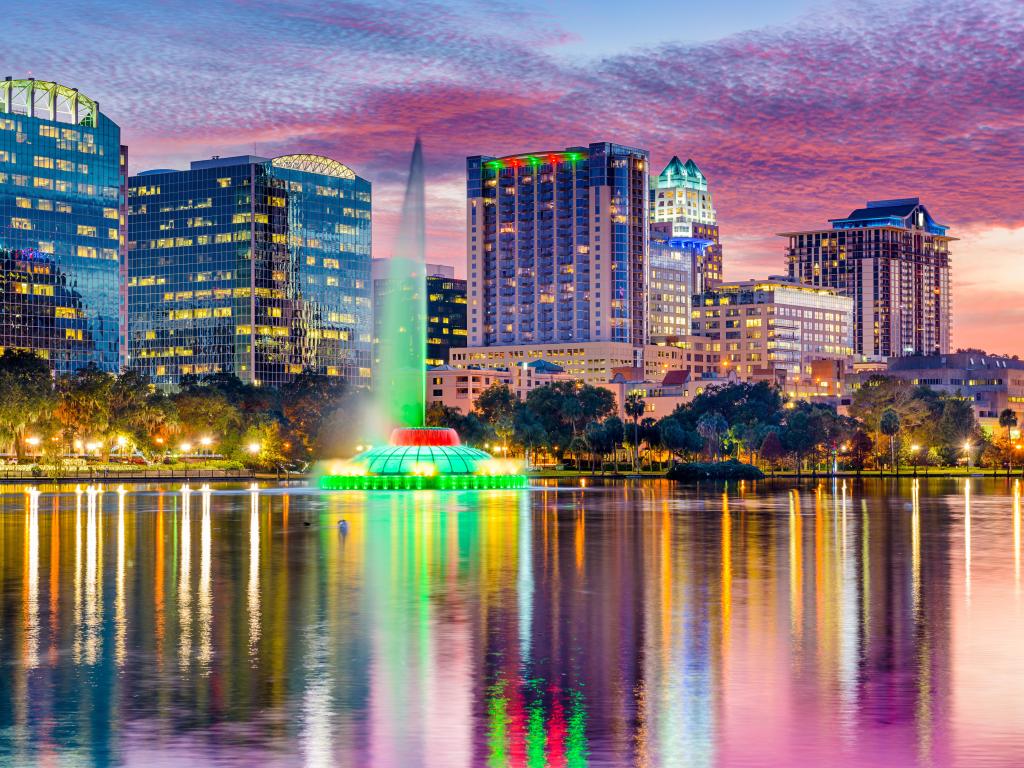 Wave goodbye to Orlando and set out on this road trip to Atlanta.
How far is Atlanta from Orlando, and how long will the road trip take?
| Route | Distance | Driving Time |
| --- | --- | --- |
| Direct Route | 440 miles | 6 hours 30 minutes |
| Savannah Route | 530 miles | 7 hours 45 minutes |
The road trip from Orlando to Atlanta is 440 miles long and will take you about 6 and a half hours, without considering the detours you'll take for sightseeing, relaxing, eating, and more.
The route will take you through the warm and pleasant state of Florida and the valleys of the Blue Ridge Mountains to arrive in Atlanta.
While you can cover the distance within a day if you powered through the drive, you decided to take a road trip for a reason, so it's ideal to take the drive slow and explore all the fantastic sights the route offers.
If you decide to break up the trip into a couple of days, you'll truly get to discover the many attractions along the route.
Along the way you can visit the Florida Museum of Natural History, Stone Mountain Park, Wild Adventures Theme Park, Spanish Springs Town Square, learn more about the diverse landscapes of the South, and even get a taste of famous warm Southern food at the any of the well-known eating joints along the way.
It'll be a trip that will fulfil your mind, heart, stomach, and soul!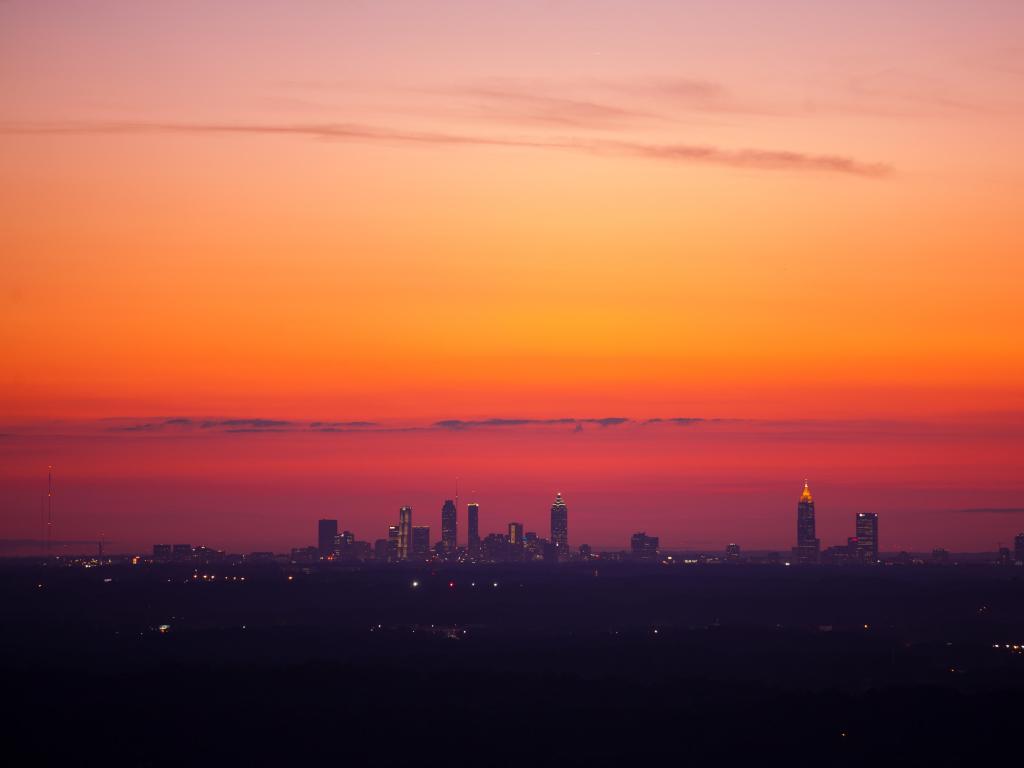 Hike up Stone Mountain for an unforgettable view out over Atlanta.
Best road trip route from Orlando to Atlanta
You can follow two distinct routes while on a road trip from Orlando to Atlanta.
The most direct route passes through central cities like Gainesville, Ocala, Valdosta, Macon to reach the destination. It takes around 6 hours 30 minutes and covers 440 miles.
There's plenty to explore and enjoy along this route. It's primarily an interstate drive with slight detours onto state routes when you stopover at some of the attractions you'll encounter en route to Atlanta.
You can also take a slightly longer trip which follows the coast of Florida and Georgia until Savannah and then heads inland to reach Atlanta.
If you wish to take the coastal route, it adds approximately 70 miles and an extra hour and 15 minutes to your journey.
The Direct Route
You'll begin your trip by taking the ramp onto Florida Route 408 West, then exit onto Florida's Turnpike. Heading towards Ocala, you'll follow this road for about 45 miles.
Along the way, you'll pass Palatlakaha River Park, which is a great place to stop for a short hike through a stretch of Florida's beautiful wetland, and Denham Lake.
You'll then merge with Interstate 75 North, which is the road that'll take you right to your destination.
On this stretch of the drive you'll pass The Canyons Zip Line and Adventure Park, Manatee Springs State Park, Butterfly Rainforest at the Florida Museum of Natural History, The Annette Turner Center for the Arts, and more.
After about 150 miles on Interstate 75 North, you'll enter Georgia, the Peach State.
If you're planning on visiting Macon, the I-75 takes you right into the city and back out again to carry on your journey northwards. Or to bypass the city, join Interstate 475 North before you reach Macon, then merge back onto the I-75 when the roads meet up again.
After a final 50 miles stretch on the Interstate, you'll want to take Exit 246 to drive into Capitol Avenue in Atlanta, where there's so much to discover, learn about, and experience.
Explore Stone Mountain State Park at the end of your road trip.
The Savannah Route
Leave Orlando on Interstate 4 which takes you to Interstate 95. You'll follow the I-95 as far as Savannah, passing by Daytona Beach and Jacksonville which are both great places to stop if you want to enjoy some time on the beach before heading inland.
If you're stopping in Savannah, Interstate 16 takes you right into the heart of the city. When you're done exploring, simply follow the I-16 out of the city again and follow it all the way to Macon.
As you pass through Macon the I-16 merges with the I-75 which you'll follow north for the last stretch of the journey into Atlanta.
Best places to stop between Orlando to Atlanta
If you choose to break up your trip into two to three days, you'll have several places that you can stay in, wind down from the drive, and explore while you're visiting!
Explore the attractions in Gainesville
One of the iconic Florida cities on your way from Orlando to Atlanta is Gainesville, home to a plethora of diverse state parks, scenic landscapes, museums, and urban forests.
You'll pass through the city about one-fourth of your way along the Direct Route, making it a great place to stop if you start your drive late in the day after work and want to get an early night in before a whole day of driving.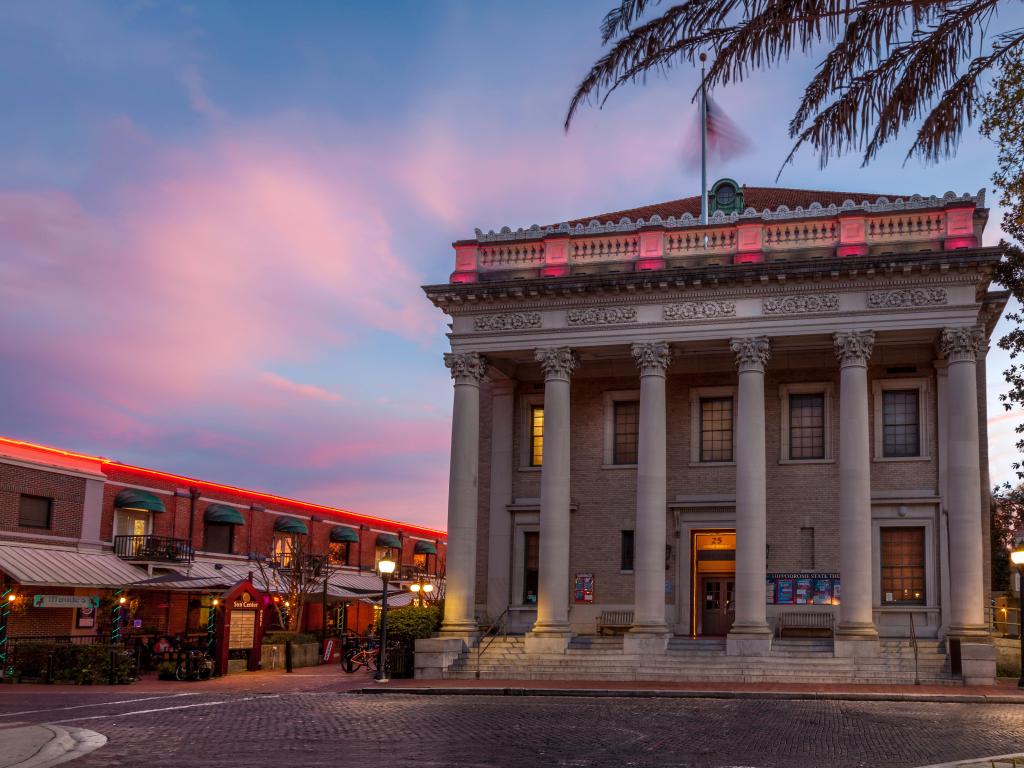 Enjoy a stop in Gainesville along the route from Orlando to Atlanta.
Perfectly located in the city's heart, Sweetwater Branch Inn offers charm, character and a warm welcome. Set in a delightful building with colorful gardens and its own outdoor pool and hot tub, you'll also find a fantastic breakfast here should you want one after a full day exploring the city.
Gainesville's bars and restaurants are a short walk away, as are the Matheson Historical Center and the Historic Thomas Center.
Some of the city's other landmarks are situated away from the downtown area, but Kanapaha Botanical Gardens and Florida Museum of Natural History and Butterfly Rainforest are a short and easy drive away from the Inn.
Soak up some history in Savannah
If you're planning on taking the longer route, Savannah makes the perfect place to stop. It's roughly at the half way along the journey and with its stunning coastal landscapes, tree-lined squares and rich history the city is well worth exploring.
For a stay in the heart of the historic district that really lets you get a feel for the city, McMillan Inn is the perfect choice. The immaculate design in this hotel will make you feel like you've taken a step into a bygone era!
Situated opposite Forsyth Park, where you'll find the city's most famous fountain, the McMillan Inn offers opulent rooms with fireplaces and period antiques, with the opportunity to experience a piece of the city's rich history firsthand.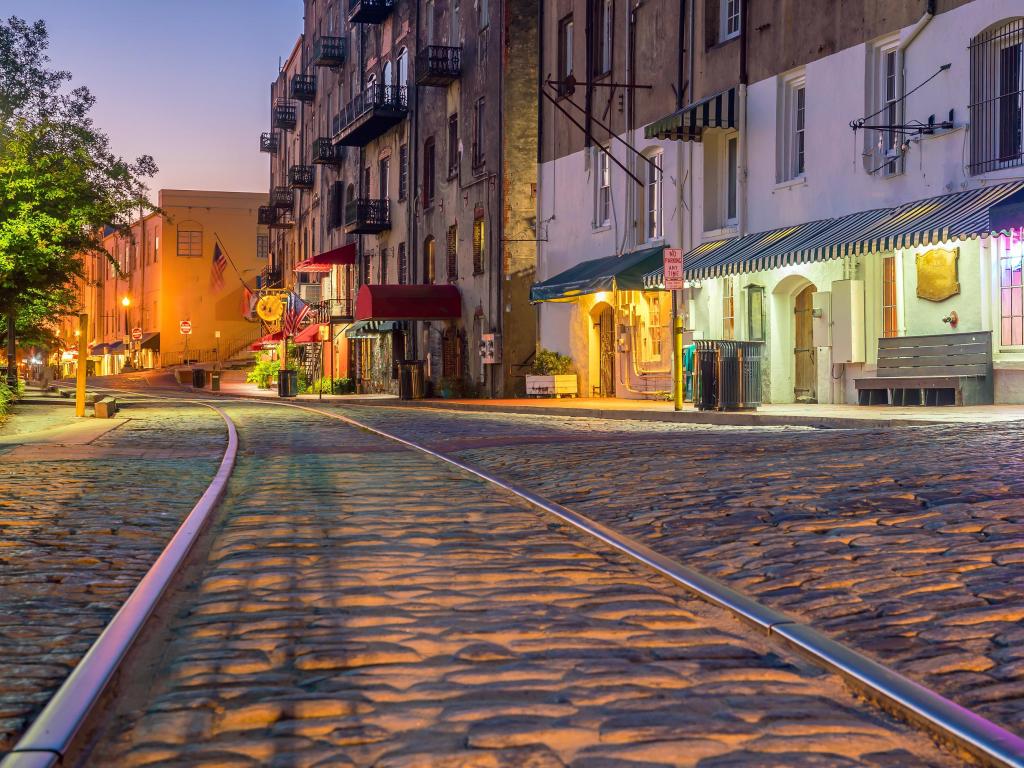 Take a stroll down River Street, Savannah.
If you need to cool down after day on the road or seeing the city's sights, you'll find an outdoor pool in the Inn's charming courtyard.
While you're in town, make sure to check out Thomas Square which is well known for its history and architecture. Or take a trolley bus tour of the city for an introduction to the stories that built modern Savannah.
Immerse yourself in the sights of Atlanta
Georgia's capital city is known for its iconic sports teams, modern take on Southern hospitality, impressive music heritage, and more.
As you arrive at your ultimate destination after a fantastic road trip through Florida and Georgia, you should stay at the Hotel Midtown Atlanta, Curio Collection by Hilton to truly soak in all the city offers.
With a stylish entrance, sleek designs and some spectacular city views, as well as a fitness center, spa and pool, it's a great place to unwind and relax while you're in Atlanta.
The hotel is located in the heart of the city, and you'll be close to landmarks such as Woodruff Arts Center, Atlanta Botanical Garden, World of Coca-Cola, Piedmont Park, and so much more.
You should also make sure to explore natural marvels just outside the city – they're well worth the drive. At the Stone Mountain you can hike or take the cable car to reach the peak for an incredible view, or take a walk by the Chattahoochee River.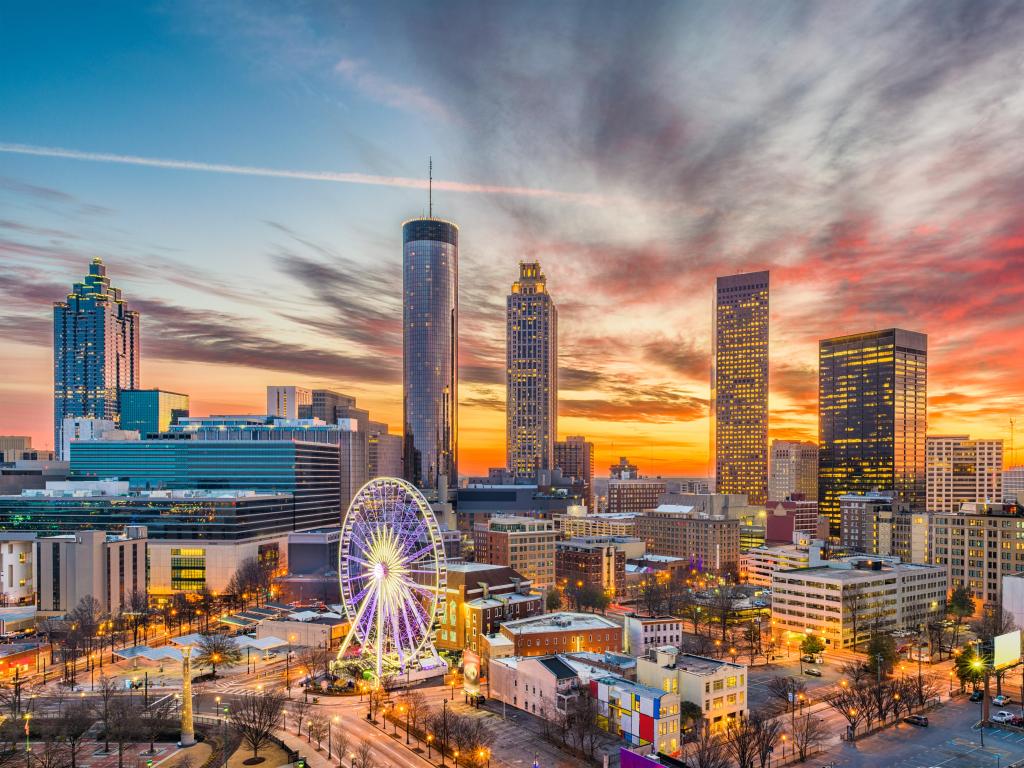 Atlanta awaits on this great short road trip.
Things to see on a road trip from Orlando to Atlanta
While you're on a road trip from Orlando to Atlanta, there's so much to see, experience, and learn about, especially with the plenty of State Parks sprinkled along the route. Though there are several places to visit, here are some of the top attractions you can't miss:
Direct Route:
Spanish Springs Town Square – A well-known area in The Villages, Florida, the square is home to several boutiques, art venues, live music, stores, etc.
Appleton Museum of Art – A contemporary art museum located in Ocala, it is home to several art exhibits, objects, and sculptures that will intrigue all audiences
Fort King National Historic Landmark – A military fort near the city of Ocala, the monument is named after Colonel William King, who was the first governor of the West Florida region
The Canyons Zip Line and Adventure Park – Surrounded by two canyons, you'll get a chance to rappel, zipline across nine different courses, as well as go horseback riding.
Butterfly Rainforest at the Florida Museum of Natural History – One of the most famous museums in Florida, it is located near Gainesville, and amongst many excellent interactive exhibits, it is home to a butterfly garden
Rainbow Springs State Park – A peaceful state park near Gainesville with campgrounds, unique foliage, a river, and more
Manatee Springs State Park – Though a minor detour from the route, this state park has a clear-water spring that is known for West Indian manatees, which you can interact with via scuba-diving
Ichetucknee Springs State Park – Located in Fort White, this state park is home to a long scenic river (where you can go snorkeling, tubing, and on other adventure excursions), and also spot wildlife if you're lucky
Wild Adventures Theme Park – Located in Valdosta, this is one of the most loved theme parks in the region as it combines water rides, animals, and rollercoasters to give rise to paradise!
Grand Bay Wildlife Management Area – A 13,000-acre area located in Georgia, it is an educational wildlife area with a recreational lake and other diverse landscapes
Lowndes County Historical Society and Museum – A museum founded back in 1967; it is home to several fine exhibits that tell the history of Valdosta and its ancestors
The Annette Turner Center for the Arts – A local art center in Valdosta with several galleries that put up changing exhibitions, support local artists, and has a gift shop
Lane Southern Orchards – The perfect place for a Southern food feast, this store and café has a buffet and also sells organically grown pecans and peaches, the gold of Georgia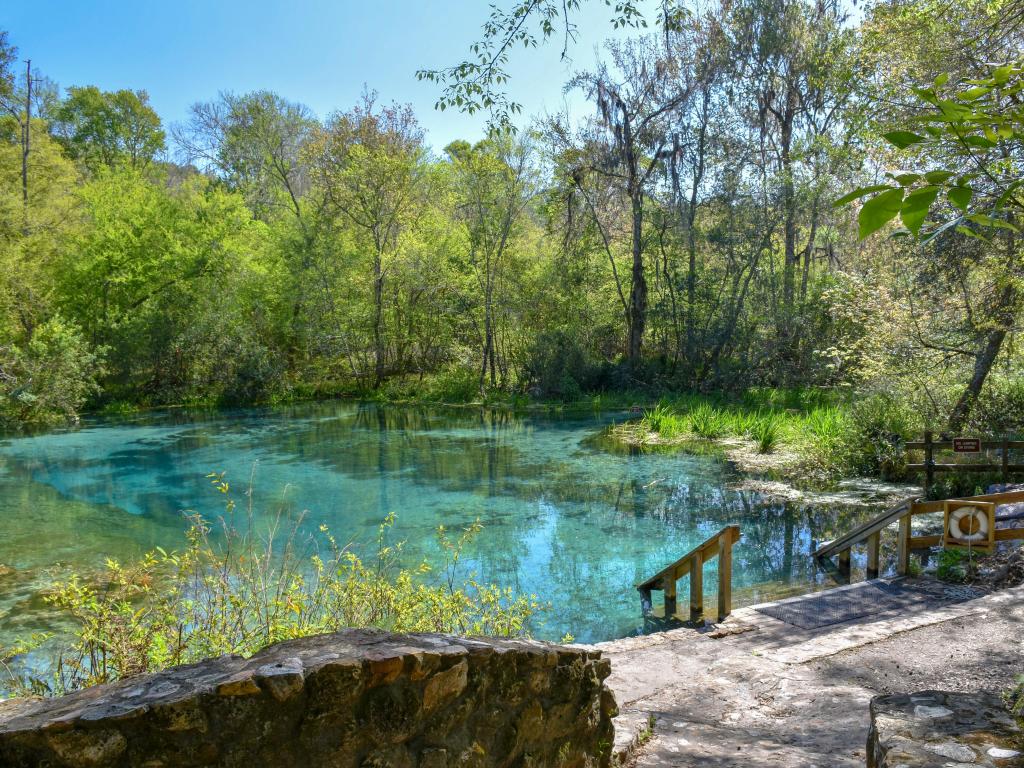 Stop off at Ichetucknee State Park as you make your way north out of Florida.
Savannah Route:
Kennedy Space Center – Take a detour as you head out of Orlando to explore NASA's fantastic visitor center on Merritt Island.
Daytona Beach – Unsurprisingly, this city offers you stunning, wide beaches with views stretching out over the ocean. Visit the famous Ponce de Leon Inlet Lighthouse, stroll along the pier, or for something different, check out the world famous speedway track.
Jacksonville – Another opportunity to get your feet wet, with more sensational beaches, as well as the famous Jacksonville Zoo, the Cummer Museum of Art & Gardens, and the Museum of Science and History.
The Golden Isles – These beautiful barrier islands south of Savannah are the perfect place to get away from the hustle and bustle, with wide sandy beaches, coastal wetlands and luxury golf resorts.
Savannah Historic District – Take your time to explore the museums, churches, mansions and monuments dotted around Savannah, or visit monuments and forts of the Revolutionary & Civil War eras.
Forsyth Park, Savannah – Take a stroll past the famous fountain in this beautiful city park.
Thomas Square, Savannah – A historic neighbourhood boasting beautiful period architecture, shops, restaurants and bars.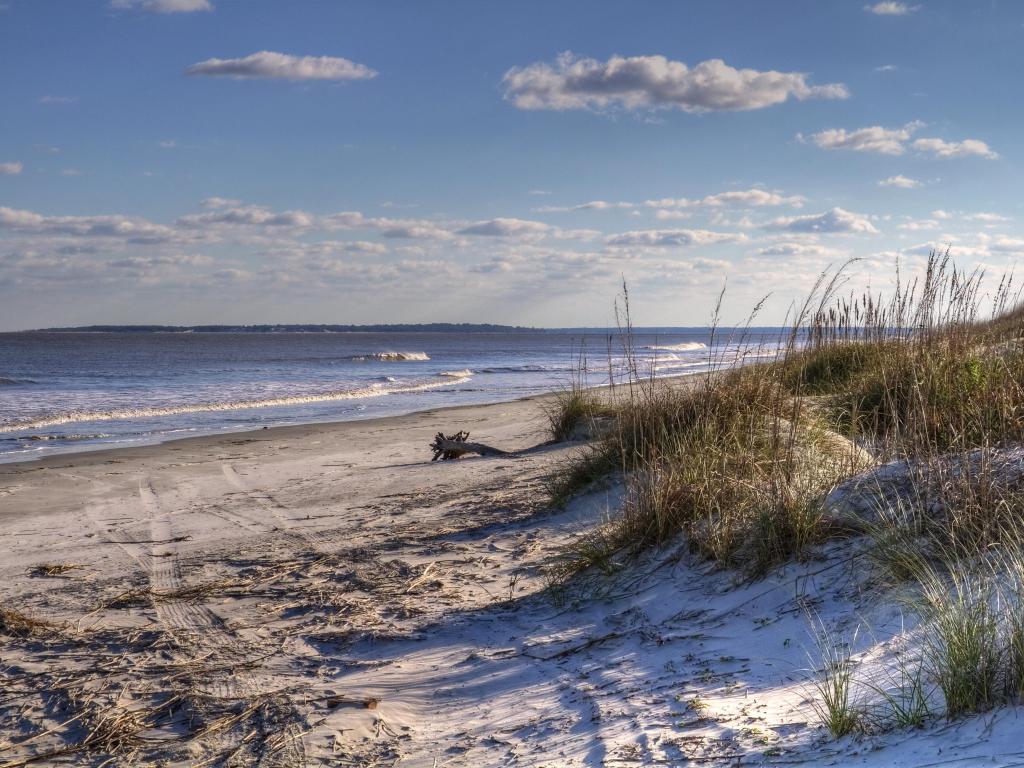 Take a walk along Atlantic beaches like this one at Jekyll Island when you take the Savannah Route .
Both Routes:
High Falls State Park – An expansive 1,050-acre state park in Jackson, Georgia, with scenic waterfalls, a lake (with boating excursions), mini-golf, and more
Museum of Aviation – Located just south of Macon, Georgia, this US Air Force museum is home to plane models, a flight simulator, interactive exhibits, and more
Stone Mountain Park – Spread across 3,200 acres, this iconic state park is home to a natural wonder that stands at 1,050 feet tall with other outdoor activities
Best time to go on a road trip from Orlando to Atlanta
While you can go on a road trip from Orlando to Atlanta during any month, your experience in some months is bound to be different than in other months.
Atlanta summers can be too hot to handle, with average high temperatures reaching 85 degrees and higher from June through August. Room rates hike up in summer too, so it might not be the ideal time to visit.
This means that, for many travelers, the optimal time to visit Atlanta is in the spring, while the weather is dry but temperatures still sitting pleasantly in the 70s.
You'll be able to explore the city and also partaking in some of the many events that take place in the town during this time, like the St. Patrick's Day Parade, Atlanta Film Festival, and Atlanta Dogwood Festival.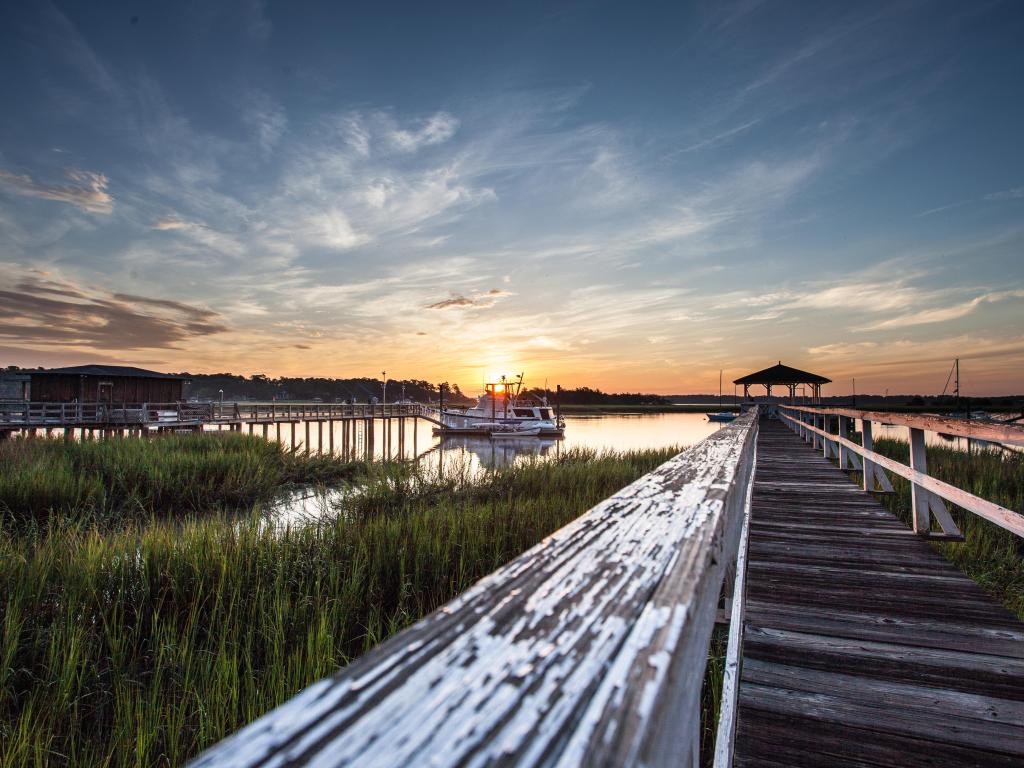 Watch the sun rise over the Savannah marsh on this trip from Orlando to Atlanta.
The fall is also considered a great time to visit, with the changing colors of the foliage and several outdoor events. However, expect frequent rain and maybe even hurricane warnings during this time.
Additionally, the time from June to November is considered official hurricane season in Florida, so it's best to build in some flexibility if you need to take the trip at this time of year.
No matter what month you plan your trip, be sure to stop over at as many state parks, museums, diverse landscapes, and restaurants as possible, soak in all that the places along the route and Atlanta has to offer, and make it a road trip that you're bound to remember.
LazyTrips is an affiliate of Booking.com and receives commission for qualifying purchases made through links on this page.
Join our email list!
By joining our email list, you give LazyTrips permission to use your email for sending you newsletters, emails and updates including for marketing purposes. Your email will not be provided to third parties.
Our Diary
It's time to leave your worries in the rear-view mirror and hit the road for a memorable getaway! If you live in the Orlando area and need an escape from your daily stresses, your relaxing paradise awaits in Midtown Atlanta. Rather than dealing with the extra stress and worries of flying, enjoy an exciting Orlando to Atlanta road trip! It's an opportunity to get in touch with your adventurous spirit, spend time with loved ones, and check out unique attractions along the way. So, pack your bags, fuel up your car, and get ready for the experience of a lifetime!
Everything You Need to Know for a Great Orlando to Atlanta Road Trip
Note: Please keep in mind that some of the attractions we listed below might be temporarily closed, have shortened hours, or are operating at limited capacity due to COVID-19.
The Drive
Road trips are just as much about the journey as the destination. (Although, Midtown Atlanta is truly a remarkable destination.) If you're wondering how far it is from Orlando to Atlanta by car, the shortest route will take you along I-75 North for about 450 miles. The trip typically takes about six or seven hours from start to finish.
We encourage you to enhance your road trip experience by making pit stops along the way. There are several fun things to do between Orlando and Atlanta. Consider checking out some of these spots during your drive:
Stop in Gainesville about two hours into your trip. This college town offers hiking trails to stretch your legs as well as a bustling downtown area with restaurants, shops, and events. If you like animals, check out the Santa Fe College Teaching Zoo. See a wide variety of species and learn all about them on educational tours.
You'll find Valdosta, Georgia, when you pass over the state line. It's about halfway between Orlando and Atlanta. Here, mix up your driving time with some excitement at Wild Adventures Theme Park. Enjoy a variety of rides from Ferris wheels to roller coasters, cool off at the water park, or enjoy live music performances!
A quick stop in Vienna, Georgia, is the perfect place to try Georgia pecans. Ellis Bros. Pecans is a true classic and has been operating since 1944. Once you arrive at Stonehurst Place, keep an eye out for the mulch in the garden as it is made of crushed Georgia pecan shells.
We recommend visiting Macon, GA, and exploring The Hay House for one last stop before arriving in Midtown Atlanta. This historic building was constructed in the mid-nineteenth century with stunning designs and architecture. Take a tour and marvel at the impressive details of this Renaissance Revival-style structure.
The Destination
When you reach Midtown Atlanta, you gain access to a remarkable number of things to do. Whether you're looking for excitement or relaxation, our bustling district has you covered. Explore the Georgia Aquarium to discover unique marine life, admire the artwork at various museums, and don't forget to try top-notch cuisine at our favorite restaurants, like Ecco and Campagnolo. There are incredible attractions around every corner!
Enjoy the Best Lodging in Midtown Atlanta
Stay at Stonehurst Place to truly make the most of your Florida to Georgia road trip! Our historic inn features eight elegant rooms and suites that each offer a unique, extraordinary lodging experience. Plus, they come with excellent amenities as well as optional specials and packages to enhance your stay. You'll wake up to a homemade, gourmet breakfast each morning and can walk to several of Midtown Atlanta's top attractions afterward.
Source https://www.visitflorida.com/travel-ideas/articles/driving-atlanta-to-orlando/
Source https://lazytrips.com/trip/road-trip-from-orlando-to-atlanta
Source https://www.stonehurstplace.com/our-diary/orlando-to-atlanta-road-trip