Road Trip From Boston To Montreal
If you're in the market for a quick but impossibly scenic adventure, look no further than the road trip from Boston to Montreal. Taking you from the crowning jewel of Massachusetts to one of Canada's most iconic cities, this is a journey you won't soon forget.
The 300-mile road trip from Boston to Montreal takes 4 hours 45 minutes to drive. Key stops include Green and White Mountain National Forests, Mount Mansfield State Forest, America's Stonehenge, as well as the cities of Manchester and Lawrence.
Read on until the end for some tips on what to see and where to stop on this incredibly scenic road trip from Boston to Montreal.
How far is Boston from Montreal and how long will the road trip take?
The road trip from Boston to Montreal takes just under 5 hours of driving and covers 300 miles. You can definitely make the drive in a single morning and explore Montreal by lunchtime, but a better move would be to take it easy and explore along the way.
The White Mountains of New Hampshire are particularly filled to bursting with stunning nature trails and one-of-a-kind outdoor adventures you'll need time to enjoy, so consider finding somewhere to spend the night before you get back behind the wheel.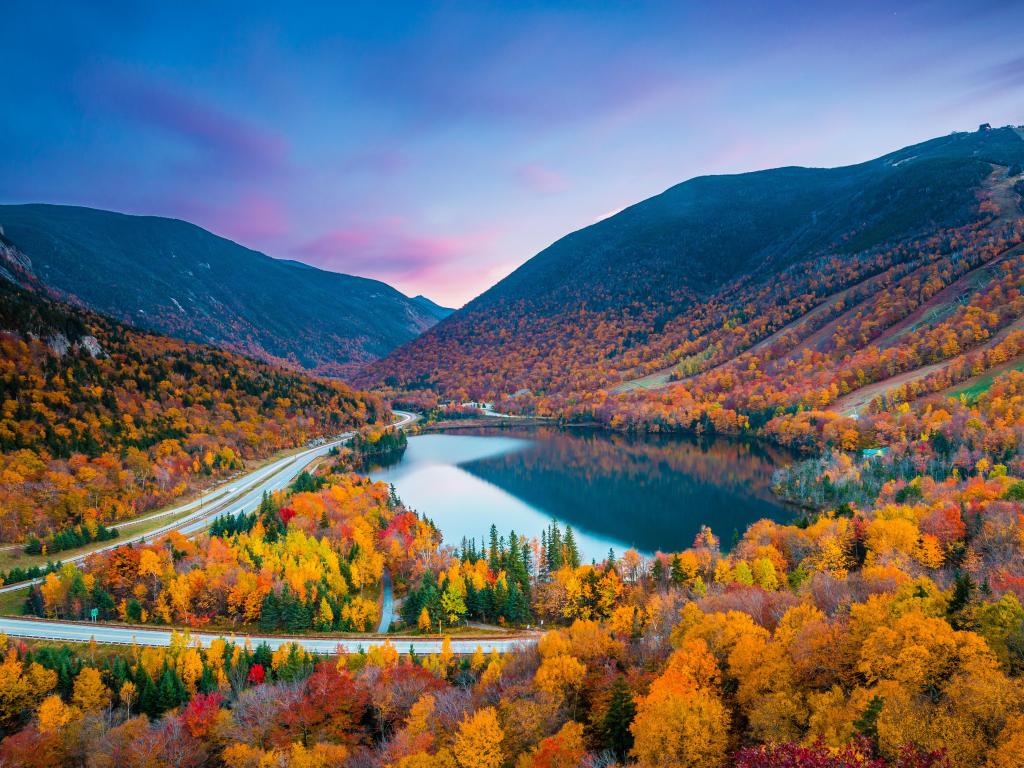 Franconia Notch State Park features some of the route's finest nature views.
The route features a good number of cities you can catch a breather in – between that and the abundance of forests and landmarks, you'll have plenty of resting stops along the way.
On top of all that, you'll be sticking to major roads for the entire trip, so you can expect little to no congestion in between cities. You can get held up in the more urban parts of the drive, but you can easily plan around that with a traffic monitoring app and some tactical stops.
Best road trip route from Boston to Montreal
Despite being short, the road trip from Boston to Montreal is impossibly scenic. You won't be running out of towns or hiking trails to visit, and you can even hit Burlington before crossing the border – the town sits right on the shore of Lake Champlain.
If you have time and a good map, there's no limit to which detours you can take, just as long as the weather is mild, and the road conditions permit it.
Road trip route from Boston to Montreal
Take Interstate 93 out of Boston, and be sure to stop by Cambridge before driving through Middlesex Fells Reservation and detouring to Salem. Past Harold Parker State Park, stop at Lawrence before crossing over into New Hampshire.
Visit Concord and Manchester, then take a westward detour to Green Mountain National Forest before returning to Interstate 93 and following it to Concord. From here, take Interstate 89 and pass Lake Sunapee, then detour to White Mountain National Forest and Bretton Woods.
Back on the interstate, visit Mount Mansfield State Forest and cross the Canadian border along the Missisquoi River. Once you're there, simply follow Routes 133 and Autoroutes 35 and 10 the rest of the way to Montreal.
Best places to stop between Boston and Montreal
The way to Montreal from Boston is rife with cool historical heritage sites, hiking trails and ski slopes. There's almost too much to do, so If you're looking to break up your trip, here are some great places you can make an overnight stop.
Enjoy the view at Manchester
Despite the relatively short drive, Manchester is definitely one of the places you'll want to unwind in along the way. There are several great hotels here, but if you want the best of the best, DoubleTree By Hilton Manchester Downtown has the best rooms in the area by a landslide.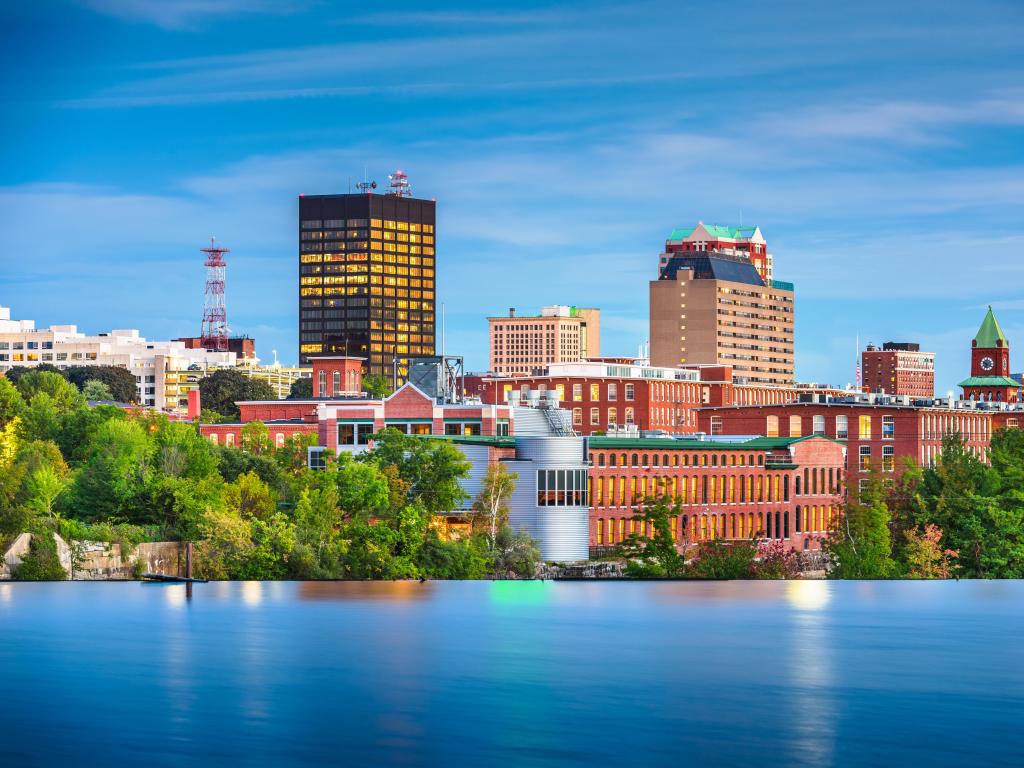 When visiting Manchester, be sure to go for a stroll along the Merrimack River.
After enjoying a relaxing night's sleep in the incredible suites, you can start off your day in a variety of ways – you could work up a sweat in the amazing fitness area, or even go for a swim in the spectacular swimming pool.
The Daily Brew and The Current Kitchen & Bar are just a couple of the on-site places you'll want to check out. A cup of coffee and a hearty breakfast will perk you right up and prepare you for a nice day out in Manchester.
The hotel is incredibly affordable for just how much it has to offer, and it's close to just about every major attraction the town has to offer. Taken with the amazing amenities and service, this makes it the best hotel in the region by a wide margin.
Go on an outdoor adventure in Montreal
Among other things, Montreal is one of the best cities in Canada when it comes to amazing hotels. In a sea of great options, Hôtel Birks Montréal stands out thanks to its breathtaking interior and endless list of services.
Every inch of this place, from the rooms to the jaw-dropping lobby, is brimming with style and elegance. There's no feeling like looking out of a floor-to-ceiling window or relaxing on a gigantic balcony with a cup of coffee and an incredible view of the city.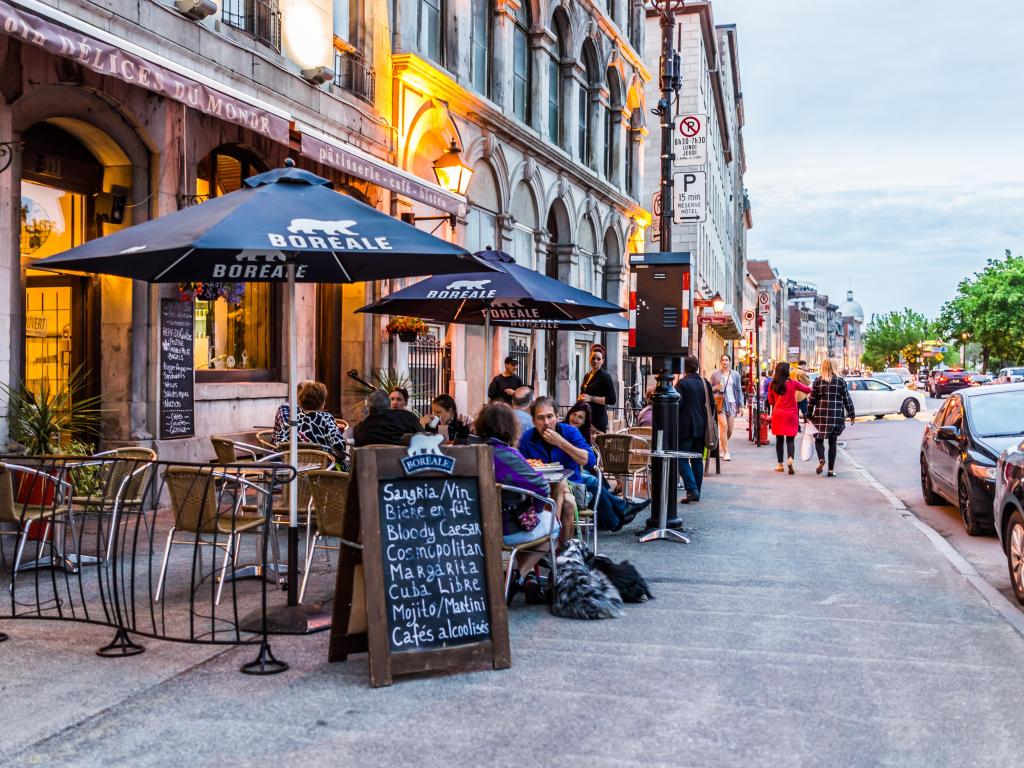 The relaxing energy of the old town area is something you must experience when visiting Montreal.
Breakfast will never taste sweeter than it does at Restaurant Henri Brasserie Française, the on-site restaurant that puts any five-star eatery to shame. If you've never tried French cuisine, this is an amazing introduction to Europe's rich culinary world.
If you have some time to kill, Spa Valmont is the perfect place to get rid of the tension in your joints and make your skin silky smooth. If you're looking to energize yourself, you can also hit the amazing fitness area.
Things to see on road trip from Boston to Montreal
Although it's short, the road trip from Boston to Montreal is full of places to visit and things to do. Whether you feel like breaking out the hiking boots or finding somewhere cozy to settle in, here's a list of places you might find worth the detour:
Cambridge – If you're starting in Boston, you might as well visit Cambridge. It's home to both Harvard and MIT, and a plenty of cool historical landmarks.
Salem – go on guided walking tours, attend a costume ball or visit some haunted historical sites.
America's Stonehenge – As the name suggests, this group of rocks is reminiscent of the classic Stonehenge monument.
Portsmouth – This historic seaport is a popular tourist destination, and there's loads of museums and preserved buildings you can visit. You can walk around 17th century houses at Strawbery Banke Museum, or shop for antiques at downtown Market Square.
Green Mountain National Forest – A beautiful assortment of natural vistas and scenic waterfalls call this forest.
White Mountain National Forest – Spectacular mountain views and one of the most amazing skiing spots in these parts of The States.
North Conway – Take advantage of tax-free New Hampshire and get some shopping done at Settlers Green. If you miss the outdoors, you can visit several spots on the drive down Kancamagus Highway, linger off the beaten path at Diana's Baths' waterfall, or book a ride on the Conway Scenic Railroad. There's also plenty of museums and observatories for the kids.
Bartlett – Ride a snowmobile on a guided tour up and around the White Mountains or visit the local amusement parks and museums (Storyland is popular with the kids). At the sprawling Attitash Mountain Resort, there are ski slopes, go on a zip tour and ride the great Attitash Mountain Coaster.
Bretton Woods – There's plenty of fun hiking trails and tours, but if your feet are tired, you can see the top of Mount Washington on a mountain-climbing Cog Railway train. There's even a fun canopy tour full of ziplines and rope bridges over the trees.
Jefferson – Definitely worth the detour if you're an animal lover- you can book a day tour adventure with adorable rescues at the Muddy Paw Sled Dog Kennel. The excitement doesn't end there- Santa's Village is fun for the kids all year.
Franconia – In the heart of the White Mountains, you can swim at Echo lake, head up Cannon Mountain on the aerial tramway or spend the day exploring Franconia Notch State Park's hiking trails and Flume Gorge.
Lincoln – The frozen Ice Castles are a must-see in the winter, and you can ride horse-drawn sleighs through the woods.
Magog – Take a relaxing day trip to the eastern townships, spend the day at the Parc de la Poiinte-Merry or walk the trails at Marais De La Rivière Aux Cerises. The view from the peak of Mount Orford is also gorgeous in the fall. You can bike, hike or rent kayaks, and it's not too far from some skiing lodges.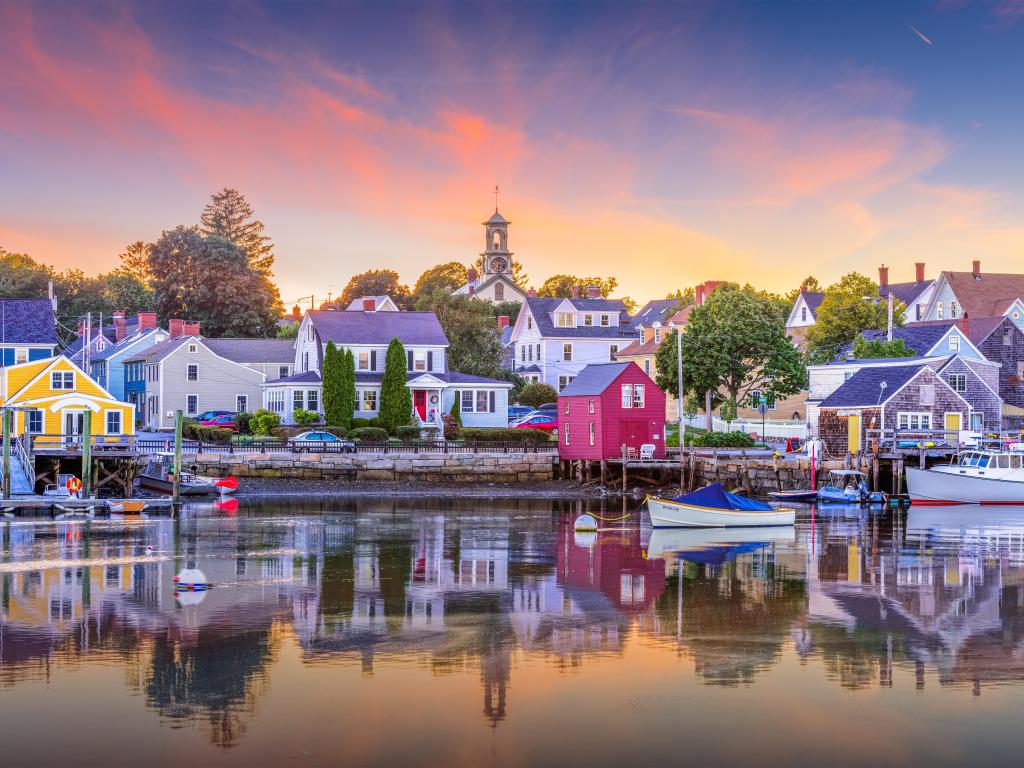 The sunsets in Portsmouth, New Hampshire are breathtaking no matter the season.
Best time to go on a road trip from Boston to Montreal
There's really no bad time to visit Montreal – it all depends on when you can go and what you'd like to do. Even though peak tourist season is in the summer, there are plenty of fun festivals until fall, and it's a bona fide winter wonderland throughout the holidays.
Just keep in mind that if you'll be driving up from Boston after November, and the winter roads might not be for drivers inexperienced with snow. Even though the trip isn't very long, don't overextend if you're not comfortable driving in harsher weather.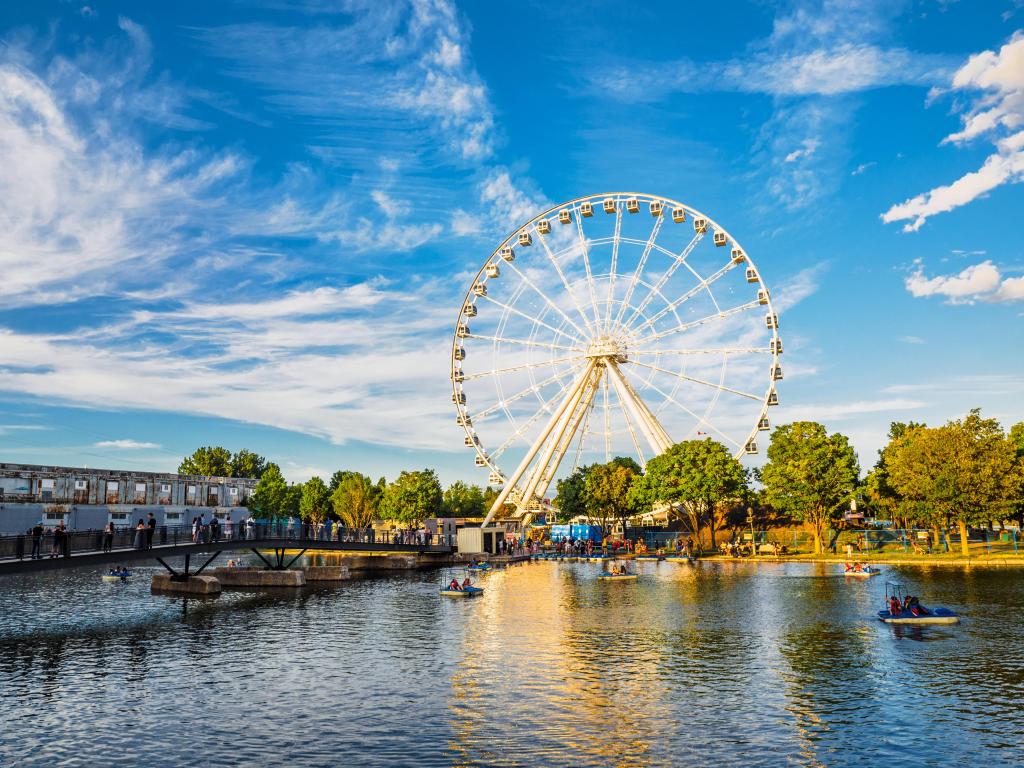 The Old Port's Ferris wheel is a must visit if you're into areal photography.
The days are shorter this time of year, so you'll be running on less light, you'll need snow tires. Also, later into the winter, you can expect an increased likelihood of bad weather and ice storms. Update your maps and plan your trip carefully.
Consider making the trip sometime between September to October for milder weather and better prices. Traveling in the fall is perfect time to see the colors changing, not to mention the best way to enjoy a hike down the mountainsides.
Make sure to prepare your passport, and if you're renting a car, to check with the company if it's allowed to cross the border. Also, be sure to pack some warmer clothes as Canada is a bit chillier than the northernmost parts of the States.
LazyTrips is an affiliate of Booking.com and receives commission for qualifying purchases made through links on this page.
Join our email list!
By joining our email list, you give LazyTrips permission to use your email for sending you newsletters, emails and updates including for marketing purposes. Your email will not be provided to third parties.
A Family Road trip from Boston to Montreal
This summer we took a road trip to a foreign city new to my family- Montreal, Canada. Driving from Boston to Montreal is an ideal New England road trip. In a pretty easy half-day drive you can be in not only a different country, but one that feels foreign. Montrealers speak French, along with English, and the city has a definite European feel.
The Kancamagus HIghway in New Hampshire provides ample options for views and hikes. Read about my family's favorite New Hampshire hikes.
Our home base is Providence, Rhode Island, so I was actually traveling from Providence to Montreal, but for the sake of my readers, I will use Boston as a starting point. We drove through Boston on our way out. It is fairly equidistant to travel through New Hampshire or Vermont to get to Montreal from Providence or Boston, so we chose to travel a different route for each leg of our journey. This gave us a chance to explore more of our beloved New Hampshire, but also one of my favorite states, Vermont. Either route takes a little under 5 hours.
Table of Contents
Road trip from Boston to Montreal
Stops for your Road Trip from Boston to Montreal Through New Hampshire
Lincoln, New Hampshire
We left for our adventure after a workday, so didn't want to do the whole trip in one day. We stopped in one of our favorite New Hampshire towns for the night, Lincoln. Read all about why we love Lincoln.
Stop to See the Longest Candy Counter in the World!
The counter in Littleton is even longer than at this Chutters in Lincoln, New Hampshire.
Chutters in Littleton, New Hampshire claims this superlative! There is enough candy here to make the rest of your drive sweet and this is a cute town to see.
How to Visit the Derby Line on your Road Trip
On my first trip up this stretch of road I kept seeing signs for Derby Line that intrigued me. After we got to Montreal I did some research to find out what this line is. The Derby Line is the estimated line half way between the North Pole and the Equator– and a definite road trip must stop!
Derby Line, Vermont/Stanstead, Quebec
Derby Line and Stanstead are two towns built straddling the US and Canada border. There are streets that go directly from one country to another and even a building that sits right on the border– The Haskell Free Library and Opera House which was built as a symbol of friendship between the two countries. You can enter the building in the US and exit into Canada, passing through a patrolled crossing. You can also have your feet in both countries at the same time. Follow your GPS to the library and you will be there! I thought it was really cool, my husband expected border guards to come surround us the whole time. There is one imposing sign that suggests that, but the placards state that you can use the walkway to the library which crosses the border.
You can watch a video about our stop of a winter road trip to Quebec City:
Stops for your Road Trip from Boston to Montreal Through Vermont
Autumn is an ideal time to visit the Woodstock Inn, Woodstock, Vermont.
Woodstock, Vermont
A stop in Woodstock will add about half an hour to your drive, but it is my favorite town in Vermont. Woodstock has a gorgeously charming inn, an upscale downtown full of restaurants and shops and covered bridges.
Quechee, Vermont
It is an easy 1.5 mile hike down the Quechee Gorge.
Right near Woodstock is the village of Quechee. It has a gorgeous gorge to hike, lots of artisans to visit and cheese to taste. You can read about it in the Woodstock post.
Ben and Jerry's Factory
Ben and Jerry's ice cream factory is a needed stop for any road trip through Vermont. It has the hippy, local farm and artistry vibe that makes Vermont unique.
This famous ice cream factory is a place I return to whenever I happen to be in Vermont and it is right on the route between Boston to Montreal! Ice cream is one of my very favorite foods and Ben and Jerry's falls in my top favorites for mass-produced ice cream.
Not only is there an ice cream bar with every flavor of Ben and Jerry's possible, there are also other fun things to do here. For a small fee, you can see the inner workings of the factory (well, from a viewing platform). At the end you get to try a new flavor. After your tour, be sure to check out the flavor graveyard, where some of my favorite flavors are laid to rest. (Did you ever try Oats of This World?– I miss it!) I would plan to spend between 1-2 hours here.
Warren Falls, Vermont
Getting some road trip peace in Warren, Vermont.
It will only add about 20 minutes to your drive to add these waterfalls to your Boston to Montreal itinerary. Not only will you be rewarded by natural swimming pools, but also multiple falls and a natural slide only a .1 mile hike off the road.
Crossing the Border Between the US and Canada
You will need a passport, whether you are walking or driving across this border. If you have NEXUS to help expedite your crossing, it only will help if everyone in your car has it. The lane is only open certain hours as well. Because I have it, but not my kids, we all had to wait in line.
As an aside, I have NEXUS as part of my Global Entry package, which was some of the best money I have spent to make travelling easier.
Pretty cool fact– The border between the US and Canada is the longest international border in the world!
You will have about an hour after you cross the border until you reach Montreal. I should add that is without traffic. Montreal has egregious traffic, so plan accordingly.
Also, if you keep driving about two hours more, you can get to Quebec, my favorite Canadian city!
9 Must-Stops For A New York To Boston Road Trip
A road trip from New York City to Boston is on many bucket lists. Most people drive the coastal route with stops in Connecticut and Rhode Island. As an alternative, try going inland through New York State and Western Massachusetts. You will discover many cultural, culinary, and historical hidden gems on this road trip.
This road trip can be done any time of year. On an autumn trip, you will see amazing fall colors. Spring brings an abundance of flowers. It is doable in winter, but some spots are seasonal and the roads can get snowy. Summer is full of interesting events and a lot of crowds.
Start Your Trip In New York City
New York City is a fantastic destination any time of year. Culture, theater, food, parks, and history — it's all there. If you are a first-time visitor, you may want to focus on the top attractions: Central Park, the Statue of Liberty, the Empire State Building, the Brooklyn Bridge, Grand Central Station, Chinatown, and Broadway.
As a native New Yorker, I like the hidden gems of New York, and you might also include a trip to Brooklyn, Queens, Staten Island, or the Bronx as part of your adventure.
New York is one of the culinary capitals of the world, so be sure to sample the many ethnic cuisines in the city. Chinatown, Curry Row, Katz's, and Yonah Schimmel Knish Bakery are definitely worth a try.
Once you've had your fill of the Big Apple, it's time to get on the road. First stop: the Hudson Valley.
Spend A Night In The Hudson Valley
The Hudson Valley begins just north of New York City and extends all the way to Albany. On this road trip, you'll be going through the lower part of the Hudson Valley, about an hour's drive from Manhattan.
1. See Stained Glass Masterpieces
The first stop is a hidden gem. Built by the Rockefeller family, the Union Church of Pocantico Hills is a small, unassuming church with nine stained glass windows by Marc Chagall and one by Henri Matisse. Take a moment of quiet reflection and to admire the stained glass. Photography is not allowed inside the church. It is wheelchair accessible and a short walk from the parking lot.
2. Visit Kykuit, The Rockefeller Estate
The Hudson Valley is full of historic sites that date to the gilded age, including the Rockefeller and Vanderbilt estates as well as those of Presidents Martin Van Buren and Franklin Roosevelt. Pick at least one to visit.
Our favorite is Kykuit, the home of four generations of Rockefellers. The gardens, views, and homes are spectacular. You can only visit Kykuit by booking a tour. It is best to buy your tickets in advance, especially if you are visiting in the summer. The art galleries are included on the three-hour tour.
The grounds are extensive, so walking shoes are important. Some parts are accessible, but not all. When booking a tour, check the website for full accessibility information.
For a dinnertime splurge, Blue Hill at Stone Barns is nearby. This farm-to-table restaurant is amazing but very expensive. There are many affordable restaurants, hotels, and bed-and-breakfasts in Tarrytown and the surrounding areas, too.
If you are in the Hudson Valley during October, Sleepy Hollow is a great place to experience Halloween for children and families.
After checking out of your overnight stay the next morning, head up to New Windsor, about an hour's drive.
3. See The Outdoor Sculpture Garden At Storm King Art Center
Storm King is a 500-acre outdoor museum with large-scale sculptures. It is stunning any time of year. Our favorite time to visit is in autumn when it is less crowded and the fall colors light up the area. Sunscreen, insect repellent, and good walking shoes are in order. If you have mobility challenges, a tram traverses the grounds and is equipped for wheelchairs.
For lunch, there is food onsite and in nearby restaurants. Alternatively, take a 40-minute drive to our next recommended stop: the Culinary Institute of America.
4. Culinary Institute Of America
Want to see where the next top chef is being trained? Stop by the Culinary Institute of America (CIA). CIA was the first college to offer culinary arts instruction in the U.S. The late celebrity chef and host of Kitchen Confidential, Anthony Bourdain, was an alumni.
Located in beautiful New Hyde Park, the CIA primary campus is a good place to visit for an hour. The school has a cafe and two restaurants on the premises. Reservations are recommended and are sometimes booked up months in advance.
5. Spend The Afternoon Antiquing In Rhinebeck
Rhinebeck is a short 20-minute drive from CIA. It is very popular for antiques. You can find treasures anytime of the year, and there is a huge antique show in October. If you visit in July, there is a hot air balloon festival. In May, you'll find an antique car show.
Stay overnight in Rhinebeck. Make sure to book your room in advance if you are attending one of the festivals. The Old Rhinebeck Inn and the Fiddlers Farmhouse are two possibilities.
6. Cross The Border Into Massachusetts And Visit MASS MoCA
Get on the road first thing the next morning for the two-hour drive to North Adams, the home of the Massachusetts Museum of Contemporary Art (MASS MoCA).
Located in North Adams, MASS MoCA is one of the largest contemporary art and performing spaces in the country. Housed in a converted print factory complex, the museum is known for its oversized modern and contemporary installations not usually found in traditional galleries. In addition to special exhibitions, MASS MoCA offers a wide variety of music, sculpture, dance, film, painting, photography, and theater. The museum has an excellent bistro on site.
The place to stay when visiting MASS MoCA is across the Hoosic River. The Porches Inn is a charming boutique inn converted from a row of beautifully restored 19th-century Victorian homes. Named for its porches filled with rocking chairs, it is very cozy with working fireplaces and claw-foot tubs. The inn blends whimsical comfort with modern amenities.
7. Spend A Day In Northampton
An hour's drive from MASS MoCA, Northampton and nearby Amherst are college towns. Smith, Hampshire, Amherst, and Mount Holyoke Colleges are located there. The Botanic Garden of Smith College is worth the trip. You can also wander Main Street to see the art galleries. Want to travel off the beaten track? Visit the Yiddish Book Center in Amherst. The center is dedicated to the preservation of Yiddish, the language of eastern European Jewish communities. More than a million books are collected there.
It's a two-hour drive to the next stop — Salem, famous for the Salem witch trials of the 1690s.
8. Experience All Of Salem
Salem has much to offer and could easily be an overnight stop or a day trip from Boston.
Of the many tourist attractions related to the Salem witch trials, our favorite is the Salem Witch Memorial to the 20 men and women who were tried and executed. Fans of Nathaniel Hawthorne can also take a walk to see the House of the Seven Gables, the setting for the novel.
The Peabody Essex Museum is also a must-see. Its collection spans widely from maritime artifacts to Asian and African art.
While in Salem, make sure to go to the Punto Urban Art Museum on the other side of town. The area has extensive murals painted by local and internationally famous artists. It is part of an effort by the North Shore Community Development Corporation to use street art as a social justice and community development effort.
Once you are done in Salem, make the 40-minute drive to Boston where you will spend the next three days exploring the city.
9. Learn About American History In Boston
You've now arrived in Boston, a city with many historical gems. Some favorites are the Freedom Trail, Paul Revere's house, and Faneuil Hall. Perhaps you'll want to catch a baseball game in Fenway Park, soak in the sun in Boston Commons, or grab a drink at the famous Cheers bar. Crossing the Charles River will bring you to Harvard , MIT, and Cambridge.
Pro Tips
Take your time to savor the scenic drives on this road trip and the hidden gems throughout the Hudson Valley. If you enjoy bed and breakfasts, there are many. Make sure to book your accommodations well in advance if you are traveling in the summer or during one of the many festivals. If you want to dine at the Culinary Institute of America or Blue Hill at Stone Barns, we recommend making reservations months in advance.
Sue Davies and Regina Ang live in both the New York area and Singapore. Sue — a native New Yorker — and Regina — a native Singaporean — share their experiences at Travel for Life Now. Between them they've traveled to all seven continents (including Sue's dream trip to Antarctica) and more than 50 countries. They love Street Art, LGBTQ+ travel, Asia (especially Singapore), local food, and the search for local travel experiences around the world.
Source https://lazytrips.com/trip/road-trip-from-boston-to-montreal
Source https://thedailyadventuresofme.com/home/drive-boston-to-montreal
Source https://www.travelawaits.com/2495908/best-places-to-stop-during-a-new-york-city-to-boston-road-trip/