5 Best Historic Sites in Honduras
The fabric of Honduras has been shaped by its long history as a home to several important cultures. This includes Mesoamerican cultures such as the Maya, who were prominent before Spanish Colonisation dominated the sixteenth century along with the emergence of the gold rush. Catholicism was introduced at that time along with the now predominant Spanish language, which has led to a culture which reflects a fascinating blend of both its Spanish and indigenous heritage.
Though it became independent in 1821 and has since become a republic, the country suffers from political strife and a largely poverty-stricken population. Nonetheless, it is also known for its remarkable scenery and untouched landscapes, with historical sites punctuating the country making it well worth a visit for any history buff. Here's our pick of 5 which are well worth a visit.
1. Copan
Copan, near the town of Copan Ruinas in Honduras, is an archaeological site housing the ruins of a major Maya settlement which was probably the most influential city in the south eastern area occupied by the civilisation.
Today, visitors to Copan can see its many incredible structures, which also rank highly amongst the reasons for its UNESCO status. Containing five main plazas, an acropolis, numerous temples, terraces, pyramids, and dwellings, one cannot fail to be impressed by Copan. Incredible glyphs adorn its staircases, structures, temples and altars, with depictions of animals and human faces. Worth a visit is the nearby sculpture museum which explores the Maya culture and artwork.
2. Museo Regional de Arqueología Maya
The Maya Archaeological Museum in Copan Ruinas explores the history of the Maya civilisation and particularly looks at the nearby settlement of Copan.
Exhibiting finds from the archaeological excavations of Copan, such as stelae, jade, pottery and even a tomb, the museum offers a good insight into the Maya culture and is fascinating to see, particularly in the context of also visiting Copan.
3. Santa Barbara Fortress
Located in the town of Trujillo, Santa Barbara Fortress was built by the Spanish in 1550 during their colonisation of Honduras. Its purpose was to protect the port and nearby coasts from raiders and pirates. Indeed, it is known as having been the site of various battles, with the most significant being in 1860 against William Walker.
The fortress was declared a National Historical Monument in 1990, and today makes for a not overly-extensive yet fascinating visit.
4. Comayagua
The capital of Honduras during the colonial period and home to a wealth of Spanish colonial architecture, Comayagua was founded in 1537. Though it is no longer one of the most important cities in Central America, between 1945 -1975 the population of the city quadrupled in size due to the high rate of population growth, and it is still home to over 100,000 people.
Today, it's certainly worth exploring for a few days. Make sure to look out for the cathedral on the central square, which is home to the oldest clock in the Americas.
5. San Fernando Fortress
Omoa is a city which is located on a small bay coast of Honduras. Originally an indigenous town in pre-Columbian times, it was abandoned and in the XVI century was founded again by the Spaniards. It is home to an 18th century Spanish fort measuring 4,400 square metres which was built for protection from the pirates raiding the Atlantic Ocean, and later became one of the most important defences in central America.
It was briefly besieged by the British, then lay abandoned, then was used as a prison before finally being repurposed as a tourist attraction by the Honduran government. It is well worth a visit for anyone interested in the military history of the region.
16 Top-Rated Tourist Attractions in Honduras
A diamond in the rough, Honduras, Central America's second-largest country, dazzles visitors with its natural beauty and diverse wildlife. Nature lovers can explore idyllic Caribbean beaches, bird-rich lakes and jungles, and the undeveloped tropical rainforest of the Mosquito Coast, among many other attractions.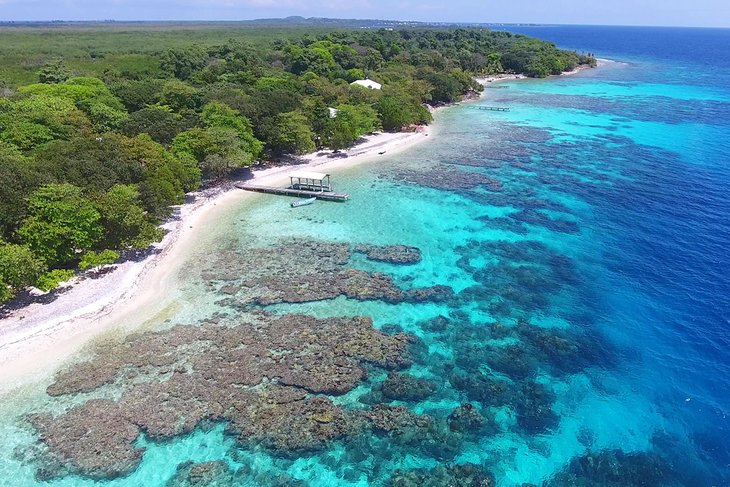 Coral reef in Utila, Honduras
But the country's prized jewels are the beautiful Bay Islands. Ringed by thriving coral reefs – part of the world's second biggest barrier reef, which stretches north to Mexico – these laid-back islands lure many divers, snorkelers, and travelers seeking a relaxed tropical vibe.
Rich in culture, Honduras is also home to the archeological treasures of Copán, one of the finest Maya sites in the world. Other adventures include dolphin encounters, birding tours, rafting trips, and the chance to swim with gentle whale sharks.
Discover a world of wonder in this diverse country, with our list of the top attractions and places to visit in Honduras.
1. Roatán, Bay Islands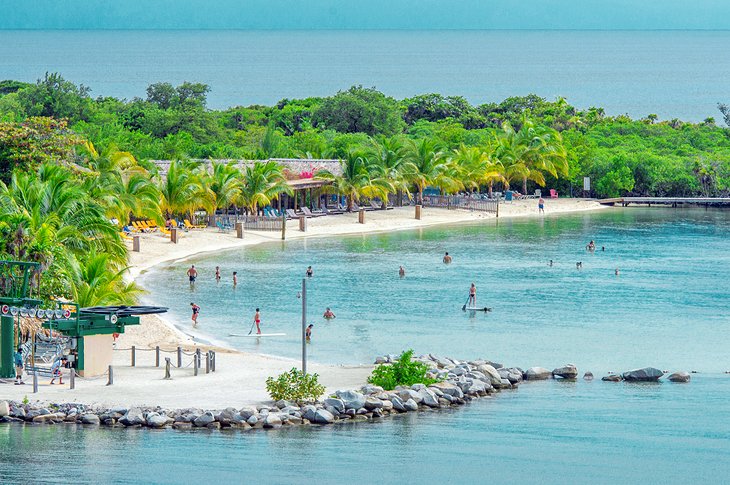 Roatán, Bay Islands
Roatán is the largest and most developed of the Bay Islands. Once a well-kept secret, it is now a cruise ship port and a popular vacation destination – especially for avid divers and snorkelers.
A mountainous backbone undulates through the island's center, and flourishing coral reefs fringe its shores, offering superb opportunities for diving and deep-sea fishing.
Even with the influx of travelers, Roatán's beaches are beautiful. One of the best strands is West Bay Beach. Although packed on cruise ship days, it ticks all the boxes, with clear waters, snorkeling, swaying palms, and plenty of shops and restaurants nearby.
The small community of Sandy Bay is the cultural center of Roatán. Top tourist attractions here include the Roatán Institute of Marine Sciences with its popular dolphin encounters; Roatán Museum; the Carambola Gardens, a favorite with nature lovers; and the Roatán Marine Park, with excellent snorkeling.
Craving a cute animal encounter? Head to Manawakie Park, where you can cuddle sloths and get up close to capuchin monkeys, as well as soak up a dose of Honduran culture. Gumbalimba Park is another haven for wildlife lovers with sloths and monkeys. You can also pose for a photo with colorful macaws and soar through the jungle on an exhilarating zipline.
Other top things to do in Roatan include visiting the environmentally friendly Blue Harbor Tropical Arboretum and the Butterfly Gardens. Tucked in tropical fruit trees, the garden spotlights butterfly species native to Honduras and the Bay Islands.
French Harbour is Roatán's biggest fishing port and the economic engine of the island. A popular attraction here is Arch's Iguana and Marine Park.
2. Copán Ruins Archeological Site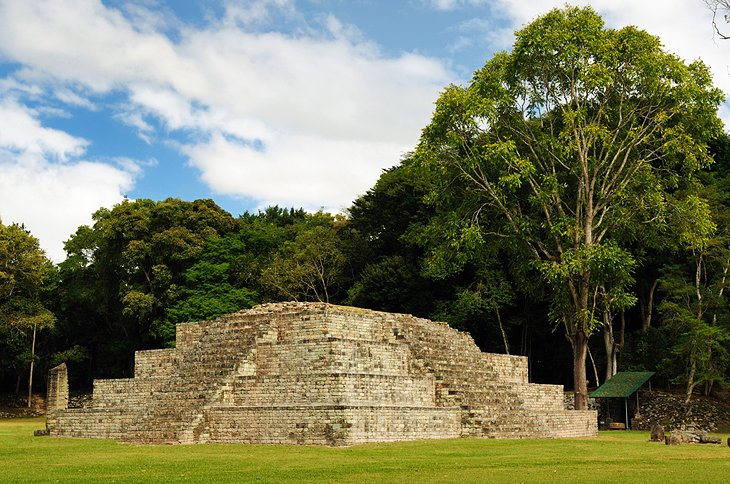 Copán Ruins Archeological Site
Copán Ruins Archeological Site (Copán Ruinas Sitio Arqueológico) is the most studied Maya city in the world and a UNESCO World Heritage Site. Dating back nearly 2,000 years, the society that lived here was highly stratified, deeply symbolic, and focused on tradition.
You will find plenty to appreciate here. The site is famous for the stelae and altars that are scattered around the immense plaza, most of which were erected during the years 711 and 736. Other highlights include the ball court; the Hieroglyphic Stairway, a unique temple, which holds the longest known Mayan text; and the Acropolis featuring superb carved reliefs of the 16 kings of Copán.
About 1.6 kilometers from the central acropolis, Las Sepulturas archaeological site forms part of the "PAC" (Proyecto Arqueológico Copán) and provides valuable insight into how the Mayan elite lived during the days before the collapse of Copán. While you're exploring the site, keep an eye out for the spectacular scarlet macaws flying among the ruins.
After touring the ruins, don't miss the Museum of Mayan Sculpture, which displays impressive artifacts recovered from the site. Many visitors also like to stroll along the well-signed nature trails, where birds and butterflies dart among the thick foliage.
Not far from Copán, El Puente is a smaller Mayan archaeological site on the Chinamito River with several pyramids that have been partially restored.
3. Utila, Bay Islands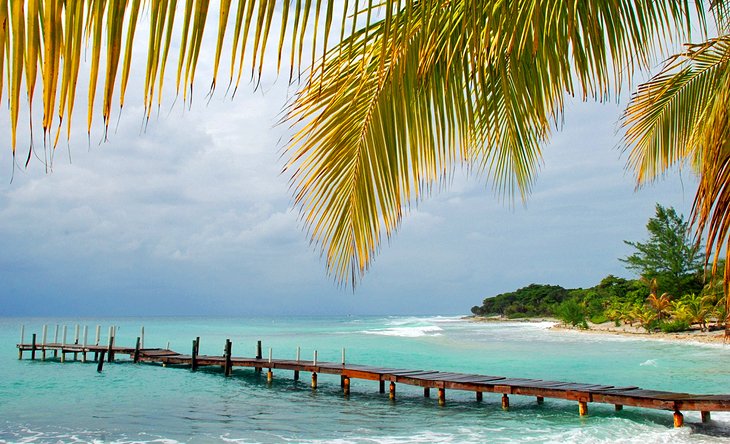 Utila, Bay Islands
About 32 kilometers from the west coast of Roatán, Utila is the most budget-friendly of the Bay Islands. Backpackers flock to this small, 13-kilometer-long-island, and many visitors come here on affordable dive vacations.
Presiding over an arching bay, Utila Town is the main settlement, where locals compete fiercely over domino games and tourist shops and dive centers dot the streets. Save time to enjoy some fresh seafood and traditional Honduras cuisine at one of the funky waterfront restaurants here.
Besides diving, most visitors bide their time basking on the two slivers of beach, snorkeling in the lagoon, zipping out to a sprinkling of cays off the island's southwest coast, and soaking up the rustic tropical vibe. You can also get up close to some of the island's wildlife at the Iguana Research & Breeding Station.
Dive operators also offer the chance to dive or swim with whale sharks. These gentle giants are frequently spotted in the waters around the island – especially during March to April and August to September.
4. Dolphin Encounter, Roatán Institute for Marine Sciences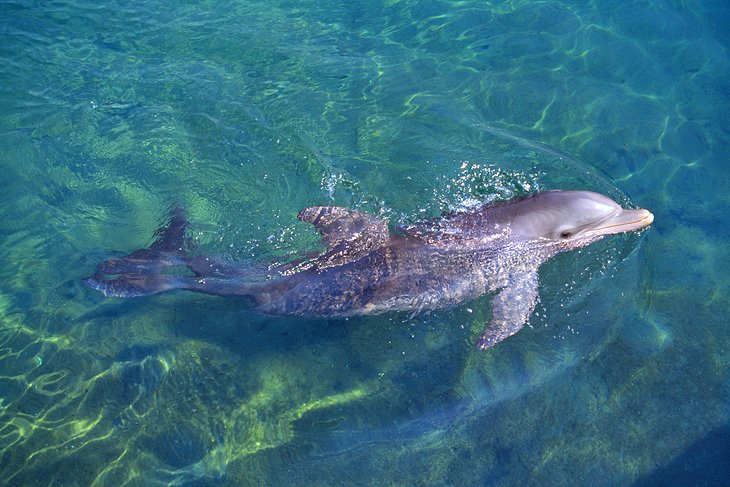 Dolphin Encounter, Roatán Institute for Marine Sciences
On the northwest coast of Roatán at Anthony's Key Resort , the Roatán Institute of Marine Sciences offers an unforgettable dolphin experience. Best of all, it takes place in a natural lagoon, where the dolphins are free to swim around in a large area like they do in the wild. The center also educates locals and visitors about marine ecology.
Besotted animal lovers can swim and snorkel with the dolphins, play simple games with them, participate in a dolphin specialty course, or enjoy a dolphin dive experience. Budding marine biologists can also sign up for the "Dolphin Trainer for a Day" program and perform their own dolphin show for their proud parents at the end.
5. Museum of Mayan Sculpture, Copán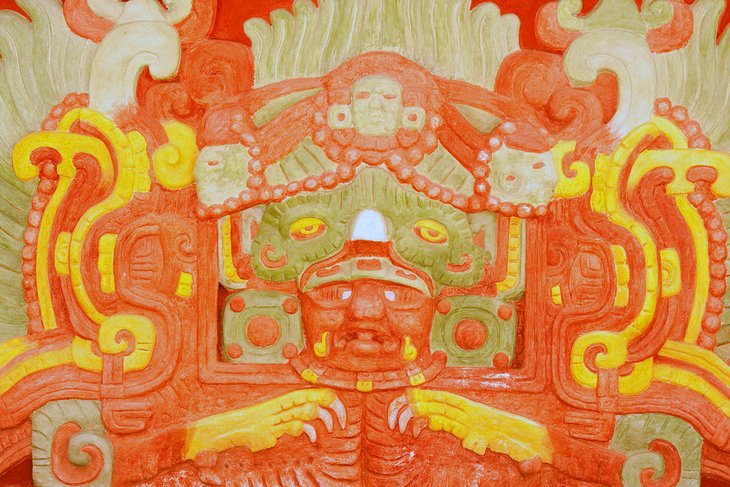 Artwork on the Rosalila Temple replica at the Museum of Mayan Sculpture
At the Copán Ruins Archeological Site, the superb Museum of Mayan Sculpture is an essential stop on any visit to the ruins. It displays a series of original pieces of sculpture, stelae, and altars recovered from the site.
The museum, which tunnels through a hillside before opening out into a vast sunlit open space, is best visited after touring the ruins to understand where the pieces on display originally belonged.
The collection has a total of over 3,000 pieces of original Maya sculpture and carvings depicting spiritual entities, people, and sacred animals like macaws and bats. There are also several buildings on-site that were rebuilt from the pieces found in the nearby dig site.
Undoubtedly, the masterpiece here is the full-sized replica of the ornate Rosalila Temple, discovered intact under structure 16 in the acropolis.
6. La Tigra National Park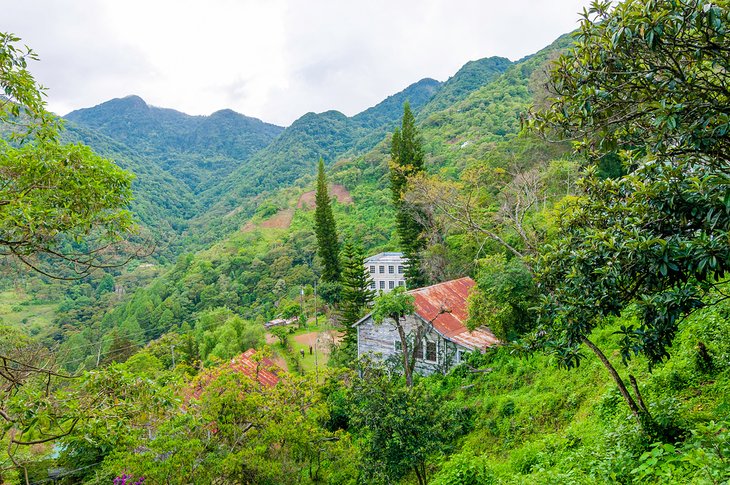 La Tigra National Park
About 20 kilometers from Tegucigalpa, La Tigra National Park (Parque Nacional La Tigra) is one of the most beautiful places to visit in Honduras. Perched at an altitude of 2,270 meters, this unspoiled park preserves a lush cloud forest that is home to ocelots, pumas, and monkeys, although it's rare to see these larger mammals.
This is one of the most visited parks in Honduras and offers a vision of how the area looked long before logging claimed much of the surrounding forests.
The park is also a haven for birds – more than 200 species flit within its borders, including toucans, trogons, and the elusive quetzal. Well-marked hiking trails wind through the thick forest, where bromeliads and orchids flourish.
Stop by the visitor's center at each entrance for maps and park information and to pay the admission fee. Guides can also be arranged here.
7. Lake Yojoa (Lago de Yojoa)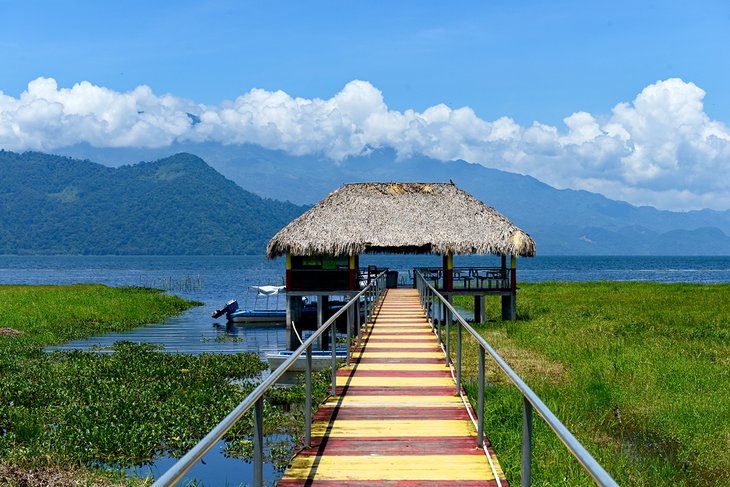 Lake Yojoa
Along the main road between Tegucigalpa and San Pedro Sula, Lago de Yojoa is the largest natural lake in Honduras and a haven for birders. More than 480 species have been spotted here, including whistling ducks, northern jacanas, and crakes.
You can explore this shallow lake from shore, or glide through the reeds in a canoe or kayak. Two mountainous national parks border the lake: Santa Bárbara National Park on the northern shore and Cerro Azul Meambar National Park to the south.
Other popular things to do in the area include hikes to waterfalls, exploring an underground cave system, and tours of coffee plantations and archeological sites.
8. Parque Nacional Jeanette Kawas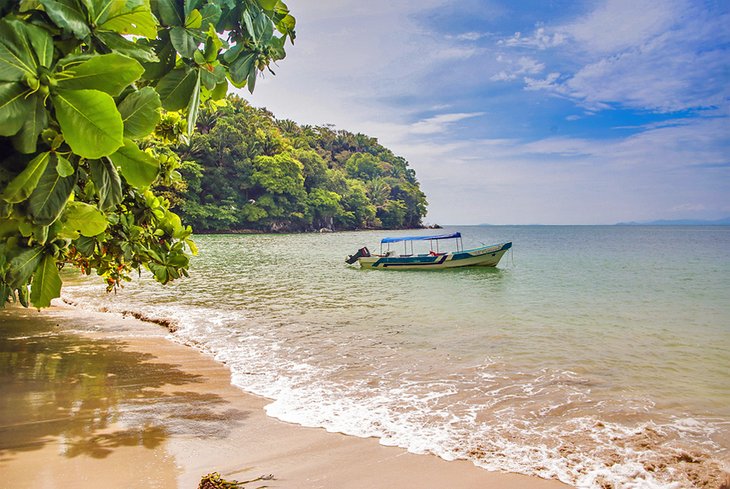 Boat anchored at Parque Nacional Jeanette Kawas
Formerly known as the Punta Sal National Park, this beautiful wilderness area is now named after the environmental activist, Jeanette Kawas, who fought passionately during her life to preserve its rich ecosystems.
The park stretches along a peninsula at the western end of the Bay of Tela and supports diverse habitats, from tropical jungle, mangroves, and wetlands to sparkling beaches and coral reefs.
Wildlife is abundant and includes many rare species. Visitors may encounter dolphins; howler monkeys; and a large variety of tropical birds, including toucans, quetzals, and motmots. The Micos Lagoon has the highest population of birds in the area, with up to 350 different species.
Tour operators run day trips to the park from Tela, which typically include a hike across the peninsula to a pretty beach, swimming, snorkeling, or diving and an optional visit to the traditional Garifuna village of Miami on a picturesque beach and lagoon.
9. Cayos Cochinos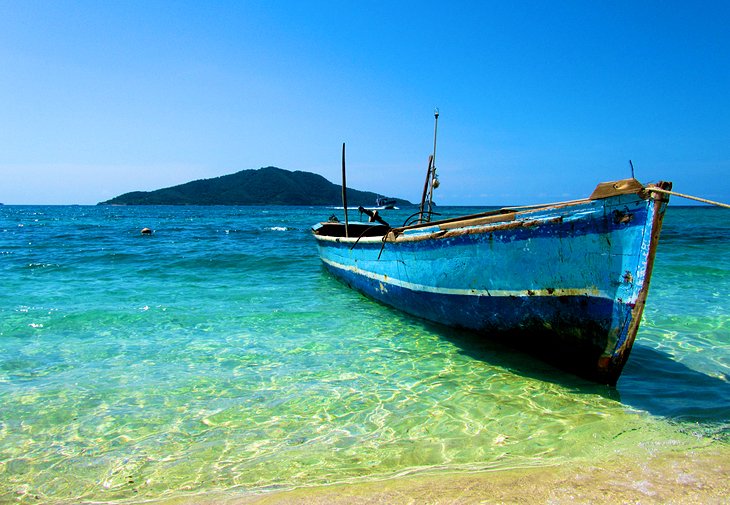 Cayos Cochinos
Also known as the Hog Islands, the archipelago of Cayos Cochinos is an undeveloped, quintessential tropical paradise. This group of small, privately-owned islands and cays lies 17 kilometers off the coast near the old banana port of La Ceiba.
The islands and the black coral reefs that surround them are a Marine Biological Reserve and remain pristine due to their remote location and difficult access. A true back-to-nature experience, Cayos Cochinos offer excellent snorkeling, diving, hiking, and bird-watching.
Accommodation options include rustic eco resorts, as well as hammocks or huts at local Garifuna villages. The islands are accessible only by boat from La Ceiba, Roatán, or Utila.
10. Lancetilla Botanical Gardens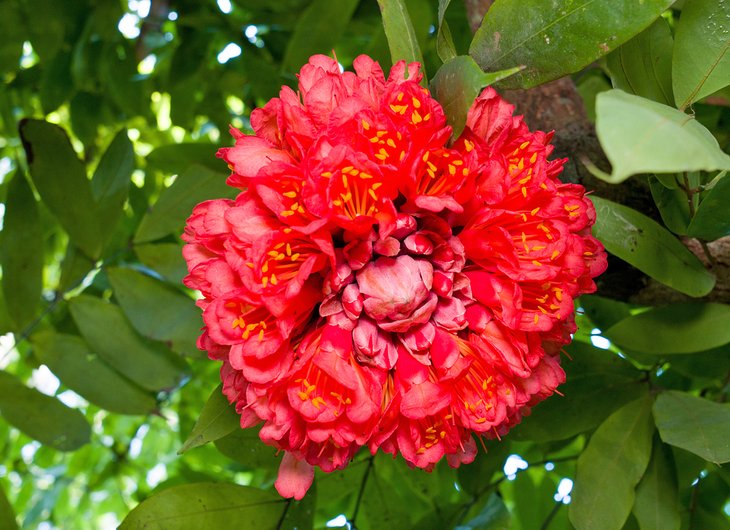 Brilliant red flower at Lancetilla Botanical Gardens
About five kilometers from the city of Tela, Lancetilla Botanical Gardens are the second largest tropical botanical gardens in the world.
In 1926, the United Fruit Company established the gardens as an experimental site to test the economic viability of various fruit and hardwood trees. Today, the magnificent groves of trees from Central America and other tropical regions comprise part of a protected wildlife corridor along the country's north coast.
More than 200 species of tropical birds have also made the garden home due to the abundance of fruit trees. Birders will be rewarded with many sightings as they wander along the well-marked trails through profuse plantings of palms, orchids, and mango trees, among others.
One particularly beautiful path leads through a tunnel of bamboo trees to a swimming hole in the Lancetilla River, a refreshing place for a cool dip after a long, hot walk.
This is a place where it's definitely worth organizing a guided tour, so you can learn interesting facts about all the different trees and plants in the gardens.
11. Río Plátano Biosphere Reserve, Mosquito Coast

Village in the Rio Platano Biosphere Reserve
In 2011, UNESCO placed this massive swath of jungle along the remote Mosquito Coast on the World Heritage in Danger list. It is one of the few remaining tropical rainforests in Central America.
The reserve lies in the watershed of the Río Plátano and forms a mosaic of lowland tropical rainforest, coastal lagoons, undisturbed beaches, mangroves, grasslands, and patches of pine savannah.
Steeped in tropical humidity, this important wilderness area harbors a rich diversity of wildlife, including howler monkeys, scarlet macaws, giant leatherback turtles, toucans, and tapirs. Sadly, reports of logging and hunting continue to threaten the reserve's fragile habitats.
Sloping down to the Caribbean Sea, the mountainous landscape is also home to more than 2,000 indigenous people of the Miskito and Pech tribes, as well as the Garífuna, who continue to live their traditional lifestyle. Archaeological sites also lie within its borders.
The best way to explore the Río Plátano Biosphere Reserve is on an organized tour. Experienced guides can take you to the safe places to visit in this remote area of Honduras, away from drug smugglers and illegal loggers who often venture deep into the reserve. Ecotourism companies offer wilderness adventures and rafting trips down the Río Plátano.
12. Museum of National Identity, Tegucigalpa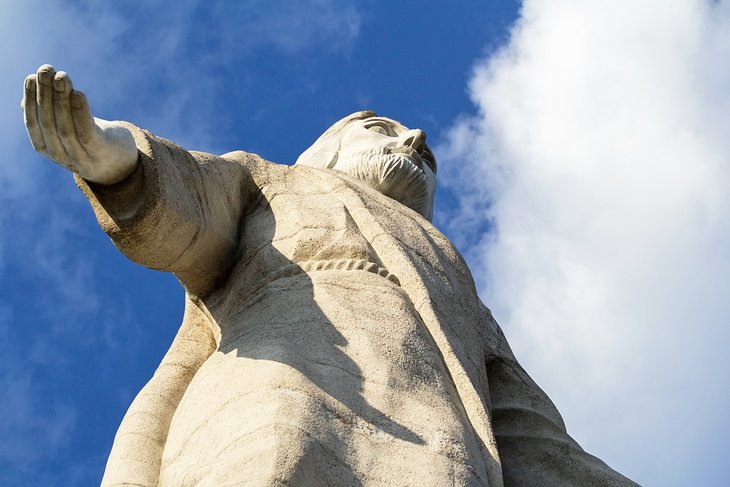 El Christo del Picacho statue in Tegucigalpa
For a dose of Honduras culture and a journey through the country's history, visitors should stop by the excellent Museum of National Identity (Museo para la Identidad Nacional). This is one of the top things to do in Tegucigalpa, the country's capital.
Occupying a beautiful National Heritage building known as Palacio de los Ministerios, the museum also displays an impressive collection of Honduran and international art. Historic exhibits unveil the country's fascinating past, from pre-Hispanic times to the present day.
A highlight here is the virtual tour of the Mayan Acropolis of Copan, which provides a great primer for those who haven't yet visited the attraction and a welcome recap for those who have. Parking is scarce in this central city location, but taxis will take visitors directly to the door.
Another top place to visit in Tegucigalpa is the Parque Naciones Unidas El Picacho. Drive or catch a taxi to the park, which lies about six kilometers outside the city, and hike the trails to one of the city's iconic landmarks: the 20-meter-high statue of El Christo del Picacho, which towers over the capital. Best of all, you can enjoy panoramic views over the city to the mountains beyond.
13. Cusuco National Park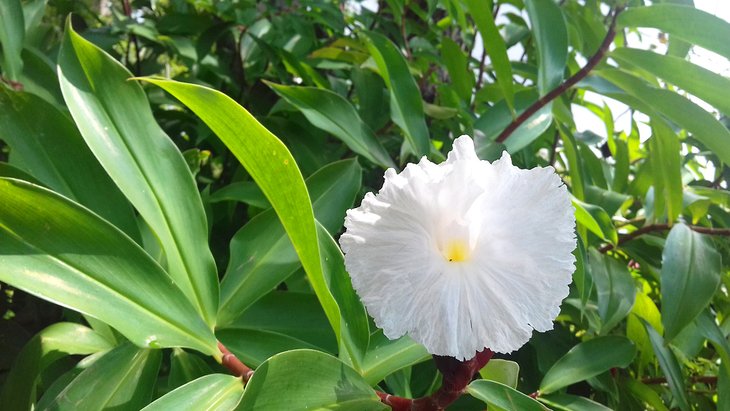 Flower in Cusuco National Park
Located in Corinto, just west of San Pedro Sula in the Merendon Mountain Range, Cusuco National Park (Parque Nacional El Cusuco) is famous for its enigmatic quetzal, one of the loveliest of all tropical birds. Sadly, habitat loss and unsustainable hunting for its beautiful long tail feather have pushed it to the brink of extinction.
The park's exceptional biodiversity also includes threatened species of frogs and salamander, jewel scarab beetles, Baird's tapir, and more than 260 species of birds. The reserve is also home to several species of wild cats, including the ocelot, margay, and jaguar.
The park's frogs are among its most important residents, playing a vital role in controlling the insect population. They also perform other important functions within the ecosystem which, in turn, influences the health of the residents of San Pedro Sula.
Hikers can enjoy some challenging trails here – the park's highest point rises to 2,200 meters above sea level. Local guides can provide access details and share information about the rich flora and fauna.
14. Carambola Botanical Gardens & Trails, Roatán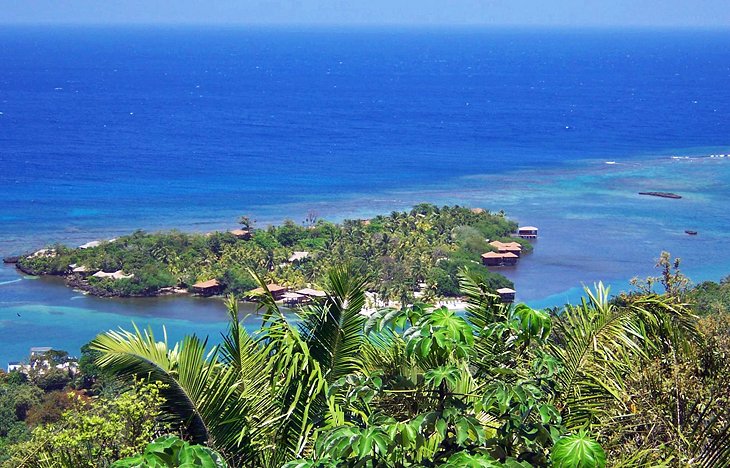 View from Carambola Mountain | Katrina / photo modified
Beautiful Carambola Botanical Gardens & Trails offers a tranquil island nature experience. Trails wind through forests of fruit trees, palms, ferns, orchids, spices, and mahogany.
For breathtaking views, follow the mountain path to the top of the ridge, where a lookout peers out over the azure Caribbean, the adjacent barrier reef, and for those who time it well, dolphins leaping from the water at Anthony's Key Resort.
Along the way, keep an eye out for some of the tropical wildlife. Colorful birds dart throughout the foliage, and you might also spot Roatan Anoli lizards and entertaining parades of leafcutter ants.
Also in the gardens, Iguana Wall is a sheer section of cliff that offers a breeding area for iguanas and parrots.
15. Little French Key, Bay Islands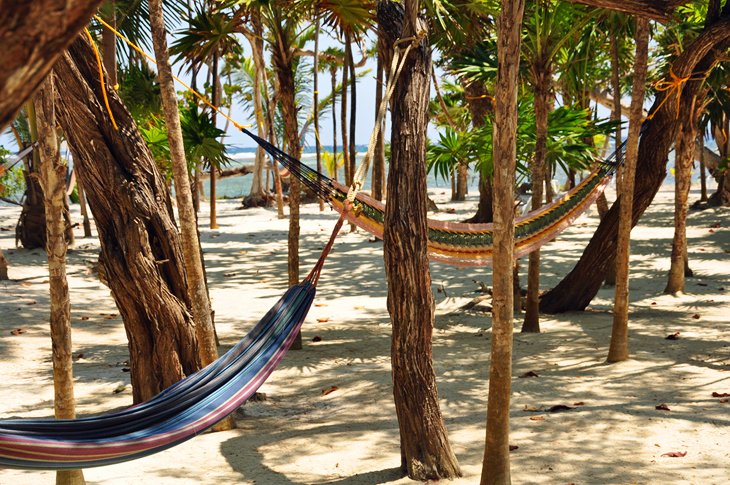 Little French Key, Bay Islands
A popular day trip from Roatán, Little French Key is an eco-friendly tropical paradise off the island's south shore. Anyone seeking a tranquil tropical experience in manicured surrounds will enjoy it here. Imagine hammocks slung between coconut palms, sparkling clear waters with fantastic snorkeling, and a pretty white-sand beach with kayaks and chaises loungues.
After a few hours of beach fun, you can dine on fresh seafood at the restaurant or head to the wildlife sanctuary for close-up animal encounters. Sanctuary residents include rescue animals such as monkeys, deer, and toucans.
Feel like some more pampering to go with your beach basking? Sign up for a massage, manicure, or pedicure while you're here.
16. Pico Bonito National Park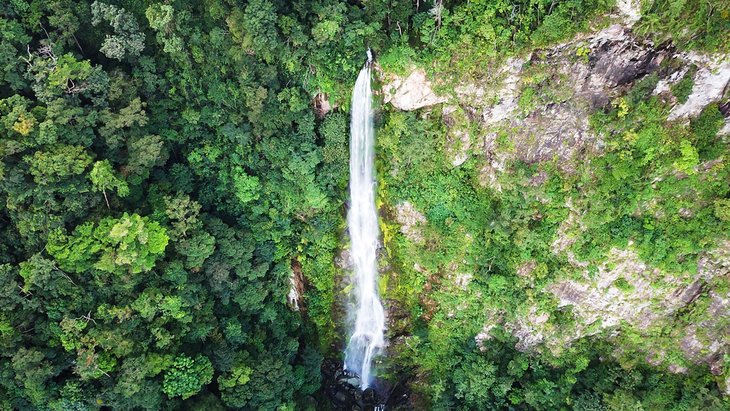 Bejuco Falls in Pico Bonito National Park
Pico Bonito National Park is a nature lover's paradise and one of the most popular hiking areas in Honduras. Located near the northern coastal city of La Ceiba, the 2,480-meter summit of Pico Bonito is a landmark visible from the Bay Islands.
In addition to the park's lush green rainforests and diverse wildlife, the park is full of dramatic waterfalls, some of which can be viewed from the road.
The park offers a variety of hiking trails, including the moderate one-hour La Roca loop that offers thrilling views from a swing bridge that crosses the Cangrejal River. There are also longer, more challenging trails that visit waterfalls and swimming holes, as well as scenic vistas.
Most of the trailheads are located at the park's visitor center, located only a few kilometers from La Ceiba.
What is a historical place to visit in honduras
Planning a trip to Honduras? Prepare yourself for this tropical paradise, Central America's second-largest country. This country is full of hidden gems like gorgeous pristine islands, ancient ruins, lush rainforests, and picturesque mountains that attract about 2 million tourists annually.
Unfortunately the vast majority only set foot on the gorgeous Caribbean islands in North Honduras, but there are so many more beautiful places to see.
All the recommendations, travel tips, things to do and places to visit in Honduras are based on my own experiences extensively traveling the country. On my multiple trips to Honduras I have seen a fair share about the good, the bad and the ugly.
Please let me inspire you to see a whole different world beyond the Bay Islands. However when you travel to Honduras don't skip these pristine tourist destinations either. Honduras has immediate access to the world's second-largest barrier reef and, therefore, offers the best diving and snorkeling experience in the Caribbean.
The beauty of the magnificent landscapes in Honduras and the potential for limitless adventures have proven to be irresistible for travelers. But it is hard to spread the word about a country that has a pretty unstable image to those that has been fed with negative stories about traveling in Honduras.
Stay connected when traveling to Honduras and get yourself a local sim card. Read here everything about buying a sim card in Honduras in 2022!
More about safety issues in Honduras later, or even better start with this little video about all my recent adventures and latest Honduras travel tips to see with your own eyes how amazing it can be to travel to Honduras.
Now let's look into all those amazing Honduras tourist attractions.
More Related Articles
1. Roatan – Caribbean Island Vibes
No introduction needed Roatan, one of the Bay Islands, is without a doubt among the most beautiful places to visit in Honduras. It is the largest and most developed of all Caribbean islands belonging to Honduras.
This long, slim bay is a popular tourist place and a major port-of-call for cruise ships.
The gradual blossom in tourism is of course attributed to the Bay Island's pituresque scenery and varied water activities such as diving, snorkeling, and swimming in crystal clear waters. Other places to go in Roatan are the Carambola Gardens and the Roatan Butterfly Garden.
West Bay Beach, one of the best beaches in Roatan, is a beloved place for tourists to stay. The main reason why it gets quite packed is that it ticks all the boxes – has crystal clear waters, swaying palm trees, pristine beaches for Instagram photos and plenty of shops, bars and restaurants. This place offers a complete Caribbean experience. This is the place to get find those laid-back island vibes when traveling to Honduras.
The eastern side of Roatan island is relatively distant and much more unexplored. If you want to get away from the touristy side than this is your best bid.
Where to stay in Roatan
Hotels in Roatan are not among the cheapest places to stay in Honduras. For the 5-star Ibagari Boutique Hotel you can easily pay $500 per night. But there are plenty of hotels with a 9+ review for under $100 per night: West Bay B&B, Pirate's Den Hotel, Hotel Posada Las Orquideas.
On the East side of the island I can highly recommend you the following Roatan hotels: Marble Hill Farms and Camp Bay Lodge.
2. Utila – Picture Perfect Beaches
Welcome to one of the best places to go scuba diving in the world. Utila has a reputation of being much more moderately priced than Roatan and in fact it is one of the cheapest destination to get your scuba diving certification.
For this reason, Utila has gained popularity amongst young backpackers who are traveling the world on a budget. Finding cheap accommodation in Roatan is not that hard therefore. Utila is one of the most famous tourist attractions in Honduras especially those that are looking for great nightlife.
On top of that Roatan is simply a top attraction because of its world class white sand beaches. There are very few designated roads on the island and most of the areas aren't developed. Access to some gorgeous bays and villages is by sea only.
Needless to say that diving and other water activities like swimming, snorkeling, kayaking, and paddle-boarding are among the top things to do in Utila, but there is more. Visitors also come here for hiking and horse riding.
However the number one reason people visit Utila is to enjoy the slow paced life on the island!
Where to stay in Utila
Accommodation is clustered around the much more developed east side of the island. This is also where you will find the boats coming in and the Utila Airport. The Mango Inn Resort and the Sea Eye Hotel – Tropical Building has good reviews and are under $100 per night.
3. Cayos Cochinos – Tiny Island Atolls
Cayos Cochinos, also known as Hog Islands, is a group of privately-owned islands, atolls and coral reefs that sits just 17km offshore from the Honduras mainland. It consists of two main islands and several smaller cays.
The two islands and the coral reefs that encompass them are part of a Marine Biological Reserve since 1994. They remain pristine thanks to their far-away positioning and troublesome access.
Cayos Cochinos is not the easiest place to visit in Honduras, but it is well worth the effort on a beautiful day.
There are no roads or automobiles on these gorgeous islands. They are only accessible by boat from La Ceiba, Roatan or Utila. This quintessential tropical haven provides a peaceful retreat for tourists who want to experience the natural beauty of Honduras without the disturbance of crowds.
There are plenty opportunities for snorkeling, diving, swimming and even some birdwatching activities for tourists. Most Cayos Cochinos day trips start from Nueva Armenia, about 1 hour East of La Ceiba.
Where to stay in Cay Cochinos
Most people visit Cayo Cochinos on a day trip as accommodation is very limited and expensive. It is hard to find a hotel online, but there are some Cayo Cochinos Airbnb's available.
4. Copan Ruins – Ancient Maya Archeological Site
Dating back to 427 AD, the Copan Ruins are the most famous place in to see in Honduras after the Bay Islands. If you love history and nature then this is a must-see place for you. Copan Ruins is an ancient Mayan city discovered by Diego Garcia de Palacio in 1570. The ruins are listed as a UNESCO World Heritage Site since 1980 as they're deeply symbolic and very important as a civil, political and religious epicenter of the Mayan history.
For more than 2,000 years, the town was occupied and controlled by the Mayan people but was later mysteriously deserted in the 10th-century. It wasn't until the 19th-century that the site was dug up and still hasn't completely been discovered.
Visitors today can explore the area and learn about the history of an ancient civilization. On-site is the Maya citadel that has portrait-style stone rocky monuments known as stellar, overlapping step-pyramids, and many numerous wrecked structures.
Hiring a guide is highly recommended as compared to Tikal in Guatemala, Copan Ruins is very detailed and there are many mystery to be explained and unfolded right in front of you.
When visiting Copan Ruins you can not miss the Cafe Via Via, a popular joint in the center of this laid-back town. Sample a bunch of craft beers and mingle with locals in this popular backpacker bar.
Another Honduras travel tip is to head up to one of the haciendas in the hills above Copan Ruins. Hacienda San Lucas, a 100 year old property converted into an Eco Lodge, is not only a place that serves delicious local food and has great views over the hilly countryside, it also offers accommodation.
One more thing to do when visiting Copan Ruins is to head over to Finca Santa Isabel – Welchez Coffee Farm. It is about 30 kilometer east of Copan Ruins on your way to Santa Rosa de Copan.
Where to stay in Copan Ruins
Right in the heart of this tranquil village you will find Hotel Marina Copan, in the corner of the main square. It has a lovely courtyard with a big swimming pool and attached bar, a great place to stay in Copan Ruins.
5. Macaw Mountain Bird Park – Honduras' National Bird
I wouldn't normally send you to a zoo or anything like that. No one wants to see caged animals, but visiting the Maca Mountain Bird Park in Copan Ruins is different. Straight in the beginning you get explained why you are looking at mostly caged birds and then you will understand.
The owner of the bird park an older American came here many years ago and dedicated his life to the utterly beautiful Scarlet Macaw, Honduras National Bird. The Macaw Mountain Bird Park is basically a rehabilitation and breeding centre to save this endangered bird specie. Hundreds of birds from all over the country are brought in and as much as they can they are released back into the wild.
It is extremely hard to breed some of the birds but they are some major success. When visiting Copan Ruins you will see with your own eyes why the Macaw Mountain Bird Park is such a major success, as the Scarlet Macaw is all over this ancient Maya city and these ones are wild.
See all my videos of my Copan Ruins adventures in my Instagram Highlights: Honduras 1 & Honduras 2.
6. Santa Rosa de Copan – Coffee Plantations
Santa Rosa de Copan looks like an old Spanish colonial town, but it is only a little more than 100 year old and flourished because of the Tobacco Industry. Therefore visiting Flor de Copan Cigar Factory is one of the best things to do in Santa Rosa de Copan.
Other things worth visiting Santa Rosa de Copan are the surrounding coffee plantations and the agritourism opportunities. A great place to visit for a coffee plantation tour in Santa Rosa de Copan is Finca Seis Valles, they also serve great breakfast.
For a cool agriculture experience head over to Hacienda Montecristo. Fee baby cows, collect eggs between hundreds of chickens, ride horses, etc.
One of the cool places to visit in Santa Rosa de Copan is the local market. Go here for breakfast and try things like Atol Chuco, fermented corn or the local Tamales. Not my preferred breakfast but I recommend you to give it a go. Souvenir shopping in the local market in Santa Rosa de Copan is on point!
When visiting Santa Rosa de Copan you also have to try Madrasso, a sweet drink with alcohol. It is a kind of fruit punch / margarita, so sweet you can hardly taste the alcohol! 🙂
7. Mosquito Coast – Last Frontier: Jungle Meets Caribbean Coast
La Mosquitia is among other things home to the Rio Platano Biosphere Reserve and is one of Honduras' least developed areas. Only the bravest, most adventurous, and most daring tourists visit the Mosquito Coast due to the harsh living conditions and lack of proper transportation in this very rural location.
Unfortunately on my last trip to Honduras I was unable to visit this almost impossible to travel last frontier. But because of its uniqueness I put it high on the list of best places to see in Honduras. Next trip I will definitely give it another try.
This area of swampy mangroves, unblemished rainforests, and virgin shorelines makes up almost a fifth of the entire country but is almost impossible to travel around. There are basically no roads and 99% of the area consists of dense jungle.
Visiting the Mosquitia is a good way to get away from the savage modern world and enjoy incredible natural sights, fantastic wildlife, and a thriving native culture. There is no phone reception and zero signs of the modern world. When visiting the Mosquito Coast you go into survival mode, but visiting isolated villages in this part of the world must be one of the coolest travel adventures ever.
The Rio Platano Biosphere Reserve located on the Mosquito Coast is the largest protected area in Honduras with more than 5,250 square kilometers. It is one of the few tropical rainforests left in Central America.
In 2011, UNESCO listed this massive jungle land on their list of World Heritage in danger. Sadly, activities like logging, illegal hunting as well as drugs trafficking continues to threaten the reserve's fragile inhabitants. The reserve is home to a rich diversity of wildlife including howler monkeys, scarlet macaws, toucans, giant leather turtles, and tapirs.
The most famous thing to do in La Mosquitia is a multi day rafting trip down the Rio Platano and with multi-day trips I mean 8 to 12 days! Are you ready for an adventure then the Rio Platano Biosphere Reserve is one of the best places to go when visiting Honduras.
A company that organizes adventures trips to the Mosquito Coast is Omega Tours.
8. Rio Cangrejal – La Ceiba's Outdoor Heaven
Among Honduras' top destinations for adventurous thrill-seekers is Rio Cangrejal. It's a prime spot for kayaking and rafting regardless which month you visit Honduras. It is located only about 20 minutes away from La Ceiba.
The long extensions of white water rapids race around the boulders and plunge over drop-offs providing lots of adrenaline rushes for tourists who enjoy water activities. Four different sections of the river are marked depending on the skill level. They range from amateur to experienced.
Various tour companies operating in the area offer organized tours with guides to help beginners learn all the necessary basics of kayaking and rafting.
I went rafting with Omega Tours and had a blast. Despite the heavy rains we went out with the team to make the most of the day and it was absolutely epic rafting down Rio Cangrejal.
Where to stay in Rio Cangrejal
I recommend you to stay around the river, in the middle of the jungle. Omega Tours Eco-Jungle Lodge scores a 9.5/10 out of more than 70 reviews and I personally gave them a 10/10 as well. Their restaurant serves delicious organic and healthy food. I was not only a big fan of their remote location, also of their meals!
9. Pico Bonito National Park – Hiking & Waterfalls
The Pico Bonito National Park is also located just right outside La Ceiba in the Nobre de Dios mountain range. If you want to visit Pico Bonito I recommend you to combine it with visiting Rio Cangrejal.
Surrounded by Dole pineapple plantations, cattle farms, and the Rio Santiago and Cangrejal rivers there is an iconic mountain peak where the national park is named after. The peak of the mountain inside the Pico Bonito National Park goes up to a height of 2,435m above sea level.
Thanks to its lush plant-life and varied wildlife, Pico Bonito is considered to be one of the best spots to go in Honduras for (multi-day) hiking trips. Climbing Pico Bonito is very though as it will lead you through very thick vegetation. Always wanna wander through the jungle with a machete, arrange a tour into Pico Bonita National Park and make your way up to the top.
Tours into Pico Bonito National Park can also be arranged through Omega Tours.
10. Villa Soleada – Volunteering in Honduras
This is not a standard place to visit, but only for those travelers who like to give back when visiting Honduras. If you are looking to volunteer in Honduras then keep on reading.
Villa Soleada is a charity project run by a Japanese American that 15 years ago came to a no name village near El Progresso to volunteer. After staying for 1 month he decided to dedicate his life to these people and turned one of the most violent villages of the country into the most educated one in Honduras.
I volunteered here for 1 week with the Students Helping Honduras organization. There is a bilingual school and an orphanage. Every helping hand is welcome and it would be an honor if after reading this Honduras travel blog you decide to look into this project.
Volunteering one week at Villa Soleada left a deep impression and made me even more grateful for the thing I have in life. Growing up in a village in Honduras is hard and we mostly don't realize how fortunate our lives are until we see the opposite.
The project is run by @shinfujiama, check out his Instagram and be inspired by his amazing story changing his life drastically moving into the slumps of Honduras dedicating his life building a new village with over 40 homes and takes care about 25 orphans at the same time.
For more heartbreaking videos of the people of Villa Soleada I invite you to look at my Instagram highlights: Honduras 3 and learn even more about this amazing project.
11. Cusuco National Park – Off The Beaten Path Hiking
The Cusuco National Park is yet another well-conserved remote area of Honduras that's located east of San Pedro Sula. The park covers an area of about 243 square kilometers on the border with Guatemala. Most of the roads leading to the park are pretty inaccessible making it challenging for tourists to get here.
If you're looking to make the most out of visiting Cusuco National Park, hire a local guide to help with navigating the forest and see the wildlife here. The best time to visit is between April and June, early in the mornings, to spot wildlife.
A trek up the mountain peaks gives stunning views of the surrounding areas. Some of the mountain peaks are above 2,000m and if you are looking for a place to walk above the clouds this is one of them. These are the coordinates of the Cusuco National Park visitor center: 15°29'46.0″N 88°12'42.0"W. It takes a little less than 2 hours to get here from San Pedro Sula, but if you are looking to go off the beaten path in Honduras this is your destination.
Bird watching is one of the main tourist attractions here. There are more than 260 bird species in this park including parrots, toucans, and enigmatic quetzals. The quetzals are some of the loveliest tropical birds. The park's exceptional biodiversity also includes threatened species of frogs and salamander, jewel scarab beetles, and Baird's Tapir.
12. Jeannette Kawas National Park – The Lagoon of Playa Miami
Jeanette Kawas National Park was initially known as Punta Sal National Park. It was later renamed Jeanette Kawas after an environmentalist who fought passionately during her life to preserve the rich ecosystems of Punta Sal.
This beautiful wilderness area is accessible from land and sea. It stretches along the Caribbean coast west of the Garifuna beach town of Tela. Wildlife is abundant and includes numerous rare species. Visitors may encounter dolphins, howler monkeys, and a large variety of tropical birds. The park also supports diverse habitats from ranging tropical jungle, mangroves, wetlands, to pristine beaches and coral reefs.
The two best places to visit in Jeannette Kawas National Park are Playa Miami and Punta Sal. Miami is a sandy bar peninsula that is less than 100 meters (300 ft) wide. On one side there is the Caribbean sea and flanked on the other side by a tropical lagoon with rainforests and mangroves.
The best thing to do in Playa Miami, Honduras is to watch the sunset from a boat tour on the lagoon after you enjoyed delicious fresh seafood for late lunch.
Where to stay in Tela
Tela is the nearest town to Playa Miami and Punta Sal. It is a popular and vibrant holiday destination in Honduras due to its endless Caribbean beaches. There are two popular hotels in Tela with good reviews: Hotel Bahia and Hotel y Cabanas Playa Caribe. There is a 5-star in this area too: Indura Beach & Golf Resort Curio Collection by Hilton.
I recommend you to go off the beaten path and stay at Playa Miami at the end of peninsula. There is basically nothing around there apart from a couple huts on the beach. Imagine waking up to the sunrise over the Caribbean Sea with the chirping birds from the lagoon behind you.
Life is all about making memories, make sure your trip to Honduras becomes one of them!
13. Punta Sal – Remote Beaches
Punta Sal is also part of the Jeannette Kawas National Park and was once a paradise for pirates. Today, the area is a protected territory thanks to its wildlife and natural charm.
Punta Sal can only be reach by boat. Its remote location guarantees you deserted untouched beaches. It is one of the best places in Honduras to go snorkeling, but hiking and wildlife are popular activities too.
On your way to Punta Sal by boat from the Bay of Tela you will very likely encounter dolphins, then drive through the mangroves to spot sea turtles and end up on the stunning beach of Cocalito.
You can also opt to visit one of the remote living traditional Garifuna villages made up of thatched huts and learn more about the local culture.
14. Comayagua – Colonial village Former Capital
Welcome to the former capital city of Honduras: Comayagua.
This town sits at a height of 594m above sea level and is situated along the main road between Tegucigalpa and San Pedro Sula. It's one of the most prettiest towns in Honduras and is well known for its Spanish colonial architecture.
The best places to visit in Comayagua are all downtown and include the Spanish Baroque Cathedral, the first university in Central America, and several churches. Most of these were constructed in the 16th-century but have been repurposed to their original state.
In the Comayagua cathedral you will find one of world's oldest still working clock. It is located in the Cathedral clock tower nowadays and was brought to Central America as a gift by the king of Spain in 1620, but was constructed somewhere around 1100. When visiting Comayagua this is a must-see place. Visitors can go up to clocktower, ask inside the cathedral.
The quiet colonial village of Comayagua once played a very significant role in politics and religion. Nowadays it is mainly one of the tourist attractions in Honduras where tourists come to see the beautiful architecture and partake in the catholic heritages.
Comayagua is one of the best places to visit to enjoy the Easter celebrations. During the week between Palm Sunday and Easter Sunday, the town bursts into a flurry of activity and color with its street carpet tradition. The carpets are made with colored sawdust and other natural materials like rice and flower petals. The elaborately designed artistic carpets depict Biblical figures and events that led to the crucifixion of Jesus.
If you are looking for a local restaurant in Comayagua I can recommend you Carnitas Schole #2, located close to the main square. It serve delicious mixed grill barbecue. A simple restaurant with great food for a good price.
For more videos of my adventures in and around Comayagua have a look at the last part of my Honduras 3 Instagram highlights.
Where to stay in Comayagua
I stayed in the Hotel Antigua Comayagua for around $80 per night. It has a lovely courtyard with a swimming pool, although I didn't make use of it as I only slept here. The WiFi was good. Hotel Antigua Comayagua has the highest rating: 8.5/10 out of all the hotels in Comayagua.
15. Ajuterique – Charming Village With Amazing Murals
A sleepy but lovely village only about 20 minutes away from Comayagua. Come here to unwind in the rolling hills around the town. There is a Instagrammable plaza with an umbrella street and plenty of coffee places.
But the number one reason why Ajuterique is listed as one of the Honduras tourists destinations are the numerous murals. They are scattered all around town and pretty impressive. Also take a photo with the Ajuterique sign of course.
When visiting Ajuterique you must try the local drink XXX. It looks like a nice mango juice, but it does not taste anything like that. It is a fermented drink and a weird experience in your mouth I can tell you.
My Instagram highlight Honduras 4 starts with travel videos from Ajuterique.
16. La Esperanza – Traditional Mountain Village
This mountain village is a famous Honduras tourist attraction because it has the coolest climate in the country. Obviously it is not only the moderate temperatures that lure a lot of tourists to La Esperanza.
There are a lot of cool things to do in La Esperanza apart from scrolling through this typical charming and colorful Central American village and visiting the cathedral. Walk up to La Gruta, a shrine/cave with great views overlooking the village.
La Esperanza is the national capital of Honduran Folklore and is where the El Grande de Grandes festival is organized every year. If you miss this festival then I recommend you to visit a show performed by Oro Lenca. Have a look at the Oro Lenca website to see where they perform.
Also when visiting La Esperanza make sure you eat at La Hacienda Lenca and try their special mushrooms. The only grow a couple days a year after heavy rainfall on high altitudes. A dish truly worth trying when visiting Honduras.
Where to stay in La Esperanza
One of the best places I stayed on my trip to Honduras was at Las Cabañas de Carlos. Tucked away in the forest about 5 minutes out of town you will find 4 wooden cabins. A perfect romantic getaway for a couple traveling to Honduras. The best way to make a reservation is to contact them through their Instagram account.
Sip wine next to the campfire in a sweater and covered by a blanket and have your breakfast surrounded by chirping birds. Los Cabañas de Carlos is the best place to stay in La Esperanza. It sincerely is one of my best Honduras travel tips.
Source https://www.historyhit.com/guides/historic-sites-in-honduras/
Source https://www.planetware.com/tourist-attractions/honduras-hon.htm
Source https://traveltomtom.net/destinations/north-america/honduras/best-places-to-visit-in-honduras