First-time Visit to Pike Place Market
Seattle's Pike Place Market is an iconic staple to the Pacific Northwest, and most people from Washington have visited many times. But what's it like as a visitor from the East Coast, exploring the market for the first time? Adrian Stouffer, a Pennsylvania native, recently took a family trip to Washington on a whim, and this is one of the many spots she explored along the way.
Traveling to Washington
It was 9:30 a.m. We were touching down in Seattle after a four-hour flight from Philadelphia. My husband, Jason, and younger son, Dane, sat beside me bobbing in and out of consciousness. Across the aisle were my older son, Tyson, and my mother-in-law, Ada staring intently at their in-flight movies. Taxying toward the gate, excitement started to build among us for the adventure ahead.
"So, all we need to do today is get our bags and car, drive two hours south to Mt. Rainier, hike all day and then drive three and a half hours north to Oak Harbor. Piece of cake," I announced to the family grinning mercilessly at my itinerary. However, things can sound better on paper than they are in reality.
Instead, my husband Jason suggested that we check out some of Seattle and then head north to our hotel aka "Marathon Homebase." Although it was unlikely we would get to see Mt. Rainier during the rest of our trip, I agreed.
Landing in Seattle
Deciding to run a marathon on his 40 th birthday, Jason had randomly selected a race in a quaint little town nearly two hours north of Seattle called Coupeville; a town that is literally the entire way across the United States from where we live in Pennsylvania.
Grabbing our bags, we made our way to the rental car and then headed toward the city. Shipping containers and large shipping cranes framed the skyscrapers as we approached the heart of Seattle. Determining where we could best use our limited time, we decided to visit Pike Place Market, a famous farmer's market open since the early 1900s.
Visiting Pike Place Market
Cruising the Alaskan Way, the main drag paralleling Elliott Bay, our directions notified us that we were a few short turns away from our destination. Seeing a giant Ferris wheel, restaurants and shops galore, we impulsively chose a parking garage in proximity to these attractions. Walking around what we discovered was "Pier 57," it seemed to be more of a tourist destination. Although it wasn't of interest to us, the pier did have some attractive art installations, views of the bay, a couple decent restaurants and one fine-looking Ferris wheel known as "The Seattle Great Wheel."
Feeling lost on how best to get to the market from our current location, we decided to use Google walking directions. Our attempts to ask people seemed vague and indiscernible as our level of 'hangry' (especially Jason's) began to skyrocket. We walked up a large, steep hill. Looking back at my husband, I wondered if it was too much strain on his legs prior to a marathon. (Mt. Rainier certainly would have been too much.) We found Pike Street nearing the top of the hill, but there were no markets in sight. Finally, after passing several restaurants and shops, we happened upon the big and beautiful clock spelling out the words, "Public Market Center."
Seattle Seafood
There was a frenzy of activity. Beneath the Pike Place Market clock, we saw our first stop – the famous fish slingers at the Pike Place Fish Market, a sustainably-sourced fish stand.
A large group of people were crowded around men adorned in large rubber aprons and boots as they shouted out orders and slung whole fish, crabs, crayfish, really whatever your seafood-loving heart could desire. Jason suggested we have Dungeness crabs shipped back to us because they offer overnight shipping or leak-proof travel packs, but at $50 per pound, we decided to leave it for the next person.
Wandering the Market
Investigating the market further, we encountered a cornucopia of sights, smells and sounds. It was overwhelming as the walkways were packed with people, making it difficult to navigate with two small children.
"Better feed the bear," I thought to myself as Jason trudged along the cobblestone street murmuring about finding somewhere to eat.
Using our faithful friend, Google, again we were trying to locate the highly rated restaurant, Matt's in the Market. It took a while to find as we didn't realize it was on the second floor of the Corner Market and we had to use an elevator to get there. Looking at the menu more closely, we realized it wasn't ideal for our five- and eight-year-olds.
Lunch with a View
At this point, I was desperate to get Jason food and the kids were getting restless, so we haphazardly chose another restaurant in the same Corner Market – Pike Place Bar & Grill.
"3.8 rating," I whispered to my husband apprehensively as we entered the doorway.
"Whatever works at this point," Jason retorted.
Despite the lackluster décor, the large windows looking down on the heart of the market were open, inviting a gentle breeze throughout the restaurant. We sat at a table near one of the windows. The hanging baskets of colorful annuals looked divine in contrast to the murky, grey skies. Perusing the menu, we thought it was safest to order some fried fish and local beers. The service was attentive yet forgetful – I had to ask several times for my older son's food that was forgotten. The fish was tasty, the fries were too salty, the beers were refreshing, but most importantly, Jason was fed.
Browsing the Market
Next, we were on the hunt for the unknown (if that makes sense). Luckily, the market traffic had died down somewhat. Turning into one of the corridors, we noticed a dried pasta stand called Papparadelle's. They offered us samples of their chocolate pasta. I passed as the thought of making chocolate pasta for dessert made me dry heave, but the kids and Jason seemed to like it. I bought a lemon garlic orzo and a trumpet herb campanelle pasta as a souvenir for my mother, a pasta fanatic.
We browsed many seafood, honey, jewelry, produce and prepared food stands. Jason bought cotton candy grapes for the kids, the sweetest local nectarines you could ever taste and a few rambutan, a hairy-shelled fruit that we had only seen before in Costa Rica. The best part of the entire market to me and my mother-in-law, Ada, were the gorgeous bouquets of flowers lining what seemed like endless stands and at a shocking price! A giant bouquet of wonderfully diverse flowers was only $15. The same bouquet would have cost nearly $80 to $100 in Pennsylvania. If we weren't staying in a hotel for the next couple of nights, I would have bought several bouquets just to enjoy them.
Chocolate in Seattle
Deciding it was time for dessert, we poked our heads into an intriguing little coffee shop across from the main market stands – Joe Chocolate Co. Not being familiar with the west coast way of life, we were surprised to find not only lots of delicious-smelling chocolate and coffee, but beer, wine and some great bites, too. Later, I learned that the business was started as a snack company that supports hikers in an environmentally sustainable way and just recently opened the shop at Pike Place.
Scouring our options on the large board hanging over the barista station, one drink particularly piqued our interest – the chocolate coffee latte. Jason, Ada and I each ordered one, plus a few homemade cookies for the road. Tyson and Dane opted for some dark chocolate-covered frozen bananas. Unfortunately for Dane, they were adorned with cocoa nibs, not sprinkles. The bitterness was not desirable for him.
On the Road
Sipping the chocolate coffee, we were surprised the by the intense flavors. I would liken it to drinking a coffee and a really good hot chocolate all in one. Knowing we would be returning to Seattle on our way back to Pennsylvania, we decided to head back to the car. Our next destination was Oak Harbor near Coupeville on Whidbey Island. After drinking the chocolate latte, I feel like we could have run there instead.
Stay tuned as Adrian takes us on the next leg of her journey – visiting Whidbey Island, Oak Harbor and Deception Pass.
Pike Place Market: Ultimate Insider's Guide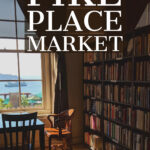 Pike Place Market is on the bucket list of virtually every tourist visiting Seattle or the Pacific Northwest, and for good reasons: Pike Place Market is magical.
I've been to open markets all around the world, including many South American public markets much larger than Pike Place Market, but let me tell you: Pike Place is special.
Sometimes, visitors aren't sure Pike Place is "worth visiting". Many times, tourist destinations really aren't that special, and famous destinations are often just the product of good marketing- but that's not the case for Pike Place.
Even after living in the neighborhood for years and visiting Pike Place many hundreds of times, I think Pike Place Market is definitely worth visiting. Here's my rundown of why I love Pike Place, and things to do while you are there.
Pro tip: Tourists often mistakenly add an "S" to the name, mispronouncing it Pike's Place Market – if you want to blend in, be sure and pronounce it PIKE place market. Knowing that Pike Place Market was named after a street (Pike Pl.) and is not a possessive noun may help you remember.
What to Pack for Pike Place Market
In many ways, packing for a day at Seattle's infamous public market is just like packing for any other urban destination, but there are a few exceptions, and packing a few unique essentials can help make your Pike Place visit even more memorable, fun, and easy. To learn my packing tips and recommended essentials, visit my Pike Place Market packing list.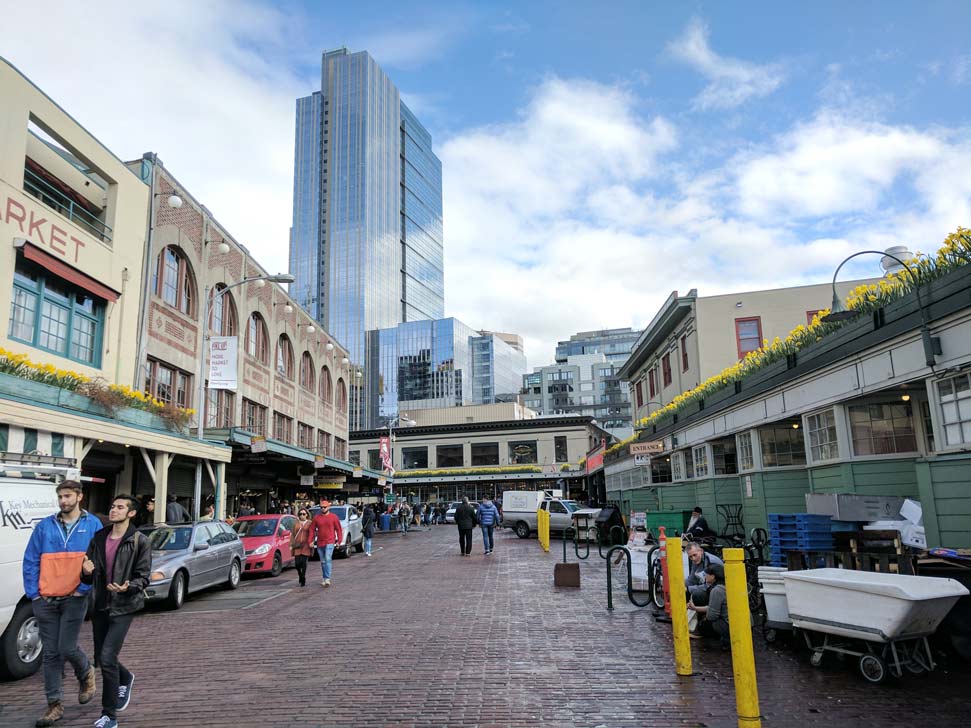 Resting and Recharging (Or Checking in with Work) at the Market
A full day of being a tourist can be grueling, and smart travelers schedule in periods of rest- or, a few hours of work in which our body can rest. Some travel days can be so intense that they are unpleasant for body and soul, leaving me sore and uninspired to explore the next day. I find that by balancing physical exertion with rest and mental activity, I'm a better traveler that is more productive and excited about my travels. (In fact, this generative work/play balance is the whole premise behind digital nomading!)
If you're curious about the best places to stop, sit, rest, or even work at Pike Place market, I've got a market-inclusive entire list of my favorite Seattle work/study spots here. Believe it or not, Pike Place Market has co-working spaces and even a private library! The latter of which offers day passes with stunning- and exclusive- views of the Puget Sound and the market below.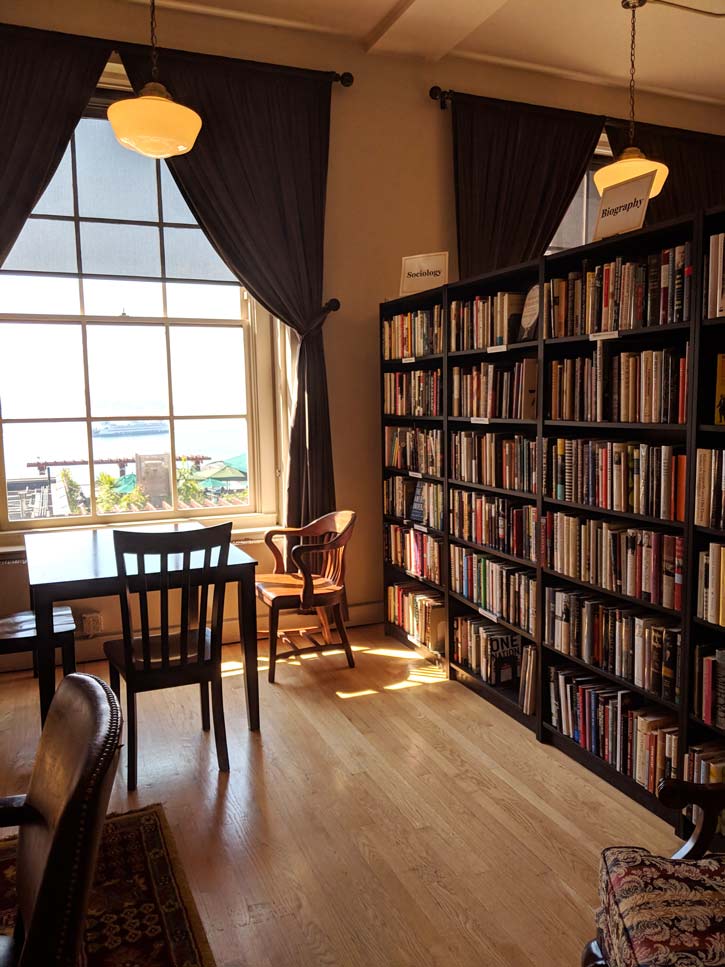 one of the coziest spots in pike placea
Cheap & (Almost) Free Pike Place
Seattle is expensive – like crazy expensive, and Pike Place is no exception. My favorite sandwich at Pike Place market runs about $20 without a side. But that doesn't mean that you can't visit Pike Place – and Seattle – for free or cheap. Click here for my almost free guide to eating, playing, and getting amazing souvenirs at Pike Place – and if you're looking for tips on being a tourist in Seattle on a budget, check out my article on seeing the best of Seattle on a tight budget.
An Expert Guide's list of Most Instagrammable Spots at Pike Place
Like any popular tourist destination, people often want to know where the best spots to take photographs are. Scouting out "instagrammable" backdrops for influencer photoshoots, couples photography, or portraits are not an uncommon request when people are planning a visit to Pike Place. In fact, I dedicated an entire blog post to My Favorite Instagram Spots in the Pike Place Market the neighborhood. Learning the ins and outs of the market and its secret spaces, has helped me scout out and list the top photo spots for tourists in Pike Place market- guaranteed to include some exclusive, stunning, and creative backdrops that drive-by travel bloggers miss.
Secret Spaces at Pike Place Market
Many casual visitors to Pike Place market simply follow the L-shaped street that divides the market halls and consider their trip complete. But what locals and market vendors know is that the market is massive, spanning back into hallways, down into basements, and even upward onto rooftops. Official maps will show you many of these locations, but not all of them.
My favorite spot, the secret rooftop garden is hidden on many maps- and even kind of difficult to find with precise instructions! The secret spaces of Pike Place market extend up into cozy bay view coffee shops, deep into hallways of test kitchens (with viewing windows!), down to hidden thrift stores in the bowels of the buildings, and so many more secret spots.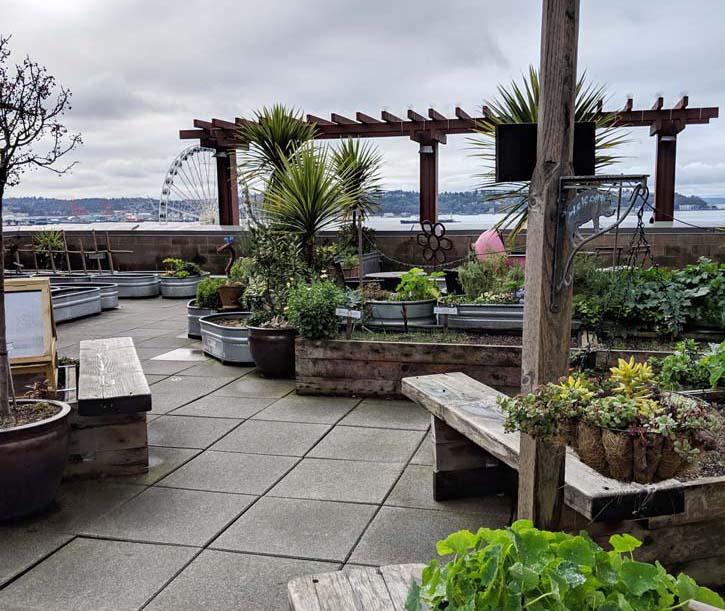 One of my favorite secret spaces in Pike Place Market
Thrift Stores and Second Hand Shops at Pike Place Market
Although COVID closures have affected at least one of the secondhand shops in Pike Place Market, there is always at least one thrift store, a dedicated space reserved by the Pike Place market foundation for itinerant sellers (so there's a different vendor every few days).
Pike Place is run by a foundation that works to improve the quality of life for residents in the neighborhood, and keeping space for an affordable second-hand shop is part of that ethic. (FACT: When you put money in the famous Rachel the Pig bank, you help the foundation fund many services within the boundaries of the market, including a food bank, a low-cost health clinic, 2 low-income counseling clinics, a senior center, a community garden, and a child care center!)
I love thrift stores and flea markets for the best souvenirs – in fact, I love international flea market shopping so much that I dedicated an entire post to finding amazing souvenirs via thifting and to international flea market-going. The Pike Place market thrift stores and secondhand shops are the perfect places to find funky one-of-a-kind or even antique souvenirs from your Seattle trip.
Forget the imported tchotchkes or even the amazing artesian goods in the day market, and follow the hallway next to Piroshky Pirosky all the way back to the rummage sale deep in the interior of the "Stewart House" building. There, you'll find an assortment of goods that range from ordinary to extraordinary, and, depending on the day, can include everything you can imagine!
Rummage Hall, located in Stewart House, is an enduring institution at the Market that serves thousands of people every year as a space where the local community can sell their affordable used goods to the public. The rummage hall is located in the Stewart House. Enter on Pike Place by Piroshky Pirosky and walk to the back of the building. Pike Place Market Official Facebook Account
Rainy Market Days
The thrift stores are a great way to spend a rainy day at Pike Place market, but don't worry if your visit is spoiled by rain – there is lots to do at the market and- since it's located in Seattle- the market is set up well to keep you warm and dry while exploring. All the main walkways and sidewalks are covered, and on the occasion that wind is coming off of Elliott Bay so strong that the brain comes in sideways, there's interior hallways to match most exterior sidewalks, keeping you totally dry while you explore the market. For more ideas on enjoying Pike Place market in the rain check out my article on what to do if it rains during your Seattle Pike Place market visit.
PRO TIP: DON'T bring an umbrella to Pike Place. In Seattle, rain is either too gentle to warrant an umbrella, or too wind-blown for an umbrella to be effective. An even bigger issue with umbrellas is that your umbrella on a crowded Seattle sidewalk is likely to push someone else into the street or gutter. No worries- just join the locals and pack a good, hooded rain coat.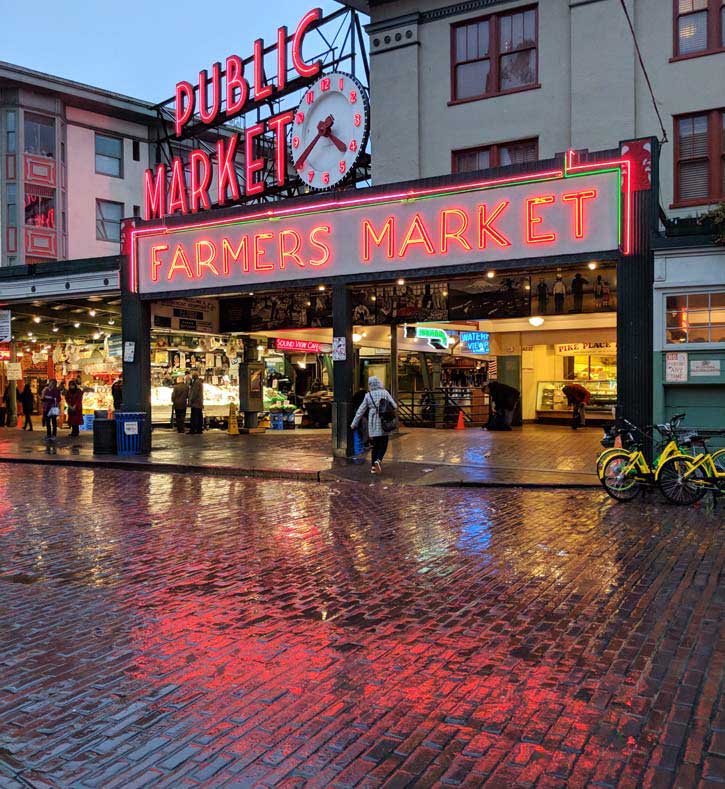 Rain can create even better travel photography in places like Pike Place Market
Tips for planning your Pike Place market trip
You can explore the market on your own or use travel guides (mostly written by paid advertisers promoting their interests in the guise of a guide), but if you want an insider's guide to Pike Place you'll need a local friend, a paid tour guide, or my insider's guide to a day at Pike Place. Even after visiting Pike Place market hundreds of times for weekly grocery trips and pop-ins to my favorite coffee shops, there are still a handful of places in Pike Place that never failed to fascinate me. Want to know about my favorite places? Click here to see my itinerary for a full day at the Pike Place market.
Visiting Pike Place Market at Christmas
I love the market at Christmas so much that I made my own Christmas at Pike Place bucket list. Summer at the market is great, filled with amazing produce and artists flooding the market with handmade goods to sell to the throngs of tourists, but I love Pike Place in the winter. When crowds thin and skies go dark, that's when Pike Place belongs to the locals, when long afternoons sketching in cafés and popping through the busiest thoroughfares on an errand to my favorite food vendors is easy and fun.
The best part of winter at Pike Place is definitely Christmastime: Christmas tree vendors set up in front of the iconic sign, Coffee shops and pop-ups serve hot cider is on-demand, and the whole market buzzes with Christmas cheer and festive decorations. If you want to know how I catch the Christmas spirit at Pike Place market check out my list.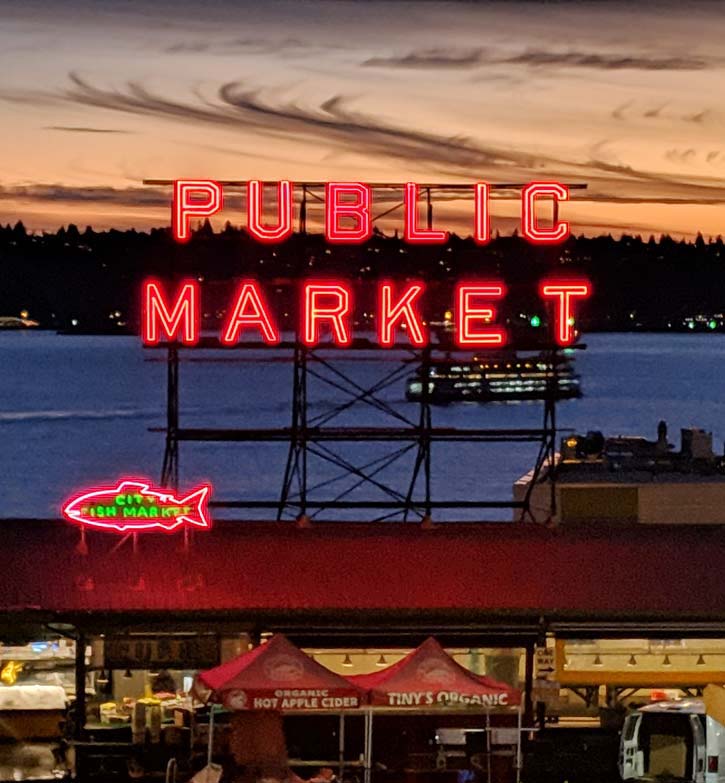 An Insider's Guide to a Day at Pike Place Market
Pike Place Market is one of the most alive places I have ever been. In every way, it is a sensory experience: Feet on uneven cobbled streets carry you towards the sound of the crowd and the dozen or so musicians performing throughout the market on a summer day.
If you arrive early (about 8-9am), the soundtrack of the market is one of vendors calling out to one another, fishmongers' shovels scooping ice, and countless delivery trucks. Smells of the fish market give way to the scent wafting onto the street from bakeries and coffee beans roasting, which give way to the scent of thousands of flowers being packed into bouquets stem by stem.
Pike Place, both in it's many restaurants and the many vendors who stand- peach in one hand, knife in the other- outside their booth offering samples, is an experience of sight and taste, of touch and smell, of sensory "aliveness". That's the market I came to know my first year in Seattle, where the market was a daily excursion as I walked from my bus stop to the red brick building on the waterfront where I spent my days. It's still why I think Seattle is one of the best destinations in the world for solo travel.
This is my guide to experiencing the best parts of Pike Place, through this sensory-embracing Guide to a Day at Pike Place Market.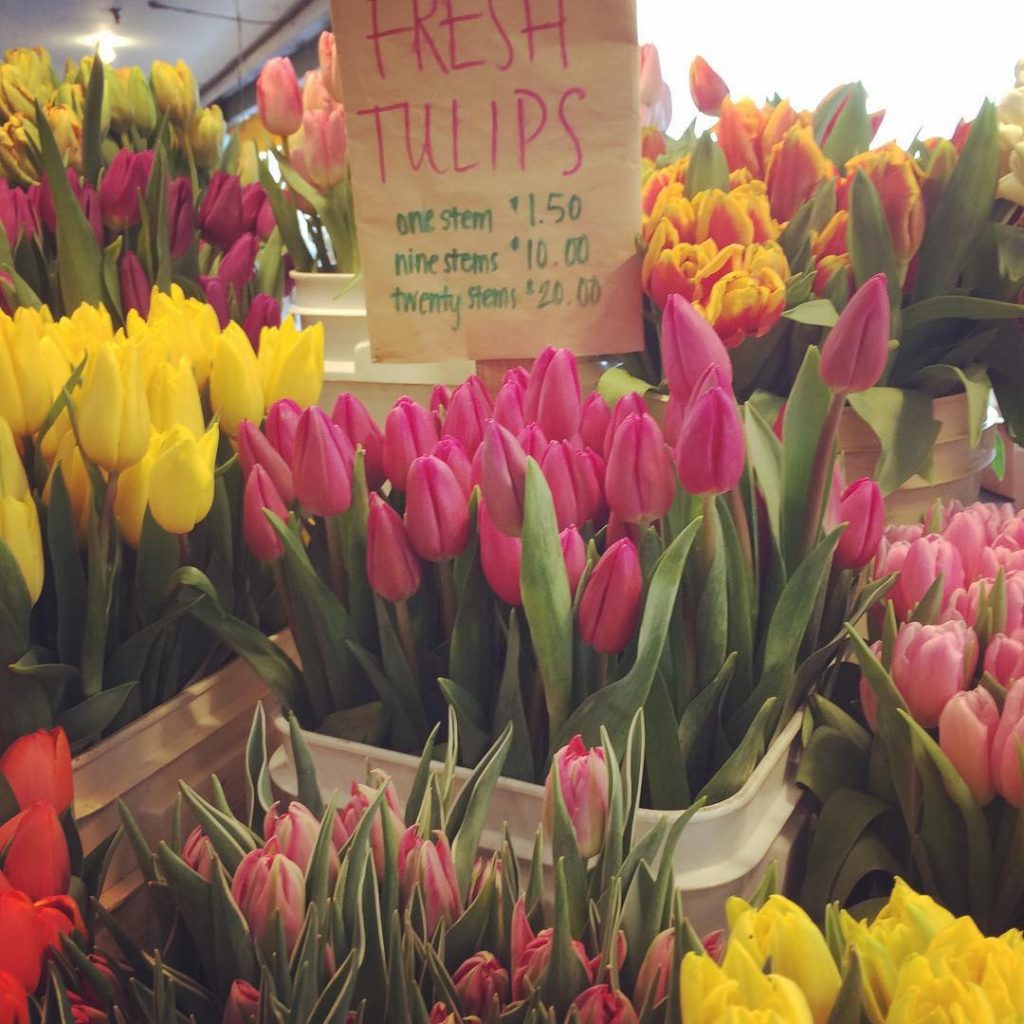 How I fell in Love with Pike Place Market:
When I moved to Seattle in 2015 to start grad school I moved into a tiny studio apartment in an old building downtown. Being 4 blocks from the Puget Sound and 2 blocks from Pike Place Market was a pretty major change for this girl who had never lived in a city of more than 50,000 (or lived in a state that wasn't landlocked by at least two states on all sides!).
Knowing that living in such an urban location was a limited season for me, I decided to make the most of the experience of living in downtown Seattle. For me, that was three-fold: 1. challenging myself to do at least some of my grocery shopping in the market, 2. Taking advantage of the flower market to brighten up my tiny living space, and 3. Finding favorite vendors and returning to their market booths, building what community there can be in a farmer's market as large and popular as Pike Place Market.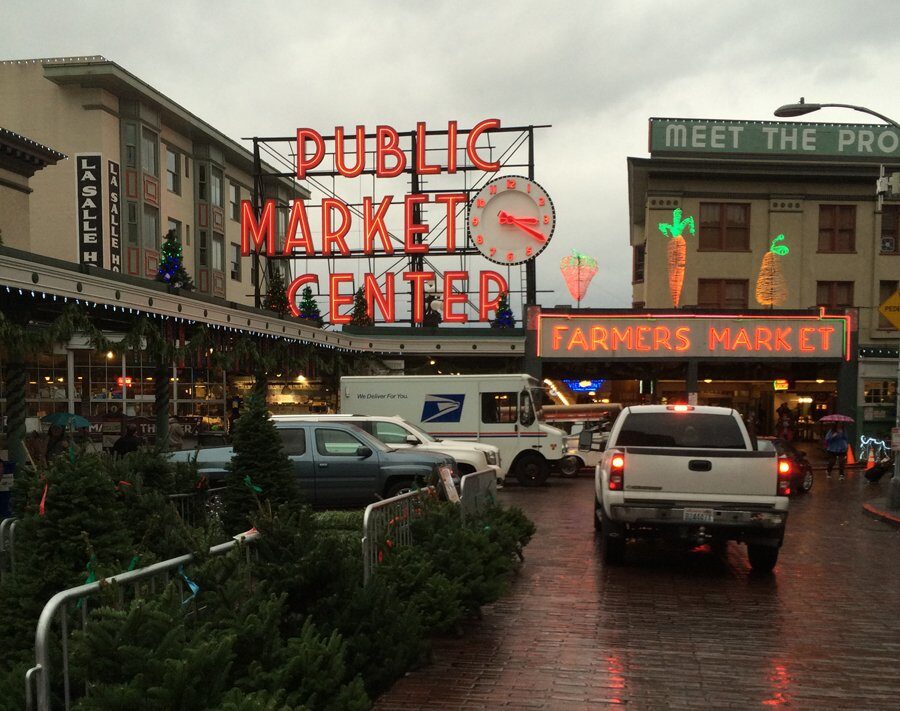 Winter in Seattle is mild, and while it might be wet, it's a GREAT time to enjoy all the market has to offer with a smaller crowd.
Even though I've only lived in Seattle a few years, I realized after a few months that I've actually been to what downtown Seattle's locals just call "the market" far more times than many locals! I love treating my local friends to an adventure exploring parts of the market they- and most tourists- have never seen. In thinking about what would be useful to share with blog visitors, I decided to draft this "Insider Guide to a Day at Pike Place Market" to share some of my favorite places- including some popular spots and lesser-known gems.
Starting Guidelines to Enjoy Pike Place Market:
1. Skip Lines
I hate lines . So this itinerary is designed to circumvent them for the most part. You can spend an entire day in lines at Pike Place if you hit certain spots (Starbucks, Piroshki Piroshki, etc) but this list is a little off-the-beaten-path and, in all but the busiest seasons, should avoid most lines.
2. Go All In
Be present. Be open to experience the market with all your senses! Taste, see, smell, touch, listen and notice- really pay attention. The market is a rewarding place to be alive to your senses.
3. Bring Gum
In the spirit of participation, bring a pack of bubblegum (more on that later)
BREAKFAST & MORNING PIKE PLACE ADVENTURES:
My advice is to get to the market early. That's 9-10 am in the winter, or no later than 8:30 am in the summer. The bakeries and restaurants open at 6-7 am, and it's a fascinating experience to sit with a cup of coffee and watch the market wake up in the morning.
Cheat the Starbucks System: The Pike Place Starbucks tastes like Starbucks anywhere- the only difference is that Pike Place Starbucks employees are psychologically vetted to see if they can endure the crowds and chaos of the Pike Place location (true story!).
Also, locals know that it's a corporate-funded myth that that Pike Place Starbucks location was the first. In fact, the original Starbucks was torn down long ago in Seattle's march towards modernization. If you need a Starbucks/Pike Place shot for your Instagram, visit the Starbucks 1 block outside the market and then stroll over to the Pike Place Starbucks (you'll find it by the massive line reaching down the sidewalk) and just pose for a quick photo with your drink.
Although LE PANIER is technically primarily a bakery, it's my favorite coffee shop in the market and makes my second favorite Vanilla Latte in the city. Their Almond Croissant , often still warm from the oven in the mornings, is unbeatable.
A few blocks outside of the market is MOORE COFFEE, next to the historic Moore Theater (Which, itself, has a free tour at 10am on the second Saturday of each month). Moore is well worth the 4 block detour. Not only is their coffee legitimately good (taking my vote for #1 Best Vanilla Latte in Seattle) but they specialize in serious coffee art, and I've picked up lattes with cats, bunnies, bears, and even a koala bear in the foam. (Hint: Although latte designs are a wildcard, Cappuccinos always come out as "Cat-pucchinos")
If you go to Starbucks despite my advice and are still hungry afterward, (the market Starbucks doesn't sell food items) head towards Daily Dozen Donut Company for fresh donuts made while you're in line. I recommend the Cinnamon Sugar Donuts . (They usually have two other flavors- but all are made after the donuts are cooled, while the Cinnamon Sugar donuts are bagged hot for you straight off the magic donut-making machine.)
Midday at Pike Place Market:
Explore the vendors in the main arcade, watch the fish throwers, taste the fruit offered by vendors, take a picture with the pig, and try these fun side-adventures:
For more of my favorite things to do in Seattle, follow me on Pinterest:
My favorite spots:
There are a few fun spots people tend to miss in the center of the market because the typically huge crowd around the fish throwers hiding the passageways beyond.
MarketSpice– If you like cooking or tea or smelling things that smell nice, this is a spot you've got to check out. Even if you aren't a foodie, this is a great place to get cheap souvenirs for the foodies in your life. Trust me, no one actually wants you to bring them back a Pike Place piggybank souvenir, but fresh whole cardamom pods or signature chai tea could an affordable, easy to pack, and appreciated gift for the foodie in your life.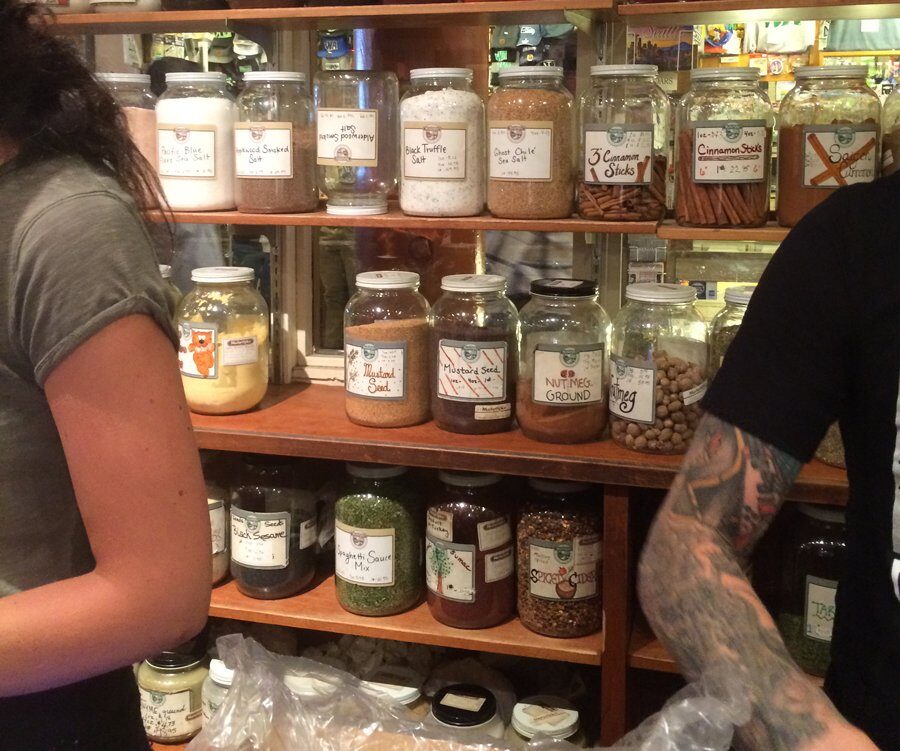 Don and Joe's Meat is a full service butcher- not what you might think of as a fun stop on a tour, but Don & Joe's "landjäger" (aka German walking sausage) is just a buck or two, tastes what beef jerky is supposed to taste like, and makes a fun nibble.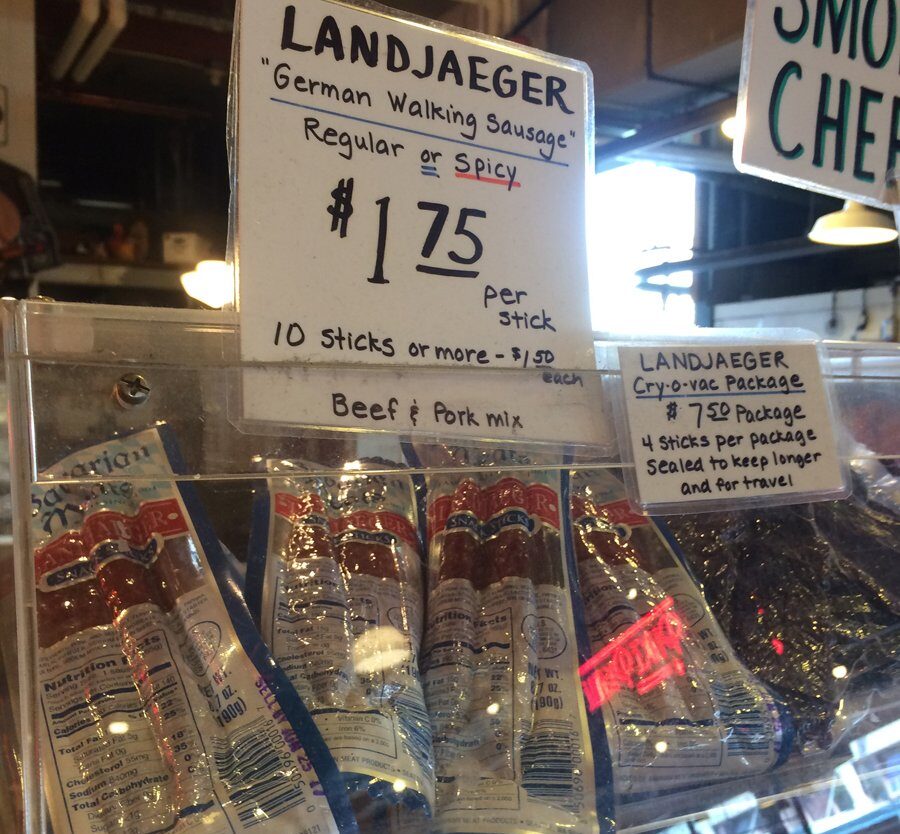 Tucked away in an obscure corner of Pike Place Market there is a quiet garden oasis where (for no charge and no spiel to purchase anything) you can take a break from the crowd to sit and recharge in a community garden of vegetables, flowers, and fountains. It's a little difficult to find, so I wrote a separate post dedicated to How to Find Pike Place's Secret Rooftop Garden. The views of the Puget Sound and the Olympic Mountains from this roof are stunning, and it's literally less than 50 steps from Pike's main entrance, so in my book, it's a can't miss.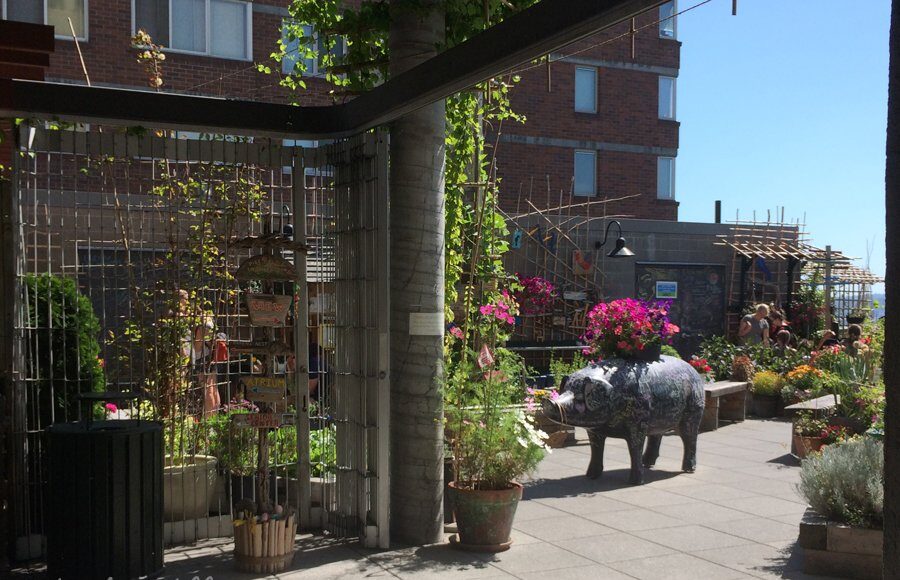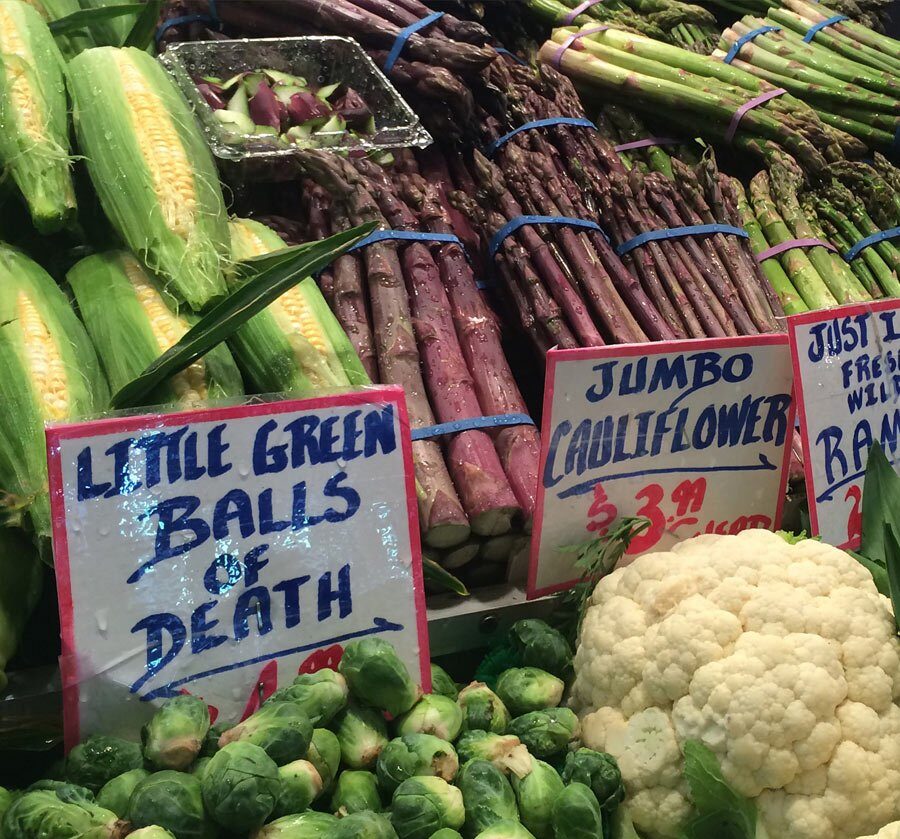 delight is often in noticing details.
In the same area, but back out and around the crowd around the fish throwers, there is a small, free, Pike Place museum with displays about the history of Pike Place Market.
Gum Wall
Gross, but an un-missable part of the Pike Place Experience. Start chewing that bubble gum as you head out and down the stairs next to Rachel the pig (under the clock) and into a covered alley known as "The Gum Wall". Sidestep teenagers taking selfies, and snap a few pics of yourself adding that wad of gum in your mouth to the history of Pike Market. The Gum wall is somehow simultaneously disgusting and really quite beautiful, and is definitely a can't miss stop .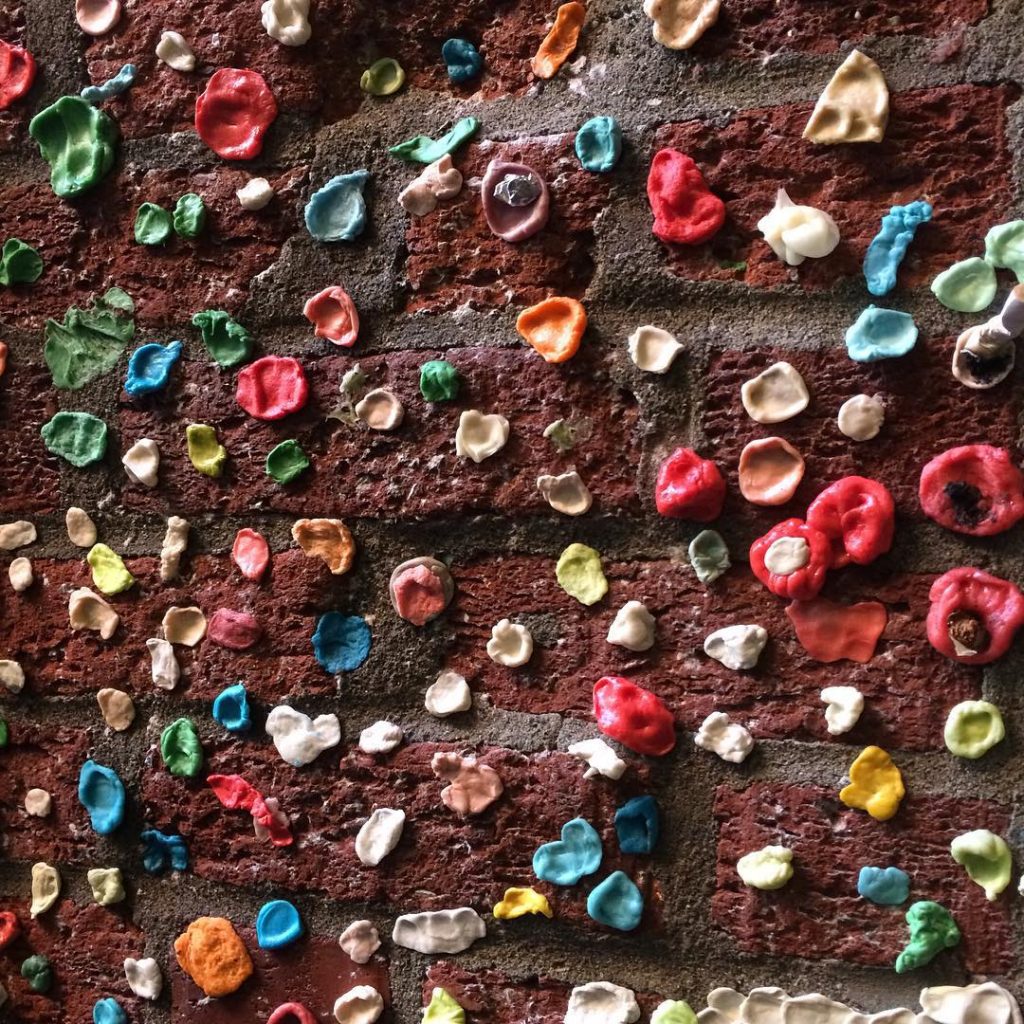 The Gum Wall was steam cleaned in 2015, here it is in January 2016 beginning to regenerate.
Lunch at Pike Place
So, by now you'll be hungry, able to smell everything, and you'll have a thousand choices. How to choose? Well, as far as I am concerned, there are really only two good choices for lunch in Pike Market: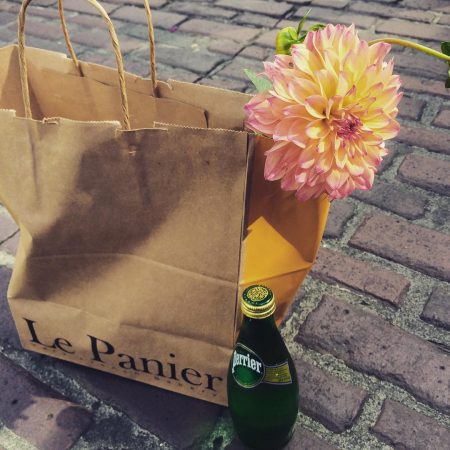 The Lunch Counter at Oriental Mart, where a lady named Leila who has cooked at Pike Place for 40 years will chat you up while serving up amazing Filipino Cuisine. Don't try any backtalk, Leila is a delight who says her mind and doesn't take any sass (just read her signs if you don't believe me). If you are food-adventurous, this is THE spot to head to for lunch, and recently won a James Beard award!
Picnic – You've got tons of great food options and space to picnic. Here are my food and location recommendations for a Pike Place Market picnic

FOOD: Take advantage of all the market offers with fresh fruit from a grocery vendor and a baguette sandwich from Le Panier.

PICNIC LOCATION #1: Victor Steinbrueck Park is a grassy knoll with a sound & mountain view located at the north end of the Market. It makes a great picnic spot on quieter days.
PICNIC LOCATION #2: If Victor Steinbrueck Park is too crowded for comfort, walk about 5-7 minutes north (past world market, down to the entrance to the Pier 66 Rooftop Park. This park boasts better views and a fraction of the crowd at any time of year. (Note: this park is closed and gated when there is a cruise ship docked at Pier 66)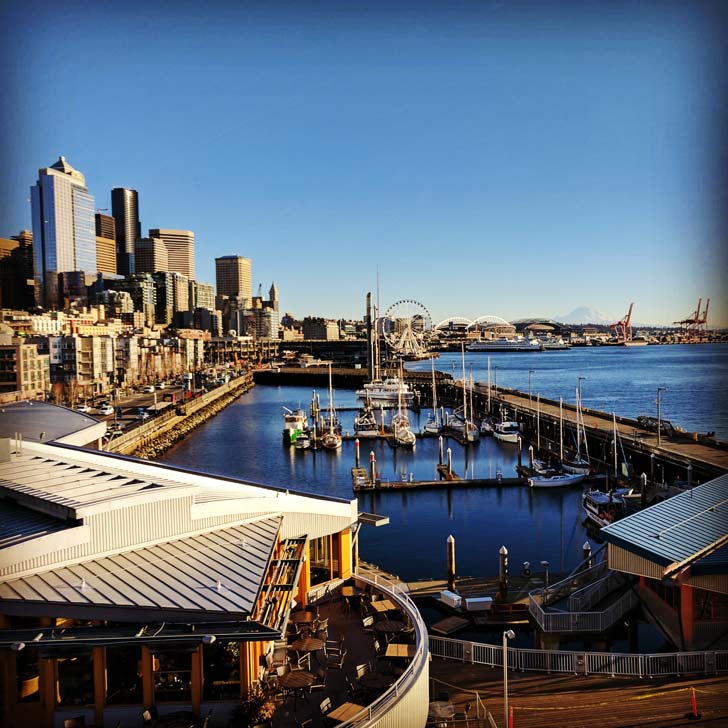 the view from Pier 66 park
Spending the Afernoon:
After lunch, check out the craft vendors, and keep an eye out for my favorite- the Donut Cat booth. Take a moment to linger- a sale at the Donut Cat booth is 1 part sale, 2 parts theatrical production!
If you're ready to rest your feet for a bit, return to the main market corner (under the clock) and climb the stairs of the building that sits city-side. The third floor features Storyville Coffee, Yelp's #2 coffee shop in Seattle. Admittedly, Yelp's #1 is only a block outside the market, but Storyville's views of the market below, vibe, and adequate seating boost it to #1 in my book.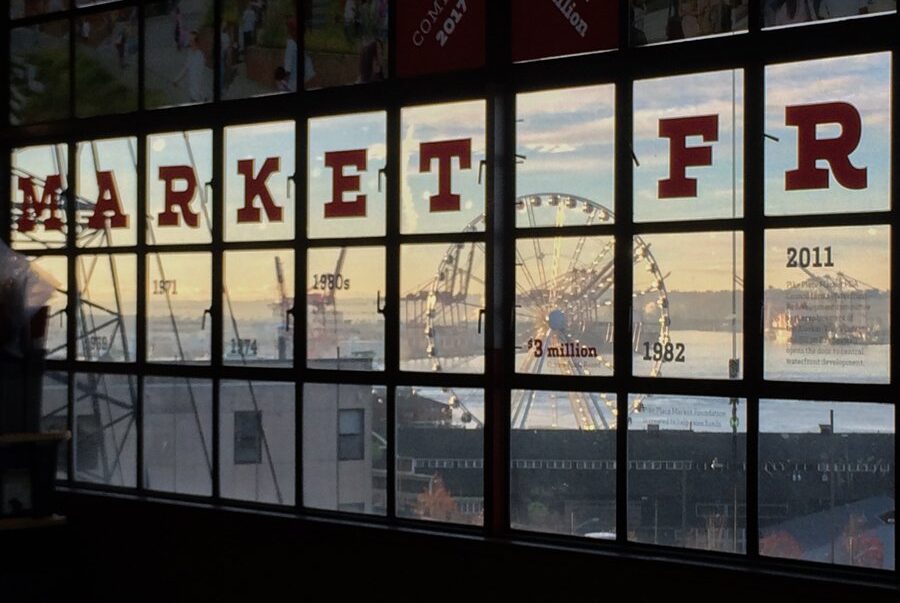 No filter, that's just morning over the Puget Sound as viewed from the Craft Vendor area of Pike Place.
Possibly my favorite quirky spot in the market, and definitely the oddest, is the Market Rummage Hall, is buried in the bowels of the market but definitely worth the hunt:
Just enter the (city-side) market building at the mall-like entrance hall next to Piroshki Piroshki. Turn left at the T and follow the hallway past the cigar shop. The Rummage Hall will be on your left. It's not marked well, but with its contents typically spilling into the hall, it's hard to miss. The Rummage Hall is hit or miss, and is managed by different sellers on different days, but is always a detour for me when I'm in the market. I often leave empty-handed but I've occasionally walked away with fantastic finds for just a few coins!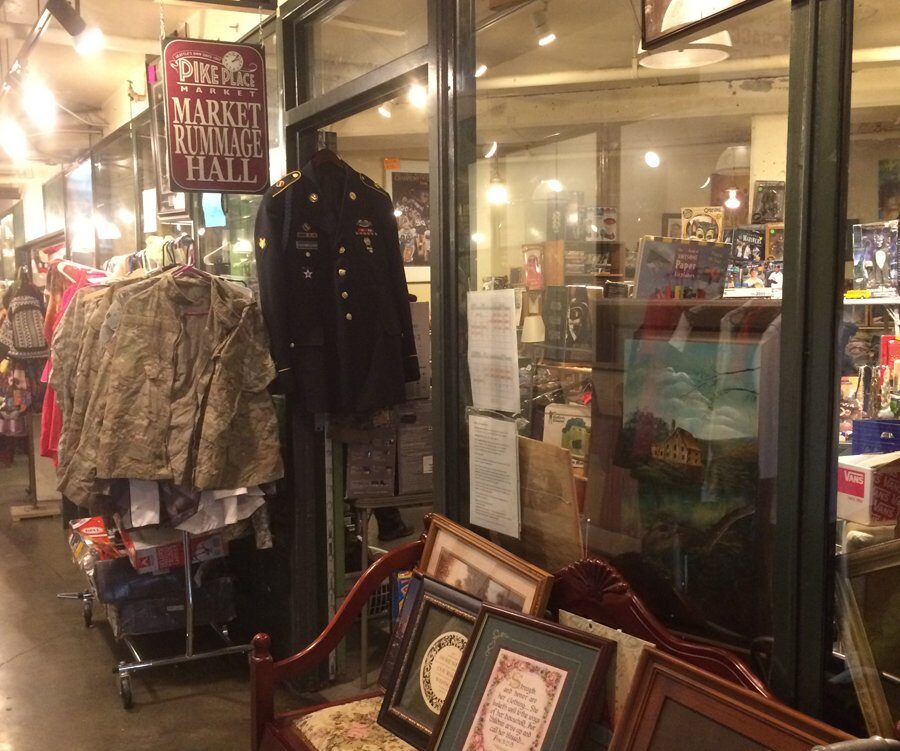 My Fvorite Retail Shopping in the Market:
The market is home to lots of retail shops, mostly hobby/special interest, but there are a few permanent fixtures on my tour of Pike Place:
Metzger Maps – on 1st Avenue. A fascinating look at mapmaking and navigation pre-Google. Metzger has high-end art quality topographical maps, geographical educational toys, and everything in between.
Orange Dracula – A newcomer to Pike Place Market, this little shop of creepiness is perfectly suited deep in the subterranean levels of the market. Scratch your itch for creepy, cool, and all things Halloween year rounds.
Paper Hammer – If, on your way out of the market, you head up to 2nd Avenue, you'll find Paper Hammer, located across from CityTarget, is a bookbinding and printmaking shop that's quirky and unique.
Left Bank Books and Lamplight Books are fixtures at the market. Lamplight is everything a used bookstore should be, with books piled in corners and on top of shelves in every corner. Lamplight gets points for having a solid selection, without the filler found in most used bookstores.
An End to a Full Day at the Market
PLAY: If you have any energy left, Unexpected Productions runs comedy improv shows in the Market Theater year-round. Tickets sell for as low as $7, but often sell out on summer weekends so you may want to purchase in advance.
REST: After a day at the market, I'm usually too tired to enjoy dinner out. I think one of the best ways to fully enjoy the market is to take some simple groceries back to where you are staying and enjoy drinks, food, and rest with your co-adventurers.
Bread, cheese, cured meat, and fruit make a light summer meal that can be prepared in a hotel room without a kitchen and can all be easily picked up on your way out of the market.
Alternately, if you have a full kitchen in your condo or Airbnb lodging, Salmon fillets with an in-season vegetable and any in-season fruit for dessert makes an easy, market-fresh meal. (Check out my article on Airbnb-kitchen-friendly recipes for more ideas for dining on while traveling)
Hints on Buying Flowers at Pike Place Market:
There are hundreds of bouquets on display at the market on any given day, but here's an insider tip: If you plan to buy a bouquet, ask politely if the vendor will make one for you while you wait. I do this for 3 reasons:
1. You are guaranteed the freshest flowers if they make a bouquet while you watch.
2. You'll get to pick your colors and flowers.
3. The skill of the women who make these bouquets is artistry to watch, and they've got some cool tricks up their sleeve you might just use next time you try arranging flowers!
Exception: by mid-afternoon, flower sellers may refuse to make one on demand unless you offer to pay extra. Due to the perishable nature of flowers, each day they try to come as close to selling out as possible.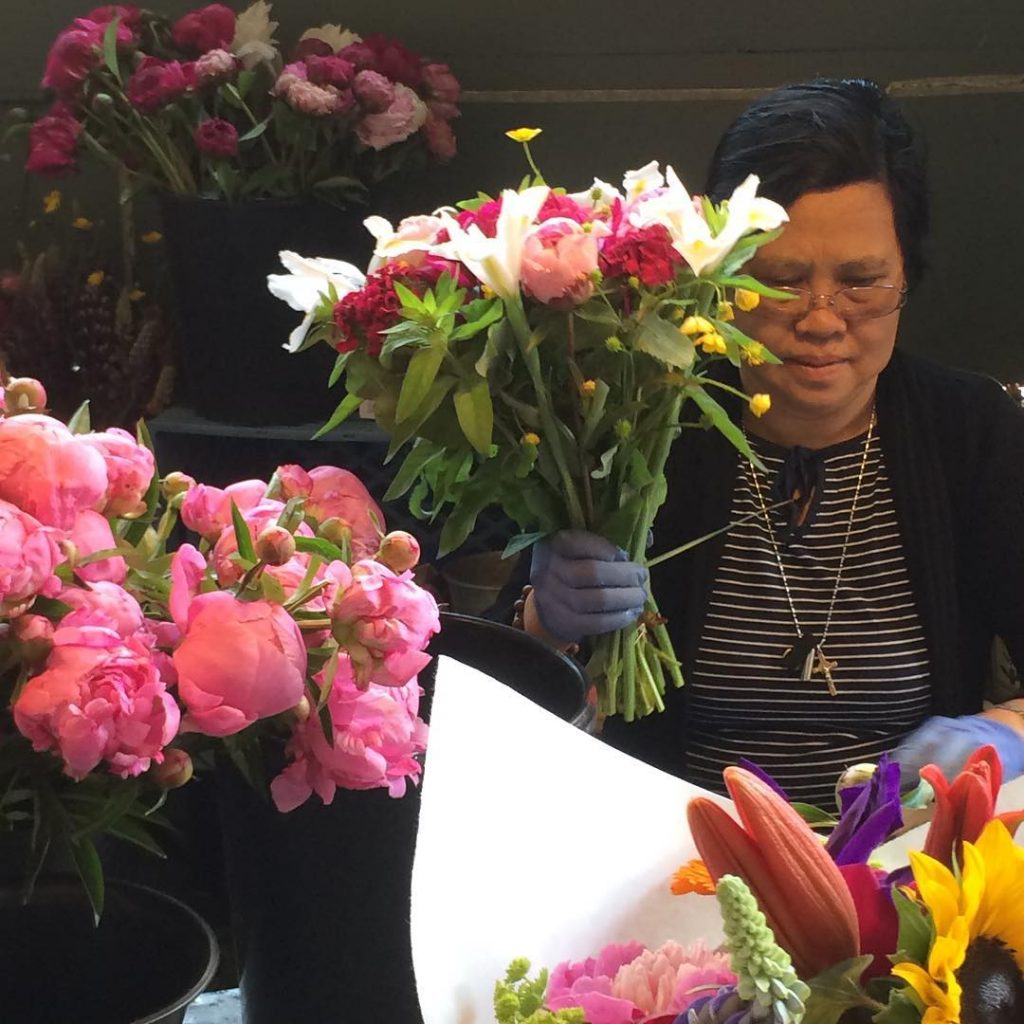 This woman is packaging the $10 bouquet she made for me in the colors I requested. Just $10!
FLOWER TIP: The flower vendors have a genius method for packing the stems in water, and you can drop the bouquet into a bag without the worry of it spilling, but DO NOT lay your bouquet down sideways or water will go everywhere!
Pike Place Market After Dark:
Though market stalls close in the late afternoon and portions of Pike Place Market are gated and closed in the evening, this Urban Neighborhood stays awake well into the night as theatres, bars, restaurants, and even coffee shops host patrons into the early hours of the morning.
If you're in Seattle on business and can't quite make it to the market during opening hours, the market is still worth a visit- and you'll get to see a unique glimpse of the market after dark that few tourists do!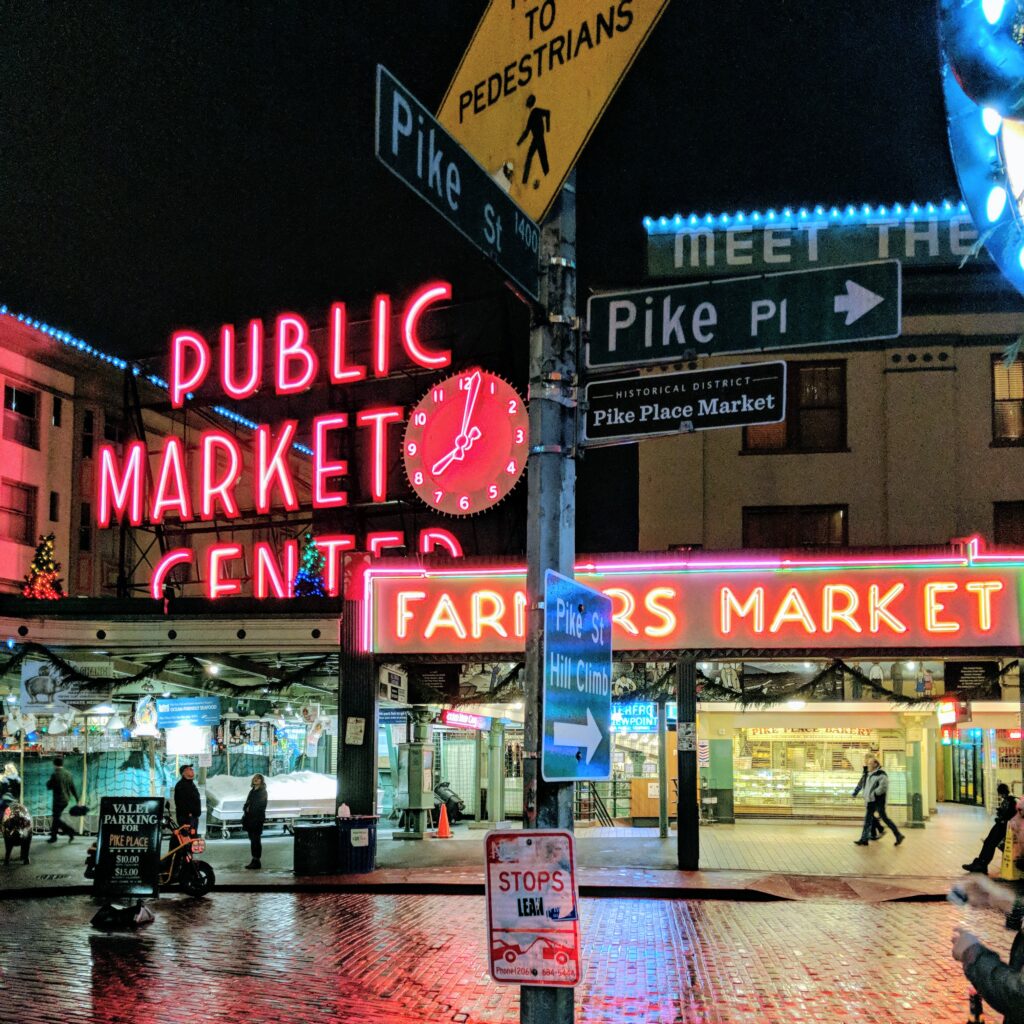 A photo of neon signs illuminated at Pike Place Market.
What Neighborhood is Pike Place Market in?
Seattle's infamous Pike Place Market is so emblematic that the market and the city blocks in several directions are designated as the "Pike Place Neighborhood," or, in official city documents, the "Pike Place Market Historical District". Many of the parking options, though, are technically in the nearby Belltown Neighborhood. Both Belltown and Pike Place Neighborhoods are located within the larger Downtown District, home to a number of amazing urban art murals.
More Articles on Pike Place Market: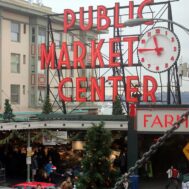 Most Instagrammable Spots at Pike Place Market (and How to Find Them!)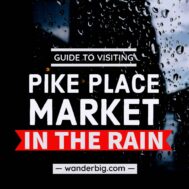 How to Enjoy Pike Place Market in the Rain
Pike Place Market at Christmas: 10 Things to Do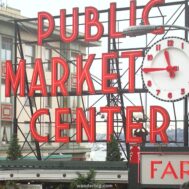 The Best 15 Things to Do at Pike Place Market in 2022
Coffee in Pike Place Market: A Coffee-Obsessed Local's Flow Chart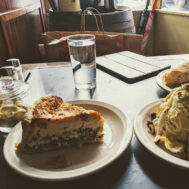 Where Locals Eat at Pike Place Market: Best Restaurants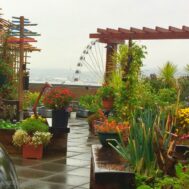 Pike Place Market's Secret Garden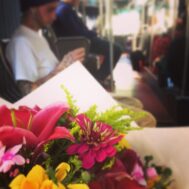 How to Get from Seattle Airport to Pike Place Market without a Car
Artist, digital nomad, and highly sensitive person, Lynli started traveling full time as a digital nomad in 2018. Writer and Illustrator by day, remote-destination explorer by other-days, Lynli is passionate about pushing the boundaries of her own comfort zone, exploring the world as a plus size, one-bag traveler, and journaling it all on WanderBig.com
Pike Place Market (The Ultimate Guide, By a Local)
Pike Place Market is Seattle's top attraction. It's a historic district, sometimes referred to as the "soul of Seattle," and it's one of the best things to do in Seattle. You don't want to miss this Seattle landmark on your visit!
The 100-year-old market is more than your average farmers market. Here, you'll find produce stands, artisan shops, a crafts market, flying fish, restaurants, and a variety of shops on every corner.
As a Seattle local, I'm here to help you plan your visit to this dense yet exciting attraction. This guide will give you some direction on where to eat and insider tips so you can fully enjoy your visit.
Pro tip – Expand the table of contents to easily hop between sections to find the information you need. And check out this epic chef-guided food tour of the best of Pike Place Market!
Table of Contents
Disclosure: Travel Lemming is an independent reader-supported blog. You can support us by purchasing via the affiliate links on this page, which may earn us commissions. Thank you!
Pike Place Market History
(photo: CrackerClips Stock Media / Shutterstock)
Before Pike Place Market
Before Pike Place Market, local farmers would sell their wares to wholesalers, on slim commission margins. The produce was sold to the public at exorbitant prices.
The farmers were frustrated with the lack of profit and customers were frustrated with the production costs. A Seattle city council member proposed that the area on Pike Place become a market where farmers could sell directly to their customers.
Despite the wholesalers' best efforts, on August 27, 1907, the market opened for the first time.
The Creation and Early Days of the Market
On opening day, about eight farmers showed up at the market. It was chaos, but they managed to completely sell out by noon.
Frank Goodwin was an architect who saw the chaotic morning and the rush of the sales. He realized the market's worth and decided to help. He helped build the first building, the Main Arcade, and the market continued to grow and expand from there.
By 1911, more stalls were needed as demand and expansions continued. In 1918, City Fish opened, bringing fresh fish to the market. In 1937, the iconic Public Market clock sign was erected.
World War II
World War II brought a grim disruption to the market. After the bombing of Pearl Harbor, Japanese Americans on the west coast were forced into internment camps.
Since the beginning, the Japanese American farmers were one of the biggest sellers at Pike Place Market. With the internment, many of these farmers were forced to leave, meaning over half of the farmers in the market were gone.
Redevelopment, Preservation, and the Battle for the Market
Pike Place Market came close to the wrecking ball in 1963 because of a proposal to turn it into a hotel, hockey arena, and office building. The city council, the mayor, and the owners of the market supported this.
The community was staunchly against it. A committee called "Friends of the Market" fought to keep the market from the wrecking ball.
In 1971, Seattle voters voted to turn the market into a historic district. Once the bill was signed the market was no longer in danger of demolition. In 1973, the Pike Place Market Preservation and Development Authority (PDA) was created to manage the market. They continued to restore and update the buildings.
Pike Place Market Foundation and Social Services
The PDA eventually formed the nonprofit Pike Place Market Foundation.
The Pike Place Market Foundation was established to help raise funds for the market's social services. Low-income housing, child care, a food bank, a senior center, and a medical clinic were among these services.
The PDA and Pike Place Market Foundation worked to raise money by selling tiles people could put a name on. They used these tiles to replace the market's wooden floor, and the tiles are still on the market floors today.
In 1986 the giant bronze piggy bank, Rachel, arrived to help the Pike Place Market Foundation raise additional funding. It still collects between $6,00-$9,000 yearly.
Modern Era to Present Day
Despite several years of ownership disputes and conflicts between farmers and craftspeople, agreements were reached to support the market's continued operation. The Pike Place Market Foundation continues to play a large role in funding the market and its services.
In 2007, Pike Place Market turned 100. To this day, the market remains one of the longest continually operating markets in the United States.
Pike Place Market Visiting Information
Costs, Hours, and How to Get to Pike Place Market
Cost & Admission – It's completely free to visit Pike Place Market.
Hours – Pike Place Market is open 7-days a week year-round and is only closed on Thanksgiving and Christmas Day. The market's official hours are 9 am – 6 pm. However, this varies from business to business.
Produce, seafood, breakfast, and coffee vendors open around 7 am. Many restaurants and bars open later and stay open into the late evening. The craft market, farm, flower, and other vendors start closing down around 4 pm.
How to Get There – Pike Place Market's cross streets are First Avenue and Pike Street in downtown Seattle. The market sprawls several blocks north, south, east, and west of this. There are several ways to get to the market.
Walking: This is the best way to get to the Market if you're staying in a hotel downtown or in a nearby neighborhood like Belltown.
Public Transportation: The King County Metro buses and the link light rail are good options for getting to the market from further afield. Both have stops near Pike Place Market and are some of the best ways of getting around Seattle.
Rideshare: Uber, Lyft, and Yellow Cab all operate in Seattle and are readily available to transport you to the market. Most local drivers know not to drive down the historic cobblestone pathway along Pike Place.
Driving: The Pike Place Market garage has three entrances on Western Avenue, and is the best place to park for visiting. You can also find other nearby parking lots and walk down.
Pro Tip: If driving, do not drive down the historic cobblestone road on Pike Place. Cars are technically allowed, but pedestrians have the right of way. If you drive down it, you'll slow to a frustrating snail's pace to go a couple of blocks past crowds that don't care about the cars making their way through.
When to Go and The Best Seasons to Visit Pike Place Market
Best Day and Time To Go – For shorter lines and fewer crowds, the best time to go to Pike Place Market is during the weekdays in the morning or after the lunch rush between 2 pm and 4 pm.
Pike Place Market Seasons
☀️ Summer – This is the most crowded and busiest time to visit the market, especially on weekends. Be prepared for lines. The flower selection is phenomenal and produce shopping is a must during the summer.
Spring and Fall – These are good times to go to the market with a good mix of locals and tourists. Sunnier days will be more crowded, and drizzly or overcast days quieter. This is a good time to try out the restaurants for seasonal selections.
️ Winter – This is the coldest and wettest time to visit. Crowds are smaller and the lines are shorter. Bundle up and come out to the market to mingle with locals. Warm up with a steaming bowl of clam chowder.
Related Reading: Debating when the best time to visit Seattle is? Read this next to learn the ins and outs of a visit every month.
What To Expect at Pike Place Market
Piggy banks at the market, a nod to Rachel & Billie placed by the Pike Place Market Foundation
Fish, Flowers, Produce – Vibrant flowers and farm fresh produce are all over the market, along with Seattle's favorite dish: seafood. Upon arriving, you'll immediately see Pike Place Fish Market – the home of the flying fish throw that draws crowds daily.
Foodie Paradise – Pike Place Market is one of the best places in Seattle to pig out. You'll find bakeries, coffee shops, bars, and both casual and fine-dining restaurants. There are also takeaway stands, breweries, and more foodie-friendly options.
‍ ‍ Crowds – Throughout summer and on sunny Saturdays, expect big crowds at the market. Pike Place Market is Seattle's number one attraction and gets over 10 million visitors annually.
Arts, Crafts, and Retail Shops – You'll find glass creations, original paintings, leather goods, jewelry, soaps, and more in the crafts market area. There are also small businesses selling things like comic books, records, and other knick knacks.
Buskers & Street Performers – The market is never silent. You'll see and hear performers playing banjos and pianos, and singing to keep the crowds entertained.
Shops, Stalls & Places to Visit at Pike Place Market
Pike Place Fish Market
The famous flying fish throw (photo: f11photo / Shutterstock)
One of the most popular attractions at the market is Pike Place Fish Market. They're most well-known for the "flying fish throw." But aside from the fish tossing, they have a huge selection of seafood for sale including salmon, octopus, and crab. If you want fresh fish, this is one of the best spots to get it.
Why Throw the Fish?: The fish tossing tradition started as a way for the fishmongers to move fish around the shop. Instead of walking back and forth to take orders, they'd simply toss the fish so it could get wrapped more quickly. Eventually, it evolved into the beloved tradition today, with the addition of the fake monkfish they use to prank unsuspecting onlookers.
Sosio's Fruit and Produce
You'll be offered many samples when stopping by
Just one of many great produce vendors in the market, Sosio's Produce carries a variety of seasonal fruit and veggies that are immensely tasty. Browse the stalls, ask for samples (I highly recommend the Rainier cherries), and buy your favorite to snack on in one of Seattle's many parks.
MarketSpice
Come to MarketSpice for high-quality tea and a unique range of global spices at very reasonable prices. The cinnamon-orange is their classic and most popular flavor, so you can count on them having samples available. In addition to spices and teas, they have teapots, coffee, hot chocolate mixes, candles, and gift sets, making this a good place to shop.
Flower Vendors
Me trying to choose between all the beautiful bouquets
Flowers are abundant at Pike Place Market. The majority of flower vendors are in the Market Arcade. Choose between fresh and dried bouquets. Most bouquet prices start around $10, making them a great deal.
Golden Age Collectibles
The oldest and longest-running comic book store in the country, Golden Age Collectible has been in operation since 1961. It's beneath the main floor of the Market Arcade. Inside, you'll find all manner of comic books, graphic novels, and a healthy dose of pop culture references.
Related Reading: Want to be as close to the market as possible? Book a room at the Inn at the Market hotel, which was one of my top downtown Seattle hotel picks for where to stay in Seattle. Check out the article for even more options!
Truffle Queen
If you want a little taste of Italy in the market, visit Truffle Queen. They serve the tastiest truffle salts, oils, and wines. Sit down in their patio area to enjoy a wine tasting before grabbing a few items from their shop to help you get creative in the kitchen.
Rachel & Billie, the Market Mascots
Me posing with Billie, a giant piggy bank placed by the Pike Place Market Foundation
You'll see two large, bronze pigs at the market. The one near the entrance is Rachel who's been there since 1986. Billie is near the MarketFront deck and made her arrival in 2011.
These two giant piggy banks help the Pike Place Market Foundation fund the market's social services. These include the food bank, child care, and the senior center. It's said that if you make a donation and rub their noses, you'll have good luck.
The Gum Wall
This is just a small part of the gum wall
Seattle's infamous landmark has evolved into more of a gum canyon than just a wall and is just as gross as it sounds. It's been scrubbed clean several times, but this never lasts long. Try not to accidentally lean against it or get too close unless you're trying to leave your own addition to the wall.
Post Alley
It's easy to spend most of your time in the Market Arcade. But don't neglect Post Alley, which has can't-miss restaurants like Pike Place Chowder, The Pink Door, and Three Girls Bakery. Go to Post Alley for all the lunch options your heart desires and to discover more market treasures.
Secret Garden
One of the best places to take a breather in the market
Escape the market crowds and busyness at the Secret Garden. The produce grown at this little garden is donated to the food bank and the Pike Market Senior Center thanks to the Pike Place Market Foundation. But there is a lot of seating around for you to take a break or enjoy some lunch.
Where to Eat & Drink at Pike Place Market
Pike Place Chowder
(photo: Trina Barnes / Shutterstock)
Want to sample award-winning chowder that visitors and locals rave about? Pike Place Chowder won't disappoint you. Along with their delightfully creamy chowder (yes, you should get it in the bread bowl), they also serve tasty lobster and crab rolls.
Alibi Room
My husband and I enjoying happy hour beers and an apple, brie, and focaccia appetizer
A cozy, hidden gem of a restaurant by the gum wall, Alibi Room serves delicious pizzas and has a wallet-friendly happy hour. Come here to escape the crowds and enjoy good food, especially if you're looking for a fun, casual date idea.
Beecher's Handmade Cheese
A haven for cheese lovers. Beecher's Handmade Cheese makes their curds onsite (you can even watch the process from a window). They sell these curds, a range of cheeses, and other delicious treats. Grab a mac and cheese or grilled cheese and sink your teeth into a little slice of heaven.
Mee Sum Pastry
Lines at Mee Sum Pastry are usually long, but don't let that deter you from snagging a sweet or savory pastry at this Chinese Bakery. The BBQ Pork and Beef Curry hom bows are the biggest crowd pleasers.
Rachel's Ginger Beer
Ginger beer + flowers + a good friend = a good day at the Market
Rachel's Ginger Beer is a must-stop on a hot summer day. Choose between fun flavors like pink guava, caramelized pineapple, and cucumber tarragon. Enjoy your ginger beer straight or in a cocktail.
The Pink Door
The atmosphere, food, and location make The Pink Door one of the most delightful places to dine out in Seattle. It's identifiable only by its pink door, and reservations are highly recommended. Bring someone special and come here to enjoy quality Italian food, live bands, burlesque shows, and phenomenal service.
Old Stove Brewing
Brews and views join forces to make the experience at Old Stove Brewing a good one. Sip a range of locally crafted beers, have some pub grub, and enjoy the smell of the sea and waterfront views at this kid-friendly brewpub.
Piroshky Piroshky
Piroshky Piroshky has been serving delightful sweet and savory Russian baked goods since it opened in 1992. They're one of the most well-known bakeries in Pike Place Market which means there will probably be a line, but they move quickly. The portions are generous, making it a good stop for breakfast or a mid-day snack.
Ghost Alley Espresso
Just steps from the gum wall, this little hole in the wall is an awesome coffee shop to start your Pike Place Market adventure. Choose between classic drinks like an americano or latte, or try their mystery mocha to get something tailored to your tastebuds.
Pro Tip: Unless your heart is set on it, I suggest skipping a stop at the original Starbucks in the market. The Pike Place Starbucks has awfully long lines, no seating area, and you can only get drinks there. Instead, go to the Starbucks Reserve Roastery, one of the best coffee shops in Seattle.
Oriental Mart
Oriental Mart is easily identifiable by all the tongue-in-cheek signs surrounding the kitchen. Good, home-cooked style Filipino food awaits you at this family-owned restaurant. Try the flavorful adobo chicken, pancit, and lumpia to start.
Le Panier
Le Panier serves classic french pastries like macarons, croissants, and a variety of tasty tarts. If you have a sweet tooth, it'll be satisfied here. Expect rich, well-balanced flavors and a huge range of offerings. Get here early to make sure you get the widest selection!
5 Tips for Visiting Pike Place Market
Take a Food Tour
Me showing off one of my favorite samples on the tour
The market is full of tons of must-try food spots. This is why taking a market food tour is my top tip for visiting Pike Place Market. Let a local guide and market expert walk you through this top Seattle attraction, sharing interesting bits of history and introducing you to some great eateries.
By the end, you'll have a much better idea of what you want to do and where you want to go and eat. A bonus of taking a chef-guided Pike Place Market food tour? You get to skip the line!
Visit Over Multiple Days
If you have time in your itinerary, visit the market on different days for a couple of hours at a time. Trying to do and see it all in one day can be overwhelming. By going over the course of two days, you can take in the market slowly and savor the experience. I suggest going in the morning one day, and after the lunch rush or in the evening for dinner on another.
Have a Plan
Spontaneous exploration of the market can be fun, but it's good to have a few places you know you want to visit so you don't feel like you're missing something. Select some shops and a few must-eat places before you go, so you know for sure that you'll see and eat things you're actually interested in.
Related Reading: Make sure to bookmark my full list of Seattle travel tips next!
Go During the Low Season
The market will always be crowded to some degree, but if you're trying to avoid this, go during early spring, late fall, or winter. Any day that it's raining will also mean fewer people to navigate your way around and fewer lines to wait in.
Get the Name Right
The correct name is Pike Place Market, but a lot of tourists call it "Pike's Marketplace," "Pike's Market," or "Pike's Place." There's no apostrophe in the name. Acceptable iterations are "The Market" or "Pike Place." Make sure you don't slip up when talking to locals or prepare for a (gentle) roast and correction!
Things to Do Near Pike Place Market
Seattle Waterfront
The waterfront is easy to get to from Pike Place Market and it's one of downtown Seattle's attractions. Visit the Aquarium or Pier 62 park. Ride on the Great Wheel, admire goods from Ye Olde Curiosity Shop, or simply watch the ferries making their way from Seattle to Bainbridge Island.
Olympic Sculpture Park
The Olympic Sculpture Park in the Belltown neighborhood is just north of the waterfront and is a part of the Seattle Art Museum. Take a nice walk down the meandering path past modern sculptures with views of Elliott Bay to keep you company.
Seattle Art Museum
The Seattle Art Museum is just a five-minute walk from Pike Place Market in downtown Seattle. Art lovers will have a fantastic time at this multi-level art museum filled with beautiful exhibits. As a bonus, the Seattle Art Museum is one of the best free things to do in Seattle if you visit on the first Thursday of the month. At those times, admission is free and the hours are extended.
Belltown
One of Seattle's best neighborhoods for nightlife, Belltown is within walking distance from Pike Place Market. It's a great place to go for drinks, dancing, or late-night eats. Listen to live music at Crocodile (the birthplace of grunge), visit the Bathtub Gin speakeasy, or catch a performance at the Moore Theater to see some of Belltown's best.
FAQs about Pike Place Market
Why is Pike's Market Place so famous?
Pike Place Market is famous because it's one of the oldest continually running markets in the country. The historic district is home to some of the best restaurants in Seattle. Its non-profit, the Pike Place Market Foundation, provides services to the surrounding community in the downtown Seattle area.
Is Pike Place Market still open?
Pike Place Market is open daily from 9 am to 6 pm. The market is only closed on Thanksgiving and Christmas Day.
How much does it cost to go to Pike Place Market?
It does not cost anything to go to Pike Place Market. The market is free and available to visit year-round.
What is the best day to go to Pike Place Market?
The best day to go to Pike Place Market is on a weekday morning in the off-season, especially if you want to avoid crowds.
Visitors and locals alike love visits to Pike Place Market, and you will too! Enjoy Seattle's historic district and have a fun visit to one of the best attractions in the city.
How useful was this post?
Click on a star to rate (you can leave feedback after clicking submit)
Help us help you travel better!
Your feedback really helps .
What did you like about this post? Or how can we improve it to help you travel better?
Source https://explorewashingtonstate.com/first-time-visit-to-pike-place-market/
Source https://www.wanderbig.com/ultimate-local-guide-to-pike-place/
Source https://travellemming.com/pike-place-market/