Top 7 Places to Visit in Thekkady for a Perfect Getaway
Thekkady is a true paradise for wildlife and nature lovers and is one of the best tourist attractions to visit in 'God's Own Country', Kerala. This heavenly tourist destination with its cool climate, panoramic vistas, and undulated forests covered in lush greenery, serene ambience, and the exotic wildlife sanctuary attracts scores of tourists from across the world, making it one of the most favoured holidaying destinations in the Southern state of Kerala.
The idyllic destination offers scores of thrilling adventure activities, unique wildlife, untouched nature, decent and affordable accommodation, as well as easy accessibility, making it a must-visit tourist spot in Kerala. From the scenic setting of swaying palm trees, vibrant culture and sunset viewing to picturesque hill stations, tea gardens and rich biodiversity, Thekkady's bounty has much more to offer visitors. Add a dash of luxury to this by staying in one of the multiple luxury and affordable resorts and hotels here that ensure the best of hospitality to its guests who come from far off to enjoy a memorable holiday in nature's laps.
A journey to the best places in Thekkady immediately brings to mind pack of majestic elephants and fearsome tigers walking along the pristine rivers in Periyar Wildlife Sanctuary, bamboo rafting and boating in the Periyar Lake, aromatic spice plantations along with scented gardens of tea, coffee and cardamom, chains of lush green hills, tranquil waterfalls, quaint little hamlets and soft contoured hill slopes. While there are endless breath-taking tourist attractions, we bring to you the list of top seven, saving you from all the stress of listing down the prospective places to visit in Thekkady. Make sure you explore these spectacular places to relax and rejuvenate in a short span of time. So, get ready to explore the wonderful places to visit in Thekkady in the true abode of Gods!
Top 7 Places To Visit In Thekkady
1.Periyar National Park
Periyar National Park is undoubtedly the most bio-diverse and well-protected region in the country and one of the best places to see in Thekkady. Known for its verdant greenery and natural beauty, the park is the dwelling place of the profusion of significant species including the royal tigers and majestic elephants. Spread over a sprawling 777 square kilometers of land, the national park draws thousands of tourists around the year. Once here indulge in the pleasure of boat cruises, jungle safaris in the form of jeep safaris and elephant safaris and prominent eco-tourism activities like Jungle Patrol, Border hiking, Bamboo Rafting, Periyar Tiger Trail, Jungle Inn, and Jungle camp. The Rivers Pamba and Periyar flow through the dense park and help the flora and fauna inhabiting in it to nurture and flourish.
Home to some 53 tigers and more than 900 elephants along with over 62 species of mammals, you can also spot many threatened and endangered species like flying squirrels, fruit bats, bisons, foxes, sloth bears, wild boars, leopards, and jungle cats. It also provides shelter to many migratory birds like Malabar grey hornbill, white-bellied blue flycatcher, Sunbird, great hornbill, black-necked stork, and Nilgiri wood pigeon. The floral beauty of the place is equally endearing and comprises of thick tropical evergreen trees of teak, mangoes, rosewood, bamboos, sacred fig, sandalwood, Indian conifer, among others.
The park houses many prominent attractions in it, such as the Mangala Devi Temple, Periyar Lake, Cardamom Hills, and Pullumedu amongst others. One can enjoy thrilling activities like river rafting, boat cruise, bamboo boat rides, and bird watching at the Periyar Lake.
Location: Thekkady, Kerala
Best time to visit: 7:00 AM to 9:00 PM, open all days
Entry fees: INR 25per person for Indians, INR 300 per person for foreign tourists
Activities/Attractions: Wildlifespotting, nature photography, bird watching, and boating
2. Thekkady Lake
Nestled in the heart of the protected jungle area, the alluring Thekkady or Periyar Lake is famous for its wide varieties of wildlife. You can also take a boat ride in the reservoir, which offers plenty of chances to spot some rare birds like Malabar Grey Hornbill and Nilgiri Wood Pigeon. The artificial lake is one of its own kind and continues to serve as the primary water source to the jungle dwellers. The calm and serene lake is situated adjacent to the Periyar National Park and is a famous tourist spot, and is calming enough to relax your mind, body, and spirit.
While here, you can enjoy boating and appreciate the natural beauty of the surroundings, and if you are lucky, you might get a chance to see herds of elephants bathing on the lakeside.
Location: Thekkady, Kumily
Best time to visit: Boat ride timings are 7:30 AM, 9:30 AM, 11:15 AM, 1:45 PM and 3:30 PM
Entry fees: INR 225 per adult and INR 75 for children. Advance booking charges for boating are INR 500
Activities/Attractions: Elephant spotting, photography, bird watching, and boating
3. Murikkady
One of the most exuberant places to visit in Thekkady, this ideal picnic spot for families and nature lovers, offers some spellbinding views of lush green gardens and the magnificent chain of hills. Spice plantations stretch through the area and the fine aroma of the coffee, tea, pepper, and cardamom wafts through the air and enlivens the senses. Murikkady cultivates more than twelve indigenous varieties of spices including clove, ginger, turmeric, cinnamon, and vanilla. Such a day out in a healthy environment with fresh air is a panacea for your body and mind.
Bask in the sweet and spicy aroma of the spice, as well as gain a unique insight into the commercial processing of cardamom. The lively environment and intoxicating aroma will fill you with an indelible mark leave you surprised.
Location: Murikkady, Thekkady
Best time to visit: 6:00 AM to 8:30 PM
Entry fees: N/A
Activities/Attractions: Spice plantations, nature photography, bird watching, and shopping
4. Kadathanadan Kalari Center
One of the most interesting tourist attractions in Thekkady is Kadathanadan Kalari Center, a place renowned for enjoying the traditional form of martial arts, Kalaripayattu. The place emanates an air of culture and historical heritage local to that of Kerala and is designed to showcase the self-defense practices of the Southern state of Kerala with full enjoyment to guests through the various performances of the martial arts. The age-old art form was developed by Sage Parshuram, and if you are keen on learning it, you can try your hands at it and enroll for the different levels here viz. basic, intermediate, and advanced.
Location: Tiger Reserve, Thekkady
Best time to visit: 5:30 PM to 8:00 PM
Entry fees: INR 200 per adult
Activities/Attractions: Martial art performances, learning
5. Pandikuzhi
One of the best places to see in Thekkady, the gorgeous hill station of Pandikuzhi is located between Chellarkovil and Tamil Nadu border and is just 5 kilometers from Thekkady. Enveloped by lush green foliage and extreme tranquillity and serenity, the place draws you away from the maddening crowd of the city and bestows an experience you have never had before. The place is famous for a number of pristine waterfalls and winding streams, captivating landscape, and a variety of flora and fauna housed in the virgin environs that will enlighten you and make you feel alive. The place is a perfect spot for spending a day picnicking amongst thickets of greenery, thrilling terrains, and gushing streams, and is a paradise for nature lovers, adventure seekers, and photographers.
Location: Thekkady
Best time to visit: 5:30 AM to 8:30 PM
Entry fees: N/A
Activities/Attractions: Nature photography, bird watching, and waterfalls
6. Mullaperiyar Dam
Located in the Periyar Tiger Reserve, the dam offers exquisite views of the tiger reserve and the Periyar Lake and is flanked by tall, dense trees that impart a sense of tranquillity and make the place true heaven for nature lovers. While at the Mullaperiyar Dam, revel in the unique sights of water cascading down from a towering height of 155-feet. For the wildlife enthusiasts, the vantage point offers a holistic view of the diverse wildlife of the reserve, including white tigers, Indian elephants, bison, leopards, and macaques.
Location: Thekkady, Kumily
Best time to visit: 6:30 AM to 3:30 PM
Entry fees: INR 25 per person for Indians, INR 300 for foreigners
Activities/Attractions: Nature photography and wildlife spotting
7. Abraham's Spice Garden
This privately owned spice garden is one of the most interesting places to see in Thekkady and is unique in its own way. Spread over an area of 2 acres, the organic spice plantations offer a hands-on experience with an interactive tour that explains the cultivation and processing of various spices. Featuring a myriad of species of banana, cardamom, cinnamon, pepper, cloves, vanilla, ginger, turmeric, and other old spices, the place is truly a delight for botany enthusiasts and nature lovers.
The heavenly scented garden is situated between the way of Thekkady and Kottam and is looked upon as a perfect place to learn more about spice cultivation, Ayurveda, and organic farming.
Location: Spring Valley, Idukki, Kumily
Best time to visit: 6:30 AM to 5:30 PM
Entry fees: INR 200 per person
Activities/Attractions: Nature photography and spice plantations
Whether you are a nature enthusiast, leisure traveler, romantic couple, casual vacationer or a backpacker, the pictorial town of Thekkady with its rugged terrains, rolling hills, picturesque meadows, and fascinating locales will leave you wanting for more. If you are looking for an idyllic getaway featuring natural splendour in all its glory, there are plenty of places to visit in Thekkady that are perfect for those who are exhausted by the hustle and bustle of dreary life and want to escape to a place where there is only nature, wildlife, and serenity.
Munnar or Alleppey – Which is the better tourist place?
Are you planning to visit Kerala soon and trying to decide on whether to visit Munnar or Alleppey? Read this article for a comparison between Alappuzha and Munnar as tourist destinations to find which is better.
Munnar and Alappuzha are considered to be some of the visited tourist destinations in Kerala. While Alleppey is popular for houseboat cruises and backwater tourism, Munnar is a hill station where you can refresh and relax in the lap of mother nature. Both places attract a huge number of foreign as well as domestic tourists every year. According to the analytical study by Kerala Tourism Department, foreign tourists prefer Alleppey over Munnar but domestic tourists prefer Munnar than Alappuzha. We will talk why foreign tourists prefer Alappuzha and local visitors prefer to go to Munnar. Before we get into those details, let us see some analysis and reports by Kerala Tourism Department.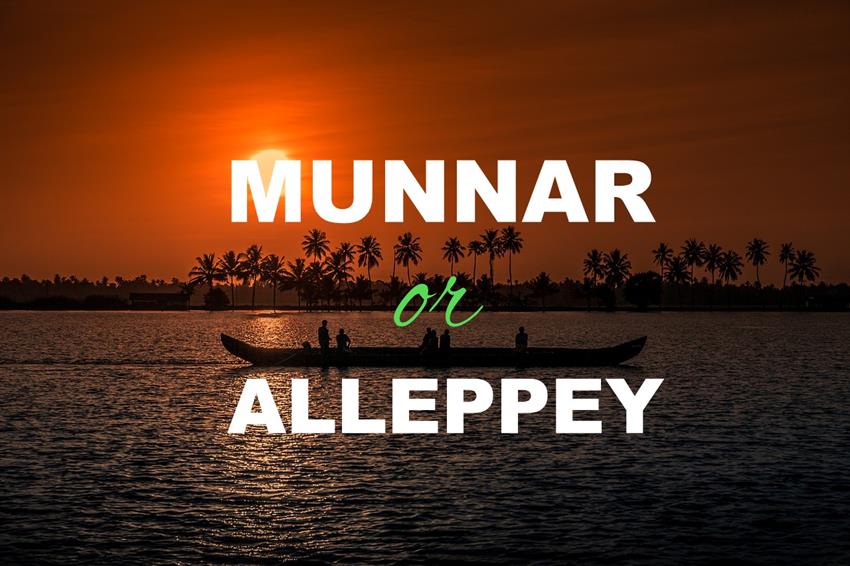 Foreign tourists prefer Alappuzha than Munnar
According to the reports published by Kerala Tourism Department, the number of foreign tourists visited Alappuzha in the year 2014 is 56,491. At the same time, 45,393 foreign tourists visited Munnar.
Here is the list of most visited destinations in Kerala by foreign tourists during the year 2014:
Kochi city – 135,000
Fort Kochi – 115013
Kovalam – 173,761
Varkala – 61,311
Thiruvananthapuram – 56,499
Alleppey – 56,491
Thekkady – 48349
Munnar – 45393
You can see in the list that Munnar is just behind Alappuzha in terms for foreign tourists. It is evident that foreign tourists have a preference for Alleppey, thanks to the unique
Kerala houseboat cruise packages.
Domestic tourists prefer Munnar over Alleppey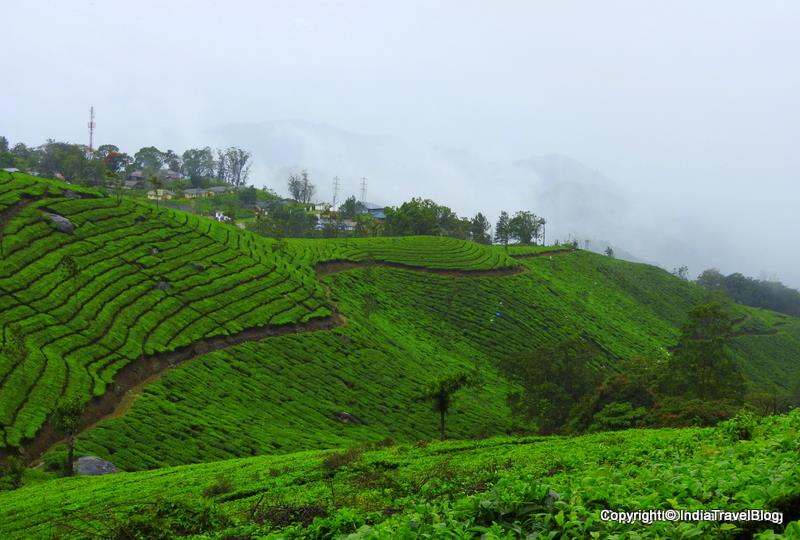 However, when it comes to domestic tourists, Munnar is far above Alappuzha in terms of number of visitors. A huge inflow of domestic tourists to Munnar from different parts of the country is due to its with rich natural scenic beauty, climatic and ecological resources. There are a handful of resorts in Munnar that provide luxury yet peaceful stay in the midst of greenery. See the data below which shows the number of tourists from India to various tourist destinations in Kerala:
Thiruvananthapuram: 11,48,647
Kochi city: 1,291,704
Guruvayoor: 2,094,839
Kovalam: 601,073
Wayanad: 593,827
Munnar: 469,881
Athirappilly: 361,725
Kumarakom: 358,886
Thekkady: 304,021
Alappuzha: 287,158
Kollam: 244,915
Varkala: 236,441
Fort Kochi: 212,263
You can see above that the number of domestic tourists to Munnar is almost double that of Alappuzha.
Why international and domestic tourists have different preferences for the destination?
You would have noticed that foreign tourists prefer Alleppey while domestic tourists have a strong affinity towards Munnar. Why? Let us analyze.

Watch a video of houseboat cruise in Kerala
Alappuzha is an ancient coastal town with a lot of backwaters. The primary tourist attraction here is the houseboat cruises through the backwaters of Alappuzha and Kumarakom. Other than the boat cruise and the natural beauty of backwaters, there are not many other tourist attractions here. Most tourists here would stay overnight in a houseboat or do a day cruise and then relax in a resort by the backwaters. Both houseboat cruise and stay in a backwater resort are pretty expensive. An overnight houseboat cruise would cost anywhere between Rs 10,000 to Rs 15,000 and an overnight stay in premium resorts in Alleppey would cost anywhere between Rs 10,000 to Rs 20,000.
While this cost may not be a big constraint for a foreign tourist, an Indian tourist may not be willing to spend so much for a single day cruise or overnight stay.
Now, let us look at Munnar, which is the tourist paradise of Kerala. There are plenty of destinations to see, watch, enjoy. There is a fun and activity park called Dream Land Spices Park. Another big attraction at Munnar is the Eravikulam National Park. There are many more picnic areas and beautiful places like Anayirangal dam, Tea Museum, Honey Bee Tree, Rose garden etc. Indian tourists usually look for "value for money" and having several places to visit would make them happy about the destination.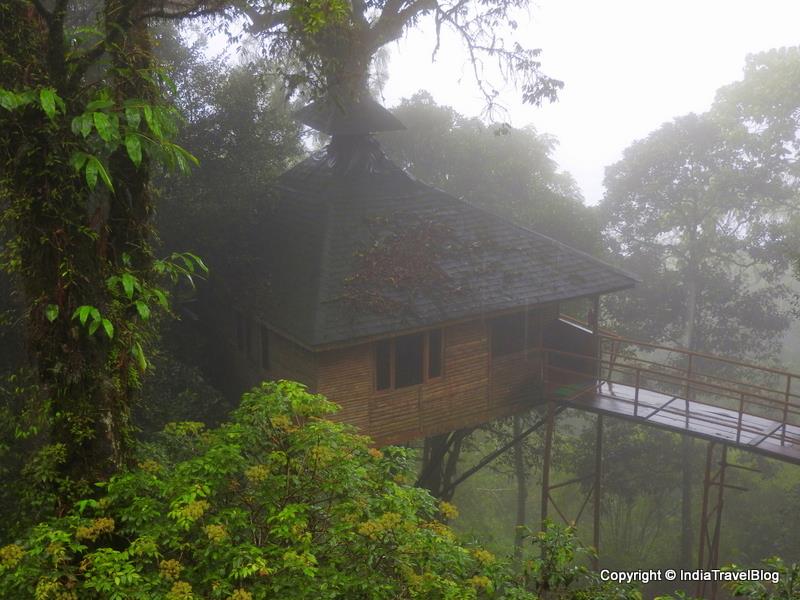 A view of resort in Munnar
Even cost wise, Munnar is a lot cheaper than Alappuzha. There are a limited number of hotels and resorts in Alappuzha and that makes it an expensive choice. On the other hand, there are plenty of small/medium/large hotels in Munnar and a lot of last-minute deals are available on various travel websites. That's another reason Indian tourists prefer Munnar over Alleppey.
Places to Visit in Thekkady | Thekkady Tourism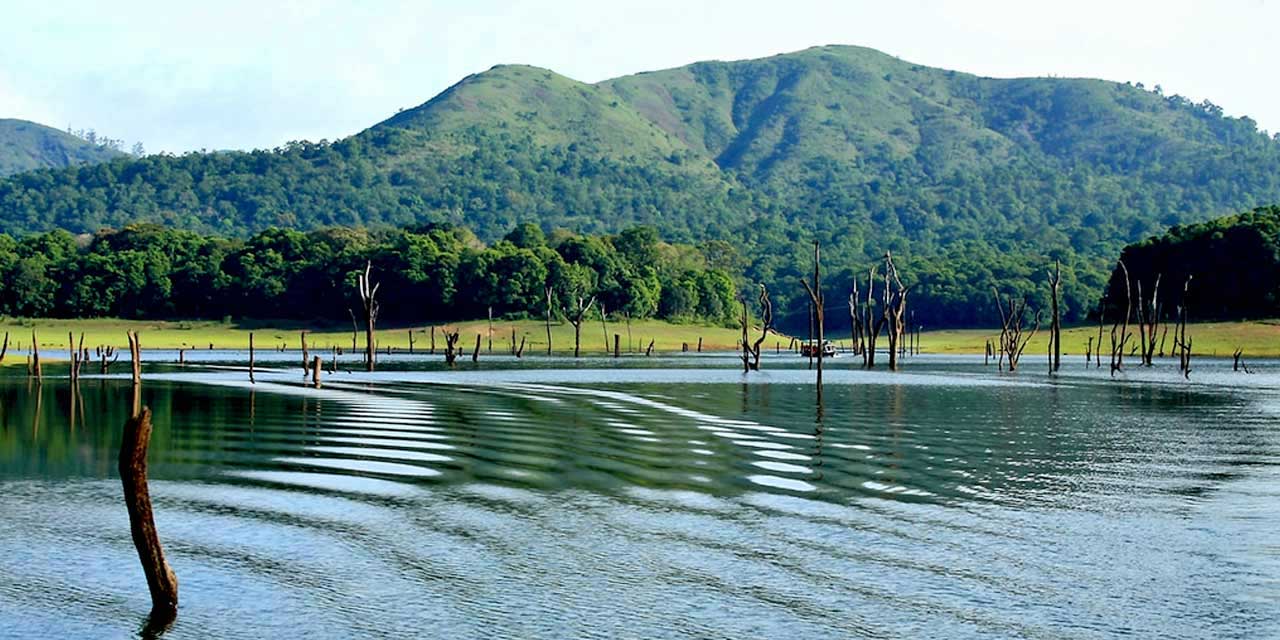 Wildlife has always been a fascination for humans. But most of our experience with wildlife is limited to TV channels, books and Zoo. Thekkady is an exception to this. This is the only place where you can watch wild animals in close quarters in the safety of a boat.
You can see large herd of elephants playing in the lake, tigers and so many other animals and birds all at once which is not seen in any other places. Thekkady also called as 'The city of Spices' is a truly enchanting land with serene countryside, long unending chain of hills and spice scented plantations.
This picturesque place is located in highlands of Idukki district in Kerala. The aroma of spices covers the whole city. Thekkady is a place with so many surprises. The clear waterfalls and scenic spots dotted amidst the greenery of the place is marvellous.
The splendid man made lake in Thekkady is another wonder you can't miss out. Explore the lake completely by taking a boat ride. Cardamom hill, the mountainous hills in Kerala which produces cardamom is a unique attraction of Thekkady.
The natural beauty and calmness keep this place close to your heart. Thekkady also offers adventure tourism and trekking.
Places to Visit in Thekkady
1. Periyar Wildlife Sanctuary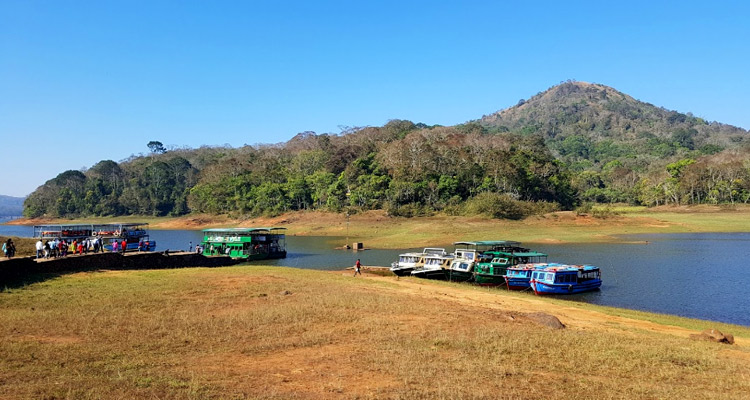 Periyar Wildlife Sanctuary spreads across an area of 777 square km is one of the most sought after destination in Thekkady. Of the 777 square km, 360 sq. km is thick evergreen forest. The diversity of wildlife and scenic beauty draws thousands of tourists from different part of the world.
The Periyar Forest of Thekkady holds the finest wildlife reserves in India. You can watch wildlife in close quarters from the safety of boat.This is the only place in India offering such a facility.
The view of elephants playing in the lake, Tigers lazing around and drinking water in the lake and many other animals and birds in here is a delight for all. The sanctuary is home to an amazing richness of wildlife, and is considered one of the finest in the country for observing and photographing animal life, especially the wild Asiatic elephant.
Besides the tiger and elephant, the rare lion-tailed macaque, sambar deer, the elusive leopard, wild boar and guar, the largest wild cattle, flourish in the recesses of the jungles. Also the forest is rich with local and migratory birds, reptiles, and many plant species.
2. Mangala Devi Temple
The panoramic view of ancient Mangala Devi temple perched on the hillock is wonderful. The temple located 15 km away from Thekkady is built in the Pandian style of Kerala architecture.
The Architectural beauty of this quaint temple stands in the dense forest at the top of a peak about 1337 m above sea level and is on the fringe of the Tamil Nadu-Kerala boundary.
Prayers are conducted only once in a year on Chaitra Purnima, the full moon day in the month of April-May. On this holy day, the temple hums with activity as devotees flock here in large numbers. This place of worship worth a visit with its soothing ambiance.
3. The Sanctuary Watch Towers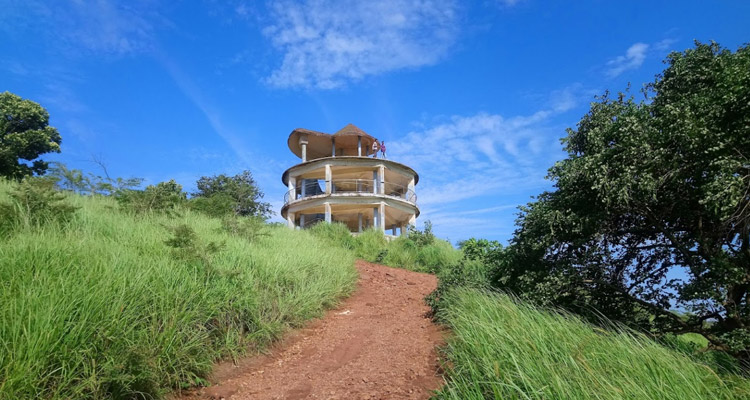 The Watch Tower is another important tourist spot to visit within the park. There are three watch towers for observing wildlife – at Edapalayam, Manakavalai and Thanni Kudi. One can enjoy a wonderful view of the surrounding areas from here.
The tower is maintained by the Forest Department and it is one of the best places to witness the animals, as the tower overlooks water holes in buffer zone. It's better to wear proper boots and outfits to avoid scars and insect bites.
4. Murikkady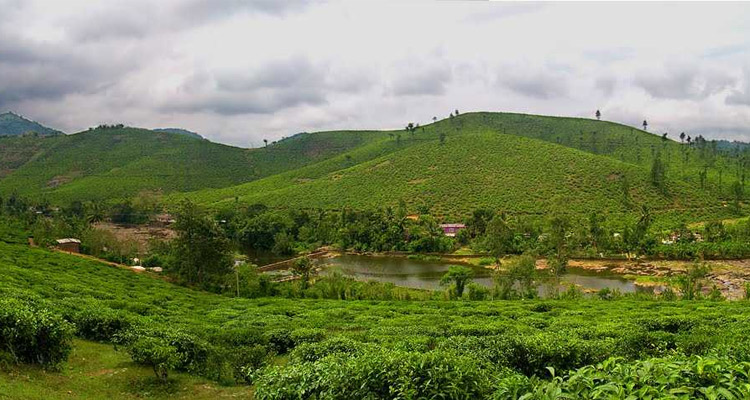 Located at a distance of just 5 kilometres from Thekkady, Murikkady is a must watch place. Murikkady is particularly famous for its panorama of cardamom, coffee and pepper plantations.
5. Pandikuzhi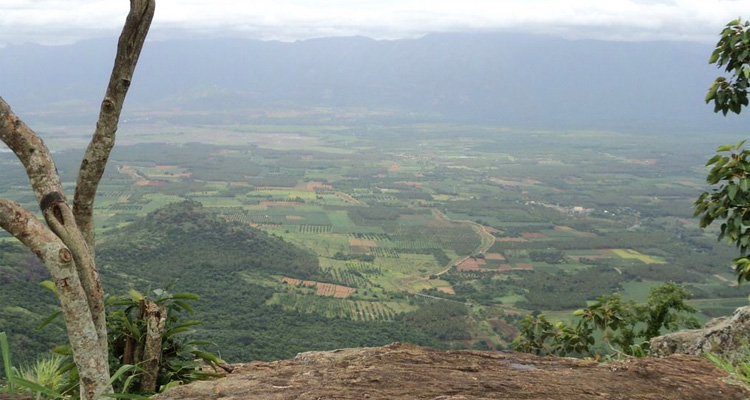 Sandwiched between Chellarkovil and the Tamil Nadu border Pandikuzhi makes an important excursion point for every tourists visiting Thekkady. Here one can watch picturesque spectrum of nature's flora, fauna and pure white streams.
A considerable number of visitors come to this place every year. Being an ideal picnic, trekking, and photographic spot, this is a perfect weekend getaway for the localities also.
6. Tribal Heritage Museum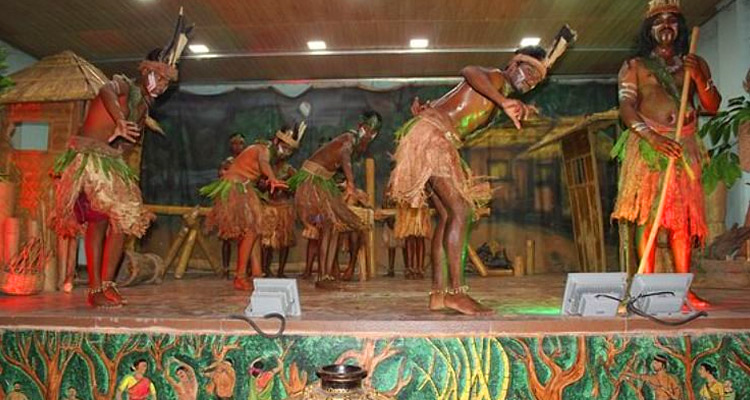 There are five tribal communities live in the Periyar area. You can see their belongings in the Tribal Heritage Museum here during the Tribal Heritage Programme organised by the reserve. One can see traditional fishing gear, hunting implements and indigenous medicinal plants. This is an interesting as well as informative trip.
Places Around Thekkady
Thekkady the unspoilt beauty of nature is a blessed place worth a visit. There are also some other places in and around Thekkady which cannot be missed. They are Peermade, Kuttikkanam, Summer Palace of Travancore Maharajah's, Ayurvedic Factory, Sahyadri Organic Tea factory and Plantation.
Shopping in Thekkady
Thekkady, the heartland of spices you will get the best quality spices. You will get the best of fenugreek, white and green pepper, rolls of cinnamon, cardamom, nutmeg, star anise, coriander, cloves and almost all spices. The shops sell the samples of all the spices in neat and transparent packets.
The one shopping centre in Thekkady is Kumily. You can buy some nice T shirts bearing the exclusive Periyar Tiger Reserve motifs of Tigers and elephants. You can purchase for some good souvenirs here.
Where To Stay in Thekkady
Being one of the favorite haunt of tourists there is some of the best staying options in Thekkady from Basic to Luxury. Thekkady also has some good resorts set inside the sanctuary. Aranya Nivas, Lake Palace and Periyar House located inside the forest, Taj Garden Retreat, Spice Village, Muthoot Cardamom County, Shalimar Spice Garden Resort and Jungle Village.
Also Hotel Tree Top, Green Woods, Hotel Kumily Gate, Hotel Lake Queen, Michael's Inn, Ambadi, The Wildernest, Hotel SN International, Leela Pankaj Resort, Wildside Villa, Bamboo Grove Lodge, Mickey cottage and Periyar View Hotel outside the forest are some of the best staying options in Thekkady.
Source https://www.oyorooms.com/travel-guide/best-places-to-visit-in-thekkady/
Source https://www.indiatravelblog.com/resources/4006-Munnar-or-Alleppey-which-is-better-place.aspx
Source https://keralatourism.travel/destinations/thekkady