Is Thailand Safe to Travel in 2022?
All the best parts of Thailand are constantly advertised. From the gorgeous landscapes and the delicious street food to the smiling people and the enticing culture, Thailand seems like a magical travel destination.
Thailand is absolutely incredible, and it deserves a spot on every traveller's bucket list.
That being said, you should always take safety precautions when traveling somewhere new.
The unknown can be scary, and you always want to be mentally and physically prepared for anything.
The best way to be prepared for visiting a new country is by doing your research before you go.
So if you are planning your first trip to Thailand and you're wondering "Is Thailand dangerous?" or "is Thailand safe for travel?" then this article will tell you everything you need to know.
Thailand is a very safe country for travel. Even if you are traveling alone in Thailand, you shouldn't have any problems in the country if you are smart and constantly aware of your surroundings.
In this article, you'll learn a bit about what to expect in Thailand, as well as some general safety tips and some advice about solo travel in Thailand.
On a side note, we always recommend getting travel insurance no matter where you go. Even if a country is safe, such as Thailand, having travel insurance can save you if anything should happen.
Table of Contents
What to Expect for Safety in Thailand
Keeping all this knowledge in mind, you should be fully prepared to venture over to Southeast Asia and make the most of your time in beautiful Thailand! Here is our best Thailand travel advice.
Thai Culture
For people wondering "Is Thailand dangerous?" it is hard to answer that question with a plain "Yes" or "No".
Every country has good and bad parts, but generally speaking, Thailand is definitely one of the safer countries in the world to travel to.
There are three main values in Thai culture of which travelers should be aware: positivity, respect, and self-control.
If you maintain these values while traveling in Thailand, you'll blend right in with the locals and have no issues with anyone.
Positivity
Thailand is a warm and welcoming country, where the people are friendly and the nickname "Land of Smiles" rings true.
The positive, light-hearted, non-confrontational attitude of Thai people is central to their culture, and they generally act the same way with travelers.
Tourism is a huge source of income for the country, so most Thais happily welcome foreigners and are eager to share their culture with them.
Respect
One of the most important values in Thai culture is respect.
It is vital for locals to show respect to one another, including tourists. This means that tourists should always show respect to the locals in return.
Thais maintain respect for everyone, especially for those of higher significance, like monks, doctors, political figures, the Thai King and the Thai royal family, and even elders, so travelers should do the same.
The Thai royal family and King are very well respected in Thailand, and you'll see photos of them everywhere.
Buddhist monks in Thailand deserve the highest level of respect.
Self-Control
Thais also value self-control. They avoid raising conflicts, they avoid lying, yelling, or screaming, and they never make a scene in public.
If travelers can also control their emotions and remain calm in public situations, they will have no reason to come into conflict with anyone in Thailand.
READ MORE: Plan your trip to Thailand with our complete list of the best things to do in the country!
Backpacker Culture in Thailand
Because international travel and tourism is such a huge part of the Thai economy, there is a huge community of backpackers and travelers in Thailand.
Backpacker culture is very different than local Thai culture because you'll be surrounded by lots of different nationalities rather than Thai locals.
Here are a few aspects of the backpacker culture in Thailand of which travelers should be aware.
Hostels
Thailand is packed with cheap hostels in which travelers tend to congregate.
Staying in a communal area with lots of other travelers means there are certain precautions you must take to ensure your space is respected and your belongings stay safe.
Safety Tips for Hostels
Always lock your valuables in a locker or at the front desk.
Put luggage locks on your backpacks and suitcases.
Keep your most valuable belongings on your person (passport, wallet, camera).
Make sure a hostel has lots of positive reviews from other travelers before staying there.
Don't open the hostel door for strangers.
Partying
The party scene is a massive part of the backpacker culture in Thailand.
Especially in touristy cities, there are certain bars or clubs where all the tourists go and it won't even feel like you're in Thailand at all.
You'll definitely want to let loose and enjoy the nightlife in Thailand, but always keep your wits about you and maintain these precautions.
Safety Tips for Partying
Only bring as much cash as you'll need for the night.
Have a secure wallet or purse that you won't lose to store your ID and cash in.
Go out with a group of people.
Make sure your group doesn't leave without you.
Make sure you know your way home.
Never leave your drink unattended.
Avoid getting overly intoxicated.
Never accept drinks from strangers.
Always be smart when drinking and partying in Thailand!
Landscape of Thailand
When considering if Thailand is safe for travel, don't forget to consider the natural world and the landscape of the country.
Being safe while traveling means maintaining awareness of the elements as well, so make sure you know what type of environments you'll be in before traveling to Thailand.
Cities
Thailand has a few big cities, with Bangkok being the biggest and most famous.
The major cities of Thailand are vibrant and packed with excitement, so follow this travel advice to ensure you stay safe in a big city.
Be aware of the air pollution in Bangkok. If you have asthma or other respiratory problems, consult your doctor before you go to ensure Bangkok will be safe for you.
Getting lost makes you feel vulnerable, so always have a map or a navigation APP on your phone in case you get lost in a big city.
Rural Areas
When heading away from the big cities of Thailand, you'll get to witness the more rural areas of Thailand and immerse yourself in real, authentic culture.
Here are a few safety tips to keep in mind when traveling to rural areas of Thailand, such as the mountains, national parks, or the countryside.
Animals in rural areas of Thailand may have rabies, so avoid animal contact and get vaccinated before heading out there.
Insect-borne diseases, like malaria, are more common in rural areas. Take medications if necessary and always wear insect repellant, especially when hiking or camping.
Always check weather updates before hiking or camping in the wilderness.
Stick to marked paths or routes when hiking to avoid getting lost.
READ MORE: Be sure to know these great travel tips for visiting Thailand!
Beaches and Islands
Thailand's beaches are picture-perfect, and beach-lovers will have a blast island-hopping around the country.
To make the most of your time in the Thai islands, keep these safety tips in mind.
Always wear sunscreen with SPF 50 or higher. The sun is extremely strong in Thailand, and a bad sunburn can ruin a trip or even make you ill.
Educate yourself about rip currents and how to avoid them in the ocean.
Avoid swimming on deserted beaches alone. If there's no lifeguard, the ocean may not be suitable for swimming.
Be aware of sea creatures like jellyfish and sea urchins, especially when snorkeling in coral reefs.
You'll have the most incredible time exploring the Thai islands if you keep your safety in mind!
General Safety Tips in Thailand
To ensure that you feel safe while traveling in Thailand, there are some general safety precautions you should take no matter where you are in the country.
Avoid protests
Thailand is a pretty peaceful country compared to some of its neighbors, but the occasional protest or riot can break out.
On the off-chance that a protest turns violent, it can become an unfortunate situation to be in.
Just avoid protest areas altogether to avoid unnecessary conflict during your trip.
If a protest breaks out in the area you are in, make plans to leave as soon as possible.
Be Wary of Scams
Most Thais are friendly and genuine towards tourists, but there are always rare cases of locals trying to take advantage of foreigners.
Dishonest locals may try to scam tourists, not in a violent or inappropriate way, they just may try to milk a bit more money out of you.
For example, if a stranger in the street offers you tours, discounts, shopping, or anything else, just say no.
Most Thais are friendly, but if a random person in the street is overly friendly and a bit pushy while trying to offer you something, they are probably trying to rip you off.
Just trust your gut, say no with confidence, and only book tours with legitimate tourism companies.
Use Street Smarts
As I mentioned earlier, Thailand is a very safe country to visit. Any scary scenarios discussed in this article are usually pretty rare.
So the most useful safety tip for traveling Thailand is to use general street smarts.
Sometimes while traveling, it feels like a fun vacation and you don't use your head as often as you would at home.
But maintaining good judgment, common sense, and level-headedness while traveling is usually enough to keep you safe abroad.
Some general travel street smarts include:
Avoid walking around alone at night.
Know the local emergency phone number.
Keep your passport, money, and other valuables securely stored or safely on your person at all times.
Make copies of important documents in case you misplace one.
Avoid any situation that makes you feel uneasy, uncomfortable or scared.
Only book hostels, hotels, or tours that have reputable, positive customer reviews.
Don't share lots of personal information with strangers.
READ MORE: Here's a great travel packing list for Thailand to get you started!
Travel Safety in Thailand
While on the road in Thailand, always exercise caution and be aware of your surroundings.
This includes taking public transport and driving yourself. Keep these safety tips in mind while traveling through Thailand.
Local traffic in Thailand can be hectic, so always use caution and follow the road rules while driving.
If you are driving a motorbike, be extremely careful. You are more vulnerable on a bike, and motorcycle accidents are common. Wear a helmet and don't speed.
Stay on alert at border crossings between Thailand and its neighboring countries. Thailand is very safe, but the rare violence and conflict that does occur usually happens at border crossings. Just get through as quickly and quietly as you can and don't linger if there's any trouble happening.
Stay up-to-date on current news to avoid any problem areas. For example, right now there are travel warnings for the 4 southern provinces of southern Thailand near the Malaysian border: Yala, Pattani, Narathiwat, and Songkhla. These areas are experiencing frequent violence and bombings. If you're there, consider leaving.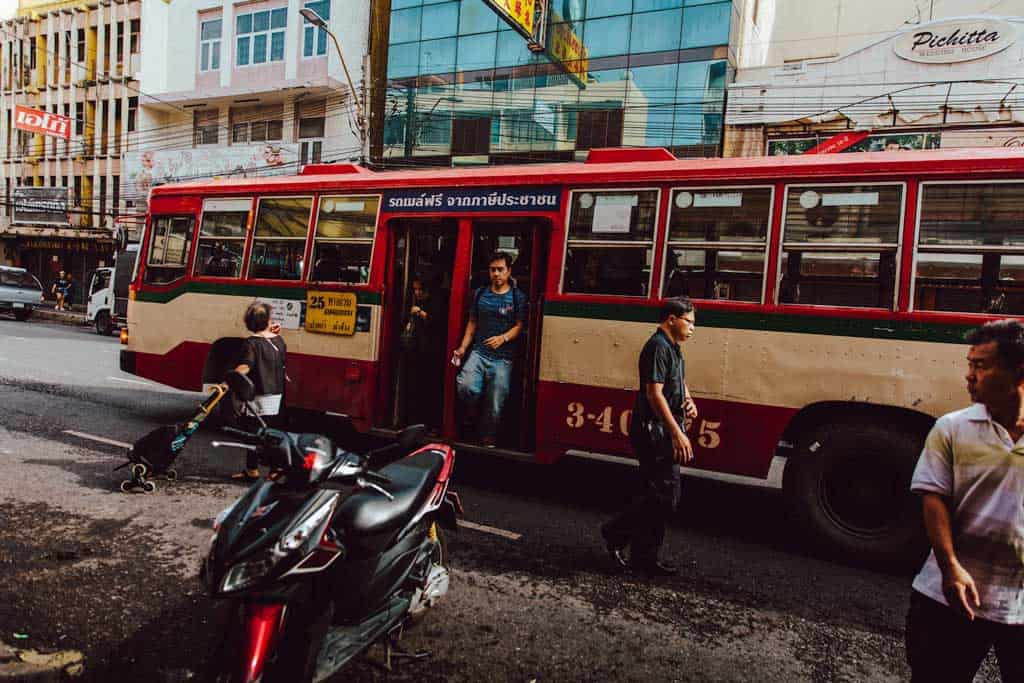 If you use caution and common sense while traveling in Thailand, your trip will be stress-free.
Health Safety
Your health should always be a top priority while traveling.
In addition to wearing sunscreen and mosquito repellant, and speaking to your doctor before leaving home about any medications or vaccinations, there are a few other health safety tips you should keep in mind in Thailand.
Again, having travel insurance is also a smart idea in case you need any medical treatment abroad.
Always maintain good hygiene. Wash your hands, carry hand sanitizer, and avoid unnecessary contact with others. This helps prevent the spread of germs and may save you from getting sick.
Make sure you listen to your body. If you feel sick or tired, take a rest day and eat healthy foods. It sucks to feel like you're missing out on fun travel experiences, but you'll feel better if you just let your body heal. It's very common for travelers to get over-exhausted by packing in too much excitement, so maintain a healthy balance while traveling.
If you do need medical care, make sure you get it. Thailand has lots of reputable health centers, but sometimes there are discounted or volunteer ones in more rural areas that aren't as trustworthy as the official ones.
Stay updated on any current health crises.
Always purchase travel insurance before a trip. Even if you think you won't need it, you never know what will happen abroad and you always want to be covered. Things like medical evacuation can be super expensive, so insurance is a must.
Important Note! Before you book any international trip, we honestly recommend getting travel insurance. You never know when things will go wrong, and medical bills can add up quickly if you get sick or injure yourself overseas.
Our personal recommendation based on our own experience is World Nomads.
Safety Against Crime
For people wondering, "Is Thailand dangerous?", you'll be happy to know that the most common crimes in Thailand are just petty crimes like theft and robbery.
Thailand's local laws are very strict, and they still use the death penalty. This means any major crime may be punishable by death, so violent crime is very rare in Thailand.
As long as you don't break any laws when visiting Thailand and don't make yourself a target for theft, you shouldn't have any problems.
Here are a few tips for making sure you stay safe against crime in Thailand.
Avoid theft by making sure your valuables are either locked up safe or securely stored on your person.
Carry bags that close securely, and carry them so you can always have a hand or an eye on them.
Don't wear expensive jewellry or flashy accessories that make you look rich because you'll become a target for pickpockets. Dress to blend in, not to stand out.
While travelling on long bus or train journeys don't separate yourself from your bags. Keep them with you at all times.
If you have a big suitcase that has to be stored on top of a bus, keep a smaller backpack on you with your valuables in it.
Drink spiking is another crime that may occur while partying in Thailand. Never accept a drink from a stranger, and always keep an eye on your own drink.
Avoid using any illegal drugs in Thailand. Most are illegal, including marijuana, and the penalties for using or carrying drugs can be severe.
READ MORE: As you plan your trip, check out a few great Thailand itineraries!
Solo Travel in Thailand
Thailand solo travel is a liberating and exciting experience.
Traveling solo in Thailand should not be a problem for anyone, as long as you use all the safety tips mentioned so far in this article.
For solo female travelers, you'll find that Thailand is a very safe country where women are respected and treated equally to men. The same safety tips apply to men and women.
Here are a few tips to keep in mind when traveling alone in Thailand.
Stay in hostels if you want to meet people. It is very easy to make friends, especially at party hostels.
If you want to party, avoid going out alone. Try to link up with people in your hostel so you have a crew to go out with.
If you're a solo female traveler, stay in hostels that have female-only dorms if you prefer that.
Register for a smart traveler program where you can update your government on your travels abroad. This ensures the government knows where you are in case something crazy happens. For example, the USA has an online program called STEP (Smart Traveler Enrollment Program), and many other countries have similar programs.
Update your friends and family back home on your whereabouts. Just letting them know where you are and where you are headed can help them keep an eye on the news and make sure everything is safe where you are.
Solo travel in Thailand is an eye-opening experience!
DISCLAIMER: Some of the links in this article are affiliate links, which means if you book accommodation, tours or buy a product, we will receive a small commission at no extra cost to you. These commissions help us keep creating more free travel content to help people plan their holidays and adventures. We only recommend the best accommodations, tours and products, and regularly review these. Thanks for your support, kind friend!
Related Posts
slug; $list = get_page_by_title( 'related', 'OBJECT', 'wp_show_posts' ); wpsp_display( $list->ID, 'tax_term="' . $cat_slug . '"' ); ?>
3 thoughts on "Is Thailand Safe to Travel in 2022?"
Thailand is like any other nation where patriarchy reigns supreme, the women are objectified and gender violence thrives. Women traveling to Thailand should be extremely cautious due to human trafficking and violence in work, public and private settings. Even if reports are done, the news about the incident will never be known because "saving face" is most important in Asian culture versus taking accountability to stop barbaric behavior. Corruption is rife and if money is not to be gained by the police, and you don't have the "right" connections to regain power for solving your case, you're rendered a nuisance and worthless. Worse yet, some may even say it's your karma from a past life, thus justifying the violence that is silently condoned. It's important to have balanced dialogue for the safety of all. Many women will travel and suffer before anything is done, perhaps if a number of high profile cases make world wide attention and women globally begin speaking about it, then safety measures can be put in place. Nothing worse than being hunted, and the foreign men who travel to Thailand, many are encouraged to travel there for sex tourism. Therefore, women travelers have to be extra cautious from male locals and other travelers alike.
I agree with you completely definitely use a lot of caution and get a guide.
We feel travel with caution is always important and having a guide in certain places is better but not everywhere.Thanks for your comment.
Leave a comment Cancel reply
Hi, we're Alesha and Jarryd!
We've been traveling the world together since 2008, searching for the planet's best destinations and adventures.
Safest Places to Live in Thailand
Thailand: Where Are the Safest Places for Expats and Retirees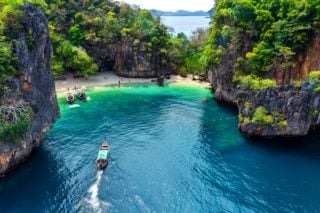 Thailand is one of the most popular destinations for expats and retirees. It comes as no surprise that finding the safest places to live in Thailand is at the top of their to-do list. As Thailand is famously friendly and known as the "land of a thousand smiles", there are a number of fantastic destinations to choose from.
Safety, of course, is a concept that is open to interpretation. Large cities have more hospitals, clinics, and doctors – but a greater amount of crime. Rural areas have fewer pickpockets, traffic accidents, and congestion. However, they're also less likely to have potable water. As such, when you're thinking of safe places to live in Thailand, consider the term broadly.
How Safe Is Thailand In General?
There is no denying that are serious safety problems in Thailand. These include human trafficking, drug trafficking, corruption, and violence against women. However, Thailand is ranked as one of the safest countries in Southeast Asia and violent crimes against visitors are rare.
The majority of crimes experienced by tourists, expats, and retirees are crimes of financial opportunity. These crimes include pickpocketing. Thieves have been known to slice open bags with razors and stealthily reach in and lift belongings in a matter of seconds. This frequently occurs in congested areas like markets, popular tourist attractions, and busy train stations. Thieves also often operate on the long-distance bus and train routes. They take advantage of sleepy travelers and bags left unattended in storage compartments.
Fraud is another common crime. This includes credit card cons and rental agreement scams. For instance, people report being charged for damages that did not occur when they rented their jet ski or motorcycle. Unfortunately, local authorities are rarely helpful in resolving these situations. Police corruption is rampant.
A large proportion of safety concerns is related to the consumption of alcohol. In popular bars, drinks can be spiked in order to facilitate assaults or robberies. Alcohol can also be used to lower inhibitions to encourage romantic connections with "bar girls", pay for overpriced drinks, or distract guests in order to lift their identification.
In terms of health and wellbeing, the healthcare system in Thailand, especially Bangkok, is very good. However, facilities are very limited in rural areas. Motorcycle and scooter accidents are one of the most common reasons visitors need medical attention. If you're planning to use them as your primary form of transportation, invest in a high-quality bike, use a helmet, and consider taking private lessons to improve your skills. Also, visitors to Thailand should know that the water is not potable.
Places To Avoid
Casual travelers should avoid the southernmost parts of Thailand. This includes Yala, Pattani, Songkhla, Narathiwat, and the Sungai Kolok crossing into Malaysia. These areas have experienced frequent and ongoing violence.
Safest Places To Live in Thailand
Chiang Mai
Thailand's second-largest city, Chiang Mai is surrounded by nature. Foreigners love this city and there is a huge international community with more than 40,000 international citizens calling Chiang Mai home. The city has excellent healthcare facilities, community resources, and a low rate of violent crime. It was part of TripAdvisor's "25 Best Destinations in the World" in 2014. It owes this honor to its mix of museums, restaurants, shopping, nightlife, and overall high quality of life.
There is one serious safety concern in Chiang Mai. Air pollution and smog are serious problems here. It's particularly bad from February to late April, known as "burning season". One of the contributing factors is that local farmers use fire to clear the ground for new crops. As such, the air can feel very sooty. Many expatriates and locals take the opportunity to travel more during this time.
Chiang Rai
Just 100 miles from Chiang Mai, Chiang Rai is a semi-rural small city retreat. It's extremely affordable and is surrounded by mountains, forests, and waterfalls. Residents have easy access to all the big city amenities that Chiang Mai has to offer. It's the perfect destination for expatriates who feel a bit overwhelmed by Chiang Mai's size and congestion and prefer a more quiet destination – without compromising on their well-being.
Another bonus? Crime rates, including petty crime like pickpocketing and scams, are low. Plus, Chiang Rai's position near the mountains means that the city is naturally cooler than many of its neighbors.
Koh Samui
This gorgeous island has great connections with Bangkok and the rest of the country but it feels removed from the hustle and bustle of the mainland. Koh Samui is laid back, family-friendly destination with a surprisingly strong infrastructure. There's a good selection of hospitals, pharmacies, and doctor offices. There's also a strong emphasis on the quality of living and outdoor pursuits, including cave exploration, yoga, and snorkeling, are all popular. However, on average, the rates of drug use and drug-related crime are higher in Koh Samui than in areas like Chiang Rai.
Krabi
Often described as one of the safest places to live in Thailand, Krabi is a peaceful, secluded small town with beautiful beaches on the southwest coast of Thailand. The cost of living and crime rate is low and the number of amenities like cafes is high. The sense of community in Krabi is strong. It feels like everyone knows each other in the expat community, which is just a few thousand strong during the high season.
Hua Hin
A lot of international citizens describe Hua Hin as having all the best things in Bangkok with none of the bad. Over a hundred years ago, Hua Hin was a small fishing village. In the 1920s, Thailand's royal family built a vacation home there. Today, Hua Hin still feels a bit like a mix of the two. It's like a genteel seaside fishing town that manages to comfortably cater to the elite without losing its down-to-earth charm.
This town is two and a half hours from Bangkok and locals have easy access to that city's hospitals, health facilities, infrastructure, and resources. In fact, a satellite campus of the respected Bangkok Hospital recently opened in Hua Hin. Residents all enjoy all of this at a fraction of Bangkok's crime rate, air pollution, and traffic congestion.
Bangkok
In many ways, you could say that Bangkok is one of the least safe places to live in Thailand. Between the number of pickpockets and traffic accidents, there's plenty of reasons why you wouldn't want to live here.
However, there's also a lot about Bangkok that makes it a safe place to visit and live. There is a large, friendly, and diverse community of expats, digital nomads, and backpackers. In general, Bangkok is very accepting of all kinds of sexual orientations and gender identification. There is a large number of resources for women and families, along with hospitals, clinics, and health care specialists. And the affordable transit system, the high number of museums and art galleries, exceptional culinary scene, and even access to English bookstore makes it a destination that balances affordability with a high quality of life.
Is Thailand Safe to Visit in 2022? | Safety Concerns
Nicknamed ''The land of a thousand smiles," Thailand is known for gorgeous landscapes, tasty food, enticing culture, and the locals' smiling faces. Thailand is one of the best Southeast Asian countries to visit, even if you are traveling alone.
Solo female travelers afraid of being harassed will consider this good news. This guide gives you an in-depth analysis of safety concerns you may have about visiting Thailand and tips on what to do to stay safe.
The country has its share of shady activities, but if you follow guidelines and obey local authorities, you will enjoy the stay.
Is Thailand Safe to Visit in 2022?
Bangkok, Thailand – January 12, 2021 : Crowd of people walking on the market in Chinatown/Brostock/Shutterstock
Thailand is a very safe country to visit, provided you use common sense. The US Department of State considers Thailand a level 1 destination, meaning travelers need to exercise normal precautions.
According to a 2021 survey by CNBC , most American travelers place Thailand in the top ten list of safe countries to visit. That said, this Southeast Asia country isn't immune to crime.
Opportunistic crimes like pickpocketing, burglary, and scams are prevalent. Violent crimes are not as rampant, but they occur. Other issues like lack of medical treatment outside prominent cities and spiking women's drinks with sedatives are other safety concerns.
Some beaches don't have enough lifeguards to ensure the safety of tourists, and scammers are everywhere waiting to rip you off your hard-earned cash.
Apart from crimes, lack of proper medical treatment, and lack of safety on beaches, you may come across other safety concerns such as:
Bad neighborhoods
Risky transport methods
Contaminated food
Terrorism and demonstrations
Crime in Thailand
Thailand has cases of drug trafficking and corruption. Major drug trafficking areas are Bangkok, Phuket, and Pattaya. Animal abuse is widespread, with elephants most targeted for their tusks.
Such crime does not affect tourists, but those that affect tourists include pickpocketing, which is common in urban Thailand. Thugs often target tourists changing money at currency exchanges and rob them.
It is also possible to have your drink spiked and have your cash and valuables stolen in bars. Foreign women are more likely to have sedatives added to their drinks than local women.
Violent crime does not happen at an alarming rate, but it still happens and includes robbery, assault, rape, and murder.
To avoid falling victim to such crimes:
Keep an eye on your belongings.
Don't walk alone in dark and deserted places. If possible, go to the bar with a colleague.
Change your money at the bank to avoid theft at currency exchanges.
Monitor your drink to prevent it from getting spiked.
Avoiding Bad Neighborhoods
Avoid the following provinces where ethnic conflict reigns:
In these four provinces, over 6,500 people, including foreigners, have been killed up to date. Shootings and bombings are the most common methods used to kill.
Targets include government officials , religious and political leaders, churches, schools, and other public places. There are also red light districts to avoid due to their bad reputation for drugs, drinking, and sex tourism.
The famous red light districts are Soi Cowboy, Nana Plaza, and Patpong. If you want to know which provinces o avoid visiting due to terrorism, sign up to the State Department's Smart Traveler (STEP) to get updates.
Terrorism and Demonstrations
Attacks, including bombings, can happen in Bangkok and Phuket. Terrorists target tourist hotels, worship houses, schools, malls, public transport, public rallies, and festivals.
In 2016, terrorists killed four people and injured 30 when they detonated Impoverished Explosive Devices in popular tourist spots. In 2017, attacks at a Bangkok military hospital and the National Theater wounded 26 people.
There haven't been significant incidences of terrorism since 2019, but periodical incidences are still a concern in Thailand.
In southern Thailand, there's a risk of terrorism-related violence because there's minimal government support. It's best to avoid this part of the country. Demonstrations around the US Embassy in Thailand happen often.
Other demonstration sites include the Victory Monument, Democracy Monument, Ratchaprasong intersection, Thammasat University, and the Bangkok Arts and Cultural Centre.
Practice these safety tips, and you will be free of unpleasant incidences:
Be alert to potential threats.
Stay away from public demonstrations.
Follow the media to know what's going on.
Follow the local authority's instructions.
Have an exit plan. You'll need it if you encounter emergencies.
Report suspicious packages. They might be bombs.
The US Department of State warns against visiting Yala, Narathiwat, Pattani, and Songkhla provinces due to civil unrest. You may risk injury or death due to indiscriminate attacks on foreign citizens.
Beach Safety
Phuket beaches lack enough lifeguards, and the few present are not fully qualified. Tourists may be in danger if there is no one to warn them about rip tides. If there are warning flags on the beach, don't swim.
Be cautious when swimming off the west coast of Phuket during the rainy season (May – October). Phuket waves can be as high as four feet with rip currents. There is the possibility of a jellyfish stinging you.
Jellyfish usually swim close to the shore during rainy seasons, and their sting is deadly. To be safe on the beaches, follow these tips:
Don't go swimming when drunk. You may drown.
Don't venture into the deep sea no matter how well you swim.
If you get caught by waves, duck under them to let them pass.
If stung by a jellyfish, treat the area with vinegar and ammonia.
Don't touch sea creatures. Many reef animals are poisonous.
Health Concerns
Your health may be at risk in several ways when you visit Thailand. Their street food is tasty and cheap, so you may be tempted to sample everything on display.
That could put you at risk because you don't know how long the food has been sitting in the open. Stick to these guidelines to ensure your health isn't at risk:
See your doctor before traveling if you have respiratory problems. Bangkok's air is polluted.
Don't accept food on display. Ask the vendors to cook a fresh dish for you.
Don't drink tap water. Also, avoid ice cubes made from tap water.
Wash your hands well before eating and after coming from tours.
Animals in rural Thailand may have rabies. Avoid contact with them, and get vaccinated.
Although malaria is not widespread in Thailand, wear mosquito repellent when traveling.
Buy medical insurance with evacuation coverage before traveling.
Transport Incidences
Taxis and tuk-tuks are generally safe, but some will always try to overcharge. In Phuket, the " taxi mafia " control taxi fares. They inflate fares on the island compared to the rest of Thailand.
When Grab (a local Uber version) started operating in Phuket, they were harassed and threatened for charging lower fares. If you take a taxi here, be aware that rival taxi drivers might harass you and the driver.
Beware of boat tours. In 2018, almost 40 foreigners died when the boat sank. These boats are overcrowded and lack enough life vests and fire extinguishers. This problem is common with cheap yachts and ferries.
Forget about renting motorbikes in a country known for terrible road safety. A 2019 New York Times report claimed that Thailand holds second place for the highest road deaths per capita and ranks first for motorcycle accidents.
Keep yourself safe in vehicles in these simple ways:
Organize your travel with your hotel. Their drivers will not rip you off.
If you enter a taxi, the meter should start reading at 35 Thai baht, not less. Don't let them overcharge you.
Ask for a female driver. They are safer than males.
Keep off motorcycles. Your insurance might not cover you in case of an accident.
Don't hand over your passport as security for renting a motorcycle. The motorcycle owner may charge you exorbitant money to give it back.
Scams
If you've never fallen victim to an ingenious scam, welcome to Thailand, a land famous for cleverly crafted scams. Most scams are harmless because no assault is involved. The only thing you'll lose is money if you fall for it. If it looks or sounds too good, it's probably a scam. Walk away.
Below are scams to watch out for:
Boat rental scams: Boat vendors rent out their boats, and when you return them, they point to an old crack, claiming you have damaged it and you should pay.
Tour scams: Several companies charge upfront for tours and then refuse to take you on tour or inflate the price later.
Gem scams: Retailers trick you into buying fake gems made of glass, claiming you can flip them at a higher price back home.
Internet romance scams: Thai singles search for foreign victims in dating apps and pretend to fall in love with them.
Financial scams: Be wary of groups posing as charities asking for donations or individuals befriending you and then asking for emergency funds when they've gained your trust.
Below is what to do to avoid falling victim to scams:
Book all your tours at a large tour business. Avoid the small tour businesses.
If scammers take you to a gem shop, leave before they trick you into buying.
Avoid deep friendships with people you've just met.
Be wary of online dating relationships that are moving too fast.
If you want to donate to a charity, confirm its authenticity first.
Border Security
Thailand has a few issues with its neighbors.
Myanmar Border
Along the Thai-Myanmar border, there are occasional clashes between Thai security forces, armed criminal groups, and drug traffickers. Outside of the major cities, police and military checkpoints are active, and travelers produce identification.
Enter Myanmar only through an official border checkpoint and after obtaining any necessary permissions and visas from Burmese/Thai authorities.
Cambodian Border
Cambodia and Thailand fight over the international border near the Preah Vihear temple. The two governments are working out the border dispute. You should exercise extra caution in border areas and adhere to local authorities' instructions.
There are unexploded landmines in the border area.
So, stay on marked paths, particularly near Ta Krabey. When traveling near the Cambodian border or at land crossings between the two countries, keep an eye on the local situation.
Laos Border
Not all border crossings into Laos are open to foreigners. You may need to obtain a Laos visa before crossing. Your Thailand pass will list applicable border checks. Chiang Rai, which borders Thailand and Myanmar, is not open.
Things to Consider
Thailand is a safe country as long as you take precautions. Here are additional tips to help you during your stay:
Don't overstay in the country on a visa. You will be confined for up to two weeks in a crowded place with no health or security measures.
You will be severely penalized if found using or trafficking illegal drugs. Penalties include heavy fines or death.
Shoplifting or possessing counterfeit or pirated goods will result in a lengthy detention, followed by deportation.
Watch your words. Making defamatory comments about the royal family will get you up to 15 years in prison. Even criticizing tourist spots can get you in trouble.
If you are a woman, don't wear provocative clothing. It may lead you into trouble with Thai males.
Have a map or a navigation app. You'll need them if you get lost.
If you ever need help in any situation, the US embassy in Thailand will assist you with the following:
Contact your relatives with your written permission.
Give you a list of the best local attorneys.
Replace a lost, stolen, or damaged passport.
Explain Thailand's criminal justice system.
Help you find accommodation and arrange for your flight home.
Help you find reliable medical care.
Frequently Asked Questions
Below are common questions about Thailand's safety.
Is Phuket, Thailand, safe?
Phuket is safe. It's the largest island in Thailand with plenty of beaches. Watch out for jetski scammers who charge tourists for damages they didn't inflict on their boats. A red flag at the beaches means "Don't swim."
Is Thailand a safe place to stay?
Thailand is a safe place to stay, provided you avoid problematic areas. Violent crime is not rampant, so you will mostly come across pickpockets and scammers trying to rip you off.
Is Thailand safe for solo female travelers?
Thailand is a safe place for solo female travelers. However, as with all other areas, women are more susceptible to harassment than men. Dress modestly to avoid harassment, and don't travel in deserted places alone.
What are the safest places to live in Thailand?
The safest places are Chiang Mai, Hua Hin, Krabi, Koh Samui, Chiang Rai, Kanchanaburi, Phang Nga, and Kuala Lumpur. Avoid southern Thailand because of political and religious conflicts.
What should I avoid in Thailand?
Criticizing the royal family will land you in jail for 15 years.
Overstaying your visa will get you confined for two weeks.
Drug possession will lead to heavy penalties or death.
Don't swim on the beach when there's a red flag.
So, Is Thailand Safe to Visit?
Thailand is safe for people who are cautious and look out for their surroundings. Petty theft, scams, and spiking people's drinks are the most common crimes. More serious crimes like violent robbery, rape, and murder happen but not at alarming rates.
Other safety issues include lack of beach safety, terrorism, demonstrations, food safety, and road unsafety, including numerous motorcycle accidents.
Stay away from crimes like drug trafficking or shoplifting, follow local authority's guidelines and the tips mentioned in this guideline, and your stay in Thailand will be free from unfortunate incidents. Happy travels!
When to Go:
Affiliate Disclaimer
As an Amazon Associate I earn from qualifying purchases. We are also a member of several other affiliate networks. If we link to any product, you should assume that we'll receive a commission when you buy it, at no extra cost to you. This is how we keep the lights on (i.e. pay for content, product research, guides, and more).
Source https://www.nomadasaurus.com/is-thailand-safe-to-travel/
Source https://www.internationalcitizens.com/living-abroad/safest-places/thailand.php
Source https://travellersworldwide.com/is-thailand-safe/