Lebanon Safety Guide – Are Beirut and Lebanon Safe?
Lebanon has been in the news a lot lately, and not always for the best reasons. Despite the current political and economic unrest, Lebanon is actually a relatively safe country to visit. Here are some things to keep in mind if you're considering a trip to Lebanon.
Table of Contents
Is Lebanon Safe?
I travelled to Lebanon in 2019 and found the country overall very safe. When we told our family we were having a 7 day stopover in Lebanon on the way from Europe to Dubai, at first they were against us going. They argued that travel to Lebanon was unsafe and that it was unwise for us to travel to Lebanon and Beirut.
Lebanon has known a lot of civil unrest. From Israel bombing the borders to Hezbollah setting up shop in the Bekaa valley. Lebanon is also one of the main ways to enter Syria over land over the ancient road to Damascus. In 1975 Lebanon was also the scene of a bloody civil war which ended in 1990 and has left over 120.000 people dead and a million people displaced.
So yes, we totally understand why our parents would rather not have us go to Lebanon.
But what about Lebanon today? Is it safe to travel to Lebanon? Is Beirut safe? My answer would be yes. Yes, if you stay in the safe areas. We travelled to Beirut, Jbail and Jeita Grotto . We also took a tour to Baalbek. We decided to go on a tour because Baalbek and the Bekaa Valley at that time were a no-travel zone.
So to answer the question 'Is Lebanon Safe' I have to say yes. At no point did my husband and I feel unsafe or threatened. In fact, we felt safer in Lebanon than we did in other countries we travelled to that are considered very safe.
When I say Lebanon is safe, it is obviously not as safe as a resort in Turkey or a beach in Spain. Lebanon is a very safe country for experienced travellers. If you have not travelled further than Europe or a few touristy beaches in Asia, I am not sure if travelling to Lebanon on your own is a good idea.
Another note to add to this Safety guide of Lebanon is that things change. When we visited Lebanon, Beirut was green, and the Bekaa Valley was coloured a solid red. This has now changed where the whole of Lebanon is orange while the borders are considered to be a no-go zone. Keep an eye on things and make plans accordingly. I will talk about what to do with red-zones later on in this guide.
Travel Advice for Lebanon
The travel advice for Lebanon will highly depend what travel advice you are following. The travel advice from the UK gouvernment for instance is not to travel to Lebanon. However, you could take this with a pinch of salt.
When we headed to Lebanon, Beirut was a solid green with quite a few red spots around the Beirut-Rafic Hariri International airport . In addition, the Bekaa Valley where you will find the gorgeous Baalbek ruins was coloured a dark red. Now the whole of Lebanon is coloured orange with dark red around the Syrian borders.
What does this mean? How should you read this?
Well, when we went to Lebanon we went to green zones, orange zones AND red zones. In Beirut we could just walk around like normal. People were very nice, and very happy to see tourists. We also headed to Jbail and Jeita Grotto which were considered to be orange zones. As long as you stay in the touristy bit and do not wander too far out of the city you should be totally fine, and the red zone? Well, we decided to take a tour to visit Baalbek to make sure we were safe.
The current travel advice by the UK gouvernment is set in place due to the economic instability of Lebanon. Lebanon is experiencing an economic crisis like many other countries. This means you might see more protests than normal. As long as you stay in areas such as Beirut, Jeita, Jbail, or go on tours you will be safe.
Lebanon Crime Rates – how bad is it?
When looking the crime rates in Lebanon we actually see that crime is not the reason why Lebanon is considered to be unsafe. Lebanon is just as safe as let's say, the USA, Peru, the UK or the Maldives.
When we were in Lebanon we did not get pickpocketed once. We had someone try to pull an Uber scam, but it was all very sedate and not threatening. Another reason why I would say that Lebanon is safe is because Lebanese people are incredibly nice and very proud about their heritage and their history. They literally want people to visit their country and experience how great it is. Most Lebanese people will welcome you with open arms and give you the clothes off their back. If you stay in busy parts of town there will always be locals looking out for you.
Country
Crime Rate Index
Safety Index
Lebanon
United States
United Kingdom
Peru
Morocco
Maldives
Safety in Beirut – is Beirut Safe?
I personally found Beirut to be very safe. We didn't really want to engage in Service taxis so we just went everywhere with Uber. We were always welcomed with open arms in local restaurants and tea houses and when we asked the locals for information, they would always be able to help us in English or French.
There are parts of Beirut that are not safe such as certain parts near the Airport. I honestly do not see why you would go there as a tourist though. The best places to stay in Beirut are in Hamra and near Mar Mikhael. Hamra is the tourist area (but it is nice, trust me) while Mar Mikhael is the up and coming yuppy area full of street art, beautiful buildings and markets. Mar Mikhael was, however, severely damaged in the 2020 explosion. I have no idea what it looks like today.
Recommendations to stay in Hamra
As I said before, Hamra is the tourist district. However, because tourism in Lebanon is pretty sedate, this just means there are lots of hotels around, restaurants where they speak good English, and of course some amazing bars. Our hotel is not operating anymore but here are some other ones we researched at the time. If you want to stay in Hamra, these are our recommendations:
Three O Nine Hotel . This hotel is right in the centre and looked absolutely amazing. It also has a very cool rooftop with a pool! Our friends stayed here on our recommendation and absolutely loved it. Click here to check prices.
Queens Suite Hotel. If you want to go somewhere with a bit of an old-romance vibe, you should have a look at the Queens Suite Hotel. It is decorated in a very grandiose style although I do love the rooms of Three O Nine better. This hotel is something to behold though. Click here to check prices.
Gefinor Rotana. My final recommendation in Hamra is Gefinor Rotana. This hotel is a bit more luxurious than the other two. It comes with a large rooftop pool, a fully equipped gym, and beautiful rooms looking out over the sea. It is not as expensive as it sounds, by the way! I promise! Check prices here.
Recommendations to stay in Mar Mikhael
Another safe area in Beirut is Mar Mikhael. Mar Mikhael is known as the party district with many of the city's best night clubs. It is also one of the more expensive districts to live in, and it is where the expats tend to live. Mar Mikahel is close to some of Beirut's best beaches. If you would like to stay in this vibrant area, you can check our recommendations here:
The Grand Meshmosh Hotel. This beautiful hotel is known to offer guests a taste of the real Lebanon. Not only does the hotel have a highly rated restaurant, the rooms are comfortable and clean. If you look at the pictures you can see why I would recommend this one! Click here to check prices.
O Monot Boutique Hotel Beirut. If you want to stay somewhere a bit more expensive you can also choose to stay at O Monot Boutique Hotel Beirut. This boutique hotel comes with a rooftop pool and a rooftop bar, and boats gorgeous, modern rooms, of which some look out over the city and the ocean. Click here for prices.
Arthaus Beirut. Last but not least, you can stay in this gorgeous Interior Designer's dream. I don't know where to start with Arthaus Beirut. The Arbian, Art Nouveau inspired interiors are just to die for. The rooms are decorated beautifully, and everything exudes Phoenician luxury! If you are into art and interior design, I would stay here at least one night! Check the prices here.
Is the Bekaa Valley Safe?
The Bekaa valley is probably one of the least safe areas in the country. It used to be a no-go zone when we visited. The Bekaa Valley is a Hezbollah stronghold and you will need to pass a lot of checkpoints before reaching the ancient ruins of Baalbek. However, do not let this stop you! Visiting Baalbek is a MUST when you are in Lebanon. I cannot express how beautiful it is and it genuinely is one of the most spectacular ruined cities I have ever seen.
To be safe, I would really recommend buying a tour to Baalbek. They are not the cheapest if you are on a budget, but trust me when I say that they are more than worth it. Our guide was literally someone who helped with the excavations! She knew so much and it was amazing to learn all about the large temples of the famous city of Heliopolis! If you want to read more on this, please head to my article on safely visiting Baalbek.
If you want to take a tour to Baalbek I would recommend the following ones:
Guided Small-Group Tour to Baalbek, Anjar and Ksara with Lunch and Tickets. This is the tour we took. We visited the ancient city of Anjar which we would have never found on our own, Baalbek, and had a wine tasting in Ksara. Like I said: We LOVED the experience. You can check availability here.
Private Anjar and Baalbek Tour from Beirut with Departure Ticket. If you don't need to go to Ksara you can also choose to buy a private tour of Anjar and Baalbek. Lunch is not included in this one. You can check available dates here.
Private Car to Baalbek and Ksara. If you just need transport to Baalbek and Anjar you can also get a private driver to the ruins. This is a great way to get to Baalbek since Uber doesn't drive there and it is a 2 hour drive. Entrance fees and lunch are not included, but this is a steal if you are travelling with 2 or more people. You can check availability via this link.
How can you stay safe in Lebanon?
If you still have some concerns about travelling to Lebanon, we have listed some tips on how to stay safe in Lebanon.
Get a Sim Card or make sure you have internet connection. I think having internet connection abroad is incredibly important these days. Internet allows you to reach out to friends and family, make more educated decisions, and it helps you find your way back if you are lost. It is also important to keep an eye on the local news so you know if there are protests, and what areas to avoid. You can even buy a sim card there to put into a travel router ( Check Amazon UK / Check Amazon US )
Invest in a good theft-proof backpack. Like I said earlier, we didn't really feel like we were in immanent danger. The only danger we really felt was the danger of being pickpocketed. I would really recommend investing in a good backpack, preferably one with special compartments where you can hide money or valuables. ( Check Amazon UK / Check Amazon US )
Keep the address of your hotel on a little card or paper. This is a trick I learned in China. When people speak a totally different language, it is not always easy fr them to understand you, or the other way around. Keep a little paper with the name of the hotel and the address in your wallet. If the script is different, ask for the hotel clerk to write down the hotel name and street in Nepali, Chinese, or Arab in this case.
Keep a note on your phone with handy phone numbers. Phone numbers of the police, a hospital that takes your insurance and your embassy or consulate are not a big luxury and can come in handy. Better safe than sorry! Put them in a note on your phone.
Is Lebanon safe?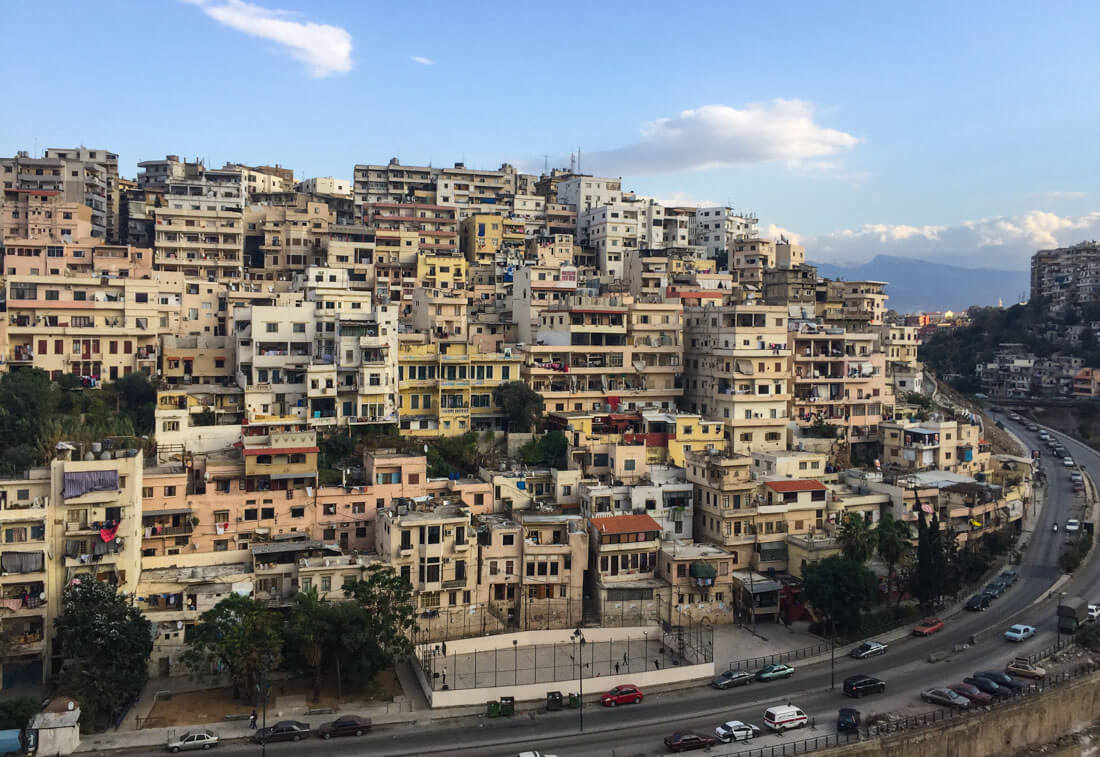 Update safety Lebanon
Lebanon is going through a political crisis
1) In October 2019, thousands of demonstrators took over the streets of Beirut. The situation hasn't really improved.
2) The problem with Iran is making things even tenser.
3) The massive bomb blast made things even worse
However, I got recent reports from travelers who say that everything seems normal, from a traveling point of view at least, and the only strange thing they notice is that the Lebanese Pound is fluctuating like crazy.
Today, many people are continuously asking me:
Is it safe to travel to Lebanon? Is Beirut safe?
That's because, unfortunately, many travelers believe that safety in both Beirut and Lebanon is an issue.
But guess what! Lebanon, including Beirut, is one of the safest countries in the Middle East. The only reasons why it's not considered as such are the media and inaccurate Government travel advice and warnings.
With one of the lowest crime rates in the world today, Lebanon can brag about having the lowest number of Islamic extremists in the Middle East.
This article aims to tell you the reasons why.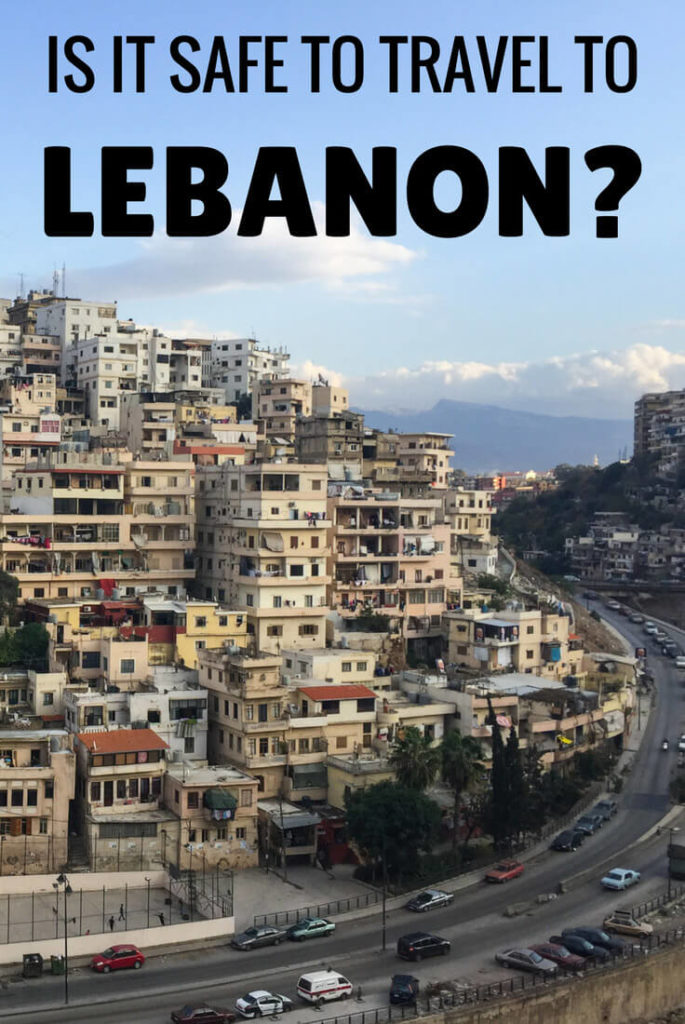 In this Lebanon safe guide you will find:
Remember to get travel insurance for Lebanon
I strongly recommend IATI Insurance as it has COVID-19 coverage + 5% discount
Get your 5% discount if purchasing via this link
6 Reasons why Beirut and Lebanon are safe
1 – Contrary to what people say, there is no war in Lebanon and Beirut
For some reason, people in the West tend to associate Lebanon with war. And I wonder: "Why?" Whereas it's true that the country did suffer 25 years of Civil War, this ended in 1991. It was more than 25 years ago!
Furthermore, the Lebanese-Israeli war took place in 2006, but it lasted for one month only. For the past 10 years, the country has been able to enjoy peace!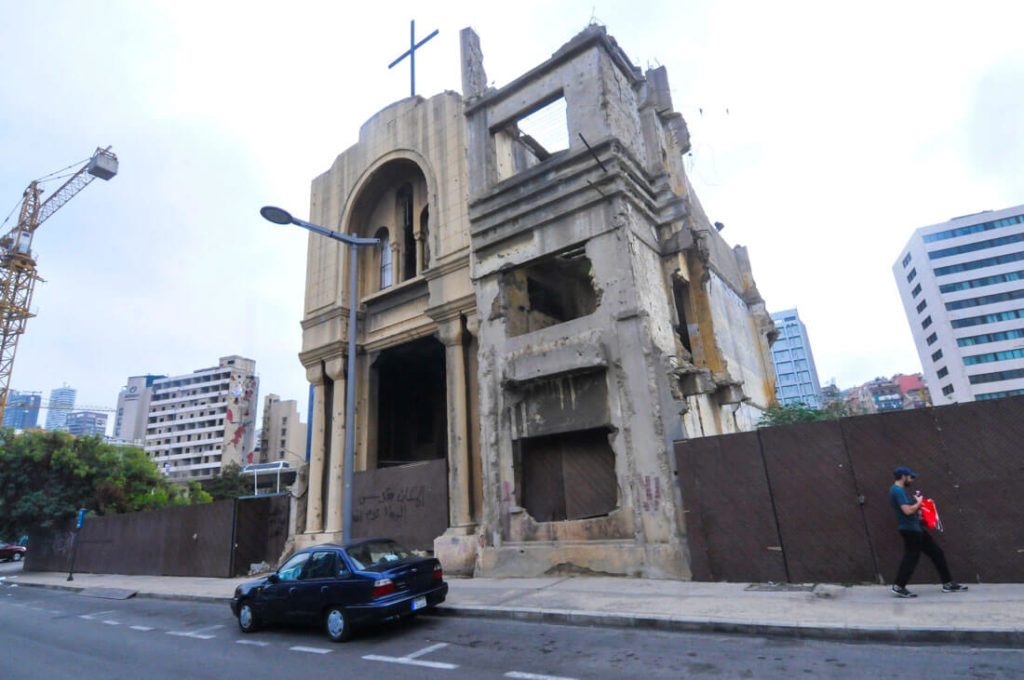 A church destroyed by the Civil War, 25 years ago – Lebanon travel warning
2 – In Lebanon, there's no place for extremism. Did you know that more than 40% of the population are Christians?
Lebanon is one of the most culturally diverse countries in the world and today, several different religious groups coexist peacefully.
Did you know that more than 40% of the population are Christians? No?
Did you know that Sunni Muslims (the branch of Islam that ISIS draws its followers from) only make up 25% of the population?
In this country, there's no place for extremism. Have you ever heard of any Lebanese who has radicalized and joined ISIS? Normally, they come from Syria, Saudi Arabia, Jordan or even Turkey.
Lebanon is so culturally cluttered, that the chances of a person radicalizing are low.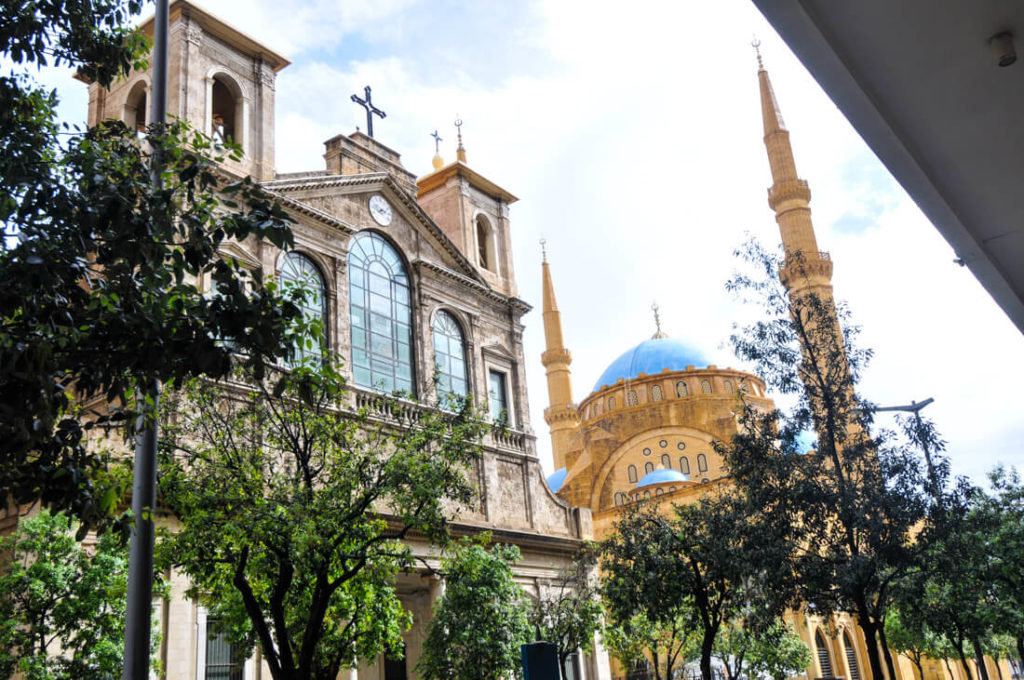 A mosque and a church built side by side – Is Beirut safe?
3 – This is the most liberal country in the Middle East
On the other hand, although religion plays an important role in the life of most families, from a religious point of view, Lebanon is the most liberal country in the entire Middle East.
It has the largest number of atheists (especially among young people), beer is available everywhere and drinking alcohol in the street is allowed (and quite common). Surprised?
For the first time in history, Saudi Arabia they started issuing tourist visas. Read: Tips + How to travel to Saudi Arabia
4 – It shares a border with Syria. OK, so what?
Lebanon shares border with Syria. Yes, so what? They are two different countries. The border between them is highly guarded and controlled. The chances of the Syrian conflict moving into Lebanon are non-existent.
5 – The investment in military security is huge
We can't forget that Lebanon is located in a highly turbulent region. The military presence aims to prevent any sort of potential conflict.
Soldiers and checkpoints are found in absolutely every corner of the country, especially in Beirut. The Lebanese people love the army.
They are accepted in society because it makes them feel safer.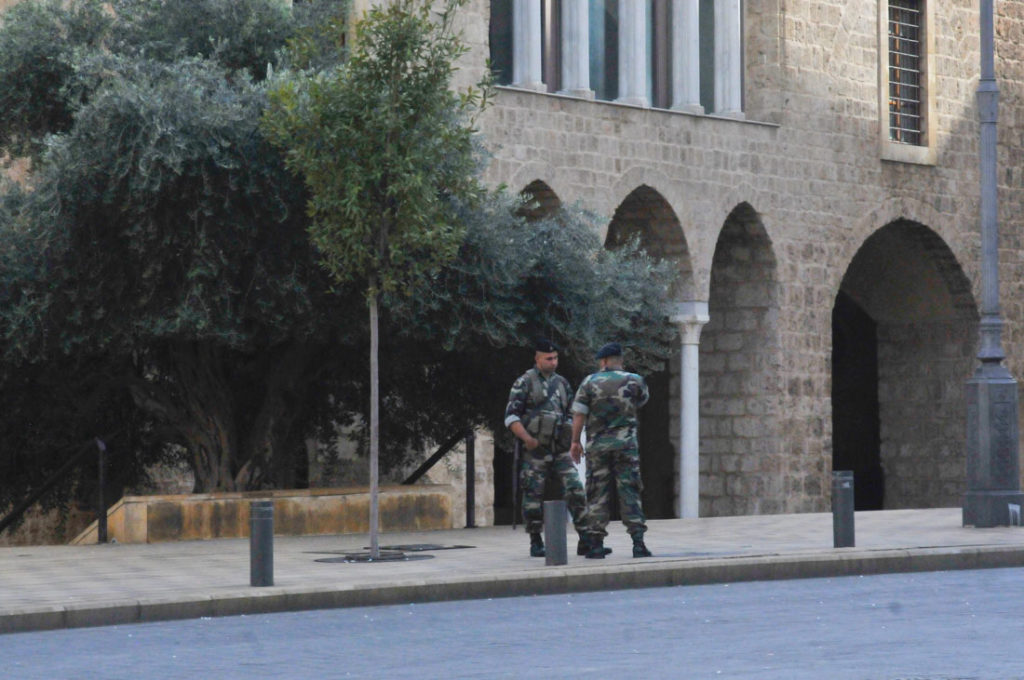 Soldiers in Beirut – Is Beirut safe to visit?
6 – Crime rate and kidnappings are non-existent
As in most of the Arab countries, the crime rate is practically zero. No robberies, no violence. In Lebanon, you can walk around without a worry anywhere at any time, even women.
NO-GO zones when traveling to Lebanon
I just told you the reasons why Lebanon and Beirut are safe places to travel to.
Does it mean that you could wander freely across the whole country? No, absolutely not.
Whereas it's true that 95% of the country is safe, the remaining 5% might not be. Why?
Because the few radicals who live in the country are found in those areas. These areas are dangerous, not only for the simple fact that you may meet some extremists, but, since the area is so close to Syria, it also suffers from spillover from the Syrian conflict.
Where are these no-go zones?
Basically, the north-eastern portion highlighted in red. Don't even get close to this area. The rest of the country is safe. Please note that the below map is an approximation.
Update 2018: The army managed to kick out many of the ISIS troops. The security in this tiny part of Lebanon has also improved.
Safety in Lebanon & Beirut: Visiting the sensitive areas of Hezbollah
Remember to get travel insurance for Lebanon
I strongly recommend IATI Insurance as it has COVID-19 coverage + 5% discount
Get your 5% discount if purchasing via this link
There are a bunch of areas which, even though they are not classified as dangerous, are considered sensitive. Why? Because they are controlled by Hezbollah.
What does "sensitive area" mean?
Hezbollah areas have always been the target of terrorist groups, such as the Islamic State.
In fact, the last suicide bombings that occurred in Lebanon (don't worry, there is one attack per year) happened in Hezbollah areas. They are partially restricted and no journalism of any sort is allowed.
To understand it better I recommend you read: The day I was accused of being an Islamic State spy in Lebanon
Which Hezbollah areas are sensitive?
Shia Muslim neighborhoods of Beirut, for example, Bourj el-Barajneh
Some refugee camps, for example, Ain al-Hilweh in Saida
Hezbollah territories located in the south of Lebanon, close to the border with Israel
Things to keep in mind when visiting a Hezbollah area
Don't even think of taking pictures or let anyone see you with a camera
Some locals may be hostile and you might be kicked out for no reason. If you have the chance to go with a Lebanese, then do it
Foreigners will always be treated as suspicious. You'll pass through several checkpoints where you'll be checked and interrogated over and over
In these areas, there are no tourists. Many of the residents can't understand why someone would to come to their area for tourism purposes.
Repeatedly, you'll be asked by the locals: "What are you doing here"?
Simply, answer: "Nothing, I am just a tourist and I am walking all around the city".
Today, Hezbollah areas are relatively safe. I say relatively because there's one suicide bombing per year, approximately. To be safer, stay away from crowds.
Before heading to any of those areas, check the current situation with a local Lebanese. The areas close to the Israeli border require a special permit. To get it, go to any police station in either Saida or Beirut. You will get it instantly.
Keep in mind that this permit gives you access to the area, but it doesn't allow you to take pictures or do anything silly.
For more information, read visiting Bourj al Brajneh
Important to mention: These areas have no appeal for tourists. The only reason why you would want to go there is that you are tremendously curious and need to know what the hell is going on in there. I visited everything. In the border with Israel, I was detained by the authorities. In the Shia neighborhood of Bourj el-Barajneh, some locals kicked me out, pacifically, but for no reason. However, I didn't experience any issues when I visited the Palestinian refugee camp of Shatila. If you are as freaky and curious as I am, the experience is definitely worth it.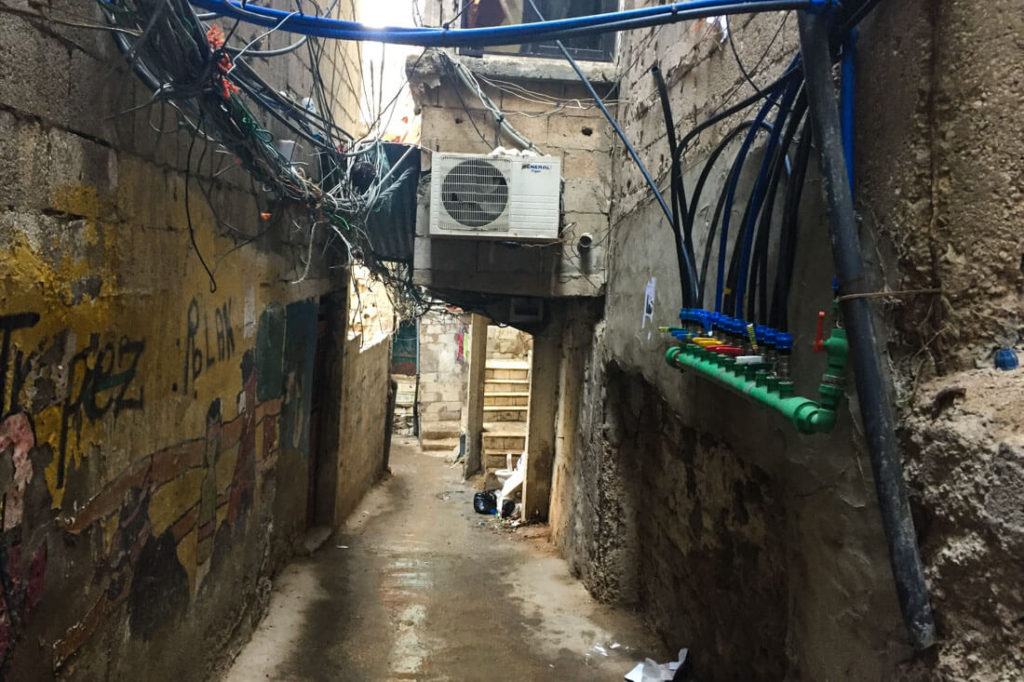 Bourj el-Barajneh (Hezbollah area) – Travel in Lebanon
The isolated case of Tripoli
The UK travel advice to Lebanon says that Tripoli is not safe.
Tripoli is a city located in the north of Lebanon and the second most important one. Why do governments consider it dangerous?
Since the Civil War, there have been one-off clashes between Sunni and Alawi Muslims who reside in the neighborhoods of Bab al-Tabbaneh and Jabal Mohsen, respectively. Throughout the years, these clashes have killed several people.
This is a one-off conflict happening in a specific area, far away from the city center. It's a fight between two small districts and doesn't go beyond them.
The rest of the city is totally cool and safe. I spent four days in Tripoli, and to be honest, it was one of the highlights of my trip.
I also have to admit that, since I'm an extremely curious human being, I also went to Jabal Mohsen.
And what can I say?
Life there was merely normal. Again, clashes and bombings happen once a year, not more.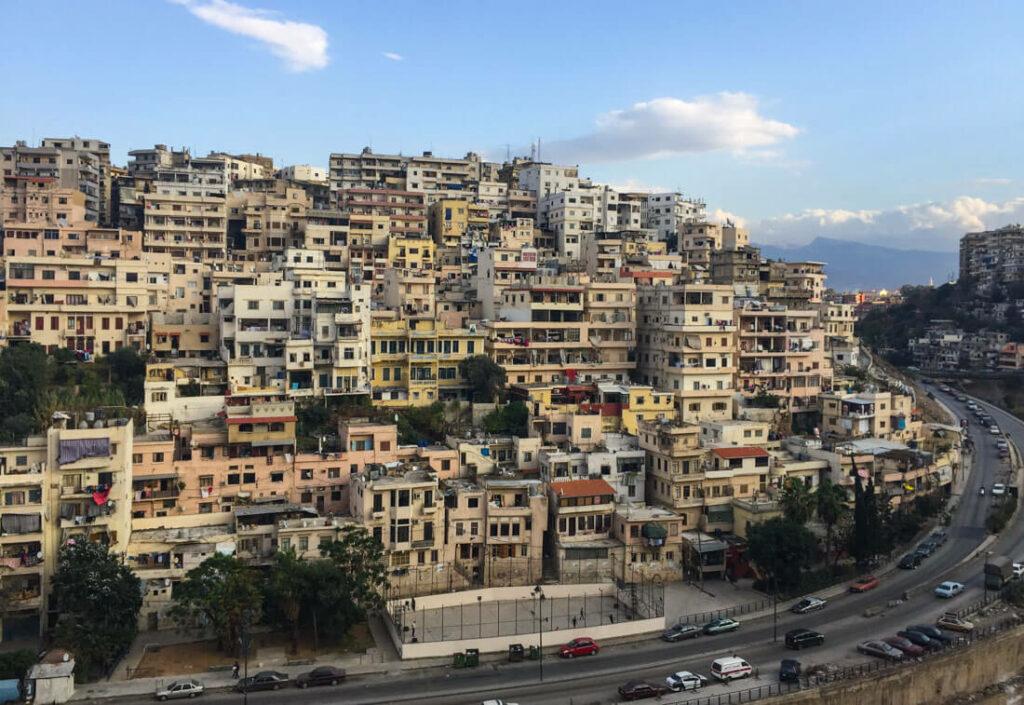 Jebel Mohsen, a neighborhood in Tripoli which, according to FCO, is one of the most dangerous areas in Lebanon. However, I went there and it was just fine – Lebanon travel
Is Lebanon safe for solo female travelers?
I just am portraying Lebanon as a great, safe country to travel to but, what about solo female travelers?
I am fully aware that a man's experience is going to be very different from a woman's, especially in Muslim countries, where men tend to be more conservative.
However, many female travelers claim that Lebanon is a relatively easy country to travel to, much easier than any other Middle Eastern destination, as it is a country where both liberal and conservative people coexist peacefully.
For a more detailed analysis, read:
Extra: Beirut and Lebanon safety tips
Consider going on a tour
I always encourage people to travel independently but I can also understand why some travelers may prefer to travel on a tour, especially in a place like Lebanon.
I recommend you book them via GetYourGuide, as they always work with a wide range of local guides and tour operators, and you can book your tour with just one click.
So far, these are the tours they offering for traveling in Lebanon:
Beirut city tour – Explore one of the most fascinating cities in the Middle East. CLICK HERE TO LEARN MORE
Jeita, Harissa and Byblos – Trip to one of the most stunning caves in the world and historical cities. CLICK HERE TO LEARN MORE
Wine tour – Lebanon is well-known for its wine and, in this tour, you will visit 3 different wineries from Beqaa Valley. CLICK HERE TO LEARN MORE
Baalbek – Some of the most outstanding Roman ruins outside of Rome. CLICK HERE TO LEARN MORE
Stay safe by planning your trip ahead – Best books for traveling to Lebanon
The best way to travel to Lebanon safely is to plan your trip properly. For this, I recommend the following books:
Lebanon Travel Guide by Bradt – This is the most updated book guide about Lebanon. Bradt is my favorite brand because they always provide plenty of local insights and travel tips for independent travelers.
The Middle East Lonely Planet Guide – It has only one chapter about Lebanon but the information is updated, so it might prove useful.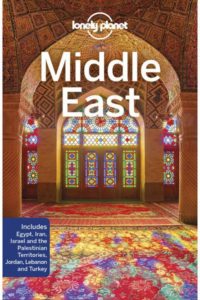 Use Couchsurfing
In Beirut, Couchsurfing is a big deal and there are plenty of events every week. I suggest you look up for these weekly events and get to know some Lebanese people. Actually, there is a group of local attendants who are organizing trips for foreigners almost every week.
Do you use a VPN when you travel? Remember that, in this type of countries, some websites might be blocked and your online activity might be monitored by the Government. Therefore, in order to navigate safely, you should use a VPN. Read my tutorial: How to find (and why use) the best VPN for traveling
A reminder
As I mentioned previously, don't go to the northeast of the country and watch out when you are in Hezbollah areas.
And remember to check my other all my other guides about Lebanon:
For more content to the region, don't forget to check all my travel guides to the Middle East, plus:
And don't forget to check my Syria travel guide!
Conclusion: so, is Lebanon safe to visit?
Is Lebanon safe? The answer is yes, but you need to keep in mind that this country has gone through several conflicts and is located in the heart of the most turbulent region in the world.
Travel safe and cautious. If you have any question, leave a comment below. I'll be happy to answer. Cheers.
More information for traveling safely in Lebanon
All our guides to Lebanon
Check more safety guides
Joan Torres
From Eritrea to Sudan, Syria, and Pakistan, Joan Torres has been traveling to some of the most off the beaten track destinations on Earth since 2014. He is also the author of Against the Compass, an alternative travel blog, quite different from the rest, which aims at HELPING and INSPIRING you to do the same, always in a responsible way, with no rush, showing you the human side of the story and, above all, in a safe manner.
Category: Lebanon, Middle East, Safety Travel
• September 10, 2020
You may also enjoy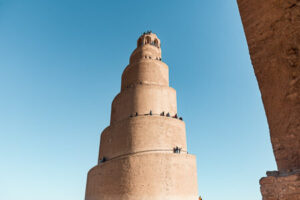 A guide to traveling in Iraq in 2022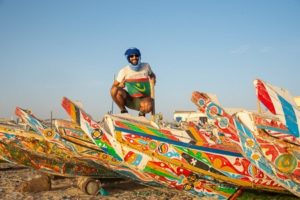 Tips and how to travel to Mauritania in 2022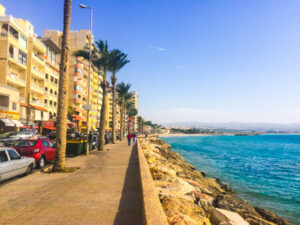 Lebanon travel guide: a 2-week itinerary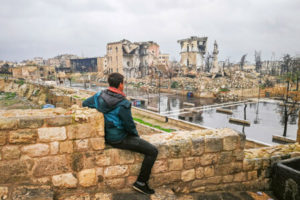 How to travel to Syria in 2022: Need to know
209 comments
Lebanon sounds like a beautiful country. While I was volunteering in Calais, we sometimes managed to send containers or food and clothing to the refugee camps there, so I can't really get away from the association in my head. I don't think I would be scared to travel there, but it must feel quite mad to have the chaos and suffering of Syria so close.
Hi Katie, thanks for your comment. That's great that you were volunteering in Calais and helping the refugees. I also did some volunteering in a Syrian refugee camp in Iraq. It was a beautiful experience! Which camps in Lebanon did you send containers? I know a couple of them. I understand that you can't take it out of your head, but a refugee camp in Lebanon isn't different than the ones in France. Lebanon is just giving refugee to all the Syrians who are escaping from the war.
I'm born and lived in Sweden my whole life, though I've been traveling to Lebanon every second year since I've been a child. I'd like to add that I'm a shia muslim and the hezbollah areas you're refeering to is not as what's described, although I fully agree with everything you've stated very well!
It might be because maybe you're not a lebanese descendant and you're seen as a kind of threat or sucpicious. I've been to every single part of lebanon except some sunni places cause we are not the best of friends. I can agree with you that questions will be asked when traveling to hezbollah areas but that's because we've been targeted by israeli zionists and isis, (something you might already know). Though I would never say it's not safe in any of the hezbollah areas, especially if you know someone there. My friend is Swedish, blond and doesn't look anything like a lebanese, he traveled with me and I took him on many lebanese tours, the shia hezbollah areas was where he felt most welcome and at home, but maybe that's because he was with me… Anyhow great article!
I have never thought of visiting lebonon but im sure its a very interesting place. Its good to know that crime rate is zero
Hi Jenni, unlike what people think, the crime rate is zero in not only Lebanon but, across all the Middle East. I don't know what is the reason behind it. I think it's just a cultural a thing. Seriously, Lebanon is this sort of country where if you forget a $100 bill on the table of a café, you'll find it there when you come back.
I like what am hearing because I've being wondering how safe my wife is ,as Ghanaian. But from all that I've read , I feel she is save. thanks
I too was wondering as a black man how safe it would be for me to travel to Lebanon
The Lebanese were pretty racist but since the rich have been employing Ethiopian servants they have slowly become more tolerant, and in 2018 I noticed an Ethiopian cafe had opened near Bourj Hamoud (the Armenian area). If you speak Arabic and tell them off for staring they'll be mortified. Also Lebanon receives Somalian visitors from the Gulf, I met a lovely couple while in my hostel, she was Lebanese and he Somalian. Both spoke brilliant English too.
Believe me you are missing a lot!
Now I want to go to the RED ZONE! I just like to live life dangerous. Seriously, great write up and I hope to get out here soon
hahaha… You are crazy man. There have been a lot of reports of kidnapping in that area plus it's a war zone and there's continuously fight. I think that even if you wanted to go, you wouldn't be able to pass beyond the check-points.
Hey guys.. im from lebanon. Lebanon is the most safe country you could ever see.. and the most beautifull ..
Me too I am from lebanon it is so safe but I don't think tripoli is that dangerous but never leave money on a table because of course it will be gone depending on wich place did you put it
Hi there! I'm traveling to Beirut for work soon. Our legal team has recommended we dress very subdued with long pants and covered arms. Is this really necessary??
Not Beirut, like not at all
Tripoli looks amazing. I was surprised to read that the crime and kidnapping rate are non-existent though I guess once you think about it, makes sense. We Americans are just programed to be afraid of those areas.
I think the problem is in America and in the rest of the world. I'm from Spain and here everybody is also really scared about this part of the world. Our media only shows things related to ISIS, war and suicide bombers. But once you are on the ground, things are really extremely different
Glad to see people like you who have an open mind! I live in Canada but have a Lebanese background and visit all the time which stops me from viewing my beautiful country as a foreigner would. I hope you consider to visit us one day! We are very welcoming:)
This is so interesting because whenever you search about Middle east countries negative feedbacks would promptly be the result.
Thank you for sharing! safe travels to you!
Except for Syria, Yemen and some parts of Iraq, the Middle East is a super-safe!
Hehe. The Middle East is not a country! It's a region!
Yeah, and who said that?
Happy to hear that Lebanon is still safe to travel to. I've never been to the Middle East yet and want to go badly, so this just may be an amazing idea. Thanks for the inspiration!
Hi Anto, glad it inspired you and hope you make your way to Lebanon. If you need anything, let me know!
Lebanon as a country is safe but the issues in Lebanon are its people ..
Unfortunately they have destroyed it
The issue is our government, not the people. Fortunately for the past 2 days, our people have finally decided to protest against our corrupted government.
I want to travel to Lebanon by next week, is it safe to visit Beirut Lebanon with the current protest going on now
I kindly would like to disagree with you as I believe that its people are what make the beautiful country as amazing as it is. Everyone is like family! Sure there may be a couple bad people… but they are everywhere around the world. Cheers!
I totally appreciate your insights and take on Lebanon. While you felt safe, it might be different for a woman, especially one traveling solo. It would be cool if there were a map of the Hezbollah areas so we'd know what to avoid.
Hi Debra, I don't think there's any problem for a solo woman traveler. The country is pretty liberal and unlike in other Middle Eastern countries, people wouldn't be starring at you just for being a woman. As I said, 50% of the population are Christian, so they are pretty used to uncovered and more liberal woman. Even outside of the capital, you get to see women wearing western (and slightly provocative) clothes.
hello Bebra, i am jhonney and i live near hezbolla areas, and i have friends there, its totally safe and you are welcome, you just need to show them that you are just a traveler.. please dont believe the media.. good luck
Im lebanese and i can 100% assure u even in Hezbollah territory women's are safe every lebanese is raised to respect women if u ever have the chance to visit u will be amazed how free women are in here and there is no dressing code u can wear what ever u like and from Beirut to Jbeil parties never ends
I always wanted to visit Lebanon, I found their cuisine so delicious, but I was worried about safety. Thanks for letting us know that is safe to travel. Obviously one has to be careful everywhere he travels.
Food is definitely one of the highlights of traveling in Lebanon! Yes, it's safe but you need to watch out
It's sad that we're in a time when "one bombing per year" is considered "safe" but that being said I would definitely go to Lebanon. I love visiting places that basically don't have anything to see but give a very distinct insight into local life.
Hi Lydia. Thanks for your message. Yes, it's weird to say that "one bombing per year" is considered safe but seriously, there's nothing happening beyond than that. How many bombs and gunshots have occurred in the USA in the last couple of years? Not one per year, but many. And still, the USA is considered a safe country. Yes, you are right, Lebanon is not a place for sightseeing, but a country to enjoy the local life.
Not a place for sightseeing? I went for the first time and was blown away with the amazing sights to see. From the cedars of god, the city of Byblos (Jbail), Medieval and biblical age castles, Roman ruins throughout the entire country, to one of the biggest, oldest and the most amazing underground caves known to man called the Jetta grotto… this is one of the most beautiful sight seeing countries on the planet. The list goes on and on for things to do and see in Lebanon. That doesn't even include historical sights in Beirut. It's
one of the oldest and most important port cities in the history of civilization. Tons to do and see.
I am so glad you got to live the full experience and see our country's beauty!
Hmmm I have never considered going to this place but its good to know that parts of it is still safe. I'd probably visit other countries first
Hi Joan
Thanks a lot for your lovely report about Lebanon.Very inspiring! I´m planning to go there on September and so, I´m trying to get as much info as I can, maily regarding the security topic. I would like to hear your opinion about 2 points: 1. I´ve heard that Baalbek is a Hezbollah area. So, is Baalbek included in your sensitive areas? 2. What do you think about reting a car there? Any issue with that? How about the road conditions?
Thanks in advance for your help.
Tereza
Hi Tereza, apologies. I don't know your comment went to my spam folder. Anyhow, thanks for your comment. Good that you're planning a trip to Lebanon
1 – Yes, Baalbek is a Hezbollah area but is not as sensitive at the southern part of the country, meaning that you don't need a permit and you can go there freely. No need to be alarmed
2 – If you can afford it, renting a car can be great. Petrol is as expensive as Europe though as they don't have black gold resources. The roads are good. I would just worry about how the people drive, as they are pretty crazy. Have you ever driven in the Middle East, India or any country like that?
Thank you so much for letting people know how beautiful and safe Lebanon is. My husband is Lebanese and we will be visiting this summer. It will be my third time there and cannot wait. They used to call it the Paris of the Middle East and that it truly is. Thank you again for clarification as many do not know and are uncertain of their safety and the beauty that there is.
Hi Amy, Yeah, Lebanon, or Beirut in this case, used to be called the Paris in the ME and what people don't know, is that this capital is a Westernized city where people in the West can have the same fun they have back home. The mix of cultures is fascinating and I'm really jealous that you have the chance to go there so often! Thanks for your comment!
I was enlightening by ur article and the first of its kind i have found.
My husband wants me and my 2 year old daughter to travel with him to jabal mohsen next week as his father is unwell.
I am quiet worried after reading what i can find and dont know of we should go.
I know my husband wouldnt put me in danger but i also feel like he wants his father to meet our daughter and will do this at any cost.
I have no idea of what it will be like as my husband doesnt talk to me about it and keeps telling me i will see when we are there and i will enjoy it.
Do you know anything about my rights while im there and my rights for my daughter?
Hi, Holly, Glad that you're going to Lebanon!
all I can say about Jebel Mohsen is what I said in my article. There's been some tension going on but, it was an occasional fight and now it's been quite for such a long time. Furthermore, it was not a conflict related to terrorism but a religious conflict between a different kind of Muslims themselves.
As per your question, in Lebanon, 50% of the population is Christian. This means that the Muslims are already quite used to treat and deal with more liberal women. In Lebanon, you don't need to worry about anything.
Have a nice trip
Hi…..just a quick warning. I travelled to Lebanon with my daughter when I was 24. I have been stuck here for 8 years. This is under Marronite law…… Very similar to Sonny law. No rights for woman. I've paid lawyers…. 100, 000 dollars…. Still here… Tried to go through Syria…. Hezbollah scared us and made us go back……. I even lived all around the country. In tyre…. Close to isreal…. Still no way out. British govenment have done nothing….. We r british citizens…. My daughter was born in the u. K. I can't extend my worry for u. Please don't go….. It sounds suspicious…… I've been poisoned recently 5 times… My daughters almost 8…. She won't eat because of this….. There are no human rights…. A holiday here ok….. Don't Bring your child here. Please.
@Millie, stop spreading out bullshit
I'm very sorry to read this, but its all lie. I went my self with my family and feel like we are at home., for a good to week, people are very friendly welcoming.
Honey what ur saying is not true and if ur being held against ur will u can put a phone number in here and i can get u out of the country in a minute western embassies are bery powerful in lebanon and for any western people who visit Lebanon if u ever been arrested u can stay quite and ask for ur embassy if u didnt kill someone u will be out in no time and u will get an apology something the local dont get and that's from experience as an ex policeman for 8 years
Awesome article man.I'm really happy that you had the experience to visit and share the most beautiful areas in Lebanon.Everything you've said is 100% true.I really recommend everyone to visit lebanon.One of the most beautiful and safest countries in the middle east.We haven't got any terrorist attack since 2015.
Thanks again joan.
Proud to be Lebanese
Hello, Moe! I'm very happy to hear this nice feedback from a Lebanese. I've to Lebanon twice and spent 1 month in the country, so I got quite a lot of nice local insights! Yeah, Lebanon is 100% safe and I also recommend and promote it very much! Cheers mate!
My husband has lived in Lebanon his entire life except the last 2.5 years and he's actually back there right now (I've never been) and after reading the comments, I asked my husband if its true that there is zero crime (no stealing, rape etc) and it's as safe as what I'm actually reading about in these comments and he just laughed at me and replied "what do you think the jails here are full of criminals for? They didn't just end up in jail for scratching their arses"? It's like any other country in the world…Food for thought..
haha, Hi Shay, your husband comment is hilarious. Yeah, Lebanon is such a misunderstood place and is a country like any… just because it has a neighbor immersed in war, doesn't mean that it's dangerous!
Very well written. I have lived in Lebanon for about 7 months and I agree with pretty much everything written in the article. I would add that – to stay safe – one should never get into an argument with another driver over who had a right of way. Driving in Lebanon can be a bit of an adrenaline sport, and whilst most people are just fine (though on the road it's "everyone against everyone"), one can occasionally encounter a real lunatic (the higher concentration of which seems to be among the shabby bus drivers).
Thanks for your words Yeah, I agree, lol. Some of these bus drivers are real lunatic! But probably, I would also be a lunatic if I was continuously driving on those roads!
Thanks for the info! My partner and I are about to start our 1 weeks trip to Lebanon. We have rented a car and plan to travel by ourselves (my partner is used to driving in the Middle East). But I was wondering if it is a good idea to travel alone to Baalbek or would it be safer to go with a tour/driver? Any advice on how to visit Baalbek is welcomed!
Hi! If your partner is used to the crazy Middle Easter driving, then you will be more than fine! Baalbek is safe place, don't worry about that. Cheers
My family and I just went there in June and Baalbek was safe and worth the drive. My daughter vlogged our trip to Lebanon and you are welcome to check it out and hope that it makes you feel more comfortable. Here is one link https://www.youtube.com/watch?v=XrScyBfSkao we were there for 3 weeks and she has a vlog for each one. Enjoy!!
I'm Lebanese and man, those sensitive places you went to, I have never been there despite my almost 20 years in Lebanon. Lol you really must be curious. Also I recommend anyone who visits Lebanon to visit the Mount Lebanon governorate mostly. It has Beirut, the most mountains and ski resorts, most grottos, most monasteries, most beaches and nightlife spots, and ruins and ancient cities like Byblos. It's typically the mostly Christian area especially between the Jbeil-Keserwan districts.
Hey! Thanks for the tips. I visited some of these places you mention and yes, they are awesome! All the best Nizar
Hi Joantow, My 22 year old granddaughter and have plans to vist Beruit in December for 10 days. We have already booked our flights and reserved out Hotel in the Harma district of Beruit. We also plan to visit the village of my parents birth in the Bekaa Valley. The village is on the border and Syria is visible from there. Did you travel to the Bekaa Valley. Is it a dangerous or waht you call a sensitive area? My Lebanese cousin who lives in Beruit is going to drive us there. Will we be stopped an questioned at checkpoints along the way? Has the recent resignation of Harri, the Lebanese prime minister, made Lebanon less safe?
Hello George, the entire country is completely safe, except for the tiny dot which I am mentioning above and anyways, a few months ago, the small ISIS spillover from Syria was finally expelled by the Lebanese authorities, so I would say that now it's even. safer. You don't have to worry about anything, especially if you go to touristic places such as Baalbek. As per the prime minister issue, no one knows what will happen, not even the Lebanese themselves, but there are no signs that the country became less safe according to my local friends. Cheers and enjoy Lebanon
Actually, the resignation made the Lebanese unite and the authorities become more awake, which means it's like the safest time now.
Then it's awesome
Ur a lebanese so there is no worry ur visiting ur country its ur place ur land and ur heritage and if ur with a lebanese living in here u jabe nothing to worry about and bekaa people as 90% of the lebanese are very generous and wants everyone to see lebanon in the best picture possible
Specifically, Aita Al Foukar is safe?
And please post any interesting updates as you learn them- pertaining to politics and Lebanon's continued stability and safety- my concern is that you mentioned there is 1 suicide bombong per year- I do t think that's happened yet this year- I hope it doesn't, but I sure hope it doesn't when my father and daughter are there-very worried mom!!
Hi, Yes I always try to update this post with the latest updates. I don't know what's Aita al Foukar, sorry. And as per the suicide bombing, 1 per year it's just an average. What I meant is that in the past 6 or 7 years there's been maybe 5 o 6 suicide bombings. That should not concern you at all. The likelihood of being caught by a bomb is soooo low. It's more likely that you get overrun by a car this morning in your hometown.
Just to make things clear, those suicide bombings ended in 2016. They always attacked the southern suburbs of Beirut, which are considered the Hezbollah headquarters. That happened when ISIS was still in the red spot, but since the border is safe now, the whole country is safe, no need to worry.
I have been living in Beirut for the past year, and feel very safe here. Yes, there are areas in Lebanon (and even Beirut) that should be avoided, depending on one's comfort and, to a degree, origin. I would not sway anyone from visiting Lebanon, but suggest that you visit your country's Embassy or Foreign Ministry website for the latest travel info (btw. the U.S. Department of State info on Lebanon is typically exaggerated, given historical context, and should be taken with a grain of salt). The Lebanese seem to be quite weary of fighting, and even if the Hariri resignation leads to the worst (which I doubt it will), another civil war (meaning internal war) is unlikely. This being said, one can never rule out an incident of some sorts, and it would be a lie to say that Lebanon is as safe as, for instance, Switzerland. The statistics show far more bombings than one-per-year, and many messed up people levitated here for decades. It would be naive to think they just disappeared or grew up.
I agree, it's mostly because of the number of refugees we have, especially from the Syrian war. Those are about 2 million above the 4 million population of Lebanon.
Excellent comment to the Thread John! In my humble opinion, most probably the best!
Hello there,
I'm planning to travel with the ship from Northern Cyprus via Turkey to Tripoli in summer. It's good to hear some positive opinions about this place, since our German goverment keeps warning about it in a dramatic tone. I can't imagine that the situation is too dangerous for a one- or two nights stay before heading to Beirut.
Nice blog, keep up the good work
Hi Lukas! Awesome, I didn't know the ship from Cyprus to Lebanon was working… May I ask you how much are you paying and if it leaves every day? Is it a ferry or a cargo ship? Regards,
Totally agree. This shouldn't even be a question or doubt. But I understand if people are slightly anxious before the visit because I know I was. I was very scared of Pakistan despite it being just so near to where I live (Delhi). But it is only after I travelled with my family there that I lost the fear. Travelling does that to you and you should never be afraid of new places. A point of thought, though – always go with someone you know to new places that are known to be calamitous. Thanks.
Hi Richard! Yeah, totally agree! Once you step into the country's soil, you see that it's just a normal place! Newspapers only show us the tiny bad part of it! Cheers mate!
Wow a great read, interesting and has really put my mind at ease before I head out to do some volunteer work with orphaned refugee kids.
Thanks keep exploring x
That's absolutely great and would like to hear about your experience when you come back Good luck!
Thanks for such great insights and informative blog post!
I don't mean to rain on anyone's parade, but do not throw caution to the wind. Lebanon is a fabulous country. I've been 2x in the last 10 yrs.. The 1st X I was there I was kidnapped by Syrians. They eventually let me go; it was not a pleasant experience. The 2nd X i was there, it was without incident. If the political climate with Israel on one end and Syria on the other end were more stable, I'd love to live in that country because the people are AMAZING! Nevertheless, Lebanon is not in Europe. It is in one of the most precarious spots for any country; especially a country that is riddled with intellectuals, gorgeous people, well-dressed, polite, ingratiating, and outgoing. Lebanon is my most favorite country in the world. Why? The people make that city AWESOME! Even though I would love to be there, today, I'm too afraid…frighten to venture back there with ISIS on one end and the Jews on the other end and Hezbollah and its recklessness with Iran at epic-center. It's a ticking time bomb. If it is not imperative for you to be there; do not go until Syria, Israel, Iran, and Hezbollah are stabilized.
Hi there, what do you mean by you were kidnapped by Syrians? Syrian is such a broad term. Which kind of Syrians, for what purpose and which year?
It was horrible. It was in the past. I was let go by God's grace. It is finished!
Hello, I live in Lebanon, and there is no danger right now. ISIS is completely dead in Syria and Iraq, and the whole Lebanese-Syrian border is protected by the Lebanese and Syrian army respectively. As for Israel, nobody wants any escalation from either side, and plus Israel is currently building a wall along the border. Hezbollah on the other hand has no members of its military branch on Lebanese territory except in Hermel, which is on the border with Syria and is has nothing for a tourist to see. Even with that it is still considered safe. I say if you've been to Lebanon in the past 10 years then now is definitely the best time of all to be here. Just beware of "Syrians" lol.. Kidnapping did use to happen a lot in Beqaa, but now again it's safer than ever.
My daughter and dad were just there in December and had a great time and felt completely safe and secure.
FANTASTIC! Thanks for your input Vicki. Cool.
Nazir, that's GREAT news!
Thank you for taking time to respond.
You'd better extend me your Email address so that I can make sure I AirBnB with you and you make certain I'm safe for 3 – 5 weeks while working and enJOY Bayreuth, Lebanon and other cities too. I've been to countless places around the world and the people (their energy & synergy) in Lebanon by far exceed cultures from all around the world. I've been as far away as Uruguay to New Zealand (the worse ever is New Zealand)…and Lebanon is still TRUMP! No, NOT DonaldJTrump. …'trump' as in Champion!
Kidding aside, I was kidnapped in February 2003. It was not funny at all. The experience was harrowing.
Lol I'm glad you actually loved this country the most and call it trump, even with what happened!
2003 was a bad time for the whole world actually, and don't forget that there was Syrian occupation in Lebanon back then.
Anyway, I'll hand you my secondary email just for security: thenizarnemer@gmail.com, so when you're here feel free to ask me anything! Btw, it's Nizar not Nazir, and it's Beirut, Bayreuth is a city in Germany.. Sorry for bringing out the grammar nazi in me Lol
GREAT! You must be the Ambassador for the country Nizar. You most definitely have the pulse!
Will be expecting you to overshadow my trip for the 3 – 5 weeks beginning at the end of May, early June 2018.
If I had known everything was stable and secure, would have arranged to be there since early 2018 to realize project.
When I arrive it will be 'Tourist (High) Season' and all the entire world will converge on Beirut and all the prices will go through the
ceiling. I.e., hotels, AirBnB, HouseTrip, Motels… stores etc… We'll see.
Again, much thanks!
Yeah… it's Birut, Bairut, Beirut. عيسى عيسى, … my bad …I placed your country in Bavaria. LoL! …is all good!
Lol that's no problem! And you're welcome, thank you as well, hopefully one day I'll be an ambassador because why not lol.. There definitely would be a lot of tourists and higher prices, but if you look on the bright side, beach season would have started and all resorts would be open by then. Hope you can make it and enjoy!
Great article-we're visiting Beirut and hopefully areas outside the city in May for 10 days. Can't wait. We've previously visited Jordan (twice) which is amazing and I'm hoping The Lebanon is as fantastic as you describe. Obviously we will adhere to advice about no-go areas but we know how much false information is spread by governments with their own agenda on the Middle East
Hi Nita! Yeah there are a few NO-Go areas but even there the situation has improved since last summer. I am sure you will have so much fun. I was planning to come back in May as well but I have to delay my trip for one or two months for some reasons!
I am just just back from a week in Lebanon most time spent an hour from Beruit working with refugee children an amazing experience in an amazing country.. Already booked to return for longer!
WOW, must have been an amazing experience! I am sure you enjoyed it!
Lebanon sounds beautiful! I've been thinking about traveling here this summer but I have some concerns. Is there much racism? I am Biracial but I'm often confused of being of Middle Eastern descent because of how light my skin is. I know I shouldn't worry but i can't help but worry about how the media has portrayed people of color in the Middle East and the hostility against Americans.
Lebanon is the most culturally diverse country in the Middle East and, perhaps, Europe, as well. Therefore, I don't think that it is a racist country plus all the young people dream of America.
Hi – Is it safe going to Baalbek from Beirut next week ? John
Ho John, Yes it is completely safe. Just be careful about the crazy middle eastern driving
Chicago sees its most violent week of the year: 9 killed, 76 wounded may 8th 2018 food for thought. http://www.chicagotribune.com/news/local/breaking/ct-met-chicago-weekend-violence-20180507-story.html read all the crazy stuff that happens here. I'm sure there is some countries you don't want to go to. Wonder if there is a post from non Americans asking if Chicago is safe to visit? You are gonna find violence an crappy people no matter were you go.Travel smart an enjoy this beautiful planet an all its great people an cultures. enjoyed your blog post! Cheers!
Thanks for your insightful comment Mo! Yes, many people judge countries from dangerous when actually, in their home countries there is so much shit going on! We need to be more analytic and read many different media sources. Have a nice day!
Hi. What about Baalbek? Is travel there safe seeing as so close to the Syrian border.?
Yeah, Baalbek is safe no problem. Yes, it is close to Syria but the border is a pretty high mountain
Hi!
Loved to read ur article about Lebanon. I've always liked to explore other countries cultures since im born and living in sweden (father from Peru and mother from sweden). Im thinking about travelling to Lebanon. Any specific places that I should visit?
Best regards, Sebastian
Hey Sebastian, good to know that you want to travel there Here's my list of suggested places to visit in Lebanon: https://againstthecompass.com/en/things-to-do-in-lebanon/
I am part Lebanese and have dreamed of visiting. We have always been afraid to go because of our American passports. We are now considering this adventure! Kibbeh and grape leaves from the mother country are worth it!
You definitely should, Annie, and get to know your roots!" You made me miss Lebanese food by the way !
Very poor travel advice. Terms like "non-existent" used in article to describe risky areas substantiated with facts or recent statistics? Nah. This is tripe, the State Department travel.state.gov is your source and they say reconsider travel plans to Lebanon.
Hi Jake, thank you so much for sharing your opinion but clearly, you don't really know what are you talking about… The FCO advice is extremely biased and, on many occasions, it is just based on UK interests, so claiming that it has to be your source of information means that you are not very well-informed or, in any case, a very unexperienced traveler.
Actually, I am answering you now from Abkhazia. Do you know where is it? Abkhazia is an independent republic. It is actually an independent country but it is not recognized by any other besides Russia, Veneçuela and a few others. Today, Abkhazia has become and extremely lovely place, full of Russian tourists and just peace everywhere. The UK advises against all travel to Abkhazia. Why? Basically, because they don't recognize it as country, so they are not very interested in you to see what is going on there. Moreover, there is also not diplomatic representation, so they claim that if something happened to you, you would be there on your own. So, should I stay home or go somewhere else just because of this weak advice? There is a higher chance of being killed in a car accident in front of your house than being killed in Abkhazia.
On the other hand, the FCO also advices against traveling to all countries where there is (or used to be a long time ago) a potential risk of terrorism or any kind of hostility. In some countries, this might be very high, like Yemen for example, but, in others, it is extremely low, like Lebanon. What happens is that even if there is only a 0.0001% of chance of terrorism, they will tell you not to go because, if the unlikely happened, they can blame you for not following their advice. If you had the decency of reading the entire article, you will see that the FCO tells you not to go to Tripoli and all the surrounding area. This is actually quite funny because Tripoli is one of the safest places in Lebanon. There used to be some fight in one neighborhood which is on a mountain, separated from the main city and, in any case, it was a fight between people from the same neighborhood, which didn't go beyond that. That was some years ago and just ask to any local or anyone who has been there and he will tell you that it is extremely safe. It is funny that, according to the FCO, this area of Tripoli is an orange area but the whole Mexico is green, where there is a muuuuuuch higher chance of getting kidnapped there than in Lebanon. Dude, what I am telling you is that, on many occasions, it based on UK interests.
And yes, the crime in Lebanon is practically non-existent. Actually, I am extremely tired of having to look after my bag every time I am in a café or just being pickpocketted in my home-city Barcelona. In Lebanon, the crime rates are ridiculously low and you could forget your phone in a restaurant, come back after a few hours and, in most occasions, it will still be there.
And you think this is tripe? Well, this article was used during a trial in Canada against a father who wanted to take the custody of his daugther, because the mother (who was Lebanese) wanted to take her to Canada. According to the judge, the article was an extremely reliable source and an excellent analysis of the situation in Lebanon.
Dude, I am not blaming you for always following the FCO advise. If you want to stay at home and don't enjoy life, it is up to you
Hi,
I want to visit Lebanon in the summer but am having a dilemma because I am dual nationality, one of the nationalities being Israeli. I am planning on going to Beirut and then to help in a refugee camp- I would really like to learn about the culture and experience the place. It sounds like an amazing place to see but is the risk too high for someone with my origins in terms of the various groups that are active around there? I would obviously not draw attention to this when there and will not go on the Israeli passport (!) Any comments would be helpful… the FCO advice is so different to what people who have been say that I don't know what to think!
Hi Momo. I have a friend who is Lebanese but has an American passport and she has been to Israel on her USA passport, without any problem. They just can't know what is your actual origin because there is no information exchange between the two countries. That is all what I can say, and I believe that it should not be different if it was the other way around, unless you have an Hebrew name, in that case I do't know what to tell you.
No my name is not a Hebrew name. I know of blogs by people who have typically Jewish names and it has been fine for them too by their account. I just wondered what the bloggers on here think, or if they have heard of / know of anyone in a similar circumstance. I agree with you that there is no way they can know, though.
Hello! I'm traveling to Lebanon next week, to stay with a friend (native Lebanese). We're spending most of our time in Beirut, where he lives, but are planning on going to Tripoli and Hermel city. I'm aware that the UK home office advises against all travel to these area. I'm just wondering if you know for what reason? And, is it safe to go there? As in, providing you're cautious and don't do anything stupid, would you advise against visiting? We'll be traveling with two Lebanese locals and a driver from Beirut. Thanks!
Hi Robin, the reason is that there have been one-off clashes between Sunni and Alawi Muslims in one specific neighborhood quite isolated and far from the city center, a couple of years ago. That's why. Ask you friends and they will tell you it is safe. However, since the UK advises against traveling there, just bear in mind that your regular travel insurance will not cover you during your stay in Tripoli.
Hi Joan. Thanks for your reply! That's very good to know! My friend says we'll avoid any 'volatile' areas. What about Hermel city? Would you say it's fine to visit that area. The FCO warns against all travel there too. Also, any 'must see' places and tips/advice?
Hi,
Just wanted to say that my wife and I visited Lebanon last year and it was an amazing place to visit. The people are warm and friendly. I had read all the travel advice from the government but never once felt unsafe. We took shared taxis which your told not to take but they are a great way to get around Beirut and cheap too. Hired a driver to take us to a few places, no problem there too, such a lovely old man who had great knowledge of the places we visited, Byblos and as far down as tyre. We enjoyed Lebanon so much 2 of our friends are on holiday there now from our recommendations. We are also going back in September this year, can't wait!! My advice to anyone would be go and try Lebanon once and no doubt you'd go back again. Just use your head, follow the local customs and you'll have a great time.
Amazing! Thank you for this detailed super feedback and glad that you're coming back again in September!!
My father worked in Beirut in the late 1960's and raved about Baalbek. I have finally decided to visit in October as it seems ok post the election. Is it easy and safe to visit Baalbek currently and the odd vineyard. Any restaurant recommendations in the old area of Beirut? Any other recommendations for a 5 day trip?
Glad you decided to go! Baalbek is very safe, you don't need to worry about anything As per restaurant recommendations in Beirut, here I suggest a few options: https://againstthecompass.com/en/beirut-travel-guide/
As per your 5-day trip, here you can find my 2-week itinerary, so you can choose your favorite places: https://againstthecompass.com/en/things-to-do-in-lebanon/
Have you decided to go. I'm looking to go soon. Wanted to see if anyone had been there recently.
Couch-surfing is very convenient! My friends always travel like that!
This might be a dumb question, but how is the language barrier in Lebanon? I see that the official language is Arabic, so being from the United States, will I have trouble traveling / getting around if I travel there without knowing someone inside Lebanon prior to going?
Hi Kyle. Most educated people speak both English and French. Outside of Beirut, it may be tricky to communicate but, in the end, with Google translator and gestures you will be more than fine.
Hello Against the Compass .
Me and my wife, we are planning to visit Lebanon in November. We really want to visit Beirut but it is our first trip in Middle East.
Before I read your article, I was worried about the safety of this trip. I feel much more calm now .
The plan is to stay 3 nights in Beirut. We'll have 1 and a half day to explore Beirut and maybe we do a day trip in Byblos.
i) What do you suggest?
ii) It is worth the trip to Byblos?
Thank you in advance!
Hi there! Your plan sounds good but I would consider that you make a trip to Baalbek instead of Byblos. It is completely up to you but the ruins of Baalbek are some of the most impressive Roman ruins outside of Rome. The ones in Byblos are not as impressive and one goes there to wander around the old city, which is filled with expensive seafood restaurants. It is pretty, I don't deny that, but I just prefer Baalbek. This is just a personal opinion!
I have visited Lebanon many times, the first being in 1989 during the civil war when there was a lull in the fighting. Unfortunately the war flared up while I was there and the only airport in Lebanon closed due to the heavy fighting so I had to escape to Syria and beg for a visa at the border (there is no Syrian embassy in Lebanon). This is something to keep in mind especially as Syria is now a different place and not somewhere to escape to.
Personally I have not enjoyed my trips as much as many of you have. Beirut is extremely hot, humid, overcrowded and polluted. There is a huge issue with refuse collection. The landfill site is full and no other landfill site has been set up. During rainy periods masses of waste flows through the streets. There has been a spike in respiratory infections as a result.
I first went to Baalbek in 1992 which was astounding and glorious. I took my children in 2010 and it was a whole different experience. It had become fenced off with an entrance fee and hawkers relentlessly followed and pestered us to the point where it was unbearable.
The Jeita Grotto is truly astounding and immense. I visited these in 1997 with a baby and a toddler. I was a little anxious as the safety railings were minimal. Recently there was a fatal fall so hopefully the authorities have finally improved the safety railing as a result.
My children and I usually get food poisoning when we go to Lebanon unless I do the cooking and we only drink bottled water.
We are also allergic to the numerous, pesticide resistant mosquitoes which seem to be around for about 8 months of the year.
Lebanese go out of their way to be hospitable but the favourite pastime in Lebanon is gossiping so it is more about being liked and showing off than true hospitality.
The economy is very bad, unemployment is high, all the divisions are still there and lots of Lebanese are trying to get out of the country.
Yes, Lebanon is a fascinating country with a long history and beautiful places to visit but go there with your eyes open.
Hello, what a great article of Lebanon. We are from Mexico and next year we are planning to go to Israel and are considering extending the trip to Lebanon for one week.
We have been in Jordan and our guide told us there are some countries in the ME that if you have been in Israel you might not get the permite to enter. Is it true? And if so, is Lebanon one of these countries? Thank you!
If Lebanon finds out that you have been to Israel, you won't be allowed to enter. However, Israel doesn't stamp passports anymore but there are a few rules and exceptions. This article explains everything: https://againstthecompass.com/en/avoid-israeli-passport-stamp/
I was considering visiting Lebanon in February during winter to avoid the bulk of tourism. I have a Lebanese friend in country that has informed me greatly on the peoples and places. She is Christian so there are many places she has not been herself just for safety precautions.
My question is, seeing that Lebanese people are generally what I'd call egocentric, how would travel be for a black American? What are the perceptions and race relations? I worry that Lebanese are so outspoken and blunt that I'll face instances of racism even unintentionally.
I'd hate to find myself in a situation or provocation that escalates because I may not be prepared for my reception by locals. My Lebanese friend has assured me that she can handle it and that most probably would remark in Arabic so I won't understand their negative comments anyways.
Hi, to be honest, if you are a foreign tourist, I don't think Lebanese have any problem based on your race or nationality, so you should be fine.
Moreover, I don't understand why you say that Lebanese are so egocentric, as I felt totally the opposite. Whereas it is true that, in the capital, some wealthy Lebanese may seem arrogant, like in most worldwide capitals, other than that, which is the remaining 98% of the population, people were super kind and hospitable.
I was able to travel to Lebanon in April. Even after all the positive reviews, there was still anxiousness on my part. I'm happy to say that the 2 week stay was in deed safe. Of course the first few days I was weary of the young males trying convince me to purchase their wares. My friend laughed at my naïveté, responding with a warning never to buy anything from these types of solicitors. Anyways, they were harmless in the end.
I had so much fun in Beirut. The residents treated me very kindly. Friendly, yet outspoken, I was a bit uncomfortable with the unabashed commenting. The egocentrism I spoke of was in reference to what my Lebanese contacts informed me about prior. I didn't mean anything terrible by using that wording. It is more of a conceitedness, vanity or possible borderline narcassisim that isn't at all expressed in a harmful or purposely negative manner. For instance, one of the Lebanese girls accompanying my friend was told she should lose some weight! I thought it to be so rude but the Lebanese girls assured me comments on appearances are commonplace and not meanspirited in nature. That Lebanese are blunt with other Lebanese people. Chalked it up to being a cultural thing so I kept an open mind.
Anyways, after my 3rd or 4th day in country I had no safety concerns. Felt safer in Lebanon than I do back home in the United States by far. The beautiful landscapes were amazing. I also haven't visited many places with as much history aside from the UK. The food was superb, specifically a dish called warak enab. I had fallen in love at first bite! Had a less than favorable reaction to something called shawarma(?). My friends informed me even they have stomach issues sometimes when having the chicken version. Spent 3 days in the hotel but no big deal there. Eat from what appear to be "Established" restaurants and possibly avoid street food if you have a weaker digestive system perhaps.
Seemed as if the people treated me even more nicely than they treated the Lebanese natives I toured with. When I asked about why, the friend that invited me to Lebanon stated, "You're American, we love foreigners, especially westerners if only for the similarities we see in ourselves. You also are a tourist with which we will be just as fascinated to hear of where you come from, rather than seeing it on TV, as you are hearing about our country from the peoples perspective." I took this to mean they're aware media doesn't quite portray Americans and Lebanese alike, in a fair light. So there was that. Also, Not one instance of hate speech or discrimination due to my race or citizenship. A man at a nightclub we visited even told me that black Americans are poorly depicted in the media which had shown him mostly negative stereotype given his limited contact with said peoples. He was pleasantly surprised with how respectful and easy going those he'd meet are. I told him of the worries about my race that I'd had prior to the stay in country. He bought me a drink and told me something I'll never forget, "You are a man. I am a man. We as men should not shape our being from gossip by people that exist only for conquering this world through division". That was the deepest thing I've heard in a good while. Anyways, we enjoyed some laughs together over current affairs like celebrity mishaps, Trump and even Lebanon's poor infrastructure. I was shocked that nothing is off limits when it comes to Lebanese banter.
I've seemingly written a whole book here just to say that I very much enjoyed my visit to Lebanon. Again, Lebanon is as safe as most any country. The people are so accommodating, endearing, astonishingly beautiful inside and out as well, and welcoming. I guarantee it is rare to be shown such a great guest experience, not only in the Middle East, but almost anywhere else in the world as you're able to receive in Lebanon. 10/10. Recommend anyone on the fence about visiting to book their flight already. You most likely will not regret it. May even find that Lebanon's spirit is so intoxicating to the point you'll forget all the misconceptions about the country. My heart will forever remain in Lebanon, where it was captured by it's citizens amazing wealth of life. For all of Lebanon's shortcomings, the people in my opinion were it's most interesting tourist attraction. Go for the lovely landscapes, ancient history, atmospheric nightlife but return there because of the classy, extraordinarily individualistic people that populate the country!
Thank you so much to the creator of this blog for sharing content that convinced me to "risk" traveling Lebanon. Was my most enjoyed travels as an adult by far. Will attempt a trip to the Netherlands and then back to Lebanon as soon after as possible.
(Actually entertaining the idea of relocating to Lebanon for an extended period. Any information on this topic would be much appreciated)
Thank you! Totally needed this!
Me, too! What an awesome trove of information. Thanks so much for this. And speaking of excellent resources, thank you, Joan, for your blog! Lebanon's been #1 on my wish list since I was old enough to point it out on a map and savor my second-generation Lebanese mother's cooking. I'm finally visiting for the very first time in October, all crazy with excitement while researching and taking care of travel insurance (huge thanks for the info on that, by the way), adding to the mile-long list of restaurants, etc. One quick question for you, Joan: do you have any favorite places or recommendations for where to see live music in Beirut? Any suggestions are welcome, especially places showcasing Lebanese artists. Thank you so much for what you do, and safe travels!
Hey man, thanks for your kind message! I didn't really party or go out when I was there, so I can't certainly tell. However, I am pretty sure that you can find something in Gemazyeh street, which is the street with the largest number of "cool" bars
Summary
Still current at: 20 November 2022 Updated: 24 October 2022 Latest update: Addition of information about reported cases of cholera in Lebanon ('Health' page).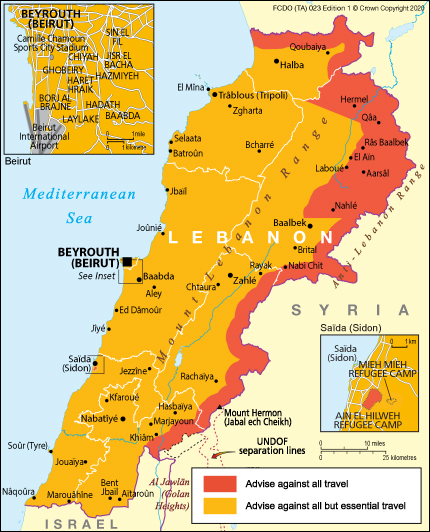 The Foreign, Commonwealth & Development Office (FCDO ) advises against all travel to:
Palestinian refugee camps
within 5km of the border with Syria
the Hermel Area, including the towns of Arsal, Ras Baalbek, Qaa, Laboué and Nahlé
The FCDO advises against all but essential travel to the remaining areas of Lebanon due to ongoing instability.
In particular, the FCDO advises against all but essential travel to specific areas of security concern:
southern suburbs of Beirut defined as: south of the sports stadium and the Adnan Al Hakim road which heads west from the stadium to the Beirut-Saida (Sidon) road – down to the airport. This area includes the neighbourhoods of Bir Hassan, Ghobeiry, Chiyah, Haret Hraik, Burj Al Brajne, Mraije, Er Rouais and Laylake. It excludes the main airport highway, the Beirut-Saida road and west of there to the coast, and the area between the airport highway and the coast south of Abbas El Mousawi Road, including the Golf Club of Lebanon
Akkar district between 5km from the Syrian border and the Aabdeh, Halba and Qoubaiyat highway
the city of Tripoli
the Rayak-Baalbek highway (from the junction at Riyak along the highway to Baalbek), the areas around it and towns along it, including Baalbek, and also the area East of the highway up to 5km from the Syrian border and South of Nahlé town
the towns of Rachaiya, Hasbaiya, and Khiam in the Beqaa Valley, and the area between these towns up to 5 km from the Syrian border
within 500m of the Ain el Hilweh Palestinian refugee camp in Saida
south of the Litani River except the main Naqoura-Tyre-Saida-Beirut highway and areas to the west of it
Before you travel, check the 'Entry requirements' section for Lebanon's current entry restrictions and requirements. These may change with little warning. Monitor this advice for the latest updates and stay in contact with your travel provider.
If you plan to pass through another country to return to the UK, check the travel advice for the country you're transiting.
Lebanon is experiencing a prolonged and severe economic crisis. The situation is unpredictable and could deteriorate without warning. If you are in Lebanon at this time, or considering travel, you should read our Safety and security page.
Basic commodities (fuel, medicines, food) have become increasingly scarce. Electricity in Lebanon is also very limited. The availability and quality of medical treatment is affected by the economic crisis and fuel shortages. See 'Shortages' and 'Local medical care' for further information and how to prepare yourself.
Whilst consular assistance is available 24/7 by phone or online, in-person consular support is severely limited in parts of Lebanon where we advise against all travel and limited where we advise against all but essential travel. In the event of deterioration in the political or security situation, the British Embassy may be increasingly limited in the assistance that it can provide. Do not rely on the FCDO being able to evacuate you in an emergency.
If you're abroad and you need emergency help from the UK government, contact the nearest British embassy, consulate or high commission.
It is more important than ever to get travel insurance and check it provides sufficient cover. See the FCDO 's guidance on foreign travel insurance.
Crime, including bag theft, property crime and sexual harassment in public spaces, has increased as a result of the economic decline in Lebanon. This includes in Beirut. See Safety and security.
A conflict with Israel could spark with little warning and lead to a rapid escalation in violence. There have been exchanges with the Israeli Defence Forces across the Blue Line in the South of Lebanon. This has included cross-border shelling, rocket fire and air strikes on Lebanon. See Security situation
Terrorists are very likely to try to carry out attacks in Lebanon. You should be vigilant at all times, avoid crowds and crowded places and follow the advice of the Lebanese authorities. Previous attacks have targeted the security forces, as well as locations where Western visitors may congregate. You should follow the advice of the local authorities, and check local news and this travel advice regularly. See Terrorism
There's a heightened risk of terrorism against aviation. Additional security measures have been in place on flights departing from Lebanon to the UK since March 2017. You should co-operate fully with security officials.
Groups within Lebanon, including Hizballah, are proscribed under the Terrorism Act 2000 and the Counter Terrorism (Sanctions) (EU Exit) Regulations 2019. Offences committed under the act – including funding and supporting proscribed organisations – may be liable to prosecution in the UK.
On 4 August 2020 a large explosion occurred in the port area of Beirut causing widespread damage to buildings and infrastructure in the city and surrounding areas. Many of the buildings have not been repaired yet. You should exercise caution in affected areas as buildings may not be safe.
There is a high risk of forest fires in Lebanon, particularly during the summer months. See Natural disasters
There are unexploded ordnance and land mines in many places. You should avoid travelling away from established paths, especially when hiking. This is particularly a concern in southern Lebanon. See Local travel
You can contact the emergency services by calling 112.
The Overseas Business Risk service offers information and advice for British companies operating overseas on how to manage political, economic, and business security-related risks.
Source https://glitterrebel.com/is-lebanon-safe/
Source https://againstthecompass.com/en/safe-travel-lebanon/
Source https://www.gov.uk/foreign-travel-advice/lebanon