Teach homeschool teens to describe a place with vivid vocabulary
What's the big deal about writing descriptively? For one thing, it's much more than page-filling fluff. Descriptive writing imprints images into the reader's mind, making you feel as though you're "right there." It's all about engaging the five senses of sight, hearing, smell, taste, and touch to transport the reader and stir emotion.
By choosing vivid details and colorful words, good writers bring objects, people, places, and events to life. Instead of merely telling you what they see, they use their words to show you.
Writers use this powerful method to make their pieces memorable—even brilliant—rather than dry and boring. In many ways, description is the most important kind of writing you can teach your children. Why? Because it supports other reasons for writing such as storytelling, informative reports, or persuasion.
Even if your child never aspires to write stories or poetry, description is a wonderful skill to develop. Without it, all other writing falls flat.
1. What It Means to Describe a Place
Vivid writing is especially important when your middle or high schooler needs to describe a place — whether describing a vista for a travel guide or fleshing out a scene in a short story.
Master storyteller Charles Dickens was gifted at using description to create a mood.
But students don't have to be a Dickens to add color, depth, and interest to their writing. Here, a 14-year-old draws on all five senses to describe a place and create a mood.
With a few tips and tools, homeschool tweens and teens can effectively describe a place too.
A Desert Example
Suppose they're planning to write about a desert. They'll need to describe basic desert features, of course: sand, rock, hills, and dunes. But deserts aren't all alike, so their word choices will need to reflect the kind of desert they want to write about.
For example, if they choose a desert in the southwestern United States, they'll probably describe plants such as sagebrush, Joshua trees, yuccas, or saguaro cacti.
But if they're writing about an oasis in the Sahara Desert, where vegetation is much different, they'd instead describe date palms, oleanders, acacia trees, succulents, and desert grasses. Their description of either desert scene will spring to life when they tell about these places using rich and appropriate details.
2. Where to Find Vocabulary to Describe a Place
How can you help your homeschoolers study a subject and choose strong words that make their writing sparkle? Whether they decide to write about a desert, city, rain forest, or pond, these ideas will help students find words that form the foundation of their descriptive piece, narrative story, or report.
Search Engine: A Homeschooler's Best Friend
Search engines such as Google make a great resources for inspiration. In addition to collecting general terms about the location's flora and fauna (the desert, for example), teens can find concrete, specific nouns and adjectives that add color to their writing. Suggest they begin their search by looking up terms like these:
desert landscape
desert features
desert climate
desert plants
desert animals
desert description
What if your teen wants to describe a city instead of a desert? City words are trickier to find, and they may have to hunt more. Try some of these search terms:
describe city sights
describe Chicago, describe Pittsburgh, etc.
"describe downtown" (use quotes)
Other Sources for Descriptive Vocabulary
While search engines can lead students to a wealth of information, don't discount the value of print media such as magazines and books. Also consider digital media such as TV documentaries or YouTube videos about the subject.
When describing a place, visit in person, if possible. But if not, can you explore a spot with similar features? Many children are visual and tactile learners. If they want to describe what a sidewalk looks like, send them outside to explore the sidewalk on your street. It will help them describe the texture, color, and appearance of a city sidewalk, even if you live in a suburb.
3. Expanding Descriptive Vocabulary
As your teens search the Internet, ask them to keep an eye out for adjectives that describe desert or city features (or whatever place they want to write about). Encourage them to come up with words on their own, but also to watch for words they meet in articles or photo captions.
When kids don't understand some of the words, pull out the dictionary and make it a teaching moment! And show them how to use a thesaurus (we love The Synonym Finder) to find other words that say the same thing. A focused thesaurus, such as the ones below, will also help their vocabularies grow.
The Rural Setting Thesaurus gives teens the inspiration to effectively write about nature, home, and school settings.
The Urban Setting Thesaurus helps them draw on all five senses and jogs their memory to help them create believable scenes in city spaces.
4. Descriptive Examples
Some Desert Adjectives
Desert: harsh, dry, arid, sparse, severe, hot
Rock: sharp, rough, jagged, angular
Grasses: windblown, bent, dry, pale green, brown
Sand: coarse, fine, glittering, shifting, rippling, sifting, white, golden
Sky: pale, intense, cloudless, azure, purple, crimson
Cactus: tall, short, squatty, spiny, prickly, thorny, bulbous
Date palm: tall, bent, leathery (leaves), frayed (leaves)
Some City Adjectives
City: active, bustling, noisy, busy, clean, dirty, windy
Traffic: loud, congested, snarled
Buildings: old, shabby, rundown, crumbling, modern, futuristic, sleek, towering, squat
Buildings (walls): brick, stone, marble, glass, steel, graffiti-covered
Monuments, statues: stone, copper, carved, ancient, moss-covered, faded, green, bronze
Sidewalk: concrete, cement, slick, cracked, tidy, littered, swept
Paint: fresh, weathered, peeling
Signs: neon, weathered, worn, bright, welcoming, flashing
Buses, cars, taxis: belching, crawling, speeding, honking, waiting, screeching
People: hurried, bundled, smiling, frowning, eager, rushed
Use these suggestions to encourage teens to come up with ideas to describe a place of their own. You'll both discover that hunting for words can become a favorite prewriting game! And as your kids dabble more and more in descriptive writing, I'm confident their words will soon begin to "show" more and "tell" less.
Do you struggle with teaching and grading writing in your homeschool? Does your middle- or high schooler's writing need a boost? Consider adding WriteShop to your curriculum choices for this school year! The first seven lessons of WriteShop I specifically teach descriptive writing.
This important skill is then practiced in the remaining informative and narrative writing lessons. In addition, WriteShop teaches—and offers practice in using—a wide array of sentence variations that enhance a student's paper with fresh style and vigor. When combined with strong, dynamic word choices, sentence variations give dull writing new life.
For younger children, WriteShop Primary introduces K-3rd graders to activities that widen their writing vocabulary. Book C contains three specific descriptive writing lessons. WriteShop Junior for grades 3-6 also provides many opportunities for students to incorporate description.
How to Describe a Person in English: Tips and Examples
When you need to describe things, ideas, or people in English, finding the right words isn't always easy. Even native English speakers struggle to find the right descriptive words at times. It is especially hard when you need to describe a person, as people can have very distinctive looks, personalities, and behavior.
Nonetheless, learning how to describe a person is vital to becoming fluent in English. In this guide, we will cover some of the best phrases to describe a person, as well as useful tips to help keep your descriptions positive and friendly!
How to Describe Someone's Appearance
Talking about how someone looks is complicated for a couple of reasons. First of all, describing someone's appearance can seem a little rude, even if you're trying to say something nice. People don't like to feel objectified (made to feel like an object instead of a person), so it's important to always keep physical descriptions very positive.
However, if you're talking with people that you don't know very well, it's probably best to avoid describing a person's appearance entirely.
In any case, here are a few general tips to keep in mind when describing people's appearance:
Start with very general descriptions – Using general descriptions will help you describe someone without having to go into specific details. For example, you can describe someone's appearance by talking about their gender, height, weight, age, hair color, or eye color. However, remember that some people can be sensitive about these descriptions (especially weight and age), so keep this in mind when you need to describe people.
Try to avoid subjective descriptions – Subjective descriptions can be mean sometimes. For example, describing someone as "fat" or "ugly" is very rude and hurtful. Try to avoid using subjective descriptions whenever possible, especially if you're talking with or about someone you've just met.
If you need to be subjective, keep it positive – Not all subjective descriptions are bad. So, if you need to give your opinions about how someone looks, try to be as nice as possible! That said, even positive descriptions can feel a little invasive or forward, so use your best judgment when describing people subjectively.
Now let's look at a few positive appearance adjectives to help get you started!
Adjectives for Appearance: Positive
Gorgeous
Beautiful
Pretty
Handsome
Attractive
Nice
Stunning
Good-looking
Cute
As a rule of thumb, using positive adjectives to describe a person typically steers the conversation in a better direction. If you'd like to see some more ways to describe people in a positive way, check out the ultimate list of positive adjectives!
Adjectives for Appearance: Neutral and Negative
Muscular
Strong
Weak
Slim
Short
Tall
Fat
Thin
Lanky
Overweight
Obese
Stout
Stocky
Big-boned
Curvy
Slender
Petite
Plain
Example Sentences
Here are a few example phrases to describe a person in English:
We look very ______.
He/She is very ______.
I think they are ______.
I hope you don't mind me saying so , but you are very ______.
Hopefully you don't take this the wrong way , but I think you're ______.
I don't mean to sound rude , but you look very ______.
*Important Note: When you speak to someone directly about their appearance, it's polite to preface (begin) your statement with one of the underlined phrases above. This is especially true if you're discussing negative traits. These phrases will let the other person know that you're not trying to be rude or unpleasant. However, this doesn't guarantee that they will like what you have to say!
How to Describe a Person's Personality
It's important to learn how to describe someone's physical features, but it's even more important to learn how to describe someone's personality. Personalities are complex, making them difficult to put into words. Nonetheless, there are plenty of great ways to describe someone's personality and character traits.
When you're describing someone's personality, you should take some of the same precautions that you would when describing their appearance. It's always best to keep things positive and avoid hurting anyone's feelings. That's why positive adjectives are so useful!
Now let's look at some positive personality adjectives to get you started.
Adjectives for Personality: Positive
Affectionate
Ambitious
Witty
Thoughtful
Brave
Bright
Sensible
Charming
Happy
Sincere
Sympathetic
Open-minded
Compassionate
Courageous
Friendly
Generous
Honest
Proactive
Polite
Reliable
Adjectives for Personality: Neutral and Negative
Quiet
Aggressive
Arrogant
Bossy
Cruel
Close-minded
Dishonest
Greedy
Rude
Selfish
Unhappy
Untrustworthy
Boring
Example Sentences
Here are a few more phrases to describe a person in English:
We are ______.
He/She is usually ______.
They tend to be ______.
I hope you don't take this the wrong way , but I think you're ______.
Hopefully you don't mind me saying so, but you are very ______.
I don't mean to sound rude , but you seem ______.
*Important note: Remember, when talking to someone directly about their personality, don't forget to include one of the underlined phrases above to help "soften" your words. This will help you sound more friendly and less critical, especially if you want to discuss someone's negative character traits!
What's next?
Real-life conversations are far more nuanced than a word list and definitions. For example, did you know that depending on the tone and the context, a positive adjective could sometimes be used as an insult? Let's hear what our lead instructor, Anita, has to say about that.
Ultimately, the only way to master these words is to practice using them in live conversations and getting effective feedback. That's exactly why we built SpeakUp. Join an engaging live conversation today and get critical feedback on your English, all for free for 1 week.
Matthew Jones
Matthew Jones is a freelance writer with a B.A. in Film and Philosophy from the University of Georgia. It was during his time in school that he published his first written work. After serving as a casting director in the Atlanta film industry for two years, Matthew acquired TEFL certification and began teaching English abroad. In 2017, Matthew started writing for dozens of different brands across various industries. During this time, Matthew also built an online following through his film blog. If you'd like to learn more about Matthew, you can connect with him on Twitter, LinkedIn, or his personal website!
Describe a place you would like to visit – IELTS Cue Card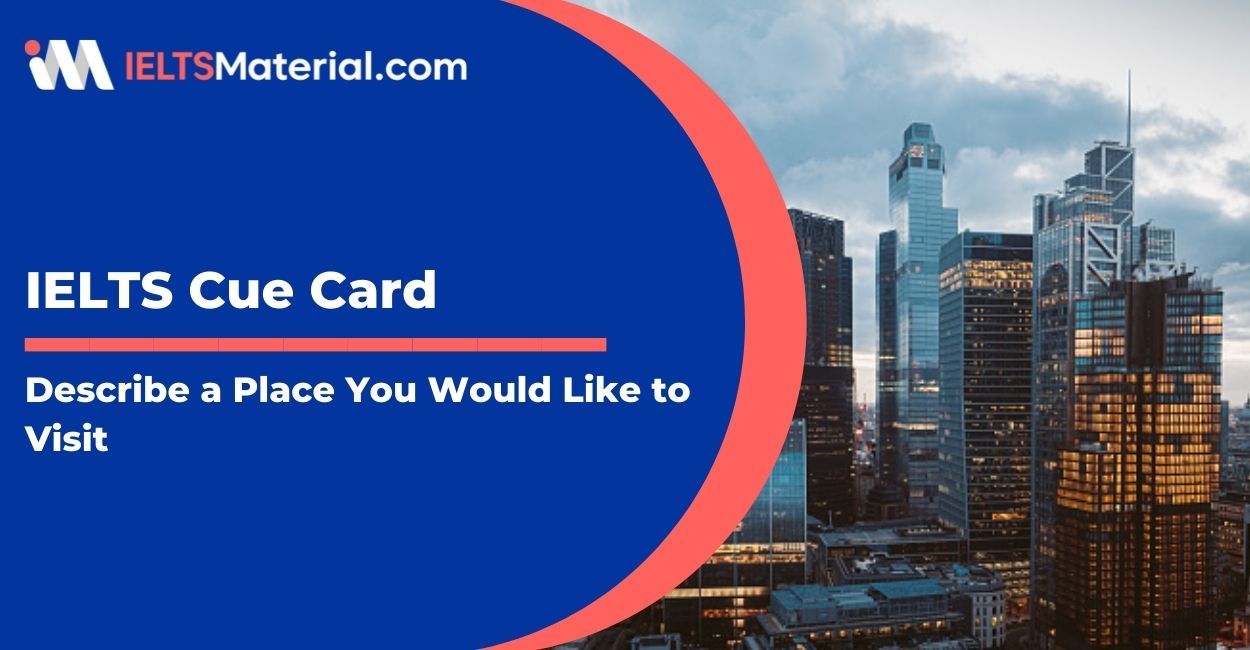 In IELTS Speaking, to get Band 8.0+, you should focus on one idea only and then expand that idea into a long meaningful sentence using grammar patterns and vocabulary. So, with this cue card, practise for your IELTS Speaking Part 2.
Describe a place you would like to visit.
You should say:
where it is
what the main attractions are
how you know this place
and explain why you want to visit this place.
Sample Answer 1
I am a travelling buff. I feel alive when on the road than spending my days and nights in the same city. Although I have plenty of to-visit places on my checklist, I would like to visit Rishikesh if I have to choose only one.
Situated in the state of Uttarakhand, Rishikesh is a city in the Himalayan foothills beside the Ganges river. The town is renowned as the yoga capital of the World. There are temples and ashrams on the eastern bank of the city.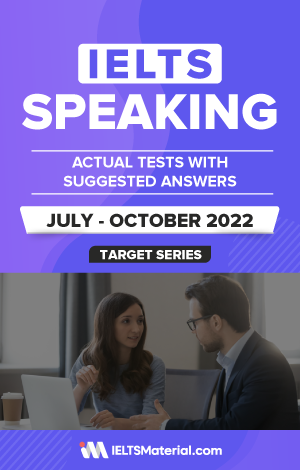 IELTS Speaking Actual Tests with Answers (July – October 2022) | eBook
4.8 of 107 Reviews
Written by professional IELTS teachers to help candidates on the big day
Written by professional IELTS teachers to help candidates on the big day
The town features plenty of mesmerising places capable of holding your attention. Right from indulging in adventurous activities, such as river rafting and bungee jumping, we can relish our breakfast at the riverside cafes that offer sights to behold. And then, we can roam around several shops lined along the Laxman Jhula. We can also visit the Ghat to submerge into the stunning tranquillity of Ganga Aarti in the evening.
Considering I live in a nearby state, I have always been familiar with Rishikesh. However, my interest in this city grew manifold when I found out that my favourite English rock band – Beatles- visited this place in the 60s. The band sought spirituality and spent their time at the Maharishi Mahesh Yogi Ashram. Not just that, even Steve Jobs and Mark Zuckerberg have spent time in the ashrams of Rishikesh, seeking their purpose in life.
One of the primary reasons to visit Rishikesh is to take a getaway from the hustle-bustle of my daily life. I wish to spend some days connecting with my inner soul through spirituality and gain peace of mind.
Vocabulary
Soothing: Pleasant
Eg: The weather is very soothing.
Journal: Diary
Eg: She gifted me a journal on New Years.
Iconic: Specialty
Eg: Dancing Bhangra on weddings is his iconic move.
Abbey: a type of monastery used by members of a religious order under t he governance of an abbot or abbess
Eg: She decided to visit the abbey after she finished her work.
Sample Answer 2
Travelling has always been my passion since I was a kid. I used to visit at least one place in my summer vacation for as long as I can remember. It was like a tradition. I kept a journal. Although I don't write regularly, I keep a note of everything I feel good about or find attractive. There is a special section in my journal where I write down about the places I want to visit in the near future. A place I especially want to visit once in my lifetime is London.
The city has a very soothing weather. However, what drew my attention was the beautiful greenery of the city. The capital city of England has a lot of things to show us, from the Iconic Ferris wheel, popularly known as the London Eye, Westminster Abbey, Buckingham Palace, St. Paul's Cathedral, and many other places.
Most of the classics are filmed in London, and needless to say, it is pretty. The set of Little Women, The Pride and Prejudice, and even modern movies like Enola Holmes and Bridgerton have beautiful backgrounds and beauty. The lush green trees of Groton are gorgeous. The rocky valley of Derbyshire is so pretty and calm. So many poets like Wordsworth have beautifully described the city of London in their Sonnets. His poem "Upon Westminster Bridge" is one of my very favourite poems.
It is for all these reasons that I want to visit the place. I have heard and read about it. To some extent, I've virtually witnessed it, too, but there is a vast difference between feeling it by your own skin. I want to feel the London rain. I want to smell the sweet smell of the green grass in the countryside and feel the beautiful busy life of the city.
Sample Answer 3
Since childhood, I have loved exploring new places, especially near the ocean, sea, or river. So, some places from all over the world found their place on my travel bucket list. One such place that I would like to visit when I get the right opportunity and travel partner is the Santorini island in Greece.
Being a volcanic island surrounded by the southern Aegean Sea, Santorini or Thira is famous for dramatic views, stunning sunsets from Oia town, blue-green water around Fira, the Venetian Castle in Akrotiri and the incredible views from the tower La Ponta. Apart from that, there are naturally fantastic beaches such as the beach of Perissa and the black pebble beach of Kamari. Besides the above iconic tourist places, the active volcano on the island has its own share of sightseers.
In school, I used to spend most of my free periods in the library. So, one day, while I was going through a travel magazine, I found a breathtaking place with cubic white house-like structures and blue-green sea all around. At first glance, I was mesmerized by the heavenly images on the pages of the book. That was my first encounter with Santorini and since then, I have been in love with those images.
Other than being a travel buff, I also love the history of Greece. There are many myths about this island, which is one of the five Cycladic islands. For example, many believe that Santorini was the original home of the lost city of Atlantis, which disappeared into the depths of the ocean. I would also like to enjoy the boat excursions, popular cruises and vineyard touring. Moreover, the candy-coloured houses along the cliffs, the clear blue water, the peaceful beaches, and the kaleidoscopic sunsets urge me to visit this remarkable island.
Source https://writeshop.com/choosing-vocabulary-to-describe-a-place/
Source https://magoosh.com/english-speaking/how-to-describe-a-person-in-english-tips-and-examples/
Source https://ieltsmaterial.com/ielts-cue-card-topic-describe-a-place-you-would-like-to-visit/