DIFFERENCE OF HANOI VS HO CHI MINH CITY

Follow Vietnamtrips on
Hanoi and Ho Chi Minh city are the most important cities of Vietnam. The difference between Hanoi vs Ho Chi Minh comes from many features. For travelers, both cities are great places to visit, for expats who are considering Hanoi vs Ho Chi Minh to live, let's take a look at this below for more information.
Table Contents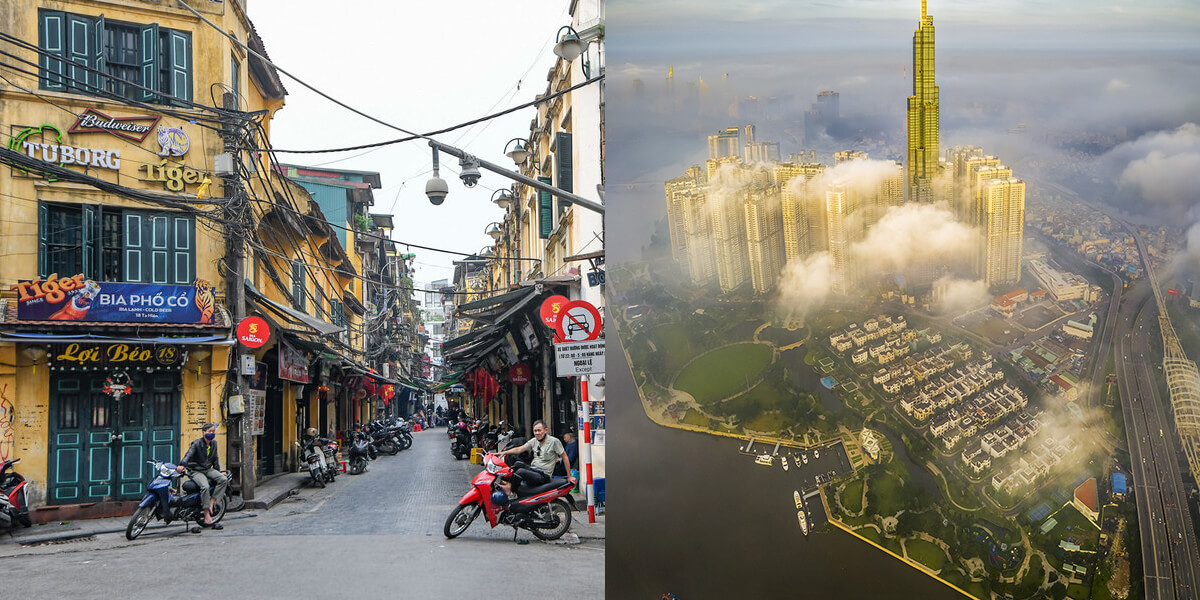 Hanoi and Saigon are the two largest economic spearhead cities in Vietnam. Hanoi is the capital of Vietnam, located in the North, with an area of 3,324.92 km². It is often known as a "crowded land" with more than 8 million people living and working here (2019).
Ho Chi Minh City has another dear name – Saigon, located in Southern Vietnam, which is 1730km from Hanoi. The topography of the city is lower along the direction of Northwest – Southeast. Saigon is the most populated city in Vietnam, with nearly 9 million people living according to the General Statistics Office of Vietnam in 2019.
Here is a comparison between Hanoi and Saigon based on 13 features:
1 – History
The name of Hanoi has appeared in Vietnamese history since 1010. The King at that time was Ly Thai To who transferred the capital from Hoa Lu, Ninh Binh to Dai La Citadel and changed Dai La into Thang Long. The name of the Vietnamese ancient capital – Thang Long citadel – remained during the Ly, Tran, and Le dynasties. By 1831, King Minh Mang under the Nguyen Dynasty had established Hanoi province consisting of Thang Long Citadel and some surrounding areas. On April 25, 1976, during the 6th National Assembly session, Hanoi was officially selected as the capital of Vietnam. Over a millennium, Hanoi has witnessed and experienced many historical ups and downs with the country and people of Vietnam.
In terms of history, Hanoi and Ho Chi Minh had gone through many ups and downs, and have recovered for several decades after the American war in Vietnam.
Ho Chi Minh City or Saigon is "younger" than Hanoi. It was not until the beginning of the 16th century that Saigon was opened, brooded, and inhabited by Vietnamese people. Ho Chi Minh City has been the official name since July 1976 when it was renamed from Saigon by the National Assembly of the Socialist Republic of Vietnam. Currently, the name Saigon is still commonly used and is mentioned as the semi-official name of this city.
2 – Weather in Hanoi vs Ho Chi Minh city
Hanoi is characterized by a humid tropical monsoon climate with four seasons: spring, summer, autumn, and winter. In which, most of the time this city experiences Summer & Winter seasons, which are characterized by 2 main climate characteristics: hot & humid (from May to July) and dry & cold weather (from November to January). The annual average temperature is 23.6ºC, the highest is June (29.8ºC), and the lowest in January (17.2ºC). The annual average relative humidity is 79%. The average annual rainfall is 1800mm.
The weather in Hanoi vs Saigon is quite different. Ho Chi Minh City is influenced by the subequatorial monsoon tropical climate. In contrast to Hanoi, Saigon has only two seasons: the dry season (December – April) and the rainy season (May – November). The city has hot weather all year round, with high temperatures and plenty of rain. The average annual temperature is 27.6°C (the hottest month is April, the temperature is about 29.3°C – 35°C) the average annual rainfall is 1979 mm.
3 – Cuisine
Hanoi and Saigon are the remarkably important centers of Vietnamese cuisine and an amazing street food paradise in Vietnam.
The cuisines of these two beautiful cities are extremely diverse and sophisticated offering thousands of specialties. Hanoi cuisine is inclined towards traditional Vietnamese dishes, associated with the long culture and history of Vietnam. The dishes in Hanoi often have a frugal, light taste, but require a lot of ingenuity and sophistication in cooking. Typical dishes in Hanoi cuisine include beef noodle soup (beef Pho), Hanoi combo noodle soup (Bun Thang), Noodle with grilled pork (Bun Cha), popiah, fried spring rolls (Nem Ran), fresh green rice flakes from Vong village, vermicelli with fried tofu & shrimp paste (Bun Dau Mam Tom) and egg coffee.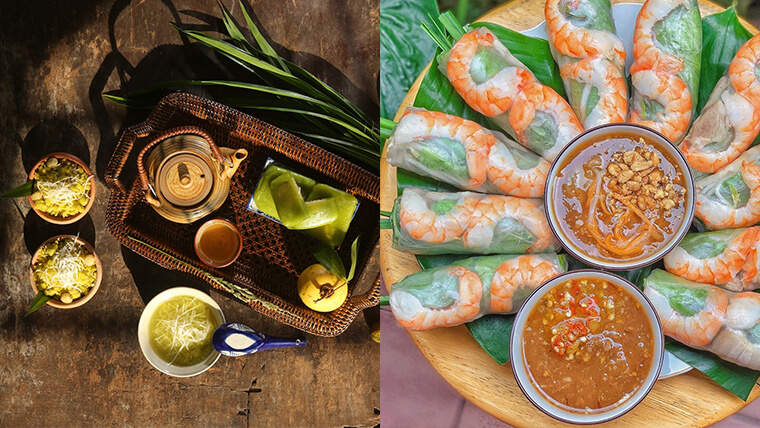 Hanoi and Saigon cuisine reflects the difference in culture and lifestyle of Hanoians & Saigonese
Ho Chi Minh City's dishes have a more sweet & sour taste with lots of cooking methods thanks to the influence of Chinese, Indian and Thailand cuisine. This city is the best place for enjoying Vietnamese street food. Typical dishes in Saigon are: broken rice, spring rolls, Banh Canh (thick rice noodle soup), crab noodle soup, southern noodles with grilled pork and sweet-sour dipping sauce, southern sweet gruels.
If we talk about the number of dishes, Ho Chi Minh City ones may be higher, but in terms of taste, Hanoi's dishes have more advantages.
4 – Shopping in Hanoi vs Ho Chi Minh city
Whether in Hanoi or Saigon, you have many options when shopping. Both cities have traditional markets where most of the people's buying and selling activities take place, as well as large shopping malls and convenience stores. The remarkable market in Hanoi is Dong Xuan market, meanwhile, Ben Thanh market is the symbol of Saigon.
It should be noted that when shopping at markets in Hanoi or Ho Chi Minh City, you also need to prepare cash in advance to pay and be able to bargain.
5 – Nightlife in Hanoi vs Saigon
Saigon is a modern, dynamic city at night and is considered a "sleepless city" of Vietnam. There are many eateries, bars, pubs, or places for overnight activities. Among the most outstanding experiences are Nguyen Hue walking street, Bui Vien street, cruise on Saigon river.
Hanoi's nightlife is somewhat less busy. The busiest areas in Hanoi at night are Ta Hien Street, Hoan Kiem Lake pedestrian street, roads around West Lake, bars and clubs in the Hanoi Old Quarter.
6 – Accommodation
Accommodation in Hanoi and Saigon are very diverse in types, segments, and price ranges. Types of accommodation such as hotels, resorts, homestays, hostels, apartments for rent are available in both cities.
In Hanoi, the Old quarter area in Hoan Kiem street, Ba Dinh and the West Lake district are the best areas to stay. Meanwhile, when visiting Saigon, you can choose to stay in Districts 1 and 3 for more luxury accommodation and support services.
7 – Tourist attractions in Hanoi and Saigon
The thousand-year-old capital attracts visitors with its historic sites and many sacred temples. Famous attractions are Ngoc Son Temple, Tay Ho Palace, Tran Quoc Pagoda, Ho Chi Minh Mausoleum, One Pillar Pagoda.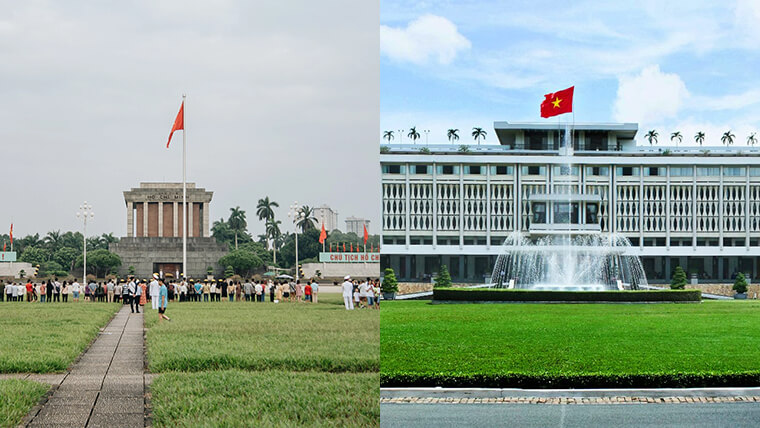 Saigon is well-known for having many churches and museums such as Independence Palace, Vietnam History Museum, Ho Chi Minh Museum, Tan Dinh Church, Notre Dame Cathedral.
Hanoi and Ho Chi Minh city are the hubs of cultural and historical sites in Vietnam where you need to spend several days exploring.
8 – Holiday
Hanoi is close to tourist destinations with majestic mountainous landscapes such as Ninh Binh, Sapa and Ha Giang or the stunning bays like Halong Bay or Lan Ha Bay.
Saigon is close to many beautiful river deltas, beaches and islands. Best places to visit from Ho Chi Minh city are Vung Tau beaches, Mekong River Delta and Phu Quoc islands.
9 – Traffic in Hanoi vs Ho Chi Minh city
The same thing for traffic in Hanoi vs Ho Chi Minh city is congestion at peak hour at 8.00 – 9.00 am and 16.30 – 19.00 pm.
Noi Bai Airport is located in the suburbs about 30km from the center of Hanoi. In Saigon, Tan Son Nhat airport is located in the city, about 8km from the center.
Public buses are the most popular forms of public transportation in both cities. The hop-on-hop-off travel bus is a great way to explore the cities. Especially since 2017, Ho Chi Minh City has put into operation the Saigon River bus routes, contributing to solving traffic overload and bringing new experiences for tourists. Taxi and ride-hailing services from Grab, Be and Go Jek are highly recommended for travelers.
10 – Pollution
The pollution in Hanoi vs Ho Chi Minh city is both high compared to the rest of the country. These two most modern and most developed cities in Vietnam are struggling with the serious situation of environmental pollution, especially air pollution when the overhigh amount of particulate matter due to the greenhouse gas emissions, industrial emissions, dust, pollen.. Without preventive measures, people in these two cities will face health problems related to the respiratory systems. The air pollution will be more severe on winter days due to the low humidity and dry weather. Traveling to these two cities, tourists should put on a mask when going out.
11 – Lifestyle of people in Hanoi vs Saigon
Hanoians and Saigonese have lots of differences in characteristics and lifestyle. Hanoians seem like more conservative, traditional & hierarchical, with sarcastic humor and wordplay. In daily life, Hanoians tend to pay more attention to appearance and savings for the future.
Saigonese are much more active, friendly and open in thoughts & communication. They prefer to enjoy every moment of life rather than think of the future. It can be said that, if most northern people like dressing in formal suits, the southerners love casual clothing.
12 – Safety level between Hanoi and Saigon
Security in Hanoi is somewhat higher than Ho Chi Minh City. In Saigon, there are lots of robberies happening daily to both locals and travelers. In general, to all tourists visiting Vietnam, you need to be more careful when going out. It would be better to keep your passport and valuable belongings at the hotel rather than take them everywhere.
To those who are wondering which is better Hanoi or Ho Chi Minh, there is no absolutely right answer. Actually, both cities have good and not so good things.
The two cities of Hanoi and Saigon have their own unique beauty. An ancient & gentle Hanoi versus a dynamic and energetic Saigon are more attractive and enchanted to a complete travel experience in Vietnam.
Being born and living here in Vietnam, I got a chance to see lots of beautiful places, try countless great dishes, & experience many interesting things in places I visited. And It's so great to share all things I know about Vietnam to you.
Hanoi vs Saigon: Which city is better?

When it comes to deciding which city to visit in Vietnam, Hanoi and Saigon (or Ho Chi Minh City) are frequently common options among first-time visitors. At first glance, both cities seem to have a plethora of sightseeing and retail experiences, eating and nightlife choices and hotels to fit almost every budget and choice.
1. Attractions
Hanoi: More temples & natural landscapes
The capital of Vietnam is dotted with well-preserved Buddhist shrines, majestic lakes, and an Old Quarter filled with ancient ruins, some of which are over 1,000 years old. The Temple of Literature, Ngoc Son Temple, One Pillar Pagoda, and Thang Long Imperial Citadel are all notable landmarks. Although the French Quarter has its fair share of colonial villas and mansions, Hanoi is known for its proudly preserved Vietnamese culture and traditions.
Ho Chi Minh City: More war museums & colonial structures
Though Ho Chi Minh City has seen rapid urbanization over the years, there are still many colonial houses, war museums, and historic relics of the Vietnam War to be found. In the city center, visitors can visit the Central Post Office, Ho Chi Minh Square, War Remnants Museum, and Reunification Palace, while the Chu Chi Tunnels are a 40-minute drive away. Here's a handy guide to things to do in Ho Chi Minh City.
2. Hotels
Hanoi: more boutique-style
Hotels in Hanoi (particularly in the French Quarter) are typically boutique-style properties with unique architectural ideas, personalized services, and a wide variety of amenities. Although backpackers can find reasonably priced lodging in the Old Quarter, Hanoi primarily caters to middle-class and affluent visitors.
Saigon: more variety
Ho Chi Minh District, as Vietnam's commercial and financial hub, provides a diverse selection of lodging options in the city center, with convenient access to famous cultural landmarks and attractions. District 1 is home to sprawling five-star hotels, while backpackers can find low-cost guesthouses on Pham Ngu Lao Street and Cholon Street (Chinatown). Check out our list of the Top 10 Best Hotels in Ho Chi Minh City to find the best one for your travel dates and budget.
3. Dining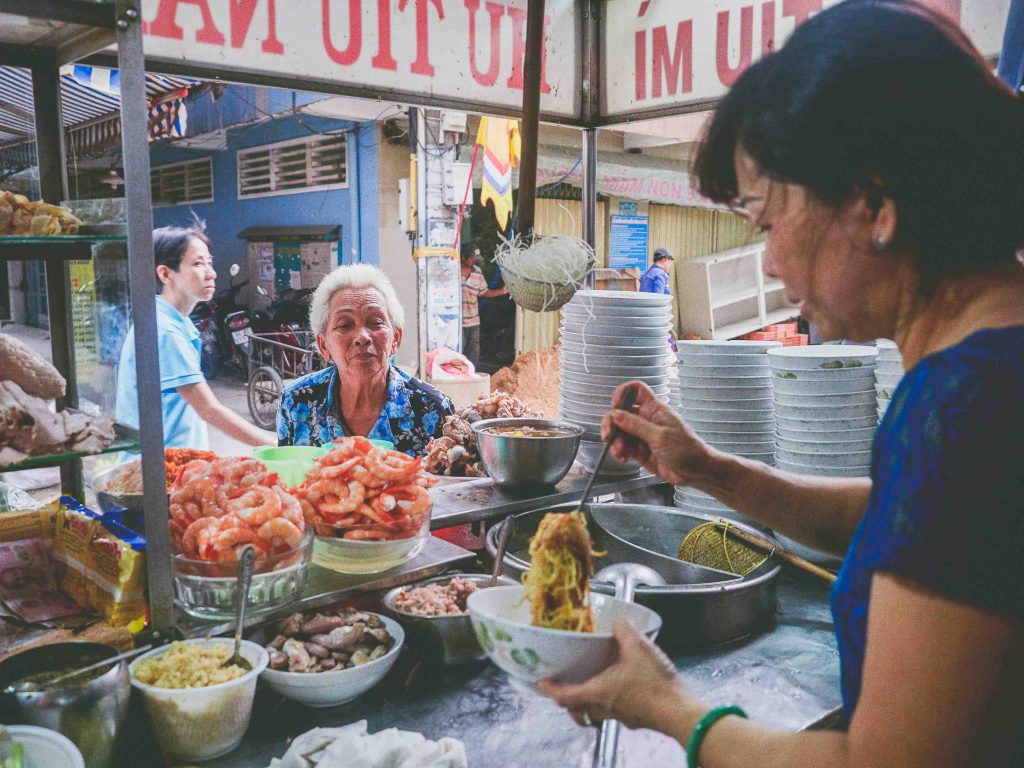 Hanoi: more traditional
In terms of dining, Hanoi's small alleyways are home to many roadside stalls, urban markets, and family-owned restaurants. The classic Vietnamese pho (rice noodle soup) originated in Hanoi, where a generous bowl with lots of fresh greens costs less than US$1. In addition, we've assembled a list of the best local restaurants and dishes to try in Hanoi.
Saigon: more diverse
Ho Chi Minh City is renowned as Vietnam's culinary capital, with authentic French and Vietnamese delicacies as well as expat-owned bistros offering Japanese, Chinese, Mediterranean, and American fare. From opulent fine-dining establishments to casual pizza joints, here are our top picks on where to eat in Ho Chi Minh City.
4. Nightlife
Hanoi: More casual bars
If you're hunting for cheap booze and laid-back vibes, Hanoi is the place to be. After dark, a section of Hanoi's Old Quarter turns into Bia Hoi Junction, a buzzing nightlife area where visitors can sip local beers (bia hoi) for as little as VND 5,000 per bottle while sitting on plastic stools.
Saigon: More nightclubs & rooftop bars
Many skyscrapers and five-star hotels in Ho Chi Minh City's District 1 have rooftop bars and swanky nightclubs that remain open until 03:00 or later, catering to a more affluent clientele. Live music bars and casual pubs can be found along the backpacker-friendly Pham Ngu Lao Street for those on a tight budget.
5. Shopping
Hanoi: more markets
Hanoi's busy markets and colonial shophouses selling handicrafts, native artwork, and new produce have a more authentic shopping experience. There are no two streets in the pedestrian-friendly Old Quarter that are alike, as each specializes in a different commodity, such as silverware, shoes, or silk fabrics. Check out our shopping guide for the best places to shop in Hanoi.
Saigon: more shopping malls
Ho Chi Minh City, on the other hand, is known for its spacious and modern shopping malls, such as Vincom Center, Takashimaya Vietnam, and Parkson Plaza Department Store. Meanwhile, fashion boutiques and art galleries line Dong Khoi Street in District 1, where bespoke pieces can be purchased for a fraction of the price they would cost elsewhere. Shopping is one of the main draws for visitors to Ho Chi Minh City, so we've put together a helpful guide to the best spots for retail therapy.
6. Lifestyle
Hanoi: more traditional
Hanoi, home to a vibrant local Buddhist population, has remained traditional throughout the years. The Old Quarter's streets still have colonial shophouses, stores, small restaurants and stalls, and coffee shops that have been serving the residents for decades. The aged doing Tai Chi and line dance, people walking their puppies, and couples enjoying the lake's tranquil scenery can all be seen at Hoan Kiem Lake.
Saigon: more westernized & urban
Ho Chi Minh City's lifestyle has been heavily inspired by American and French society, resulting in rapid modernization in the form of luxurious hotels, fashionable shopping centers, entertainment options, and futuristic skyscrapers. However, there are numerous historical monuments in the district, including the Reunification Palace, Cao Dai Temple, and Jade Emperor Pagoda.
7. Traffic
Vietnam's traffic condition is undeniably notorious, especially in developed cities such as Hanoi and Ho Chi Minh City. Although Ho Chi Minh City has newer and broader roads than Hanoi, traffic jams are unavoidable during peak hours, with motorists misusing sidewalks, pedestrian streets, and narrow alleyways to get to their destination. As dangerous as it sounds, it's important not to panic when you're walking into six lanes of dense traffic – just keep a steady pace, don't panic and you'll probably be fine.
Conclusion
While both Hanoi and Ho Chi Minh City are popular tourist destinations in Vietnam, it is obvious that each city caters to a particular category of visitor. Hanoi is suitable for those seeking a more conventional way of life, while Ho Chi Minh City's urban environment is better fit for leisure travelers. Domestic flights between Hanoi and Ho Chi Minh City are also available on a regular basis, allowing you to experience the best of both worlds. If you're looking for a more affordable option, the Reunification Express train costs between USD50 (for hard seats) and USD90 (for soft seats) (for soft berth).
The Best Time to Visit Hanoi, Vietnam
Mike Aquino is a travel writer covering Southeast Asia and Hong Kong. He lives in Manila full-time, but is perfectly at home in a Singapore hawker center.
MeogiaPhoto / Getty Images
Unlike the typical tropical conditions of South Vietnam, the capital of Hanoi shares the north's mild tropical climate, with cold winters from November to February and a monsoon season that reaches a rainy crescendo from June to August. For tourists and residents alike, the cool season between October and December makes walking around Hanoi a joy, not a sweaty chore.
Despite the mostly cloudless skies, the weather at this time feels crisp, not oppressive: you won't sweat even as you walk for hours past Hoan Kiem Lake to the Old Quarter, taking in the sights. Here are the best times to visit Hanoi and what each season brings to the table.
The Weather in Hanoi
Hanoi's weather is governed by tropical monsoons that alternate directions over the year. A wet and warm southwest monsoon causes temperatures to rise and torrential rains to fall; then, a cool, northeast monsoon causes Hanoi's weather to turn drier and colder.
The alternating monsoon winds result in three distinct seasons (including the sunny transitional period between monsoons):
Rainy season: The southwest monsoon from over the Indian Ocean brings in warm, water-saturated ocean air, triggering pouring rains over Hanoi between June and October.
Cool, dry season: The northeast monsoon blowing from Siberia creates a cool, dry climate between November and February.
Hot, humid season: As the monsoon winds change direction between March and May, Hanoi experiences warmer but relatively rain-free weather during this transitional period.
These three seasons will determine what sights you should see when you visit and the prices you pay for access. Peak tourist season in the cool, dry months will also bring the highest prices, as will the domestic peak season in the hot, dry months between March and May.
If you're booking a visit to Vietnam during these times (especially during Chinese New Year, or Tet as it's known locally), expect transport and accommodation prices to be sky-high and booked months in advance.
Beyond the peak season mentioned here, Hanoi can trend towards uncomfortably hot and humid on the one hand and chilly on the other. The temperature in Hanoi ranges from 61 degrees F (16.2 C) lows in January to 84 degrees F (28.9 C) highs in June. Humidity peaks during the rainy season, reaching up to 85 percent in August, with rainfall measuring 12.2 inches.
Key Events and Festivals in Hanoi
Vietnam's biggest festival is naturally the capital's most important: Tet Nguyen Dan. Coinciding with Chinese New Year, the holiday takes place on a moveable schedule between January to February and marks the beginning of the New Year in the Chinese lunar calendar.
Hanoi citizens celebrate Tet over several days, with family reunions taking place between festive events in public places throughout the city.
The streets of the Old Quarter, for starters, are lined with stalls selling traditional Tet treats, decorations, and gifts. Locals crowd the Quang Ba Flower Market to buy auspicious blooms to decorate their homes. And a calligraphy festival at the Temple of Literature brings traditional arts to life.
The second-largest festival takes place between September and October, coinciding with the fifth day of the eighth month of the Chinese lunar calendar. The Mid-Autumn Festival (Tet Trung Thu) is also known as the Children's Festival, and as a result, the best place to visit during this holiday season is the Old Quarter, where Hang Ma and Luong Van Can streets will come alive with toys for sale and lanterns lighting up the streets.
Rainy Season in Hanoi
During Hanoi's rainy season (June to October), the capital receives the highest amount of precipitation, with an average of 12 inches of rain per month. High humidity works with high average temperatures to turn anyone into a sticky, wet mess after a few hours outdoors.
During this time, flooded streets can cause numerous travel complications; the city's drainage systems can become overwhelmed with the sudden rain showers, flooding roads for an hour or so until the water has a chance to drain away.
When visiting the city during the rainy season, make sure to bring mosquito repellent. This is also when Hanoi experiences a spike in cases of dengue fever, a tropical disease transmitted by mosquito bites. A 2017 dengue outbreak stretched Hanoi's healthcare system to the breaking point, resulting in 90,000 infections, leading to 77,000 hospitalizations and 24 deaths.
Events to Check Out:
Mid-Autumn Festival: historic areas like the Old Quarter turn into lantern-lit wonderlands selling toys and mooncakes.
Dry Season in Hanoi
Hanoi's peak season for travel is a no-brainer: between November and February, temperatures drop to average lows of 61 degrees F (16.2 C) in January, the coolest month. Rainfall hits its lowest at 1.9 inches, compared to 12 inches in August.
The city feels packed with local and foreign tourists taking advantage of the cooler weather to see the sights. The Tet festival finds the city at its most festive. Hoan Kiem Lake is a popular choice for tourists, as the leaves change to a golden-yellow during this season.
On the other hand, Ho Chi Minh Mausoleum sends the embalmed body of the deceased leader to Russia for touching-up for two months in October and November, closing the attraction while the body is away.
Events to Check Out:
Tet Nguyen Dan (Chinese New Year): Vietnam's most important festival, bar none. If you can brave the high ticket prices to visit during Tet, go to the Old Quarter for shopping, and watch the fireworks at Hoan Kiem Lake after dark.
Co Loa Festival: From the sixth to the 16th days of the Lunar New Year, this temple celebration takes place at An Duong Vuong Temple, in Dong Anh District, just outside Hanoi. The festival celebrates a legendary king's memory in the form of street food stalls and wrestling matches.
Smog in Hanoi
Dry and cold air in the winter months often causes pollution levels to increase during the cooler months. As a result, Hanoi's air quality index (AQI) exceeds the World Health Organization Air Quality Guidelines' maximum exposure threshold ten times over.
Fog-covered mornings and late afternoons in Hanoi restrict air circulation, creating a pollution problem exacerbated by the flat local topography and industrial zones in neighboring provinces. In these conditions, particulates are trapped at ground level, creating a thick smog that blankets the city and causes health issues, particularly among the elderly and children.
Heat Season in Hanoi
Temperatures start to crest between March and May in Hanoi, with temperatures hitting 81 degrees F (27.2 C) at the end of the season. You begin to wish the rain would start falling to break the heat!
These months also represent the domestic peak season, when Vietnam Reunification Day and International Labor Day (on April 30 and May 1, respectively) present the Vietnamese with a couple of days off for travel, including to the capital.
Events to Check Out:
Some of Hanoi's most prominent temples celebrate their key festivals this season. The top ones to consider visiting include:
Dong Nhan Temple Festival: On the sixth day of the second lunar month (around March), the Dong Nhan Temple in Hanoi's Hai Ba Trung District offers sacrifices to the Trung Sisters who helped save Vietnam from Chinese invasion.
Chem Temple Festival: In Hanoi's Tu Liem District, Chem Village hosts a temple dedicated to a Vietnamese folk hero who helped the Chinese Emperor drive out invaders. On the 15th day of the fifth lunar month (around May or June), the statue of Ly Ong Trong is bathed at the Red River, as the town breaks into a frenzy of entertainments, including traditional wrestling, human chess, and folk plays.
Giong Festival at Phu Dong Temple: On the eighth and ninth days of the fourth lunar month (around May or June), Phu Dong celebrates its most famous son, Saint Giong, a legendary hero who drove off foreign invaders. A folk play takes place to reenact Giong's climactic battle against the invading forces.
The cool season between November and February offers the nicest weather in Hanoi.
Rainy season in Hanoi spans June through October.
When to visit depends on what you're looking for. For cooler weather, but during peak tourist season, travel between November and February. To see peak domestic season, visit between March and May.
Temperatures vary on the season, but during the summer months, temperatures can range anywhere around 80 degrees F and 90 degrees F.
TripSavvy uses only high-quality, trusted sources, including peer-reviewed studies, to support the facts within our articles. Read our editorial policy to learn more about how we keep our content accurate, reliable and trustworthy.
Source https://vietnamtrips.com/ha-noi/hanoi-vs-saigon
Source https://focusasiatravel.com/hanoi-vs-saigon-which-city-is-better/
Source https://www.tripsavvy.com/best-time-to-visit-hanoi-vietnam-5209551