Describe a place you would like to visit – IELTS Cue Card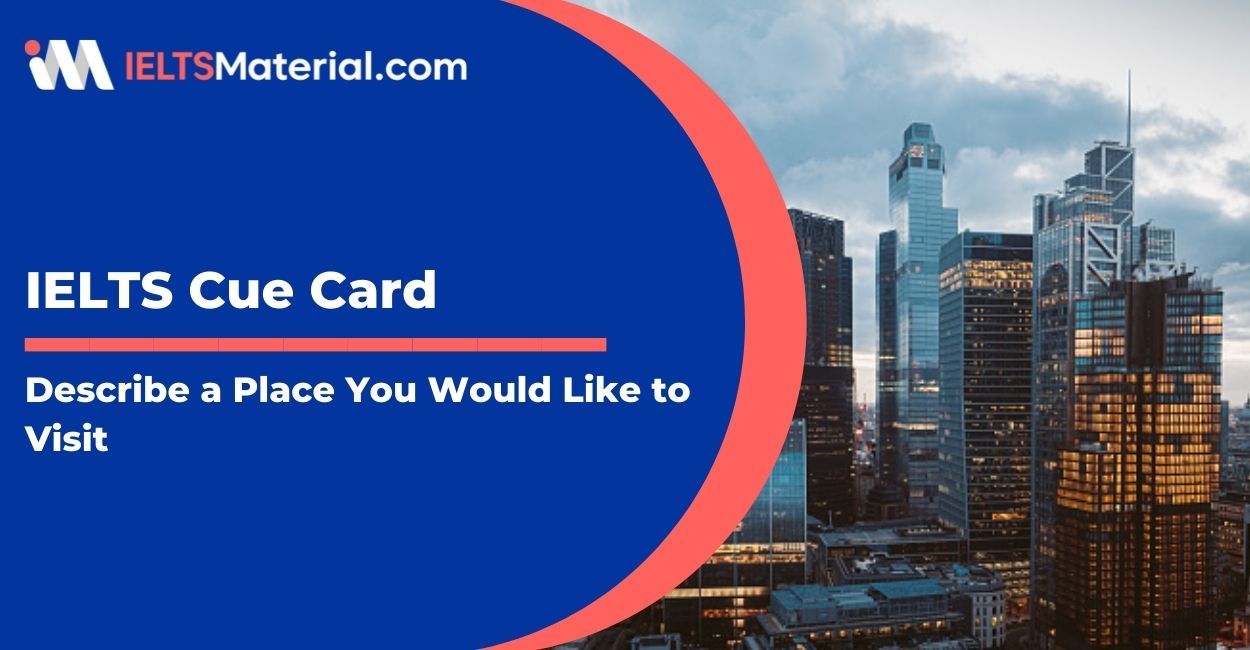 In IELTS Speaking, to get Band 8.0+, you should focus on one idea only and then expand that idea into a long meaningful sentence using grammar patterns and vocabulary. So, with this cue card, practise for your IELTS Speaking Part 2.
Describe a place you would like to visit.
You should say:
where it is
what the main attractions are
how you know this place
and explain why you want to visit this place.
Sample Answer 1
I am a travelling buff. I feel alive when on the road than spending my days and nights in the same city. Although I have plenty of to-visit places on my checklist, I would like to visit Rishikesh if I have to choose only one.
Situated in the state of Uttarakhand, Rishikesh is a city in the Himalayan foothills beside the Ganges river. The town is renowned as the yoga capital of the World. There are temples and ashrams on the eastern bank of the city.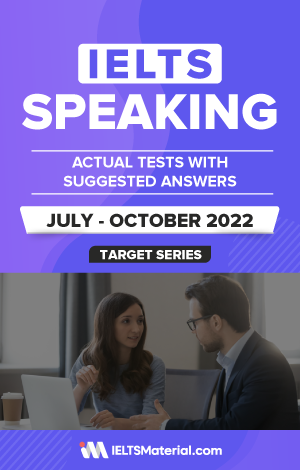 IELTS Speaking Actual Tests with Answers (July – October 2022) | eBook
4.8 of 107 Reviews
Written by professional IELTS teachers to help candidates on the big day
Written by professional IELTS teachers to help candidates on the big day
The town features plenty of mesmerising places capable of holding your attention. Right from indulging in adventurous activities, such as river rafting and bungee jumping, we can relish our breakfast at the riverside cafes that offer sights to behold. And then, we can roam around several shops lined along the Laxman Jhula. We can also visit the Ghat to submerge into the stunning tranquillity of Ganga Aarti in the evening.
Considering I live in a nearby state, I have always been familiar with Rishikesh. However, my interest in this city grew manifold when I found out that my favourite English rock band – Beatles- visited this place in the 60s. The band sought spirituality and spent their time at the Maharishi Mahesh Yogi Ashram. Not just that, even Steve Jobs and Mark Zuckerberg have spent time in the ashrams of Rishikesh, seeking their purpose in life.
One of the primary reasons to visit Rishikesh is to take a getaway from the hustle-bustle of my daily life. I wish to spend some days connecting with my inner soul through spirituality and gain peace of mind.
Vocabulary
Soothing: Pleasant
Eg: The weather is very soothing.
Journal: Diary
Eg: She gifted me a journal on New Years.
Iconic: Specialty
Eg: Dancing Bhangra on weddings is his iconic move.
Abbey: a type of monastery used by members of a religious order under t he governance of an abbot or abbess
Eg: She decided to visit the abbey after she finished her work.
Sample Answer 2
Travelling has always been my passion since I was a kid. I used to visit at least one place in my summer vacation for as long as I can remember. It was like a tradition. I kept a journal. Although I don't write regularly, I keep a note of everything I feel good about or find attractive. There is a special section in my journal where I write down about the places I want to visit in the near future. A place I especially want to visit once in my lifetime is London.
The city has a very soothing weather. However, what drew my attention was the beautiful greenery of the city. The capital city of England has a lot of things to show us, from the Iconic Ferris wheel, popularly known as the London Eye, Westminster Abbey, Buckingham Palace, St. Paul's Cathedral, and many other places.
Most of the classics are filmed in London, and needless to say, it is pretty. The set of Little Women, The Pride and Prejudice, and even modern movies like Enola Holmes and Bridgerton have beautiful backgrounds and beauty. The lush green trees of Groton are gorgeous. The rocky valley of Derbyshire is so pretty and calm. So many poets like Wordsworth have beautifully described the city of London in their Sonnets. His poem "Upon Westminster Bridge" is one of my very favourite poems.
It is for all these reasons that I want to visit the place. I have heard and read about it. To some extent, I've virtually witnessed it, too, but there is a vast difference between feeling it by your own skin. I want to feel the London rain. I want to smell the sweet smell of the green grass in the countryside and feel the beautiful busy life of the city.
Sample Answer 3
Since childhood, I have loved exploring new places, especially near the ocean, sea, or river. So, some places from all over the world found their place on my travel bucket list. One such place that I would like to visit when I get the right opportunity and travel partner is the Santorini island in Greece.
Being a volcanic island surrounded by the southern Aegean Sea, Santorini or Thira is famous for dramatic views, stunning sunsets from Oia town, blue-green water around Fira, the Venetian Castle in Akrotiri and the incredible views from the tower La Ponta. Apart from that, there are naturally fantastic beaches such as the beach of Perissa and the black pebble beach of Kamari. Besides the above iconic tourist places, the active volcano on the island has its own share of sightseers.
In school, I used to spend most of my free periods in the library. So, one day, while I was going through a travel magazine, I found a breathtaking place with cubic white house-like structures and blue-green sea all around. At first glance, I was mesmerized by the heavenly images on the pages of the book. That was my first encounter with Santorini and since then, I have been in love with those images.
Other than being a travel buff, I also love the history of Greece. There are many myths about this island, which is one of the five Cycladic islands. For example, many believe that Santorini was the original home of the lost city of Atlantis, which disappeared into the depths of the ocean. I would also like to enjoy the boat excursions, popular cruises and vineyard touring. Moreover, the candy-coloured houses along the cliffs, the clear blue water, the peaceful beaches, and the kaleidoscopic sunsets urge me to visit this remarkable island.
24. IELTS Cue Card –
Describe a street that you like to visit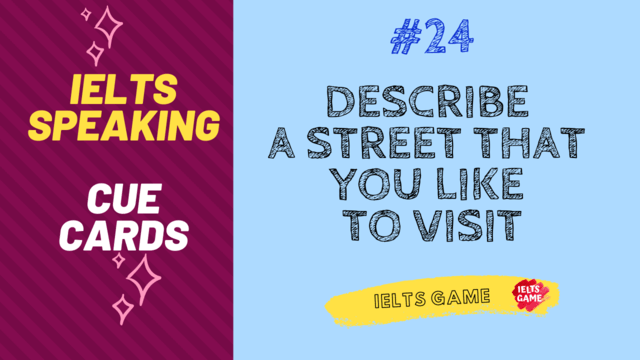 In this article, IELTS Game will add number 24 IELTS cue card sample on the series of IELTS speaking exams part 2 with band 9.0 model answers that will help you in your IELTS preparation.
This cue card is related to "Place description" topic and asking you to "Describe a street that you like to visit." and asking some questions related to this topic.
Another cue card related to this topic is a cue card asking you to "describe what you would do if you had a day off, free from work or study."
Share this Post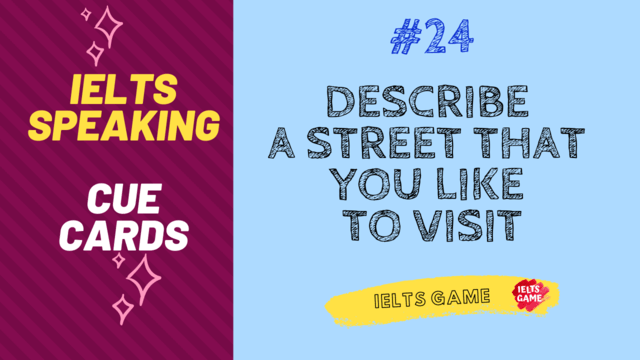 Describe a street that you like to visit IELTS cue card
Describe a street that you like to visit.
– where is it
– how often you go there
– what you usually do there
– and explain why you like to go there
Describe what you would do if you had a day off, free from work or study.
– where you would go
– what you would do there
– who you would go with
– and explain how you think you would feel at the end of this day.
Band 9.0 Sample.
As a full time employee/student, I don't have much free time. As a result, whenever I have a day off, I visit my favorite street in the city. The name of the street is [……].
It is located near [……] and it is the place where I would always choose to go.
I usually go there in the morning, park my moped in the nearby parking lot and walk along the street by myself.
Although I am quite a sociable person, I like my own space from time to time.
Living in a metropolitan area with a fast-paced life doesn't allow me to have time for myself that often.
This is probably the only time I can escape from my normal routine, completely free and just breathe, without worrying about my job/my studies.
This street is perfect for my purpose because there are only government offices around here, hence it is always quiet.
Moreover, both side of the streets are planted with many big trees, their shade covers the whole street.
On a sunny day, you can see the sun's rays shining through the leaves.
Every time I come here I feel fresh and less stressed, especially after my busy days at work/ preparing for exams.
At the end of the day, I can refresh my mind and be ready for a new day.
USEFUL VOCABULARY & EXPRESSIONS.
moped: [noun] a motorcycle with a small engine and also pedals.
Example: I sometimes use the engine on my moped, but more often I use the pedals, like a bicycle.
sociable: [adjective] a sociable person is someone who enjoys spending time with other people.
Example: she's a sociable child who will talk to anyone.
my own space: my freedom and time to think and do what I want.
Example: he was tired of being with other people, so he went to his room to get some space.
metropolitan: [adjective] connected with a large city.
Example: my brother lives in the New York metropolitan area.
fast-paced: [adjective] very busy
Example: my university course is very fast-paced, so it is difficult to complete all my assignments on time.
shade: [noun] an area that is dark and cool under or behind something [like a tree], where the light of the sun does not reach it.
Example: We sat down in the shade of the wall.
rays: [noun] narrow lines of light.
Example: The rays of the sun entered my window when the sun rose early in the morning.
refresh: [verb] to refresh somebody is to make them less tired or less hot.
146. IELTS Cue Card –
Talk about a new public building/place, which you would like to visit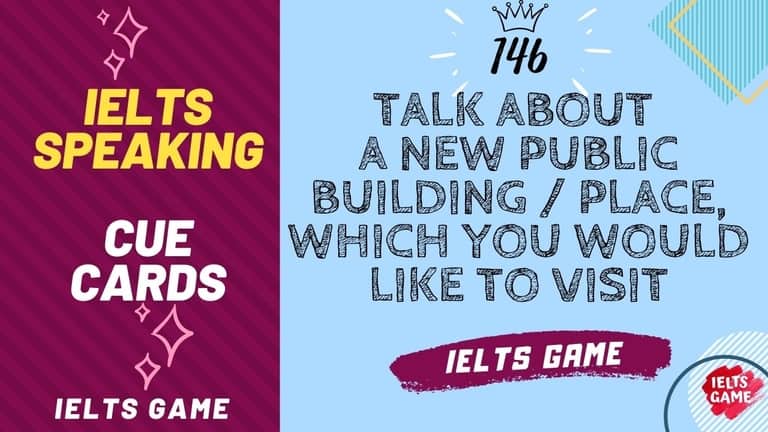 In this article, IELTS Game will add number 146 IELTS cue card sample on the series of 2020 cue cards with band 9.0 model answers and part 3 follow up questions that will help you in your IELTS test preparation.
This cue card is related to "Place description" topic and asking you to "Talk about a new public building/place, which you would like to visit" and asking IELTS speaking part 3 follow up questions.
Share this Post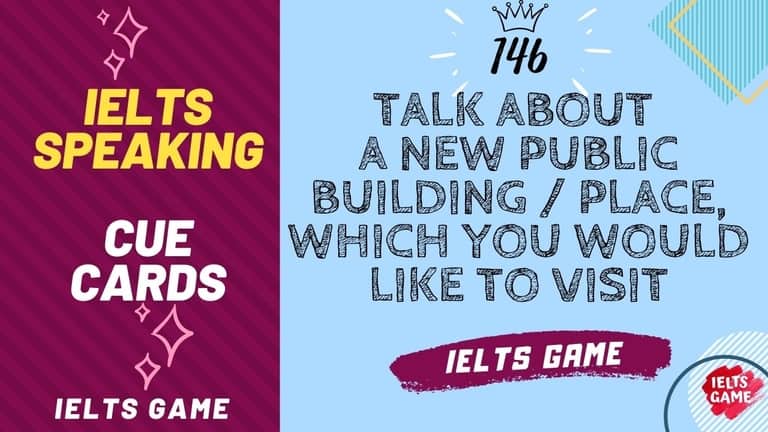 Talk about a new public building or place which you would like to visit
IELTS Cue Card 2020 Sample 146
Talk about a new public building or place which you would like to visit .
– Which building/place is it?
– Where is it?
– When would you like to visit it?
– With whom would you like to visit?
– Why do you want to visit it?
Band 9.0 Sample Answer Ideas.
• It is a colossal statue of Sardar Vallabhai Patel, who was the first Home Minister of Independent India.
• This statue can withstand winds of 180 km/hour and can resist earthquake of 6.5 on the Richter scale.
• It includes the entry to the observation deck, valley of flowers, the Sardar Patel Memorial, museum and audio-visual Gallery, the statue of Unity site and the Narmada River.
IELTS Speaking part 3 Follow Up Questions.
Here are some follow up questions you may be asked during part 3 IELTS Speaking exam by the IELTS examiner related to 1st cue card:
"Talk about a new public building or place which you would like to visit"
1. What measures should be taken to deal with damage on public facilities?
First of all people should themselves be aware that if they use these facilities nicely only then they will be able to use them for a long time. Otherwise, the facilities may be destroyed.
The government should appoint people for the maintenance of these facilities.
Another thing that can be done is that a very small fee should be charged for these facilities.
That money could be used for the maintenance of these places.
2. What are the differences between old facilities and new facilities?
Old facilities are like parks and libraries. New facilities are gyms and leisure places.
3. What facilities do young people and old people like in your country?
Young people like gyms and leisure centres. Old people like parks, health centres and libraries.
4. What is the difference between facilities in the countryside and the ones in the cities?
In the countryside the facilities are related to education and health. In the cities there are many entertainment facilities also.
Source https://ieltsmaterial.com/ielts-cue-card-topic-describe-a-place-you-would-like-to-visit/
Source https://ieltsgame.com/describe-a-street-that-you-like-to-visit/
Source https://ieltsgame.com/talk-about-new-public-building-you-like-to-visit/