17 Best Places to visit in Colorado: Where To Travel And Explore
Colorado is a beautiful state full of amazing places to visit. The area has some of the best views with tons of outdoor activities to keep adventure lovers busy. In other words, the Centennial state knows how to throw a party when it comes to spectacular views and outdoor adventures.
Whether you are looking for some peace and quiet or an adrenaline-pumping adventure, you'll find plenty of options for you in the beautiful state of Colorado!
Are you looking for a vacation destination? Colorado is one of the most popular places to visit in the United States. It's a place where people can enjoy nature and explore outdoor activities, such as skiing or hiking. Whether you're on your way there now or thinking about it later, here are some of the best places to visit in Colorado.
Table of Contents
Planning a Trip to Colorado
If you're just starting to plan your trip to Colorado, you're on the right path; congratulations, you're going to have an amazing time! The best part of visiting Colorado is that it's easy to get to from almost any state in the US.
Denver is served by 24 airlines, which offer direct non-stop service from 186 different cities, including 23 international destinations.
Colorado is a great place to explore because it offers natural beauty, history, culture, outdoor activities, and amazing cities with art galleries perfect for travelers who want to experience something new.
If you're looking for other adventures don't miss the best mountain views in Colorado.
Colorado Is Perfect For Outdoor Enthusiasts
Colorado has jaw-dropping mountains and great options for outdoor recreation like skiing at Vail or Aspen. You can also hike in Rocky Mountain National Park, bike through Boulder Canyon Trail System, or explore majestic rock formations along the Front Range.
Colorado National Parks and Monuments
Some states don't even have one national park, but the stunning state of Colorado has four. Each of the national parks is renowned for its beauty and recognized for its attractions.
You can stumble upon ancient cliff dwellings at Mesa Verde or the tallest sand dunes in the country at Great Sand Dunes. Tour through unmistakable canyons at Black Canyon of the Gunnison National Park and explore the unforgettable Rocky Mountain Mountain National Park in all their glory.
Where Should I go in Colorado For the First Time?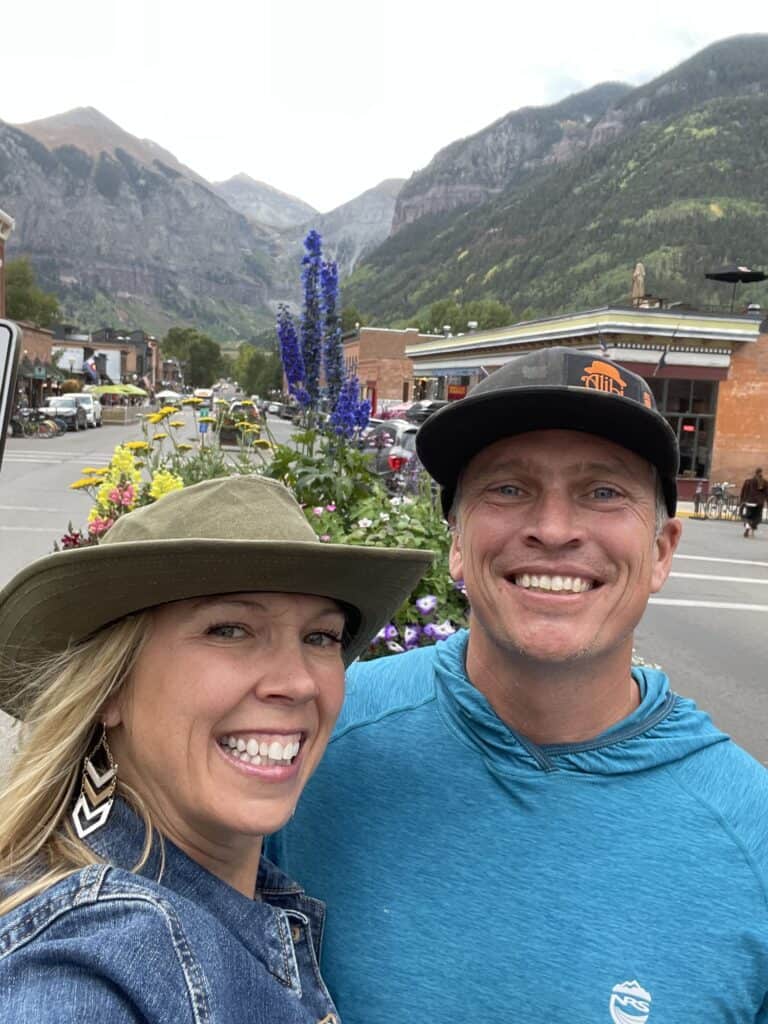 Colorado is a beautiful state with great things to offer for first-time travelers to the area. You'll find natural beauty, wildlife, cultural diversity, activities for everyone, and much more.
For those willing to travel away from the major cities, I'd recommend heading to Telluride for first-timers.
But be warned, Telluride is a trek from Denver, so if you're looking for something close to Denver, you can check out Rocky Mountain National Park/Estes Park or the Pikes Peak area.
Where Should You Go in Colorado This Summer?
If you're looking for an upscale adventure Vail is a great place to visit during the summers in Colorado. There are great hiking trails and plenty of things to do, like biking, golfing, fishing, zip-lining, or playing on the bungee trampoline.
You can also take advantage of the Vail Mountain Gondola, which offers views of the entire valley.
Looking for Something Less Touristy or Less Expensive?
If you're looking for what to do in Colorado that's less mainstream, consider visiting SW Colorado. SW Colorado is my absolute favorite area. I'd recommend going to Crested Butte (for out-of-this-world mountain biking) or Ouray and Silverton for incredible hiking opportunities.
Where Should I go in Colorado in the Winter?
Colorado is home to many attractions and places worthy of visiting in the winter. Colorado's most famous attractions are skiing and snowboarding during the snowy months. There are also a lot of cities that offer plenty of winter activities year-round. The most popular places for winter sports in Colorado are Vail, Breckenridge, and Aspen.
What is the Number One Attraction in Colorado?
With 300 days of sunshine the number one attraction in Colorado is anything outdoors. You can do so many things throughout the year, including hiking, biking, camping, fishing and skiing, and boarding.
If you are thinking about visiting Colorado soon, look at these great ideas below for where to go!
Best Places To Visit in Colorado
Great Sand Dunes National Park
Did you know that the tallest sand dunes in the United States are located in Colorado? Imagine a sea of towering dunes backed by some of the world's most remarkable mountains, and you'll have enough reason to visit this spectacular national park.
The fact that the Great Sand Dunes is designated as a Dark Sky Territory adds to its appeal. This means there is almost no light pollution in the area, making it an excellent location to observe the Milky Way during the night.
Breckenridge
Breckenridge, dubbed one of the most spectacular alpine towns in Colorado, is recognized as one of the best ski resorts in the United States.
Even if you choose to visit Breckenridge during the spring, summer, or fall, you'll find plenty of things to keep you busy in this outdoorsy community.
Breckenridge has almost 300 days of sunshine a year, making it an ideal location for outdoor enthusiasts to white water raft, paddleboard, and partake in numerous other exciting things like mountain biking.
Winter visitors to Breckenridge will enjoy world-class skiing and a wide range of winter sports operations held at the mountain.
If you're into checking out the downtown vibe, you'll be pleasantly surprised. The downtown area of Breckenridge offers visitors a wide variety of restaurants, bars, and shops to explore.
Telluride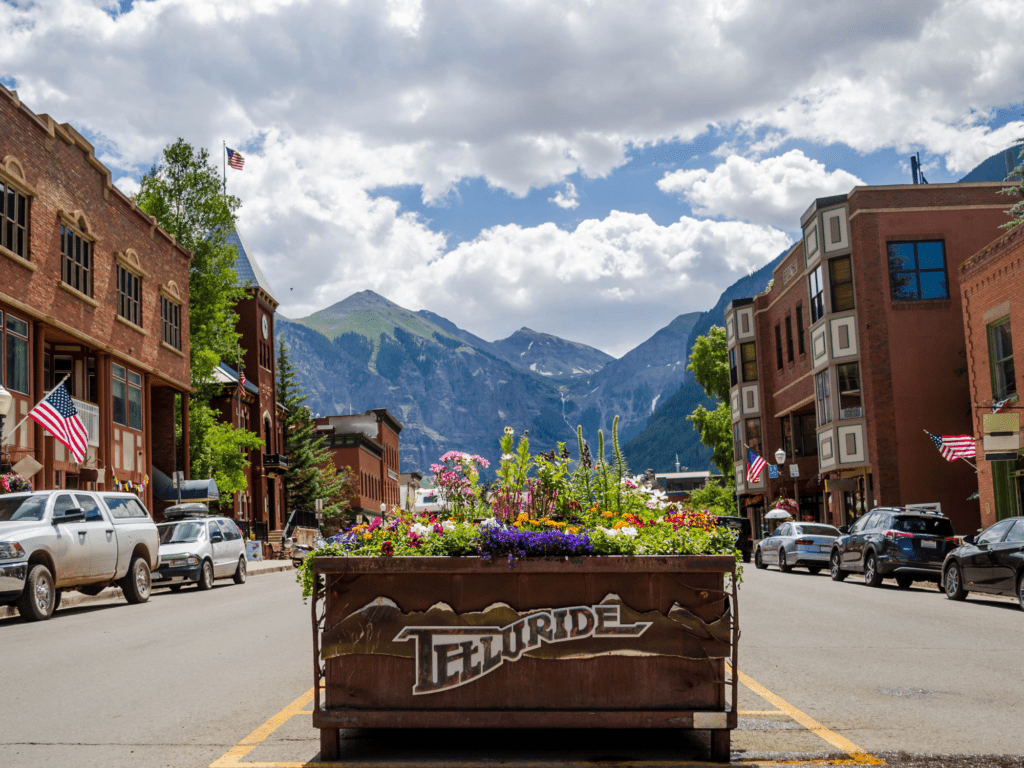 Telluride is one of the most attractive alpine towns in Colorado; with a stunning backdrop of the San Juan Mountains off in the distance, it's one of my favorites. Telluride offers world-class skiing and other snow activities during the winter season, but it also has a lot to offer all year!
The Telluride Via Ferrata is one of the most thrilling adventures in Colorado, where you will get to cross perilous cliff ledges and see some of the state's most spectacular views. If this sounds too daring for you, Telluride offers a variety of epic (and considerably less hazardous) hikes, including the legendary Bridal Veil Falls trek, which will allow you to see a 265-foot tall waterfall!
If you're looking for something that will test your limits and get your adrenaline pumping Telluride has a Via Ferrata over towards Bridal Veil falls. We did the Via Ferrata in Telluride and absolutely loved it you can read more about our experience here.
Emerald Lake
Emerald Lake is perhaps the most beautiful of Colorado's alpine lakes, and it might just be the mecca for all things Colorado.
Emerald Lake is located in the magnificent Rocky Mountain National Park, which means getting there entails a bit of hiking. However, the trail is well-defined and not particularly difficult, so you don't have to be in tip-top shape for this one! Plus, you'll see beautiful waterfalls, valleys, and stunning mountain vistas along the way.
Mesa Verde National Park
Although Colorado is recognized for its gorgeous mountains and world-class winter sports, Mesa Verde National Park demonstrates that the state has a lot more to offer.
Mesa Verde is the best location to learn about Colorado's rich indigenous history.
Thousands of years ago, the ancestors of today's Pueblo people constructed a massive dwelling structure on Mesa Verde's cliffs. Although no one knows for sure how or why this civilization fell, you can see the well-preserved ruins they left behind and paint a vivid picture of their lifestyle.
Million Dollar Highway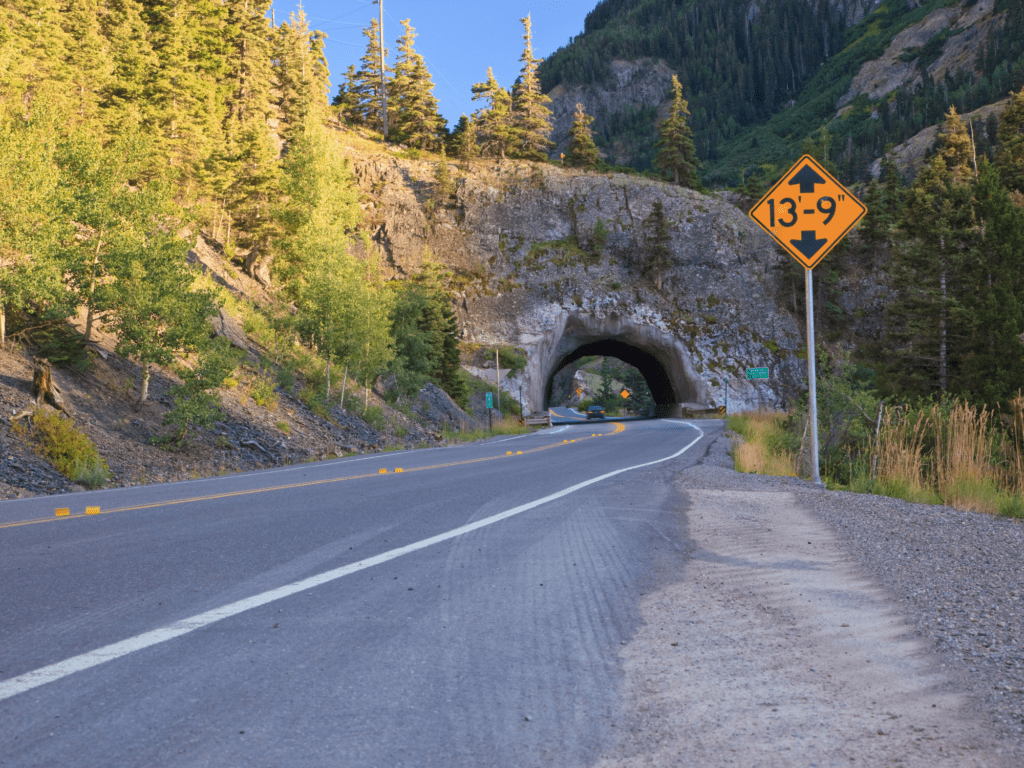 Even though it isn't a destination in and of itself, Colorado's Million Dollar Highway had to be included since, well, it's stunning! The Million Dollar Highway is part of the San Juan Skyway drive and offers some of the state's most spectacular vistas. The
The Million Dollar Highway is the stretch between Silverton and Ouray and is a bucket list adventure you shouldn't miss. The drive between Ouray and Silverton is less than an hour. Still, if you have more time, I highly recommend driving further along the San Juan Skyway drive, where you'll see beautiful places like Durango Telluride, Placerville, and Ridgeway.
Silverton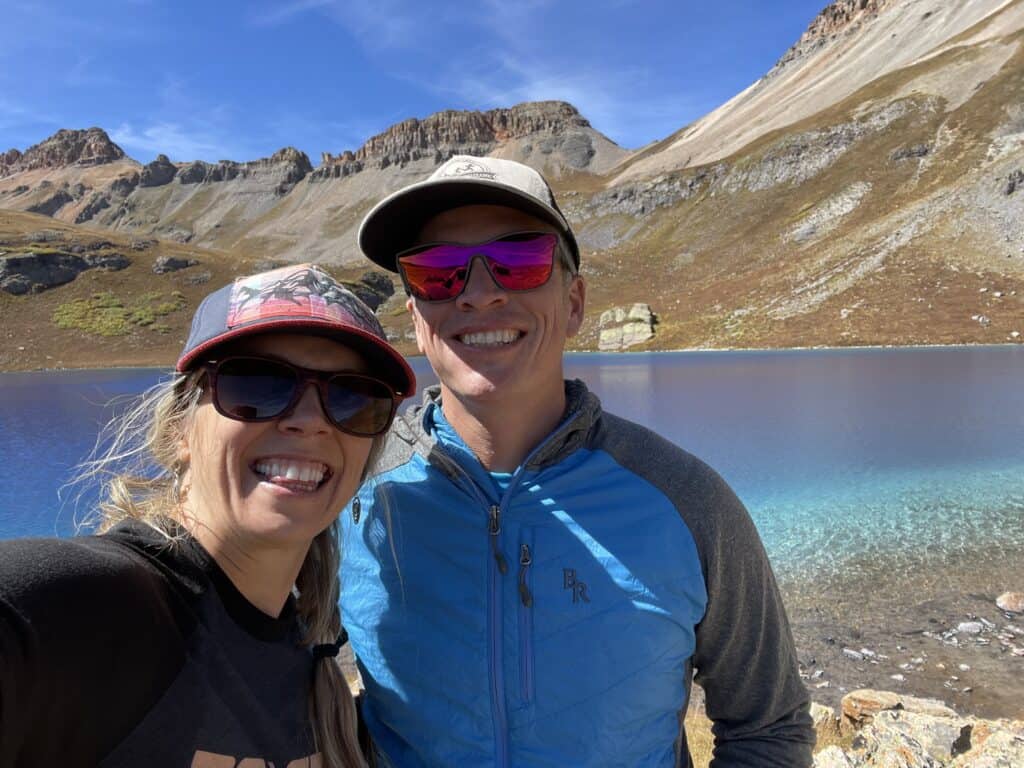 Silverton is a small town in SW Colorado surrounded by spectacular scenery and many areas to explore. Its incredible views and proximity to great attractions like Telluride and San Juan National Forest have popularized this area.
Silverton is home to the famous Durango & Silverton Narrow Gauge Train, which provides access to some of the most beautiful areas in all of North America.
If you are interested in exploring the region, Silverton is a great place to start.
Pagosa Springs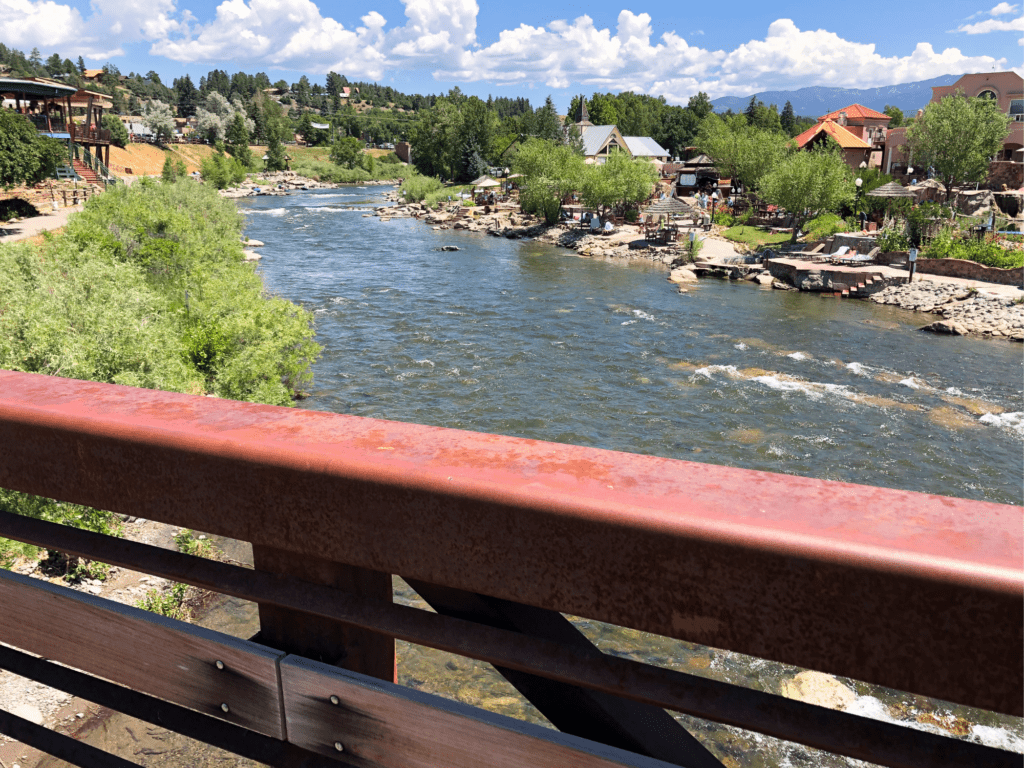 Pagosa Springs is a small town in southwestern Colorado near Durango and Silverton, famous for being the world's deepest geothermal hot spring.
It has been dubbed "healing waters" because it's home to mineral-rich waters, which have helped many people with their health issues. There are several natural springs and hot tubs that bring life back into your body as you soak in them!
It's also an excellent place for outdoor activities, like camping or hiking. You can find some beautiful scenic views from the top of Pagosa Peak, and if you're up for a challenge, you can hike to its peak!
Ouray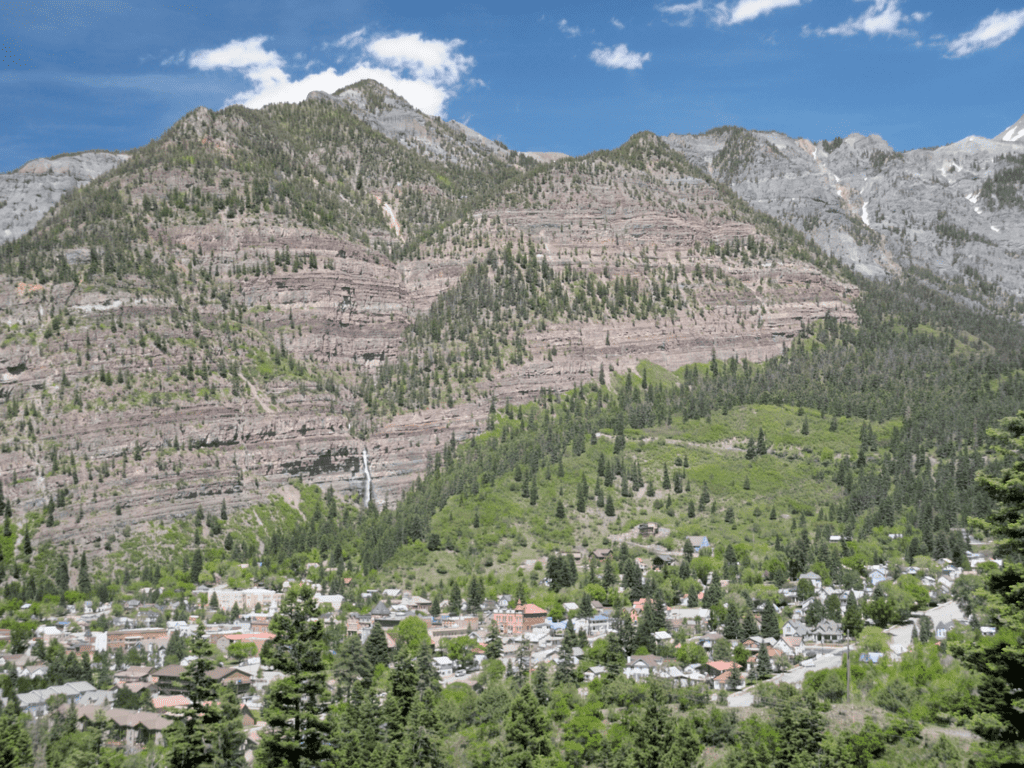 Ouray is a town in the San Juan Mountains of southwestern Colorado. This quaint town is considered one of the most beautiful towns in America. It's surrounded by towering mountains, tons of natural hot springs, and a main street that offers tons of old-fashioned charm.
Aside from the beautiful landscapes, Ouray has a lot of other things to offer. There are hiking trails perfect for those who love to get their sweat on outdoors or simply want some time outside. You can even explore natural landmarks like hot springs and waterfalls while you're here!
Ouray is a fantastic place with much more than just views; it's got everything you could ever ask for when traveling around Colorado!
Garden of the Gods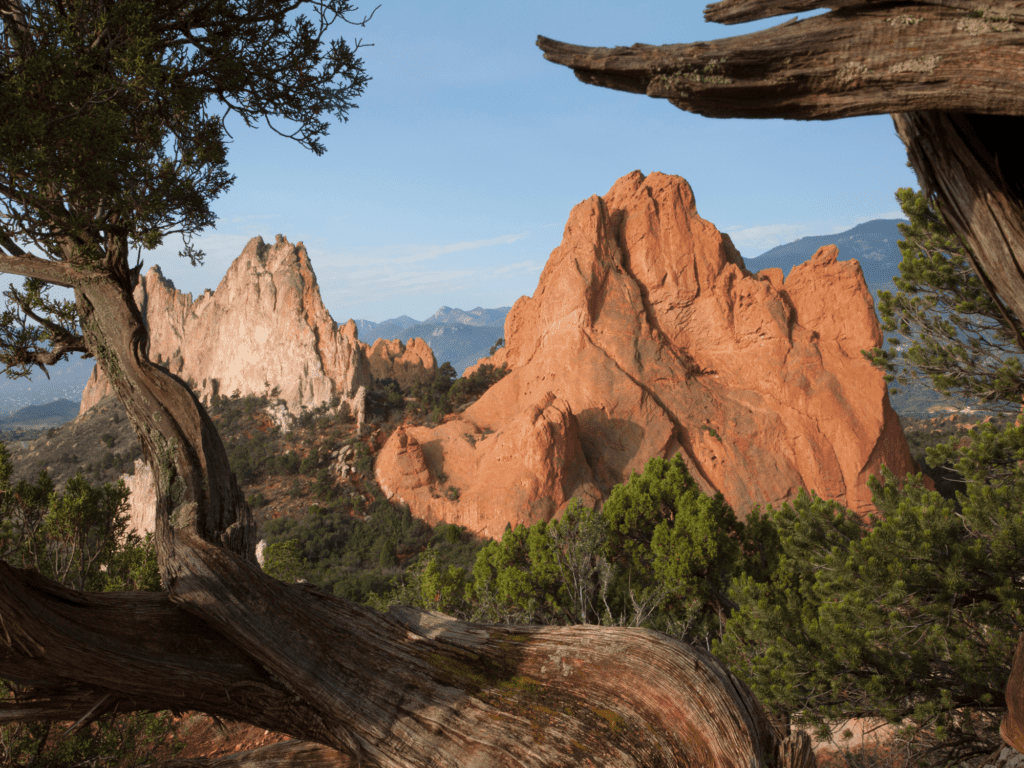 Garden of the Gods is a park in Colorado with beautiful rock formations and cliffs. Visitors can take a couple of tours, including walking trails tours through the park and boating on the Arkansas River.
The Garden of the Gods also offers unique attractions like an amphitheater for concerts, scenic overlooks that provide spectacular views of Denver below, and various museums showcasing artworks from all over America.
Garden of the Gods is a sight in Colorado with majestic sandstone formations. It is 90 minutes from Denver, making it an ideal destination for those wanting to explore this state while remaining close enough to their home base.
Estes Park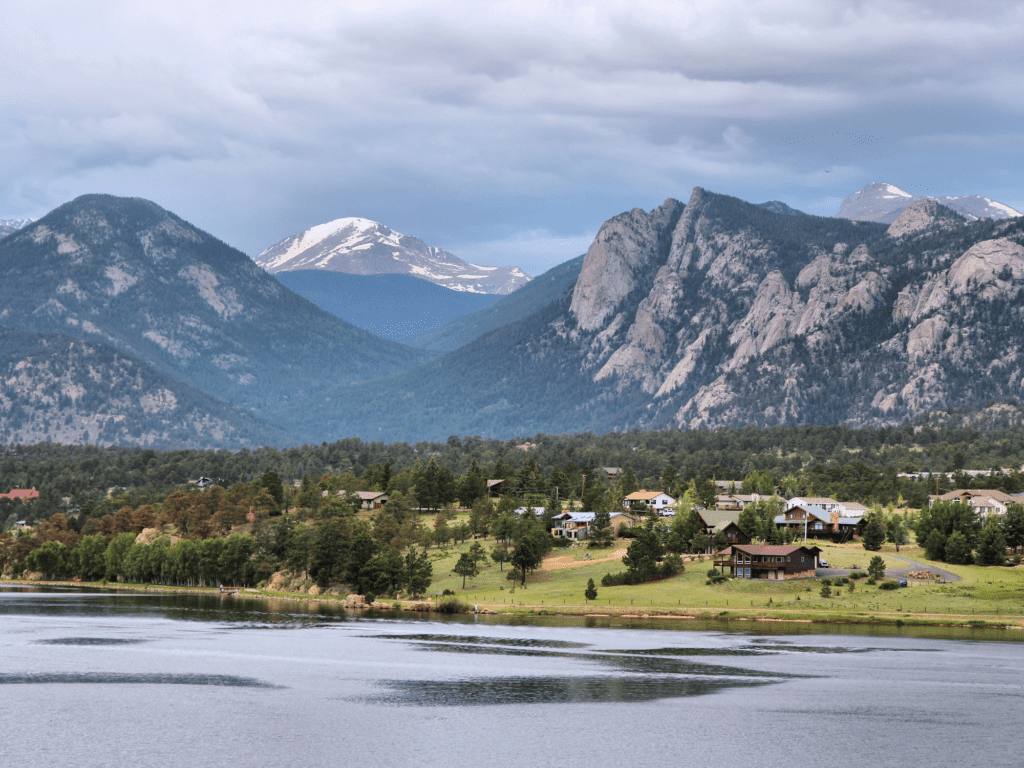 Just 90 minutes from Denver, Estes Park is consistently ranked as one of Colorado's best places to visit.
The breathtakingly beautiful mountain town is known as "the basecamp to Rocky Mountain National Park" and is on the National Register of Historic Places.
Estes Park is known for its stunning mountains, free-roaming wildlife, and outdoor activities.
The area is family-friendly and is one of Colorado's most visited scenic locations. It's the ideal location to unwind and enjoy the nature around you.
Pikes Peak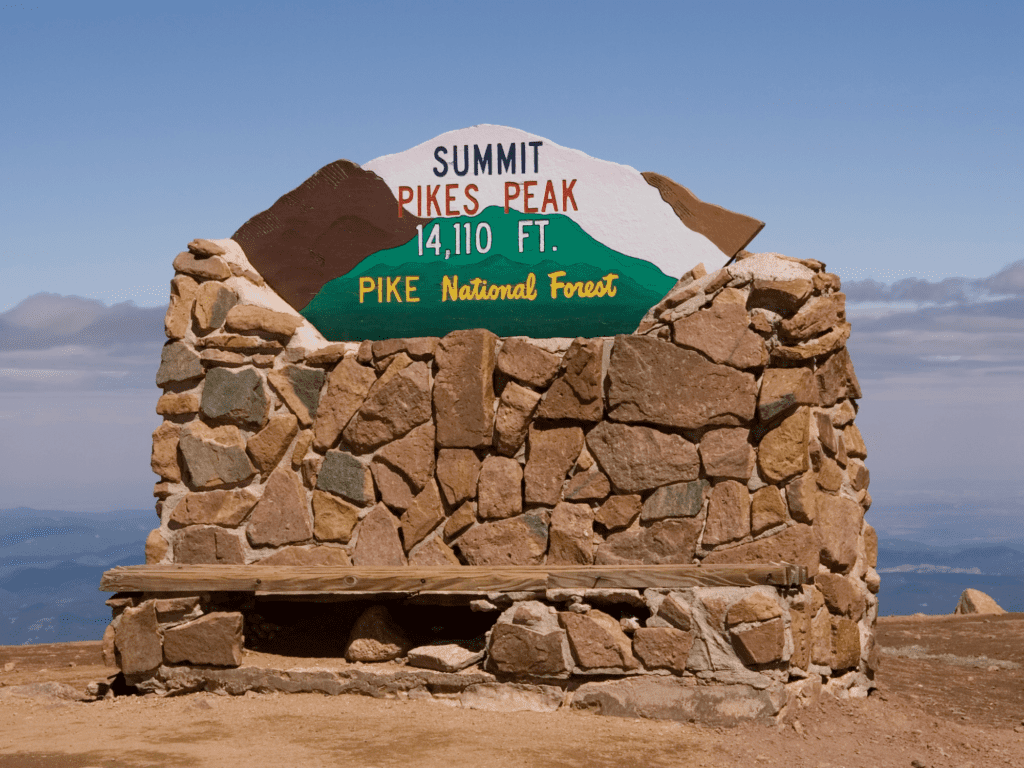 Pikes Peak is the highest point in Colorado and one of the most popular places. It's located at 14,115 feet in elevation and has a snow-capped peak.
Pikes Peak is a mountain named after Zebulon Pike, who explored it in 1806. It's located just outside Colorado Springs and can be seen from the city.
It offers some of the best places to explore; there are hiking trails as well as panoramic vistas where you'll feel like you're standing on top of the world.
The Pikes Peak Cog Railway is fun to see the beautiful views from atop this peak. The train costs $34 for adults or $24 for children ages 3-11, but it's worth every penny!
Palisade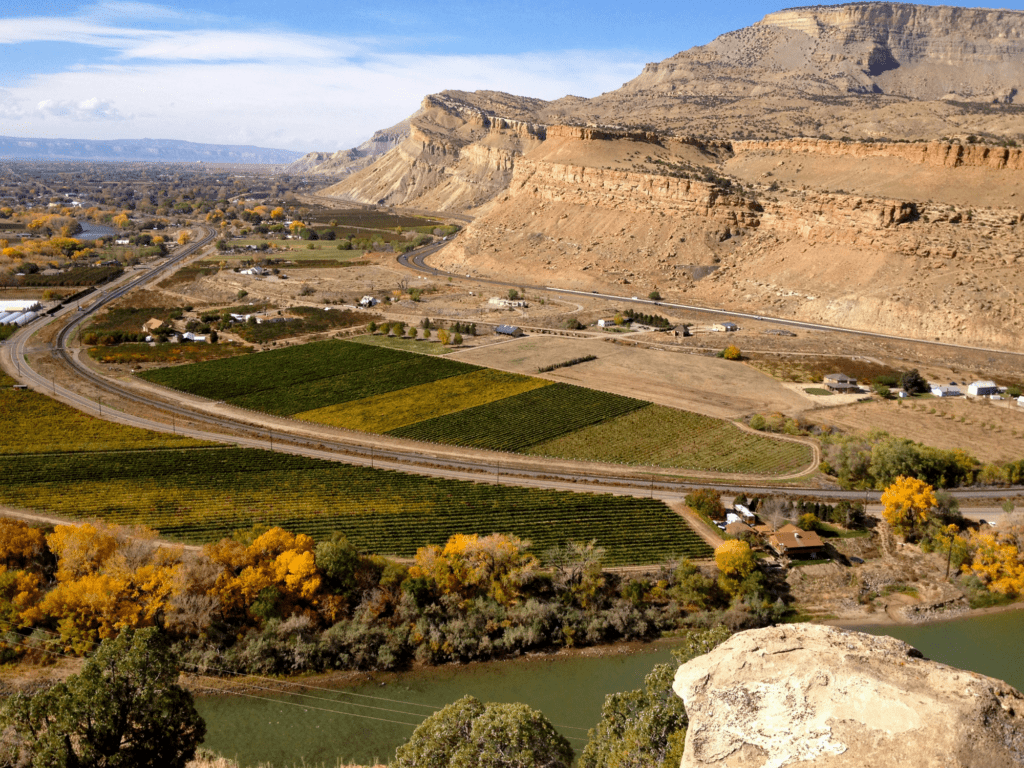 Palisade is famous for a variety of reasons, but perhaps its most notable claim to fame is its delicious peaches and produce. The town, which has been part of the state since 1877, was initially founded by pioneers who were looking for loamy soil that could grow crops during the summertime. Today Palisade boasts an annual peach festival in honor of this agricultural success story.
Palisade is a wine country located in Colorado that offers delicious peaches and produce. The grapevines are one of the main attractions here, dubbed "The Peach Bowl ." It also has many other fun activities such as hiking or biking trails, farm markets, local restaurants serving traditional American fares like burgers and barbecue sauce.
Palisade is one of the best places to visit in Colorado because it provides a 10-mile bike trail and mountain bike trail. People who enjoy biking can travel on these trails, which are both wide enough for two people to ride side by side.
People visiting Palisade must explore its many hiking routes and take advantage of the beautiful scenery that surrounds this area while they're there.
Winter Park, CO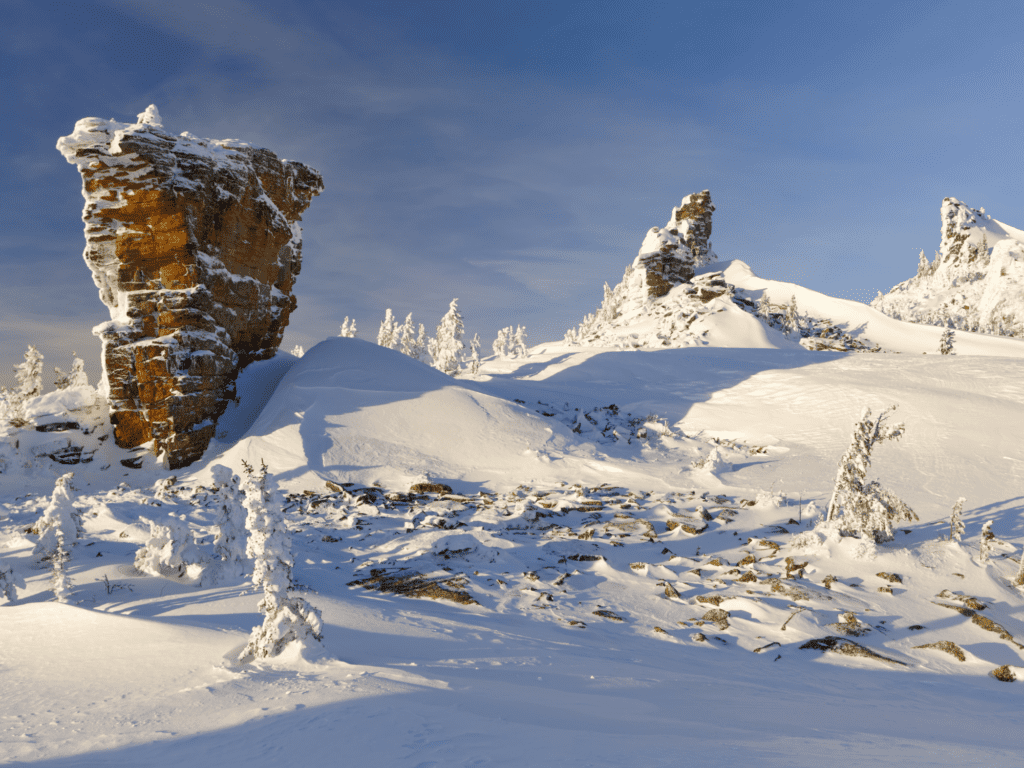 The ski town of Winter Park (Colorados oldest ski resort) is home to more Olympic skiers than any other town in North America. It's also the site of the Winter Park Resort, which includes a variety of restaurants and bars for visitors to enjoy. You'll find plenty of shops and boutiques throughout the city as well as fantastic mountain views.
Winter Park offers an abundance of activities for all ages, including skiing, snowboarding, hiking, biking, sightseeing around beautiful Lake Dillon or just relaxing at one of the many charming hotels.
Crested Butte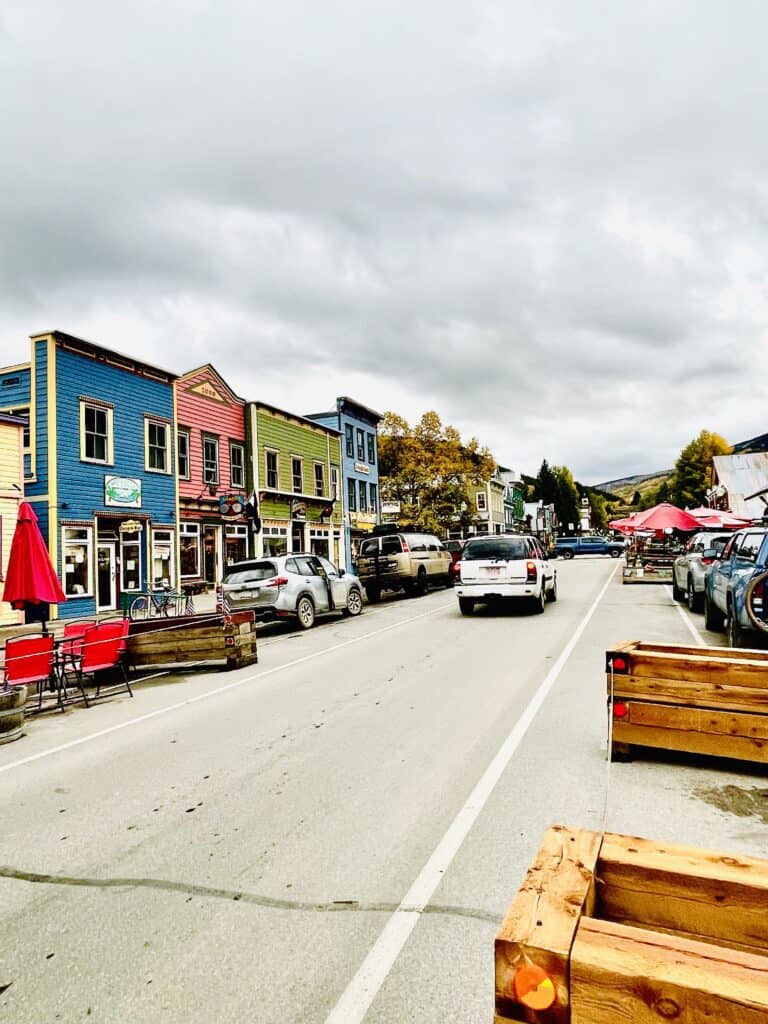 Crested Butte is a mountain town in the heart of Colorado known for its beautiful scenery, wildflowers, hiking and biking trails, and hot springs.
It's also home to the famous Crested Butte Mountain Resort, rated as one of the top ski resorts.
Crested Butte has been named one of Colorado's best places to visit.
It has excellent restaurants, an active arts scene, and an adorable downtown area. Its natural beauty is quite spectacular with its elevation at around 10,000 feet above sea level; it comes alive during winter when snow covers everything in sight!
This fantastic place to visit in Colorado is an excellent spot for winter sports. After you've experienced skiing and snowboarding, take on some of its many cross-country ski trails. If you're looking for an adventurous trip outside of your comfort zone, this could be just what you need!
Besides, there are also plenty of places to visit in Crested Butte. One such place is the cross-country ski trails that have been made around town for mountain bikers and hikers alike. It's a great spot to get some fresh air while you're on your way up into the mountains!
Scenic Maroon Bells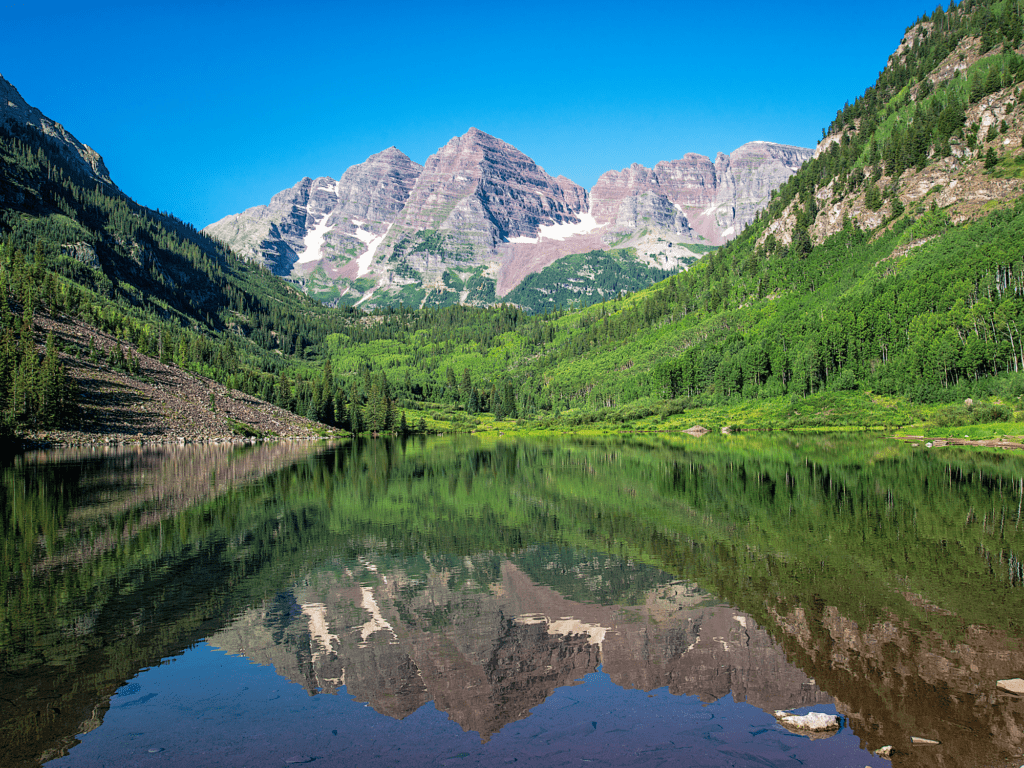 The Maroon Bells are an iconic destination known for its scenic views. They are located within the front range and Elk mountains. And offer a panoramic view of the Gore Range, Elk Mountains, and Taylor Fork Valley.
The best way to see them is by hiking up close.
The Maroon Bells Scenic Loop is an example of a beautiful location offering breathtaking views while staying relatively close to home.
Trek through the mountains or camp on top of the peaks for some time away from your everyday life!
Steamboat Springs, Colorado
Located in northeastern Colorado, Steamboat Springs is a resort town full of winter activities and experiences.
In the summertime, you can enjoy outdoor recreation such as hiking and biking with some of the best views in the country.
For decades, the town has been home to well-known ski areas, including Winter Park Resort and Arapahoe Basin Ski Area.
Steamboat Springs is known for its natural beauty with abundant wildlife, including elk and moose. It's a popular destination for people of all ages because there are plenty of slopes, so everyone has an option. The ski resort boasts over 150 miles of skiable terrain, and the town offers many family-friendly activities such as tours to historic mining towns in nearby Routt County.
Steamboat Springs, Colorado, is one of the top places to visit in Colorado, and the best part is the locals are extremely friendly!
Get Out and Explore
I hope this list of unique places in Colorado helps you plan your next excursion! Even though it would be nearly impossible to describe all the lovely locations where this beautiful state is located, these 17 locations capture a good cross-section of what the Centennial State has to offer.
Colorado in the winter | 16 charming towns to visit
When you think about visiting Colorado in the winter, it's usually for one reason: to ski.
The US state's renowned for its number of fabulous ski resorts, complete with snowy scenic backdrops.
But, aside from the skiing, there's plenty to do in Colorado that doesn't involve a set of skis or a snowboard. The state has plenty of pretty and charming towns to visit, and they make a great winter vacation.
Many towns resemble a scene straight out of a Hallmark Christmas movie, offering visitors a traditional and fantastical escape.
Listed in alphabetical order, we're visiting 16 of the best places to visit in Colorado in the winter.
LET'S CONNECT
No spam, just unique travel and lifestyle content. Get your hands on 2 FREE capsule weekend packing lists and more gifts when you sign up.
1. Aspen
A name synonymous with winter in Colorado and its skiing resorts, it's little wonder why many visitors flock to Aspen.
The Aspen Snowmass resort is one of the most famed in town, featuring not one, but 4 ski mountains. Non-skiers are catered for too, with activities like the Breathtaker Alpine Coaster and tubing on the schedule. These donut-shaped tubes are a whole lot of fun come summer on the water, or winter on the slopes.
Christmas is also well celebrated in Aspen, with a special event in town called the 12 days of Aspen.
Taking place during the last 12 days of December, Aspen transforms into a Christmassy festive wonderland. Family-friendly activities like ice skating and cookie decorating are just a handful of the happening events.
The 12-day celebration ends with a colorful fireworks display at Aspen Mountain on New Year's Eve.
Where to stay in Aspen
Off the resort is the Limelight Hotel Aspen. A great location in the town, enjoy the large-sized rooms and freshly cooked breakfasts.
This super cozy 1-bedroom condo is a sound, and affordable, choice in Aspen. With a king bed, wood fireplace and an outdoor patio, you'll get the most out of your stay here.
Head to the slopes on Aspen Mountain – places to visit in Colorado in the winter
2. Beaver Creek
A town in Colorado that was made for winter, Beaver Creek resort is the all-in-one destination. Beaver Creek Mountain is packed with plenty of powdery snow, ideal for any type of winter sports.
Once you've had your fill on the slopes, it's time to head back to Beaver Creek Village. There are more than 20 places to eat and drink, and over 35 shops to flex the credit cards. The village also includes different types of lodging, as well as the facilities to accommodate the resort's activities.
Beaver Creek is around a 2-hour drive from Colorado's capital city, Denver. Offering guests complimentary hot chocolate and freshly-baked cookies every day at 3pm, Beaver Creek knows how to treat its clientele.
Where to stay in Beaver Creek
Away from the resort, but close enough to the activities if the Beaver Creek Lodge, Autograph Collection. Grand suites, big bedrooms and bathrooms and wine tasting every day at 6pm, it ticks plenty boxes.
Tradition and comfort go hand in hand at this beautiful condominium in Beaver Creek. It's ideal for 4 guests, with 1 bedroom, 2 beds and 2 bathrooms.
The small town of Beaver Creek is one of the best places to visit in Colorado in the winter
3. Boulder
Sitting at the foothills of the Rocky Mountains in Colorado is the city of Boulder. Named one of the best places to spend Christmas in the USA, Boulder is magically transformed come winter.
Lights, lights, lights — places to visit in Colorado in the winter
The only other place that probably can rival Boulder's Christmas lights is Vigo in Spain. A Christmas tradition that happens every year, the city places its iconic holiday star atop Flagstaff Mountain. Consisting of 365 energy-saving LED lightbulbs, you can see the giant star from anywhere in Boulder.
The city has even more LED-light displays downtown, as well as in the Chautauqua district. Other notable winter highlights include a holiday hike, holiday tea services and a larger-than-life Christmas tree.
Each year, Hotel Boulderado puts up the two-story tree beneath its dazzling stained-glass mezzanine. The setting's also where they serve a delicious afternoon tea with plenty of finger sandwiches and cream-filled cakes and pastries.
Where to stay in Boulder
In the center of the city, the Bradley Boulder Inn is a comfortable and affordable choice. Rustic surroundings, home-made breakfasts and within minutes' walk to the city's attractions, it's one to consider.
Stay in the heart of the downtown area of Boulder, at this huge and spacious apartment. A unique blend of industrial chic and modern design, it also comes with a view of the Flatiron Mountains.
The sparkling Christmas lights in Boulder ©Twitter.com/onlyinboulder
4. Breckenridge
One of the best-known winter destinations in Colorado, Breckenridge sparkles like a snow globe when the festive season arrives.
A backdrop of snowy peaks and frosted trees, Breckenridge is small town USA winter charm at its finest. In the run-up to Christmas, the town sparkles under an umbrella of 250,000 LED lights.
Annual December events include the Lighting of Breckenridge and the Race of the Santas. Pack the right winter clothing for outdoor activities such as sledding and snowboarding.
My personal favorite is a scenic horse-drawn sleigh ride through the snow. Stay snug beneath a warm blanket with a mug of complimentary hot cocoa and homemade cookies.
Where to stay in Breckenridge
An aparthotel that meets all of your needs, Welk Resorts Breckenridge The Ranahan is worth considering. It has 2 pools on site, complimentary WIFi and is in a good location for accessing the slopes.
Just 200 steps to the nearest ski lift, this condo in Breckenridge is an ideal choice. Cozy furnishings, a hot tub (communal) and a central location make this an ideal choice. The condo can host up to 4 guests.
Jump on board a horse-drawn sleigh ride in Breckenridge
5. Crested Butte
Plenty of snowing, sledding and other winter sports activities await you at Crested Butte.
This idyllic small town in Colorado transforms into the prettiest winterfest, starting with a lighting of the town's grand tree.
One of the most adorable winter events is its annual reindeer scavenger hunt. Fun for children and adults, it's a weekend of tracking down one of Crested Butte's beloved reindeer.
The colorful street of Elk Avenue is like something cherry-picked straight out of a Hallmark movie. Filled with artisan shops and boutique finds, you'll feel like you're on a real-life movie set.
The town welcomes in the new year with a torchlight parade followed by a cracking fireworks display. One of the best places to visit in Colorado in the winter, Crested Butte is where long-life memories are made.
Where to stay in Crested Butte
The Purple Mountain Bed & Breakfast & Spa is just 2.9km from the Crested Butte Mountain Resort. With beautiful bedrooms, an on-site spa and free bikes for its guests, it's a good option for Crested Butte.
Just 5 minutes from the downtown Crested Butte is this modern apartment with loft. The apartment's located near the Upper Loop, Strand Hill and Teocalli Mountain hiking/biking trails.
Even prettier in the winter, Crested Butte – places to visit in Colorado in the winter
6. Durango
A small city in southwest Colorado near the border with New Mexico, Durango goes all when winter arrives.
The Christmas holidays are well celebrated here, with events running throughout December such as the Winter Solstice Artisans' Market. Goods are made by local artists and craftspeople, so you can feel assured that you'll be supporting a good cause.
One of the top ski towns in America, visitors flock to try out the terrain in Durango. However, the city also has other non-skiing activities to try, like snowmobiling and dog sledding if skiing's not for you.
Polar Express Train Ride — what is there to do in Colorado in the winter?
There's one special attraction which makes Durango one of the best places to visit in Colorado in the winter. The town's home to the magical Polar Express Train, which takes you and your family to the 'North Pole'.
Based on the 2003 animation movie, the ride culminates in meeting some of Santa's elves, reindeer and Santa himself.
Children receive a special gift, and everyone receives hot cocoa and cookies at the end of the adventure.
Where to stay in Durango
Just 5 minutes by car from the center of Durango is the very comfortable Homewood Suites by Hilton. Offering all the amenities you need for your stay, it's a good, and affordable choice.
Enjoy the best of Durango by booking a few nights at this on-mountain condo with spa bathroom and chef's kitchen. Indulge in views of the San Juan Mountains from the living room, dining room, bedroom and deck.
Winter fun and adventure on board the Polar Express Train ©Reddit
7. Estes Park
Get closer to the wildlife, and nature, with a visit to the picturesque Estes Park.
Visitors tend to use the town as a base for visiting the Rocky Mountain National Park. Come winter, the town hosts a number of events, guaranteed to draw out the Christmas spirit.
Pencil in the annual Christmas tree lighting ceremony and a light parade that takes place over Thanksgiving weekend. For adults, the holiday pub crawl to breakfast with Santa will be unlike anything you've ever seen, or done, before.
One highlight of the winter season is the Yuletide lights driving tour in Estes Park. Print out a copy of the map from the website, and enjoy a self-drive of the town's prettiest buildings.
Where to stay in Estes Park, Colorado
Wake up to the best of the Colorado nature with a few nights at Boulder Brook on Fall River. Rooms come with a patio and a river view, and there's also a hot tub for guests to use.
Pet-friendly and offering stunning views of the Rocky Mountains, this vintage cabin is worth considering. It has 2 bedrooms, 1 bathroom and can accommodate 4 guests.
Explore the snowy landscape in Estes Park – places to visit in Colorado in the winter
" Many of them resemble a scene straight out of a Hallmark Christmas movie… "
8. Frisco
Adventure and adrenaline are the keywords when you visit Frisco, Colorado in winter.
The small town's packed with tons of activities, which will easily fill up your itinerary. A first stop for adventure seekers should be the Frisco Adventure Park. They've a multi-lane tubing hill plus a beginner ski and ride hill.
Within the park is the Frisco Nordic Center. It boasts 27,000 ski trails and 20,000 snowshoe trails with lessons and classes also available. The park also offers snowshoe tours that'll take you through the snowy and scenic trails.
Join in the winter festivities at the Soup Cup Classic in Frisco
Another annual event worth mentioning is the Soup Cup Classic. Here, local restaurants and amateur cooks battle it out to see which soup reigns supreme. It's the guests that'll judge the soup, and decide who will win best professional soup and best amateur soup.
Where to stay in Frisco, Colorado
Located 200m from the Frisco Historic Park is the Frisco Inn on Galena. Offering guests cozy bedrooms, homemade breakfast and a central spot, you'll have a comfortable stay.
Test out the soups on offer in Frisc o – places to visit in Colorado in the winter
Map: places to visit in Colorado in the winter
9. Georgetown
Just 45 minutes west of Denver is the municipality of Georgetown.
Steeped in history, Georgetown was the former silver mining camp along Clear Creek in the Rocky Mountains.
However, when winter, and the holiday season arrives, the town's transformed into a scene from Christmas' past. Horse-drawn wagon rides through the snow, sparkling Christmas lights and plenty of festive food and drink marks the winter season.
The annual Georgetown Christmas market is more than just a place where you can stock up on festive gifts. Carolers and dancers in Victorian costume entertain the crowds, leaving you to concentrate on eating, drinking and being merry.
The market also pays tribute to some of the European Christmas market traditions, such as the Santa Lucia children's procession. Free to visit, it makes Georgetown one of the best places to visit in Colorado in the winter.
Where to stay in Georgetown, Colorado
Charming and inviting is the best way to describe Hotel Chateaux Chamonix.
Located in the historic center of Georgetown, the hotel's an easy 10-minute drive from the Loveland Ski Area. All bedrooms come with mountain views.
Christmastime Pretty in winter, Georgetown – places to visit in Colorado in the winter
10. Glenwood Springs
In a city known for its hot springs, there's no escaping a visit when in Glenwood Springs. Hotel Glenwood Springs has a year-round indoor pool and is located adjacent to Glenwood Caverns Adventure Park.
Mineral water from the nearby Yampah spring produces over 3.5 million gallons of water each day. And, at temperatures of 50°C (122°F), it makes this the hottest springs pool in Colorado.
However, fret not, as the resort doesn't intend to cook its guests. The spring water's cooled down before entering its 2 pools. Open throughout winter, it takes me back to my Blue Lagoon experience in Iceland.
The resort has 107 rooms, and is 320m from the town center.
Made for wellness — what is there to in Colorado in the winter besides skiing?
Along with hosting a number of winter sports, Glenwood Springs is also known for its wellness facilities.
Follow in the footsteps of the Ute Indians, by taking a time out in the Yampah Spa and Vapor Caves. Mineral-rich steam enters the underground caverns, allowing you to soak up its healing properties. It's an experience that'll leave you feeling refreshed and rejuvenated.
Relax in the warm thermal waters in Glenwood Springs – places to visit in Colorado in the winter
11. Golden
The origins of the name of this small town in Colorado lies within its history.
What was once a gold rush town, is today a place of agriculture, industry and development. When winter arrives, the locals in Golden make the most out of the snowy weather.
Whether it's hiking, biking or ice climbing in Clear Creek Canyon, people here like to be active. Golden Gate Canyon State Park tops the list for its spectacular hikes and views of the Indian Peaks Wilderness Area.
Exploring downtown Golden during the holidays, is akin to walking into a light extravaganza. The season also welcomes boutique shops, as well as an art market showcasing the work of Colorado artists.
Home to the famous Coors Brewery, end your day in Golden with a refreshing pint (or two).
Where to stay in Golden, Colorado
Less than 800m from the Coors distillery, the location of The Golden Hotel, Ascend Hotel Collection, is unbeatable. Spacious rooms, complete amenities and a restaurant on site, it's an all-in-one accommodation package.
Stay in the heart of Golden at this chic and modern apartment in the downtown area. It can sleep 4 guests, and there's 1 bedroom, plus a kitchen, deck and patio.
Grab a cool Coors beer in Golden – places to visit in Colorado in the winter
12. Leadville and Twin Lakes
Boasting the title of the highest incorporated city in North America, is Leadville and Twin Lakes. Surrounded by larger-than-life mountains and glorious scenery, it's little wonder why Leadville is sometimes called the city in the clouds.
Taking after its location adjacent to the 2 largest glacial lakes is Twin Lakes. The reflections in the lakes of the largest peaks makes it a popular spot for photographers. Hiking, biking, canoeing and kayaking are a handful of activities on offer.
Come winter, Leadville has more than 100 miles of multi-use winter trails. This makes ideal conditions for cross-country skiing as well as for snowmobiling and snowshoeing.
After a long day on the slopes, come home to this pet-friendly cozy house with hot tub. With uninterrupted mountain views and plenty of storage space, you're guaranteed a comfortable stay.
Where to stay in Leadville, Colorado
Shake up your accommodation in Leadville at this rustic tiny house. It can comfortable sleep 3 people, and has facilities including a kitchenette, fridge and a flushing toilet.
Try your hand at winter biking in Leadville – places to visit in Colorado in the winter
13. Ouray
Known as the 'Switzerland of America', you're in for a serious winter vacation treat in Ouray. Named after Chief Ouray of the Ute Indians, the town was once a beacon for miners searching for gold.
Follow the blue glow — places to visit in Colorado in the winter
When winter arrives, so too does the heavy snow. The glow from the Ouray Ice Park adds a touch of brilliant blue to the town's bright lights.
Its ice park is world famous, attracting visitors from the four corners to try out its ice climbing. And, while you might think it's not for you, you'd be wrong. Ouray offers classes for beginners, so if you're thinking of trying it out, you're in the right place.
Take a snowshoe tour while in Ouray
Like Glenwood Springs, Ouray also has natural hot spring pools that remain open even throughout winter. Let the hot mineral water melt away any stress and tension, and give your muscles some much needed attention.
While here, you might be swayed into taking a snowshoe tour of several of its ghost towns. It's your chance to learn more about their past, plus what it was like to live during the period.
Where to stay in Ouray
Beaumont Hotel and Spa is made for rest and relaxation. This adults-only hotel in downtown Ouray has a spa on site to help you relax after a long day's exploring. Ouray Hot Springs is 800m from the hotel, and Ouray Ice Park is 1.6km away.
Located a few blocks from downtown Ouray is this quaint and historic cabin. Pet-friendly, you're close enough to the center, but can still enjoy the surrounding outdoor activities.
Would you try ice climbing at Ouray?
14. Steamboat Springs
Famed for its Champagne Powder snow, 6 towering peaks and 3,000 skiable acres is the very pretty Steamboat Springs.
The town's also home to more Olympic skiers than other towns in North America. But, if your skiing skills are far from the likes of Lindsey Vonn, don't worry. There are plenty more things in Steamboat Springs to keep you busy.
Saddleback Ranch offers a range of other non-skiing activities such as horseback riding, snowmobile tours and dinner sleigh rides.
The 280ft frozen waterfall at Fish Creek Falls attracts hikers, ice climbers and anyone that wants to see it.
I can't write about Steamboat Springs without mentioning the Steamboat Ski Resort. It hosts a range of winter sports activities, most notably, night skiing. Your night time adventure will take you across 5 trails, which include See Me, Stampede and Lil' Rodeo.
One of the best places to visit in Colorado in the winter, Steamboat Springs will not disappoint.
Where to stay in Steamboat Springs, Colorado
Less than 5 minutes by car to the slopes, the Inn at Steamboat offers large rooms and mountain views. Also, on site is a swimming pool and a well-equipped fitness center.
Enjoy your very own log cabin in a picturesque part of Steamboat Springs. With 2 bedrooms, 2 beds and 1 bath, it can comfortably sleep 5 guests.
Snowmobiling tours are popular in Steamboat Springs – places to visit in Colorado in the winter
15. Telluride
While skiing may be the main reason why visitors come to Telluride, it's not the only one.
The holiday season's undeniably one of the prettiest in Colorado, with Christmas lights adorning every shop window downtown.
Seasonal events are aplenty in this former Victorian mining town. They include a North Pole area at Mountain Village, complete with Santa, train rides, refreshments and holiday-themed concerts.
My personal favorite is a horse-drawn sleigh ride against the backdrop of the snow-covered San Juan Mountains.
An aerial view of the Telluride Ski Resort – places to visit in Colorado in the winter
More than skiing at Telluride — what part of Colorado is best in winter?
Put down the skis and pick up your skates. There are 2 ice-skating rinks in town, one at Telluride Town Park and the other at Hotel Madeline at Mountain Village.
Be sure to try out the FREE Telluride and Mountain Village gondola. More of a cable car than a traditional Venetian gondola (!), the views are spectacular and far reaching. In fact, on a clear day, it's possible to see as far as the La Sal mountain range in Utah.
Where to stay in Telluride
Add a touch of luxury to your stay in Telluride at the Madeline Hotel and Residences, Auberge Resorts Collection. Overlooking the San Juan Mountains, the rooms, services and food in Mountain Village live up to its 4-star title.
Go for a boutique, and more affordable option, with this stylish 1-bedroom lodge. Good for 2 guests, it provides comfortable accommodation in what's arguably one of the most expensive ski towns.
The colorful downtown area of Telluride
16. Vail
Set at the base of the Vail Mountain is the small town of the same namesake.
Also taking after its name is the town's famous, and huge, Vail Ski Resort. Villages with accommodation ranging from mid-range to luxury allow you to stay closer to the action.
Skiers are spoiled at Vail with 5,317 acres of skiable terrain right on their doorstep. Different areas of the resort offer unforgettable views and the chance to ski all of Vail's seven back bowls. These are the snow-filled alpine basins, stretching 6 miles from east to west.
Enjoy some of the best skiing terrain in Colorado – places to visit in Colorado in the winter
When it's time to dine, there's one option that beats the rest: on-mountain dining. Vail Ski Resort has 3 places to dine on the mountains, offering American cuisine and wine with a view.
Non-skiers are not forgotten at Vail. Jump on board the mountain coaster, which takes you down 3,400ft surrounded by Vail's scenic mountains.
As in Telluride, Vail's gondolas are a great way to see the sights and are family friendly too. Unlike in Telluride, however, the gondola rides aren't free.
How to get to Vail?
There are a few options on how to reach Vail.
Denver International Airport is 100 miles away, while Eagle/Vail Airport is just 30 miles from Vail. Another option, and one that's also affordable, is the Epic Mountain Express / Colorado Mountain Express shuttle service.
It will take you directly from Denver International Airport to towns including Aspen, Beaver Creek, Breckenridge and Vail.
The view overlooking Vail Ski Resort at sunrise
Where to stay in Vail, Colorado
Right in the centre of Vail is the sublime The Lion Vail. With huge rooms and suites with luxury touches, it'll be hard to leave come checkout. The Nordic Centre is 3.5km from the property, while Adventure Ridge is 7km away.
Snuggle up beneath the covers at this gorgeous modern 2-bedroom, 2-bathroom condo. Inside, is a wood burning fireplace, fully equipped kitchen and plenty of storage space.
The complex is home to Vail's largest indoor heated swimming pool. A free shuttle bus will take you to the slopes in winter. Throughout the year, a free town of Vail bus stop is located behind building 2 to provide even more convenience.
Have you visited Colorado in the winter? Would you like to spend the holiday or a winter break in one of these small towns? Let me know in the comments below.
Disclosure: This post may contain affiliate links, which means I may receive a commission if you click a link and purchase something that I've recommended. Thank you for your support.
Best Views in Colorado: 14 Most Beautiful Places in Colorado to Take Photos
Colorado is a gorgeous state that offers the most beautiful places to take scenic photos.
With so many national parks, rocky mountains, and green forests there is never a shortage of photo opportunities and epic scenic drives.
Visitors and locals alike travel from miles around to take a peek and grab a picture.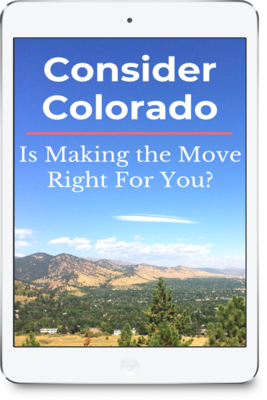 Thinking of living in Colorado? This guide will help you avoid costly mistakes and remove the stress of planning so you can experience the joys of mountain living.
Here are some of the best views in Colorado and where exactly to snap the perfect outdoor photo!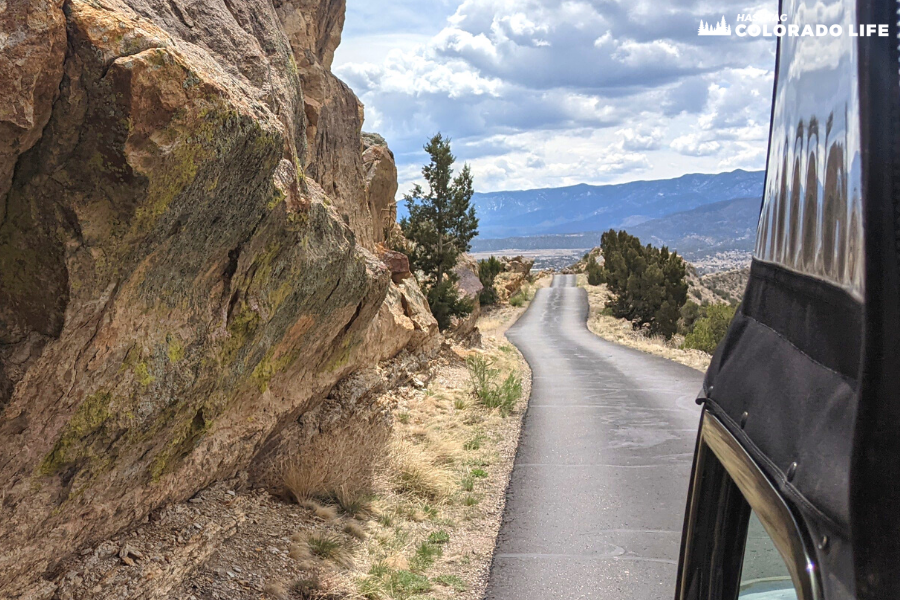 1. Garden of the Gods
Located in Colorado Springs is Garden of the Gods, which offers some of the most epic Colorado views you will see in the entire state.
It's no wonder that this destination is typically listed as one of the most beautiful places in Colorado.
Bright red rocks reach for the crystal blue sky, with the white snow cap of Pikes Peak towering in the background.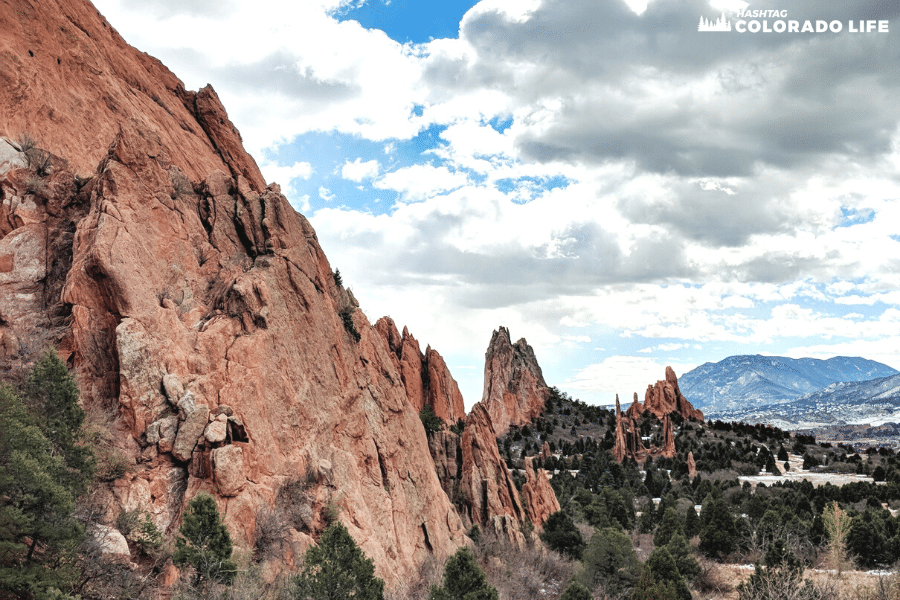 Garden of the Gods is a popular destination for climbers, hikers, sightseers, and everyone in between. You'll often see climbers scaling the towering red rocks.
There are actually several different locations within Garden of the Gods to capture an awesome photo.
You'll find some of the best views near Denver when visiting the:
Visitor and Nature Center
Gateway parking lot
Balanced Rock
Siamese Twins Arch
To visit Garden of the Gods from I-25, take exit #146 for Garden of the Gods Road. Then head west for 2.5 miles, turn left on 30th Ave, and continue a mile to the Visitor Center.
2. Colorado National Monument
The Colorado National Monument is part of the National Park Service and is located near Grand Junction. Most Coloradans think of it as our own version of the Grand Canyon.
Canyon walls cut into the landscape for miles showcasing gorgeous granite rock formations, sandstone, and other natural deposits.
The towering canyons spread out over 20,500 acres and can be as tall as 450 feet in some areas.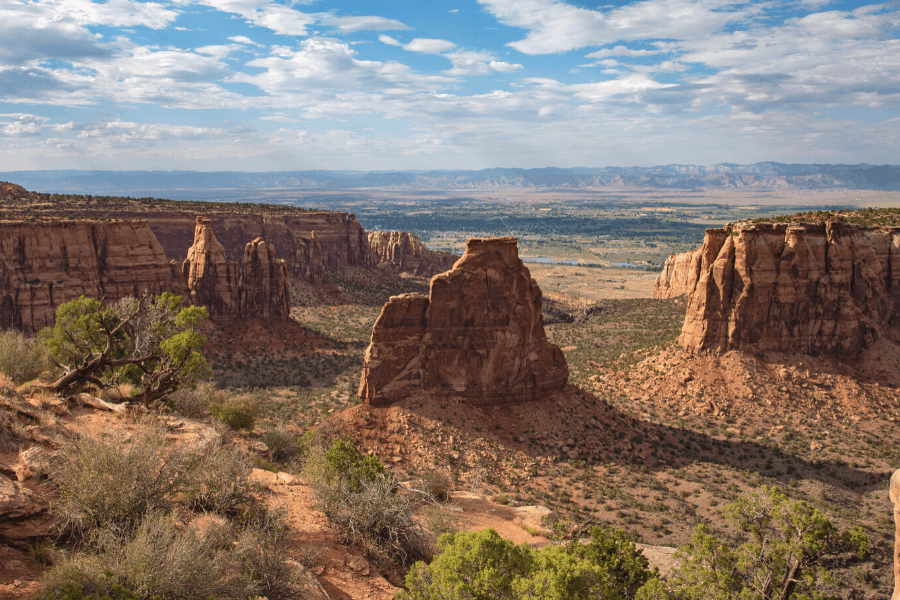 Some of the wildlife you can expect to see in the area are bighorn sheep, eagles, mule deer, coyotes, and lots of ground animals.
Bringing a camera is a must when visiting this location!
We suggest taking a photo at one of these spots:
Ute Canyon View (a marked spot)
Upper Ute Canyon Overlook
Monument Canyon View Overlook
To visit the Colorado National Monument, head west into the mountains on I-70 towards Grand Junction.
As you approach the western border into Utah, take a left onto Highway 340 in Fruita, Colorado and then follow the signs.
3. Maroon Bells
Maroon Bells is one of the most photographed locations in Colorado for good reason.
In the Elk Mountains, the two peaks and crystal clear Maroon Lake in between form a picturesque destination.
This classic alpine scene is showcased thanks to a mirror-like lake framed on either side by towering mountains and surrounded by foliage and fauna.
This destination is a popular centerpiece of Colorado-inspired art and photography, and will always grab attention.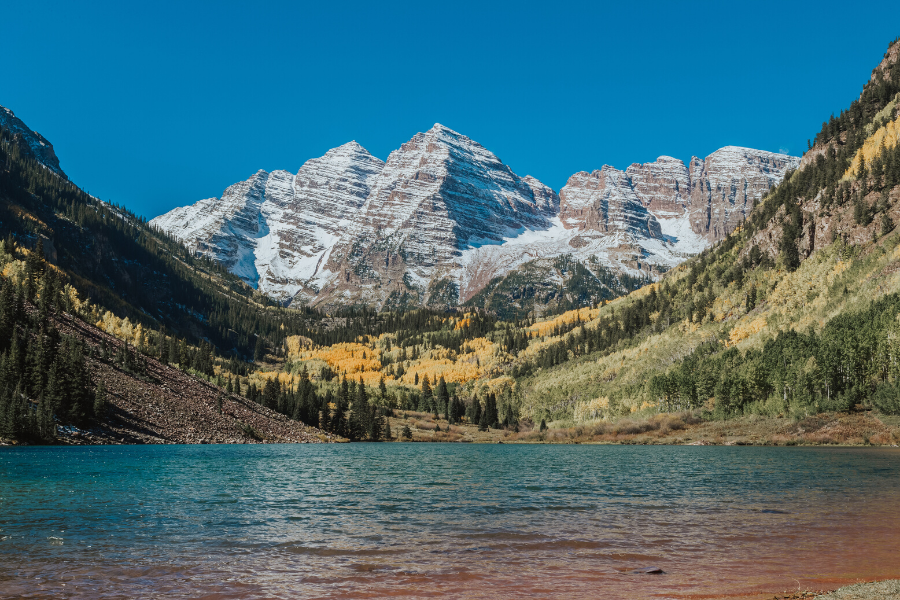 Because of the popularity of this destination, access is limited during high-traffic seasons like summer and fall.
Reservations are required to visit the scenic area, and we recommend visiting on a weekday if possible to reduce congestion.
A few of the most photographable locations can be found at:
Crater Lake Trail
Maroon Lake Scenic Trail
Maroon Creek Trail
The Maroon Bells wilderness area is located about 10 miles outside Aspen.
During summer months, Maroon Bells is easily accessed by public bus from the Aspen Highlands Visitor Center.
Pay to park at the visitor center and take the paid bus or hitch a ride on the free bus that runs from Aspen to Aspen Highlands, called the Castle/Maroon bus.
4. Royal Gorge Bridge & Park
Thrill-seekers will meet their match with the towering Royal Gorge Bridge!
The Royal Gorge Bridge and Park is a striking 1,200 foot high bridge that stretches across a red rock canyon.
It is the highest suspension bridge in the country, and offers unbelievable views from the middle of the bridge.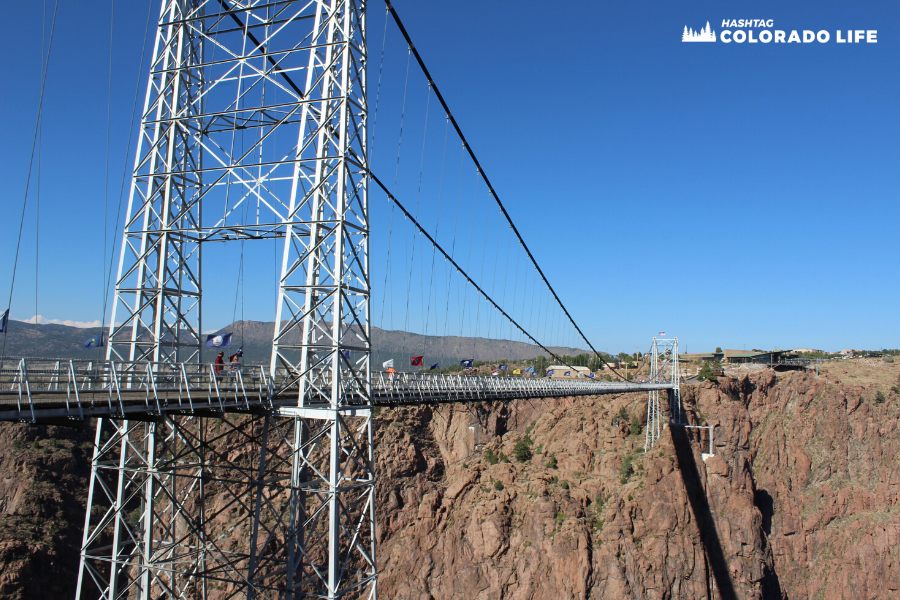 If you're not brave enough to walk across the bridge, you can still see the heights from the safety of the gondola!
Great photos can be taken from nearly anywhere near the bridge. We suggest aiming for:
Denver and Rio Grande Train (viewing platform)
Point Sublime
Near the Theater
Visitor Center
The gorge and bridge is located west of Cañon City. From the Front Range, head south on I-25, then follow CO-115. From here take US-50 W to the Royal Gorge Bridge and Park.
5. Manitou Incline
A long time ago, the Manitou Incline carried a cable car loaded with supplies up Manitou Mountain.
After it was decommissioned in 1958, and a rockslide damaged the rails in the 90s, the incredible incline remains.
And it is the most challenging hike in Colorado.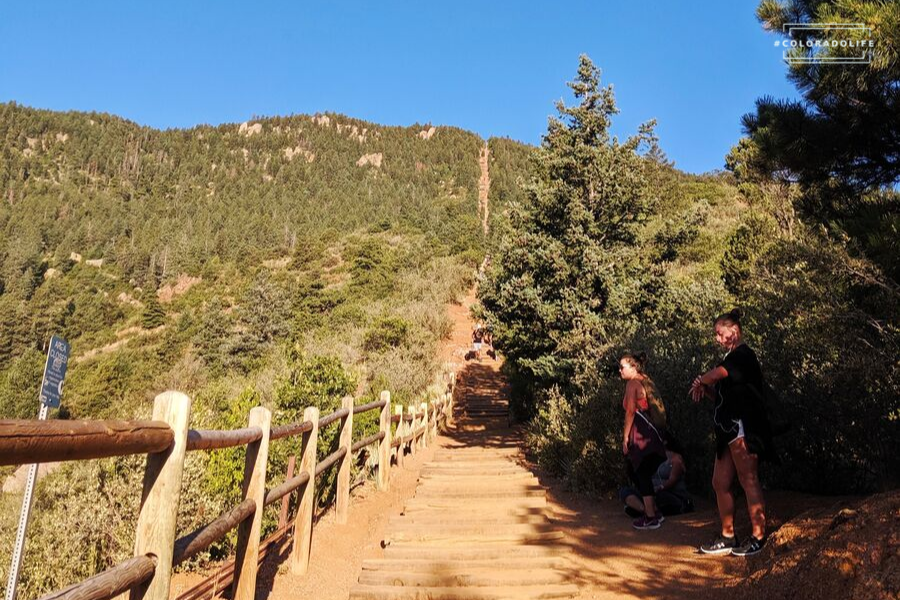 The railroad ties make up a staggering staircase that reaches 68% incline toward the top, and slices through the landscape like a razor-thin streak.
A photo from the peak of the incline would be remarkable, but there is lots to see from every spot on the incline.
Memorial Park in Manitou Springs
Lower Return Trail (bailout zone)
Barr Trail (top of the peak)
Starting point at the bottom of the Incline
From I-25, take exit 141 for US-24 W. Keep right toward US-24 W/W Cimarron Street and continue right following signs for Manitou Springs/Pikes Peak/Woodland Park.
Parking is free at the 10 Old Man's Trail in Manitou Springs.
Pick up the frequent free shuttle (route 33) to the trailhead. The free shuttle operates from 6am to 8pm daily and goes between the parking lot and the incline.
6. Pikes Peak
When it comes to recognizable and photographable mountains, you can't miss Pikes Peak.
If you've ever heard the song "America the Beautiful," then you've heard about this purple mountain's majesty.
This beautiful Colorado Springs peak inspired the poem that became the song!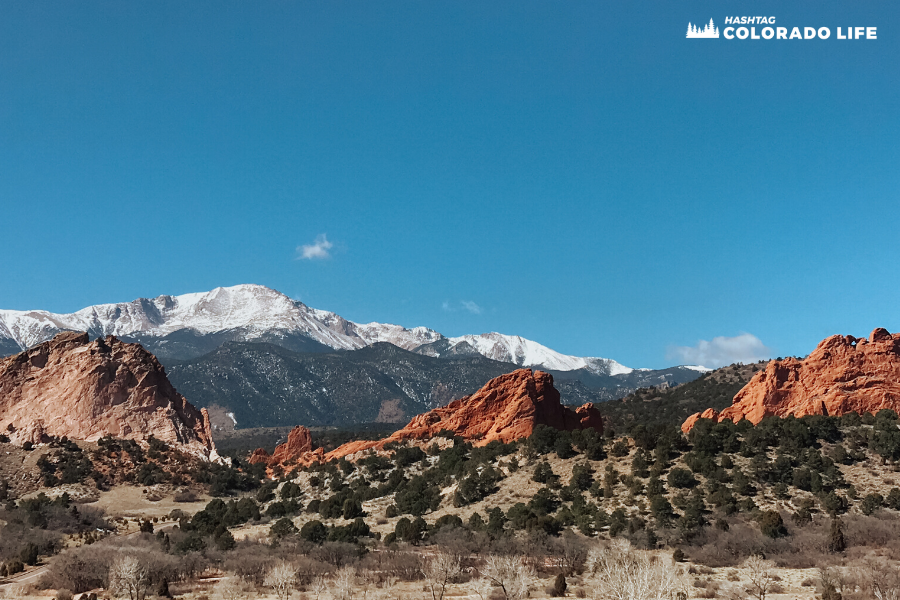 Pikes Peak is often purple in color, with a sprinkling of white snow on top. It can be seen from as far away as Denver, but is most remarkable when seen up close.
There are many ways to find the perfect picture at Pikes Peak, from ground level while you hike or bike, from the seat of a Jeep tour, or from aboard the Pikes Peak Cog Railway!
If you want an incredible view of Pikes Peak and the city of Colorado Springs, check out Palmer Park.
Pikes Peak is most easily accessed from Colorado Springs. Head up US-24 W toward the mountains and turn left onto Fountain Ave toward Pikes Peak Highway.
7. The Paint Mines
While many beautiful and scenic destinations will send you to the foothills of the Front Range and beyond, The Paint Mines are not in the mountains.
You may have seen rock and sandstone before, but the orange-red of other formations has nothing on the stunning multi-colored sandstone.
The stones vary from shades of bright white and gray to pink, red, orange, yellow, and many other colors in between.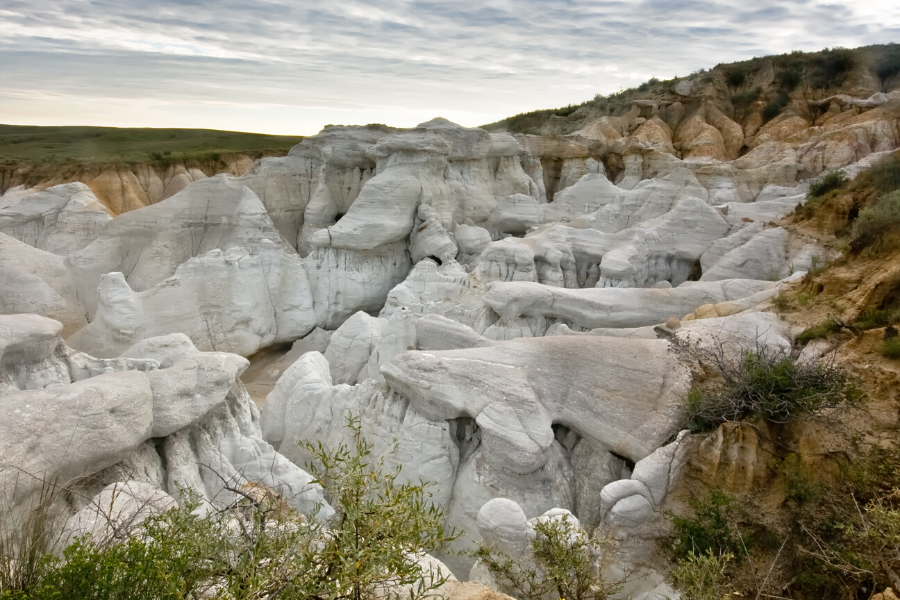 The rich colors and funky formations were created by alternating layers of sandstones and other rocks, carved away by water and wind erosion.
This park is ideal for visitors on foot, since motor vehicles, pets, and bicycles are prohibited.
The Paint Mines Interpretive Center is a popular destination for hikers and photographers who are looking for the meaning behind the phrase "colorful Colorado."
From Colorado Springs, head east on US-24 until you reach Calhan, CO. There are multiple routes from Denver to the Paint Mines, and all take about 90 minutes or more depending on traffic.
8. Dillon Ice Castles
If you're visiting Colorado in winter, we highly recommend the gorgeous and awe-inspiring Dillon Ice Castles.
The Ice Castles are an award-winning attraction that makes for a winter wonderland that adults and kids will enjoy.
The sculptures are bigger and more elaborate than any other carved ice display.
Each castle is made of over 20 million pounds of ice, with towering ice blocks making up the walls, archways, and crawl spaces.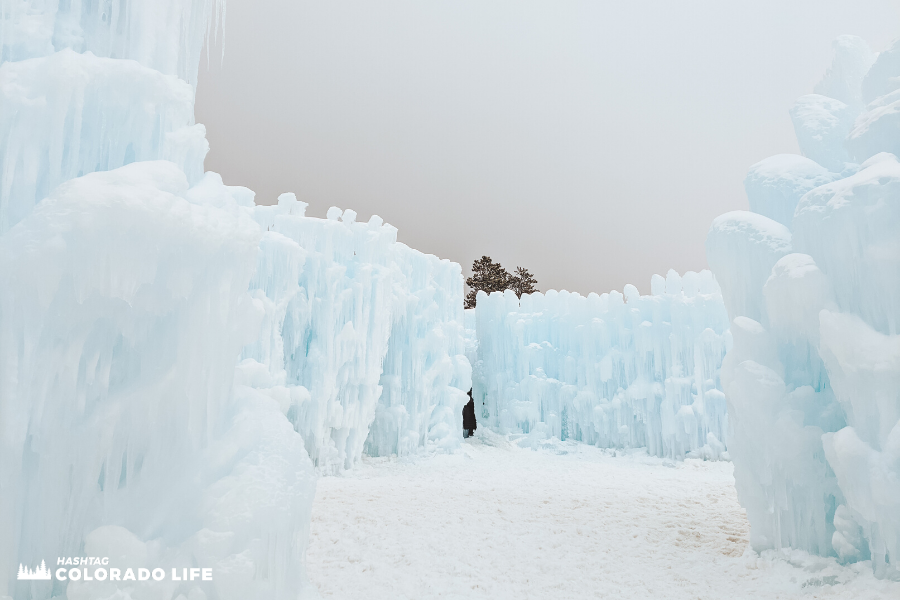 Anywhere inside the Dillon Ice Castles makes a great photo opportunity. But we suggest grabbing a photo at the:
Front entrance
Any of the hashtag signs
Giant ice block chair
Back exit when leaving
Tickets usually become available in December for the following January through February(ish) season. That makes the ice castles in Dillon a great post-Christmas winter activity!
And they are an ideal day trip destination to add to your Colorado bucket list.
The Dillon Ice Castles are (obviously!) located in Dillon about an hour and a half drive outside of Denver. Just head west on I-70 toward Dillon Town Park.
9. Hanging Lake
At the end of a steep, rigorous backcountry hike you will find Hanging Lake. This sparkling, blue-green gem of a lake is an iconic place to take photos.
The dazzling mountain lake is fed by multiple waterfalls from the travertine rock surrounding the lake.
Due to this gorgeous spot being so popular, the trail is reserved only and does require a permit, so plan ahead accordingly.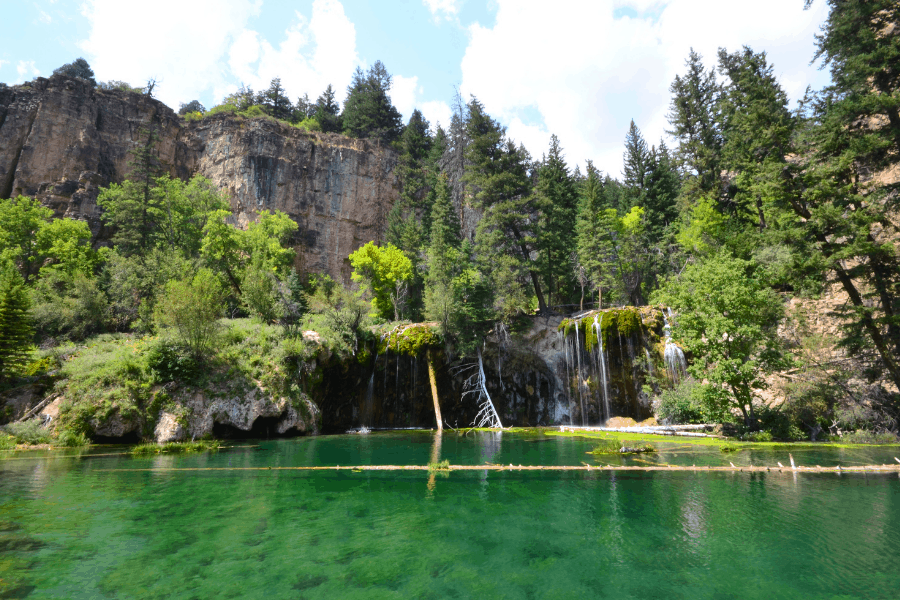 The trail is short, but very demanding and rocky. However, it's well worth getting an epic picture if you choose to make the trek!
Bikers can also reserve a permit, so you can hike or bike your way to the top.
Permit holders can utilize the shuttle from the Hanging Lake Welcome Center to the trailhead during the regular season May through October.
Hanging Lake trailhead is about 3 hours from Denver off I-70.
10. Rocky Mountain National Park
If you're visiting Colorado, Rocky Mountain National Park will make you feel like you're on top of the world.
This spectacular national park has so much to see and to photograph! You could easily spend a day, a week, or even longer exploring all this park has to offer.
RMNP features extensive mountain trails, clear alpine lakes, fearsome rock formations, and a variety of mountain plants and animals.
With over 415 square miles of park to tour, you'll find a million and one photo opportunities here!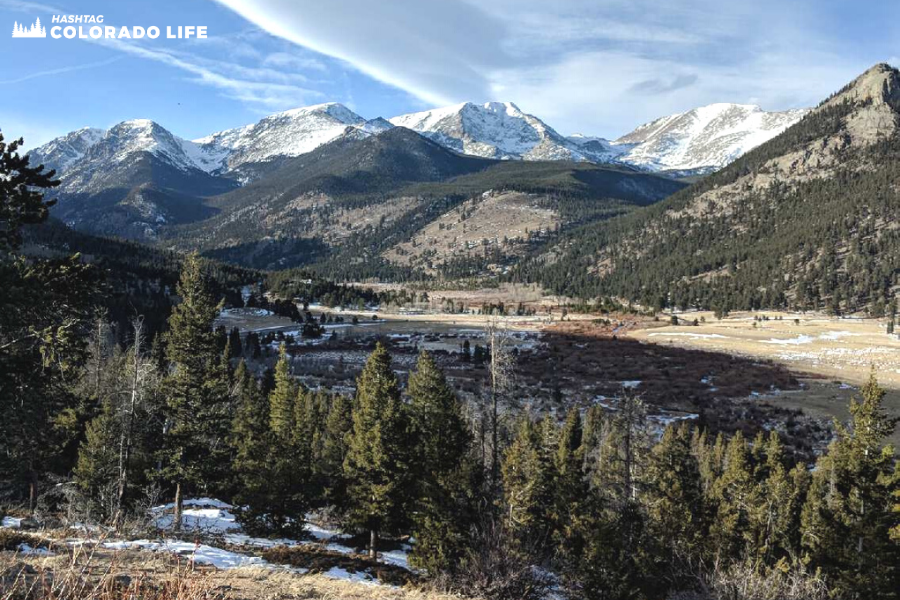 There are two entrances to Rocky Mountain National Park, via Estes Park and Grand Lake.
To access Rocky Mountain National Park from the east side of the park, head north on I-25 from Denver or north on US-36 from Boulder toward the city of Estes Park.
To access Rocky Mountain National Park from the west side of the park via Grand Lake, head west on US-6 from Denver, then take I-70 to exit 232 (Empire) to US Hwy 40 to Granby to US Hwy 34 to Grand Lake.
11. Boulder Flatirons
The Flatirons at Chautauqua Park are especially photogenic given their darker, foreboding color and striking, jagged shape.
The Flatirons which tower over Boulder are a popular destination for rock climbers, hikers, bikers, and sight-seers.
The peaks are among the most distinctive shapes and features of Colorado. Because of this, the Flatirons are always a beautiful subject for mountain photographers.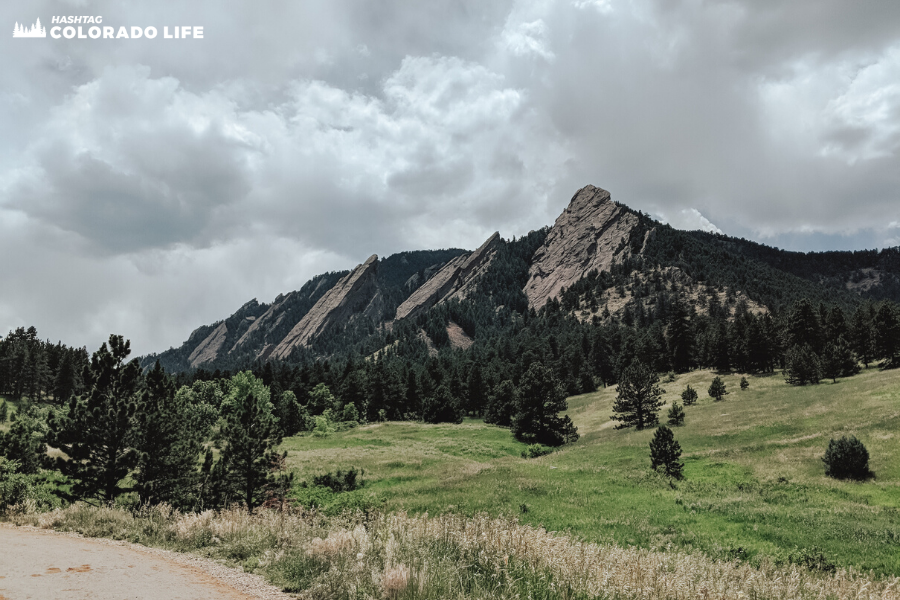 Chautauqua Park is the most popular place for snapping a photo and is easily accessible from the parking lot or any of the hiking trails.
Parking is limited at the park, but can be found in the surrounding neighborhoods.
Another good option is to take the free bus from Denver to Boulder, which leaves Union Station Gate B17 and stops at Broadway & Regent Drive in Boulder, just a few blocks from Chautauqua Park.
12. Union Station
For a very photogenic urban site, we love visiting Union Station in Denver.
The Crawford Hotel at Union Station is one of the most important historical landmarks in Denver.
The hotel was originally opened in 1881. And today, this beautiful building is home to many restaurants, shops, and of course, the Crawford.
This tall Romanesque Revival building is both beautiful and ornate. It has a substantial, old-fashioned feeling with all the modern amenities.
Epic photos can be taken anywhere near Union Station or take a walk down to the 16th Street Mall, which is nearby.
And we absolutely have to mention that Milkbox Ice Creamery is located inside Union Station!
Union Station is conveniently located in downtown Denver, just south of the junction between I-70 and I-25. It's about a 30-minute drive from the Denver International Airport via I-70.
13. Red Rocks Amphitheater
Whether visiting in the day time or at night, Red Rocks Park and Amphitheater is a beautiful place to sightsee and more.
This naturally occurring amphitheater is formed by the beautiful and erosion-carved red stones which give this area its name.
Red Rocks Park is open year-round (when shelter-in-place orders don't exist) for everything from concerts, to film on the rocks, to morning yoga.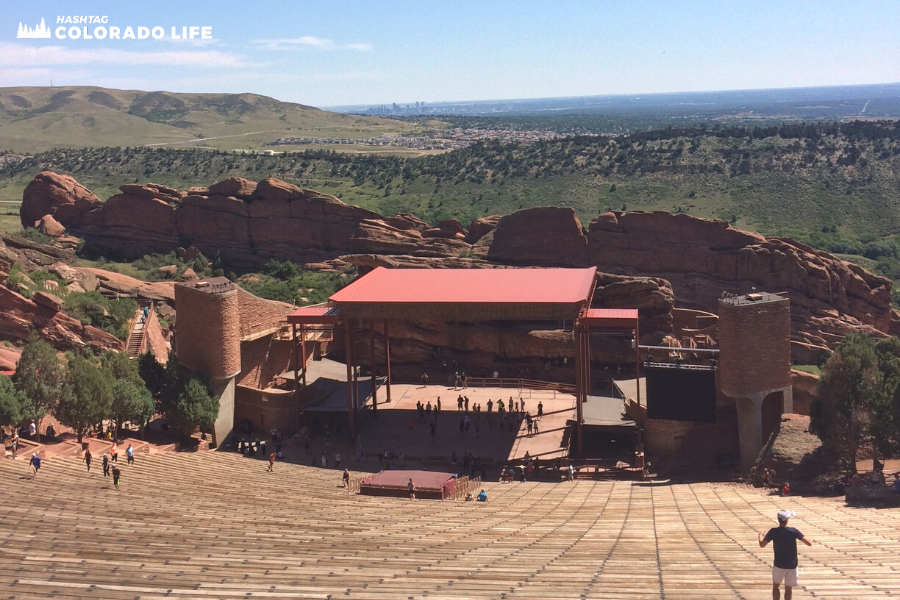 Featuring a beautiful view stretching over Denver, Red Rocks Amphitheater offers long horizon vistas day or night.
See the sun rise and set the stones aglow, or stay late and watch the city of Denver sparkle to life. There are also plenty of activities to enjoy in the park.
Bring your hiking boots or bicycle (and your camera!) to tour the orangey-red stones and see wildlife and native plants throughout the park.
Red Rocks Amphitheater and Park is just east of Denver in the city of Morrison. If you're in Denver visiting Union Station, you can continue your tour of Denver at the Amphitheater!
Take I-70 W toward Grand Junction, and exit 259 toward Jefferson County 93/Morrison. Continue on County Road 93 to Red Rocks.
14. Skyline Drive
A scenic drive that is one of the most beautiful in all of Colorado is Skyline Drive, and it does not disappoint.
This historic one-way road is extremely narrow and sits on top of a high razorback ridge.
The 360-degree stretches out for miles and miles and makes it one of the most beautiful places in Colorado.
There are no guard rails or markers to abstract your views, just steep drop offs along the narrow road.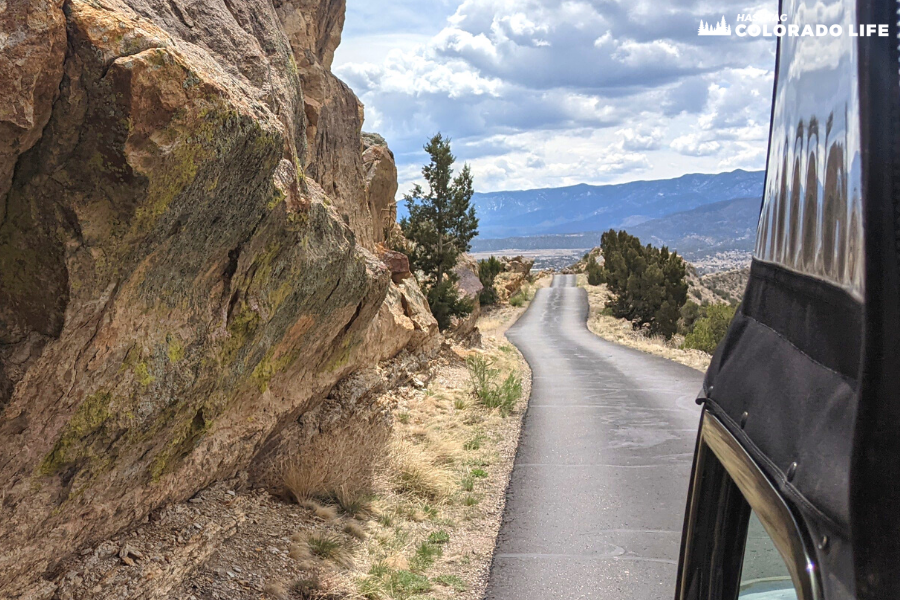 There are several pull-offs and overlooks along Skyline Drive, so be sure to stop, get out, and take a photo.
Not only that but it's full of history, thanks to the dinosaur fossils and footprints found along the Dinosaur Trackway.
The entrance to Skyline Drive is located on the western side of Canon City close to Royal Gorge Mountain Park.
And remember, this is a super narrow one-way drive so drive slowly and carefully.
Skyline Drive is located in the Royal Gorge area. Just take I-25 south from Boulder, Denver, or Colorado Springs. Connect to Highway 115 south through Penrose, Colorado.
If you're looking for some of the best views in Colorado, we hope this list inspires you.
The state is full of the most beautiful places and scenic places to visit to snap an epic photo.
There are so many awesome places to take Colorado photos! We hope this list inspires you to get out and visit an epic photographable location.
Carrie Smith Nicholson is one of the co-founders of Hashtag Colorado Life. After living in Texas for her whole life she moved to Colorado 7 years ago. As a travel blogger and entrepreneur for the past 11 years, her writing has been featured on NBC News, HuffPost Live, Glamour Magazine, Inc Magazine and many other media outlets. When she's not writing about new travel locations, she enjoys spending time outdoors hiking and trying new foods. You can follow her outdoor adventures on Instagram, @hashtagcoloradolife.
Source https://www.outsidenomad.com/best-places-to-visit-in-colorado/
Source https://www.followingtherivera.com/2020/11/29/places-to-visit-in-colorado-in-the-winter/
Source https://hashtagcoloradolife.com/best-views-in-colorado-photos/