11 Magical Things to do in Washington DC at Christmas Time
Washington DC at Christmas time is absolutely magical. When I was planning my trip there last year I had no idea what I was in for. Sure, I had a long list of political landmarks, monuments, museums, and galleries that I wanted to visit. But what I didn't expect was just how FESTIVE Washington DC is during the Christmas season. All it took was one afternoon of strolling around downtown to fall completely in love with Washington DC at Christmas time.
Washington DC at Christmas time truly is magical
Why Visit Washington DC at Christmas Time?
There's something about seeing a city with such historical and beautiful architecture that's all decked out for the holidays that makes you feel like you've walked into a Hallmark Christmas movie. I'm not kidding. That's exactly how I felt walking around Washington DC last Christmas. Washington DC at Christmas time is absolutely beautiful. Every corner is more festive than the next and you will feel like you stumbled into a Christmas dream.
What to See and Do in Washington DC at Christmas Time
If you're wonder whether visiting Washing DC at Christmas time is a good idea, let me tell you I would go back in a heart beat. Beyond being incredibly beautiful this time of year there's just so much to see and do.
I hope this list of incredibly festive things to do in Washington DC at Christmas time inspires you to plan your own trip there during the holidays.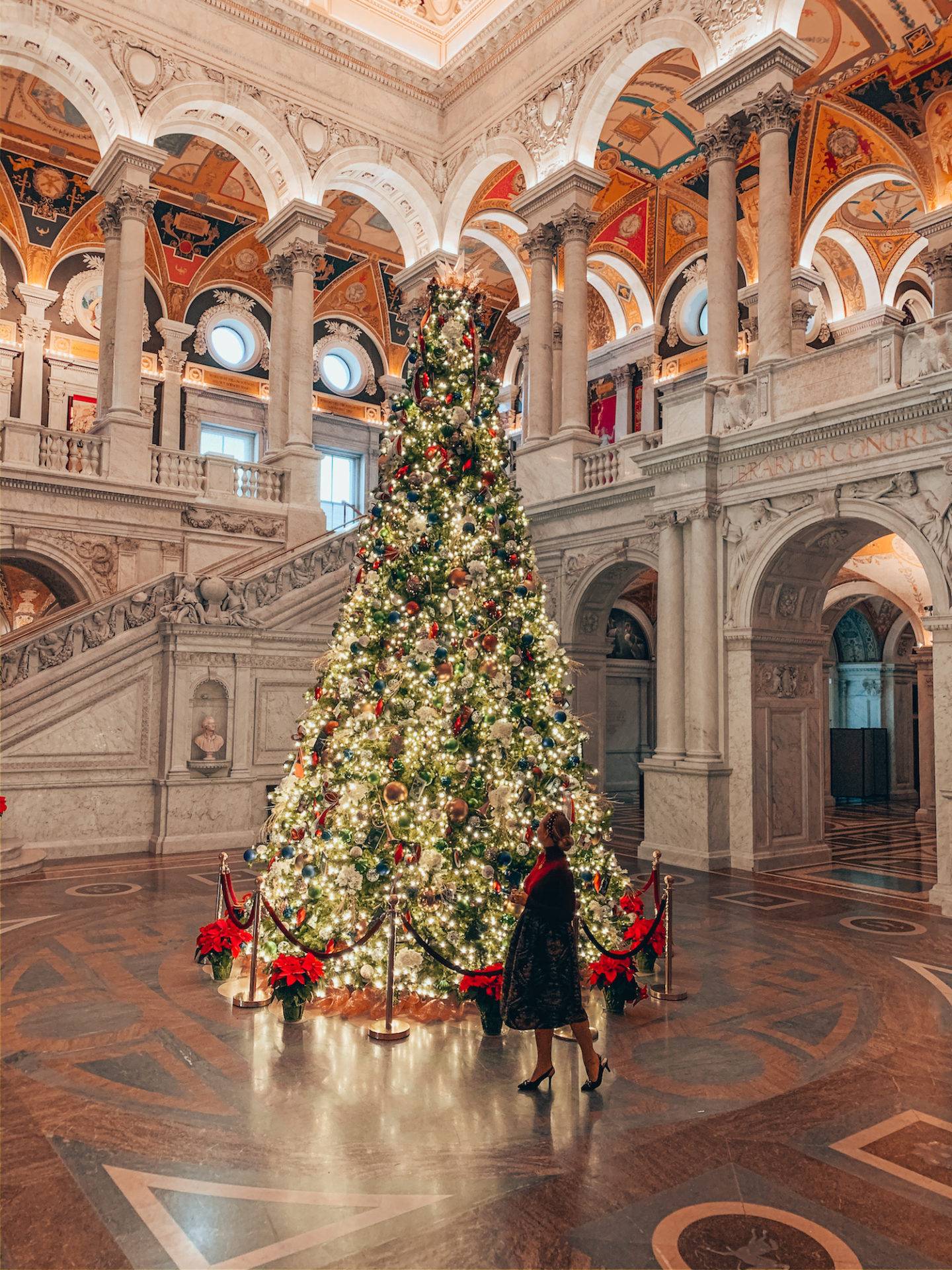 Checking out the beautiful Christmas tree in the Thomas Jefferson building of the Library of Congress
1. Visit the Library of Congress – FREE activity to do in Washington DC at Christmas Time
The Library of Congress is the oldest federal cultural institution in the United States. It officially serves the United States Congress and is also one of the top tourist destinations in Washington DC. Although the Library of Congress is absolutely stunning year round, it's even more beautiful during the Christmas season. Entrance is completely free so you should definitely plan to pop by while you're in Washington. Visit the Thomas Jefferson building to take in the beautiful Christmas tree before exploring the rest of this historically stunning library. You'll see why it's such a beautiful site to see in Washington DC at Christmas time!
Visiting the Old Ebbitt Grill for a holiday drink is a must-do while in Washing DC at Christmas time
What I'm Wearing:
2. Grab a Holiday drink at the Old Ebbitt Grill
The Old Ebbitt Grill is Washington's oldest saloon and was founded in 1856. To this day it remains one of the city's greatest treasures and is a definite must visit while in Washington DC. Stop by for a picture with the adorable nutcrackers outside before venturing in for cocktails and oysters in their beautiful Victorian bar. You'll quickly realize why the Old Ebbitt Grill is always so busy and it's especially beautiful to visit at Christmas time.
I just loved the giant Nutcrackers outside Old Ebbitt Grill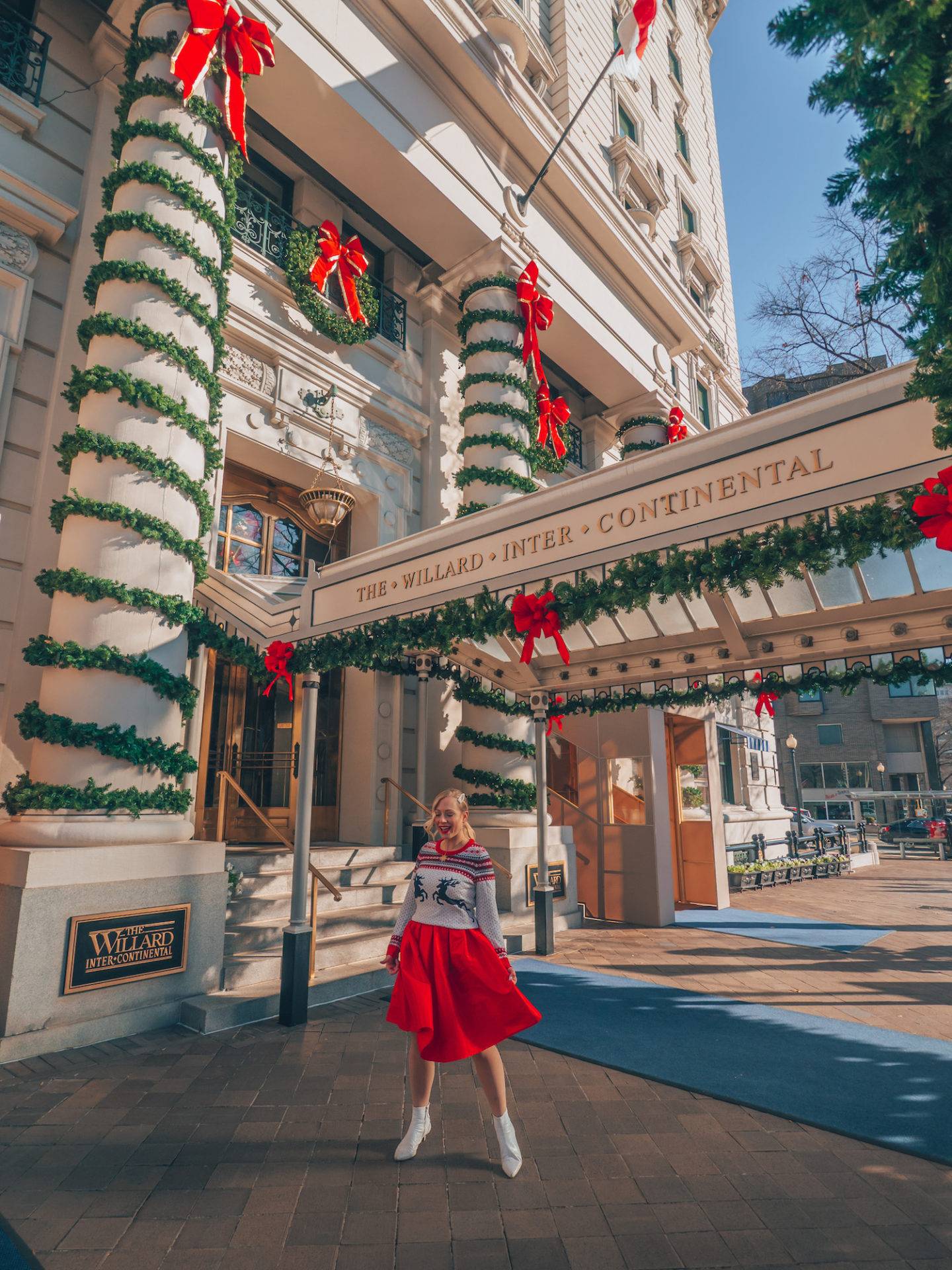 The Willard is such an incredibly sight to see in Washington DC at Christmas time. They had such beautiful decorations everywhere.
What I'm Wearing:
3. Enjoy the Festive Decor and Holiday Christmas High Tea at the InterContinental the Willard
The Willard InterContinental is a AAA four diamond hotel located in the heart of downtown Washington DC. If you think the Willard is stunning year round (which it is) it's even more spectacular during the holiday season. One step into the lobby of the Willard will transport you into an elegant Christmas wonderland that's sure to take your breath away.
If you're looking for a one stop shop of the most incredible Washington DC Christmas decorations then the Willard hotel is definitely for you. From the incredible tree lined hallways to the stunning lobby, to the garlands, wreaths, and lights galore outside. Every corner at the Willard is more breathtaking than the next.
Once you're done taking in all of the Christmas decor you should enjoy the Willard's Holiday high tea. The Willard's Holiday High Tea is complete with holiday themed teas and treats which are a must to help get you into the Christmas spirit! This is a definite must do while you're in Washington DC at Christmas time.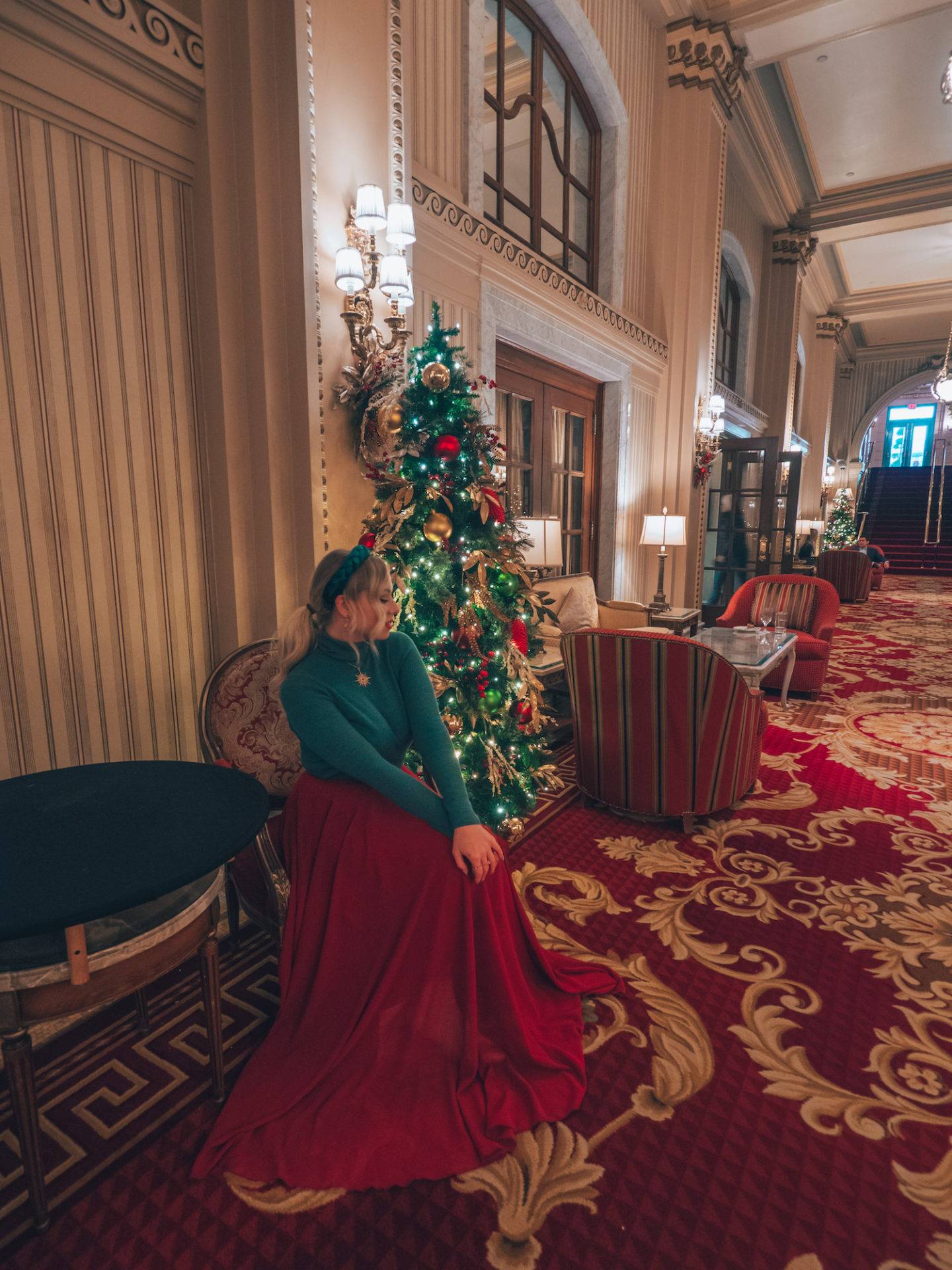 Every corner of the Intercontinental the Willard is so stunning at Christmas time.
What I'm Wearing: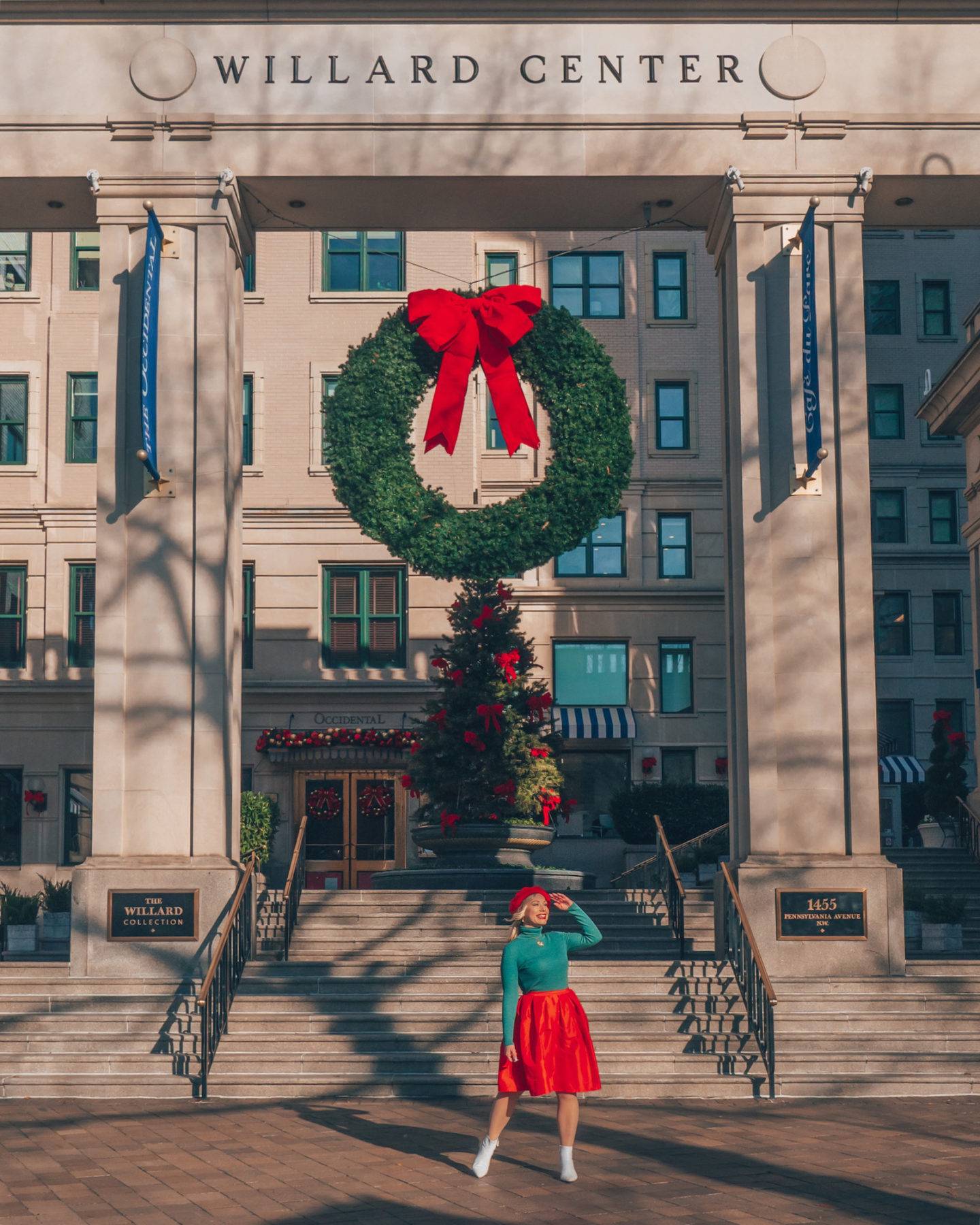 I loved the big Christmas wreath outside of the Willard in downtown Washington DC
What I'm Wearing: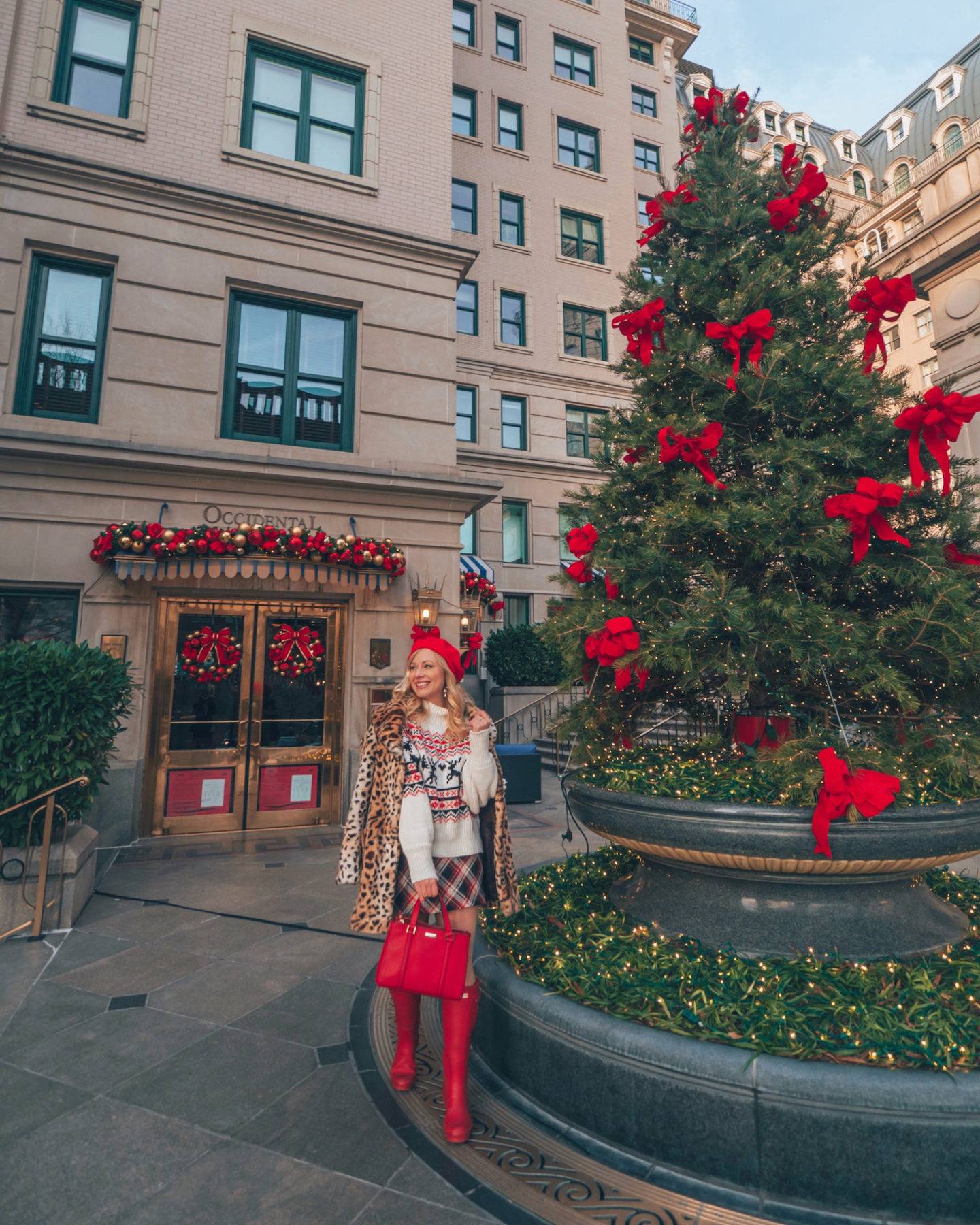 I loved all the Christmas decorations outside of the Occidental
What I'm Wearing:
4. Stop for dinner and enjoy the festive decor at the Occidental
Located just steps from the Willard is the Occidental, a local landmark of Washington DC. The Occidental serves high-end American meals in a posh space lined with portraits of statesmen. Stop by for a true DC dining experience and enjoy the beautiful Christmas decorations and tree outside. You'll also enjoy portraits of famous past patrons including political powerhouses, sports figures, authors and celebrities on display throughout the main dining room. The Occidental is the perfect place to dine to give you a truly American holiday experience in Washington DC at Christmas time.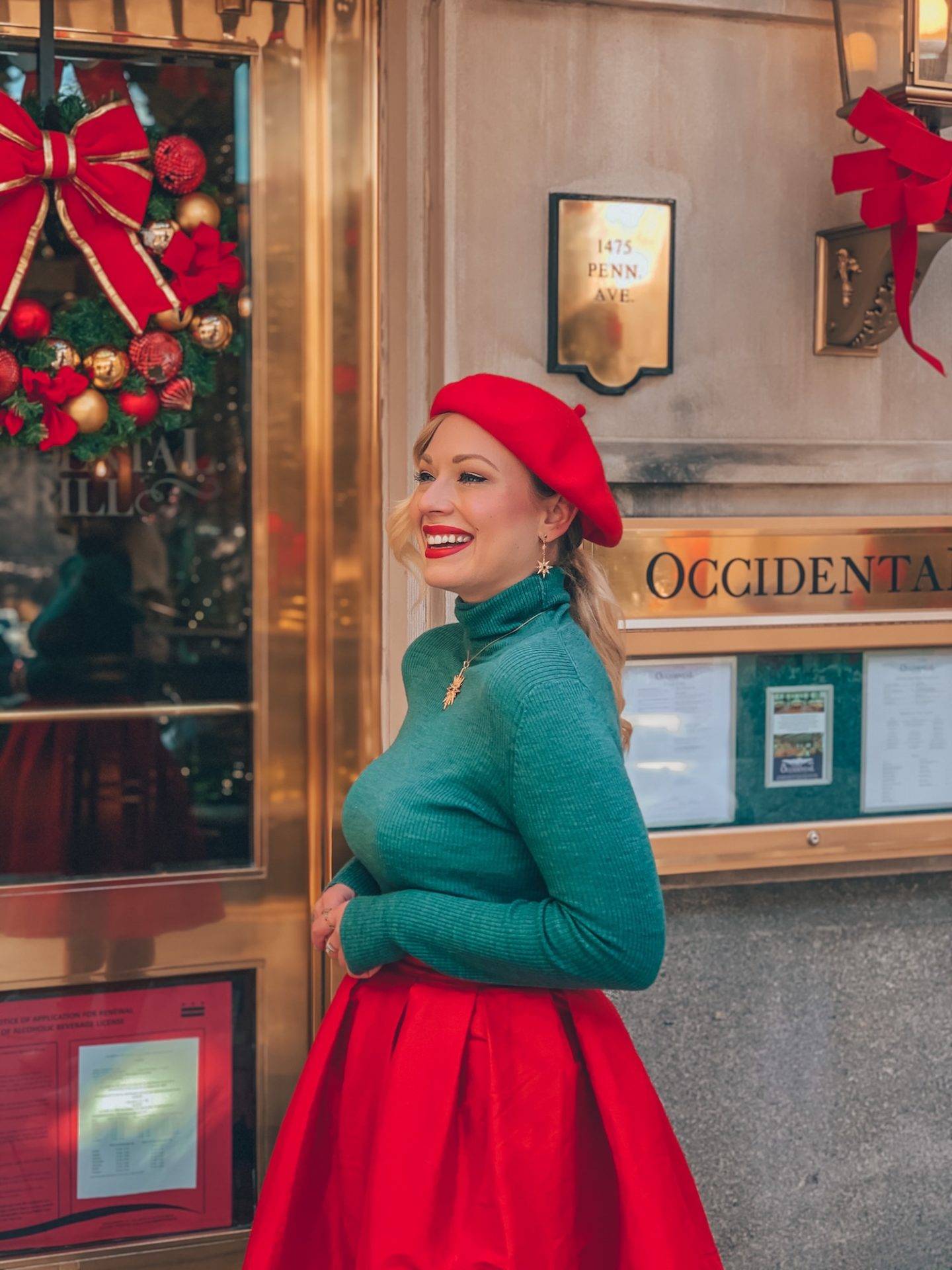 Having a quick photo op moment outside of the Occidental in downtown Washington DC
What I'm Wearing: Shop the look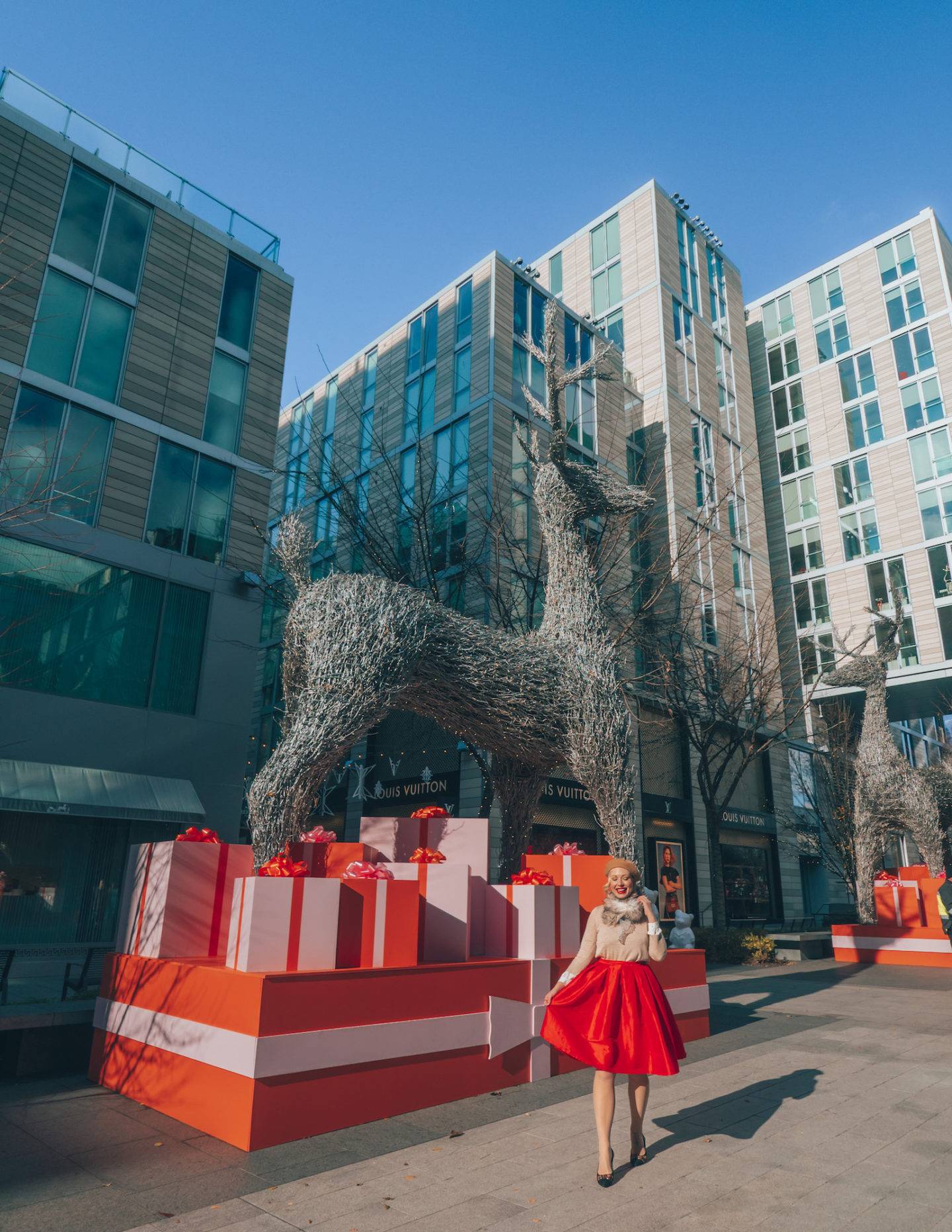 I loved this giant reindeer decoration at CityCentreDC
What I'm Wearing:
5. Browse the Boutiques and Enjoy the Holiday Decor at CityCentreDC
If you haven't gotten all your Christmas shopping done yet here's the perfect opportunity to kill two birds with one stone. CityCentreDC is an expansive outdoor shopping centre in downtown Washington DC boasting boutique after boutique that'll make all your shopping dreams come true. Featuring the best in haute couture shops, restaurants, luxury skincare boutiques and more that are even more fun to visit during the holidays. From light lined walkways to giant reindeer to a massive Christmas tree, there's tons of festive decor to stumble upon at it's such a magical place to visit in Washington DC at Christmas time.
Strolling through CityCentreDC at night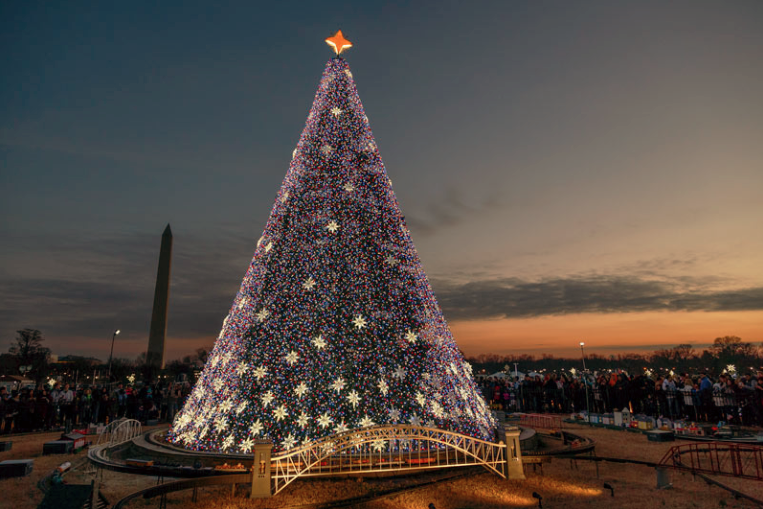 Photo via Richard Ricciardi
6. Take in the Beauty of the National Christmas Tree – A FREE activity to do in Washington DC at Christmas Time
Although I didn't get the chance to visit it this year, the National Christmas Tree was high on my list of things I wanted to do in Washington DC at Christmas time so I had to include it in this list! The National Christmas tree is an almost 100 year old tradition and is completely free to visit. The tree is lit every night from 4:30pm-midnight as part of the America Celebrates display at President's Park. Musical entertainment also happens every night for the 2 weeks leading up to Christmas.
Surrounding the National Christmas Tree is the America Celebrates display which features 56 trees each representing a U.S. state, territory, and the District of Columbia. The 2019 ornaments were handcrafted by students of 56 schools across the US to celebrate the history, culture, and heritage of their homeland. It will be exciting to see what this year brings!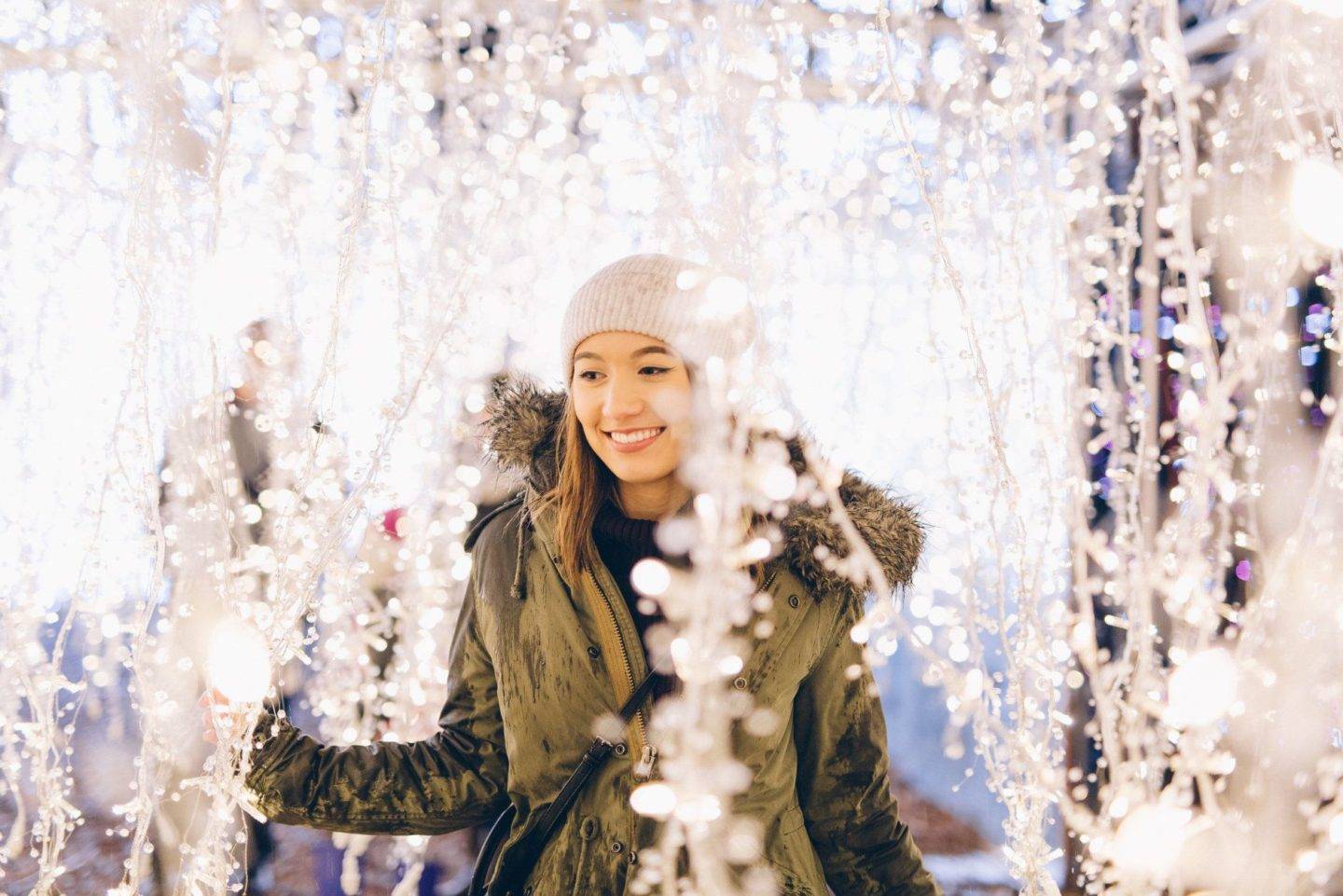 Photo via wtop.com
7. Get lost at Enchant Christmas – the World's Largest Christmas Light Maze and Holiday Market
Open November 22 to December 29th at National Parks in DC, Enchant Christmas is the world's largest Christmas Light maze! If you're looking for something new to try this holiday season then this should definitely be it. Centered around a 100 foot lighted pine tree that's bigger than the Christmas tree in Rockefeller Centre in New York, the Enchant maze is like a living storybook of larger than life stunning lit sculptures and displays. There's also an ice skating trail which makes it a perfect afternoon activity to do with friends or family while in Washington DC at Christmas time.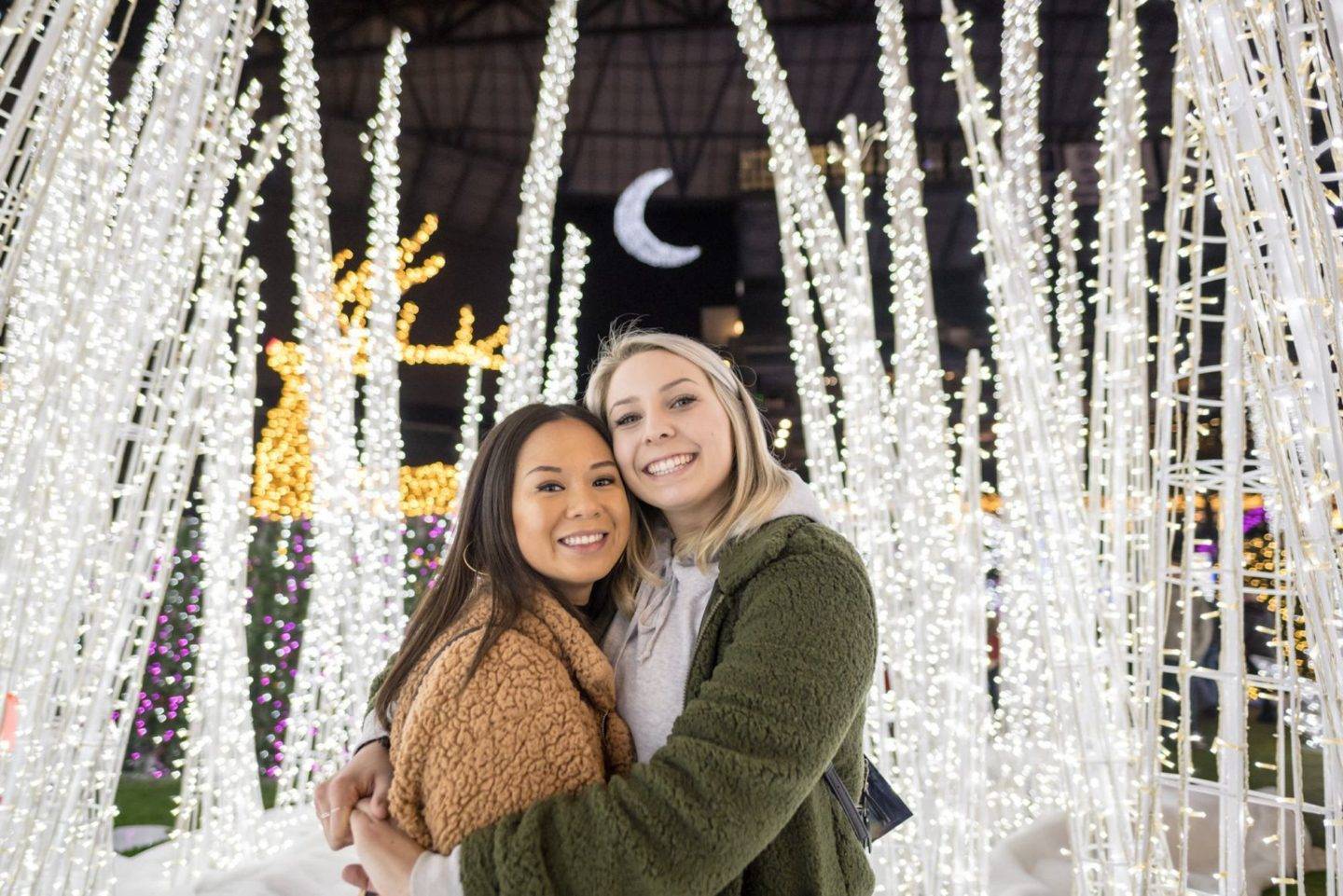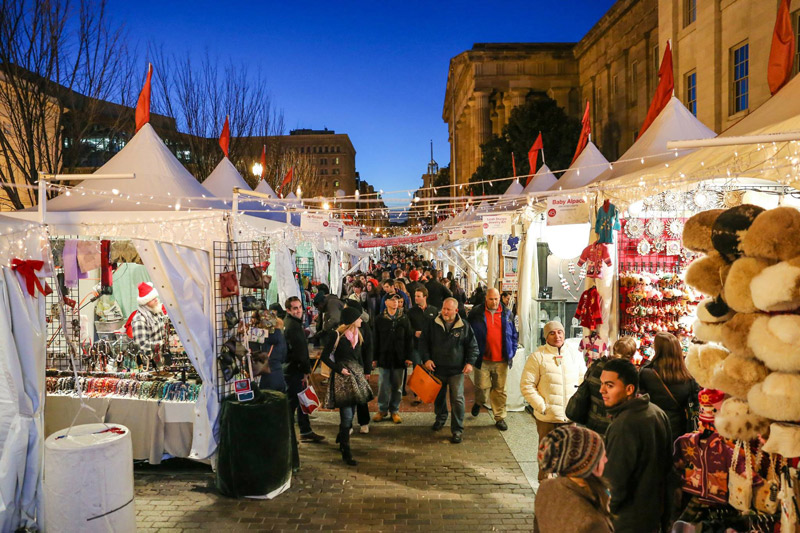 8. Browse the Unique Vendors and Enjoy a Hot Apple Cider at the Downtown Holiday Market
Located conveniently right downtown Washington and next to the National Portrait Gallery, the Downtown Holiday Market is a great daytime activity to do while visiting Washington DC. Loaded with tons of unique vendors ranging from artists to apparel brands, jewelers and chocolatiers, the holiday market has something for everyone. It's completely free to attend and they also feature live music throughout the afternoon and evening!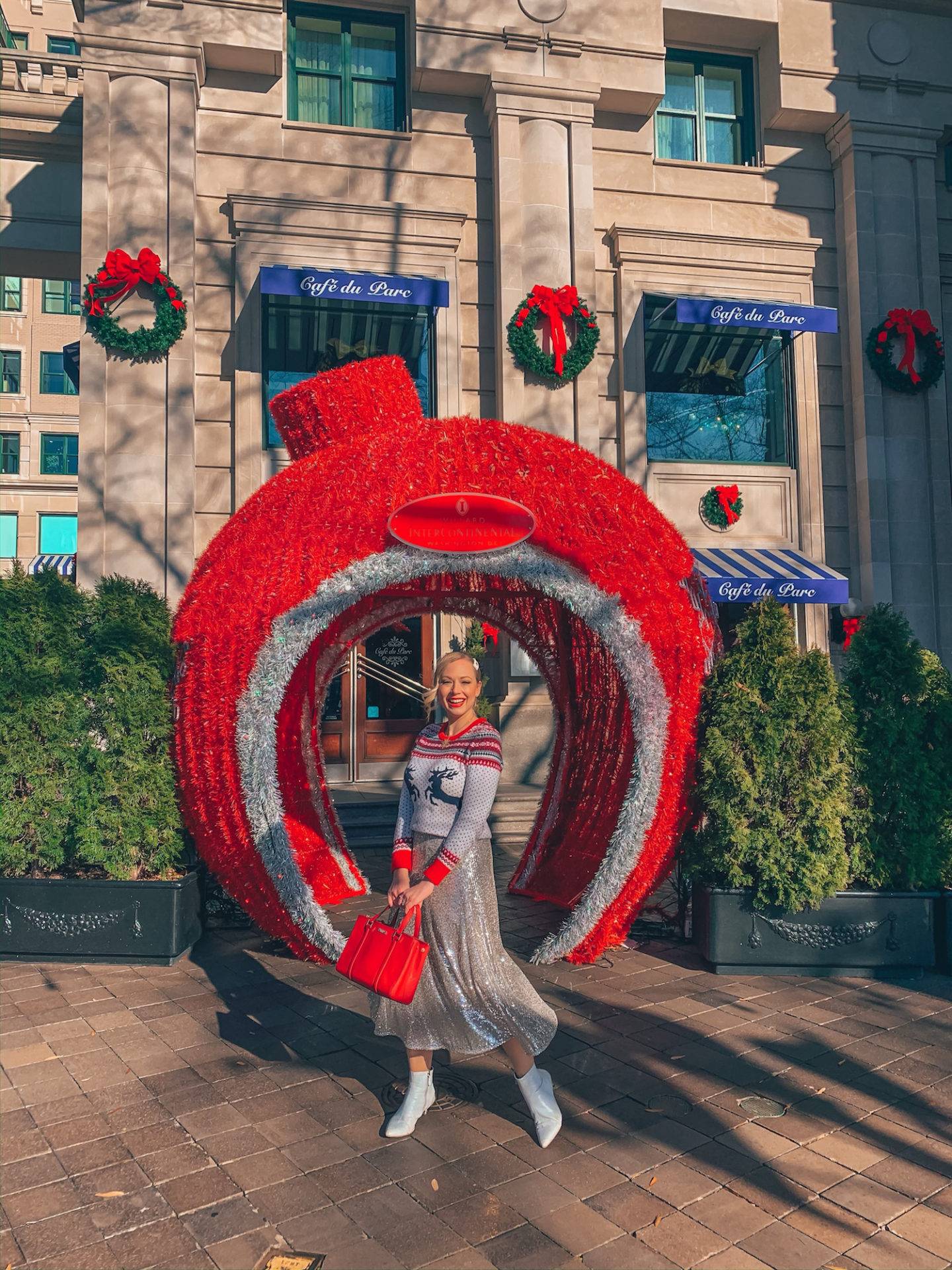 There's no shortage of festive decorations in downtown Washington!
9. Take a walk around the Downtown core and Enjoy all the Decorations – A FREE activity to do in Washington DC at Christmas Time
After checking out the downtown holiday market why not head for a stroll and just enjoy all the festive decorations in the downtown area? I was so in awe of how festively decorated downtown Washington DC is at Christmas time. Every single business building and hotel we passed was even more festive than the next. Peek into the lobbies of the buildings you pass and you'll be amazed! It's so impressive how festive Washington DC becomes at Christmas time. You will feel like you walked into a Christmas movie.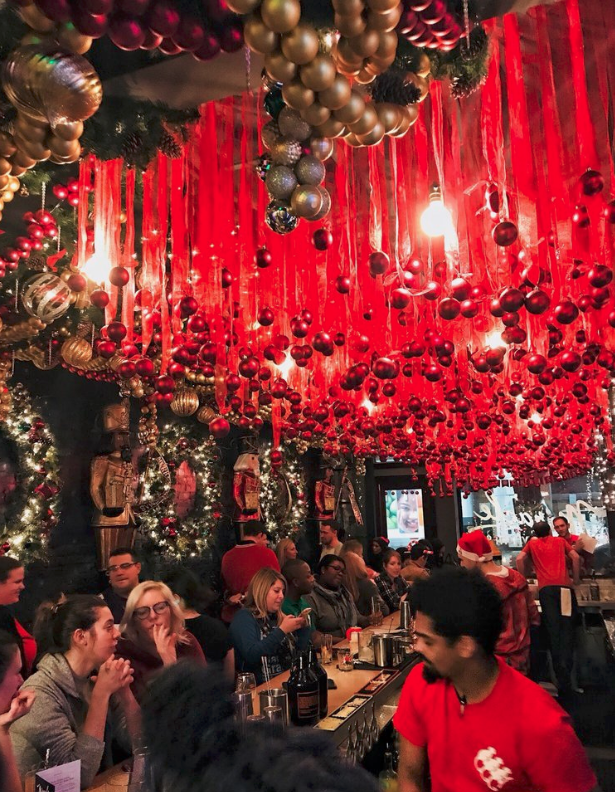 Miracle on 7th Street Pop Up Bar – Photo via Yelp
10. Enjoy a Christmas themed Night out at Miracle on 7th Pop Up Bar
A pop up bar that's 100% completely dedicated to Christmas? Sign me up! The Miracle on 7th Pop up Bar is back for it's 4th year and features 4 incredibly festive and decorated rooms that are something straight out of your Christmas dreams. If you're looking for the perfect place to end your day with some over the top holiday cheer than look no further than Miracle on 7th!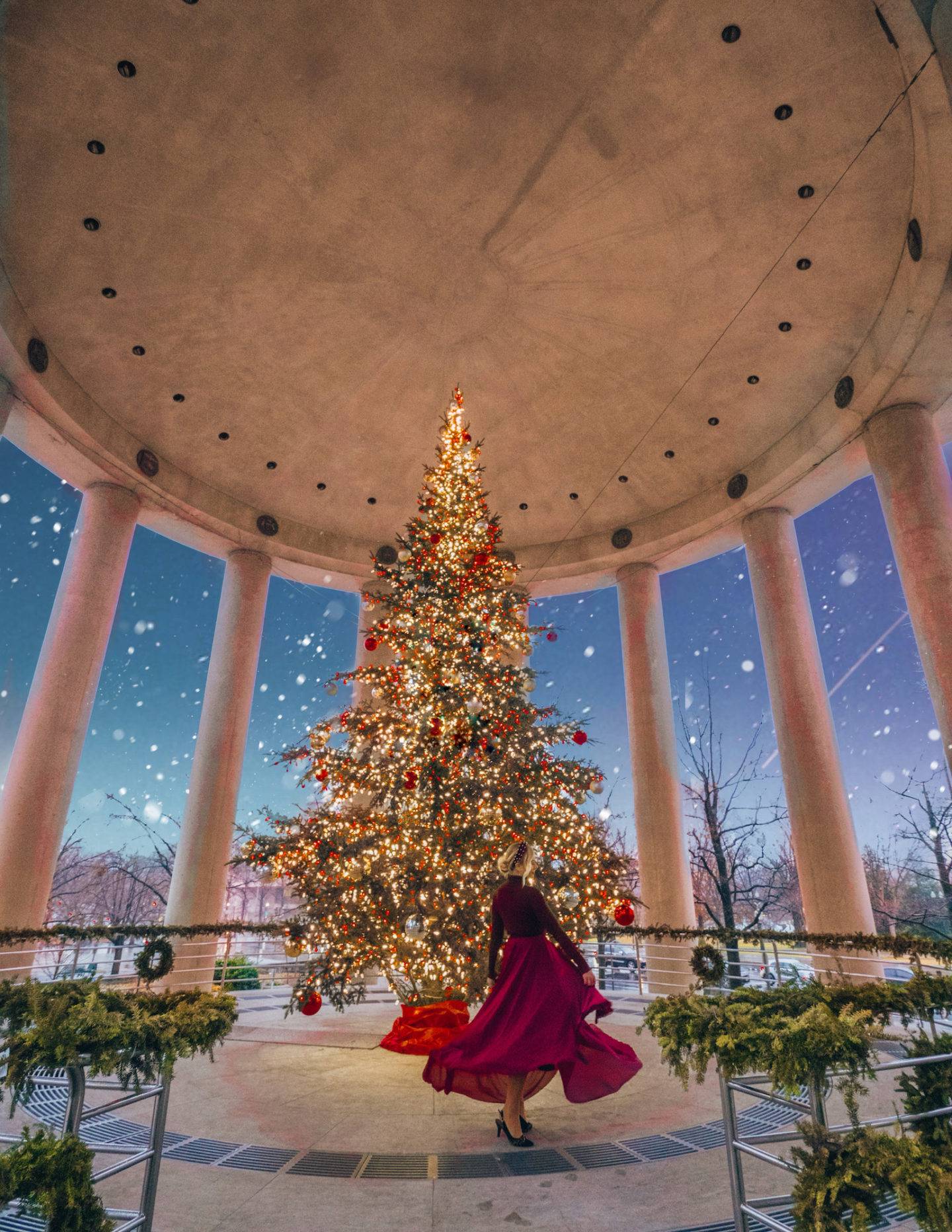 The Canadian Embassy in Washington DC's Christmas tree is a sight to see at night
What I'm Wearing:
11. Stop by the Canadian Embassy to admire their Christmas Tree
There's no shortage of beautiful Christmas trees in Washington, DC and that includes the pretty tree at the Canadian Embassy. Of course I couldn' t miss putting a tree that represents our home and native land on the list of things to do in Washington DC at Christmas time. Turns out the Canadian Embassy's tree is actually quite beautiful and is nestled in a beautiful rotunda that lights up at night. It's a beautiful sight to see
As you can see Washington DC is absolutely breathtaking during the Holiday season. There's also so much to see and do in Washington DC at Christmas time. If you haven't previously considered visiting Washington over the holidays I hope this post has convinced you of otherwise.
Washington as a city is magical in itself, but decorated for Christmas time it's even more unbelievable. I hope you enjoyed the post and that it's convinced you to add Washington DC to your winter travel bucket list! Feel free to pin one of the below to refer back to later :).
Looking for more United States travel guides? You might enjoy these posts!
Christmas in Washington, D.C: 10 Things to do in Washington, DC at Christmas
*FYI – this post may contain affiliate links, which means we earn a commission at no extra cost to you if you purchase from them. Also, as an Amazon Associate I earn from qualifying purchases. Check out our Privacy Policy and Disclosure for more info.
The United States' hub of history and politics, Washington, D.C brings millions of visitors each year to see its museums, monuments, and the famous White House. A great city for visitors all year, it gets even better as the holidays near.
If you're planning to visit Washington, D.C over the holidays, be sure to check out our list of 10 things to do in Washington, D.C at Christmas for some festive fun and yuletide cheer at the capital of the United States.
1. The National Christmas Tree
A tradition for nearly 100 years, the National Christmas Tree at the White House almost needs no introduction. Crowds from all over gather each December to watch the lighting ceremony of one of the world's most recognizable Christmas trees.
The Tree Lighting ceremony always kicks off the holiday season in Washington, D.C, full of spectacle, pageantry, and live music to brighten anyone's holiday spirit. If you miss the ceremony, you can still visit this beautiful tree throughout the month of December.
In addition, you'll want to see the famous Pathway of Peace, a walkway of 56 smaller Christmas trees representing all 50 states, 5 US territories, and the District of Columbia.
A festive crowd gathers for the lighting of the National Christmas Tree
2. Downtown Holiday Market
Looking for a place in Washington D.C to get your Christmas shopping done? Washington, D.C's outdoor Downtown Holiday Market will delight any holiday shopper seeking unique gift ideas from local artisan vendors.
With over 70 exhibitors featured, as well as ample food and drink options, you can find that unique D.C souvenir and sample some tasty local cuisine at the same time.
Stay into the evening to enjoy some festive ambience while you stroll along listening to live music and make a date of it by grabbing a nice cocktail at a number of local restaurants nearby.
3. Christmas at the Wharf
The Wharf, one of Washington, D.C's lively neighborhoods, provides waterfront shopping, food, places to stay, and entertainment year-round along the Potomac River. At Christmastime, the Wharf provides a variety of things to do throughout the holiday season.
Visitors will want to see the Wharf Christmas tree lighting, as well as the famous District's Holiday Boat Parade, which showcases over 60 boats adorned in Christmas lights and decor cruising along the Washington Channel.
In addition, visitors can go ice skating, enjoy classic outdoor Christmas movies, and connect with friends while roasting s'mores by the fire at Camp Wharf, a refurbished airstream trailer.
4. A Christmas Carol at the Historic Ford's Theatre
By attending a performance of A Christmas Carol at the historic Ford's Theatre you can experience a fascinating combination of live entertainment and history in one setting.
As the location where President Abraham Lincoln was notoriously assassinated, Ford's Theatre is a historic site that still continues to host live performances to this day.
It's long-running production of A Christmas Carol remains a popular tradition each year. You'll want to get tickets in advance for this unique Christmas experience that allows you to take a step back in time to 1865 while enjoying a wonderful classic Christmas tale.
5. An Italian Christmas Dinner at Filomena Ristorante
A dining staple in Washington, D.C for over 30 years, locals and visitors come to Filomena Ristorante in Georgetown especially during the holidays.
For a fun and festive Christmas dinner filled with hearty Italian dishes (some of the best in the city), you'll want to add a stop at Filomena to your Christmas in Washington, D.C visit.
While the food is excellent, Filomena Ristorante really draws the crowds at Christmastime for its famous holiday decor. Get your cameras ready!
A whimsical and magical place at Christmas, the restaurant boasts over 5,500 Christmas ornaments, over 10,000 Christmas lights, and its popular centerpiece Christmas tree.
The holiday spirit is cheery and bright at Filomena Ristorante
6. Christmas at Mt. Vernon
A short drive from Washington, D.C, visitors come to Mt. Vernon all year to immerse themselves in the history of George Washington's famous home and estate. During the holidays, Mt. Vernon provides a winter wonderland of activities full of history and fun.
Guests can take a fascinating step back in time touring Mt. Vernon by candlelight during the holidays and learn about area Christmas traditions in the 18th century over some cider, cookies, and live music. Other holiday festivities include:
Christmas Illuminations holiday lights and fireworks show
Meeting Washington's Christmas camel
Touring Mt. Vernon with Martha Washington
Listening to holiday fifing performances
Decorating Christmas ornaments
Chocolate making demonstrations
Mt. Vernon–George Washington's famous home
7. Water Skiing Santa Christmas Show
For over 30 years, Alexandria, VA (a Washington, D.C suburb) has been the place to see Santa on Christmas Eve, but not in a way you'd expect. While most people see Santa at the mall or in a parade around the holidays, you can see him water ski only in Alexandria.
On Christmas Eve, visitors and locals come out to the historic Old Town Alexandria waterfront to see Santa put on a holiday water skiing show with some other festive friends, braving the chilly Potomac waters. Afterwards, attendees can meet and take pictures with water skiing Santa.
8. Christmas Concerts at the National Cathedral
Christmas in Washington, D.C wouldn't be complete without a visit to the National Cathedral, the second largest cathedral in the US and 6th largest in the world.
Since its final completion in 1990 after 83 years of construction, locals and tourists have been attending concerts, recitals, and services there each holiday season. Hearing the sounds of a large choir singing Christmas carols and songs in such a beautiful setting mesmerizes and lifts your spirits at the same time.
In addition, visitors can tour the cathedral and see this opulent structure covered in festive holiday decor and learn about its impressive history.
9. The US Capitol Christmas Tree
Each year, a special tree from a different US national forest is selected to become the US Capitol Christmas Tree. Once the tree is selected, it goes on a tour across the nation with stops along the way until it arrives at the US Capitol.
An annual tradition for over 50 years, the US Capitol Christmas Tree is decorated with over 10,000 ornaments made by kids from the tree's home state and lit on the West Lawn of the US Capitol by the Speaker of the House.
A visit to see this gigantic, magnificent tree is a must during your Christmas in Washington, D.C visit. The backdrop of the US Capitol behind the tree provides excellent holiday selfies and family photos.
The magnificent US Capitol Christmas Tree–notice its size relative to the person looking up at it!
10. Gray Ghost's Annual Christmas Cork and Cheese
Needing a break from the big city during your Christmas in Washington, D.C visit? You'll want to take an hour's drive to Amissville, VA to attend the annual Christmas Cork and Cheese celebration at the scenic Gray Ghost Vineyards.
Attendees can enjoy Gray Ghost's wine and local cheese tastings, festive desserts, vineyard tours, live holiday music, and a souvenir holiday glass to take home. Plus, you can see the world's largest cork Christmas display with decorations made from over 120,000 corks!
10 Most Magical Places to Go at Christmas in the UK
For many, Christmas is a time of wonder, excitement, new opportunities, and brilliant decorations. While most create this winter wonderland at home, some choose to travel to far-off places that offer such marvels. You can find a myriad of fantastic places to go at Christmas in the UK , but we've compiled a list of the absolute best ones.
Keep reading to learn more about them!
Top 10 Christmassy Places to Visit in the UK
In 2019, over 50% of Brits said they were spending Christmas at home, which was an foreseeable change due to the pandemic. Regardless of which of the following enchanting destinations you choose for your festive escapade, you'll definitely have a blast.
Bath, Somerset
We begin our list with arguably the best place to spend Christmas in the UK : Somerset's Bath—the city with one of the UK's best Christmas markets . Unfortunately, the physical Bath Christmas market is not proceeding as planned in 2021 due to Covid-19 restrictions.
However, visitors can still enjoy other festive activities to get in the Christmas mood despite the market's cancellation. For example, the city's iconic light trail will take you through Bath's most symbolic landmarks. The world-renowned Museum of the Moon will also make an appearance in the Bath Abbey for a most wonderful experience.
From wandering among Abbey Quarter's artisan stalls to skating, playing Christmassy golf, or enjoying a warm beverage in the Alpine Lodge, Bath offers you one of the best Christmas trips in the UK . Of course, when you grow tired and hungry, you can always get some festive treats and rest while enjoying the city-wide entertainment programme.
Edinburgh, Scotland
Edinburgh's Christmas is set to return in full splendour in 2021. But why is Scotland's capital one of the best places in the UK for Christmas fun? Well, aside from its Christmas market that will leave you gasping in wonder, this city offers many holiday events and attractions for festive fun without age restrictions.
The entirety of the city will be decorated in the most magnificent decorations that will enhance its Christmas-fueled activities like the Tree Maze, the ice skating rink, the Star Flyer, the Waltzers and much more! Edinburgh is even one of the best places to stay at Christmas with children with family-friendly attractions such as the Santa Land and Santa's Grotto.
Note that the Edinburgh festive season lasts for six weeks until 4th January 2022, so you'll have plenty of time to see all of it.
York, Yorkshire
York, one of the best Christmas towns in the UK , is putting the most cheerful holiday festival year after year. From chocolate making workshops to the York Minster Christmas Tree Festival, this particular Christmas destination lights up the festive cheer like no other place in the UK.
To fully experience York's Christmas, you first have to visit the St. Nicholas Fair—the city's immensely popular holiday market. Then, after enjoying a joyful stroll among its lovely chalets, you can partake in any number of delicious foods and warm drinks while considering which engaging activity to try out next.
Whether you decide to take your family to Narnia or visit a romantic candlelit concert with your significant other, York allows you to experience a fabulous Christmas break in the UK . In case you have some more time to spare, you can choose from a plethora of other merry activities, including visits to several exhibitions, festivals, and musical events.
London, England
As the country's capital, London has a reputation to uphold as one of most Christmassy places to visit in the UK . Even outside of the holiday season, London is one of the world's most visited cities, so it comes as no shock that it's the Mecca of Christmas destinations.
To begin with, you must visit Hyde Park's Winter Wonderland—one of the biggest and most varied Christmas markets in the country. To fully embrace its festive spirit, browse through sits charming chalets, skate to live music, or gasp at the acrobatic feats of its magnificent circus.
Even if you can easily spend a whole day in Hyde Park, you should still see more of what London has to offer since it's one of the best places to go for Christmas in England . While walking the city's sparkling streets, you'll discover anything from Warner Bros' Hogwarts studio to The Nutcracker at the Royal Opera House.
What better place to do your Christmas shopping too than London—arguably the most popular shopping destination in the world. You would need a whole day just to visit all the shopping hotspots. So if you decide to visit London for Christmas, make sure you find enough time to explore all the wonders it hides.
The Highlands, Scotland
How does Christmas look like in Scotland's magical Highlands? Well, Nessie spends all her Christmases there, so it should be fantastic, right? Well, apart from the cheery mythical monsters, the Highlands epitomise cosy winter nights under a thick blanket with a warm drink in your hand. With their snow-capped tops, the Highlands are by far one of the best Christmas getaways in the UK .
These historic mountains are a naturally occurring winter wonderland , with breathtakingly picturesque sceneries, the island's freshest air, and excellent hotels that offer you the time of your life. There, you can tour the region's famous trails, visit Loch Ness, knit by cosy fireplaces, and try out as many whiskies as you can!
If you need a break from this outdoors Christmas in Britain , you can always visit Inverness—the Highlands' capital, which is marvellously decorated and full of wonders during Christmastime.
Mousehole, Cornwall
Why are we adding this small Cornish fishing port to our list of the best places to visit in the UK at Christmas ? Well, this seaside village is the home to one of the country's most spectacular Christmas lights displays.
Mousehole's astonishing light show has been beautifying its harbour with an array of illuminated shapes and colours every Christmas since 1963. The lights are switched on as soon as December comes, and the installation is open to visitors until early January.
After 2020's cancellation due to pandemic-induced financial difficulties, Mousehole is bringing back its famed Christmas lights display in full splendour. However, the organisers will gradually light up the displays instead of holding an official switch-on ceremony to avoid large crowd congregations.
Once the initial amazement of this volunteer installation wears off, you can begin enjoying a more romantic and quieter Christmas in this idyllic seaport. Grab a tasty bite from its numerous food stalls, enjoy the village choir, or walk the luminous quayside. Despite being one of the cheap Christmas destinations in the UK, Mousehole still has plenty to offer.
Oxford, Oxfordshire
If you are wondering where to spend Christmas in the UK in 2021 , how about Oxford? Surely a city with hundreds of years of colourful history knows how to organise a festive and magic-filled holiday.
Under its spire-punctured sky, Oxford welcomes you amid beautiful university buildings, fantastic shops, and festive attractions, all decorated with the most brilliant Christmas lights. You can also do some shopping at the Clarendon Centre and Westgate Oxford or explore some indie shops at the Covered Market.
Once you get something incredible for your loved ones, visit the city's world-class museums and attractions, such as the Story Museum or the Oxford Castle and Prison, or even grab a bite to eat and wash it down with a hot wintry drink.
Birmingham, West Midlands
Suppose you are still looking for places to visit in the UK in December . In that case, Birmingham is worth considering by virtue of its fantastic Christmas market, as well as the plethora of other events and attractions.
Once you begin to unwrap 2021's Christmas in Birmingham, you'll be astounded by its variety of pantomime productions, trails, ice rinks , grottos, displays, shops, and much more. For instance, you can attend a lovely Christmas concert at Symphony Hall or visit the Enchanted Gardens. Then, when you grow hungry, you can stop for festive afternoon tea at The Edgbaston or visit Marco Pierre's skyline restaurant on the top of The Cube building.
If you're looking to do some shopping as the perfect ending to a day full of wonders, explore the famous Bullring & Grand Central mall or maybe step into the famed Jewellery Quarter. As you see, Birmingham has a bit for everyone, making it one of the best Christmas trips in the UK .
Clovelly, North Devon
Speaking of the best Christmas holiday ideas in the UK , have you looked at Clovelly?
This scenic fishing village in North Devon is one of the most charming places you could visit in the UK, especially during Christmas! This unique little UK corner has always been privately owned (even by the Queen), which preserved its magical atmosphere.
Located on a 400-foot cliff, Clovelly's steep cobbled streets run through flower-covered cottages and picturesque little corners that have lured poets and artists for centuries. This bewitching hamlet welcomes visitors throughout the year, but it truly shines (figuratively and literally) during Christmastime as the most enchanting place for a Christmas break in the UK .
The winter holidays are a fairytale come true in Clovelly. After the grand switch-on in the afternoon, a local brass band paves the way for a choir-led procession down its cobbled streets to the harbour. There, visitors will enjoy a feast with a hog roast, hot dogs, and other Christmassy delights. The spectacle is finally topped off with a carol service and fireworks .
Nottingham, Nottinghamshire
Last but not least, enter Nottingham: full of wonder, artisan boutiques, luminous events, warm and cosy pubs, and bustling markets—a recipe for one of the best Christmas towns in the UK .
For 2021's winter holidays, the city council decided to put up a 60-foot Christmas tree as the focal point of the city's joyful events. Nottingham is also placing an enormous observation wheel, so visitors gaze into the shimmering lights from a 33 m height.
If you're not one for heights, enjoy a warm beverage in the new Après Ski themed pop-up bar or ride the colourful carousel in the main square. You can even take your family to the Christmas village to have festive fun under its glass igloos.
Make sure to find the time to thoroughly explore the centre's Christmas market and taste all the delicious wintry treats found within.
Before You Pack Your Suitcase
Enjoying a very merry time with your friends and family is the essence of Christmas . By travelling somewhere more festive, you can make that experience even more magical. We hope our list of the best places to go at Christmas in the UK has inspired you to pack your winter clothes and have a jolly good time in another cosy UK corner!
Bojana is my name and writing is my game. I am a content writer from Bitola who is always interested in the latest research in almost all areas of life. I have a Bachelor's degree in English literature and a perfectionist character, both of which help me find the most accurate data and information available. Although I have my head stuck in studies and reports most of the time, I still have a bit of free time during which I enjoy knitting and watching classic 90's Disney movies.
Source https://kirstenwendlandt.com/washington-christmas-things-to-do/
Source https://christmasmarketguides.com/christmas-in-washington-dc/
Source https://dontdisappoint.me.uk/resources/lifestyle/places-to-go-at-christmas-uk/