Best Time to Visit New Zealand: Month by Month Breakdown
New Zealand is the adventure capital of the world and one of the most beautiful countries to visit for outdoor activities. With spectacular landscapes, snow-capped mountain peaks and exceptional lakes, glaciers and waterfalls, New Zealand is great for hiking and for winter sports.
But given the seasonality of many activities here, it's important to pick the best time to visit New Zealand, depending on what you are looking to see or experience in the country.
Peak season is always the summer season because from December to February the weather is at its best. In the subtropical north, it's time to hit the beaches while in the more temperature south, it's the best time to visit New Zealand for hiking.
Winter is cold, but it presents great opportunities for skiing and snowboarding, while the shoulder seasons of spring and autumn bring more unpredictable weather but far fewer tourists.
To inspire your trip, here's our guide to help you choose the best time to visit New Zealand.
Best Time to Visit New Zealand: Month by Month Breakdown
Table of Contents
Visiting New Zealand in January
January is peak season in New Zealand because this is the height of the country's admittedly short, yet beautiful summer. Generally, January sees the highest temperatures, while there's also the least chance of rain.
In the North Island, temperatures can reach highs in the late 20s, and occasionally above this, while in the South Island, temperatures are lower, but still in the mid-twenties.
This is also when most schools have their summer holidays, and following on from Christmas and New Year, January is a busy time to be in New Zealand.
Head to the beaches around Auckland to experience the summer, as New Zealanders make the most of the weather to lounge on beaches, enjoy barbecues and to swim in the ocean.
Tackle hiking trails and go white water rafting, swimming in lakes or kayaking and canoeing, but always remember to book your accommodation and tours ahead of time in January.
Visiting New Zealand in February
February is the last month of summer, but already you'll find that temperatures, and prices, are beginning to drop from their highs in January.
Things are still warm though, and some days you'll enjoy incredibly sunny beach weather in February. This is still a busy time of year, as travelers make the most of the hot weather to visit adventure hot-spots such as Queenstown in the south or Lake Taupo.
It's a great time to visit the far south, to cities such as Dunedin, which will soon be experiencing much rainier and colder weather.
Visiting New Zealand in March
If you're looking to avoid the summer crowds but still catch the last of the summer weather, then March can be the best time to visit New Zealand.
In the north, you can enjoy higher temperatures than in the south, where the good conditions are deteriorating faster. Enjoy the beach for the last time, and make the most of Auckland's outdoor, summer culture before it gets too cold.
This is a great time for hiking, as the cool temperatures make things perfect for long-distance walking. Take in popular trails such as the Tongariro Alpine Crossing or the multi-day Milford Track.
Visiting New Zealand in April
In April, the weather is very much in an autumnal mode now, and the scenery can look spectacular as it turns from green to vibrant shades of red, yellow and brown.
The weather is unpredictable though and you'll want to make sure that you always carry a raincoat around with you. One day you can be enjoying highs in the twenties while the next day it's freezing cold and the clouds are bursting above you.
You won't want to be at the beach and you probably won't want to be swimming in any lakes in April, but you will want to make use of the cool weather to go hiking.
Visiting New Zealand in May
May is not the most popular month to be in the country, but if you want to avoid the crowds, it can still be the best time to visit New Zealand.
It's almost winter though, and May can be notoriously cold and rainy, a situation which is more pronounced the further south you travel.
Things are much cheaper in May and you can really enjoy a quieter side of the country than you can any other time of the year. If the weather is good then you can hit the hiking trails still, or if it's really raining, then just enjoy the sights and attractions in big cities such as Auckland or Wellington.
Visiting New Zealand in June
In June, it's the start of the winter season in New Zealand, and like May, this is very much the off-season. You can find great deals on flights and accommodation, but bring your raincoat and bring plenty of warm clothing, because it's going to be cold.
The North Island and Auckland especially experience heavy rain, while in the south the mountains are starting to collect snowfall.
While many hiking trails will now be closed off, due to increasing snowfall and bad weather, if you're into snow sports this is the first month when the ski slopes begin to open in the South Island.
Remember though that this is only the start of the ski season, and conditions can be unpredictable, so you might want to consider holding off a few weeks.
Visiting New Zealand in July
If you are looking to ski, then July can be the best time to visit New Zealand. This is when the snow sports season is in full swing, and you can enjoy great runs in both the north and the south of the country.
The ski resorts can be busy in July, and you can expect prices to go up while accommodation can get booked up too. The weather is cold, so bring plenty of warm clothing.
In the far north, there isn't much snow and you need to prepare for a lot of rain to fall in Auckland and other destinations in the vicinity as the subtropical climate here is quite different to the more temperate areas of the country.
Visiting New Zealand in August
August is another popular month for skiing and snowboarding, and after snowfall through June and July on the alpine areas, then the runs are in perfect shape.
The resorts can be busy though because this is the most popular snow sports month and you'll want to book in advance to be sure that you get accommodation in places like Queenstown.
Temperatures are low across the country, and like in July, you can expect lots of rain in the northern areas. The cold weather though, makes this a good time to enjoy New Zealand's thermal hot springs and you can visit places like Rotorua or Taupo, where you can relax in thermal spas to warm up.
Visiting New Zealand in September
The weather starts to improve again in September, but always remember that this is New Zealand, and the weather is always unpredictable!
Prepare for a mixture of sunshine and rain, and be ready for the cold all the time. The ski season is officially over now, but that makes this a good time to visit if you want to see the country without many other tourists.
You're limited on what you can do, but the cities can be great to visit, and you can even catch whales off the coast of the South Island if you travel to Kaikōura.
Visiting New Zealand in October
October is spring at its best in New Zealand, and it's a beautiful time to be in the country. Everything is blooming and the countryside and the mountains are colorful as the snow melts and leaves behind those fantastic traces of spring.
You can start to hit the hiking trails again in October, and you can enjoy the fresh mountain air, with almost no rainfall and ever-rising temperatures.
This is a great time to enjoy a wide array of outdoor activities in fact, and you can not only go hiking but you can white water raft, kayak or mountain bike.
Visiting New Zealand in November
November is technically still spring but towards the end of the month, it starts to feel a lot like summer. This can easily be the best time to visit New Zealand because in November you can enjoy beautiful weather that's perfect for experiencing the great outdoors.
Compared to the coming summer high season, November is much quieter, and costs are comparatively lower too. You can hike on trails that are still almost empty, and you can road trip around and have spectacular spots all to yourself.
Visiting New Zealand in December
December is one of the busiest times of the year in New Zealand, as this is the start of the high season. Given the combination of hot weather and the fact that these are the Christmas and New Year holidays, it's no surprise that you'll find New Zealand to be popular through December.
The weather is hot and New Zealanders start to head to the beaches, to enjoy the brief summer sunshine while it lasts. It's a great time for hiking, although it can almost get too hot in the north. Be sure to cool off with a dip in the lakes or a trip to a waterfall.
December in New Zealand: Weather, What to Pack, and What to See
Jillian Dara is a freelance journalist and fact-checker. Her work has appeared in Travel + Leisure, USA Today, Michelin Guides, Hemispheres, DuJour, and Forbes.
Mark Meredith/Getty Images
December is one of the best times to visit New Zealand. This month kicks off summer across the incredibly beautiful island nation, which means warm weather accompanies Christmas festivities.
It's a great time to visit whether you're interested in beach-going, trekking, or the countless other outdoor activities that New Zealand has to offer. Luckily, this time of year doesn't yet have the crowds or high rates that come along with peak summer.
New Zealand Weather in December
December is the beginning of summer in New Zealand, so the weather is usually warm (although not as warm as January or February). Some parts of the country experience windy conditions (especially Auckland and north Canterbury in the South Island) although in general December is sunny and settled. An increase in daylight hours makes December a great month for outdoor activities. Temperatures begin to increase across the country, although they remain cool overall, with New Zealand's average December temperature a very pleasant 64 degrees Fahrenheit (18 degrees Celsius). On the North Island, including in Wellington, temperatures will be slightly cooler.
Average high: 70 degrees Fahrenheit (21 degrees Celsius)
Average low: 59 degrees Fahrenheit (15 degrees Celsius)
Be aware of the humidity in the summer months in New Zealand. Being a maritime environment, surrounded by the sea, wet weather can bring humidity, although never unpleasantly so. The other thing to watch out for is the sun. New Zealand has some of the highest UV levels in the world. It's always advisable to cover up with a hat and a high-strength sunscreen of SPF30 or more.
What to Pack
New Zealand's incredible climactic diversity means that weather can change in an instant. It's not uncommon to experience all four seasons in just one day, and your packing list should reflect this wild variability. Overall, summer is a season of mild weather, with warm days and cool nights—and luckily, not a lot of precipitation. Jeans and T-shirts are appropriate clothing for most island activities, but easily layered clothing is recommended as well, especially for cooler nights and mornings. To start, your suitcase should include:
Tank tops and T-shirts for layering
Light sweaters or long-sleeve T-shirts
Jeans
A pair of non-denim pants, such as linen or cargo
Shorts, which are useful for wearing on the beach
Socks for cozy, chilly nights
A swimsuit, since you know there will be time spent in the ocean!
December Events in New Zealand
In addition to the Christmas holiday, December in New Zealand has a full calendar of other events as well, including unique festivals celebrating music, wine, and more.
Visiting New Zealand in December
"Here comes the sun", sang The Beatles and they might as well have been singing about New Zealand in December! For December marks the beginning of the summer season, and brings with it long sunny days and warm summer nights. This is the New Zealand many of us have in our mind's eye – the white sands and turquoise ocean, tropical-looking forests lining the shores … and Christmas on the beach!
What's New Zealand Like in December?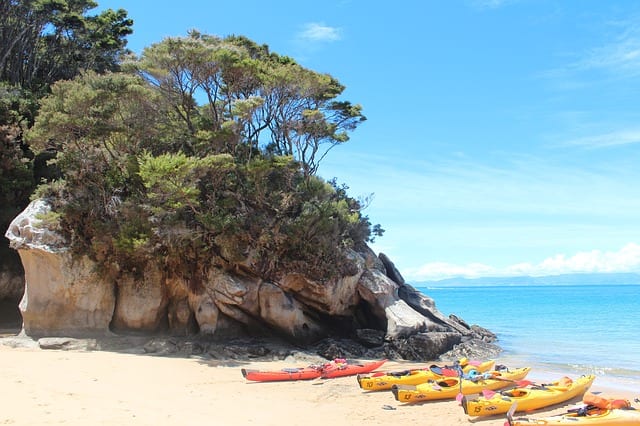 The cooler days of Spring are behind us, and the New Zealand December sun radiates temperatures reaching up to 30°C on both the North and South Island. Yes sir, New Zealand can be hot in December! As is to be expected, temperatures are a little higher on the North Island, but other than this, the weather conditions in December are broadly similar in the north and the south.
But while it can be hot, daytime temperatures can still drop to between 15°C – 24°C on the South Island, and there's always a chance of rain in New Zealand. While rainfall levels will drop in December (and summer is certainly the driest season) you should still expect the odd rainy day, as December is the wettest of the summer months.
New Zealand daylight hours in December begin at 15 and increase to 15.5, which gives sun worshippers like me a lot of time for our daily practice! Some of the sunniest spots in December include Nelson, Blenheim and Lake Tekapo on the South Island and Tauranga, Kaitaia and Gisborne on the North.
So, is December a good time to visit New Zealand? Well, the weather forecast for December is great, there's plenty to see and do, and who doesn't love the idea of Christmas in shorts and flip-flops? In fact, the only downside we can think of is the crowds, as December marks the first month of the high tourist season and also sees the start of the New Zealand summer holiday towards the end of the month.
What To Do in New Zealand in December
One good thing about the arrival of the high tourist season is that New Zealand's activities and attractions are all open for business. We could write a whole book on things to do in New Zealand in December, but we'll spare you the trip to the bookshop and help you make the most of your New Zealand December itinerary by previewing the best bits for you right here. Spoiler alert!
Visit a Wonderland of Lights at the New Plymouth Festival of Lights
Savour Excellent Food & Drink at the Christchurch Wine & Food Festival
Get on your bikes and ride!
Enjoy Christmas & New Year Festivities in the Sunshine
New Plymouth Festival of Lights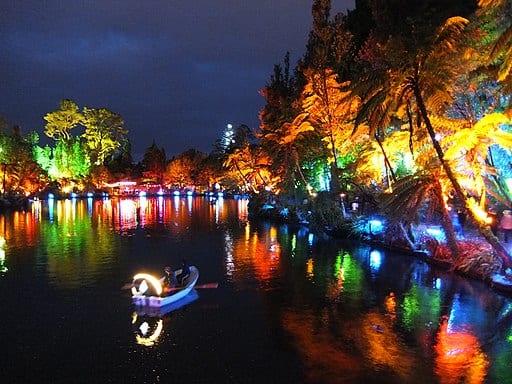 JiaEnzed [CC BY-SA 3.0 (https://creativecommons.org/licenses/by-sa/3.0)] Running from mid-December to early Feb, this festival sees the beautiful botanic Pukekura Park transformed every evening into a spectacle of lights and entertainment. A wonderfully serene atmosphere is created and my family and I have spent many an evening wandering through this enchanting place. The even better news is that it's completely free, and chock full of concerts and activities for the whole family. Definitely one of the best places to visit in New Zealand during December in my family's opinion!
Christchurch Wine and Food Festival
If you find yourself wondering where to go on the South Island of New Zealand in December, you could do a lot worse than head over to the Christchurch Wine and Food Festival for both of the aforementioned delights, plus great live music and a top festival atmosphere. The emphasis is very much on the food and drink though, so treat your senses at one of the best New Zealand events, this year to be held on Saturday 7 th December 2019.
Christchurch Festival of Cycling
Fans of cycling will be pleased to know that Christchurch also hosts the Festival of Cycling in December. With rides for cyclists of all ages, this is an increasingly popular event, and a great way to see the area! Held over a weekend, the Saturday tends to involve routes around the bay area and up into the hills, and the Sunday sees cyclists taking to the city centre. Personally, I was very happy to sit in one of the wonderful local cafes with the bags as the rest of my clan took to their two-wheeled steeds!
Enjoy Christmas & New Year In the Sunshine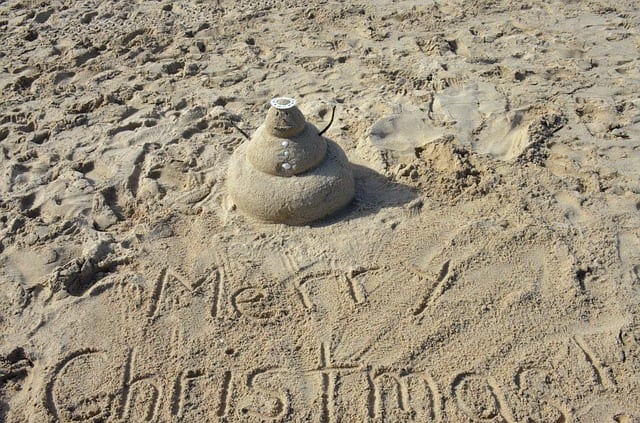 Of course, any "New Zealand in December – what to do?" list should include a reference to Christmas and New Year. Both events are very different in the Southern Hemisphere due to the weather, but are still very important features of the New Zealand calendar. In fact, New Zealand is the first country to welcome in the new year, and all major cities hold big events to celebrate, although we think a starry-skied evening on the beach is just as good. And there's nothing quite like Christmas on the beach either. Keep an eye out for the glorious Pohutukawa tree (the New Zealand Christmas Tree) and be sure to stock up on items a couple of days beforehand as most shops tend to close over Christmas, and some don't open again until January. Check out our article on Christmas in New Zealand for more on what to expect!
What To Pack for New Zealand in December
When deciding what to wear in New Zealand in December, I find that the warmer weather means that jeans and a tee-shirt will see me comfortably through most days (New Zealand attire is as casual in December as it is the rest of the year). But packing for New Zealand in December is similar to packing for an early summer holiday in the UK, so it's a good idea to prepare yourself for the odd hot day as much as it is the odd cool one. Here are a few things not to leave off your New Zealand December packing list:
Tee shirts and light sweaters for layering up when the weather turns cool
Light rain jacket for those occasional rainy days
Swimming stuff – because beach life!
Some easy-to-pack summer shoes (espadrilles are perfect)
Sunglasses
Bug spray (essential for keeping the sand-flies at bay!)
And don't forget to include sunscreen on your list of what to pack for New Zealand in December. UV levels are very high in this part of the world, so make sure you're protected even on cloudy days.
New Zealand in December is glorious. We've spent more than one Christmas with the Kiwis and we absolutely love it. And don't worry too much about those crowds: this may be high season, but it's only the beginning of it; the main influx of visitors will take place next month, so you might even find that some bargain flights to New Zealand in December are still available!
Source https://www.divergenttravelers.com/best-time-to-visit-new-zealand/
Source https://www.tripsavvy.com/december-in-new-zealand-1606376
Source https://www.silverfernholidays.com/blog/visiting-new-zealand-in-december/