Best Beaches in Florence, Oregon
Living on the Oregon Coast means that I have plenty of opportunity to visit the beach. Somehow I'm still not tan, though. And you shouldn't plan to be either after a visit based upon our average 65-degree temperature in the summer. However there are plenty of other reasons to explore Oregon Coast beaches: Agates, fishing, strolling and relaxing just to name a few. Take a look below for my favorite beaches close to home in beautiful Florence, Oregon.
Devil's Elbow/ Heceta Head:
Located a 15 minute drive North of Florence, Devil's Elbow State Park is an Oregon Coast playground in and of itself.
Why I love it:
This beach combines incredible views with lots to do. As an added benefit it's also one of the most wind protected places near the ocean around Florence! Directly below the mighty Heceta Head lighthouse perched 205 feet above the seas, the beach here boasts a few large rock formations and a great photo opportunity of the Highway 101 bridge over Cape Creek.
Speaking of Cape Creek, this fresh water creek meets the Pacific Ocean on the South Side of the beach. While it looks cool, the other benefit of the creek nearby is that it's a perfect place for kids to splash and play out of the direct waves.
On the North end of the beach there are a few sea caves. Be especially aware of tides and sneaker waves if you choose to venture in this direction! The beach is managed by Oregon State Parks, so there is a $5 day use fee, or you may use your Oregon Coast Passport for entry. Your $5 buys you access to plenty of parking, as well as picnic tables, and an opportunity to hike the trail to get a closer look at the Heceta Head lighthouse – one of my favorite scenic spots on the Oregon Coast. This is a very popular beach year-round, and jam packs lots to do in a relatively small surrounding. And did I mention it's pretty? It's pretty. You should go.
How to get there:
From Florence, take Highway 101 North for approximately 12 miles. Once you drive through the tunnel and cross the bridge, watch for the signs and turn right to enter the park.
Heceta Beach:
Not to be confused with Heceta Head, Heceta Beach is probably the most popular and easily accessible beach in Florence. Popular with locals and tourists alike, Heceta Beach is lined with a few houses/vacation rentals, as well as Driftwood Shores Resort; which is Florence's only beach-front resort.
Why I love it
This long, sandy beach is perfect for leisurely walks, a little exercise, running the dogs or letting the kids play. This is our "go to" beach when we need a little ocean air after a long day of work/school.
There aren't a wealth of rocks and shells along Heceta Beach, but there is lots of wide open space to enjoy and stretch your legs. And, if you look North on the beach, you can see the light of Heceta Head flashing up on the hill in the far distance.
How to get there:
Depending on where you start in Florence, there are a few different routes to get to Heceta Beach. Rhododendron Drive or Heceta Beach Road from Highway 101 will both get you to the beach. Follow the signs and park in the Lane County Parks parking area. Note that there is a $5 day use fee for parking in the County area.
North Jetty:
The South end of Heceta Beach is most easily accessible from Florence's North Jetty. The beach at North Jetty takes a little effort to get to with a walk down the jetty itself, but the the view is well worth a little burn in the ol' calf muscles.
Why I love it:
The beach at the end of the North Jetty in Florence offers a unique view of the Siuslaw River, Pacific Ocean and the river bar, where the river and ocean meet. After parking in the large lot (watch for potholes!) you can follow the jetty out to the beach itself. The walk requires a few ups and downs on sand hills that have accumulated from the wind. By no means is the walk stroller or wheelchair friendly, but I've seen toddlers, seniors and my bad knees all make the trek with no problem.
Once you reach the beach, you'll find a pretty impressive accumulation of Oregon Coast driftwood, along with some homebuilt forts made from smaller pieces. This beach connects to Heceta Beach, so if you're up for a walk you can check out both beach areas in one stop!
How to get there:
From Rhododendron Drive in Florence turn onto Harbor Vista Road (follow the signs for Harbor Vista Park.) Follow the road to where it dead ends in the large parking area by the Coast Guard tower. There is no fee for day use at this area.
South Jetty Beach:
The South Jetty in Florence is a recreational wonderland. Dune & beach access, crabbing, wind surfing and hiking are all based in the South Jetty area, and the beach here offers all kinds of entertainment, no matter your interest.
Why I love it:
The beach in the South Jetty area of Florence is accessible by well-equipped 4×4 vehicle, or foot. OHV enthusiasts are able to drive on portions of the beach year-round in this area, so you are sure to see quads, dirt bikes, UTV's or 4×4's out and about on the sand enjoying the day alongside other beachgoers. The beach can be accessed by OHV's with a valid OHV pass via Goosepasture staging area, or South Jetty Road.
For folks without a sand-ready ride, there are multiple parking areas along South Jetty Road at trailheads that lead over the sea wall and to the beach. I warn you, however, that your legs and lungs will burn and you will feel like you are going to die for a couple minutes. Or maybe that's just me. Either way, it's a bit of a climb in all of the sand. The view, though, is totally worth it.
This long stretch of Oregon Coast sand is a great spot for a bonfire on the beach when the wind dies down, and is also a popular spot for surf perch fishing. But that's another topic for a different day.
How to get there:
1 mile South of Florence, turn on South Jetty Road. Follow the road West to beach access trails and parking areas. At the entrance to the recreation area, there is a U.S. Forest Service self-pay station. Day use is $5 and various coastal/parks recreation passes are also accepted at this location.
While Florence is technically an Oregon Coast "river town" there is plenty of beach for everyone to enjoy. Crowds are rare, the views are breathtaking and the roar of the ocean will wash your worries away.
12 Best Cities to Visit in Oregon
Lying in the northwest of the United States, Oregon is a delightful state to explore, with a diverse array of sights on offer – as evidenced by its fantastic lively cities. Whether it's unique craft beer that you are after, dazzling theatrical productions or a hip and trendy youthful vibe, The best cities in Oregon have it all.
Lined with shops and restaurants that cater to all needs, rivers usually course through the center of town, and just beyond their city limits you can find beautiful lakes, dominating mountains and pristine coastal trails.
Reflecting its many landscapes and picturesque settings, Oregon's population is almost as diverse, and each city has its own unique flavor and feel. Fun and festive or laidback and cool, there's something here for everyone to enjoy.
Map of cities in Oregon
© OpenStreetMap © MapTiler © Touropia
12. Ashland [SEE MAP]
Visitor7 / Wikipedia
Lying in the southern part of the state near the California border, Ashland is a picturesque place that acts as a cultural capital for the region – hundreds of thousands of people descend upon the city for its fantastic Shakespeare festival.
Running for an incredible nine months of the year, the festival is largely responsible for the upmarket restaurants and hotels that are found around town. Away from the festival, the lively streets in Ashland buzz with life and there are some trendy boutiques and bars that are worth checking out.
With Mount Ashland not far away, you can go skiing in the winter. The area's fine wineries will make you want to stay even longer!
11. Florence [SEE MAP]
Sam Beebe / Flickr
As a tourist-orientated city, a soulless commercial strip full of tacky souvenir shops and cheap eateries dominates a lot of Florence. Explore a little further, however, and you'll find the quiet and secluded Old Town neighborhood, which paints Florence in a completely different light.
Lying next to the Siuslaw River, its picturesque harbor is a delight, and the waterfront part of town is particularly fascinating to explore. With the Oregon Dunes National Recreational Area nearby, there is more than enough in Florence to warrant a visit.
10. Seaside [SEE MAP]
© Angela Miller / Dreamstime
The largest resort town in Oregon, the appropriately named Seaside is a fun and friendly beach getaway that isn't hard on the pocket. A popular place, young people and families descend on the city for its carnival-like atmosphere and cheap attractions.
Its boardwalks are full of people playing in the arcades or browsing through the gift shops. The sandy beaches at Seaside are delightful to lounge on – they're usually quite peaceful, although spring break certainly brings a more boisterous crowd to town.
9. Newport [SEE MAP]
© Rtrembly / Dreamstime
With a huge fishing fleet calling Newport home and a delightful, historic bay front, it is fair to say that maritime life pervades every aspect of life in the city. There's a world-class aquarium in town, and sea lions frolic in the bay area.
Kitschy souvenir shops can be found amidst the small art galleries and delicious seafood restaurants. A popular tourist destination, Newport has a laidback, welcoming feel to it, and looking out over the ocean or lounging on its fantastic beaches is an idyllic affair.
8. Hood River [SEE MAP]
© Michael Albright / Dreamstime
With lots of shops, cafes, bars and restaurants dominating the center of town, Hood River has numerous sides to it. Its perfect location on the Columbia River means that it is one of the best places in the world to windsurf or kitesurf.
The strong winds and currents converge to create the perfect environment in which to take to the waters – watersports lovers descend en-masse upon the city to enjoy all that it has to offer. With some fantastic wineries in the surrounding regions and an orchard-filled valley nearby, Hood River is a surprisingly great place to stop by.
7. Lincoln City [SEE MAP]
© J. Maniex / Dreamstime
The commercial center of the region, Lincoln City is a cheap and cheerful place full of motels, souvenir shops and fast-food joints. Lying on the coast, this sprawling city is more affordable than most places that overlook the ocean.
That is in large part because the expansive beaches are not particularly attractive to gaze upon. While it is certainly not the fanciest place in the world, Lincoln City has lots of nice hikes in the surrounding coastal regions and is a pleasant, unpretentious city to kick back in.
6. Astoria [SEE MAP]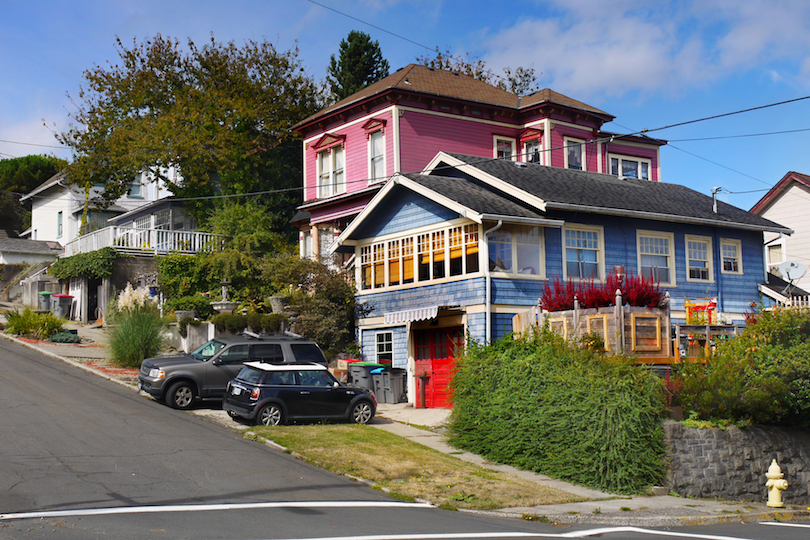 © Helena Bilkova / Dreamstime
Lying at the point where the Columbia River joins the Pacific Ocean, Astoria is steeped in history; its old and picturesque harbor was once an important stop-off point for long seafaring voyages.
Remarkably the first US settlement to be founded west of the Mississippi River, its historic houses and buildings are now interspersed with upmarket hotels and fancy restaurants. While it is a lovely city in Oregon to spend some time, its peaceful atmosphere is somewhat dampened by the frequent rain that plagues the region.
5. Corvallis [SEE MAP]
Wendell / Flickr
Lying on Willamette River, Corvallis is a lively city, thanks in large part to Oregon State University which resides within its confines. As such, there is a youthful vibe to the streets, and the huge student population dominates life in Corvallis.
With lots of bookshops and cafes, as well as some fine dining options and lovely pubs, Corvallis is worth a trip. The upmarket part of town around the riverfront is particularly lovely to stroll around. The surrounding area has loads of farms and vineyards for visitors to stop by, and the sprawling orchards are very easy on the eye.
4. Salem [SEE MAP]
© Perlleighton / Dreamstime
The capital of Oregon, Salem is a laid-back university town that lies alongside the Willamette River. There is a lovely waterside park for visitors to enjoy here. A peaceful place, there are a few nice museums worth checking out – as is the impressive state capitol itself.
Because it is quite near to Portland, many people visit Salem for the day, or stay a bit longer if they want to explore the fantastic sights nearby. Surrounding Salem is a lovely state park, as well as a captivating abbey perched atop a hill.
3. Bend [SEE MAP]
© Michael Albright / Dreamstime
Paradise for nature lovers, Bend really does have it all when it comes to the great outdoors. With the Cascade Mountains nearby, you can be skiing one moment and rock-climbing or mountain biking the next, before heading off to explore its lakes and waterways.
Here, you can kayak, go fly-fishing or even paddleboard if the mood takes you. With around three hundred days of sunshine every year, you're almost guaranteed to have an amazing time!
While Bend certainly has its plus-sides, a lot of the city is quite unattractive, with cheap motels and fast-food joints an all too common characteristic of its streets. Better head out into nature then!
2. Eugene [SEE MAP]
© Adeliepenguin / Dreamstime
A vibrant place, full of life, Eugene is a fun and youthful city with a thriving arts and culture scene that manifests itself in numerous festivals and events throughout the year. An alternative place that is a bastion of liberal politics, the city's eclectic mix of people means that activists and anarchists rub shoulders daily with workers in the manufacturing industry.
Lying at the spot where the Willamette and McKenzie Rivers join, lovely paths line the riverbanks, and sprawling parks only add to the city's wealth of outdoor attractions. With some fantastic restaurants on offer, as well as several world-class vineyards and wineries nearby, Eugene is a great city to visit. The Oregon coast isn't too far away if you want to get out of the city for a bit.
1. Portland [SEE MAP]
© Erik Lattwein / Dreamstime
The largest city in Oregon, Portland's charms can no longer be kept under wraps – it is becoming an increasingly popular destination. With a small town feel to it and a laidback vibe, its cultural attractions befit a much larger city. It's now a hip and trendy place, with a wealth of craft breweries and atmospheric coffee shops for locals and visitors alike to enjoy.
The winding Willamette River cuts through the city and adds to the picturesque nature of Portland, perfectly complementing its delightful parks and leafy, tree-lined streets. A liberal and welcoming place, the city is great to stop by, and the proliferation of food outlets means there's always something tasty for you to tuck in to.
10 Best Things to Do in Florence, Oregon
Angela has been writing about life, travel, and recreation in the Northwest, where she grew up, since 2000.
The charming town of Florence, Oregon, makes a great home base for any Oregon coast adventure. At the mouth of the Siuslaw River, this small city is a short drive from Cape Perpetua, the Oregon Dunes, and the Heceta Head Lighthouse. The local scenery provides a majestic scape for photography buffs, so be sure to bring your camera. Travelers will find plenty to do in the form of hiking, kayaking, or beach-going.
Go Whale Watching
Anyone watching the news in 1970 might remember Florence as the site of the infamous exploding whale, but it's also a fantastic place to go spot whales that aren't exploding—and you don't even need to get on a boat. Oregon's cold waters are some of the best in the country for spotting migrating humpbacks and orcas and from Florence, you can spot them flipping their tails from coastal parks like Cape Perpetua and the Heceta Head Lighthouse.
If the story of Florence's exploding whale has captivated you, you could also pay your respects at the official Exploding Whale Memorial Park on Rhododendron Drive.
Try the Crabs
Shelby Cate / Getty Images
You can't possibly leave Oregon without trying the crabs. Florence, and the Oregon Coast in general, is a great destination for crab-lovers. These are some of the best crabbing waters in the country—and the enthusiasm shows. Just take a look at the signature dish at the restaurant Waterfront Depot, a Crab-Encrusted Alaskan Halibut. At Novelli's Crab and Seafood, you can eat crab right on the dock, but don't miss their award-winning chowder either.
Go Tide Pooling at Cape Perpetua
TripSavvy / Jamie Ditaranto
The Cape Perpetua Scenic Area, part of Oregon's Siuslaw National Forest, offers picturesque coastal and forest scenery. Miles of trails wind through old-growth forests to historic sites and magnificent overlooks, and then finally down to a rocky beach.
Along the shore, check out the tide pools and blowholes, or just sit and watch the wild ocean waves. The interpretive exhibits at the visitor's center will help you identify marine life sightings from sea urchins to anemones and other tide-pool dwellers. Camping and guided naturalist tours are available on site.
Ride a Dune Buggy on the Sand Dunes
The Oregon Dunes National Recreation Area occupies just over 40 miles of the Oregon coastline, with Florence lying at its north end. These dunes and their surrounding landscape are constantly being reshaped by both wind and water, making the park a great recreational playscape.
Hiking trails take you through forests, around wetlands, along the beach, or among the dunes themselves. OHV (Off-Highway Vehicle) enthusiasts love to drive their dirt bikes, ATVs, and dune buggies through the sand, You can also hire a local outfitter to take you on a dune buggy and sand-rail tour. Tours can be as fast and wild or as slow and scenic as you'd like.
Stay at a Historic Lighthouse
TripSavvy / Jamie Ditaranto
From the Heceta Head Lighthouse parking lot, enjoy fabulous views of the famous lighthouse, the historic Cape Creek Bridge, and numerous seabird nesting sites. A short and scenic trail takes you up the hill to the lighthouse itself.
Along the way, you'll pass the gift shop and the historic lighthouse keeper's home. You can stay in this 19th-century cottage, as it's now a bed and breakfast that offers some of the best views on the coast—at 205 feet above the ocean—and a seven-course breakfast the morning after your stay.
Check Out Insect-Eating Plants
The small nature preserve, Darlingtonia State Natural Site, is located off of Highway 101 and takes only a few minutes to visit. But, it is well worth the effort! A short stroll on a boardwalk trail takes you by a wetland patch of Darlingtonia californica, a carnivorous plant commonly known as the cobra lily. Part of the pitcher-plant family, cobra lilies have droopy bulbous heads with mustache-like appendages.
This rare plant contains a hidden opening in the stalk which harbors sweet nectar that attracts insects. Once the insect goes inside, it becomes confused and drops down the lower part of the hollow stalk to be consumed by bacteria and water and converted into nitrogen.
Spy Sea Lions in Their Habitat
Frank Fichtmüller/Getty Images
A visit to the sea lion caves offers a chance to view the largest seas cave in the U.S., sitting at four stories high. Take an elevator down to the inner cave where you'll be able to peer through a large opening into the mammoth structure.
Depending on the time of day, you'll find sea lions by the hundreds lounging around the cave's rocky floor and outcroppings. An additional opening looks to the north, framing a lovely view of the Heceta Head Lighthouse as well as more sea lions and shorebirds on the rocks cliffs. Outside the cave, a viewing platform provides yet another chance to watch sea lions and enjoy panoramic views.
Learn About History at the Siuslaw Pioneer Museum
TripSavvy / Jamie Ditaranto
Step inside the Siuslaw Pioneer Museum and explore two floors of rooms filled with artifacts related to the founding of the city of Florence by early settlers. Here you'll find everyday items—like antique tools and machines—used by the region's first loggers and fishermen. The museum also displays historic photographs and has an extensive collection of documents available for research. Don't miss a stop at this 19th-century school-building-turned-museum.
Hike the Coast
The diverse and scenic landscape that surrounds Florence provides many opportunities for a picturesque hike. From easy nature trails to challenging climbs that pass through forests, wetlands, and dunes, you'll find something to suit all ability levels. Jessie M. Honeyman Memorial State Park has some of the most accessible trails in the area, including a jaunt that circles scenic Cleawox Lake.
Siuslaw National Forest has an extensive trail network that brings you through the estuary. And Carl G. Washburne Memorial State Park provides on-site camping so you can hike the Hobbit Trail or the China Creek loop trail as soon as you emerge from your morning slumber.
Stroll Through Old Town Florence
TripSavvy / Jamie Ditaranto
Florence's historic Old Town resides on the banks of the Siuslaw River. Along with a park and marina, you'll find quaint shops, galleries, and a museum. Most shops sell your typical tourist and nautical-themed items. But the galleries (in particular, the River Gallery) feature the work of local artists and include items for purchase such as blown glass, paintings, and pottery. Visit Mo's Restaurant, an Oregon Coast favorite for lovers of clam chowder. And watch the passing boats go by at the Siuslaw River Bridge Interpretive Center.
Source https://oregonbytheocean.com/best-beaches-in-florence-oregon/
Source https://www.touropia.com/best-cities-to-visit-in-oregon/
Source https://www.tripsavvy.com/fun-things-to-do-in-florence-1608503