A Guide to Lavapiés: Madrid's Coolest Barrio
Disclaimer: This article contains affiliate links. That means if you click a link and make a purchase, we make a small commission at no extra cost to you. For more information, see our privacy policy.
It's easy to hop on a flight to Madrid, check off the main sites like the Palacio Real and Plaza Mayor, head on a day trip to Toledo or Segovia, and call it visited in two or three days. However, there is so much more to Spain's lively and dynamic capital than the well-trodden stops that adorn many visitor's Madrid bucket lists. So, if you're curious to step a bit off the beaten path and explore a more local side of the Spanish capital, you cannot go wrong with checking out hip and trendy Barrio de Lavapiés.
Located just south of central Madrid and only a stone's throw from the sites that are absolutely packed with tour groups and selfie stick-wielding Instagrammers lies effortlessly cool, multicultural Lavapiés — arguably the most happening place in the city. Colourful murals and art pieces decorate the walls, lively tapas bars spill out onto the sidewalks, and the energy and heart of Madrid's international community is hard to escape.
Therefore, if you're looking to see a different side of Madrid that is a world apart from the Royal sites, then Lavapiés is the place for you.
Table of Contents
How to Get to Lavapiés
The Lavapiés neighbourhood is located almost directly south of central Madrid, and it is only about a 10-minute walk from the Puerta del Sol or Plaza Mayor before you can find yourself in this dynamic neighbourhood.
However, if you are staying in a neighbourhood to the north of central Madrid, it might be easier to get to Lavapiés via metro or bus. The neighbourhood is served by a few metro stations that you can easily alight at and get wherever you want to visit on this list within about 10 minutes walking.
The most obvious metro stop to alight at is Lavapiés, which serves line 3, or Embajadores, which serves lines 3 and 5. Other stations in the barrio include Antón Martín and Tirso de Molina both on line 1.
There are numerous buses that serve areas all throughout the barrio if you're not fond of using the metro or there are some technical difficulties with the line you want to travel on.
If you want to save money while in Madrid, especially in you're located centrally, you can forgo public transportation entirely and just head to Lavapiés on foot. Like I stated earlier, it is very much not far from central Madrid and is easy to get there.
The trendy streets of Lavapiés
Things to Do in Lavapiés
The main magic of the Barrio de Lavapiés has more to do with its energy and walkability rather than it's traditional sites. So, first and foremost, I would recommend visiting the neighbourhood with an open mind and ready for your feet to lead you, rather than a bucket list of activities to check off.
Spend an hour or two wandering down some narrow streets and see what you can find! If you don't want to do this on your own, it is definitely possible to take a walking tour of the neighbourhood, which will give you the added benefit of learning more about the history and people who live in this multicultural barrio.
While there aren't grand royal palaces to see or massive historic squares to take a coffee break in, there are a few things to do in Lavapiés that can be very well worth checking out.
Reina Sofia Museum
If you're visiting Madrid, it is likely that you will plan to head to some of the city's most famous art museums. While the Museo del Prado is very much the most popular among them, the Reina Sofia Museum comes in at a close second, and it has a convenient location right on the edge of Lavapiés. While exploring this museum won't necessarily give you a glimpse into the vibrant neighbourhood, it certainly isn't something you should miss when visiting Madrid.
The Reina Sofia is one of the premier modern art museums not just in Spain, but in the entire world. and it houses numerous works by some of the best names in the world of modern and contemporary art — most notably Picasso and Dalí.
The museum is best known for being the home of one of Picasso's most famous works, Guernica, which is painted as a reaction to the 1937 airstrikes on eponymous Basque town. The abstract work expertly depicts the horrors and atrocities of this act — the first time an aerial bombing of that type was ever carried out — and it is incredibly powerful to see. However, equally as powerful (though not nearly as popular) are the sketches that Picasso did to practice for the massive piece. They can be seen in the same exhibits rooms as Guernica.
While many people visiting the Reina Sofia make a beeline for Picasso's most famous work and then leave, the museum is absolutely massive and a true heaven for fans of modern and contemporary art. You could easily spend a few hours here and not see everything.
Regardless of whether it's a mainstream attraction at all, there is no doubt about it that the Museo Reina Sofia is one of the best things to do in Lavapiés, if not Madrid in general.
Though the Reina Sofia is worth visiting, there is plenty of art to be seen on the streets of Lavapiés
La Gatoteca
Lavapiés is becoming known as one of Madrid's premier hipster neighbourhoods and it wouldn't be able to live up to that kind of label without succumbing some of the biggest trends around the world. And one of the worldwide trends that Lavapiés embraced before elsewhere in Madrid was the cat café.
Madrid's first cat café, known as La Gatoteca (gato means cat in Spanish), is located only a stone's throw away from the Reina Sofia Museum. The café is home to a colony of rescue cats and serves as a shelter and adoption front for them to find their forever homes. What makes it unique is the La Gatoteca operates as a cafe, where you can enjoy a coffee or tea while snuggling with those cute little felines.
Though it isn't always necessary, if you want to visit the café, it can be useful to make a reservation to ensure that you can get all of the kitty cuddles you want!
Mercado Antón Martín
When visiting Madrid, everyone knows about the Mercado de San Miguel, the popular tapas market located right next to Plaza Mayor. And while San Miguel is certainly worth visiting if you only have a short time in the city and was to experience its tapas culture while staying in the same place, it is quite expensive and won't necessarily give you the local experience that many markets in Spain's capital will give you.
Enter: Mercado Antón Martín. This market, located in the eastern part of Lavapiés only about 150 metres from Antón Martín metro station, feels a world away from the fancy tapas stalls of the Mercado de San Miguel.
Mercado Antón Martín is an ideal place to stop by if you're interested in seeing how local Madrileños live, shop, and eat. Set over two levels, there are numerous market stalls including butcher's counters, cheese shops, fishmongers, and fruit and vegetable stands where you could buy anything you needed for you dinners or picnics while supporting local businesses and producers. There are also a number of little bars and restaurants where you can get a taste of multicultural Lavapiés.
In the Mercado Antón Martín, you can embrace the Spanish stronghold of a pre-lunch vermouth (this is actually referred to as la hora de vermut or "vermouth time") before dining on some of the best tacos to be found outside of Mexico. This is one of the things that makes this particular market as unique and diverse as the Barrio de Lavapiés itself.
The Mercado Antón Martín is an excellent place to get a more local experience in Lavapiés
Street Art
One of the things that most "alternative" neighbourhoods across the globe have in common is a thriving arts scene. And while you can enjoy classic modern art adorning the walls of the Reina Sofia, you can see just as many works of art covering the streets of Lavapiés.
If you love street art, then Lavapiés is a place you much visit while in Madrid. There are numerous interesting pieces to be found if you just take the time to wander down some of the streets, from small bits of stencil art to magnificent murals that will make you want to stop and stare for hours.
There are numerous streets you could walk up in order to see some of the best street art that the barrio has to offer, but we would recommend taking a stroll along Calle de Embajadores, which has some of the most impressive bits of work.
Just some of the magnificent street art on Calle de Embajadores
Lavapiés' Tapas Scene
While the adjacent neighbourhood of La Latina may be more well known in the tourist scene as the place to go out for tapas in Madrid, you can't go wrong with straying away from Calle de la Cava Baja and heading to dynamic Lavapiés instead.
While Madrid certainly has its own gastronomic delights, it is also a great place to sample cuisines from other regions of Spain as well. Due to Lavapiés' historic tendency to attract immigrants (including economic migrants from elsewhere in Spain), this is an excellent way to try regional Spanish cuisine without ever having to leave the capital.
There are seemingly hundreds of tapas bars dotting the barrio and if you happen to find yourself in the neighbourhood on a Friday or Saturday night, you will almost certainly find most bars to be so packed that they're standing room only and spilling out onto the street. There arguably isn't a better neighbourhood to experience the best of Madrid's tapas scene than Lavapiés.
Croquetas are a popular tapa you will see on most menus in Madrid
Mercado San Fernando
If you want to explore an even more multicultural market than the aforementioned Mercado Antón Martín, then you must head to the Mercado San Fernando.
This huge market located close to the Lavapiés metro station is an excellent stop if you want some fantastic Latin American food from countless different countries but want it all in one place.
The market, though packed with a number of eateries cooking cuisines ranging from Mexican to Chilean to Colombian to (oddly) German, is also a great place to pick up both local Spanish produce and groceries and international favourites. It is also open on Sundays, which isn't common with many markets in the city, including Antón Martín.
Where to Eat in Lavapiés
One of the best things to do in Lavapiés is tapear (the wonderful Spanish verb that literally means "to have some tapas"). Blessed with seemingly thousands of eaterie, it can be difficult to know where to eat in Lavapiés. Here are some of our top suggestions:
Taberna El Sur — Easily one of the most popular eateries in the Lavapiés neighbourhood, this little restaurant attracts a happy mix of both locals and tourists and has an extensive menu of classic Spanish favourites. If you want to save some money, come here during lunch and order off their €10.50 menú del día (daily menu). It is a fantastic deal!
La Fisna Vinos — This cosy wine bar located super close to Lavapiés station is an excellent choice if you're keen to support small, Spanish winemakers. They have an extensive wine list and a broad tapas menu, making this an excellent choice for the evening.
La Caleta Taberna Gaditana — This little place is an excellent option if you keen for an escape to the Andalicían coast but don't want to leave Madrid. Famous for its Cádiz-style seafood, this is a favourite place amongst locals in Lavapiés.
El Venorrillo Murciano — This unassuming restaurant is an excellent place to go if you want to try some authentic cuisine from the Murcia region of southeastern Spain. Again a favourite amongst locals, this place is famous for its extensive rice dishes.
Gambas al ajillo (shrimp with garlic) from Taberna el Sur
Where to Stay in Lavapiés
If you're keen to spend the night in Lavapiés rather than just visit the barrio for the day, there are quite a few accommodation options available for you. Here are some of our suggestions:
Catalonia Atocha — This hotel, located very close to Madrid's Atocha train station, is an excellent place to stay if you want to be close to all of the action in Lavapiés but also within walking distance of all of the tourist attractions in central Madrid as well. They have a number of clean, comfortable rooms available, a restaurant on site, and swimming pool to take the edge off of those hot Madrid days. Click here to see their latest prices!
Artrip Hotel — This small boutique hotel is an excellent place to base yourself in the Barrio de Lavapiés. They have numerous clean, comfortable, and air-conditioned rooms available and are located within walking distance of many of Lavapiés' and Madrid's top sites. Click here to see their latest prices!
Not quite what you're looking for? Click here to browse more hotels in Lavapiés!
Lavapiés will give you a completely different perspective of Madrid than the Plaza Mayor
Madrid's Barrio de Lavapiés might well be the coolest neighbourhoods in the capital. Filled with an undeniable energy and packed with great art and eateries, you really can't go wrong with spending some time in this incredible barrio.
Are you planning on exploring Lavapiés? Have you spent time in the neighbourhood? Let us know in the comments!
Accommodation – Best place to stay in Madrid
If you are planning to visit Madrid, one of your first thoughts should be how to choose the best place to stay in Madrid and enjoy your vacations in the capital of Spain to the fullest.
The accommodation offer in Madrid is wide, diverse and for all budgets. That's why it can make it tricky that you find the right place that fits your style, interests, and budget.
Here you have an insider's guide to where to stay in Madrid, with my personal recommendations for affordable hotels, apartments and hostels in the city center, as well as the best areas and neighborhoods to stay in Madrid.
Why pay more for the same service?
No matter the type of accommodation you choose, booking in advance is essential to get the cheapest price. Especially during the peak season from June to September.
Madrid is one of the biggest cities in Europe, and the top attractions are spread throughout the city center.
It's important to choose the best area to stay in Madrid so you can enjoy walking to the main points of interest of the city.
You can easily visit the more distant landmarks due to the efficient public transport in Madrid. It allows you to easily move in the city center no matter the neighborhood where you stay. Public transport will be your ally to visit the best attractions in Madrid.
Best place to stay in Madrid
Accommodation outside the main tourist areas will usually be cheaper. However, you need to take into account the costs of transport and especially the waste of time to get to the old town.
If you stay in downtown Madrid you will be in the middle of it all. Downtown is cultural, inspiring and cosmopolitan.
My favorite areas to stay in Madrid are:
Madrid's most historic neighborhood.
The Royal Palace, Plaza de Oriente, La Almudena Cathedral, and the Royal Theatre are some of the most remarkable landmarks in the Austrias neighborhood.
Besides, the Plaza Mayor is an astonishing construction and one of the most important points of interest in Madrid.
This area is also great to eat some tapas and a beer on a terrace enjoying the nice weather in Madrid.
Spain's Kilometer Zero of the whole Spanish road network is in the middle of Madrid's Puerta del Sol. Sol is the most common meeting place for locals and tourists, due to its privileged location, and there are a lot of bars, restaurants, and shops.
Gran Via probably is Madrid's most famous street. It's amazing to walk along the street looking at some of the most interesting buildings in the city, like the Metropolis or the Telefonica.
No doubt this is one of the best zones to stay in Madrid.
La Latina occupies the place of the oldest area in Madrid overlapping with Madrid de los Austrias neighborhood. You will find narrow and winding streets broken up by small squares like Plaza de la Paja or Plaza de San Andrés.
La Latina neighborhood provides tourists with fun and tradition at the same time. La Latina gest very busy during the weekends and is great for socializing. The terraces of the bars and restaurants are always full of a vibrant crowd.
You will enjoy Cava Baja Street, one of the most famous streets for tapas in Madrid.
Salamanca neighborhood is one of the most exclusive zones in Madrid. It was built as a residential area for the aristocratic classes but nowadays it's also the focus of high commercial activity.
Streets like Serrano, Goya, Ortega y Gasset, and Claudio Coello are part of Madrid´s Golden Mile. Loewe, Gucci, Louis Vuitton, Prada, Chanel, Carolina Herrera, and Adolfo Domínguez are a few examples of both national and international designer stores you will find in this area.
Chueca and Malasaña are great options to consider when you are looking for the best place to stay in Madrid.
Chueca is known worldwide for its tolerant and diverse atmosphere and is Madrid's main LGBTI neighborhood. You will never get bored in Chueca during the day and night.
Malasaña is one of the city's trendiest and cosmopolitan neighborhoods, a paradise for foodies and hipsters. In this bohemian shopping area, visitors will find lots of fashionable brands, cupcake stores, tattoo parlors, interior design shops, bookshops, and plenty of vintage stores.
Malasaña is the neighborhood where the underground movement called "Movida Madrileña" (or just "La Movida") was born, which inspired the culture and arts in Madrid during the eighties.
If you like wandering around and find hidden gems in Madrid, you will love to stay in Chueca or Malasaña.
» If you like to know what to do in Malasaña, Check out: Best things to do in Madrid in winter.
Paseo de la Castellana is one of the longest, widest, and famous streets in Madrid.
Many businesses and major financial centers are located along La Castellana or its immediate proximity. Therefore, this area has excellent connections with Madrid´s old town using public transport, which makes it one of the best places to stay in Madrid.
You'll find the tallest skyscrapers, department stores and shopping streets, and the Santiago Bernabeu football stadium, where Real Madrid play their home games.
Princesa – Chamberi – Argüelles:
Chamberi has become one of the Madrid's most popular areas for eating out. It is a residential area so it is very interesting if you are looking for a quiet zone with plenty of bars and restaurants for dining out.
In my opinion, these are the best zones to stay in Madrid. So, don't worry if you cannot find a hotel close to the old town. Accommodation in contiguous areas like Chueca, Salamanca, Chamberi, and all along Castellana Street is very well located and communicated too.
In fact, as I said, it is really easy, cheap, and quick, to access Madrid's old town from all these nearby areas. You will stay and sleep in a more peaceful area with enough bars and restaurants to have some fun.
Getting away a little from the very center also implies a cheaper price most of the time.
These are the best areas to stay in Madrid. I personally recommend Castellana and Princesa – Chamberi – Argüelles for families with kids, and Chueca – Malasaña for groups and young people.
Do you want to find affordable accommodation in all these neighborhoods?
Let´s continue with one of the aspects which most directly impact the price, the type of accommodation. Should you book a hotel, an apartment, or a hostel?
Find the best hotels in Madrid
Hotels are one of the best places to stay in Madrid, as the wide offer of hotels in Madrid suits all budgets.
In my opinion, having visited many cities in Europe, accommodation in Madrid is quite affordable and has very good quality. You will find big price differences though, depending on the season.
Similar to flights, flexibility and anticipation are essential to finding cheap hotels in Madrid. Therefore, try to avoid holidays and peak seasons, this is the best time to visit Madrid. If you can´t try at least to book your hotel in advance to get the best prices. Many hotels have free cancellation until 48 hours before the booking date.
Another option to make the most of your travel budget is to book hotels with a non-refundable rate. They usually have a higher discount in exchange for not canceling your booking.
I usually find that hotel breakfasts are much more expensive than having breakfast at a local café. Accordingly, unless breakfast is included in the offer, I prefer to pay just for the nights. This is an easy way to save some additional money on your city break to Madrid.
Booking.com, the best hotel price search engine
I always book my accommodation on the recognized website booking.com, for its good reputation and best price guaranteed. Besides, in most cases, you will not pay anything until your arrival or even departure and you will usually have free cancellation until 48 hours before arrival.
Booking.com is really easy to use, all you need to do is enter your destination, dates, and number of people.
I love the way you can sort and filter the results. The accommodation offer in Madrid is so wide that you can feel overwhelmed, so the first thing to do is to make some filters on the left of the screen to narrow the results of your search.
My favorite filters are budget, star ratings, property type, facilities, neighborhood, and review score. I recommend you to apply these filters to find cheap hotels in Madrid.
If you have doubts about the location of the hotels, click the "Map View" icon to see all of the properties marked on a map. You can hover over each marker to see which hotel it is.
Booking.com has a price match guarantee for accommodations. If you find the same hotel, during the same dates, and with the same cancellation policy, for a lower price, Booking.com will change the price to match the lower one.
Find the best apartments in Madrid
Apartments may be an excellent alternative to a hotel when you are searching for the best place to stay in Madrid. They are as clean as hotels, and they usually are cheaper, more spacious, and have a kitchen, which gives you more flexibility for meals. You will also have more privacy.
I usually stay in apartments on my trips, especially when I travel with my family.
Airbnb, the best platform to search for apartments
Airbnb is one of my favorite alternatives to hotels when I travel and it will help you to find the best apartments in Madrid. Airbnb acts as an intermediary between people looking for a place to stay (guests) and the owners of the property (host).
In order to properly choose your apartment, apart from the price I recommend you to pay attention to the location, the pictures, the amenities, and the house rules. Besides, I usually check the Airbnb Plus verified places and the Airbnb's top-rated and most experienced hosts (Superhost).
Once you have selected a few possible apartments, read the reviews of the previous guests. I find that reviews are usually quite accurate and representative of the actual condition of the spot.
If you have a question about the apartment, you can contact the owner directly through Airbnb's website before the booking. Most of hosts answer within 24 hours.
For obvious security reasons, make the payment through the Airbnb platform and refuse to pay in cash if any host offers you this option, no matter if they offer a discount.
Finally, read the cancellation policy of the accommodation. There are six different cancellation policies available, from flexible to super strict.
Enter now Airbnb to find the best place to stay in Madrid.
You can book your vacation rentals with Airbnb, and when using it for the first time you can get an Airbnb discount coupon of $37 that in some places could mean free accommodation for a night or two!
Find the best hostels in Madrid
If your budget is a bit tight, you should consider hostels in search of the best place to stay in Madrid.
A hostel is a type of accommodation, usually cheaper than hotels and apartments. Hostels focus on a shared social experience that will allow you to meet people from all over the world.
Staying in a hostel will help you to make the most of your travel budget. They are more basic and have fewer amenities than hotels. They are usually noisier too.
Also, while hotels have private rooms with bathrooms, hostels have dorm-style rooms and bathrooms that you will share with other people. Sometimes there's one bathroom per dorm room, while in other hostels there are shared bathroom facilities down the hall. There are private rooms too in most of the hostels at a higher price.
But most times that's not the only reason to choose a hostel.
Hostels usually have common areas to hang out and socialize with other travelers. Fans of the hostels believe that staying in a hostel can transform a trip into a more meaningful experience.
In my opinion, hostels are as safe as the other types of accommodation. However, how safe you feel will depend on the people you share the room with and the area where the hostel is located. For female travelers, some hostels offer female-only dorms.
Most hostels have security staff and lockers in the dorms for you to lock away your valuables.
A low price must not be your only priority when searching for hostels. The cheapest hostels could be dirty, uncomfortable, and away from the best neighborhoods.
I have always booked my hostels with booking.com, visit now the website if you have decided to find the best hostel in Madrid.
SPREAD THE WORD! PIN THIS TO YOUR TRAVEL PINTEREST BOARDS ↓
If you found my post useful, would you consider sharing it on Pinterest? Click the "Pin It" button to share the full-sized version of the below images.
Where to stay in Madrid
Great accommodation is the cornerstone to every dream vacay, and that means l ocation, location, location. In Madrid, every neighbourhood has its own character and feel, so we've created this guide to help you choose the area that's just right for your taste, needs and preferences.
That's right, from the nightlife in Chueca to the tranquillity of Chamberí; the classic architecture in Los Austrias to the alternative Malasaña; from multicultural Lavapiés to the epicentre of tourism, Sol – Madrid has a barrio that'll fit your vibe. Check out our selection of the best neighbourhoods in Madrid.
Looking for more options? Check out the best Airbnbs in Madrid and the best hotels in Madrid.
An email you'll actually love
Get into a relationship with our newsletter. Discover the best of the city, first.
By entering your email address you agree to our Terms of Use and Privacy Policy and consent to receive emails from Time Out about news, events, offers and partner promotions.
Awesome, you're subscribed!
Thanks for subscribing! Look out for your first newsletter in your inbox soon!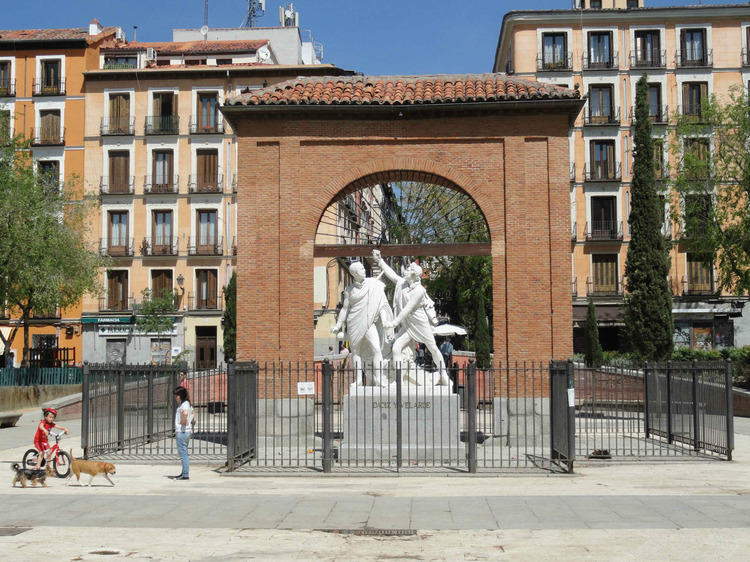 Malasaña
From the heart of the Madrid 'La Movida' countercultural movement to the trendy neighbourhood it is today, Malasaña has seen some huge changes in the last century. Today, contemporary eateries and chic shops live alongside the traditional bars and markets that have populated the neighbourhood since the dawn of time. It's also one of the top areas in town for going out thanks to its central location. The graffiti art you'll find around this neighbourhood hasn't only been passed over by the city government's clean-up crews but it 's treated as real art (some works truly are). What's more, a new restaurant or gastrobar opens nearly every week in the neighbourhood, and most of them now serve Sunday brunch (something relatively new to Spain), offer the latest in gastronomic trends, let you bring your dog along with you, and even provide an indoor space to park your bike.
Casa Macareno isn't trying to be anything other than itself. The menu is built on classic tapas and snacks honouring traditional Spanish tastes, but there's always something new and exciting to try. Dishes like fresh fish crudo, tartares and inventive vegetable preparations marry convention and innovation and leave adventurous diners wanting more.
DRINK
If you're searching for crisp gin and tonics, personable bartenders and plenty of yummy snacks, look no further than Santamaría. This cosy cocktail bar – with great music and a central location – is a staple for both locals and tourists.
Here in Malasaña's most well-known square is where you'll find local partygoers meeting up regularly (although gone are the days of the free-flowing public drinking, thanks to a greater police presence). All the merriment is presided over by a great fenced-in arch that represents the entrance to the Cuartel de Monteleón: the square is located on the site where the Palacio de Monteleón was built, and was then made into the Parque de Artillería in 1807. This spot was later razed during a battle against French occupation on May 2, 1808.
STAY
One of our favourite hotels in Malasaña is the 7 Islas. Its rooms are designed by the Kikekeller firm, one of the most well-known design studios in the neighbourhood. Three of them feature a private terrace with city views, a bathtub or shower, and a yoga kit, as well as artisan rugs by Gan Rugs and therapeutic and natural amenities from Malin + Goetz. A paradise in the centre of Madrid that also boasts its own art gallery and a lobby bar.
If you do just one thing…
You can't leave town without trying the cracking croquettes at La Gastro Croquetería de Chema.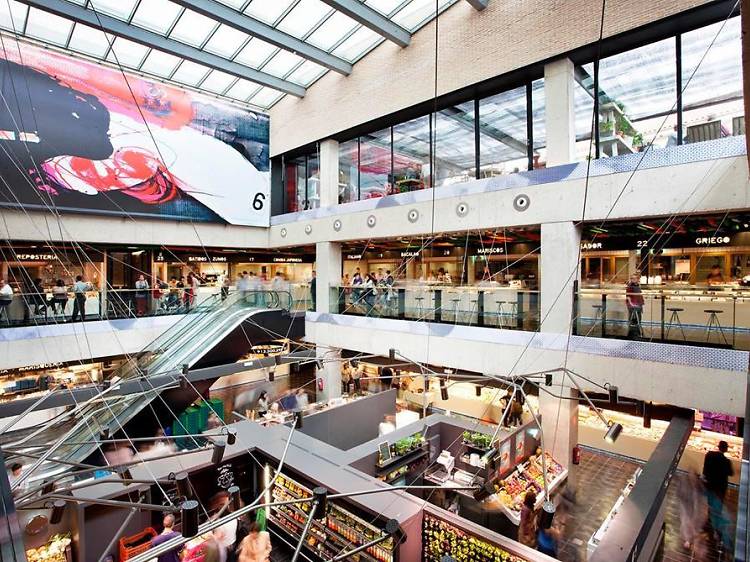 Chueca
Chueca is known for being Madrid's gay neighbourhood. Shops, bars and even travel agencies focus primarily on their LGBTI clientele, who have revamped the area and now live happily alongside some of the older locals who have called Chueca their home for decades. The area's Gay Pride festivities are world-famous, and it's also where tourists who love the big nights out book in for central accommodation. The heart of the neighbourhood is Plaza de Chueca a regular meeting place with its own metro stop. You'll notice the progressive transformation of the area in the modernization of its cultural venues, such as the Mercado de San Antón, for example, which, with its art gallery and bar with terrace, isn 't just a market, though you can still enjoy perusing the stalls for fresh meat, fish, and fruit and veg.
This restaurant might have a sparse interior, but that only allows the the food to shine brighter. Intense attention to seasonal ingredients and a great wine cellar are two of the reasons La Buena Vida is one of our favorite spots in both Chueca and all of Madrid.
DRINK
At Angelita, you can take your pick from over 500 wines from in and around Madrid (and the rest of Spain), as well as impressive French and Portuguese selections. You can also check out the cocktail list for something different, and don't forget to order some snacks from the small (but mighty) menu.
If the works of Gustavo Adolfo Bécquer, Goethe, Lord Byron or Rosalia de Castro touch your heart, you ' ll definitely want to visit this museum that shows how people lived in the Romantic era in Spain, during the 19th century. The Romanticism Museum contains a charming collection of over 1,600 pieces including furniture, paintings, china, pianos, and more. It 's all on display to the public after major refurbishing kept it closed for eight years until its reopening in 2009. Be sure to grab a cup of coffee at the Café del Jardín (Garden Café), one of the best kept secrets in the capital.
This lovely four-star hotel is housed in a small palace that was restored in the 19th century. Its interior design combines the modern with colonial details, and each room has its own unique and cozy decor, along with a 42-inch television, dressing gowns, an iPhone dock and a well-stocked minibar, among other amenities. The lounge offers guests a relaxed ambience with background music, ideal for enjoying any of the variety of cocktails and gourmet dishes.
If you do just one thing…
Be sure to head up to the rooftop of the hotel The Principal Madrid, where you can take in stellar views of Gran Vía.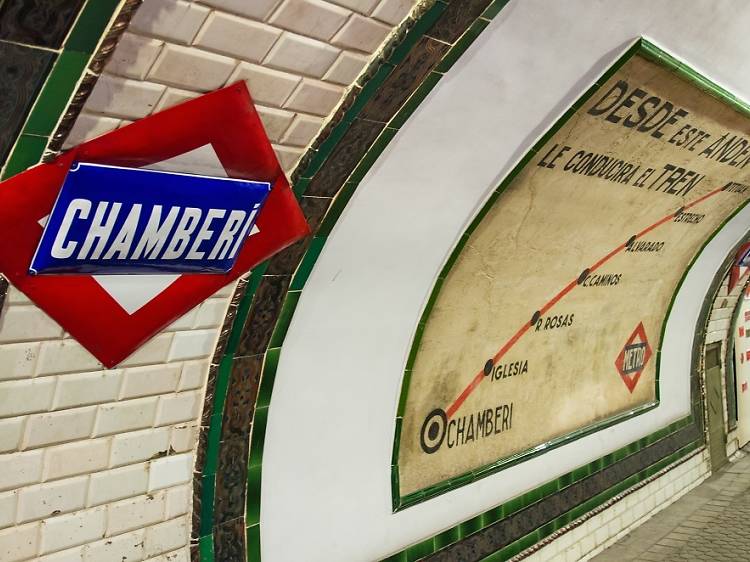 Chamberí
From hunting grounds to a district of aristocracy, Chamberí has always been an area in constant flux. This is a traditional, serene neighbourhood that's free from the touristy hustle and bustle of the city centre. With wide streets and flats going for eye-watering prices, it has become a hotspot for fine-dining and classy restaurants. Not just thanks to the revitalization of C/Ponzano – an obligatory pilgrimage for fans of tapas crawls and good food – but also because of the traditional restaurants and taverns that have withstood the test of time. What this area lacks in green spaces (parks are few and far between) it makes up for in awe-inspiring architecture, as well as its cultural spaces that survive especially thanks to an older population that still go to the cinema, the theatre and art museums. What you'll find here is an eclectic equilibrium between tradition and the avant-garde that's missing from other areas of Madrid.
Everything's very nice as soon as you cross the threshold. Before you've had time to scoot your chair up to the table, a staff member approaches with a tempting trolley. Generous pours of wine, a selection of vermouths and more to prepare the palate. It's hard to say no to a Barbiana sherry or a Galician vermouth. You look over the menu while waiting for your drink to arrive. Everything looks good. You spot the house speciality – potatoes mashed with gizzard and jowls – along with seasonal recommendations and some 20 other dishes (starters and mains) that, thanks to their half portions, let you choose your own adventure through the outstanding and polished kitchen of César Martín, who moves about happily here and there in his open workspace.
DRINK
A Basque tavern promising any vermouth fan a good time, Arima combines past and present in their unpretentious space. Try some casual 'pintxos' with your drinks or explore the off-the-menu specials in the six-table dining room. Classic recipes like Iberian pork jowls with baby fava beans showcase the restaurant's dedication to tradition and execution.
Though Andén Cero (Platform Zero) is the official name of this historic corner of the district, everyone calls it the Estación Fantasma de Chamberí (the Chamberí Ghost Station). This station used to be part of Line 1 on the metro (between the still-active Iglesia and Bilbao stations) and seeing how it would have been in the first half of the century, advertising posters and all, is a moment worthy of a scene in 'Back to the Future'. No movie set could match it. An exhibition about the metro and its effects on the city and citizens round out this visit to the past.
Discretely tucked away in the Chamberí neighbourhood, this hotel is the old residence of the Duke of Santo Mauro. Nowadays it boasts 51 luxuriously decorated rooms, with extra large beds and bay windows adorned with silk curtains. The palace's old library has been converted into a distinguished restaurant, and the former ballrooms are now conference rooms that open on to carefully goomed gardens.
Source https://www.theworldwasherefirst.com/lavapies-madrid/
Source https://madridtraveling.com/best-place-to-stay-madrid/
Source https://www.timeout.com/madrid/hotels/where-to-stay-in-madrid