8 Best Places to Go After COVID-19 COVID Vacation Ideas For Social-Distancing
As countries around the world started to open its door to tourism again after a long period of lockdown and closed borders, it is time for us to dive deeper into what travel will look like under this new normalcy of social distancing and which places are the best to travel to in the post-COVID-19 world.
I know that people are aching to travel again (there is actually a German word for this, no surprise there, "fernweh") as I am and based from my personal experiences with these places, I have decided to compile a list of 8 places that you can travel to after the COVID-19 pandemic with social-distancing in mind.
What this means is that when you travel to these places, you will be surrounded by nothing but nature and vast landscapes. No mass-tourism, no crowds, just you and the world, a place I often prefer even before the pandemic.
I will also be taking the number of confirmed COVID-19 cases in mind when suggesting these places but not entirely as some areas in highly affected countries are less affected than the others especially islands which helped contain the spread of the virus.
Without further ado, let's begin with the first country on the list, and you might not be surprised by it if you have been following my Youtube Channel: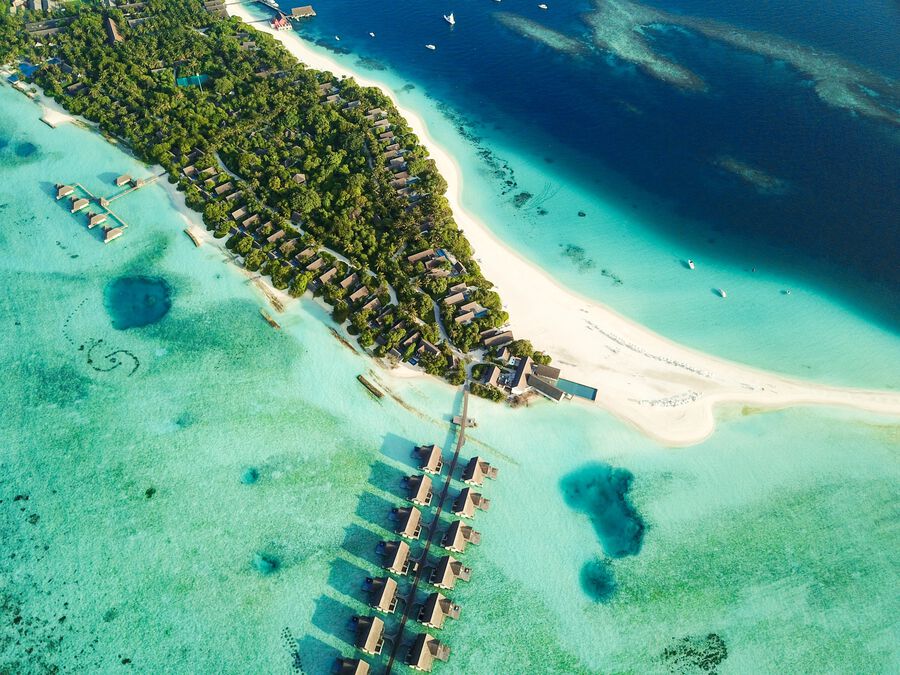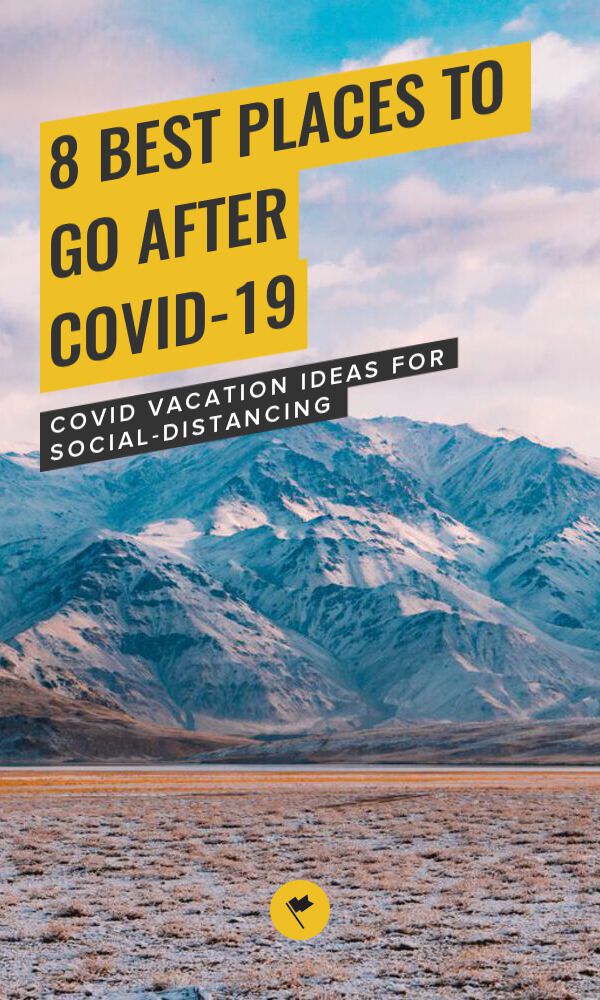 Save to Pinterest
Don't have time to read? Save this page on Pinterest for later and don't forget to follow us on Pinterest .
1. The Gobi Desert, Mongolia
Confirmed COVID Cases: 215+ in Mongolia
Trip Duration: 5 – 7+ days
People on this Trip: 6 people max
As I was reliving my Mongolia Moments when I was redoing my travel videos under lockdown, I started to realize how great the Mongolian Steppes and the Gobi Desert would be to social distance ourselves from the rest of the world and then one thing led to another, and I am now writing this article for you.
I remember the time I looked out of the yurt I was staying on my last night in the Gobi Desert and realizing how spacious our world is. There was not a single soul around me for miles away.
I went and walked up to a mountain top to look for some sign of other settlements and I was unable to see any. There was nothing around me but pure nature and I felt nothing but bliss as I stood on that mountain, realizing how lucky I was to be able to be there.
Due to the fact that Mongolia is sparsely populated, the COVID-19 pandemic didn't affect the country as much as other countries with only 214 confirmed cases in mid-2020 making Mongolia one of the safest places to go after the pandemic.
To explore the Gobi Desert, you will need to go on a tour that can range from 6 – 12 days depending on what you want to see in the Gobi Desert. The tour will consist of about 6 people maximum and you won't be in any crowded area during the entire trip as you hop around from one yurt to another like a nomad. It truly is the ultimate destination to go social distancing while traveling.
To get to the Gobi Desert, you will have to first fly into Ulaarbator (find cheap flights to Mongolia here) and find a tour to join to go to the Gobi Desert. I highly recommend the Sunpath Tour Operator or you can browse through other Mongolia Tours with the link below: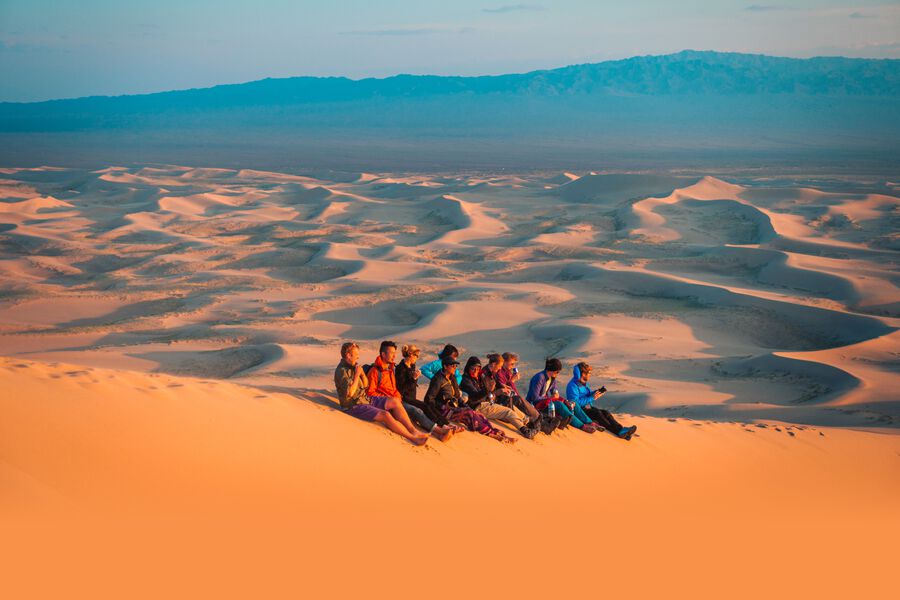 2. The Pamir Highway, Kyrgyzstan & Tajikistan
Confirmed COVID Cases: 3726+ in Kyrgyzstan, 5630+ in Tajikistan, but much less in the remote Pamir region.
Trip Duration: 8+ days
People on this Trip: 4 people max
The Pamir Highway is one of the best road trips you can do in your life. The highway stretches across Kyrgyzstan and Tajikistan along the remote mountain region of the Pamir bordering Afghanistan. This beautiful scenic road is considered to be one of the highest international highways in the world with the highest point at 4,655m above sea-level.
Along the way, you will be sleeping at local's guest houses in towns in the middle of nowhere, seeing what life is like out there along the Pamir, and interacting with the lovely people while being sandwiched between stunning landscapes and snowy mountains throughout your entire road trip.
The Pamir Highway is one of the most remote regions in the world and social-distancing will not be a problem at all while you are on this trip. Since the Pamir Highway connects the 2 countries, you will have to start your trip in Kyrgyzstan and end in Tajikistan.
The confirmed COVID cases in these 2 countries are relatively low compared to countries in Europe and America with only 3,700 cases in Kyrgyzstan and 5,600 cases in Tajikistan, mostly in urban areas. You will most likely be only arriving and departing from these cities but once you are on your way to the Pamir, you will be in a less affected region most of your trip.
To start traveling along the Pamir Highway, you will have to travel to Osh, the second largest city in Kyrgyzstan and from there, you can either join up with a tour at Osh Guesthouse where they run the trip often or you can pre-organize it via Caravanistan Forum which I personally used.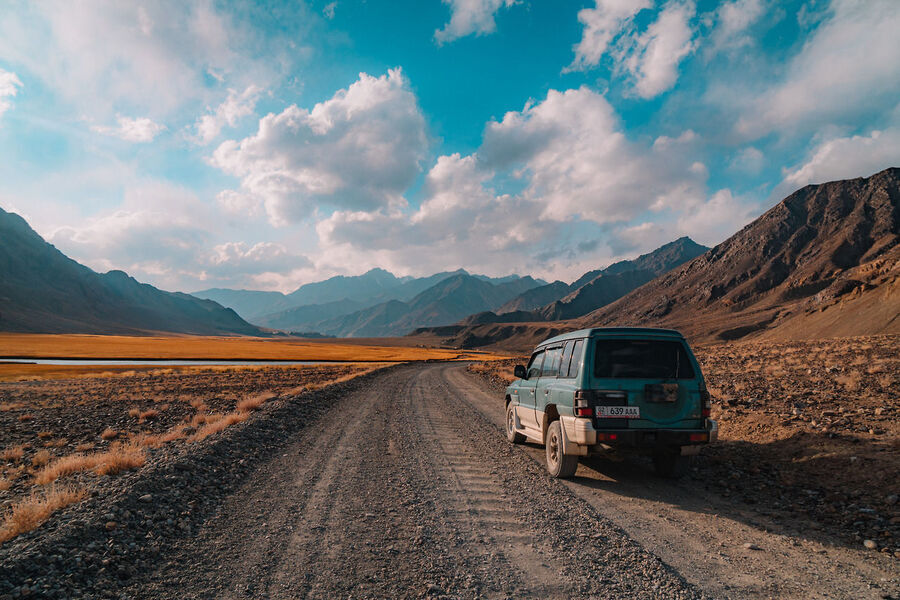 3. The Great Walks in New Zealand
Confirmed COVID Cases: 1166+ in New Zealand
Trip Duration: 3+ days
People on this Trip: 1+ person
New Zealand is one of the first countries in the world that was able to flatten the COVID curve successfully and they are way ahead of everyone else in terms of readying their country for tourism.
Due to excellent policies by the prime minister, Jacinda Ardern, and the country's effort to control the spread of the virus, New Zealand only saw about 1166 confirmed cases, making it one of the safest places to travel to.
New Zealand was already a well-known destination for its untouched nature and great hiking spots even before the COVID-19, especially in the South Island where many of the most beautiful Great Walks are located.
They have managed a way to create and maintain several hiking tracks around the country where you will be able to hike through some of New Zealand's most awe-inspiring landscapes with varying difficulties and duration. There is no better way to social distance ourselves from the world when traveling than to go hiking in New Zealand and they have a ton of scenic routes for us to choose from.
There are several of Great Walks for you to tackle while in New Zealand. While I was there, I was able to do parts of the Abel Tasman Coast Track as well as the full-length of the Routeburn Track which I highly recommend.
To do these great walks, first, you have to plan ahead and pick the dates you want to start and end the hike and then you will have to book the mountain huts on New Zealand's official website along the route. These mountain huts get booked out extremely fast so be sure to do it prior to your trip.
There are also other nature-related things to do in New Zealand other than hiking that will help you with social distancing and you can browse through all the available tours from the link below: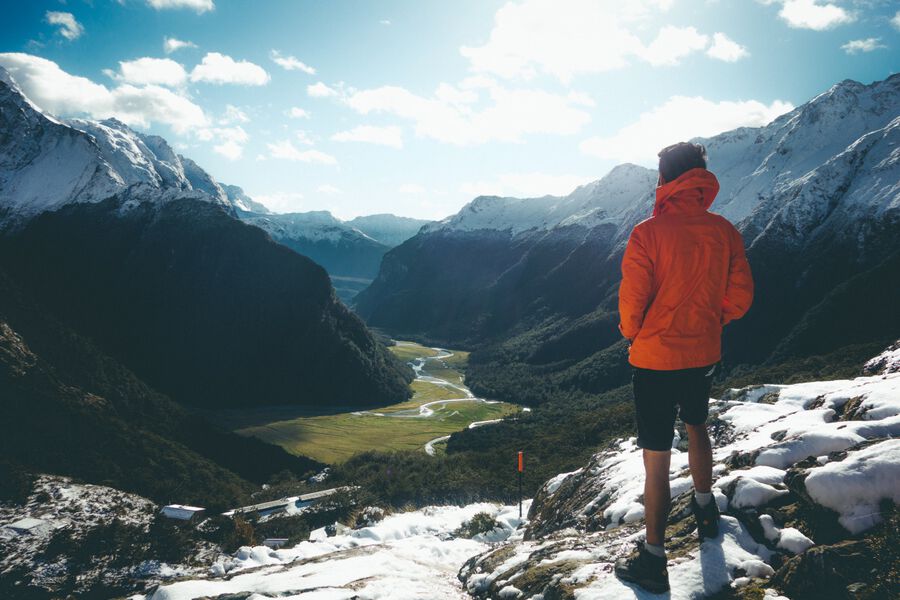 Instantly turn your travel photos into beautiful work of art in one click. Available for both mobile and PC.
4. Salar de Uyuni, Bolivia
Confirmed COVID Cases: 26,389+ in Bolivia but much less in the Uyuni region
Trip Duration: 3+ days
People on this Trip: 6 people max
South American countries are not doing as well when it comes to flattening the COVID curve as countries in Asia or Oceania but fortunately, there are a ton of regions that are less affected such as the Salar de Uyuni, the largest salt flat in the world in Bolivia.
Bolivia confirmed cases sit at 26,389 as of mid-2020 and even though the number is high, the affected regions are usually the highly populated area which Salar de Uyuni isn't, making it a great place to go social distancing and away from the rest of the world.
To explore Salar de Uyuni, you will be traveling in a jeep with a maximum of 6 people through the salt flats, sleep in a hotel made out of salt, and relaxing in a high altitude hot spring in the remote mountain region of Bolivia.
Most of the jeeps traveling the route will spread themselves out to different guest houses in the remote villages around Salar de Uyuni so you won't be around many people in a confined area during the trip making social distancing much easier.
To start planning your trip, you can book a tour from a local travel agency (I recommend Red Planet Expedition) when you arrive in Salar de Uyuni or you can browse through the tours available online and book one with the link below: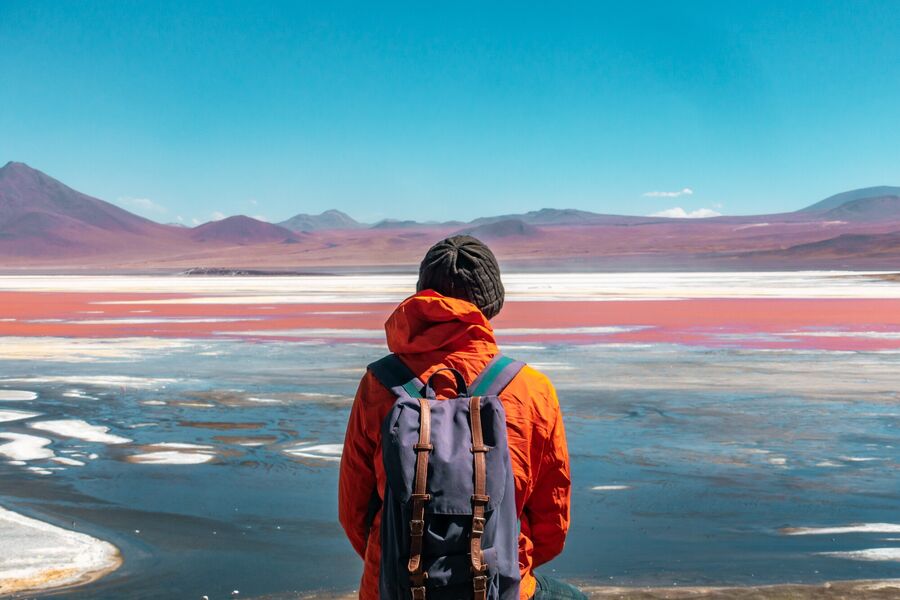 5. The Galapagos Island, Ecuador
Confirmed COVID Cases: 51,643+ in Ecuador but only 78 cases on the Galapagos Island
Trip Duration: 7+ days
People on this Trip: 8 – 12 people max
While we are still in South America, another excellent destination to travel to for social distancing is the Galapagos Island in Ecuador. Despite the high number of confirmed cases in Ecuador, standing at 51,600 cases as of mid-2020, the Galapagos Island has only seen about 78 confirmed cases, and for a good reason.
The Galapagos Island is located 926 km west from mainland Ecuador, making it easy for the island to control the COVID-19 spread, something I can't say the same for the mainland. Due to this fact, Galapagos Island is one of the best places to social distance while traveling and surround yourself with cute and beautiful animals instead of people.
To get to the Galapagos Island, you will have to go through either Quito or Guayaquil airports and from there, you can fly domestically to Isla Baltra and Isla Santa Cruz where the airport and the main town are located respectively.
While you are on the main island, you can spend a day browsing around and find the perfect cruise to join for a boat trip around the Galapagos archipelago which is the best way to explore the more remote regions of the Galapagos.
On this boat, you will be with around 8 – 12 other people and you won't be going into any crowded area for the next 6 – 12 days depending on your trip's duration so social distancing will not be a problem.
If you would rather book a cruise online and pay with a credit card instead of cash like you would if you book on the island, you can browse through available Galapagos tours with the link below: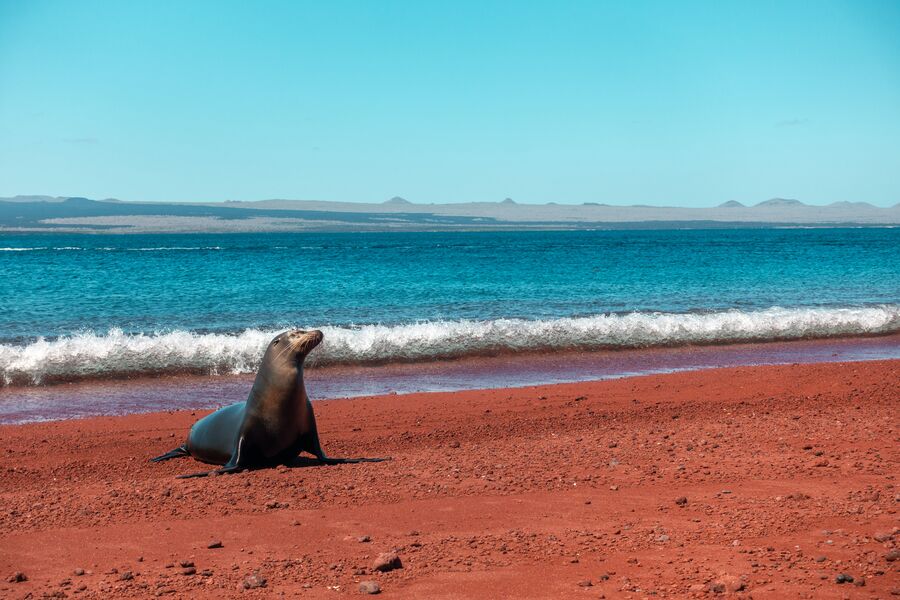 6. Easter Island, Chile
Confirmed COVID Cases: 254,000+ in Chile but only 5 cases on Easter Island
Trip Duration: 5+ days
People on this Trip: 1+ person
Talking about islands, another great remote island that you should visit after COVID-19 is Easter Island located over 3,500 km away making it one of the most remote islands I have ever visited in my life.
To be honest, Chile is not doing so well with the containment of the spread of COVID-19 with whopping 250,000+ cases as of mid-2020 but since Easter Island is so far away from the mainland, they have only been seeing 5 cases which makes the island a great place to stay social distance while traveling.
The beautiful culture of Rapa Nui is one of the most interesting cultures out there and to be able to see the Rapa Nui statue with your own eyes is a once-in-a-lifetime experience that you will not regret.
You can rent a quad bike and explore the island alone, away from people, or you can go off at night and see the stars as you have never seen before. I've never the Milky Way so visible in my life!
To get to the Easter Island, you will have to fly into Santiago and from there you can fly domestically with LATAM Airlines to get to Easter Island. When you arrive at the island, you can rent a car, a quad bike, or a bike and go out and explore the remote island by yourself.
You can find cheap flights to Easter Island on at Expedia or if you rather go on a tour around Easter Island instead of doing it independently, you can browse through great tours with the link below: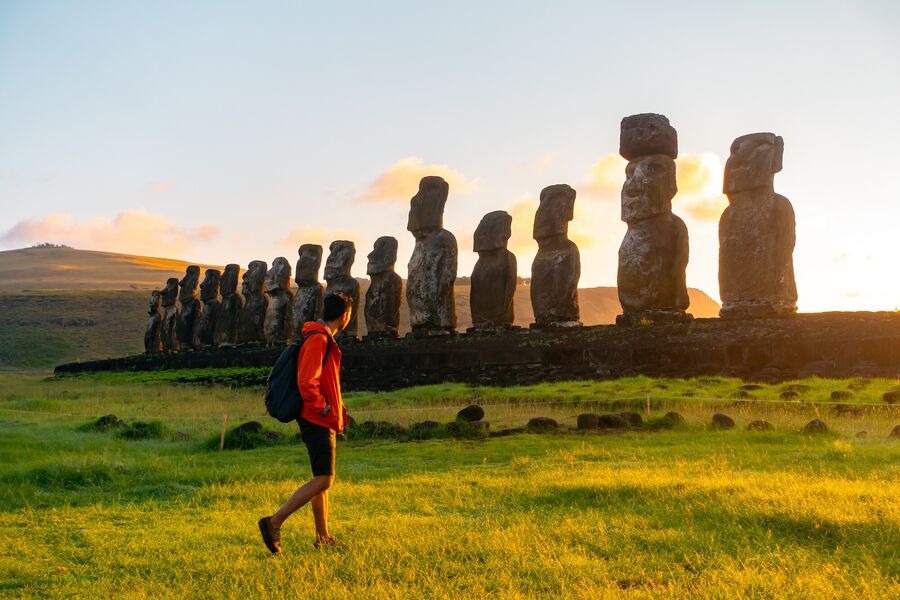 7. The Himalayas, Nepal
Confirmed COVID Cases: 10,728+ in Nepal but much less in the Himalayas region
Trip Duration: 5+ days
People on this Trip: 1+ person
You can't talk about remote areas without mentioning one of the most remote areas in the world, the Himalayas, which is another great place to travel to after COVID-19. Nepal is one of the cheapest countries you can travel to and get access to some of the most stunning areas in the Himalayas.
You can go off into the mountain and start hiking one of the many scenic trekking trails around the country or you can stick to the popular routes like the Annapurna Base Camp or the Everest Base Camp, both of which I highly recommend.
With the tourism infrastructure to accommodate hikers from around the world, you will have plenty of options when it comes to teahouses and since not many will be traveling after COVID-19 as before, you will be able to pick an empty teahouse to your liking and stay social distanced in an already remote region of the country.
Nepal itself is not doing well in relative to other Asian countries but the Himalayas is massive and extremely remote and so the region was less affected by the virus than the more urban areas like Kathmandu.
That said, you will have to travel to Kathmandu first to get into Nepal and from there, you can fly domestically to the trailhead and begin trekking in to the Himalayas. You can do these hikes independently as I did or if you would rather book something online prior to arriving, be sure to check out some of the available tours with the link below: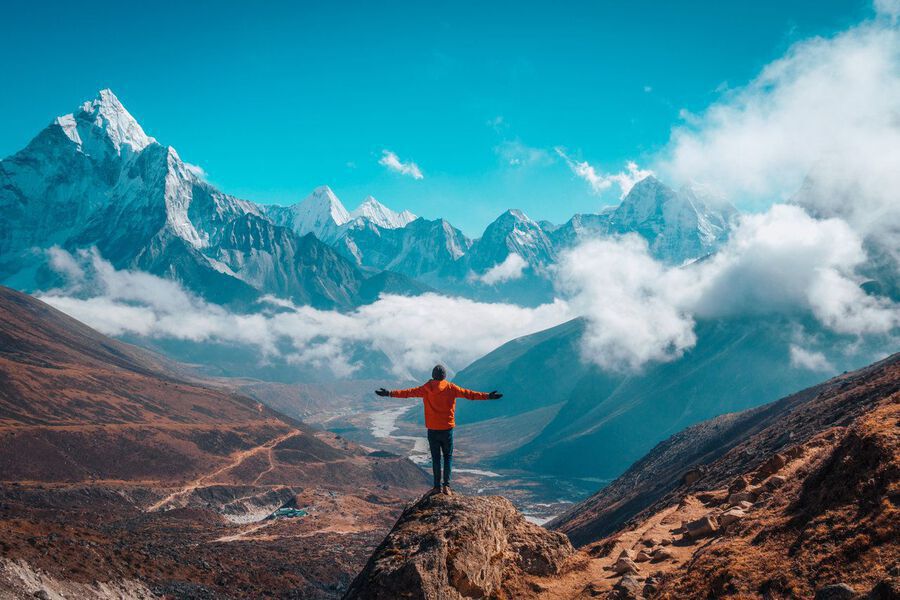 8. The Outback, Australia
Confirmed COVID Cases: 7,519+ in Australia but much less in the Outback
Trip Duration: 3+ days
People on this Trip: 1+ person
Australia is another country that is doing very well at containing the spread of COVID-19 with around 7,500 confirmed cases since mid-2020, making it another great place to visit after COVID-19.
The Outback desert of Australia is the perfect place to maintain social distancing while traveling in Australia. With a vast unpopulated desert area, so remote that even the Australians rarely go, you will have all the beautiful aboriginal sacred spots like Uluru and Kata Tjuta all to yourself.
There are also some beautiful hiking trails like the Kings Canyon that will take your breath away at every turn or you can go and ride camels at sunset while looking at Uluru. Either or, there are more things for you to do in the Outback than you might think.
To get to Uluru, you can either fly from cities like Melbourne or Sydney to Ayers Rock (another name for Uluru) or you can fly to Alice Spring and make your way down to Uluru. For tours to take you around Uluru or other areas in the Outback, you can browse the best deals with the link below: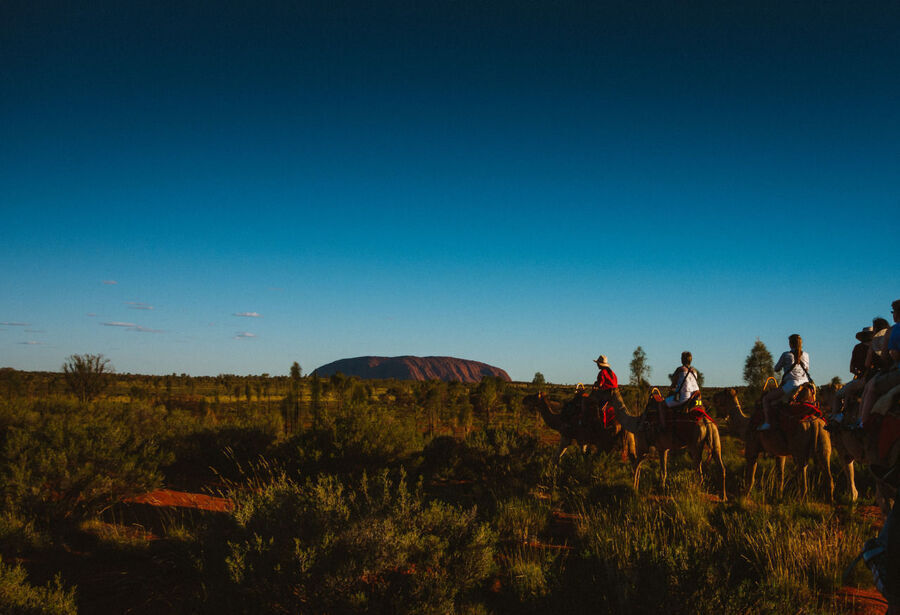 Extra. And of course, in your own country
Last but not least, please do not forget to look inside your own country and take the opportunity to travel and see what your home country has to offer. The pandemic has devastated many of the small local businesses especially those that relied on tourism, and sadly, many will close down before then, but for those businesses that are trying their best to stay afloat, they will need your help more than ever.
Spend the weekend and travel around where you live, support local businesses, and help drive the economy in whichever way you can, and soon, we will all be done with the COVID-19 and started to travel again.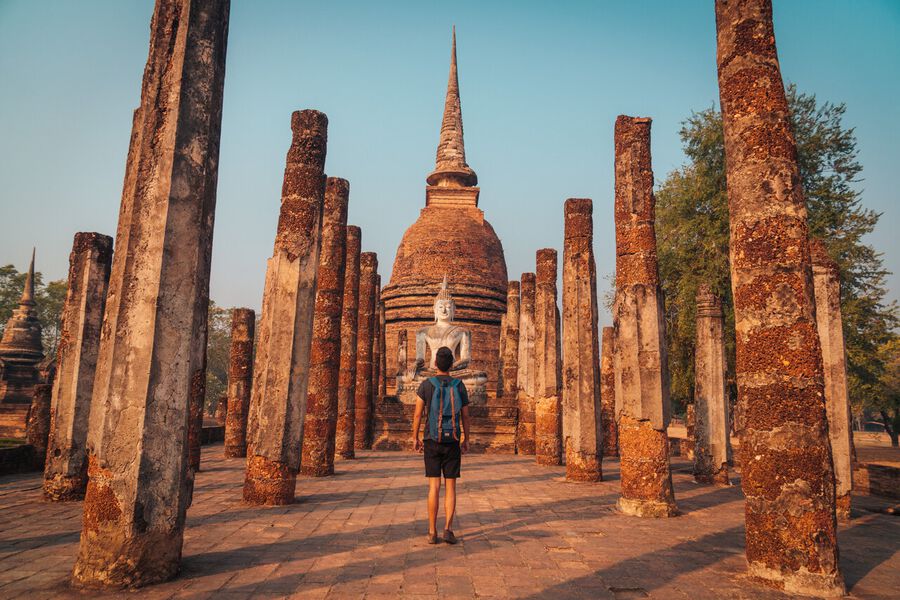 I hope this article will inspire you to look forward to your next adventure. Where are you planning to go next? Are these countries on your list? Let us know in the comments below.
Further Reading for Inspiration
Looking for more articles to help inspire you to travel more? Here is a collection of articles you might like:
Are you fully vaccinated? Are you looking for a country you can travel to where you don't have to quarantine? We've got that covered! Check out: 27 Countries That Are Open To Vaccinated Travelers.
Hiking to the Everest Base Camp is one of the most memorable epic moments of my life. Here's a long-read piece about my experiences hiking the Everest Base Camp: On My Way To Everest Base Camp.
Ever wonder what it is like to travel the world on a third-world passport? Check out: Traveling The World On A Third World Passport.
Here's why I always celebrate turning a year older with a hike: Climbing Kilimanjaro On My 33rd Birthday.
Are you currently planning a trip around the world and are looking for cheap countries to visit? Here are the 10 Cheapest Countries to Visit in the World.
Traveling in Europe can be cheap, really cheap. These are the 8 Cheap European Countries to Visit.
Looking for the most beautiful travel blogs to follow? Here are the 20 Most Beautiful Travel Blogs to Follow.
For adventurers and backpackers out there, here are the 10 Best Adventure and Backpacking Blogs You Should Follow.
I truly believe we need more Asian representatives in the English-speaking travel blogging industry, especially for blogs about Asia. Here are the Top 10 Kick-Ass Asian Travel Bloggers To Follow.
Did you know that you can travel without leaving your couch? Here are the 8 Great Travel Books You Should Read.
For the best travel videos to inspire you to travel even further, here are the 20 Most Creative Travel Videos of All Time.
If you are looking for travel vloggers to follow on Youtube that aren't cringeworthy, check out: 10 Best Travel Vloggers to Follow On Youtube.
The best way to improve your photography skills is to learn from the best. Here are the 10 Best Photography Youtube Channels to Follow.
A photo is worth a thousand words. Here are the 25 Most Beautiful Travel Photos I Ever Took From Around The World.
Ever wonder what it is like to be a travel blogger during COVID-19? Check out: Being A Travel Blogger During COVID-19 – What Is It Like?
Stuck at home and not sure what to do? Here are the 10 Best Things to Do When You Are Bored in Lockdown.
Can't travel internationally for the time being? How about traveling in your own country? Here are the 7 Reasons Why You Should Travel in Your Own Country.
To find the most inspirational travel quotes and captions to go with your photos on your Instagram, check out 20 Best Travel Quotes and Captions for Instagram.
We often hear bad stories about locals from travelers but what about the other way around? Here are some of the Notorious Stories Of Terrible Backpackers.
If you lost your bag while you travel, here is how to deal with the situation: My Bag Was Stolen In Germany.
Have you ever felt you do not belong in a place you are born in? Read this: Where Is Home? – My Quest In Search Of Where I Belong.
People often preach about how important it is to live in the moment but sometimes, that may not be such a good idea. Here is The Problem With Living In The Moment.
Solo traveling is not for everyone and even though I love it to death, it is not always flowers and sunshine for solo travelers. Here are the 10 Things I Hate Most When Traveling Solo.
Travel friends come and go but that may not be such a bad thing. Here is why you should embrace your travel friends: A Life Of Brief Encounters.
Hiking is life. Here's why: One Year Of Incredible Discomfort – 10 Things I've Learned From Climbing Mountains.
Here's why having no plan is the best plan: Magical Things Happen When You Have Nothing To Do – The Art Of Doing Nothing.
Is life getting you down? Here's why you can't always blame life for everything: Life Doesn't Suck. We Are Just Suck At Living It.
Want to know why I chose to travel alone? Read this: We Travel Alone, NOT To Be Alone.
For meaningful solo trip, you need to share it with someone. Here is why Happiness Is Only Real When Shared.
Traveling is no longer for the rich. Here is why: "People Think I'm Rich".
The Himalayan Mountain is one hell of a teacher. Here are the 7 Life Lessons The Himalayas Taught Me.
Want to travel alone but scared that you might get bored out of your mind? Here is How To Enjoy Yourself And Have Fun While Traveling Alone.
Want to start traveling solo also? Here is What It's Like to Travel Alone.
Here is a simple story on how I started traveling: F*ck It, I'll Do This Alone.
For more inspiring articles like this, visit my Inspiration page.
Disclosure: This post may contain affiliate links.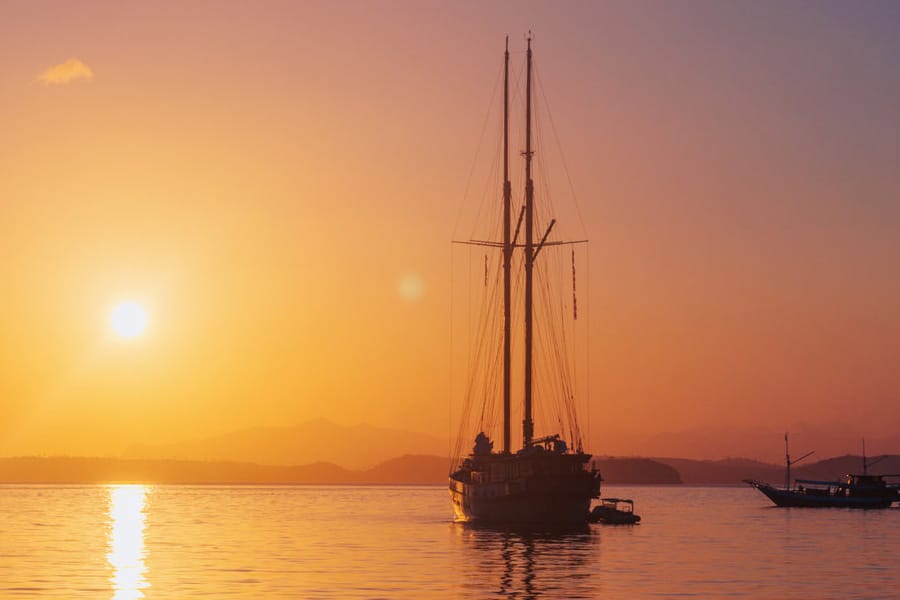 Looking for more inspirational articles? You will find plenty more articles under our Inspiration section where you will find more discussion related to the nomadic and traveling lifestyle and shower-thoughts that will invoke wanderlust in all of us .
Categories Inspiration
Sidebar Section
Hello there!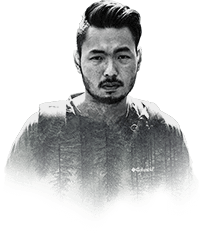 I'm Pete R., a solo traveler, a travel blogger, and a third-world passport holder from Thailand with over 8 years of travel experiences, ready to share them with you.
13 best places to visit in Colombia to soak up salsa and sunshine
Take whatever preconceptions you have about Colombia and leave them at home: this remarkable country will take you by surprise. The second-most biodiverse nation in the world harbors vast swaths of wildlife-rich Amazon jungle in its interior, while coral-white beaches, dizzying mountains and leafy highland coffee plantations crown Colombia as a place of extraordinary natural contrasts.
But Colombia is much more than the sum of its natural parts. Its kinetic cities buzz with an energy that sets it apart from most of South America and proves that this country has well and truly shed its history of conflict.
With adventure and infectious beats around practically every corner, picking the best places to visit in Colombia can be a challenge. However, thanks to good service from domestic flights and long-distance buses, Colombia is a place where you can expect to cover plenty of ground, even on a short trip.
The Colombian city of Cartagena is full of beautiful culture and color © Kris Davidson / Lonely Planet
Cartagena
Top of most travelers' bucket lists for Colombia is the sultry city of Cartagena. It's easy to see why: the stately old town is a magical walled complex of bougainvillea-slung cobblestone streets and shady squares where local performers shake, stamp and twirl in a lively embodiment of the city's famous energy.
Absorbing the atmosphere of Cartagena can be an act as spirited – or as languid – as you choose. Laze the day away on Playa de Bocagrande or with long, leisurely lunches of sharp coconut ceviche at a family-run restaurant. At night, Cartagena is the place to indulge in a sundowner on a rooftop bar and sample the energetic nightlife of the city's bars and clubs.
Get more travel inspiration, tips and exclusive offers sent straight to your inbox with our weekly newsletter.
The Amazon jungle
Colombia lays claim to an extraordinary glut of flora and fauna that should place it on any wildlife lover's bucket list. While it covers around a third of Colombia's territory, the Amazon jungle is mostly inaccessible to tourists, but it remains the prime location for encountering vast swaths of untouched rainforest.
Book a tour into the jungle from the remote outpost of Leticia and spend a couple of nights exploring one of the globe's wildest places. Boat trips puttering along the Río Amazonas and walking remote trails that slice through the forest floor promise encounters with inquisitive pink river dolphins, sluggish sloths and a cacophony of howler monkeys.
Zona Cafetera
If there's one thing that keeps Colombia running, it's coffee. Find out what all the fuss is about by exploring the Zona Cafetera. Cultivated within the lush hillsides of the departments of Risaralda, Caldas and Quindío are plantations of Colombia's magic bean, arabica. Family-run operations, these fincas (farms) have opened their doors to curious tourists, with day tours and overnight stays available. Organize your transport from regional hubs Manizales and Pereira.
Parque Nacional Natural Tayrona
Home to palm-lined tropical beaches and secluded coves, Parque Nacional Natural Tayrona is one of Colombia's natural jewels. Located along the Caribbean coastline east of Santa Marta, this national park is a paradise of relaxation, set beneath the backdrop of the looming Sierra Nevada de Santa Marta mountains.
Relaxing on sun-soaked beaches or ambling along the jungle trails that edge the coastline are the flavor of the day here, with water currents at most beaches too dangerous for swimmers. To avoid the crowds, head by speedboat to Playa Cristal, an isolated island with pristine waters and gleaming beaches. Time your visit to Tayrona outside of January or February, which are the months when the park typically closes for maintenance.
Medellín is full of art, bars and a nature preserve with stunning views © Fabian Schmiedlechner / Getty Images
Medellín
Once the stronghold of Colombia's most infamous drug lord, Pablo Escobar, modern Medellín is a city reborn. Backpackers will find solace in the city's plethora of hip music venues, while other travelers can enjoy a surplus of well-heeled neighborhoods that court visitors with shady restaurant terraces and slick bars. Known for its perennially spring-like climate, Medellin's appeal is boundless, making it one of the best cities to visit if you're short on time, particularly as it's a gateway to the Zona Cafetera.
For art lovers, Colombian heavyweight Fernando Botero's imprint is visible throughout, with his emblematic engorged statues adding humor to rowdy market squares. But to get deeper under the city's skin, visit regenerative projects at Comuna 13 and Moravia to see how street art and innovative forms of transport have injected life into down-at-the-heel neighborhoods. You can also hop on a modern cable car that spirits you up and out of the valley and into Parque Arví, a nature reserve with pre-Hispanic trails through forests studded with orchids.
La Guajira Peninsula
Wild expanses of desert sit alongside the splendid blue of the Caribbean Sea in one of Colombia's most desolate and unique places to visit. Inhabited by the indigenous Wayuu people, La Guajira Peninsula defied conquering by invaders throughout history, and the Wayuu still live here in secluded villages.
To appreciate the dazzling wildness that embodies Colombia's northernmost point, you'll need to organize a tour from Riohacha. Aim to spend at least one night on the peninsula and head out to Playa Taroa – often touted as Colombia's most beautiful beach – where sand dunes empty of visitors calve straight into the glistening sea.
Sierra Nevada de Santa Marta
For a tantalizing glimpse into the past, head to the Sierra Nevada de Santa Marta, a mountain range that slices across the northeast of Colombia. After a tough three-day hike through thick jungle, you'll come across Colombia's finest archeological site, La Ciudad Perdida. The stone terraces of this once-crowded city were built around 850 CE along a steep-sided ridge and only reclaimed from the jungle in the 1970s. Accessible only with a tour group, La Ciudad Perdida remains remote, untouched and blissfully free of tourists.
San Gil
Adrenaline junkies should look no further than Colombia's capital of adventure, San Gil. Water sports are one of the main draws here, with white-water rafting or hydrospeed tours buffeting you through scenic canyons along Class I to Class V rapids. If you're keen to get off the ground, you'll find abseiling excursions down gushing waterfalls, paragliding over rugged mountain peaks and even bungee jumping to help you get that thrill. Caving, mountain biking and canyoning are also available.
Few places in South America love to party as much as Cali, Colombia's buzzing capital of salsa. The city's addiction to rhythm is infectious, and a visit to Cali is one that'll see you glued to the dance floor until dawn. Polish your moves at one of the many dance schools before hitting the dance floor with the locals in Zaperoco, a standout salsa club. For the most iconic – and explosive – introduction to Cali's obsession, get your hands on a ticket to Delirio, a salsa and cabaret showcase of epic proportions that's staged the final Friday of every month.
Providencia
Situated some 1240km (770 miles) north of Colombia in the balmy waters of the Caribbean Sea, the idyllic island of Providencia is one of the country's most beautiful places to visit. Picture-perfect golden sand beaches – often practically devoid of visitors – and a laid-back atmosphere are all part of the appeal of this remote and sun-kissed patch of paradise.
Divers can splash in crystal clear waters alongside huge stingrays, turtles and reef sharks along the 32km (20-mile) stretch of barrier reef, the world's third largest. For those keen to keep their heads above water, the 25ºC (77ºF) water temperatures and beachside restaurants will more than cater to your needs.
Bogotá
Rainy and cold thanks to its lofty position in the Andes Mountains, Bogotá might feel like it has little to recommend itself, but those who give it a chance will find Colombia's capital a place with a cosmopolitan atmosphere and rich array of museums.
Gourmet dining rubs shoulders with rowdy nightlife in the city's increasingly trendy neighborhoods of Zona Rosa and Chapinero. But for a more sedate and educational visit, spend a day marveling at the tremendous riches on display in the Museo de Oro, one of the continent's finest collections of pre-Hispanic metallurgy. Another highlight is the Museo Botero, which comprises a significant collection of modern and Impressionist art, including 123 pieces by Botero himself.
Parque Nacional Natural Serranía de La Macarena
Due south of Bogotá, Parque Nacional Natural Serranía de La Macarena is a park that has found fame as one of the most unique places to visit in Colombia. Just a short drive from the nearest town of La Macarena, Caño Cristales is a river that runs pink. Dubbed the "liquid rainbow," this remarkable stretch of water flushes rhubarb thanks to the growth of riverweed that occurs between July and October. Pack a bathing suit because you can swim in designated areas of the river.
Despite only becoming accessible to visitors in 2010 because it lay in FARC-occupied territory, Caño Cristales has since become a victim of its own loveliness. As a result, visitor numbers are now capped at only 200 per day, and you'll need to book your ticket with a local tour operator in advance.
Parque Arqueológico Nacional de San Agustín
In the far southwestern department of Huila lies Parque Arqueológico Nacional de San Agustín. The site comprises a network of ceremonial and burial sites dotted with fantastical stone statues whose semi-human faces grin through fanged mouths and dizzyingly wide eyes. While their purpose remains largely a mystery to archeologists, many believe the area to have been a place of pilgrimage and ancestral worship built more than 2000 years ago. Pick up a local guide at the entrance to learn more as you explore the site.
Buy Lonely Planet's Best in Travel 2022
Lonely Planet's Best in Travel 2022 ranks the world's must-visit countries, cities and regions to provide a year's worth of travel inspiration.
Buy Lonely Planet's Best in Travel 2022
Lonely Planet's Best in Travel 2022 ranks the world's must-visit countries, cities and regions to provide a year's worth of travel inspiration.
Explore related stories
Colombia's 9 best national parks
If you want to climb an active volcano, visit archeological sites, go scuba diving or much more, Colombia's extraordinary national parks beckon.
Checking In: Sofitel Barú Calablanca Beach Resort in Cartagena, Colombia
A look at the new Sofitel Barú Calablanca: Cartagena's first luxury beachfront resort, focused on relaxation.
Checking In: Sofitel Legend Santa Clara – Cartagena
A first-hand look at Sofitel Legend Santa Clara Cartagena, a luxurious enclave in Cartagena's city center.
Return to nature in the magical hills of the Sierra Nevada, Colombia
Time moves slowly here, but there's plenty to do, from tubing down the Rio Palomino to hiking with local indigenous tribes
Everything you need to know before visiting Colombia, a country you might never want to leave
Read these tips about transportation, etiquette, health, safe and more in Colombia before you plan your visit to this unforgettable South American country.
Epic hikes, ancient sites, sun-kissed beaches and more of the best things to do in Colombia
Exciting museums, thrilling jungle treks, world-class snorkeling and more: Colombia has something to suit every traveler.
When is the best time to visit Colombia?
The climate varies across the country, but there's always a good time to be had in Colombia. Here's our guide to the best time to visit Colombia.
Getting around Colombia is an experience in itself
With a backbone formed by the Andes Mountains and vast swathes of forest, Colombia can be a complicated place to explore. Here's a guide to getting around.
Colombia's best beaches are a slice of South American perfection
Whether you're drawn to Colombia by the culture, hiking, wildlife or cities, you'll want to linger to enjoy the beaches. Here's our pick of the best.
15 Best Places to Visit in Greece in 2022
Greece is one of the best destinations in Europe for travelers. With delicious food, famous hospitality, historic sites, beautiful views and mild weather, it's a recipe for a good vacation.
Because of all of the choices in places to go, it can be hard to nail down an itinerary that speaks to you in a short amount of time. That's why we've made this list of the 15 best places to visit in Greece.
15 Best Places to Visit in Greece in 2022
If you're planning an upcoming trip to Greece, you're most likely not going to have enough time to see the entire country. Even most Greeks haven't explored every peripherie — or province — in their home country.
Many people visiting Greece for the first time make the mistake of sticking to the well-beaten path of Athens and Santorini. While both of these places are incredible spots to visit, they shouldn't be the only parts of Greece you explore.
Instead of exploring the most famous attractions like Acropolis, Santorini, and Crete, explore less-visited, but just as amazing sites, for a fun-filled, unique trip.
Despite being slightly larger than the state of Alabama, Greece has a wide range of climates, cultures, cuisines and experiences across its lands.
With 8,498 miles of premiere Mediterranean coastline, eight major cities and thousands of islands, Greece has everything a traveler could want.
Below you'll find our list of the 17 best places to visit in Greece. We've included old favorites and under-the-radar spots, so you get to have the ultimate Greek vacation.
1. Corfu
It doesn't get more Greek than Corfu . Corfu is a beautiful island on the Ionian Sea with mountains in the interior and picturesque white sand beaches along the coast. With Italian, French, and Greek influences, it's a foodie's dream.
While it tops many people's lists, you can still enjoy tranquility if you stick to the less-populated parts of the coast away from the larger towns.
There are beautiful beaches along the entire coast with small towns dotted throughout it too. Corfu is an incredible place to visit for just about every traveler.
If you're looking to party and meet new people, the southern town of Kavos is where the best nightlife is. Acharavi in the north has kid-friendly beaches, a quiet town and the bluest water you'll ever see if you're on a more family-friendly vacation.
2. Knossos
If you're a history buff looking for a more off-the-beaten-path-than-Athens spot, Knossos is a dream. It's the site of Minoan ruins from over 5,000 years ago during the Bronze Age.
The city is incredibly well-kept, so you feel like you're walking through history. For the Greek mythology fans, Knossos holds the famous hall of kings where the story of the Minotaur and Labyrinth takes place.
If your traveling partner doesn't appreciate history like you, good news—Knossos is on the island of Crete. While you take in the historical sites, they can enjoy the beach. We'll discuss more of what Crete offers below.
3. Rhodes
The island of Rhodes in the Mediterranean Sea is a Greek paradise. There are stunning beaches, of course, but also wooded mountainsides, miles of hiking and quaint country villages.
Rhodes also isn't as busy as Santorini or Mykonos, but it's energetic enough to still have a bustling town with unique shops and restaurants.
Known as the island of the knights, Rhodes is home to the medieval town of the same name where the Order of the Knights of Saint John of Jerusalem left their mark at the UNESCO World Heritage Site.
Once you've walked the town's historic grounds, head to the countryside for some of the best vineyards in Greece. Or have a more active afternoon hiking to Salakos or Kritinia Castle for outstanding views and less-visited medieval buildings.
4. Meteora
Once you visit Meteora , you'll wonder how it's still a remote destination in Greece. Located in central Greece, Meteora is home to six monasteries perilously perched on sheer cliffs.
The architectural feat is one you have to see for yourself. Meteora is a UNESCO World Heritage Site and an official holy place, but it's not just for religious or historical-minded people. Everyone will enjoy spending time gazing at and exploring the magnificent cliffs and monasteries.
You can hike up the cliffs to wander around the six mandatories still active today. The Holy Monastery of Great Meteoron is the biggest and oldest one open for visitors, so it's a great place to start.
For more experienced hikers, the panoramic views at the Monastery of Holy Trinity are worth the difficult journey.
5. Crete
Crete is on so many people's bucket lists for a good reason — it's beautiful. With white sand and bright blue waters, Crete is what people think of when they hear "Greek island."
You could spend your entire Greek vacation on Crete and never get bored. Crete, the fifth largest Mediterranean island, has everything a Greek vacation needs: history, culture, food, beaches and nature.
As previously mentioned, the site of Knossos is a must-visit for all history buffs and families wanting to learn about history during their visit.
For the proud beach bums, Elafonisi Beach is one of the best beaches because of its pink and white sand, gentle waves and endless sand bars perfect for getting a tan or sipping an Ouzo slushie. You should also take the time to hike through the Samaria Gorge — it's gorgeous (no pun intended).
6. Kythira
If you're looking to soak up the sun on a Greek island but don't love crowds, Kythira (also spelled Kythera) is exactly what you're seeking. Not only is it the supposed birth site of the goddess Aphrodite, but it also has monasteries, beaches, a castle and a Venetian vestige.
If you prefer to stay in more developed areas, Kapsali, Chora, Diakofti, and Agia Pelagia are towns perfect for grabbing afternoon drinks and watching the sunset.
The best sunset watching spot is at the vestige overlooking Chora because you can wander down the hill for an authentic Greek dinner afterward.
It's located between the mainland and Crete, so it's a great stopover before or after a Crete adventure. You can spend your days lounging on its empty beaches or hiking to and swimming under its beautiful waterfalls along the ravine of Mylopotamos.
7. Sifnos
For the crisp, white buildings and sweeping ocean views of Santorini without the prices and crowds, Sifnos is a cheaper alternative. This city is a fantastic island to head to if you're looking for a relaxing vacation.
It's especially popular among families and couples, leaving the partying backpackers to the more popular islands.
The Church of the Seven Martyrs is a picturesque spot to hike up to because of its blue-domed roof, white walls and a backdrop of the Mediterranean Sea. Its waters are also perfect for sailing or diving adventures.
Foodies flock to Sifnos thanks to the famous chef Nicholas Tselementes' love for the island. Now you can find some of the best bakeries, olive groves and restaurants in Greece dotted along the 1.5 miles of Sifnos.
8. Santorini
Santorini is famous for good reason. It's one of the most beautiful places in the world, has some of the best nightlife in Europe and has a wide selection of fine and casual dining.
Yes, it's quite touristy, but it's still uniquely Greek. If you visit during the calmer months — April-June and September-October — you can make the most of their warm weather without as many people.
The reduced number of tourists means you will have an easier time enjoying Santorini's beaches and fine wine.
What makes Santorini unique is its famous caldera, formed by volcanic explosions, which you can properly take in on a sunset sailing cruise. Visitors can also wander through the iconic streets of Oia to observe the colorful building carved right into the rock.
This site does get overrun by tourists during peak season, so visit early in the day or during shoulder seasons for the best experience.
9. Karpathos
The combo of beautiful boutique resorts, crystal clear water and access to nature and hiking trails should make the island of Karpathos the next hot spot in Greece.
Luckily, you can still visit before it grows in popularity and experience the traditional way of life in the villages of Karpathos. It's the ideal spot to unwind and spend time reconnecting with yourself and with nature.
If you do your best relaxing at the beach, Kyra Panagia and Apela are quiet with the white sand and blue waters of the more famous islands. One of the best parts of Karpathos is the excellent hiking you can do.
There are coastal hikes to secluded beaches, strenuous climbs to the top of mountains for panoramic views and meandering trails between the traditional villages in the interior.
10. Mykonos
If you're looking for a party, look no further than the famed nightlife of Mykonos . Staying in the capital Hóra will give you access to some of the best parties, bars and clubs with the Mediterranean Sea as your backdrop.
Grab drinks in Little Venice to start the night off right with the most stunning sunset viewed from a waterfront bar (just reserve a table ahead of time).
You can grab dinner in Little Venice or head into town for some fine dining. Ending the night in the clubs with a chance to see some famous DJs like David Guetta. While the nightlife is what put Mykonos on the map, daytime isn't too bad either.
You can spend your days at the many beaches, shopping on Matoyianni Street, or visiting local cultural sites like the Cycladic Paraportiani Church.
If you want to escape the crowds for the day, you can take a boat over to the uninhabited island of Delos to walk through some of the most important ancient ruins in Greece.
11. Athens
Many European capital cities are tourist traps, but Athens is not included on that list. The birthplace of democracy, modern science and western civilization itself, there is no shortage of things to do in this bustling metropolis.
You can tour the famed Parthenon for a lesson in history and culture or bike the Grande Promenade around Acropolis to take in the history at your ideal pace.
There are also museums like the National Archaeological Museum where you can learn even more about the vital influence the Greeks have had on the world.
People who enjoyed Knossos will love the historical appeal of Athens. Athens is also a foodie's heaven because of the plethora of dining options, cuisines and dishes available in the capital city.
You can make the most of your time in Athens by joining a food tour that will take you to the best spots for authentic Greek food, so all you have to do is sit back and taste.
12. Kefalonia
Kefalonia , an island in the Ionian group, is famous for its picturesque coastal towns, excellent swimming and world-class hotels and restaurants. Spread along its shore are small towns that offer charming hospitality and delicious food and drinks.
You should not miss the Cave of Melissani near Sami. Row around the lake within the roofless cave at high noon, so you can experience the magic of the entire cave filling with blue light thanks to the sun's angle.
It's breathtaking and surprisingly not overrun with tourists. Kefalonia is also famous for its lively reefs and shipwrecks perfect for underwater exploring. Grab your snorkel gear and head out on a scuba dive tour to experience healthy marine life.
13. Skopelos
If the "Mamma Mia" films even partially inspired your trip to Greece, you should not miss Skopelos . The iconic wedding scenes take place on its hilltop church, Agios Ioannis Kastri, where you can live out your Meryl Streep dreams.
While it's famous because of the movies, they can't capture the true depth of the island's beauty. With sheer cliffs into deep blue waters, golden sand beaches and pine tree forests, it's uniquely stunning.
Swimming and suntanning are popular activities for people wanting to relax. You can also hike up the jagged hills for sunset views.
Visitors know that the landscapes aren't the only good thing about Skopelos. It has many unique and delicious Greek dishes. One of the must-try foods is the strifti, which is a cheese piece made with filo dough.
14. Mycenae
If you didn't get your fill of history in Athens, plan a day trip to Mycenae . One of the most well-known historical sites in Greece, it's where the famous King Agamemnon ruled during the Trojan War.
It was also the cultural and commercial capital of the entire Mycenaean civilization that stretched across all of Greece from 1,600-1,000 B.C. It's extremely well-preserved and researched, so you can still walk the hallowed streets today.
Don't miss passing underneath the Lion Gate, where two female lions carved into stone will look over you as you enter the ancient city.
There's also the archaeological museum on-site, so you can learn more about the history of the city and see all of the artifacts that scientists have discovered in the digs that have taken place there.
You can also climb to the top of some of the Cyclopean walls for sweeping views of the surrounding countryside.
15. Amorgos
Even in a country known for its beautiful islands, the southern island of Amorgos stands apart. The best part is that its beauty is the best-kept secret in Greece because not many people visit it, so you can take in the views in peace.
One of the coolest experiences on Amorgos is hiking up the steep hills to Hozoviotissa Monastery. It's white-washed, built into the side of the cliffs and has some of the best views of the Aegean Sea.
he local monks who are lucky enough to call Hozoviotissa home will offer samples of raki, the local liquor, and loukoumi, a Greek delicacy.
You can also stay in Chora, the charming capital of Amorgos, which has whitewashed buildings, cobblestone streets and hole-in-the-wall boutiques and restaurants. End the day by taking a dip at Mouros Beach or in their sea caves for a refreshing sunset view.
Things to Consider When Visiting Greece
Now that you've created your perfect Grecian itinerary from the list of places above, here are a few other things to keep in mind. They're tips and tricks to have the best, safest, and most seamless trip to Greece!
A lot of businesses close on Sundays, especially in smaller towns and on the islands. In the bigger cities and touristy areas, a lot of the restaurants will open up again at night, but don't count on it. Shops and other places also typically close for the Greek equivalent of a siesta in the early afternoon.
It's not very Greek to get drunk. While most locals indulge in the local Ouzo spirit, they will not drink to get drunk. You shouldn't either. Not only will reserved drinking show respect to the people around you (especially in the smaller towns), but it's also a lot safer. You can still enjoy the famous Greek drinks during your trip, just make sure to break up your drinking with some delicious food like dolmades or moussaka.
If visiting any religious sites like the monasteries of Meteora or the churches of Santorini, make sure you're dressed correctly. Both men and women should have covered shoulders and legs. Pack a cover-up in your bag for the day if you want to wear a tank top outside of the church.
Frequently Asked Questions
Since you know all of the best places in Greece to visit and our tips and tricks for the ultimate vacation, read below for the answers to the most frequently asked questions about visiting Greece.
Do I need a visa for Greece?
If you're a United States citizen and staying for less than 90 days, you don't need a visa to enter Greece or any of the other Schengen Area countries. If you're not a U.S. or European Union citizen, check with your local ambassador or consulate for country-specific information.
What currency do they use in Greece?
Greece uses the Euro, making it convenient to exchange U.S. dollars and travel to multiple EU countries in a single trip.
When is the best time to visit Greece?
For mild weather and fewer crowds, visit Greece from September-October or April-June. The summer season is peak tourist season and can have heat waves of over 100˚F.
What language do people speak in Greece? Can I speak English easily in Greece?
The official language in Greece is Greek. However, all public schools teach English from a young age, so most Greeks have excellent English skills, especially in larger cities and tourist hubs. Learning a few words of Greek will endear you to locals, though.
What is the best food to try in Greece?
Greek cuisine covers many cultural influences, climate zones and cooking techniques. There are many different delicious dishes to try, but the most popular ones to sample are olives and olive oil, dolmades (stuffed grape leaves), souvlaki (spit-roasted pork), and fresh fish.
The Best Places to Visit in Greece: A Summary
Greece offers something for every type of traveler:
For history buffs. Athens, Mycenae, and Knossos will make you feel like you've traveled back in time to Ancient Greece.
For social travelers. Mykonos, Santorini, and Crete are perfect spots to party, meet people and make memories.
For low-key couples. Amorgos, Karpathos, and Skopelos will leave you refreshed.
However, any of the places on our "best places to visit in Greece" list will delight any traveler. Be sure to check out more than one. Trust us — it'll make your trip more than worth it!
Source https://www.bucketlistly.blog/posts/best-countries-to-travel-social-distance-after-covid
Source https://www.lonelyplanet.com/articles/best-places-to-visit-in-colombia
Source https://travellersworldwide.com/best-places-to-visit-in-greece/