What to Do with 2 Days in Auckland, New Zealand
The following is a guest post by Kylie Gibbon from Our Overseas Adventures, a blog that chronicles her family travels with her husband and 5 and 7 year-olds in tow, including an 8-month sabbatical through SE Asia, Europe, and the Middle East. Now based back in New Zealand, the family is continuing to travel and are always planning their next adventures!
Auckland is the largest city in New Zealand and is affectionately known as the City of Sails due to its location on three beautiful harbours. It's also the only big city in the world that sits on a (technically) live volcanic field, and the 48 extinct volcanic cones that dot the landscape are the city's iconic landmarks.
Two days in Auckland is only a short amount of time to see all that's on offer, but as many international travellers fly in here itching to get on the road and see the rest of the North Island, it's a great taster!
Auckland's also a diverse city that's home to 1.4 million people from over 200 different ethnicities which makes for a rich melting pot of culture, cuisine, and celebrations!
Table of Contents
How to get to Auckland
Most international travellers arrive in New Zealand via Auckland airport. The main transport into Auckland city from the airport is via bus, taxi or shuttle bus.
The SkyBus Auckland City express operates 24/7 from the international terminal at Auckland Airport outside door 8. It costs about 1/3 the cost of a taxi at $17NZD per adult one way if you book advance online and the buses are modern, air-conditioned and have WiFi.
A taxi rank is right outside the International Terminal at door and will cost around $70NZD depending on the company you use.
Technically Uber are not permitted to do pick-ups at Auckland Airport, but it does happen covertly!
Shuttle buses are also a good option to get into the city. The cost is $35NZD per person, then $8 per member of your group.
What to do in Auckland in 2 days
Auckland Sky Tower
Auckland is an incredibly spread out city, so to get your bearings for your 2 days in Auckland you could firstly venture 220 metres up the Sky Tower for a 360-degree view of the city.
While you're there you could get into the adventure tourism spirit of New Zealand and check out either SkyJump (a base jump 192 metres straight down) or SkyWalk (a harnessed walk around the Sky Tower on a 1.2-metre wide ledge!)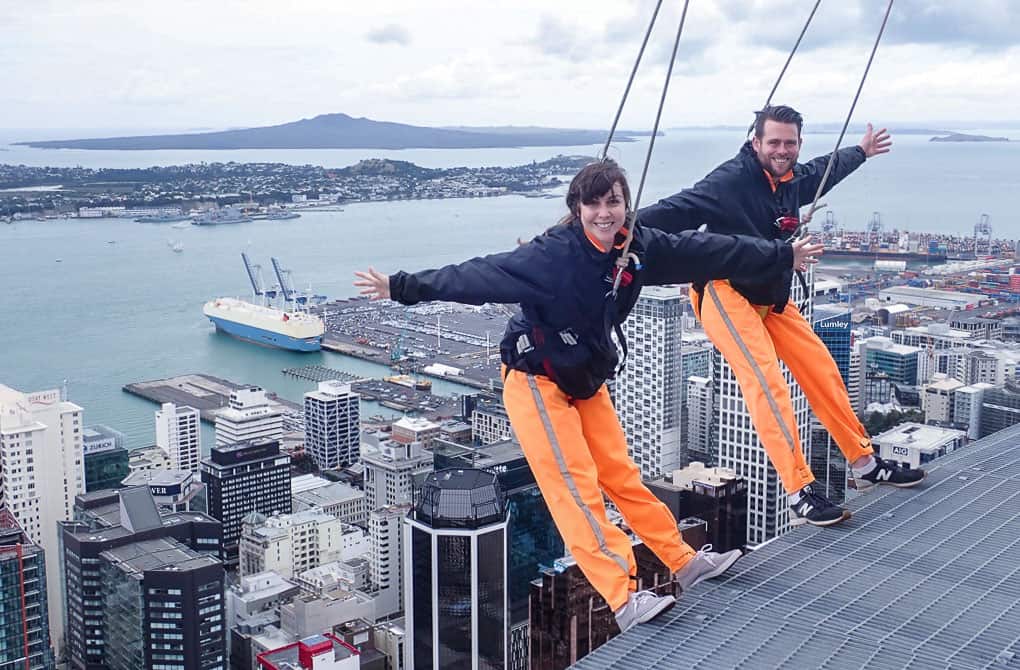 Walk the volcanic cones
If you're on a budget but still want to check out some panoramic views, then walking up one of the city's volcanic cones is the perfect place to see the city for free, so add one of these to your Auckland 2 day itinerary.
The best options close to the city are Mt Eden, Mt Hobson or One Tree Hill where you can also walk in the beautiful Cornwall Park.
Rangitoto Island
Another island worth visiting is Rangitoto Island, which is actually New Zealand's youngest volcano and was created from an undersea eruption 600 years ago.
You can take the ferry across from downtown Auckland and walk up the summit track through the world's largest pōhutukawa forest and lava fields for stunning views across the harbour.
Be sure to wear good walking footwear and take plenty of food and water as there are no stores on the island!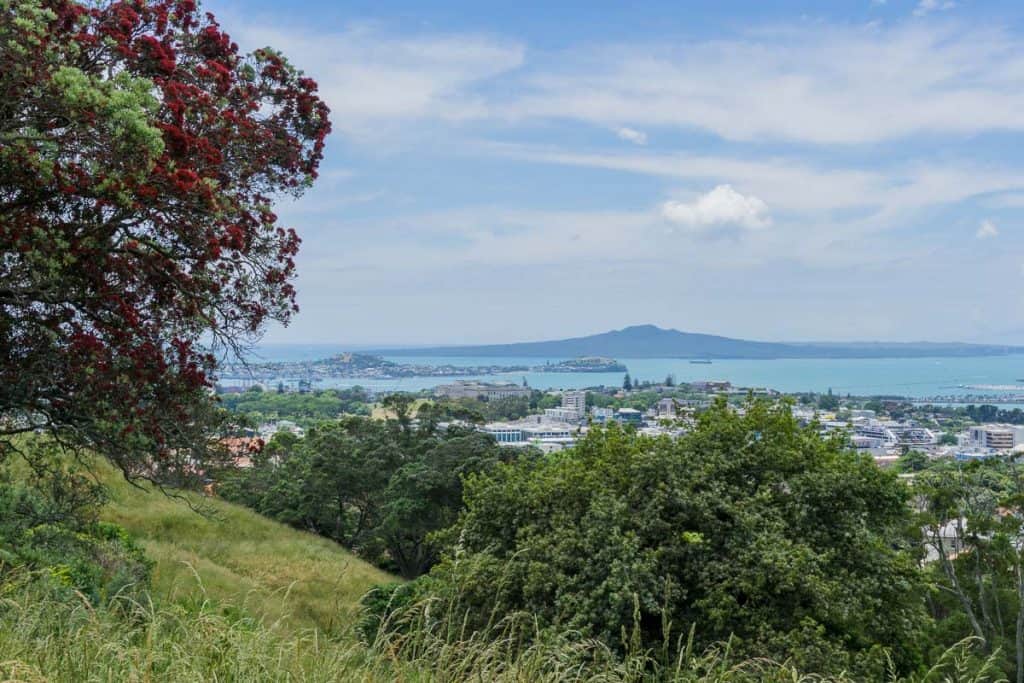 Auckland Museum
If you're interested in New Zealand history and our unique Māori culture, then the Auckland Museum is a must-do. It houses a wonderful collection of Māori and Pacific Islands artefacts, along with a great section on New Zealand's unique flora and fauna.
If geography is more your thing then be sure to check out the natural sciences section where you can learn more about our volcanoes and view a simulated volcanic eruption – complete with an earthquake!
Waiheke Island
High on your to-do list for your 2 days in Auckland should be a visit to one of the Gulf Islands sitting in the main harbour. Our favourite is Waiheke Island with regular ferries leaving from downtown Auckland for the one-hour crossing.
Waiheke has beautiful beaches, lots of fabulous cafes, restaurants and walking tracks. Waiheke is also famous for its wine and has many beautiful vineyards. Many of the vineyards have restaurants, some of them being among the best in Auckland (you'll need to book in advance during the summer months).
You can also dine picnic-style under the vines and olive groves while staring out at the beautiful sea which is just perfect on a sunny day!
A vineyard tour is a great way to get around a few of the different wineries or if you're feeling more energetic you can rent a bicycle to get around.
What to eat
If you're a seafood lover you'll be in heaven in Auckland, with many restaurants specialising in fish and seafood dishes. Some of our favourites include Harbourside Ocean Bar Grill and Seafarers.
Asian fusion cuisine is also huge in Auckland and there are some amazing dishes to be had. Our picks are Blue Breeze Inn or Mekong Baby both in Ponsonby, Cafe Hanoi in the city or Woodpecker Hill in Parnell Auckland also has a wonderful coffee culture, and our flat whites are a must try. Top places include eightthirty and Mojo.
If you're interested in vineyard cuisine then the best places to eat on Waiheke Island are Casita Miro, Mudbrick Vineyard or Cable Bay Vineyard.
If you have little ones in tow, you might be interested in the best places to eat in Auckland with kids.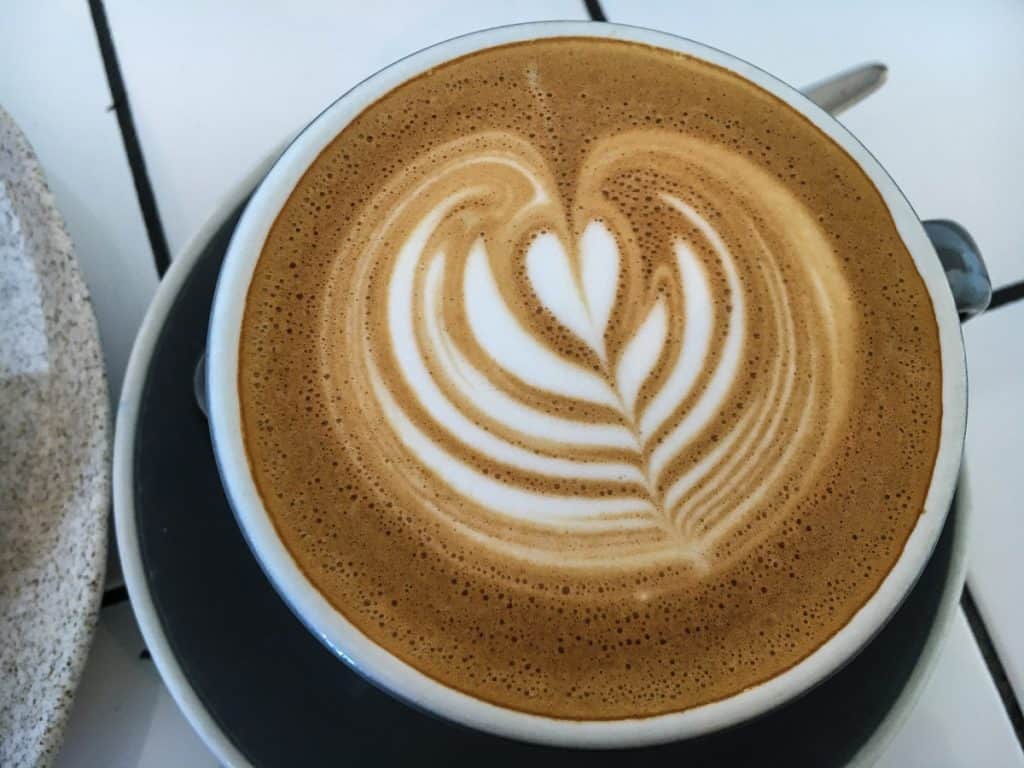 Nightlife in Auckland
The main party places in Auckland are in the Viaduct Harbour, Wynyard Quarter, Britomart and Ponsonby Road. Some good places to try include Britomart Country Club, Dr Rudi's Rooftop Bar, or Caretaker.
Where to stay in Auckland
With only 2 days in Auckland and to be close to all the action you're best finding accommodation in Auckland's CBD area to be close to restaurants, shops and handy for the gulf island ferries.
Some recommendations include:
High end:
Mid-range:
Sky City Hotel
City Life Auckland
Rydges Hotel Auckland
Budget:
Where to go from here
A great option from Auckland is to head north to explore the stunning Bay of Islands or continue onwards to the tip of New Zealand at Cape Reinga.
If beautiful beaches are what you're looking for then head over to the Coromandel Peninsula, around a 2 hour drive from Auckland. Here you'll find stunning white sand beaches like Hahei and Cathedral Cove, the cute town of Whitianga and the incredible Hot Water Beach where you can dig a hole in the sand and soak in the natural hot spring waters!
Hamilton is just down over an hour down State Highway 1 and it's often an overlooked stop, however there's plenty of things to do in Hamilton like visiting the world-renowned gardens, the Waitkato Museum, and looking out fo the colourful street art.
Spending 2 days in Auckland is a great start to any New Zealand holiday. There's a great mix of outdoor things to do and fantastic restaurants and nightlife. You'll find yourself wanting to come back for even more!
Read more: North Island Itinerary Ideas + Best Places to Visit
If you liked it, pin it!
Sonja – Migrating Miss
Sonja is from New Zealand but now lives in Scotland with her husband and little boy, after having lived in 5 other countries along the way including the USA, Australia, Canada, and Spain. Travelling has always been her passion and she has now made it her full-time job and worked in the industry for the last five years. She shares her living abroad experiences and best tips to make your travel experiences the best they can be!
Leave a Reply Cancel reply
Solo travel, living abroad, couples travel, and travelling as a family – I've done it all, and now I'm here to help you do it too!
I've made 6 different countries my home and travelled to over 40. It started with just me and a backpack but now I have my husband and two little boys in tow… there's a lot more luggage!
8 Amazing Places to Visit Near Auckland
Planning a trip to Auckland and the surrounding area? You have definitely landed in the right spot. There are so many amazing places to visit near Auckland which shows just how diverse New Zealand's North Island is.
However, we understand that travel time can be limited, so here we've selected eight of the best destinations.
Relax in the thermal hot springs and explore hidden caves a few hours south of Auckland. Or, discover black sand beaches and tropical rainforests just under an hour west of the city.
This article contains loads of useful information on these top destinations. You will probably even discover some destinations you would never have otherwise considered.
The best way to get to most of these destinations is to drive. I highly recommend checking prices on RentalCars.com . You will find all the big brands like Avis and Europcar listed here but with huge discounts on rental cars.
And of course, if you have any further questions, please ask us in the comments section below.
Islands Near Auckland – Hauraki Gulf
The Hauraki Gulf is framed by Auckland's Waitemata Harbour in the west, the Hauraki Plains to the south, the protruding Coromandel Peninsula in the east, and the Barrier Islands to the north. For those with a little more time, we've covered nine great islands near Auckland in this detailed article . However, if you've only got a couple of days for the whole region, then Waiheke and Rangitoto might be for you.
1. Waiheke Island
Waiheke Island is on the top of every visitor's list of places to visit near Auckland. It's a 40-minute ferry ride from downtown Auckland across the sparkling Waitemata Harbour and a world away from big city living. It is frequently voted by Lonely Planet, Travel & Leisure Magazine, and many other international travel experts as one of the top island escapes in the world. There is a public bus network, a hop-on-hop-off bus, bike rentals and car rentals available which makes getting around the island so easy.
You will find sandy, pristine beaches, lined with the unique New Zealand Pohutukawa trees which bloom with rich red flowers at Christmas time. Becuase of this, these iconic Kiwi trees are also known as the New Zealand Christmas trees.
You will find sandy, pristine beaches, lined with the unique New Zealand Pohutukawa trees which bloom with rich red flowers at Christmas
One of the best things to do on Waiheke Island is to visit a boutique vineyard. These vineyards offer stunning views, wine tasting rooms, and restaurants where you can linger over a long lunch featuring delicious local and seasonal produce. Try Cable Bay and Mudbrick vineyards which are both walking distance from the ferry terminals. There is an information desk at the ferry terminal on Waiheke Island and they will help you with what's on and where to go.
There is a great network of walking tracks throughout the Waiheke Island and around its 40km coastline, showcasing New Zealand's flora and fauna. You can also rent a kayak, go mountain biking, or ziplining through the trees if you want some action.
Waiheke Island was once regarded as having a bohemian hippy lifestyle and still has many interesting art studios to visit. We suggest the interesting outdoor Sculpture Exhibition located on a walking trail that takes place every two years in February or March. There is also a very popular jazz festival which takes place over Easter.
2. Rangitoto Island
On your ferry trip to Waiheke Island, you'll pass one of Auckland's best-known landmarks, Rangitoto Island. It's a large symmetrical, green, cone-shaped island that is actually a volcano!
Did you know that Auckland is built on a volcanic field of over 50 volcanoes? The last eruption in Auckland was Rangitoto over 600 years ago. Scientists consider these volcanoes to be dormant, rather than extinct, so there is an extremely slim chance of any of them erupting in the near future.
Did you know that Auckland is built on a volcanic field of over 50 volcanoes? The last eruption in Auckland was Rangitoto over 600 years ago
Rangitoto Island is a 25-minute ferry ride from Downtown Auckland or a two-hour kayaking trip from Auckland's North Shore. The island was declared "pest-free" in 2011 and birdlife has flourished. It is home to dozens of sea, shore and forest birds.
There is no shop on the island, so you will need to bring your own food and drink. There are also no rubbish bins, so you will need to take your own scraps and rubbish off the island with you.
The most popular walking track is the Rangitoto Summit Track. It is an easy, but up-hill, two-hour return walk on well-formed paths along the lava fields. The Wreck Bay Track is a twisting track to Wreck Bay and Boulder Bay on the northern side of Rangitoto. These bays were once used as dumping grounds for old ships and at low tides, some of the remains can still be seen.
Another popular track is the Coastal Walk from Rangitoto Wharf to Islington Bay, which passes by boatsheds and some old 1930s baches (classic New Zealand holiday cottages) one of which is open as a museum. The track passes old quarry sites, ruins of wartime storage bases for mines, and Yankee Wharf which was built during World War II.
Be careful not to miss your ferry ride back to Auckland as there is no overnight accommodation on the island. A water taxi back to Auckland can be quite expensive.
Another very amazing island about an hour's plane ride from Auckland is Great Barrier Island . It is one of the few places in the world with a 'Dark Sky Sanctuary' rating.
The Waikato Region – South of Auckland
These following two tourist attractions near Auckland can be combined into a one-day trip if you have limited time. You would need to leave Auckland before 7am, book a morning tour at Hobbiton and then head 1 hour and 15 minutes over to Waitomo for the afternoon. It would be a very busy day but is doable if necessary.
3. Hobbiton
Fans of the Lord of the Rings and Hobbit trilogies visit Hobbiton in their masses. It is the third-largest tourist attraction in New Zealand.
Hobbiton is in a small rural town called Matamata about a two-hour drive from Auckland. In 1995 Peter Jackson, the director of the films, spotted the Alexander family farm in Matamata as an ideal location for some of his filming and work began. The New Zealand army was called in to build a road to the site. The original set was just a temporary build, but in 2010 it was rebuilt permanently as "The Hobbit – An Unexpected Journey."
Today you can do a tour of Hobbiton and experience the real middle earth! Take a look at Bagshot Row, Bilbo's Bag End, the Party Tree, 44 hobbit holes and have a pint at The Green Dragon Pub. It is recommended that you book your tour in advance so that you don't arrive at the Shire's Rest and have to wait for a vacancy in a tour group. It gets really busy here in the high season.
4. Waitomo Caves
Located beneath rolling green hills about 1 hour and 15 minutes from Hobbiton at the famous Waitomo Caves. These caves were created over 30 million years ago while the region was still under the ocean. There are about 300 known limestone caves in the area, and possibly more to be discovered.
There are several caving organizations that offer different experiences. Choose from a walking tour, a boat tour, a black water rafting tour, an abseiling tour, and even a ziplining tour.
The most popular tour is the Waitomo Glowworm Caves. It has a huge cavernous space where you can see the amazing limestone stalagmite and stalactite formations. The trip finishes with a silent boat ride in the dark, with thousands of illuminating glowworms sparkling overhead.
The Ruakuri Cave and Aranui Cave are also very popular options to visit too.
Beaches Near Auckland – The Rugged West Coast
The rugged black sand beaches on Auckland's West Coast are some of the most unique and stunning places to visit near Auckland. We always take our overseas visitors to one or both of these beaches and they are always super impressed.
5. Piha Beach
You essentially leave Auckland behind as you pass the arty Titirangi Village located about 20 minutes southwest of the city. From there is another half-hour drive to Piha Beach on the rugged west coast.
You will reach Piha Beach by taking the Scenic Drive route. It's a narrow road that winds its way over hills and through the green fern-laden rainforests of the Waitakere Ranges.
Along the way to Piha Beach, you can make a quick stop at the Arataki Visitors Centre. It is located in the middle of New Zealand's native bush at the peak of a hill. Here you can get great views and learn about the cultural, colonial and natural history of the area.
Just before you reach Piha Beach there's a left turn to Karekare Beach. This is where many scenes from the film "The Piano" were shot in the 1990s. Karekare Beach is another very rugged black sand beach with huge rolling surf.
As you drive down to the black sands of Piha Beach you will get great views of the entire coastline. The iconic Lion Rock landmark divides the beach into a northern and southern half. If you're up for a hike, you can climb the steep trail to the top of Lion Rock for an awesome view of the beach where surfers challenge the huge waves below.
6. Muriwai Beach
Muriwai Beach stretches for 60 kilometers along the dramatic Tasman Sea with huge ocean swells and rolling breakers. This windswept, black sand beach is situated on Auckland's west coast, about a one hour drive from the city through farmland, vineyards, and small rural towns.
While Muriwai Beach is a popular spot for surfing and windsurfing, it is also renowned for its large gannet colony. Viewing platforms located atop of the cliffs at the southern end of the beach offer close up views of these huge birds. Gannets weigh about two and a half kilos and have a wingspan of around two meters. From August to March about 1200 pairs of Gannets mate, nest and have their chicks on these windswept clifftops. You can normally see the chicks throughout December and January.
There is no public transport to Muriwai Beach so you will need a car or take a West Coast tour to get here. The last 15 minutes of the drive the beach goes down a narrow and winding section of road through native bush. Near the end of the road, opposite the local café, is a left turn that takes you up to the carpark. This is where the walking track to the Gannet Colony viewing platform begins.
New Zealand's Thermal Area
Three hours south of Auckland is the not-to-be-missed geothermal area around Rotorua. There are so many unique things to do in this area. You won't forget the unique smell! Rotorua has been called 'The Sulphur City' because it has a unique pungent aroma that smells very much like rotten eggs, but you do become accustomed to it over time!
7. Rotorua
Rotorua is situated on the southern shore of Lake Rotorua. Lakes and streams are abundant in the area, while trout fishing and white water rafting are a few activities that you may wish to take part in.
Rotorua is most famous for its geothermal activity. Hot springs, bubbling mud pools, and spouting geysers can be seen at various parks and locations around the area. A few popular attractions are the Pohutu Geyser at Whakarewarewa, the Waiopu Thermal Wonderland, and the Waimangu Volcanic Valley.
Other must-visit places are the Rotorua Polynesian Spa which was voted as a Top 10 World Day Spa by Conde Nast Traveller, the Rainbow Springs Kiwi Wildlife Park where you can see a live kiwi, the Rotorua Agradome for an entertaining farm show, the magnificent Redwoods at Whakarewarewa Forest. So Many Places! So Little Time!
8. Matakana Village Farmer's Market & Goat Island Marine Reserve
The Matakana Village Farmer's Market is a great spot to visit on a Saturday morning. Matakana is about one hour north of Auckland. It is a quaint village with interesting boutique stores, art galleries, and a great little cinema complex.
The Farmer's Market is laden fresh organic food. It sells a wonderful array of tasty foods like fresh oysters, the prawn tacos, homemade bread, local cheese, honey, and chutney. You can sit by the river, listen to live music and enjoy whitebait, paua or mussel fitters and a great cup of coffee!
Ten minutes past Matakana is the very upmarket Omaha Beach and fifteen minutes further on is the Goat Island Marine Reserve with the best snorkeling and scuba diving near Auckland.
There are so many interesting places to visit near Auckland. We hope that you get a chance to visit and enjoy some of these top destinations. When you're finished exploring Auckland, have you thought about a cruise around New Zealand ? Here are 9 reasons why it is worth considering.
Author bio: This article was written by Maureen Spencer from So Many Places! So Little Time! An online travel magazine and blog. Maureen is a passionate traveler and hopes the detailed travel guides on her website can help other passionate travelers on their journeys too.
Discover more of New Zealand with these articles:
Photo credits: Waiheke Island – flickr, Hobbiton – flickr, Waitmo Cave – CaveWorld Waitomo, Rotorua – flickr, Goat Island Marine Reserve – flickr
28 Free and Cheap Things to Do in Auckland, New Zealand
This blog may contain affiliate links. Read our disclosure policy for more info.
Auckland is a great place to visit. Being New Zealand's largest city with a quarter of New Zealanders living here, you won't be surprised to hear there are plenty of things to do.
From adventure activities, beautiful nature walks, hip bars, and restaurants – you name it Auckland has attractions for everyone.
In this guide to the best cheap and free things to do in Auckland, you'll find the locations of all the best activities, pricing, and some of our insider tips and recommendations to make sure you get the most out of your holiday.
There are so many unique things to do in New Zealand, follow our local's guide on our favorite things to do in Auckland from born and bred Aucklanders!
Free & Cheap Things to do in Auckland, New Zealand
1. Visit the Sky Tower
Location: Victoria Street West
Cost: $32 NZD for 15+ years, $13 for 6-14 years, kids under 6's free
or FREE with a minimum spend of $30 to $40.
Rating: 5/5 – Auckland's most iconic building and one of the best viewpoints in the city.
The Sky Tower makes up an iconic silhouette of Auckland's skyline. Standing at over 300m (984ft) tall, this is the best place in Auckland to get a great view of the city. If you're daring enough, walk across the glass panels at the observation deck.
You can book your tickets to the Sky Tower in advance and skip the line.
For the adventure junkies out there, there's also the opportunity to SkyJump from 192m (630ft) high or do a Skywalk in a full-body harness around the Skydeck.
If that sounds a little too crazy for you then shop at the gift shop and grab a bite to eat at the cafe or one of the restaurants inside. Orbit 360° is the famous revolving restaurant at the top while the Sugar Club is one of Auckland's most renowned restaurants.
2. Check out the views from Mt Eden
Mt Eden, also known as Maungawhau is a dormant volcano located in the central Auckland suburbs. The 200m (656ft) climb will take you around 30 minutes. It's an easy walk but it is up a hill.
When you're up at Mt Eden you enjoy the views of Auckland including the Sky Tower and surrounding harbors. A great idea (and what we love to do) is to pack a picnic to enjoy at the summit.
Swing by the nearby supermarket and grab rolls, fillings, a bottle of chilled wine, and some cheese.
If you don't have your own transport, then consider booking this Auckland City day tour that covers all the city's best spots in 8 hours. Spots of interest on this tour are Auckland Harbour Bridge, the Sky Tower, and One Tree Hill.
3. Feast on Fish and Chips at Mission Bay
There isn't anything more 'Kiwi' than grabbing yourself some fish and chips and eating them on the beach on a nice summer's day. Even better, go in the evening and watch the sunset.
Mission Bay is the most central beach in Auckland and only a 10-minute drive from the city center. Oceanz Seafood is a great option for takeaways and one of the best cheap places to eat in Auckland! Due to the location, it can get quite busy in summer.
If crowds aren't your thing, drive further along the coastline to either St Helier's or Kohimarama Beach. When snacking on the beach watch out for those pesky seagulls. They might try and swipe a chip if you ever leave your food unattended!
Getting there: To reach Mission Bay without a car you can simply catch the TMK towards Glen Innes bus from 55 Customs Street East. This journey only takes around 15 minutes.
Related Read: Are you considering road tripping New Zealand? Here are serveral different New Zealand road trip itiniteries, several of which start from Auckland.
4. Have a Look Inside Auckland Art Gallery
The Auckland Art Gallery holds a large collection of both New Zealand and international works of art. Here you can wander around and enjoy some of the beautiful and weird paintings and sculptures.
You can also join a free English language tour at 11:30 am and 1:30 pm daily. This is a great way to learn about the art, interpretation, and the artists behind the works. The tours are around one hour long. Meet in the foyer on the ground floor if you're interested.
Mandarin language tours are also bookable on request and cost $80 for up to 8 people.
Admission is free for both NZ residents and international visitors.
5. Visit Auckland Museum and the Domain Wintergardens
Location: Auckland Domain, Parnell
Cost: Free for Auckland residents, a donation is suggested for the rest of NZ residents, $28 NZD for international adults, $14 for children 5-13 years, and kids 4 and under free. There is a fee for certain exhibits, tours, performances, and events for all visitors.
Rating: 4/5 – A really good museum but certainly isn't cheap!
The Auckland Museum is a very impressive museum that features state-of-the-art exhibits that are constantly changing and evolving.
You can learn about New Zealand's history, including early Maori life. There are also some fun and interactive areas for the kids.
Don't miss out on the Maori cultural performances daily at 11 am, 12 pm, and 1:30 pm daily. This also includes the infamous haka you'll see being performed prior to our rugby games. During the warmer months, they've got an additional performance at 2:30 pm.
After, stop by at the Domain Wintergardens filled with beautiful tropical flowers and plants. Here you can wander around at your own pace and enjoy some quiet time in nature.
6. Sip a Cocktail at Hi-So, Auckland's Best Rooftop Bar
Hi-So is Auckland's newest and hippest rooftop bar. Their extensive cocktail list will have something to suit you perfectly while the tasteful design of the bar creates a great ambiance.
Look over the Waitemata Harbour and Rangitoto Island (which is also on our list of places to visit). This is a spectacular choice of place to watch the sun go down and has one of the best views of Auckland.
So what are you waiting for? Grab a cocktail and relax.
7. Explore Tawharanui Regional Park
This is one of our favorite free things to do in Auckland for a half-day trip away. Combine this with number 14 on our list "shop and snack at the Matakana markets" and you've got yourself a great day planned.
Tawharanui Regional Park is a small regional park around an 80 minutes drive north of Auckland. At the beach, you get some of the best surf in Auckland and there's also a beautiful ecology trail that passes by a protected breeding area of the very rare New Zealand dotterel birds.
You can visit the park in either summer or winter, however, we actually love visiting Tawharanui during winter. Not only is it almost empty (contrary to summer), the moody skies really add to the atmosphere.
This is the perfect time for photographers as you don't have to worry about crowds making it into your photos and you'll get unique, moody photos that you just can't capture during the warmer months.
Wear some comfortable walking shoes with a good grip so you can climb across the large rock formations near the sea.
8. Tour Waiheke Island's Wineries
Waiheke Island is well-known for its beaches and vineyards, making it a great day trip out of Auckland city. Most people just go to Waiheke for the day, but there are tons of accommodation options for those wanting to stay.
The best way to get to Waiheke Island is by Fullers ferry from the Downtown Auckland Terminal on the waterfront. Check out their website for the tickets and timetable. Generally, ferries leave every hour and take 40 minutes.
Sealink is another company operating, but we'd only recommend this if you're taking your car over. This is because at the Fullers port you will be dropped off at Waiheke is directly connected to multiple bus links, making it so much easier to get around the island as opposed to Sealink's port.
The all-day bus pass is $12 NZD and is definitely a must if you're not bringing a car, they can be purchased from the ticket offices in Auckland or Waiheke Island or on-board the Fullers360 ferries. Family passes are available for both the ferry and bus.
Once you arrive and want to explore the island by yourself the all-day bike rentals are a great option!
Our Recommendations:
Wineries: Cable Bay and Mudbrick. They are both about 1 km from each other so you may as well visit both! Finish at Mudbrick and watch the sunset from there. Wine tastings around the island are $10-15 for three to six tastings.
Onetangi Beach: This beach is a little further away from the ferry terminal compared to the popular Oneroa Beach, but still on the bus route. It's always less busy here but equally as beautiful.
If you're short on time then consider booking this day tour from Auckland to Waiheke for a food and wine tasting. You'll get to try local olive oil, oysters, and cheese from three different boutique wineries.
9. Swim at the Beaches on the West Coast
Having a dip at the beach is one of the most popular attractions in Auckland on a summer's day. The beaches out west are known for their unique black sand, lush greenery, and amazing surf. They are a must-visit on any North Island itinerary!
Some of the best beaches to visit include Piha Beach which is great for surfing and epic views, Muriwai Beach which is home to the famous gannet colony, and Bethels Beach where you can enjoy a massive beach and interesting sand dunes.
My recommendation is to visit them all if you're heading out that way and you can easily do this in half a day. Be sure to finish up at Piha Beach for an epic sunset!
Another notable way to visit Piha Beach is on this tour of the west coast that takes a scenic route through Auckland as it makes its way to the Waitakere Ranges, Phia Beach, and Karekare Falls.
10. Take a Ferry to Rangitoto Island
Just like Waiheke, Fullers Ferries will also take you to Rangitoto Island. You'll see Rangitoto's silhouette from many viewpoints in Auckland but to truly appreciate it you really need to take a trip out there!
Being a smaller island, this is a great option for a half-day trip. The walk to the top of the dormant volcano is a gradual climb and will take you approximately one hour. This is an easy walk for kids and isn't too steep, making it suitable for older walkers too.
Bring a packed lunch to feast on and reward yourself for your hard work.
In the summertime, you may want to take a dip in the sea once you've finished your walk. This day tour to the island includes a 4wd tour of the island where you'll learn about the volcanic past of the island. At some point during the tour, you'll stop at the world's largest Pohutukawa forest and then head up to Rangitoto's summit. These tours cost around $70 NZD per person.
If you have a high fitness and endurance level you can also join a sunset kayak tour from Auckland over to Rangitoto Island. After arriving your guide will take you on a one-hour hike to the summit. You'll get the unique experience of paddling back underneath the stars.
11. Explore the Waitakere Ranges Regional Park
New Zealand has such a clean, green image that we're proud to call our home. Going out for walks in the bush (especially to waterfalls) is our favorite free activity to do in Auckland.
There are plenty of walks to choose from and the best ones are definitely 40 minutes west of Auckland in the Waitakere Ranges Regional Park. Here you can hike to numerous waterfalls and viewpoints and enjoy some of the most amazing scenery and bushland.
Be sure to check whether or not a specific walking track is open before visiting. Recently, many of the trails have been closed to preserve our native Kauri trees.
Our Recommendations:
Kitekite Falls Track (30-45 mins): One of the most popular walks. It's a flat, easy walk that ends at a beautiful waterfall. You'll find many people swimming in summer and it can get quite busy.
Fairy Falls Track (2-2.5 hours): A more advanced and less busy alternative to Kitekite falls. Enjoy the waterfall views from many different angles as you climb through the Waitakeres.
Whatipu Caves Track (30-45 mins): Connected to Karekare Beach, this easy walk is very unique with caves to explore along the way.
Mercer Bay Loop Walk (45-60 mins): This walk showcases the views of the shoreline off high cliffs. It can get quite slippery after rain, so wear proper walking shoes.
12. Visit Auckland Zoo
The Auckland Zoo is home to over 100 different animal species. This is a great activity for all ages. There are plenty of things to see and do including grassy areas to relax on, cafes, and playgrounds.
Our favorite enclosure is of course home to our native kiwi bird. These animals are nocturnal so the enclosure is very dark. It's a bit difficult to spot them, but that's all in the fun of it! It feels a bit like you're playing "Where's Wally".
My favorite animal is the elephant so we also enjoy visiting them when we're at the zoo. Keep an eye on their website or brochures for feeding sessions.
The Auckland Zoo is a huge supporter of wildlife conservation and their programs are trying to provide a brighter future for animals everywhere. It's a great program to support while on holiday!
You can pre-book tickets to the Auckland Zoo here.
13. Take a Day Trip to Tiritiri Matangi Island
There are plenty of day trips to take around Auckland, but this one to Tiritiri Matangi is our favorite. We were both born and raised in Auckland but we had only recently visited the island for the first time.
This wildlife sanctuary is absolutely filled to the brim with native birds and wonderful birdsong. In fact, volunteers have planted over 250,000 native trees here over the years to bring this once devastated island back to its former glory. The island is also a preditor free which makes it super important for the survival of native bird species.
Bring a picnic lunch and plenty of water as there aren't any places to eat on the island. During the warmer months, the beaches are a great spot to swim.
Tiritiri Matangi is reached via ferry from Auckland and an adult ticket to the island is $82 NZD. Sure, this is one of the more pricey things to do on our list but a day trip to see native wildlife in their natural habitat is definitely worth it.
You can book your ferry tickets here or choose to book the tour that includes a free guided tour where your guide will teach you the history of the island and explain all about the different birds on the island.
14. Shop and Snack at the Matakana Markets
Matakana is a cute, quaint town about one hour from Auckland city. Traveling here for the markets is one of the best things to do in Auckland on a Saturday morning.
The markets only run on Saturday from 8 am – 1 pm and have everything you'd expect at a farmer's market and more. Buy your fresh produce for the week, a raw smoothie, coffee, dips, cheeses, and a huge range of food.
Look out for the brownie stall which is every sweet tooth's dream and the Puhoi Pantry stall. They sell great spice mixes for dips and rubs which we always stock up on when we're there.
Grab a plate and enjoy the live music by the river.
15. Trek Hunua Falls
The Hunua Ranges is another spectacular mountain range complete with a waterfall. This is the largest area of native bush in Auckland. Hunua is located about 45 minutes south of central Auckland.
The walk to the falls only takes a couple of minutes. There are a few surrounding walking tracks ranging from 15 mins (Hunua Falls Lookout Walk) to three hours (Cossey Massey Loop).
Our top pick is the Suspension Bridge Track which takes 90 minutes return – this is probably not the best option for those afraid of heights!
16. Archie Brothers Cirque Electriq
Archie Brothers Cirque Electriq in Newmarket is the perfect place to indulge your inner child. There are so many activities like bowling, arcade games, bumper cars, and virtual reality experiences.
Head to the bar where there are outrageously fun cocktails and colorful milkshakes. A few favorites include the Circus Sour with 'fairy floss' or the Pop Til You Drop cocktail that's topped with popcorn. Afterward, enjoy some delicious food at the Circus restaurant which features local ingredients on their extensive menu.
Entry is free but you'll have to purchase a game card to enjoy all of the fun!
17. Sail Through Auckland's Harbour
Location: Corner of Quay Street and Hobson Street, Viaduct Harbour
Cost: Museum entry is free for Aucklanders and $20 NZD for adults, $10 for children. One-hour sailing cruises cost $26 for Auckland residents ($13 for children) and $53 for visitors ($27 for children) to Auckland.
Rating: 3/5 – Nice views but a little bit on the pricey side.
What better way to see Auckland's harbor than to sail down it? The Auckland Maritime Museum hosts sailings down the Viaduct Harbour on heritage vessels and steamboats.
The museum itself has guided tours that can be taken from the tour desk or booked in advance online where you can learn about New Zealand's maritime history.
18. Take the ferry to Devonport Beach
A quick ferry ride from Auckland will take you to the relaxed seaside town of Devonport. It's only about 12 minutes from Auckland and features a beautiful beach with golden sand where you can relax in the sun.
Stroll through the adorable town with cafes and shops before walking to the Torpedo Bay Navy Museum where you can learn about the Navy heritage of the region. Another awesome attraction is the Maunguaika/North Head Historic Reserve.
On top of being an important historic site once used as a viewpoint overlooking Auckland Harbor, it was formed by a volcanic eruption 50,000 years ago. Explore caves, tunnels, and more on a self-guided walk.
19. Stroll through Silo Park
Who would've thought you'd find a park right in the middle of a city? Silo Park is a great place to hang out. They've got plenty of bars, cafes, and restaurants down the waterfront to choose from, playgrounds, large silos, and grassy areas.
Friday afternoons are the best time to visit. Silo Park holds a food truck market every Friday from 5 pm during the summer months. Peaches Fried Chicken is a fan fave and makes the best fried chicken burgers we've ever had.
Even better, enjoy an open-air cinema at 9 pm on Fridays. Once again, this is held during summer. Bring a picnic blanket and some cushions and enjoy a film projected on a silo.
There's even an Auckland lights night tour that takes you around the city and stops at Silo Park for amazing views of the lit-up Auckland Harbour Bridge.
20. Visit Albert Park
Centrally located in Auckland, Albert Park features city views and has a long history and importance for Auckland locals. It was once a papakainga, or village, before European settlement. The original village was called Rangipuke before the Albert Barracks were built there in 1845.
There is a nice 1.1km (.68mi) path that surrounds the park and a 6.9km (4.3mi) trail that allows for the exploration of some of the city's best green spaces. Another option is the Coast to Coast Path which goes 3.7km (2.3mi). It's the perfect place to take a walk and enjoy the city.
Hiking around the urban park is a fantastic way to experience the city for free, making this a budget-friendly option for anyone hoping to get outside and enjoy a fun recreational day.
21. Visit SEA LIFE Kelly Tarlton's Aquarium
SEA LIFE Kelly Tarlton's aquarium is New Zealand's most popular aquarium. At the aquarium, you can see a huge range of animals including turtles at the turtle rescue center, and see the many species of sharks, fish, and other marine life. Oh, and my favorite and arguably one of the best things to see in Auckland is the subarctic penguins!
This is the perfect activity to take the kids, especially on a rainy day. Be sure to keep an eye on their website for feeding times and book online here!
22. Auckland Foreshore Heritage Walk
The Auckland Foreshore Heritage Walk is the perfect way to get a feel for Auckland's unique history. It's a 5km (3.1mi) self-guided walk that will take you on a journey past historical buildings and sites between Point Erin and Parnell Baths.
Along the way, you will stroll through parks and nature reserves, beautiful homes, and wharves. Informational signage and placards are placed every few minutes along the route so that you can leisurely learn about Auckland's history and how it evolved from the original port in the 1840s to the modern-day city.
The entire experience takes about 3 hours, and there is plenty of parking for bikes and cars on both ends of the route. Best of all, it's completely free and self-guided, meaning you can take your time and experience Auckland's magic at your leisure.
23. Bungy Jump off the Harbour Bridge
New Zealand is filled with great options for adventure activities so it's no surprise you can go bungy jumping in Auckland. Auckland's Harbour Bridge is over 40m (131ft) high and Aj Hacket (world-renowned bungee operator) can take you on an adventure of a lifetime.
The bungy is available for children 10 years and over, and for those 35-150 kgs. Tandem Bungee is also an option.
While this isn't necessarily a "cheap" thing to do it is one of the cheapest bungy jumps in all of New Zealand. So, if jumping off a bridge is on your bucket list then Auckland may just be your place!
You can book your bungy jump online here.
For those of you who aren't willing to take the plunge (literally), they also have a Harbour Bridge climb which as the name suggests will allow you to scale up and over the bridge! What a view you'll have!
24. Dove Myer Robinson Park
Dove Myer Robinson Park was named for the mayor of Auckland who was so well loved that he served for 18 years! While enjoying the beautiful grounds you can stop at the Parnell Rose Gardens or the Nancy Steen Gardens and take in all of the blooms from 5,000 rose bushes.
On top of the flowers, you can view some amazing native trees including the oldest manuka tree and the largest pohutukawa tree in all of Auckland. There's no cost to enter the park and you can stay as long as you like enjoying the sun and beautiful natural surroundings.
Amenities include restrooms and changing facilities, picnic areas, and even barbecues. You can access the park from Gladstone Road and walkable access from Judges Bay Road.
25. Pack a Picnic Lunch for the Botanic Gardens
The Auckland Botanical Gardens are always a pleasure to visit. They're about half an hour's drive south of central Auckland and can be easily reached by public transport. The gardens are open every day except Christmas Day.
At the gardens, you can stroll through the many different gardens and enjoy the views of sculptures and plants to compliment the views of the flowers and native plants.
This is another opportunity to pack a picnic and just relax in nature and forget you're in New Zealand's largest city!
26. Go early bird dining
One of the best budget-friendly travel hacks for your trip to Auckland is to take advantage of the early bird dining discounts. By planning your meals just a few hours earlier, you can save so much money and still enjoy eating at Auckland's best restaurants.
By booking through First Table, you can choose from some of Auckland's most amazing eateries with cuisine options that will make your mouth water. Enjoy Cajun, Asian, Barbecues, Steakhouses, and everything in between. When you book with First Table your group of up to four can enjoy 50% off of your meal. First Table does take a small booking fee but even so, you will save so much money.
27. Visit the Gannet Colony at Muriwai Beach
The Gannet Colony on the cliffs at Muriwai Beach is one of the most beautiful places to visit in Auckland. Not only are the cliffs and surrounding beach stunning but the birds are a magical sight to see.
If you want to see the birds you'll need to visit between the months of August and April with December to February being the best time to see baby Gannets. There are literally hundreds of them on the cliffs and the boardwalk lets you get pretty close without disturbing them.
Muriwai Beach is located around a 45-minute drive from Auckland and if you don't have your own transport then consider booking this eco-tour from Auckland to Muriwai Beach! They will take you all along the rugged coastline stopping at all of the best viewpoints before spending the day at the beach and the Gannet colony. This is easily one of the best things to do in Auckland!
If you don't want to spend the whole day seeing the Gannets and enjoy wine instead you can opt to book a scenic wine tour that only stops at the beach gannets for half an hour and then the rest of the time you will be sampling wine from the picturesque valleys.
28. Te Atatu Food Truck Fridays
If you're looking for a fun introduction to the Auckland community – don't miss the Te Atatu Food Truck Fridays. A favorite activity for locals and tourists alike, this weekly get-together is a great way to meet people while enjoying some of Auckland's best street food.
There are a variety of food trucks serving all kinds of delicious cuisine like Jamaican street food, Indonesian rice bowls, and so much more. The event is located at the Te Atatu South Community Centre from 4:30 to 8:30 pm.
Thanks for reading!
Thanks for reading!
Thanks so much for reading! We hope this blog on the best free and cheap things to do in Auckland has helped plan your trip there! If you have any questions please leave them below and we will get back to you!
Also, if you loved this article be sure to check out our official New Zealand travel page for more of our travel guides, or check out these related articles below:
About the Author
Delilah is a freelance travel writer from New Zealand. Her personal travel blog is Our Travel Mix, which offers a variety of useful travel tips, guides, and advice for a range of countries. Despite having a long bucket list, Delilah's favorite destination is Queenstown in her home country, New Zealand.
Source https://www.migratingmiss.com/2-days-in-auckland/
Source https://www.thelostpassport.com/places-to-visit-near-auckland/
Source https://destinationlesstravel.com/things-to-do-in-auckland-new-zealand/